Switzerland is a country full of splendid places where forests, mountains and lakes blend together like nowhere else. I have always been fascinated by how easy it is to find incredible spots… It is often enough to take the train for a half an hour and then walk a little to find yourself in the middle of nature!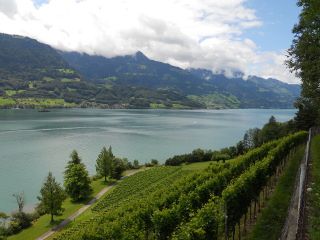 Now that I live in Vienna, I miss this proximity to nature and the mountains. I now realize how lucky I was to be able to live and study in the city (Geneva, Zurich) while having the mountains just around the corner.
It reminds me of a weekend when we were still studying in Zurich with Fabienne. We woke up on a Saturday morning and thought that a good breath of fresh air would do us some good.
We did not have any plan but after looking at the map we decided to pick the Walensee to be our destination for the week-end. It is probably one of the most beautiful lakes in Switzerland but we did not know it so well actually. 30 minutes later our bags were packed, our tent was ready and we left with our dog in direction of the Zurich train statuon.
Walensee and its mountains
After a half hour of very pleasant train ride along Lake Zurich, we then reach the Walensee. The Walensee is located in the cantons of Glarus and St. Gallen.
Before our departure, we had spotted a small inexpensive campsite (12 fr per person which is great for Switzerland) located on the edge of the lake in the small village of Murg.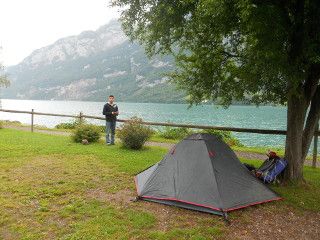 So we get off the train in Murg to set up our palace for one night. It should be known that at that time we still had a two-people tent… Which, by the way, is way to small for 2 people! The weather was not amazing but it was still kind of ok; no thunderstorm seemed to be annouced!
Thus, we decided to take a short walk along the lake to discover the area and plan a longer excursion for the upcoming day!
The Walensee

Walensee is a rather slender lake (it must be about 15 km long) located at the bottom of a valley. Its south shore (where we put up our tent) is very accessible… it is also bordered by the train line and a main road. On the other hand, the north shore is bordered by a mountain range with cliffs that are more than 1000m high ! Still Nice, but clearly less accessible….
From our camping we could see a charming hamlet (Quinten) opposite, but we wondered how to get there. We later learnt that it was accessible only by boat and that Quinten is actually the starting point of a beautiful walk which ends in Walenstadt, at the end of the lake.
"Great, we found our Sunday program."
As it slowly started to be the end of the day, we decide to head back towards the campsite… It must be said that the next day's program looked nice but not very relaxing. We took advantage of a small breakthrough of the sun in the late afternoon to have an aperitif while enjoying the view.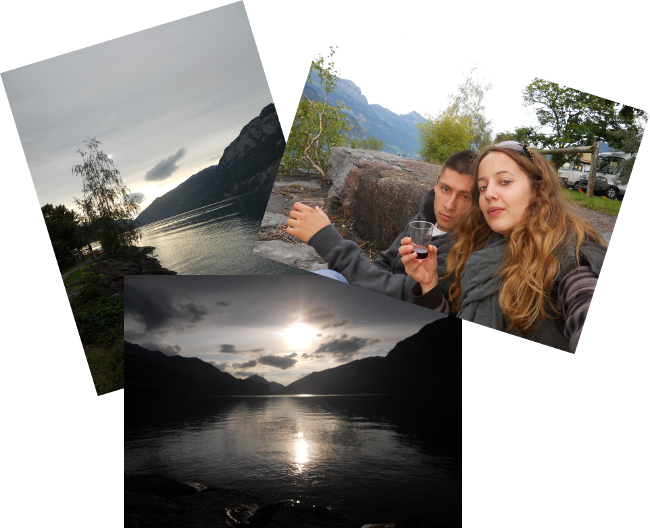 When the weather gets out of control
As soon as we made it in our sleeping bags, the thunder started to growl furiously! Great!
We took the dog and bags inside the tent and tried to get some sleep while praying for our tent to be waterproof (we had never tested our tent under the rain before)…
After a few hours of light but dry sleep (yes, surprisingly our tent was actually perfectly waterproof),we started to pack up our stuff. At some point we realized that our camp neighbours were actually much less lucky than we were. They did not pay attention to the ground when pitching their tent, an ended up in some kind of basin. With all the rain that fell that night, they woke up in what almost looked like a pool!
Even though we did this hike in the middle of July, we woke up with outside temperatures close to 5°C (this is very unusual for the season). It even snowed on the tip of the cliffs opposite (we hadn't anticipated that it would get THAT cold, we admit it…). So we put on all our layers and headed towards the pier hoping that the weather would get better soon!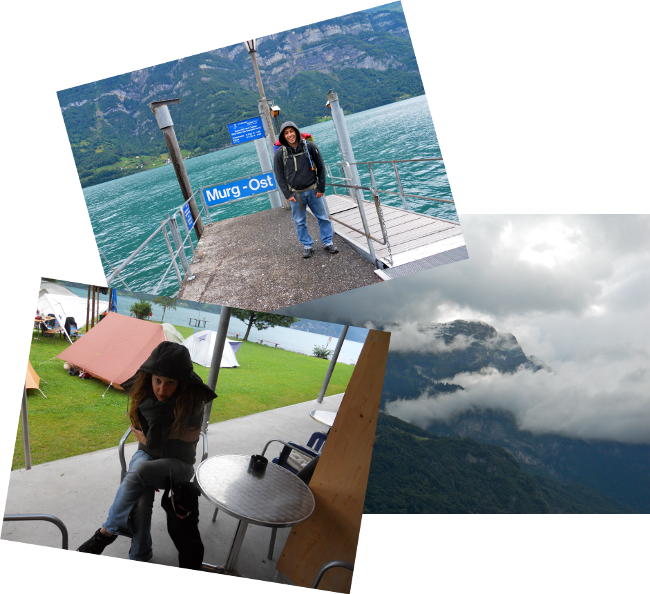 Hiking Murg-Quinten-Walenstadt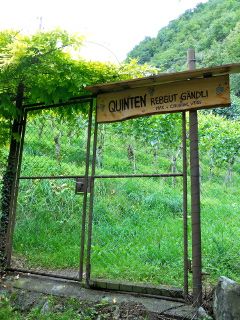 It must have been about 8:30 am when we boarded the small boat that took us to Quinten.
Info: The crossing costs 7 CHF per person
The weather was still not very nice but the charm of the place was largely making up for it. We are surprised to see a lot of vines in Quinten….we had not seen any vines in the area before and to be fair we were not expecting to see some!
In fact, this hamlet is protected by the mountain range just behind it. This gives it a privileged microclimate, which is one of the mildest in the northern Alps. The wine produced here has an excellent reputation, but unfortunately it was still too early for a visit to the cellars. 😉
We continue our journey along the lake on a pretty forest path, which passes next to some vineyards.
The place is superb and incredibly quiet. The first part of the hike is easy and very pleasant along the lake. I guess if it had been a little warmer, we could have even swummed in a few places.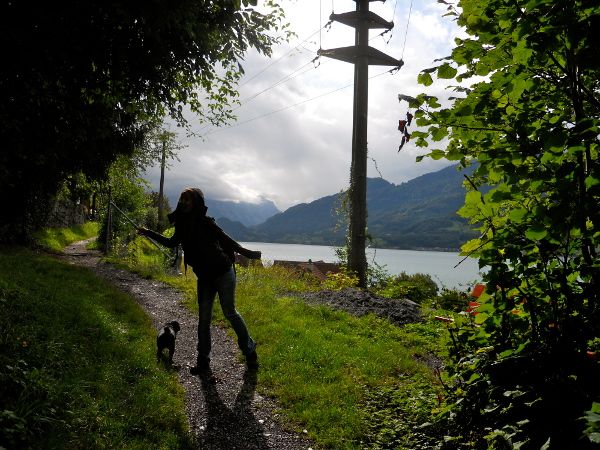 It gets more complicated
Afterwards, things started to become a bit more complicated. This side of the lake is actually quite steep. At some point we have to use our hands to "climb" over a serie of rocks. Nothing dangerous or complicated, but let's just say that we are not used to do this kind of things. 😉
Nevertheless, this section is really splendid because you will cross many waterfalls that flow directly into the lake!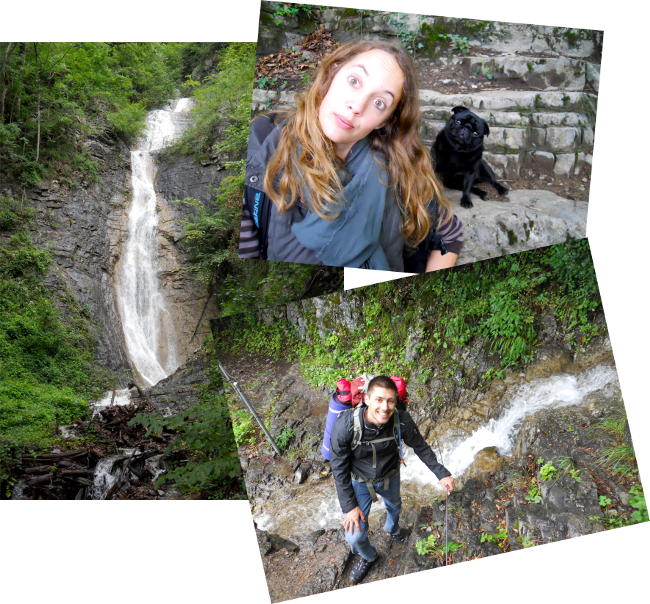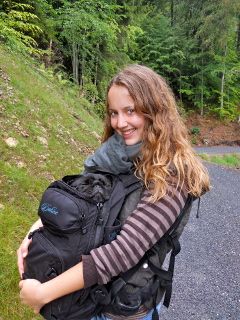 After a short hour of climbing, we arrive on a flat portion and we realize that we almost killed the dog (Obviously this is only figurative… the dog was still well alive, just a bit too tired).
It must be said that Fabienne is the proud owner of a pug and that we can't really describe this breed as sporty (I call it the cylinder on leg). The dog being waaaay to tired to keep walking, we ended up carrying him in our backpack until we reached Walenstadt 😉
PS: I tried carrying the dog as well… but Pepsi (the dog's name) loves "Mama" waaaaay too much and would only stay in the bag if Fabienne was holding it… #TooBad haha
Just before Walenstadt, the sun is finally shining again and we are enjoying a nice picnic with a view.
To summarize the hike:
duration : 4-5 hours from Murg to Walenstadt
Distance: about 10,5km
ascent : 500m
descent : 500m
difficulty : average
price : 7,2fr for the boat
Boat schedule can be looked up here
Download the route on Alltrails
Hiking Map: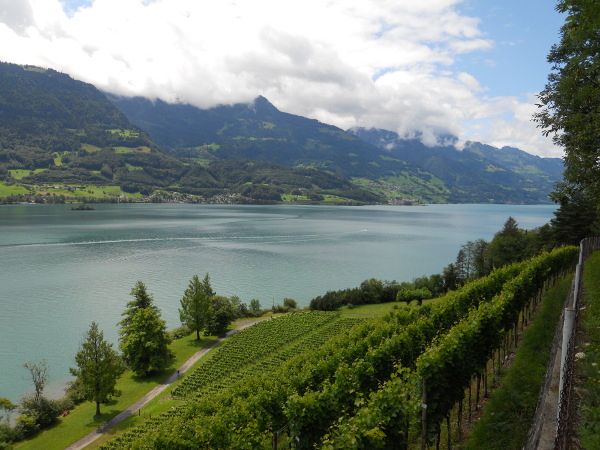 Ahhhh yes, while looking for the station in Walenstadt, we passed in front of a garden decorated in a……. hmmm, how to say… Original way!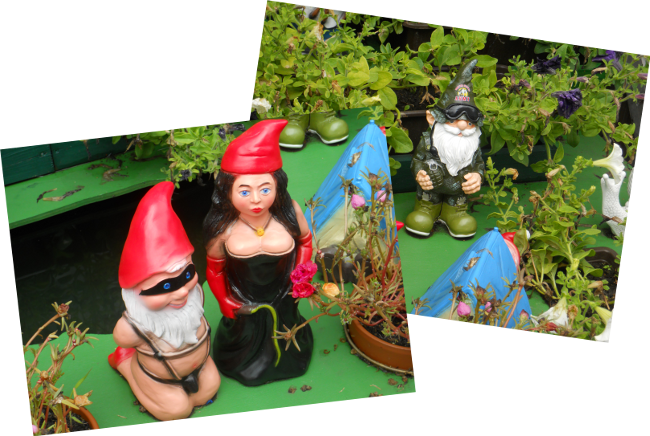 I don't know if I would dare to put sadomasochistic dwarves in my garden…. This made us laugh quite a lot actually… I'm wondering if they are still there! 🙂 Let us know if you see them!
And you, have you done any nice hikes in the area????