Generally winter rhymes for me with SKI…. Since my earliest childhood, I have been skiing an average of thirty times a season!
I love it…. This allows you to go out and get some air, enjoy the magnificent mountain panoramas but also to get your adrenaline pumping and to get some exercise! So when we went to Austria, I thought to myself:
I'm fine! It's the ski nation with Switzerland… We take our gear and go skiing every w-e!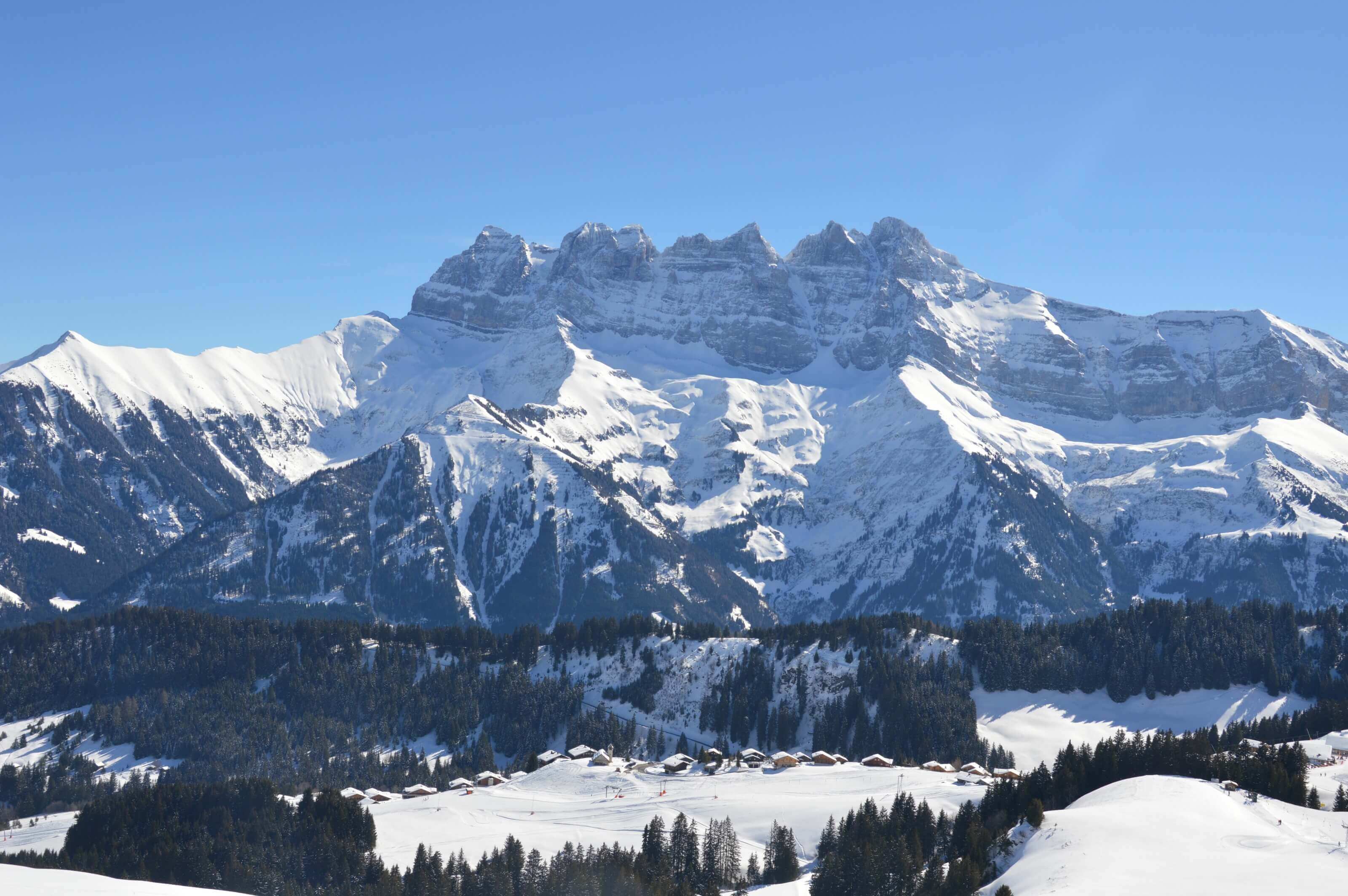 … So we took all our gear (it took up a lot of space in the car by the way…lol) and we left for Vienna.
What I had obviously forgotten is that Vienna is not really the epicentre of Austria (it is even 70 km from Bratislava…ahaha). To tell you the first interesting ski area is more than three hours by car (Schladming for those who know it).
There are indeed two small low altitude resorts but not enough to please the Valaisan that I am. In my current despair (well, yeah! It's been almost two years since I put the skis back on), I thought it might be a relief to dig a little deeper into the corners of my head and share with you my good spots to ski in Switzerland.
NB: This article was originally written in 2013 and was updated in 2017 and in 2019. We have included new resorts in which we have been skiing since our return to Switzerland in 2015. We have also included at the end of the article a selection of special "snowshoe" resorts to discover the mountain at a lower cost and far from the crowds.
But skiing in Switzerland is expensive!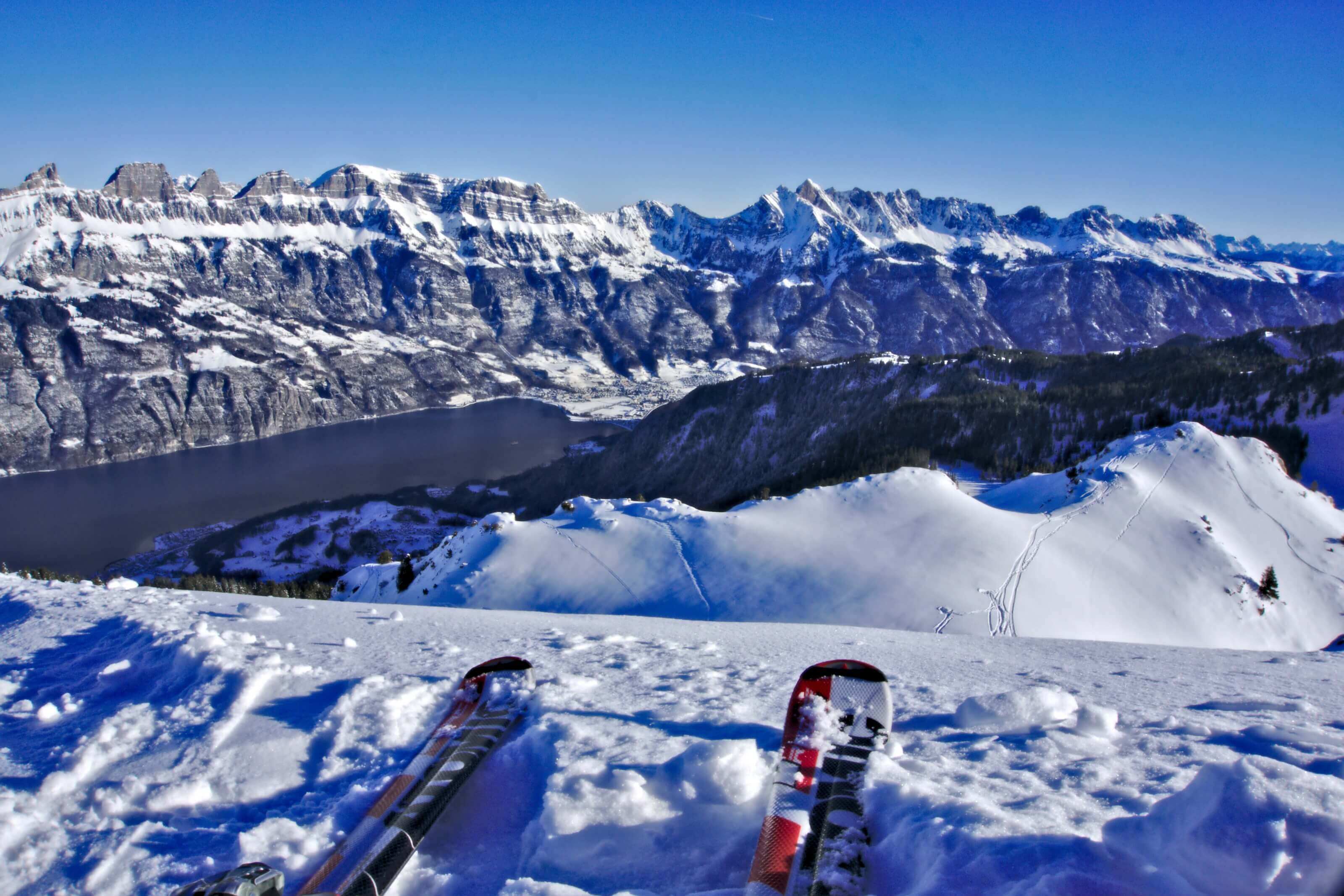 As I have already explained, it is true that it is not cheap to go skiing (well, Switzerland in general is not known for being cheap…). But I reassure you, there are some options which are not "that" expensive.
you don't have to go skiing in Zermatt (it's really an expensive resort) to see the Matterhorn in winter, there are plenty of other great places that are just as beautiful and a little more affordable. I mean, enough talking! Here are my favorite places to ski in Switzerland.
Ski resort in Switzerland: My good tips
Les Portes du Soleil
So I put it first because it's my favorite and it's also the one I know best (25 of my 30 days of annual skiing take place here)! So just for the information, this Franco-Swiss domain (located between Morzine, Morgins and Champéry) has the largest network of slopes in Europe. So it represents 650km of slopes spread over twelve resorts!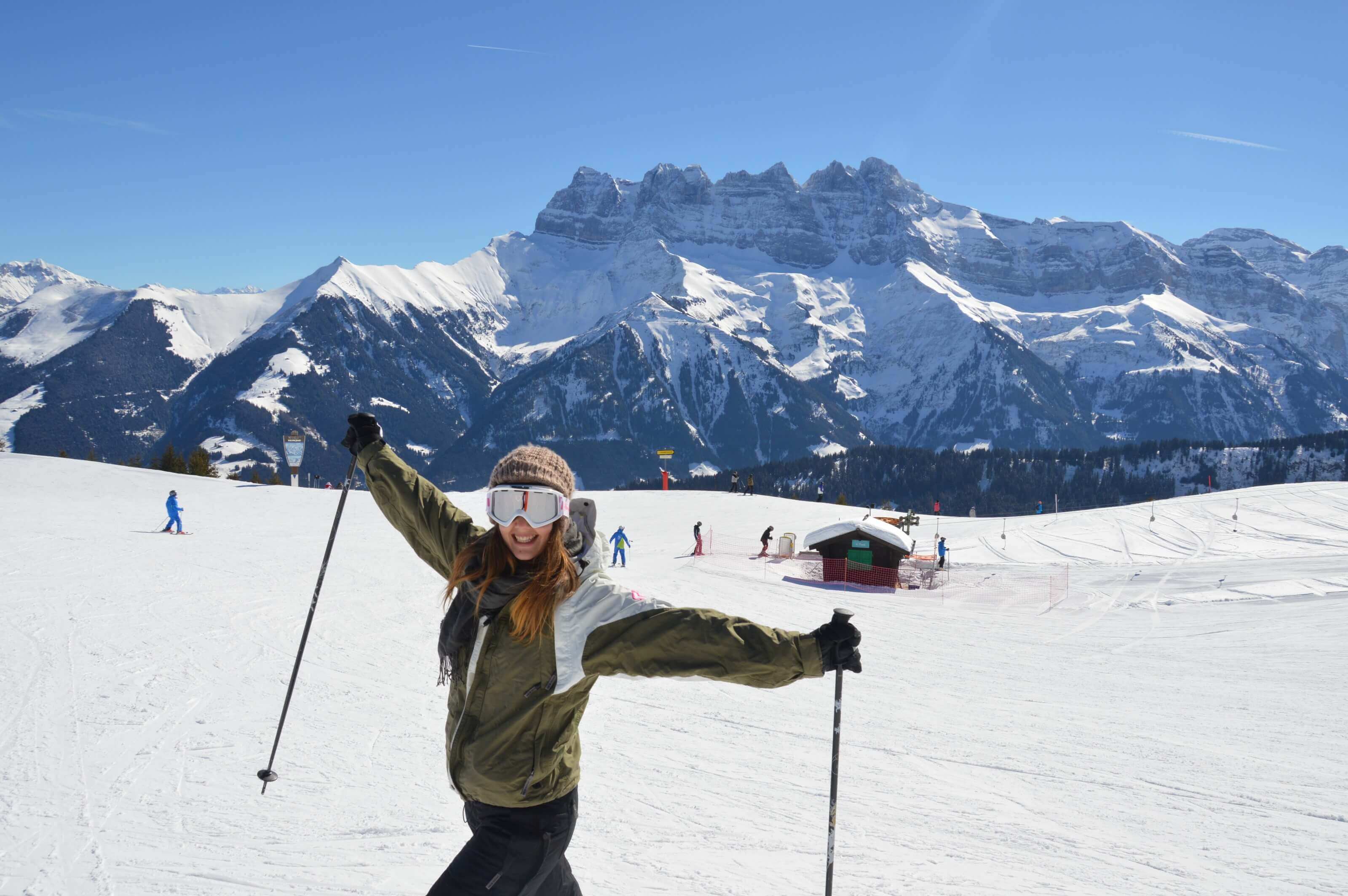 I promise you that it is impossible to go around all the slopes in one day (I have already tried…lol). What I think is really great is that you can go almost anywhere without taking off your skis (if the conditions are good of course!). So with this choice, it's impossible to bother… It's just unique!
My favorite ski slopes? "Les Intrets" on the resort of Avoriaz. This is the best slope for carving enthusiasts! Feel free to go to the left (sometimes used for training), that's where it's best. Otherwise also "Le Linga" on the resort of Châtel. It is the longest track in the area. Try to do it all at once from top to bottom to see. 😉
On the price side, this is still reasonable compared to other major resorts. Count 45€ the adult for the whole day (I know, it's not cheap! But skiing has increased quite a bit in recent years).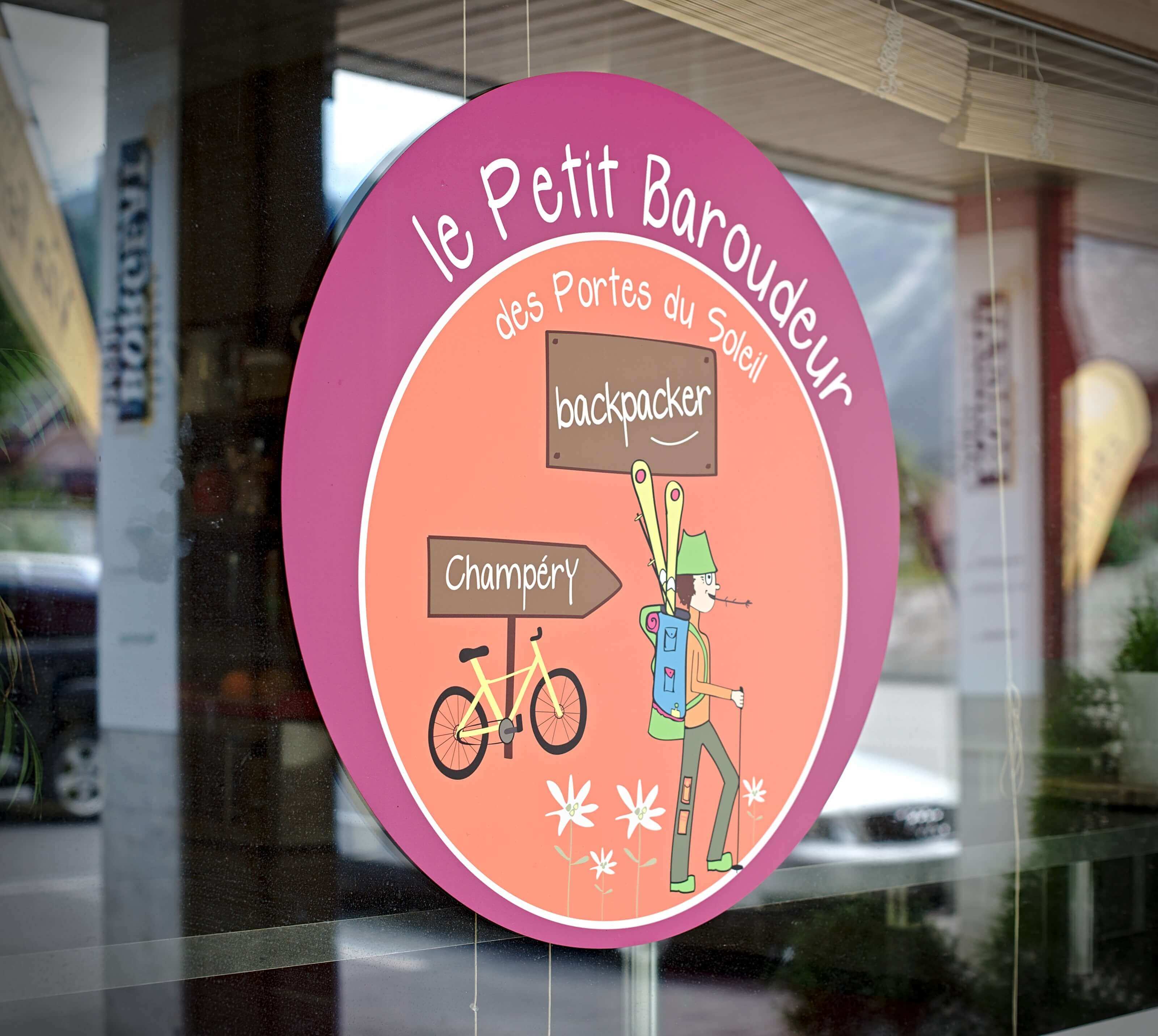 If you are looking for a cheap and top-notch accommodation option in Champéry then we highly recommend you le Petit Baroudeur. Champéry's only Backpacker and it's simply awesome! Ultra-clean and spacious dormitories, a great kitchen at your disposal and above all: Catherine, the manager. Catherine is one of those golden people with makes you only want to come back as soon as possible! See the availabilities
There in summer? Be aware that it is possible to do a hike that goes around the dents du Midi 🙂
The resort of Ovronnaz:
Located above Leytron in central Valais, this small resort has quite some assets. It's a whole different scale thn Portes du Soleil, since here there are about 10 slopes available. But there is something for every taste and every level.
The crowds are also much lower, which is not to my displeasure. I always liked going for a little powder session in the forest in Ovronnaz! I also tried snowboarding for the first time there! I managed to break my board in half after 15 minutes (I was always more of a skier than a snowboarder)! another significant advantage is that the resort has very nice thermal baths. There's nothing like it to relax after a good day of skiing, is there?
On the price side, it's very affordable. Count less than 40€ per day for an adult. There are also certainly possibilities to obtain advantageous offers in combination with thermal baths and/or accommodation.
Davos:
Well, it's not only in Valais that there are some great ski resorts (it hurts a little to say that lol)… Davos, a small town of 11,000 inhabitants, is located in the heart of Graubünden. It is particularly well known for the WEF (world economic forum) which takes place every year. But it is also the largest entirely Swiss ski area (320 km of slopes).
The good thing about Davos is that you can do anything… Of course skiing (even at night), a lot of cross-country skiing (100km of tracks!), sledging, skating (hockey), snowshoeing… And as it is more of a small town than a resort, there are many possibilities to go out for a drink or party in the evening. Tips: Every winter, Davos organizes the Spengler Cup, a hockey tournament where many world stars (including NHL players) meet. It's a show that's worth it!
In terms of prices, we are between 40€ and 55€ per day for an adult depending on the area where you want to ski.
The Flumserberg – ski resort near Zurich
Flumserberg is the resort I went to most often when we lived in Zurich. The big advantage of this resort is that, on the one hand, from the centre of Zurich it takes less than an hour between the time you close the door of your apartment and the time you are skiing on the slopes.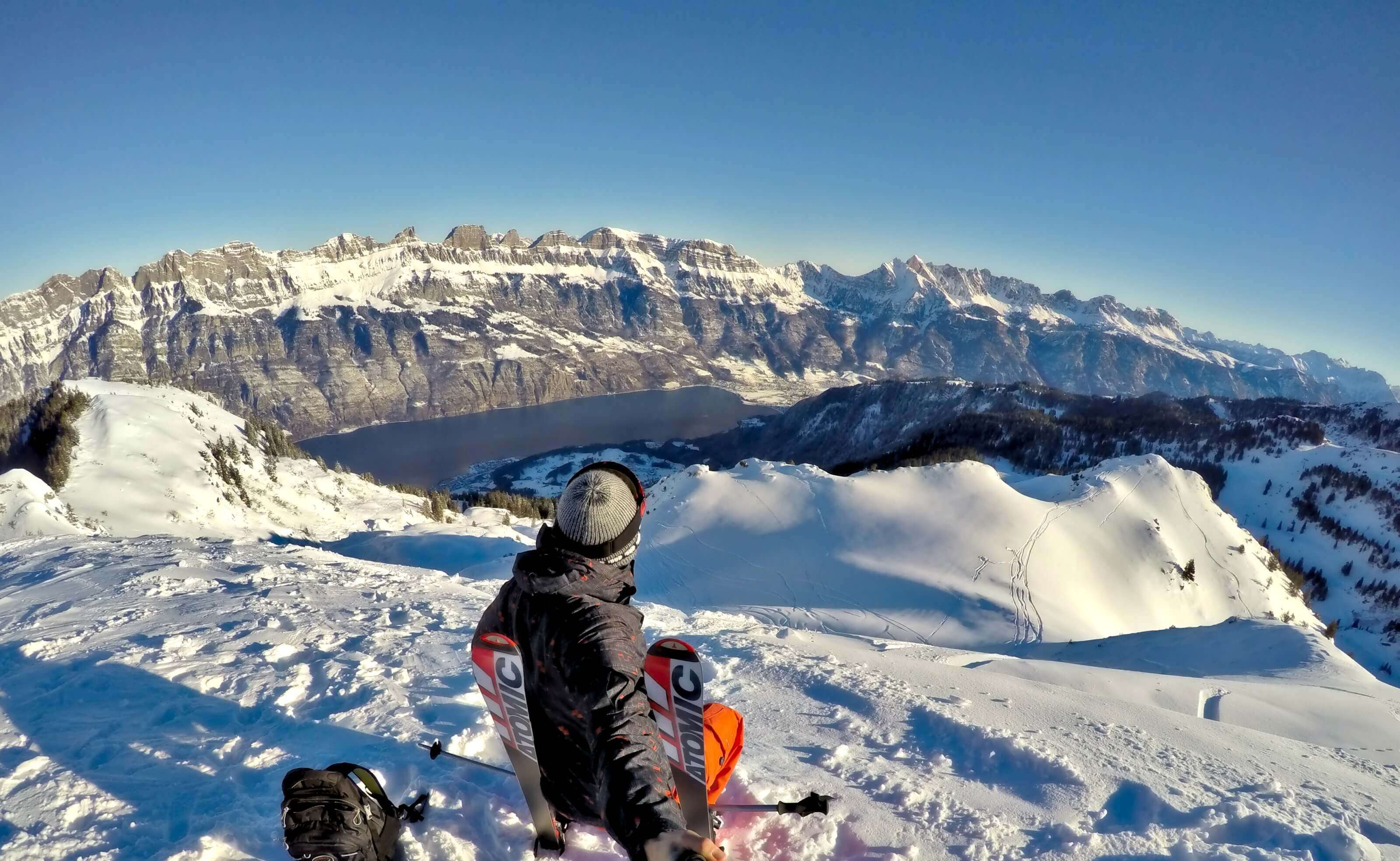 The slopes themselves are really nice. But what makes the place really unique is the incredible view from the top of the slopes on the Walensee and the Churfirsten! Picnic spot level I have very clearly experienced worse. 😉
The only negative point is that the resort (and the slopes) are not very high in altitude. The top of the slopes is around 2000m…. So it is a resort that should be favoured mainly when the snow has just fallen.
Flims-Laax
Flims is also a resort in which I came for the day by leaving Zurich early in the morning. This resort is especially known by snowboarders because there is a good "freestyler" vibe and with lots of pipes and snowpark.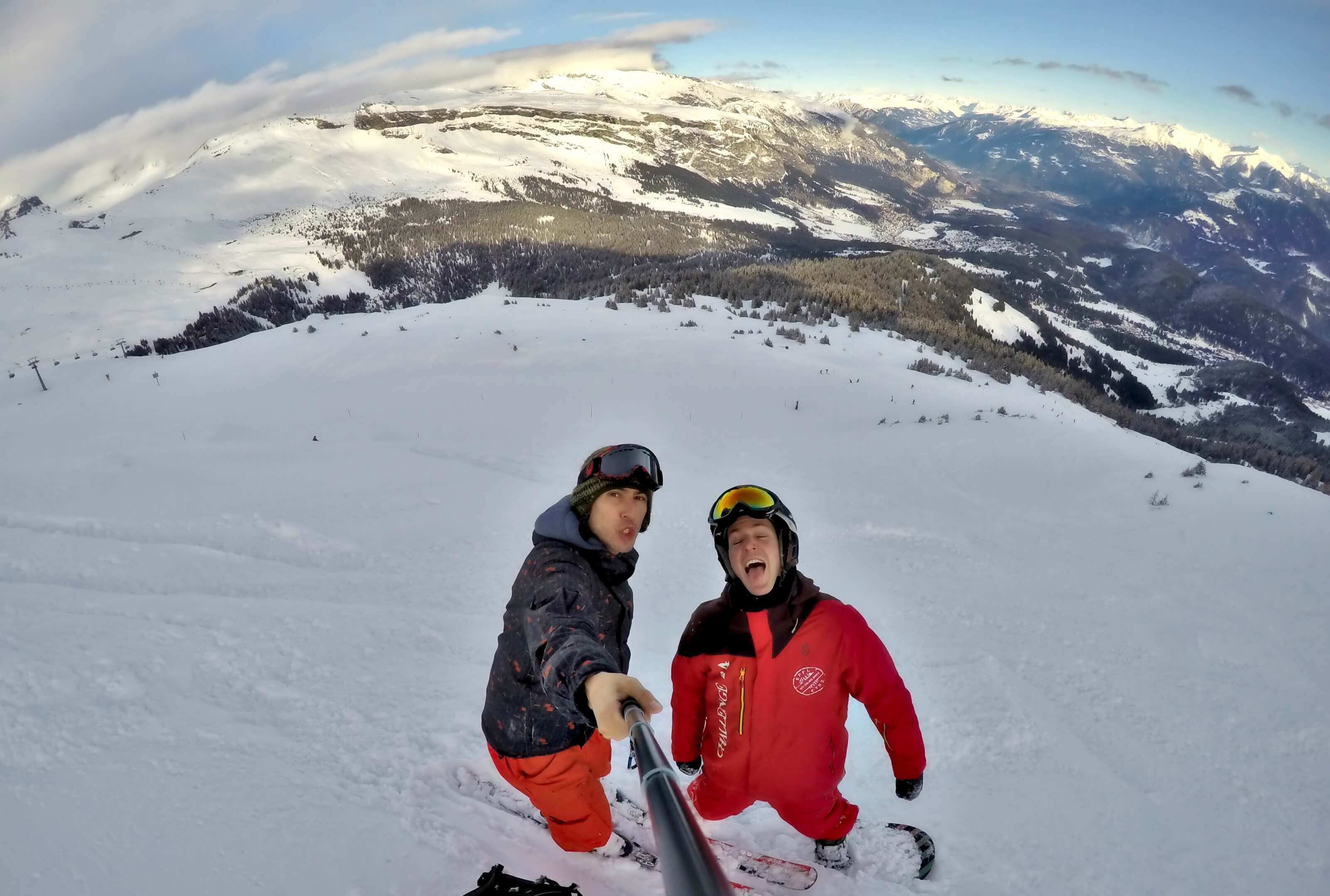 The domain is really huge and there are a lot of slopes (and it's more at altitude so there's less to worry about snow).
After that, personally, I'm more of a skier than a snowboarder… I found that the Flims tracks were a little wide and flat for my taste. 😉 But, I'm probably not an "average" skier and I like it when there's a little more challenge.
But it is definitely a great resort with a good vibe and good slopes for families, beginner-average skiers and freeriders. On my side I will probably go back, but this time by taking my snowboard 😉
Grindelwald
In Grindelwald we haven't had the opportunity to put on the skis yet… It is a resort through which we have passed several times, whether in winter or summer. Just this summer we passed here during our Via Alpina, and as every time we were totally hallucinated by the landscapes here and we kept telling ourselves that we REALLY had to come skiing here next winter.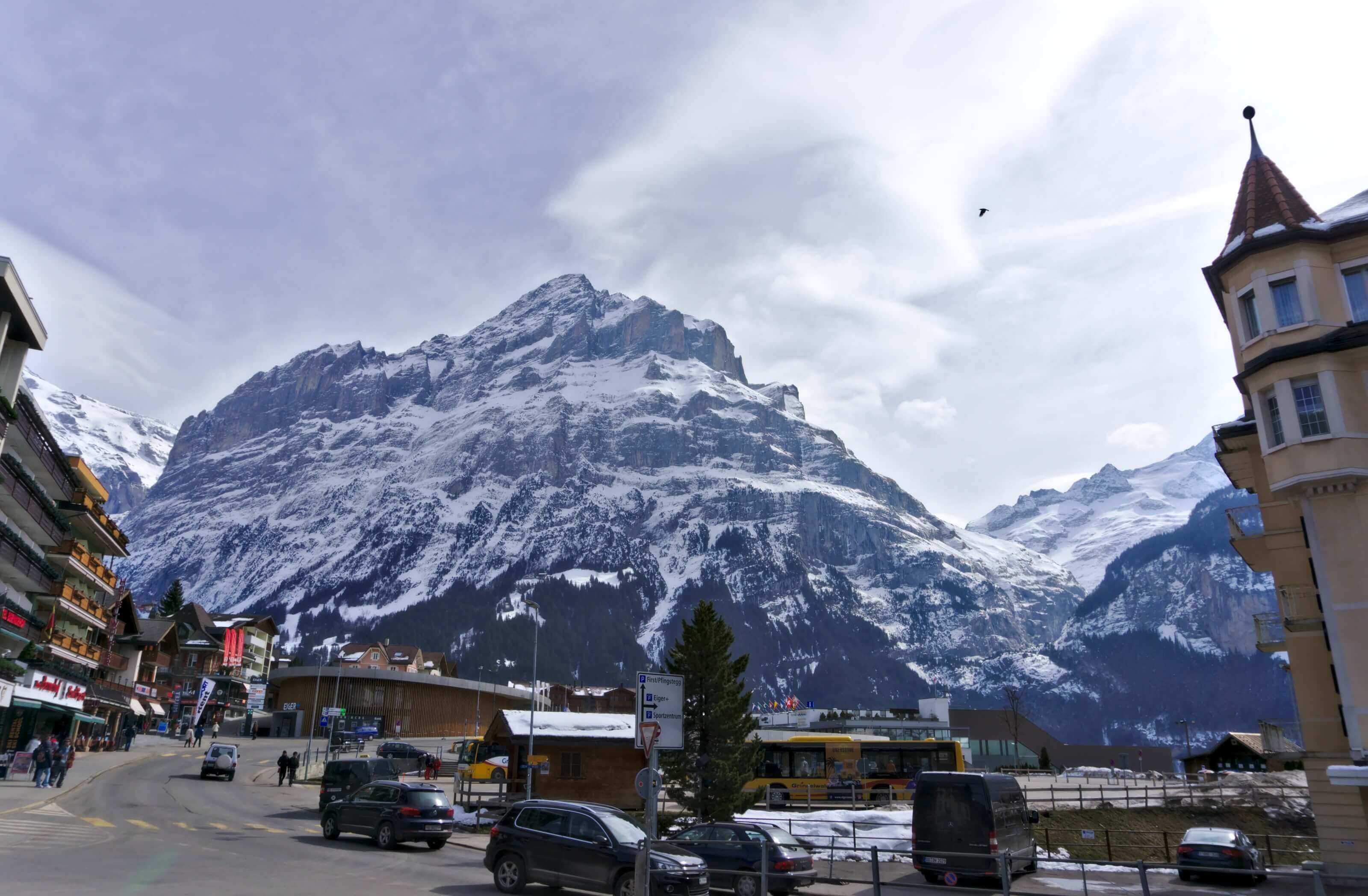 I mean… imagine… you're on the skis and in front of you stand almost all the most emblematic mountains of Switzerland like the Eiger, the Möch or the Jungfrau!
So we concede it is probably not the cheapest resort in Switzerland (we will try to update the article at the end of winter once we'll have made it to the slopes there), but what is certain is that at the landscape level, there is probably no better!
Choose smaller ski resorts in Switzerland
Well, this short list is not intended to be exhaustive and is only binding on me. But I am convinced that if you test one of these resorts, you will have had a good day without ruining yourself like in other places (although Davos is not cheap…ahlala skiing!).
But if after that you want more proposals, in the category of expensive stations but with superb infrastructures you have: Verbier, Saas-fee, Cran-montana, Adelboden… I'm not adding Zermatt because it would require a higher price category for this resort (I swear, I have nothing against Zermatt…).
In the category of smaller resorts with slightly less sophisticated infrastructures (but also with charm and fewer people) I would say: Villars, Anzère, les Marécottes, Nendaz…
And once again, I don't know all the Swiss ski resorts! (By the way, if you have any suggestions, feel free to comment on the article) But I think if you didn't know where to go skiing, now you should have a good starting base;).
And you, where are you going to ski????
Where to go snowshoeing in Switzerland?
Skiing is not your hobby? You prefer to choose snowshoeing outings? On our side it is a sport that we practice more and more, and frankly we love it! In principle, it is possible to snowshoe in all the above-mentioned ski resorts… The vast majority of resorts offer special snowshoe trails.
But for our part when we go snowshoeing we like to go to places where there are not necessarily as many skiers…. Well yes, having snowshoes on your feet allows you to go everywhere without necessarily needing lifts. We offer you a small selection of our favourite places to make snowshoes.
Morgins: Ascent to Pointe de Bellevue
Our latest snowshoe outing in Valais! 🙂 At the very beginning of the season we took advantage of a beautiful snowfall but especially of a radiant sun to go for a walk on the tip of Bellevue which overlooks Morgins and offers a breathtaking view on Lake Geneva on one side and the dents du midi on the other (with the big combin as well).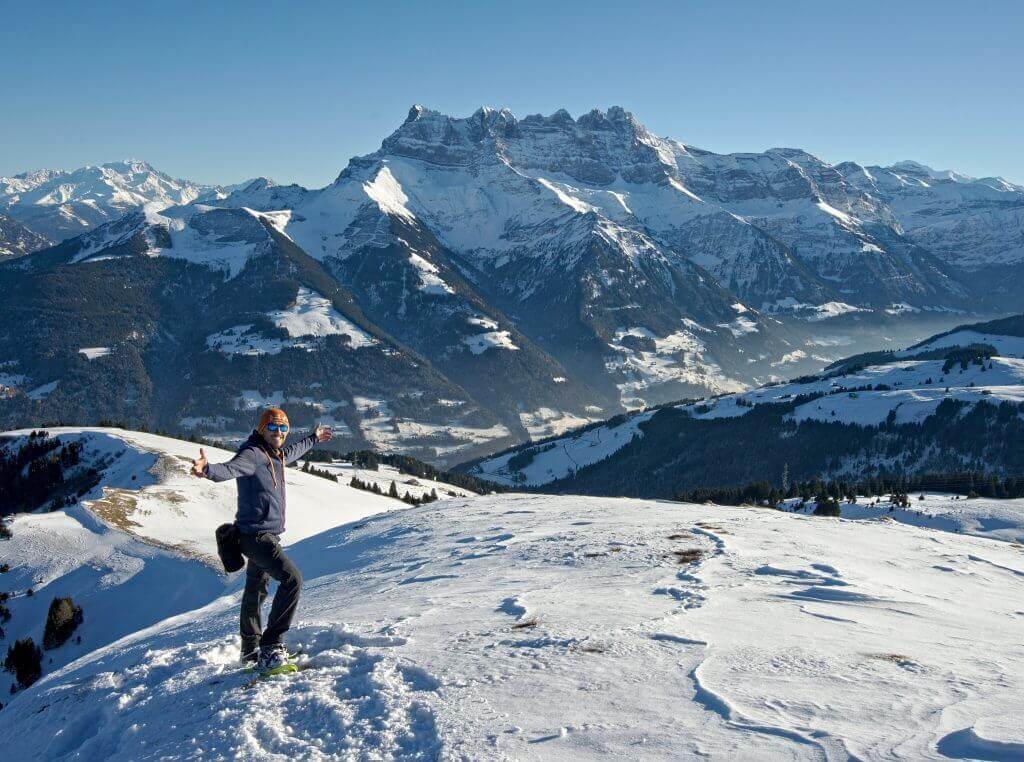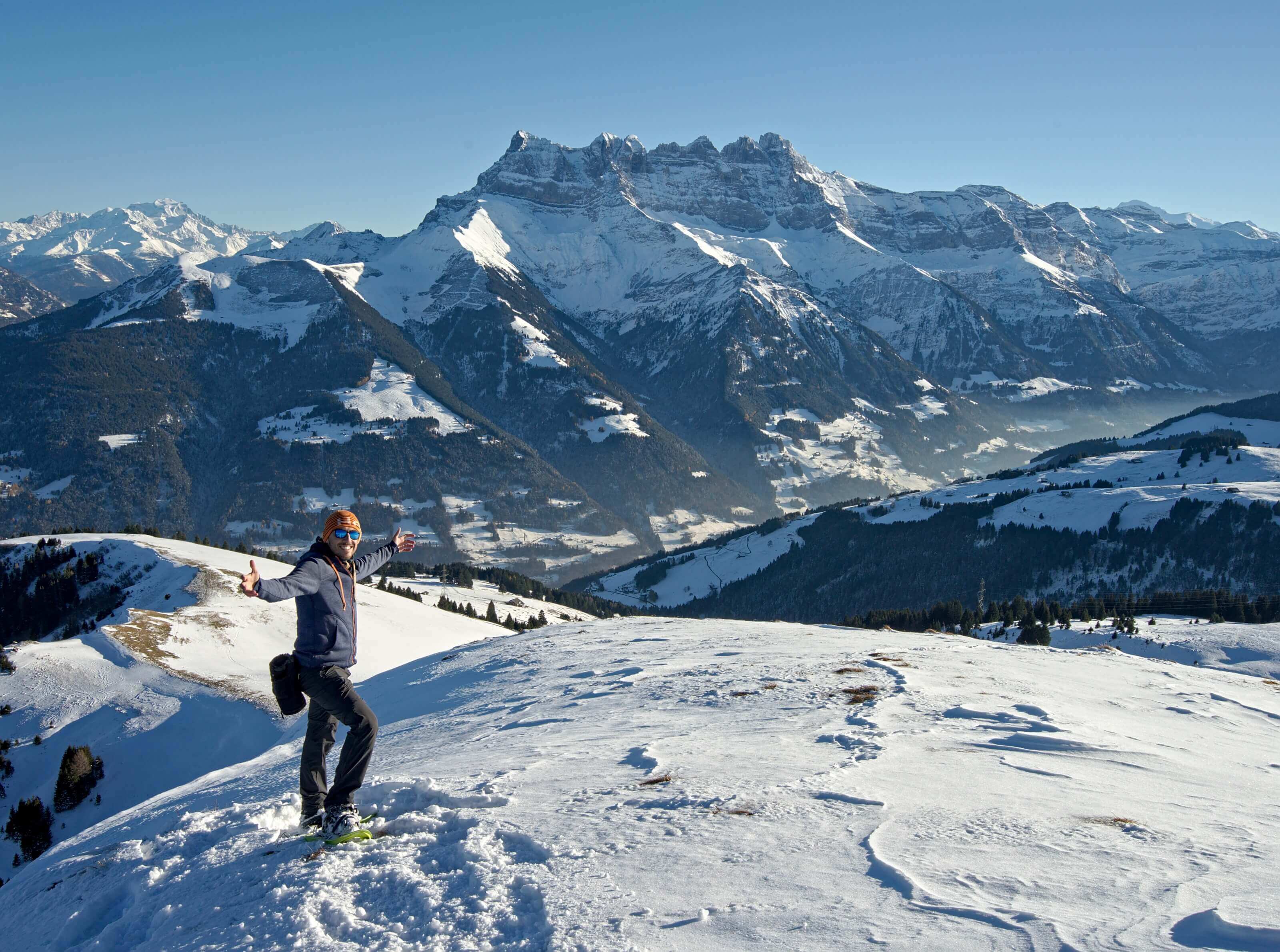 We had already told you about this hike that we are used to doing in the summer in this article. For the winter version we made a small variant in the sense that we took the car from Morgins and left it at the restaurant Le Ferrage (it is closed during the winter).
From this point we reached the Chanso chalet which is 300m above and from there we put on the snowshoes and started the climb. So as much in summer, there is a small path that zigzags up towards Bellevue Point, as much as in winter, the vast majority of hikers (and we too) opt for the "straight up" option:)
Cardio level is not bad and incidentally it guarantees hikers not to be cold 😉
At the beginning of November we were all alone at the summit.
Info: From the Ferrage it is necessary to allow about 2 hours of climbing on snowshoes and 1 hour for the descent.
Find more details on this hike and other itineraries in Morgins in our articles on snowshoeing in Morgins.
The Val d'Hérens: the snowshoe paradise
The Val d'Hérens is one of our favourite regions in Switzerland… We regularly go there in summer or autumn to hike, as we did during our tour of the Val d'Hérens or the hike from Evolène to Nax.
This time we were here in winter, and in a very special context! 🙂 We had 4 friends from Singapore visiting us. They had never seen the snow before and when we had to think about a program, we didn't hesitate for long: it will be snowshoeing in the Val d'Hérens!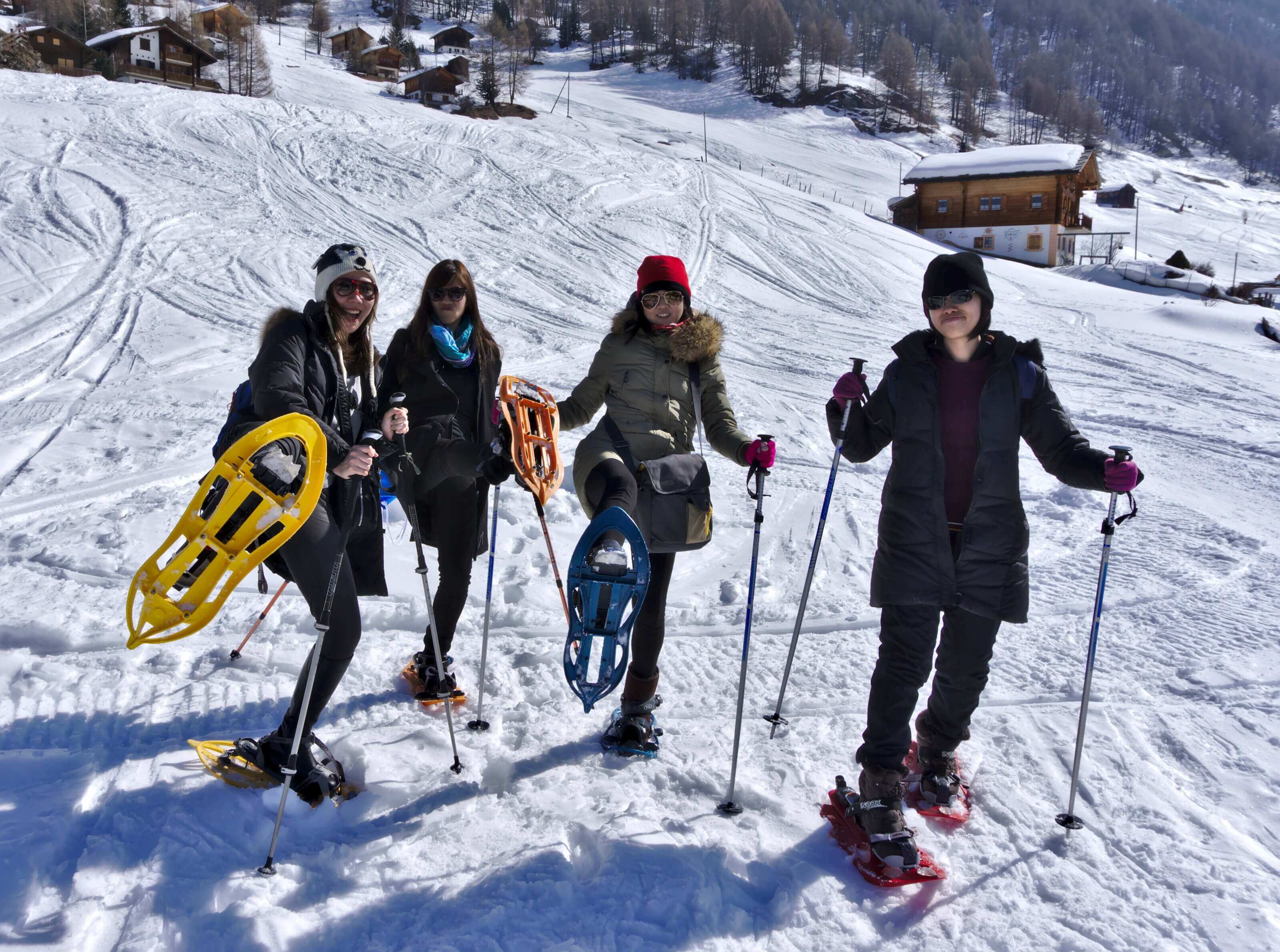 We went to the village of "La Sage" which is just above Les Haudères. We dropped our bags off at one of our favorite hotels, the Hotel de la Sage (yes yes, given the size of the village they didn't have to be very creative to find the name of the establishment);)
For the walk we opted for a walk towards the Mayen of Breona. A sublime hike that you had already heard a little more about in this article.
Dreibündenstein near Chur
When we were working in Zurich we wanted to do a little snowshoeing excursion. As we were getting to know the Valais and Central Switzerland well, we headed towards the Graubünden region.
In order not to pay too much for our hotel, we have opted for accommodation in the city of Chur (it is often much cheaper than in the resort, especially on weekends). It was just great to be in the city centre and have the snowshoe trails in front of the door! Our hotel was the Ambiente Freieck.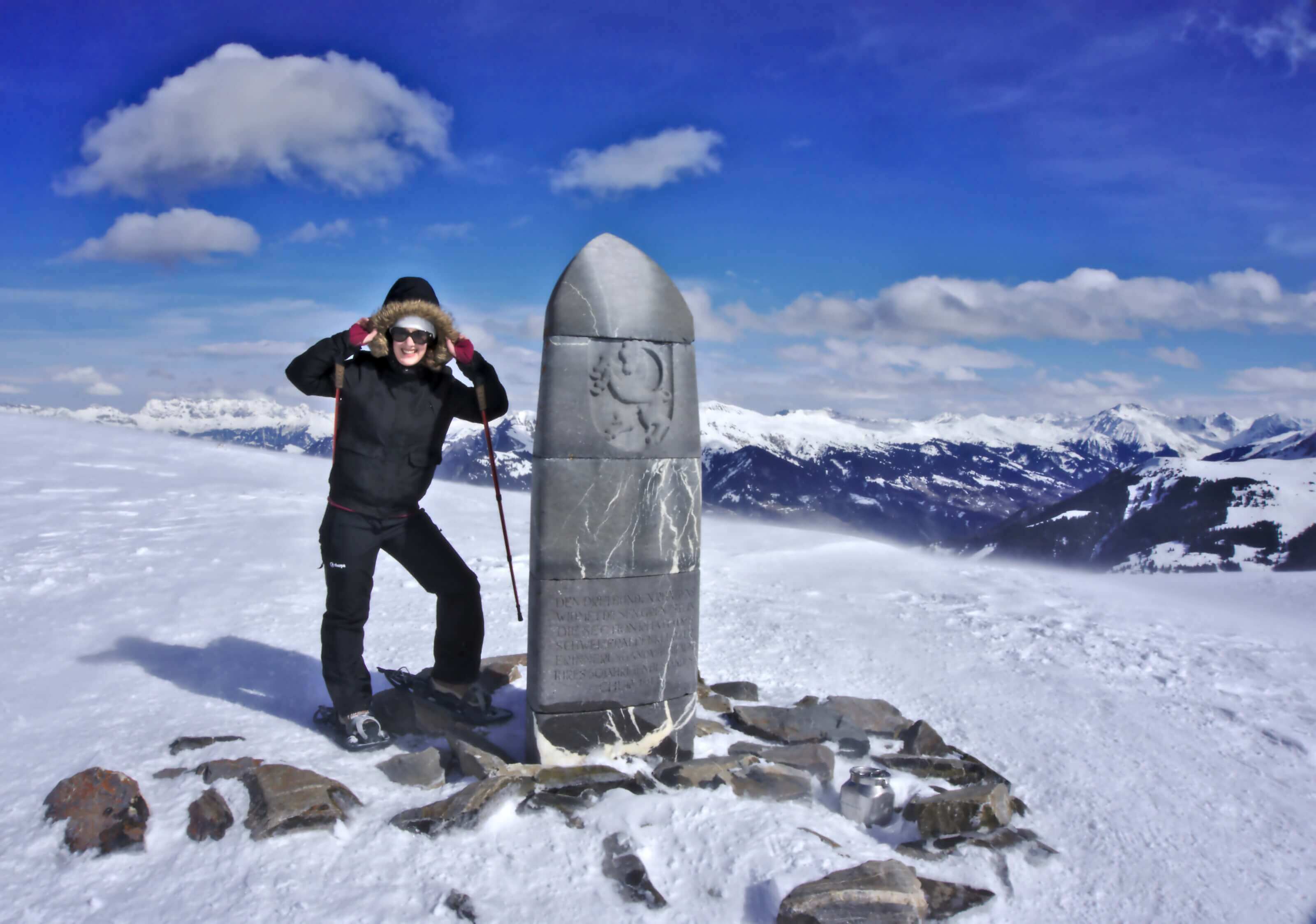 For the tour we opted for the Dreibündenstein tour. We left Chur directly by cable car to Brambrüesch. From there we started our walk to reach the Dreibündenstein (a stone) before continuing in the direction of Pradaschier. From there we took the chairlift down to Churwalden before taking a bus back to Chur. A magnificent loop that we highly recommend!
To see a map of the route you can take a look at the dreibündenstein website (in german). We put the direct link on the map, so you don't need to speak Goethe's language to understand;)
The Tannensee – Melchsee Frutt
This time we change a little and we'll tell you about a place where we haven't made snowshoes yet… In fact the Tannensee we passed it this summer during our via Alpina. We had set up our tent by the lake and the next day we started walking again towards Meiringen.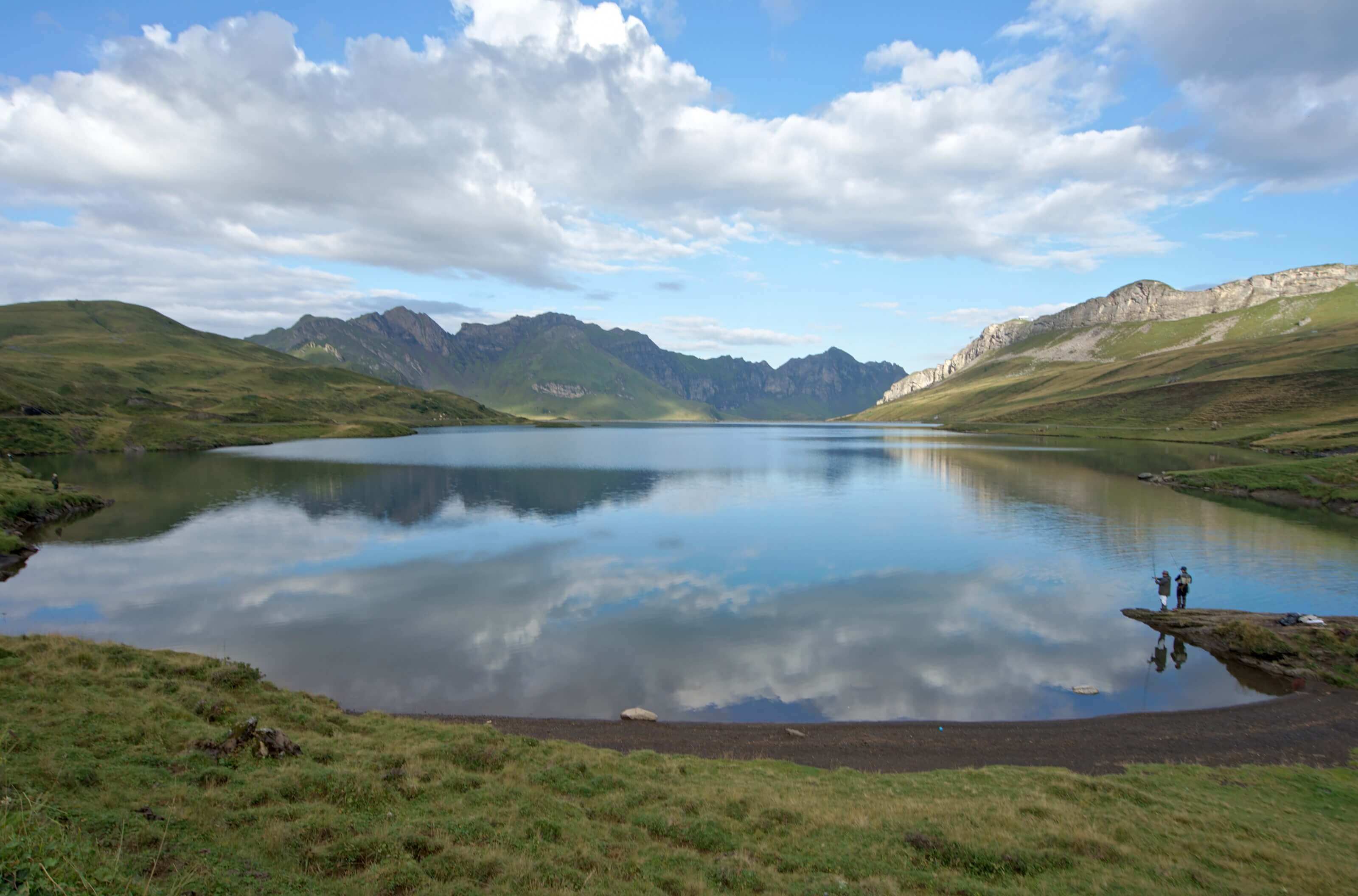 During this day we crossed many snowshoe trail signs and we immediately thought that we had to come back here in winter! The landscapes are simply magnificent!
To come and hike in the area, the nearest resort is Melchsee Frutt. We don't know this resort in itself, but the area seduced us so much that we couldn't help but talk to you about it. If you know the resort in winter and you have good tips, don't hesitate to leave us a comment!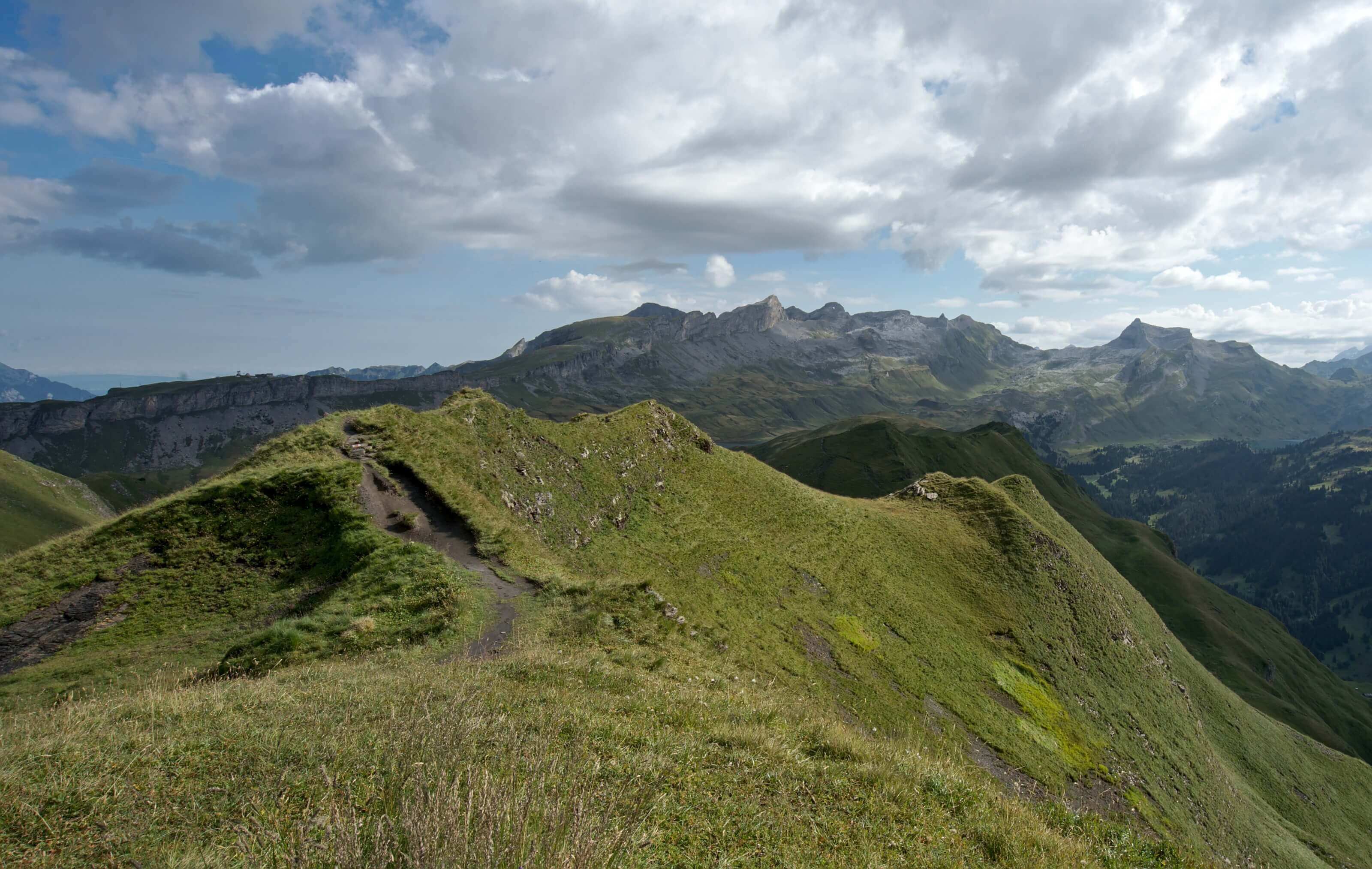 Lake Oeschinen
Here too we have never come to make snowshoes, but believe us it is at the top of our list! 🙂 We have been here several times during the summer (especially this summer during our Via Alpina) and Lake Oeschinen is simply one of the most magical places in Switzerland!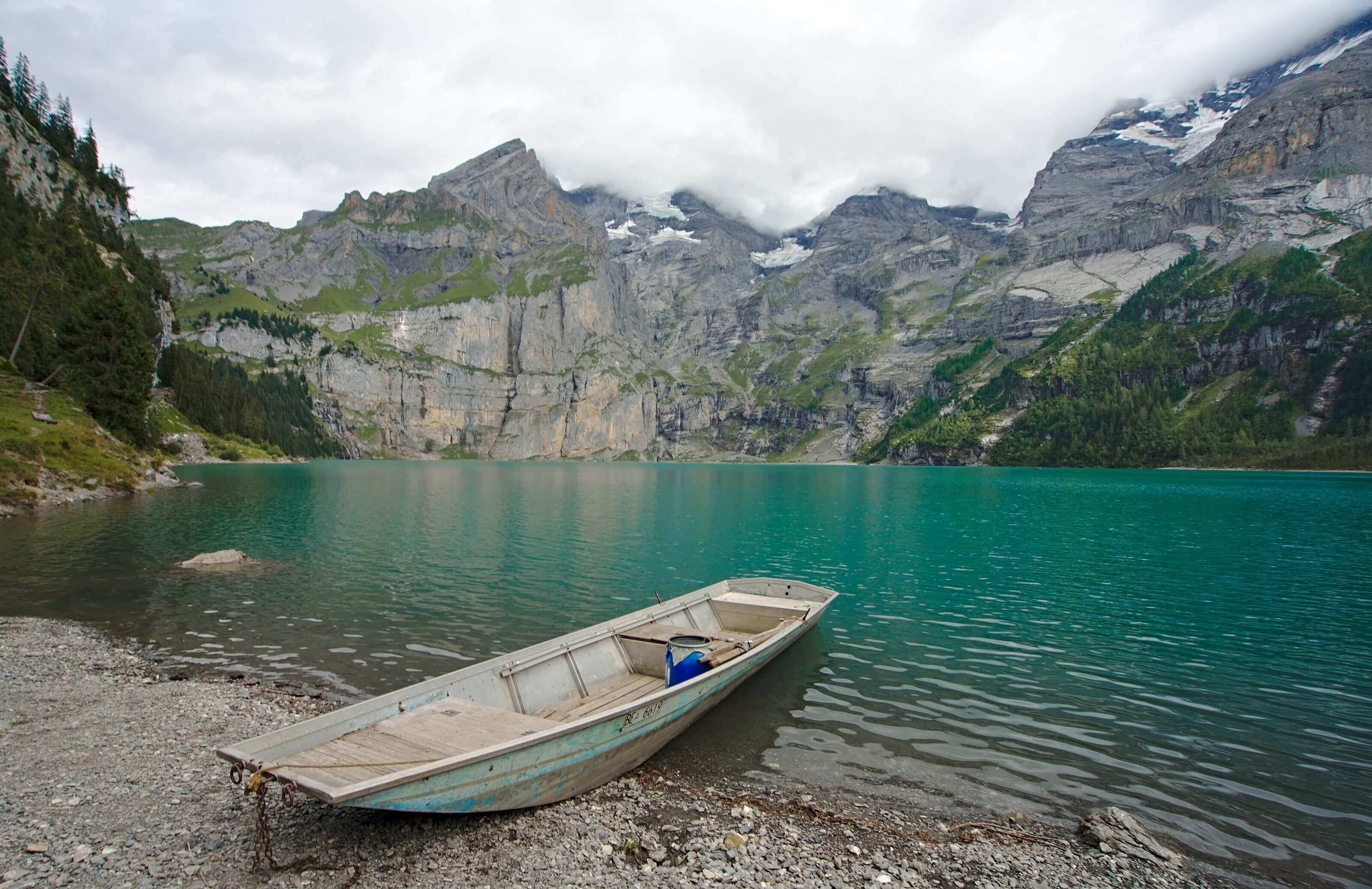 There are several snowshoe trails around the village of Kandersteg, but what we think is really worth the detour is to go up to Lake Oeschinen in winter. In the middle of winter it is even possible to take a walk on the frozen lake!
The restaurant also offers sledges for hire, a great way to get back down to the resort! 🙂
That's all for this first article 100% ski and snow in Switzerland. If you have other good tips or resort ideas, feel free to share them in the comments! All that remains is to wish you a wonderful winter in Switzerland!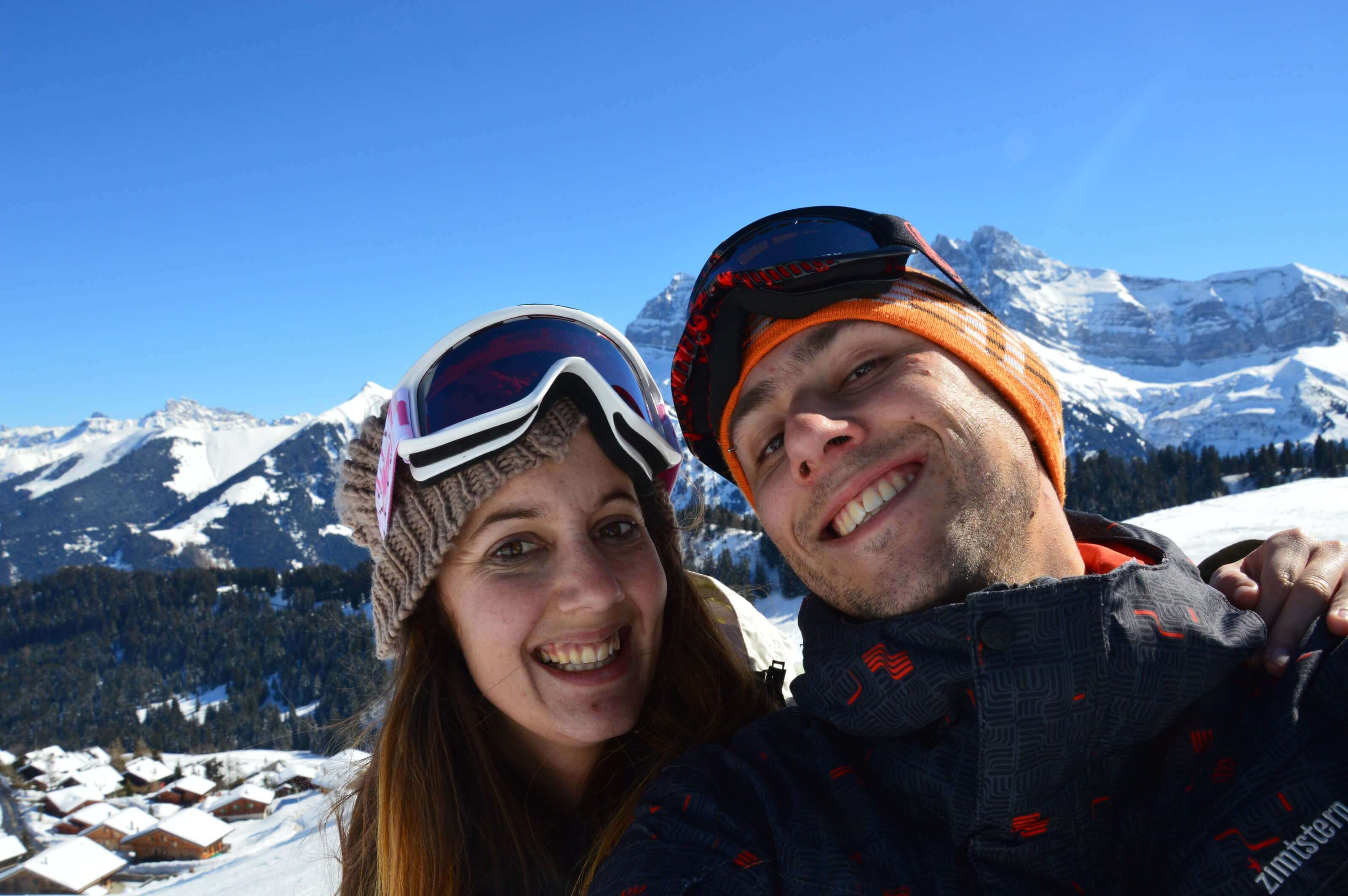 NB: This article contains affiliate links to partner sites. This means that if you book accommodation through one of our links you obviously do not pay more, but we will receive a small commission. 😉 Thank you for your support!