In our last article on Singapore we talked more about the "big city" side, but during our 5 days in Singapore we were surprised to see how green this city is!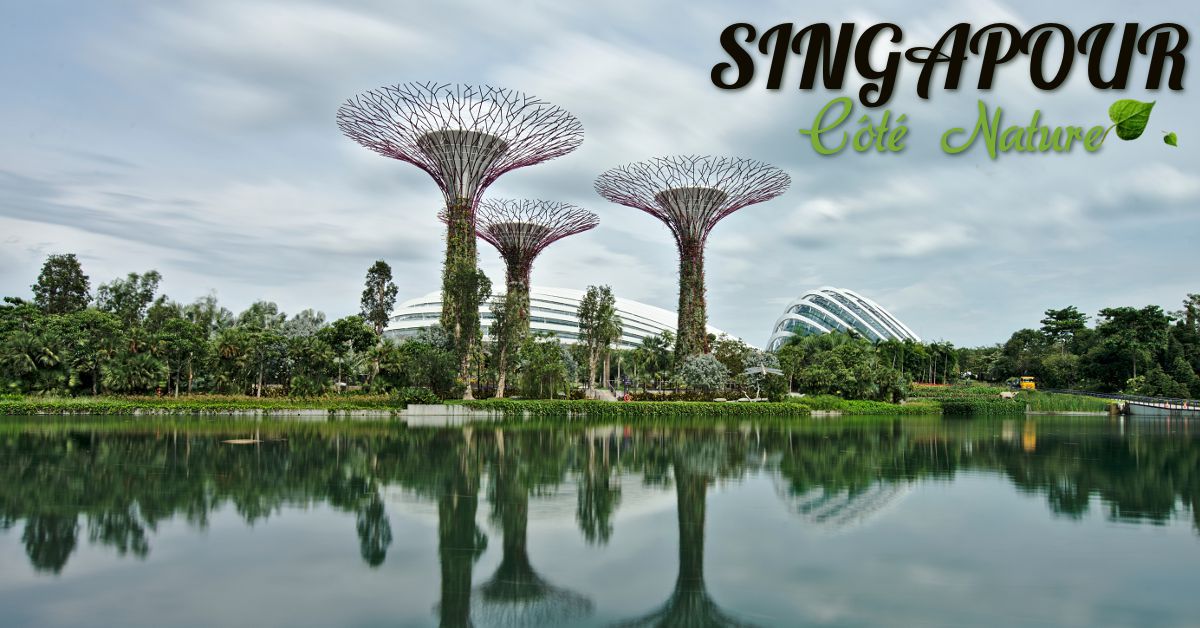 It's funny because before I came here I had never imagined this city as a green city, or at least a city that makes a lot of efforts in this direction. I had certainly seen pictures of the large metal trees of the Gardens by the Bay before, but I never imagined that these trees are actually located in a park that covers more than 100 hectares and that it is only a few hundred meters from the business district with all its dizzying buildings!
Anyway, in this article we take you for a more "natural" discovery of the city of Singapore!
Urban walk in Singapore: The Ridge Walk
This is really a must-see in Singapore if you ask me! The Ridge Walk is a 9km walk on a trail and footbridges that connect 3 parks in the city of Singapore.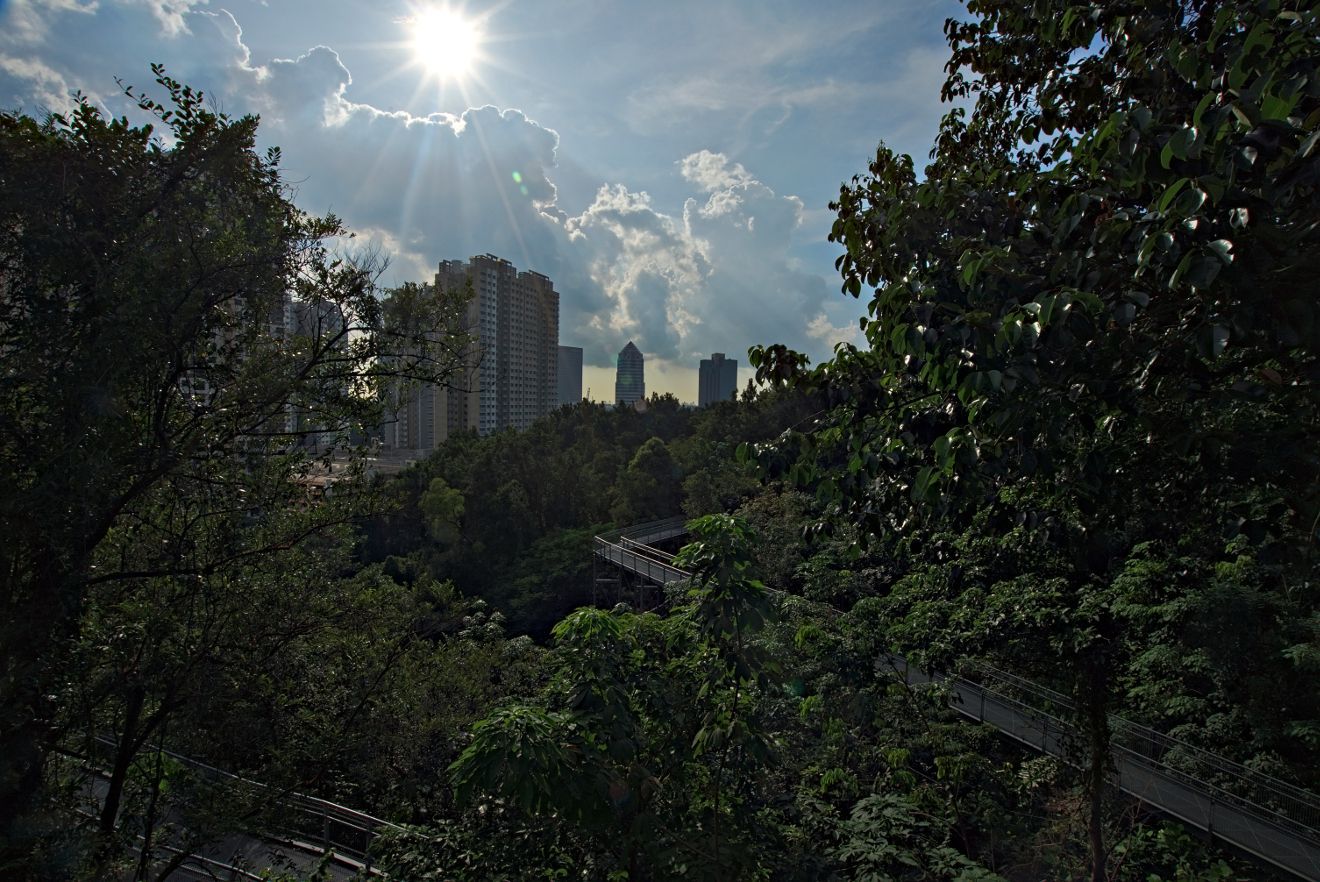 The walk begins in Kent Ridge Park and ends in Mount Faber Park via Telok Blangah Hill Park. Walking at a good pace it would theoretically be possible to do the walk in 2 hours, but frankly it's just so beautiful that you can easily spend twice as much time there!
The Interlace Condo – crazy architecture in Singapore
For our part, we did not do the entire walk because initially we had come to the MRT station in Labrador's Park to see the Interlace Condo. The Interlace is a residential building where you really wonder what the architect used when he drew the plans… We let you judge: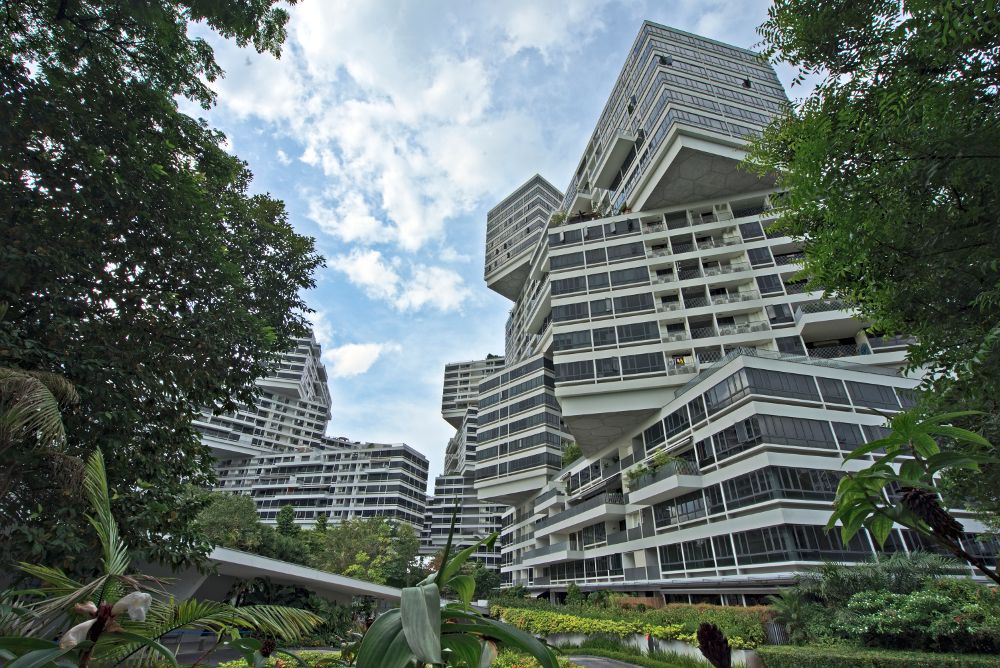 Unfortunately, residential means guarded entrance and that day we could only admire the place from the outside…. After that, if you are a fan of architecture, nothing prevents you from trying to make sweet eyes at the guards 😉
The Henderson Wave
It was thus from the Interlace Condo that we joined the Ridge Walk at the Alexandra Arch and made the section to the Henderson Waves where we had an appointment with our friends for sunset.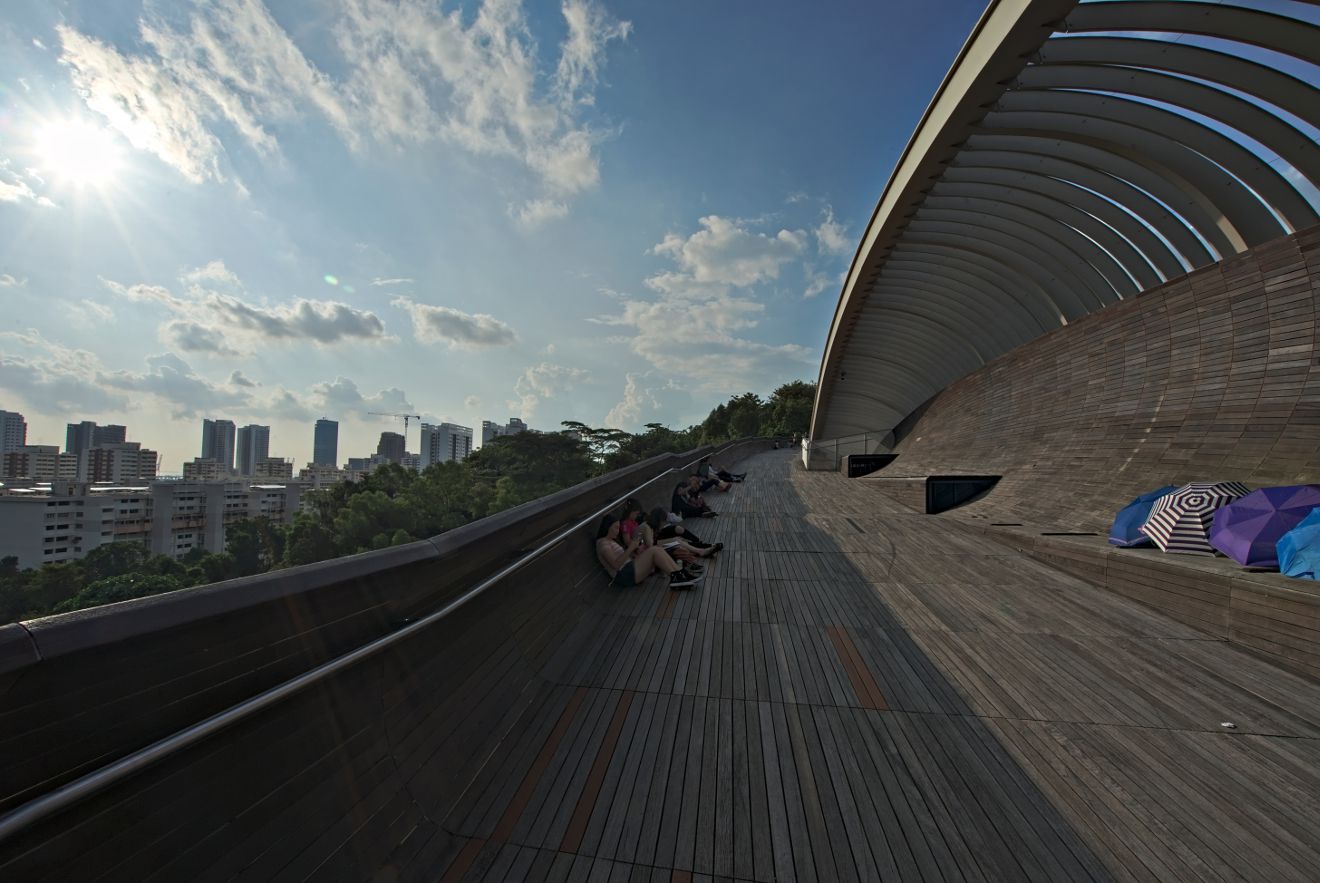 The craziest part of this walk is probably the feeling of being in the middle of nature on these footbridges suspended above the jungle but with very impressive buildings pointing in the distance, we highly recommend it!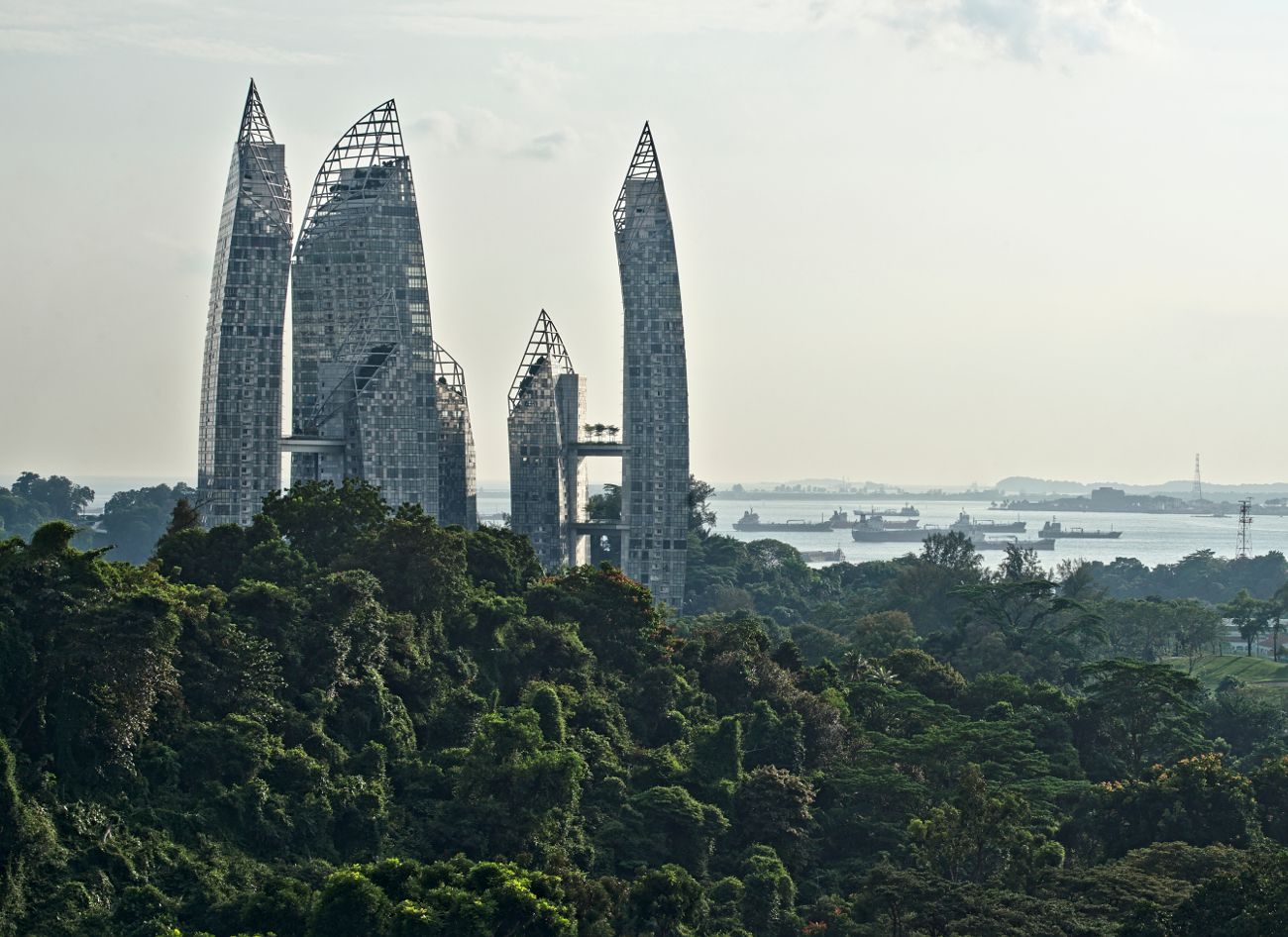 Infos

Starting point : The walk can be done in any direction and you can reach the trail at dozens of points along the way.
Distance : In total the Southern Ridge Walk is 9km long
Duration : Depending on the number of photo breaks and your pace, it seems like between 2am and 4am to do the entire walk.
Difficulty : Very easy, perfectly suitable for families
Cycling in Singapore at the East Marina
The best way to enjoy the huge park that stretches from Marina Bay is most probably to explore it by bike! With our friend Yi Ping and accompanied by her dad and her dog Sammy we rented bicycles at the Big Splash (there are dozens of rental shops along the promenade) and headed towards the Marina Barrage.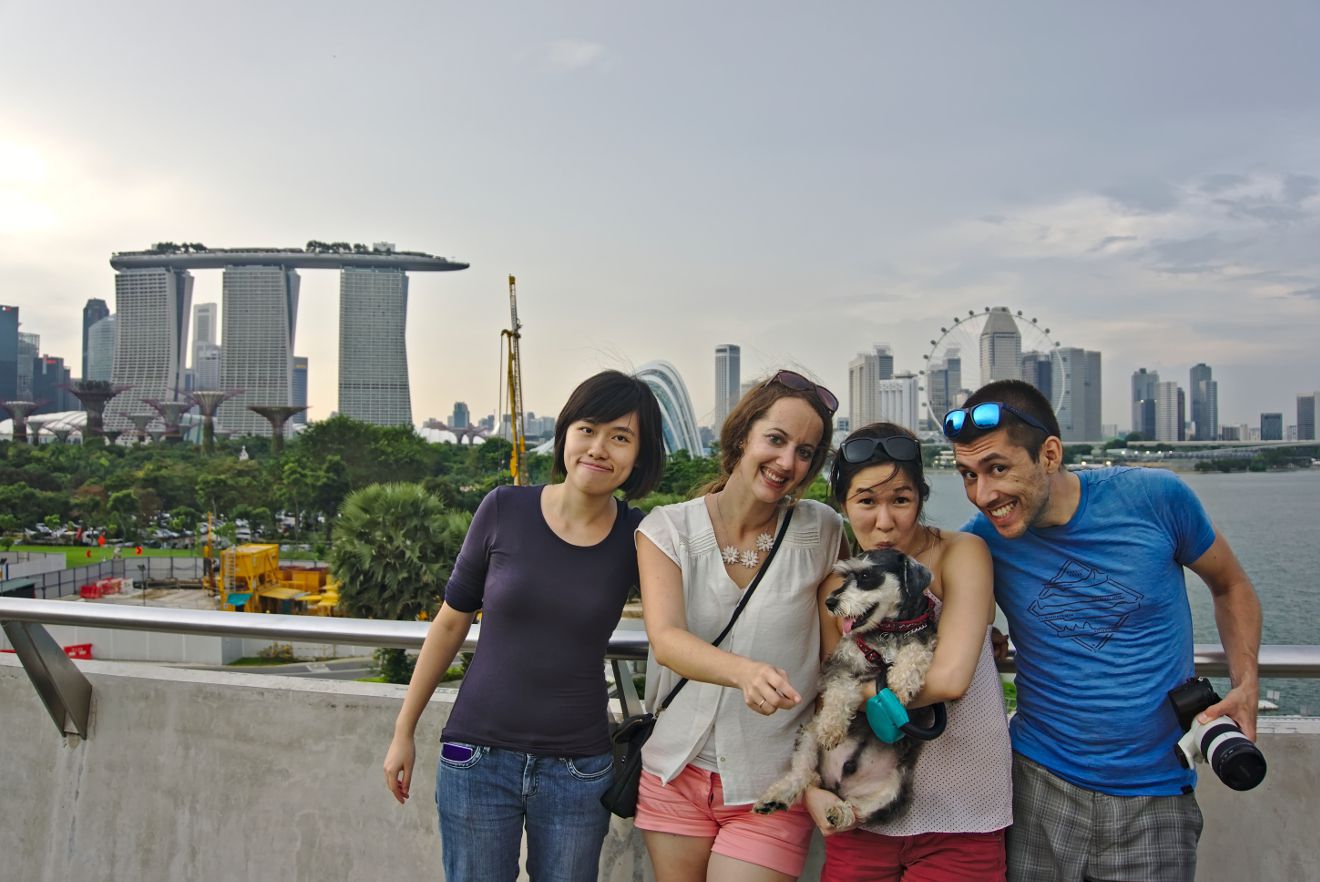 The Marina Barrage is as its name suggests a dam but it is also a place of leisure for Singaporeans. Here we come as a family with kites that we try (with more or less success) to launch from the roof of the dam which has been arranged as a kind of huge lawn with a plunging view of the city and the Marina. You'll notice that a guy managed to fly pirate ship there 😉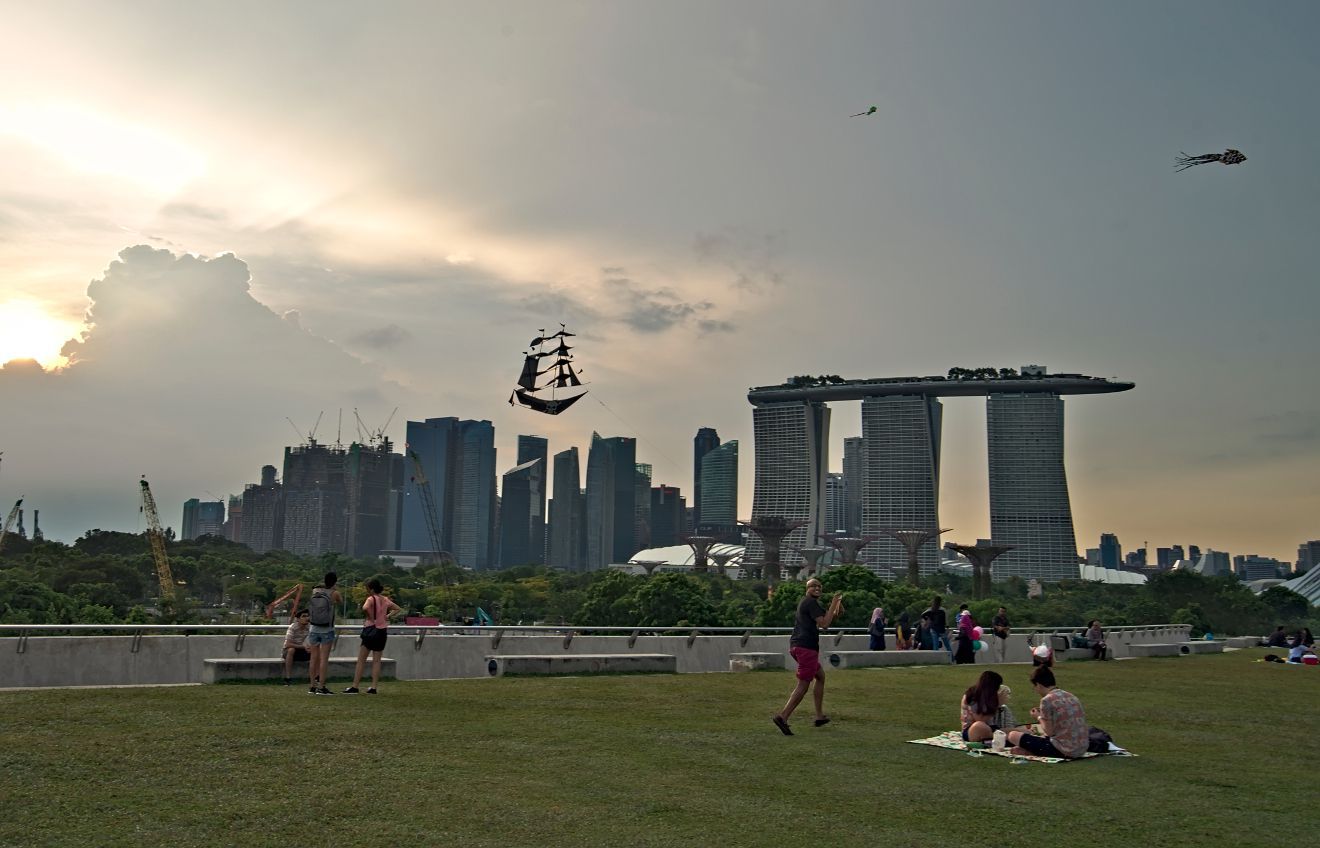 At the time of the rental we had the choice: either we each had a nice modern mountain bike with gears or… we could opt for a rotten tandem without real gears!
Hahahaha it reminded us of our tandem trip to northern Thailand, and considering the total absence of altitude difference in Singapore we didn't hesitate for long: TANDEM!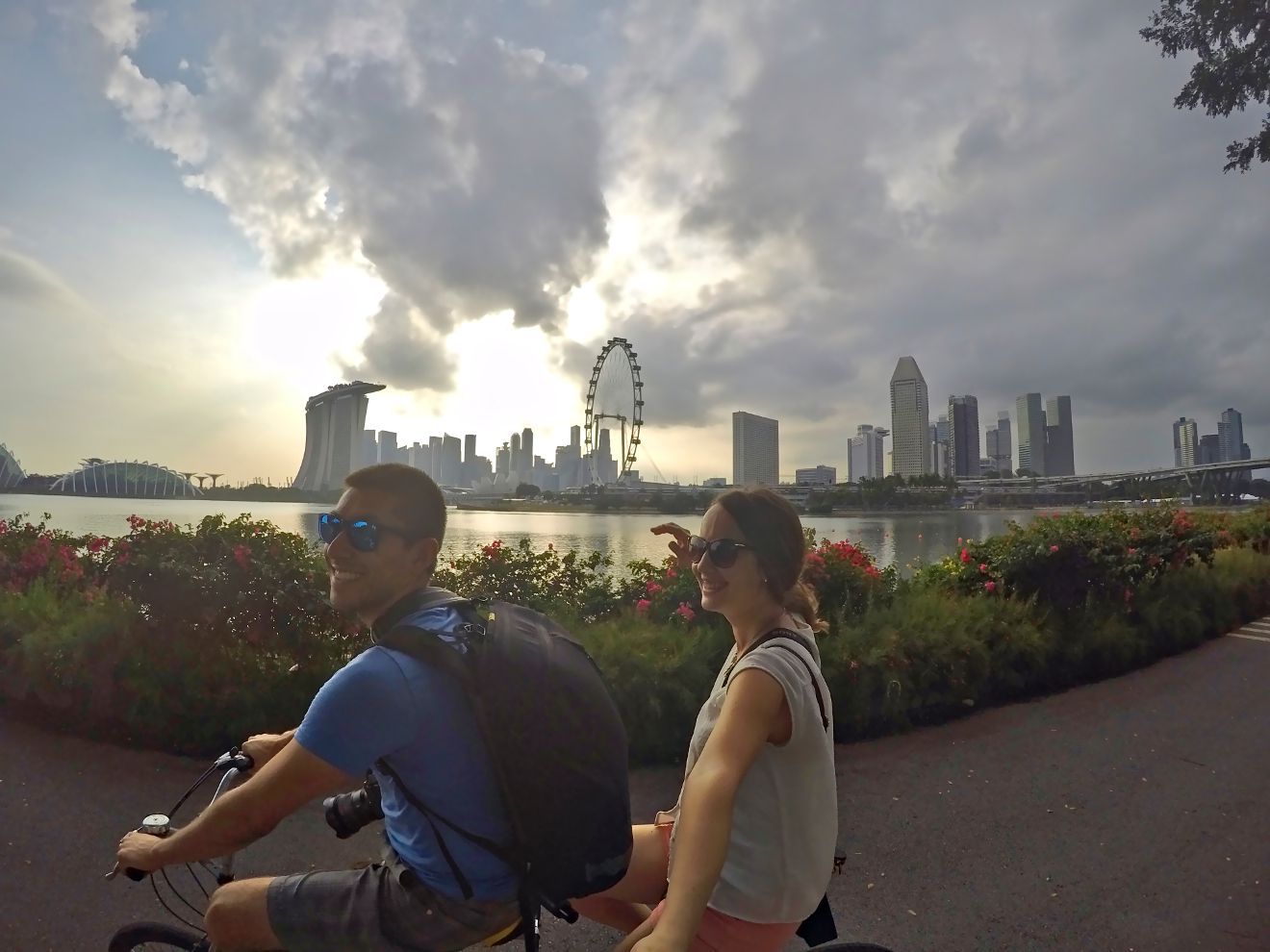 Once again the ride is really ultra easy and presents absolutely no difficulty, but then what a beautiful thing it is! We ride along bike paths that are probably even better maintained than the ones we have in Switzerland and we have fun reading all the signs that try to encourage Singaporeans to do sports!
Sunset in Singapore: our best spot
Advice : For many Singaporeans the ultimate spot for sunset is from the roof of the dam…. Personally we found that the view was even better from the other side of the dam (see on the map).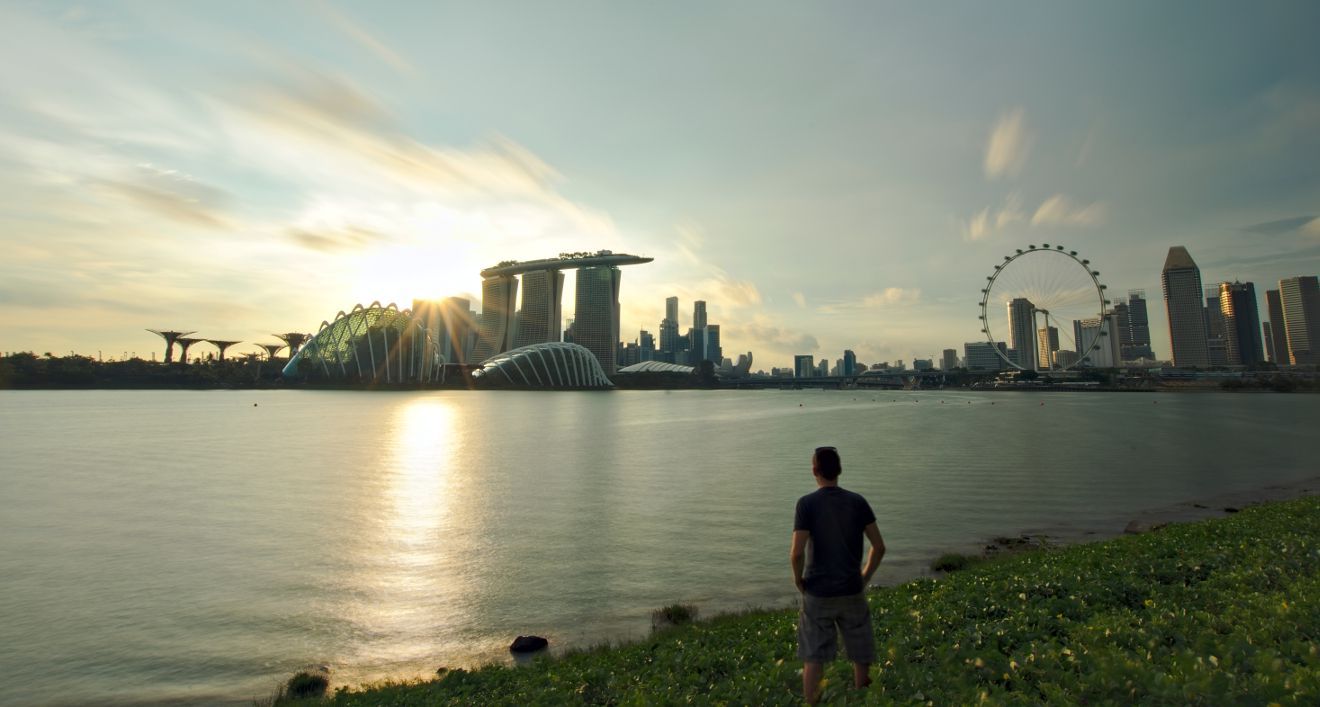 If the bike is not your favorite, you can walk here too! We came back twice in the area: once by tandem from the Big Splash and the second time on foot from the city centre after crossing the Gardens by the Bay.
Infos

Bike Rental : There are dozens of shops scattered along the promenade between Big Splash and Xtreme Skate Park.
Price :

For a bike : 6S$ for the first hour and then 3S$ the following hours
For a tandem : 12S$ for the first hour and then 6S$ the following hours
The Tree top Walk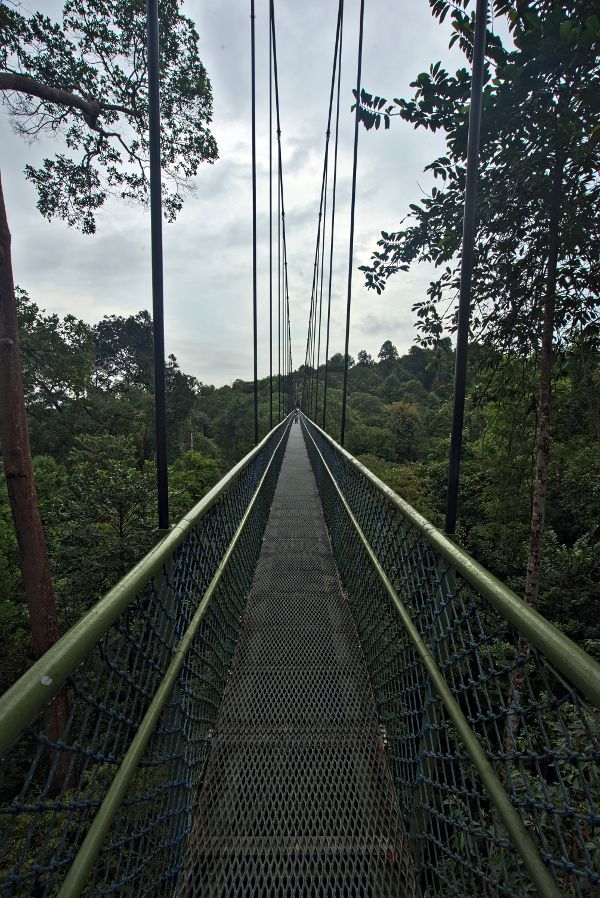 The TreeTop walk is a very easy but really beautiful 2 to 3 hour walk! Our friend Wei Ting lived right next to the entrance of this park, so we decided to come and do this little loop early in the morning to start the day off right!
The start is from a small parking lot just off Upper Thompson Road and the hike begins with a well-maintained trail to the famous Tree Top Bridge. The Tree Top is a 250m long suspension bridge that connects the two highest points of the Mac Ritchie Reserve. So don't get excited, as we said in our last article, Singapore is not a crazy mountain region and thus the altitude difference between the parking lot and the "highest point" there must be barely 100m. hahaha
The main highlight of this hike is that for 2 or 3 hours you are completely immersed in nature and you would almost forget that you are actually in the heart of Singapore!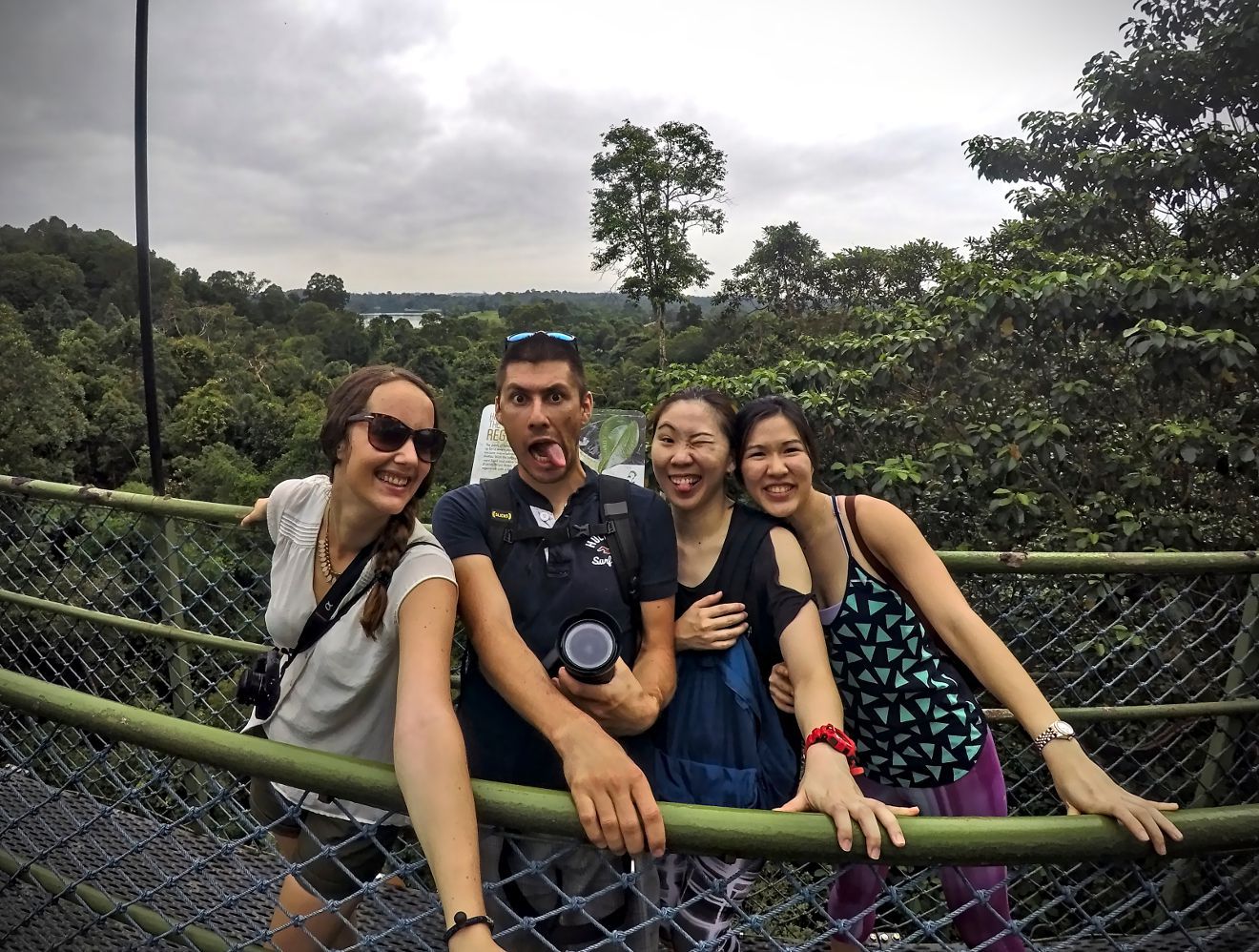 Infos

Distance : About 6km to do the loop
Duration : Allow 2 to 3 hours of walking by taking it easy
Difficulty : Really easy and accessible for the whole family without any worries
Bridge Opening: Tuesday to Sunday from 9am to 5pm. Be careful, the Tree Top is closed on Mondays!
Price : free 😉
Singapore Zoo
One of our friends from Singapore works for a large company that offers annual zoo passes to its employees and their friends/families… Thus, we jumped at the opportunity and headed for this zoo, which is reputed to be one of the best in Asia.
Personally, I have always had a mixed feelings about zoos. On the one hand I am a big fan of animals and I love going to observe them… But as the years go by, I find these cages often far too small and I think that these animals would be much better if they had been left free. After that, we are not here to debate the relevance of zoos, the fact is that they exist and that animals can be more or less well off. In the case of Singapore I would say that animals look pretty well-treated.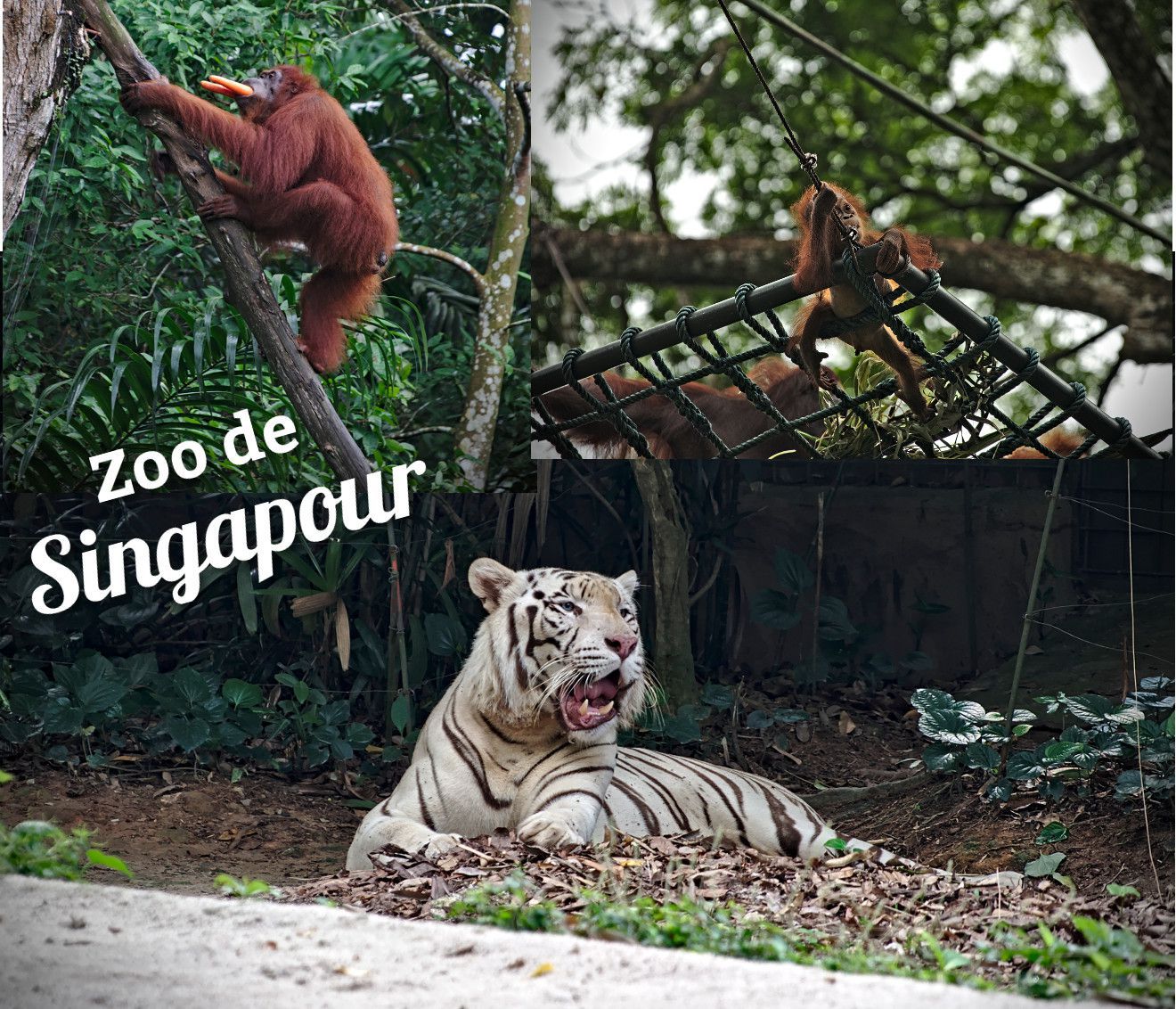 The zoo is in the middle of nature, and at several times you would really feel like you were in the jungle. Some animals such as orangutans or some species of monkeys and birds even roam freely in the trees of the park!

The big kid that I am has enjoyed discovering a lot of species that we are really not used to seeing!
Zoo, is it always a good idea to go there?
Then I don't hide from you that some aspects disturbed me more…. In particular, animal shows organised at fixed times. We attended the elephant show and throughout the show I found the act certainly "funny" but also really disastrous. It is probably also related to the fact that since we have settled in Thailand I have started to learn more about these great pachyderms and the conditions in which they are "trained".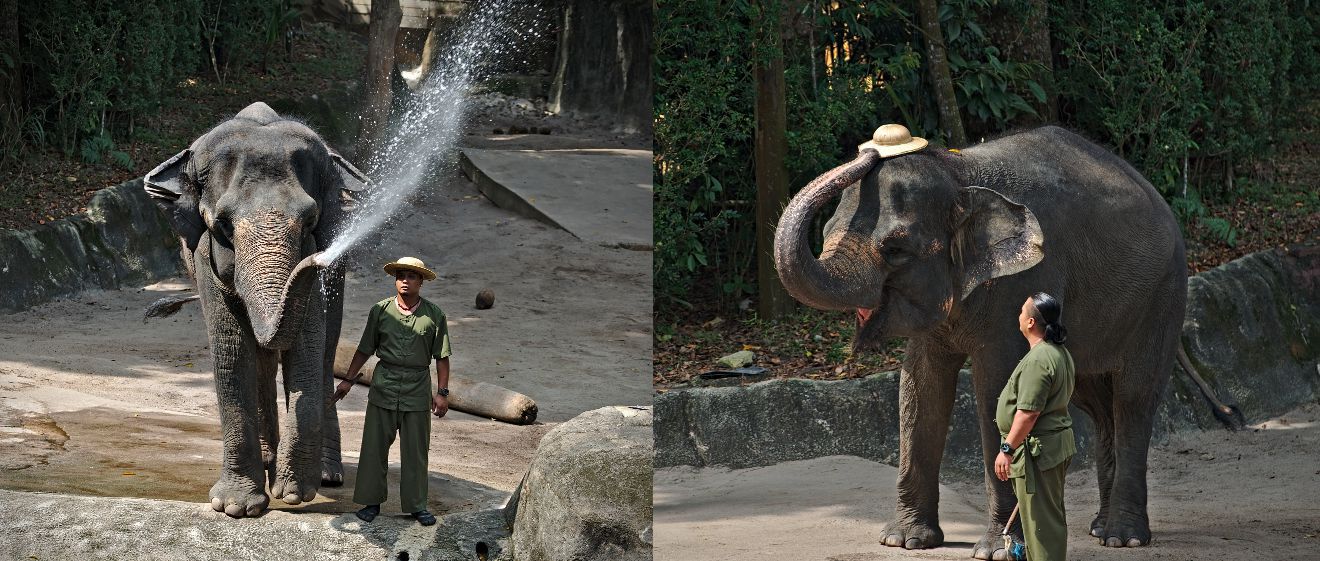 This is neither the time nor the place for a debate, but let us just say that this is something I did not like. And if you come to Thailand, I beg you not to ride on the back of an elephant under any circumstances.
Infos

Opening hours : Every day from 8:30 am to 6 pm
Price : 33S$ per adulte and 22S$ per child
Get there : Either by taxi or by taking the MRT (red line) to Ang Mo Kio station and then by bus N°138 (every 10 minutes)
Infos : In addition to the zoo there are 3 other parks that are connected: Night Safari, Bird Park and River Safari. The rates for the latter are similar to those of the zoo, but if you want to visit all of them, know that there are special passes at the price of 79S$ for the 4 parks valid 7 days.
Our Video of Singapore
A brief summary in pictures of our 5 days spent in Singapore:
Singapore's Climate, when to visit?
Singapore is only 1 degree above the Equator line, so I might as well tell you right away, the seasonal variations are not really crazy in Singapore!
The climate here is said to be tropical, which means that it is hot and humid almost all year round. Expect an average temperature of 25°C to 33°C and an average of 15 rainy days per month (just that!)
Statistically speaking, there is still a period considered drier from May to September and a more humid period from October to April.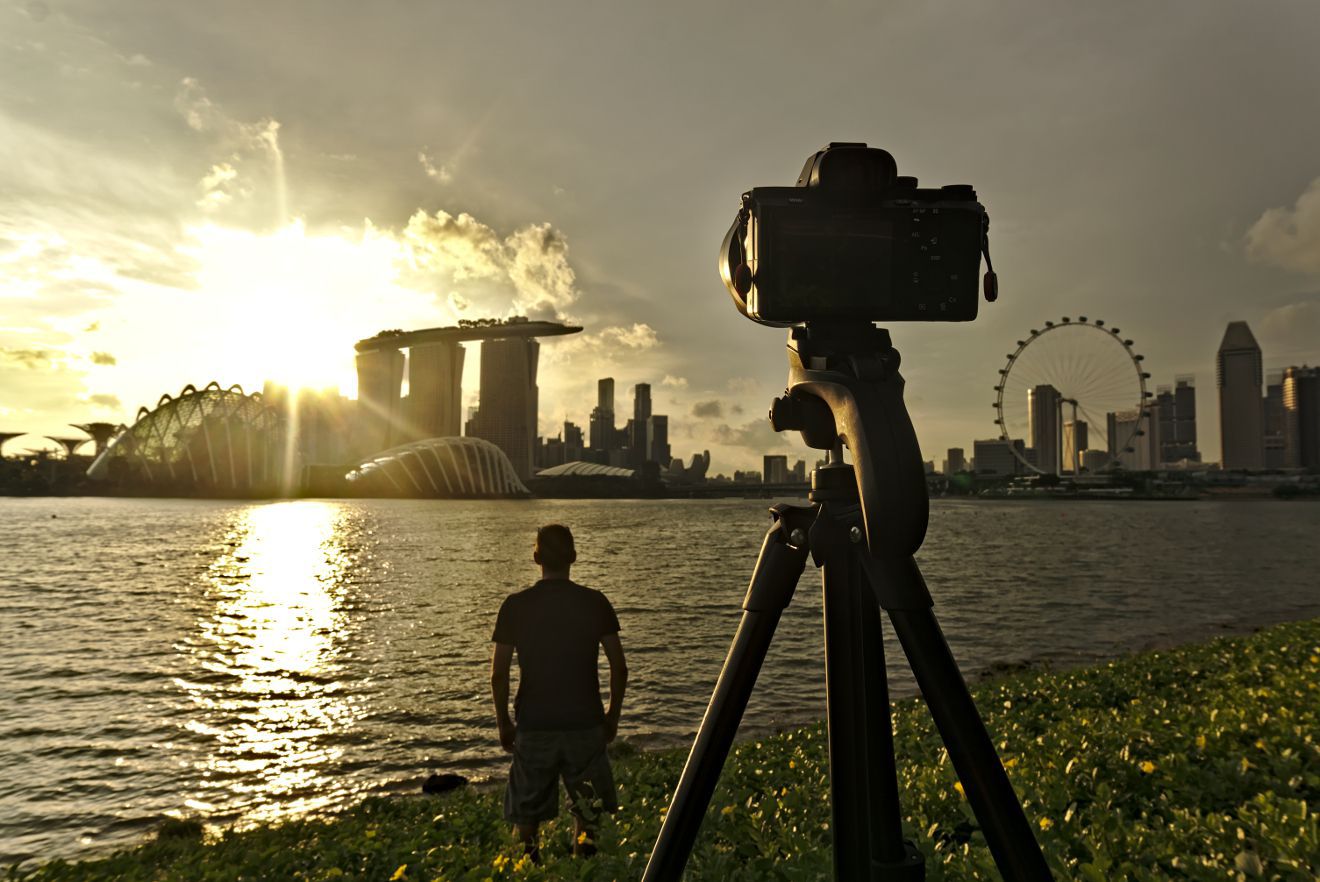 After that, it remains purely theoretical! We spent 5 days there in December and only had a few raindrops for an hour and a night.
Our recommendation for the season to visit Singapore
To visit I will nevertheless recommend the "wet" season because at this time you will have more chance to admire the city without too much pollution. Between June and October it is generally the fire season in Indonesia and it is very common for Singapore to be plunged into a thick fog for several days or even weeks!
That's it, the end of this little more natural parenthesis on this surprising city of Singapore! If you know of any other green spots in the city, don't hesitate to leave a comment!