If there is one region that we had heard a lot of good things about and that we had not had the opportunity to visit during our round the world trip, it is the north of Thailand. Several travellers had told us about Pai, Chiang Mai (the hub of digital nomads) or Chiang Rai.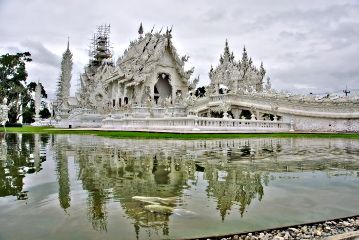 We were advised to explore this region by scooter. To go on treks while sleeping in homestays…. But what I think had impressed us the most were the images of the famous "White temple" that we had seen on other blogs about Thailand.
But this time for us the deal was clear, we only had 4 days available before a conference in Bangkok. So choices had to be made. To be honest, we didn't hesitate for long. We didn't really want to go to another big city like Chiang Mai and so we booked our flights to Chiang Rai. On the programm: breathtaking temples, tea plantations near Myanmar, the flowered gardens of the royal villa, tandem rides!
The city of Chiang Rai
Let's be honest, we didn't expect much from Chiang Rai city itself. Instead, it was planned to use it as a base for 3-4 nights to explore the surroundings during the day. But after a long trip from Switzerland and a long night's sleep, we preferred to discover Chiang Rai on foot rather than directly explore the region.
We also took the opportunity to gather some information for the coming days. Here are some points that we think might be worth a visit in Chiang Rai:
Chiang Rai Province Tourism Office:
It is not necessarily easy to collect good information through hotels or travel agencies. (of course they all pretend to have the best tours in town 🙂 ). So, when we saw that there was an official tourist office, we decided to go there and see if maybe they could help us plan our trip.
And what a surprise it was to be received by two ladies who spoke decent English and who gave us several well-designed English flyers. Thanks to this information, we were able to organize our visits without any problem. Frankly, we highly recommend you to have a look there if you are uncertain about what to do in town. (the tourist office is located just in front of the police station on Singha Khlai Rd.)
Wat Phra Kaeo :
You probably know the emerald Buddha who is in the great palace of Bangkok and who changes his clothes 3 times a year? (he is still the most sacred Buddha in Thailand). Well, it seems that this boudha was found in Chiang Rai in 1444 after lightning struck the temple pagoda and revealed the Buddha. I obviously wouldn't know if this story is true, but the temple is worth a visit and there is also a free museum. We enjoyed the visit a lot.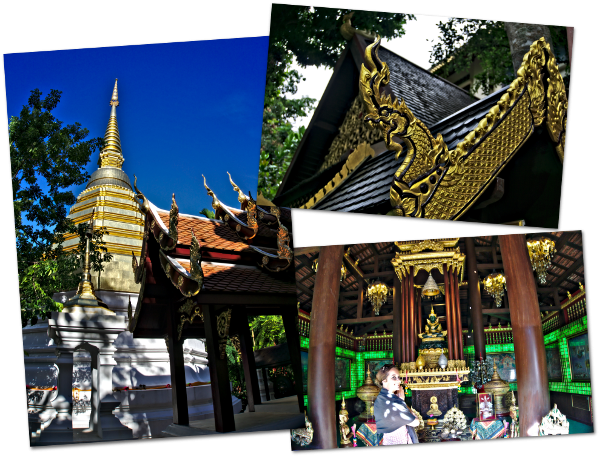 Go to the Night Bazar in Chiang Rai:
So there are different night markets. 2 are weekly and take place on Saturday and Sunday evenings. But as we were only in Chiang Rai during the week we went to the night Bazar which is held every evening near the bus station. This market is interesting for 2 reasons: the first is that the merchants did not jump at us as soon as we stopped to look at an object.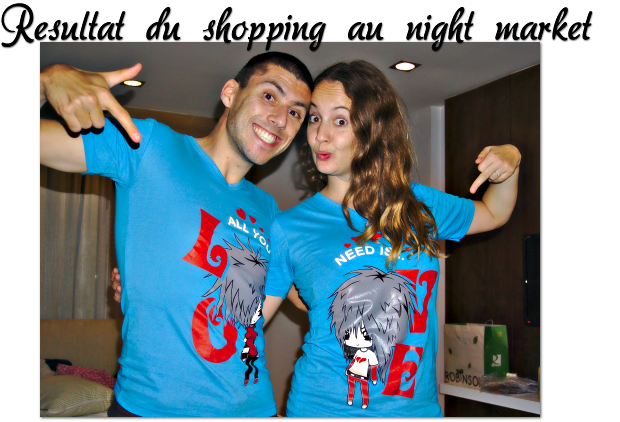 The second is that there are 2 very nice squares with live music and great food stands. We recommend the 2nd one (the one furthest from the market entry) which offers more choice of local food at very low prices.
The Central Plaza Shopping Center:
Located south of Chiang Rai, this is the place to go if you want to do some brand shopping. We admit, since this time we had room to bring back some stuff, we let ourselves go a little bit. New $25 Conversations, new backpacks (Osprey) for $50-$60… The brands are still a hell of a lot cheaper than in Europe. So if you need to buy specific items, it can clearly be worth it!
Infos
To come to Chiang Rai, the most common and cheapest way is obviously by bus. You will have no problem finding a bus ticket from the cities of Bangkok or Chiang Mai.
In our case, since we didn't have much time, we flew from Bangkok.
There are several companies that offer this route but most of them only from Don Muang airport, since we were arriving at Suvanabhumi airport, we preferred to pay a little more and fly with Bangkok Airways instead of having to cross the whole city by Taxi (people who know Bangkok know well how unpredictable taxi travel times are eheh).
Visit The White Temple (Wat Rong Khun)
Since we had seen photos of the white temple on social networks, we had dreamed of being able to admire this marvel of the Thai artist Chalermchai with our own eyes. And since the temple is located only 13 km south of Chiang Rai, we thought that it would allow us to discover a little better the surroundings of the city if we went there by bike. That's good, our hotel provided us with bicycles for free… But when we went to get these famous bicycles, we realized that our hotel also had a… TANDEM!!!!!
Rental of the tandem, and Fabienne's shock
Imagine the scene… the sparks in my eyes and already the fear in Fabienne's eyes;)… Within seconds, I inflate the tandem's tires and let's go for a day of exploration… Fabienne did not have time to complain or protest! 🙂
So the advantage of the tandem is that it is not very widespread in northern Thailand. As a result, the very fact of driving on the small roads around Chiang Rai with this "thing" attracted the sympathy of everyone… We have never received so many smiles, greetings and laughter as we did during that day 🙂. Frankly, just for that, the tandem is worth it. And Fabienne will tell you, it's finally quite fun :)…. She found some significant advantages to the tandem she illustrates so well in this video:)
[Chiang Rai] Aujourd'hui nous sommes partis découvrir le temple blanc. Situé à 14km de la ville on y accède soit en tuk-tuk, taxi ou alors… à Vélo ! Mais comme le vélo on connaissait déjà, on a décidé de tenter un nouveau truc : le TANDEM!Une petite vidéo rapide de la journée pour vous donner un petit avant goût ! Demain on part en direction du nord, à la frontière avec la Birmanie ! Bonne soirée, des becs thailandais !

Posted by Novo-monde on Tuesday, October 13, 2015
The Singha Parc
On the way to the white temple, we made a small detour to go see the Singha Park. At the entrance to the park, a giant statue of Singha has been erected (which is strange considering it's a beer brand 🙂 )… We spent a while taking stupid pictures in front of the statue.
But we advise you to venture a little further into the park…. There's a pretty lake surrounded by tea plantations! On a small hill overlooking the lake, there is also a restaurant that offers excellent Thai cuisine with northern specialities and a magnificent view. Frankly we recommend:) (even if the restaurant is a little expensive).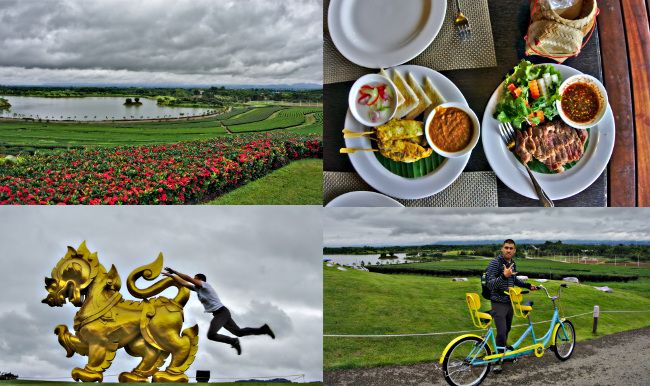 We then continued towards the "White temple" still with our tandem. And a few kilometers later, we finally reach our goal of the day! This temple is really straight out of another world!
White Temple: A truly unique place in Thailand
At times we have the impression of being in hell with suspended heads, skulls, hands coming out of the ground as if to ask for help… and once you cross the bridge to reach the main building, you have the impression of entering a sacred place!
However, the mural fresco inside the temple is very modern with a curious mix of Buddhas and heroes like Batman, Master Yoda or Matrix (unfortunately we were not allowed to take pictures). Frankly, the mix is confusing but sooo nice! It is clearly one of the most beautiful temples we have ever seen… It's really a must see if you come to Thailand.

After having done the tour of the temple twice (we shot like paparazzis), we got back on the saddle to finish our loop before nightfall. It took us another hour to get back to the hotel…. But what is certain is that we loved the tandem and we will certainly renew the experience (wait until I convince Fabienne to buy one for trips in Europe 🙂 )
Infos
By chance we had taken a small picture of the bike tour map (available on a sign in front of the chiang rai tourist office). The complete loop must be about thirty kms and it's flat (except the climb up the shinga park hill). We highly recommend (in addition the visit of the temple is free:) 🙂 ).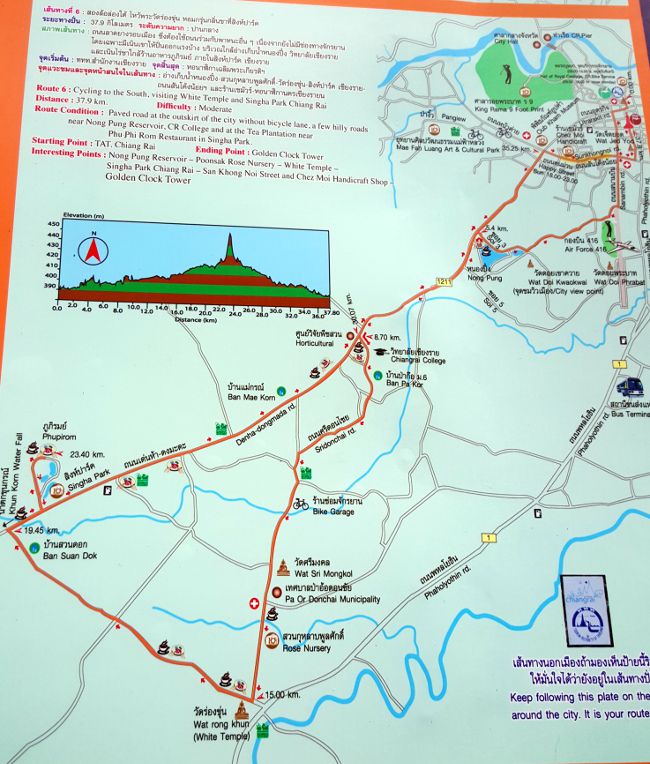 The Black House (Baan Dam)
After the visit of the white temple, we were strongly advised to visit the black house created by the artist Thawan Duchanee. So believe us, we didn't think we'd see anything crazier than the white temple near Chiang Rai… Well, we were very wrong!
How can I describe the black house to you in a few words? Macabre, gloomy, brilliant, captivating are the adjectives that come to mind. As soon as we arrive, we are already in front of the imposing black building which is already pretty amazing! We enter and discover a curious mixture of paintings by the artist hanging here and there in the middle of a junk of skeletons, animal skins and so on! Frankly, it's strange but impressive.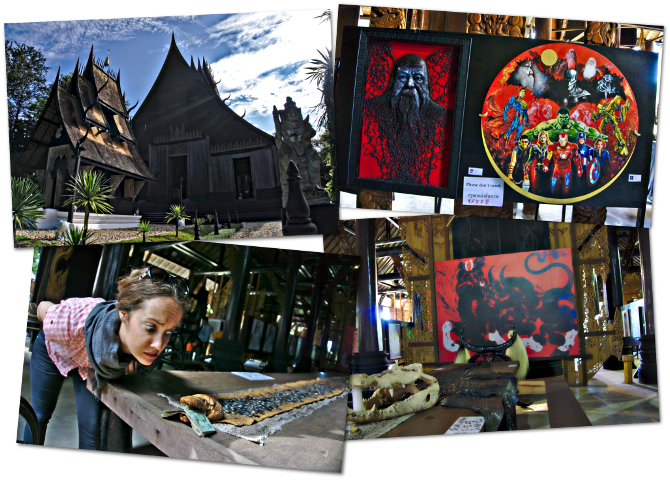 And it continues in the garden!
And this is only the beginning… when you go out from back door, you discover that there are still a good dozen other buildings, a little smaller but all more interesting one than the other.
There are kinds of thai traditional small houses filled with bones, a kind of white dome whose interior is similar to a satanic meeting room, a building in the shape of an animal that was supposed to be a torture room.
Anyway, we don't want to know exactly what Thawan Duchanee was doing in here, but it's an offbeat and super interesting place to visit. If you are in the area, don't miss this marvel!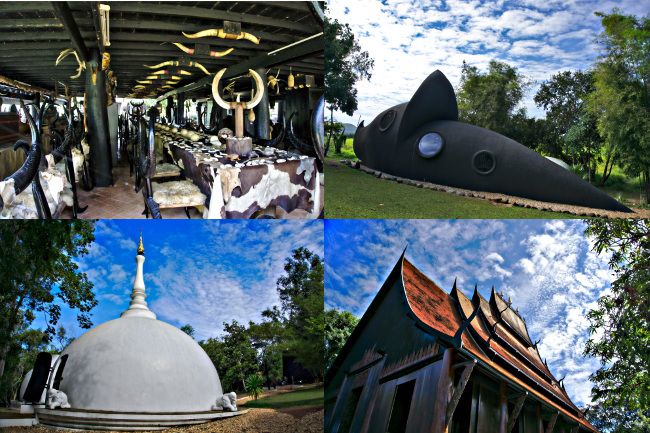 Infos : The black house ( or "baan dam" in Thai) is located about ten kilometers north of Chiang Rai, a little further than the international airport. You can take a bus from the station and ask the driver to drop you off at the intersection with the main road (500m to walk after).
In our case, we had a car with driver for the day as we wanted to visit a lot of things that day (we went to Doi Mae Salong and Doi Tung after the black house).
Doi Mae Salong's Tea Plantations
Well we also came to the north of Thailand for its natural side, its mountains (certainly small compared to Switzerland), its flowers… But this time, there was no time for us to do a trekking in the region for several days, so we hired a local driver (you'll see, it's not that expensive and it gave us a lot of freedom of movement) to explore northern Chiang Rai.
After visiting the black house, we leave the main road for more winding roads towards the village of Mae Salong. The landscapes are really splendid and we stopped several times to enjoy the view and take some pictures.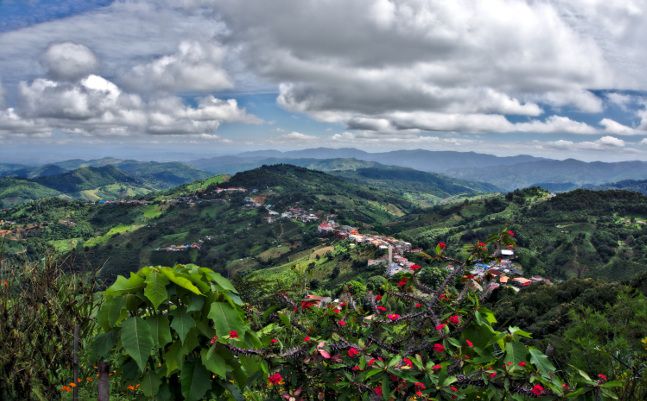 Mae Salong, tea plantations in Thailand
After a short hour's drive, we arrive in the middle of the tea plantations of Mae Salong village. For the record, know that northern Thailand (the golden triangle on the border with Laos and Burma) was rather a spot known for its opium production (well ok it is still a little bit)…
But the Thai government has become much stricter on this subject and now, tea is more commonly grown in the area :).
We take the opportunity to enjoy tea, have lunch with a view and visit the temple overlooking the village before heading back to our last destination of the day: the royal villa and the gardens of Doi Tung.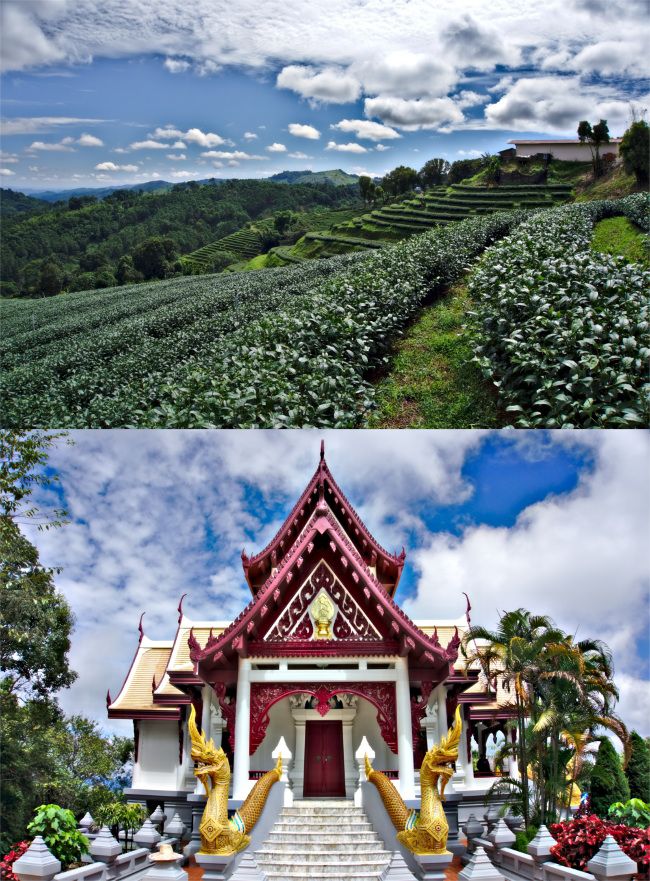 Infos
To get to Mae Salong (64kms northwest of Chiang Rai), there are minibuses that leave every 20 minutes from the bus station and it costs 50 baths per person. Alternatively, you can also rent a scooter (all roads are paved) or a car.
Doi Tung: the royal villa and its gardens
Doi Tung is in fact the name of a mountain near the Burmese border that was until the mid-1980s a place where poppies were grown for opium production. At that time, the tribes of the region burned the land to cultivate poppies (a little like in Indonesia today with palm trees… but we will talk about it soon) by destroying the forest at the same time.
The mother of the current King of Thailand (Somdej Phra Srinagarindra), realizing the problems caused by deforestation (landslides, floods and the like) and opium (many men were dependent on opium in the northern tribes), decided to launch a development project to reforest the region by encouraging tribes to plant and grow something other than opium.
It paid off! Opium has almost disappeared
25 years later, it is clear that the result is very successful! The forest is back, the quality of life of the local tribes has increased (no more opium junkies destroying their families) and the queen mother has even built her summer villa there. You can visit the superb botanical gardens (the flowers are simply incredible) as well as the greenhouses where the different trees are grown before being replanted in nature.
In addition to the gardens, you can also visit the queen's villa with an audio guide that tells us more about who the queen was as a person. After listening to this, we understood better why she was much appreciated by the different tribes of Thailand who affectionately nicknamed her "the royal grandmother".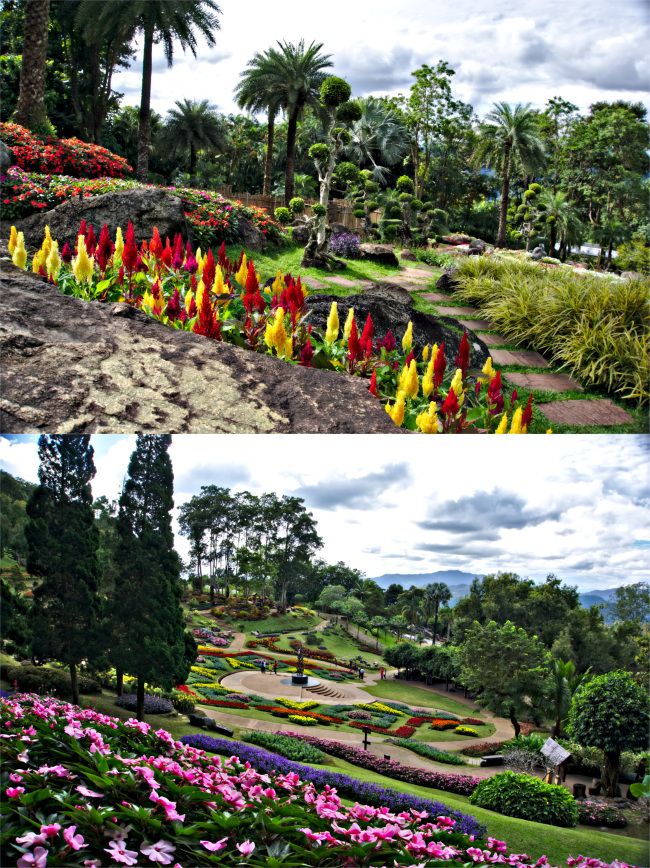 All this to say that it is really worth visiting Doi Tung and taking a good afternoon to have time to walk around the gardens, the arboretum, the villa…
Not only did we find the gardens sumptuous but we also learned a lot of interesting things about the queen and the royal family of Thailand (for example we didn't know that they had lived in Switzerland for a long time:) → I mean we could have guessed as her villa is a mix between a Thai house and a Swiss chalet ahah)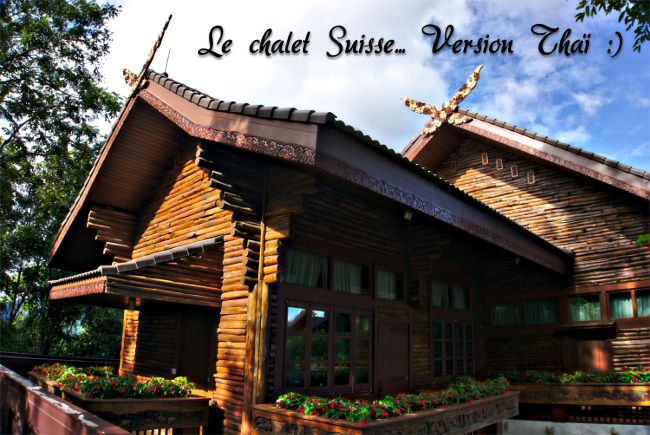 Infos
To get to Doi Tung, the same bus goes first to Mae Salong (count 1h30 from Chiang Rai). Otherwise a scooter or a car will do just as well. For the visits, we paid 180 baths per person for the entrance to the entire site. If you only want to visit the gardens, for example, you can pay a specific entrance fee of 80 baht.
Other things to see in Chiang Rai region
As we told you above, we only had 4 days to discover the region so we really didn't have time to visit everything. So here are some more ideas to discover if you have more time than we do:
Phu Chi Fa : It is a mountain that is 115 km east of Chiang Rai, on the border with Laos. Apparently you can camp there and admire the sunrise with a view to fall on Mekong and Laos… the kind of thing that makes you want to see it!
Namtok Khun Kon : the largest waterfall in the region located 30 km south of Chiang Rai.
Infos

The day we visited the black house, doi mae salong and doi tung, we had taken a driver with a car just for us.
In Chiang Rai, we stayed at the hotel Homey Dormy which we LOVED… A great place, a staff that has always tried to help us, the free Tandem:)…. In short, we recommend you:)
The reason we had a driver was that the prices we were offered for a group tour were similar. And unfortunately we wouldn't have had time to do everything by scooter in one day. (we did at least 150-180 kms) In short, this solution offered us maximum freedom. (we would stop for example when we wanted to take pictures).
For one day, we paid 1500 baht for the car and the driver. Then we added 500 baths of gasoline. (in total it cost us about 50€). But if we had more time, we probably would have rented a scooter.
So here we are, friends, we hope that with this article we have made you want to discover the Chiang Rai region and northern Thailand. Obviously, we found that 4 days were too short so if you have any suggestions for visits to northern Thailand, let go of the comments because we will probably go back there 🙂
Note: This article contains affiliate links. By using our links, you do not pay anything extra, but we'll earn a (small) commission. Thanks for your support.
Enregistrer