Last week we left Chiang Mai for a little getaway to visit Singapore for a few days! A totally crazy city where we had the chance to have amazing guides, I name: our Singaporean friends! 🙂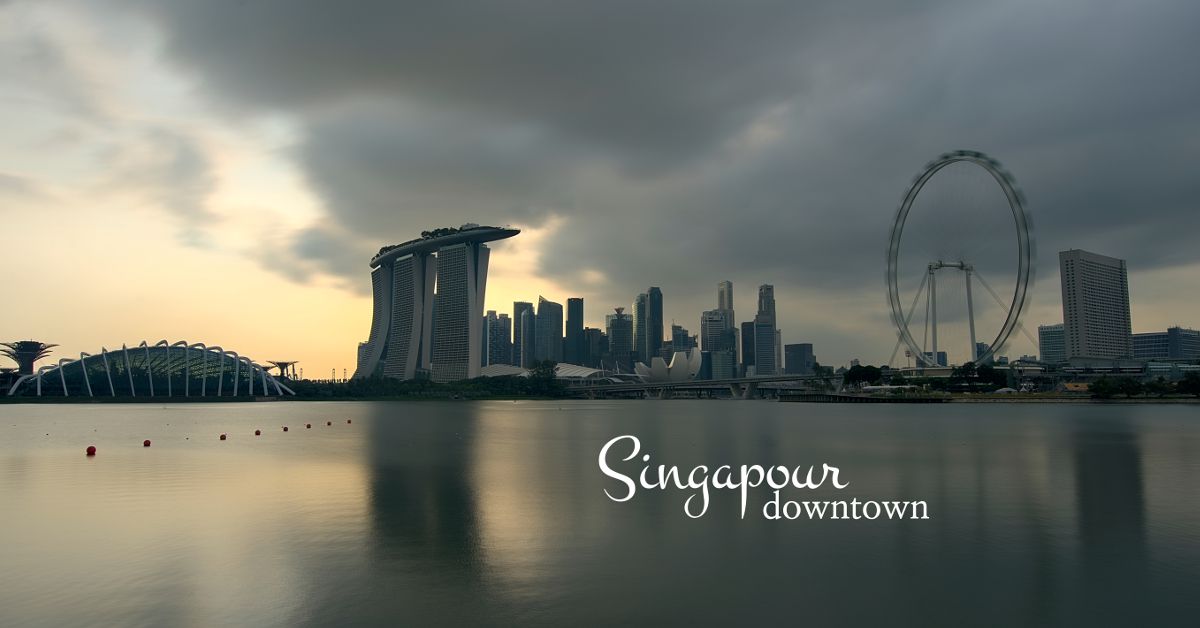 If you remember, last March we told you about our crazy week in Switzerland following a competition won with Swiss Airlines where we welcomed 4 girls from Singapore to our home.
Being in Asia the opportunity was too good not to go and say hello to them!
Video of our short holiday in Singapore
Singapore, a city state that is definitively different
Singapore is a really huge city but strangely enough it seemed more human-sized than I would have imagined! Don't get me wrong, eh, but let's just say that for a city of almost 6 million people I would have expected something much more chaotic!
In fact, the business district is almost the only place where there are lots of buildings of more than 50 floors, on the rest of the island there are many smaller buildings and villas as well!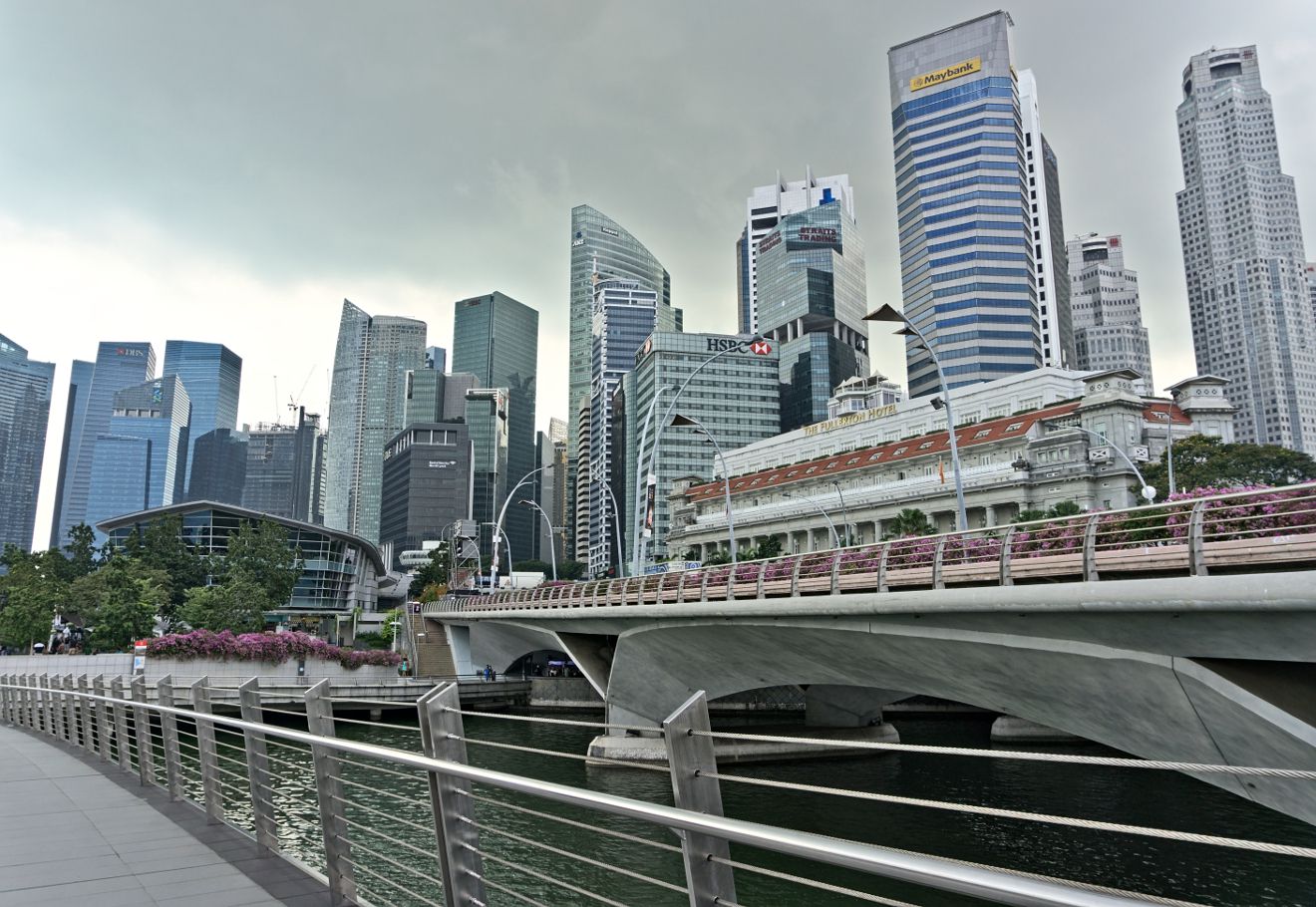 Moreover, if we look at the density figures per km2 we realize that Singapore is ultimately much less dense than cities like Paris or even Geneva! In Singapore, about 7,700 inhabitants share 1 km2, while in Paris this number rises to 21,154 and for Geneva it is 12,359.
Singapore = a Green City?
Another thing that struck me was how green Singapore is! I had already read that Singapore was called the "garden city" but I hadn't imagined it would be "that green"! In this article we will talk more about the city side, but we promise we will also prepare an article on the nature side of this city that really marked us!
Edit: The article is live here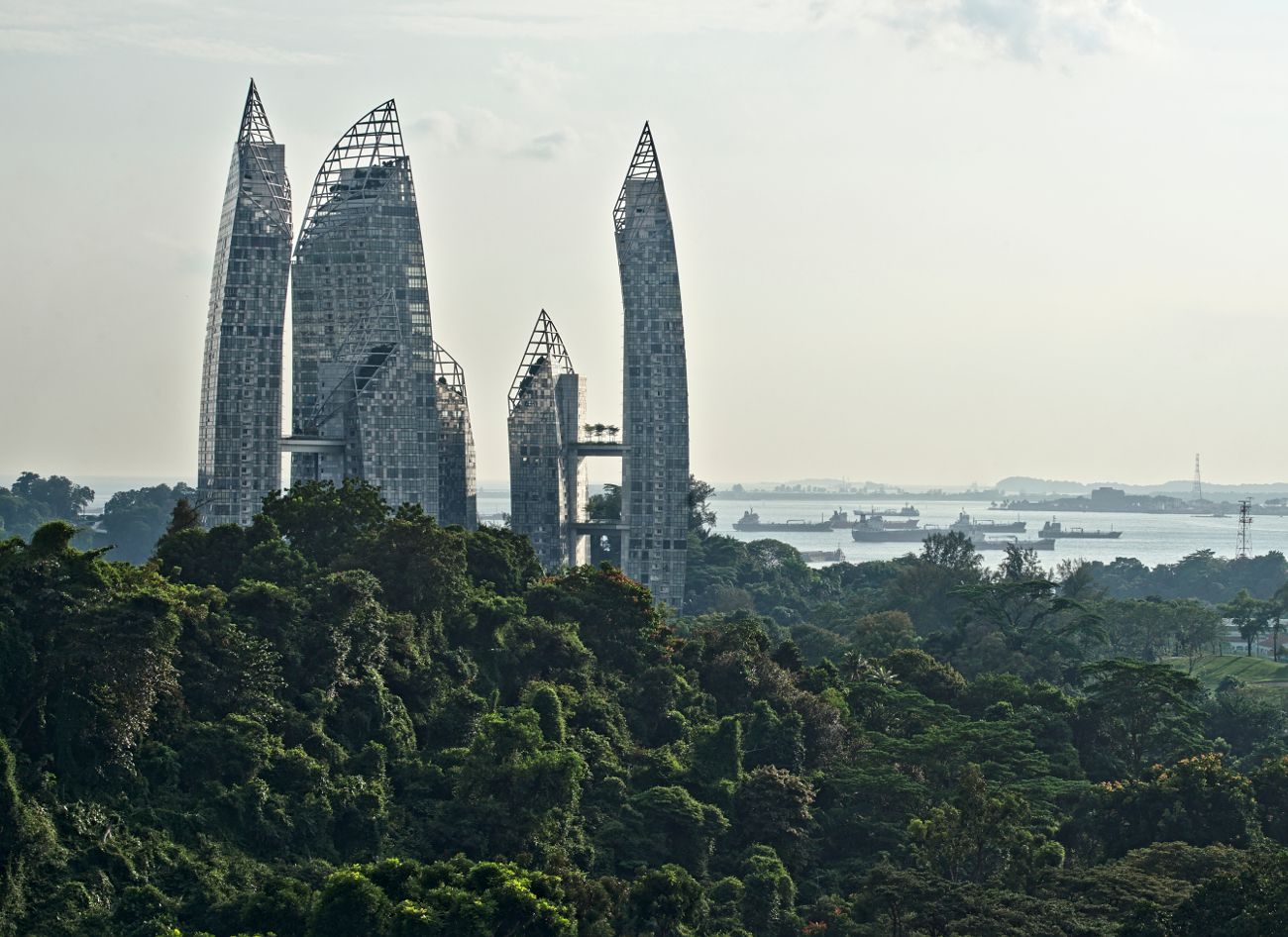 It made us smile when we read that the city's long-term plan is no longer to be a "garden city" but a "city within a garden".
Living in Singapore: A population that comes from all over the world
Another aspect I loved about Singapore was the diversity of the population. Due to its history with British colonization, this small island located in southern Malaysia has become a real cultural and ethnic melting pot. About 74% of the population is of Chinese origin, 13% comes from Malaysia, 9% from India and just over 3% comes from elsewhere, particularly the West. This diversity is reflected in the country's official languages, which are English, Malay, Tamil and Mandarin!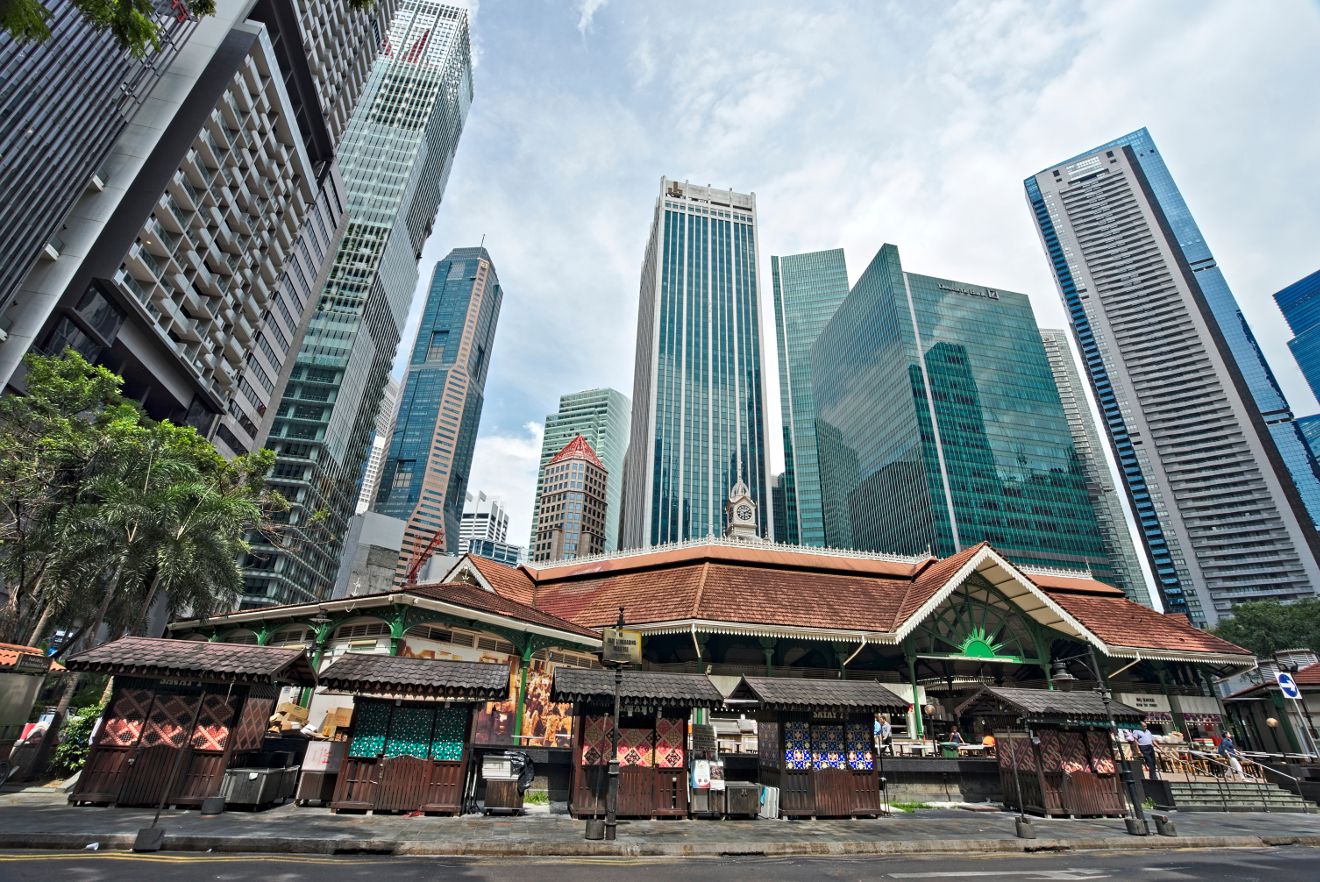 Well, it's pretty, but what can you see in Singapore?
A brief overview of our favourites places to visit in the city of Singapore!
Singapore's business district: The Merlion and its buildings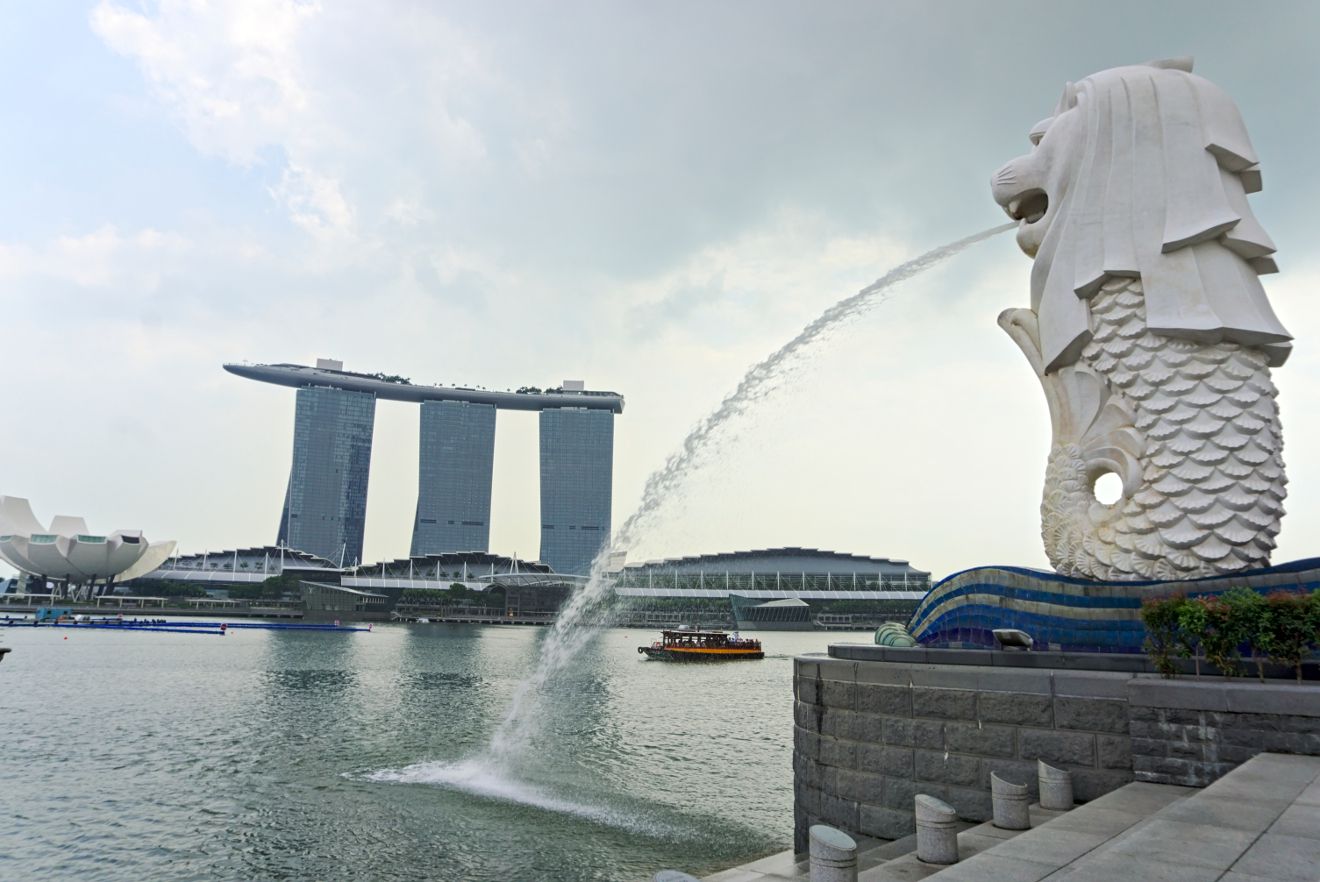 This is probably the most emblematic district of the city: an area of about fifteen square kilometres where buildings, all higher than each other, with sometimes totally crazy architecture, rub shoulders with the city's symbols such as the Merlion or the Marina Bay Sands Hotel.
It is a district that moves, a district where people work but also an area where you come to stroll through the dozens or even hundreds of shopping malls that are almost all connected underground to each other via a maze of air-conditioned corridors ! 🙂
A city that empties itself during the day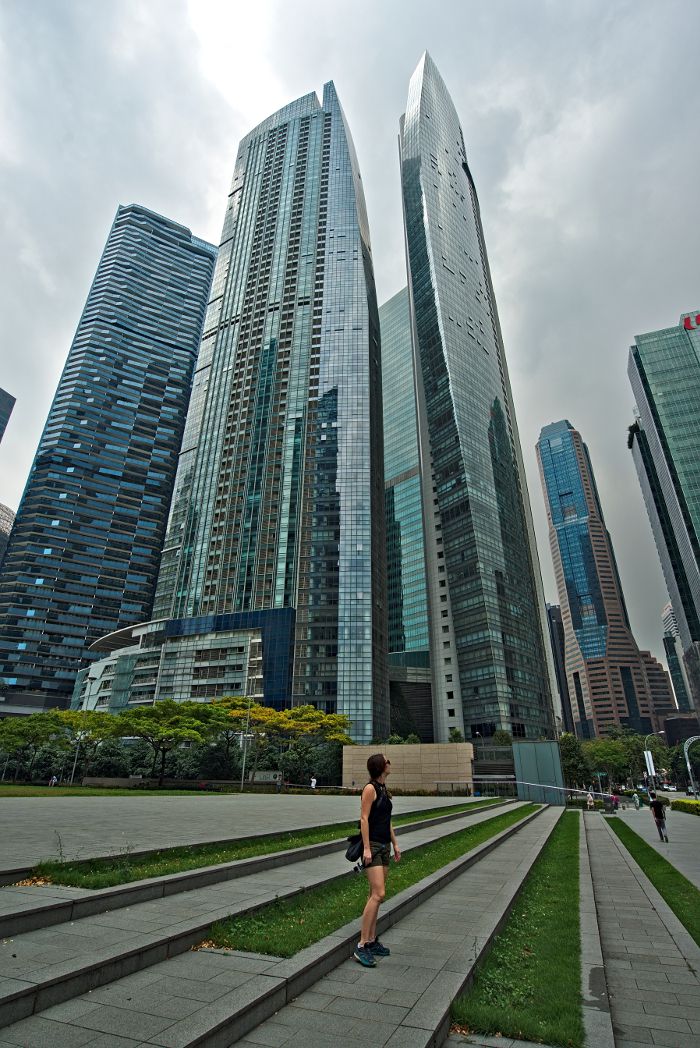 When we came here on the first day it must have been about thirty degrees celsius and we were walking along these streets cleaner than in Switzerland with a strange feeling of calm. In my head I imagined that this area would be overcrowded but in reality the streets were almost deserted.
It was to a point that I even asked our friend Wei Ting if it was a holiday by any chance, because in my opinion the streets gave me the impression of a Swiss city on a Sunday afternoon rather than a weekday.
Singapore underground
Wei Ting smiled and told me that it was only empty outside… It was too hot… Huh? A few minutes later we took an escalator and found ourselves in the air-conditioned underground. So that's where people hide! We had just arrived underground when my impression of a "quiet city" immediately vanished into thin air! In Singapore, to find the crowds, just follow the small stream of fresh air that escapes from the automatic doors of shopping centres.
Singapore Biennales
During our visit were held the 2016 Singapore Biennales; an exhibition of temporary works of art that is held at different locations in the business district and showcases artists from all over Asia. Our artistic spirit being what it is (understand by that close to nothingness) we will admit not having understood everything to some of these artworks…. Special mention for this Indian artist who hung more than 3000 pots in the entrance of the Singapore National Museum 🙂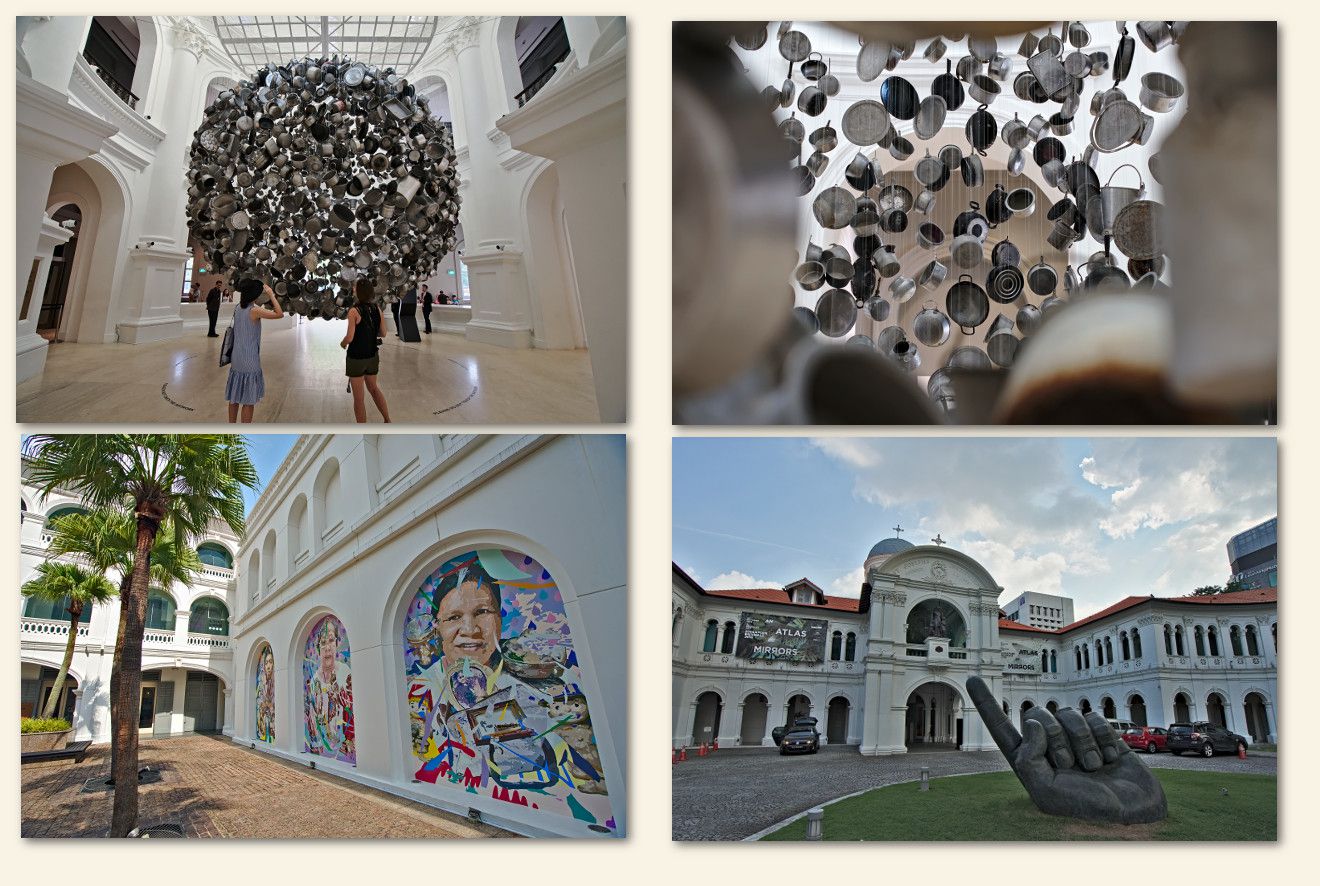 note that the works will still be visible until February 26, 2017. It is possible to purchase a global ticket that will give access to all participating museums for 20S$.
If, unlike us, you have an artistic flair, it is also possible to participate free of charge in a guided tour of the artworks every day (tour in English).
Haji Lane: Singapore's Arab district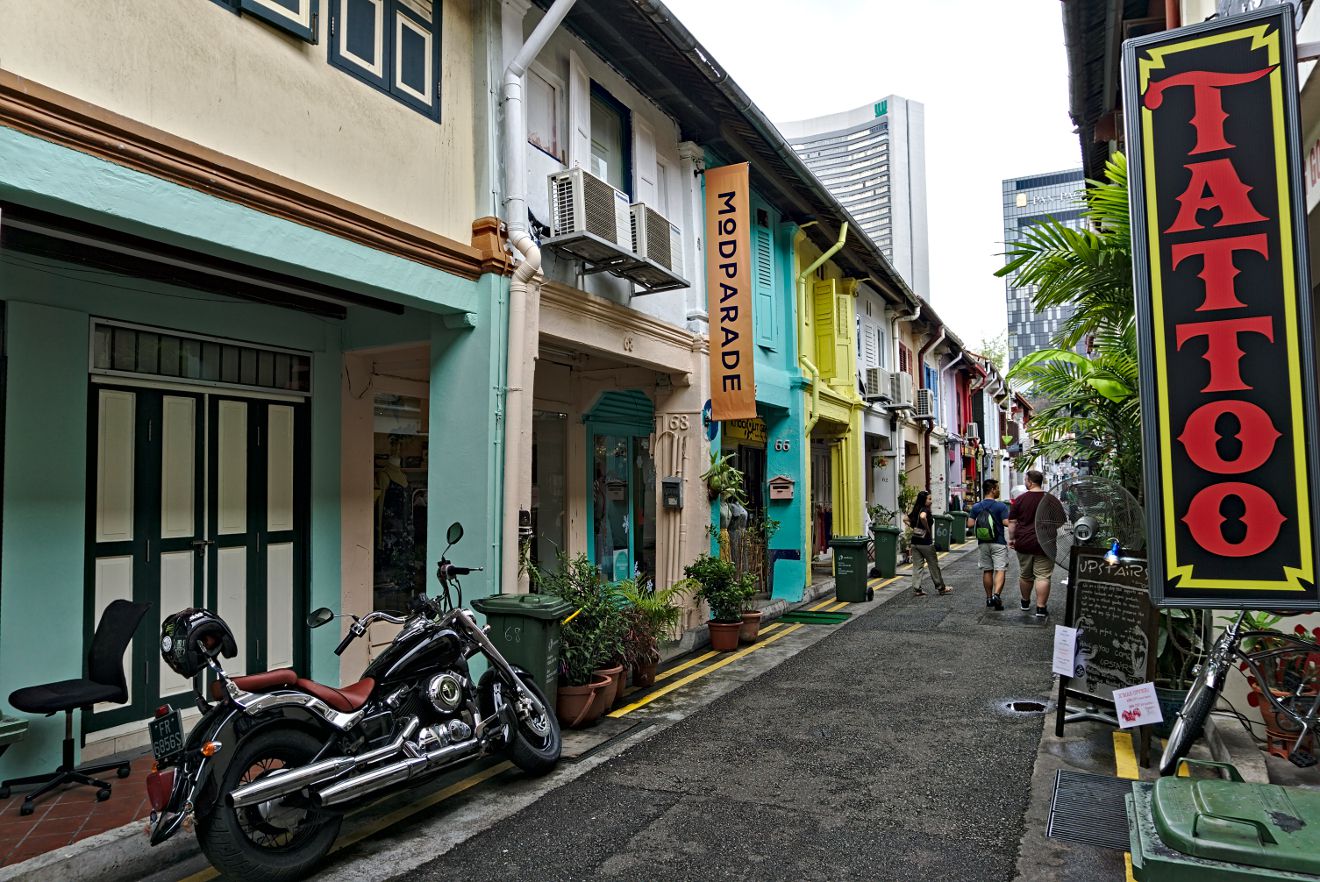 As I told you earlier, Singapore is a city of contrasts. And it is probably to Haji Lane that this word takes on even more meaning! Haji Lane is a small street that is located in the heart of the city's Muslim district just a few hundred meters from the business district and all its buildings!
The whole neighborhood is called Kampong Glam and it is really a great place to walk and stroll in the arty and trendy shops that are in the little shophouses.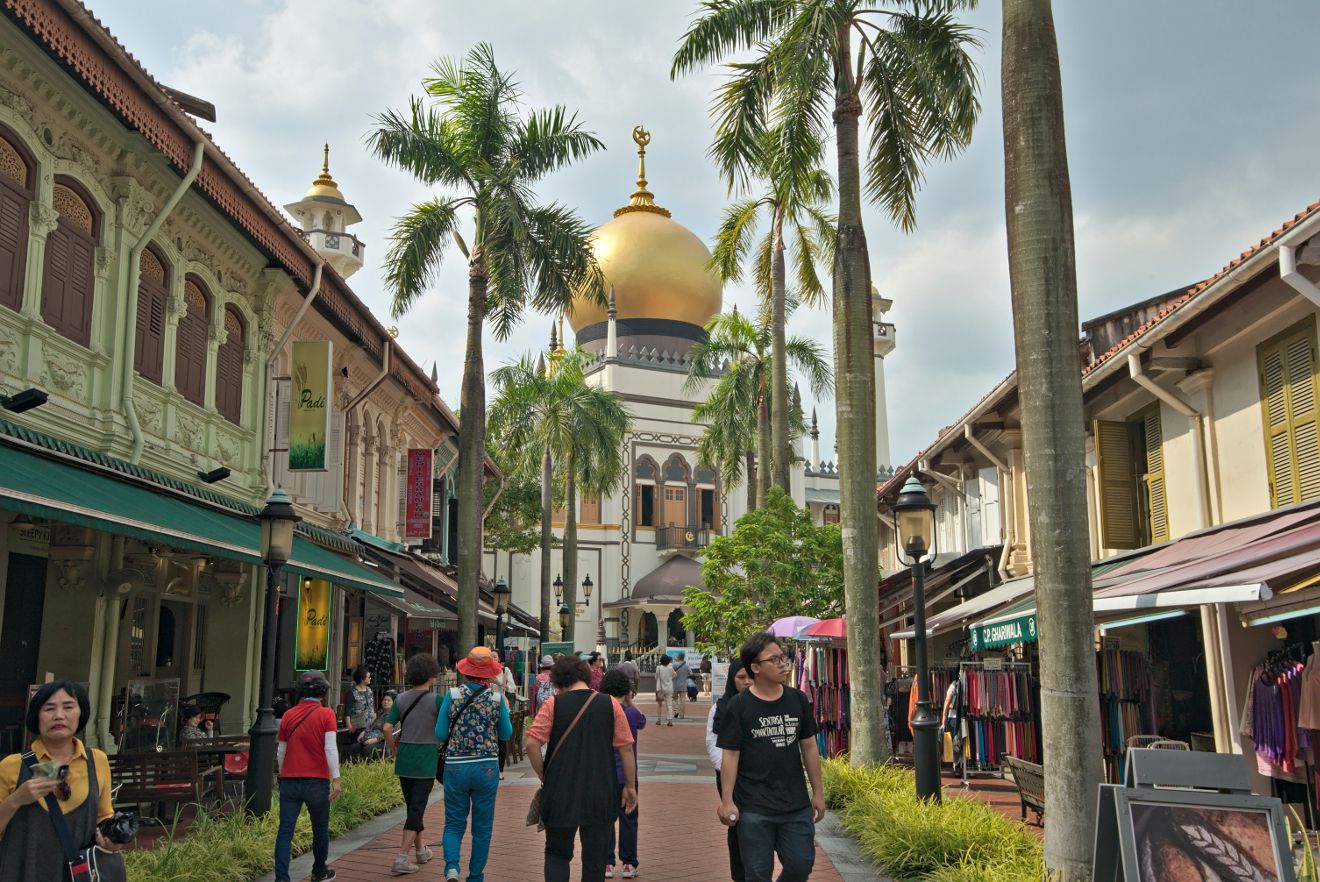 The Shophouses are these small, colourful houses that are generally no more than 2 or 3 storeys high and include shops on the ground floor and apartments on the upper floors.
If you come around here, remember to look up from time to time! It's kind of funny to be in the middle of what seems like a small village with a backdrop of all the buildings that dominate the neighborhood!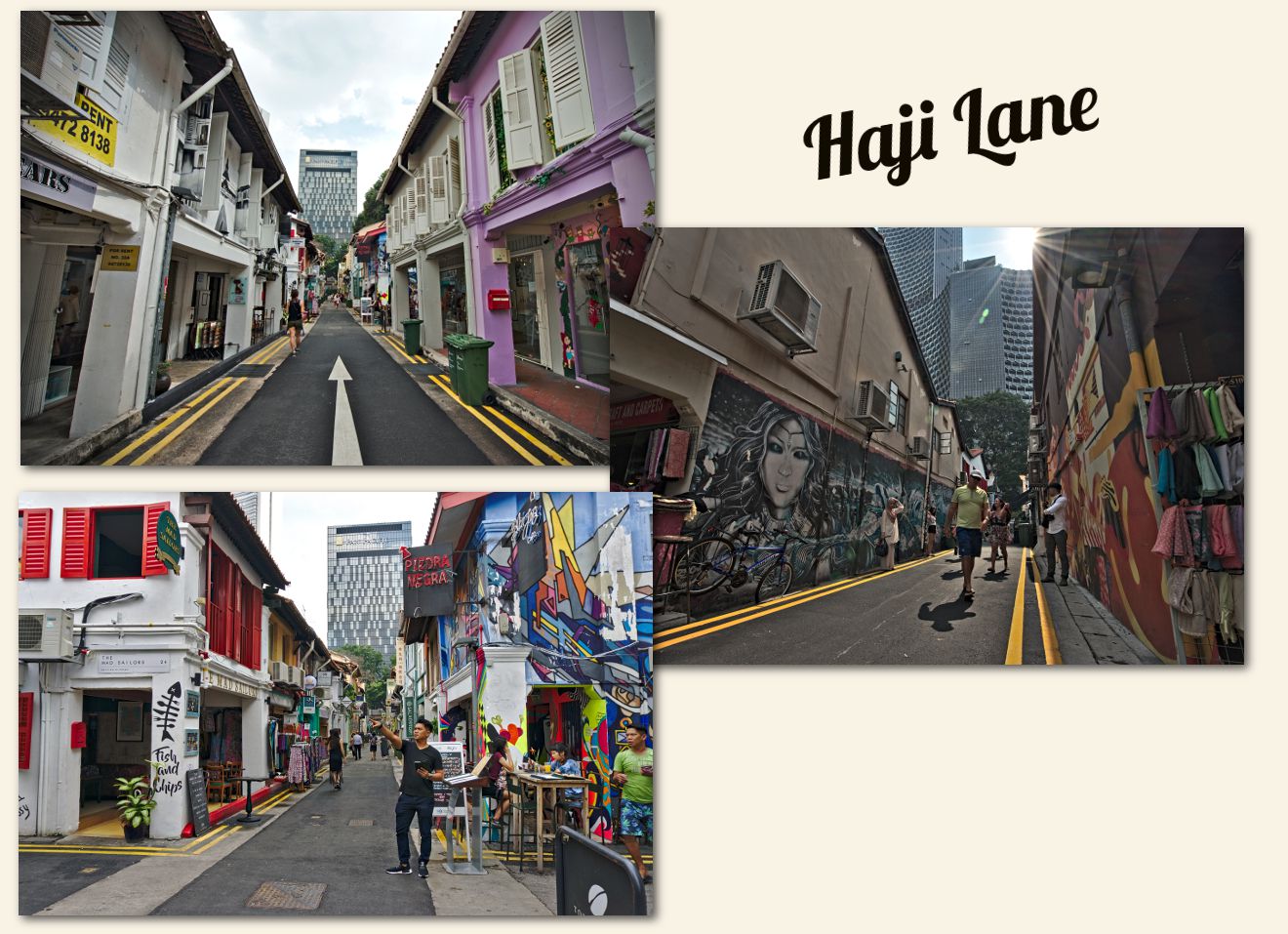 Gardens By the Bay Singapore
Gardens by the Bay is a perfect illustration of the government's desire to restore nature to a prominent place in the city! Often when we think of Gardens By the Bay we think that it is only these funny metal trees, which since their construction in 2012 have somehow become the city's emblem.
So not at all!!!!! In all, Gardens by the Bay is an area of more than 100 hectares divided into 3 main parts: Bay Central Garden, Bay East Garden (to which we will get back in our next article) and Bay South Garden.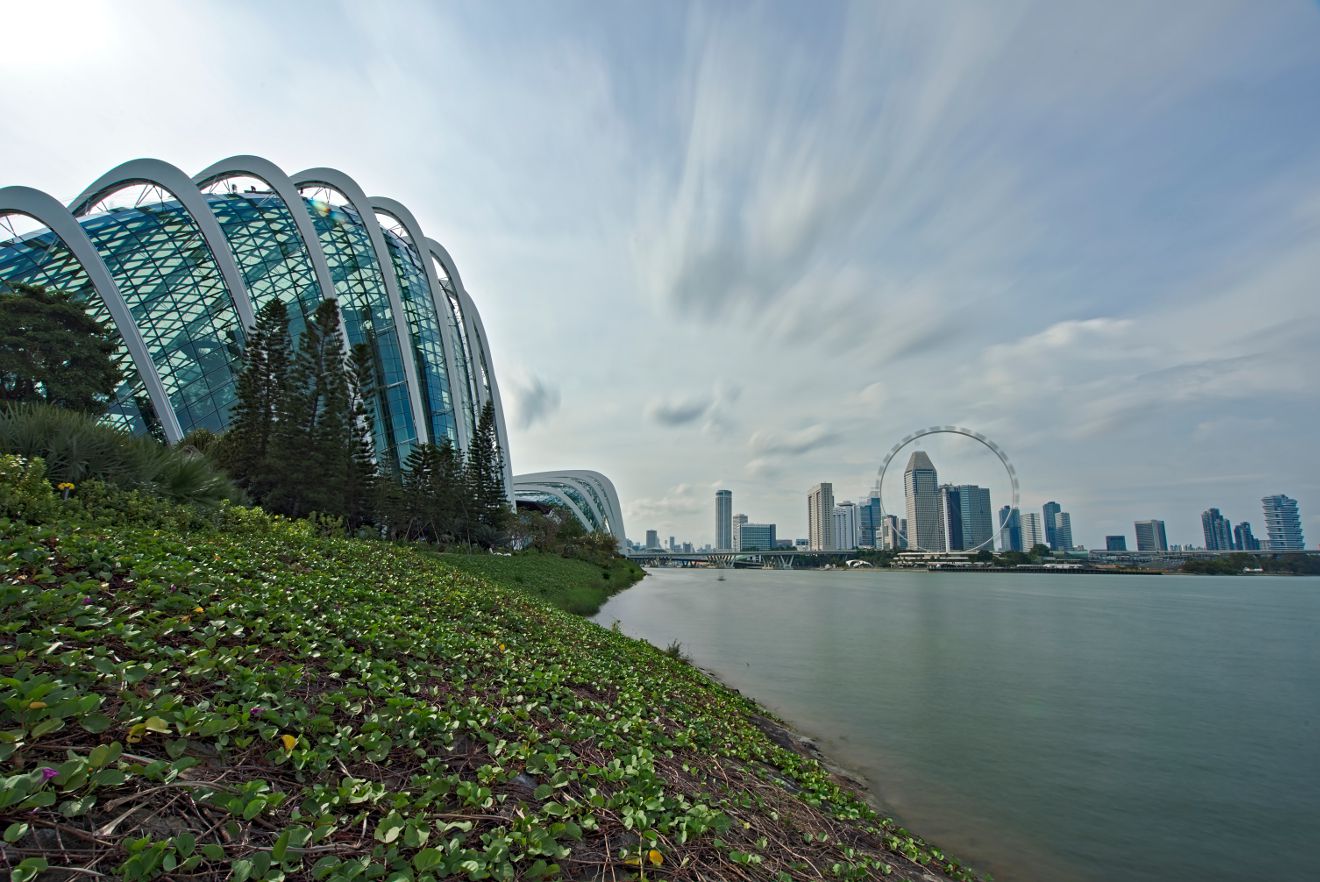 It is the latter that shelters the famous trees that light up with a thousand lights once night falls.
Discovering Singapore trees
We couldn't possibly come to Singapore without taking a look at these trees! So already, the first positive thing to remember: it is quite possible to come and walk in the park and admire the trees without having to pay an entrance fee!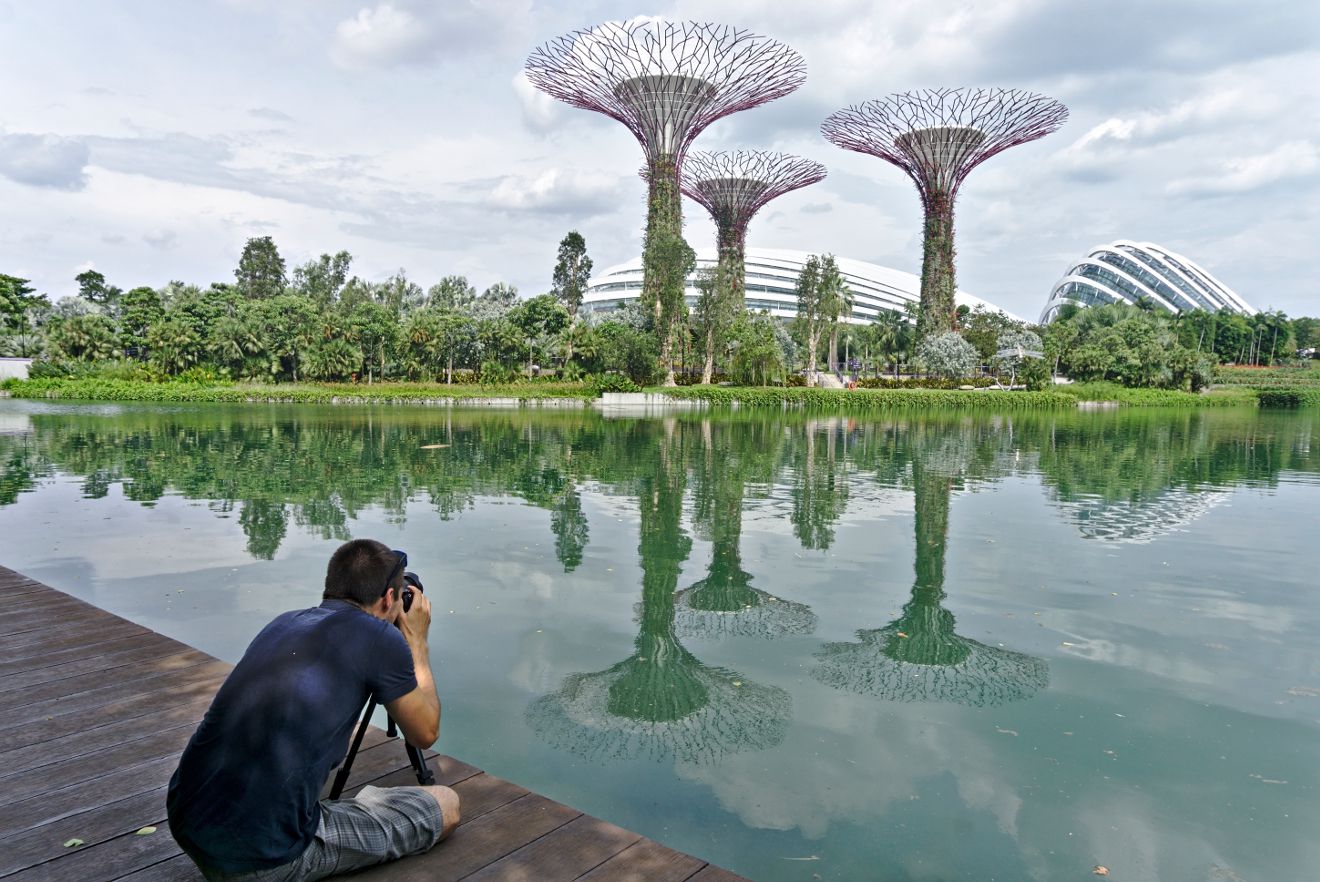 Paid activities include access to the Skybridge which links the different trees (8S$ to pay) as well as a visit to the two "Biomes", spaces dedicated to the conservation of species from all over the world. The Flower Dome, for example, is a 1.2 hectare area in a mild and dry climate approaching the Mediterranean climate, that alone shelters more than 250,000 species of trees and plants, some of which are on the verge of extinction. While the Cloud Forest is a 0.8 hectare area dedicated to vegetation that is found in tropical areas but at an altitude between 1000m and 3000m.
To access these two conservation areas you will need to pay 28S$.
For the time being we did not visit these spaces because of lack of time and also because being fundamentally clueless in biology and botany we probably would not have known how to appreciate the place at its true value…. Next time as they say 😉
Tip
If unlike us you want to visit Gardens by the Bay you can either pay the different entrance fees (28S$ for domes and 8S$ for Skybridge) on site but you can also buy cheaper tickets online.
On Getyourguide you will find an offer at 21€ with the entrance to the biomes and the Skybridge. In Singapore dollars this amounts to roughly 31S$ instead of 36S$.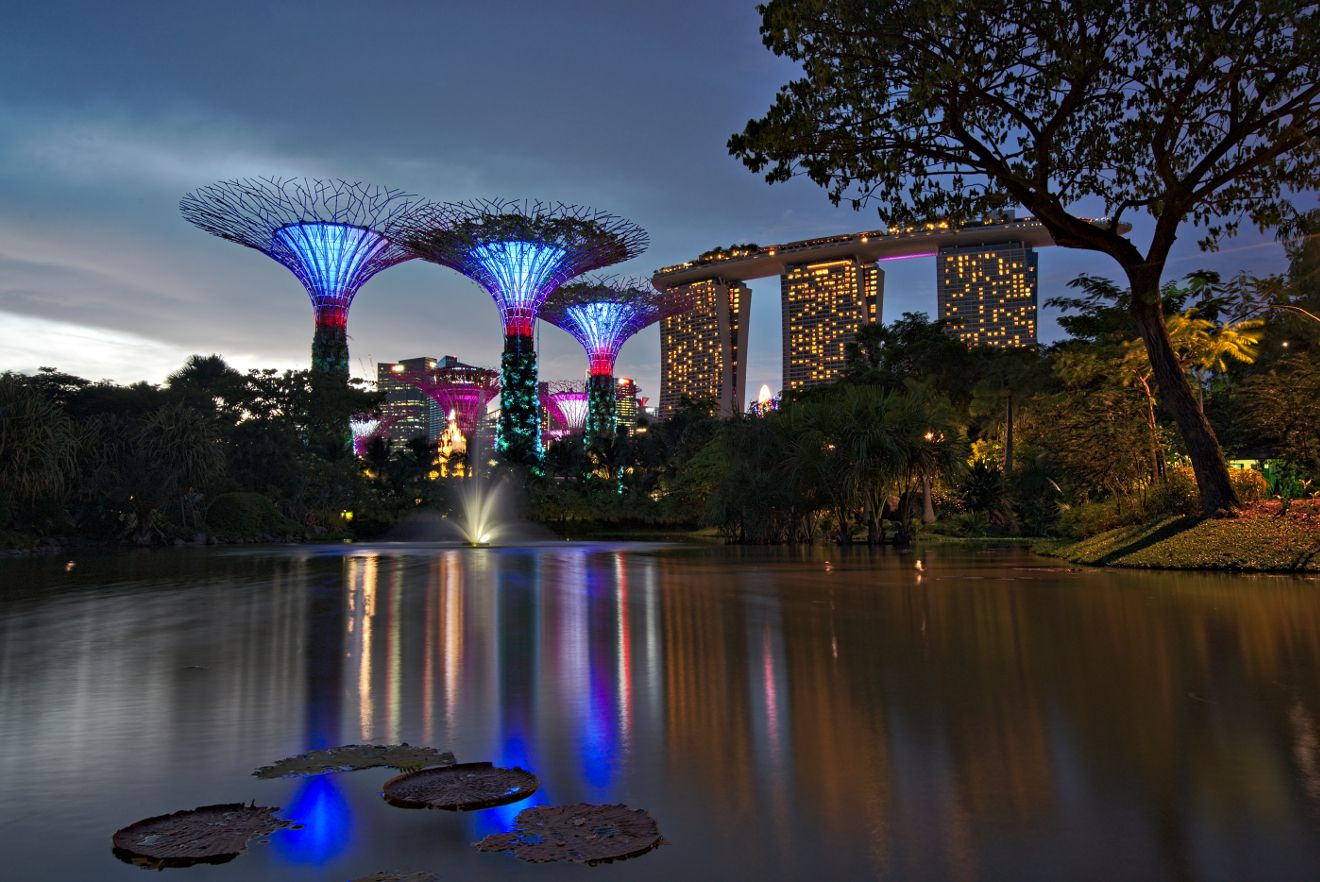 Take some height: Marina Bay Sands or Pinacle Condo
Singapore is definitely one of those cities where you spend a good part of the day with your nose in the air looking at the impressive buildings in the city centre. We try to count the floors, and generally from the 40th we lose the count and we end up concluding that the building is simply HUGE.
A good way to get a great view of the city is to climb to the top of one of these buildings! Well yes, in Singapore there are not really mountains or hills like the "elephant Mountain" of Taiwan for example… So it's impossible to get to the top other than by taking one of the impressive elevators that takes you to the top in just a few seconds!
The Singapore Rooftops
To get some height there are several options, but the most famous being to climb on a rooftop bar to sip a cocktail with a crazy panorama.
The most famous are probably the Altitude Bar and the Cé La Vi at the top of Marina Bay Sands.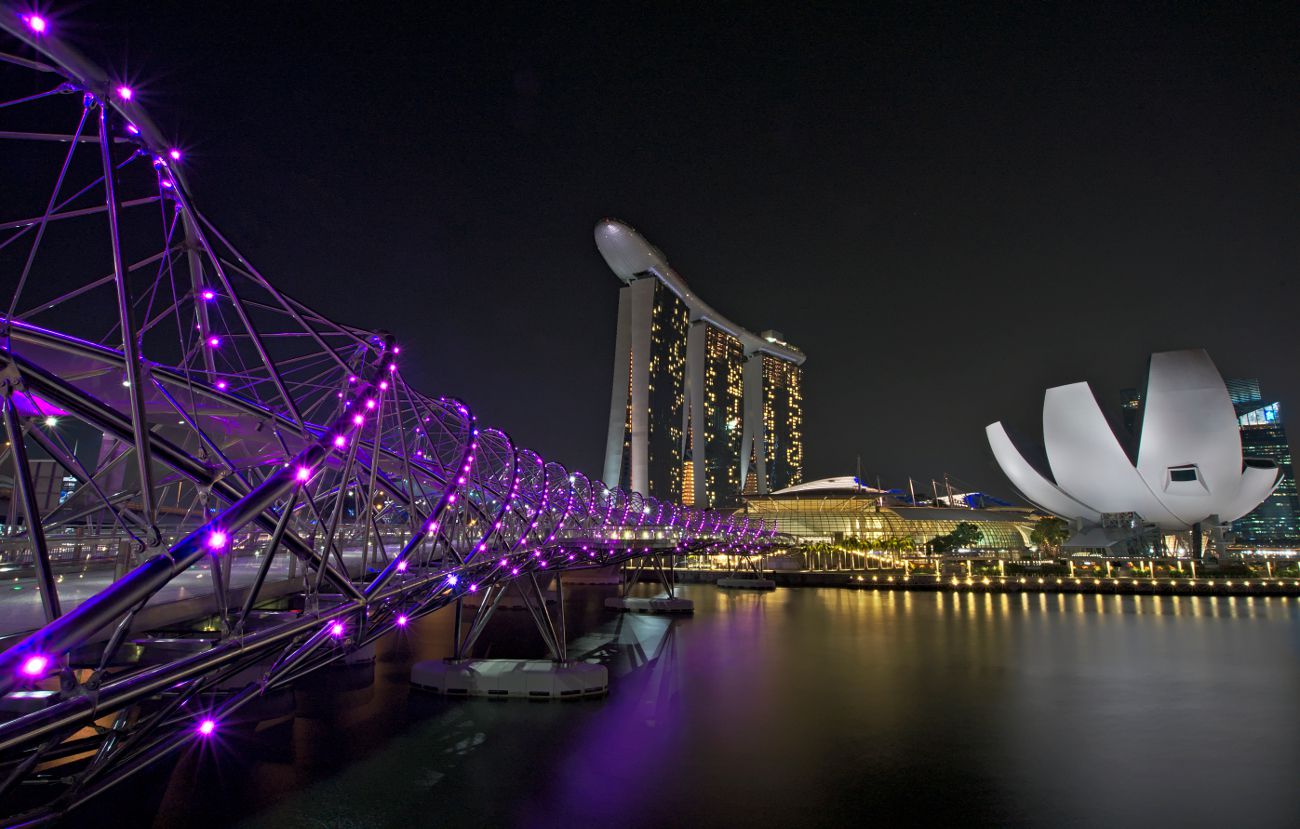 For the first one (one we didn't go to) it takes 30S$ to climb and it gives you the right to a drink.
For the Cé La Vi it is more complex in terms of prices because it depends on where you go, when you go and what you plan to do….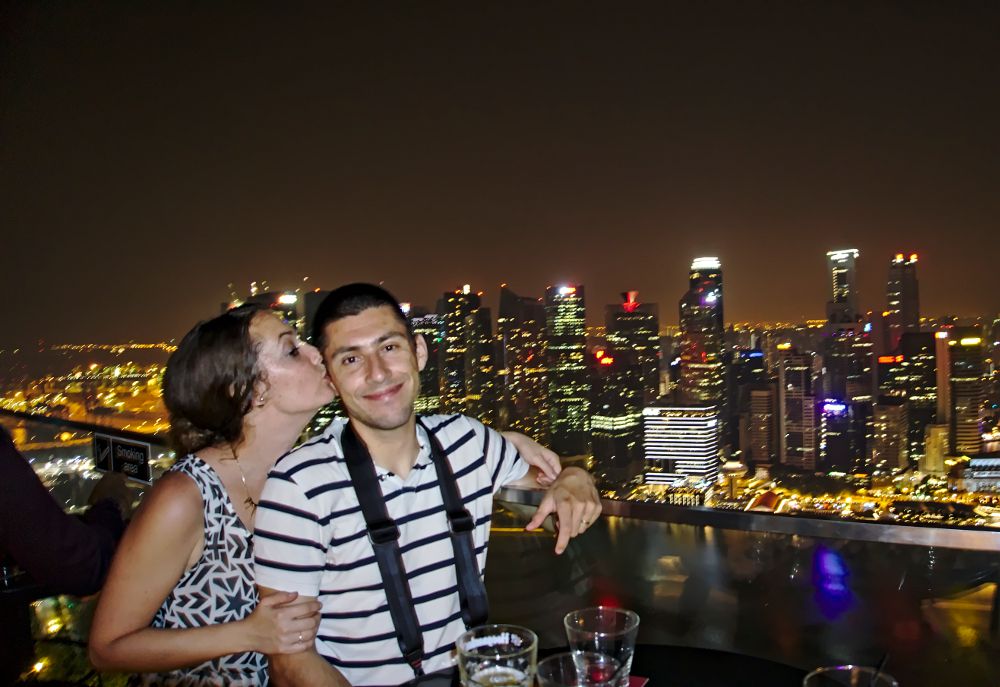 But know that the famous photo where you can see the pool is no longer possible by not paying for an entrance fee or if you are not a VIP. The part of the Club Lounge where you can see the pool was blocked during our visit and reserved for VIPs… Too bad.
The business of the Rooftop bars
We won't hide from you that this Rooftop is a big business… You can go up for free if you say you are going to the bar, but know that at the bar you only have a view on one side (obviously the one where not all the buildings are located) and there is a terrace between the bar and the void to which you do not have access if you do not pay for access to the 23S$ Skypark. Hmmm….
The alternative is the Club Lounge. There you have an amazing view and access is also free before 10pm. On the other hand, consumption is excessively expensive! 16S$ for a beer, 28S$ for a cocktail…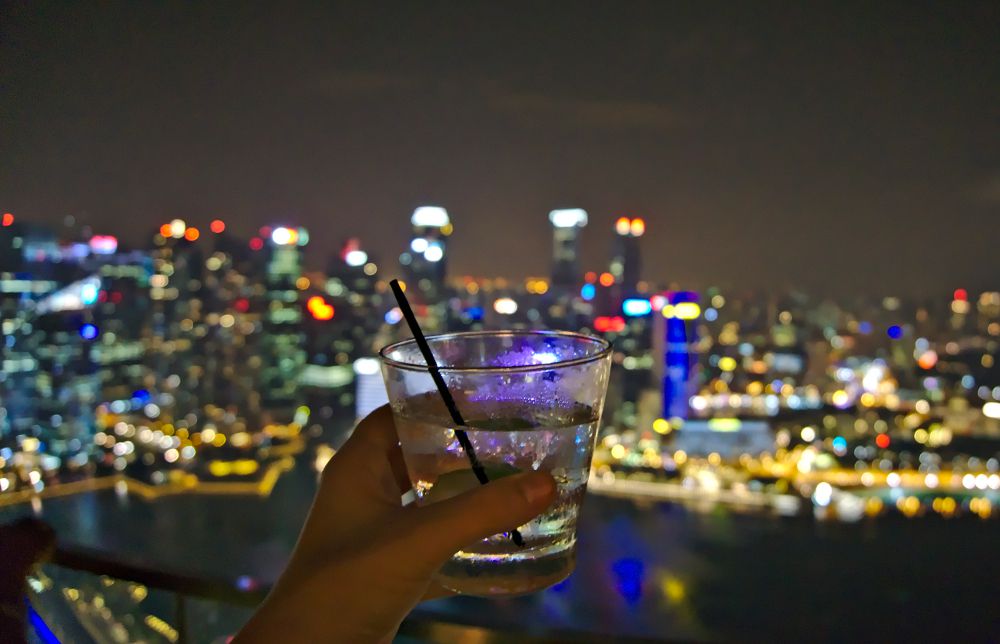 Our visit to C'La'Vi (former KuDeTa)
For our part, we arrived after 10pm, so we had to pay an entrance fee of 38S$ per person, which included a drink. Benoit was looking forward to taking night pictures from one of the highest rooftops in town so we went there. What a surprise when security confiscated our tripod at the top (they were careful not to tell us that before we paid the entrance fee…) In short, it was a bit of a failure! But well, the view was incredible (unlike the cocktail) and we had a great evening with our friends, that's what we'll remember.
An incredible view of Singapore for a low price
You will have understood that we were not thrilled by this very business side…. So we looked for an alternative and saw that it was possible to climb on the Pinnacle Condo.
The Pinnacle is not a Rooftop, but a huge residential building with a crazy terrace on the roof! In all, this terrace connects 7 buildings and must be several hundred meters long!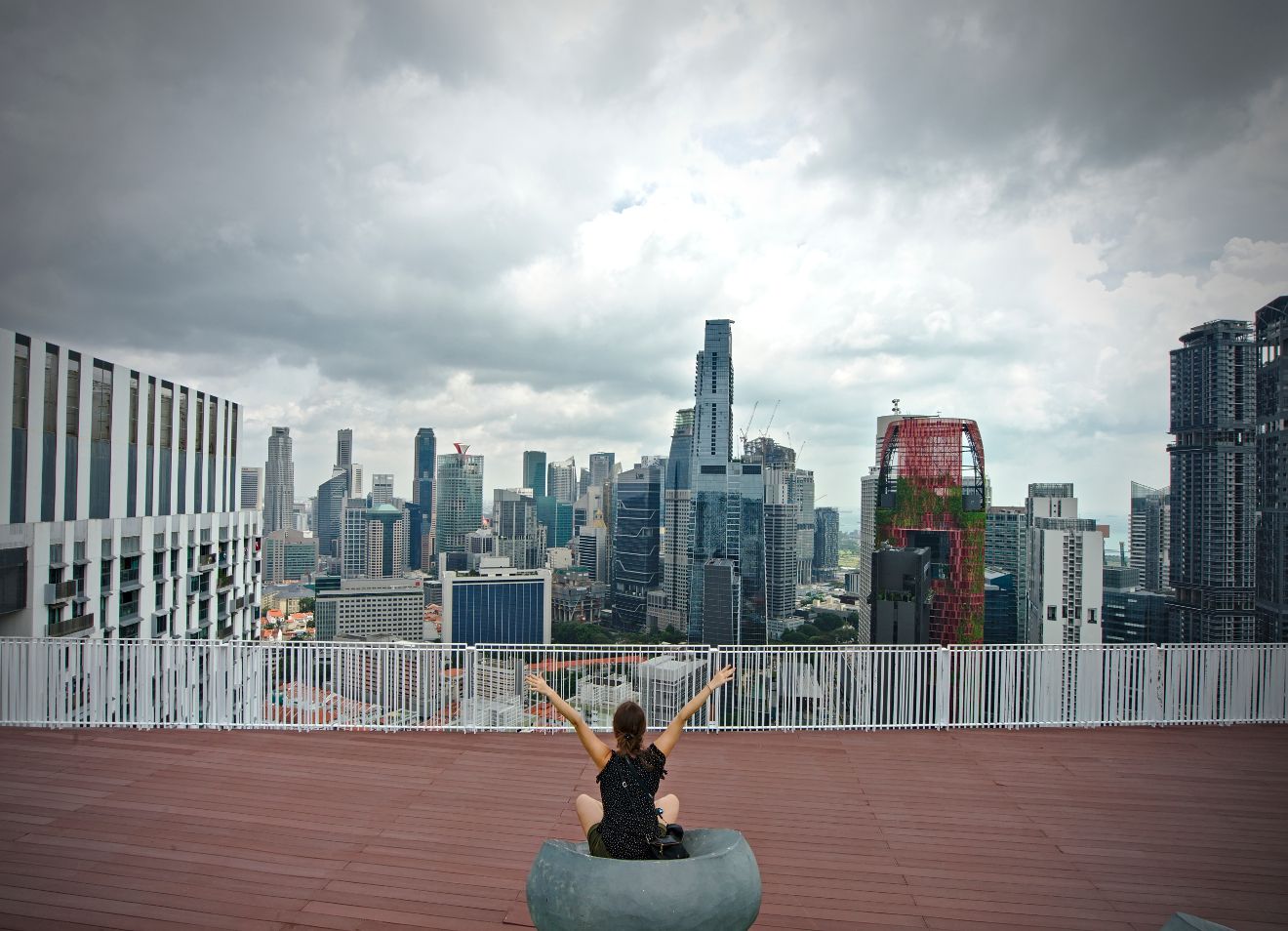 The entrance fee is $5.00 and is paid on the ground floor at Building 1G using your EZ-Link card (see the transportation section below for details on where to get this card).
Once you have paid the entrance fee to the guard of the building, you can climb up to the 50th floor by elevator!
Phew!!!!! The view is breathtaking and the area deserted! We stayed more than an hour up there and met exactly 2 people!!!!! In short, a real good tip to admire the view without spending a fortune!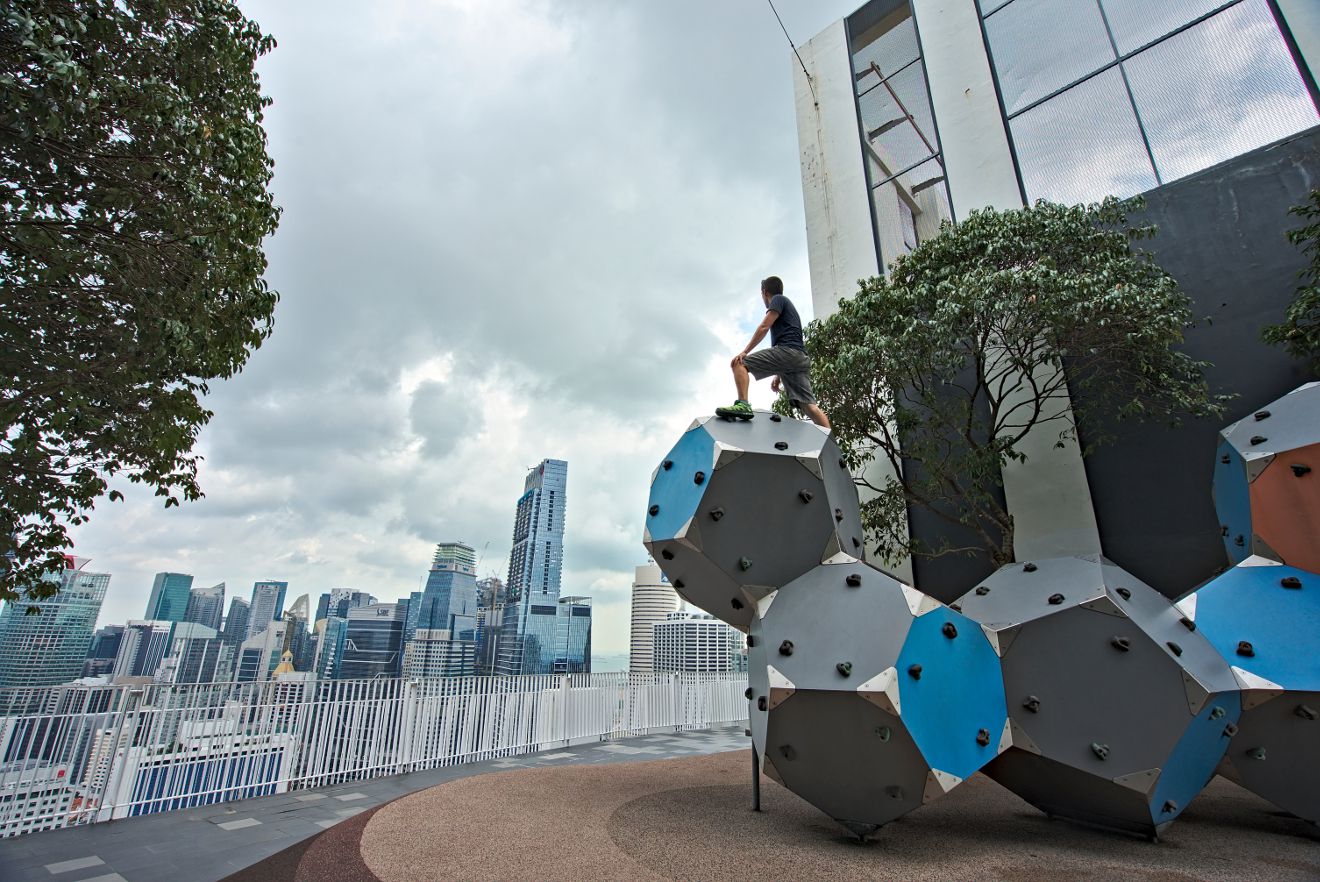 Good to know : The Pinacle Condo terrace is open every day from 9am to 10pm! We were there in the middle of the day but if you want our opinion it must be an excellent spot at sunset and to admire the city at night…
Some other top activities to do in Singapore
If you have more time in Singapore it might be worth checking out one of the following activities:
Getting around Singapore
Singapore is a large city but above all it is prone to traffic jams, so to move the cheapest and fastest, the best solution is still the metro (MRT) combined with the use of our legs 😉
During our 5 days of visits we walked a lot… Almost too much I want to tell you…. According to my phone, we walked an average of almost 20km a day! Hahahaha
The bus network (LRT) is extremely developed, but on the other hand they are often caught in traffic jams… 🙁
Infos
For tickets know that there is a prepaid plastic card that allows access to all metros and buses in the city (can also be used to pay for some tickets such as the Pinnacle Condo). These cards are called EZ-Link. They are sold at subway stations for $S12 and come with $S7 credit or in all 7-Eleven for $S10 with $S5 credit.
The price of a trip depends on the distance traveled and ranges from 0.78S$ for a trip of less than 3km to 2.1S$ for a trip of more than 40km, in short it is SUPER cheap!
The price of the card (5S$) is not refundable, so you are advised to take this card only if you plan to use transport often. Otherwise you can still buy individual tickets for each of your trips, but the prices are slightly higher for cash payments than via the EZ-Link Card.
For tourists passing through there are also tourist passes sold for 10S$ for one day or 20S$ for 3 days. Not really profitable if you only take a few transports a day, but they can become so if you travel a lot.
Taxis in Singapour:
In Singapore the taxi network is HYPER developed! If you are travelling with 3 or 4 people, it may be interesting to consider it, but it is still more expensive than the metro.
The base fare is between 3.2S$ and 3.9S$ and then 22 to 25 cents per 400m of travel are charged.
But beware, Singapore is equipped with an urban toll system (ERP) and at peak times the toll charges will be charged to you in addition. Taxi fares are increased by 25% during peak hours and by 50% at night (after midnight…)
Tip : In Singapore services such as Uber or Grab are very widespread and work very well. The rate varies according to demand, but roughly speaking we generally manage to get by 20% or even 30% less than with a taxi.
Travel budget to Singapore
In this article all prices are expressed in S$, it is not me who slipped an S in front of the dollars, but it represents Singaporean dollars. For information at the moment (December 2016) the exchange rate is 1€ = 1.52S$
We'll tell you right away, Singapore is not a cheap city in Asia… Far from it!
To tell you the truth, we had a little bit the same impression as when we were in Hong Kong during our world tour…. Everything seems VERY expensive, sometimes they are almost Swiss prices, which, let's face it, made us feel really strange after leaving our Swiss lands a while ago!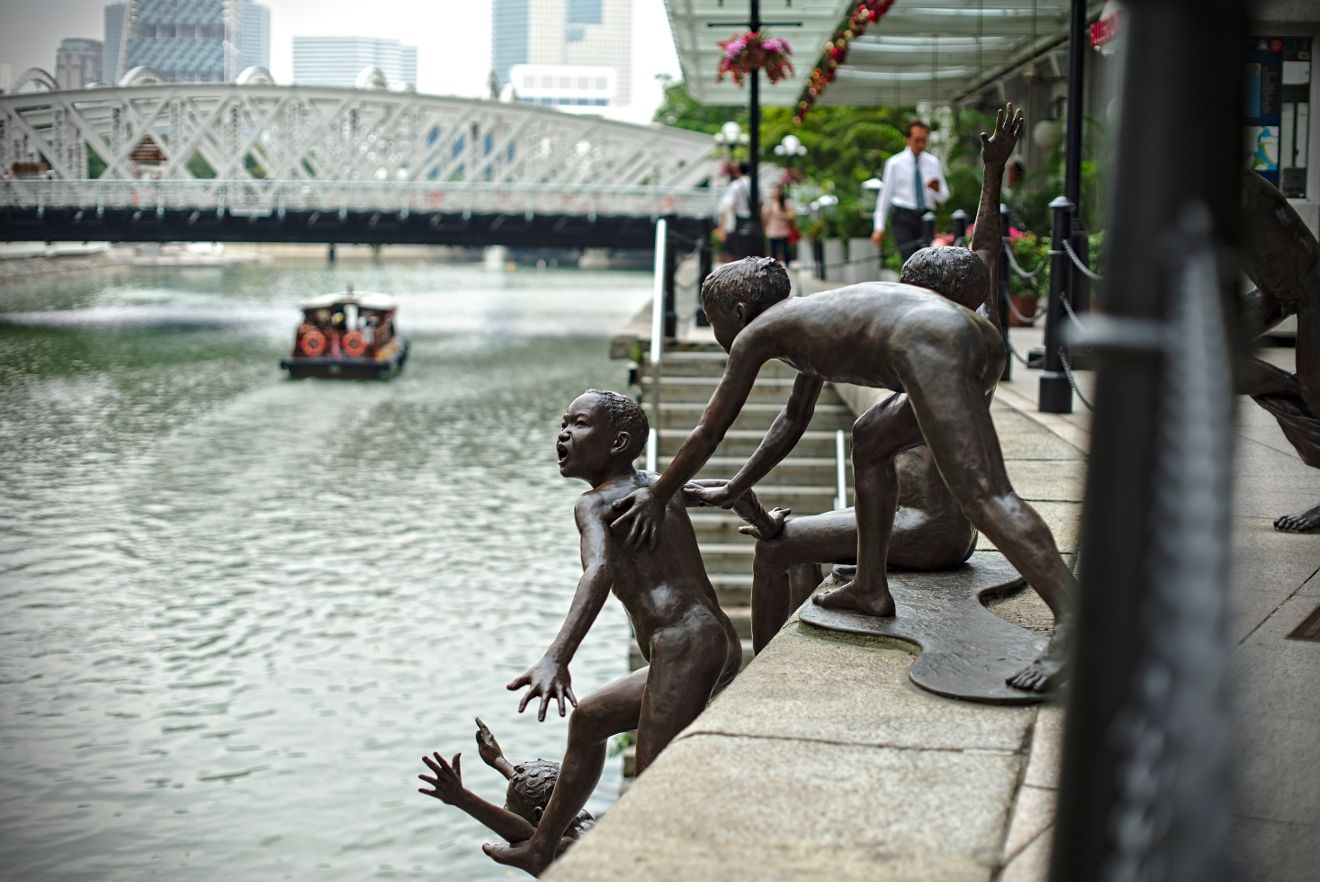 Our Budget in Singapore
During this stay we were lucky enough to be staying at our friend Wei Ting's place, so we didn't have to pay for accommodation (Phew!).
For the rest, we will admit that we splurged a bit! For the restaurants we usually ate in good restaurants (nothing high end of course, but not street food at 3S$ either)
In all and for all we spent nearly 500€ in 6 days at 2…. Ouch! But as we said, we were with our friends and so we really enjoyed our meals and visits (like going up to the MBS for a drink at 11pm for 76S$);)
In short, Singapore is probably a city where there are about as many budgets as there are travellers. But from what we've seen, it seems that for backpackers who stay cheap and eat streetfood (and avoid cocktails costing 30S$) while making a few visits, we can get by for roughly 40€ – 45€ per day and per person.
Then upwards there is no limit…. 😀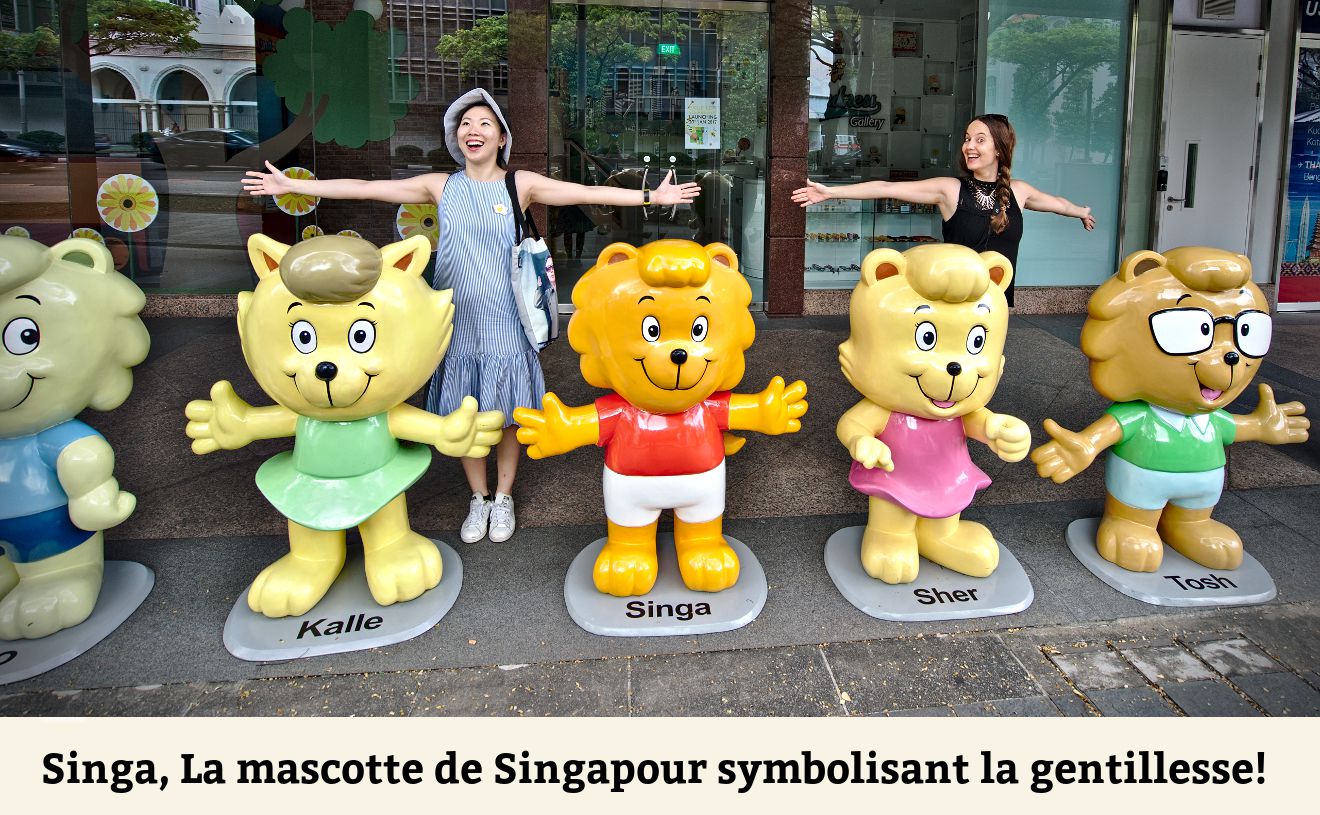 So here we are, we hope you enjoyed this first article on Singapore! We will soon talk to you about the nature side of Singapore (because if there is one!) as well as the cooking (Well yes, we spent 5 days eating and probably gained a few kilos… we will still tell you a little more…)
Note: This article contains affiliate links to Getyourguide. By using our link, you do not pay anything extra but we'll earn a small commission. This website is the one we usually use to book our activitites in big cities.