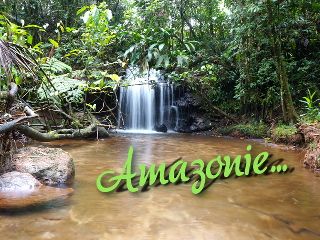 In our last article we took you with us on one of the most beautiful treks of this round the world trip: the Quilotoa loop. On the menu were: Volcanoes, canyons, llamas and a sumptuous lagoon. Well less than 6 hours by bus later (and a small detour through Baños) we are immersed in a completely different setting: Amazonia!
On the menu this time? Waterfalls, lush jungle and small animals of all kinds….
Where to go in Amazonia in Ecuador?
Amazonia is a bit of a myth. A great classic in many trips to South America! Besides, to visit the Amazon you have plenty of choices, because the Amazon is absolutely huge!!!! It covers an area of 5,500,000 km2 and passes through 9 countries. Brazil, Bolivia, Peru, Ecuador, Venezuela, Suriname, Colombia, Guyana, and… France (yes, French Guyana) 😉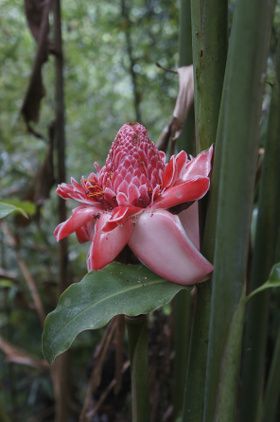 In other words, if you want to visit the Amazon, there is no shortage of options! However, most travellers most often travel through the Amazon region of Bolivia or Peru, who knows why! Being in Ecuador, we decided not to do like everyone else, and to discover the Amazon, but without the heat and the mosquitoes! Huh? what do you mean?
Amazonia but without mosquitoes
In Ecuador, the Amazon occupies almost the entire eastern part of the country. That's why it's also called "the Oriente". It is known to be proportionally richer in fauna and flora diversity than its neighbour the Brazilian Amazon!
If you want to visit the Amazon in Ecuador you have roughly 2 options of region:
In the North from Coca: This is the "lower" part of the Ecuadorian Amazon. There are many opportunities to discover the Amazon through the Lodge located along the Napo River. Otherwise Coca is also the starting point to discover the Yasuni nature reserve.
Further south from Puyo or Tena: As the upper part of the Amazon basin, this region has the particularity of benefiting from a much milder climate than the lower part. Located at an altitude of 600m, Tena, Cotundo and Puyo enjoy hot weather during the day but cool at night… and oh joy… No mosquitoes! 😉
La Guayusa: The gooose that lays the golden eggs of the Ecuadorian Amazon
Currently the Amazonian region of Ecuador is what could be called in the midst of an economic boom, and this is mainly due to the increase in public interest in a mysterious plant called the Guayusa.
For those who do not know, Guayusa is a plant that grows only in the Amazonian part of Ecuador. It is served in the form of tea. It contains a high volume of caffeine and antioxidants. (twice as much as green tea).
A few weeks ago, National Geographic published an article on this typical Amazonian plant. To know more about it is over here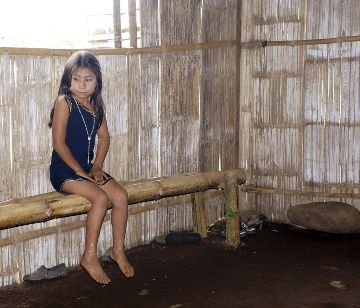 Having drunk it every morning during our visit, we confirm that it is really excellent; a little bitter taste, but it can easily be masked if we add a little lime and sugar to the mixture!
Oil production in Ecuador
But don't think that people in the Amazon rely only on tourism and tea production for their development! The Coca region is one of Ecuador's main sources of oil, and for many years oil exploitation has been an important part of the country's economy!
If the ecological impacts are more than questionable, the advantage is that gasoline in Ecuador is among the cheapest in the world! On average 0.4€ per liter, admit that it's not bad?
As a result, bus transport in Ecuador is also among the cheapest in all of South America: count $1 per hour of bus, roughly speaking!
Welcome to Huasquila!
To visit the Amazon in Ecuador there are several options, including staying in a guesthouse in one of the Amazonian cities such as Coca, Tena or Puyo.
But the problem is that cities are not really the ideal place to get a real impression of nature and a change of scenery. The tours to discover the jungle are often quite expensive and the quality not necessarily there.
As an alternative there are lodges. Hotels in the heart of the Amazon forest and which often offer packages for a stay including food, excursions and accommodation.
For our part we decided to stay in Huasquila. Huasquila is an ecolodge run by a family that is located some 3 kilometres from the village of Cotundo.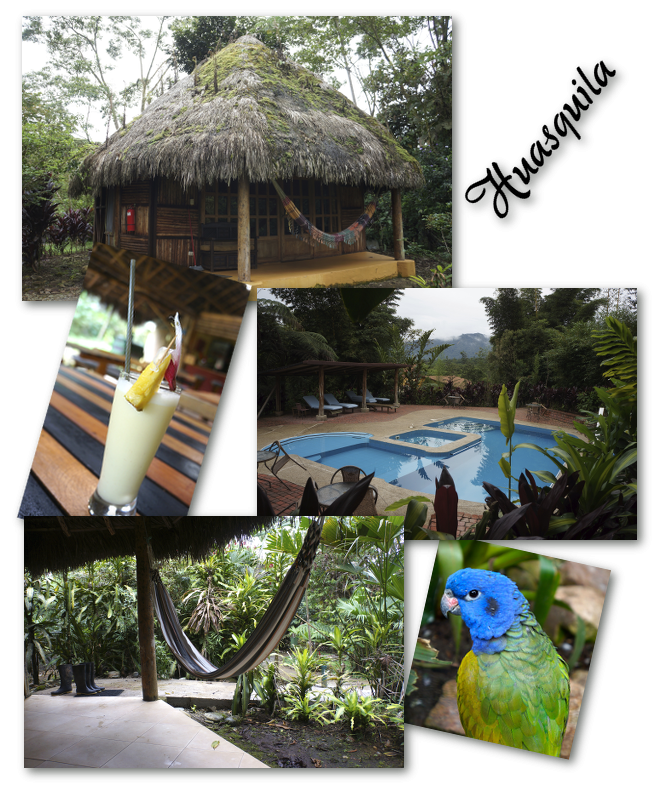 Huasquila Lodge is:
17 bungalows: all built using only natural materials from the region
A lodge in the Amazon 100% adapted for people with reduced mobility. (3 bungalows specially designed to accommodate people in wheelchairs)
absolutely divine food.
A team of volunteers, cooks and waiters that is absolutely adorable with whom we spent some great evenings
And of course a dream setting!
But Huasquila is not only a lodge, it is also a vast reforestation project on the property. In recent years, José, the local guide, and all the volunteers have increased the area of reforestation from 20 hectares to more than 100 hectares, and it is precisely in this magnificent reserve that the treks organized by Huasquila take place.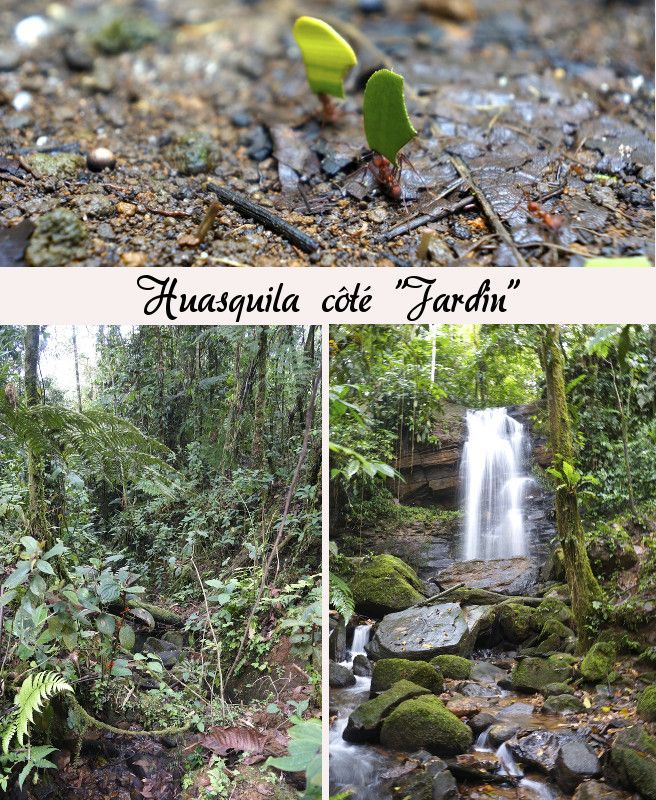 We would like to thank Pablo, Bastienne and Cecilia for hosting us for 5 days. We were lucky enough to get a free stay and in exchange we translated their website! 😉 So soon Huasquila Lodge will have a 100% French page, and it will be thanks to your two little Swiss…
To see availability and prices: Click here
Small trek in the jungle and discovery of the waterfalls
The second day of our stay we put on our rubber boots and went out to explore the jungle around the lodge a little closer!
A 4-hour walk with Jose. Jose is a local guide from the nearby community who has been guiding visitors through the rainforest for almost 8 years!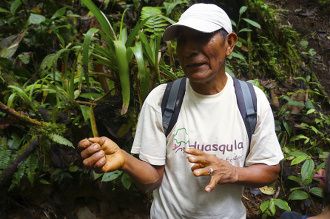 He is a man in his late fifties who always has a wide smile on his face. He knows each plant and its medicinal properties inside out! On today's menu? Discovery of medicinal plants, but also of the different areas of the jungle. It is with great pride that José introduced us to the different parts of the jungle, in which he and volunteers have worked hard in recent years to develop the reforestation of the region!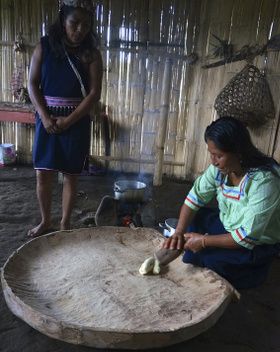 Along the way, we also came across some absolutely gigantic trees, but where something was wrong… how to say… it was missing a piece of the root!
La Chicha: Ecuadorian drink
Jose explained to us that the communities in the region used this tree to make kinds of large work plans on which meals are then prepared. In the afternoon we went for a walk in José's community, and we found the missing piece of the puzzle! The women were busy preparing the chicha in it. Chicha being a typical Ecuadorian drink with Guayusa, it is mainly composed of quinoa that has been fermented overnight!
Only a few hundred meters from the lodge you can also go alone to discover 2 magnificent waterfalls!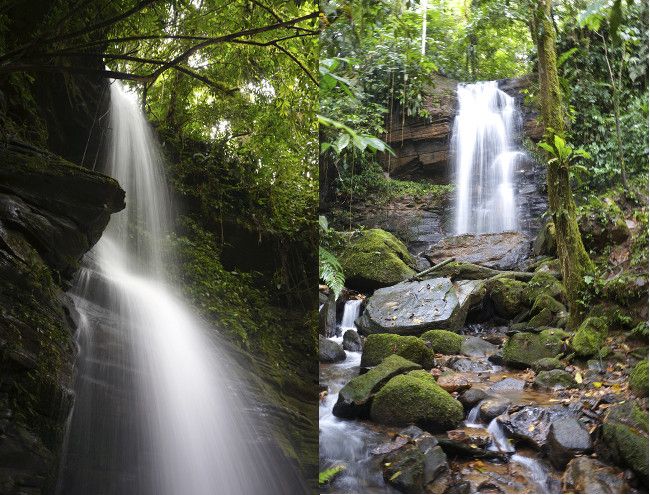 However, once again, it is better to draw the rubber boots (loaned by the lodge), because the terrain is like… how should we say??? a little muddy! I promise, every fall is great for your skin (because yes, you're highly likely to slip at least once). 😉

The caves of Jumandy
At the lodge we met a nice family from Quito. They were here with their car, and offered us to join them to the Jumandy caves! A very nice experience!
To visit this cave you follow a guide that takes the lead with his headlamp. As the "trail" is actually in a river it is recommended to wear a bathing suit for this "hike". On several occasions, we have swim against the current.
One tip: avoid lighting the walls with your headlamp! Okay, the last point is not part of the official recommendations, it's my personal recommendation!
Well, yes, the cave is infested with spiders, scorpions, and other unidentifiable ramping stuff. In other words, I preferred to light only in front of my feets, and not to turn my head too much to the sides!

However, we're sorry, but we didn't bring any pictures. Our camera probably wouldn't have enjoyed swimming if we had taken it. You'll have to use your imagination to see us in swimsuits and rubber boots (promised, the bikini-rubber boots combination is the new fashion for 2015!) 😉
How to get to Amazonia?
In other countries, going to the Amazon can sometimes be very complicated: super expensive plane or boat that takes several days!
The advantage of the Amazon in Ecuador is that it is very easily accessible by bus, thanks in particular to the new roads recently built between Quito and Coca, Quito and Tena, but also from the South from Baños
To get an idea of the duration and possibilities:
Quito – Coca: choice: 30 minutes with a small plane. Cost of the round trip airfare: about $200.
See prices on Skyscanner
The alternative? About 7h30 by bus from Quitumbre station in Quito. Price about 30$ round trip
Quito- Tena: About 5-6 hours by bus, price about $8 per trip. To get to Puyo it is faster to go through Baños from Quito.
Baños – Coca: About 8 hours by bus, ticket price about $10, several buses per day
Baños – Tena (Puyo): About 1 hour drive to Puyo and 3 hours to Tena, fare $4.5, frequent buses.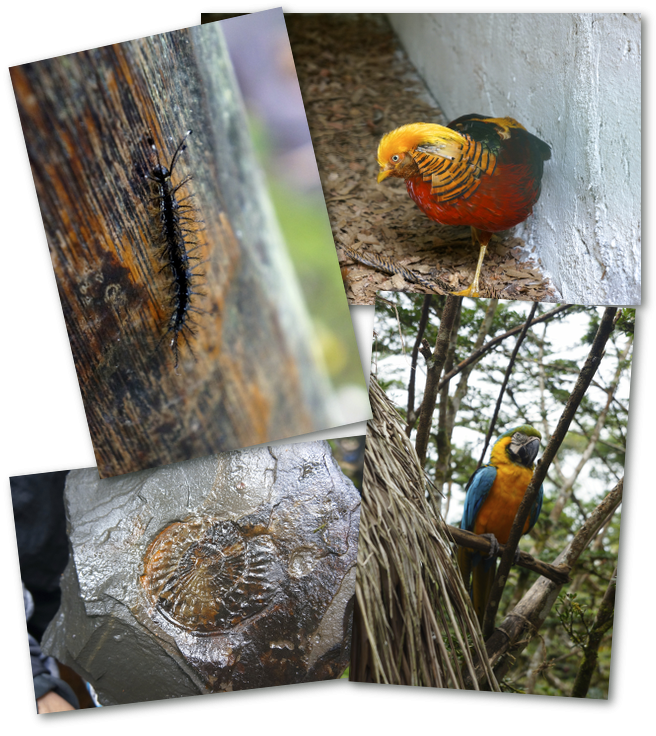 To get to Huasquila:
If you are coming from Quito: ask your bus driver to drop you off at Cotundo village (about half an hour before Tena).
If you come from Baños: Once in Tena, take any bus from Tena to Coca or Quito and also ask the driver to drop you off in Cotundo (30 minutes, price $0.5)
Once in Cotundo there are pickups that act as taxis. It is the easiest way to travel the 3km that still separate you from the lodge if you have luggage. Count $4 for the ride.
Baños, we'll stop insisting!
I don't know if you remember, but a few weeks ago we told you about our little weekend in Baños with our language school. Our feelings about the weekend were a little mixed and we promised to come back!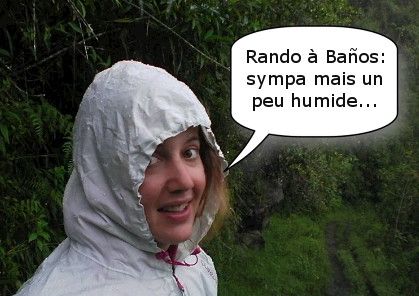 It is now done! But unfortunately our opinion on Baños remains a little bit the same.
A categorical lack of luck with the weather, a little too festive atmosphere and commercial, and really, but then really too much rain!
Baños we came back, and without any surprises it rained. Non-stop! The second morning it was cloudy but dry. We put on our hiking shoes and decided to defy the weather! Fatal mistake! When we reached the "furtherst point" of our hike we got surprised by a "light" little storm. You know that moment when it's pouring rain, and there is absolutely no shelter around?
Yep, we finally got home, soaked to the bones! Anyway, Baños, we give up. No article of reconciliation with the adventure sports capital in perspective.
Next article? we'll tell you all about Ecuadorian cuisine!
NB: Please note that this article contains affiliate links to partner sites. If you buy a product on one of their sites you will not pay more but we will receive a small commission. This will help us to keep this site alive. Thank you! 🙂