That's it, our 3 months in Ecuador have come to an end; we are currently in Peru and we are heading slowly but surely towards Cusco.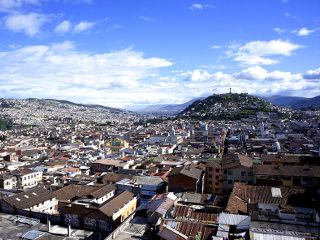 But before telling you about the Inca and pre-Inca civilizations and our treks in the White Cordillera, we have prepared a detailed post about our Ecuador budget for you, with as usual all our figures to give you a better idea of the cost of living in Ecuador.
A stay in 2 stages
For once our budget article will not be exactly like the previous ones… Usually we give you the average of our expenses for each of the countries crossed, but here is Ecuador it is a little particular….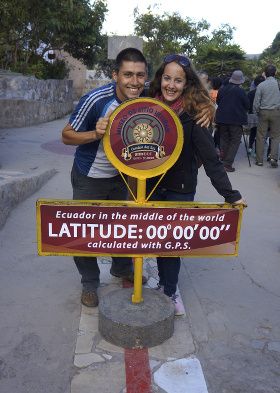 We decided to move to Quito for 2 months and take intensive Spanish courses.
As a result, it is difficult to make an average for the 3 months, because the latter would not really reflect the costs associated with a trip to Ecuador…
Thus, we decided to list the different prices and options instead.

For us, these two months of "break" have really been a breath of fresh air, or rather a complete recharge of our batteries!
In addition, this little stop allowed us to learn some good Spanish basics, Benoit had time to geek a little and concocted a google Map plugin for the bloggers among you, and we almost managed to get back on track with the blog articles.
Living in Quito and learning Spanish: how much does it cost?
First of all, it is important to know that in Ecuador the official currency is the American dollar! This makes the calculations very convenient, because, let's face it, we are still more used to calculating in $.
for information, at the moment the exchange rate is 1€ = 1.12$.
Find a hotel Quito
For short stays there are many hostels and small hotels in the historic centre of Quito and in the tourist district of La Mariscal.
On a budget level, count about $10 per person for a dormitory bed, and between $25 and $35 for a private double room in a backpacker hostel.

To search for a hotel in Ecuador we recommend you have a look on the Hotelscombined site. It is a search engine that allows you to compare several major booking sites such as Booking, Agoda, Expedia and many others. In short, the guarantee of the best price!
If your thing is more like backpackers, go to the end of the article for our addresses!
As we were staying longer we opted for a room in a house in the north of Quito.
For about 500$ per month we had a private room, kitchen and living room at our disposal, wifi, cleaning lady, and a nice but quiet atmosphere. For details we will meet you at the end of the article, where we will discuss in more detail our accommodation in Ecuador.
Food in Ecuador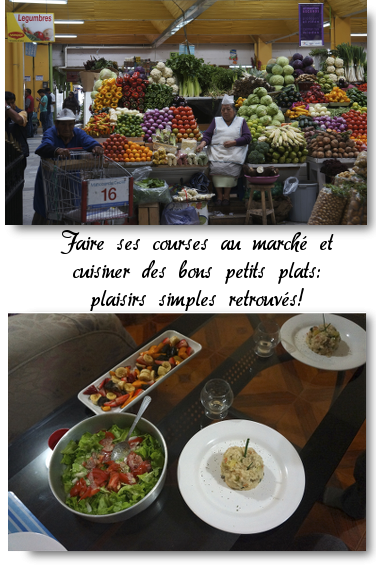 Ecuador is not an expensive country, and eating there doesn't cost a fortune. Most restaurants offer lunch deals between $1 and $3.
To find them, just look for the signs indicating the word "Almuerzo", it means a lunch menu.
The menu generally includes soup, a main course of rice and chicken and fruit juice.
In general, these menus are very good, but as we explained in our article on Ecuadorian cuisine, it is unfortunately not very varied, and not the healthiest version either! 😉
Since we had a kitchen at our disposal, we almost never ate outside. We have always cooked ourselves.
To give you an idea, our weekly "grocery shopping" budget was approximately $75 US per week for 2 people, all meals included.
This budget was very confortable! We didn't do any incredible extras, but we did our shopping without thinking too much. If you decide to follow a diet based on rice and pasta and vegetables from the market only, it is easy to reduce this budget to about $50 a week for 2.
Getting around Quito
Quito's public transport system is working very well! Above all, they are extremely cheap. Regardless of the distance travelled, a bus ticket costs $0.25.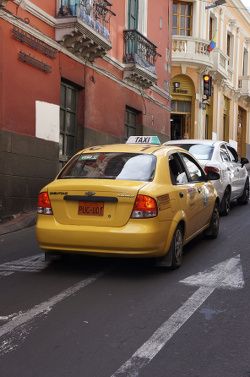 Otherwise, the alternative to public transport is taxis.
There are a lot of them and they are, in general, very safe and extremely cheap. The base rate is $0.35, then it's about $0.5 per kilometre. During the day the taxis are quite "fair" and usually put the taximeter on. If they don't, don't hesitate to insist. They are required to do so by law. If the driver refuses: change taxis!
But on the other hand, as we told you in our article on Quito, the city is relatively safe during the day, but at night you are strongly recommended to take a taxi!
Taxis become more expensive after nightfall (on average twice as expensive) because drivers never use the taximeter. This is normal, and it's the same with the locals!
On average, a ride between the Mariscal and the historic centre should cost you $2-2.5 during the day and $5-6 at night.
For the airport, the price is relatively fixed, and varies between $25 and $30 for about 1 hour of travel.
Learn Spanish in Quito
We had already told you about it, but Quito is really an excellent city to improve your Spanish a little. Unlike countries further south, the Spanish spoken in Quito is very "pure". Understand that people have little accent and usually speak quite slowly.
There are many language schools in Quito, and the budget for taking Spanish courses varies according to the size of the groups and the reputation of the school.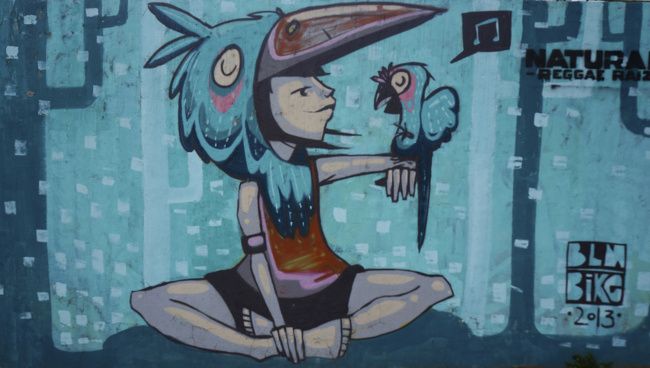 In a language school:
For private lessons, count about $12 per hour, and for group lessons around $9 per hour. This price generally includes course material, drinks and free afternoon activities such as cooking or dancing lessons.
"On the black market":
In the centre of Quito you will find many ads in hostels offering language courses of $4 or $5 per hour. It is generally individuals who teach the language with more or less professionalism.
Probably a little less structured than in a school, however, this may be a solution if you just want to practice your conversation.
Prices of the main tourist attractions near Quito
In Quito
Up to the Basilica of Quito: $2 per person.
The Botanical Garden in Carolina Park: $3.5 per person
Cable car ride to the top of Quito: $8.5 per person. If you have a student card, the rate decreases to $4.45. It worked with our language school card, so whatever the card you have, give it a try!)
Climb to the top of the virgin on the Panecillo: $1 per person
Admission to the Alberto Mena Camaño Museum of Art and History: $4. An interesting museum that traces the history of Ecuador's independence between 1736 and 1830.
Things to do Around Quito

Mitad del Mundo: $3 per person for the monument. 4$ per person for the Intiñan Museum (with guided tour)
Ascent of Cotopaxi: Expect about $240 US from Quito. This price includes transport, all the equipment, the guide, meals and a night (at last a little bit) in an inn at the foot of the volcano. It is possible to do this from Latacunga for about $150. More details in our article about the Cotopaxi
Mindo: Allow $2.5 of transportation from Quito, then $6 per person for the butterfly farm, $5 for access to the waterfalls and $2 for transportation between Mindo and the waterfalls by Chiva. Read more about Mindo here. Otavalo: The day came back to us at $16 per person including bus transportation to Otavalo, a small snack at noon, transportation to the Cuicocha lagoon and a boat trip to the lagoon.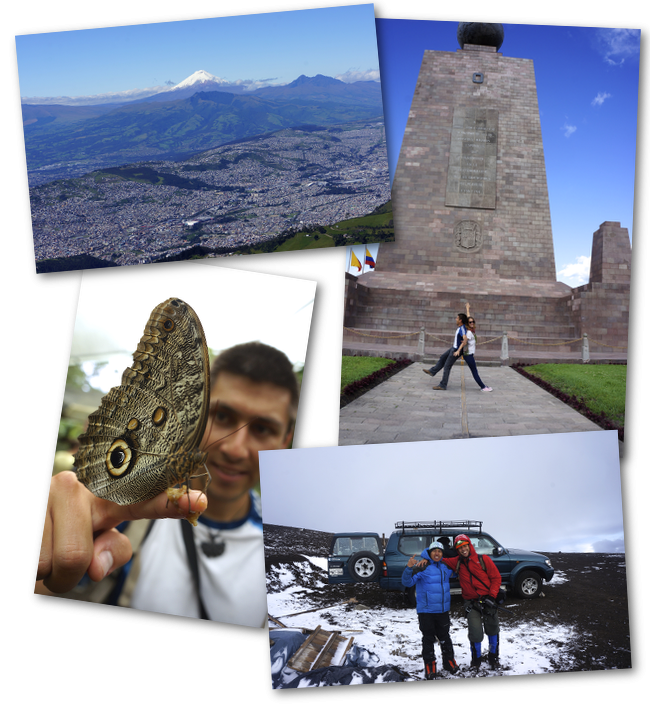 Travelling to Ecuador: the budget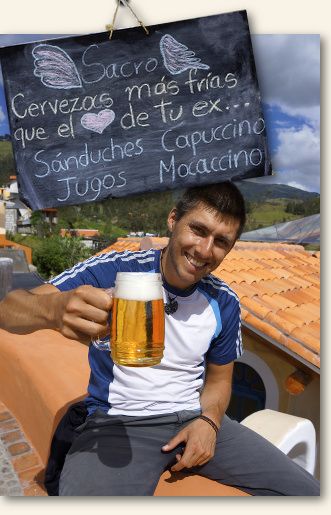 Ecuador is one of the cheapest countries in South America. But you still have to be careful, because prices tend to rise quickly.
While a few years ago it was still largely possible to get by for 13-14€ per day and per person, this is no longer the case today. Unless you really, really pay attention to everything.
From our experience a daily budget of 22€ per person would be more relevant.
With 22€ per day, you can travel quietly throughout Ecuador, excluding the Galapagos of course. You stay in double rooms, you cook part of your meals yourself. All this without however depriving yourself and you do not limit yourself to transport and admission to museums and activities. And promised there will even be a few extra dollars for a cold beer once in a while! 😉
The Amazon
The Amazon you have several ways to visit it…. We told you about it in our article on the Ecuadorian Amazon. We were lucky enough to benefit from a partnership with a lodge; we translated their web page and in exchange we were able to stay in Huasquila for free.
But despite everything, we have done some research and can tell you a little more about the budget needed to visit the Amazon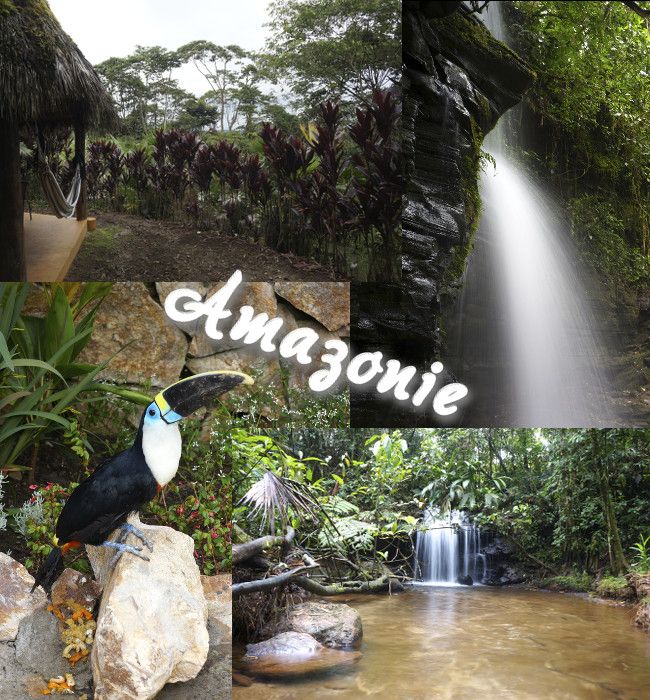 The cheaper version: Stay in a big city in the Amazon (Coca or Tena) where you can easily find guesthouses that offer double rooms for about $20 a night. Then go on excursions into the jungle. All this can cost less than $50 per person per day (including food, accommodation and activities)
The most exclusive but also the most exotic version: Stay in a lodge in the heart of the jungle. There are luxury lodges at more than $300 per night, but there are also many Lodges that offer rates ranging from $55 per person to $120 per person per day. At this price it is generally in "all-inclusive" mode, i.e. all meals, accommodation and activities (jungle treks, boat tours, etc.).
Find a place to stay on Hotelscombined
Transport in Ecuador
Travelling to Ecuador is child's play, and above all it will cost you almost nothing! The Ecuadorian roads are in excellent condition (compared to any road in Asia at least), so the trips are really comfortable!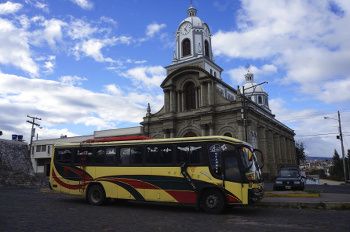 Simply put, for the transport budget, count roughly $1 to $1,5 per hour of transport on Ecuadorian roads! Only buses going to the Amazon are a little more expensive (about $1.5-$2 an hour)
And knowing that the country is only 650km wide and 714km long, it will never cost you much to cross it!
Transport budget in Ecuador
From Quito
Some information and prices on the trips we have made:
Quito-Mindo: Bus from Ofelia station. Travel time: 2.5 hours and price: 2.5$. If you wish to return to Quito the same day, you are advised to buy your return ticket when you arrive in Mindo in the morning. For more details, check out our article on Mindo
Quito-Baños: Bus from the south station of Quito Quitbumbre to Baños: $3.5 + $0.2 tax to leave the bus station. Travel time: 3.5 hours
Quito-Mitad del Mundo: Go to the Ofelia bus station in northern Quito. The bus will cost you $0.3 to Mitad del Mundo and the journey takes about 40 minutes.
Other routes
Baños-Tena: About 3h30 of travel, ticket price $4.5
Baños-Latacunga: Travel time: 2 hours, Price: $2 per person. Very frequent connections.
Baños-Riobamba: About 3 hours of travel, ticket price: $2.5
Riobamba-Cuenca: Between 6 and 8 hours of travel. Price: 6$ per person.
And what about the Galapagos???
Hmmm… the big heartbreak of our trip to Ecuador! It is probably one of the most popular destinations in South America, but it is also by far one of the most expensive!
During our 2 months in Quito, we never stopped looking for a good last minute offer, but the cheapest we could find was at least 1400$ per person for 5 days… Ouch!
In addition, some of our Spanish learning companions left with "all-inclusive" agencies and came back disappointed!
Catastrophic organization, hidden costs once on the spot, insufficient food and so on!
From what we have seen, the best way to visit the Galapagos is still to go there on your own
In terms of the budget for the Galapagos, we must take into account:
Approximately $400 for a round-trip flight from Quito or Guayaquil
100$ entrance fee for the national park, payable on arrival at the airport (for Ecuadorians the tax is only 10$)
A basic hotel on the main island, count about $30 per night
Excursions! That's where it hurts…. Day trips almost always cost a minimum of $100 per person, and apparently they are really worth it!
What's the point of going to Galapagos if you're not even going to discover the small islands?
In short, 3000$ for 5 days was just not in our budget, especially since we modified our projects a little bit for the rest of the trip, so this money we still need it… But we'll tell you more about our future projects at the end of this post!
All our accommodation in Ecuador and the accommodation budget
In Quito:
St. Gallen House. This is a Housing option for the medium-long term. Double room, private bathroom, wifi, living room and shared kitchen at your disposal, cleaning lady, and good atmosphere.
Baños:
We stayed in the friendly Nomada hostal. The boss was adorable, the rooms simple but clean. Price per night: $16 per double room. Kitchen at disposal and wifi.
Quilotoa:
Hostal Chukirawa, $15 per person including breakfast and dinner. Not incredible, but not really bad either…. A good alternative for small budgets. No wifi and no kitchen.
Chugchilan:
The Cloud Forest Hostal. Great hostel to stop after a day of trekking. $15 per person including breakfast and dinner. Free Wifi and playroom with pool table, table tennis and table football at your disposal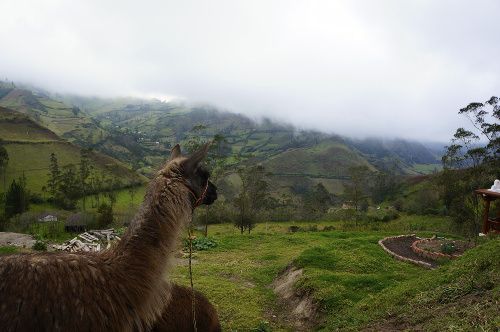 Isinlivi:
Llulu Llama is probably one of the top 10 inns on this trip. A great decoration, a divine cuisine and a warm welcome.
Price per person of $18 in dormitory including dinner and breakfast. There is also the possibility of renting private rooms or even bungalows, but in our opinion it is not worth it, the dormitories are perfect for one night. No wifi.
Latacunga:
The Tiana Hostal is an excellent base point before you embark on the Quilotoa loop or the Cotopaxi ascent.
It is a bit like a meeting point for many backpackers, so it is an excellent place to exchange information.
Price in double room, shared bathroom: $12 per person including breakfast. Kitchen at your disposal. And the view from the terrace is not really bad either…;)
See Availability on Hotelscombined
Tena (Amazonia):
We stayed at the beautiful Huasquila Lodge. We tell you more in our article on the Ecuadorian Amazon
Riobamba :
No hotel to advise you because we have done some couchsurfing. It was our first experience in South America, and the least we can say is that it only reinforced our idea that we really need to do it more often! Memorable memories of Riobamba! For those registered on the site, Paul M. from Riobamba is an exceptional host! 🙂
If you need a hotel or guesthouse room, have a look on Hotelscombined. In Riobamba rates start at approx 20$ for a double room.
Cuenca:
We stayed at the Yaku Mama, an inn run by two Swiss brothers and sisters in their twenties. A great atmosphere, minimalist but clean rooms. Double room with shared bathroom: $20 (breakfast included). Wifi in the restaurant (not in the rooms), and skateboard ramp in the inner courtyard. See availability online
Southern Ecuador: Riobamba and Cuenca
Our last 7 days in Ecuador we spent them in Riobamba and Cuenca. We would have made you a nice article about the region, but the problem is that an absolutely atrocious weather has been chasing us all along…
In Riobamba we tried to see the Chiboraso, but the rascal never bothered to get out of the clouds…. We also looked for the Tungurahua volcano, but this one also decided to stay hidden.
In short, we used these few days to stroll through the streets, taste some good Ecuadorian dishes, and try to take out the camera when the sun was able to make a small breakthrough through the clouds.
A small selection of photos of the region: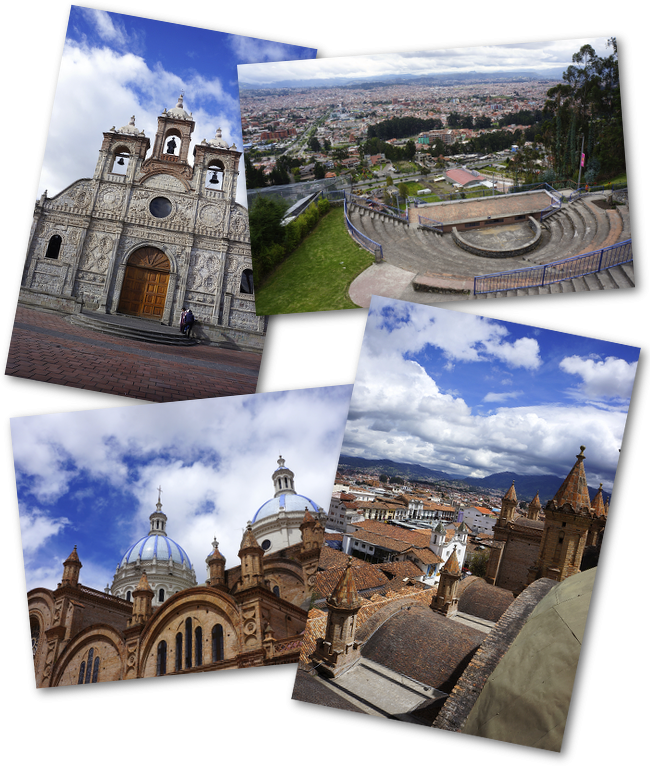 And to find all our articles on Ecuador, we invite you to visit page dedicated to backpacking Ecuador
Border crossing between Ecuador and Peru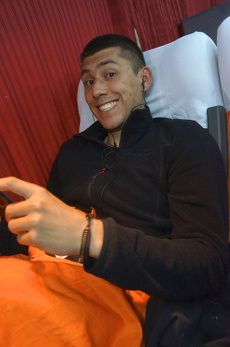 We left Ecuador from Cuenca, and before starting our trip we did some research on the net… And as usual we find everything! The official recommendations are clear: For safety reasons, avoid night travel, and border crossing at Huasquilas…
We ended up crossing the Huasquilas border at 2:30 in the morning! 🙂
On the forums you can read everything and especially anything, or sometimes it's just past date information. It states, for example, that attacks in the border area are frequent, that no bus makes the direct link despite what the agencies claim in Ecuador, that you have to take a taxi to cross the border, etc., etc…
Here is our experience:
9.30 pm: we get to the land terminal in Cuenca with our Super Semara bus tickets in our pocket
10.00 pm: The bus leaves on time! And not just any bus, the bus is a gigantic bus with ultra-comfortable seats that recline almost horizontally. The bags are in the hold at no extra cost.
A smooth journey to the Huasquilas border crossing at 2:30 am in the morning
There awaited us a large super modern building with armed guards in front to ensure the safety of the passengers. We get off, the bags stay in the hold (the bus parks in front of the building, we have a permanent view of the bus from the customs).
The customs in itself is very well done: 2 counters side by side. The first being the exit from Ecuadorian territory and the second for the entry into Peruvian territory. 9 Minutes of waiting time to get our exit stamp and the Peruvian stamp!
2.50 am: the bus starts again in the direction of the Peruvian cities of Tumbes (arrival at 3:15 am), Mancora (arrival around 4:30 am), Piura (arrival around 6:30 am) and finally Chiclayo (at 10 am).
In other words, as you can see, a smooth border crossing and a good night's sleep as a bonus. The trip from Cuenca to Chiclayo cost us US$20 per person for 12 hours of travel.
What's coming next?
As we write these lines to you, we are in the north of Peru, and will gently head towards Lima before leaving to discover Cusco and the famous Machu Pichu!
In theory, we were supposed to return on August 18th, 2014… But as I say it's "in theory", because now it's official the adventure will continue! How long will it last? Excellent question! Our budget will allow us to stay on the road until the end of the year, or who knows, maybe January or February.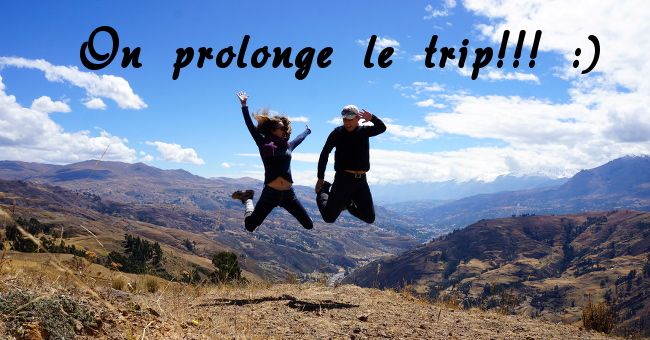 The provisional plan at the moment is to quietly descend South America to meet again in December in Patagonia.
Then, either we will return to Europe from Buenos Aires for the end of the year holidays, or we will continue the trip to Brazil, and why not finish our trip with the Rio carnival in February…
Or as a friend said, at the pace we're going to finish at the Brazilian Olympics in 2016! 😉
NB: Please note that this article contains affiliate links to partner sites. If you buy a product on one of their sites you will not pay more but we will receive a small commission. This will help us to keep this site alive. Thank you! 🙂