We're not going to lie to you, we'd mostly heard about Quito, the capital of Ecuador, as a dangerous city, impossible to visit without being stolen something. Yes, it is! We've met a dozen travelers who've had problems… So we were a little apprehensive about visiting this city after deciding to spend 2 months learning Spanish in Quito.
However, after our linguistic stay, our assessment is as follows: 0 stolen objects and many wonderful discoveries. Frankly, we haven't yet visited the rest of South America, but Ecuador's capital already sets the bar very high (in addition to being located at 2800 m altitude 😉). And since we spent so much time there and loved visiting it, we've put together a guide to the city to prove to you that there's plenty to do in Quito and that, no, it's not just another sketchy South American city!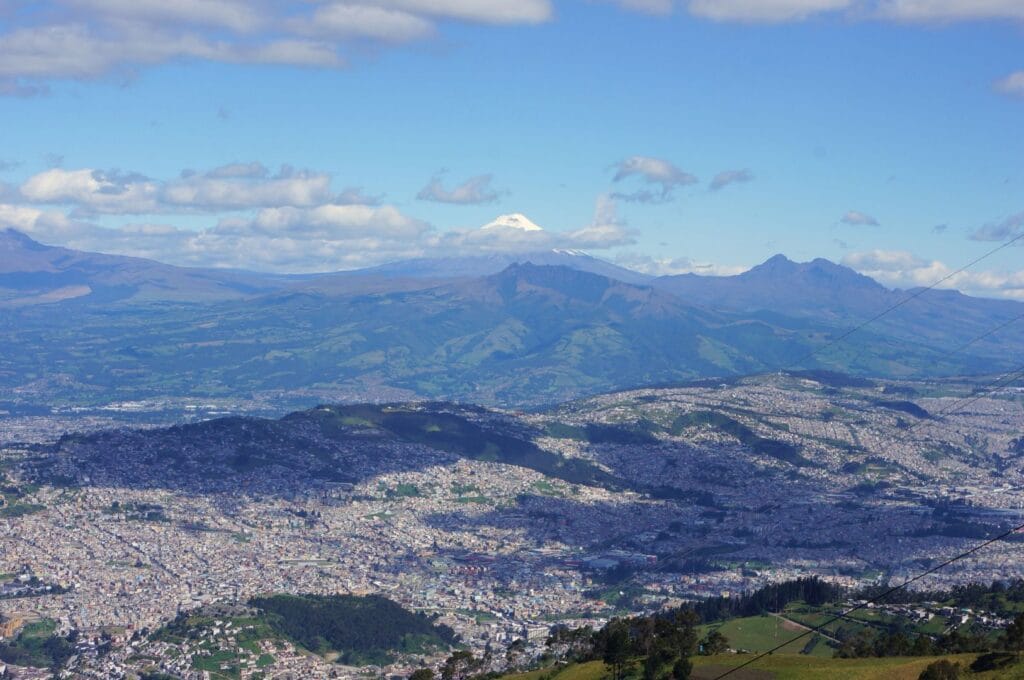 Update 2023
We took this trip in 2014, but the article was completely revised and updated in November 2023. If you see any price changes or have additional information that might be relevant, please feel free to leave us a comment!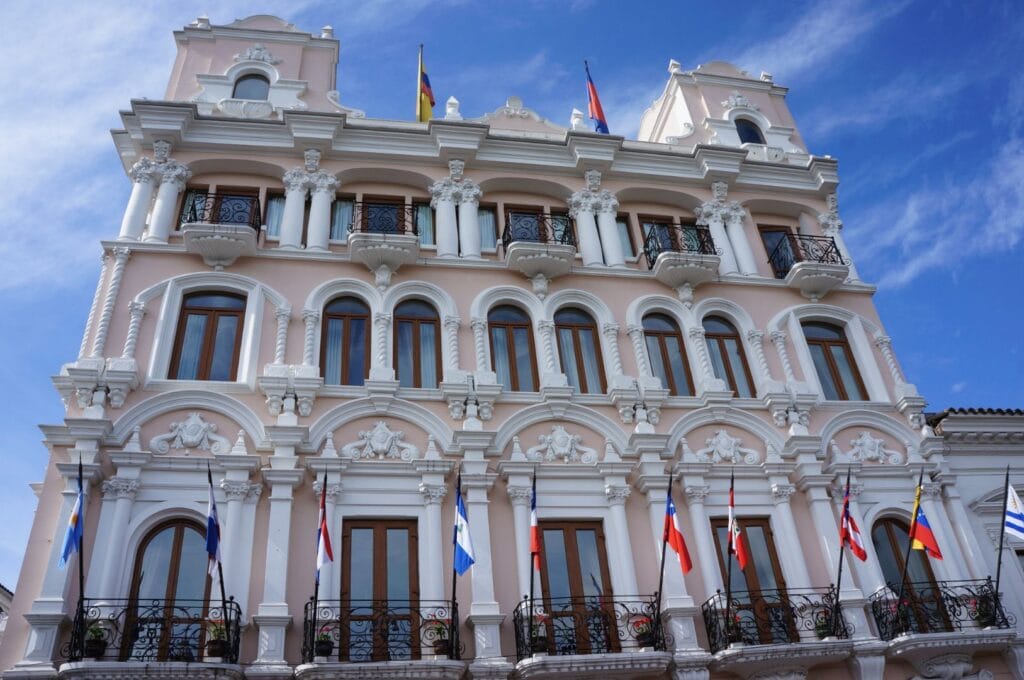 Visit El Centro Historico, Quito's historic center
300 years of Spanish colonization transformed a city. Imposing their religion, the Spaniards built churches, monasteries, palaces and plazas in Quito, but they thought big! In fact, Quito boasts the largest (and best-preserved) historic center in all of South America. In short, there's a lot of things to see and do in Quito!
Frankly, I'm not going to give you a boring summary of all the churches there are to visit in the historic center – you've probably got a paper guidebook that explains it all.
I simply recommend getting lost in the narrow, colorful streets of old Quito. The architecture of the buildings, the sculptures and frescoes in the churches… Everything is beautiful and superbly maintained. You can see that the city of Quito is making great efforts to preserve its historic center. Here's a short list of our favorite spots in Quito's historic center!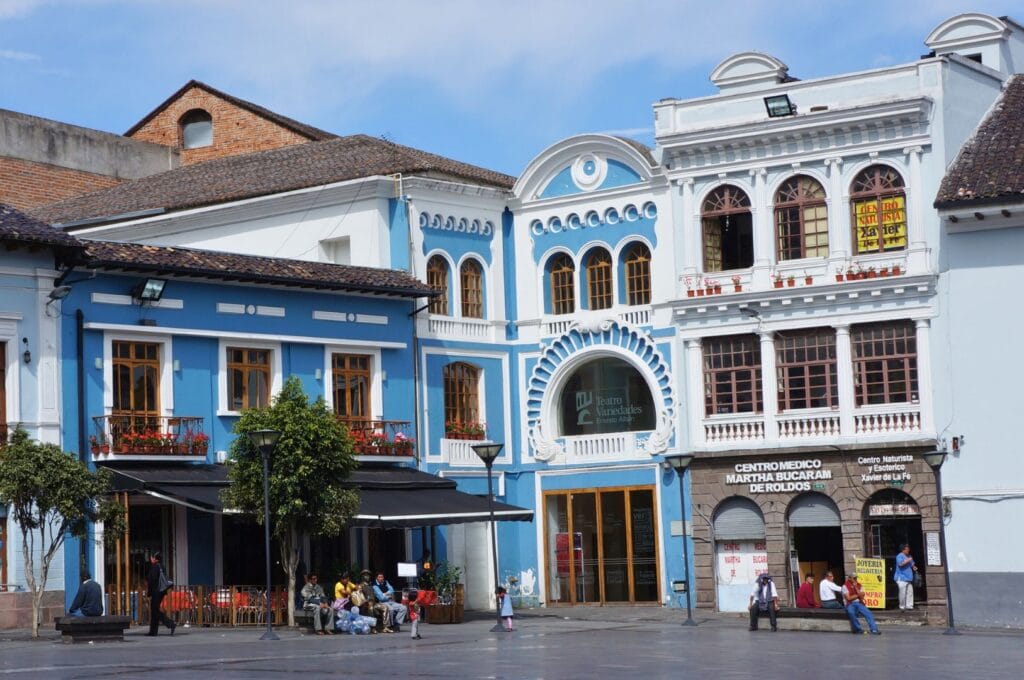 Plaza Grande and Palacio de Carondelet
We particularly liked the Plaza Grande (Independence Square), with its colonial-style buildings, just in front of the Palacio de Carondelet, the presidential palace and the government palace. Normally, the changing of the guard takes place at 11 a.m. on Mondays. To visit the building, reserve your place 1 or even several days in advance by going directly to the site. The tour of the presidential palace is free and lasts a good hour. You'll be asked to leave your passport at the entrance, so take it (or a copy) with you. Once we've set foot in Latin America, we've got into the habit of carrying only a copy with us.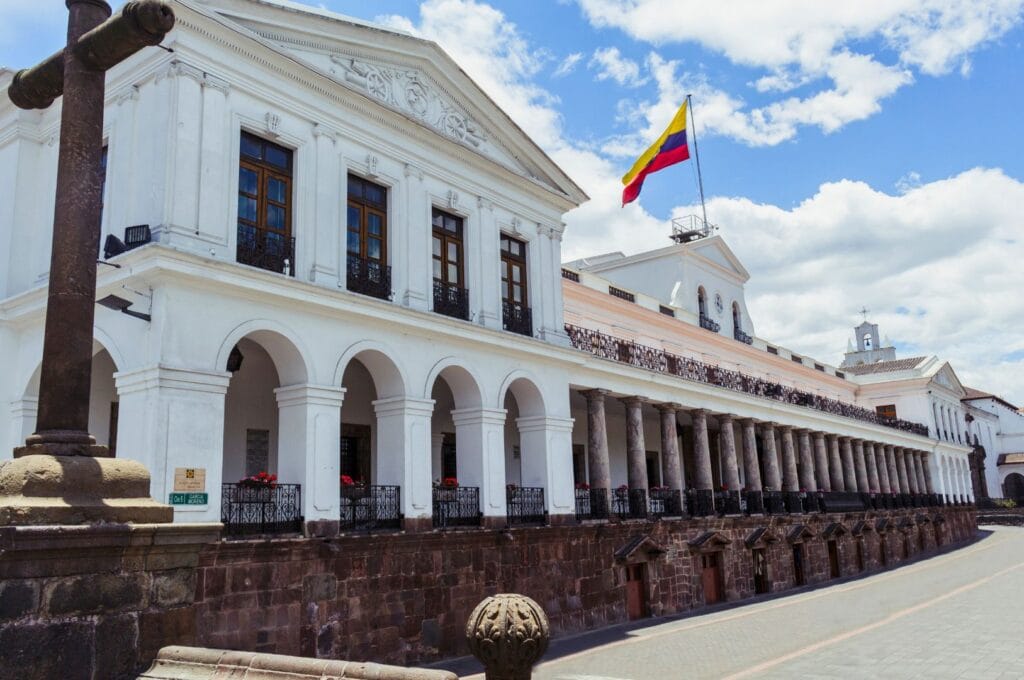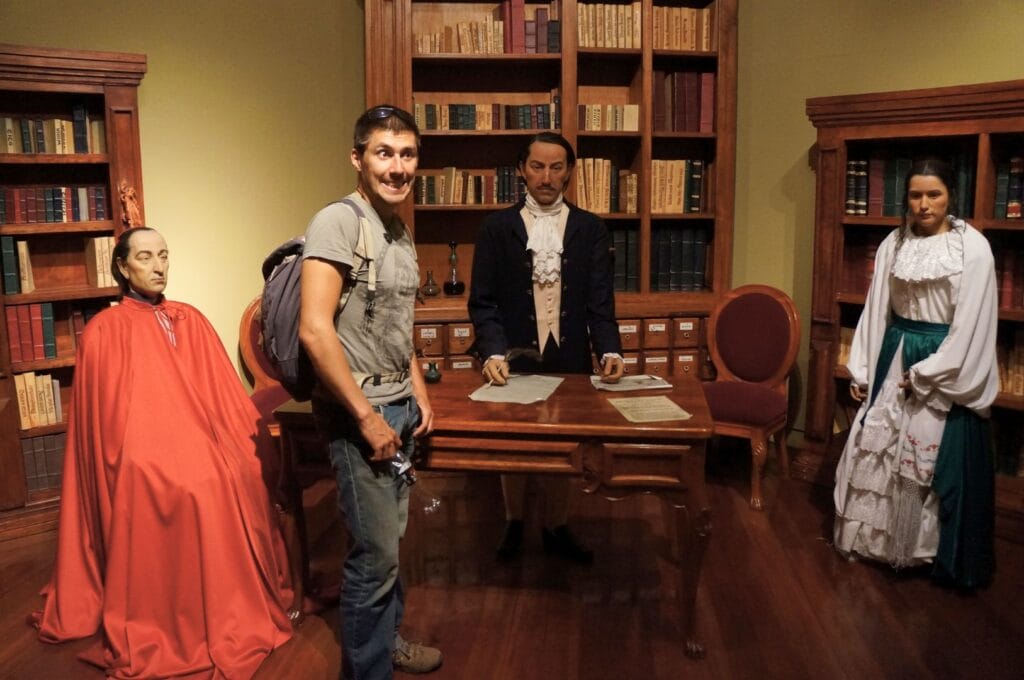 Next to the entrance to the Carondelet Palace, the Alberto Mena Caamaño Museum is very interesting; it traces the history of the city of Quito. If you have to wait to enter the palace, drop in for a visit!
Plaza de San Francisco
Not far from here, we also really enjoyed the Plaza de San Francisco and its namesake church and convent. Built at the end of the 16th century, this monument stands out for the different architectural styles that characterize its interior. It is also the oldest church in Quito and one of the largest religious complexes in South America. The visit is not free ($2.5 per person), and we can't recommend it highly enough.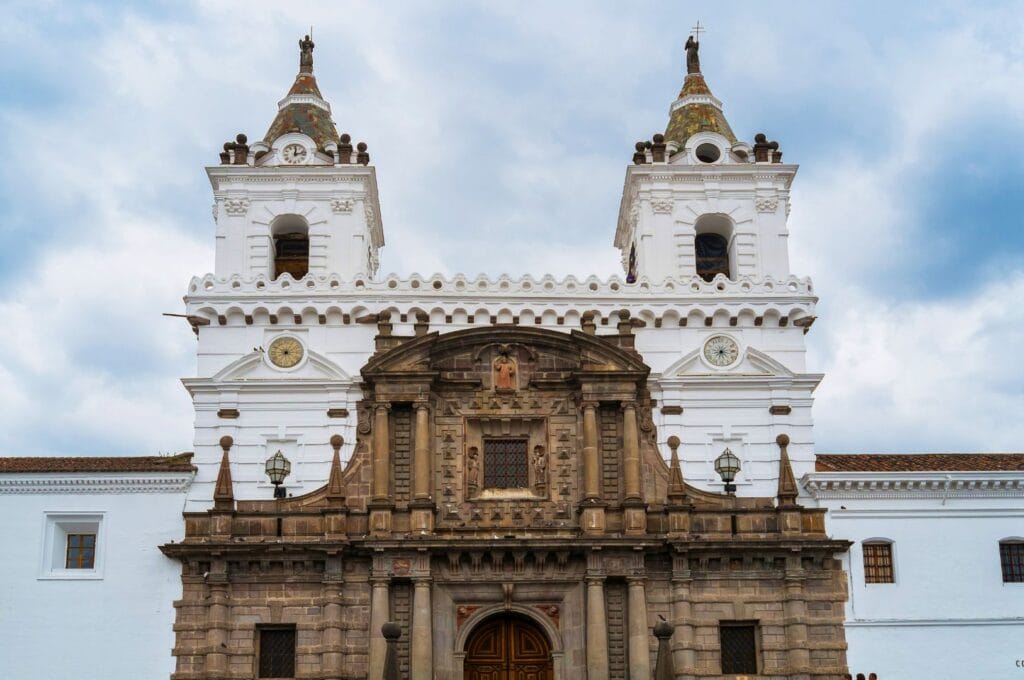 On San Francisco Square, the restaurant/bar La Bodega de Cantuña has a very nice terrace where you can enjoy a drink on the square. I mention this because we hardly saw any other terraces in Quito's historic center…
Calle de la Ronda
Last but not least, we recommend a visit to Calle de la Ronda, one of Quito's oldest streets! At the foot of the Panecillo, you'll admire the unique architecture of these charming, colorful houses. We also recommend a glass (or carafe, as you prefer!) of canelazo, Ecuador's typical and traditional alcoholic beverage! It's made from sugarcane alcohol (aguardiente) boiled with cinnamon and sugar, and served hot! To try this beverage, you'll find several very nice bars in La Ronda, small and charming (nothing like the ultra-touristy La Mariscal district). A word of caution, though: stop by in the late afternoon: although canelazo is quite sweet, it's pretty strong, and after one or two drinks, you'll find it hard to get up!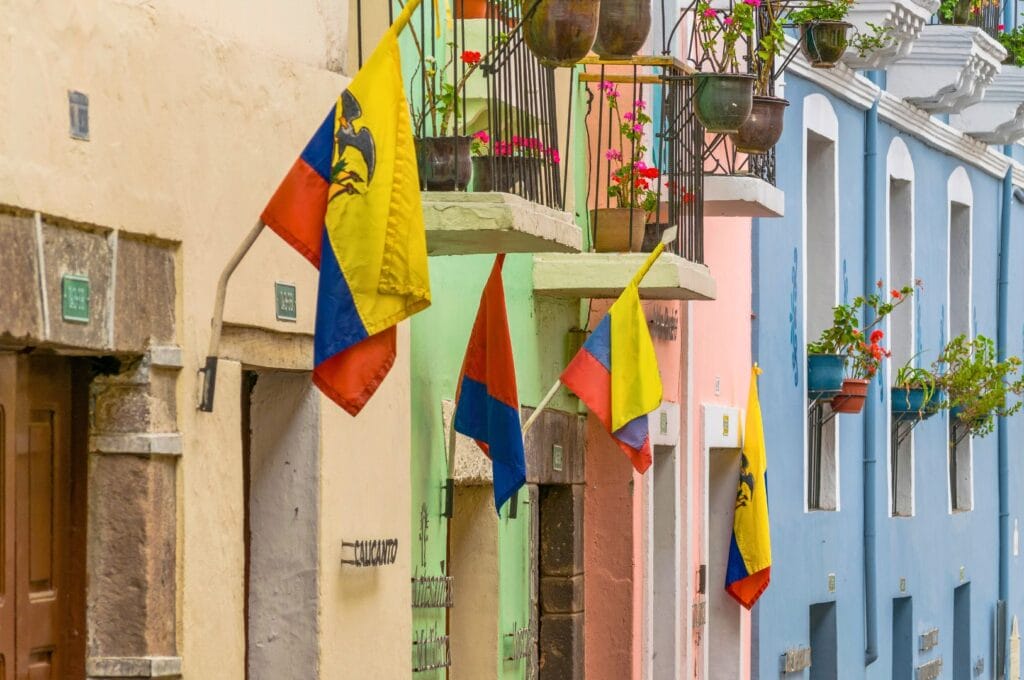 Free walking tour of Quito
If you're new to the free walking tour concept, it's a great way to discover a place for the first time. You'll set off in a group with a local guide to discover Quito's historic center, and if you've enjoyed the tour, you simply tip the guide as you see fit. Frankly, we love these tours and the concept, so much so that it's the first thing we do when we arrive in an unfamiliar city!
Basilica del Voto Nacional
It was this basilica that impressed us most during our visit to old Quito. Its dimensions are nothing short of impressive: 140 meters long and 115 meters high for the two towers! Visible from anywhere in Quito thanks to the towers, the building has a particularly interesting Gothic style! One of its features is the presence of gargoyles representing Ecuadorian animals (iguanas, turtles, toucans…) all over its facades. It's quite unusual to see such animals in a religious building of this size!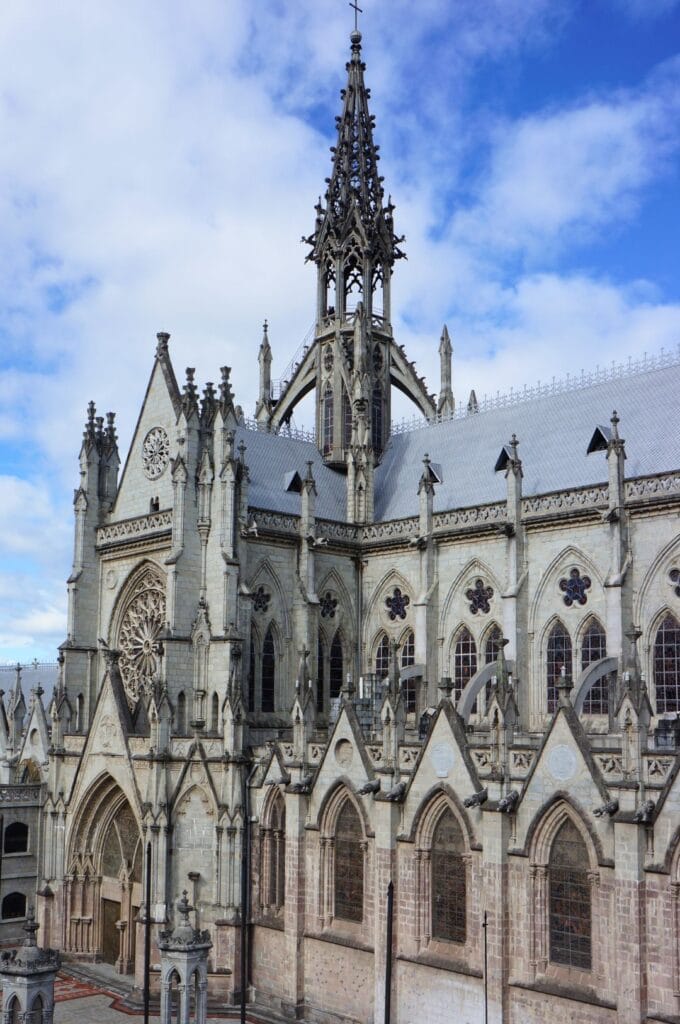 But the highlight of the visit, in our opinion, is climbing the towers of the Basilica del Voto Nacional. In fact, you can actually go inside the clock, then climb to the top of one of the 2 towers, as well as the third, which is slightly lower than the two main ones. I might as well tell you that you'd never be allowed to do that in Europe…
After that, be prepared to climb a lot of stairs (an elevator can save you a few floors) and even some ladders. You'd better not be afraid of heights! But it's worth it: the panorama from the top is absolutely incredible. From up there, you simply have the best view in town of Panecillo and Quito!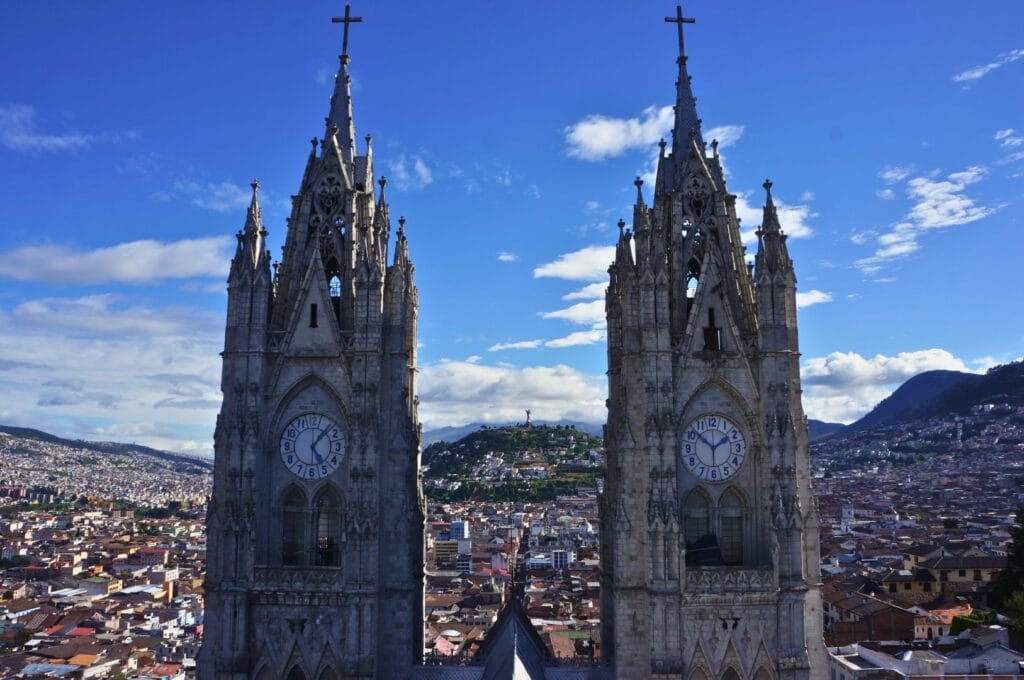 Another unlikely thing for a basilica is the presence of a café at the top of one of the two towers. For a few dollars, you can enjoy a coffee/cake with a great view of the city. Not bad, eh?
Entrance to the Basilica del Voto Nacional costs $2 per person, but if you want to climb the towers, that too costs $2. You can do one without the other. The Basilica is open from 9 a.m. to 5 p.m. on weekdays and from 9 a.m. to 6 p.m. on weekends.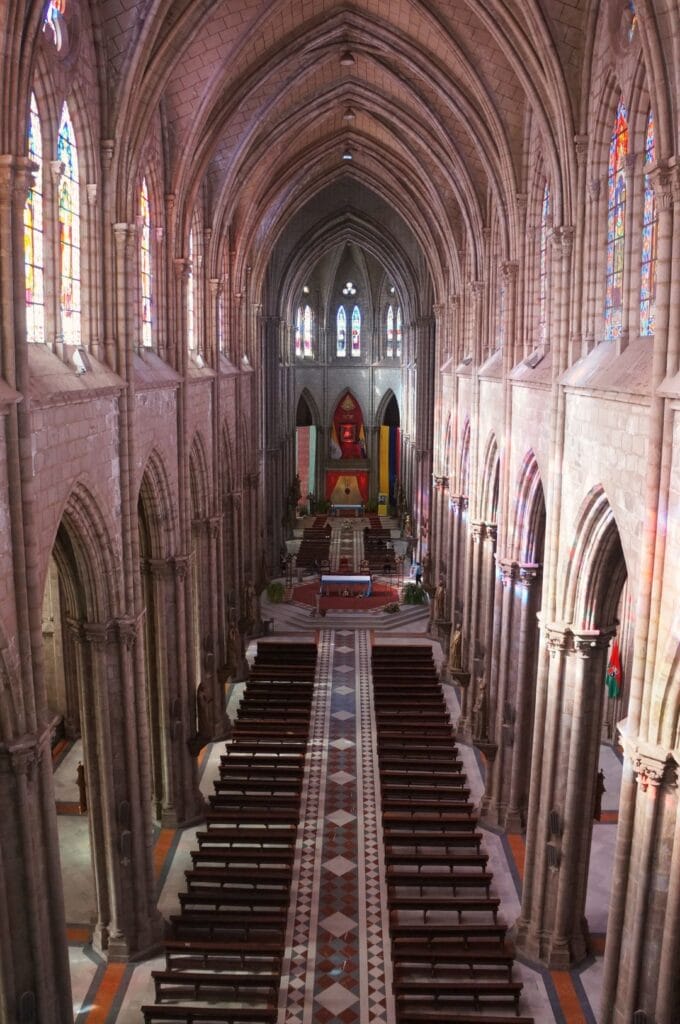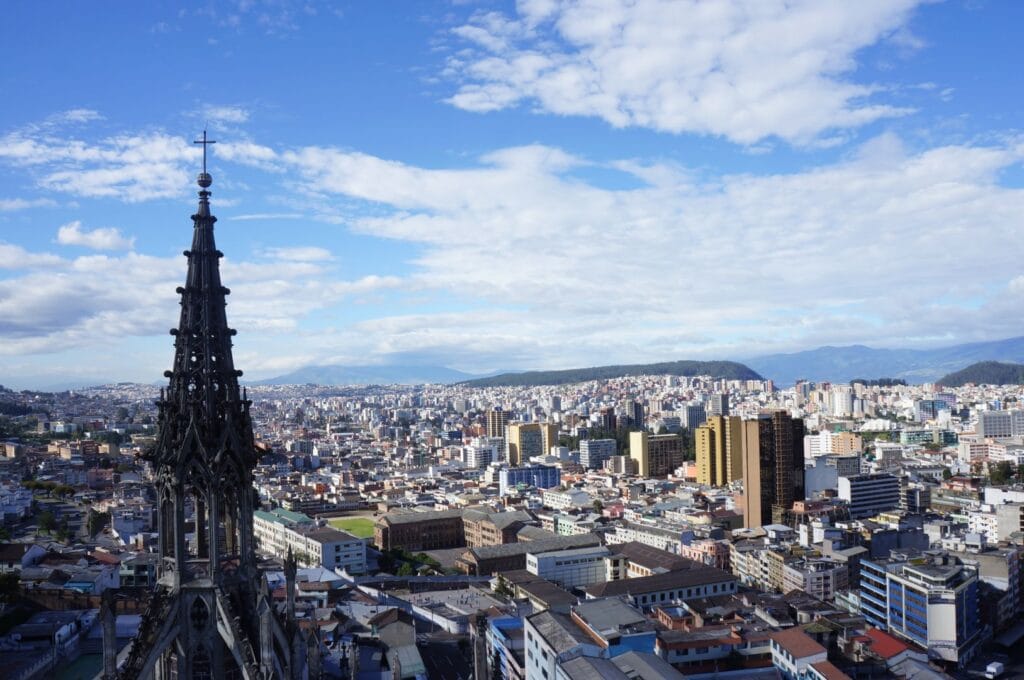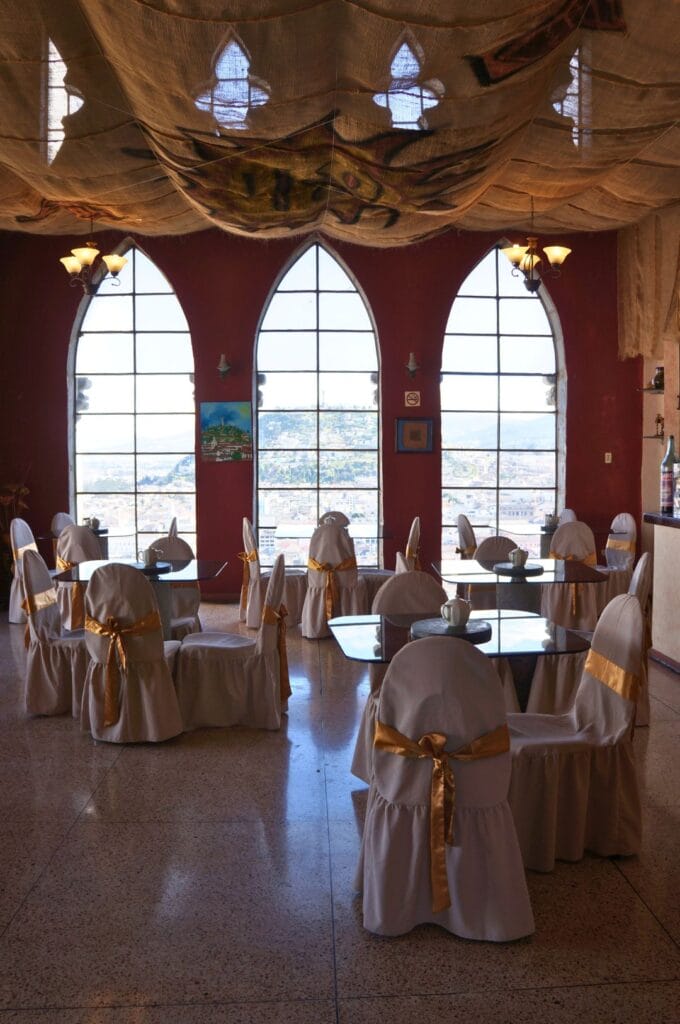 El Panecillo
El Panecillo (roll in English) is the hill in the middle of Quito. At its summit, you'll find a 41-meter-high aluminum statue of the Virgin (Virgen del Panecillo), which can be seen from absolutely anywhere in Quito! She's a symbol of the city, and even the guardian angel, since she has wings. The view from Panecillo is breathtaking on a clear day, and well worth the climb! For $1, you can also climb inside the Virgin for a superb 360° view of Quito.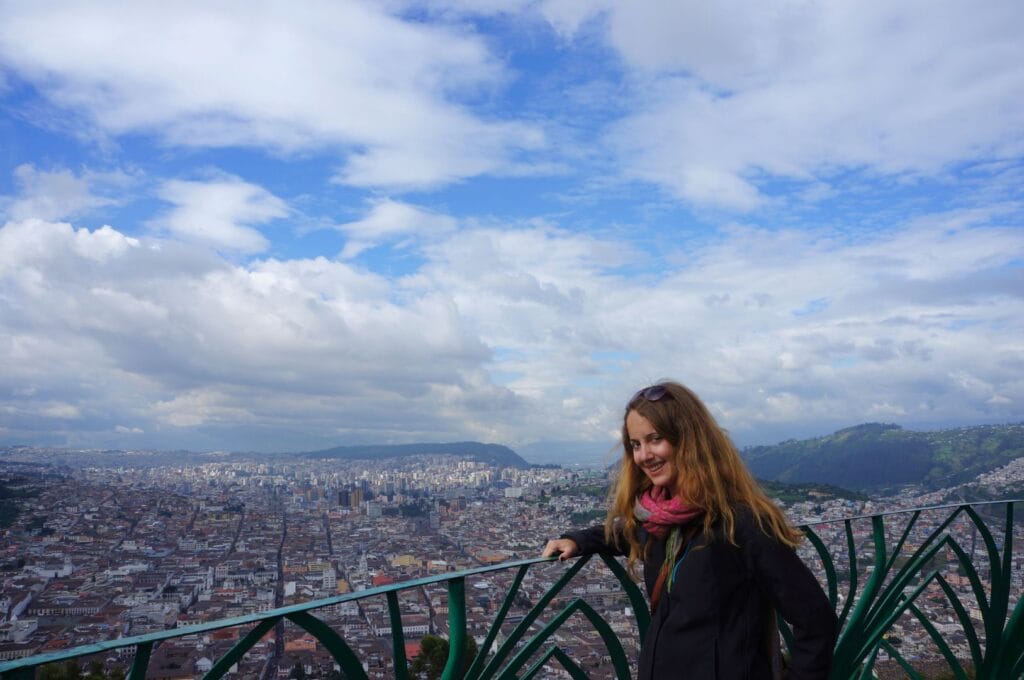 It's possible to walk up to the Panecillo, but we've heard quite a few stories of theft there. Some locals even advised us against walking up alone. As we were with locals, we were able to walk up. To be on the safe side, take a driver or cab (about $8 round trip), a bus around Quito, or the public bus (less than a dollar per person) up to the top of the hill. If you're fluent in Spanish, just ask to find the right bus! If not, look on Google Maps for the various routes to the Panecillo.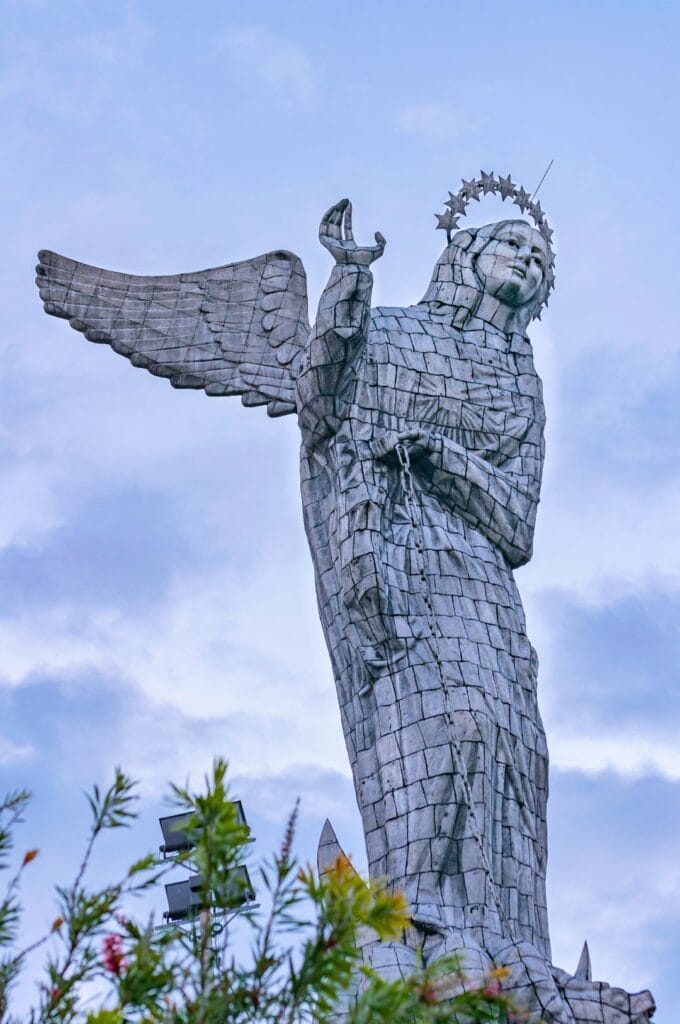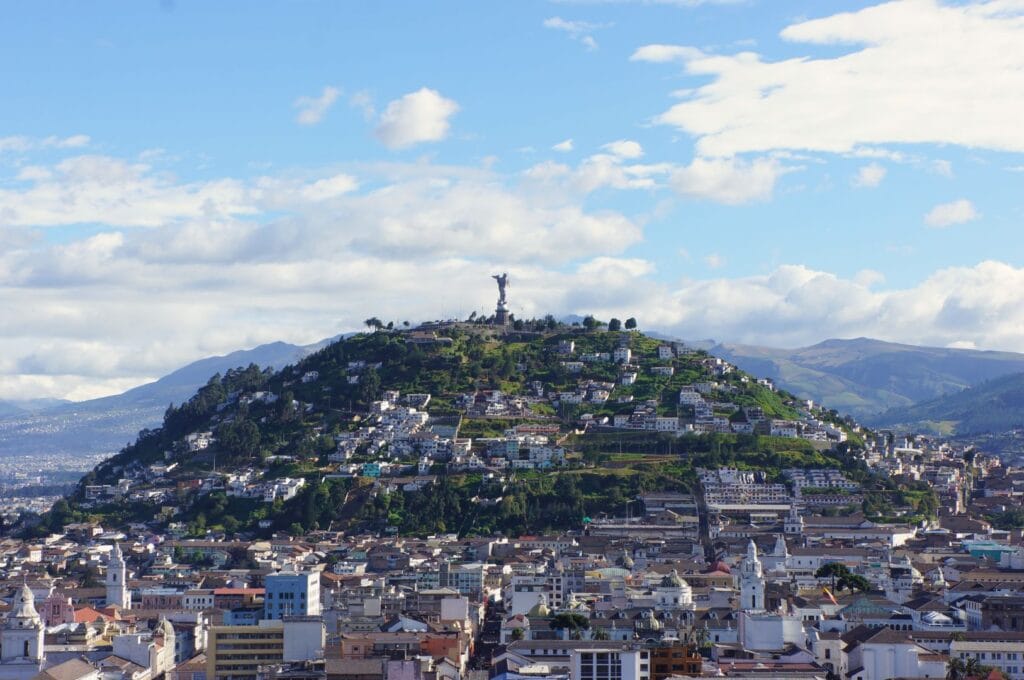 This article contains affiliate links to partner sites. When you use our links to book accommodation, a car, or an activity, you don't pay anything extra, but we get a small commission. This helps us to offer you free, independent, and ad-free content. Thank you for your support!
La Mariscal or Gringolandia
Located just north of the historic center, La Mariscal is considered Quito's most festive district. It's also where the majority of the city's backpacker hotels are located. If you ask us, there's not much of interest here. If you're going to be in Quito, you might as well stay in the magnificent historic center rather than waste your time in yet another backpacker district (which, by the way, looks the same all over the world)! However, you're bound to come across one, as most of the travel agencies are located in La Mariscal.
In the evenings, the atmosphere is quite friendly, and we've been here several times to watch World Cup football matches, just for the atmosphere! But in our opinion, there are other, more interesting areas to go out in Quito, such as La Floresta.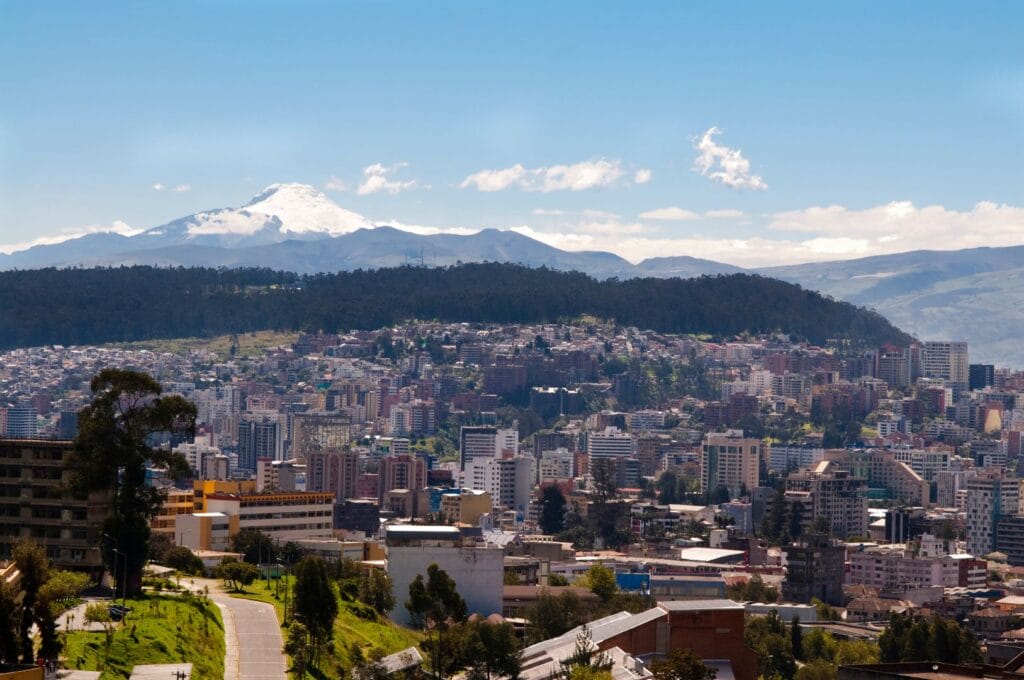 Walk in Quito's parks
Although you can't really say that Quito is a green or clean city (just look at the amount of smoke that comes out of the buses, but more on that later), several nice parks are well worth a visit.
Parque Metropolitano Guangüiltagua
Located behind the Olympic Stadium in the northern part of the city, Metropolitan Park is Quito's largest park and lung. To give you an idea of scale, the park is twice the size of New York's Central Park! And it took me 3 hours at a good pace to walk around it!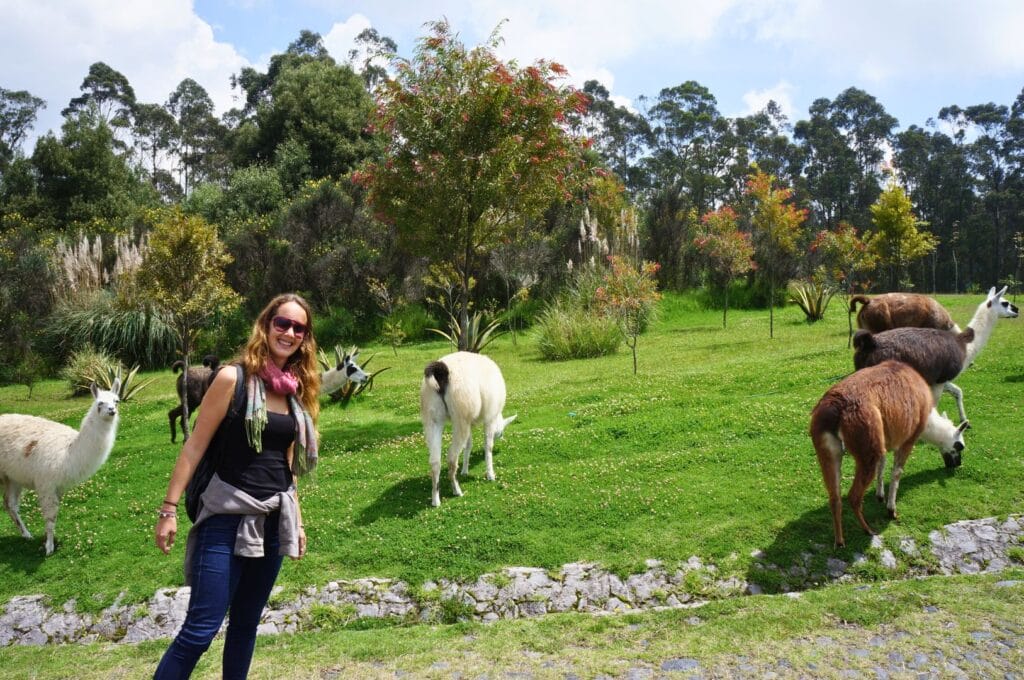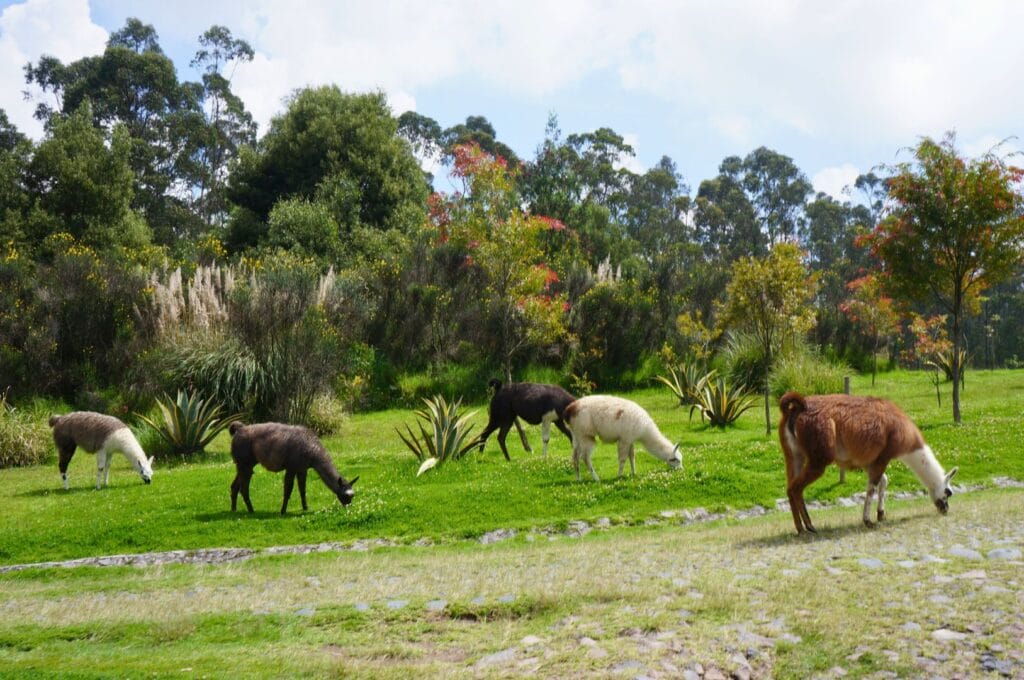 The whole park is covered in forests and paths, making it the perfect place for a jog in the forest or a barbecue with friends. There are also grills set up in several places, a sort of fitness trail, soccer pitches, basketball courts, and more. And let's not forget that the Parque Metropolitano Guangüiltagua is also home to an adorable herd of llamas! In short, there's plenty to do. What's more, as the park is located on a hill, you can see the Cotopaxi and Cayambe volcanoes from several viewpoints!
Parque La Carolina
La Carolina Park is located in the heart of downtown Quito, opposite the Quicentro shopping center (more on this below). Many people come here at weekends to play football, basketball or Ecuavolley, a popular variation of volleyball in Ecuador, with a much higher net. Most of the courts are available free of charge, and the atmosphere is great! You can also grab a bite to eat and a fresh fruit juice. Street vendors are everywhere at weekends.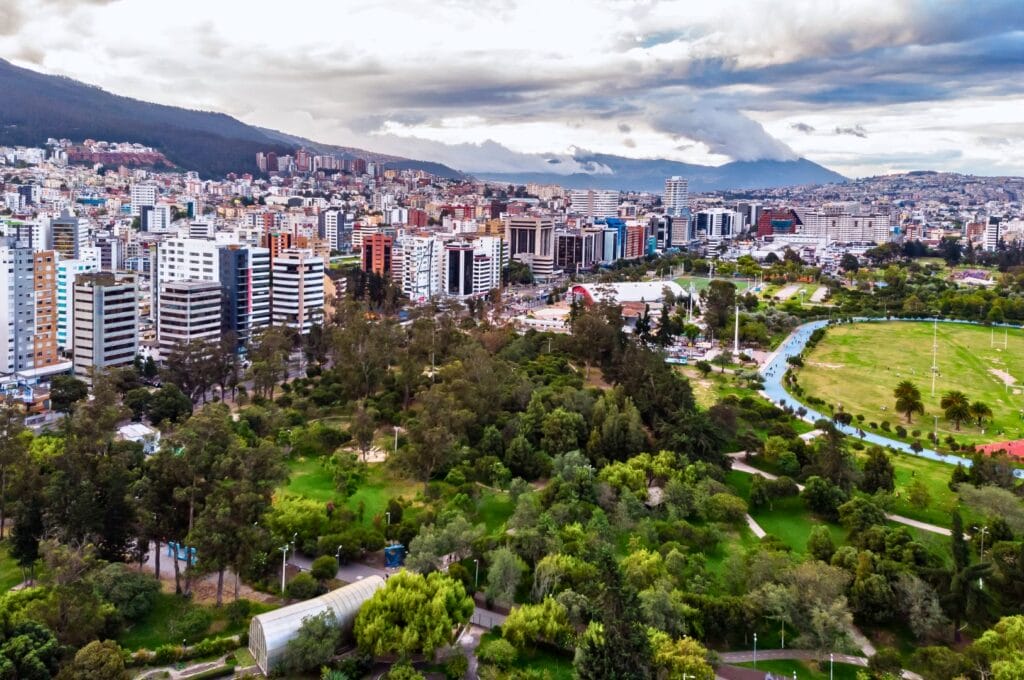 Quito Botanical Garden
Located right in the middle of La Carolina Park, the garden was a pleasant surprise for us. The concept of the Quito Botanical Garden is to reproduce the typical environments to be found in Ecuador: the coast, the Andes, the Amazon… What's more, it boasts two magnificent greenhouses, one filled with sublime orchids and the other with carnivorous plants. In short, we loved wandering around this plant-filled environment!
The Quito Botanical Garden is open daily from 10 a.m. to 3 p.m., and admission costs $4.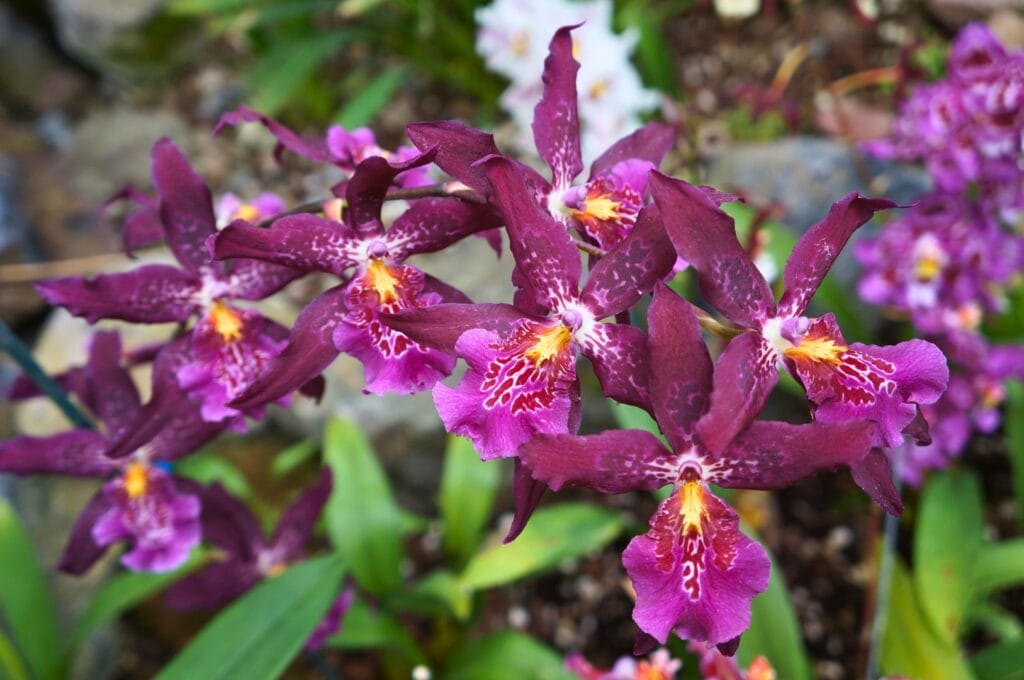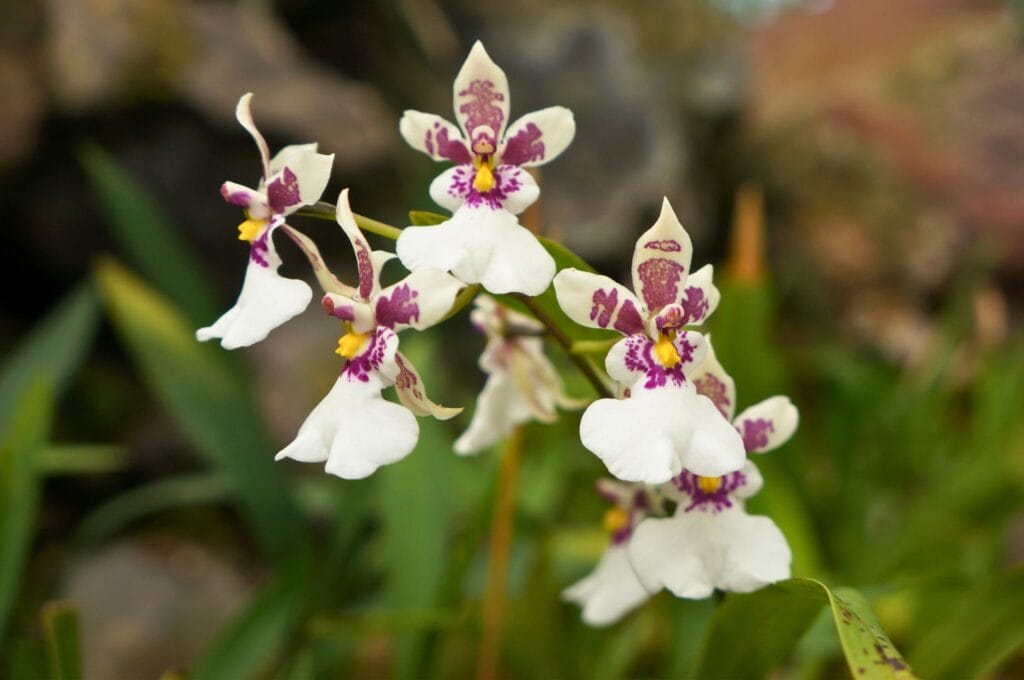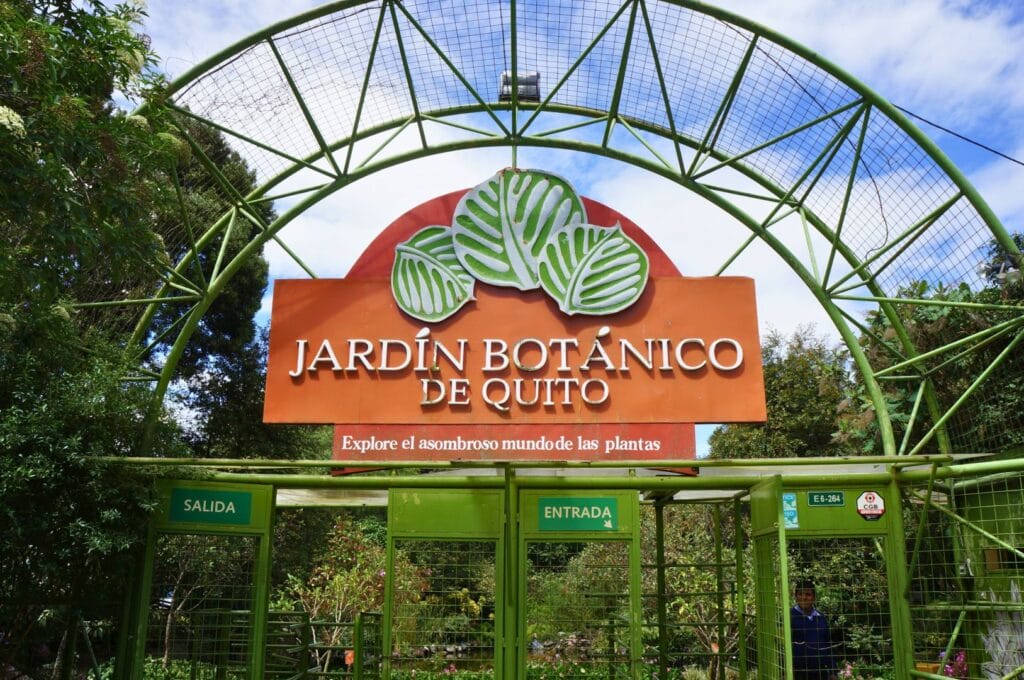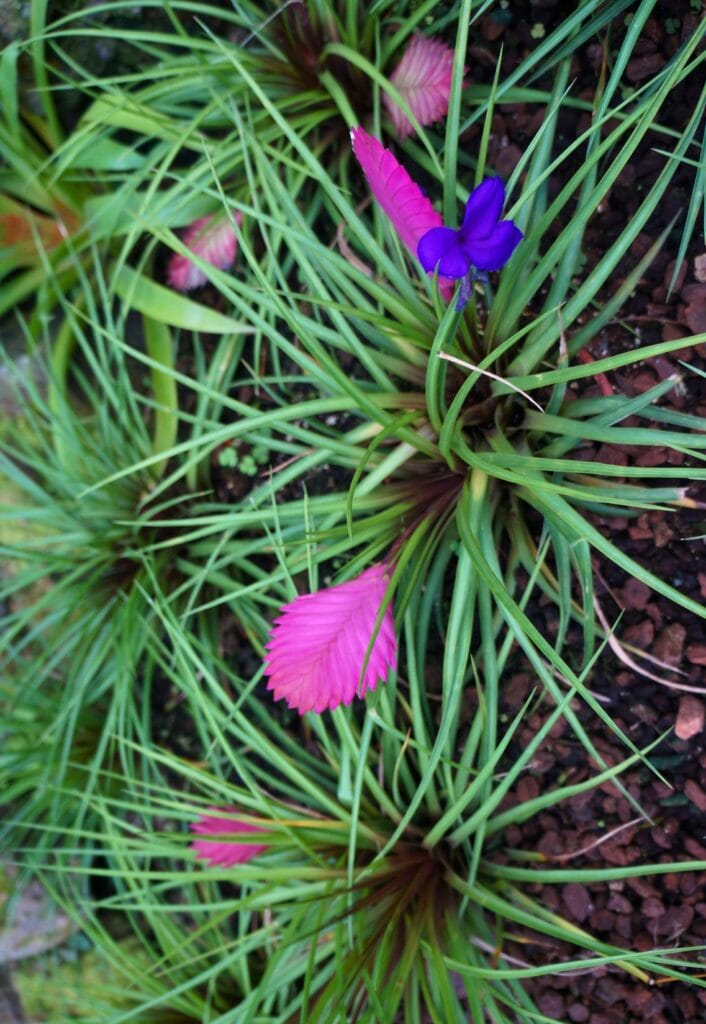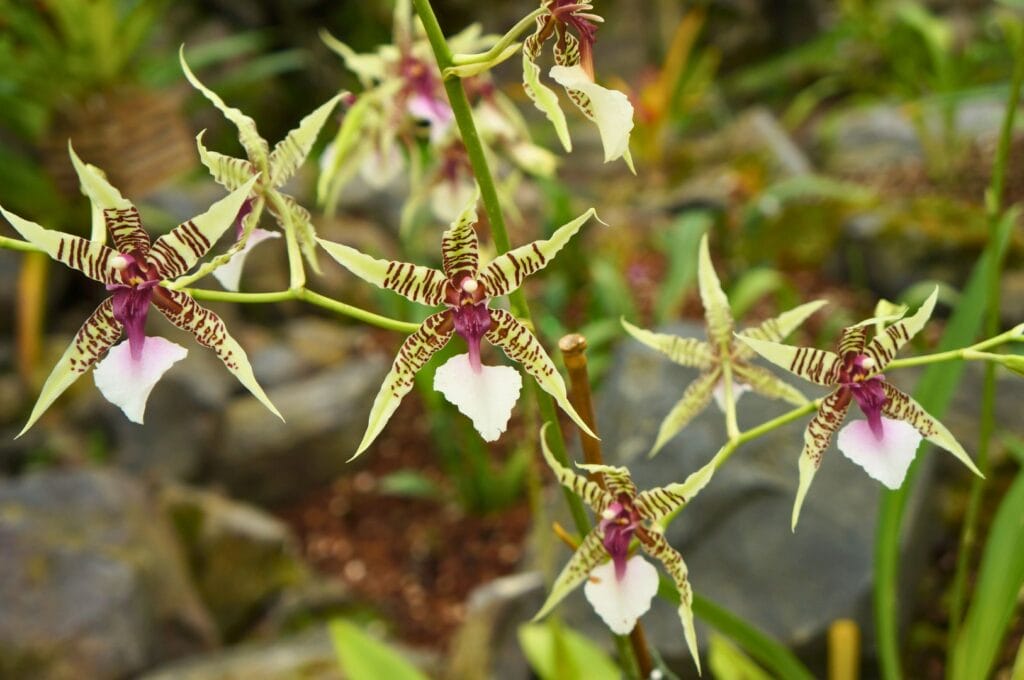 Other parks in Quito
There are also other interesting parks in Quito, such as Parque Bicentenario, the Bicentennial Park, which stands on the site of the old airport. The runway has been transformed into a place for relaxation and sports, and over a million trees have been planted. An interesting way to recycle an airport, in my opinion! Elsewhere, El Ejido Park, famous for its painters, is well worth a visit.
Take El TeleferiQo to the summit of the Pichincha volcano
El TeleferiQo
Now that, my friends, is THE program to do on a sunny day! As you may know, Quito lies partly on the eastern slope of the Pichincha volcano. As a result, it's possible to take El TeleferiQo from Quito, a cabin that climbs up the volcano's slope to an altitude of 4,000 m. And what if I told you that the panorama from the top of the cable car is INCREDIBLE! Of course, you'll have a stunning view of the whole of Quito, but on a clear day, you'll also be able to admire the majestic Cotopaxi volcano, as well as Antisana and Cayambe, which lie a little further away.
Alors ça mes amis, c'est LE programme à faire un jour où il fait très beau! Comme vous le savez peut-être, Quito se trouve en partie sur le versant est du volcan Pichincha. Du coup, il est possible depuis Quito de prendre El TeleferiQo, une cabine qui monte sur le versant du volcan jusqu'à une altitude de 4000 m. Et si je vous disais que le panorama depuis le sommet du téléphérique est INCROYABLE?! Vous aurez évidemment une vue imprenable sur toute la ville de Quito mais par beau temps, vous pourrez admirer le majestueux volcan Cotopaxi ainsi que l'Antisana et le Cayambe qui se trouvent un peu plus loin. Frankly, photos speak for themselves!
El TeleferiQo
It's best to take a taxi to the cable car, as several locals told us that the area was a bit dodgy… Expect to pay $2-3 for a cab from downtown Quito (La Mariscal or the historic center). The cable car is open from 10 a.m. to 7 p.m. Monday to Thursday and from 8 a.m. to 7 p.m. Friday to Sunday. El TelefriQo tickets cost $9 per person round trip.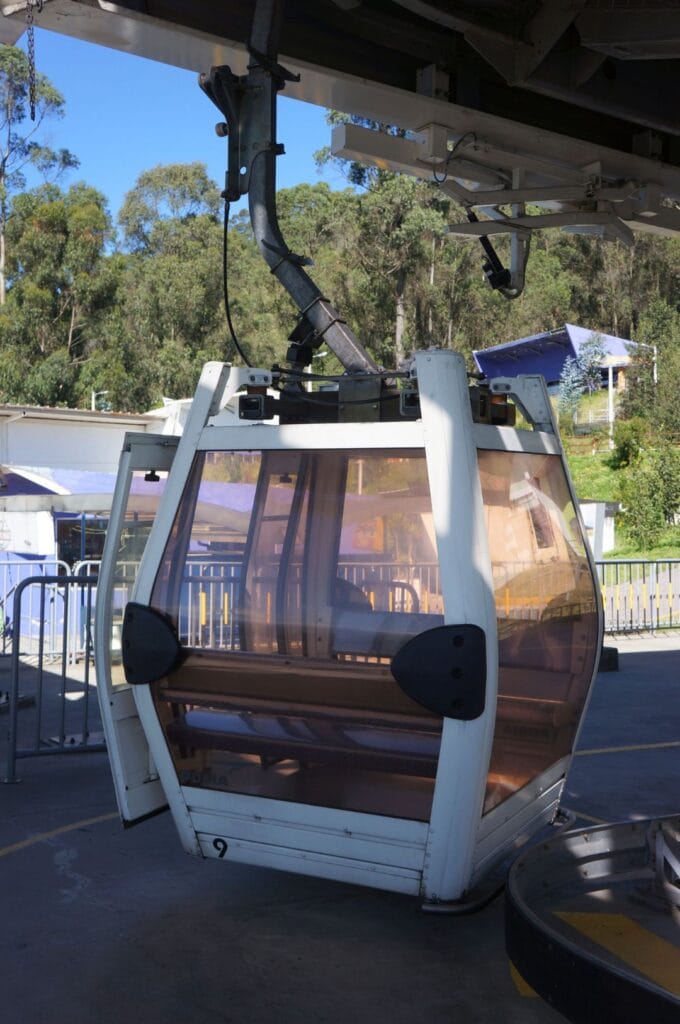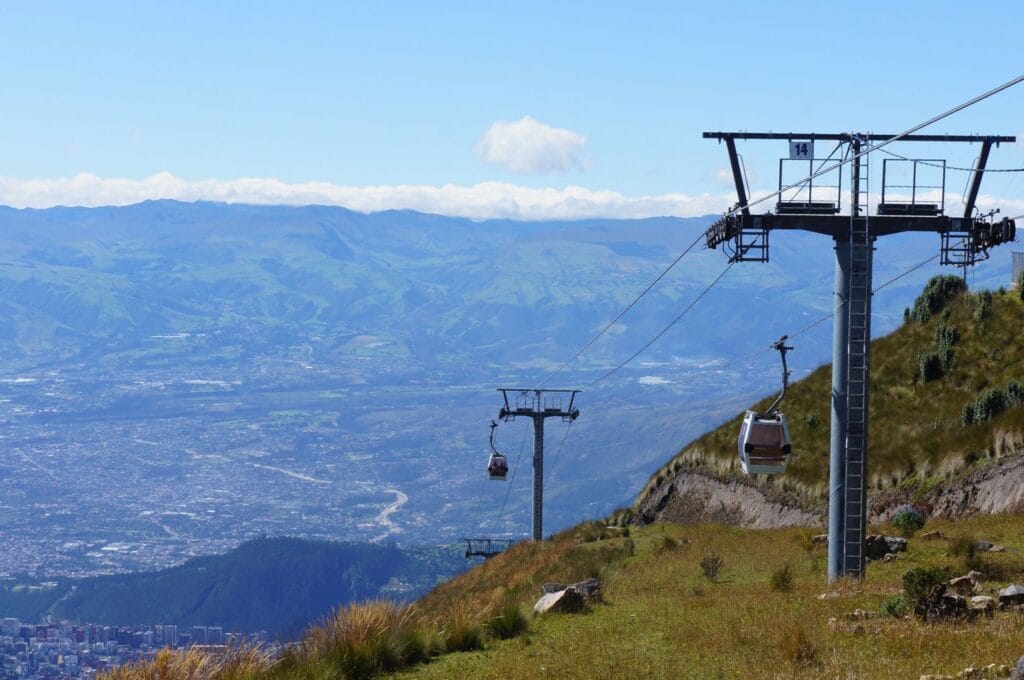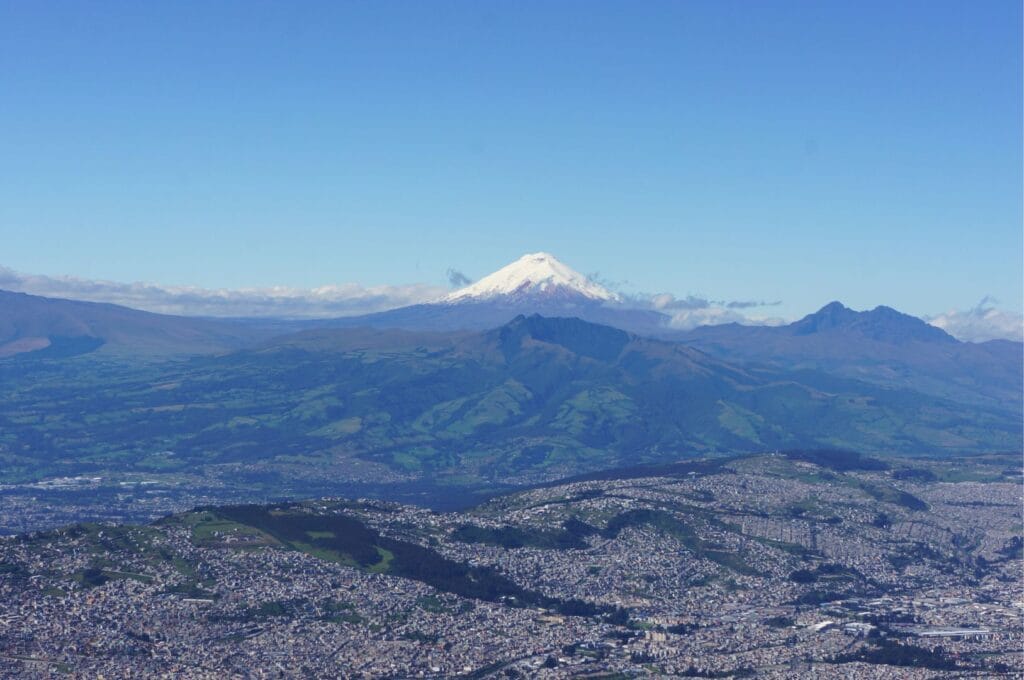 Hike to the summit of Pinchincha
If you're in good physical condition or want to train to climb one of Ecuador's big volcanoes (Cotopaxi, Cayambe, Chimborazo…), you can then climb from the top of the cable car to the summit of Rucu Pichincha at 4696 m, on your own. You can't go wrong, there's only one way up and it's very well signposted. You can download the route here.
Allow between 4 and 7 hours round trip, depending on your speed. Don't forget that altitude makes you short of breath too! But be warned that the last part is quite difficult, and more of a climb than a hike. If you're used to walking in the mountains, this won't be a problem, but I've seen guides rope their clients themselves together (although I doubt it's really necessary). Otherwise, the section on the right is a little easier on the loop before the summit. For the view alone, it's well worth the effort 😉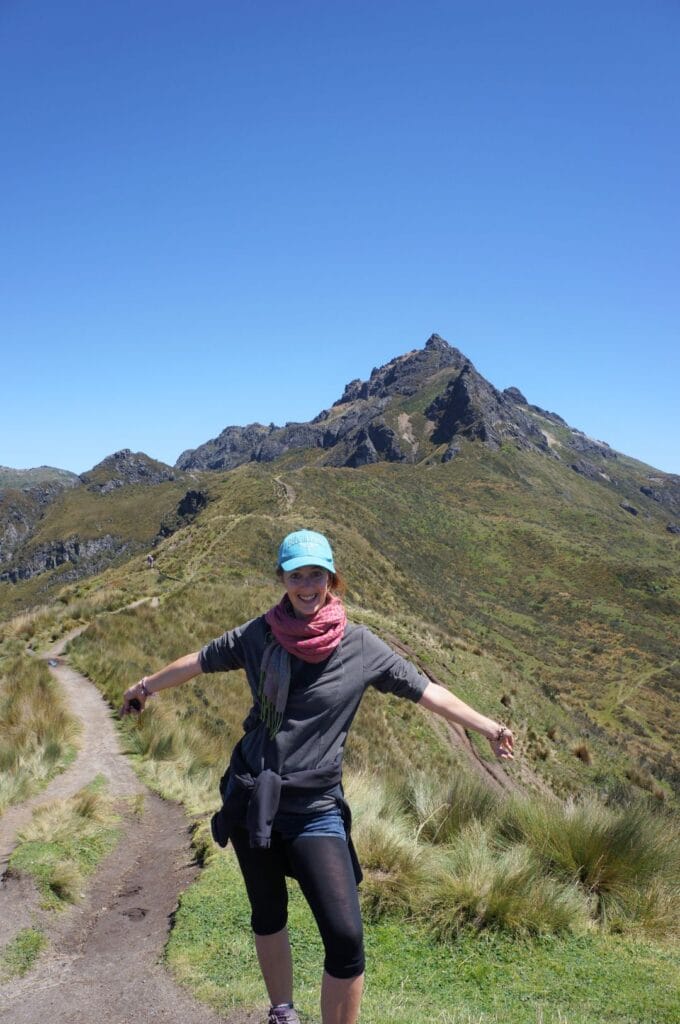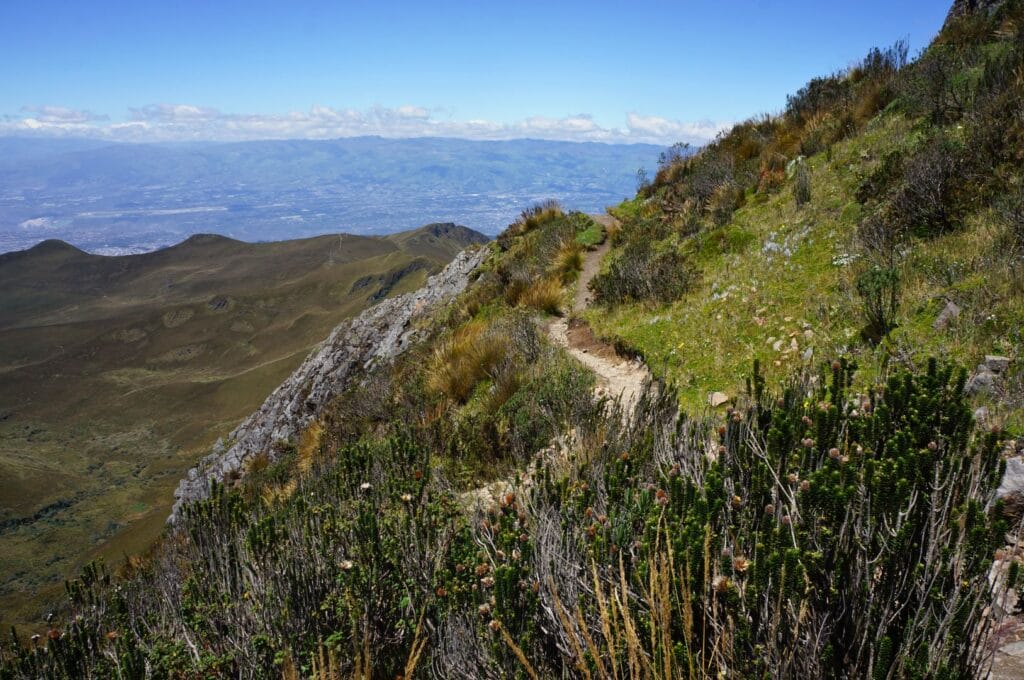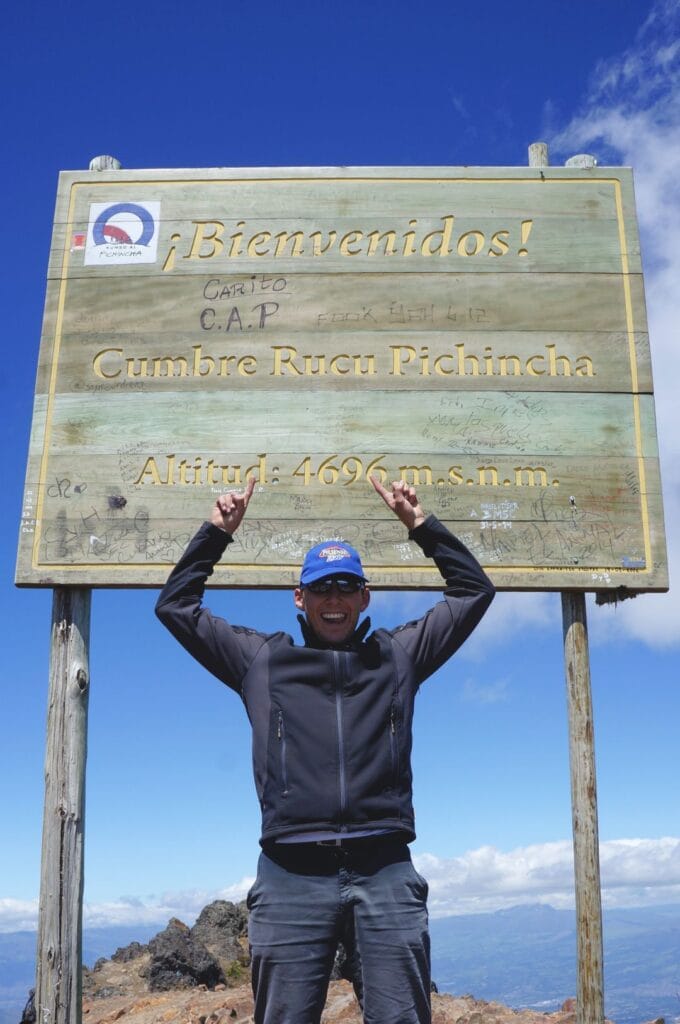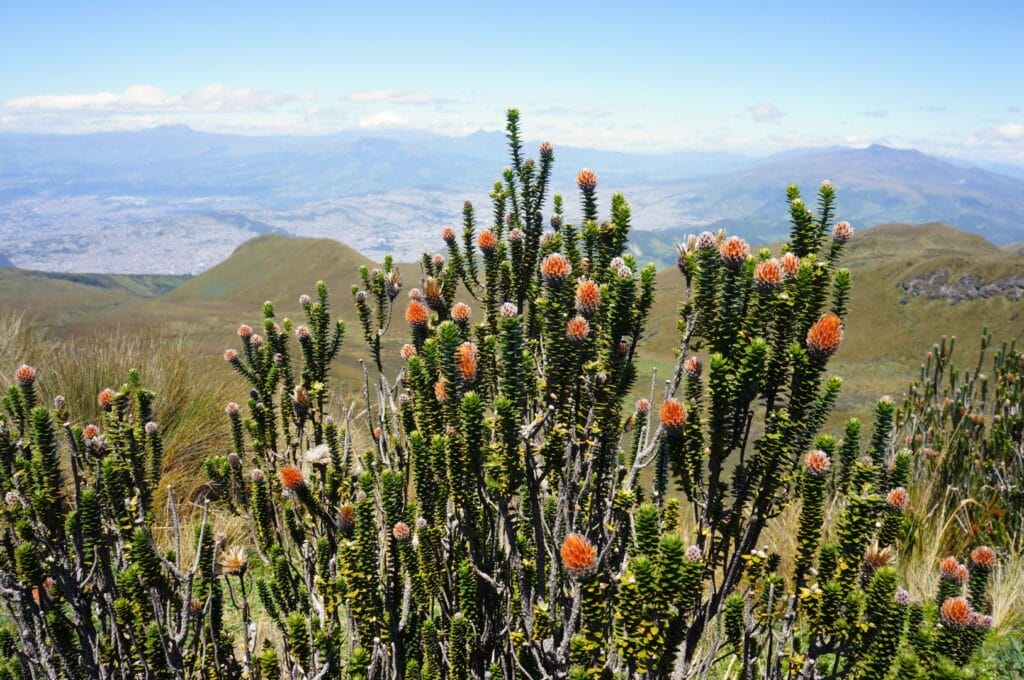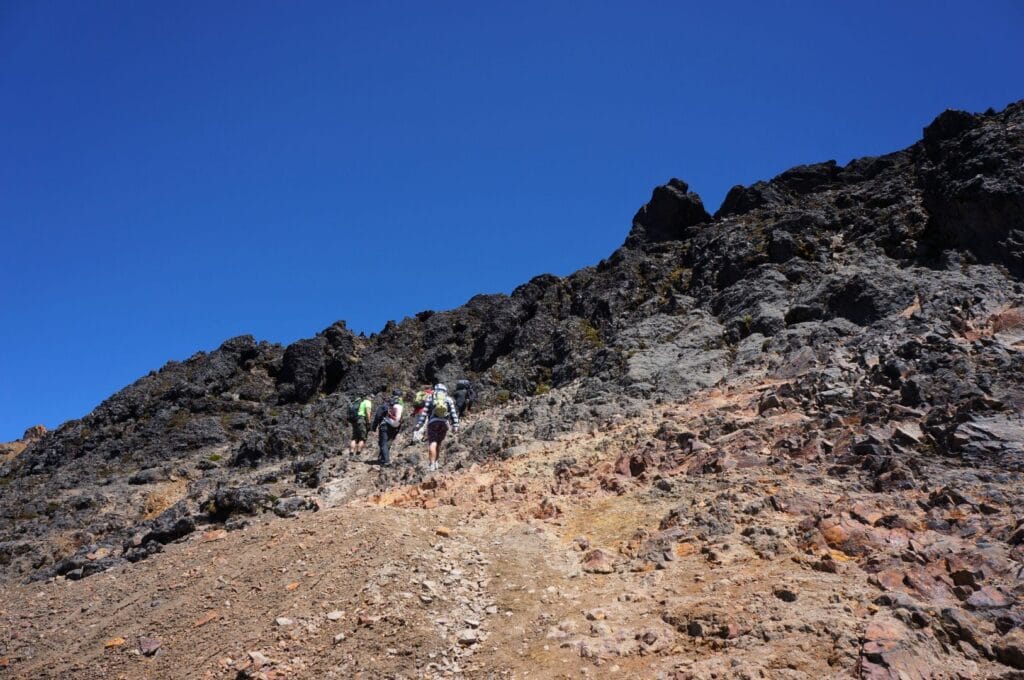 Shopping in Quito
Quicentro
When it comes to shopping, Quito isn't quite as good as Bangkok or Hong Kong, but you'll be able to find everything you're looking for. If you're looking for local brands, you'll find what you're looking for at the Quicentro, located right in front of the Olympic Stadium. It's Quito's biggest and fanciest shopping mall but beware: prices are rather high. Taxes on items imported into Ecuador are considerable, so don't be surprised if a computer or cell phone is more expensive in Quito than it is in Europe!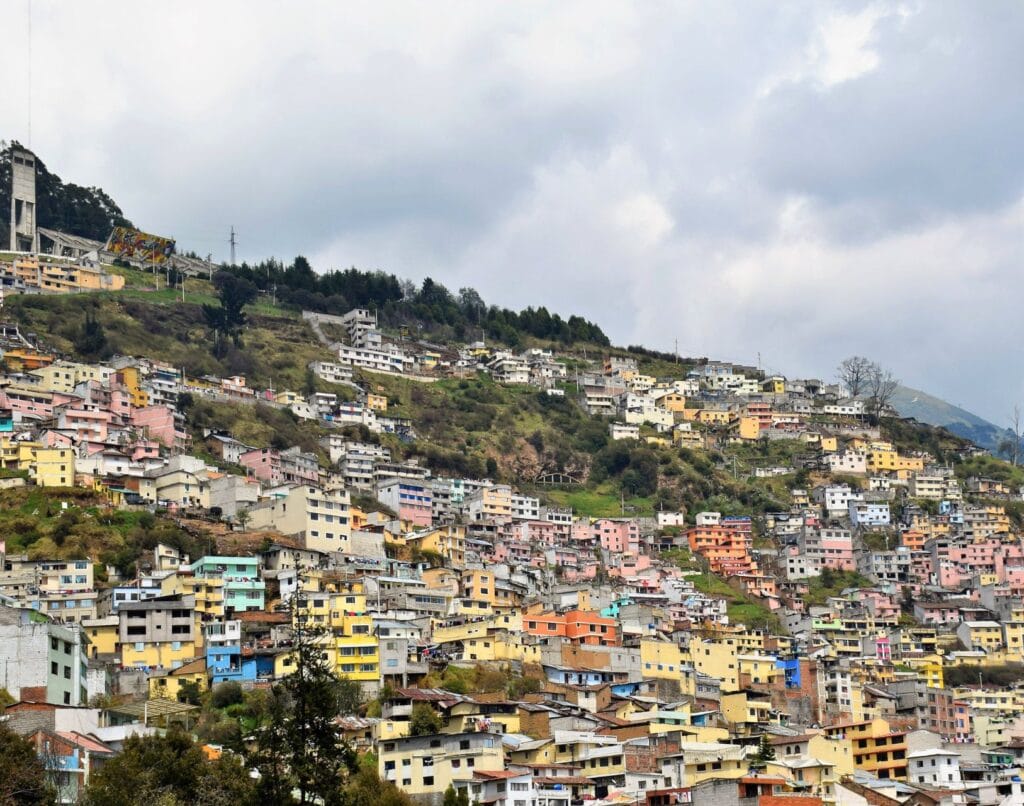 Quito's markets
If you're looking for cheap clothes, shoes, or other knick-knacks, head to the historic center, near the Panecillo, to the San Roque market. You'll have plenty of choices, but you can't be sure of the quality. If you have more time, take a day trip to the Otavalo market, 2 hours from Quito (more on this below). It's the biggest market in the country, and you'll find a huge choice at very good prices.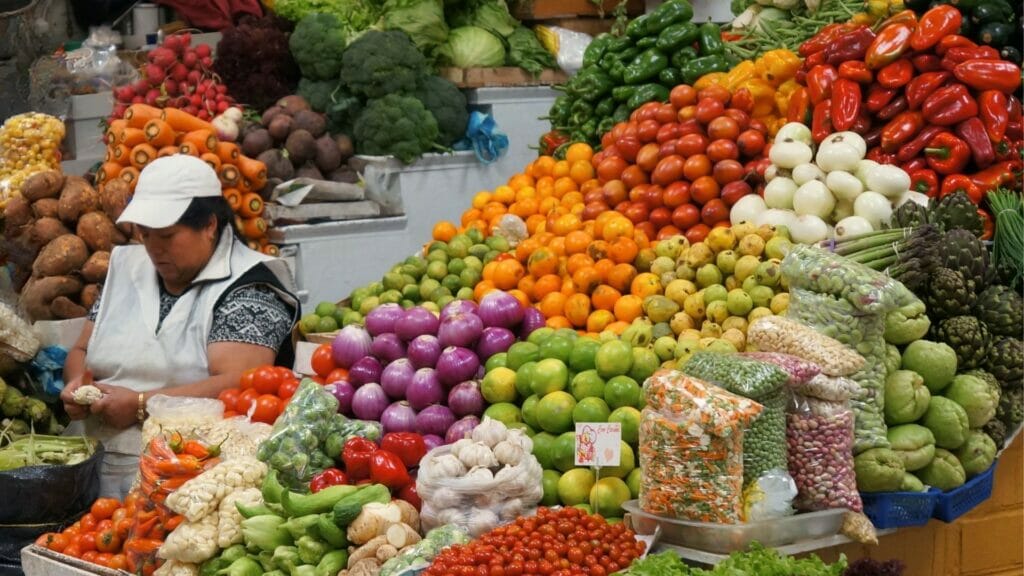 For a gourmet break, the central market (Mercado Central) on the edge of old Quito offers a wide variety of fruits and vegetables, as well as traditional cuisine. The market we visited most was just behind the Quicentro, the Mercado Iñaquito. Here you'll find fruit and vegetables, bread, meat, cheese, and often inexpensive almuerzos (lunch). In short, excellent value for fresh, local food!
If you don't have the time or courage to go to the market, you'll find fruit and vegetables in the fruterias (small stores that can be found absolutely everywhere) and bread in the panaderias. Otherwise, of course, there are big chains like Super Maxi or Mega Maxi, where you'll find everything, but prices are generally 20% higher.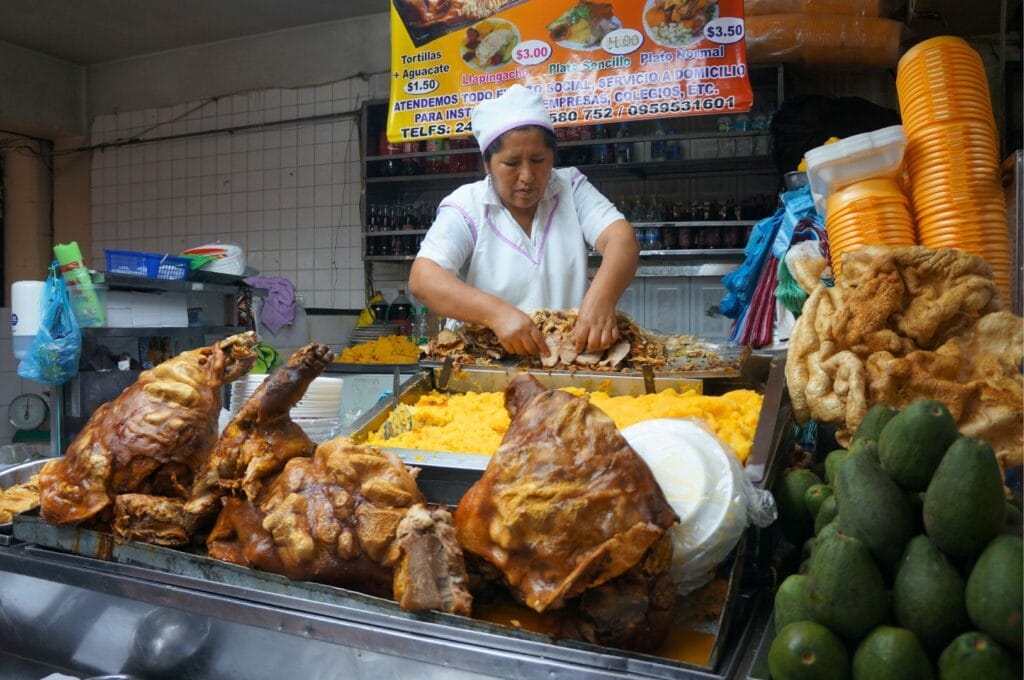 Learn Spanish in Quito
As we said earlier, the main reason for our 2-month stay in Quito was to learn Spanish. This interlude in our round-the-world trip was one of the best decisions we made during our trip!
In 2 months of more or less intensive classes (4 hours a day, 5 days a week), we acquired a solid grounding in Spanish that would serve us well throughout the rest of our South American tour! Being able to communicate with people was a real joy. Frankly, we'd recommend you do the same if you're a long-haul traveler!
Quito is an excellent place to learn Spanish! There are many reasons for this, but the main ones are probably the charm of the city and the Spanish spoken here. Ecuadorians speak beautiful, clean Spanish, and Quito's inhabitants have the particularity of speaking quite slowly. This is a great advantage for beginners like us!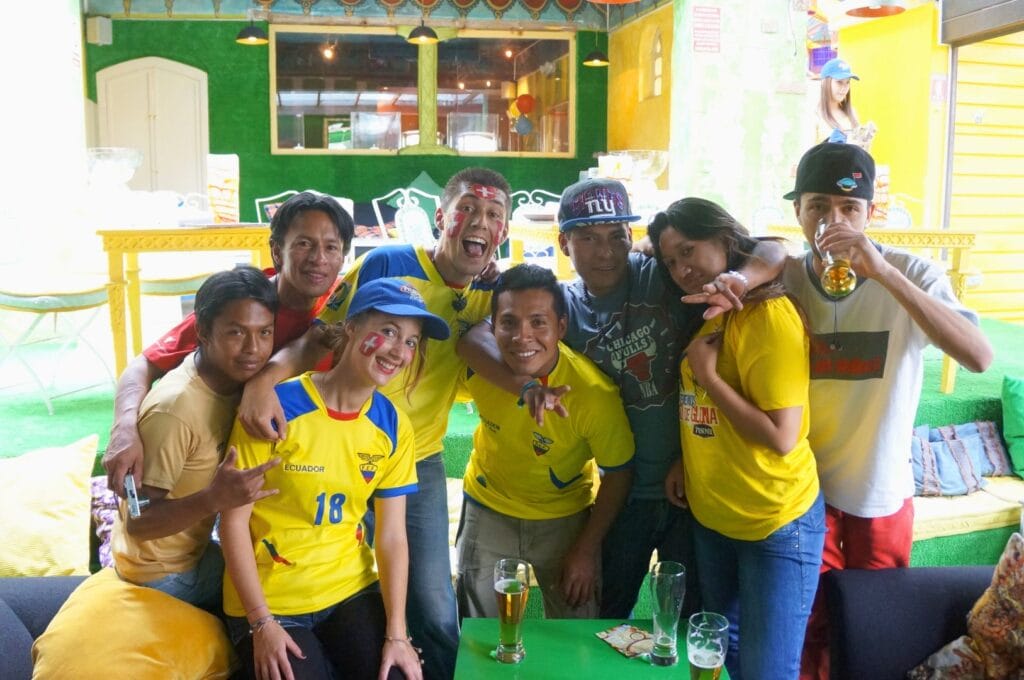 Other things to do in Quito
Need more ideas to round off your stay in Quito? Here are a few ways to make the most of Ecuador's capital:
What to do near Quito?
As Ecuador is a small country and Quito is centrally located, there are many possibilities for short 1 or 2-day trips from the capital. Here are just a few of the things we did during our 2 months in Quito.
La Mitad del Mundo
As the name suggests, this is the middle of the world! In fact, Ecuador lies 35 km north of Quito. So it would be a shame not to take a trip there, wouldn't it? Well, as you know, the line also passes through Brazil, Africa and Indonesia. But historically speaking, it was here, in 1736, that the first group from the French Academy of Sciences went to measure the exact shape and size of the earth.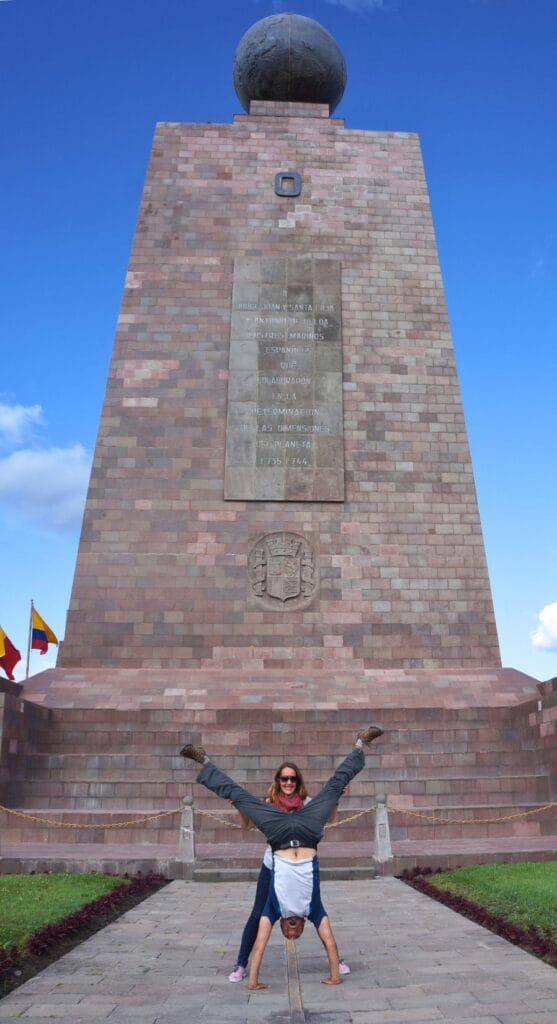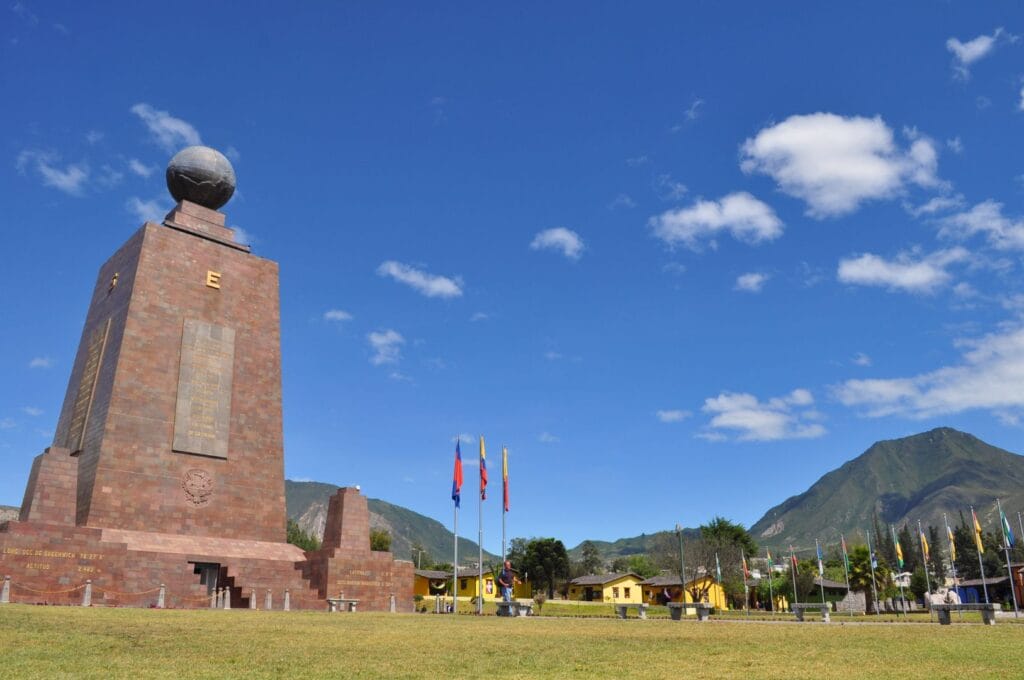 There's a large memorial on site, as well as the Templo del Sol museum, which tells the story of the scientists' difficult task. But the good joke is that the monument is not located exactly on the Equator!
To get there, you'll have to leave the monument and walk another 500 m past the roundabout on the left. You'll then see the Sitio Intiñan museum signposted. To be honest, if we had to do it all over again, we wouldn't pay the entrance fee for the Mitad del Mundo monument ($5/person) and would only do the Sitio Intiñan museum.
Sitio Intiñan Museum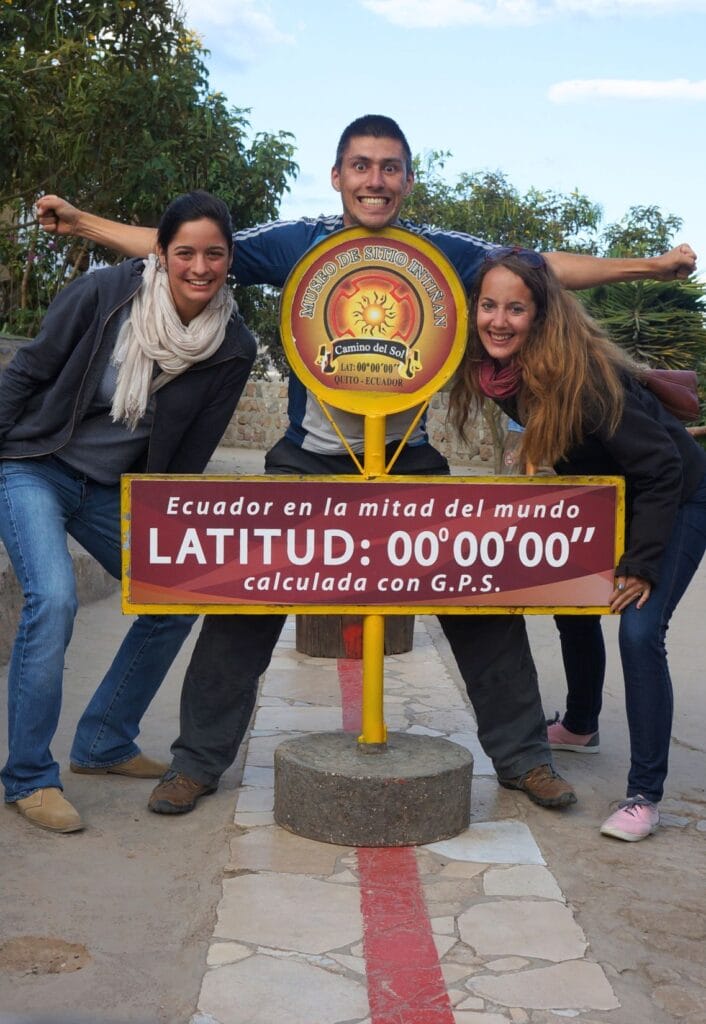 For the same price, you can take a guided tour, which we really enjoyed. You'll learn a little more about the culture of Ecuador's indigenous people, the different tribes, their rites… We found the guide superbly competent and very interesting. Nothing to do with many of the average guided tours we've had in the past.
Then it's on to the real Equator line, this time calculated by GPS! It's amazing to realize that we're standing on the border between the northern and southern hemispheres! Here, we observe some interesting measuring instruments and do some fun experiments, such as the Coriolis force…
Even though we knew some of the experiments were faked, we found the tour interactive and highly recommend it!
Mitad del Mundo
To get there, simply take bus line 208 to Mitad del Mundo. From the historic center, it takes a good hour and a half and costs less than a dollar per person. Cheap public transport in Ecuador, eh? You'll probably see tours that take you from your hotel, but you'll pay a lot… If you're not too thrilled by the bus, take a cab, Uber, or Cabify to the Middle of the World.
Mercado Artesania Otavalo
Located 2 hours by bus from Quito, the Otavalo market is renowned for the quality of its textiles and handicrafts. Frankly, if you're planning a small shopping/souvenir budget for your trip to Ecuador, we'd advise you to save your money for this market. You'll find absolutely everything in Quito (and more) at a better price. So if you're in the mood for a nice wool sweater, hat, poncho or whatever, this is the market for you.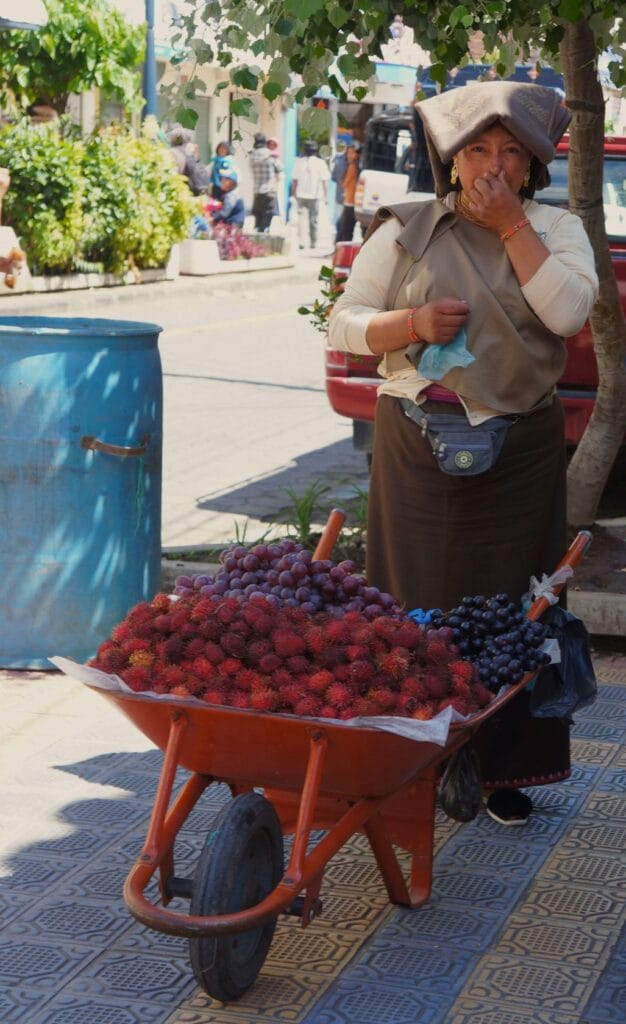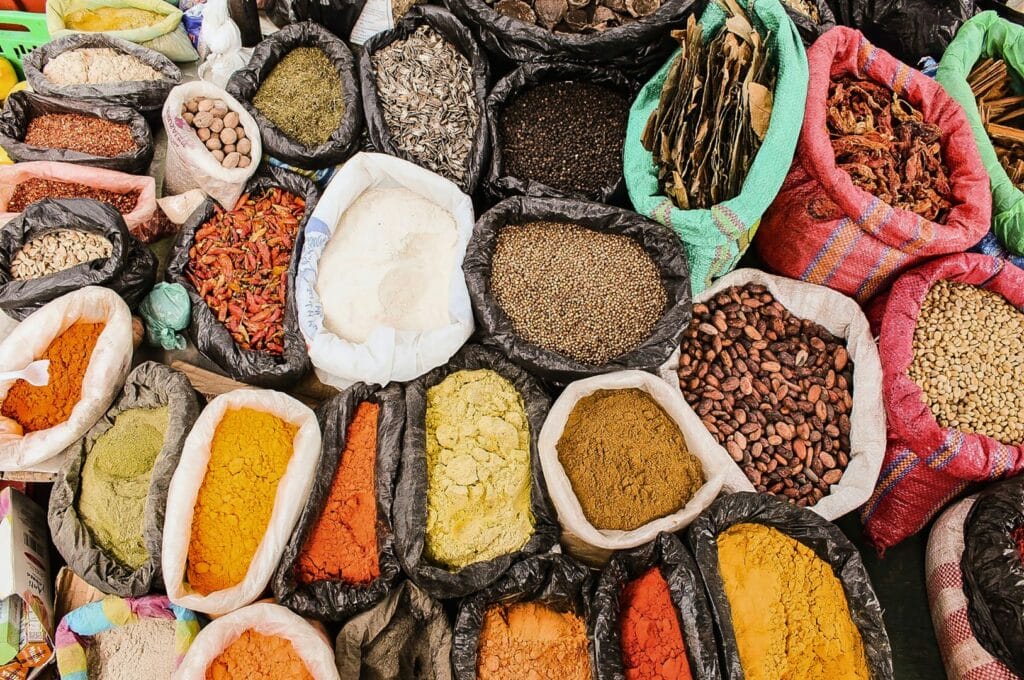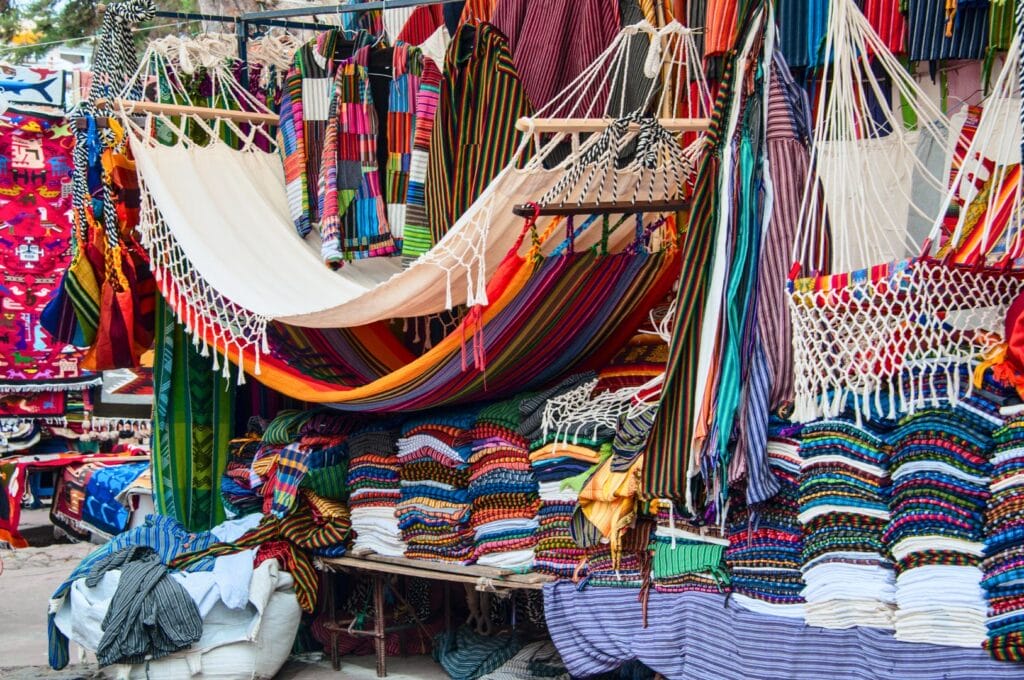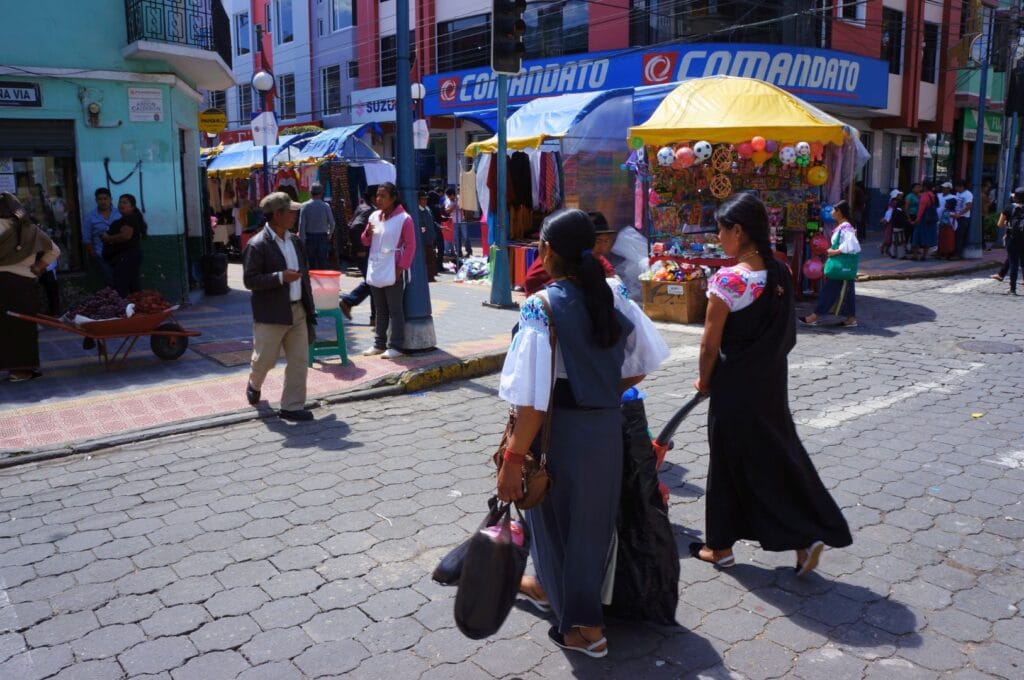 Many agencies offer excursions to Otavalo for several dozen euros, but frankly, you can do it on your own (and save money!). Getting to Otavalo is easy! First, you'll need to get to the Carcelén bus station, north of Quito. From there, buses leave regularly for Otavalo. Ticket price? Around 3 dollars for a 2-hour journey. If you're staying in or coming from the south of Quito, the Quitumbe bus station also offers trips to Otavalo several times a day. Tickets cost 5 dollars for a 2 hr. 10 min. journey, and you can reserve your seat here or here.
Laguna de Cuicocha
And if you've finished shopping quickly enough at the Otavalo market and fancy a little stroll, head for the Laguna de Cuicocha. Located a 30-minute drive from the market (about $10 for a cab ride), the lagoon is an excellent alternative for an afternoon of fresh air. In fact, this lake lies inside a crater at the foot of the Cotacachi volcano (there are many volcanoes in Ecuador, aren't there?).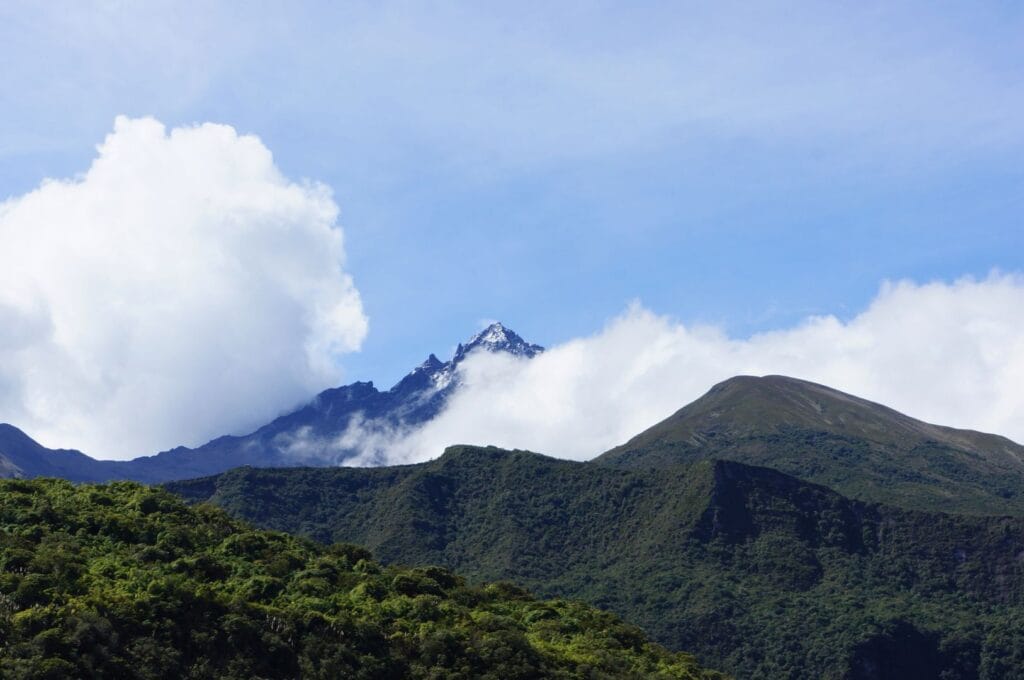 Frankly, the scenery from the lake with the imposing volcano in the background is sublime. Like us, you can take a short boat trip on the Cuicocha lagoon for $3. But if you have more time, or if you're spending a weekend in Otavalo, a superb 5-hour walk around the lake and crater awaits you. Given the scenery, it must be well worth the effort… You can find the trail here.
Mount Fuya Fuya and Mojanda Lakes
The start of this hike is also about 30 minutes from Otavalo, but this time to the south ($10 taxi fare). More challenging than the hike to the Cuicocha lagoon, you'll climb to the summit of Mount Fuya Fuya (4279 m) to discover the beautiful landscape surrounding the Mojanda lagoon. Beware, it's (very) steep! If you're in Otavalo and have the day ahead of you and the necessary conditions, you can do both hikes. Otherwise, choose the one best suited to your level. Find and download the trail here.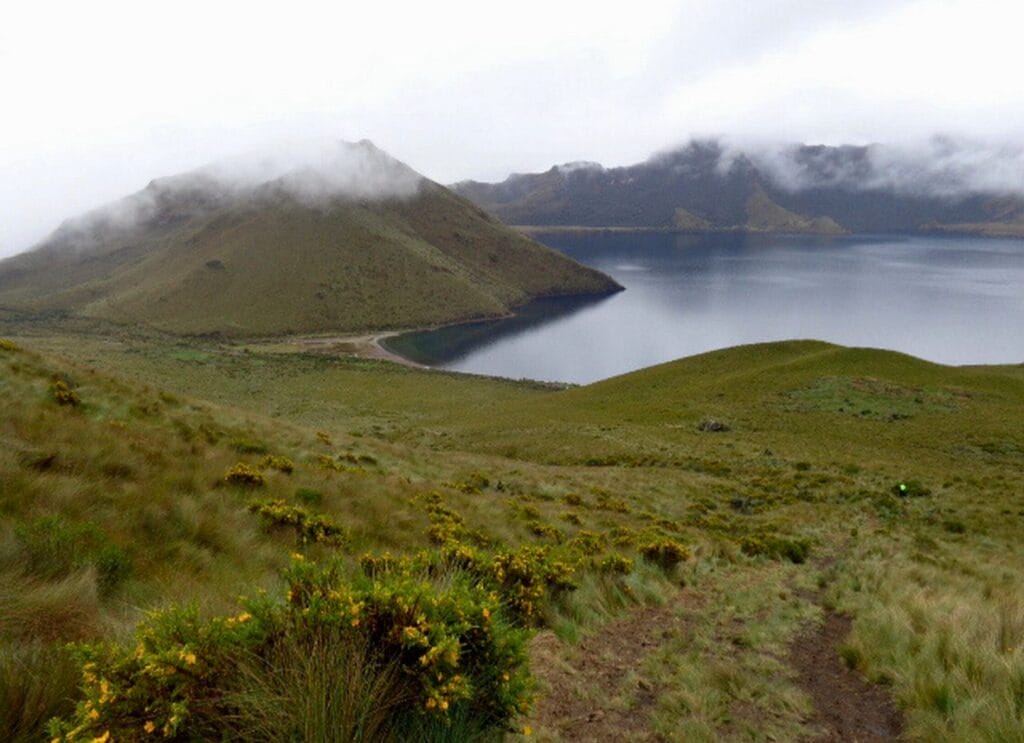 Laguna de Quilotoa
Another lake in a crater! To get there, all you have to do is take a bus from Quito's Quitumbe terminal to Latacunga (1 hour 30 min bus ride for 2 dollars), then take a second bus to Quilotoa (they're frequent) to finish the trip with a 2 h ride for $2 a ticket.
The special feature of this region around the Quilotoa lagoon is the possibility of trekking from village to village (all have hostals) for several days without having to take a bus or cab. It's unique in Ecuador, and the scenery is well worth the effort! We've devoted an entire article to this magnificent trek to Quilotoa.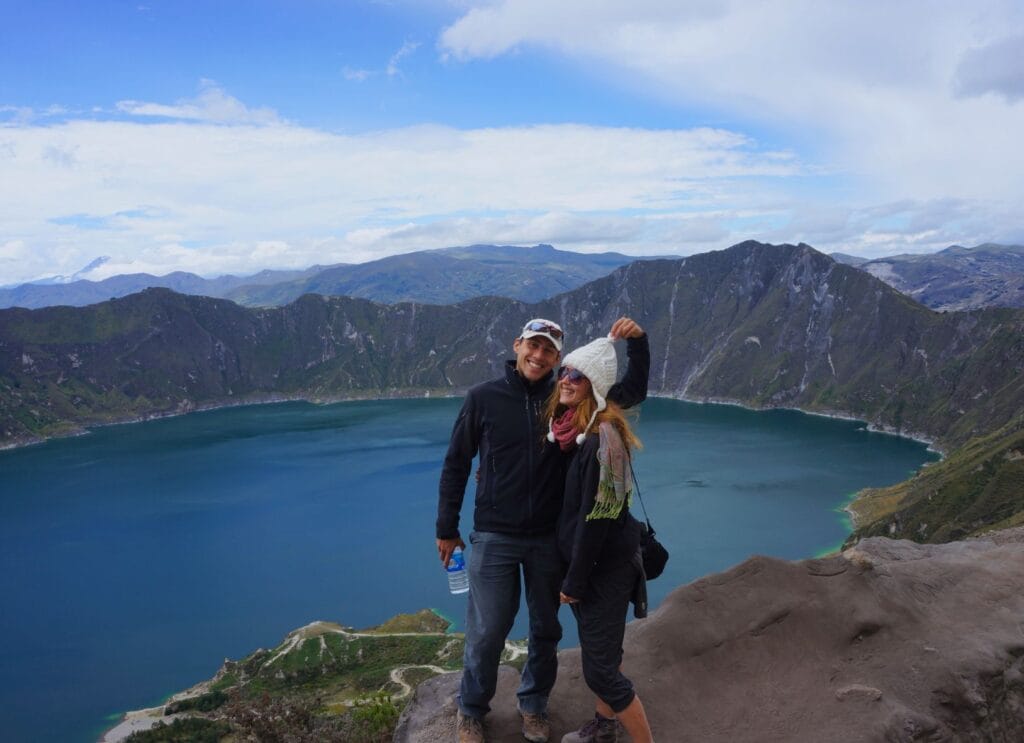 Baños
Located 3-4 hours by bus from Quito, Baños is considered the extreme sports capital of Ecuador, and we headed there for a weekend with friends. Several tours take you from Quito to discover the essentials of Baños in 1 day. On the program: waterfalls, hot springs, volcano (Tungurahua), rafting, mountain biking, zip-lining, canyoning, trekking… The list goes on! We give you all the information you need on how to visit Baños.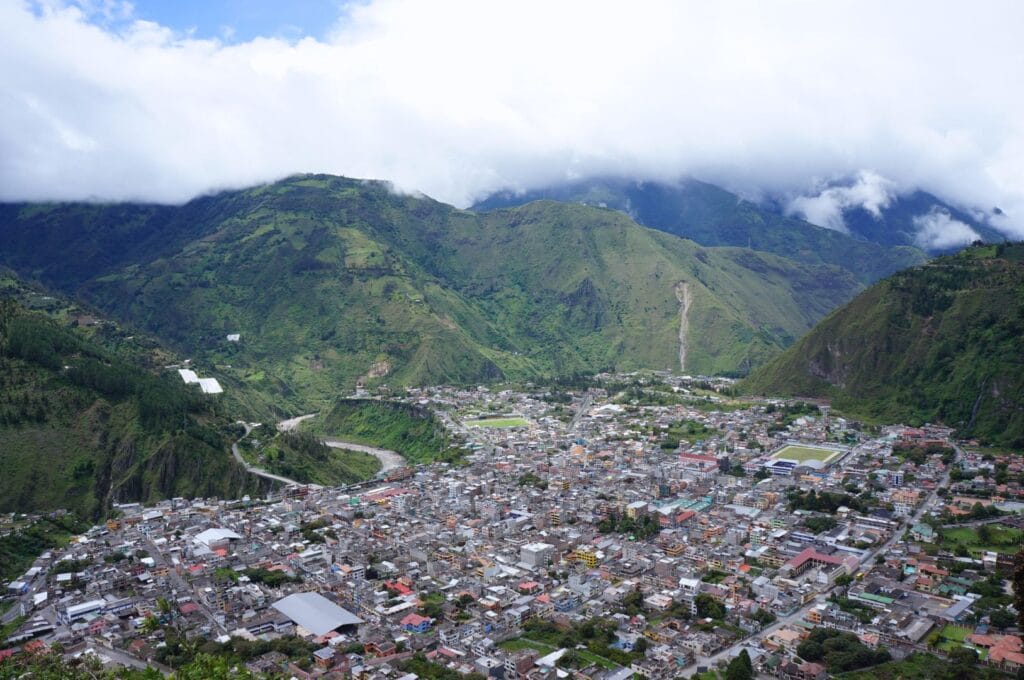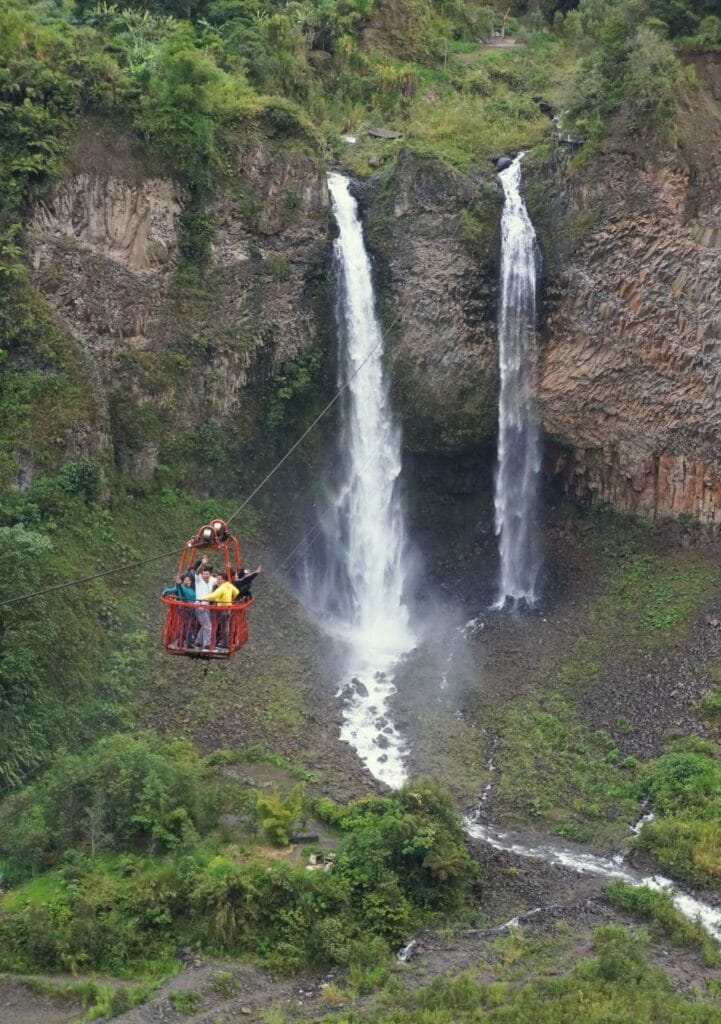 Cotopaxi
This perfectly shaped volcano, with its snow-capped peak of 5,897 m, is one of Ecuador's symbols! I was so fascinated by it when we arrived in Quito that I got it into my head to climb it…
As the Cotopaxi volcano is just 60 km south of Quito, you can take a day trip up to the refuge or go mountain biking for between 30 and 70 dollars a day. If you want to reach the summit, you'll need 2 days to get to the refuge and make the ascent at night with a guide. The total cost is around $200.
If you don't want to climb the volcano, some great day trips to Cotopaxi National Park allow you to get a closer look at this behemoth from Quito.
Mindo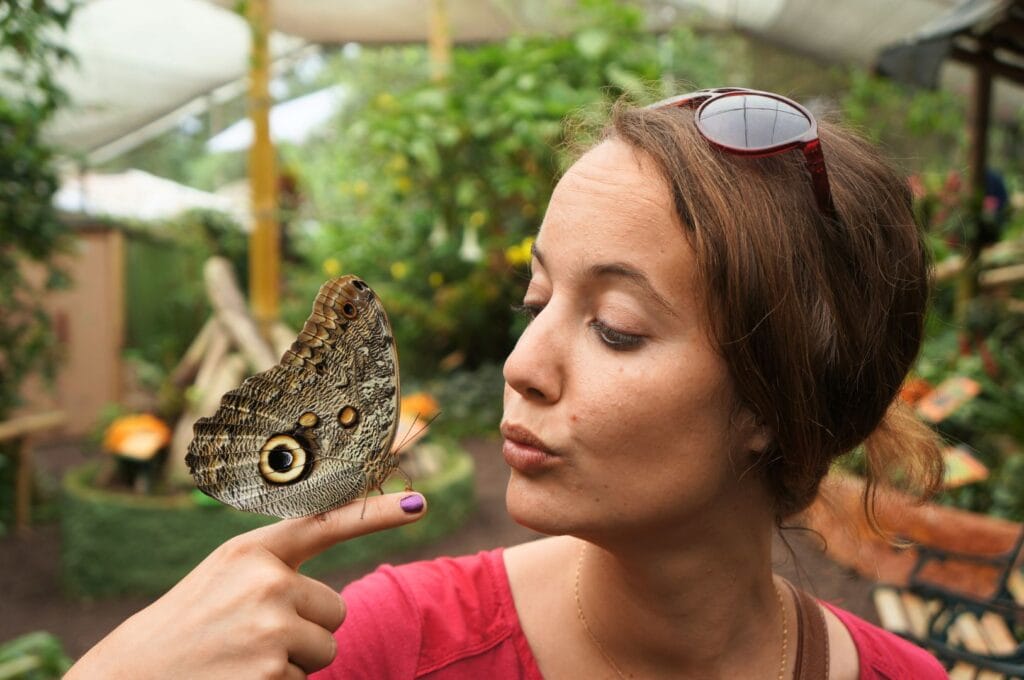 Located in the rainforest 2 hours by bus west of Quito, the small village of Mindo is known for the incredible diversity of birds and insects (especially butterflies) that live there. But with the growth of tourism in the area (nothing too excessive), other activities such as rafting, zip-lining and mountain biking have grown.
In fact, Mindo is a kind of mini Baños, but with animals. In our opinion, it's even nicer than Baños, as it's much quieter.
Other things to do around Quito
As you've read, you're spoilt for choice when it comes to things to do in and around Quito! Here are a few more ideas to complete your trip to Ecuador.
Papallacta hot springs
If you've skipped Baños and its famous hot springs, that's no reason not to take advantage of the hot water! The Papallacta hot springs are a 1 h 20 min drive from Baños and are a great alternative. On site, you'll find plenty of pools in which to relax and enjoy the surrounding nature and views of the Antisana volcano. There's also a restaurant and a small path where you can stroll along the stream. Entrance costs $10 each. Choose weekdays rather than weekends, when Ecuadorians flock to the thermal baths. The quickest and easiest way to get there is by taxi from Quito.
Yanacocha Biological Reserve
Your time in Quito is limited and Mindo is whisked away? The Yanacocha Biological Reserve is located to the west of Quito, 1 hour's drive away, which is enough time to discover the rainforest and its multicolored fauna. Several hiking trails crisscross the site for total immersion. For more information, visit the website of the Jocotoco Foundation, which manages the reserve.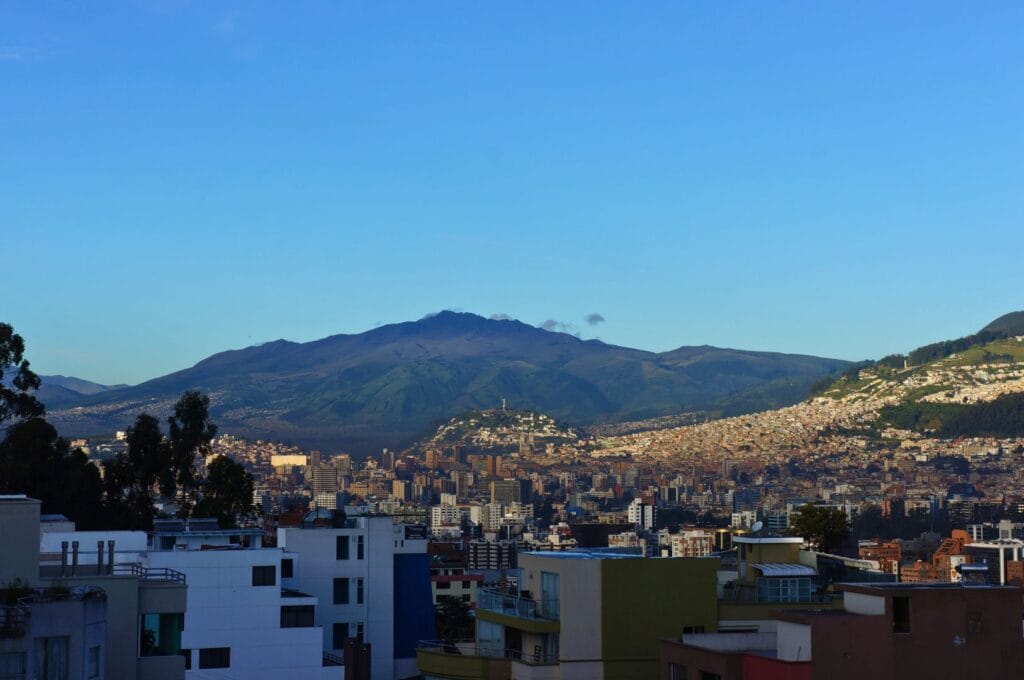 Food in Quito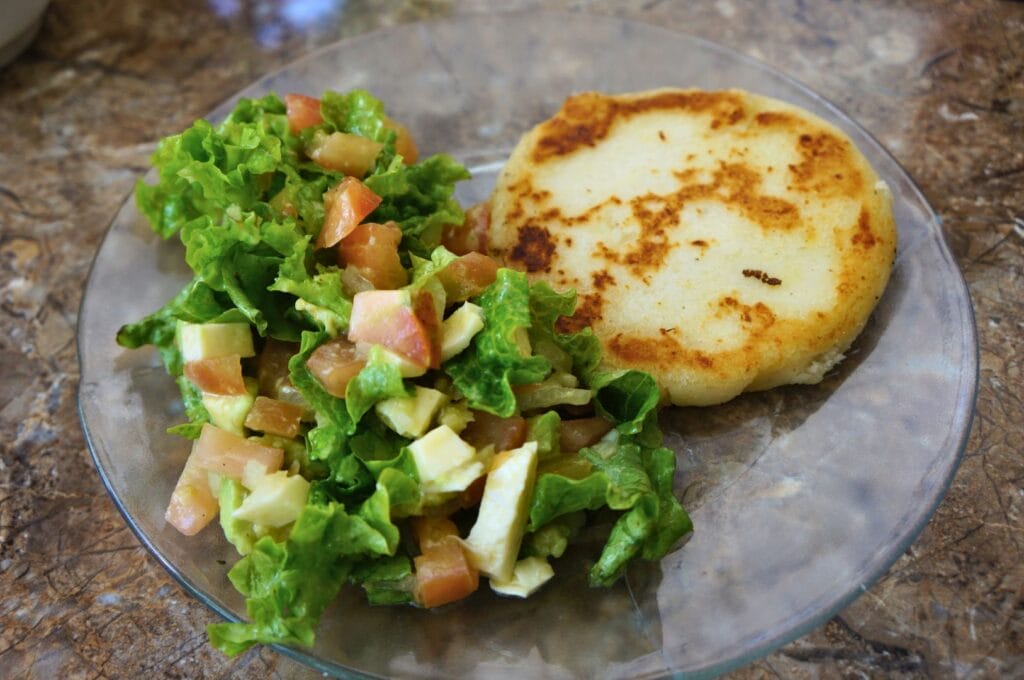 No lie, gastronomy is not Quito's strong point. The typical midday meal, almuerzo, consists of a chicken or fish soup often served with popcorn (!), followed by a rice dish with potatoes and meat and a tiny bit of salad. All accompanied by a huge glass of fruit juice. We promise you, it's high in calories!
We also tried another specialty, tortillas de Guaranda, thick pancakes topped with cheese. But otherwise, Ecuadorians are carnivores. They really like to eat meat at every meal.
As we had a kitchen at our disposal, we often took the opportunity to cook for ourselves. To tell you the truth, it feels good to cook after 10 months on the road! But let's face it, the price of an almuerzo is really unbeatable: between $1.5 and $2.5 for a full menu. So there's no need to spend a lot more money on food!
But we confess to being a little shocked by the quantities compared to Asia. We also understand why people on this continent are a little pudgy.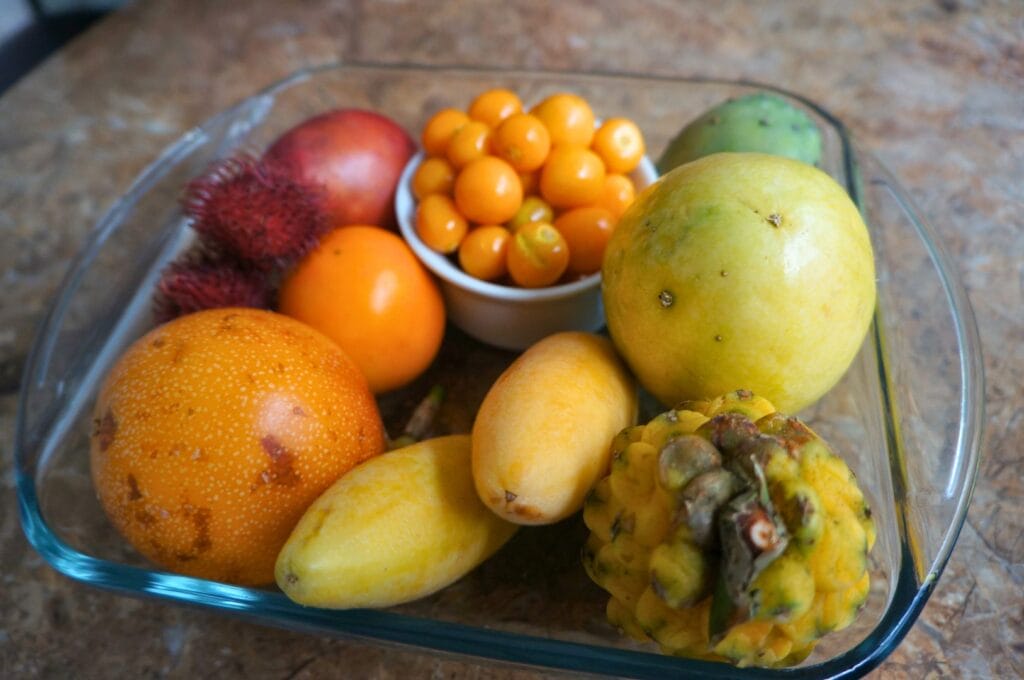 After that, it's also possible to treat yourself in Ecuador by browsing the markets. They have delicious fruits that you can't find anywhere else. For example: the árbol tomato (or tamarillo), pomegranate, taxo and many others. Most of the time, we found the fruit to be really tasty!
The last sweet to try in Quito is chocolate! You'll find plenty of places offering delicious hot chocolates.
Accommodation in Quito
Quito is a big city, so you'll have no trouble finding a place to sleep! There really is something for every price and every standard. As for us, we moved straight into our apartment, perfect for several days or even weeks in Quito.
Our only piece of advice is to choose accommodation in or near the historic center or towards La Mariscal. This is where the majority of guesthouses are located, and it's a relatively safe area in which to get out and about.
Here's a map with a wide selection of accommodations. Use the filters to display the type of accommodation you're looking for (and prices), then zoom in to find the area of your choice:
For backpackers looking for a low-cost room, we recommend the Latinos Brothers House, a great establishment in a great location with a crazy terrace. For a budget double room, you can choose between the Colonial House Inn and the Hostal Juana de Arco. Both offer basic but comfortable rooms with an excellent breakfast, all in the heart of old Quito!
You can also rent an entire apartment in Quito through Booking, which can sometimes cost less than a room! In addition to having a home, the major advantage is having a kitchen as well. You'll find them for as little as 15 euros a night.
Getting around Quito
From Mariscal Sucre International Airport
It's easy to think of taking a taxi from the airport to the city center, but that's the most expensive option here (at least $25-30 a ride). Otherwise, the bus is an inexpensive way to get to the heart of Quito. You can find the different bus lines here. Take line 198 to the Rio Coca terminal. From there, take a cab into Quito's historic center for a few dollars, or take the E3 bus to the Marin Central stop for less than $1.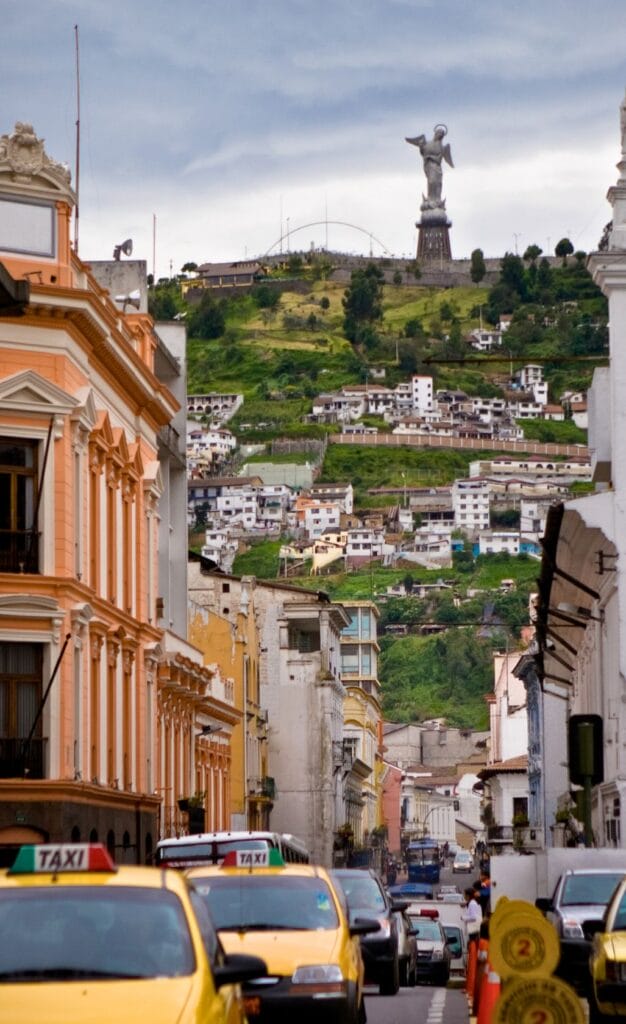 An even simpler way to connect the airport with the old town of Quito is to take the airport shuttle bus. The ticket costs $8 per person ($4 for children), and you can find the Aeroservicios timetable here. The advantage is that it goes directly to Bicentennial Park. From there, take the metro a stone's throw away (El Labrador station at San Francisco station) or take a cab for a few dollars to your hotel. A final option is to take an Uber or Cabify, but this will always cost you more than the shuttle.
If you're landing late, take a cab, Uber (or Cabify), or shuttle (+ taxi), as these are the safest ways to get to your hotel in Quito at night.
In the city
Bus and metro
The best ways to get around Quito are by bus and metro, which cross the city from north to south. You can also walk, but the city is really spread out and distances are quickly considerable. What's more, the altitude makes you feel the strain more quickly!
The whole city is served by bus. However, there are 3 main lines: the green line (el trole), the blue line (metrobus) and the red line (ecovia). A bus ticket costs just $0.25 in Quito, with no distance limit. To find your way around, use Google Maps, the application will tell you which bus lines to take.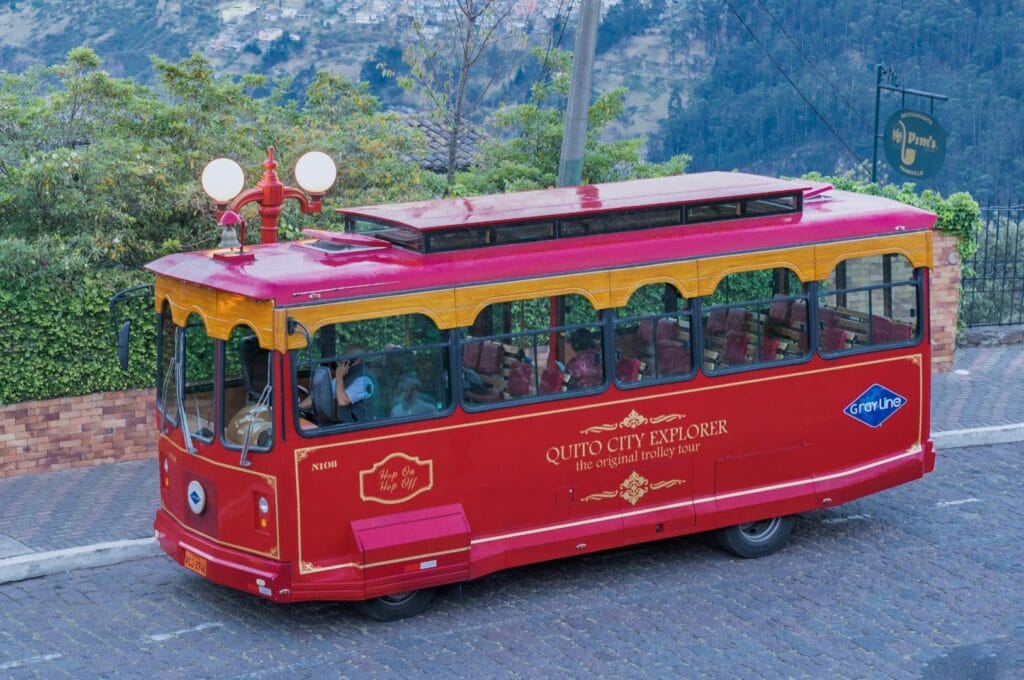 Since early 2023, Quito has been adorned with a brand-new metro. Its 23-kilometer line runs longitudinally between El Labrador station in the north and the Quitumbe bus terminal in the south, passing through old Quito (San Francisco station).
Taxi
You may find yourself taking one of Quito's many cabs (there are over 10,000!). During the day, they all operate on a taximeter, and the fare is very low by international standards (around $10 per half-hour). Make sure your registration number is clearly visible on the bodywork and that the meter is activated. Please note that from 7-8 p.m., most cabs stop using the meter, so you'll have to negotiate the price of your fare. It's about 2 times more expensive at night than during the day… The other, cheaper way is to hire the services of a driver via Uber or Cabify.
We'll discuss this further below, but it's common sense to take a cab or chauffeur after dark. It's usually after 7 p.m. that it's best not to wander around the less busy streets, so don't take any unnecessary risks!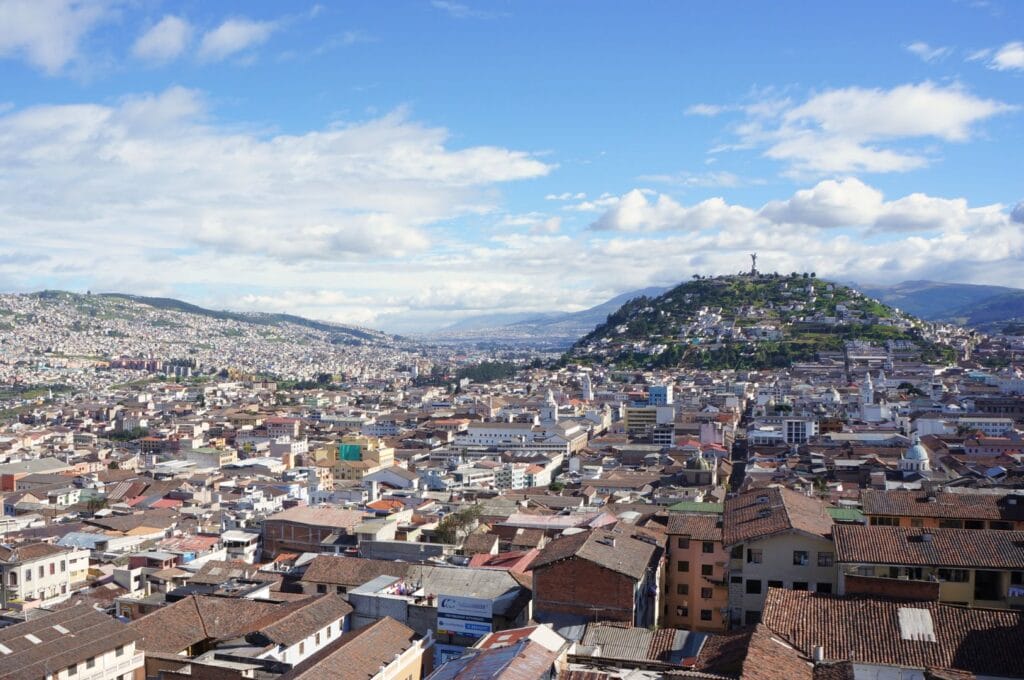 Outside the city
The best way to get out of Quito and travel around the region is still by bus. A bus ticket generally costs around $1 per hour of travel. Quito has several major terminals, depending on your next destination:
Quitumbe in the south for most destinations on the coast (Guayaquil), in the Amazon (Baños) and the Andes (Cotopaxi);
Carcelén to the north for the Otavalo market.
Map of Quito
To help you find your way around all this information about Quito, we've put it all together on a map. All you have to do is visit 😉.
Quito's climate: when is the best time to visit the city?
As Quito is very close to Ecuador (no kidding!), there are no seasons to speak of. Temperatures fluctuate between 10 and 20°C year-round, with an average of around 14°C.
However, Quito does have a rather wet season between October and May (10-15 days of rain per month) and a dry season from June to September (5-7 days of rain per month). Having lived through May, we can assure you that it's best to visit Ecuador (and therefore Quito) between June and September. During the wet season, the weather in Quito can change very quickly.
It's often quite sunny early in the morning, then quickly clouds over and rains in the afternoon. As we had Spanish lessons in the morning, our month of May was a little frustrating. On the other hand, we had a wonderful June with very little rain. Bear in mind that you're at an altitude of 2800 m, Quito being the second-highest capital in the world! As a result, the sun beats down harder than at sea level. After a day's hiking in the sun, even with cream and a hat, I got a good dose of sunstroke…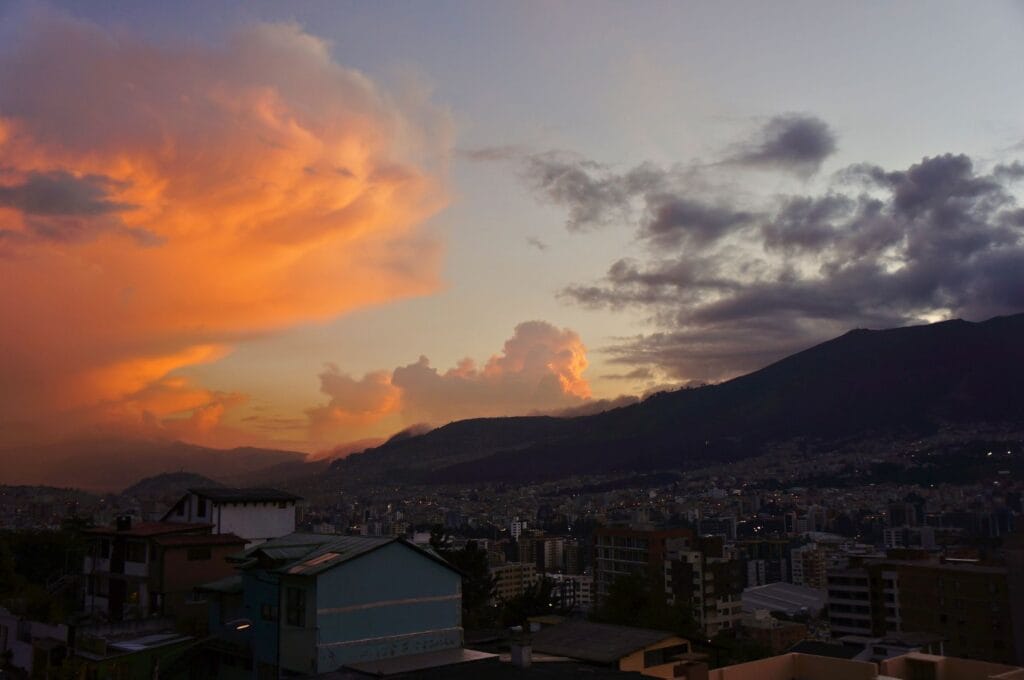 Danger: is Quito a safe city?
Examples
This is THE point that scares all travelers. Yes, Quito is not a safe city, and even the locals will tell you so. If you doubt it, here are a few anecdotes:
One of our Spanish teachers, although married, never wears her wedding ring for fear of having it stolen. Can you imagine that back home?
Another teacher at our school owns a Swatch watch (nothing fancy!). We set off together to climb the Panecillo and when we got to the foot of the hill, he took off his watch and put it in his bag.
Most locals never carry a wallet. They usually have $20 in change in their pockets and nothing more.
Several of the school's students were victims of snatching, pickpocketing, or even stabbing during our stay. Sometimes it was carelessness, but sometimes it was just bad luck. In short, it's best not to have your wedding ring on you and $200 in your pocket.
Just yesterday, the bottom of my backpack was cut with a box cutter on the bus (which was crowded, of course). I didn't feel a thing, but fortunately, nothing was stolen! I just have a big hole in the bottom of my backpack.
But then, Quito isn't hell either and you shouldn't see evil everywhere. I imagine the situation is similar in most of South America's big cities, where the gap between rich and poor is all the more marked. In two months, we haven't had a single problem. It's probably a question of luck, but we've always respected certain basic safety rules.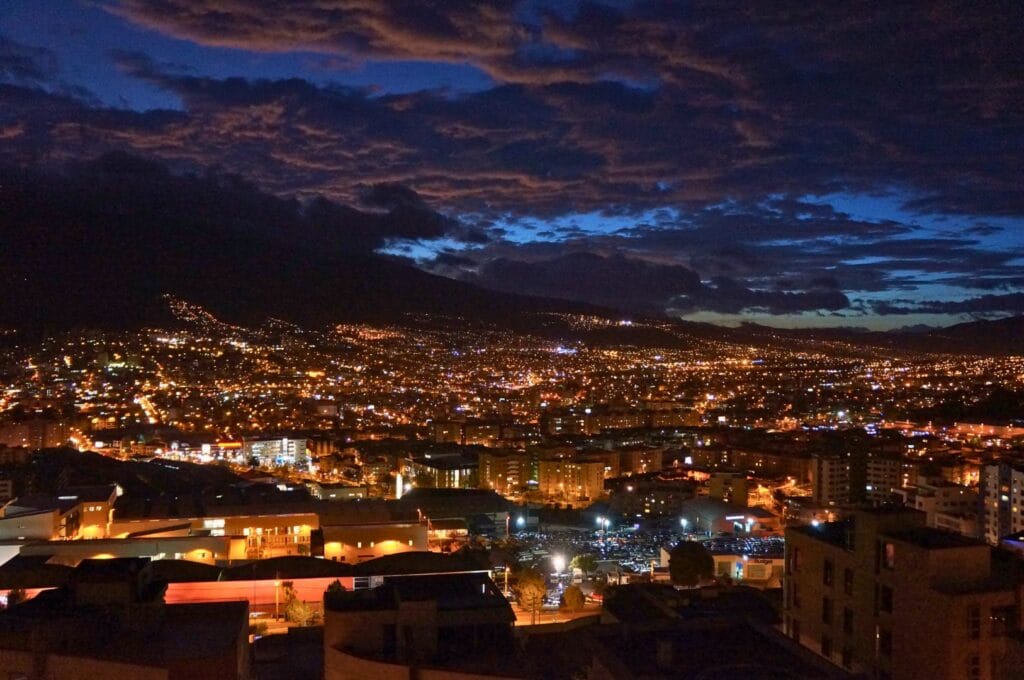 Safety rules in Quito
Wear as neutral clothing as possible. We're never overdressed, and we never show off our wealth (even if we don't have much value apart from our computers).
After 7 p.m., we don't fool around and always take cabs. Clearly avoid crossing parks after dark.
Always follow the recommendations of locals who know the dangerous neighborhoods (e.g., walk up to Panecillo or TeleferiQo).
Don't carry anything in your pockets on the bus, and always carry your backpack in front of you. Don't laugh, all the locals do the same!
Just carry cash and a copy of your passport. Avoid taking your credit card (unless you really need it) and your original passport.
Take as many photos as you like, but put the camera away when you're not using it to avoid snatching.
Relax, you're not risking your life. A cheerful, smiling person generally attracts less attention than a stressed or suspicious person who gives the impression of not knowing where he or she is going.
Find out more in our article Travelling safely in South America.
So after that, if you still don't know what to do in Quito, there's nothing more we can do for you 😉. What's next? Mindo: waterfalls and butterflies!
Pin it