Now that we are starting slowly but surely to know how to align 3 words of Spanish, it is time for us to go put it into practice!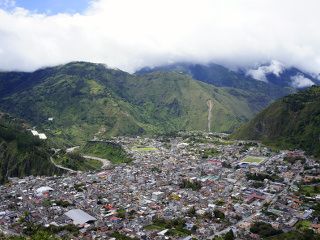 Our Spanish courses keep us busy every day of the week but on the other hand, on the weekend we have lots of free time to explore the surroundings of Quito a little more!
That weekend, it was as a whole group from our spanish school that we decided to set off for Banos. Our joyful group was composed of Germans, Belgians, Dutch, Brazilians, Ecuadorians, and of course your two favorite Swiss! 😉
Baños: thermal baths, volcanoes and big thrills!
So when a beginner in Spanish like me hears Baños, she understands the toilets… But, ohhhh joy and happiness, the village was not named after the loo, but its name also means "baths"… But we will come back to this later….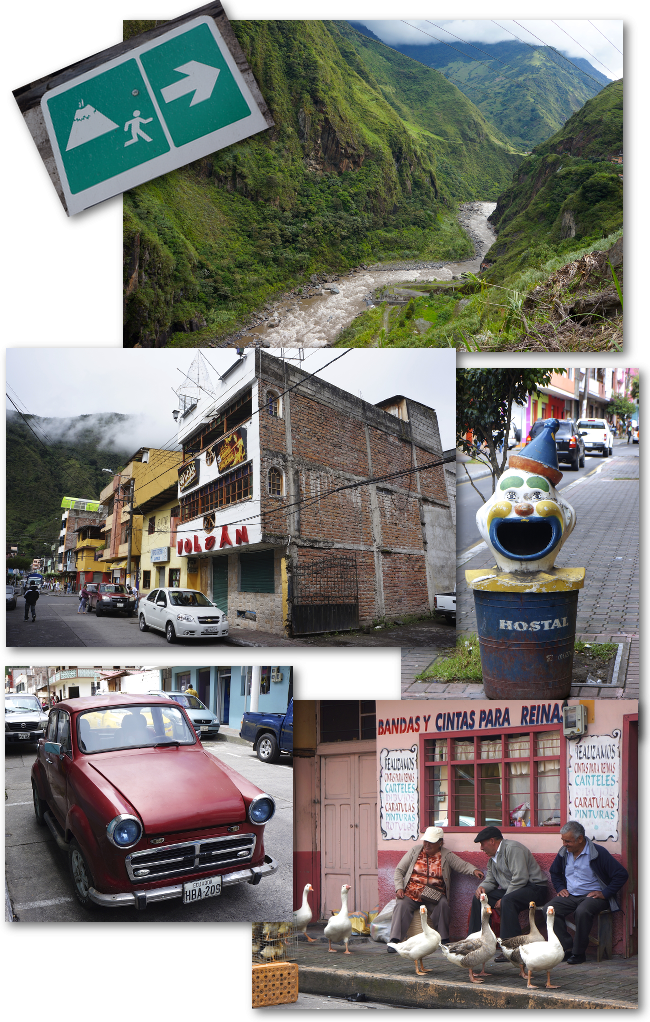 Baños is a charming little town located 3h30 south of Quito and it is perched at an altitude of 1815m, just below the active volcano called Tungurahua. Baños is most probably one of Ecuador's main tourist attractions, and this for 2 reasons…. One the region is absolutely beautiful! Imagine for a few seconds a small village perched at the foot of a volcano at the mouth of a gigantic valley that is nearly 20km long and where waterfalls follow one another!
And… it is also one of the preferred entry points for travellers to the Amazon…
Banos: Capital of extreme sports
In other words, you can imagine that there are many assets to be found! But Baños is also known as the Ecuadorian capital for extreme sports: bungee jumping, rafting, canyoning, zip-line, parachuting and horse trekking (well ok this last one is not an extreme sport in such, even if for me riding a horse is already quite a challenge)…
Book your next challenge on GetyourGuide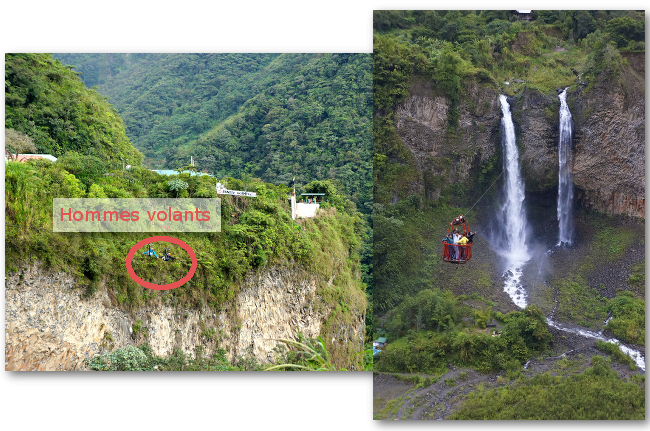 The waterfall route in Banos
Baños is the gateway to the famous waterfall route. This road is nearly 20km long, and allows you to observe nearly 60 waterfalls!!!!!
But the most famous is paion de Diablo, which is by far the largest and most impressive!
In fact, you can get as close as as it gets to the latter if you are ready to walk for a short half an hour! Once at its foot you can even reach the top by going through small marked paths that, let's be honest, sometimes give the impression of having been built liliputians…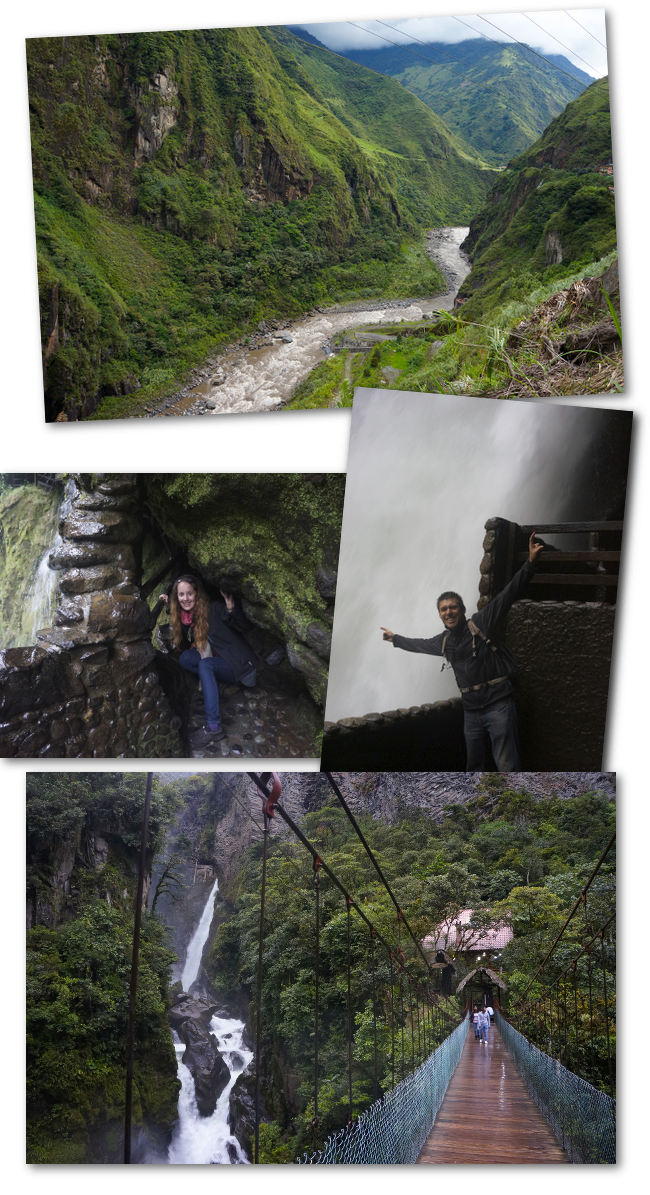 To visit the waterfall route there are roughly two options:
Go on an organized tour and take an old truck refurbished as a "disco bus" or more commonly called "Chiva".
Rent a bike, and do the 20km all quietly in one direction, then load your bike in a shuttle bus provided for this purpose to return to Baños.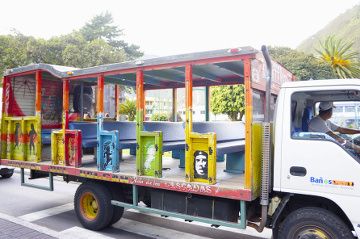 If you know us a little bit you will have guessed that the option we would have chosen is obviously the mountain bike…. But as it turned out, we were out on the road with a whole group and apart from us, all were pretty enthusiastic by the idea of taking this chiva. In other words, it was with this magnificent multicolored bus equipped with a full power sound system and a stripper bar as a bonus that we set off on the waterfall trails.
For us, this tour has been a bit of a fail… The atmosphere in our group was certainly very nice, but frankly the option of having a "bus that stops for 3 seconds to take a picture and then goes back on the roads with super loud music" was a little too much for us. In other words, we would clearly recommend you take the bikes instead!
Thermal Baths in Banos
The second day our group set off for the famous Casa del arbol (we talk about it below for those who would not know it), but the weather was not very good. Plus, wanted to walk a little and not to be driven from point A to point B with a minibus all the time… Thus, we preferred to split from the group and left for the thermal baths…
There are several thermal baths in Banos, but the most famous are those in the centre, called the Virgin's Baths… But here it is, since these are the nearest thermal baths to the centre, they are also the most crowded… We therefore opted for the other thermal baths, called "El Salado", which are roughly 3km from the city.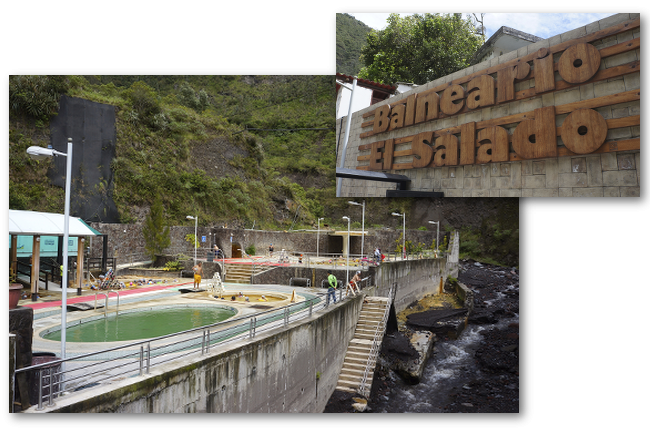 Thermal baths in Banos: our experience
I must admit, for the time being I was a little naive… I don't know, but I was expecting to find a pretty oasis of calm and relaxation… mouahahaha but what was I thinking???
When we got there, we were facing 4 concrete ponds and a joyful mix of elderly people who came to recharge their batteries and children who were running in all directions with their arm floats and buoys… But, as a positive point, there were no other gringos in sight apart from us. No doubt about it, we had reached the baths used mainly by the Ecuadorians!
At the cash register our Spanish has been tested for the first time…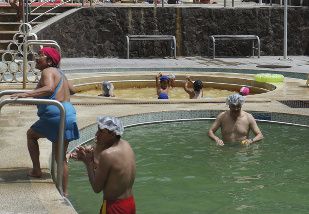 "Gorro what? What does the lady want from us?"
"Gorro de Bano!"
a little moment of solitude and intensive reflection, until the nice cashier takes pity on us and shows us a bathing cap… Ahhhhhhhhh!!!!!!!! In other words, we invested the crazy sum of 25 cents and we were the proud owners of our very first 100% plastic and 200% sexy bath caps!
The water in the baths is supposed to be blessed, and those who bathe in it are supposed to become lucky and happier! With all the journeys that still await us in South America, I'll better tell you that we stayed quite a while in this water hoping this would help our future travels. hahaha
No, i'm kidding… The water being so nice and warm we just loved spending lots of time in it!
Climb on the hill to see the Banos Virgin
Once we had been revitalized after the baths, we set off for the virgin that overlooks the village of Baños. Ok let's be honest, Benoit had not yet had his dose of walking for the day and thus kind of forced me to go up there… 🙂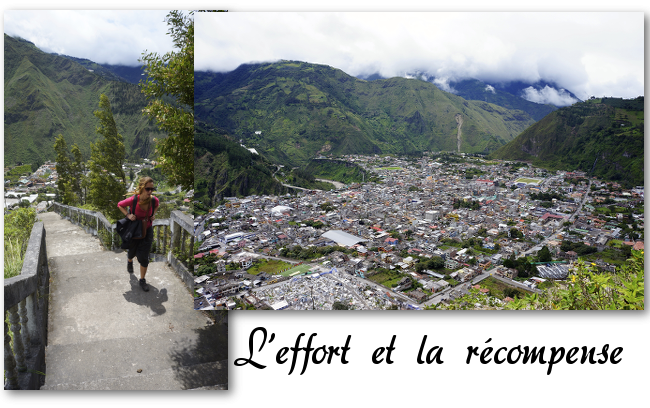 I'm not going to lie to you, I suffered to get to the top! It was certainly not very high, and the stairs were much shorter than those leading to Mount Emei in China, but who knows. The mountain air, the "after thermal baths" effect combined with an acute crisis of laziness… But even if I was complaining, I finally made it to the top! Luckily the weather cleared up on our way to the top, and once at the Virgin we could enjoy the stunning view over Baños.
La casa del arbol, the most vertiginous swing
You have probably already seen a picture of this mythical swing on the net without even knowing that it is in Ecuador.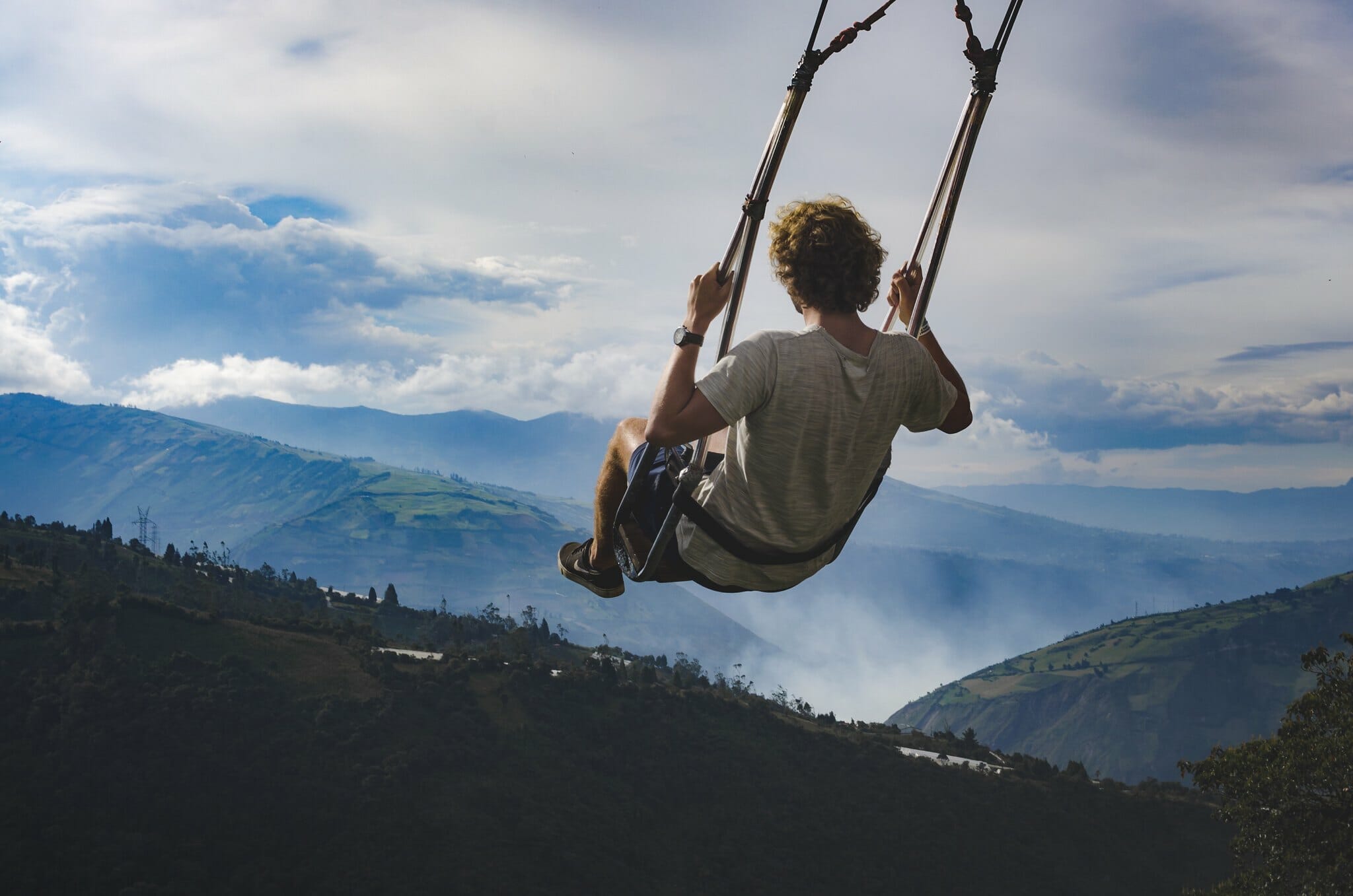 Well, we went to Banos but we didn't go to the Casa de arbol for the simple reason that the weather was too bad on that day and thus made the view simply inexistant… Fog, rain and clouds had decided to invite themselves to the party… But if you pass by, know that this famous swing is there. 🙂
Group travels: not so much our thing…
Ouch, I have a feeling we're gonna sound like an old couple…. But for us, this organized weekend and travelling with group will have been a little "complicated". Of course we enjoyed the company of the other students and we had a great time, but I think that after 10 months of travel just the two of us, doing things exactly the way we want them, we may no longer be the best customers for group tours.
If we had to do it all over again, we would change several things: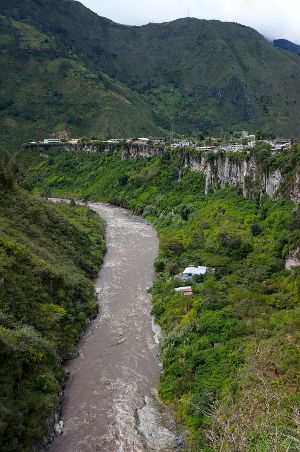 We'd stay longer in Baños. 2 days and 1 night is too short to discover everything there is to see.
We would probably have done the waterfall route on our own, i.e. by bike.
We probably would have taken more care to check the weather…. Because if the weather had been fine, we would probably have gone for a walk a little more towards the Tungurahua volcano and we could have gone to test the most vertiginous swing in the world…
With a little luck we could have gone watch the lava flow out of the volcano at night! This activity is only possible when the volcano wakes up (but not too much I reassure you), but unfortunately during our visit there was no lava at all to be seen.
Infos
Bus to Banos: regular departures from Quito's southern bus station. Travel time: about 3h30, price: 3.70$.
Hôtel: Banos has plenty of choice… No problem to find accommodation on site. Count between $20 and $30 per double room. Check on Hotelscombined to book your accommodation at the best price.
organized Tour on the waterfall route: $5 per person for 3 hours of tour
Mountainbike rental: 5$ per day
Admission to the thermal baths "El Salado": 3$ per person (+0.25$ for disposable bath caps)
Note: these prices are from our stay back in 2014. Prices might have changed a bit since them. If you notice something is wrong, do not hesitate to leave a comment and we'll update it!
The "Melcocha"
By visiting Banos, we finally discovered how these candies are produced. They are found all over Ecuador…. Because Banos is in a way the capital of Melcocha too!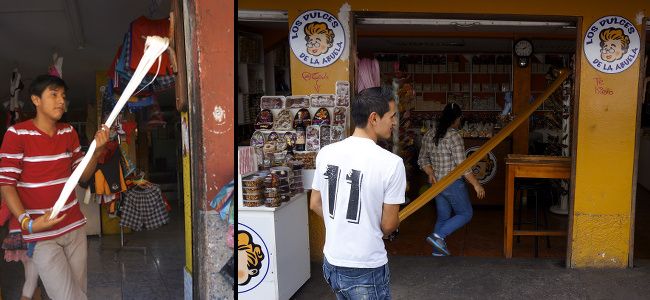 Melcocha is a form of candy that is usually sold as a stick and is made from boiled sugar cane. Where it gets interesting is that before the paste hardens and becomes a candy, it has to be stretched and mixed for long hours. Therefore, in Banos you'll these pieces of "dough" hang everywhere on doorsteps and handled with bare hands by the salesmen… Probably not the best in sanitary terms, but I want to tell you that after Asia nothing shocks us anymore at this level! 🙂 And I mean, when it's good, we forget everything else, right?
Finally, despite the catastrophic weather this weekend, we are not too much of the type to stick on a first bad impression, especially since we really liked the Baños region.
So who knows? We still have almost 2 months left in Ecuador, so we don't rule out coming back to reconcile ourselves a little bit with this little piece of paradise. Because yes the landscapes are really MAGNIFICANT and a weekend is really not enough to fully enjoy the region!