Before setting off on our round-the-world trip to discover more about Ecuador, we took one last excursion from Quito to the famous little village of Mindo! Located just 2 hours by bus from the Ecuadorian capital, it's a guaranteed change of scenery, and the least we can say is that we didn't regret a thing about this little tour. Well, we did! Our only regret: we wish we could have stayed longer! Follow the guide to find out all about Mindo!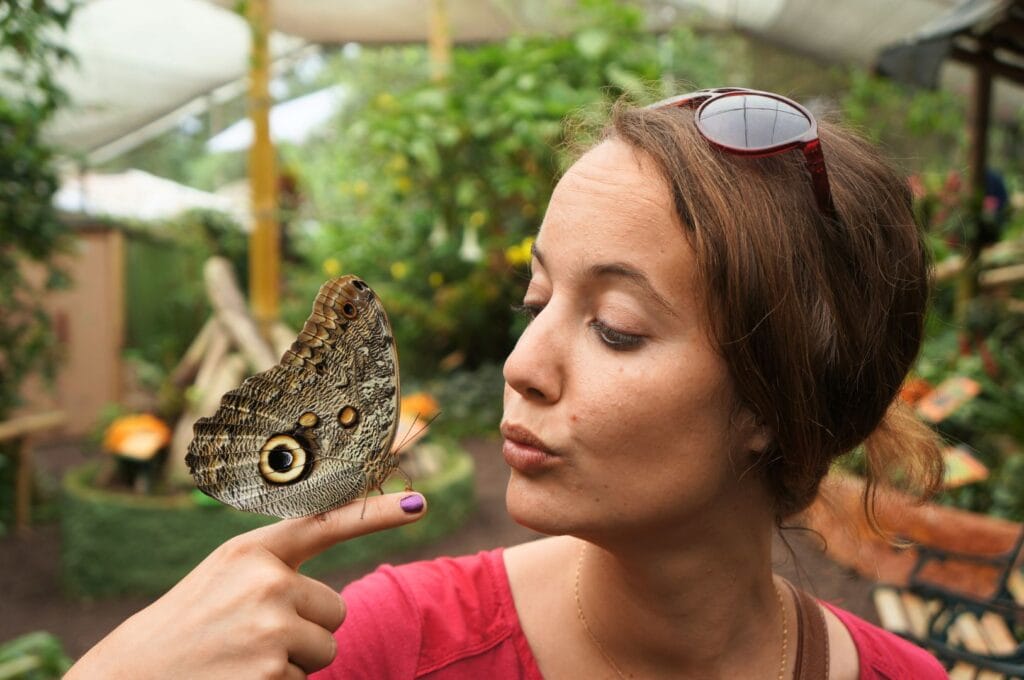 Update 2023
We took this trip in 2014, but the article was completely revised and updated in November 2023. If you see any price changes or have additional information that might be relevant, please feel free to leave us a comment!
Introduction to Mindo, a small oasis 2 hours from Quito
Just imagine, you're in Quito, a magnificent city to be sure, but amid dreariness and bus exhaust fumes. And in just 2.5 hours by bus, you find yourself propelled into the heart of a tropical forest! Mindo is a super-cute little village that has retained its charm despite the large number of foreign tourists and Ecuadorians who come here to spend the summer.
The region is best known for its Mindo Nambillo ecological reserve, home to one of Ecuador's greatest diversity of birds, and it's no surprise that many enthusiasts come here to discover the fauna of the rainforest! We're not really birdies specialists, and that's not why we came to Mindo in the first place. But frankly, it's pretty damn classy to come across as many hummingbirds as pigeons in a European city!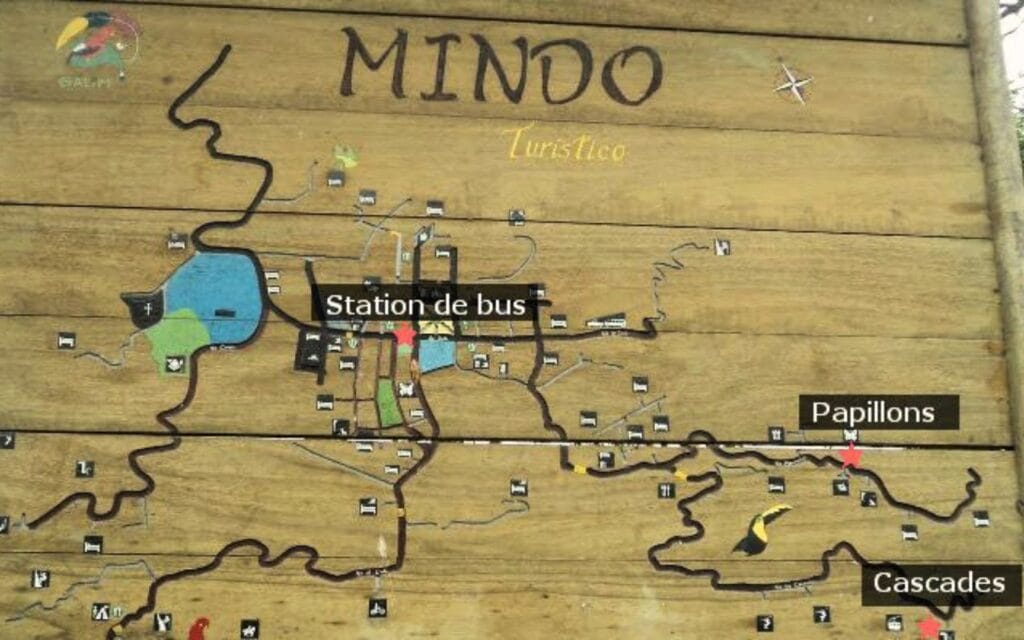 As for the map of Mindo, we hadn't found anything before leaving, so we posted a small photo of the village's presentation board. However, their map isn't quite to scale, and the waterfalls are much further away than the butterflies. We'll let you guess who's been fooled…
The butterfly farm in Mindo
The village is famous for its birdwatching, but not only! Mindo is also home to over 25 species of butterfly, each more impressive than the last. Naturally, many places have tapped the market and started operating butterfly farms. The best-known and most beautiful is Mariposario Mariposas de Mindo.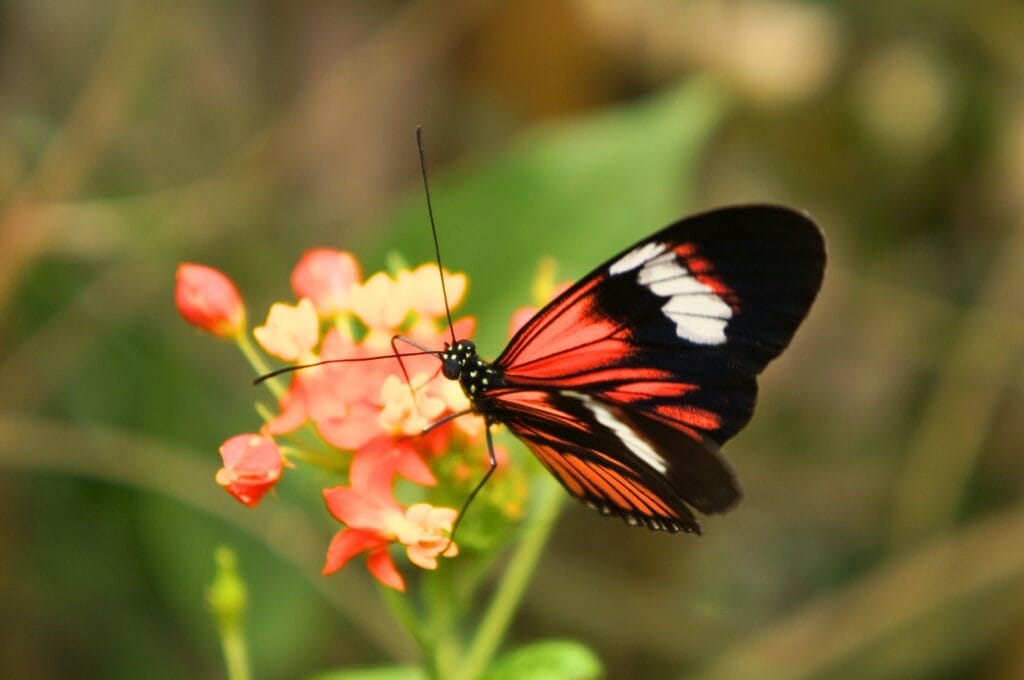 Mariposario Mariposas
I'm not usually a big fan of these tourist attractions, but I have to say that the Mariposario Mariposas has done a great job, and the place is absolutely splendid! This huge greenhouse is home to over 1,000 butterflies, each as colorful as the next. But I think the pictures speak for themselves.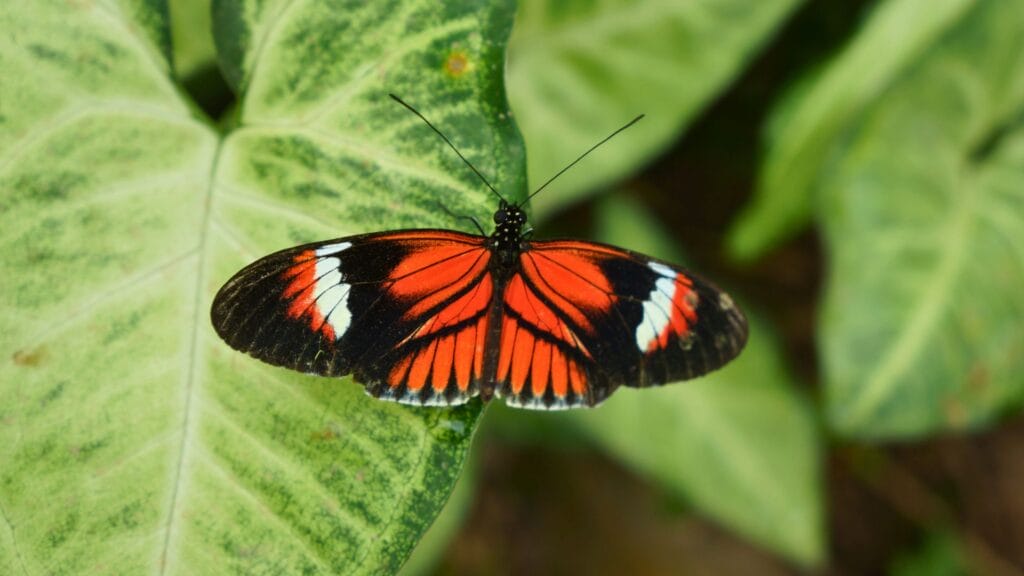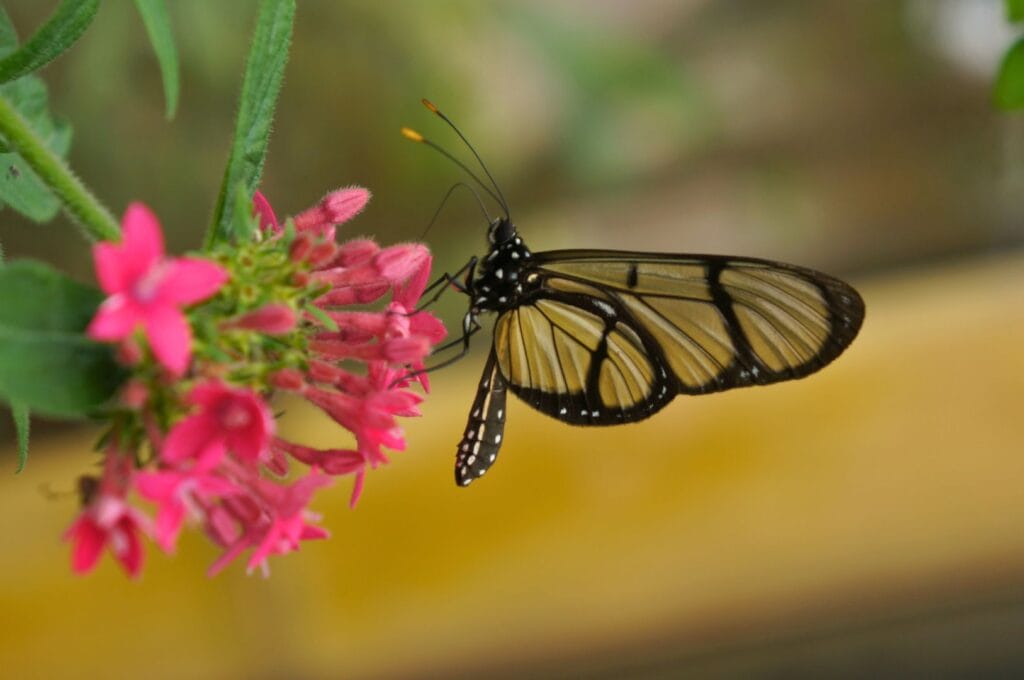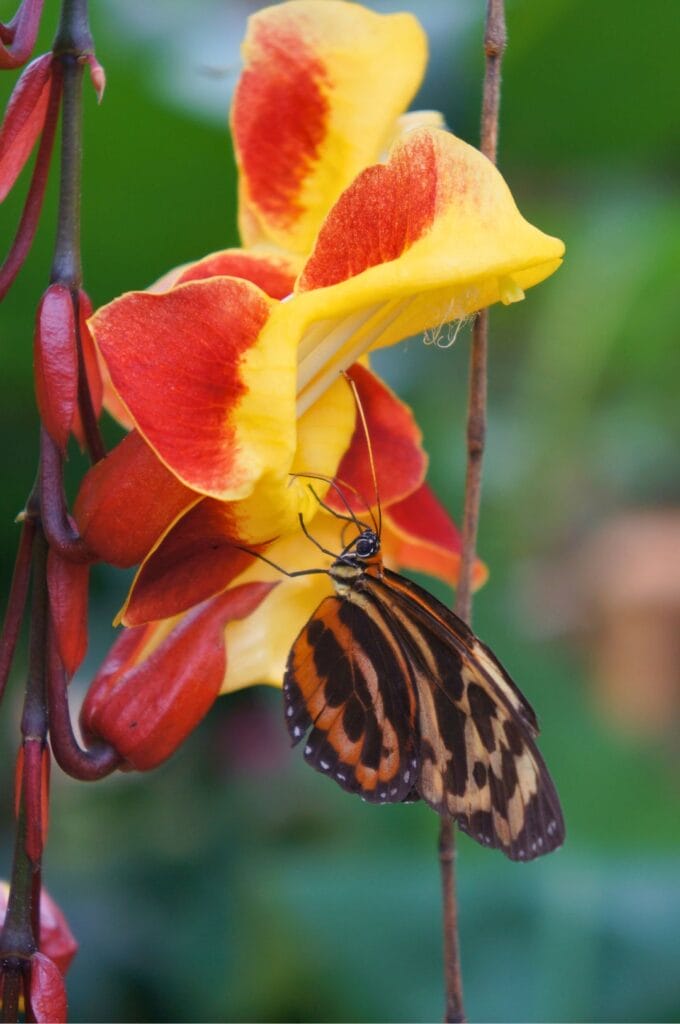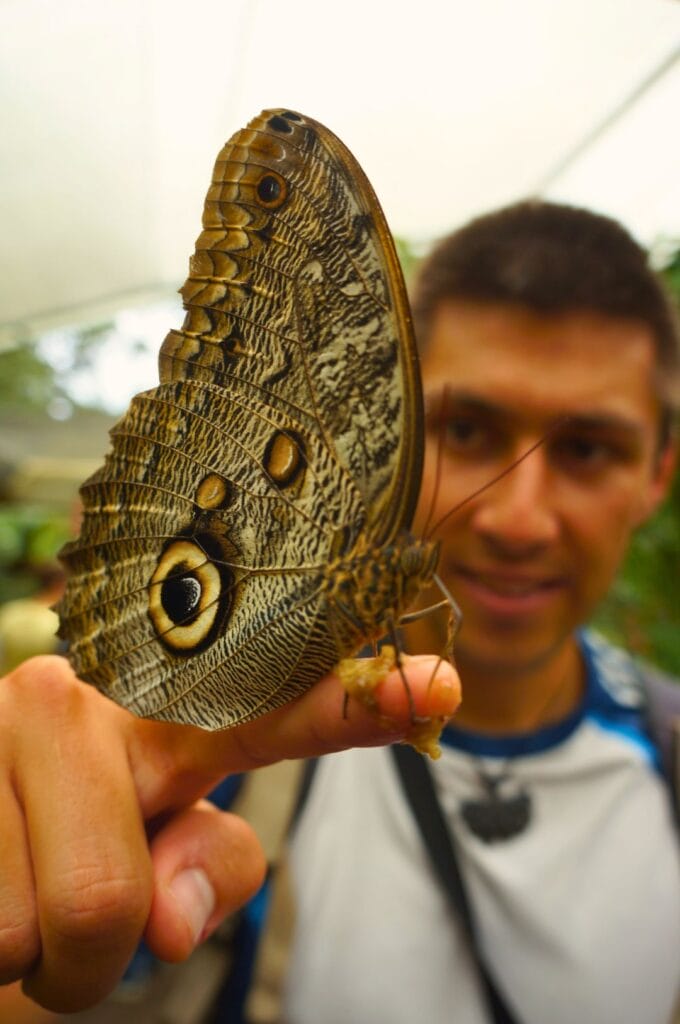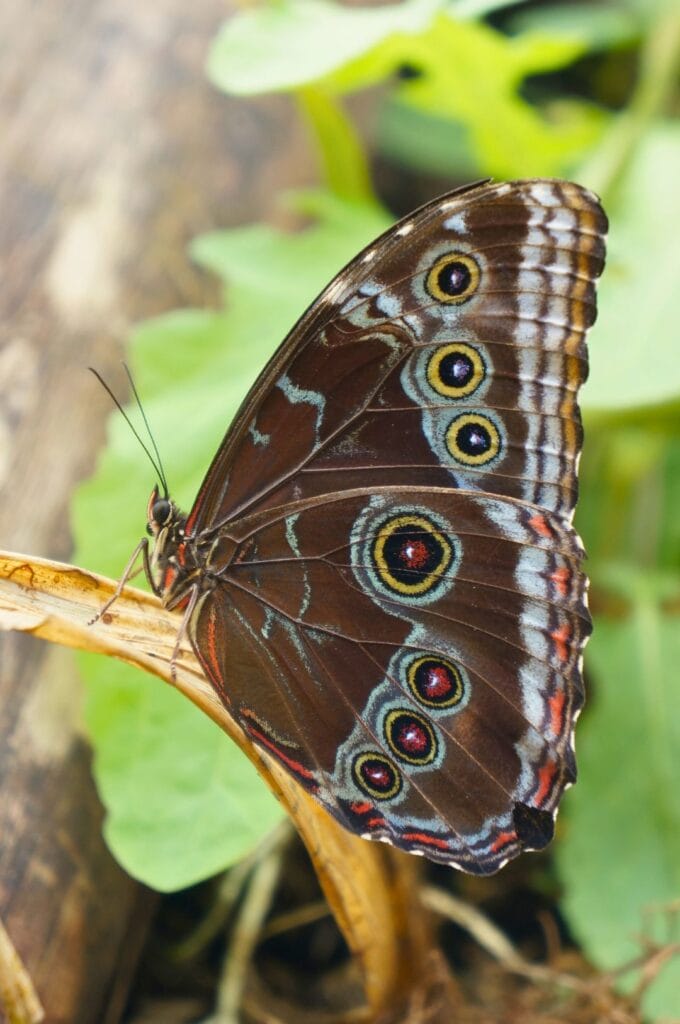 In several places, there are little plates with bananas, and if you put a little on your fingers, the multicolored butterflies come and feed delicately on you. It's a unique opportunity to observe these magnificent animals up close!
Another special feature of the site is the nursery. Every day, they select the cocoons ready to hatch and place them on a wooden stand. And if you stand in front of it long enough, there's every chance in the world of seeing a butterfly emerge from its cocoon live! In the space of 10 minutes, we were lucky enough to witness this absolutely incredible spectacle twice! By the way, did you know that cocoons contain a kind of amniotic fluid? We didn't! In short, we came away a little less dumb, but above all completely amazed by so much beauty!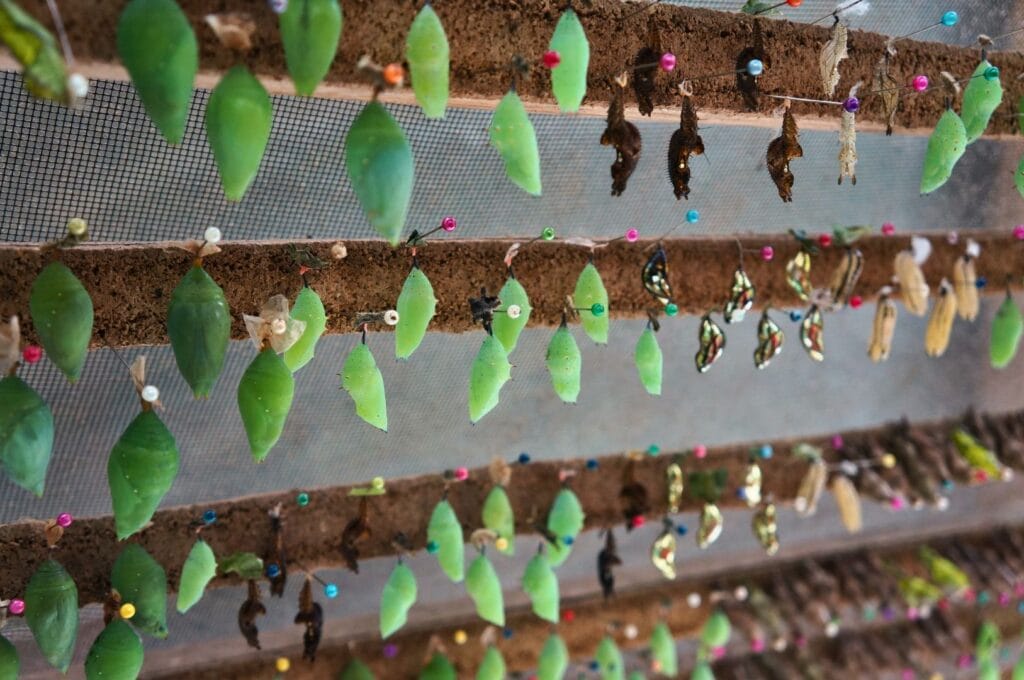 Practical information on Mariposario Mariposas de Mindo
The price is $7.5 per person and includes a short guided tour with explanations of the butterfly life cycle (in English or Spanish), followed by access to the butterfly greenhouse itself.
Getting there is easy. Located 2.5 km from the village, it's an easy 30-minute walk. When you leave the bus, go straight on for about 500 m, then turn right (follow the signs for the waterfalls sanctuary). Cross the first small bridge and continue for approx. 500 m. When the road splits, a concrete bridge leads to the waterfalls on your right. To reach Mariposario Mariposas de Mindo, turn left. Then straight on for another 1 km or so! In 30 minutes from the bus station, you're there. If you don't fancy this little stroll, the taxi option is still available, costing around $3 each way.
Mindo Waterfall Sanctuary
What's called the Mindo Waterfall Sanctuary (santuario de cascadas) should really be called the Waterfall Trail – nothing to do with the Baños Waterfall Route! Located 7 km from the village of Mindo, the adventure begins with a rather special crossing of the valley…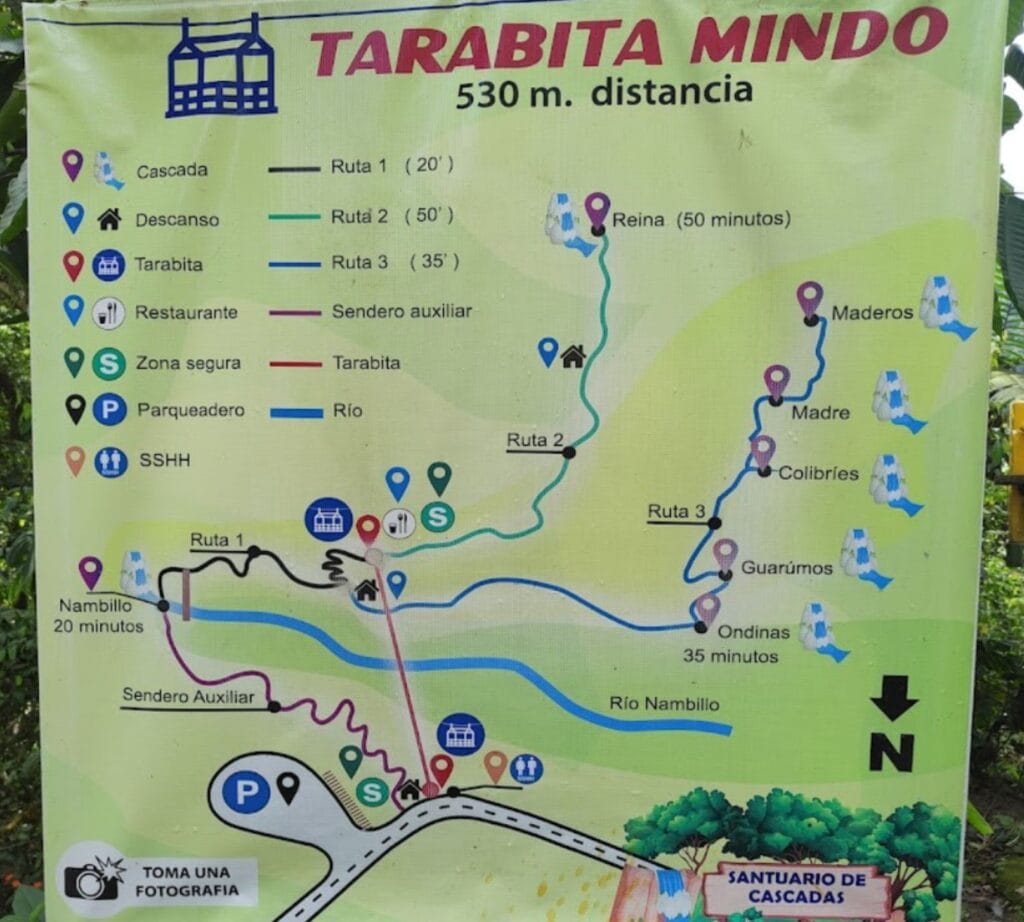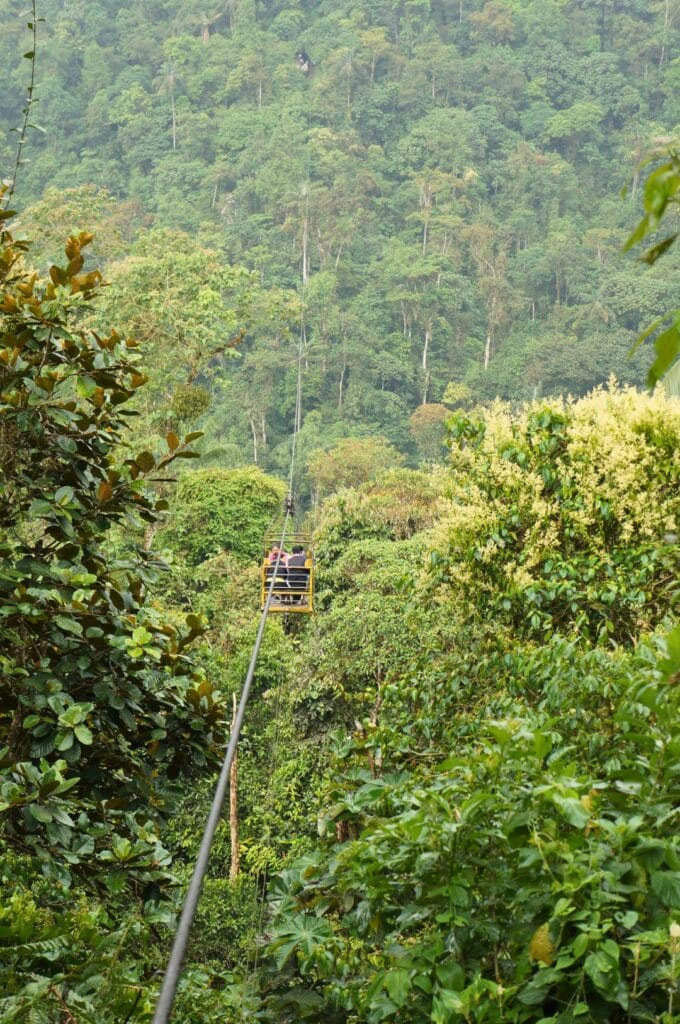 Tarabita crossing
When I say special, it's a roundabout way of saying that I really thought we wouldn't survive! To give you an idea: take a cable car cable (so far, so good), then hook up a sort of cart to it. In fact, to be perfectly honest, it looked like a supermarket cart! Make yourself comfortable (or not) in the cart. Where it gets interesting, though, is that the whole thing is masterfully steered by a guy on a stool, driving a pickup truck engine! Yes, he does! A good old-fashioned car engine to get a supermarket cart across a valley on a wire! In short, this state-of-the-art technology is called a tarabita, and it will cost you $5 to make the round trip and have access to the waterfalls.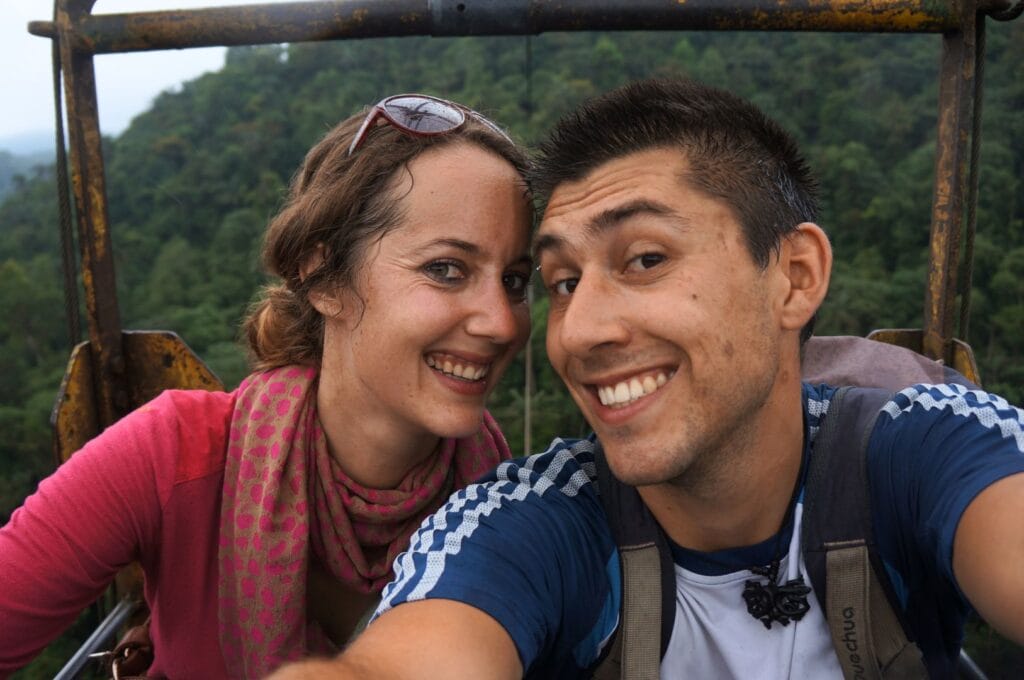 Waterfall Sanctuary trails
The good news is that the Ecuadorian DIY system held up and we made it to the other side without a hitch. Here, several small paths await us, leading to the valley's 7 waterfalls (all well-signposted):
trail to La Reina waterfall, 1 hr 40 min round trip;
trail to Nambillo waterfall, 40 min round trip;
and the trail to the 5 waterfalls (Ondinam Guarùmos, Colibries, Madre and Maderos), 2 h round trip.
We didn't have much time and could only do the Nambillo waterfall and the trail to the 5 waterfalls, but they were magnificent! If you feel like it, you can swim at the foot of the waterfalls. We recommend that you take a little more time than we did, as we really would have liked to discover more! 1 day in Mindo is definitely too short!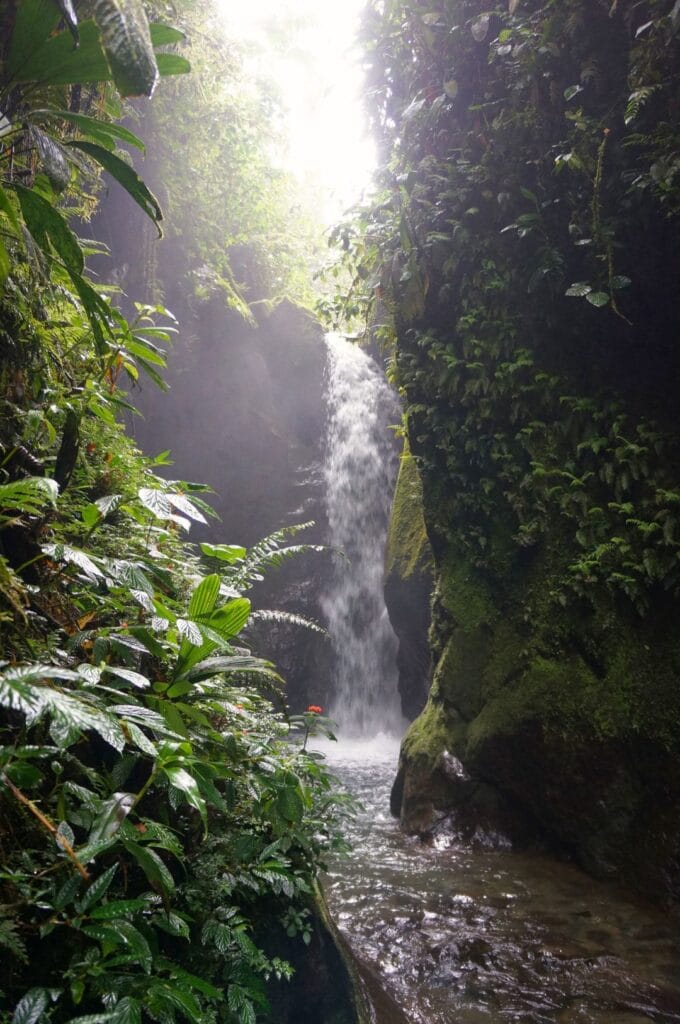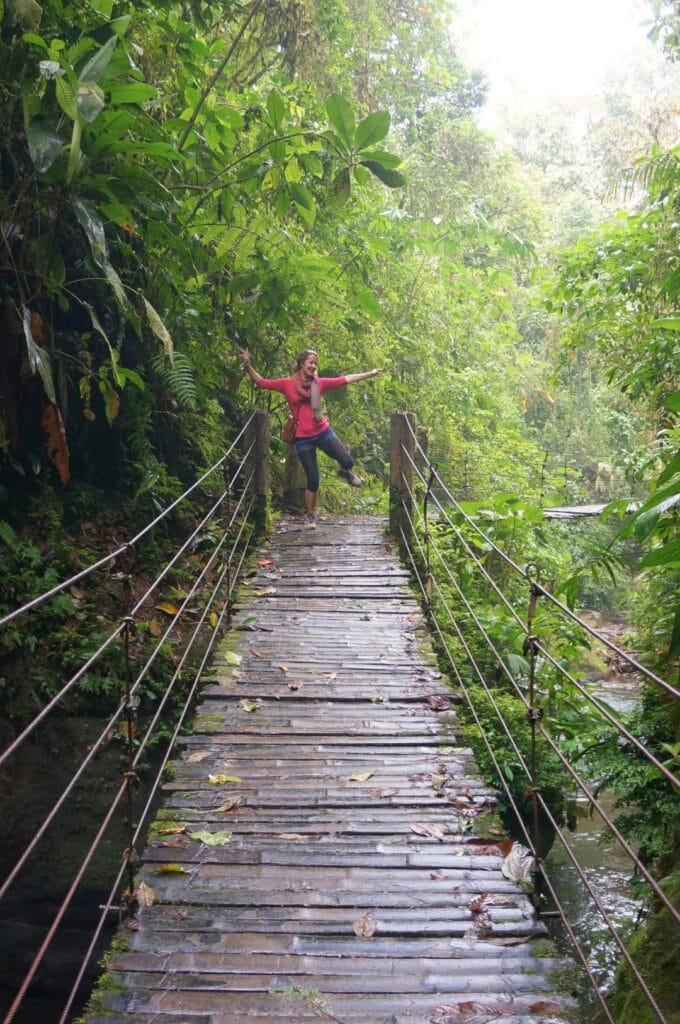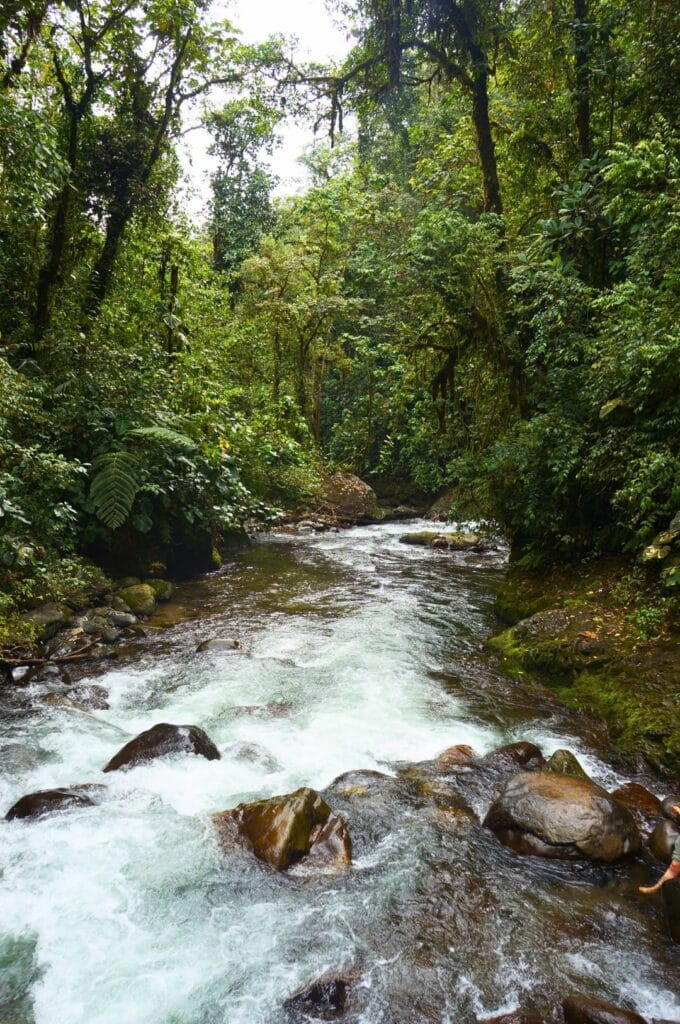 How to get to the Mindo waterfalls
You're spoilt for choice when it comes to getting to the Waterfalls Sanctuary:
an organized tour: the simplest option, but also the most expensive, so not for us!;
on foot: a 7-km climb from the village of Mindo is quite doable, but we really didn't have enough time, unfortunately;
by chiva: we'd taken one in Baños and had a mixed experience. For this time, finito the disco music and the stripper pole. You'll find one that leaves at least once an hour from Mindo's main street and from the sanctuary;
by taxi: 8 dollars to take you to the waterfalls. For the return trip, arrange with the driver to pick you up at a certain time for the same fare, walk back down, or take a van (between 3 and 5 dollars, depending on your bargaining power).
Mindo, bird paradise
During the day, it was impossible for us to take a guided tour of the cloud forest reserve, in the middle of the rainforest, for birdwatching, in particular the rare Peruvian cock-of-the-rock (or tunqui), which can be seen and heard at dawn. Another good spot for birdwatching is the Rio Bravo reserve, 30 minutes from Mindo. A small consolation for us: we saw plenty of birds, including hummingbirds, on the waterfall trails!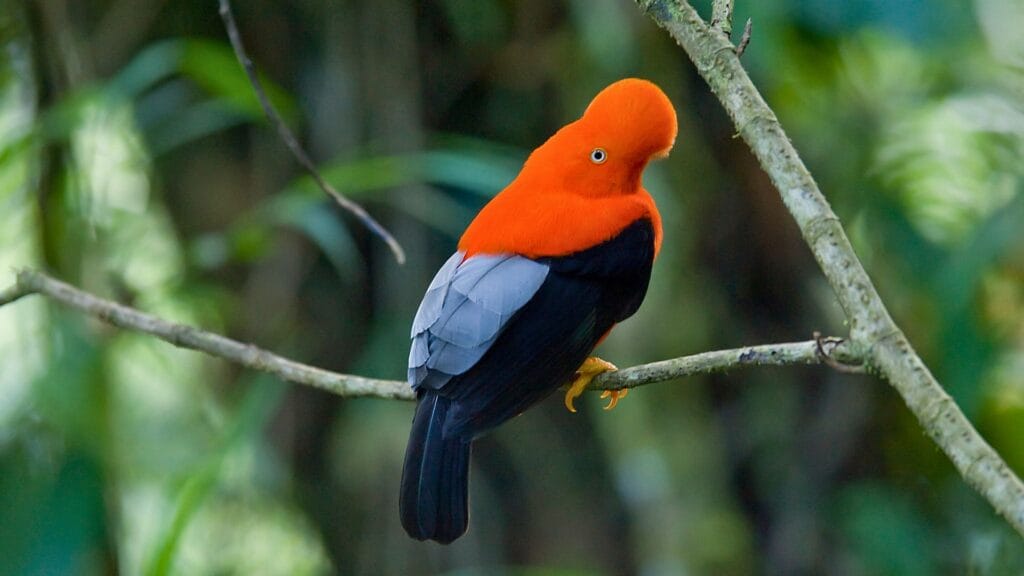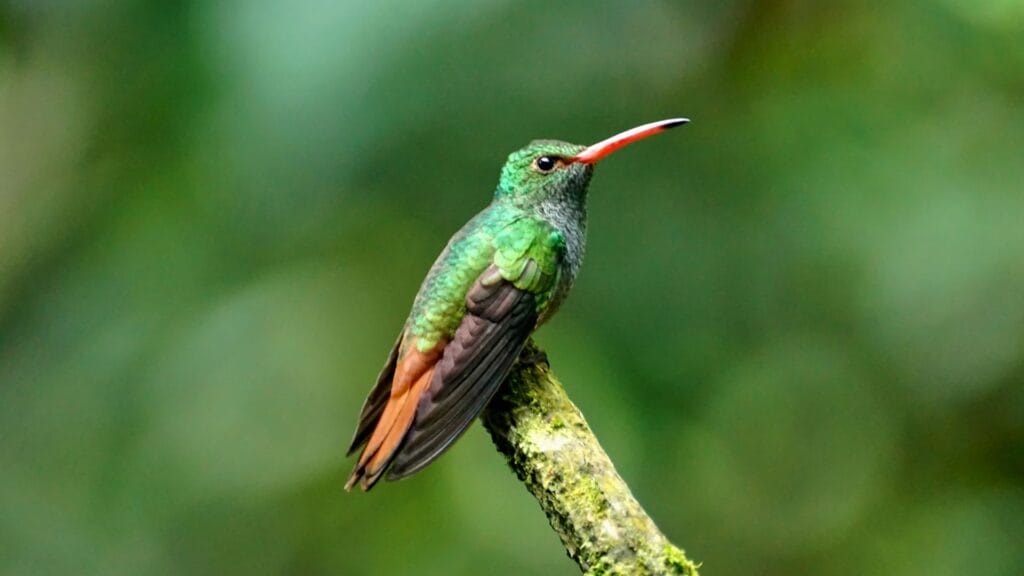 Chocolate and coffee in all their forms
One thing we should have done in Mindo, but didn't have time to do, was take a guided tour to learn all the stages of production, from the cocoa bean and coffee bean to the chocolate bar and coffee we know. There are several well-known establishments in the village:
El Quetzal restaurant ($10 per person): the best known, but not necessarily the most authentic;
Yumbos ($8,5 each): a great chocolate tour with the best brownie (I hear!) in Ecuador;
Mindo Maya Chocolate (also $10), more confidential and authentic, all set in a jungle-like garden;
Quinde Mindo Coffee & Chocolate Tour (10 dollars each): here you'll find two guided tours to learn all about coffee and chocolate.
Roughly speaking, they all offer the same thing: for 1-2 h, you'll get all the explanations you need about cocoa and its processing, as well as tastings (the least you can do 😉) of chocolates (hot and bar) and brownie. Go on foot, they're all in the center, within a few hundred meters of each other.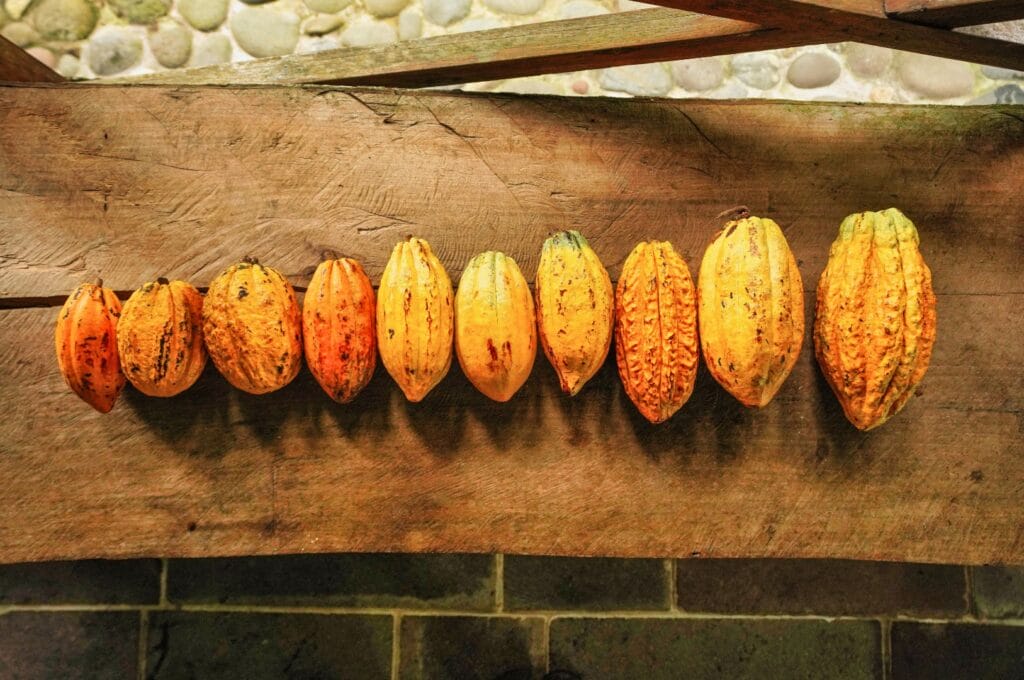 This article contains affiliate links to partner sites. When you use our links to book accommodation, a car, or an activity, you don't pay anything extra, but we get a small commission. This helps us to offer you free, independent, and ad-free content. Thank you for your support!
Adventure activities for thrill-seekers
Like Baños, Ecuador's capital of extreme sports, Mindo has over the years become a little paradise for thrill-seekers. Canyoning, rafting, mountain biking, tubing, a complete network of zip lines… Nothing's missing!
If you're a wimp like me, then I can guarantee you that just the little gondola that takes you up to the waterfalls is more than enough to give you a few scares! But for the rest of you, there's no shortage of agencies in Mindo! You'll have no trouble finding the outdoor activities you need. Or take a look at Mindo's adrenalin-pumping 1-day tours!
How to get to Mindo
From Quito, there are numerous travel agencies offering day trips to Mindo.
Getting there on your own isn't as complicated as all that. All buses to Mindo leave from the Ofelia bus terminal in the north of Quito. The journey from Quito to Mindo takes around 2 h-2 h 30 and costs $3.1 per person.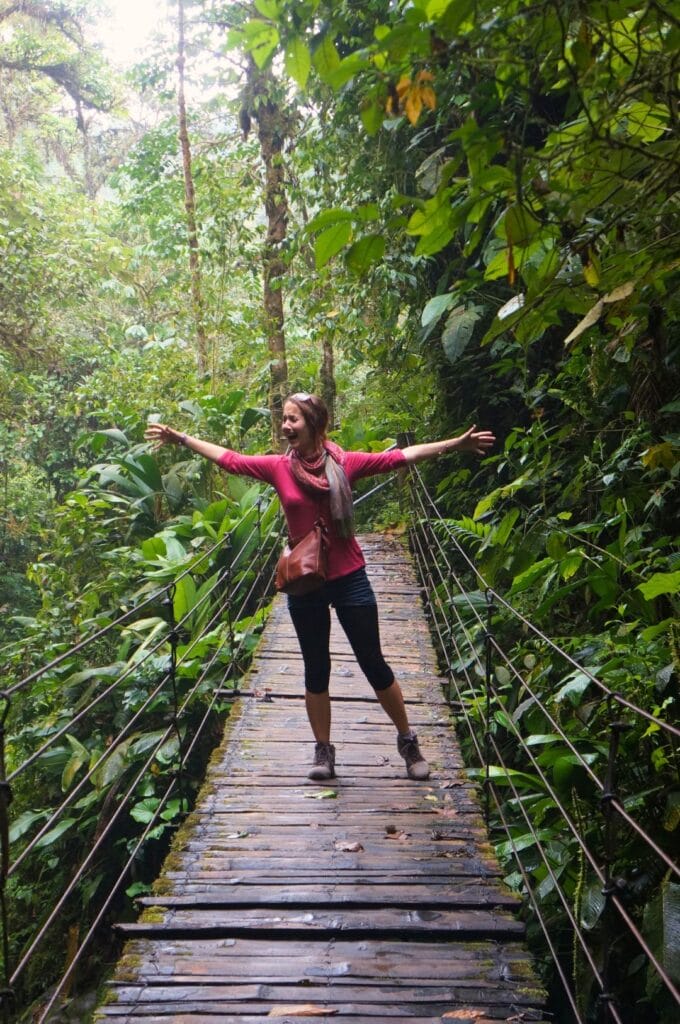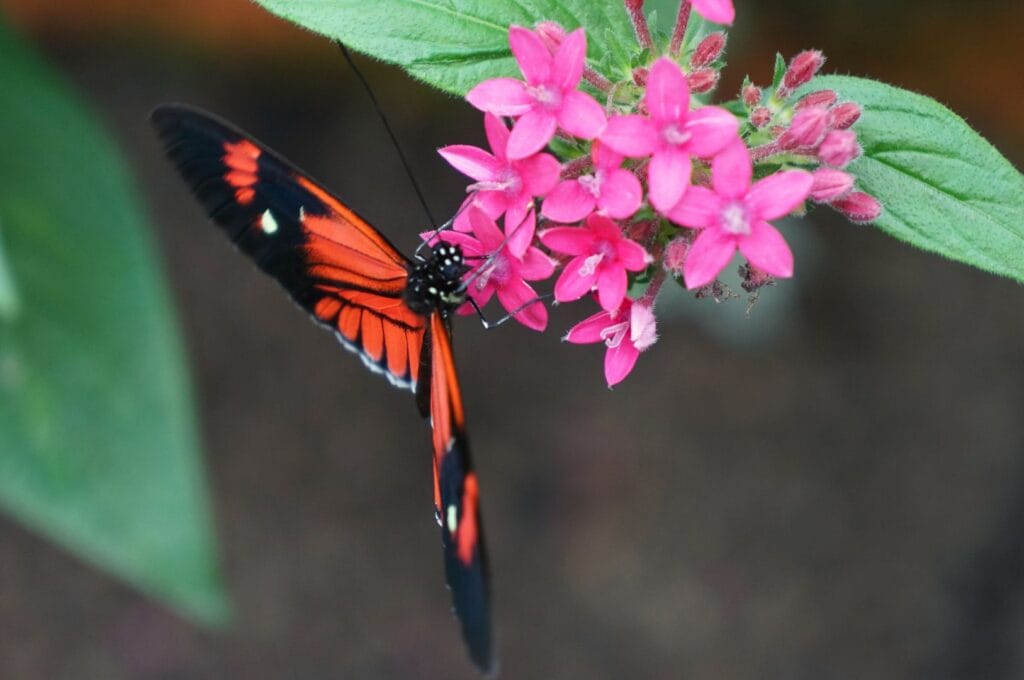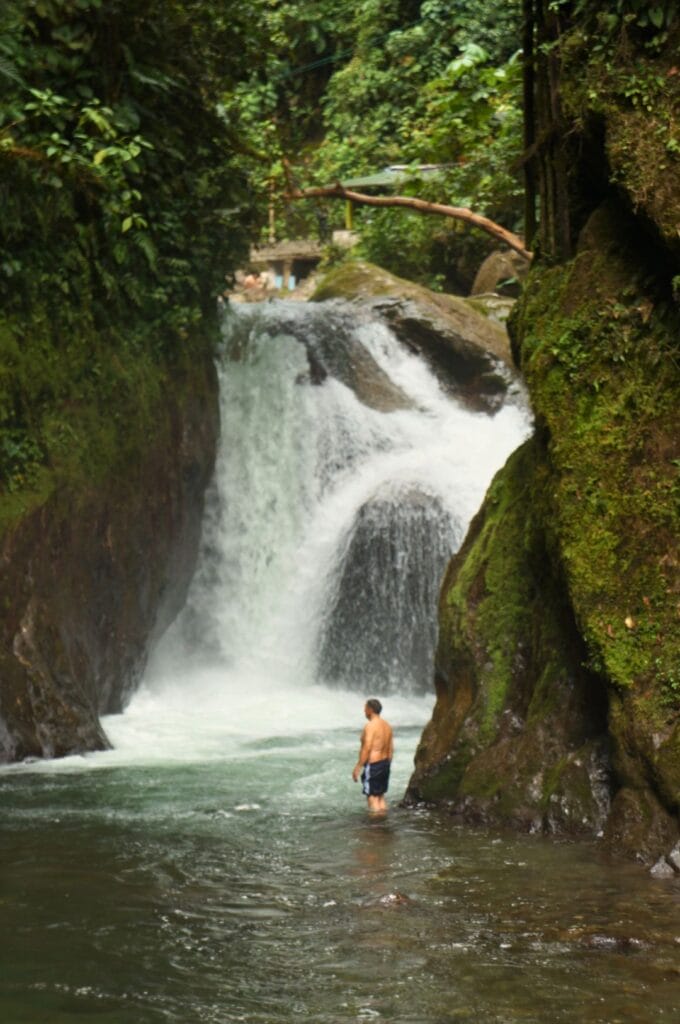 Buses leave Quito every weekday at 8 a.m., 9 a.m., 11 a.m. and 1 p.m. On weekends, buses leave at 7.40 a.m., 8.20 a.m., 9.20 a.m., 11 a.m., 1 p.m., 2 p.m. and 4 p.m.
For the return trip to Quito, buses leave Mindo at 6.30 a.m., 11 a.m., 1.45 p.m., 3.30 p.m., and 5 p.m. On Saturdays and Sundays, buses leave at 6.30 a.m., 11 a.m., 1 p.m. and every hour until 5 p.m.
Tip: the 5 p.m. bus back to Quito is the most popular. We advise you to buy your return ticket directly when you arrive in Mindo in the morning, to ensure you have a seat that evening.
Hotels in Mindo
As we said at the beginning of the article, we only came to Mindo for 1 day. But when we left, we were a little disappointed not to have planned at least 2 days here. If you have the time, we recommend you spend at least one night here to fully enjoy the setting and activities.
We've heard good things about the Cinnamon House from other travelers. You can also find other establishments at all price levels. El Descanso is an inexpensive hotel with a view of the mountains and birds. La Chonta and Biohostal Mindo Cloud Forest are two exceptional budget hostalas for birdwatching. If you're looking for a little more charm, La Bicok EcoLodge is a friendly French-run lodge. The breakfast here is excellent, and you'll also have a view of the hummingbirds flying in the garden!
Mindo review
Now you know everything there is to do in Mindo in 1 day on your trip to Ecuador! Honestly, we think 2 days would be more appropriate to discover all the village has to offer. In our opinion, there's a strong resemblance with Baños, especially when it comes to extreme sports and waterfalls, but Mindo has much more charm!
So when are you coming to discover Mindo's butterflies and waterfalls? For the rest, we'll see you soon for the ultimate challenge: climbing Cotopaxi volcano!
Pin it