Coming from Switzerland, we are certainly not from the most gastronomic country in the world with our specialities such as fondue, raclette, rösti, and other "delicacies" of all kinds, but we have nevertheless developed a certain love for the pleasures of the table.
So it was only natural that, once we arrived in Austria (and more particularly in Vienna), we wanted to discover and try the local specialties!
Our discovery of the Austrian food and cuisine
So let's say that we were not disappointed! Austrian cuisine surprised us and even if Austria is a neighbour of Switzerland, it was still a little exotic at first.
The first observation was clear: Austrian cuisine is very good, but it is far from being "light"! Another major difference is also the quantities served, in Austria you will probably never leave an Austrian restaurant beeing still hungry. I don't explain the shock of the scale after the first weeks of intensive tasting… 😉
A brief overview of Austrian dishes and specialties!
the meat in Austria
Let's start with what everyone knows: The Schnitzel! A real institution in Austria, which can be found in any respectable restaurant or "Beisel". Traditionally made from breaded pork, it is available in turkey, chicken and veal. In Vienna, Schnitzel tourism has also increased! Many restaurants in the city center are competing for the title of "the biggest schnitzel". It will be difficult to tell you if the ones we have eaten are the biggest, not even the best… But for those who would come to Vienna once, there is a restaurant in the center called Figlmüller, which is very famous for its "little" schnitzels. I let you judge for yourself the size of the "beast"… (I would say it's close to the size of a pizza in Switzerland 😉 )
La charcuterie: A new episode in the category "I eat healthy and watch my weight". Here sausage is to the Viennese people what good cheese is to the French: a component of almost every good meal. Let's skip the traditional sausages, hams of all kinds that are nothing special(except for the quantity consumed). We have discovered here a tradition that is still difficult to get used to today. The combination of sausage and… Careful… Cheese! Well, yes, as if the sausage wasn't fat enough as it is, Austrians like to add a little personal touch to it… The principle is very simple: take a sausage or Leberkäse (better known in France as Italian cheese) and inject it with cheese. Images speak more than words, I let you admire…
Bread-based delicacies
Breadcrumbs: Personally I knew schnitzel, but my breadcrumbing culture stopped there. Yeah, well… In Vienna we discovered that absolutely EVERYTHING can be breaded. Cauliflowers, broccoli, endives, asparagus and even breaded carrots do not scare Viennese people!
The Semmel: to begin with, it all started at the bakery on the first morning when we went to get some bread. So in our memories of German vocabulary, the bread is called "Brot" and a small bread "Brötchen"… Well, forget your German lessons. No one will give you what you want if you don't use the right vocabulary, here the roll is said: "Semmel". I am talking to you about the Semmel because here the Semmel is an institution, everyone consumes it, in all forms! It's like the traditional lunch snack here! Wurst-Semmel, Schnitzel Semmel (yes yes you understood correctly: a semmel, a schnitzel (whole please), mayo, ketchup and a salad leaf), Leberkäsesemmel, Käseleberkässemmel (this one being particularly "light" 😉
The potato in Austria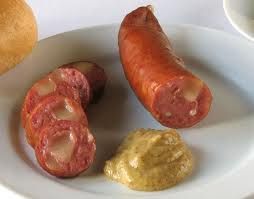 The potato is certainly a vegetable by its definition. But in Switzerland we still tend to eat it like a starchy… Yeah well not here… It will not be uncommon to find a menu composed of meat, rice and potatoes. What the hell is that? It respects the proportions recommended by nutritionists: "each plate must be made up of protein, starch and vegetables".
Apart from the roasted potato, which remains a light version of this vegetable, you will also find them here in the form of a salad (well, here!). This "salad" consists mainly of potatoes and mayonnaise. But sometimes, for the most motivated, there is also the version that includes the sausage! Oh yes, to keep on learning languages, you can also forget your German courses: we don't say "Kartoffel" but "Erdäpfel". At the same time, it makes more sense! The potato in Austria is everywhere! A little anecdote: I discuss restaurants with my colleagues. A colleague mentions a great little Greek restaurant not far from home, and one of my colleagues says: "Ohhhh Yes, I know this one, it's a great Greek restaurant; they make one of the best potato salads in the city! " look for the error… 😉
Knödel: It is a ball of dough made of flour, egg and yeast. They are available in both salty and sweet forms. The salty versions are often served with bacon, cheese, spinach, or potatoes (well, well!). While the sweet ones are made with either apricot, prunes or cottage cheese. I must admit that we were rather skeptical at first about this pasta balls, but in the end it's a dish that we liked to order from time to time in the restaurant! Moreover for the most fans among you there is a Knödel festival which takes place annually in Tyrol! 22 kinds of knödel are prepared there, and you can taste them all! By the way, it's this weekend (September 22nd) if there are any interested people here's the website: knoedelfest
Austrian desserts
Sachertorte: The great classic of Austrian pastry. It is a chocolate cake that consists of two layers of genoises with a thin layer of apricot jam in the middle. The whole thing is covered with a thick dark chocolate icing! A great classic that you can't get enough of!
Strudel: Pastry very appreciated by tourists but also by Viennese, it is made of puff pastry flavoured with cinnamon. Strudel actually refers to the very thin dough that surrounds this dish. The most famous of all Strudels is of course apple strudel, but here you can also enjoy cherry strudel or Topfen-strudel (cottage cheese strudel).
That's it, the end of this little overview of the most common dishes found in Austria. There are many others, but we will probably come back to them later.
Typical Austrian drinks
There are also some very typical Austrian drinks, here is brief overview.
Almdudler: Ah, it was my joy to discover this drink when I left Switzerland! Well yes, the Almdudler is very similar to our Swiss drink Rivella. And as the Austrian advertisement for this product would say: " Wenn die kan Almdudler hab'n, geh' i wieder ham! " (if I can't get Almdudler, I'm going back home)
Beer: yes, Austria also has its own homemade beers, which are frankly quite ok. Among the most famous brands are Gösser, Stiegel, Ottakringer, Wieselburger. There are also many breweries in central Vienna that sell their own production. So if you are travelling through Austria, don't hesitate to try one or two… 😉
Stroh! This is an Austrian liqueur for the bravest (we know some of people who will recognize themselves). It is an Austrian rum that has the particularity of containing 80% volume of alcohol! So it's not a thing for the weaks! According to Wikipedia, this alcohol is used to prepare cocktails as well as to light up barbecues… It gives you an idea of the thing!
All right, I think we'll leave you to it! We're going to go to the gym now… You might as well know that we quickly took out a fitness membership in Austria! Probably the only solution if we want to be able to enjoy the local gastronomy without our scales having to sue us…
23