After a stay in the so popular and beautiful Halong Bay, we head this time to the mountains of the North-East of Vietnam, in the Ba Be National Park precisely, with the firm intention to meet the Vietnamese. Although more difficult to access, the northeast is famous for its beautiful landscapes and the many ethnic minorities who live there. Despite the transport difficulties caused by the Vietnamese New Year, we will live one of the best moments of our trip! Ready to discover the north of Vietnam with us?
Update 2022
We took this trip in 2014, but the article was completely revised and updated in November 2022. If you see any price changes or have additional information that might be relevant, please feel free to leave us a comment!
In search of authentic tourism in northern Vietnam
When we travel for a long time, we are often looking to get off the beaten track, to live "authentic" experiences, close to the local populations and their cultures.
This search is legitimate I think… We don't travel so far and so long to find ourselves in the middle of our compatriots and eat the same thing as at home, right? However, since we are in Southeast Asia, it is sometimes difficult to find these places.
Whose fault is that? Nobody's fault, really. Since Thailand, Cambodia, and Vietnam are very touristy countries, the locals have gotten used to visitors and now know how to take advantage of them. We really can't blame them for that!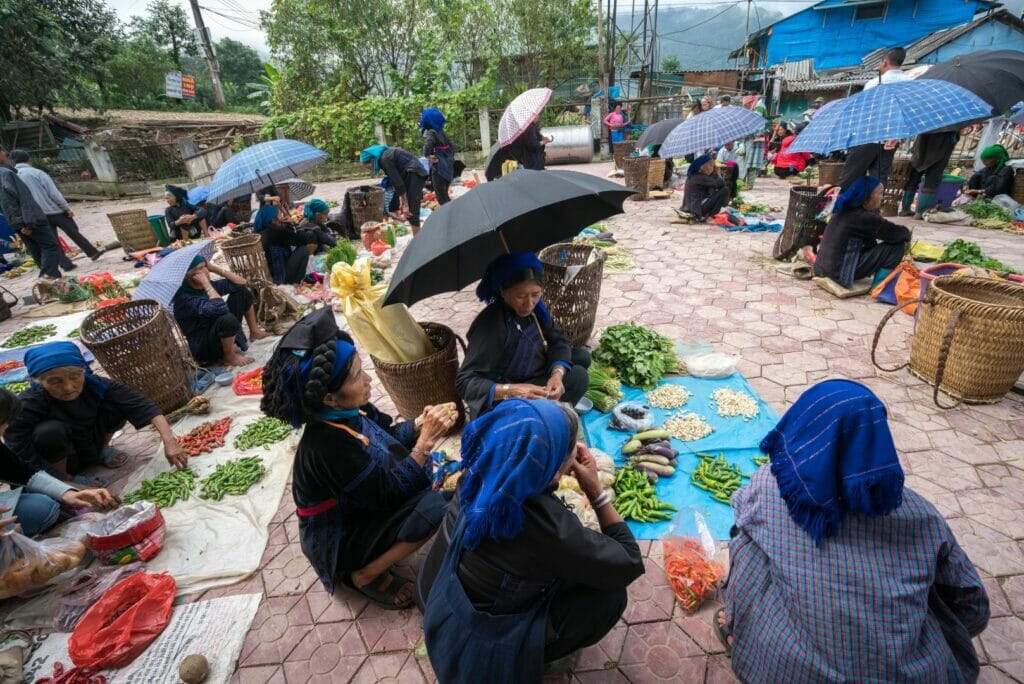 Let's be honest, the development of tourism has also good sides. In these countries, many people now speak English, transportation is relatively well developed, guesthouses are present in number and many people live from tourism. But compared to countries like China or Taiwan, the general experience sometimes sounds a little bit false and we are sometimes taken for walking wallets.
It is in this state of mind and with the desire to live a little with the locals that we headed to the north of Vietnam.
Video of our trek in Vietnam
Here is a visual preview of our stay in the Ba Be National Park. We give you all the information in the following article. If you liked this video, don't forget to subscribe to our YouTube channel!
Getting to Ba Be, a difficult task
You will have noticed in the video, it was not easy to reach the national park with local transport. We would have liked to make the trip by two-wheeler but driving a motorcycle without insurance was quite dangerous at the time… Ba Be national park is located 200 km from Hanoi. There are three ways to get to Ba Be:
take the bus from My Dinh bus station in Hanoi. The only company that makes this trip is Thuong Nga (platform 33). It takes you to Cho Don, then another bus takes you to Bo Lu, the village on the shore of Ba Be lake. The fare is around 150 000 dongs.
take a shuttle from Hoan Kiem in Hanoi to the north of Ba Be Lake. The price is $15 (375 000 dongs).
if you are on a motorcycle, count at least 8 hours from Hanoi (that's what the motorbike riders we met told us…).
Unfortunately for us, because of the Vietnamese New Year, the second bus never left and we had to take 2 more buses, a moto-taxi, and a boat to get to the same place. In short, it took us the whole day and cost us a lot of money. In the end, it was worth it!
Where to stay in Ba Be national park?
At the time, we stayed with the Linh family and it was really great! Their small guesthouse is located on the shore of Ba Be lake, in the small village of Bo Lu. The Linh family is very welcoming and will make you feel at home. Mr. Linh's wife cooks well and treated us morning, noon, and night. But since our visit, the prices have increased a lot… The cheapest room is 48 euros.
Mr. Linh is also the owner of a small local travel agency that organizes tours mainly in the north of Vietnam. Originally from Bo Lu village, he knows the Ba Be National Park better than anyone and will be able to arrange tailor-made tours for you. On the program: trekking, kayaking, waterfalls, hidden treasures… In short, you will find happiness in all the proposals!
As you have seen in the video, we did a 2 days trek through the services of mister Linh and we didn't regret it one second. The prices are not cheap for backpackers in the middle of a world tour but the experience was worth it, believe us! Count 150 $ per person for 3 nights, 3 breakfasts, 2 lunches, and 3 dinners.
Mr. Hung
It seems that our guide at the time, Mr. Hung, is now only partially working with Mr. Lihn because he now has his own little homestay… close to the latter's guesthouse, by the lake! If you want to contact him directly, here are his website and his Facebook page. The price of a night in a dormitory with free breakfast is 150 000 dongs. Otherwise, there are some other guesthouses and homestays at all prices on Booking.
2 days trekking in Ba Be National Park
After a well-deserved night of sleep after a chaotic day of travel, we get up early to take a solid breakfast (a soup of noodles with 3 poached eggs) and meet mister Hung, our guide for the next two days.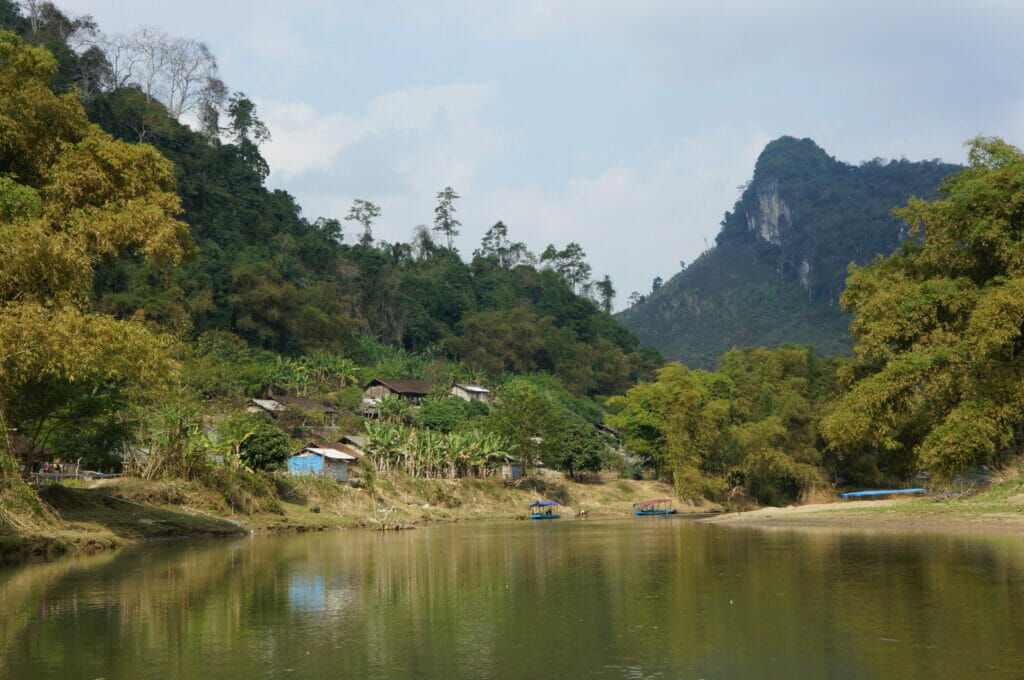 In fact, he is not a guide per se. He lives in a small village (10 houses) of the Dzao ethnic minority and spends most of his time cultivating rice and vegetables or raising animals to feed his family. His occupation as a guide helps him to make ends meet.
After the introductions, mister Hung (who speaks a little English) explains to us that we will walk 20 km through the Ba Be National Park to reach his village where he will welcome us for the night. The next day, we will walk 10 km to the Nang River where we will continue by boat. In short, a nice and diversified loop that suits us perfectly!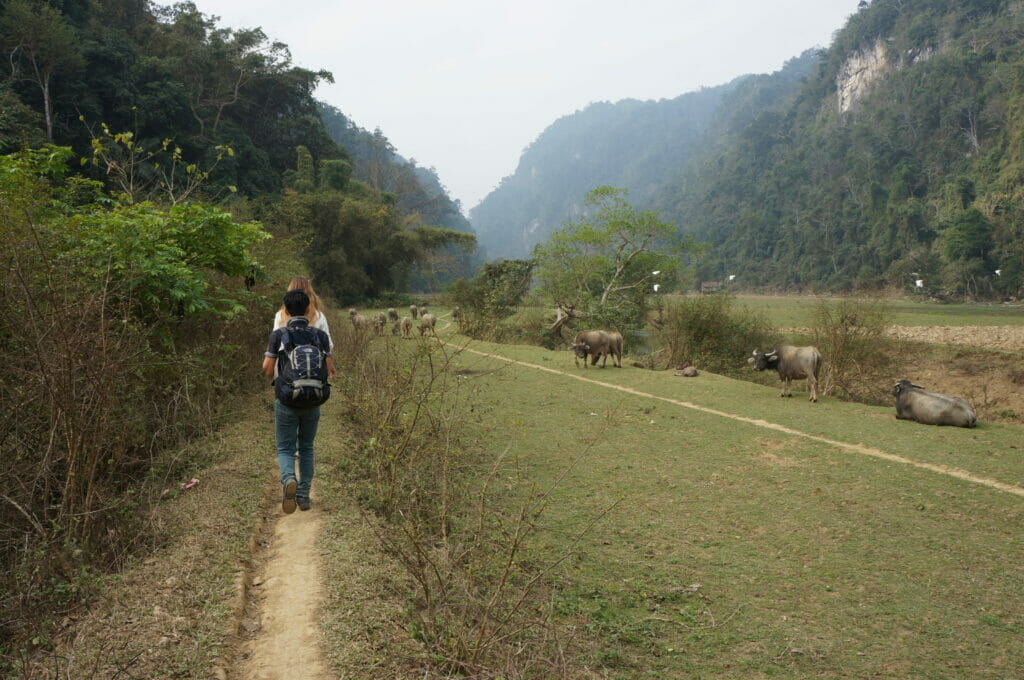 Day 1 of the trek
We quickly set off because there is still a good trot and it climbs hard. But mister Hung is with small care and adapts the rhythm according to our needs. Anyway, the crossed landscapes are splendid and we quickly forget the fatigue!
In the Hmong villages
As we are in the middle of the Tet period, there are a lot of young people on vacation in the Hmong villages. The boys play soccer in dry rice fields or flirt with the girls in a funny way. They stand in a circle and take turns throwing a ball tied to a string. Sometimes, a boy and a girl get isolated and keep throwing the ball at each other, forming a couple. For the occasion, the girls dressed in their traditional clothes. Mister Hung confessed to us that there are many weddings after the New Year period 😉.
For the lunch break, we stop at a friend of our guide. So, as it is New Year: he offers us some shots of Ruou Ngo, a typical corn alcohol of the area! The taste is not great but it has the merit to put us back in good shape to walk to the village of Mr. Hung. Anyway, it's not as if we had a choice, because it's not very popular to refuse a drink in Vietnam…
Homestay at mister Hung
We arrive at the village of our guide at the end of the afternoon. His wife is making tofu. We look at that attentively because it is the first time that we can observe someone making homemade tofu! It comes well, it is for the meal of this evening. Yummmm!
As it is always the period of the Tet, mister Hung installs us on his small terrace just to drink the aperitif. And here we go again for a long (even very long) series of shots of this Vietnamese moonshine. In fact, we are not going to stop drinking until we go to bed! Between two drinks, we meet the wife, the daughter, and the parents of the guide. They are all very nice and put us immediately at ease (that helps with some small drinks!).
The long-awaited moment of the meal arrives! The wife of our guide has concocted a feast worthy of a restaurant. Fresh or fried tofu, vegetables from the garden, sausages, spring rolls… We are really spoiled! The atmosphere is great and we take advantage of these privileged moments we have with this family. After eating, Fabienne has even the honor to try the traditional wedding dress of Mrs. Hung. Besides, it fits her like a glove. After the last shot and a group photo, we go to bed with the head which turns a little but is filled with beautiful images.
Day 2 of the trek
A difficult awakening
The next morning, I get up early to make the tour of the neighborhood with mister Hung (Fabienne is still sleeping, of course). We must simply buy some eggs for breakfast. We walk therefore 15 minutes to go to one of his neighbors. As it is always New Year, we have the right to drink a small glass of homemade Ruou Ngo… After the evening of the day before, I assure you that it was not easy to swallow this one, especially since it was 7 a.m.! Fortunately, we had the right to a great breakfast afterward to soak up all that!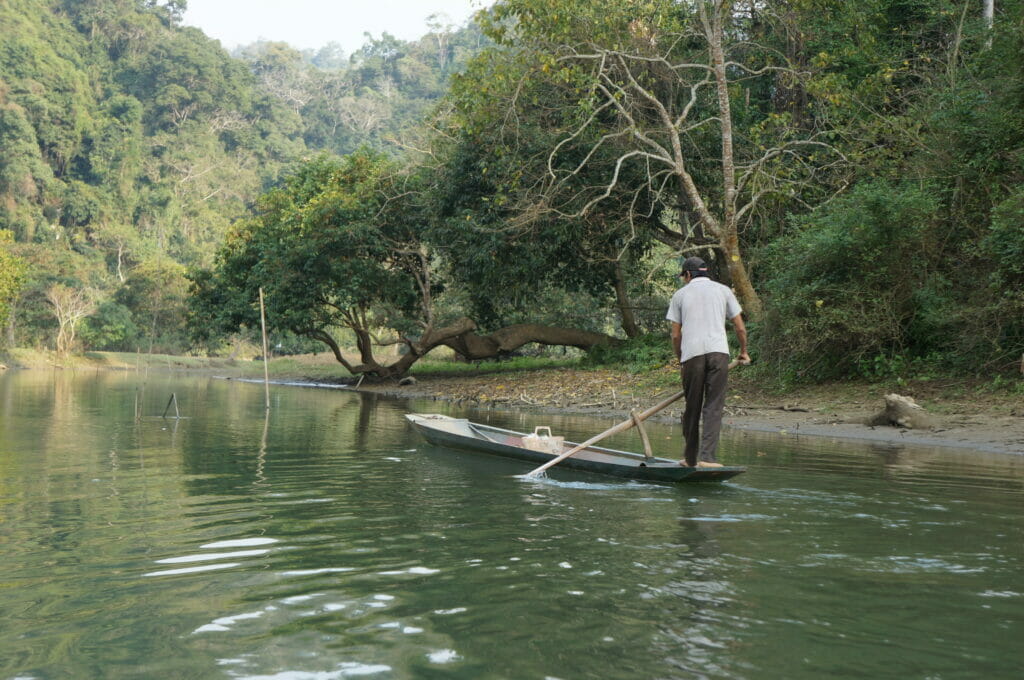 On the water
The program of the day is a little less tough than the first one. Indeed, we have to go down about 10 km to the Nang river to finish quietly by boat (phew!). The observed landscapes are as magnificent as the day before and we meet again a lot of locals. Some young girls in traditional dress (to flirt!) even made try their clothes to Fabienne. A good part of fun, especially when we know that we don't really have the same morphology in Europe!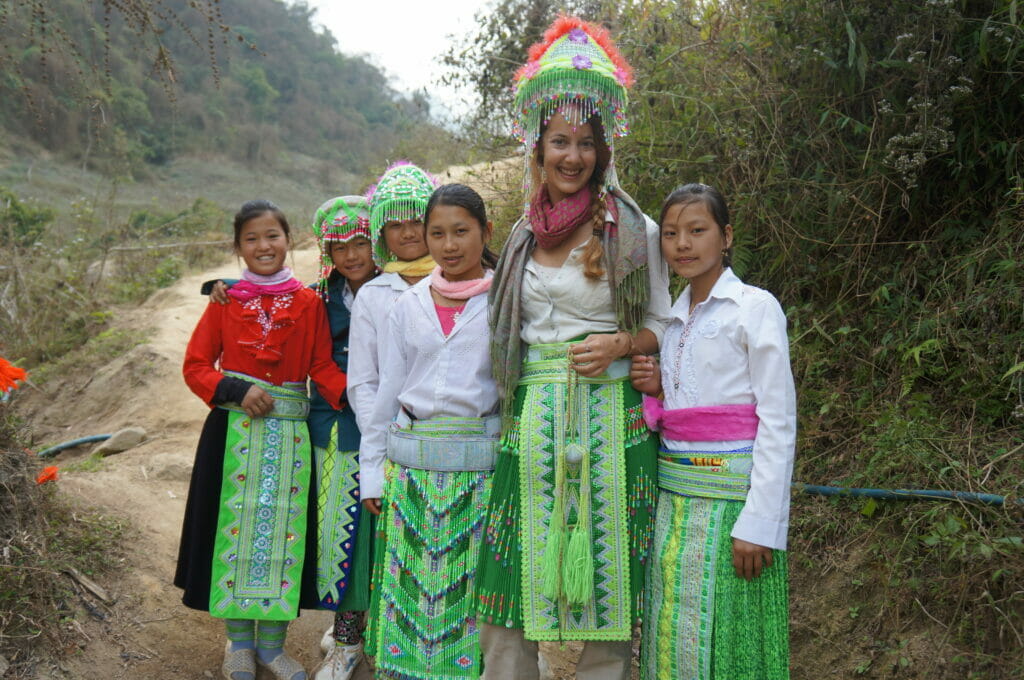 Arrived at the Nang river, we embark on a boat that must bring us back to our starting point. While crossing the Ba Be lake, we stop to see the Dau Dang waterfall and the pretty Puong Cave (Dong Puong) where some buffalos were cooling themselves. We make the last stop at the An Ma temple, built in memory of historical characters and the Mac dynasty, before returning to Mr. Linh's house. The walk lasted all afternoon and was pure happiness for the eyes!
Review of our trek in the north of Vietnam
As you could see, we spent unforgettable moments in Ba Be National Park. We met wonderful people who wanted to share the secrets of their region with the few tourists who pass by. This 2 days trek was quite drunk (thanks to the Tet festival) and we met incredibly welcoming locals!
Thanks to the Linh and Hung families, we discovered a facet of Vietnam that we had been avoiding until now. We will be forever grateful to them for welcoming us and sharing a bit of their culture and customs. Even if Vietnam is a country full of splendid places, it is not necessarily obvious to have this kind of exchange with the inhabitants. Most of them are still used to being around visitors…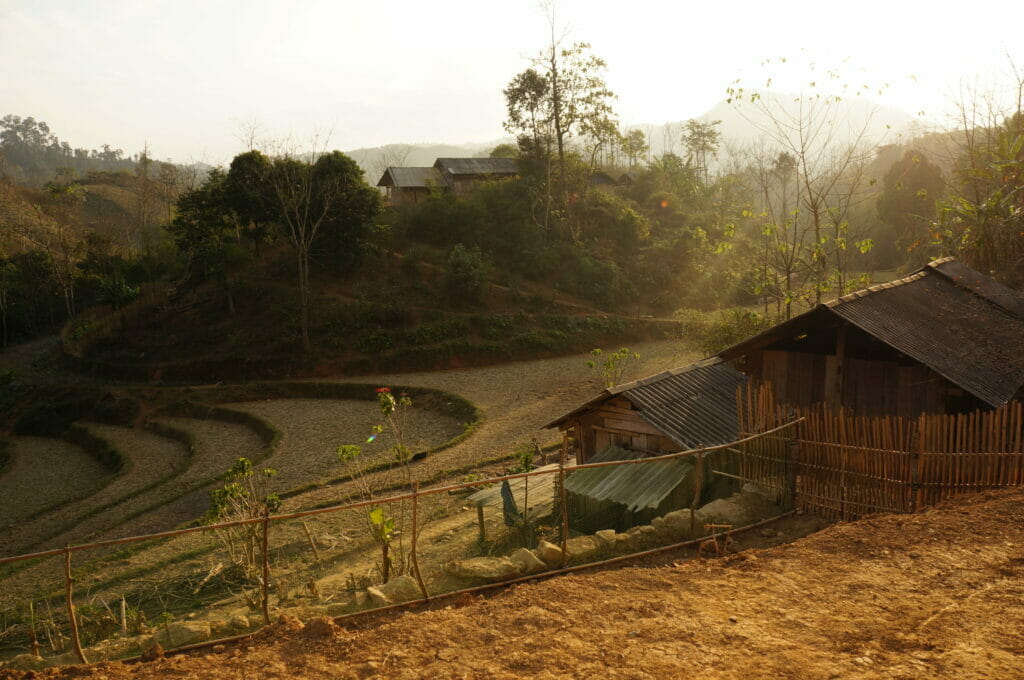 Thanks to them for being more than just hosts or guides! We wish them to keep this desire to share their region with tourists for a long time. If you are passing by, you now know who to contact 😉.
Did this make you want to explore Ba Be?
For us, the trip continues in the north of Vietnam, another trek awaits us in Sapa this time!
Pin it