You probably guessed it, but we loved Vietnam, so much that we extended our visa for 30 days during a stay in the capital of the country, Hanoi! After Mai Chau, we were really looking forward to exploring more of the north of the country. While waiting for our precious sesame, we traveled for a few days to the Vietnamese capital. So we concocted a very complete guide to visiting Hanoi! Are you ready for the visit 😉?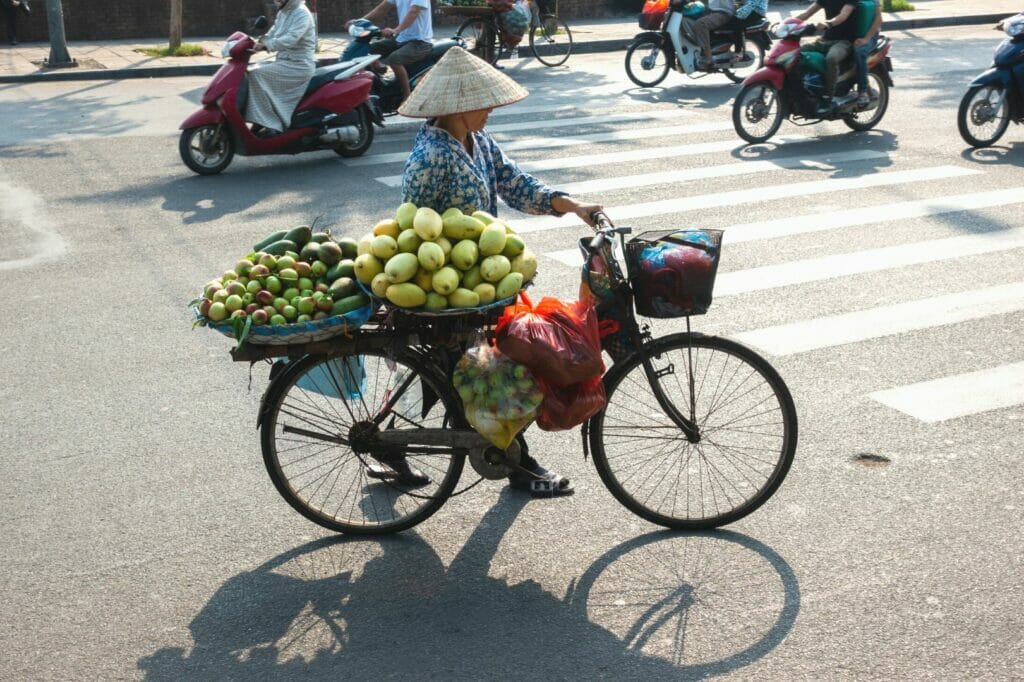 Update 2022
We took this trip in 2014, but the article was completely revised and updated in November 2022. If you see any price changes or have additional information that might be relevant, please feel free to leave us a comment!
Welcome to the Vietnamese capital!
I think that the first thing that strikes you when you set foot for the first time in Hanoi, is that you have to be careful where you put them! Hanoi is a bit like Ho Chi Minh in terms of the joyful mess of scooters, but with narrower streets… This city that never sleeps overtook me a bit: too noisy, too many horns, too many people… But it still has some nice surprises!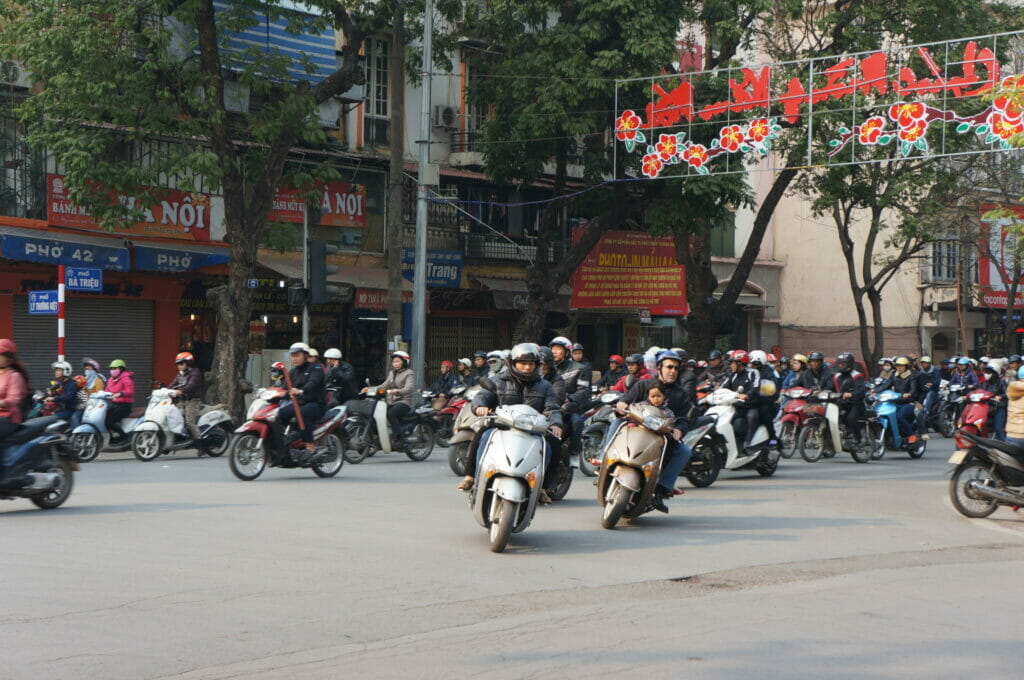 For your information, you should know that Hanoi (or Ha Noi) has more than 6 million inhabitants and almost as many scooters! But once in Vietnam, you get used to it quickly and you learn how to cross the street! For that there is no miracle, you just have to START! The first time you feel like trying a kamikaze operation, but in the end, you realize that it (almost always) happens by itself!
The golden rule to cross a road in Vietnam is to start by putting one foot on the road, then move forward by taking small steps! Don't panic when the scooters start to pass you on all sides! A second rule: NEVER go backward! Keep moving forward while trying to find the gaps in the traffic!
Getting to Vietnam
To get to Hanoi, there are not 10 000 solutions, but rather 3 actually: the plane, the train, or the bus! To give you an idea of the configuration, we made a small map of Hanoi.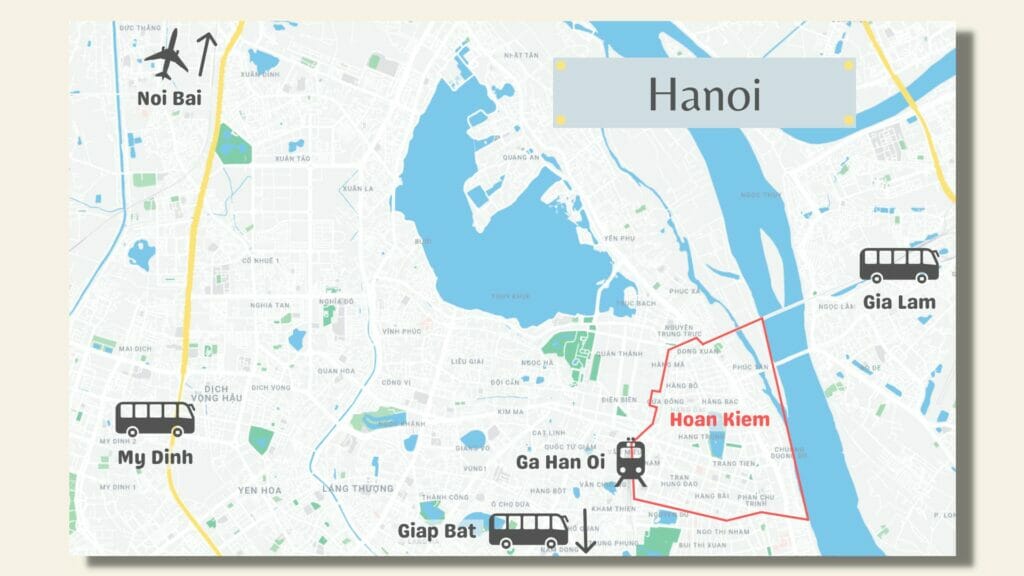 By plane
Whether you arrive by domestic or international flight, you will arrive at the only airport in the city, Noi Bai International Airport, located in the north of Hanoi. It should be noted that from Paris, flights are a little more expensive on average in Hanoi than to Bangkok… A Paris-Hanoi ticket costs on average between 700 and 800 euros. To pay less for your tickets, the best is to book them well in advance.
Noi Bai airport is located 30 km from the center of Hanoi. To reach Hoan Kiem (the city center or the old town), you have the choice between:
take a cab: count 400 000-500 000 dongs for a ride to Hoan Kiem. Beware of the scams mentioned below!
take the bus: bus line 86 leaves every 20 minutes to take you to the center. Its terminus is the Hanoi train station, at the edge of Hoan Kiem. If you have any doubt about your stop, ask the driver, he speaks English! Count 35 000 dongs per person.
borrow a shuttle from the airlines: Vietjet Air and Vietnam Airlines have set up a shuttle system to the center for 40 000 dongs each, even if you have not traveled with them. You can't miss them at the exit of the terminal, they are very colorful.
As you can see, taking a cab from the airport to the center of Hanoi is not the best solution, financially speaking. Buses and shuttles are well-equipped… and cheaper!
Warning: If you have booked a hotel in Hanoi, the hotel may offer to pick you up at the airport, often around 20 dollars, or 500 000 dongs… You might as well say that the price is a bit excessive and that an alternative exists 😉.
This article contains affiliate links to partner sites. When you use our links to book accommodation, a car, or an activity, you don't pay anything extra, but we get a small commission. This helps us to offer you free, independent, and ad-free content. Thank you for your support!
By train and bus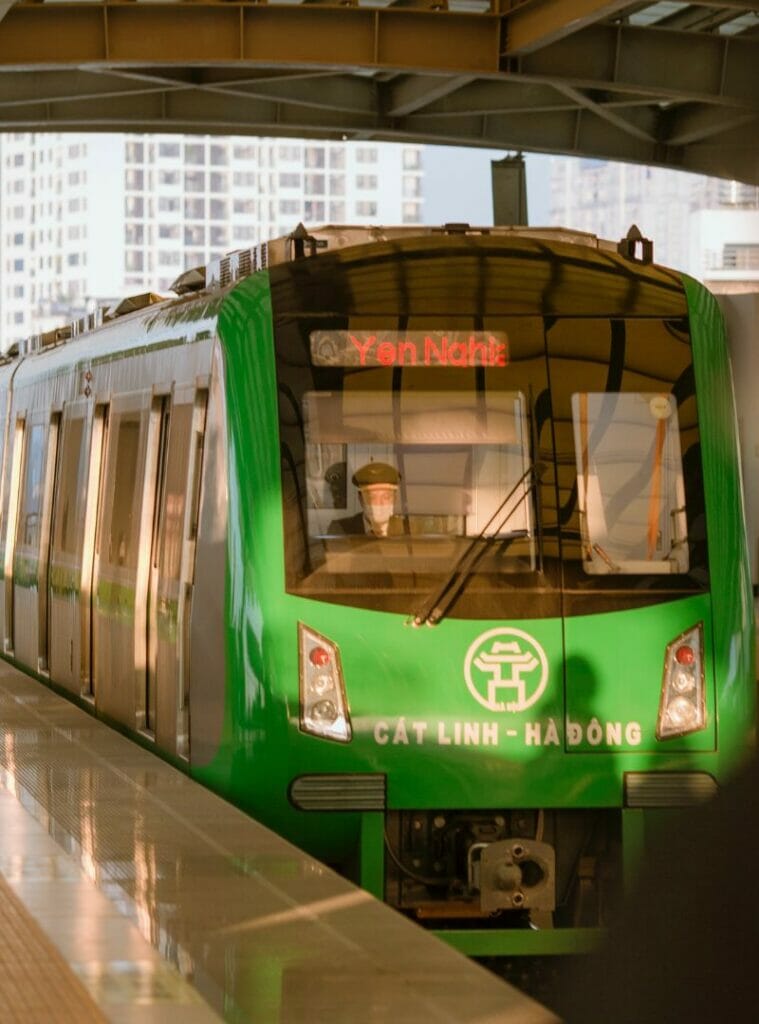 If you are already in Vietnam, you may arrive by train or bus, either from Sapa, Ninh Binh, Dong Hoi, or Hue.
Good news: the train station (Ga Ha Noi) is located in the center of Hanoi, at the edge of the Hoan Kiem district! From there, you can take a cab or walk depending on the location of your hotel.
If you are coming from the south of Vietnam, there is a good chance that you will arrive at Giap Bat bus station, in the south of Hanoi. The My Dinh bus station, west of the Vietnamese capital, mainly serves the northern cities (Mai Chau, Lai Cao, Cao Bang). Finally, the bus station of Gia Lam, in the northeast of Hanoi, is home to buses going to the east, to Halong Bay. As they are quite far away, you will have to take a cab or a bus to reach downtown Hanoi.
Getting around Hanoi
Getting around Hanoi is not necessarily an obvious thing, especially since we did not find a detailed map of the city… By the way, you will find at the bottom of the article, a complete map with all our good addresses 😉.
In Hanoi, getting around by road is sometimes a bit chaotic! To get from point A to point B, you have roughly 6 options:
The scooter
Well, I put this option here because it is possible to rent a scooter in Hanoi. But honestly, unless you have Vietnamese blood and a good dose of courage, and a bit of unconsciousness, I don't really see why you would want to do that!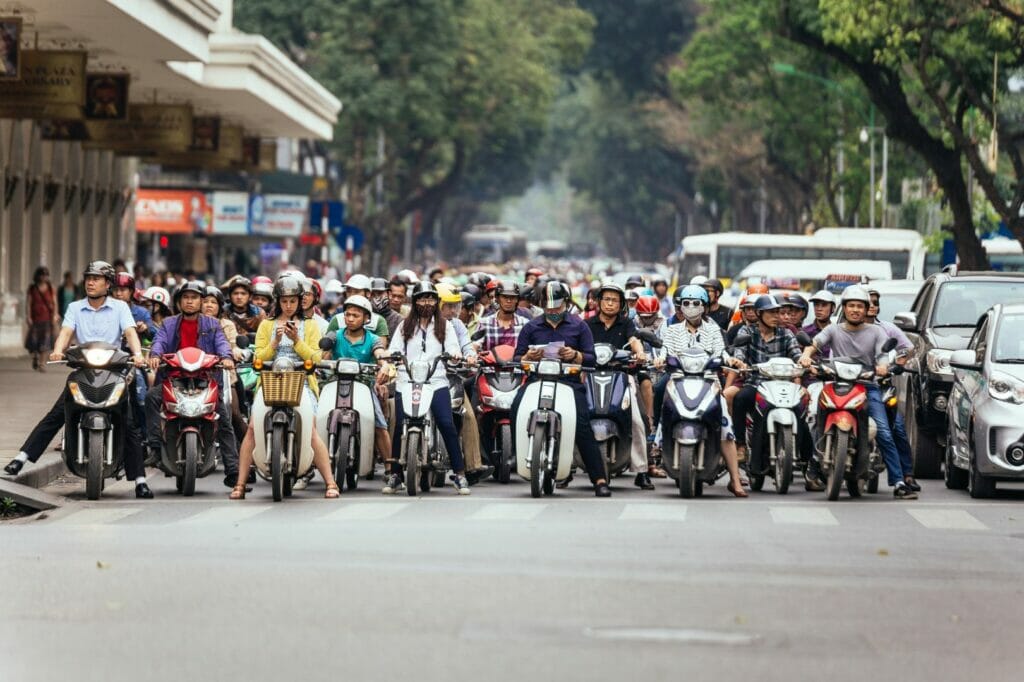 The taxi
This is probably the most comfortable option, but not the fastest, and especially a trap door for scams! We often hear that if a cab accepts to put the meter, then we are all good. Well… It is valid for many Asian cities, but not really in Hanoi. You should know that many cabs have fake meters! Between those who count 800 m as 1 km, those who apply an obscure price list, those who work normally and who, at 1 km from the destination, go up dramatically… Not to mention the unscrupulous drivers who will make you go around the city 18 times before taking you where you want to go, the scams are multiple!
To avoid being ripped off, try activating the GPS on your phone to see the route taken. If you feel that the meter is getting too high for your liking, change cabs! Some big companies, like Mai Linh (green cabs), are known to be more correct. Yeah… To be proven!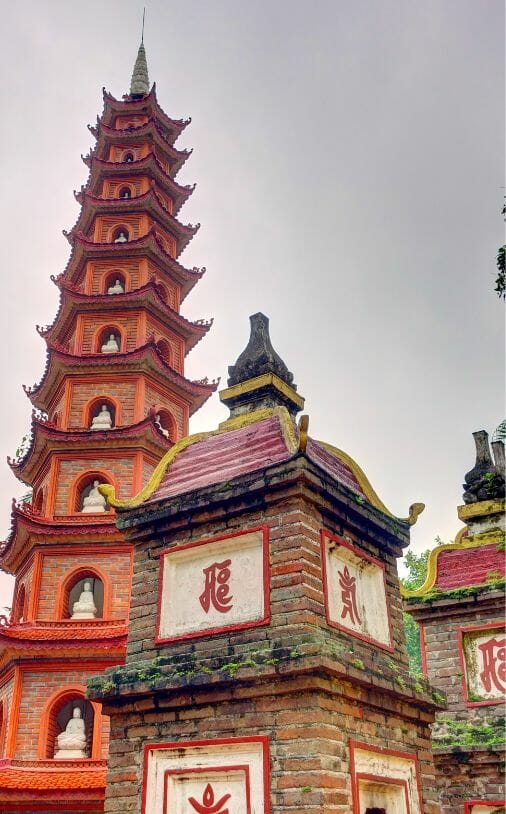 Motorcycle taxis
You'll see that you won't be 3 meters away from your hotel when someone will have already approached you: "Sir! Motorcycle?". If you decline, don't be surprised to be offered other services (marijuana, girls…).
But let's skip the multiple facets of the profession and get back to the initial idea: getting around Hanoi! Motorcycles are probably the fastest way to get around. However, it is also the occasion to test one's heart capacity for westerners! Slaloms between cars, red lights, driving the wrong way, and even passages on the sidewalk if the road is too busy are part of the ride! In short, try it once but honestly, I'm not a fan!
The public bus
Taking the bus in Hanoi is not necessarily something easy if you spend only a few days there because of the number of lines. The lack of indications and especially of maps at the stops doesn't make it easy either. But if I had to mention only one useful line, it would be bus line 34. It connects the bus stations of Gia Lam and My Dinh while passing by the old district.
However, be prepared: the bus is probably the slowest way to get around because of the heavy traffic in Hanoi! But it is certainly the cheapest: a ticket costs between 3000 and 5000 dongs depending on the line!
The rickshaw or cyclo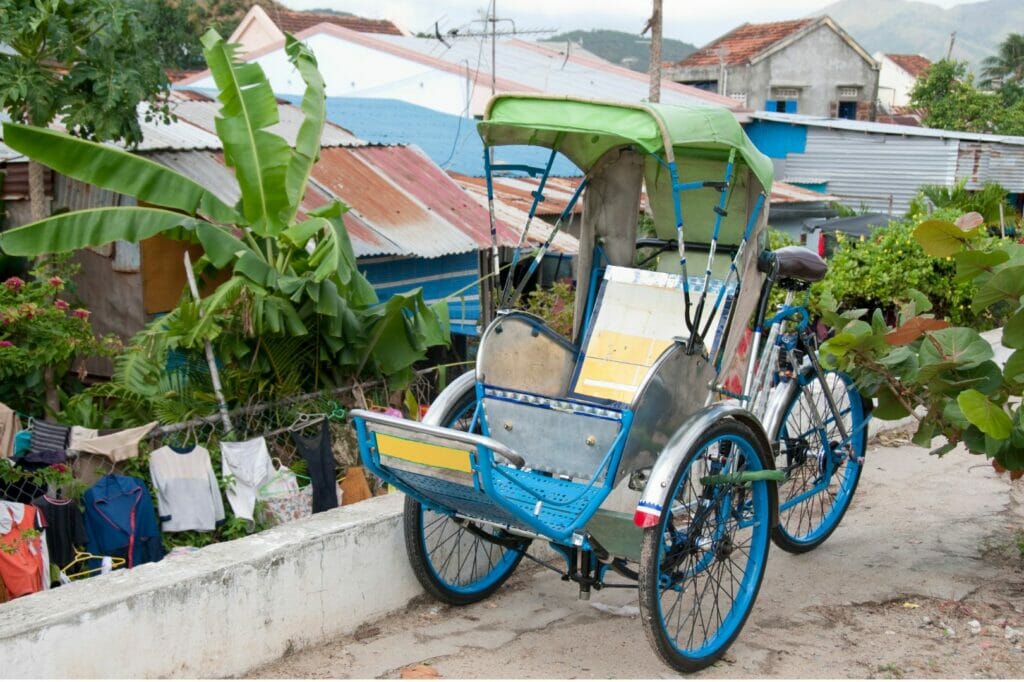 We confess that we preferred to walk rather than take this emblematic means of transport of Hanoi… For 150 000 dongs, you will make a 1-hour cyclo tour through Hoan Kiem. Beware: scams in cycle rickshaws are as frequent as in cabs, so don't hesitate to agree on the price before the ride!
On foot!
During our little stop in Hanoi, we did everything on foot, with more than 20 km some days! Beyond training you to cross the roads in kamikaze mode, this way of moving also allows you to fully take the pulse of the city by crossing the numerous districts. In short, we love it!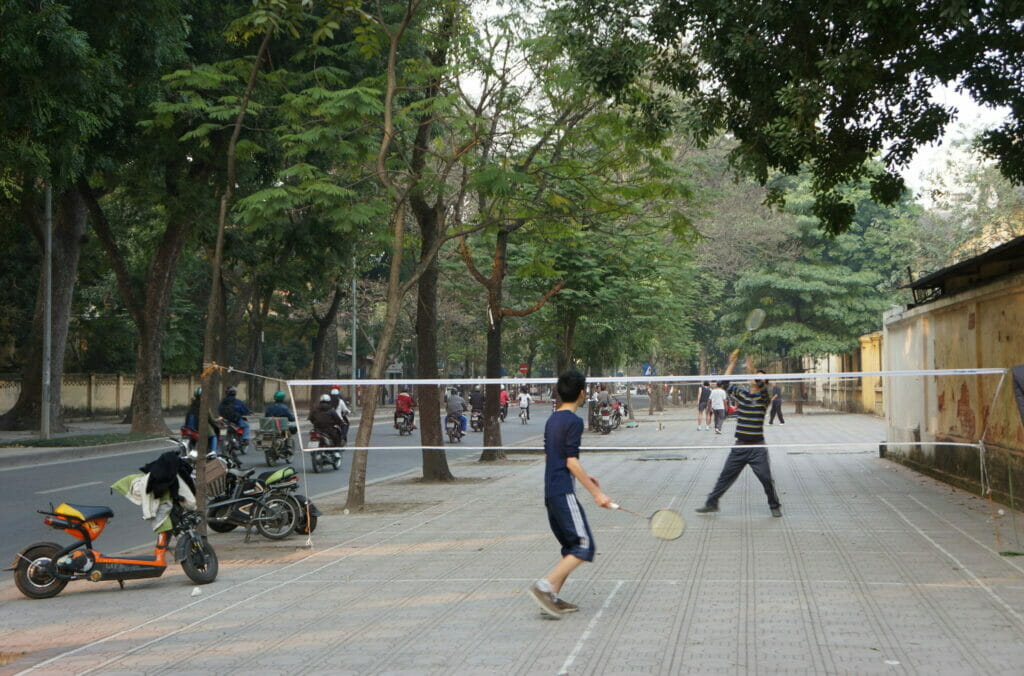 However, this is not the most relaxing option: sidewalks are a rather vague notion in Hanoi… When there are not 30 scooters parked on them to block your way, it's an improvised café, a street food stand, fruit sellers, or even Vietnamese people who organized a badminton game in the heart of the city.
Finally, it is largely on the road that we advance in Hanoi. At the same time, since scooters also drive on the sidewalks, it doesn't change much!
Things to do in Hanoi
Take a walking tour
If you have been following us for a while, you know that we are fans of walking tours! The concept? A guide takes you on a walking tour through the city to share all its secrets. It's a free tour but based on tips. Because of this, the guides are often very motivated and extremely knowledgeable about the city! Most of the time, we do it at the very beginning of a trip, because we usually leave with a good historical background and lots of ideas for visits. Book a walking tour through Hanoi.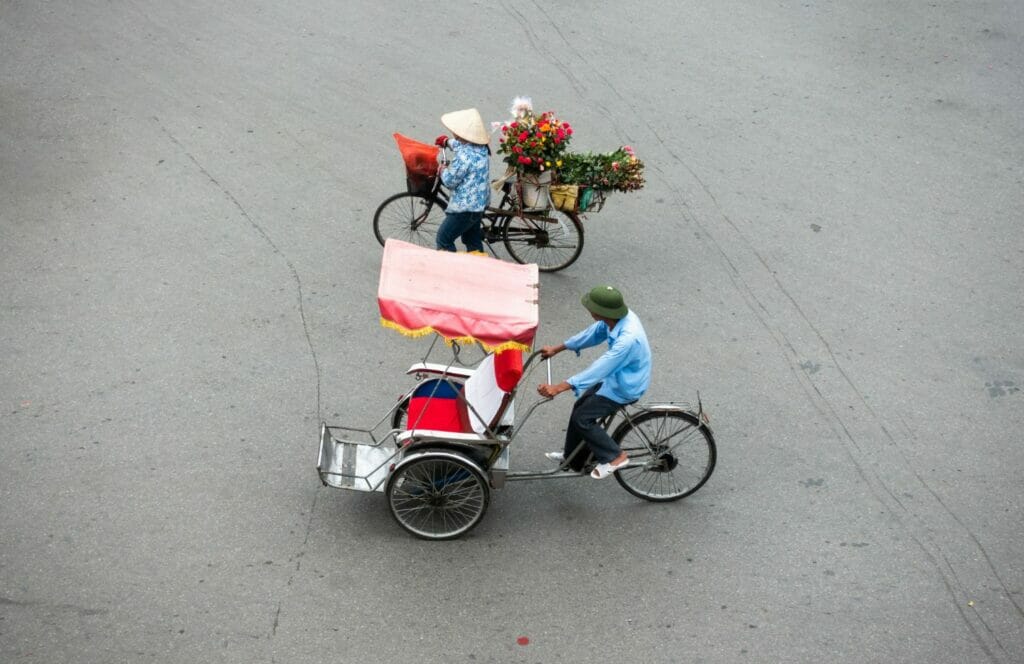 Walk in a park or around a lake
As you can see, the traffic in Hanoi is a bit of a jungle, and you can feel oppressed by all the roaring engines, the constant horns, and the motorcycle cabs. So, discovering one of the many parks and lakes of Hanoi is a great way to relax a bit!
Hoan Kiem Lake or Lake of the Restored Sword
Hoan Kiem Lake is probably the one you'll see the most if you stay in the Old Quarter and also the one with the most character, I think. It's big enough to get away from the hustle and bustle of traffic. Also, it is small enough to walk around it in less than an hour, while stopping for a Vietnamese coffee on one of the terraces along the lake. It also contains the Ngoc Son temple, a nice little Confucian temple (30 000 dongs entrance fee).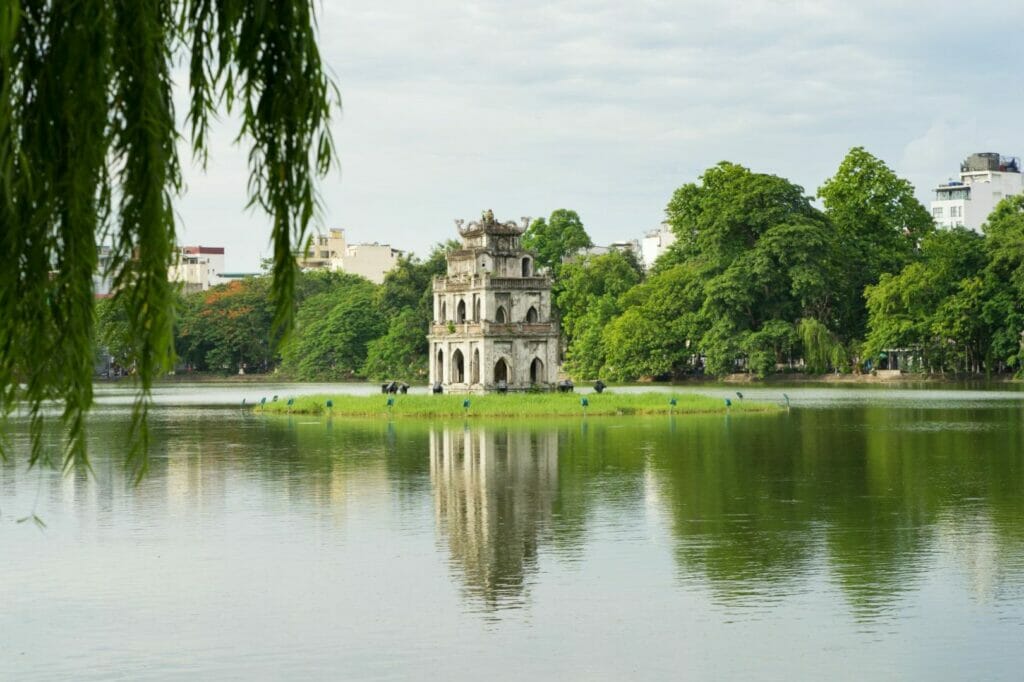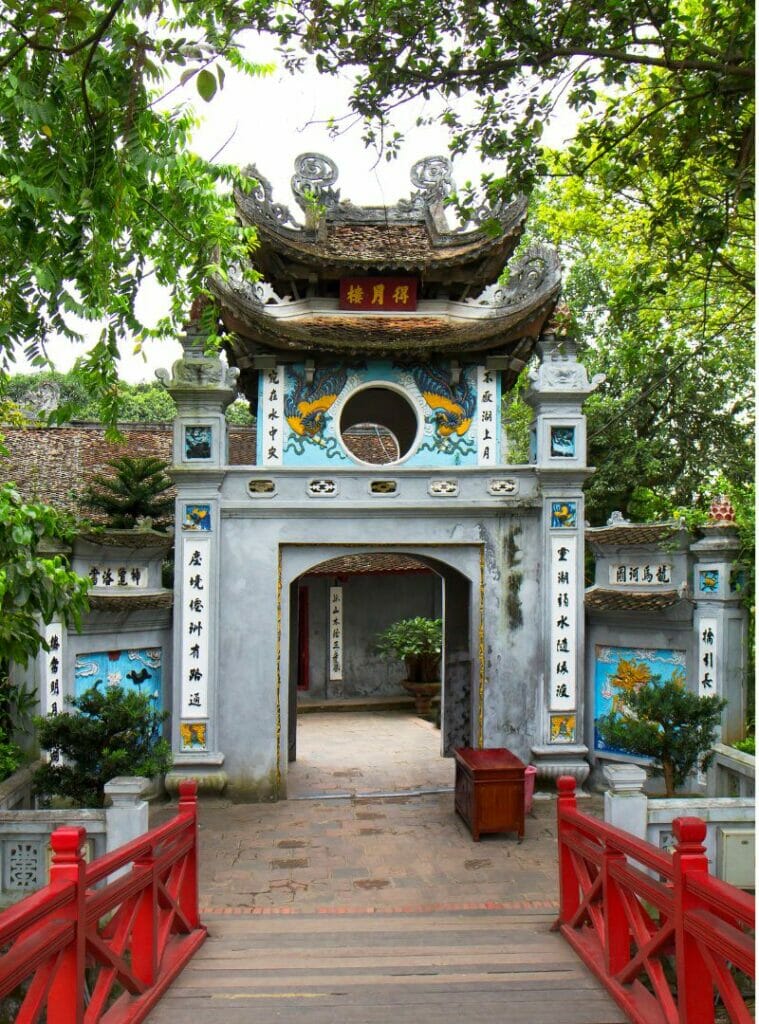 Ho Tay Lake or West Lake
The West Lake is an ancient dead branch of the Red River and is the largest lake in Hanoi. Impressive by its size (5 km2), we liked the slightly retro, almost abandoned, aspect at the water's edge. We had lunch on one of the boats. Well, the food was poor and the waitress tried to charge us double. So, we don't recommend it too much, but for a coffee or a coke in a 100% retro atmosphere, why not!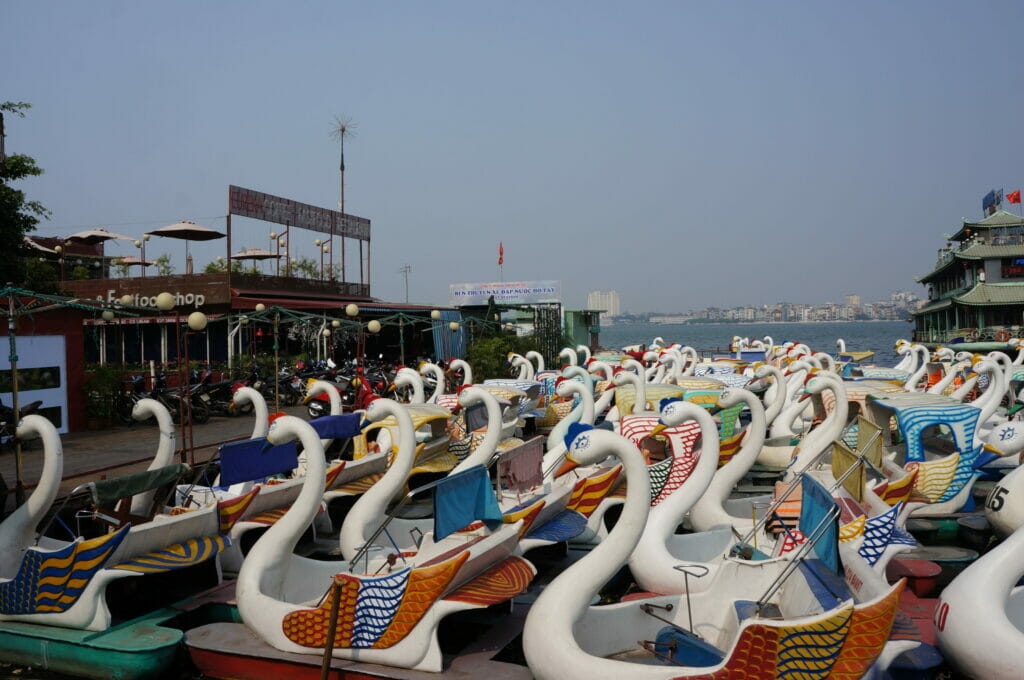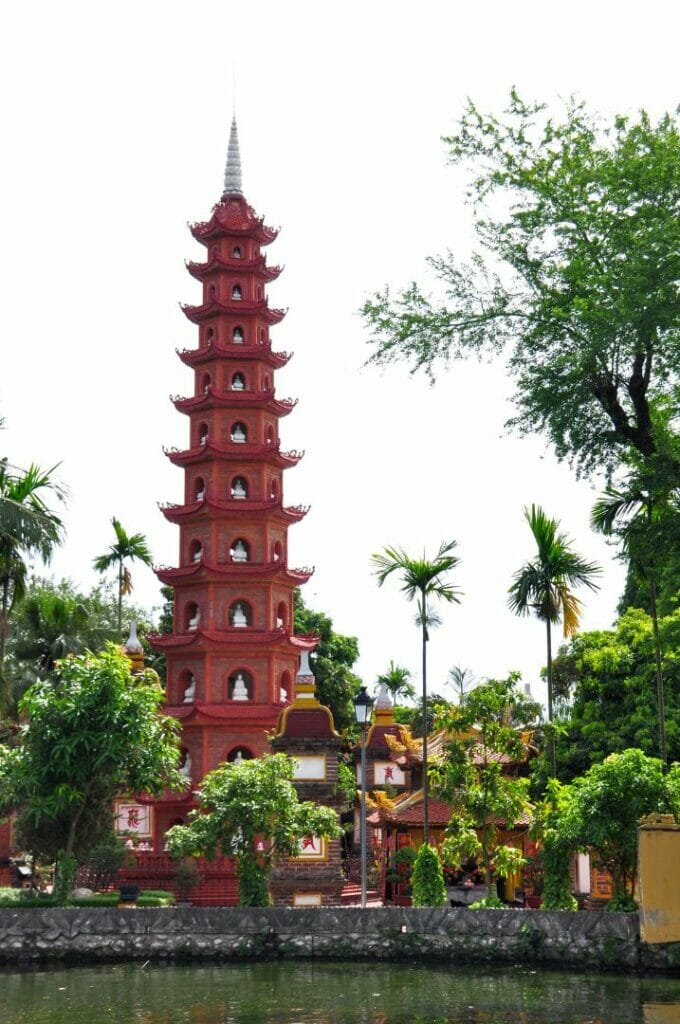 On the other hand, the famous Tran Quoc pagoda is located on Ho Tay Lake. It is not possible to visit it, but it is an opportunity to take nice pictures in the daytime as well as at nightfall.
Bay Mau Lake
It is not so much the Bay Mau Lake that is worth a visit, but more the Thong Nhat Park (or Reunification Park) that surrounds it! Once passed the gates of the garden, we find ourselves immersed in an atmosphere that reminded us of a lot of Chinese parks: everyone dances, runs, does fitness, rollerblades, plays badminton, and enjoys the few rays of sunshine that pierce the smog …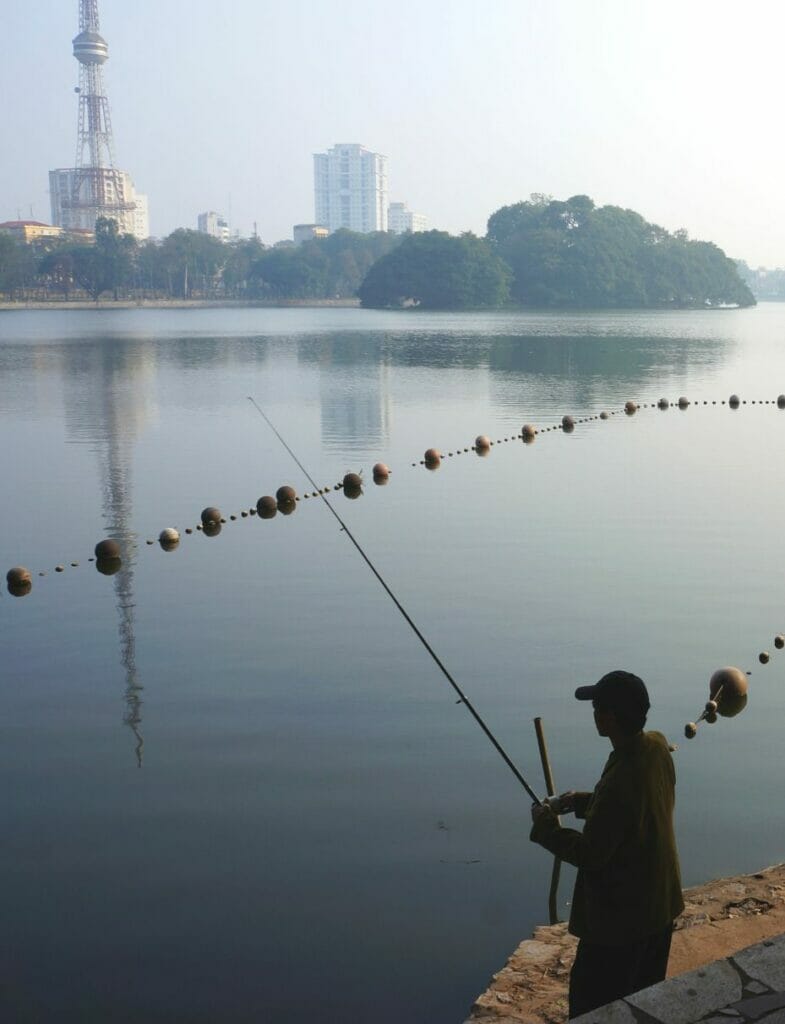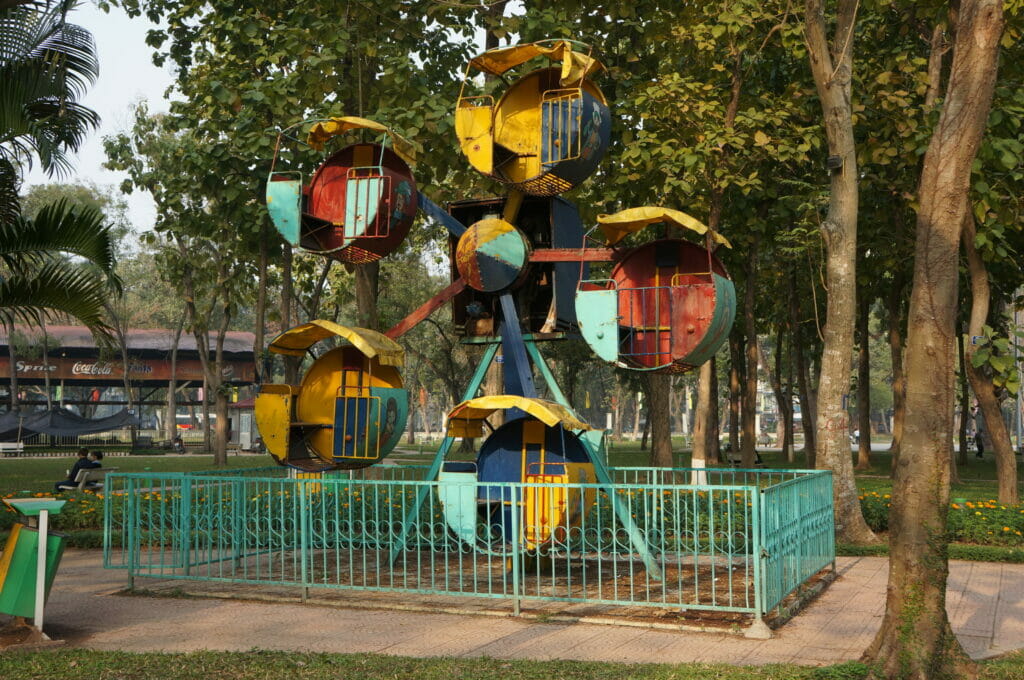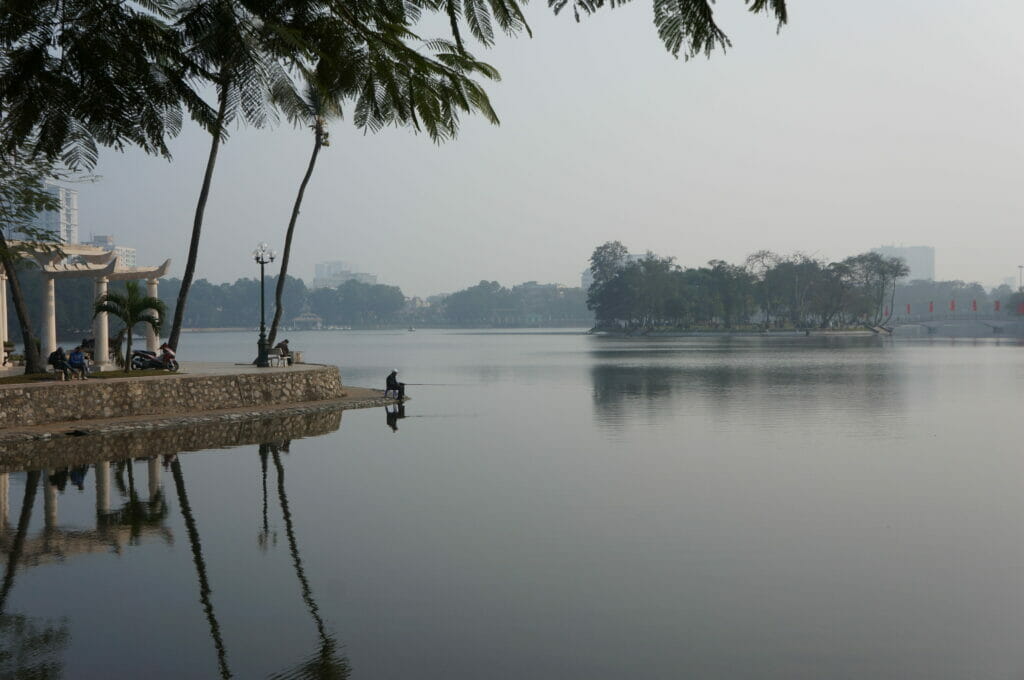 On the other hand, you will have to pay an entrance fee of 4000 dongs to enter Thong Nhat Park. It's not expensive, we agree, but we didn't see any Vietnamese paying… Let's just consider that it's a small price to help with the maintenance of the park and not another tourist scam… Even if it's a mini-scam, it's worth it!
Visit a museum
Like any big city, Hanoi has many museums. To be quite honest, the quality varies quite a bit! Here is a small overview of the museums we visited and what we thought about them…
The Vietnam Museum of Ethnology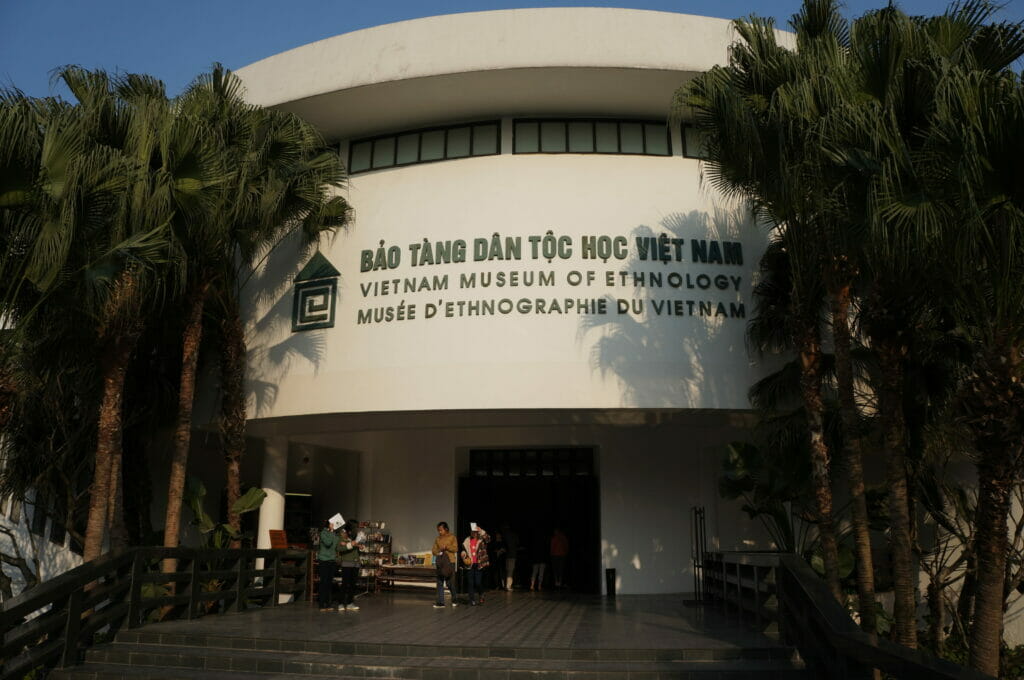 If you are interested in the culture and history of the ethnic minorities of Vietnam, then don't miss this museum under any circumstances! In fact, it is not only a museum in which are exposed many objects coming from different ethnic groups, but it is also a huge park in which the houses have been reproduced identically!
The explanations in English throughout the visit are detailed and really interesting! Some advice: avoid going through an organized tour and go there by yourself without time constraints! We spent more than 3 hours there and did not read everything! Some guides allowed their group to stay 40 minutes in the museum and 20 minutes in the park… We were a bit worried for them!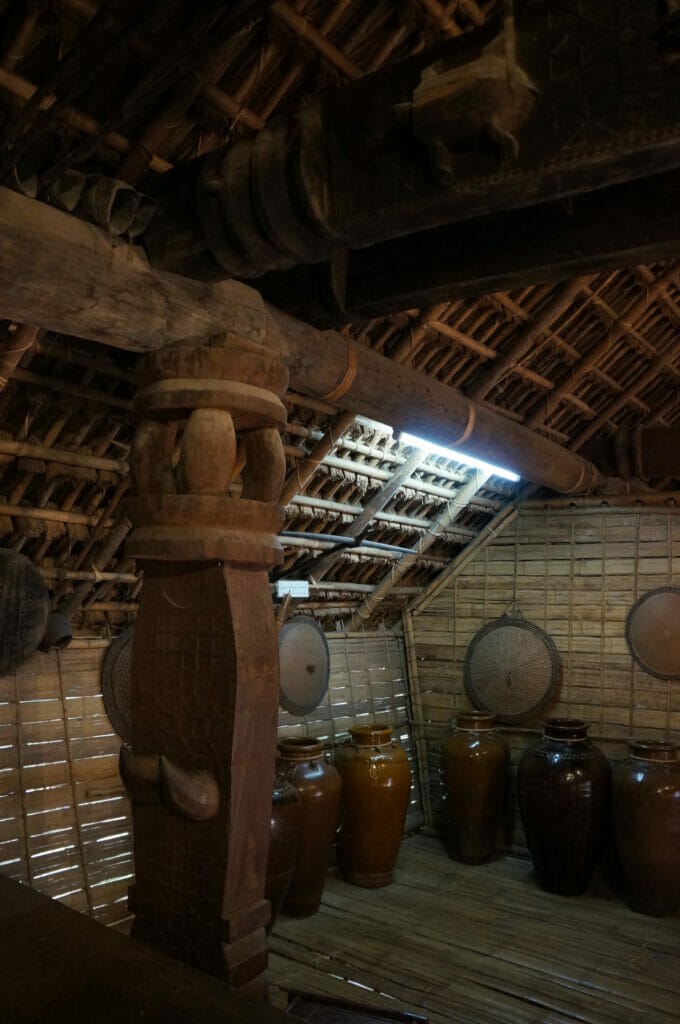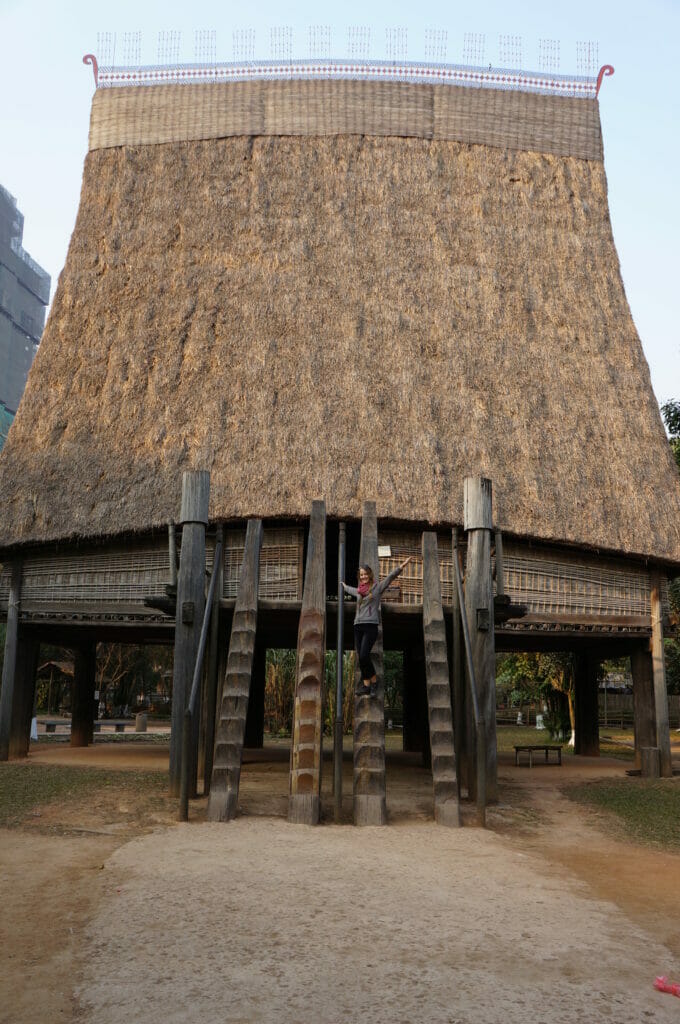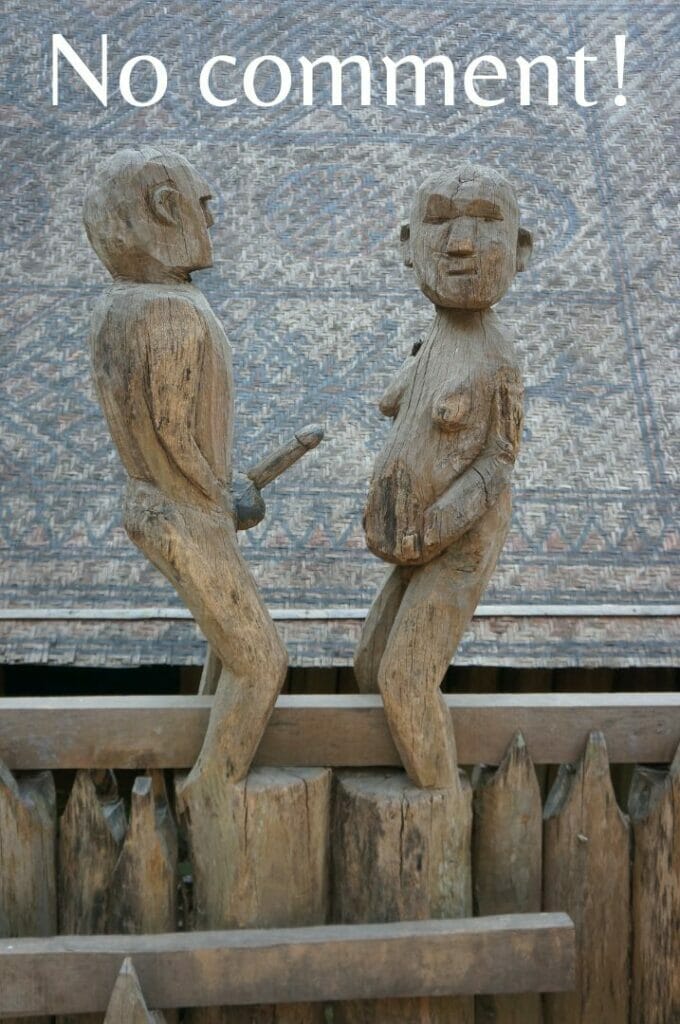 Practical information
The Vietnam Museum of Ethnology is open every day except Monday, from 8:30 am to 5:30 pm. The price of a ticket is 40 000 dongs per person. To get there from downtown (Hoan Kiem):
Bus line 14 which runs north of Hoan Kiem Lake, stops nearby (Nghia Tan stop). The price of a bus ticket is 5000 dongs.
By cab, count about 130 000 dongs for a trip from Hoan Kiem.
The Vietnamese Women's Museum
This is probably the museum in Hanoi where we spent the most time! The Vietnam Women's Museum is spread over 5 floors and traces the life of Vietnamese women over time, but also according to the different ethnic minorities. We found this museum extremely well done and well documented, with many explanations available in English.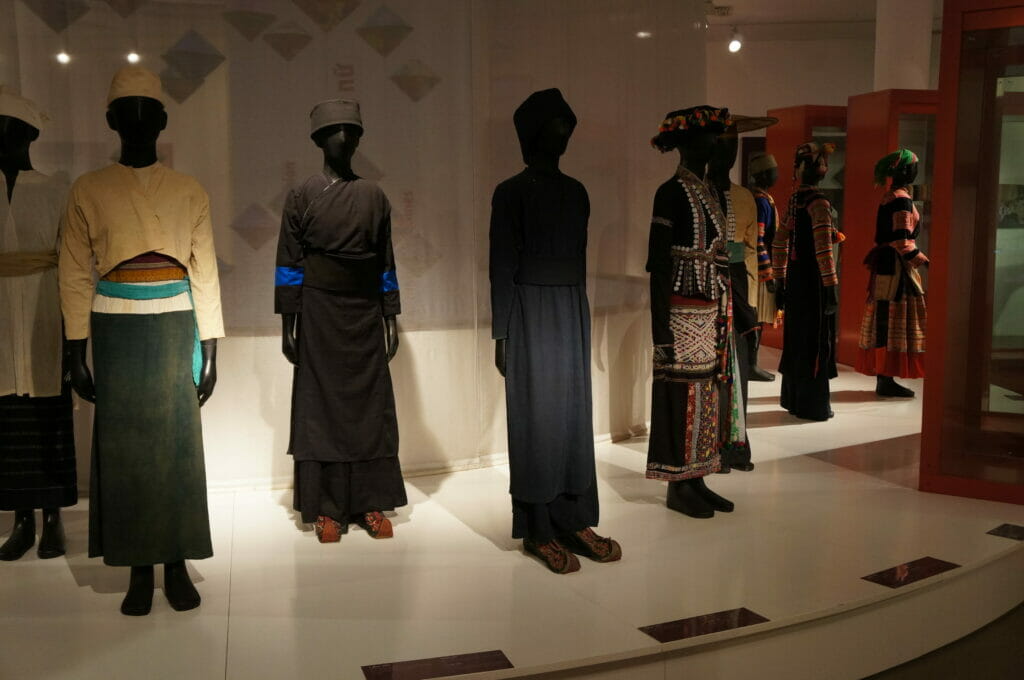 We also learn about the very important role of women during the Vietnam war, as well as the different rites and cultures of the minorities from birth to death and marriage.
The life of women in Vietnam
In the exhibition, a small documentary of 15 minutes touched us particularly. It explains a little bit better the daily life of the street vendors that we see everywhere in the city with their big baskets balanced on their shoulders.
The majority of these women come from the countryside. They have left behind their husbands and children to come to the capital to bring back a few dozen dollars at the end of the month to cover their daily expenses.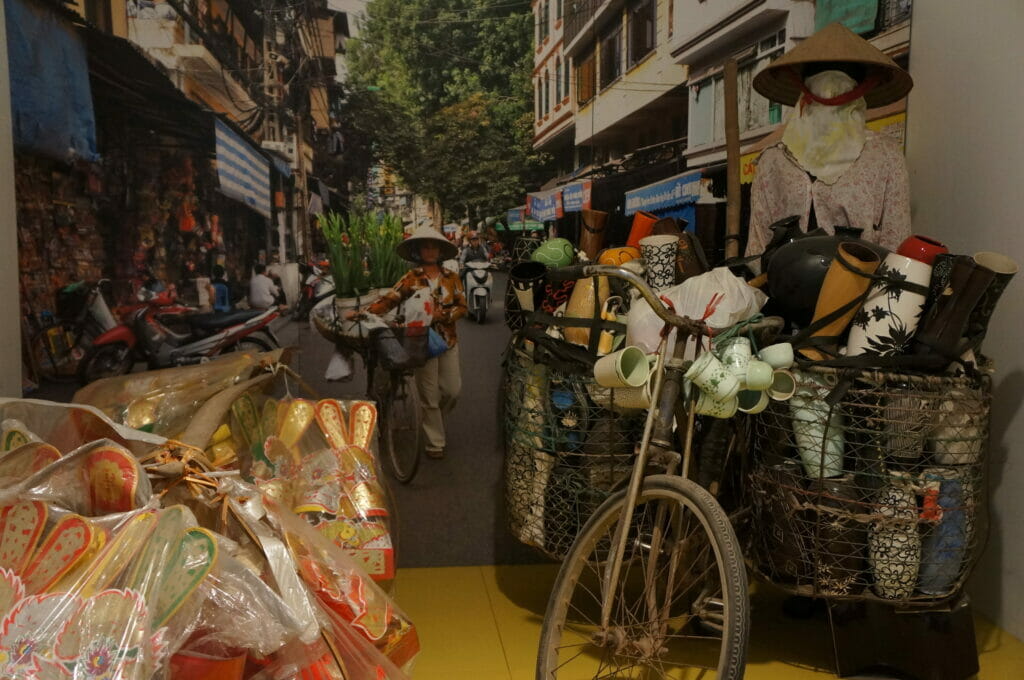 Very often, the Vietnamese peasants manage to feed themselves thanks to their crops, but rare are those who earn even 1 $ per day… Sometimes, a peasant will manage to sell one of these pigs, but his meager income is not enough to cover the current expenses…
As a result, the women come to Hanoi for one month and stay in totally unsanitary common rooms for $0.35/night. Then, they get up at 2 am to go buy fruits and vegetables at the market located outside the city.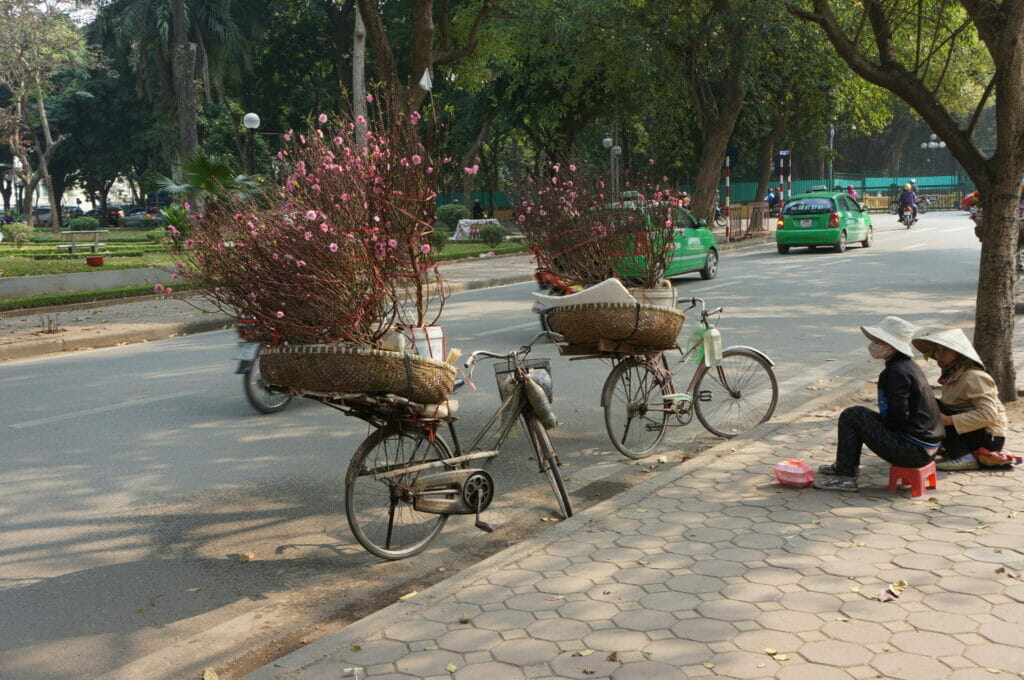 Around 6 a.m., they start selling their daily stock and will usually go back to bed once they have sold everything! So, working 7 days a week for 15-17 hours a day, they can go home at the end of the month with a profit of about $20. You might as well say that they make less than $1 a day in profit between their lodging to pay, the purchase of stocks, and the bus expenses.
When we left this museum, we decided to buy the fruits and vegetables directly from these women rather than in the mini-markets…
Women's Museum
The Vietnam Women's Museum is open every day from 8 a.m. to 5 p.m. An entrance ticket costs 40 000 dongs and you can rent an audio guide for 40,000 dongs. To get there, it's best to go on foot in our opinion, as it's close to the city center, Hoan Kiem.
Hoa Lo prison
Hoa Lo Prison was originally built in Hanoi by the French in the late 19th century. During the Vietnam War, the prison was used as a detention center for American soldiers and generals, including Senator John McCain. At that time, the prison inherited the nickname "Hanoi Hilton" about the hotel chain, which is purely ironic, because Hoa Lo was a place of torture to make American soldiers confess…
But during our visit, we realized that the Vietnamese had another interpretation of the nickname… Throughout the exhibition, we can see pictures of American soldiers walking freely in the prison, playing soccer, and cards while enjoying bottles of red wine. In all the pictures, the soldiers are smiling, playing with children, and seem almost in summer camp…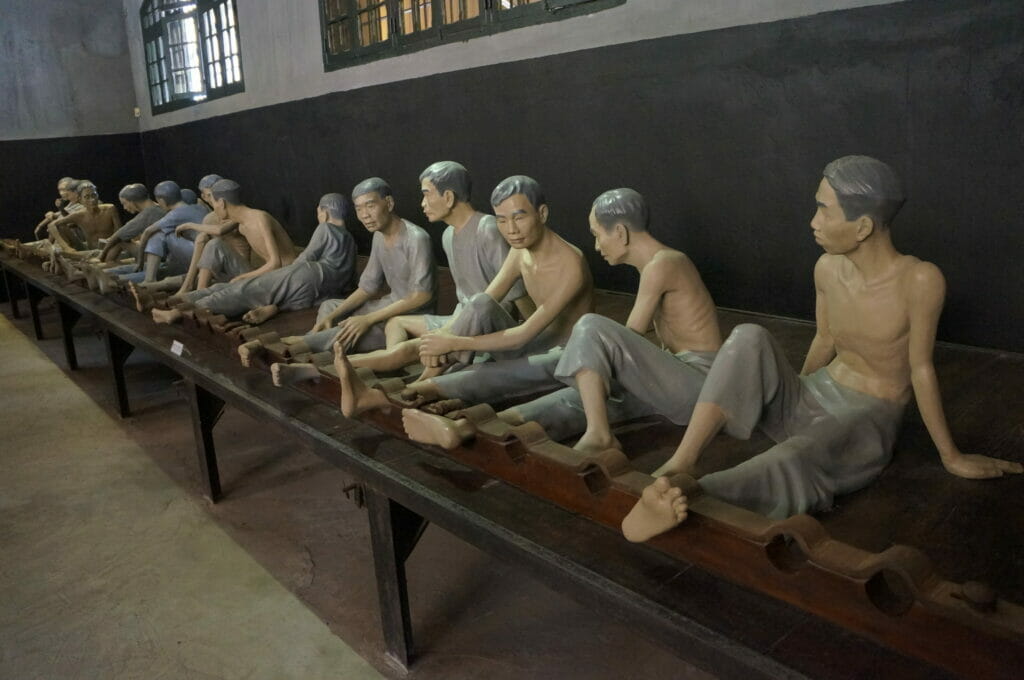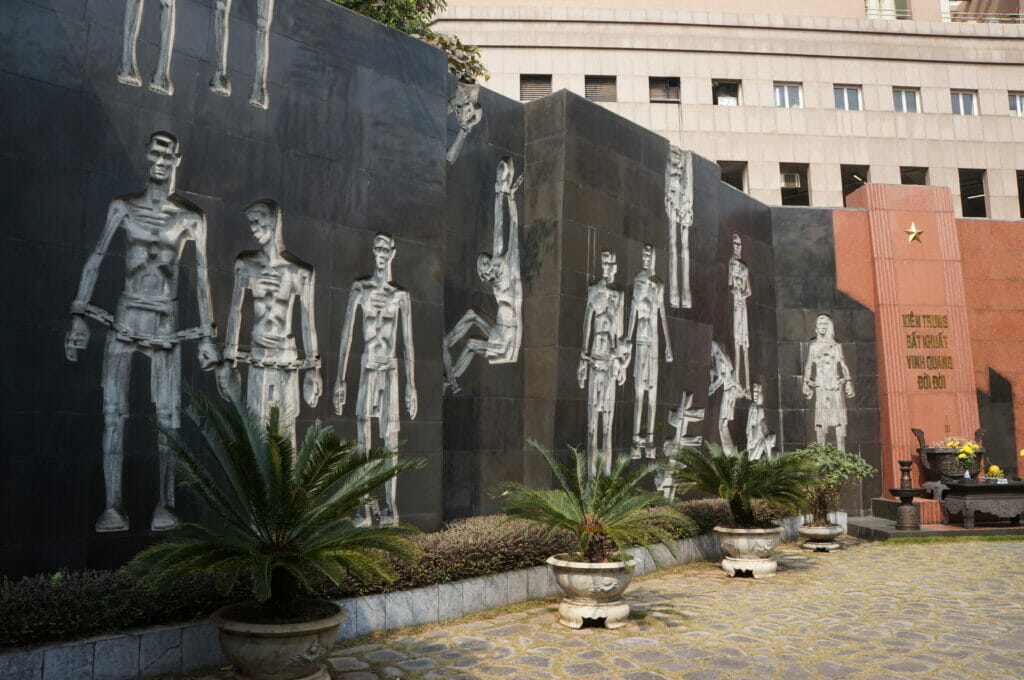 Honestly, it is not so much this contradiction in the interpretation of the nickname that bothered us, but more the general lack of structure and relevant information during the visit. We left with the impression that we were only told what we wanted to be told, and that's not much. After that, the fact that you are forced to follow a route in a stream of tourists who shout and make jokes at every turn does not help…
Hoa Lo prison
Hoa Lo prison is open every day from 8 a.m. to 5 p.m. The entrance fee is 30 000 dongs and you can rent an audioguide for 100 000 dongs. We went there on foot, it's about 10 minutes from Hoan Kiem.
Ho Chi Minh Museum and Mausoleum
Well, Ho Chi Minh Mausoleum is probably a must-see on the visit to Hanoi, but this little tour in the park left us a bit hungry. During the walk, we didn't find a single explanatory sign except for maybe one that said: "Here is a car that Ho Chi Minh used…", thanks, guys! In short, nothing very transcendent in there…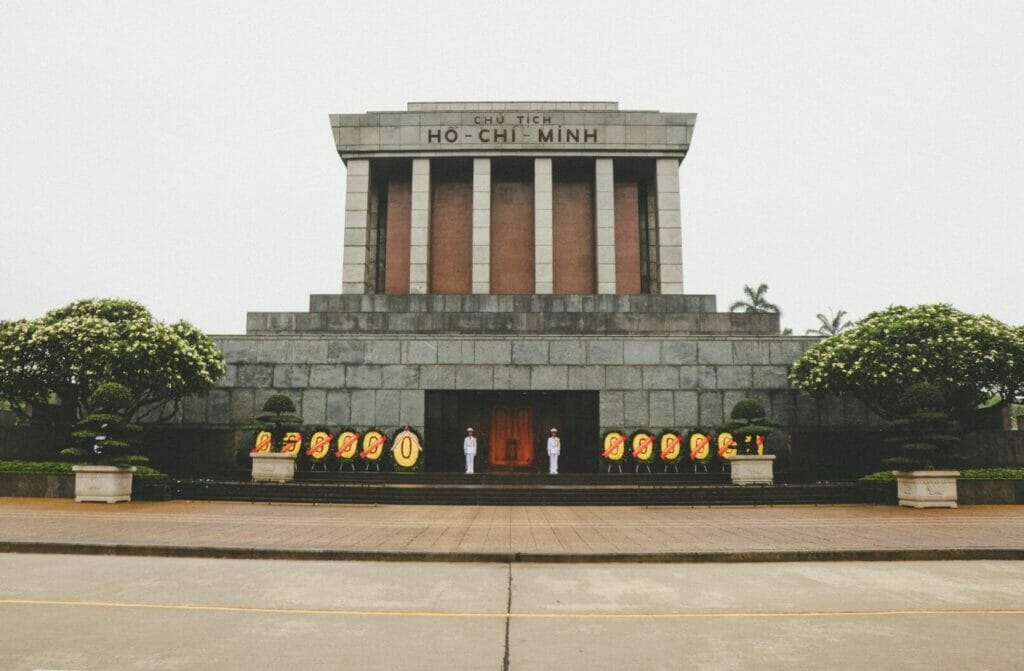 Our visit to the Ho Chi Minh Museum is probably our most WTF experience in Hanoi. Rooms follow one another with "works of art" each more bizarre than the other. They are supposed to represent abstractly the history of Ho Chi Minh without any indication… Sometimes, the explanation was there, but it only confirmed our idea that the creators of the museum must have been on acid when they set up the museum! In the end, we spent more than an hour there and learned NOTHING about the life of Ho Chi Minh. At least we had fun!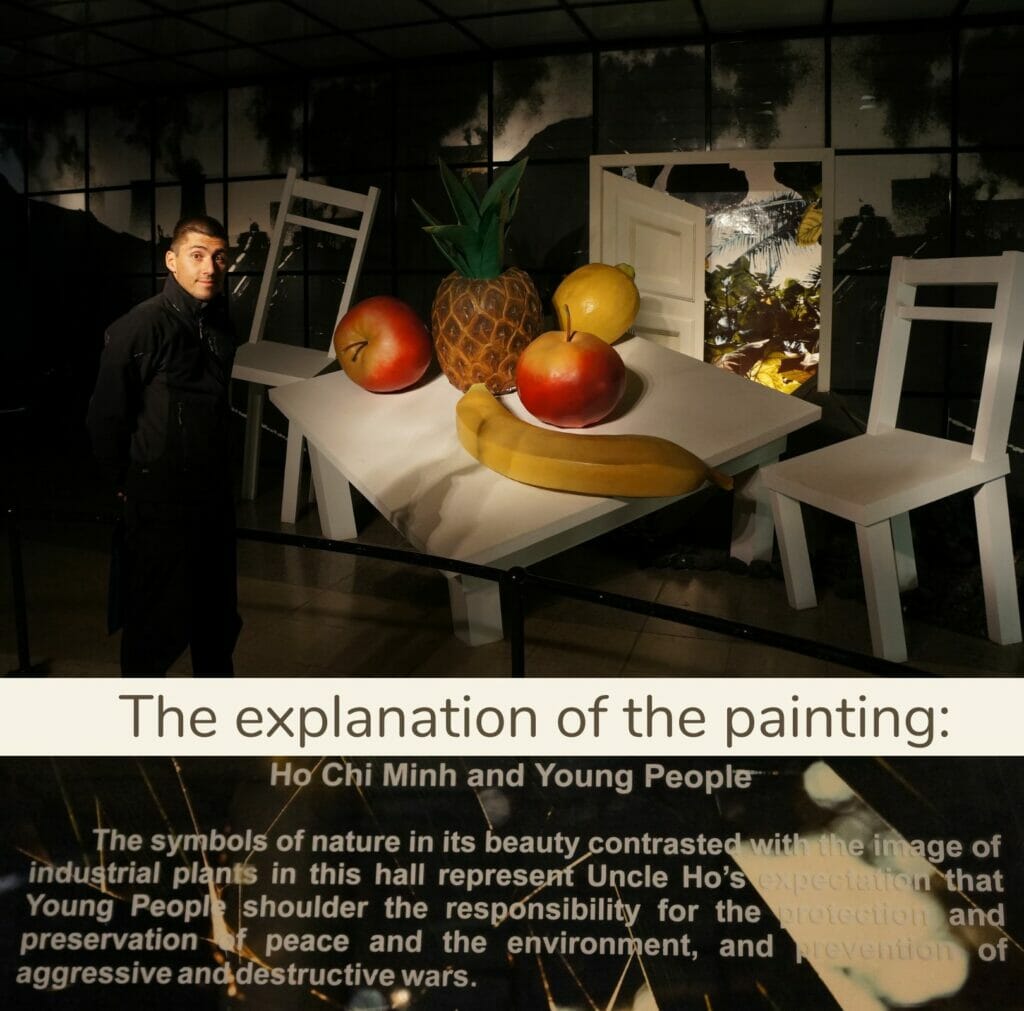 Practical information
The Ho Chi Minh mausoleum is open from 8 a.m. to 11 a.m. in principle… They often vary! The access is free.
The Ho Chi Minh museum is open every day except Monday and Friday from 8 am to 11:30 am (yes, even the hours are strange!). The entrance fee to the museum is 40 000 dongs. We preferred to walk, but a cab from Hoan Kiem would be about 50,000 dongs.
The One Pillar Pagoda or Mot Cot Pagoda
Not ugly, but not very beautiful either, the One Pillar Pagoda is a bit disappointing because of its small size… Same thing to the explanations: nothing is described or indicated on the spot… Fortunately, my friend Wikipedia was there to tell me that it is a construction dating from the 11th century! According to the legend, it was built by the emperor who would have dreamed of the birth of his son, brought by a goddess on a lotus flower. When his son was born, he had the pagoda built with a single pillar, symbolizing the blossoming of the lotus, emerging from a sea of worries… Haaaaa, thanks Wiki!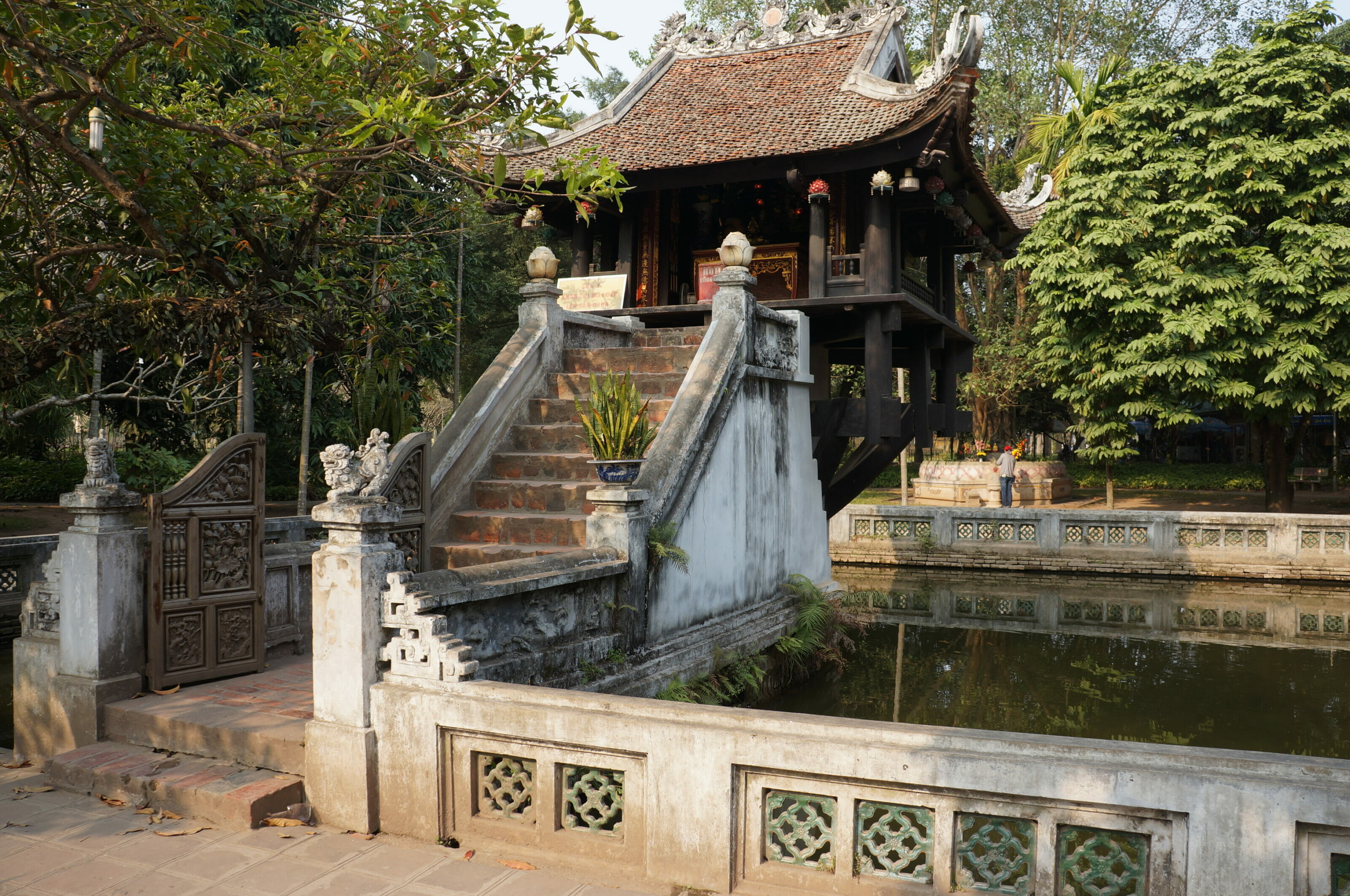 The visit is free (for once), so it doesn't hurt to have a look around!
Well, the little Chua Dien Huu temple located in front of it also had some surprises in store for us: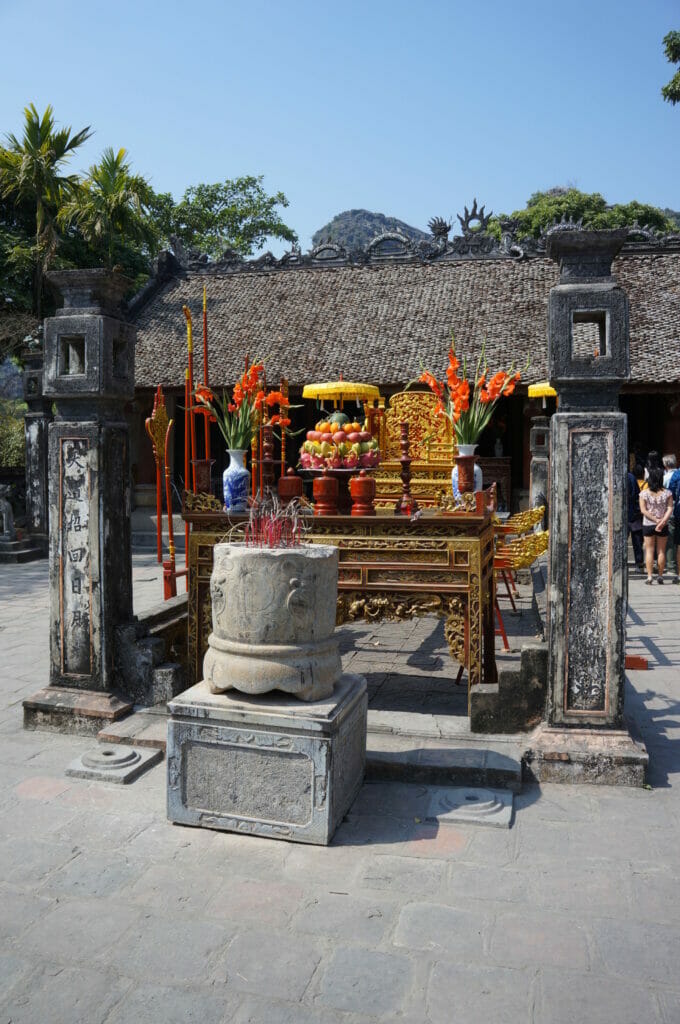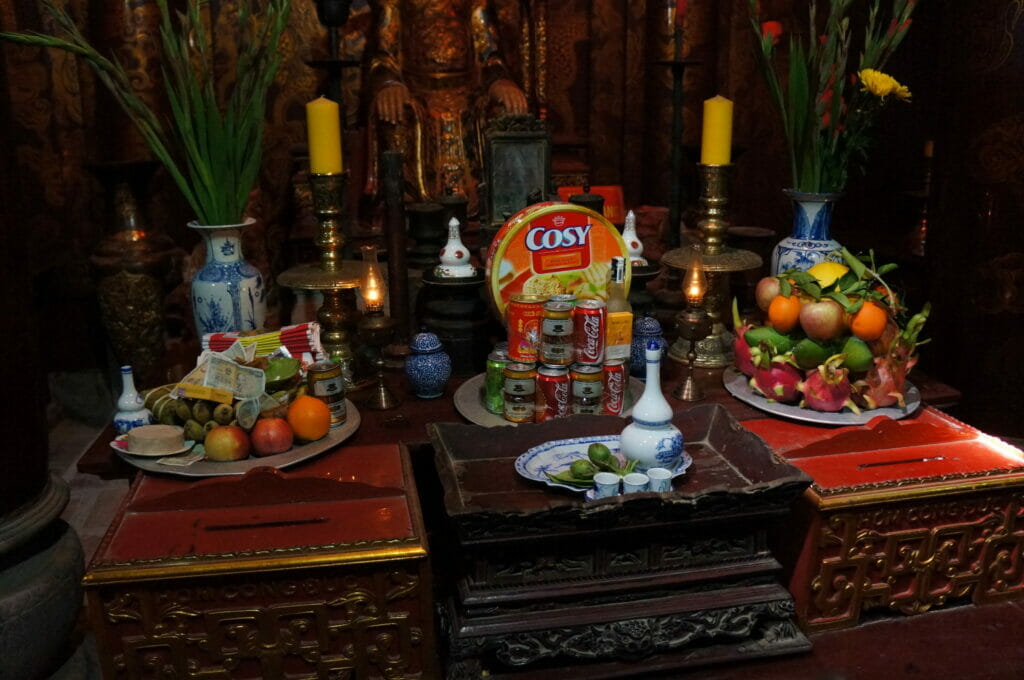 Attend the water puppet show
A bit of kitsch and classic tourist attraction doesn't hurt, so we let ourselves be tempted by the Thang Long water puppet show which is played near Hoan Kiem Lake. After paying for our tickets, we arrived at the performance hall which, not surprisingly, was packed with tourists who had also come to experience this art.
The art of water puppetry has its origins in northern Vietnam. The concept is very simple: puppets are fixed on bamboo rods and animated on water from the back of the stage. We would love to tell you more about the mechanisms, but apparently, it's 100% top-secret art!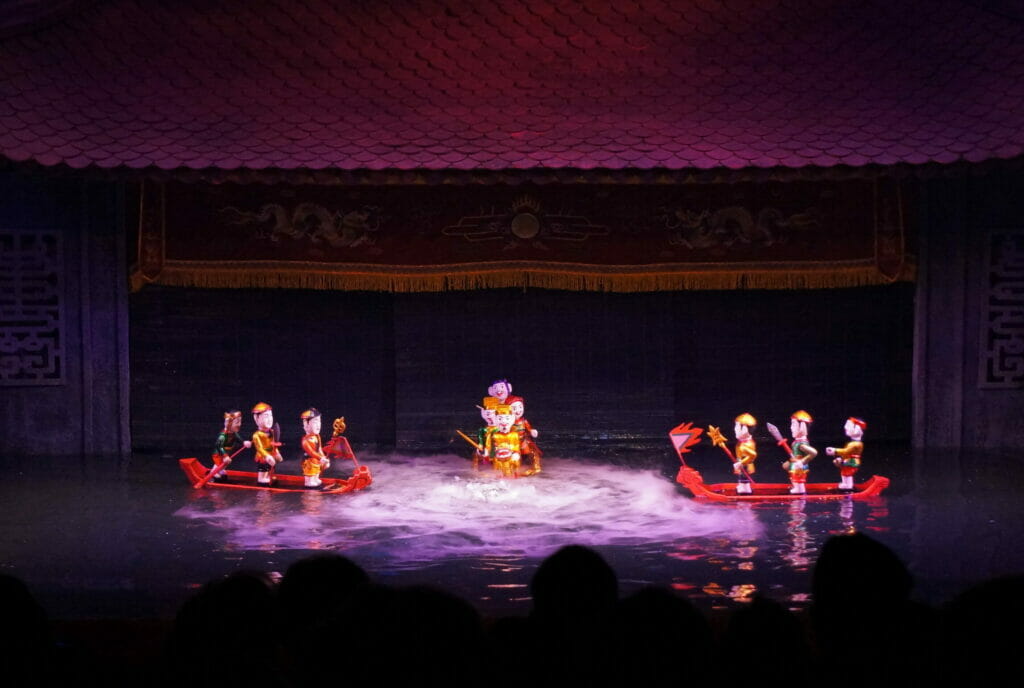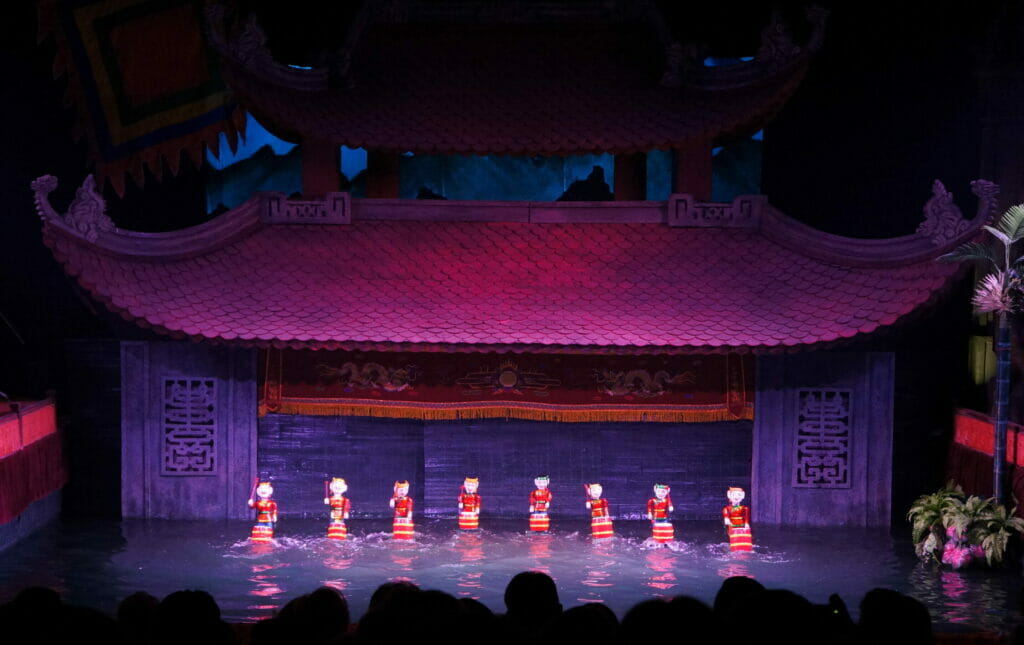 The idea of the show is to illustrate the different fables and myths of Vietnamese history with puppets, all accompanied by traditional music.
We really enjoyed the show, especially since during the show, the music is played live by musicians and the story is told by one of the singers. Well, in Vietnamese, so we didn't understand much, but that's not the point! In the end, it was a treat for the eyes and ears that lasts an hour and it would be a shame to miss it!
Water puppets
The ticket for the water puppet show is 100 000 dongs per person for the cheapest seats and up to 200 000 dongs for the first 5 rows. Beware, it is indicated at the entrance that you have to pay for the pictures, but nobody pays. Just ignore that sign and keep the 50,000 dongs charged to buy yourself a beer on the way out 😉. Performances are at 4.10 p.m., 5.20 p.m., 6.30 p.m., and 8 p.m. Tickets are available at the venue, but it is possible to buy tickets online via Getyourguide. The price is a little higher, but it guarantees you a seat. In high season, this water puppet show is quite popular!
Other activities
Hanoi is full of museums, temples, and other more or less cultural activities that you could visit for several days… Here are some other ideas to discover the Vietnamese capital:
the Temple of Literature of Hanoi: we promised ourselves to go there and in the end, it is a bit forgotten… This temple divided into 5 courtyards was the seat of a Confucian academy intended to train future scholars. Today, it is one of the most important monuments of the capital, it is even found on the back of 100 000 dongs banknotes. In short, the Temple of Literature is a must-see if you visit Hanoi! It is open every day from 8 a.m. to 5 p.m. and the entrance ticket costs 30 000 dongs per person.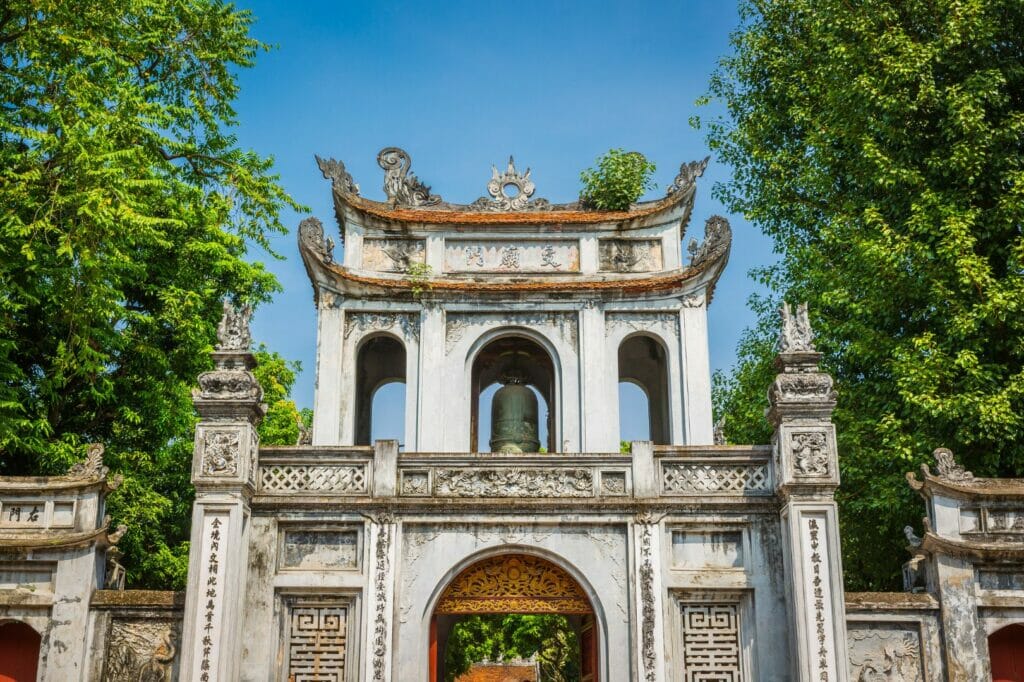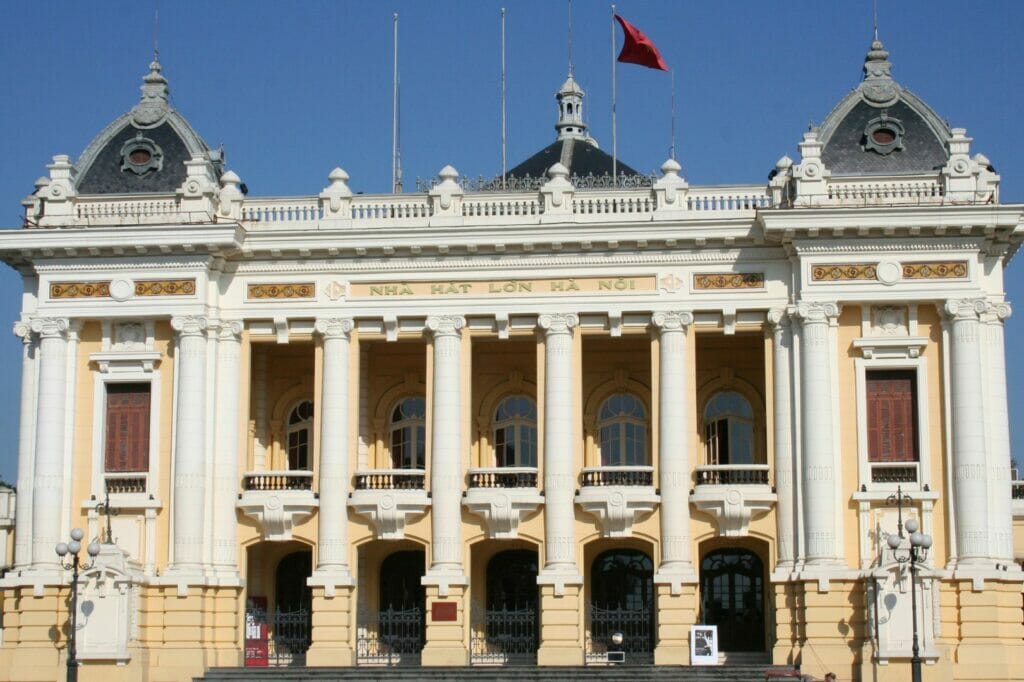 Hanoi Opera House: you can only enter if you attend a concert, but the exterior inspired by the Garnier Opera House is worth a walk around!
Imperial Citadel of Thang Long: listed as a UNESCO World Heritage Site, the ancient imperial citadel reveals its secrets through history and wars. If you are passionate about the history of Vietnam, a visit is a must! The entrance fee is 30 000 dongs and the citadel is open daily from 8 a.m. to 5 p.m. Otherwise, you can admire the northern gate of the site and the flag tower in the south as you go around.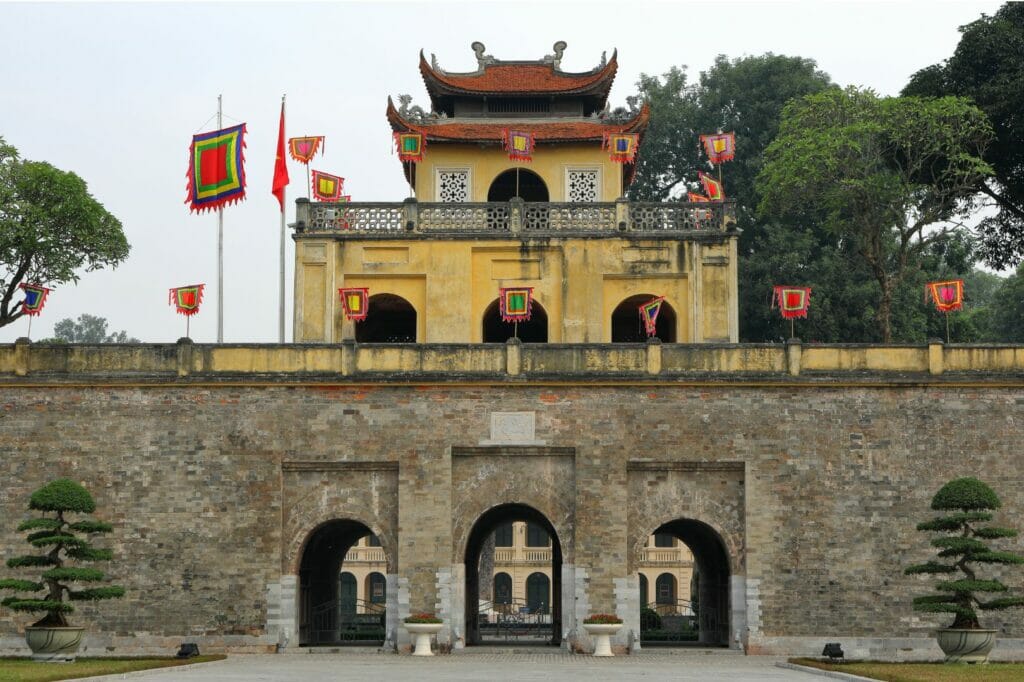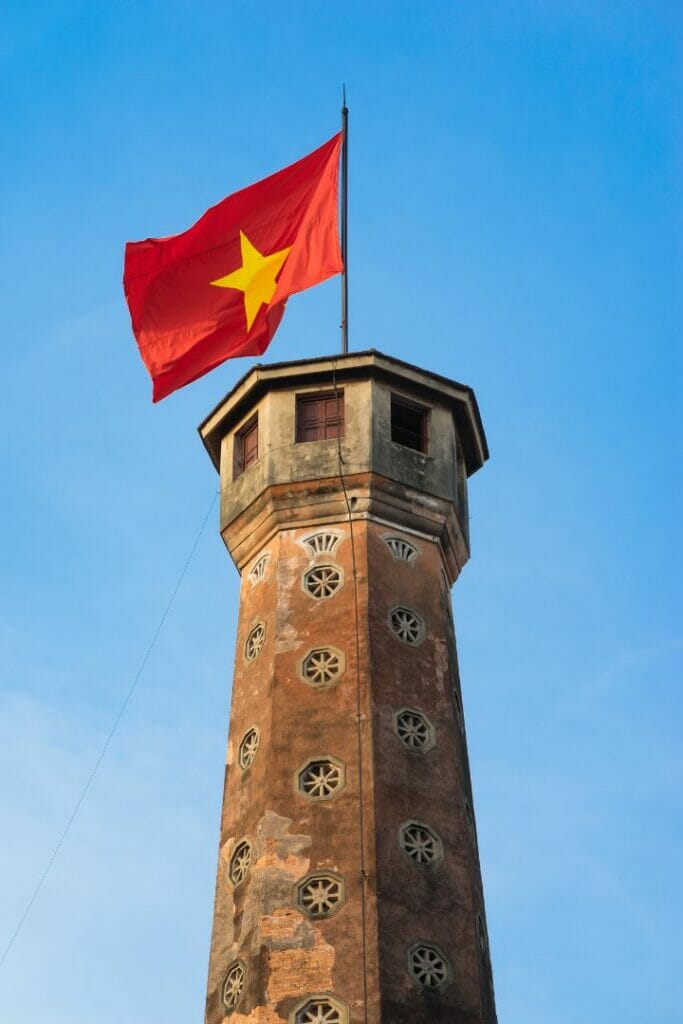 Hotels in Hanoi
Lodging in Hanoi is very simple because hotels are springing up like mushrooms and there is something for every budget! However, the most popular area for travelers is the old Hoan Kiem district, and, surely, you will have no trouble finding a hotel or a youth hostel there!
We stayed at the Camellia 5 Hotel (yes, be careful with the number: there are a lot of rascals with similar names hiding everywhere in the area). It was a good choice in our opinion, because for $12 a night, we had a great room with great WiFi (the best since the beginning of the trip!). But beyond that, most of the hotels in the area are between $10 and $15 a night for a standard double room with a bathroom and hot water. To get the best price, it is best to book directly on the spot. The prices offered on booking websites are often higher.
After that, if you want to book a certain accommodation and don't want to have to search on the spot, you can use the map below. You will find all the hotels and apartments available for your dates. Use the zoom function as well as the filters to refine your search.
Where to eat in Hanoi?
Our addresses
We tried out a lot of restaurants in the old quarter, Hoan Kiem, but most of them have since closed. Here are a few recommendations whose addresses you will find on the map at the bottom of the article!
To drink a small coffee, we advise you to go to Pho Co. The entrance is not easy to find, you have to go through a store to get there… Once in the small backyard, you can go straight up to the top of the building for a nice view of the West Lake.
Not far from there, the restaurant KOTO Villa proposes Vietnamese and Western cuisine. Prices are around 150 000-230 000 dongs. The plus? The staff comprises young people in difficulty who are being trained in the restaurant business.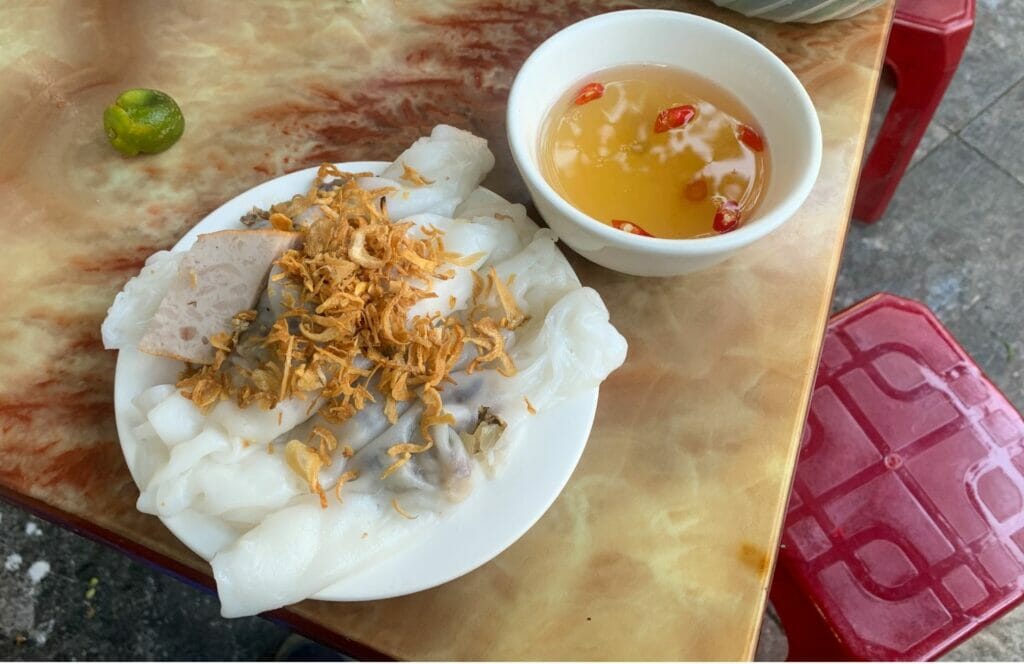 To eat like Hanoians, go to Banh Cuon Gia Truyen Thanh Van to try a Hanoi culinary specialty, banh cuon. They are a kind of steamed pancakes stuffed with meat and mushrooms.
Also, don't hesitate to try the bun cha, another Hanoi must-eat! It consists of rice noodles, grilled pork, and herbs, all with a sauce.
The street food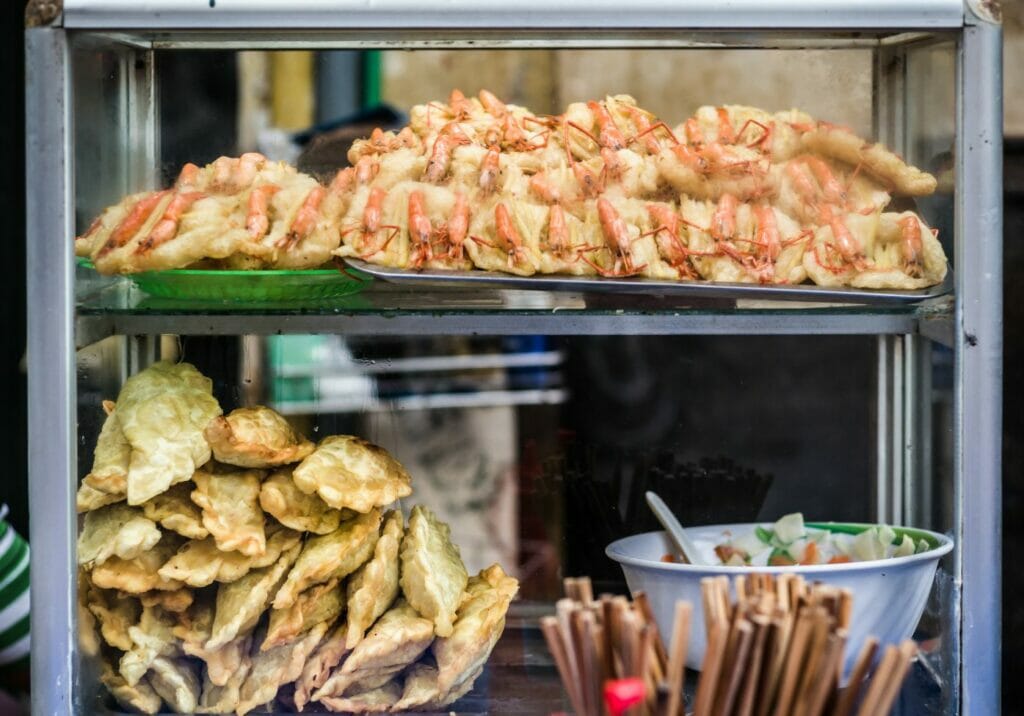 And probably the most important, the street food! Street food is absolutely everywhere in Hanoi, and it would be a shame to miss it! Moreover, you will finally have the opportunity to test your flexibility by sitting (almost comfortably) on the small plastic garden furniture in Polly Pocket format!
In Hoan Kiem, the street food is good, but on the other hand, it is a bit more expensive than elsewhere. For the price, you will usually get a menu with pictures to illustrate the dishes or even the English translation!
But if you don't mind ordering the same thing as your neighbor and you want to try something more "authentic", nothing prevents you from walking 100 m outside Hoan Kiem and sitting at a small table with all the Vietnamese! They will welcome you for sure with a big smile and quality cuisine!
Food tour
Like any big city in Southeast Asia, Hanoi is full of culinary nuggets. It's a good opportunity to take a Vietnamese cooking class or a food tour to taste a lot of different dishes and get a little bit more insight into the country! Whether on foot, by rickshaw, by day, by night, with a vegetarian option, or with a market tour, Getyourguide offers you a cooking activity made for you!
Map of Hanoi
We have listed on this map of Hanoi all the points of interest (hotels, restaurants, museums…) mentioned in this article to help you find your way in the bustling Vietnamese capital!
Do you want to visit Hanoi with the kids? We recommend you this article by Kirsty.
That's it for Hanoi! If you have good addresses to share, don't hesitate to leave us a comment!
We continue our journey in the north of Vietnam: direction to the terrestrial Halong Bay! Are you coming 😉?
Pin this article