You probably guessed it, but we love Vietnam!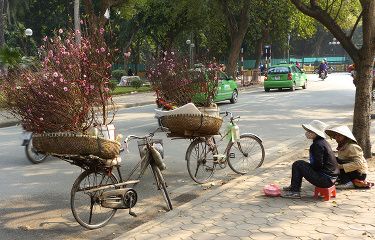 We took advantage of a few days "we had to stay" in Hanoi to extend our visa to continue discovering a little bit of the north of the country. We don't explain to you the huge delay we have already accumulated in our initial roud the world trip travel itinerary. 😉
In other words, we are likely to stay a little longer on the roads than expected!
But let's get back to business: to extend our Vietnamese visa we stayed a few days in the Vietnamese capital waiting for our passport… Thus, we have lots of great tips about Hanoi to share with you!
Hanoi City Guide: table of contents
Vietnamese visa extension in Hanoi
First of all, we will start by reviewing the situation regarding the extension of the Vietnamese visa. So on the subject we had heard everything and it's contrary. I think there are about as many opportunities to get it as there are prices. So "in theory" know that the "stamp" costs $10.
But you still have to know where to go to get it. Sorry to disappoint you from the beginning, but we couldn't solve the mystery….
Anyway, plan B is to go through an agency or your hotel. It is the latter option that we have chosen. To be honest, nothing beats taking your time and going for a little shopping session in the agencies to find the best price.
In the end we had it done at our hotel, their price of $35 per visa seemed fair compared to what had been announced elsewhere. But who knows, we probably got (a little) screwed! But well, 3 days later, our pretty red passports with white crosses now carried a pretty additional stamp that gave us 30 more days in Vietnam! Yiiipaaaa!
Hanoi, scooter madness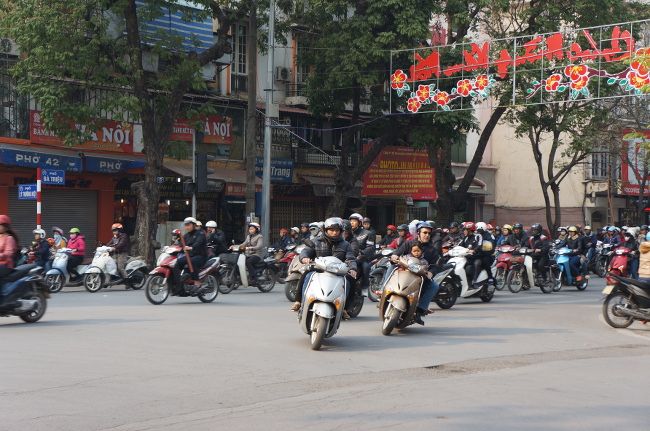 I think the first thing that makes a difference when you first set foot in Hanoi is that you have to be careful where you put them!
Hanoi is a bit like Ho Chi Minh in the joyful scooter mess, but with narrower streets…
Personally I was a little overwhelmed by the events in this city, I found it too noisy, too many honks, and too many people…
But it still has some nice surprises in store!
For your information, Hanoi has more than 6 million inhabitants and I would like to tell you almost as many scooters!
But once in Vietnam, you get used to it quickly, and above all you learn to cross a street! For that there is no miracle, you just have to GO!
The first time you feel like you're trying a kamikaze operation, but in the end you realize that it goes smoothly (almost always)!
The golden rule for crossing a road in Vietnam is to start by getting your foot on the road. Then move forward with small steps! Don't panic when the scooters start passing you from all sides! And if you want advice: NEVER go back! Keep moving forward by trying to identify gaps in traffic!
Free walking tour Hanoi

As in many cities around the world, Hanoi offers the possibility of a free walking tour. The concept of these tours is based on tips, so if you liked it, leave something for the guide, we really appreciate these free tours. Quality obviously always depends on the guide of the day, but as it is based on tips, the guides are often very motivated and extremely well informed about the city.In our opinion, free walking tours are best done at the very beginning of a stay because we usually leave with a good historical context and lots of ideas for things to see.
See the free tours in Hanoi
Getting around Hanoi
Moving around Hanoi is not necessarily an obvious thing, especially since we hadn't found a really detailed map of the city… In short, we have concocted a small map of Hanoi with a zoom on the old district so that you can more easily locate the places we recommend in this article…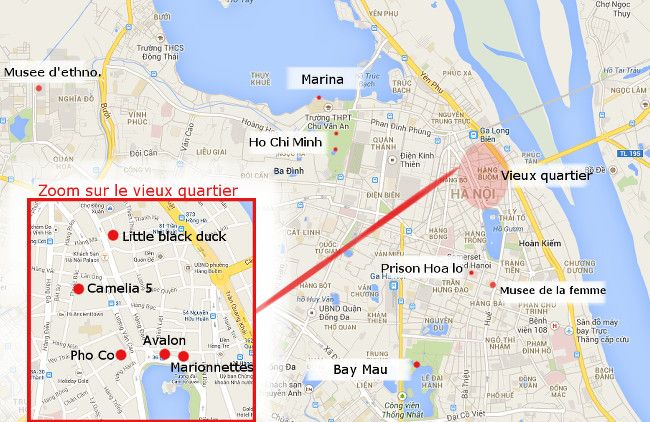 Hanoi is a big city in Asia, but you will not find a metro there. And that's a shame I want to tell you, because road travel is sometimes a little chaotic! To get from point A to point B you have roughly 5 options:
Rent a scooter:
This option I'll put it here, because it is possible. But honestly, unless you have Vietnamese blood and a good dose of courage and a hint of unconsciousness, I don't see why you would impose that on yourself.
Taking cabs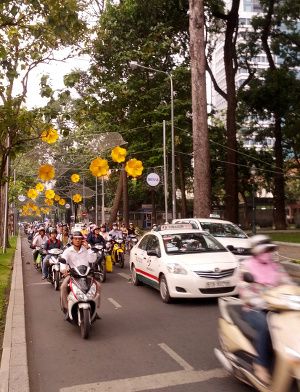 Probably the most comfortable option but by far not the fastest, and especially a scam trap.
We often hear that if a taxi agrees to put the meter on then we're all good. Well, that's true for many Asian cities, but not really in Hanoi. Be aware that many taxis have fake metera! Between those who count 800m as 1 km, those who apply a completely anti-transparent fare schedule, those who operate normally and who suddenly see the meter go crazy 1km from the destination. Not to mention the unscrupulous drivers who will take you 18 times around the city before taking you where you want to go, there are many options…
Our tip: Try activating GPS on your phone to see the route taken. If you have the impression that the meter is getting too excited for your taste: change taxis! Some large companies such as Mai Linh (green taxis) are considered more correct. Yeah…. To prove!
Motorcycle taxis:
You'll see you won't walk 10 feet out of your hotel that someone has already approached you: "Sir Motorbike?"
If you decline, don't be surprised if they start offering other services…. Marijuana, girls….
But let's skip over the many facets of the profession and get back to the original idea: moving around Hanoi! Motorcycles are probably the fastest means of transport. On the other hand, for Westerners, it is also an opportunity to test their cardiac abilities a little! Slalom between cars, red light crossings, back streets and even taking the sidewalk if the road is too busy are all part of the ride!
In short to try once, but honestly I'm not a fan!
Public bus
Taking the bus in Hanoi is not necessarily easy if you only spend a few days there because of the number of lines. The lack of indications and especially of plans at stops does not make the task any easier either. But if I were to mention just one very useful line, it would be line 34. This bus line connects the bus stations of Gia Lam and My Dinh while passing through the old quarter.
On the other hand, be prepared, the bus is probably the slowest mode of transport because of the very heavy traffic in Hanoi. But on the other hand it is certainly the cheapest! A ticket costs between 3000 and 5000 dongs depending on the line.
The last option is the one we used most: On foot!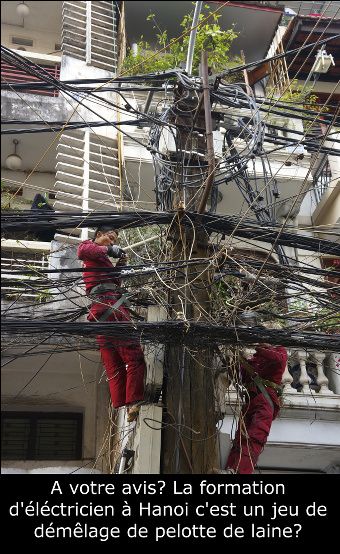 During our little stopover in Hanoi we did almost everything while walking. Some days more than 20km! In addition to training you to cross the road in kamikaze mode, this means of travel also allows you to take the full pulse of the city by crossing the many districts.
In short, we love it!
However, it is not the most relaxing option. Sidewalks are a rather vague concept in Hanoi…. When there are not 30 scooters parked on it to block your way, it's an improvised café, a streetfood stand, fruit vendors or even Vietnamese who have organized a badminton game in the heart of the city that will prevent you from using it!
In short, in Hanoi it is mainly on the road that we are moving forward. But at the same time since scooters also ride on sidewalks, it doesn't change much! 😉
Hanoi's parks and lakes
As you can see, traffic in Hanoi is a bit like the jungle, and sometimes you quickly feel oppressed by all the rumblings of engines, the constant honking of horns and the demands of motorcycle taxis.
So, a great way to relax a little is to discover one of Hanoi's many parks and lakes!
Hoam Kiem: lake of the restored sword: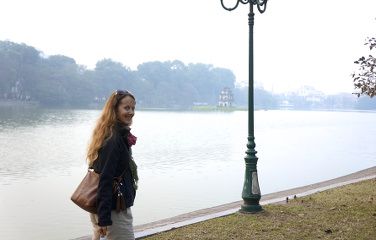 Probably the one you will see the most if you live in the old part of town because of its proximity. It is also the one with the most cachet I find….
Big enough to create a pleasant atmosphere in the hubbub of traffic, but also small enough to go around in less than an hour, while stopping for a small Vietnamese coffee on one of the terraces along the lake.
The big Hô Tay Lake: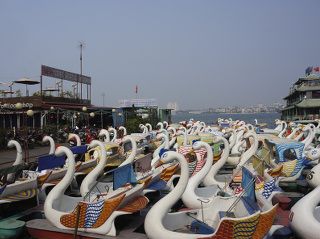 It is the largest lake in Hanoi.
Impressive in size, we also liked the slightly retro atmosphere (or even almost abandoned) by the water.
We had lunch on one of these boats. But even if the food was fine, the waitress tried to charge us double so we don't recommend it too much.
But for a coffee or a coke in a 100% retro atmosphere I want to tell you why not!
Bay Mau Lake:
It is not so much the lake that is worth a visit, but rather the park that surrounds the lake! Once you walk through the garden doors you find yourself immersed in an atmosphere that has reminded you of the Chinese parks: everyone dances, runs, does fitness, rollerblades, plays badminton and enjoys the few rays of sunlight that pierce the smog…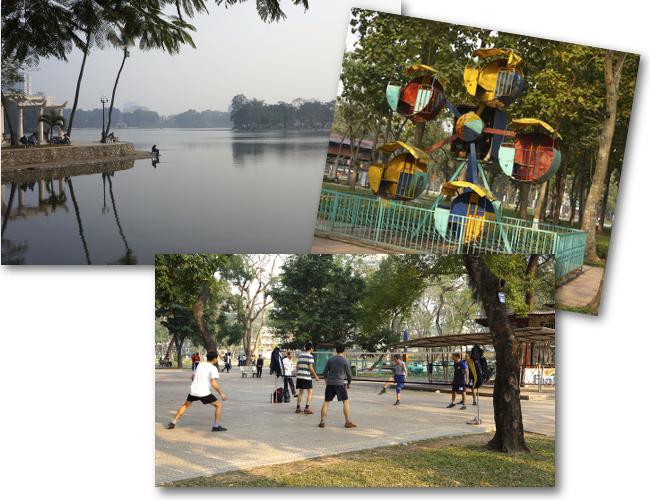 However, to enter you will have to pay an entrance fee of 4000 dongs. It's not expensive, we agree, but we didn't see any Vietnamese pay. In short, let's just consider it a small price to help maintain the park and not just another tourist scam…
But even if it is a "mini-scam", it is worth it!
The best museums in Hanoi
Hanoi also has many museums, but to be completely honest, the quality varies quite widely. A brief overview of what we have seen and what we thought of it….
The ones we liked:
The Ethnography Museum: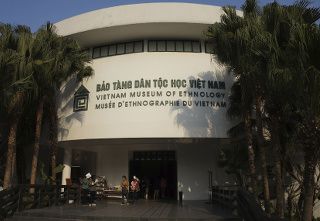 If you are interested in the culture and history of Vietnam's ethnic minorities, then don't miss this museum under any circumstances!
In fact, it is not only a museum in which many objects from different ethnic groups are exhibited, it is also a huge park in which the houses have been reproduced / rebuilt exactly as they were!
The explanations (in English and French) throughout the visit are detailed and really interesting!
So a tip, avoid going through an organized tour and get there by yourself without time constraints! We spent more than 3 hours there, and did not read everything by far! So when we saw that some guides "allowed" their groups to stay 40 minutes in the museum and 20 minutes in the park, it made us a little sad for them…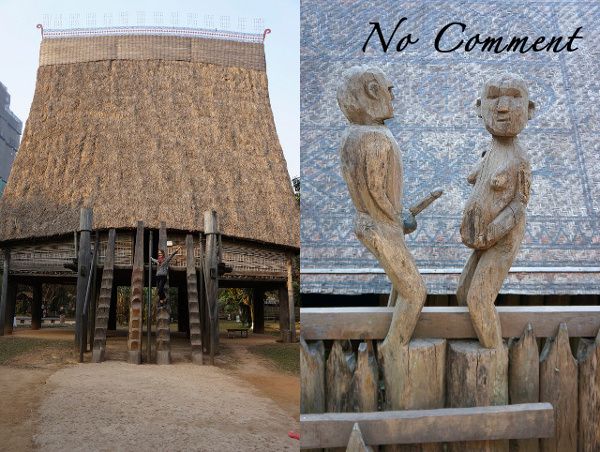 The women's museum: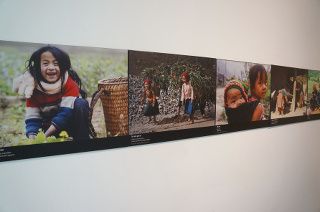 Probably the museum in which we spent the most time!
The Women's Museum extends over 5 floors, and traces the lives of Vietnamese women over time but also according to different ethnic minorities.
We found this museum extremely well done and well documented, with many explanations available in English and French…
Through this museum we learn a little more about the very important role that women played during the Vietnam War, but also the different rites and cultures of minorities from birth to death and marriage.
Women's lives in Vietnam
One video that particularly touched us in the exhibition is a short 15-minute documentary. It explains a little better the daily life of street vendors with their large baskets balancing on their shoulders that can be seen all over the city.
The majority of these women come from the countryside. They left behind: husband and children to come to the capital to bring back a few dozens of dollars at the end of the month to cover the daily expenses.
Vietnamese farmers often manage to feed themselves with their crops, but few earn even $1 a day…
Sometimes a farmer will be able to sell one of his pigs. But these meagre revenues are not enough to cover current expenses….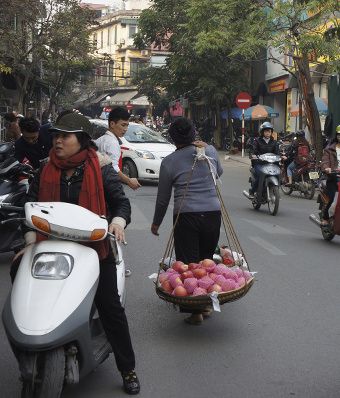 So women come to Hanoi for 1 month. They live in totally unhealthy common rooms for which they spend an average of $0.35 per night. Then get up at 2am to buy fruits and vegetables at the market outside the city.
Around 6am they will start selling their daily stock. They will usually only go back to bed once they have sold everything! It is therefore by working 7 days a week at 15h-17h of daily work that at the end of the month they can go home with a profit of about $20. In other words, they make less than $1 a day in profit between their accommodation to pay, the purchase of stocks and bus fares.
In short, when you leave this museum, you stop buying fruit in the mini-markets, and it is with pleasure that you will give a few dollars to these women in exchange for fruit or vegetables…
And the other museums:
The Hoa Lo Prison: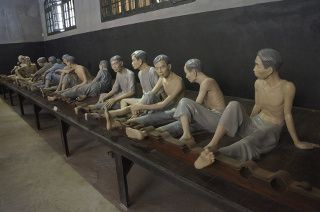 The prison was originally built by the French towards the end of the 19th century. During the Vietnam War, the prison was used as a detention centre for American soldiers and generals, including Senator John McCain…
At that time the prison inherited the nickname "Hanoi Hilton" in reference to the hotel chain.
Where it gets interesting is that on the net we can read that this nickname was purely ironic because the prison was a place of torture in order to make American soldiers confess…
But during our visit we realized that the Vietnamese people had another interpretation of the nickname…
Throughout the exhibition you can see pictures of American soldiers walking freely around the prison grounds, playing football, playing cards and tasting bottles of red wine. In all the pictures the soldiers are smiling, playing with children and almost seem to be in summer camp…
But to be honest, it was not so much this contradiction in the interpretation of the nickname that bothered us, but rather the general lack of structure and relevant information during the visit. We come out with the impression that we were told only what they wanted to tell us. (And it's not a big deal). Well, after the fact that you are forced to follow a fixed route in a stream of tourist buses that scream and make jokes around the clock does not help.
Ho Chi Minh's house and mausoleum: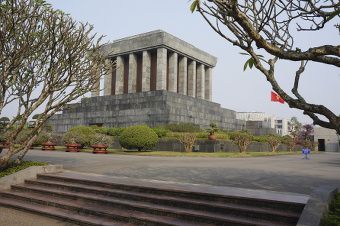 Well… probably a must-see during Hanoi's visit. This little tour in the park left us a little disapponted. During the walk we didn't find a single explanatory panel except maybe one that said: "Here is a car that Ho Chi Minh used…" Thanks guys! In short, nothing very transcendent in that….
Ho Chi Minh Museum:
So probably our most "WTF" experience in Hanoi. The Ho Chi Minh Museum is a succession of rooms with "works of art", each more bizarre than the next. They are supposed to represent in an abstract way the history of Ho Chi Minh without any explanation…
Or sometimes the explanation was there, but it only reinforced our idea that the creator of the museum had to run on acids when it was set up….
In short, we spent more than an hour there and learned NOTHING about Ho Chi Minh's life, but at least we had a good time!
The one-pillar pagoda:
Not fundamentally ugly, but not very beautiful either, this pagoda disappoints a little by its small size, and finally very few details… Ditto for the explanations; on the spot nothing is described or indicated, fortunately my friend Wikipedia was there afterwards to teach me that it is a construction dating back to the 10th century and that it symbolizes the hatching of the lotus, symbol of purity emerging from a sea of worries….
aaaaaahaaaaaaaaa, thank you Wiki!
But well, the visit is free (for once), so the glance doesn't hurt!
Well, the small temple across the street also kept some surprises for us…;)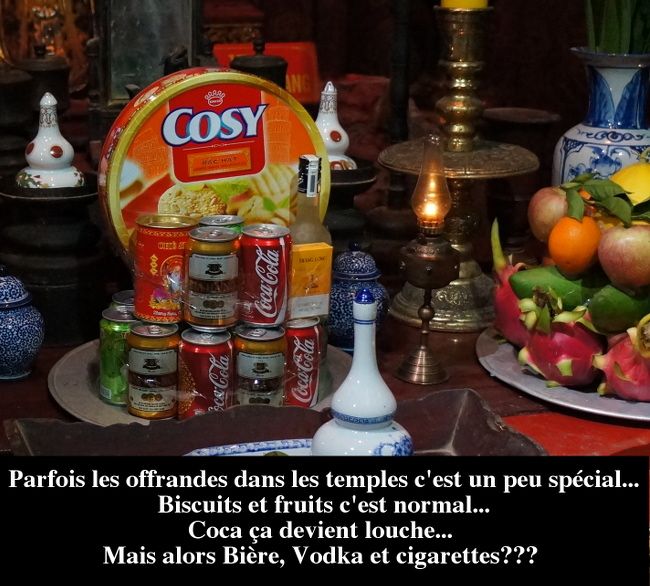 Infos:
Ethnography museum:
Opening times: from 8:30 am to 5:30 pm, closed on Mondays
Price: 40'000 VND per person.
To get there from Hoam Kiem: Public bus 14, which passes north of Hoam Kiem Lake, stops nearby. (stop: Nghia Tan). Bus price: 5000 VND. By taxi it costs about 130'000VND for a trip from Hoam Kiem
Woman's museum:
Opening times: Every day from 8am to 5pm
Price: 30'000 VND per person.
Get there: Not far from Hoam Kiem, it is best to walk there according to us….
Prison Hoa Lo:
Opening times: from 8am to 5pm
Price: 20'000 VND per person.
Get there: We walked there, about 10 minutes from Hoam Kiem
Ho Chi Minh House and Mausoleum:
Opening times: from 8am to 4pm
Price: 25'000 VND per person.
Get there: We preferred to walk, but a taxi from Hoam Kiem would cost about 50'000 dongs
Ho Chi Minh Museum:
Opening times: 8am-4pm, closed on Monday and Friday
Price: 25'000 VND per person.
The water puppet show in Hanoi
A little kitsch and a little classic tourist attraction that doesn't hurt, we let ourselves be tempted by the water puppet show that takes place near the lake of the restored sword.
A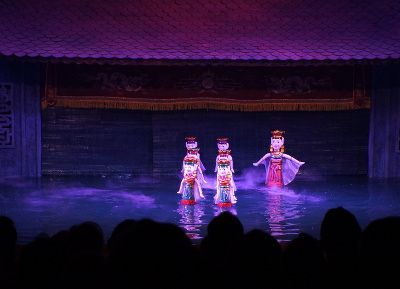 fter having paid 100'000 dongs per person (the price is very correct I think), we arrived in the theatre, which without much surprise was full of tourists who, like us, came to discover a little more about this art.
The art of water puppetry has its origins in northern Vietnam, and the concept is very simple: Puppets fixed on bamboo rods, which are animated on the water from the back of the stage.
We would like to tell you more about the mechanisms, but apparently it's a 100% top secret art! 😉
The idea of the water puppet show?
Illustrate with the puppets the different fables and myths of Vietnamese history, all accompanied by traditional music.
We really enjoyed the show, especially since during the show the music is played live by musicians and the story is told by one of the singers.
Well the stories are told in Vietnamese, so we don't understand much, but that's not the goal!
A delight for the eyes and ears that lasts for an hour and that it would be a shame to miss!
Infos:
Price: 100'000 dongs per person. (up to 200'000 depending on the ticket category)
Be careful, at the entrance it is indicated that you have to pay for the photos, but nobody pays. Just ignore this sign and keep the 50,000 dongs you asked for to buy you a beer on the way out…
Shows: 6 per day at 2:15 pm, 3 pm, 5 pm, 6:30 pm, 8 pm and 9:15 pm
Note: You can also buy the tickets online. These tickets are slightly more expensive, but booking in advance will make sure you actually have a seat for the desired show (it gets pretty busy in high season)
Where to stay in Hanoi?
Accommodation in Hanoi is very simple, because hotels are growing like mushrooms and there is something for every budget!
However, the most popular district for travellers is the old Hoan Kiem district, and there it is certain that you will have no trouble finding accommodation!
For our part, we stayed at the Camelia 5 (yes yes yes beware of the number… there are a lot of buddiess with similar names hiding all over the neighborhood). According to us a good choice because for $12 we had a great room with an amazing wifi (the best since the beginning of the trip).
But beyond that, if you ask me, most of the hotels in the area must look the same with prices ranging from $10 to $15 for a standard double room with bathroom and hot water.
To find a place to stay in Hanoi you can use the map below and directly compare hotels with apartments (use the filter to show only the type of accomodation you want) depending on the area you want to stay in:

Some good places to go out to eat in Hanoi
Little Black Duck
We have tested a lot of restaurants in the old part of town and the least we can say is that you can find everything there… But if we had to remember only one (we went there several times because it was so good) it would be the Little Black Duck. They serve delicious Vietnamese cuisine as well as "Western" dishes.
But frankly, considering how delicious the duck or Pho Bo is, I don't know why I would go there to eat spaghetti in tomato sauce….
Address: 23 Ngo Gach, Hoan kiem Distric Hanoi
Avalon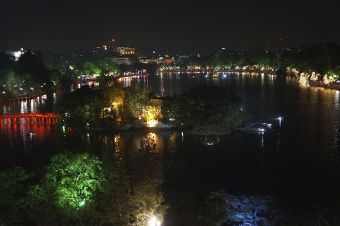 If you like to indulge yourself from time to time, we can advise you to visit the Avalon restaurant.
It is located on the edge of the lake and the view from the 7th floor terrace is clearly worth a look. Well okay, the lighting on the lake is a little kitschy, but we're in Asia after all!
The cuisine is well cared for, with prices certainly a little higher, but to give you an idea we spent less than 20€ for both, taking an aperitif, a dish each, 2 beers, 2 coffees and 2 desserts (oh special mention for their chocolate tartlet!)
Address: 73 Cầu Gỗ Gỗ HN, Hanoi
Pho Co
To drink a small coffee you are advised to go to a small café, I have named the Pho Co. The entrance is not easy to find, you actually have to go through a shop to get there…
But once in the small backyard we go straight up to the top of the building, there awaits us a nice view of the lake. An ideal place for a coffee break!
Address: 11 Hang Gai (4th floor), Hanoi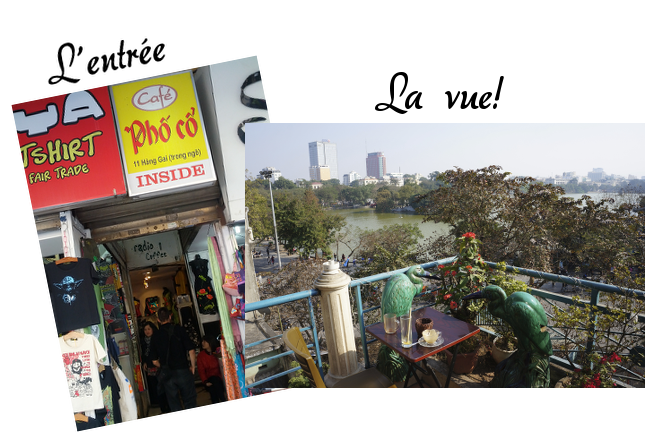 Streetfood in Hanoi
And probably the most important: streetfood! Street food is absolutely everywhere in Hanoi, and it would be a real shame to deprive yourself of it, especially since this way you will finally have the opportunity to test your flexibility by sitting (almost comfortably) on small plastic garden furniture in polly pocket format….
In Hoam Kiem the streetfood is good, but on the other hand it is a little more expensive than elsewhere, but for the price you will usually get a menu with pictures to illustrate the dishes or even the English translations!
But if ordering the same thing as your table mate doesn't scare you and you want to try something more "authentic", nothing prevents you from doing 500m out of the center, what do I say 100m out of the center, and sit at a small table with all the Vietnamese! They will welcome you for sure with a big smile and a quality cuisine!
You know everything I think… If you have good addresses to share, don't hesitate in the comments!
NB: Please note that this article contains affiliate links to partner sites. If you buy a product on one of their sites you will not pay more but we will receive a small commission. This will help us to keep this site alive. Thank you! 🙂