After our little getaway to the Ba be National Park, where we had made some great encounters (no, no, I'm not just talking about wheat liqueur!),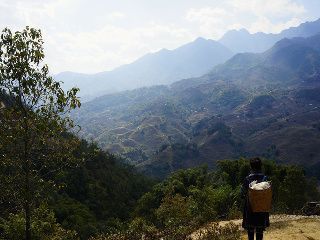 we decided to set off for Laos! But before crossing the border like bosses (we will tell you about it), we decided to make a small stop in one of Vietnam's most touristic regions: Sapa
Sapa, northern Vietnam
Sa Pa is probably one of Vietnam's most popular tourist sites with Halong Bay. It is not so much the village itself that attracts the crowds, but rather the absolutely incredible setting. Nestled at an altitude of nearly 1500m, SaPa overlooks an entire region of terraced rice cultivation.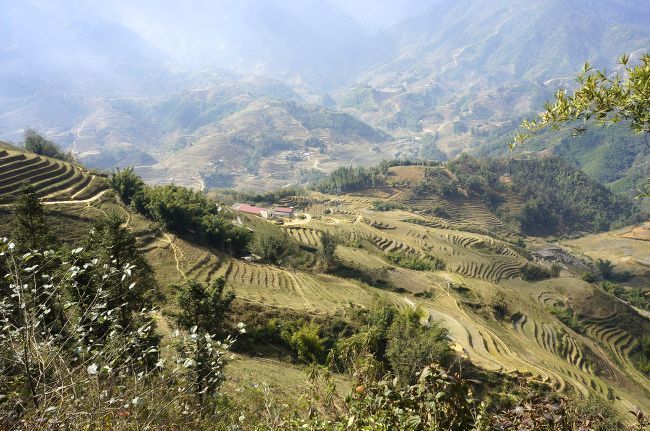 Sapa: our first impressions
It was very early in the morning that we arrived at the Lao Cai bus station after a very short night in our sleeper bus.
So it was completely exhausted that we barely managed to negotiate our spot in the minibus that took us from Lao Cai to Sa Pa in just under an hour.
The journey was how to say…. Surprising!
Between the breathtaking scenery, our driver who thought he was a Formula 1 pilot and my seat neighbour who threw up all her breakfast during the whole trip I must admit that I was a little confused…
Good, special mention for Vietnamese tourists though. They are systematically sick on mountain buses, but always manage to vomit "cleanly" in tiny little plastic bags. They vomit and then what??? Well, they nonchalantly throw the little bag out the window, as if no one would see them (or almost).
Sapa's sellers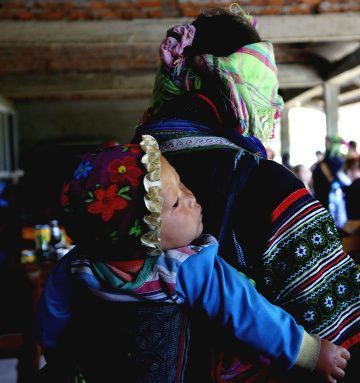 We have not even got off the bus yet and we can already see a small group of Vietnamese mamas all dressed in traditional Hmong clothes with their babies on their backs.
We hadn't even set foot off the bus yet, but they were already offering to take us on a trek or sell us a bracelet…
"Listen, little lady, it's 6:40 in the morning, I haven't slept, I haven't had my coffee yet, so easy!"
Once we found our small hotel and got back on our feet, we started looking for different options to go on a trekking tour in the surroundings of Sapa.
We did a little tour of the agencies. But we quickly realized that there were no 36 options… Either a 2-day tour, or a 3-day tour, or a tailor-made tour… But this last one was becoming totally unaffordable for us!
Trekking to Sapa, or how to discover the joys of proximity
In the end we opted for a 2-day trekking.
For 25$ we were promised a small group of maximum 6 people, an English-speaking guide, one night in homestay, 2 lunches, a dinner and a breakfast… Frankly, there is nothing to complain about in terms of price!
Sooooo… how was it?

The group :
We were promised a group of maximum 6 people, and that was the case.
Our trip started early in the morning with Devin the Canadian, Jim the Dutch and Mariam the Spanish. Frankly, the atmosphere was very good and could not have been better! We immediately got off to a good start and it was with joy and good humour that we set off.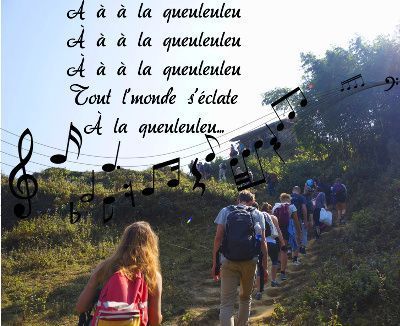 Well then there's the downside, and a pretty massive one!
So we were indeed a group of 5, but what the agencies are careful not to tell you is that 40 groups of 5 leave at about the same time from the centre of Sapa…
As a result, it is more a procession of 200 people following each other in the rice fields than a real 5-hour getaway in a small group…. Anyway….
Sapa trekking difficulty :
At the agency you are sold a trek. Mouahahaha then already this word I find it great! Whaaa???? It's pretty cool when one can say he went on a trek in Sapa!
People think we went up mountains, sweated like crazy, crossed rivers.
Good in the end let's just call this trek a "little walk" of 10km. Breaks are frequent (even too frequent). But you understand, you have to respect the schedule, don't arrive too early for lunch, or too early at the homestay… In short, it's like snails that we've come a long way. So even if you are not very sporty, you can still enjoy this "trek"! Devin, our crazy Canadian even did it in flip-flops without any difficulty!
The business of the authentic:
This is probably the point that irritated me the most during this "trek". Throughout the walk we had 3 Hmong women dressed in traditional clothing at all times following us. They talked with us, joked, but on every occasion they tried to sell us something: a bracelet, a bamboo heart, a shirt, everything is on their list…..
But don't worry, we weren't the only "privileged" ones, each group had its own escort…
In short 200 tourists and 150 Hmong women all together on the hiking trails… Yeah!!!!!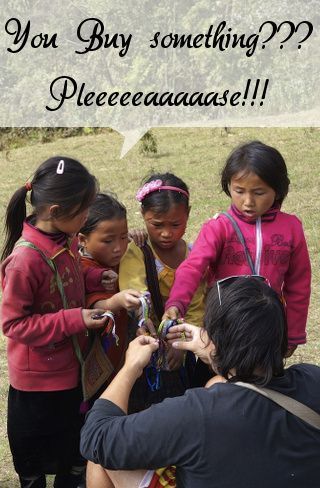 Where the circus reached its peak is during the lunch break! This was literally the invasion. Once seated, we always had 2 or 3 women holding out their souvenirs in front of us: "You buy something?????? Pleeeaaaaaaaase????"
And when women did not sell well enough, they did not hesitate to entrust the bracelets directly to the children.
Where I'm a little overwhelmed is that these women's outfits are certainly beautiful, but they're not at all the outfits that Hmong women wear on a daily basis. These are the holiday clothes that are normally reserved for special occasions or weddings… But what do you want, we'll do anything to offer some authenticity to tourists….
Homestay in Sapa

At the end of the first day, we reached a little Homestay. Well homestay… how should I say? It was more in a pretty house, fully equipped to accommodate up to 20 people. So, no, it's not really a night at the inhabitant's house strictly speaking. It's more of a friendly camp run by a Vietnamese family.
But on the other hand for the time being we were very lucky! The family was great. After a few minutes we were joined by an Austrian couple and their private guide, an amazing Hmong woman.
A great evening with some great people!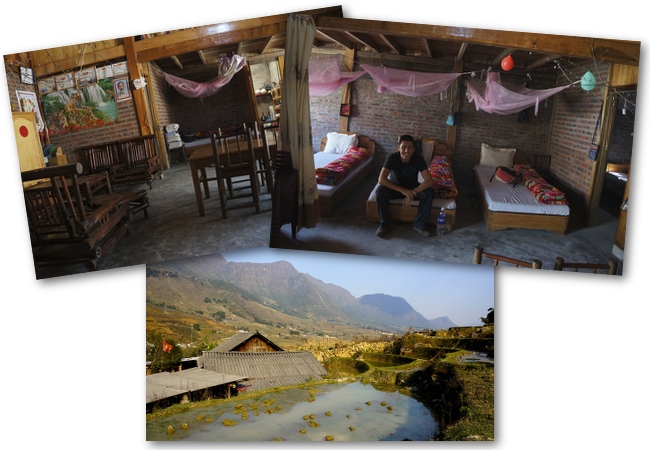 So to the question:
"Have you been able to live to the rhythm of the Hmong and discover more about their way of life?"
The answer is clearly no….
But to the question: "Did you have a good time that night?"
Now that's a big yes! A wild salsa with our guide, Devin, who was considering buying two buffaloes from the parents of the Hmong guide to marry her. Monumental laughter with the whole family, and the owner of the house who ended up "digesting" his rice alcohol because the Dutch drinking game was perhaps a little too aggressive, all this and much more make this evening a mythical memory!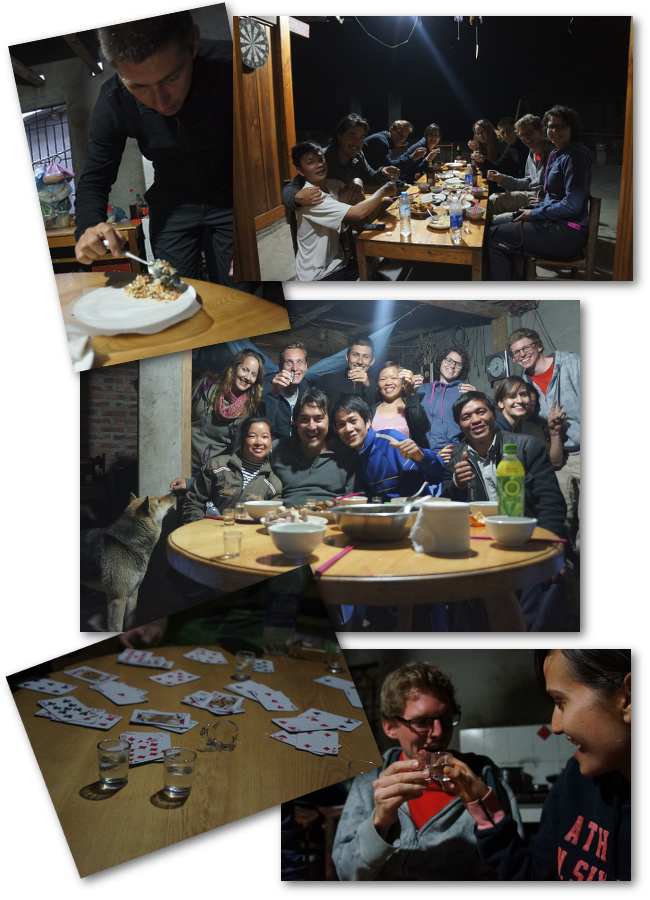 Our guide in Sapa :
Mr. Ben (not Benoit, the other Mr. Ben of the day) has been our guide throughout this journey. At first he was very calm, but the good atmosphere of the group very quickly rubbed off on him. And after the first morning we almost had the impression that we were already trekking with a friend!
His English was not perfect, he did not always know how to answer our questions about rice cultivation or the habits of the locals, but in the end he was a golden person with whom we were able to have a good exchange. The next day he even agreed to extend the walk a little further in order to take us a little further than what was planned "in the official program".
Our 5 commandments to make the most of Sapa:
1. The weather you'll check :
Sapa and its rice fields is paradise on earth, or if it is not it must be closer to it… But on the other hand, the weather is often a little capricious and the fog has a bit of a dirty way of coming to the game. In short, if you are in Hanoi and you hesitate to come to Sapa for a few days, remember to check the weather, because in the fog it is not quite the same…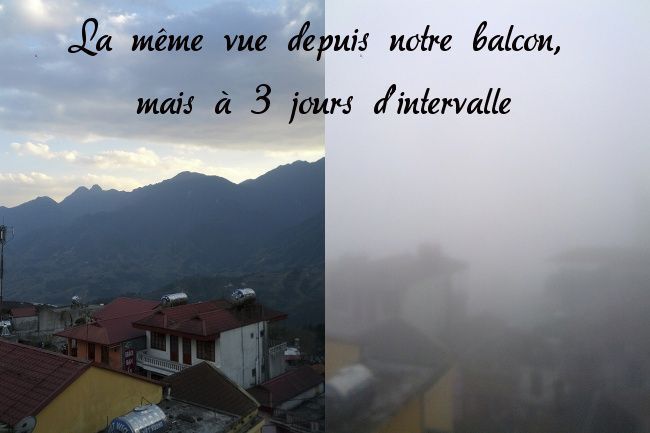 2. The other tourists you'll have to forget :
Are you looking for authenticity, calm and immersion in minorities? Then forget about it, Sapa is not for you! Sapa is beautiful, it is known and therefore by definition it attracts crowds! Europeans, Chinese, Koreans, Vietnamese, Australians, Israelis and all the other nationalities of the world will be your travelling companions! But look on the bright side, if you don't meet ethnic minorities during your trek, you will at least have the pleasure of sharing a good time with people from all over the world!
3. A hotel with heating you'll choose :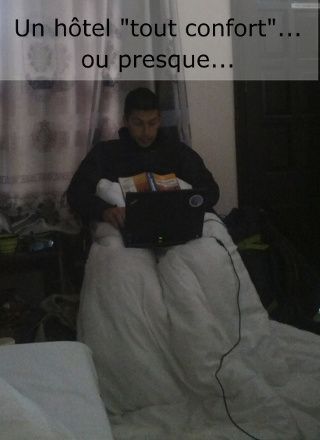 If you decide like us to go to Sapa in winter then take note of this advice… We were also given it, but when we arrived in Sapa it was 15 degrees and the weather was fine, in short we thought that the other travellers were probably exaggerating a little… Room without heating??? We don't mind… that's what we thought…
So by 12-15 degrees outside temperature it actually works pretty well, but when 3 days later the thermometer was barely more than 2 degrees, I explain that we seriously started freezing our buttocks…. But that didn't stop us from working on the blog, eh, we just had to be a little more creative with the blankets!
4. The souvenirs made in China you will not buy

In the streets of Sapa the shops follow each other and look alike! All of them sell copies of trekking clothes from major brands such as North Face or Mammut. Of course, it's more North Fake than anything else.
Besides that, in Sapa you will not miss to meet Hmong women in traditional clothes. (Actually, they will not miss you). These ladies will all offer you to buy pretty little bracelets, handbags, scarves "handmade in Sapa". So it's funny but to have been around Asia a lot, I guarantee you that the same "typical Sapa" scarves can be found in any Asian market, whether in Vietnam, Laos or Cambodia…
In short, nothing prevents you from falling in love with a souvenir, but just know that it is most probably "Made in China".
5. The landscapes you'll enjoy!

When the sun shines and the temperatures are mild, don't hesitate for a second and go discover the surroundings of Sapa! The landscapes in the region are simply sublime!

What did we think about Sapa?
Sapa will have been our last stop in Vietnam before continuing our journey towards Laos where we are now. And even if we regret the massive tourist development of the region and the total lack of authenticity, we still had a pleasant time!
The whole thing is to know what awaits you and to accept to sigh from time to time in front of what can sometimes be likened to a big circus for tourists. And after all, all you have to do is have a little luck with weather and keep your eyes open to these beautiful landscapes, and the rest is quickly forgotten!
Infos:
How to get to Sapa?

To go to Sapa there are roughly two methods: The train or the bus.
If you are on a tight budget then the bus will probably be your best alternative.
Afterwards we fully understand that spending 10 hours in what is more like a sarcophagus than a bed is not everyone's cup of tea, in which case the alternative is the train.
There are 3 variants: the 2nd class (6 berths), the first class (4 berths) and the tourist cars. The latter are not directly managed by Vietnamese railways, but by private owners (travel agencies). They offer a comfort worthy of a hotel while being attached to the "standard" train.
Hanoi to Sapa
The night bus: about 300'000 dongs (10.3€) per person
Second class train: about 500'000 dongs (17.3€) per person
First Class train:about 600'000 dongs (20€) per person
Prix train "touristique": about 760'000 dongs(26€) per person for a 4-berth compartment and about 1'500'000 dong (52€) per person for the VIP 2-berth berth
The prices above are the ones from 2013. To check current prices and schedules, take a look on 12goasia.com
Attention: If you arrive by train or with some bus companies you will be dropped off in Lao Cai and not in Sapa. But don't worry, many minibuses commute between Lao Cai and Sapa.
Timetable? There is no one, the bus leaves when it is full!
Price: 50'000 dongs per person. (Drivers will always try to ask you for more, but stay zen, smile, and if necessary move away from the bus a few meters. You'll see in no time at all the price will go down to 50,000)
To go on a trek in Sapa
If, unlike us, you have a slightly more comfortable budget that will allow you to take a tailor-made tour, beware of scams! We met many people who had a private guide and who found themselves eating with us in the "canteen" and who walked with us in a queleuleu on the trails…
In short, if you are paying a lot of money, make sure you clearly define the itinerary in advance!
If you opt for a "first price" tour like us, a tip: Go around the agencies!!!!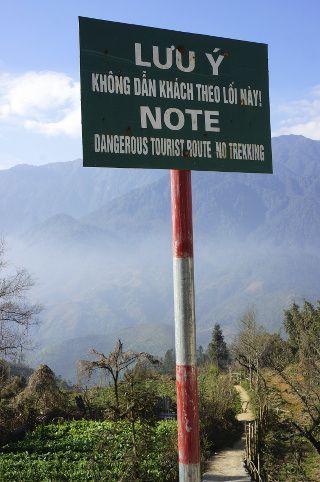 For our part we had paid $25, but only within our group there were 3 prices… The Canadian had paid $30 and the Dutch $35!
For exactly the same services, it was only the agency's margin that varied!
It is of course possible to discover the surroundings without a guide, but strangely enough you don't necessarily feel welcome. From what we have seen, it would be quite possible to leave without a guide and ask to be accommodated in one of the homestays on the way. The problem is that nowhere will you find a map of hiking trails, you will have to go blind. At the same time, it would be a huge loss of revenue for agencies if a card were to be issued…
Where to stay in Sapa?
You can imagine that with all the tourism in Sapa, hotels are not the only thing missing! There are some for all prices. But know that even if you are a traveller on a tight budget, it doesn't mean that you will necessarily spend the night in a broom closet without windows… 🙂
The most important thing for "cheap" hotels is to arrive without booking. Then to make the competition play a little bit. In Sapa you will have no difficulty in finding a room with a private bathroom for $6-8.
And if you want to have a view of the rice fields you will have to count $10 per night, which is quite acceptable.
For your information, we stayed at the Hotel Mimosa, just next to the market with a nice little room overlooking the rice fields. Price of our room 10$/night, negotiated at the bus exit. (The online price is a little higher, as it often is…)
Now you know everything! We'll soon meet again for our little review and our "budget" article for the 7 weeks we spent in Vietnam!
NB: Please note that this article contains affiliate links to partner sites. If you buy a product on one of their sites you will not pay more but we will receive a small commission. This will help us to keep this site alive. Thank you! 🙂