Wherever you are in Vietnam, you will most likely be offered to do the famous "Halong bay cruise" or Along Bay tour (even if you are far south towards Saigon ;-)).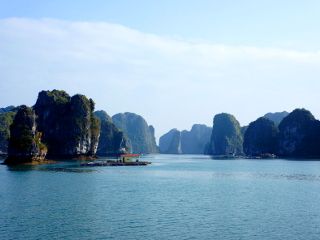 This phenomenon reaches its peak in the Vietnamese capital Hanoi where the many travel agencies are really ready to do anything to sell you one of the different packages to visit the bay.
From the day trip (from Hanoi) at $25 to the luxury 4-day cruises at $500, the possibilities are numerous… and the scams are all the more present!
Exasperated by the constant requests of the agencies as well as by the price of a correct tour (count at least 100$ per person to have an interesting tour over 2 days), we started looking for an alternative way to visit Halong Bay.
Cat Ba Island
Cat ba island can be considered as the largest island in Halong bay (it is located south of the bay and is 260km²). It is generally left aside by the 1 or 2 day tours because it is located too far from Halong…. But believe us, Cat Ba has way more than nice beaches and stunning view to offer!
In addition to its proximity to Halong Bay, you will also find a magnificent national park (more than 1/3 of the island's surface area), some very pretty beaches as well as Lan Ha Bay (which has nothing to be ashamed of when compared to its big sister Halong Bay).
For us it is therefore the ideal destination! Beautiful possibilities of strolls, to see Halong Bay on its less touristic side, to enjoy the sun (in addition January-February represents the low season on the island)… All the elements are in place to take our time in this little piece of paradise. We stayed there for 6 days during the Vietnamese New Year (or Tet on January 30th).

Getting to Cat Ba – From Haiphong to Cat Ba
From Hanoi, it is extremely easy to get to Cat Ba. In our opinion, the best way is to take a combined bus ticket (for the city of Haiphong) – boat (on Cat Ba Island) – bus (to the village of Cat Ba). If you don't want the hassle, you can now book your tickets online directly on Bookaway (the beauty of technology)
You are advised not to try to get there by taking separate tickets as there is a good chance that you will get scammed at some point. For the anecdote, we arrived from the village of Tam Coc and tried to manage on our own to reach the island.
This was definitively a bad move because we finally paid about 400'000 dongs per person after facing many difficulties. The local bus first dropped us off outside Haiphong City. So we had to take a bus and then a taxi to the port where no one wanted to sell us a boat ticket for less than 200'000 dongs (whereas the real price is a maximum of 130'000…). If you come from Tam Coc, we recommend you to go to Ninh Binh and buy one of these famous combined tickets 😉 . Especially since these combined tickets are now available online on Bookaway from Ninh Binh or Tam Coc.
Things to do in Cat Ba ?
Boat tour in Lan Ha Bay and Halong Bay:
Obviously, the main reason we came to the island was to see the famous kharstic hills. So in Cat Ba village, you will have plenty of different possibilities to venture through the bays and everything is still much cheaper than in Hanoi. For example, a two-day cruise between the two bays on a private boat costs $90 per person…
Of course you can also opt for a shared junker, take a shorter or longer cruise but; no matter what, it will most likely be cheaper than booking it from Hanoi. In addition, the junks do not pass in the same place as the ones leaving Halong so you will probably be alone in the middle of this dream setting.
On our side, unfortunately, we were unable to take a junk ride because of the Vietnamese New Year. Everything was totally sold out (there were many vietnamese tourists as well). But in the end, we were satisfied with a trek in the national park and a big boat trip in Lan Ha Bay… I mean… As you can see from the pictures, we have no reason to complain.)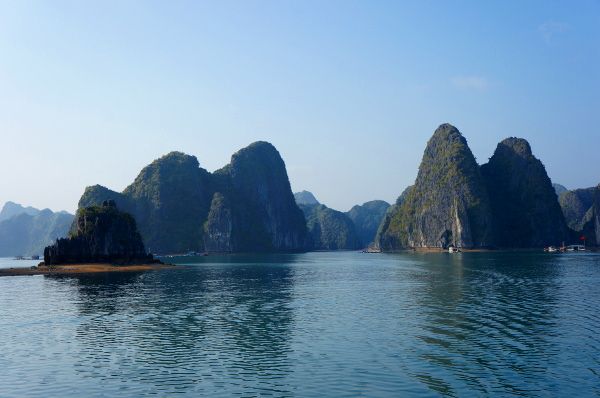 Trek in Cat Ba National Park :
As I just told you, we combined a big hike in the national park (about 18 km) with a boat trip in the bay. We found this combination rather nice because it allowed us to cross the whole park and return to the village by boat (3 hours by boat) through these incredible landscapes.
The trek in the park was really nice even if you need a relatively good physical condition to support the successive climbs through the jungle. The highight of the walk was the climb to the highest point of the island (if you are already tired before this climb, pass your turn because it climbs hard…). From up there, we have a breathtaking 360 degree view and if the weather is clear, the view must be simply incredible….
But you will have guessed it, we arrived at the summit in the late morning and as often in the morning, the fog is quite persistent and spoils the landscape a little. But well, it was still worth it ;-).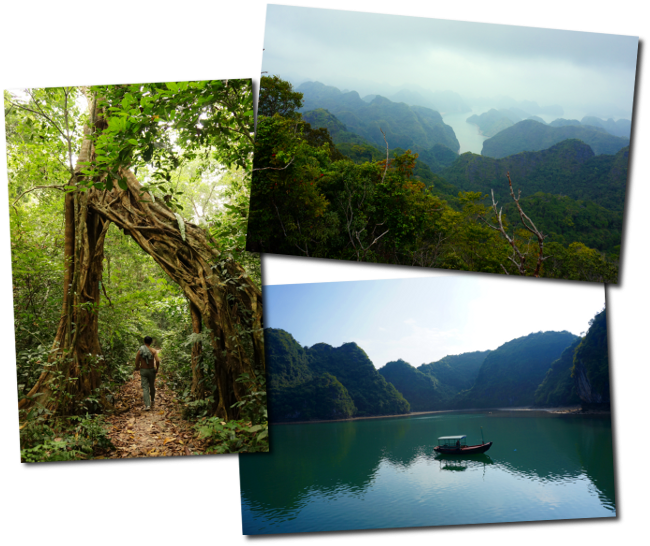 Visit Cat Ba by renting a scooter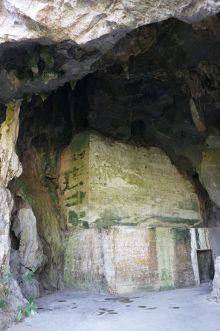 There are two very good (by Vietnamese standards) paved roads crossing the island and it would be a shame not to spend a whole day discovering the island by scooter. The pleasure of driving through such a scenery is difficult to describe….
We just feel free and it's really great! You will easily find a motorbike to rent for $5 and half a tank will be more than enough to ride each km of paved road. And as you will inevitably pass in front of it, stop and visit the "Hospital Cave", a cave that served as a headquarters and hospital for the Vietnamese during the war… a small, cheap and nice visit.
Enjoy the best beaches on Cat Ba

There are 3 beautiful beaches located just 1km from the village (the most beautiful we have seen in Vietnam so far). As we were in low season, we had the beach all to ourselves….) There is also a small path along the coast that connects the beaches together. From the path, you will have a simply magnificent view of the bay (I think you are starting to understand… we enjoyed Cat Ba Island quite a bit!).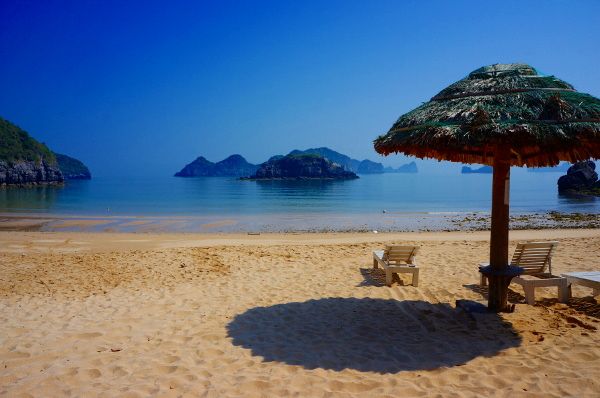 Vietnamese New Year or "Tet" in Cat Ba
As I mentioned above, we spent January 30th (Vietnamese and Chinese New Year's Day this year…) on Cat Ba Island. It should be noted that the weeks before this date, it is already the effervescence in Vietnam. Everyone stores food, cooks New Year's rice cakes (Banh chung) and prepares to be reunited with their whole family.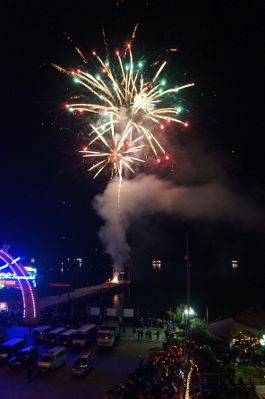 It's a very busy time (a bit like before Christmas in our country)! New Year's Day is a family feast. The children receive red envelopes with money, in the evening there are shows and fireworks… It's a very nice atmosphere! In Cat Ba, as there were very few tourists, we were mainly with local families and we had a very nice fireworks show. We had a very good evening….
However, it is impossible to organize a tour in Halong Bay or to leave the island on New Year's Day and the following day. Also stock up on food as most shops and restaurants are closed. Please note that after Tet Day, people can still be on holiday for up to 2 weeks (mainly in the countryside). Travelling during this period requires a little more organization but it is still feasible ;-).
Where to stay in Cat Ba
You will not be given a particular address for the village of Cat Ba. You will easily find a double room for 5-10$ near the port. We chose a $10 room because we had a private balcony with a view on the harbour….
Very nice to have a beer at sunset ;-). The $5 rooms obviously don't have a view of the port but well, you can't have everything for such a small price!
After, if arriving "at the last minute" it is not your cup of tea and you prefer to book something we recommend you take a look at Hotelscombined. It is not a booking site strictly speaking but a site comparator. So you enter your destination, dates and you immediately see the hotels with different prices on the most famous sites like booking, Agoda, etc.. In short, a good way to find the best offer online.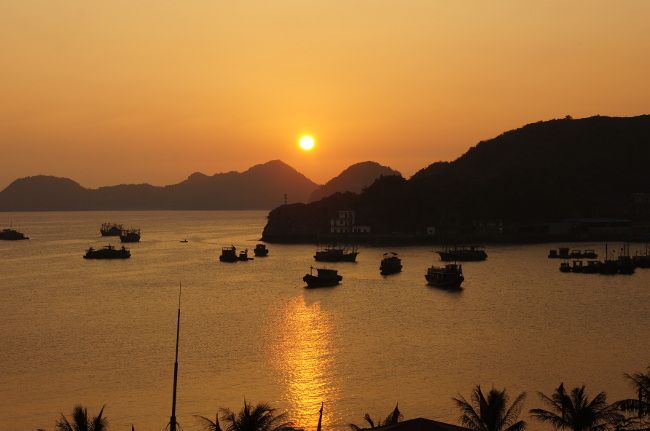 You will have understood it, just like the caves of Phong Nha, the island of Cat Ba is one of our favorite places in Vietnam. You can do everything: trekking, boating, kayaking, climbing, beach… for very affordable prices. Add to that the simply exceptional setting of Lan Ha Bay and you have a perfect place to spend a few very pleasant days 😉
So, what are you waiting for to go to Cat Ba?
NB: This article contains an affiliate link to Hotelscombined. Using our link will not cost you anything additional but we will get a small commission to keep this site alive (and take aperitifs let's be honest) ;). Even if we didn't use this site in Cat Ba we use it regularly during our travels and it is really great.
Enregistrer