After Halong Bay on land, it's time for us to go to its maritime counterpart, especially in Cat Ba! You will hear about it as soon as you arrive in Vietnam… Wherever you are, even in the south towards Saigon, you will be offered the famous Halong Bay cruise! This phenomenon reaches its paroxysm in Hanoi where the numerous travel agencies are really ready to sell you one of the different formulas to visit the bay.
From the one-day excursion from Hanoi to the 4-days luxury cruise, the possibilities are numerous and the scams are all the more present! Exasperated by the constant solicitations of the agencies, we set out to find an alternative way to visit Halong Bay. Ready to enjoy this Vietnamese must-see without (too many) tourists 😉?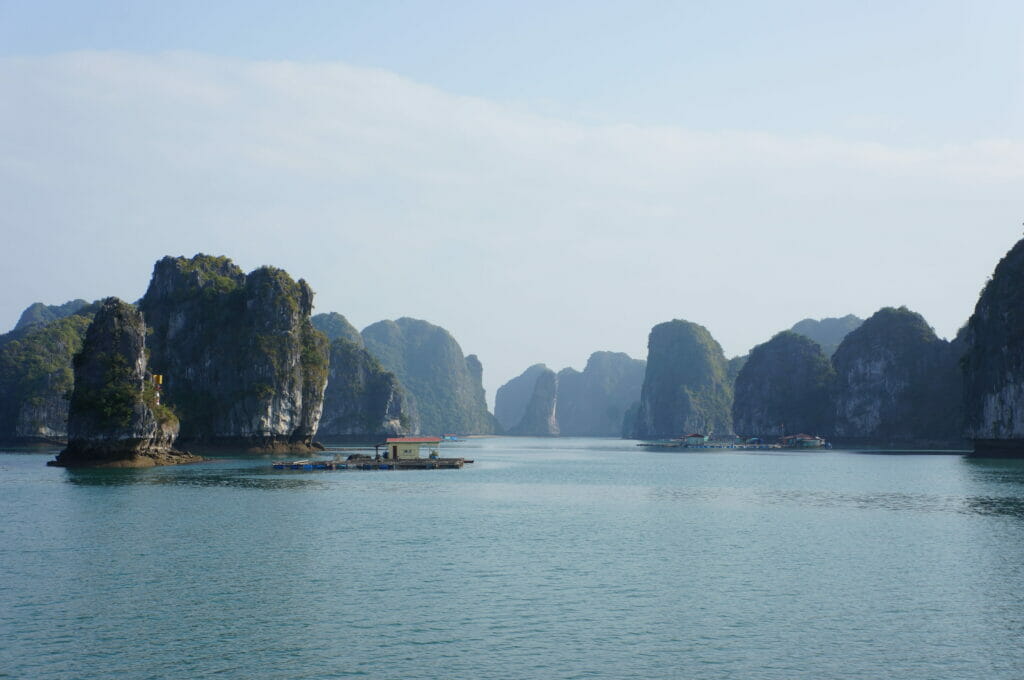 Update 2022
We took this trip in 2014, but the article was completely revised and updated in November 2022. If you see any price changes or have additional information that might be relevant, please feel free to leave us a comment!
Presentation of Halong Bay
Halong Bay, a must-see in Vietnam, is a UNESCO World Heritage Site, visited by more than 10 million tourists every year! In all, there are more than 1600 islands and islets spread over 43 000 hectares that form this sublime landscape!
Did you know that Halong Bay is actually 3 bays? That's right! It is wrongly called Halong Bay but the "real" Halong Bay is a geographical area wedged between the two others. Here is a small map to help you find your way: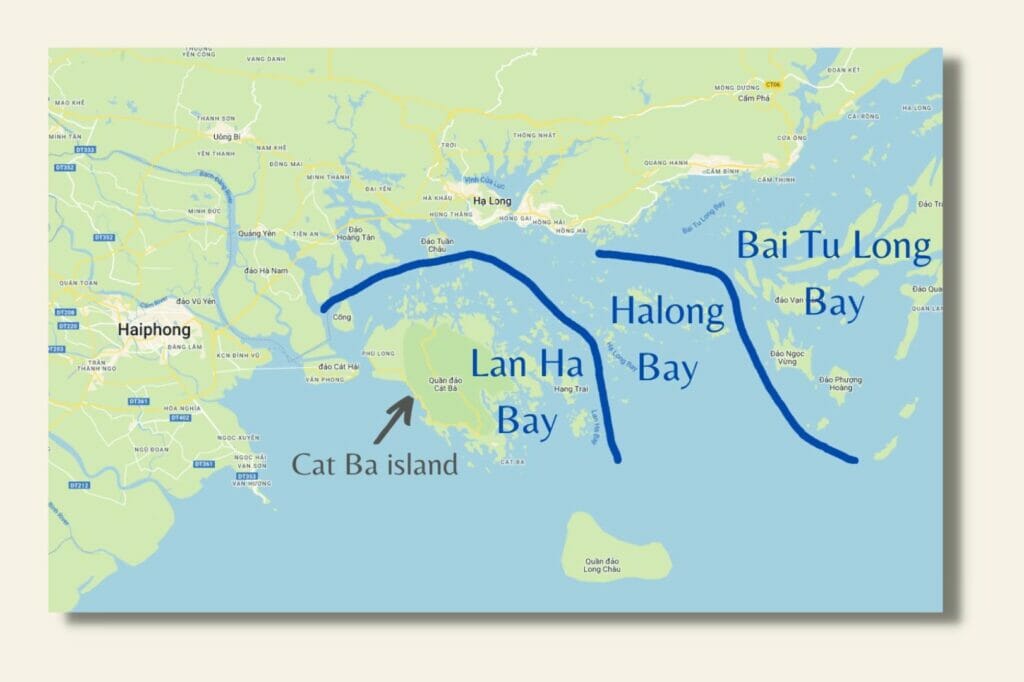 Cruises in Halong Bay
Going on a cruise is the number 1 activity to discover Halong Bay (or rather the 3 bays). We give you all the practical information for each of them.
Important point: it is impossible to make a cruise that passes through the 3 bays. Indeed, it is necessary to plan a very nice budget and it is not practical as you will quickly notice it… And then, I think that the landscapes end up being similar in the end…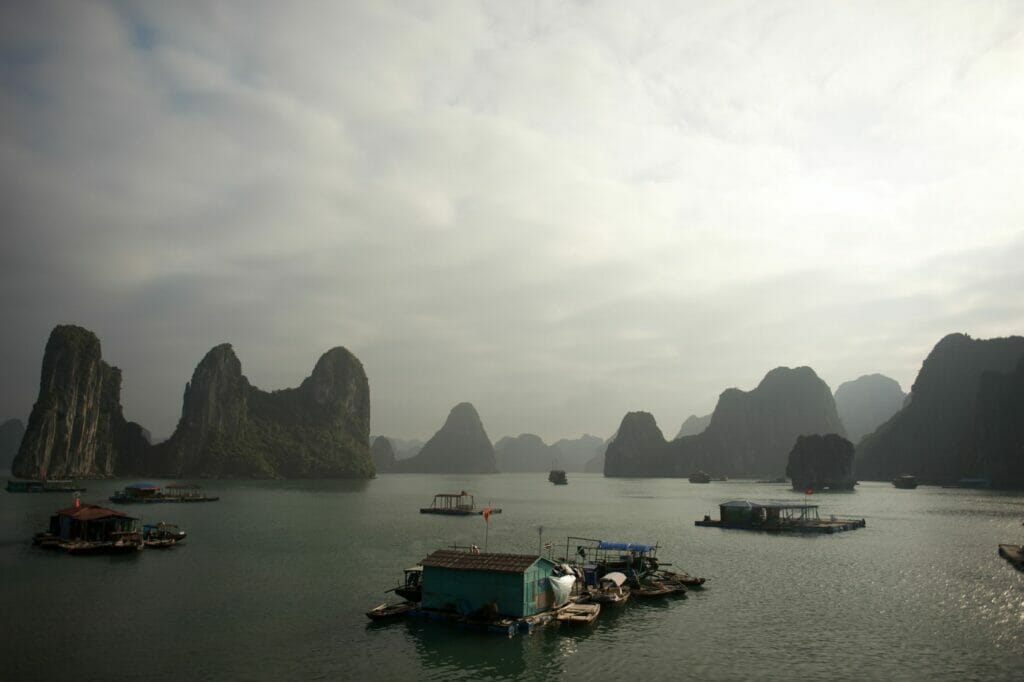 Cruise in Lan Ha Bay
To enjoy Lan Ha Bay, you have two possibilities:
arrive directly to Cat Ba to explore the island and take a cruise;
to take an organized tour from Hanoi for one or two days in junk in the bay;
So we opted for the first solution and detailed a little further down in the article all the necessary info if you want to discover Cat Ba island 😉.
For organized tours, this is where it gets complicated… As written previously, there are many tours! It is difficult not to be ripped off… For a 2 days cruise in Lan Ha Bay, count 170 euros per person. Everything is included except drinks most of the time. If you find a cheaper price, chances are that it is a scam and that the experience is not as good as expected. Otherwise, one solution is to use Getyourguide. The proposed cruises have been tested and approved and you will be sure to follow the established program.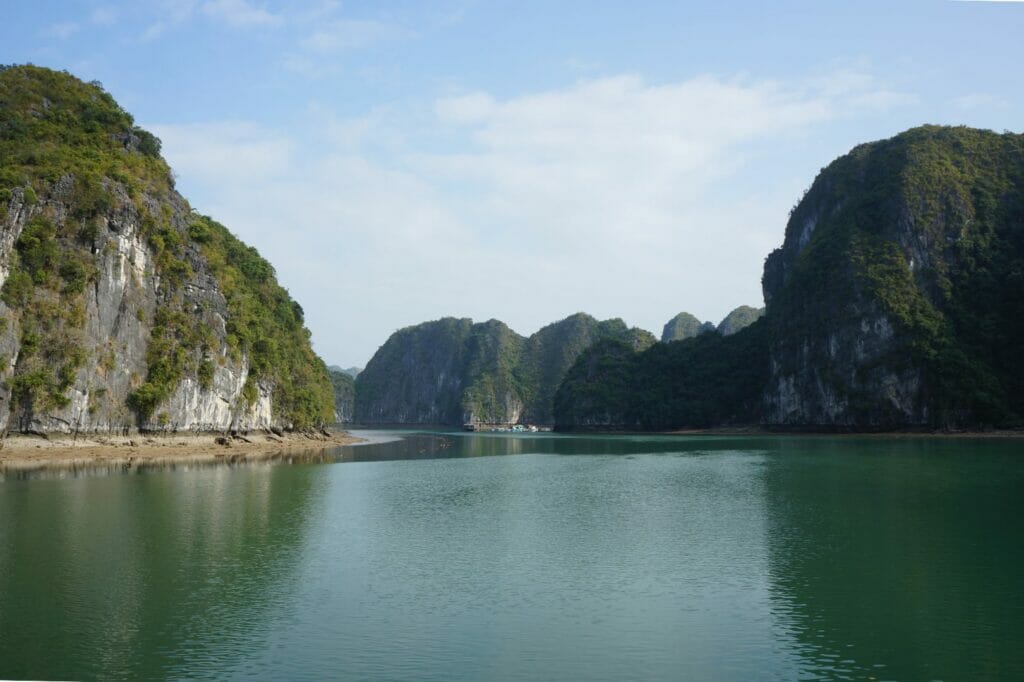 Cruise in Halong Bay and Bai Tu Long Bay
To discover Halong Bay and Bai Tu Long Bay, you also have two solutions:
join Ha Long city from Tam Coc or Hanoi and take a cruise from the city;
take an organized tour from Hanoi for one or two days by the junk in one of the two bays.
For the first option, you can easily find public transportation from Hanoi or Tam Coc starting at 400 000 dongs. Be careful, check that the bus or van arrives in Ha Long city on the map when booking! To take a junk cruise in one of the two bays from Ha Long, you can book on the spot. Some hotels offer tours, so you can judge if there is a scam. To give you an idea of the price, a 2-day cruise in Halong Bay costs a good 200 euros per person. If you want to book in advance of your stay, Booking also offers junk cruises from Ha Long.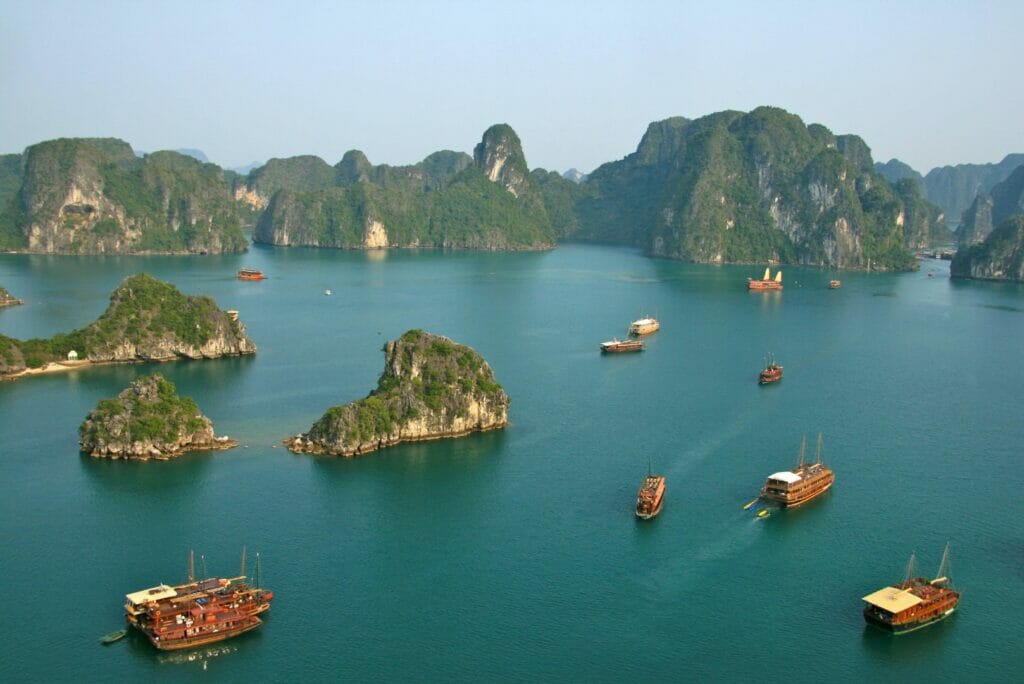 As far as organized tours are concerned, you are spoilt for choice! As for the prices, beware! From Hanoi, a 2 days cruise in Bai Tu Long Bay is around 150 euros. To see all available cruises in Halong Bay and Bai Tu Long Bay, please visit Getyourguide.
To know more about cruises in Bai Tu Long Bay, we recommend you to read Oli & Katie's article.
This article contains affiliate links to partner sites. When you use our links to book accommodation, a car, or an activity, you don't pay anything extra, but we get a small commission. This helps us to offer you free, independent, and ad-free content. Thank you for your support!
Cat Ba Island
Cat Ba Island can be considered the largest island in Halong Bay. Located in the southwest of the bay, it is 260 km² and is a little less popular with tours because it is located further away than the other two. Cat Ba has more than one trick up its sleeve! You will also find a beautiful national park (more than 1/3 of the island's surface), some very nice beaches as well as Lan Ha Bay. The latter has nothing to be ashamed of in comparison with its big sister, Halong Bay!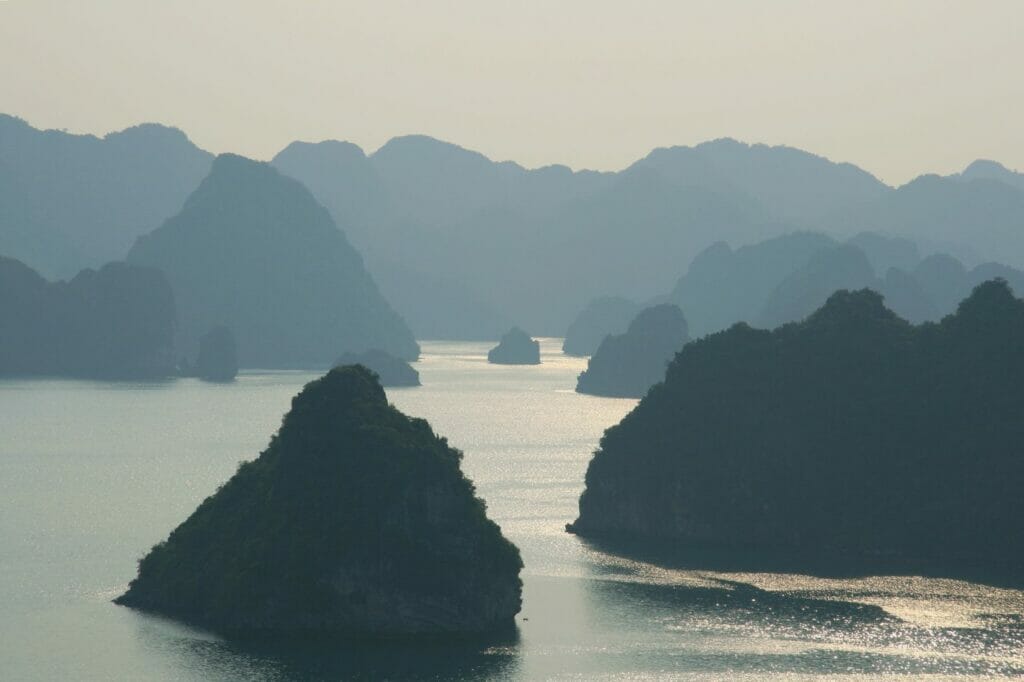 For us, it is the ideal destination! Beautiful possibilities for walking, seeing Halong Bay from a less touristic point of view, enjoying the sun… Moreover, the period between January and February represents the low season on the island! In short, all the elements are gathered so that we take our time in this small corner of paradise. Besides, we will stay there for 6 days while passing the Tet or the Vietnamese New Year (or Tet on January 30th).
Getting to Cat Ba Island
From Hanoi
From Hanoi, it is extremely easy to get to Cat Ba. In our opinion, the best way is to take a combined bus (to Hai Phong city)-boat (to Cat Ba island)-bus (to Cat Ba village) ticket. If you don't want to bother, you can book your tickets online on 12 go, from 276 000 dongs from Hoan Kiem, the center of Hanoi. The trip is about 4 hours. Make sure the bus or van arrives at Cat Ba Island by clicking on the map 😉. Otherwise, you have plenty of agencies in town that offer a cruise with transportation included to Cat Ba.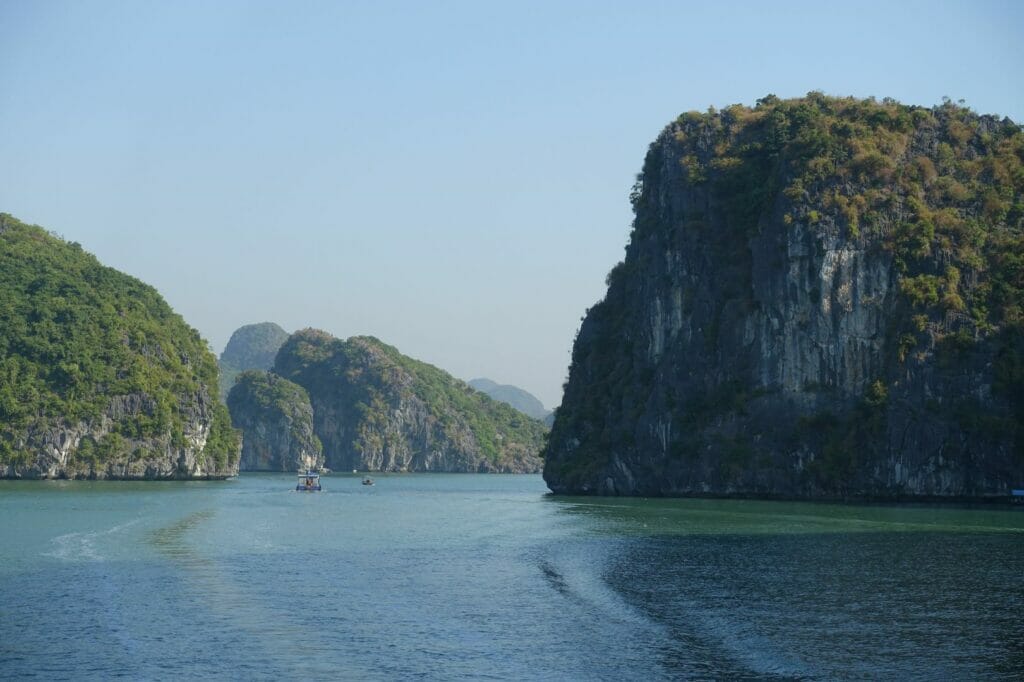 From Ninh Binh
If you come from Tam Coc, Halong Bay on land, don't do like us and take a combined ticket to Cat Ba (prices start at 345 000 dongs)! It was a shame because we finally paid twice the normal price after many difficulties. The local bus from Ninh Binh first dropped us off outside the city of Hai Phong. So we had to take a bus and then a cab to the port where nobody wanted to sell us a boat ticket for less than 200 000 dongs (while the real price is a maximum of 130 000…). In short, if you leave Tam Coc, we advise you to buy one of these combined tickets and leave from Ninh Binh to Cat Ba. The trip takes a little less than 4 hours.
Another option: the cable car!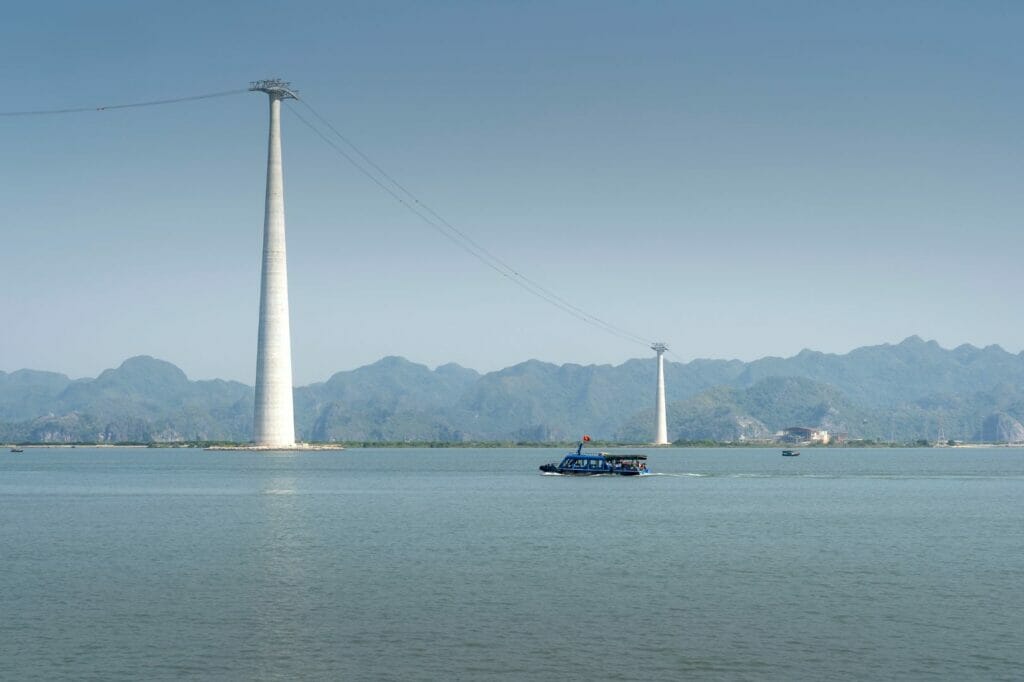 Since 2020, it is possible to take the Sun World Cat Ba cable car from Hai Phong to Cat Ba Island! Well, the price is not the same as a bus ticket that takes you directly to the center of Cat Ba, eh! In addition to the bus ticket to Hai Phong (135 000 dongs from Hanoi), count 95 000 dongs per person and a bus ticket to the south of the island. When we tell you that tourism is growing fast!
Hotels in Cat Ba
We stayed in the south of the island, in the main village of Cat Ba, the bus terminal. We don't give you an address in particular for the village of Cat Bat because, with growing tourism, hotels have developed and you will find very easily a double room close to the port for 10 euros. We chose a room for 20 euros because we had a private balcony with a view of the harbor… Very nice to drink a beer at sunset! The rooms at 10 euros don't have a view of the harbor but you can't have everything for this price!
After that, if arriving at the last minute is not your thing and you prefer to book something, we recommend you to have a look at Booking.
What to do in Cat Ba?
We were in Cat Ba at the end of January during the Tet festival, and there were extremely few tourists. No matter when you are in Vietnam, you will find fewer tourists than in Ha Long! Just avoid weekends in summer (between June and August) when Vietnamese come to enjoy the island (we understand them!) as well as national holidays (April 30 and September 2).
Cruise in Lan Ha Bay
Obviously, the main reason for our visit was to see the famous karst landforms. Unfortunately, we couldn't go on a junk boat tour because of the Vietnamese New Year. But as you can see in the pictures, we were not unhappy!
Nevertheless, we had quite a lot of feedback about the one-day or more cruises in Lan Ha bay, proposed by Luu Toan Taxi Boat Cat Ba. You can contact him here or by phone (0974429086).
Here are some of the highlights of a cruise in Lan Ha Bay: discovering the floating village of Cua Van, the fishing village of Viet Hai, the island of Cat Dua or Monkey Island, kayaking in the creeks, witnessing a memorable sunset, if the weather is good, etc.
We combined a trek of 18 km in the national park of Cat Ba with a boat tour of the bay. We found this combination rather nice because we crossed the park to return by boat to the village in 3 hours through these incredible landscapes.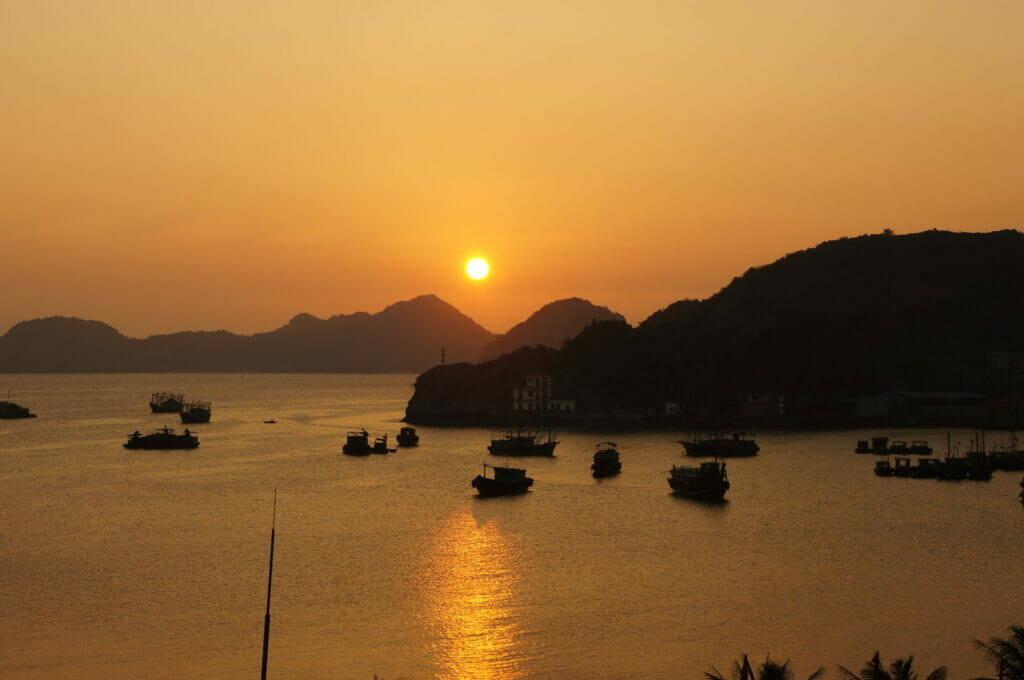 Trekking in Cat Ba National Park
The trek in the park was really pleasant even if it is necessary to have a rather good physical condition to support the successive ascents and descents through the jungle. The highlight of the walk was the climb to the highest point of the island. A piece of advice: if you are already tired before this climb, skip it: it's a steep climb… From there, we have a breathtaking 360° view. We arrived at the end of the morning and as often, the fog is quite persistent… No doubt that if the sky had been uncovered, the view would have been simply incredible!
Discover the island by scooter
Cat Ba is crossed by two very good paved roads and it would be a shame not to devote a whole day to discovering the island by scooter. The pleasure of riding through such scenery is hard to describe… You just feel free…
You will easily find in town a bike to rent for 5 $ and half a tank will be enough to ride every km of paved road. As you will inevitably pass by, stop at the hospital cave, a cave that served as an HQ and hospital for the Vietnamese during the war… In itself, a cheap (40 000 dongs) and a nice little visit.
Enjoy the beaches
At only 1 km from the village, you have access to 3 beautiful beaches: Bai Tam Cat Co 1, 2, and 3. No doubt, they are the most beautiful we have seen in Vietnam so far. As we were in low season, we had the beach to ourselves. A small path goes along the coast and connects the beaches between them. From the path, you will have a simply magnificent view of the bay. You will have understood it, we appreciated a lot the island of Cat Ba! With the expansion of tourism in Vietnam, the beaches are likely to be a little more crowded than during our visit. Prefer the week to avoid the crowds 😉.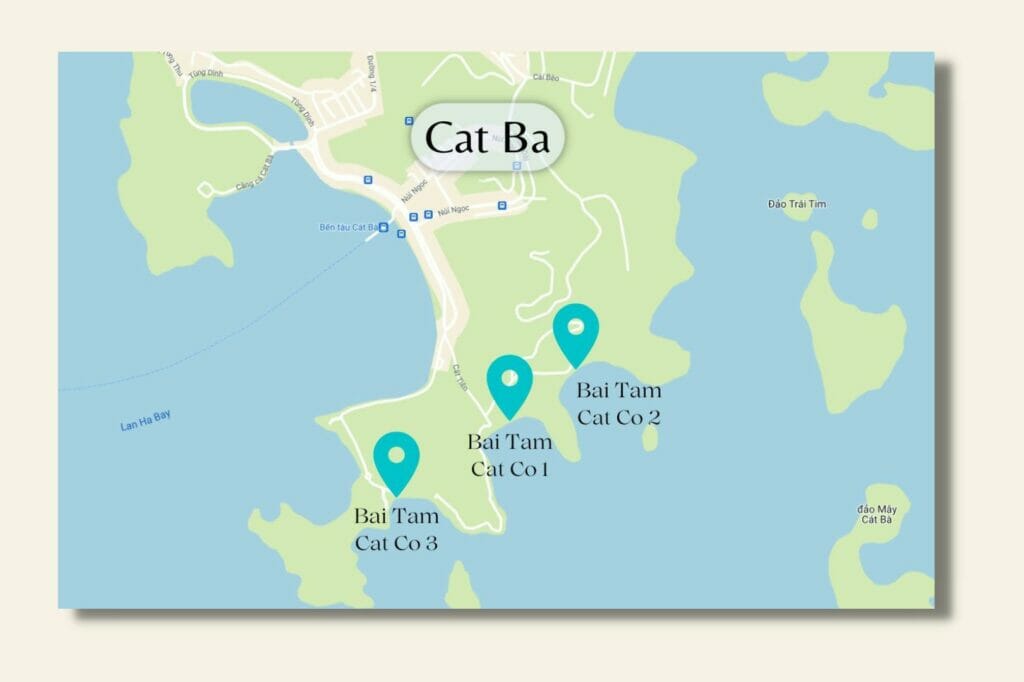 Vietnamese New Year or Tet in Halong Bay
As I mentioned above, we spent Tet or Vietnamese New Year on Cat Ba Island. You should know that in the weeks before this date, there is already excitement in Vietnam. Everyone is stocking up on food and cooking New Year's rice cakes (or banh chung) before going home to their families. It's a very hectic time, a bit like Christmas at home!
On New Year's Day, it's a family feast. The children receive red envelopes with money and in the evening, there are shows and fireworks… It's a very nice atmosphere! As there were very few tourists in Cat Ba, we were mainly with local families. We even had the right to very nice fireworks! In short, it was a very good evening!
Halong Bay and Tet
Be aware that it is impossible to organize a cruise in Halong Bay or to leave the island the day of the New Year and the day after. You should also stock up on food as most stores and restaurants are closed. Be aware that after Tet Day, people may still be on vacation for up to 2 weeks and mainly go to the countryside. So traveling during this period requires a bit more organization, but it's still doable 😉.
You will have understood, Cat Ba Island is one of our big favorites in Vietnam. You can do everything there: trekking, boating, kayaking, climbing, and beach, all for very affordable prices. Add to that the simply exceptional setting of Lan Ha Bay and you'll get a perfect place to spend a few very pleasant days 😎.
So, ready to discover the beauty of Cat Ba?
After, the different versions of Halong Bay, we continue to explore the north of Vietnam. Next destination: Babe Lake!
Pin it