Why did we go to Ba Be National Park? When travelling long term, we often try to get off the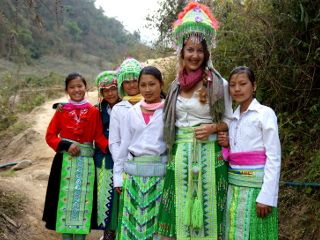 beaten track, to live "authentic" experiences, close to local populations and their cultures.
I find it legitimate to pursue this desire because we don't usually travel as far and as long to find ourselves in the midst of our compatriots and eat the food from home, do we? However, since we are in Southeast Asia, it is sometimes difficult for us to find these places.
Whose fault is it?….. To no one in particular! Thailand, Cambodia and Vietnam are very touristic countries. As a result, the inhabitants have become accustomed to the visitors and now know how to take advantage of them (we can't blame them for that).
But let's be honest, the fact that tourism is developing also has its positive aspects. In these countries, many people now speak English, transport is relatively well developed, there are many guesthouses and many people live from tourism. But let's say that in comparison with countries like China or Taiwan (and many others I imagine), the general experience sometimes sounds a little false and sometimes we might feel a bit like everybody believes we're only here to buy things and spend all our money on souvenirs.
Northern Vietnam, authentic tourism
It is therefore with the firm intention of going to meet the Vietnamese people that we are heading this time towards the mountains of northern Vietnam, in the Ba Be National Park. This region of the country (mainly the north-east), although more difficult to access, is known for its magnificent landscapes and the many ethnic minorities living there. Despite the difficulties caused by the Vietnamese New Year, we decided to reach our destination with local transport (buses, coaches, buses, motorcycles, taxi and boat) and this experience remains one of the best moments of our trip. As you will see in this video, we did a 2-day trek (long live the Tet festival) where we met some incredibly friendly locals!
Video of our trek in Vietnam
We're sorry, but the video below is in french… but even if you don't get what we're saying you can still get an idea of the area…
If I had to summarize:
Trekking in Ba Be National Park is incredible
Doing it during Tet festival is awesome because you see people in traditional clothes (and they don't wear them for tourists… as we were the only ones passing by)
Tet festival also means rice and wheat wine…
We had waaaaay too many shots during these couple days 🙂
We loved it!
Getting to Ba Be National Park: not an easy task
As you will have noticed in the video, it was not easy to reach the national park with local transport. The easiest way is to take a bus from Hanoi to Thai Nguyen and then take the bus from Thai Nguyen to Bo Lu village on Ba Be Lake. (see details here)
But unfortunately for us, because of the Vietnamese New Year, the second bus never left and we had to take 2 more buses, a motorcycle taxi and a boat to get to the same place… So it took us all day and cost a lot of money but in the end, it was worth it ;-). Also know that if you are on a motorcycle, it takes at least 8 hours from Hanoi (that's what the bikers we met at the hostel told us…).
Where to stay in Ba Be National Park?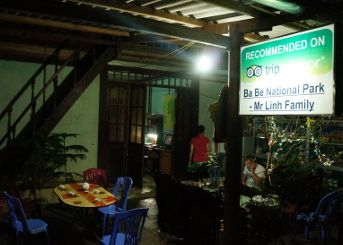 So now we only have one address to give you, it's the Linh family's address and that's for two reasons.
From one of their small guesthouses is located on the shores of Lake Ba Be in the small village of Bo Lu. The Linh family is very welcoming and will make you feel at home. Linh's wife cooks really well and will delight you in the morning, lunch and dinner. In addition, the prices are ridiculous… count 50'000 dongs/pers for one night and the prices for food are very reasonable as well.
Mr. Linh is also the head of a small local travel agency that organizes tours mainly in northern Vietnam. As he comes from the village of Bo Lu, he knows the Ba Be National Park better than anyone else and can arrange tours for you over one or more days according to your wishes.
As you can see in the video, we did a 2-day trek with a local guide through him and we didn't regret it for a second. The prices are not cheap (at least when done during a round the world trip) (we paid $137 per person for 3 nights, 3 breakfasts, 2 lunches and 3 dinners back in 2014) but the experience you will live will be well worth it!
Update 2021:
It seems that things have change quite a lot since 2013. Mister Lihn's homestay became much nicer (see on the website above), but this also means prices went up quite a bit! On the other hand, our guide, Mister Hung, only works with Mr Lihn part time because he now also has his own little homestay. If you would like to contact him directly, here is his facebook page (we highly recommend you to do that 😉 )
2 days trekking in Ba Be National Park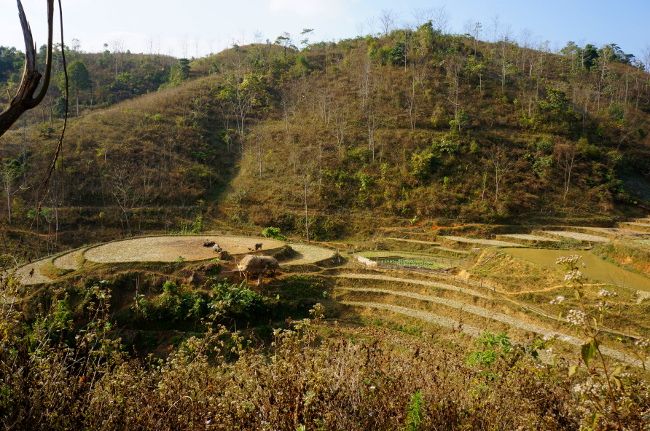 After a well-deserved night's sleep (well, yes, after our cahotic journey this was well needed), we get up early to have a solid breakfast (hear noodle soup with 3 poached eggs) and meet our guide for the next two days.
He is called "mister Hung" and is not strictly speaking a guide. He actually lives in a small village (10 houses) of the "Black Zao" ethnic minority and spends most of his time growing rice and vegetables or raising animals to feed his family. His occupation as a guide for Mister Linh is something he does (or did bac in 2014) on the side in order to make ends meet.
After getting introduced briefly, mister Hung (who speaks a little English) explains that we will walk 20km through Ba Be National Park to reach his village where he will welcome us for the night. On the next day, we still have to walk 10 km to reach a river on which we will continue by boat. In short, a friendly and diversified loop that suits us perfectly.
1st trekking day in Ba Ba National Park

We quickly set off because there is still a good walk and it climbs sharply. But Mr Hung is very careful and adapts the rhythm according to our needs ;-). Anyway, the landscapes crossed are splendid and we quickly forget the fatigue ;-).
As it is the Tet period, there are many young people in the Hmong villages because they are on holiday.
Boys play football in dry rice fields or flirt with girls. The ladies who, for the occasion, put on their traditional outfits. They have a pretty fun way of flirting. They form a circle and take turns throwing a ball attached to a string at each other. Sometimes a boy and a girl isolate themselves by continuing to throw the ball at each other and thus form a couple… Mr. Hung also admitted that there are many weddings after the New Year period. 😉
For the lunch break, we stop at a friend of our guide's. So, as it's New Year's Eve, he offers us a few shots of corn alcohol! The taste is not great but it has the merit to get us back on our feet to walk to the village of mister Hung. Anyway, it's not as if we have a choice because it's pretty frowned upon to refuse a drink in Vietnam ;).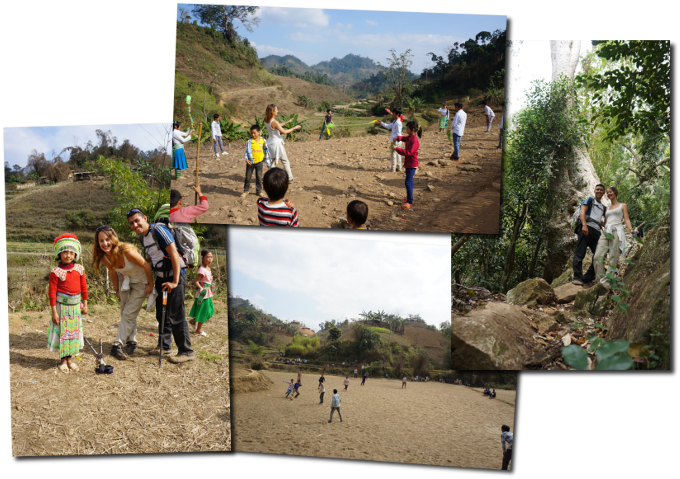 Homestay at mister Hung's:
We arrive at our guide's village in the late afternoon. His wife is just making tofu. We look at it carefully because it's the first time we can see someone making homemade tofu! The best thing? It's for tonight's dinner. Miaaammmmmm!
As it is still New Year's Eve, mister Hung set us up on his small terrace to drink an aperitif. And here we go again for a long (or even very long) series of shots of corn alcohol…. In fact, we're not going to stop drinking until it's time for bed. Between drinks, we get to know Hung's wife, daughter and parents. They are all very nice and make us feel at ease right away (well, a few small drinks help ;-)).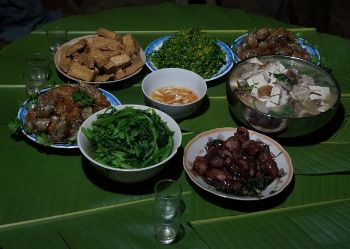 The long-awaited moment of the meal comes! Our guide's wife has prepared a feast for us like a restaurant. Fresh or fried tofu, garden vegetables, sausages, spring rolls… We're really spoiled. The atmosphere is great and we enjoy these special moments with this family. After the meal, Fabienne even has the honour of trying on Mrs Hung's traditional wedding outfit. It suits her perfectly. ;). After a last shot and a group photo, we go to bed, our heads spinning a little but full of beautiful pictures.
A difficult awakening
The next morning, I get up early to do the neighborhood tour with mister Hung…. Fabienne, is still asleep of course! He tells me: we just need to buy some eggs for breakfast. So we walk 15 minutes to one of his neighbours' houses.
As it is still New Year's Eve, we are entitled to a small glass of homemade corn alcohol…. After the night before, I assure you that it wasn't easy to swallow this one 😉 (especially since it was 7am !). Fortunately, after that we had a great breakfast to soak up some of that!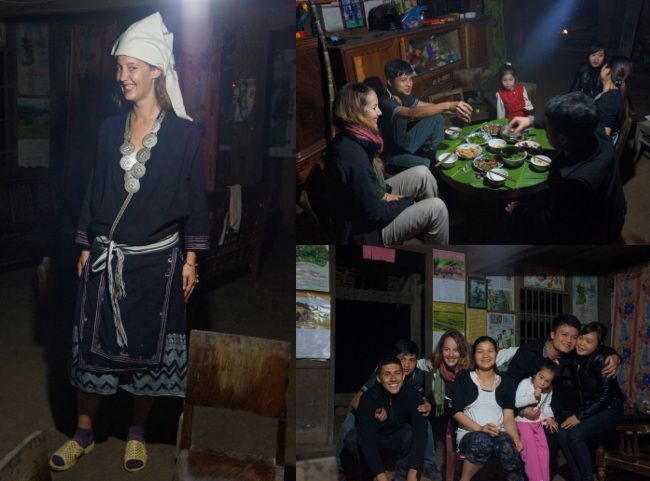 Our second day in Ba Be National Park

Fortunately for us, the 2nd day program is a little less challenging). We have to go down about 10 km to a river. The rest will be done quietly by boat (pfiou…)! The landscapes observed are no less beautiful than the day before and we meet a lot of locals again. Young girls who wore traditional clothes (to flirt) even had Fabienne try on their clothes. A lot of fun, especially when you know that in Europe, we don't really have the same morphology 😉
Once we reach the river, we board a boat that will take us back to our starting point. In the meantime, we will stop to see a waterfall and a rather impressive cave where some buffaloes were cooling down. The ride will last all afternoon and was a pure joy for the eyes! The pictures will be a little more explicit than the words 😉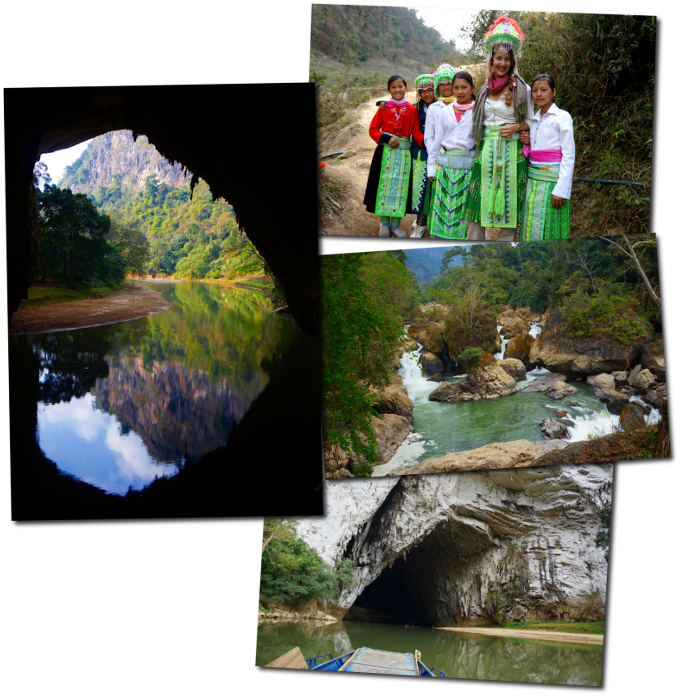 Review of our trek in northern Vietnam
As you can see, we had some unforgettable moments in Ba Be National Park. We met some great people who wanted to share the secrets of their region with the few tourists who came to the area.
Thanks to the Linh and Hung families, we discovered a facet of Vietnam that had been running away from us until now. We will be forever grateful to them for welcoming us and sharing with us some of their culture and customs. Because even if Vietnam is a country that is full of splendid places, it is not necessarily obvious to have this kind of exchange with the inhabitants who are mostly used to visitors.
So thank you to them for being more than just hosts or guides! We wish them to keep this desire to share their region with visitors for a long time to come. And if you ever happen to go to Ba Be, you now know who to contact ;-).