A little over 7 months since we left for our round the world trip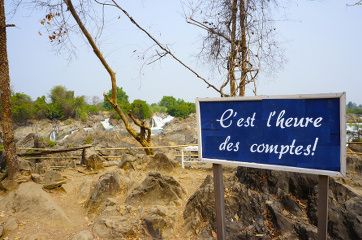 , Laos, the 7th country of our trip, was a real favorite! It's time to tell you a little bit more about our Budget!
Even before our departure we had heard a lot of good things about Laos, as well as about Cambodia. So strangely enough, Cambodia was what you could call a "miss", read more about our impressions of Cambodia our article. But for Laos it's the opposite!
We leave this country completely under the spell of its landscapes, its inhabitants and the sweetness of life that reigns there!
The best things to see in Laos: our top picks
The Laotians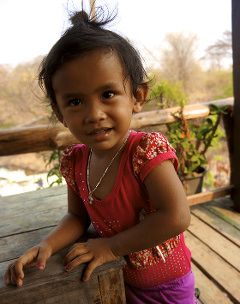 If you have been following us for a while you will have noticed that we had a big crush on the landscapes of Vietnam, but on the other hand we had regretted the certain coldness and the very commercial side of the Vietnamese!
Laos at this level is a breath of fresh air!
People are smiling, we are systematically greeted with a large "Sabaideeeeeee" (hello in Laotian) by both children and adults. Few times have we had the feeling "to be a little bit fooled", laos love tourists and really don't have this tendency to see us a pure business!
The Konglor Cave

7km in a boat to cross a cave by the only light of his headlamp and come out on the other side in a small oasis of greenery and calm? Indescribable!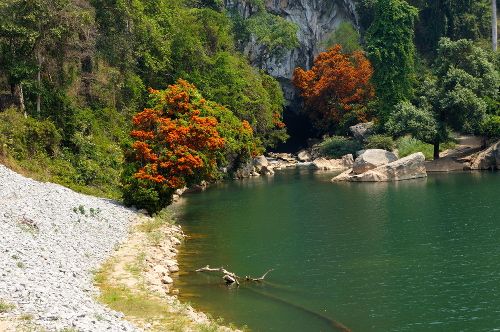 Kuang Si waterfalls in Luang Prabang
a great classic of tourism in Laos, it is nevertheless a bewitching and peaceful place! Go there early in the morning to enjoy it without the crowds, and we guarantee that you will leave under the spell! Check out our article dedicated to Luang Prabang for more details!
Nong Khiaw
A real favorite for this small village nestled in the middle of the karst hills and by the water. Developed to welcome tourists with its guesthouses and restaurants by the river, the village has preserved a real authentic charm. In addition to the endless possibilities of activity in the surroundings: mountain biking, climbing, kayaking, hiking…. Special mention for the point of view that overlooks the village all the same! Our article about Nong Khiaw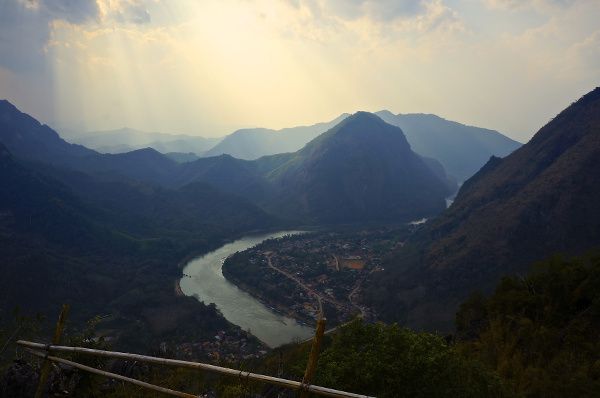 The sweetness of life on the 4000 islands
Do nothing, enjoy the hammocks, the beautiful sunsets, the fruit shakes…. no need to draw a picture of why we loved the area, but if you missed our article on the subject, it's time to catch up and discover why we loved the 4000 islands so much. Read it here
The entire Bolaven Plateau region
But a little crush on the Tad Champee waterfall: Even if the scooter ride is not always relaxing on the dirt tracks, the landscapes are worth seeing!
The adrenaline rushes during our kayak trip on the Nam Ou River
Special mention for the sporty rapids or the passage in the middle of a dam under construction!
And to finish once again the smile of the Laotians….
Without its inhabitants with hearts this big, the country would not be what it is!
What we did not like so much in Laos
For us Laos it will have really been a favorite on almost all levels, but well we won't lie to you it's not all pink and cute everywhere and all the time…. In our 32 days in the country, there were still some little things that we didn't like so much….
Vang Vieng and his drunk tourists….
We're not going to draw a new picture for you, we already talked about it in our article about this party town.
Local night buses

Unattached and super narrow seats, stifling heat, and Laotians who have the tendency to get motion sickness… Anyway, probably not our best nights on the road.
The roads (well… the tracks!) during our motorcycle loops in Thakeak and on the Bolaven plateau…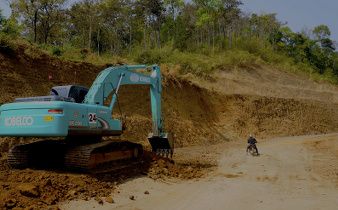 Seeing dream landscapes parade before our eyes on our motorbike is a real treat on the asphalt roads! On the other hand, when the bitumen gives way to sand, dirt tracks with potholes and gravel, it's immediately less fun…
But as you can imagine, these few small details have not affected our overall impression of the country! We loved our time in Laos!!!!!!!
Video of our trip to Laos
But it is well known, images are worth more than thousant words… Now it's time for our video!
Note: the video is in french… I hope you don't mind! But
Visa in Laos: how does it work and how can it be extended?
The visa for Laos can be obtained directly at the border, so there is no need to worry about it in advance! We did it directly from Sapa at the border of Dien Bien Phu. Laos is not as famous as Cambodia for small border scams, but let's be honest, there are often a few small "mystery taxes" added to the bill.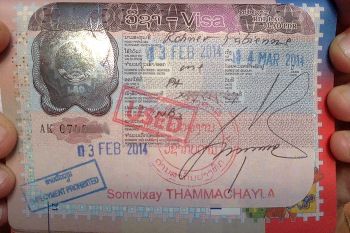 Whether you enter or exit, you will have to pay 10,000 kips of "stamp fees", well yes, you pay for the ink! On arrival we had to add $2 to this for… attention…. a medical check-up! For this price they will not give you a complete health check-up, but they will simply take your temperature to make sure you are not too hot… 😉
Infos
Price of the visa for Laos at the border: 30$ for the French and 35$ for the Swiss.
The price depends on your nationality, but in general it is $25, only the Swiss, Americans, Canadians and Japanese pay more (between $30 and $40)
Important for the Swiss: The Laotian visa is free if you stay less than two weeks! Simply fill in the form and indicate a stay of less than 15 days!
For our part we preferred to pay 30$ (it used to be 30$ for swiss citizens back in 2014… now the price changed to 35$) and get a visa for 30 days, but if you really want to be careful with your budget nothing will prevent the Swiss from making a 15-day free visa, then to stop by Thailand at the end of the visa to come back to ask for 15 more free days!
Be careful, if you plan to buy your visa at the border, make sure you have dollars with you! In Dien Bien Phu it is possible to pay in kips or Vietnamese dong, but the exchange rates are catastrophic!
Visa extension in Laos
Once the sesame is in your pocket, all you have to do is enjoy this magnificent country! But be careful, as many travellers do, you may well find yourself under the spell of the country, and never want to leave it again!
So if like us 30 days don't seem enough, you have two options:
Leave Laos to make a jump to Thailand and come back for a new 30-day visa for $25.
Extend your current visa
The visa extension is an interesting option if you plan to extend your stay by less than 10 days, in fact the extension costs $2 per day of extension, plus $5 application form fees.
To extend your visa, you will have the choice of either going to Luang Prabang or Vientiane to do so at the official immigration offices.
For those who enjoy the 4000 islands or who still want to discover the Bolaven Plateau, you will be happy to know that it is also possible to extend your visa in Pakse.
In Pakse you will have to go to the police station on Thannon 10, just in front of the market (a stone's throw from the hospital). Come on, we had a hard time finding the police station, we're nice, we give you a map! 😉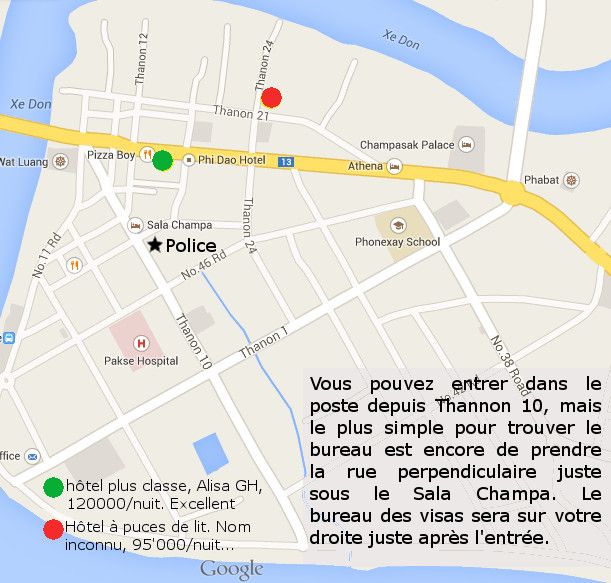 For a visa extension, allow 24 hours of processing time. As with the visa, it will cost you much less if you have the exact change in dollars! Kips are certainly accepted, but you will pay way more!
Travel Budget in Laos
Now is the time to keep the accounts! Laos remains an extremely cheap country, even if prices have increased slightly in the last 2 years! We had set a daily budget of 18.5€ per person, in the end we spent 16.7€ per person on average over the duration of our stay.
Here are our detailed expenses.
Note: it's in french, but you should be able to figure it out thanks to the icons. On the left you'll see our daily average per expense item (always for 2 people). On the right, you'll see our total budget for the entire stay (32 days).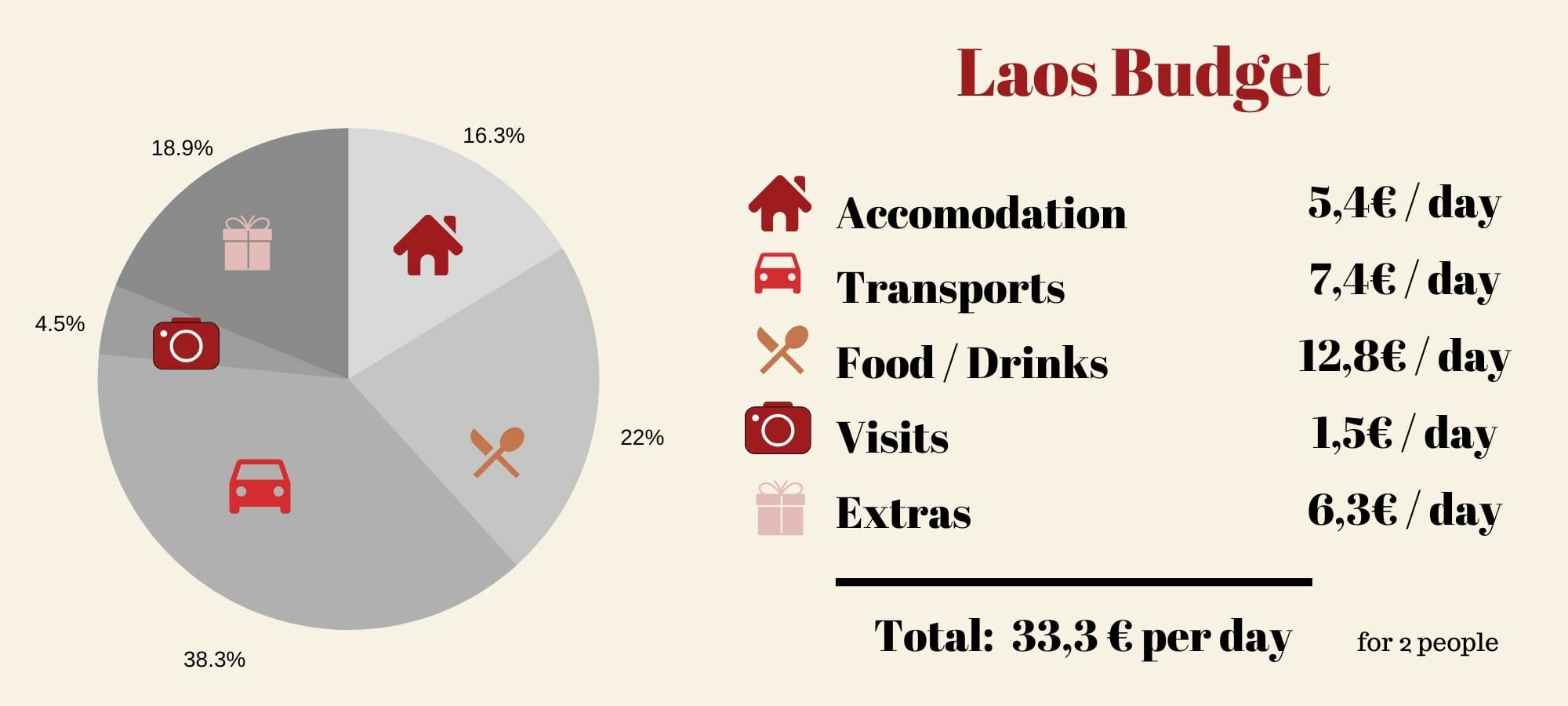 These are all our figures! Be careful though, the 3 days with the kayak were counted in "Extras", but this also includes all meals and accommodation during the trip. As a result, the average on our accommodations is closer to 6€, and the average for meals is 13€ per day. Remember that all the figures presented above are expressed for 2 people.
Cost of living in Laos:
To help you orient yourself a little bit, here is an overview of the prices we met during our trip in February 2014. To give you an idea 1€ = 11'000 kip
Accomodation
Average price of a double room: 74'000 kips
Our cheapest night: 50'000 kips (standard price off major tourist routes)
Our most expensive night: 120'000 kips in Pakse (Benoit was sick, we invested for a deluxe room with air conditioning…)
Transports
Average price for renting a scooter: 50'000 kips per day (Watch out for Luang Prabang it is more expensive and scams are frequent)
Price of a litre of petrol: about 11,000 kips
Minibus ticket from Luang Prabang to Vang Vieng: 125'000 kips per person (VIP buses cost 180'0000 kips per person)
Vang Vieng to Thakheak bus: 180'000 kips per person (this was clearly a scam)
Bus ticket from Vang Vieng to Vientiane: 80'000 kips per person
Travel by local night bus from Thakheak to the 4000 islands: 85'000 kips per person
Bus 4000 islands in Pakse: 45'000 kips per person (boat included)
Price of a bus ticket from Pakse to Bangkok: 250'000 kips per person
Visits and activities
Viewpoint in Nong Khiaw: 20'000 kips per person for access to the trail
Kayak trip from Nong Khiaw to Luang Prabang: 735'000 kips per person (3 days / 2 nights, all meals included as well as transfer of backpacks by minibus to Luang Prabang)
Kuang Si waterfalls in Luang Prabang: 20'000 kips per person
Visit of the Konglor caves: 62'000 kips per person (includes: entrance to the park, entrance to the cavec and the boat)
Boat trip on the 4000 islands to observe freshwater dolphins and waterfalls: 150'000 kips per boat (max 3 people)
Entrances to the various waterfalls of the Bolaven Plateau: generally 5000 kips of parking and possibly 5000 kips per person. See our article on the subject for more details
Food and beverages
Beerlao beer, 640ml: 10'000 kips
Price of a can of Coke, 330ml: 7000 kips
(I let you do the quantity price calculation to determine the most advantageous between beer and cola…);)
Noodle soup in the street: 10'000 kipsAverage price of a dish in a restaurant: 30'000 kips
a bunch of bananas: 10'000 kips
Misc
The price for laundry is usually 10'000 kips per kilo
Bank Withdrawal Fees amount to 20,000 kips per withdrawal, maximum withdrawal of 1 million
Price of a pack of anti-analgesics purchased in pharmacies: 3000 kips for every 10 tablets!
Average price of a visit to the public toilets: 1000 kips (sometimes 2000 kips)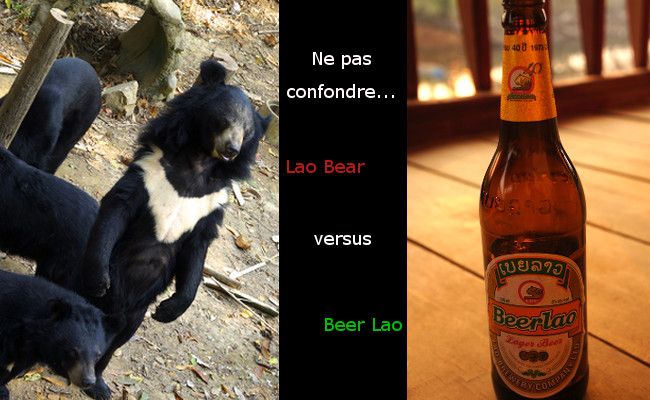 A few figures in bulk:
3: Number of days spent in a kayak
5: Number of days with arm aches after kayaking
11: Number of days our legs kept the traces of our sunburns collected on the kayak;)
3: the number of night buses used in Laos
1: Number of nights invaded by bed bugs…. Thank you Pakse!
2884: Estimate of the number of radiant smiles crossed on our way…;)
982: Number of kilometres travelled by motorbike
80: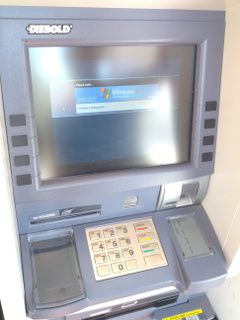 Number of minutes we waited to get our credit card back after it got swallowed by a ATM in Luang Prabang. There was ample time to notice that the ATMs are running on Windows, and to notice that restarting an ATM takes time… a lot of time….
4: Number of sick days for Benoit
0,8: Price in euros to replace 2 mirrors on a scooter….
19: number of different beds in which we slept
As you will have understood, after 4 weeks in Laos, this is by no means a farewell to this country, but rather a "goodbye and see you soon again"!