Well, Vietnam is already over! It's time to assess and keep track of the accounts to give you a small idea of our budget for a trip to Vietnam. In the beginning, we had planned to stay for 3 or 4 weeks, but we had so much fun that we decided to play a little longer! One visa extension later and here we are for 7 weeks in the country of Uncle Ho. Come on, a last article on the cost of a backpacking trip in Vietnam to finish this series?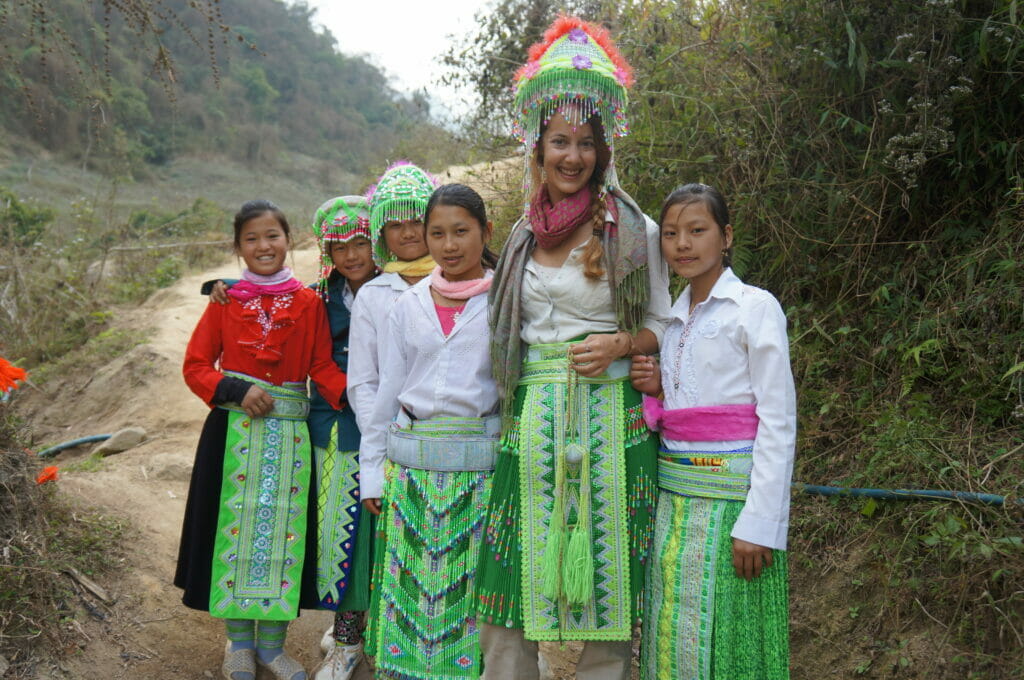 Update 2022
We made this trip in 2014, but the article was completely revised in November 2022. We have updated the prices, which have since increased. As a result, our budget would be a bit higher today (+10-20% or so). If you have any additional information that might be relevant, please feel free to leave us a comment!
Back on our trip to Vietnam
Because pictures often speak much more than words, we concocted a little best-of video of our trip to Vietnam. Are you ready? Then we take you along! Enjoy!
Cost of a backpacking trip to Vietnam
You're starting to get used to our little review articles, right? So, here are our detailed figures for Vietnam.
All in all, we spent 1834 euros in 7 weeks for 2 people, that is to say, an average of 18,6 euros per day and person. In dongs, this gives a budget of 480 000 dongs per day and per person.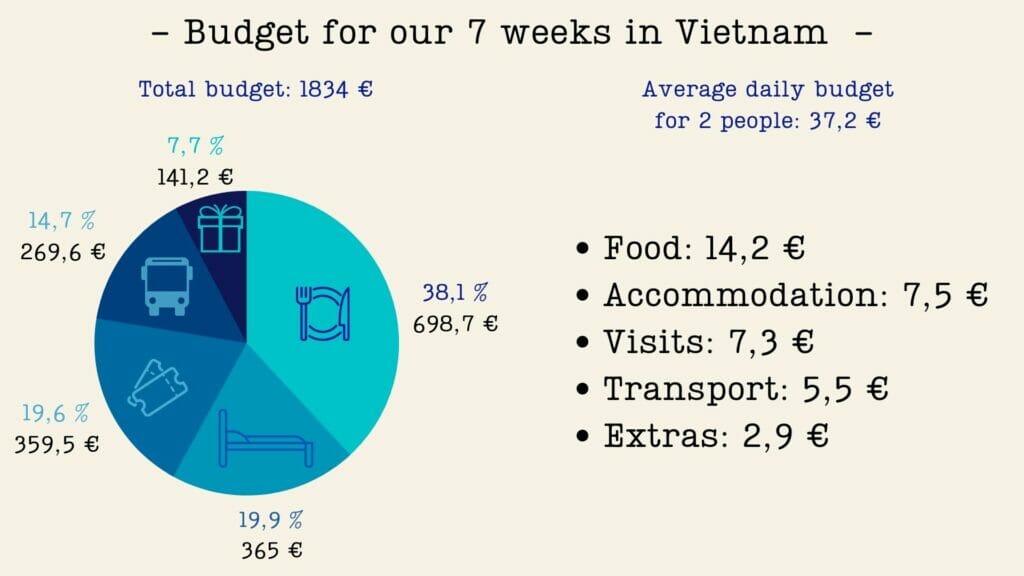 Transportation in Vietnam
To get around Vietnam, there are many options. The most common are the bus, the train, or the motorcycle. It is common practice for travelers to buy a motorcycle either in Ho Chi Minh (in the south) to sell it in Hanoi (in the north) or vice versa.
Some figures for the pure motorcyclists
One liter of gasoline: about 24 000 dongs.
Renting a scooter for 24 hours: 160 000 dongs.
Buying a second-hand motorcycle: 200-300 $. This price usually includes equipment such as helmets, rain gear, and luggage racks, as you will often find yourself buying your bike from a former traveler who no longer has a use for it.
The train in Vietnam
Generally speaking, the train is more expensive than the bus in Vietnam. That's why we didn't use this means of transportation. So sorry, no concrete figures to offer you… However, for the buses, we know a lot!
Buses in Vietnam
It is important to distinguish local buses from "open tour" buses. In fact, the latter is generally reserved for tourists and goes to most of the tourist attractions. The open tour buses are generally a bit more expensive, but believe us this is not always the case! The local buses have the annoying tendency to drop you off in the middle of nowhere (I've seen it)! After that, you are good to walk, if you know the direction to take, or take a cab.
The taxi in Vietnam: the pick-up is around 12 000 dongs and the price per kilometer is around 15 000 dongs.
Local bus from Ho Chi Minh to Vinh Long in the Mekong Delta: 100 000 dongs per person.
Open tour bus from Ho Chi Minh to Mui Ne: 160 000 dongs per person.
Open tour bus from Mui Ne to Hoi An: 850 000 dongs per person.
Open tour bus from Hoi An to Hue: 207 000 dongs per person.
Sleeper train from Dong Hoi to Hanoi: 568 000 dongs per person.
Bus/boat/bus to Cat Ba Island in Halong Bay from Hanoi: 276 000 dongs per person.
Bus from Hanoi to Ba Be: 150 000 dongs per person.
Local night bus from Thai N'Guyen to Lao Cai: 264 000 dongs per person.
Minibus from Lao Cai to Sapa: 30 000 dongs per person.
Buses in Vietnam
If you want to book buses in Vietnam in advance, you can have a look at 12go. This site is very convenient for booking long bus trips in Vietnam (and in Asia in general). For minibusses and short trips, it is often much easier and cheaper to buy your ticket directly at the station.
Hotels in Vietnam
Accommodation prices in Vietnam vary quite a lot between the big cities and the countryside, but also according to the popularity of the tourist site and the competitiveness of the surroundings. For example, our nights in Sapa were much cheaper than those in the land-based Halong Bay!
Moreover, it is common in Vietnam to use homestay as accommodation. They are locals who welcome you in their homes for a price generally ranging between 200 000 and 300 000 dongs per person. Dinner and breakfast are included, as well as a good dose of rice liquor. You've been warned 😉. Sometimes, these experiences are real immersions into the lives of the people, such as during our trek to Babe Lake. Otherwise, it's more like a vacation camp for tourists searching for authenticity as during our visit to Sapa. But without trying, you won't know!
Our cheapest night: 100 000 dongs (in Ba Be).
Our most expensive night: 420 000 dongs (à Mui Ne).
Number of different beds: 19.
Nights spent on the bus: 3.
Nights in homestay: 5.
Hotels in Vietnam
In Vietnam, we found most of our accommodations without making a reservation by going directly to the place. Besides, it's often cheaper on the spot, as you can use your fabulous negotiating skills 😉. If you want to book in advance or just get an overview of the best prices online, we recommend Booking.
This article contains affiliate links to partner sites. When you use our links to book accommodation, a car, or an activity, you don't pay anything extra, but we get a small commission. This helps us to offer you free, independent, and ad-free content. Thank you for your support!
Food in Vietnam
Like the rest of Southeast Asia, street food in Vietnam is excellent and cheap! Here are some prices for food:
A bowl of noodles on the street: 20 000 dongs.
A Vietnamese meal in a restaurant with drinks for 2 people: 120 000 dongs.
Average price of a western meal for 2: 230 000 dongs.
A can of soda: 5 000 dongs in a supermarket, 10 000 in a restaurant.
Average price of Vietnamese coffee in the street: 20 000 dongs in the north et 10-15 000 in the south.
A pack of instant coffee: about 50 000 dongs.
The cheapest draft beer: 3000 dongs in Hoi An.
Bottled beer: 25 000 dongs.
A 1,5 L bottle of water: 10 000 dongs.
Visits in Vietnam
It is important to know that almost all activities (tourist or not) are paying in Vietnam… So expect to pay for each visit. To find our favorites in Vietnam, click here!
The average price for a temple in Vietnam: between 10 000 and 30 000 dongs.
Boat trip on the Mekong Delta and visit the floating market from Ho Chi Minh City: 590 000 dongs.
Boat trip to visit Phong Nha caves: 270 000 dongs per person if the boat is shared with 12 people.
Entrance to the Paradise Cave: 250 000 dongs and it is worth every penny!
Rowing boat tour Halong Bay on land: 300 000 dongs (negotiable 🙃) for 2 people.
Trek in Cat Ba National Park and boat ride back to Lan Ha Bay: 356 000 dongs per person with meal included.
Hospital Cave in Cat Ba: 40 000 dongs.
Trekking to Ba Be Lake for 2 people: more than 5 million dongs (yes, we blew the budget)… But it was just amazing!
Trekking 2 days/1 night in Sa Pa: 1,2 million dongs.
To book activities and excursions in Vietnam you can check all the possibilities on the Getyourguide website.
Diverse
Vietnamese visa price: 25 $.
Vietnamese visa extension done by our hotel in Hanoi: 35 $.
ATM withdrawal fee: 30 000 dongs per withdrawal.
Sending a 13 kg parcel to Switzerland: 1,7 million dongs (we had something very special to send back 😉).
Average price of laundry in a guesthouse: about 20 000 dongs per kilo of dirty laundry.
Our assessment of the budget for a trip to Vietnam
In the beginning, we calculated a daily budget of 21 euros per day and per person. In the end, we were under despite some extras like the trek to Babe Lake. On the other hand, we were invited to spend 2 nights at the hotel in Mui Nue by our great friends who came to visit us and let's admit it, between my father and our friends, we didn't have the right to spend much during these 3 days.
It is true that if you want to be careful with your budget, Vietnam can be a bit tiring… What I mean by that is that scams are frequent, and if you are not careful, you can quickly end up paying 10 times the price (or even more)! For example, we witnessed a funny scene in Hoi An, where a street vendor sold pancakes to a Vietnamese woman for 3000 dongs, and 3 minutes later, these same pancakes were sold for 50,000 dongs to an English tourist… It's the same for the local buses and even the simplest things in everyday life! Vietnam is indeed the first country where I ended up negotiating my Diet Coke in a convenience store!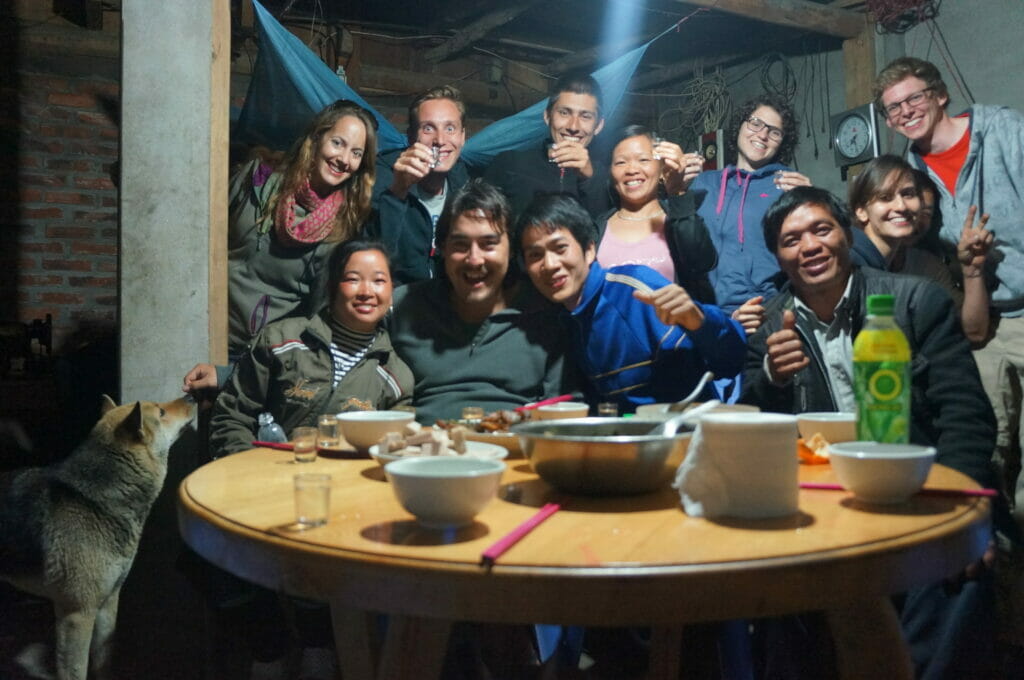 Our review of our trip to Vietnam
Before coming to Vietnam, we didn't know… Well yes, we read everything on the net! Some loved it while others fled the country like the plague after only 2 weeks because the commercial side of some Vietnamese people bothered them!
Of course, we were fooled (probably more than we thought), but we knew how to take it with humor and also a certain detachment on the whole. We want to drink a Coke but the price is twice as high? Well, we don't get angry, we smile, we say that it's too expensive and we go away! 2 times out of 3 we will spontaneously propose to you the "real price", and my time 1 time out of 3 we are satisfied with our water…
Beyond the purely financial aspect, Vietnam will have been also total amazement in front of certain landscapes, beautiful meetings, magnificent aperitifs at sunset, and a lot of smiling and welcoming people… In short, Vietnam, we enjoyed it and we would almost ask for more. After that, it's not bad to have spent 7 weeks there!
On that note, we'll see you in Laos! Spoiler alert: we tell you in this series of articles how we reached Luang Prabang by kayaking for 3 days instead of taking the bus! Yes, why do simple when you can do complicated? Come on, you're crossing the border with us 😉?
Pin it