Soon two months that we are on the roads of France and we admit it to you, we hardly follow the rhythm of publication so much we see beautiful things! 😉 With our book that has just been published, we are quite busy, but we thought, we simply couldn't help but talk to you about one of our French highlight, I named: the small villages in the Var region!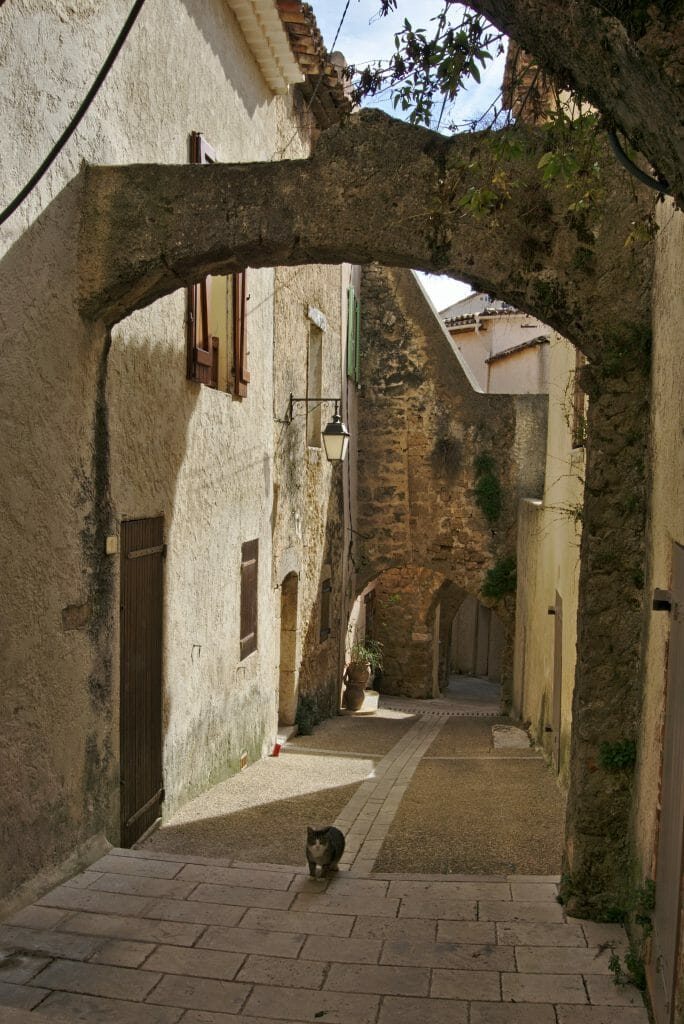 France has just an unbelievable richness of small villages and very often during our car trips we find ourselves taking many more breaks than expected. Initially, in order to save money, it was decided to avoid motorways and tolls as much as possible. Over the kilometers we quickly realized that taking your time on the small roads is also good for the landscapes.
We will probably talk to you again about more small villages along the way, but after having talked to you about Roquefort in our last article, it seemed relevant to us to continue on a small note of terroir and to introduce you to our small trio winner of the villages of the Var region! 😉
(Well, to be fair, we haven't seen everything, and by far… so we'll clearly have to come back and see more, but it's a temporary top three based on our visits… Moreover, if you have recommendations from villages not to be missed in the Var region, feel free to leave a comment at the end of this post! It will give us a list for next time and it will give ideas to other readers of the blog 🙂 )
The Var in another way: Why don't we leave the French Riviera for a while?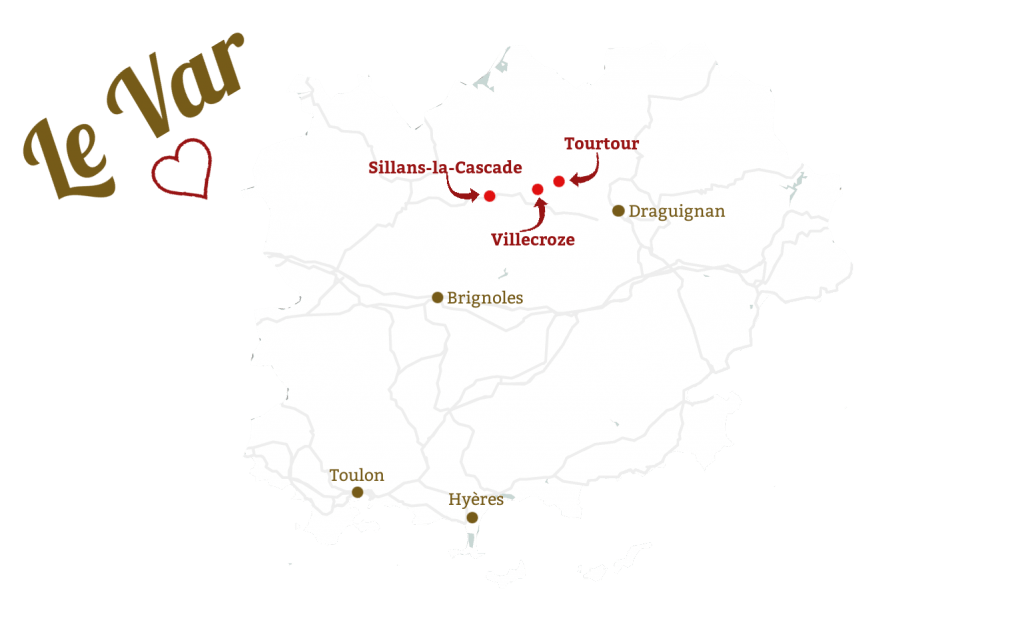 In this article we warn you we are leaving the sea! After our beautiful hike to the rock of Orméa and in the Cap de l'Esterel we decided to move away a little from the Côte d'Azur and head towards the Haut-Var.
Sillans la Cascade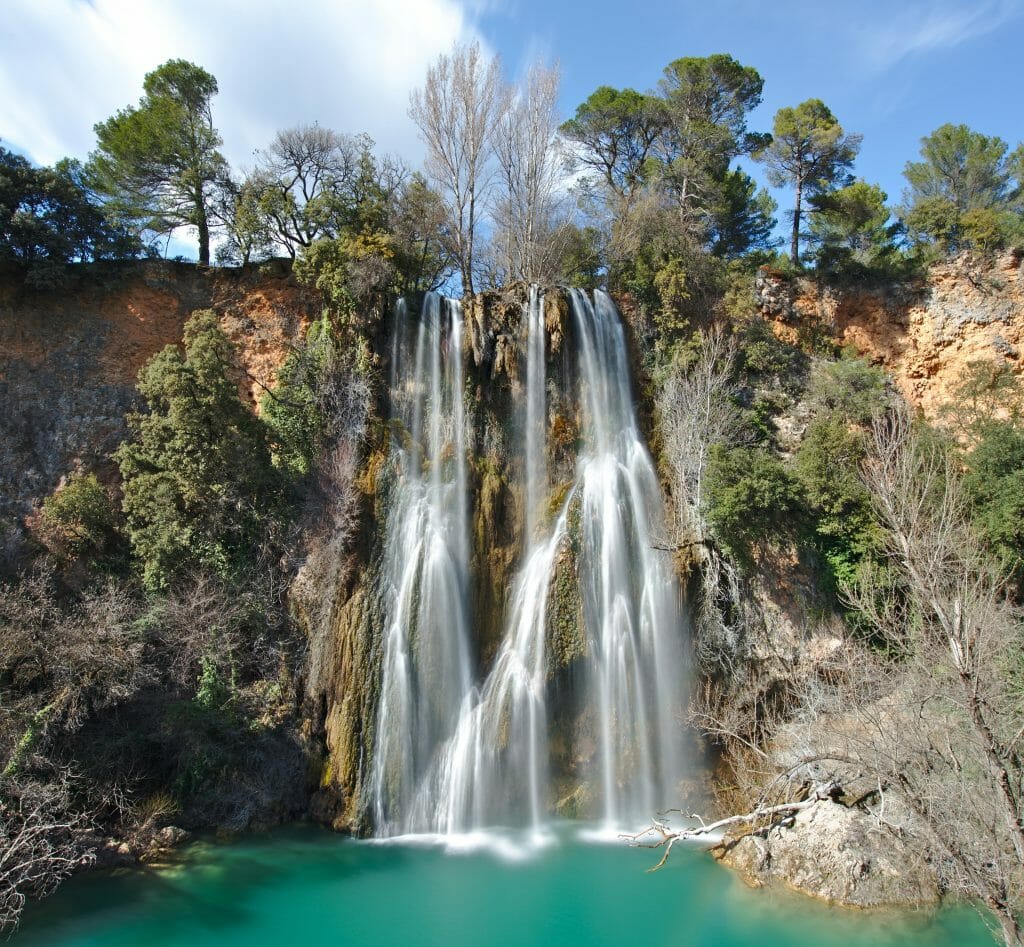 I'll tell you the truth: the name of the village is already a good indicator of the main attraction of the village! 😉 We landed here thanks to Pauline's recommendations from the worldelse blog. We had told in our Instagram story that we were staying in the small village of Lorgues and she immediately wrote to us to tell us not to miss Sillans-la-Cascade which is not very far away. Well, only one thing to say, thanks "Popo" for the advice! 😉
Sillans la Cascade: Access and practical information
We were in Sillans-la-Cascade out of the tourist season (in March), so we might as well tell you that we didn't have too many problems to park! But apparently the place gets pretty busy during the summer, and especially on weekends! Please note that there are several car parks; the first is at the bridge and the municipal car park below the town hall (see map below)
The waterfall itself is not located directly in the village, but can be easily accessed from several places:
The viewpoint of the waterfall: Located on the left bank, it is the most famous (and most frequented) viewpoint. We have a magnificent view by being in front of the waterfall in height. To get to this point it takes 30 minutes to walk back and forth from the village.
The right bank viewpoint: Located on the other side this point of view is nice although a little less impressive because we are not directly in front of the waterfall but a little further away
Going to the waterside: Apparently a well frequented spot also during the high season, this place is simply magical! We were alone in the world in March and the landscapes were not without reminding us of the Kuang Si waterfalls in Laos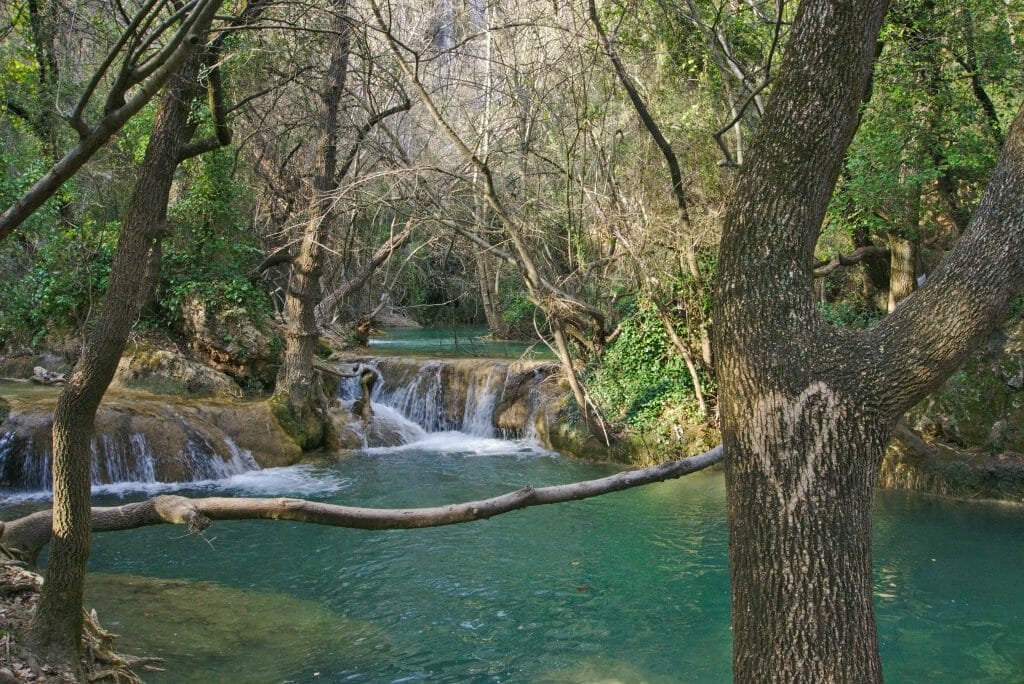 If like us you want to do "the tour" (what we recommend) then the walk is roughly 5.5km and will take you something like 2 hours (counting quite a few photo breaks). More details on the map below.
The small grocery store in Sillans la Cascade: La Gaudinette
We rarely talk about restaurants on our blog… The reason? Well, we often prefer to opt for picnics and incidentally even if we are gourmets, we are not fine gourmets either. But! There is one but, today we're going to make an exception… If you come to Sillans-la-Cascade you MUST stop by the village grocery store (it is impossible to miss, it is the only one and it is on the main square);)
Why? For the simple reason that Julien and Léa, the 2 managers, are simply amazing people! We entered the shop because we had seen a sign indicating "homemade beers" #WeEasyToLure and a few minutes later we sat down with them and other inhabitants of the village to talk about beer, travel….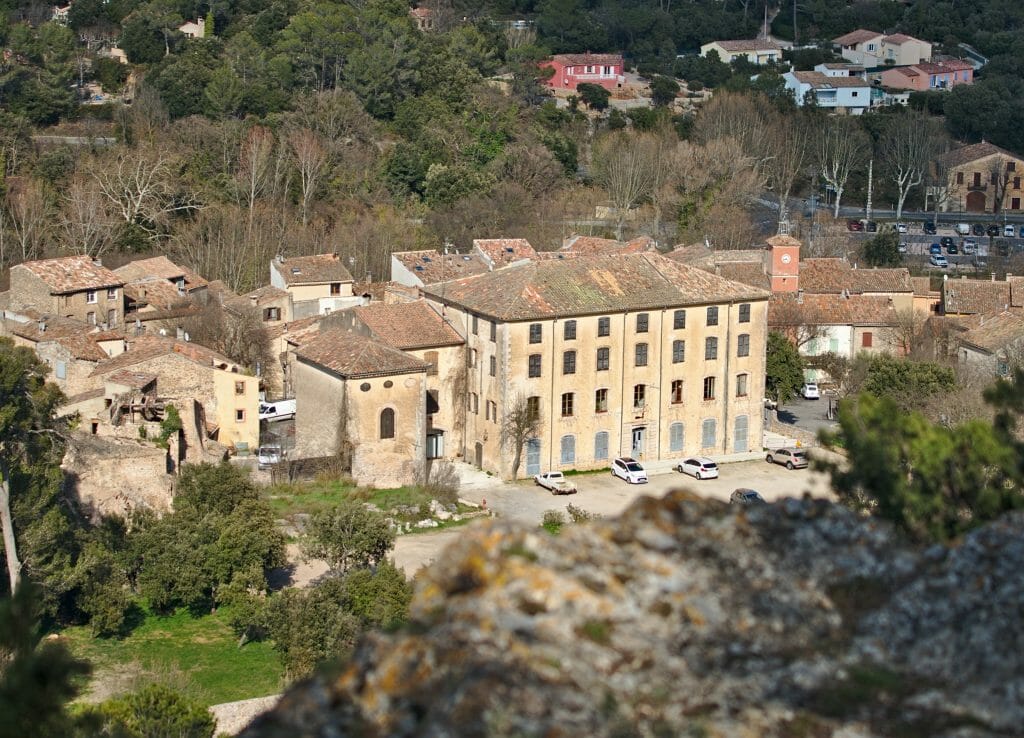 In short, that day we missed the closing of the stores to do our shopping, Benoit was clearly a little too much (I was driving…) but we were totally charmed again.
They took over this grocery store less than a year ago and put a crazy energy into making it live and vibrate! 100% local products, clothing bartering, homemade pastries, homemade daily specials, a terrace where you can have a drink or eat a walrus, brewing their own beer, organising all kinds of events to keep this small village alive outside the tourist season… In short, 2 people who give 10,000% of themselves for a heart project. Find the "program" on their Facebook page.
Sillans-la-Cascade: Hiking Map
To help you find your way around (we reassure ourselves it's not very complicated) 😉 here's a small map of the place with the different viewpoints, and parking.

Villecroze: its cave and its old centre
Initially, our plan was to visit Sillans-la-Cascade, Villecroze and Tourtour in one day… How can I explain to you that having been "a little bit" held up at the grocery store in Sillans, we had to postpone our remaining visit plans to the next day. 😉
In other words, the next day we set off again for Villecroze. This village, we had spotted it because we had seen that there was a troglodytic cave… Well in the end, we didn't even see it because it is only open to the public during the "high season" (implied from April to September). But let us be reassured, even if we did not visit the cave we were still able to enjoy the park that surrounds it and the beautiful 35m waterfall. Seriously, we didn't expect to find such a beautiful park in a small town of barely 1400 inhabitants!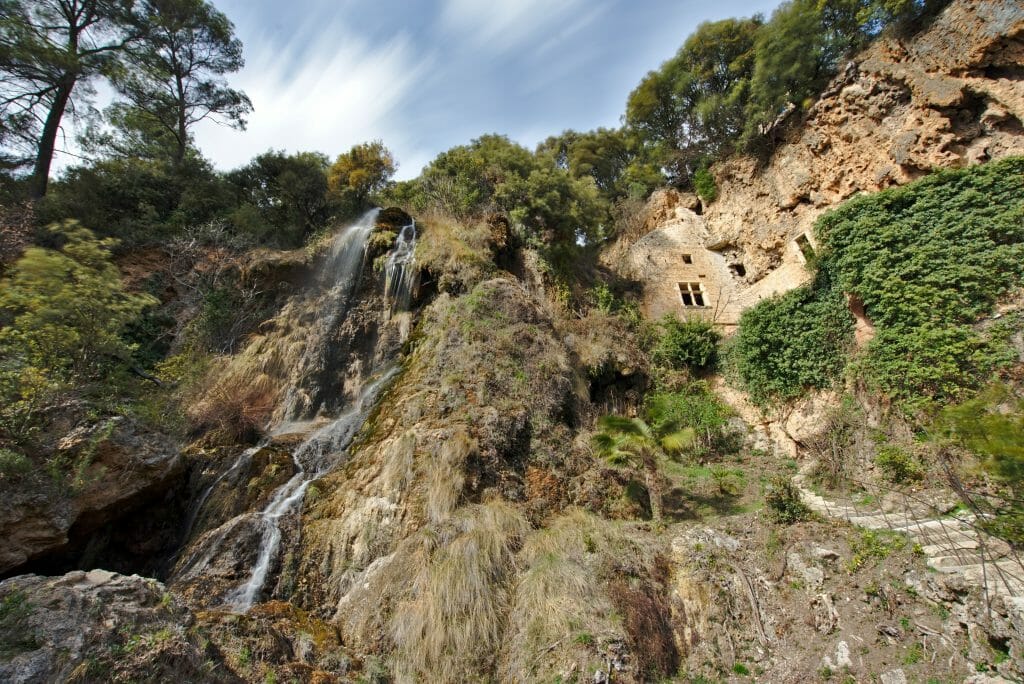 After our short break at the park we left for the old village. With a small medieval character, the old village is really worth a visit! Time to Make way for pictures I think… it will be more telling than me who tries to be like I know something about old stone when in reality I just think it's pretty! 😉
Tourtour: Small village perched on a hill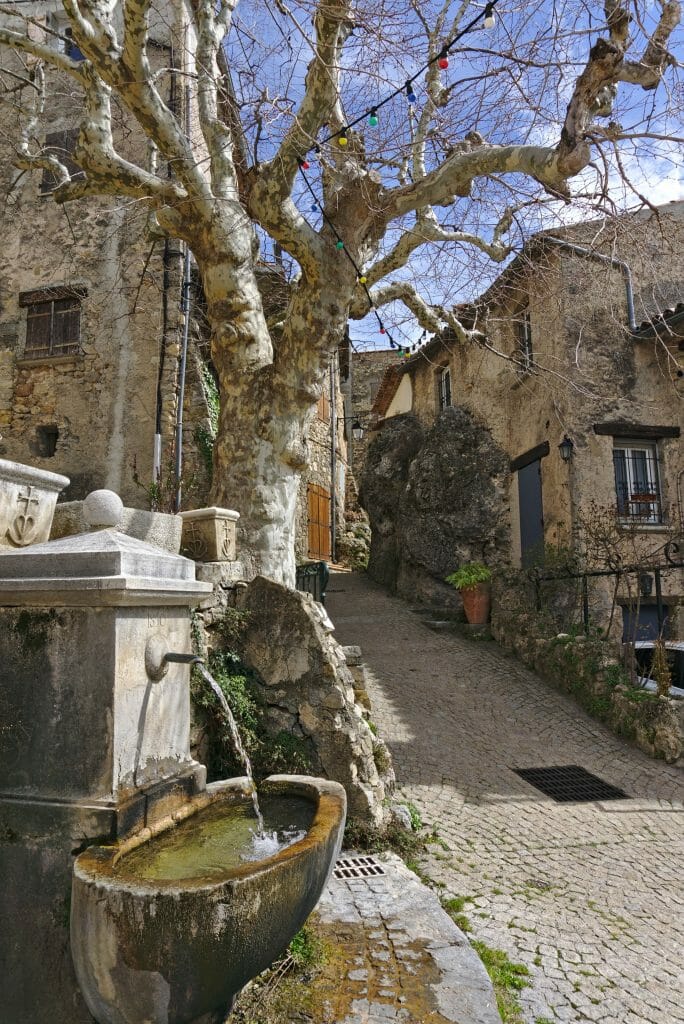 Last stop of our little tour of the villages of Haut-Var, Tourtour was what we can call a really charming stop.
With its less than 600 inhabitants, the village of Tourtour has a very calm and bucolic atmosphere (let us remember once again that we were in March and therefore totally out of the tourist season…. We'll let you tell us if it's as quiet in July-August) 😉
The village is located on a hill and overlooks the Var with a view to Sainte Victoire. Very sincerely, we cannot give you any exact advice on what to visit in the village, because in the end, what we appreciated the most, was simply to walk through the small streets and have a coffee on a terrace on the main square. It is just a village where you feel good and whose view from the small esplanade in front of the church are worth more than 100 words.
Where to stay in the area?
To find accommodation in the area we suggest you take a look at the map below. You will find the hotels and apartments of the area.
France and its villages: we are falling in love with them
I told you in the introduction, but the small French villages and us are becoming serious! When we were preparing our trip, we thought that we would probably base ourselves in the big cities and shine around them. In the end, after 6 weeks of travel, we slept almost exclusively in small towns, most of which had less than 1000 inhabitants. 😉
In short, at the risk of sounding a little like old people (but who cares?), we are starting to develop a real passion for these small villages with their beautiful stone houses. Already during our visit to Brittany last year we were totally charmed by the beautiful farmhouses… Well, the little Provençal Mas are not bad either!
We are not going to turn into a french village blog, but we warn you: we will clearly talk to you again about sausage and cheese soon! No because in France, people are just crazy with that! 😉
See you soon for the rest of our French adventures!
Note: This article contains affiliate links to housing. By using our links you don't pay anything extra but we will get a small commission. This helps to support our work and allows us to continue to offer you free and independent content 😉