France, this beautiful country we know almost nothing about! We are not particularly proud of it, but we have to admit that we know almost nothing about our neighbouring country . At the same time, how many French do people know Switzerland? Not many, I guess….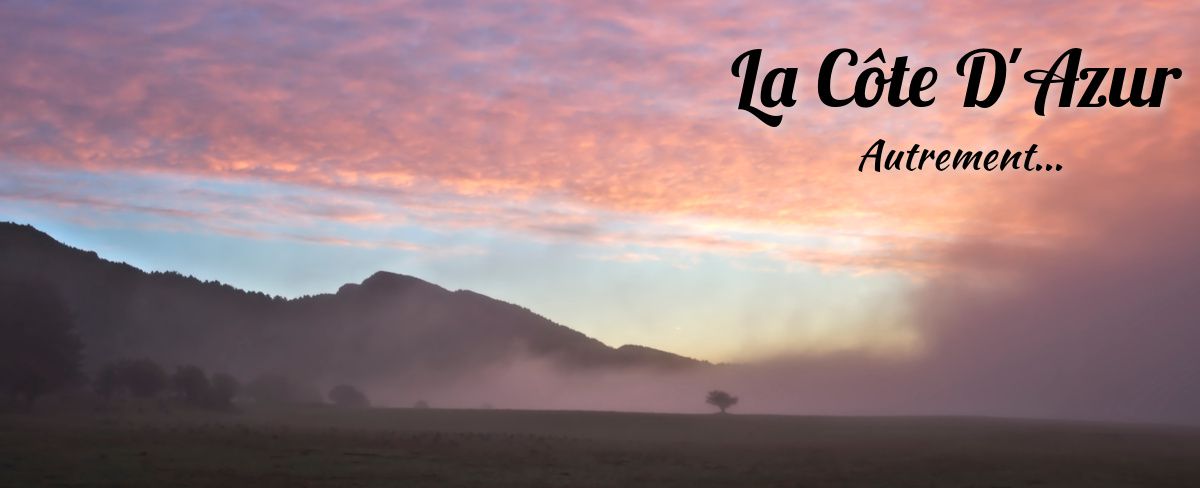 In other words, this year we started to remedy the problem, and in less than 4 months we have already visited France 3 times (yiiipaaa).
Last week we took a flight to Nice and set off to discover the PACA region. Already in May, we had come to the area to come and hike in the gorges du Verdon. Once again, we leave with the feeling that we absolutely have to come back to discover more!
The image of the French Riviera
Who knows, but for us little Swiss, the French Riviera rhymed with beach, stars, cocktails, diamonds and glitter. Hmm…. 2 stays later we have not yet walked on a beach or met any movie stars. Cocktails were replaced by good local wines and fancy evening dresses by hiking boots (for the glamourous part we will have to try again).
Anyway in this article we propose you a small overview of the small treasures to discover on the French Riviera but far from the beaches…
Alpha Park: Get to see Wolves in France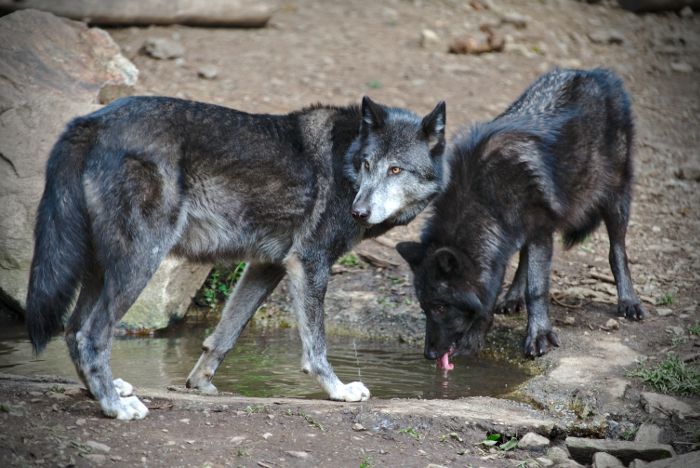 For me, wolves have always been damn mysterious and a little terrifying at the same time.
In Switzerland, we regularly hear about them in the Alpine regions, but few people have actually seen them in the end…
At Alpha Park, the visitor is invited to discover 3 packs that live separately in huge enclosures.
This animal park has an educational purpose and aims to reconcile a little man with this animal that is often feared and unloved in our mountains. Thanks to several observation platforms and fixed feeding schedules, visitors have a unique opportunity to discover the animals as closely as possible! A truly memorable experience that we highly recommend if you come to the region!

Informations
Opening times: The park is open every day from 10am to 5pm in the mid-season and from 10am to 6pm in the high season, and in the low season (November to March) the park is open on weekends and school holidays and by reservation.
For more details visit the park's calendar
Rates: 12€ per adult and 10€ for children from 4 to 10 years old (under 4 years old are free). Family pass at 38€ for 2 adults and 2 children.
Getting to the park:
By car : Easy access and parking available. From Nice it takes 1h30 by car.
By bus: Bus 730 leaves from Nice station and from the airport to Saint-Martin de Vésubie. In summer, a shuttle bus runs directly from Saint Martin de Vésubie to the park. The return bus ride costs only €4.
L'Audibergue: Sport and Adventure in the PACA region
I admit it, I had no idea there were ski resorts on the French Riviera! When we arrived in l'Audibergue it was already the first surprise to see the lifts! Well, we reassure ourselves right away, no snow still in October, we were there to do a little sport and taste the local cuisine whose merits we had been praised many times…. 🙂
Our first stop was at Parc de la Moulière where we had an appointment to test an activity that I admit gave me a cold sweat just to think about it. A via Souterrata!
What is a via souterrata?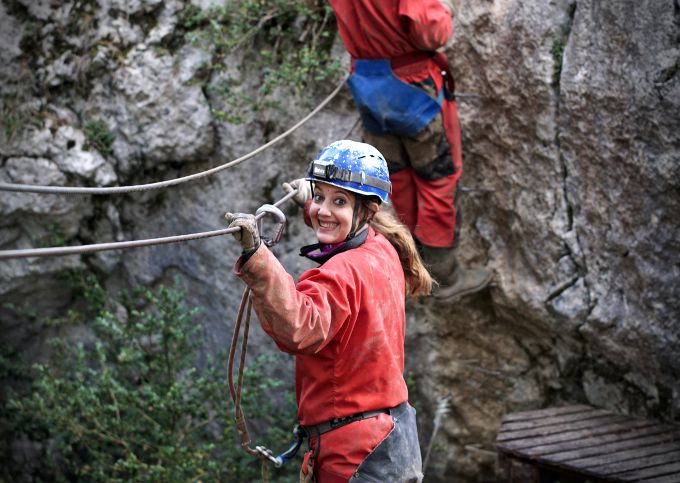 Huh? Yes, so it's a via ferrata, but it's underground. In short, on paper it perfectly combined my fear of heights with my claustrophobic tendency. But what do you expect, Benoit was absolutely thrilled by the idea and I being in love I followed.
When I put on the suit, the harness and the helmet, I admit that I wasn't feeling very confident. Motivated to overcome my small fears, I rushed underground following the steps and clinging to the wet wall.
During 1h30 we went down to nearly 45m underground by alternating walking parts and more aerial parts. So, I don't know if it was the small lack of oxygen, the darkness that prevented us from clearly distinguishing the void or simply the incredible beauty of the cave, but I wasn't afraid for a single second!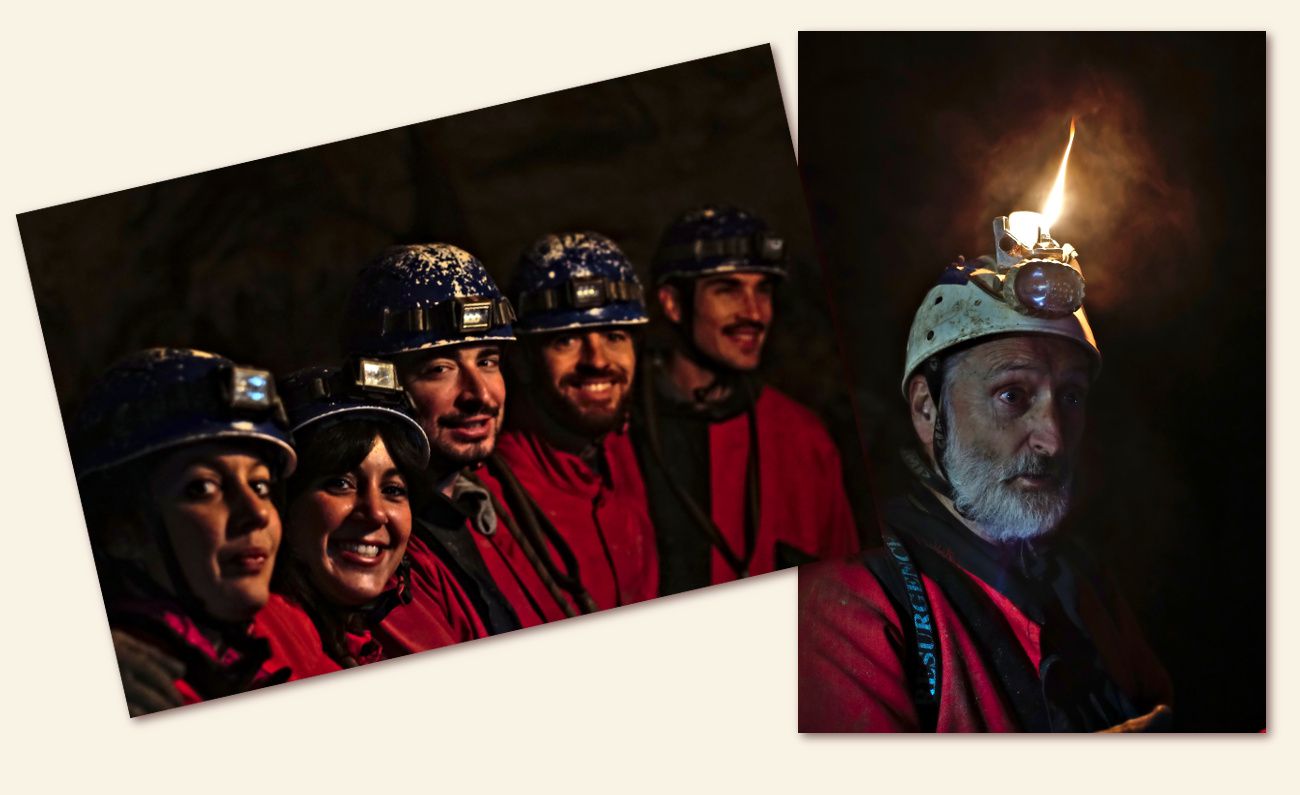 In short, I came out of there totally thrilled by the concept and ready to start over straight away!
Informations
Opening time: All year round, Reservation recommended
Price: 25€ per person (Group rates: 20€ per person)
More information: the park's website
Electric mountain biking, a whole adventure
This day really had to be about love, I think. Or rather activities that made me tremble. After the via ferrata in speleology mode we got on electric powered moutain bikes! For those of you who wouldn't know, the bike and I aren't particularly good friends. I never really practiced in my childhood (okay, I learned to do it with Benoit when I was about 23!)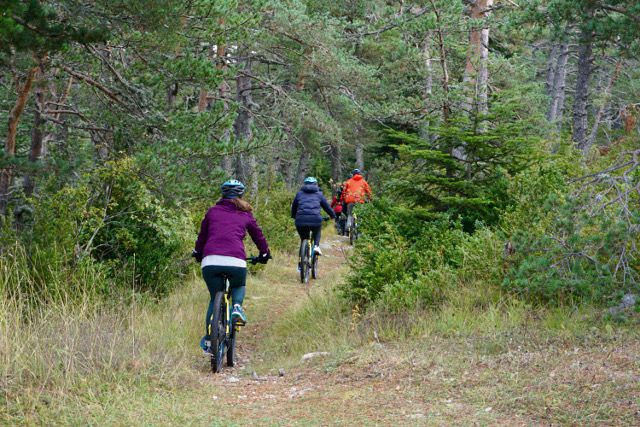 Apart from a short week-long bike ride to Taiwan, the bikes and I have had a complicated relationship (or no relationship at all if you prefer).
But there was an electric assistance and I wanted to know what it felt like (Benoit dreams of exploring Europe by bike thus, it's about time I start considering my options!).
So 2 observations emerge from this little trip:
The mountain bike and I are not friends….
Riding over Roots and stones is not fun for me. Normal or electric bicycle does not change the concept. I'm scared and I end up pushing the bike or keeping my feet on the ground…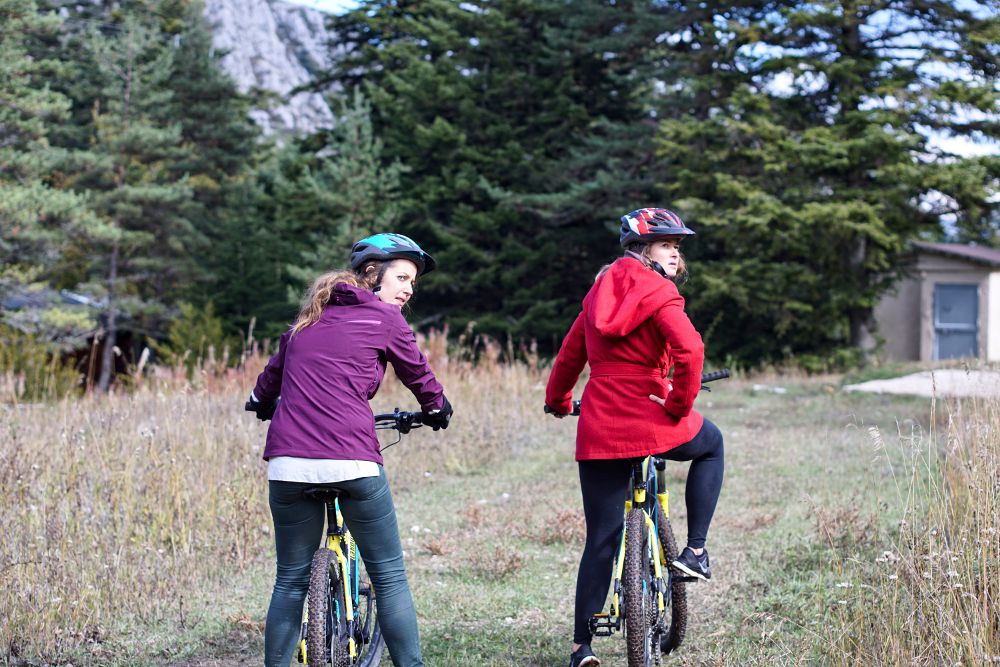 The Electric Bike is AMAZING on the roads!
Yes, so as much as the muddy trails I didn't get hooked (I litterally slipped more than I got hooked) but this feeling of driving at 25km/h uphill is just too good! I would almost start considering a bike trip again, but only on the condition that Benoit has a standard bike and I have a little technological help and that we stick to the asphalted roads. 😉
If you want to discover the region by bike you will find more information on the website Relais Cyclo-rando des Monts d'Azur
The Monts d'Azur Reserve: Discovery of the European Bison
This is probably our biggest crush of this short stay in the south of France. How can I describe this place to you? 700 hectares of nature, animals that evolve in complete freedom and harmony with each other!
Bisons, deers, hinds, wild boars, wild horses, foxes, roe deer, and so on…
What were we doing? Well… we simply walked around in this magnificent environment for hours!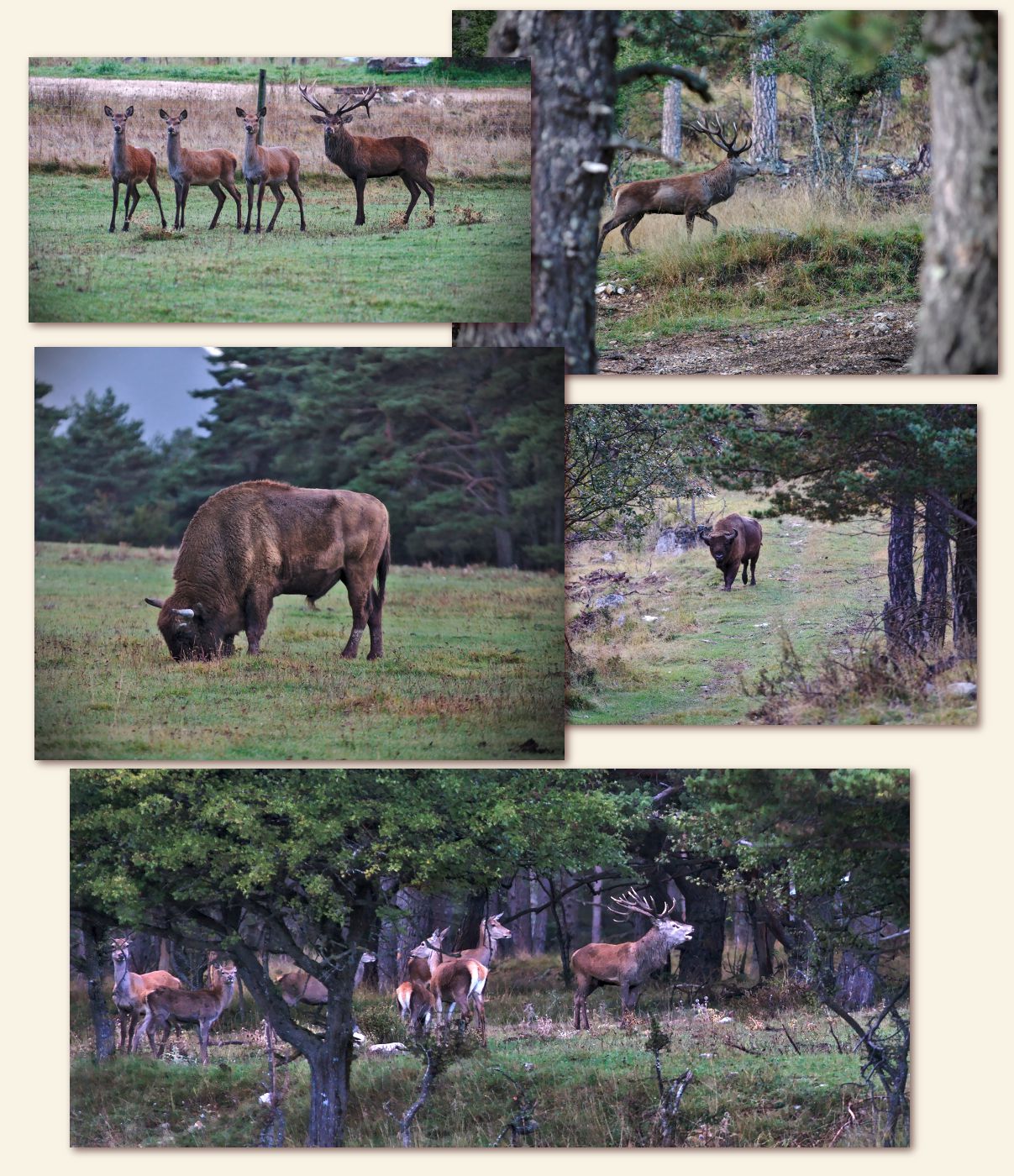 Here Patrice, the owner of the property, makes it a point of honour to promote responsible and ecological tourism. Man is not the master of the place, but simply a guest of nature.
Patrice is a hell of a character, a frank talker and an unbounded determination. Yeah, fences "piss him off". Here, they do not promise the visitor to see a certain animal. Instead, they suggest that he explores the park on foot or in a horse-drawn carriage and keeps his eyes and ears open to admire those who will show themselves (and believe me, there are some…)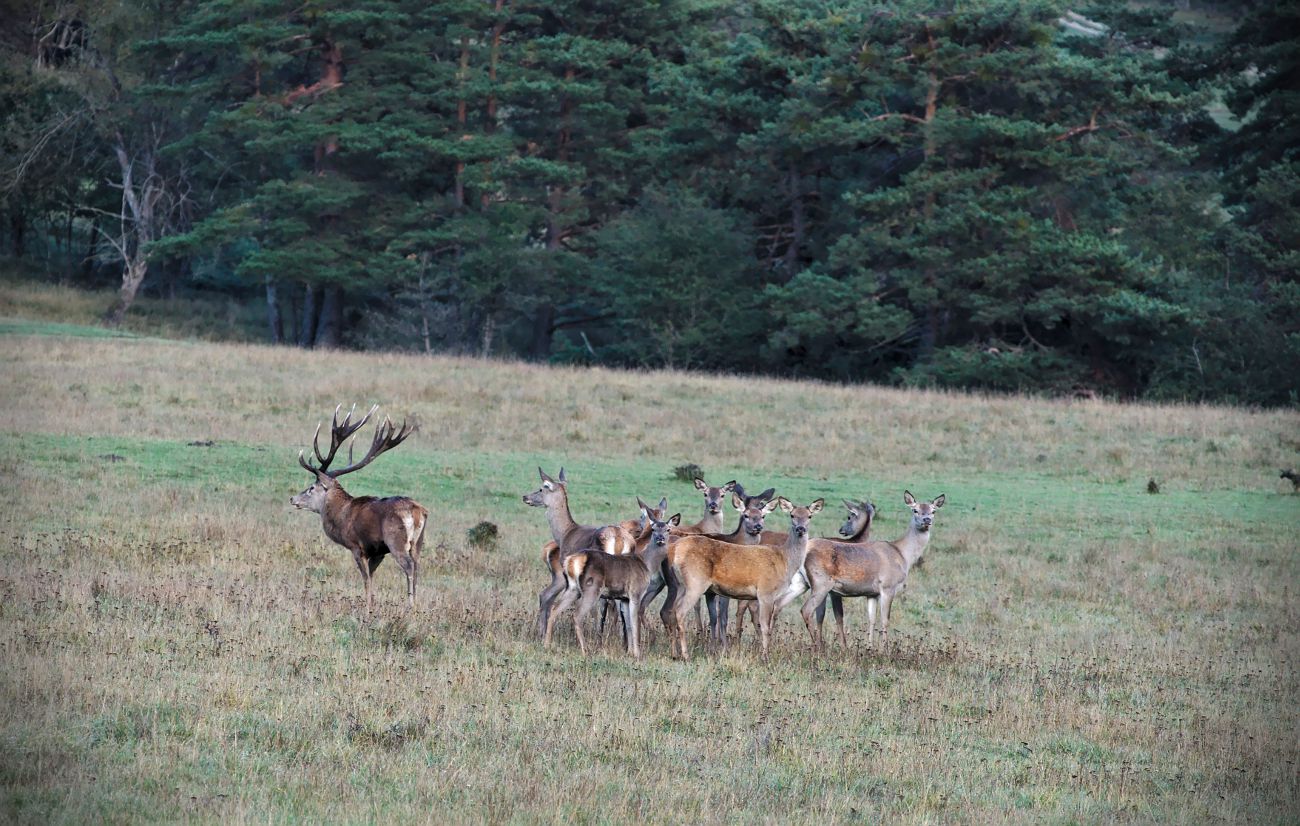 If you want to discover more about the history and philosophy of the place, we invite you to watch this magnificent report by Yann Arthus-Bertrand.
Video on the bison of the Monts d'Azur reserve in France (in french)
We spent the night here and in the morning Benoit gets up before dawn to take some pictures. He asks me if I'm tempted to come with him. Hmmm…. How to say… It is a dark, we are surrounded by wild animals and we hear the deer shouting as if they were outside our door!
In other words, I skipped my turn for the morning walk and stayed comfortably seated watching how the day that was rising from the terrace.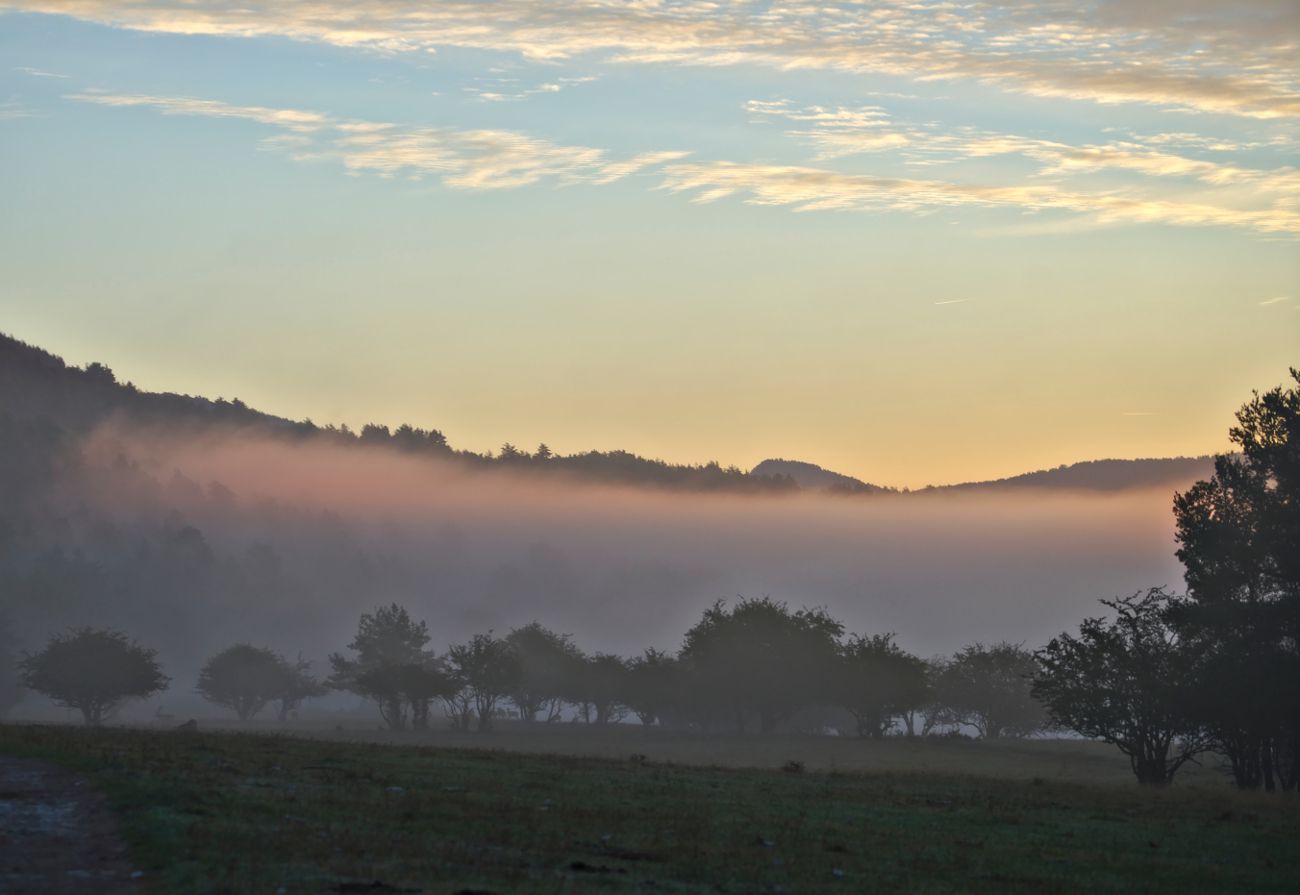 But rest assured, I may not have had the thrill of being in the middle of animals in the middle of the darkness, but I did enjoy the sun that was rising on the reserve!
Informations
Opening: Depending on the season. Every day from 10am to 6pm during school holidays. Wednesday to Sunday from 10am to 5pm excluding holidays, and Thursday to Sunday from December to March. More details on the trekking and carriage tours schedules here
Price: 17€ per person for a walking safari or 22€ per person for the visit in a carriage.
Accomodation: It is possible to sleep on site (we strongly recommend this option…)
From 79€ per person and per night. The price includes the night, dinner, breakfast and a visit on foot or in a horse-drawn carriage.
The price depends on the formula chosen (Lodge, bioclimatic room or Provençal room), More information
The Gorges du Verdon
Leaving the Monts d'Azur Reserve we passed near the village of Castellane. It was indeed the only place in the area that we already knew because it is here that we started our hike through the sublime gorges du Verdon during our visit in May 2016.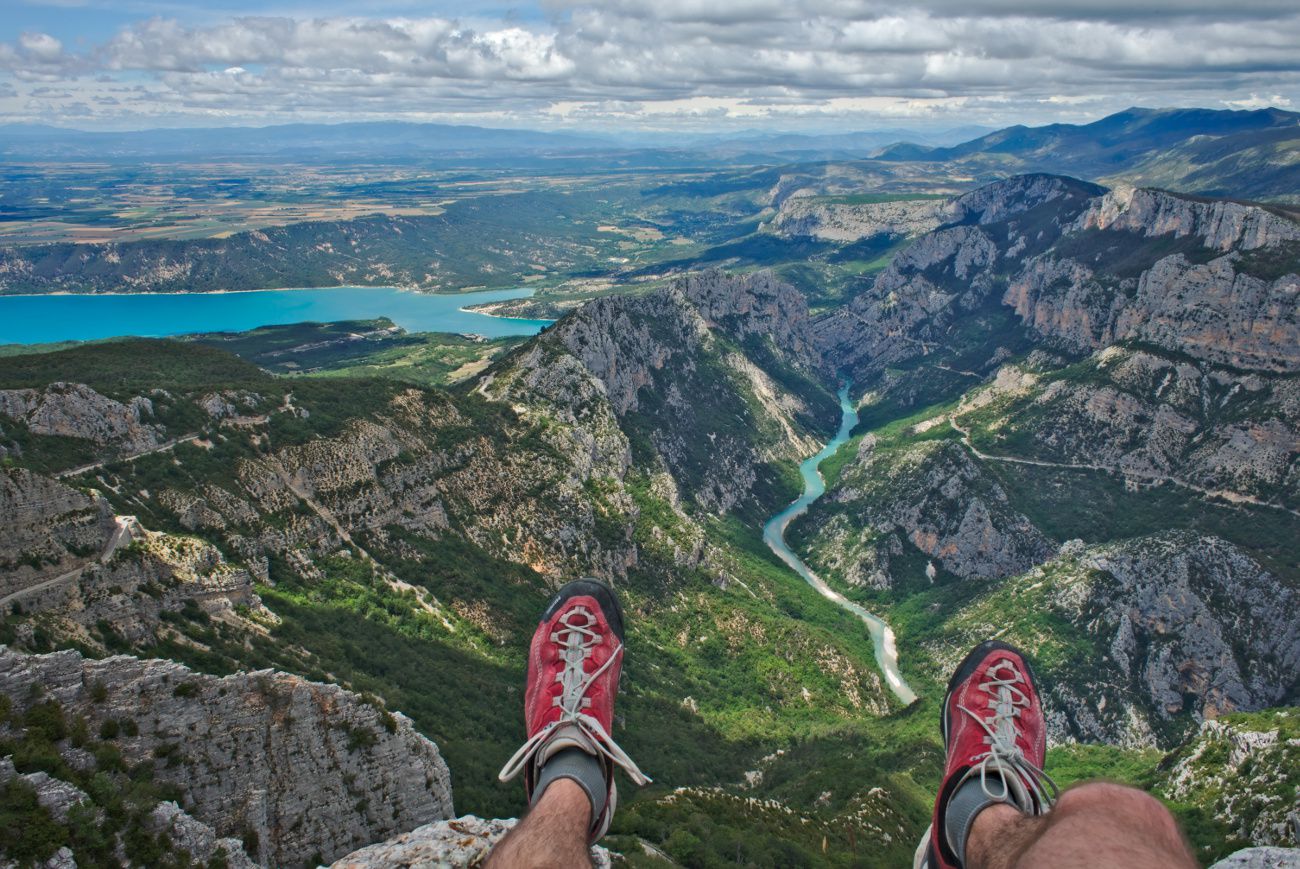 The Allos Valley
After leaving the Monts d'Azur reserve we headed towards the Val d'Allos to enjoy the beautiful autumn colours for a few short hikes. In the end, Mother Nature decided to come and play a little spoilsport, which prevented us from doing everything we had planned. But it doesn't matter, because in the end we had a nice overview and it's only a good excuse to come back soon to discover the rest!
Taking advantage of a small clearing we left with Christiane (a former European ski champion) to explore the surroundings of the small village of Allos where we had put our bags for the night.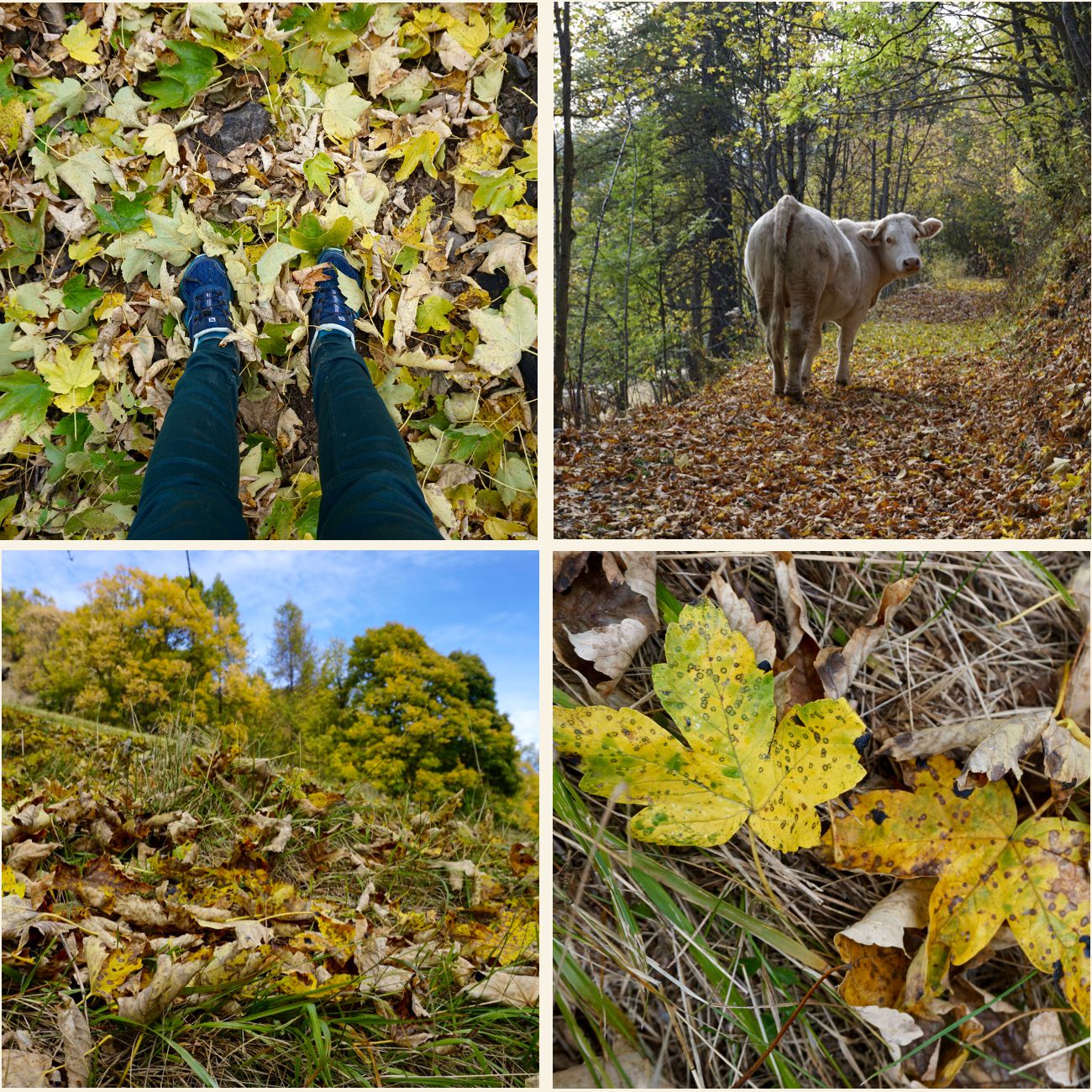 The short walk led us from the small place called "Les Gays" to the hamlet of La Baumelle, a small tour of about 5km and with a very small difference in altitude of 200m.
More than the difficulty of the walk is especially all the stories and anecdotes of Christiane who kept us on our toes. Christiane knows and loves her region like no one else and passionately shares her knowledge of the local flora and geology.
I still don't think I can tell the difference between all types of conifers but that's okay. We discovered a magnificent place in the company of a golden person and that's the most important thing!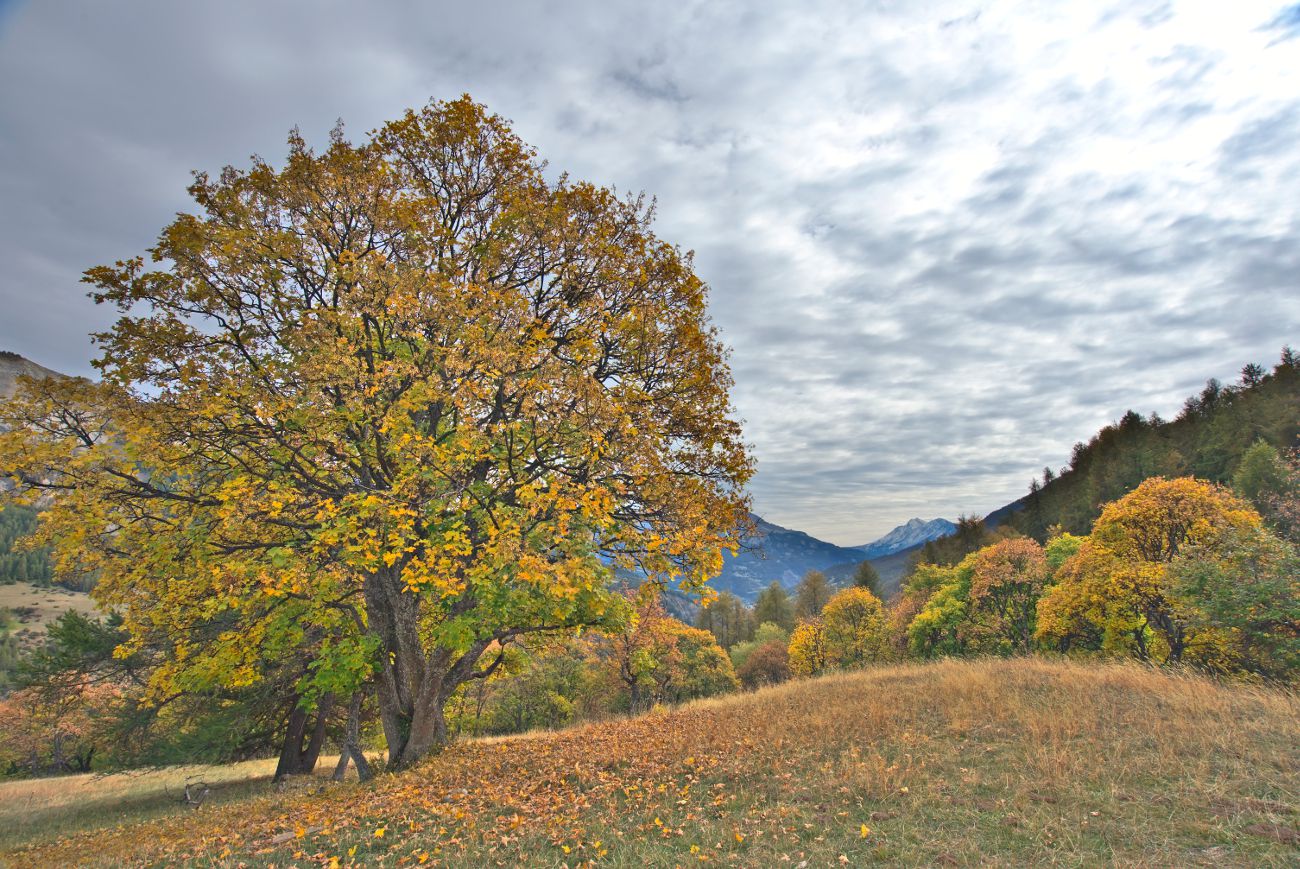 If you come to the region we would advise you to go and discover Lake Allos! It was our initial program. But the weather was acting up and we had to adapt. We would like to come back and why not climb in winter with snowshoes.
And if you want to discover the region with Christiane, a qualified mountain guide, then go to her website
Discovering small villages in France
Probably the part you prefer when we're in "Roadtrip" mode: move forward as we wish and stop randomly in small villages for a meal, a loo break or just to stroll a little!
The south of France is the perfect place to do that. Honestly, at every stop you feel like you've found a little piece of paradise!
Some pictures of villages in the area: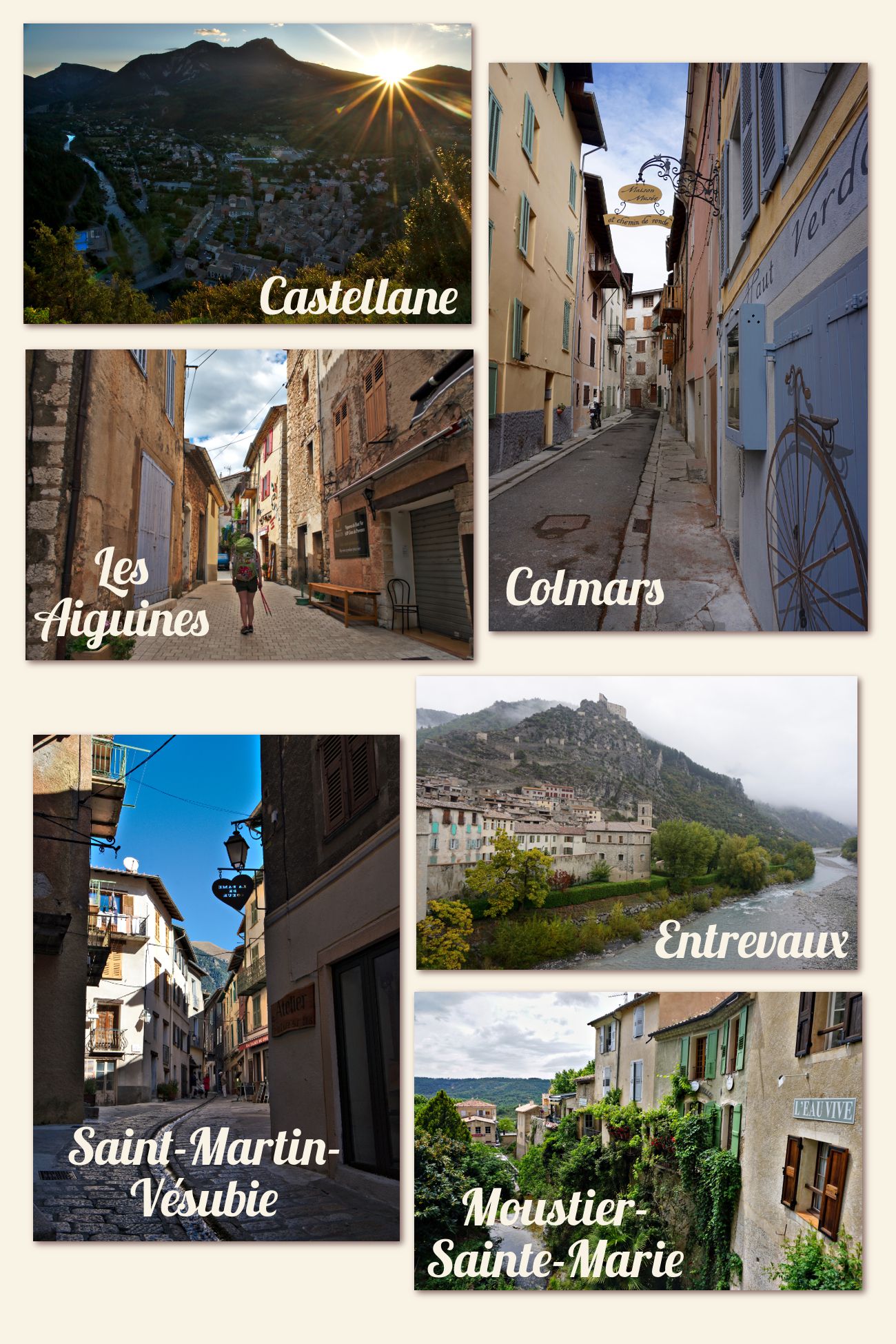 If you want more information about the village of Castellane or Moustier-Sainte-Marie, we invite you to discover our article on the area.
By the way, if you know of any pretty villages in the area, don't hesitate to make us your suggestions in the comments!
Update: we've published a new article with our favorite villages to discover in the south f France. Have a look over here.
In which season should you come to discover the French Riviera?
For our part, we came in late spring and fall. Honestly, seasonally, it all depends on what you come for…
French Riviera In summer:
Summer is clearly the high season! In July and August the French Riviera is super crowded and finding an accommodation becomes a challenge. After that, it is obviously the season that benefits from the hottest weather and where all hotels are open, additional bus lines are set up… In short, it is not necessarily the season that we would favour, at least not during the peaks of the school holidays.
during autumn

For hikers like us, autumn is one of our favourite seasons in general. Well, the south of France was no exception! We enjoyed the autumn colours, we were captivated by the impressive slab of deer and we enjoyed the good local dishes.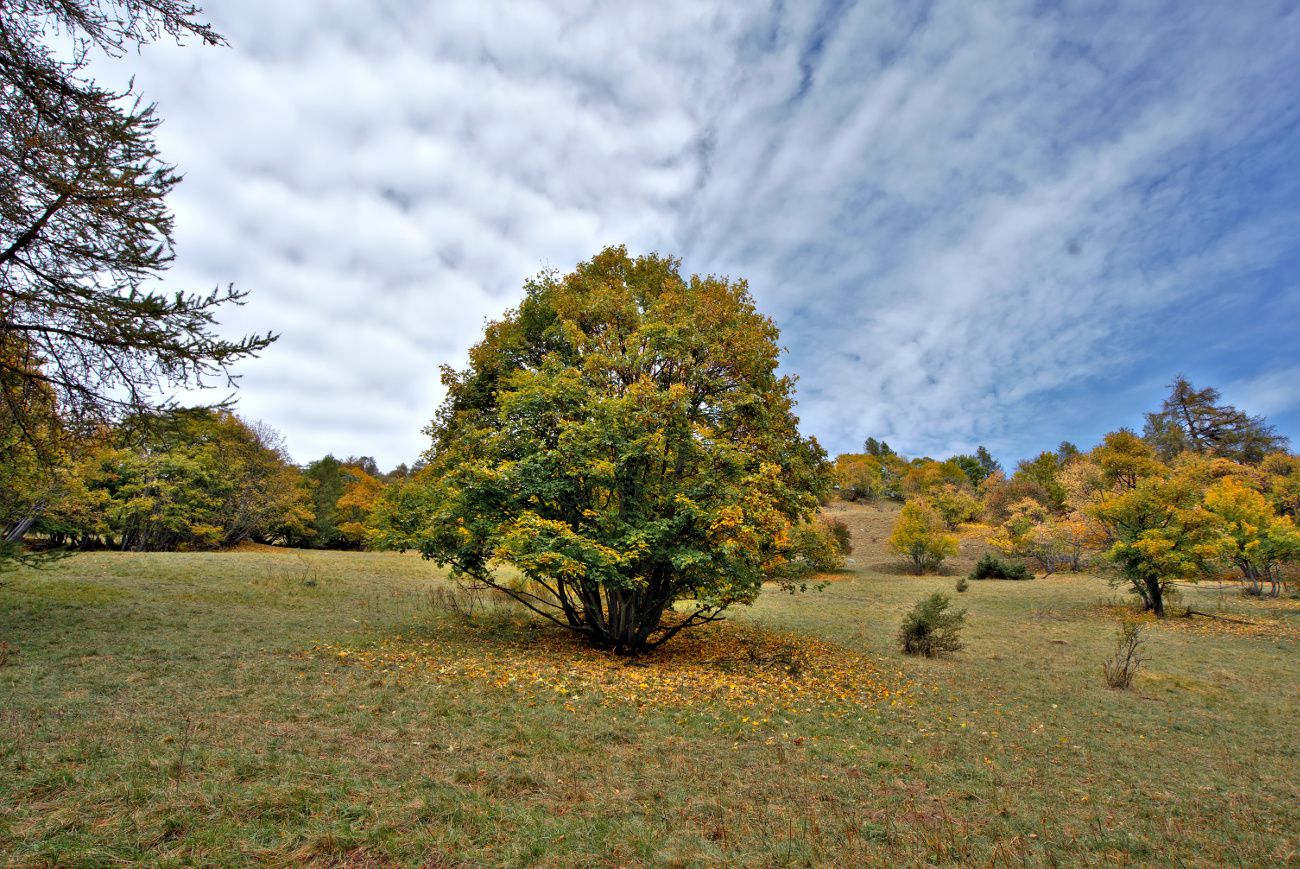 In winter :
A season that you wouldn't necessarily think of, but which must, nevertheless, have some great assets! During our visit we couldn't help but imagine the area under the snow! Because yes, once you leave the coast, you can climb quickly to altitude, so you have a good chance to admire the bison and deer of the Monts d'Azur reserve under a white coat or to escape towards Lake Allos on snowshoes! In short, we would be tempted for another time (promised we will give you some news).
In Spring

It is not yet the high tourist season but we generally enjoy good weather. In short, it is the ideal season to come and discover the area without too many people and enjoy the low season rates in the accommodation.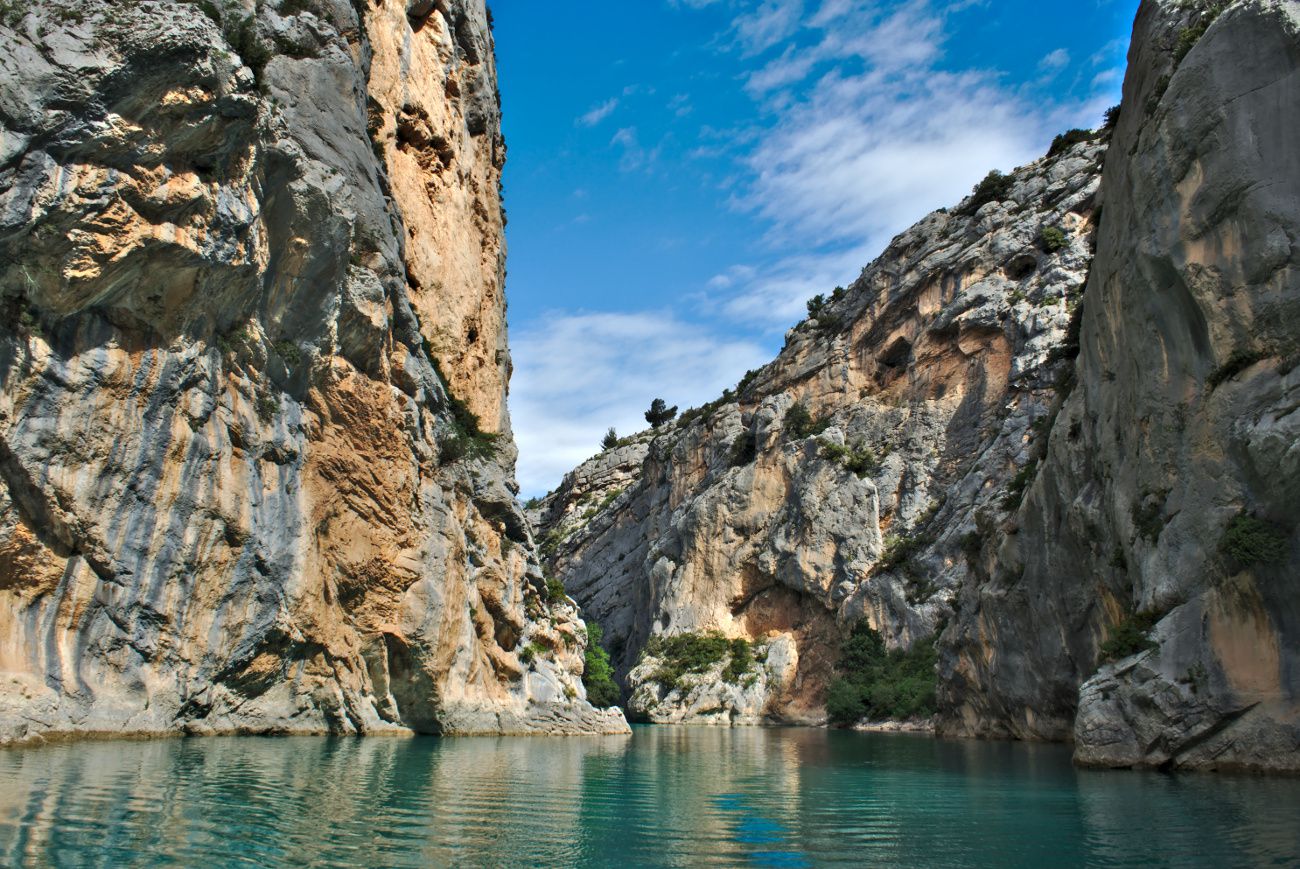 If you come in late spring (roughly speaking at the end of June) you can even admire the magnificent lavender fields in bloom! The best spot is apparently the plateau of Valensole.
Should you rent a car to visit Mercantour?
During our various visits we did both… So, the conclusion is quite simple: The car is still a lot more practical while the bus is much more economical (who would have guessed it haha )
In short, it's a question of budget! If you have the budget for it, then renting a car in Nice or Grasse is probably the ideal way to visit the surroundings freely. See the prices for car rentals on Rentalcars.com.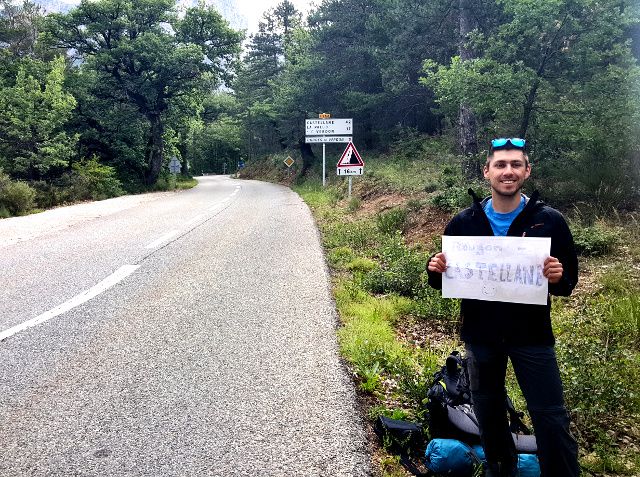 But let's be reassured with the bus you can already do a lot!
Then, we won't hide from you that it's also a question of seasons. In the Verdon, for example, many buses only run during the high tourist season, i.e. during the summer. But during our visit we had no problem combining buses with a little hitchhiking! 😉
So that's it, it was probably our last European getaway before we leave next week for Thailand! 🙂
See you soon!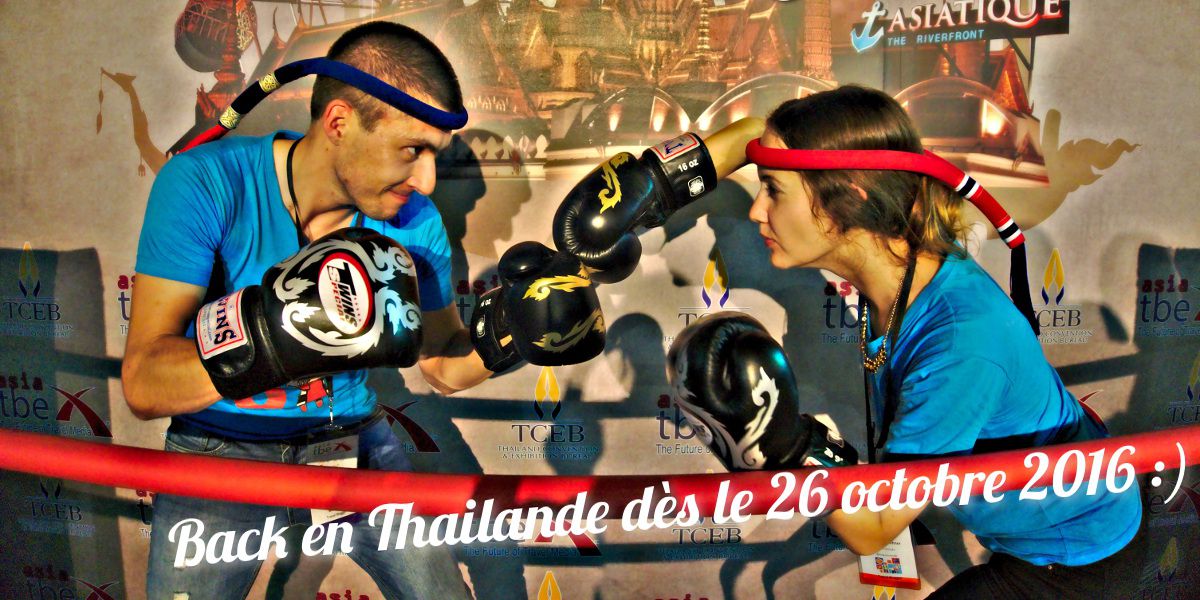 This trip was organized in collaboration with the CRT PACA. We thank them warmly for their welcome and all these beautiful discoveries!
This article contains as well an affiliate link to the Rentalcars website. By using our link to book a car, you will not pay anything extra, but we'll be earning a small commission. Rentalcars is the website we personnally use every time we rent a car. Thanks for your support! 🙂
Enregistrer