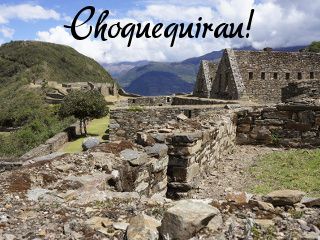 To finish our stay in Peru in style, we decided to embark on the incredible Choquequirao trek to join the famous Machu Picchu.
The problem? In high tourist season, the classic treks are very crowded, and especially the prices of the treks going to Machu Pichu go crazy.
So we decided to play it solo, and left to join Machu Picchu in 9 days. All this while passing through the ruins of Choquequirao and with a very small budget!
With certainty the most important physical challenge of our round the world trip. But probably also one of the most incredible adventures of our life!
Here is the first part of this story and all the practical information!
Choquequirau Trek – Machu Pichu: some numbers to start with!
To help you get an idea, here is a representation of the elevations covered according to the days. We're sorry the image is in french, but you should still get the idea out of it 😉
Elevation profile of the Choquequirao Trek
Click on the image to download or view it in larger format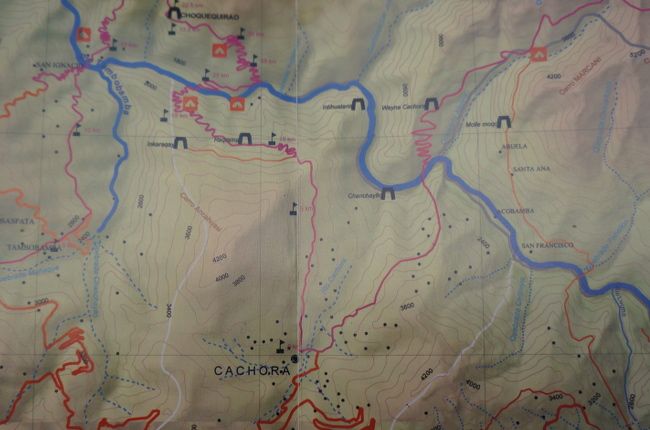 And for orientation, here is a trekking map (this topographic map can be bought in Cusco in some kiosks for 40 soles).
Click on the image to download or view it in larger format
Choquequirao hike: GPX track
Note: You can download the GPX from the AllTrails website
To download the track you simply need an account (free). From there, you can export the map in the format of your choice. Note: for this trek we strongly advise you to have access to an "offline" map.
Free version: create an AllTrails account and download our map in KML format. Then import this track into the Maps.Me application (also free).
Alternative: You can create an AllTrails+ account and access the map offline from your phone. The AllTrails+ account normally costs 29,99€ / per year but by going through our link, you will benefit from a 30% discount the first year.
9 days of solo trekking in Peru: the equipment!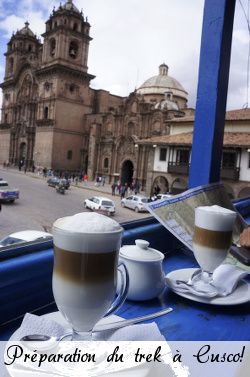 A solo trek without a guide or mule is not something you can improvise! It is necessary to organize a minimum, and especially to bring only the essential, because the equipment is heavy!
And well, it's no secret for anyone, I'm not an outstanding hiker, so I meticulously prepared my backpack to take the minimum, and above all I flattered my man on his Apollo muscles for a long time, so that he would naturally decide to take a good part of the shared stuff (Well… ladies, you'll know that flattery works perfectly in these situations!)
In the end I started, trekking with a bag that was weighing about 8-9kg, and Benoit… well 15-16kg. (This is obviously the weight without food and water!)

In total our bags were weighting closer to 13-15kg for me, and something around 20-22kg for Ben.
A very balanced distribution, I tell you! Ben was carrying the tent, kitchen equipment, cans and snacks, while I…. Well, I had the toast bread, the toilet paper, the sugar and the card game! 🙂 Presented like that, I sound like an aweful wife, but I guarantee you that by taking into account our respective physical conditions, it has rather equalized the chances…
Our trekking equipment
In our bags we each had:
En plus dans le sac de Fabienne: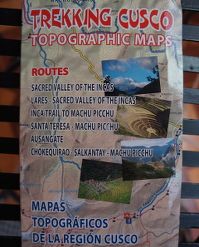 And in Ben's bag:
Trekking without an agency: the food
In terms of food, the equation was more complicated…. On the trek, you can eat at people's homes on the road to the ruins of Choquequirao.
Then again to the village of Yanama, then Tortora and of course to Aguas Caliente. There are some very basic "tiendas" along the way that sell basic ingredients such as potatoes, rice, pasta and sweet drinks. For more details all the shop points have been indicated on the map above.
In the end, we left with the equivalent of 6 breakfasts, 4 lunches, and 4 dinners.
On the menu? 50 toasts, 800gr of ham, 200gr of cheese, mayo, dulce de leche for morning sandwiches, 500gr of pasta, 500gr of polenta, 2 packs of instant soup, 4 cans of tuna or chicken, 2 cans of tomato sauce, a pack of 12 tortilla for quick sandwiches and a ton of snacks!
Snacks are just as important
In terms of snacks, we had almost 800gr of chocolate, 15 cereal bars (big ones), nuts and a hundred caramels. Snacks are just essential to give yourself a dose of sugar again on the slopes, and we don't regret it at all because we ate all of that… There were barely 10 caramels left in the end. 😉
A total of nearly 8.5kg of food!
To this we must add, that every morning we left with 2 liters of water each in the bag. And we would fill the bottles as we went along in the streams by adding a micro-pure tablet.
Day 0: Reach the village of Cachora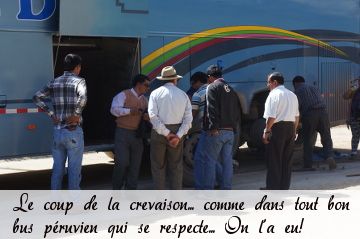 To do this trek you must first go to a small village called Cachora. From Cusco, you have to take any bus that goes to Abancay (the Bredde company has a good reputation), and ask the driver to get out at the Cachora junction. From there, a taxi will take you to the village in 40 minutes.
The attack from the sky
We quickly found a small very basic , but extremely cheap hostel. After dropping our bags, we left to explore the village a little bit. The street was deserted, but somehow we did not think something was wrong. Then a little girl opened a door and said, "The wasps will sting you!"
"what?" I thought I must have misunderstood, smiled, and we continued on our way! Less than 3 minutes later, we were literally attacked by bees! But not the kind of bees we know from home, eh, here they were monsters who were really attacking us!!!!! One of them got trapped in my hair, so I might as well explain that I started struggling like the last of the dumbasses! Benoit was being chased and running like a madman in the village!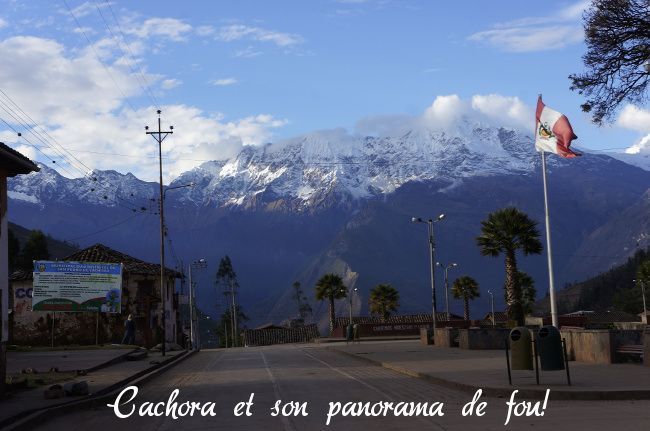 Suddenly a man opened his door and told us to come inside! He put our heads under the water (well… let's call it a dressed shower). Then he started laughing! There are only gringos to hang out on the streets when bees attack! "Oh well, apparently it was a common thing…"
With a few stings on the skull for me, we ended up having dinner with this really adorable man. A good last meal to recharge your batteries for the next day's walk.
Info
Bredde bus to the crossroads of Cachora: every day at 6 am and 10 am. Price: 20 soles per person.
Taxi to the village: 6 soles per person by collective taxi (30 soles per taxi).
Accommodation: various small inns. We had slept on one that is on the main street (on the right side). Sorry, but we forgot the exact name. Price: 30 soles per double room
Day 1: 22km, a challenging first day!
First day, and also first real contact with our backpacks…. First observation? It's heavy! After 300m I was already wondering if leaving for this trek was really a good idea. Well, I may not be an athlete, but I'm stubborn!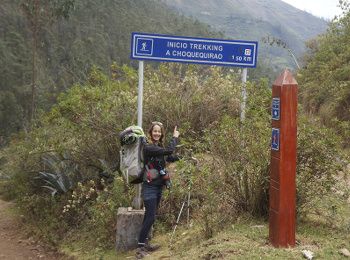 The first 9 kilometres of the day were easy; we started with a small descent to the bottom of the village and then a gentle ascent to the Mirador de Capuliyoc.
It took us a little less than 3 hours to do this first part, and fortunately my shoulders were starting to get used to the weight of the bag!
Time for the horror descent
On the other hand, the torture started for me during the next 12 kilometers…. 1400m of descent over 12km is really not a pleasure with my knee problems. So it was at a very slow pace that we started our descent to the river.
By about 2:30 pm we had reached the river. We were at kilometre 21, and frankly we were already quite tired!
There is a campsite by the water, but we knew we had every interest in continuing because at the river level there are an unimaginable number of mosquitoes that are absolutely unscrupulous!
A wild Peruvian-style river crossing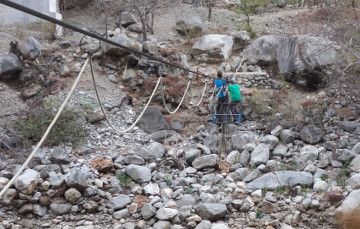 At the time of our visit there was certainly a bridge, but it was under construction! In short, it was using plan B that we crossed the river… Plan B?
Wel… a kind of basket suspended from a cable in which you settle, then a guy pushes you with all his strength, which allows the nacelle to reach the middle of the river. Then it is with the strength of your biceps that you drag yourselves to the other side!
Do you believe me, if I tell you I only had a moderate amount of fun?
One last little effort before the evening
In other words, once on the other side we knew we had 3km to go to the next campsite. 3 kilometers is nothing at all, isn't it? Yeah, except when there's still 550 meters to climb! With 21km already hurting our legs, these last 3 kilometers have hurt… A LOT! It is therefore only around 5pm that we will have finally reached our campsite, completely exhausted!
There, small house offers dishes for dinner, so we thought we would save our gas and took the opportunity to eat "at the restaurant".
On the menu? Tuna spaghetti, every hiker's dream! But here it is, after a few bites, I felt that my stomach was not quite of that opinion…. I offered my plate to a French guy who seemed to have an ogre's appetite! Thus, it was with a strange feeling in my stomach that we went to bed at 7:30 pm….
Infos Day 1
From Cachora to Santa Rosa
Distance: 22km
Elevation gain: 850m
Elevation loss: 1600m
Duration: about 8h
Meals: It is possible to eat at the campsites on the descent as well as at the Santa Rosa campsite. Dishes at home sold between 7 and 10 soles.
Most of the inhabitants also sell drinks and some canned food, rice and pasta.
Day 2: Steep slope, gastroenteritis, and hiking: the winning combo!
My instinct of the day before had not deceived me. I woke up with a beautiful stomach flu! Stunning stomach cramps, and especially impossible for me to swallow anything. We have known better as preparation for climbing to Choquequirau.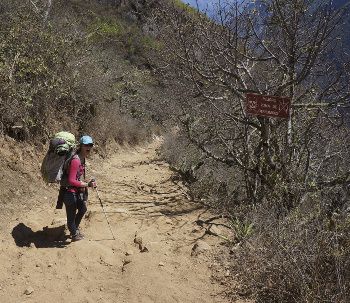 So it was with the energy of a narcoleptic turtle that we attacked on the second day. On the program? 900M of climbing over 4 kilometers to reach the small village of Marampata, where we had planned to eat at noon. It is with a mad pain, and I grant you quite a few swearwords for my part that we have finally reached the top!
The meal in peruvian homes… it's heavy!
A good plate of white rice later, I was ready for the last kilometers to the ruins of Choquequirau. Benoit was trying to recover from his meal, which was a little rich in carbs… When you eat in a local restaurant, you have to know that there is no menu, you eat what you are served! On that day, Benoit will have had a plate of rice on his plate, accompanied by homemade fries, all covered with a fried egg! Enjoy!
Arrival at the ruins of Choquequirao
A few hundred meters after the village, you reach the entrance point of the Choquequirau site where you have to buy your ticket.
And it is also at this time that we get a first glimpse of the impressive terraces! But the most classy thing is when you see that the campsite is located in the middle of the site!
In short, another 2 hours of walking and we had reached the campsite, and for the first time we prepared a good meal for ourselves on our stove.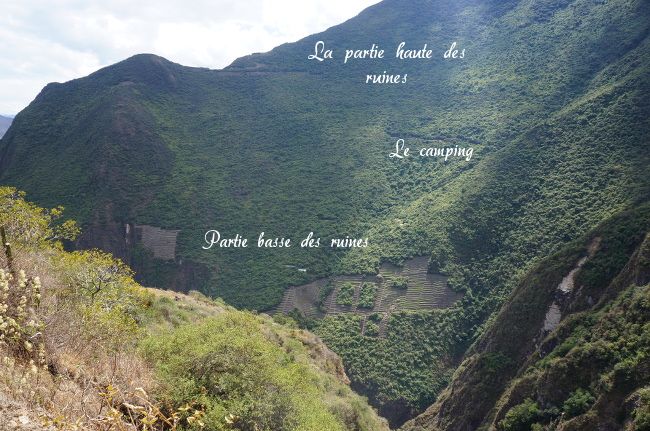 In short, a very short day of walking, but fortunately because I really didn't feel well that day!
Moreover, when we arrived at the campsite at around 3pm, the few groups that had booked an organized trek left directly for the visit of the ruins in the aftermath… Personally, I was very happy to rest a little!
Infos, day 2
From Santa Rosa to Choquequirau
Distance: 9,3km
Elevation gain: 1000m
Elevation loss: 100m
Duration:about 4h-5h
Meals: Possibility to eat at Marampata campsites. Price of a dish: 10 soles. Last possibility to make purchases in the village as well.
In Choquequirau there is running water, but no possibility to eat or shop. You have to bring something to cook!
Entrance fee to the Choquequirao ruins: 38 soles per person
Day 3: Visit of the Inca ruins of Choquequirao
As I told you, the few people who had come with an organized tour, visited the site the day before, when they arrived (barely 2 hours of visit), and this morning they were already leaving for Cusco! Frankly according to us it's a real pity, the site is huge and in 2 hours you absolutely don't have time to enjoy it!
Thus, we decided to stay a full day, and to sleep a second night at the campsite.
Moreover, if you come to see Choquequirau, we strongly recommend that you plan 5 days, and not 4 as suggested by most guides or agencies.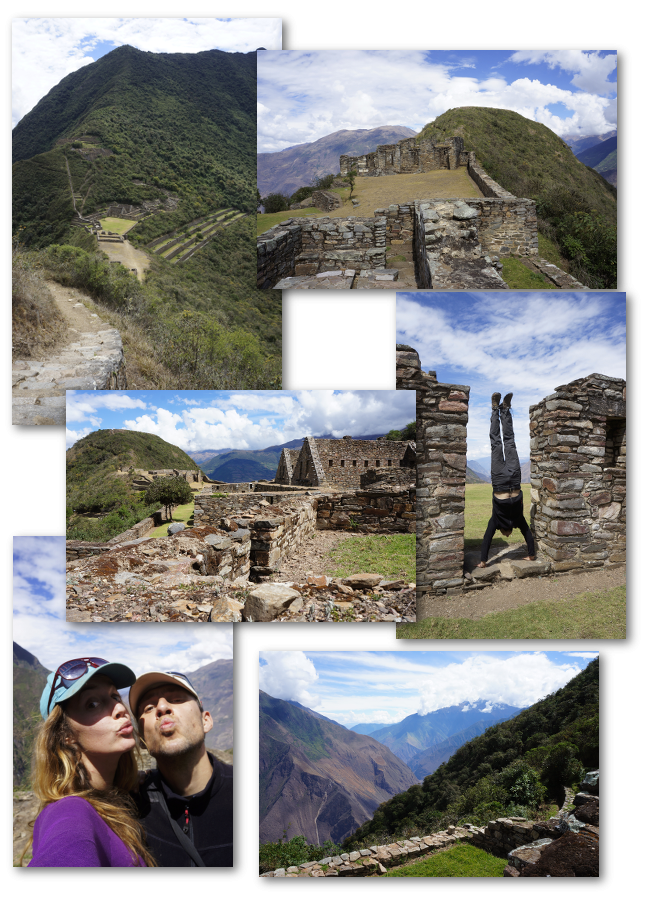 But let's be reassured, eh, a day of visiting Choquequirao is no easy task! These damn Incas liked to build things on slopes!
Program of our day in Choquequirao
So the visit is quite challenging (phisically speaing)! We start our day by going down from the campsite to take a look at the terraces below the campsite.
About 100m of descent, and we are plunged into the heart of Inca ruins. The bet part about it??? We are absolutely alone!!!!!!! Not a single other person on the horizon! So it was quite quietly that we visited the two sites at the bottom, before tackling the bulk of the day; 200M of climbing from the campsite, and here we are in the center of Choquequirau! It's really impressive, especially since once again we're alone! So it is in the heart of ruins dating back more than 1000 years that we started our little picnic.
What's the best part of the visit? The llamas! No, then sorry to disappoint you, but no hairy friends to show you yet, but our buddies the Incas probably had a feeling that we would be a little disappointed not to see real ones, so they included some in the ruins! Thanks guys!
So once again, you have to work on your calves to reach them! Because they are 150m below on the other side of the mountain!
But frankly for such a panorama, it's worth a little effort, isn't it?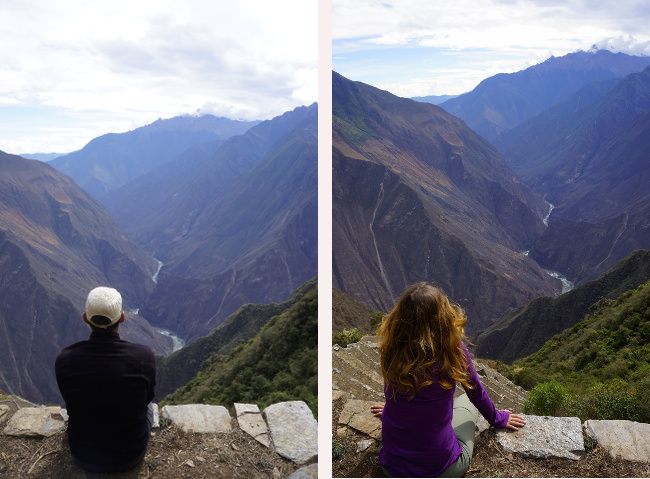 Choquequirau, the new Machu Picchu?
For those who do not yet know the ruins of Choquequirau, we can tell you without hesitation that it is in a way the new Machu Picchu! And if you want some advice, we strongly recommend that you come and visit these ruins while there is still time!
3 reasons for this….
Choquequirao is an absolutely immense archaeological complex!
Only 30% of the site is currently visible; the rest is still covered with forest! For example, the lower terraces are apparently connected to the upper one! Or if you prefer, 450m of altitude difference all on the terrace! Once everything will be cleaned up, the site should be about twice as big as Machu Picchu's!!!! The only problem for the moment is that the site can only be reached on foot! It takes 2 days to reach the site, 1 day of visit, and 2 days to return, that is 5 days of walks to visit the ruins!
As much this fact is awesome for trekking enthusiats, as much this is quite a bummer for the "mass". Hiking 5 days to see some ruins is not something most people are ready to do… Which means???
The construction of a cable car….
To our great regret we have learned that the tranquility of the place will soon be a thing of the past! Indeed, the Peruvian government has just validated the construction of 2 cable cars to reach Choquequirau from the valleys opposite! The cable car is announced for 2016, but in my opinion it will not be built until 2020 or 2021…. But anyway, visiting the ruins alone in the world is soon a thing of the past, unfortunately. And this is all the more so, because of point 3.
Update 2019: There is still no trace of cable car! 🙂 The project is still officially "on", but it's getting more and more delayed. Let's hope it stays this way as long as possible.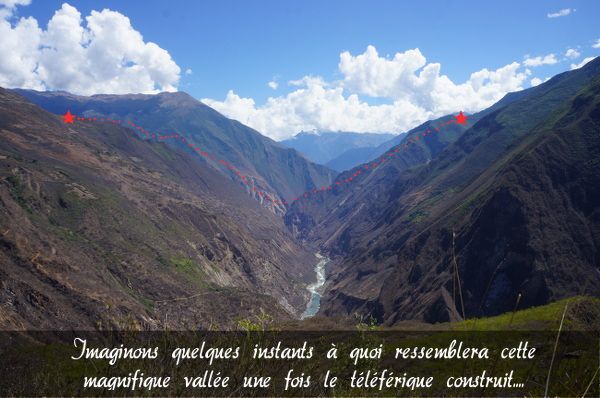 Point 3 is the possible closure of Machu Picchu!
The inhabitants of the valley talk a lot about this new hot topic. The Machu suffers enormously from mass tourism, and it is becoming increasingly difficult to preserve this magnificent site with the thousands of people who tread its soil every day. So the current project is to build watchtowers around the Machu, and in the long run it should only be possible to observe the Machu from a distance.
And that's where Choquequirao comes in! The opening of these platforms on Machu Pichu should more or less coincide with the inauguration of the Choquequirau cable car. This is with the idea of redirecting a little the tourist flow from Machu to Choquequirao…
In short, as you can imagine, we are delighted to have had the opportunity to discover this magnificent site this year!
Even if we don't hide it from you, we'd come back to the area in a few years to see what it looks like once everything is cleaned up and it's even bigger than the Machu!
Who knows perhaps with children, and at that moment we will probably take the cable car, and we will be able say these crazy things only "old" parents can say…
"Pffff… what a waste… and to say that a few years ago we walked here. There was no one there, and it was so much more authentic!" (we put it on you, because we heard older people say it at Machu a few days later) 😉
Assessment of these first days of trekking in Peru
So you know everything about our first 3 days of trekking! These first 3 days were a good introduction, as they were still following a tourist trail used by about twenty people a day, and with possibilities to eat almost everywhere.
The rest of the program looks a little wilder!
Because from Choquequirao we decided not to turn back like most other hikers, and continued on the path nicknamed by the locals "El camino de los Locos" (understand the path of the madmen).
This title, the rest of the hike didn't steal it! You probably have to be a little crazy to want to reach Machu Picchu by doing a 9-day trek, and all this by carefully avoiding the classic tourist trails!
Anyway see you in the next episode for the next part of our adventure towards Machu Pichu!
Video of our Choquequirao trek
And as promised, here is to finish the video of these 9 days of trekking. don't forget to follow our youtube channel 😉

part 2 of our trek from Choquequirao to Machu Picchu
part 3 of our trek from Choquequirao to Machu Picchu
NB: Please note that this article contains affiliate links to partner sites. If you buy a product on one of their sites you will not pay more but we will receive a small commission; this will help us to keep this site alive.