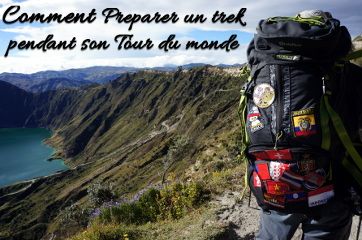 You will have probably noticed that we like hiking and we are not afraid to take our backpacks, our tent, a few days of food and simply go on a solo adventure to discover a place at our own pace. It usually allows us to visit more remote spots by taking our time and also limiting expenses! And if you want our opinion, trekking is probably the best way to discover countries like Chile or Argentina, that cost a little more, but are full of national parks, each more beautiful than the next.
We decided to write this article because many of you asked us questions about the organization of this kind of treks. You asked us what we take with us, where we leave the rest of our stuff on the hike, how many weight we carry in our bags, etc….
So we will try to answer you as well as we can in this article, by showing you that it is not that complicated and above all that it is accessible to everyone. There's really no need to be Mike Horn to go on an adventure for a few days.
Update 2019:
This article was originally written in 2014 when we were on our round the world trip. Our equipment has evolved a lot since then and we decided to leave the old elements but also to add our current equipment. Since our world tour we have done many other longer hikes and published articles with our gear specific to the types of terrain/climate. Here are some examples:
Via alpina: a 21-day trek in the Swiss Alps in summer. Our gear
Lycian Way: a week on the Turkish coast. A hot and dry climate. Our gear
The Kungsleden: 10 days of autumn trekking in Swedish Lapland. Cool temperatures and almost total autonomy in terms of food. Our gear.
Round the world trip: the perfect opportunity to start trekking!
When travelling around the world like us, trekking and hiking are almost natural. I mean, when you visit a new country, a city, a national park, you do it most of the time on foot. And to be honest, with hindsight, I think Fabienne and I have walked more in the last 16 months than in the 10 years before ;). Now, walking seems more natural to us than ever.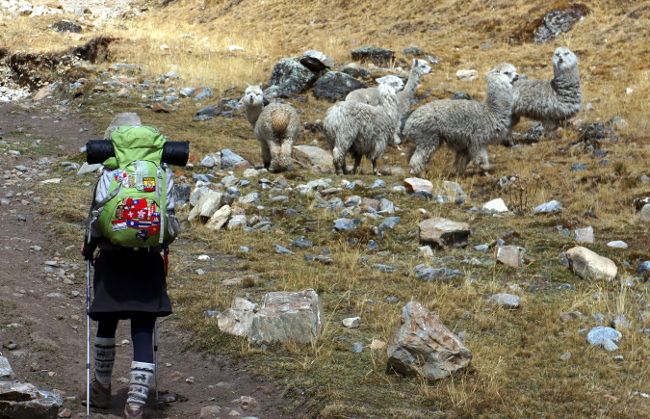 Walking is freedom
And then walking is the freedom to go where we want! It's free, it also allows you to gently enjoy a place, take pictures, think. It simply takes a little dose of motivation and some time…
The good thing is, that, during a long trip, we have plenty of time! It would therefore be stupid, in our opinion, to visit everything by bus, in an organized tour moving full-speed, when there are so many things that can be visited very well by yourself and on foot….
Between walking tours and hikes over several days, there is really only one step. (Contrary to what many people think). All you need, is the right equipment, a good map, some food, put your fears aside and go for it! I promise, you will not be attacked by an army of tarantulas and snakes while you sleep. 😉
Should you take a guide when leaving for a trek?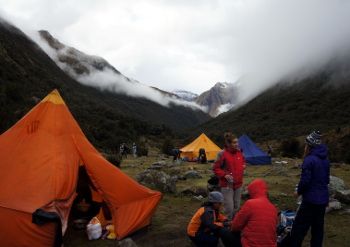 So we met a lot of travellers who didn't even ask themselves the question. For them a trekking is done in an organized group with a guide! But in our opinion, it is worth asking yourself if this is really necessary. Indeed, leaving in a group (unless you can afford a private tour) implies:
that you will have to adapt to your adventure companions (rhythm, breaks, personalities).
that you will have to follow the pre-established program. There is little room for improvisation.
It usually costs much more than going alone (and on a long trip, the budget is important).
Trekking with a guide has a reassuring side
So it's true that going with a guide / tour has a reassuring side. And often, you will not need to carry camping equipment or food (we had tested an organized trek in Huaraz). If you have a good guide, you will also have more information/explanations about the places visited. But beyond that, is it really worth it? In our opinion, not always or even not often.
For us, going solo means above all:
independence and total flexibility for the rhythm, the itinerary….
absolute tranquility.
making it any cheaper is difficult ;)…
choose and cook your own menus.
much more rewarding and exhilarating than leaving in an organized group… experience the adventure!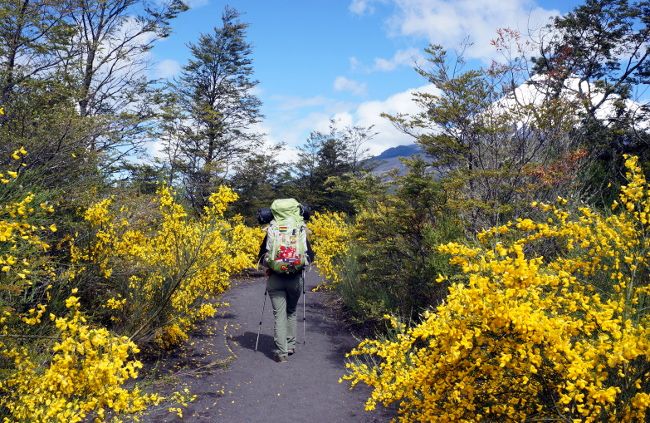 A guide is required if…
So first find out about the place you would like to visit, then ask yourself the right questions… In our opinion, you will need an organized guide/group if:
the trails are poor / unmarked and you are not an experienced hiker.
you are embarking on a somewhat technical trek/ascension and you do not have this kind of experience.
If it's mandatory! We visited parks where it was clearly specified in the regulations that it was forbidden to hike without guides (for example the white mountain range the Huaraz, Cotopaxi or any mountains higher than 5000m in Ecuador…). So even if sometimes it may seem stupid, if there are rules, it's better to obey them.
you don't think you can carry your camping gear and food (again, you have to try it once to find out 😉 ).
Otherwise, get started and try the experience…. Promise you won't regret it ;). Even Fabienne who was by no means a great hiker, loves it now! 😉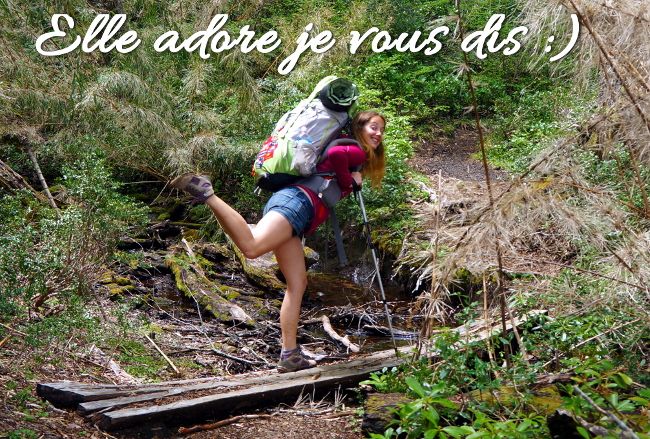 Where to find the information to organize your trek
So, until Patagonia, we had always managed to get by by reading blog articles on the net, talking to other travellers in hostels or gleaning information from travel agencies pretending to want to buy a tour. The objective of this research step is to:
to be able to judge if the trek is not too difficult. (difference in altitude, number of kms). Especially the first time, don't be too optimistic. Start small, and then increase distance and difficulty step by step.
estimate the number of days of walking to buy food and fuel.
to know where the potential bivouacs are.to know if it is possible to buy food on the way. Frankly, don't carry pounds of food in the bag if you know you're going to have the opportunity to buy food on the way (even if it's reassuring 😉 ).
to be sure that there will be enough water sources on the way.
On the other hand, for Patagonia, we found it difficult to find information on the net or elsewhere (travel agencies, park information…) to go on a trek. So we finally bought the Lonely planet Patagonia trekking which satisfies us fully until now.
Update:unfortunately it seems that this guide is no longer published by lonely planet (and that's a shame). To make up for this, we edited all our articles this year and tried to add interactive maps with hiking trails. If someone has a resource to advise, feel free to leave a comment at the end of this post.
Autonomous trekking: the essential equipment!
That's it, you've decided to leave on your own… you're now wondering what to put in your backpack. If you want our opinion, don't forget the following things:
A multi fuel stove :
If you're going solo, you'll need something to cook something hot, won't you? (you can also eat bread for 4 days but this is not ideal)… We advise you to choose a multi-fuel stove. Indeed, these stoves work well with gasoline, diesel, white benzine… and are very efficient. The problem with gas is that you will not find it everywhere and that the fixation system can change depending on the country/continent… Imagine, you arrive with your European stove in the USA and impossible to fix it on the gas cylinders… a little stupid no? (it happened to us once)… In addition, gasoline stoves work perfectly at high altitudes or at negative temperatures (which is not necessarily the case with gas).
See the stove we have on Amazon
The Tent :
You need a tent big enough to put your backpack in (for example, we have a 3-seater tent while there are 2 of us) and be able to sleep comfortably. I promise you there's nothing worse than walking when you haven't slept well. Ideally, your tent should be in double layers, which are separated over the entire surface (this prevents condensation inside the tent and greatly improves waterproofing) and be as light as possible. Afterwards, if you do not plan to camp in extreme conditions, you can find models with a good price-quality ratio. MSR has really good tents for backpackers! the hubba hubba or the Mutha hubba are excellent choices.
Sleeping bag and floor mattress:
We have opted for inflatable, lightweight and fairly thick floor mattresses that we believe are much more comfortable than foam mattresses. For the sleeping bag, take a model adapted to the temperatures you will encounter. See sleeping bags examples
For Peru, Bolivia and Patagonia, we bought sleeping bags with a comfort temperature of -10 degrees celcius. They are naturally heavier than models adapted to warmer temperatures. Well if you can afford it, there are now super warm and not so heavy sleeping bags… but you have to break the piggy bank. Always keep in mind that sleeping comfortably is very important if you plan to walk for several days.
A filtering bottle :
Water is a big issue when hiking! It's not always possible to find drinking water when on a trek, but streams, rivers, fountains, etc. are pretty common.
Before, we used to have pills to purify the water we found on our way. But these pills tend to severly alter the taste and it sometimes feels like your drinking water coming a swimming pool. In 2016 we switched our pills for a lifestraw bottle. This has pretty much changed eerything! We are absolutely thrilled with these bottles and can only recommend you give it a try!
Water tastes great, you can refill anywhere, plus… it's good for environment since you'll be using massively less plastic bottles.
Clothes for trekking adventures :
So we have a clear opinion on the question… in most cases, you don't need the latest Patagonia down jacket and the ultra high-tech super fleece from North Face to go hiking. All you have to do is think in layers. In general, 3 layers are sufficient for almost all situations:
a short-sleeved or long-sleeved T-shirt in contact with the skin (it is better to avoid cotton, which remains easily damp with perspiration)
A fleece or down jacket to keep warm. A Quechua fleece costs 15€ ;))
A waterproof and windproof jacket. If you have to invest money, it's probably for this layer;)
More expensive is not necessarily better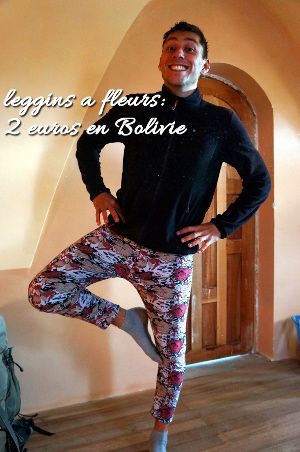 If you think you might be cold, you can always add a thermal layer at the top or under the pants. Here too you can invest in super expensive stuff. But for example, for Fabienne, a leggins bought 2€ on a market already does the job very well!
Also remember to bring a hat, gloves and a good pair of socks to keep your extremities warm. But be careful, don't take too many spare clothes (weight for nothing). Whether you go away for 3 or 9 days, you take exactly the same number of clothes (2 pairs of socks, 2 t-shirts, 2 underwear, 1 fleece, 1 windproof, 1 pair of pants, 1 pair of gloves, 1 hat). There is no point in wanting to smell "nice" on a trek. 😉
The hiking shoes
The debate on shoes for a round-the-world trip would deserve an article on its own (which we will probably write one day have finally written… the link is below) but in our humble opinion, it is not necessary to leave with big mountain boots in 95% of cases. We particularly like the light and waterproof (and comfortable) trail running shoes which are very suitable in most cases.
Update: we still have trail running shoes (we tried salomons, cheaper Decathlon versions, La Sportiva etc…). We wear out almost a pair per year (at the same time we have an average of over 1500km of hiking per year 😉 ). In addition we also have hiking boots for the hikes in mountain during several days. But if we were to go back on a round the world trip we would still take these same trail running shoes. By the way, we finally wrote a comparison of the best trail shoes for hiking and backpacking that you can find below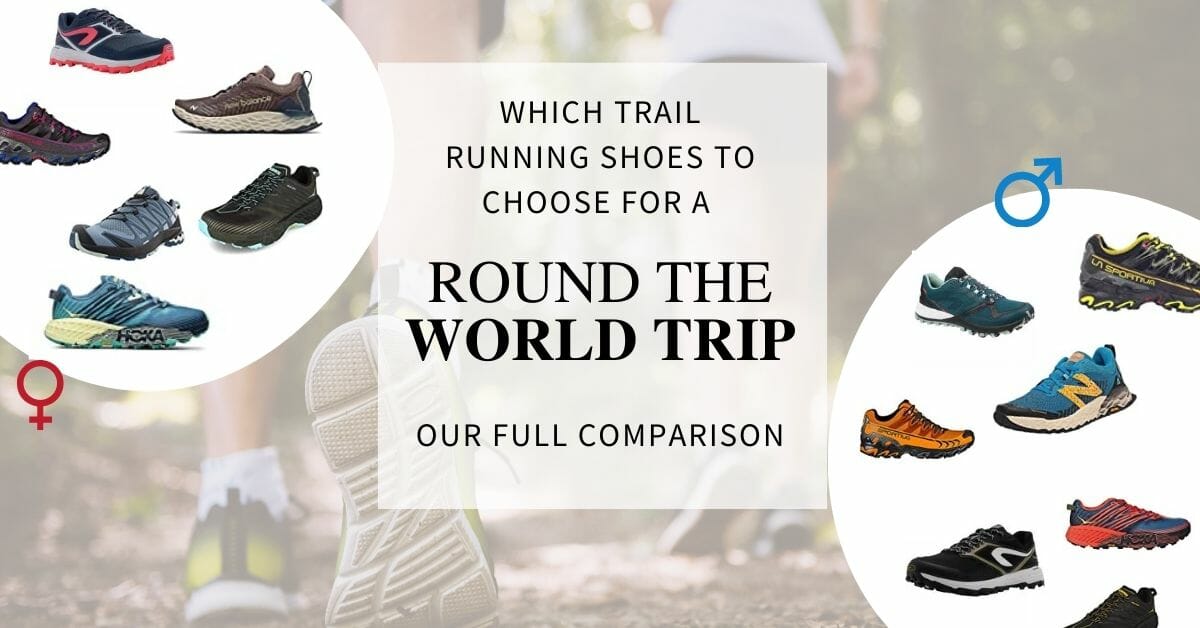 Best trail running shoes for hiking and backpacking
Hiking poles

So frankly we weren't sure about our move at the beginning of the trip by leaving with hiking poles but now we're more than convinced.
They are absolutely essential to reduce the load on the knees a little when walking with full backpacks over several days. If they can also help with the ascent, they are all the more valuable during the descent to relieve the legs and provide better support. Don't leave without them! (Oh and by the way, all hiking poles are pretty equivalent… Of course you can buy a 200$ version but seriously? These kind of poles work as well!
Generally speaking, it is better to avoid poles that don't have an external clip. The ones you just "rotate" tend to oxidize. Flip locks are much better!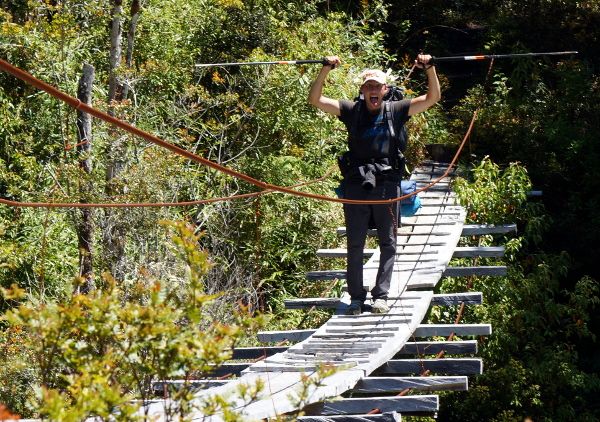 Food for trekking adventures

With camping gear, it is clearly the heaviest weight in the backpack. When we left for 9 days to go to Machu Pichu, I was frankly quite "overloaded". Thank god we eat part of the weight every day and the bags get lighter over time. ;).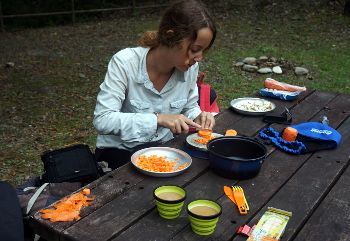 But then, what do we take for food when we go on a trek? On our side, to save fuel, we avoid anything that is cooked for a long time. For example, we use couscous, polenta, instant noodles that only require hot water to be ready. Otherwise we also usually have bread for breakfast and sandwiches, meat/cheese, some cans or sauces. But if we leave for more than 4 days, we avoid fresh fruit and vegetables that are too heavy (we try to find some on the way).
Ohhhh yes, I forgot….
Above all, take plenty of snacks! (Candies, cereal bars, chocolates, dried fruits…). Frankly, you always have to have something to eat for breaks! It is easy to underestimate the energy you spend when hiking while carrying your heavy bags. It is better to have enough to fill the batteries a little ;).
A good topographic map:
It may seem obvious, but it's better to have a topographic map. (Or at least a picture of a map) The idea? To be able to estimate walking times, elevation changes, direction etc….
Update: we now replace the maps by our phone. Most of the time we plot our hike in advance and then export the GPX. We then import the track in our applications like AllTrails or even Maps.me (for maps.me the gpx files must be converted in KML)
Tip: We have had an AllTrails+ subscription for several years and are very happy with it for offline map access. We also use this site to embed maps of our hikes in articles. AllTrails+ costs 29,99€ per year, but if you want, you can go through our link and get a 30% discount for the first year.
Free version: create a free account on AllTrails and then download the track of your choice directly in KML format and import it into Maps.Me
All the rest :
These are all the obvious things that didn't deserve a particular explanation… But don't leave without sunscreen, hat, a knife, a fork, headlamp, small first aid kit, sunglasses
And how much does all this weigh? Trekking light?
So now you're thinking, "But that must weigh a lot… how do you walk around with so much stuff on your back? ».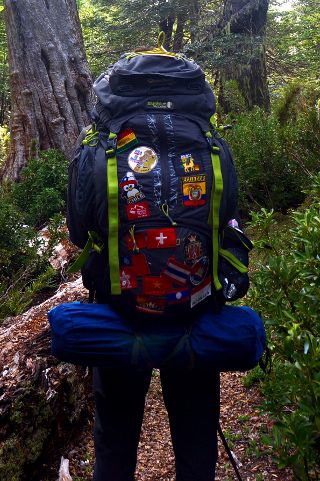 So I'm not going to lie to you, it's not light but it's not insurmountable either! When we leave 3-4 days, Fabienne must have 8-10 kgs on her back and I rather have 12-14kgs.
And of course, the longer you leave, the more food will weigh in the bags. I think that in the first days of Machu I had more around 17-18kgs. The thing is, the body also quickly adapts and you can get used to heavier packs after the first couple days…
The secret to light hiking
So the secret to limiting the weight of the bag is not to buy ultra expensive equipment that is supposed to be ultra light (even if for the sleeping bag it can still help).
Besides, we have everything but ultra-modern and technical equipment. Our empty Quechua backpacks are already quite heavy, our sleeping bags are quite heavy and our tent is not the lightest of its kind either.
Update: we've changed our gear since then… If you want to see what we took with us on our latest trekking adventures, check out these blog posts:
The real secret is to take only what is strictly necessary. Don't take too many clothes, think about the food you take (ideally polenta, couscous or dehydrated food), only take a pan that you will also use to eat (no need for plates), don't take 3 litres of reserve gasoline etc….
Make sure to leave all the "just in case", "nice to", "why not" items behind!
What to do with the rest of your stuff when you go on a trek?
So that's the question that worries you the most and I think we've been asked it at least 50 times ;). As I was saying, we try to take the minimum amount of equipment with us on a trek. So we leave a lot of our equipment at the hotel before leaving. We told you about these famous protective covers for backpacks…
Well, we stuff all our things in bulk in the travel case (clothes, little bags etc…. but we are still careful with our computers). The cases are closed with a padlock and placed in a locker or in the hotel luggage room. And if you feel that the hotel locker is not safe enough, make a small separate bag with all your valuables. (computers, money, phones…) And ask if they can't keep it in a separate and locked place!
Edit 2019: We bought the ours 6 years ago! We still use them every time we trsvel and they are very resistant!
Back up your data before leaving your bag
I must admit that after 17 months, I still don't like to leave my computer at the hotel when we go on a hike, but as I have no choice, I have learned to deal with it. In general, I make a backup of all my important data on the cloud before leaving to be sure that if the computer disappears, I do not lose most of my work. For the moment, everything has always gone well but the risk 0 does not exist and it is possible that one day we will run out of luck… As a result, prevention is better than cure!
Hiking independently is within everyone's reach!
Finally, I hope I have convinced you that going for a solo hike is within everyone's reach. Especially during a trip around the world, it is an excellent way to discover a place at a lower cost and at your own pace. If you have never tried this kind of experience, we can understand the apprehension and doubts you may have.
But try to overcome your fears because you are not risking much. The first time, find yourself maybe one or two fellow travellers and get started! You will see that the feelings of freedom and adventure that such an experience brings are well worth it!
And then, a round the world trip is also an opportunity to push your limits, to try new things… so go for it!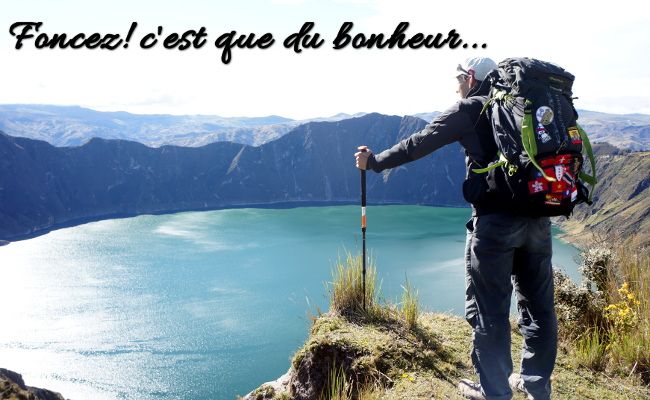 P.S. This article contains affiliate links. Thus, we will receive a small amazon commission that will help us maintain and grow the site. Of course, we only advertise for products we use and it will not cost you anything more.)
Enregistrer