We told you about Mount Hua in a previous article. This mountain is considered as one of the 5 sacred mountains of China. Today we will be talking about another sacred mountain: Mount Emei in Sichuan province. On the program: Buddhist atmosphere, lush vegetation, unlimited waterfalls and thousands of stairs 😉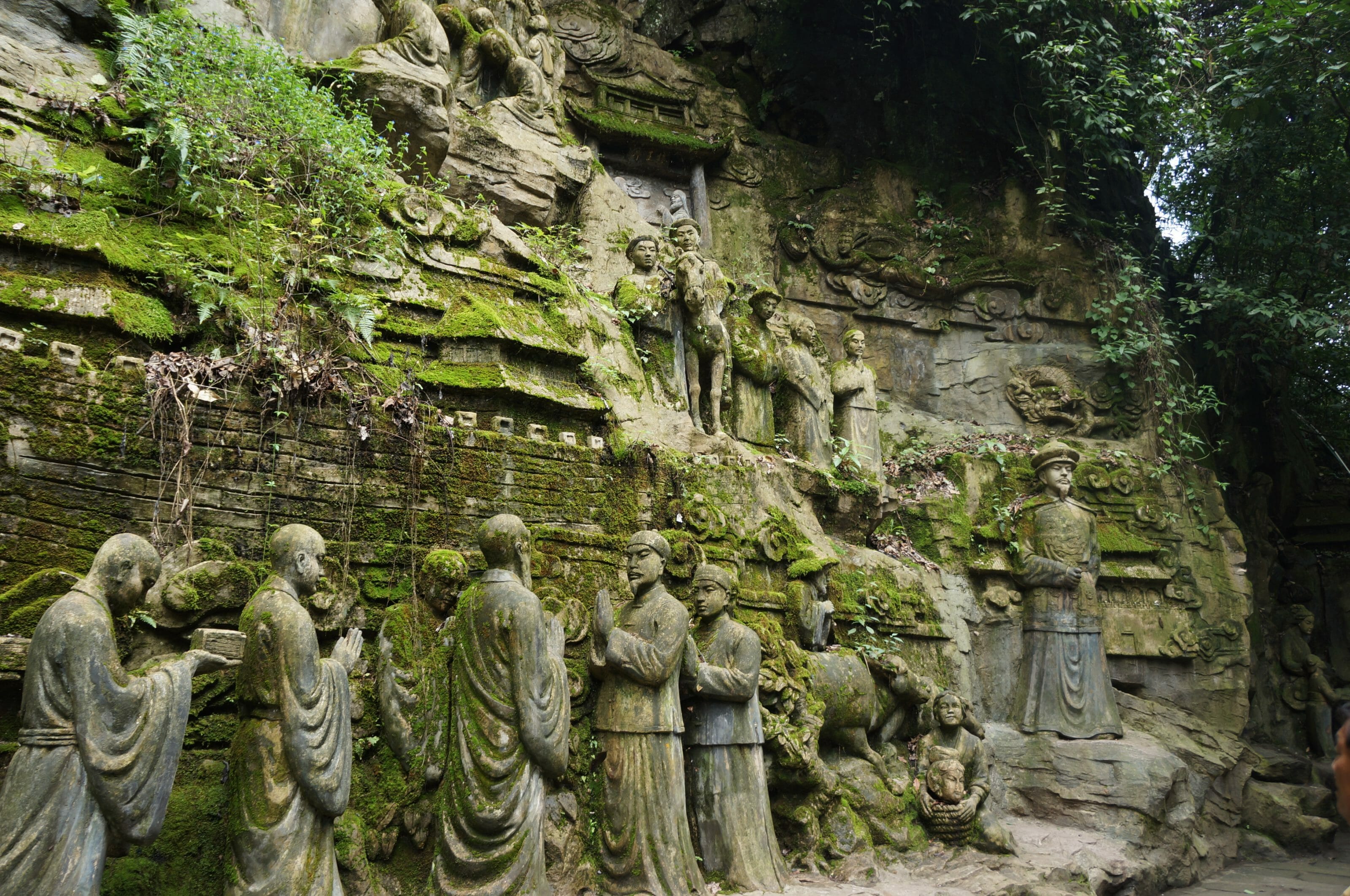 Mount Emei or Emeishan
Mount Emei is an important place of pilgrimage because it is apparently here that Buddhism was first introduced to China. It dates back to the first century, crazy uh?
This mountain, which is 3100m high, is also interesting for its tropical flora, its waterfalls and the animals that roam freely (especially monkeys). By seeing the natural beauty of this place, we can better understand why it was chosen as the anchor point of Chinese Buddhism.
On the many steps (around the 60,000) that will take you from the village of Baoguo to the summit, you will see several temples, some of which offer overnight accommodation. If, like us, you start the ascent from the very bottom (500m altitude), you will need to make 1 or 2 stops to sleep and arm yourself with a lot of courage. 😉 But it's worth it!
Not feeling like walking? We reassure you, as it is a quite touristic place, there are ways to shorten the climb a little bit…
Getting to Mount Emei / Emeishan
To visit Mount Emei, you must first visit the village of Emeishan (also called Baoguo). To get here, we started from the city of Chengdu (we were coming from Xi'an), from Xi'an to Chengdu, there are 2 different trains:
The express train: it takes less than 4 hours and costs between 40€ and 50€.
The night train: it takes between 12 and 16 hours. It costs between 20€ and 30€ (and this saves one night in a hotel).
It was obviously this last argument that decided us and that is why we took the night train. To book and see the schedules: 12goAsia
From Chengdu, there are many options as well:
High speed train (more than 20 trains per day). 1 hour of travel. The price varies between 8€ and 20€ depending on the class
The classic train (4 trains per day). 2h15 of travel time. The price is about 3€
The bus: it takes between 3 and 4 hours and costs about 6€. At the time of our trip it was the only option, but it seems that things have changed a lot since then;)
How to visit Mount Emeï
If you don't have the courage to walk up, visiting Mount Emei can be quite expensive. Indeed, the entrance to the site already costs 185 yuan per person. Fortunately, the ticket remains valid for several days. There are then buses (40 yuan for a round trip) which can already save you a few meters of altitude difference by taking you to two slightly higher entrances of the park (about 1000m).
I would like to say that unfortunately, there is also a bus (90 yuan for the round trip) that takes you directly to 2500m altitude. From there, there is a cable car (65 yuan up, 55 down) which makes you gain another 400m.
Thus, going up without walking would cost at least 330 yuans. Needless to say that this option is also the most crowded one… Most tourists take this route and thus you should clearly expect to queue quite a lot if you opt for this program.
Hiking on top of Mount Emei
However, as you may imagine, far from the bus stops, a large part of the mountain is only accessible on foot. This is where the real interest of Mount Emei lies. We would advise you to stay on the left side of the mountain (away from the bus stops) and climb these many stairs to fully enjoy this lush nature, the rivers that come out from everywhere and the monkeys in freedom.
If you choose this option (it is the one we have chosen), you can also spend the in one of the temples or monasteries that are on the way. And that's quite an experience.
But well, as images speak more than words, here is a short video of our hike on Mount Emeï (this is our first real video, so be indulgent…we should improve over the trip 😉 )… And if you don't follow our youtube channel, it's time to do it ;-)… just so you don't miss the next videos!
Our tips and tricks for Mount Emeï
Sleeping in Emeishan
The best place to start the adventure is the village of Baoguo. Located just at the foot of the mountain, it is also where all the buses leave from.
We stayed at the Teddy Bear Hotel which is simply great. A very nice English-speaking staff and lots of useful information, local and cheap food, clean and spacious rooms for a very low price, free internet… We even stayed there for 2 more days to work a little on the blog 😉
Ascent to Mount Emei
We climbed up the left side of the mountain and down to the right side. If we had to do it again, we would also go down the left side because that is where most of the rivers are located and the landscapes are really splendid.
Sleeping in a temple
On the temples we passed on our way, we slept at the Xianfeng temple (50 yuan per person) which was rudimentary but left us with good memories. We also stopped at Chu Temple, which has a magnificent view of the mountain and is even cheaper than the one we slept in (40 yuan per person). This second temple is definitely a good option as well!
Things to think about before you go
We advise you to take enough water and snacks with you. There are a few small sellers on the trails but they obviously take advantage of the fact that they are far from any shop to make prices explode… especially on water. The ideal solution for water is to take a Lifestraw and then fill up your bottle as you go. Ecological and economical! 🙂
The monkeys of Mount Emei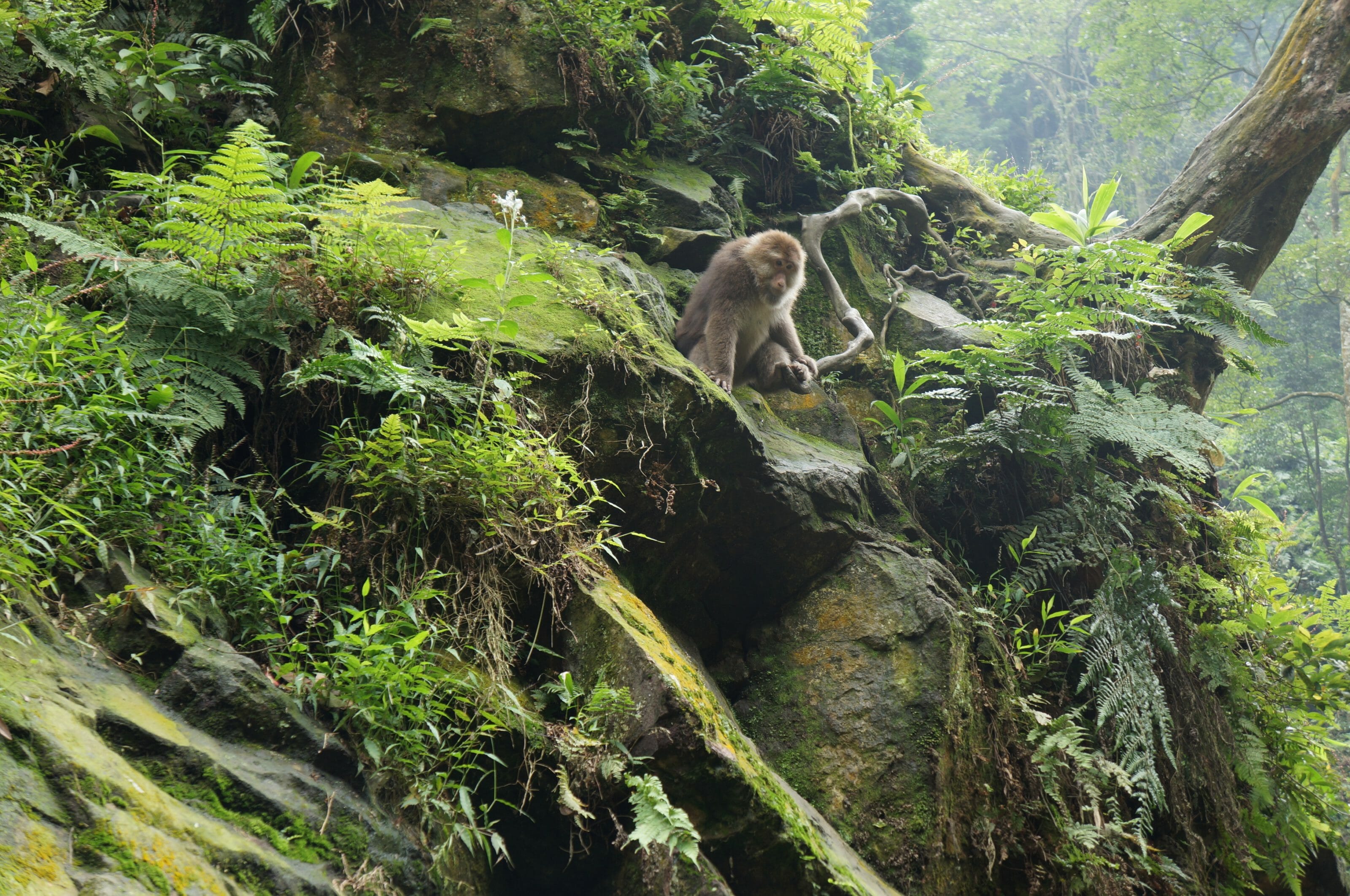 Near the Qingyin Pavilion, at the foot of the mountain, there is an ecological zone for monkeys that is at the intersection of the left and right side roads. This area, which is unfortunately a necessary passage, is a deplorable circus. Located near a bus stop, tons of tourists gather there to see the monkeys and give them food. Monkeys are used to the presence of human and jump on tourists to steal what they can get their hands on… There are also photographers who try to take pictures when the monkeys jumped on you and then sell you the pictures…. In short, if you can, cross this area as quickly as possible because then you can observe the monkeys quietly, in their natural environment and without the tourists. 😉
Note: Monkeys in this area are quite agressive… but this is only due to the presence of too many humans. They got used to being fed all the time and became gready. All other monkeys we saw on the trail were not dangerous at all.
We did not make it to the top…
After spending two days alone on the mountain, we decided not to climb to the top for two reasons. On one hand we had already made 1500m of positive altitude difference so we were pretty tired. And two, the famous bus and cable car bring a large number of tourists almost to the top of the mountain. So we were afraid of being disappointed after two wonderful days in the forest.
However, we were told that despite the crowd, the summit temple is worth a look… So what you are advised to do if you want to climb to the top is to take your time to climb up the left side (in 3 days) and then invest 50 yuan to go down by bus because walking back and forth is not for everyone ;-).
Conclusion: Mount Emei on foot?
To sum up, Mount Emeï is really great and it's even better when you go there for a hike! (2500m to climb all the way up ;-)).
The path on the left side is full of wonders and it would be a shame to miss it even if a good physical condition is recommended. On the other hand, if your budget is not limited and you are outside the tourist periods, you will probably be able to reach the summit more easily and enjoy the view quietly (more or less) ;-)…
Hiking Map for Mount Emei:
As we told you above, it's really more fun if you can stay on the left side of the mountain (bottom route on the map). This area is very well preserved and far from the crowds!
But honestly, would the pleasure be the same without the aches and pains? Not sure… in any case our buttocks still remembered this "little" sacred mountain for a while after this hike…
Info China
If you are travelling in China and want to access your social network accounts such as Facebook, Instagram or Pinterest, be aware that these sites are blocked. You will therefore need to use a VPN.
On our side we have had a subscription with ExpressVPN for several years and are delighted with it. If you want to know more about ExpressVPN and how we use it, it's this way.


NB: If you subscribe to ExpressVPN we will receive a small commission. ExpressVPN is a service that we have been using for a long time (and for which we pay our subscription) and that we recommend to you.
NB: Please note that this article contains affiliate links to partner sites. If you buy a product on one of their sites you will not pay more but we will receive a small commission. This will help us to keep this site alive. Thank you! 🙂