On our first visit to Málaga in 2019, we opted for a hike on the caminito del Rey. Due to lack of time, we were not able to come to the natural park of El Torcal de Antequera and already at that time we promised ourselves to come back! At the beginning of 2022, we came back to Andalusia and this time, it was impossible to miss it; this place had been on our mind for so long that we were just delighted to finally be able to come and discover it.
El Torcal de Antequera: Introduction
There are places like this where you wonder what could have happened in the history of our beautiful planet to give rise to such places! I don't know, but personally, karst landscapes have always impressed me… and the least we can say is that the Torcal de Antequera is definitely a must-see if you come to Andalusia (in our humble opinion of course) 😉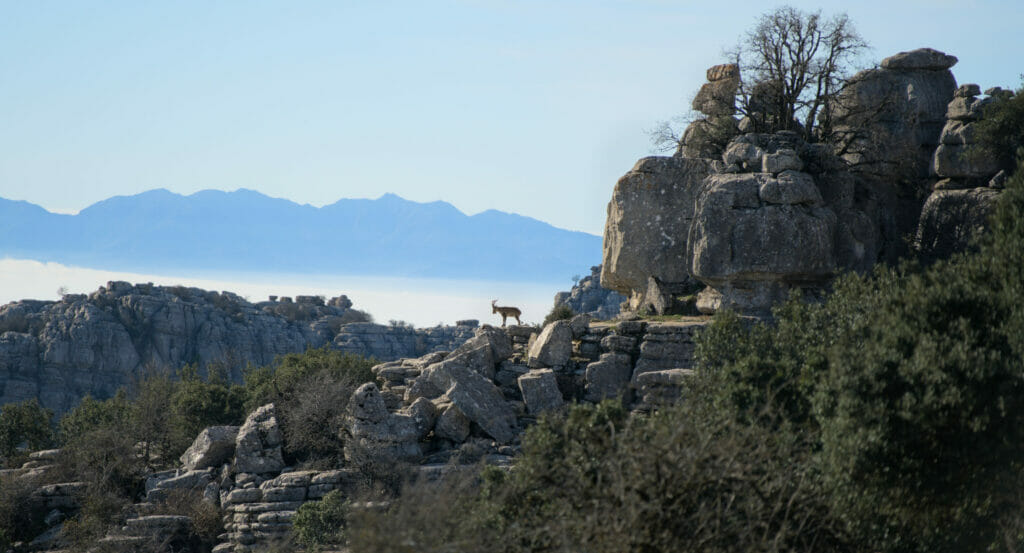 In fact, to understand what happened here, we must go back a little (or actually a lot)… 150 million years ago, this region was under water. During the Tertiary Era, the movement of tectonic plates caused this small mountain range to "grow" into the heart of what is now Andalusia. Over the centuries, karstic erosion has done its work and sculpted this landscape that seems to have come straight out of the Jurassic period!
And it is funny, because even if it can be difficult to imagine that all this was once under water (we are nevertheless at an altitude of more than 1200 m), several ammonite fossils are there to testify of this underwater past.
The current site covers an area of 20 km2 and seems to have literally come out of nowhere!
Our hike to the most beautiful viewpoints of El Torcal
We arrived at the parking lot of the visitors' center at 10:00 am and we decided to start the walk by heading towards el Tornillo or should I say the area of the park that we will call the "pancakes" 😉 It is crazy, hardly that we had left the parking, that we were already in the middle of these surrealist landscapes!
Just 100 m further, it is there that we saw our first ibexes of the day. They were just chilling and jumping from rock to rock under the amazed eyes of the visitors (and us included).
From the Tornillo, we went back to the road and then we followed the old "red" path. This itinerary is no longer officially signposted, but it is still easy to follow because the path is really well marked. After a first small climb, we arrived at the rock called "Sombrero". Personally I would have called it the mushroom too, but well, question of interpretation I guess. It was very funny because there were 3 of us, and while looking at the different rock formations, each of us had a different interpretation… When I saw an elephant in the rock, Benoit thought it looked like a dog. In short, El Torcal is an excellent playground to stimulate your imagination too.
The path to reach the Sombrero is really beautiful. On the one hand we walk in the middle of karst formations but we also have a breathtaking view on the surroundings. In the distance, on a clear day, you can even see the snowy peaks of the Sierra Nevada!
From the "Sombrero", we started an "off-trail" crossing to reach the foot of the Torcal Alto without passing by the cornice of the devil (this passage is reputed to be quite exposed and we did not want to venture there, well… especially me!). Then certainly there is no official path at this place but we followed a well visible path and it is frankly difficult to get lost 😉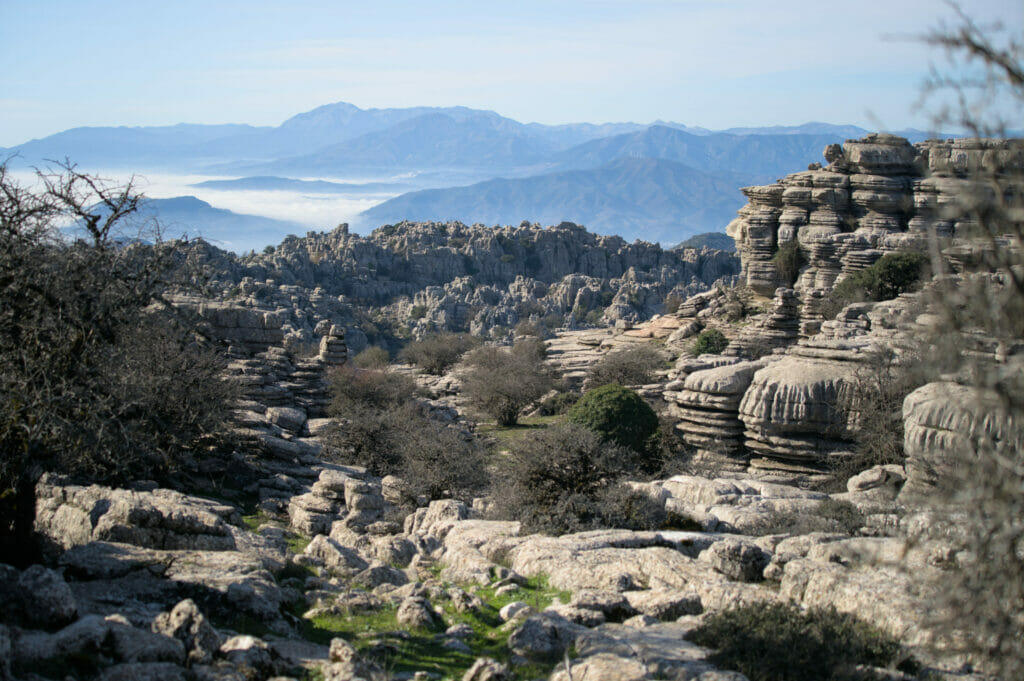 At the end of the descent we arrive in a kind of big valley. Here, the "pancakes" have given way to a kind of big chimney. At times, the landscapes reminded us a lot of those of Cappadocia…
At km 4.4 of our route, we joined the "yellow" marked trail. From this point, we can put away the phone and the map to simply let ourselves be guided by the markers (and the people). Because yes, as much we were as alone on the first part, as much this second half of hike will have been a little more crowded. But let's face it, it's relative and the landscapes are so incredible that it's easy to forget about the other people!
Shortly before returning to the parking lot, we made a few last detours to the various viewpoints. Pfiouuu… what a great day! We can only recommend this visit if you are in the area of Malaga.
Map and Info of our hike in the Torcal de Antequera Natural Park
Hike infos
Distance: 7km
Elevation change: about 200 m (positive and negative)
Time: count approximately 3h30 (the terrain is not the easiest and let's face it, you'll regularily stop to take pictures and admire the landscapes) 😉
Difficulty: Average. The part that follows the yellow route is really easy (see the official routes at the end). The first part is not difficult, but we advise you to have the GPS track on your phone to find your way in some passages. The crossing after "el Sombrero" is not very marked and it can be easy to get lost. Important: There is no or little network in some places, so we advise you to have an application available offline. For our part we have the AllTrails+ subscription (with our link you have a 30% discount for the first year) (Maps.me does the job very well, you just have to convert the GPX to KML format to import it). You can export our track from AllTrails (to access the download a free account is enough, only to have offline access you need the subscription)
See the Ibex in El Torcal de Antequera
With wild animals there is obviously never a guarantee, but in El Torcal de Antequera there is a good chance that you will see some ibexes. It's funny because we are used to seeing ibexes in Switzerland, but generally to see them you have to go up to a certain altitude and stay quite discreet… In Andalusia it seems that they have acclimatized to a much lower altitude. In Torcal de Antequera we are at 1200 m, but we have already seen them at lower altitudes elsewhere in Andalusia (in the natural site of acantilados de Maro)… But I believe that the ones in Antequera would be the most "relaxed" ones we saw in the presence of humans.
It's simple, they don't give a damn about our presence! We left for our loop, and we met the first ibex towards the natural monument of Tornillo. As we had the dog, our first reflex was to take him on a short leash and to stay at a good distance in order to observe them a little. I don't know, but we kind of expected them to leave once they saw us (and especially Winchy). But no… not at all! They were there, chilling with their family while look at the hikers… After 10 minutes we finally decided to pass them by to continue our walk and even then they just didn't flinch.
All along the tour, we had the chance to meet them several times and each time it was a real wonder to be able to observe them for so long
El Torcal de Antequera: Practical Information
When to come? Time of year and opening hours
The nature park is open and accessible all year round. The opening hours of the visitor center are from 10am to 5pm in winter and 10am to 7pm in summer. After that, it is important to pay attention to the weather! The Torcal Natural Park is a bit isolated and it is the highest point in the region… this means that clouds and rain like to "hang around" quite willingly. Before coming, we advise you to check the weather forecast for the park (on windy.com for example) and not to rely only on the weather in Malaga. There are only 60 km between the two places, but clearly the weather can be quite different!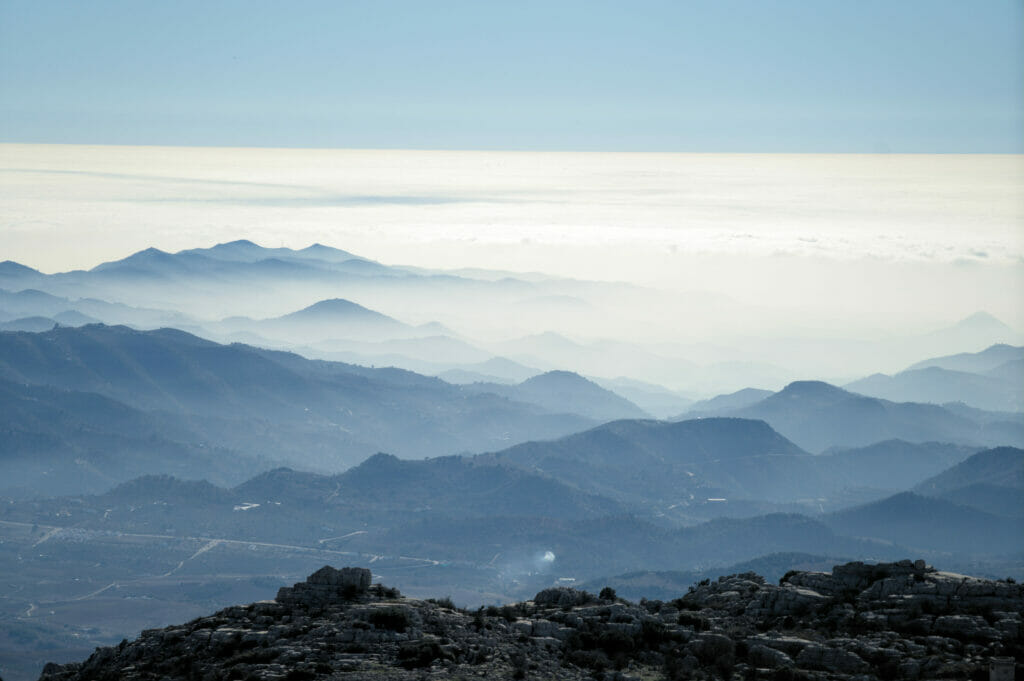 In summer, even though we are quite high altitude, it can be extremely hot (there is almost no shade). We therefore advise you to come between September/October and April/May. And remember to bring enough water because it is impossible to find any on the way!
How to get to Torcal de Antequera / where to park?
El Torcal Natural Park is currently not accessible by public transportation. To get there you will have to either drive your own vehicle, take an organized tour or go to Antequera and take a cab from there (count 40€ for a round trip cab). If you don't have a car, we suggest you look at Rentalcars, from Malaga you can find cars for as little as 9€ a day, which is much cheaper than a cab or a tour.
If you arrive by car, you should know that the parking lot on top (next to the visitor center) is very small. We came to the park in the middle of January (on a Saturday with good weather), but when we arrived at 10am, we were lucky to have one of the last available spaces! Once the parking lot is full, access is blocked and cars are forced to park in the parking lot next to the main road. From the "lower" parking lot, it's about a 1 hour walk to the visitor center (purple route below) or take a shuttle bus (2€ round trip).
In short, if you want to park upstairs, we advise you to arrive early in the morning!
Visit on your own or with a guide?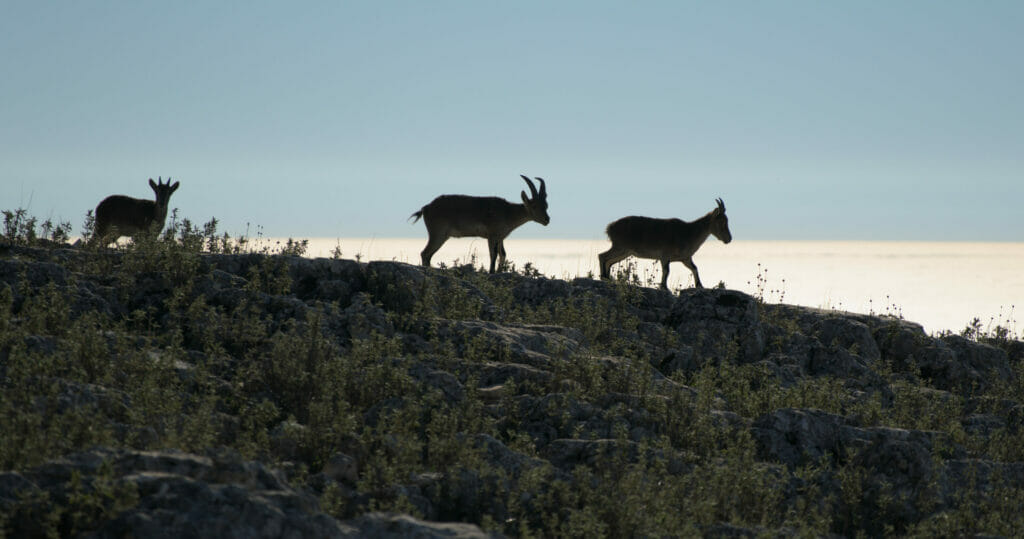 For our part, we decided to visit the park solo and just enjoy the scenery while reading a bit of the history of the place online beforehand. Afterwards, it's typically a place where we think that it must be nice to have a guide. Not to find your way around (the routes are really easy to follow) but just to learn a little more about the history that helped shape this natural site in such a way.
If you want to do a tour, there are mainly 2 options
Take a tour with a park guide: these tours are really oriented to history and geology. There are tours on different themes and they are given on fixed dates (in English or Spanish). The tours cost between 12€ and 15€ per person (depending on the duration). The tours start from the parking lot of the visitors' center (so you have to arrive by your own means). Find the guided tours on the official park website.
Take a tour with a guide organized by Civitatis: These tours leave from downtown Antequera and last between 3.5 and 4 hours. Note: If you speak other languages (Spanish or French), feel free to change the language of the website to have more slots. See the tours on Civitatis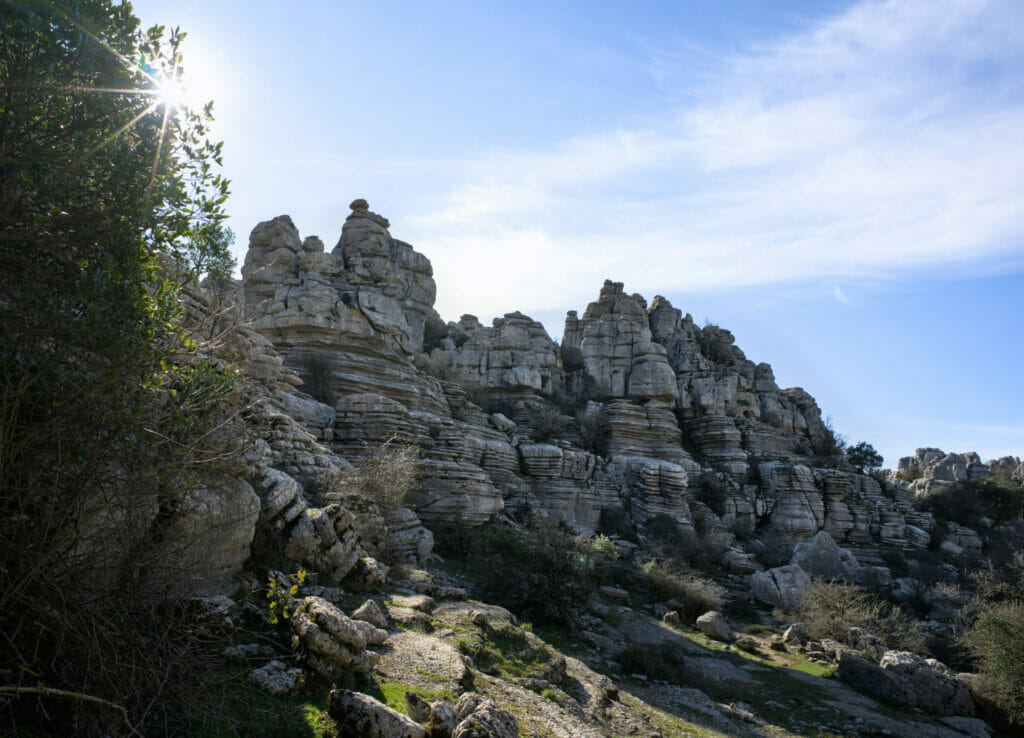 Official hiking routes in Torcal de Antequera Park
If you come to discover El Torcal de Antequera we strongly recommend that you take some time to go hiking! If, unlike us, you don't feel like doing a long loop, we still recommend that you take 1-2 hours to follow one of the official park routes.
In 2022, there are 3 official routes in the Torcal de Antequera Park:
The green route: A small loop of 1.5 km. An itinerary without difficulty to do with the family. Count 45 minutes to make the tour.
The yellow route: an extension of the green which makes 3 km in all. Count 1h30-2h to make the loop by taking your time.
The purple route (actually it's called the orange one, but I only had purple to choose from for my map 😉 ): this 3,5 km itinerary is in fact the path that connects the park to the parking at the bottom
If you look above the map of the route we followed you can see that it is in fact a combination of the 3, with an addition to go see the Sombrero.
Visit the natural park of El Torcal with your dog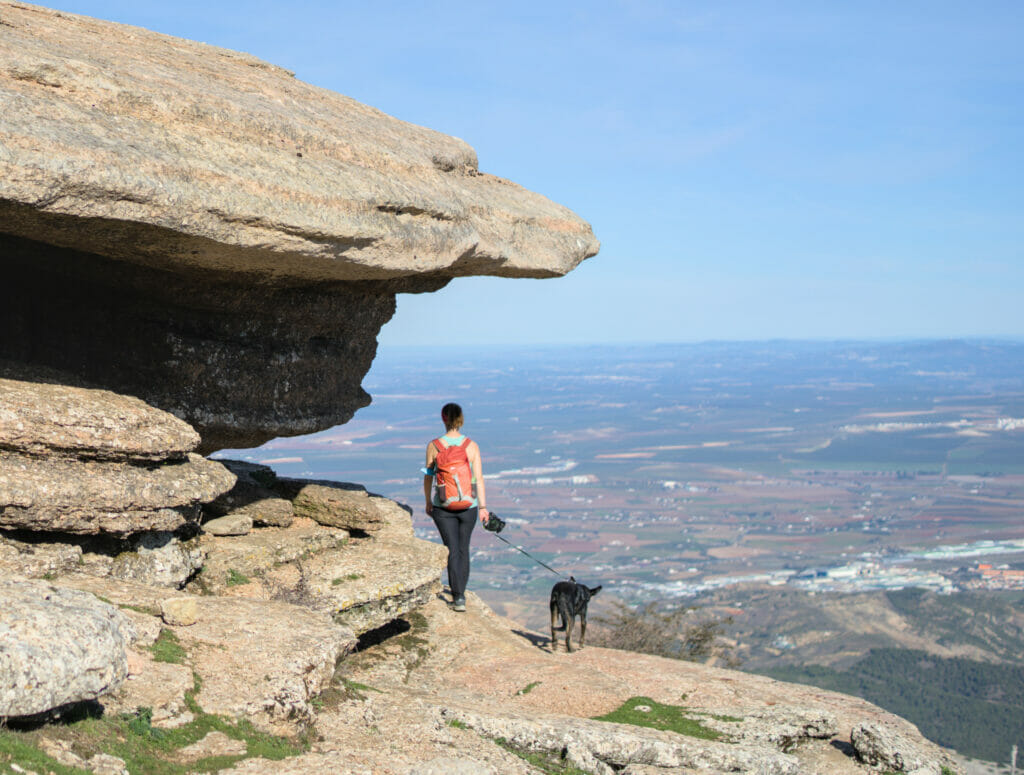 Many of you have asked us about this on Instagram, and yes, the park can be visited with a dog without worry! We found old blog posts that said dogs were only allowed on certain trails, but in 2022 that is no longer the case. Dogs are allowed everywhere with the only condition that they stay on a leash at all times.
We hope that you have enjoyed this short trip to the wonderful landscapes of Torcal de Antequera and that we have given you some useful tips to prepare your visit. Don't hesitate to leave us a comment if you have any question or if you have suggestions for alternative routes!
Note: This article contains affiliate links. By using our links to book your car or activity, you don't pay anything extra but we will get a small commission that allows us to continue to offer you independent and ad-free content. Thank you for your support.
Pin it