In all we spent 6 days in Cappadocia and the least we can say is that we had a huge crush on this region of Turkey. In this article we offer you a summary of practical information, maps, ideas for visits but also some figures on our budget during this stay.
Where to stay to visit Cappadocia?
It's a question we asked ourselves a lot before we arrived and to tell you the truth, we changed our minds one last time on the bus. But what are the options?
Stay in Göreme: The most touristic place in Cappadocia. In the heart of the tourist attractions, this small village is a little bit at the crossroads of all the valleys. There is very little local life in Göreme…. It is more a succession of hotels, guesthouses, restaurants, and small shops. The setting is superb though.
Stay in a small village around: we had heard a lot of good feedbacks from Cavusin, Avanos or Uchisar. Uchisar is the village with the most beautiful view, but there the accommodation is clearly a little more "upscale". In Avanos and Cavusin you can find everything, but their location is less ideal for hiking. On the other hand, these villages are more authentic than Göreme.
Stay in a larger city like Nevsehir: We put this option here because it exists, but frankly we don't see much point in it…. Nevsehir really doesn't have any particular appeal in the sense that it is a city. Cappadocia being a "nature" destination, it is a real shame to stay in a big city..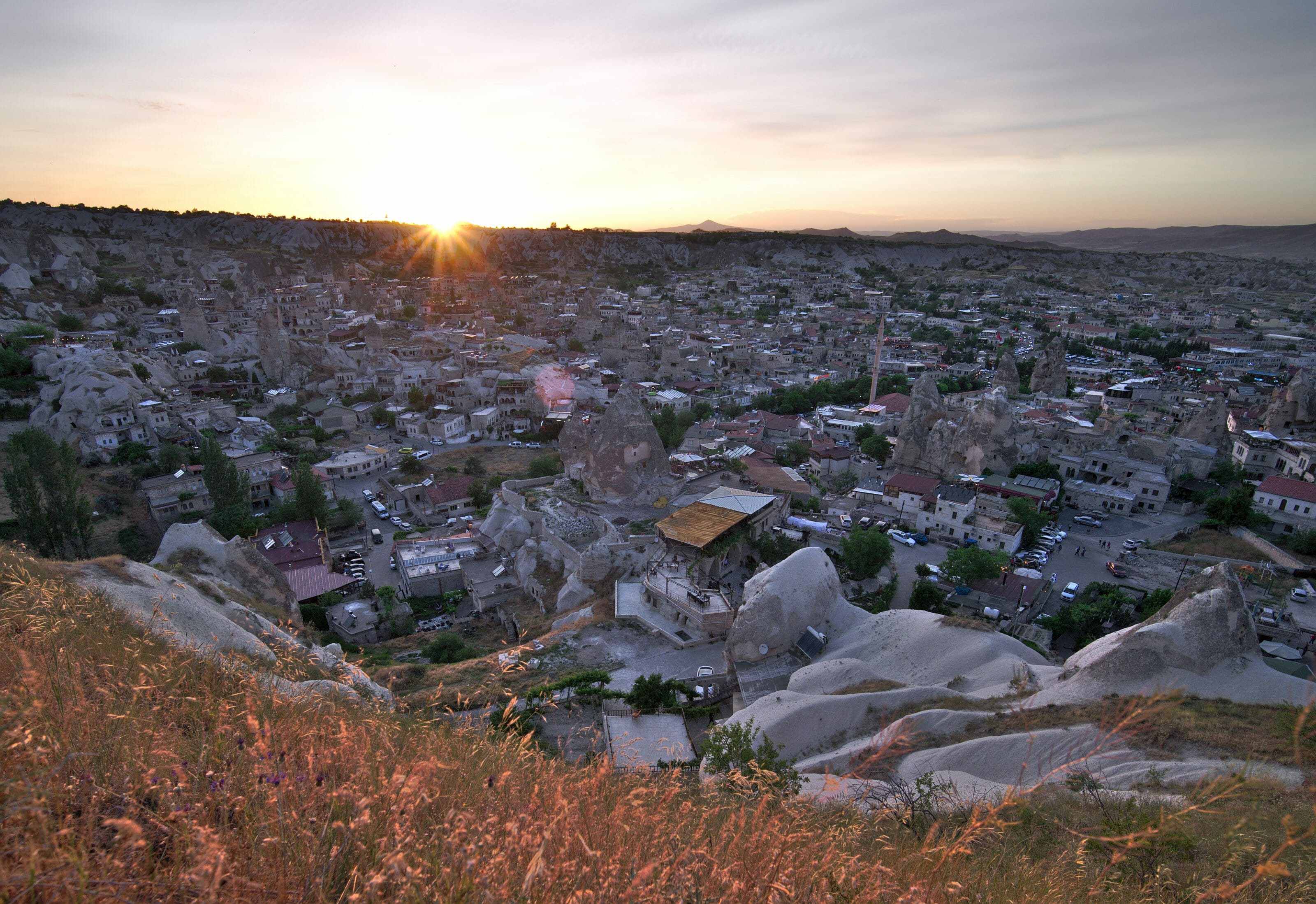 In the end we opted for Göreme and frankly we were delighted with our choice! Yes, it's touristic, but it's also beautiful! And above all, the fact that it is touristic implies that there is a large supply of accommodation for all budgets, many restaurants, 2 supermarkets for picnics and a very well developed bus network.
So no, it is probably not the village that has the most "cachet" but its location in the heart of Cappadocia really makes it an ideal starting point to explore independently! When staying in smaller villages or in more isolated accommodation it is often recommended to rent a car to get around.
Göreme: a small tourist town in the heart of Cappadocia
Where to stay in Göreme?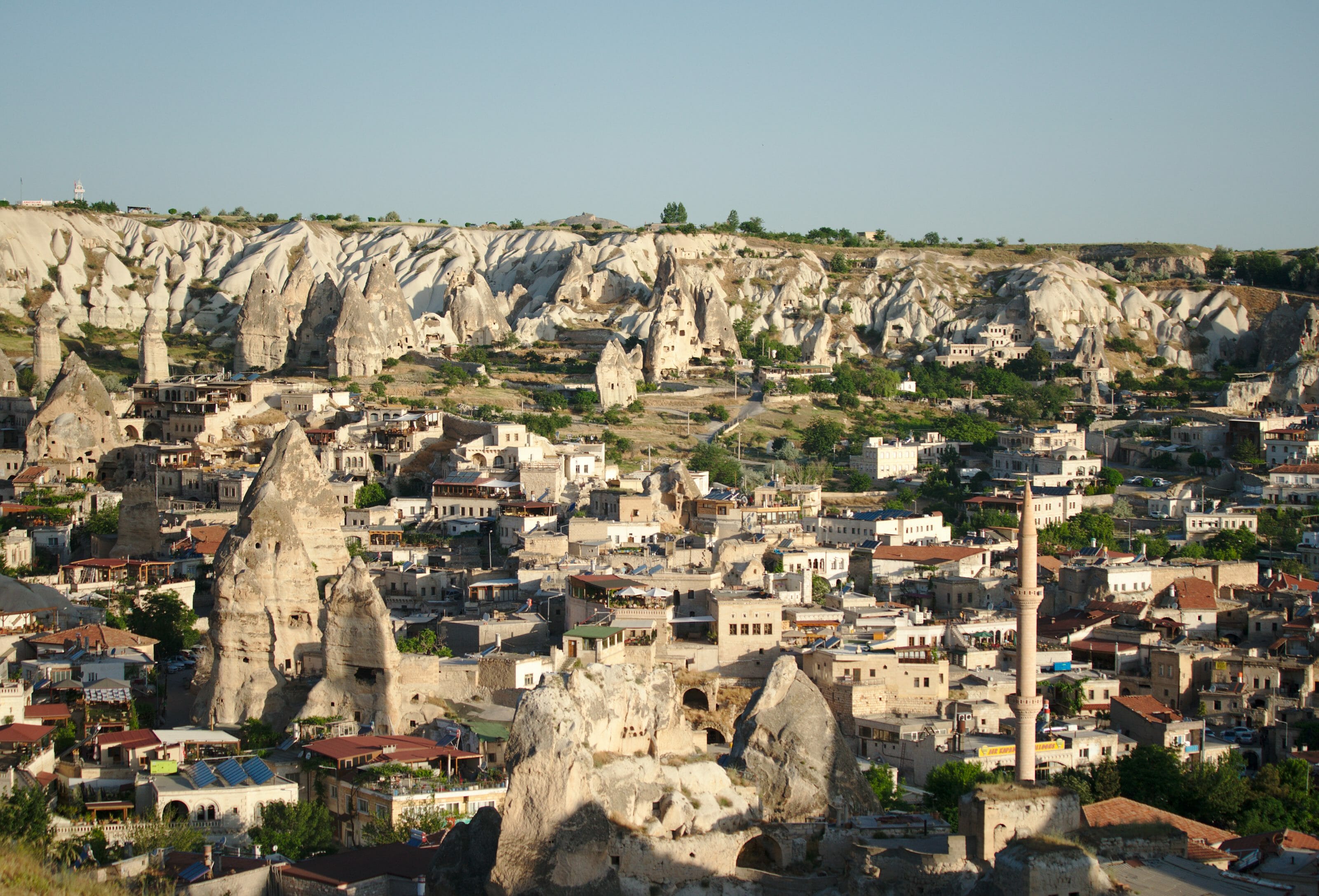 In Göreme there is no shortage of accommodation options! 🙂 From the dormitory bed at 50 TL (less than 10€) to the exclusive suite with terrace overlooking the village at more than 500€ per night you can find almost everything. 🙂
We tested 2 accommodations during our stay. In fact, when we arrived we found a room at 200TL at a small guesthouse. It's name was Ali's Guesthouse, but it seems that it's not available online for bookings.
After 3 nights there, we had to change accommodation because they were full. The boss owned several guesthouses and thus we ended up at the Kose Pension. A more recent building with a swimming pool. The rooms are much more classy. As we were already in their other hotel they let us stay at the same price of 200 TL, but I think the normal price is 220 TL per night. Breakfast is included in the price as well.
Note: there are also dormitories on the roof! It's a great setting and we have a front row seat for the sunrise!
But if you are looking to book something, it is best to compare on Booking. The center of Göreme is really quite small and the location doesn't really matter as you can easily get around on foot.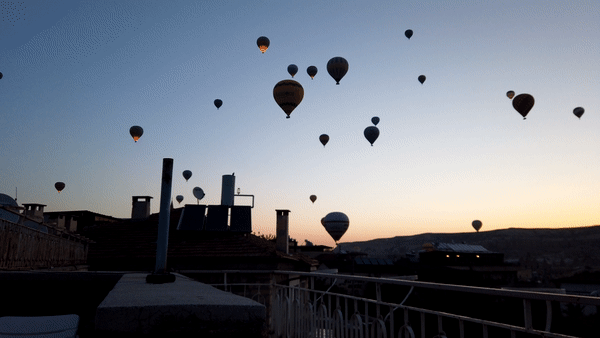 Note: we noticed that the prices are still higher if you book online… unfortunately. For our part we have made the choice not to book, but in high season it is necessary to expect limited availability and you may have to change guesthouses during your stay (which we also had to do).
Here is a map on which you can find at a glance the different hotels but also the apartments in Cappadocia. Remember to adjust the filters to refine your search:

Eating in Göreme: some addresses
When we asked the manager of our guesthouse if he had a recommendation for food, he looked at us with a smile:
"Well… the quality is very good everywhere and the prices are all aligned! Frankly, anywhere will do!"
haha thank you! So I can reassure you that we're going to be more precise than that in our advice, even if I admit that in the end he wasn't so wrong. Restaurants are relatively expensive in Göreme (compared to the rest of Turkey) but it is true that you can eat very well everywhere.
Our favorite addresses in Göreme: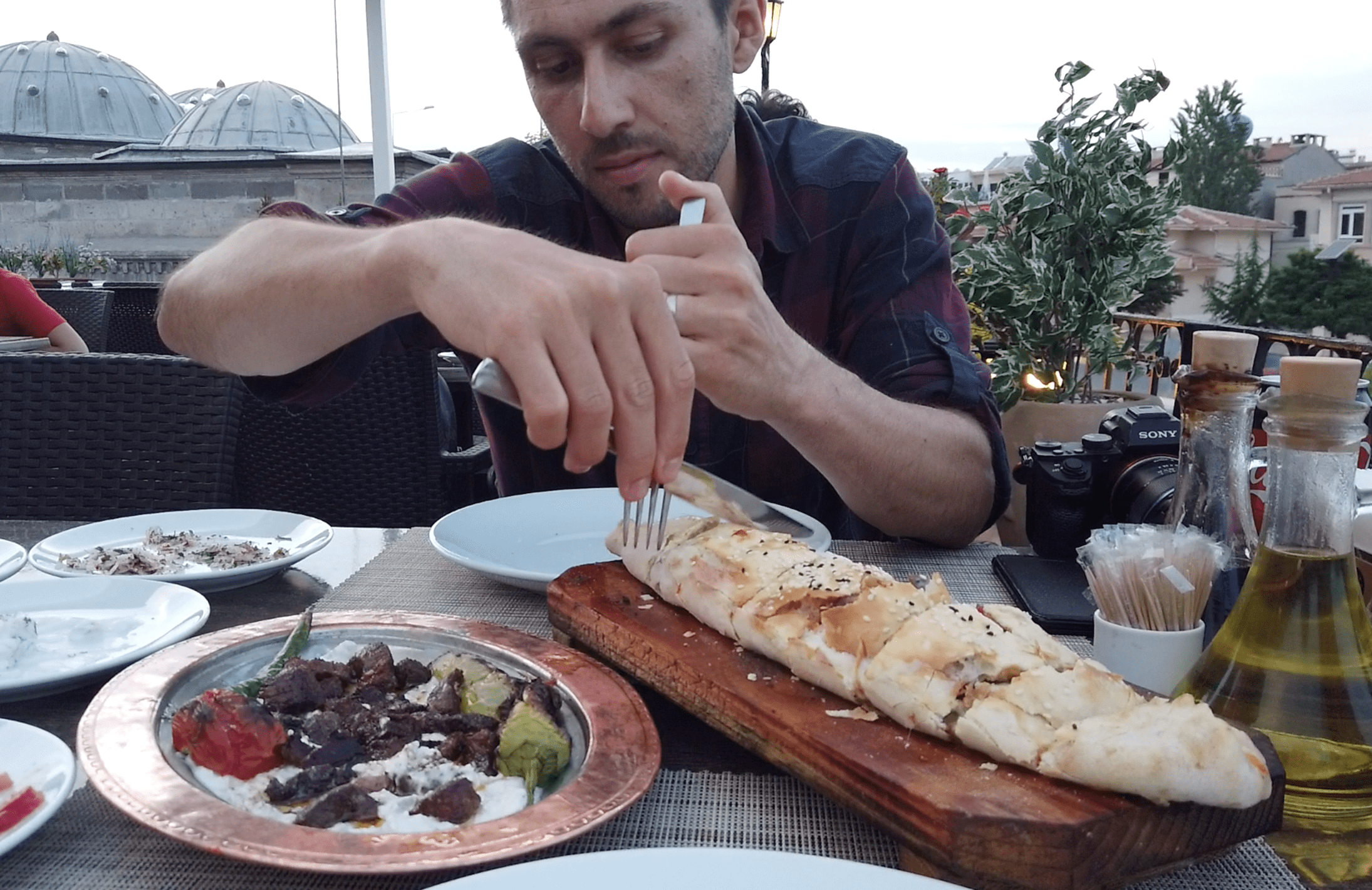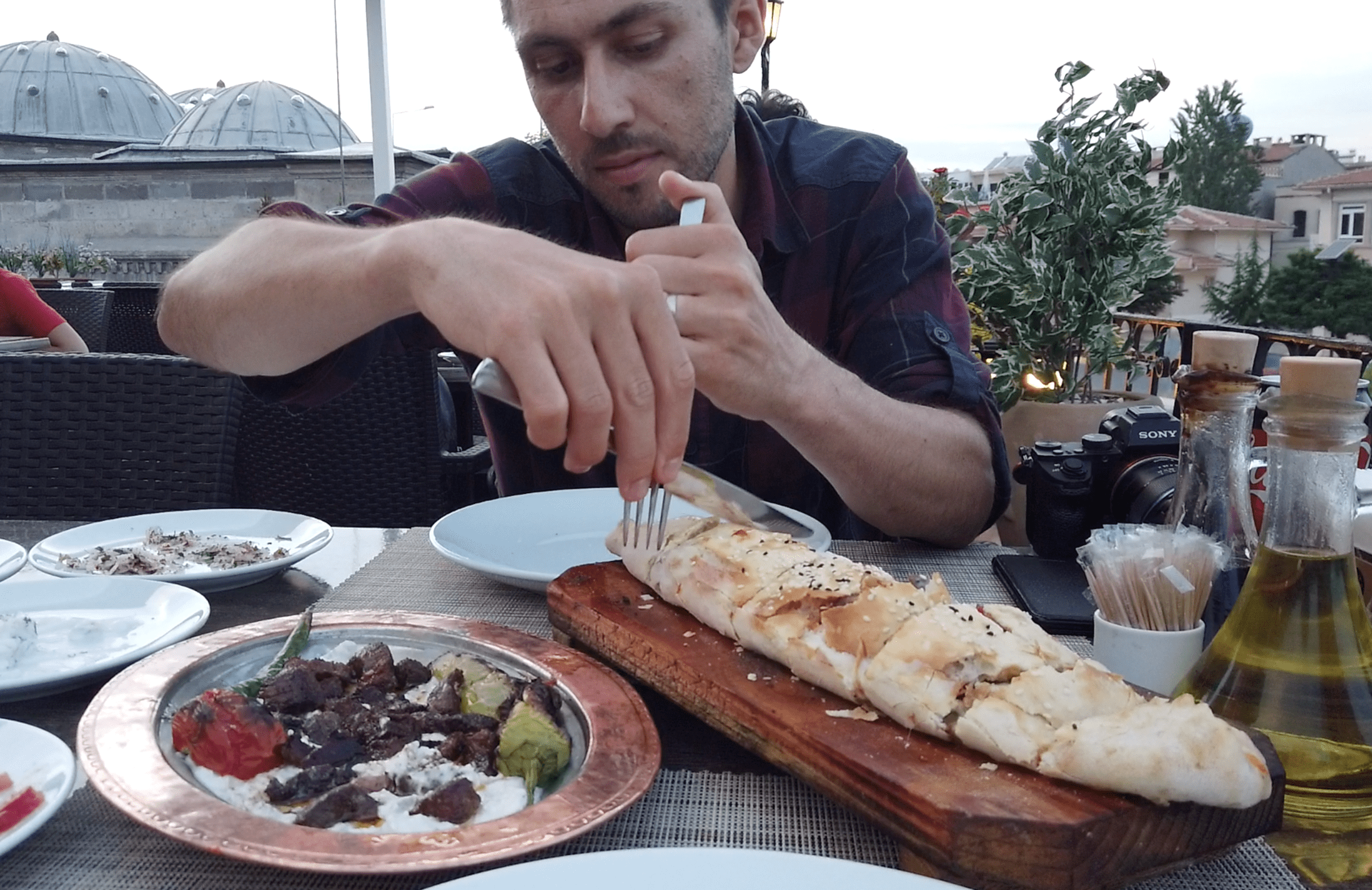 Büyük Adana Kebab: on the square in front of the bus station. We ate very, very well there and the waiters were really friendly! Their meats are amazing and they come with lots of accompaniments.
Viewpoint Cafe: this restaurant has a magnificent view of Göreme. Perched on the roof of a building, we also ate very well there. We took the kebab in the clay pot and it was excellent.
Note:If we can spare you a little fail then we recommend that you stick to Turkish cuisine…. taken by a crazy desire for Asian food we went to dinner one evening at the Korean restaurant in front of the bus station. Hmmm…. Very expensive and frankly not great! But hey, it's our fault too, why the hell would we want to eat Korean food in Turkey? 🙂
Getting to Cappadocia: The options
There are many different ways to get to Cappadocia but the 3 most common are:
Getting to Cappadocia by bus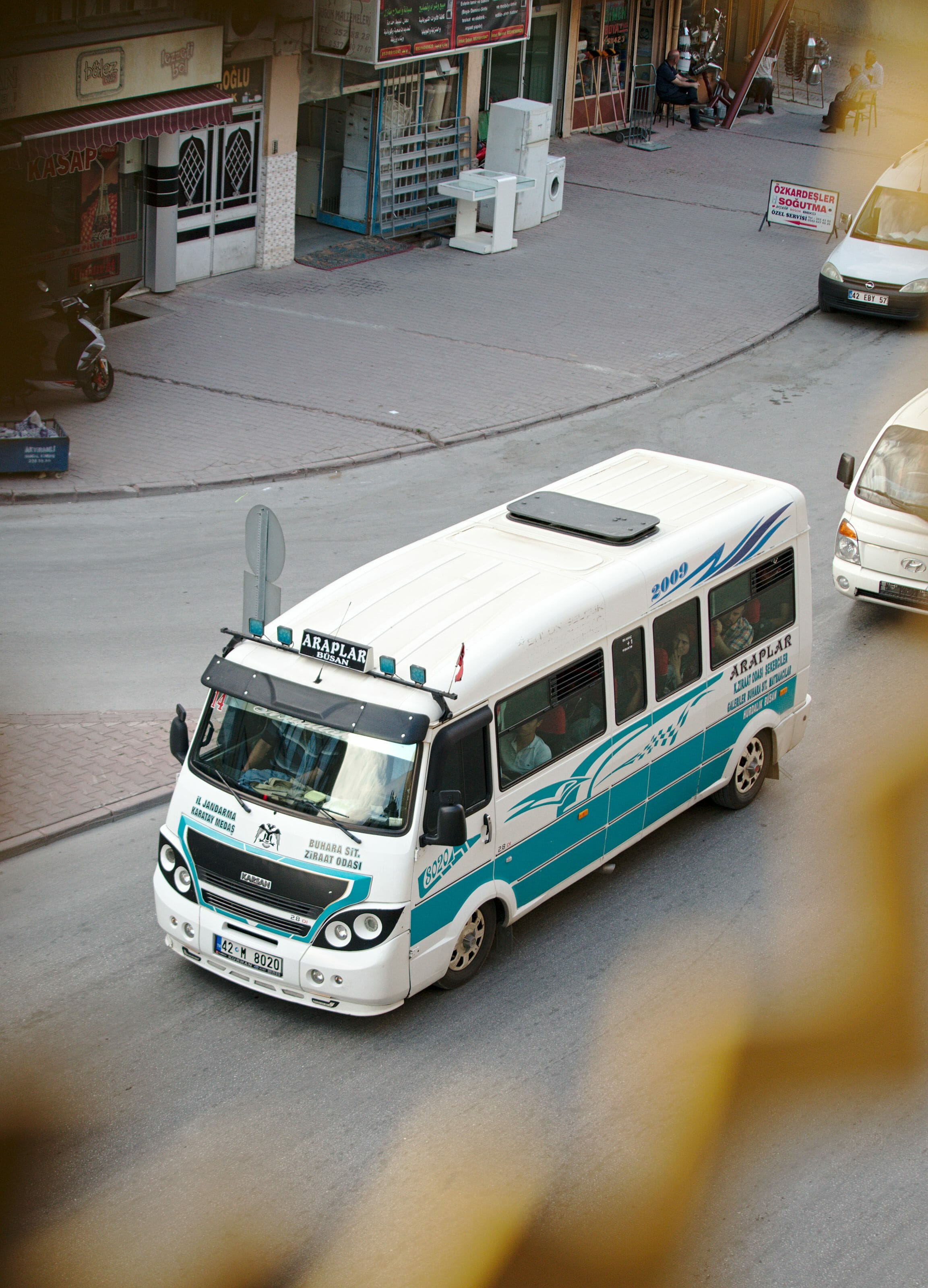 The bus network is EXTRA developed in Turkey. Buses arrive directly in Göreme from many places, including night buses that connect Istanbul to Cappadocia. When buying your ticket, be sure to ask for the exact place of arrival. Some buses arrive in Göreme itself (in the centre of the village), but many buses also arrive in Nevsehir (it is still written Cappadocia on the ticket). Arriving in Nevsehir is not dramatic in itself (which is what we have done), but simply know that from the bus station you then have to take a minibus to the centre of Nevsehir, then another minibus to Göreme. The 2 bus stations are indicated on the map at the end of the article.
Coming to Cappadocia by plane
The option most often chosen by travellers who are a little short in time to get from Istanbul to Cappadocia… For obvious environmental reasons we would of course rather encourage you to take the night bus (not more expensive and very comfortable). After that, it is true that domestic flights in Turkey are really cheap. One-way tickets are available from 15€! To find a flight the easiest way is to check out Skyscanner.
During your search you can look at the flights to Nevsehir (just next door) as well as Kayseri (about 1h30 by bus). Kayseri is often a little cheaper…. But it's worth comparing.
Arriving by train to Kayseri
The last alternative would be the train…. But since we haven't tested it, thus we can't tell you how it works once at Kayseri station. In my opinion, this option is clearly not the simplest, but certainly very scenic. There are not many trains in Turkey, but it is a nice way to cross the country. A line connects Istanbul to Ankara and another Ankara to Kayseri.
From Kayseri it is then a good hour's drive to Göreme.
Cappadocia: How long should you stay?
Here is a question we have already been asked a lot on social networks. Hmmm… as it is often difficult to answer them for you because everything will always depend on the time you have available and the things you want to see. But personally I would really like to recommend that you plan a minimum of 3 days and 2 nights on site.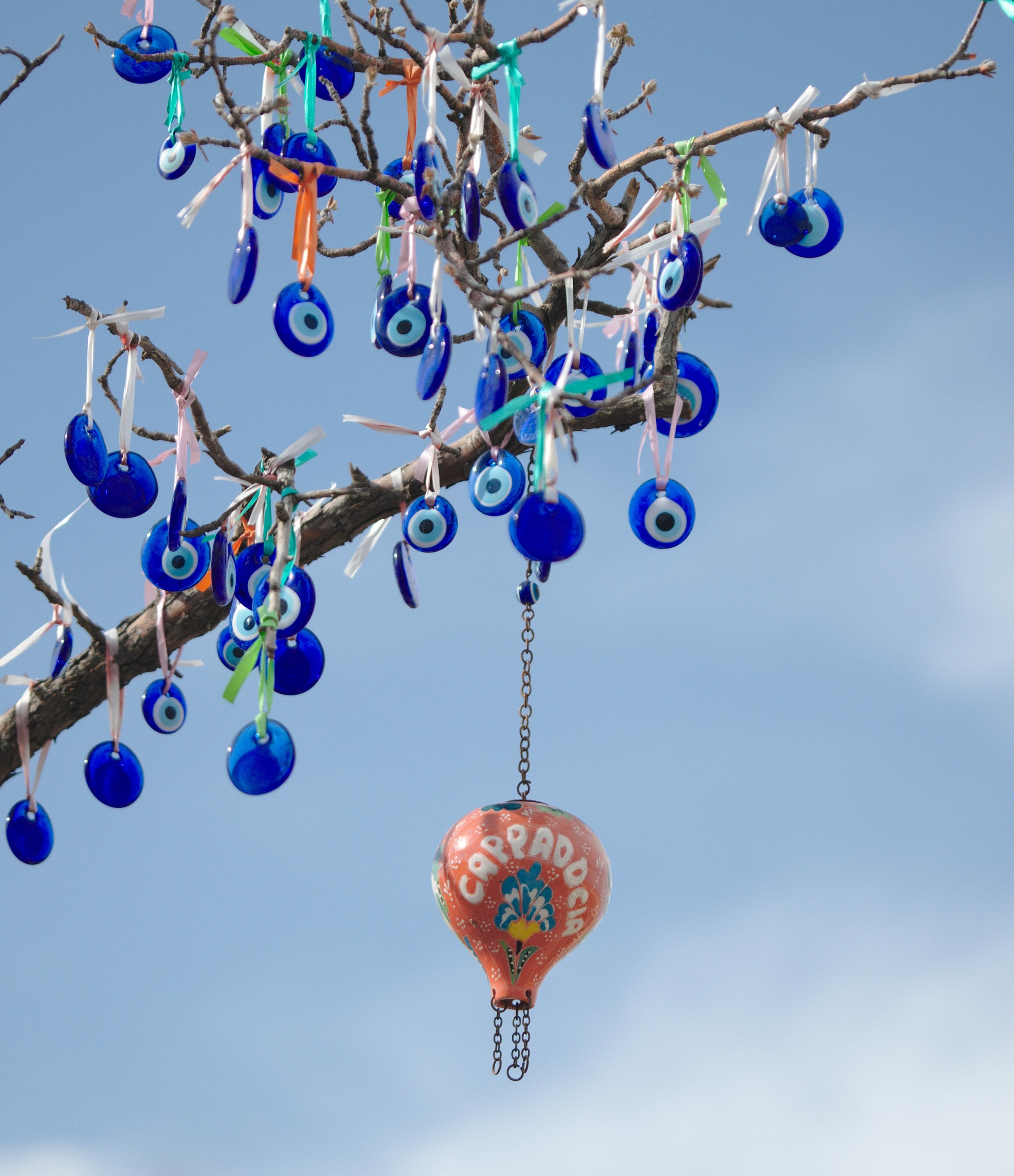 Cappadocia is really beautiful and relatively outlying compared to the other most visited sites in Turkey such as Istanbul, Pamukkale or Ephesus. Coming here for 1 or 2 nights seems really short. Especially if you want to see the balloons (or get on a flight) it is better to plan to stay at least 2-3 nights because the balloons only take off if the weather conditions are optimal.
For our part we stayed a total of 7 days and 6 nights and we didn't get bored for a second! There are still a lot of things we haven't had time to see yet…. We have chosen to explore the area on foot to escape the crowds (a very good choice if you want our opinion), but of course it also takes more time 😉
Things to do in Cappadocia: our ideas for activities
Observe the sunrise and/or do a hot air balloon ride
Over the years, hot air balloons have become a real attraction in Cappadocia. Every morning (or almost every morning), 150 to 200 hot air balloons take flight and invade the sky over Cappadocia. To take a hot air balloon ride you need to count about 150-250€ per person, but the good news is that the show is still magnificent from the ground. 🙂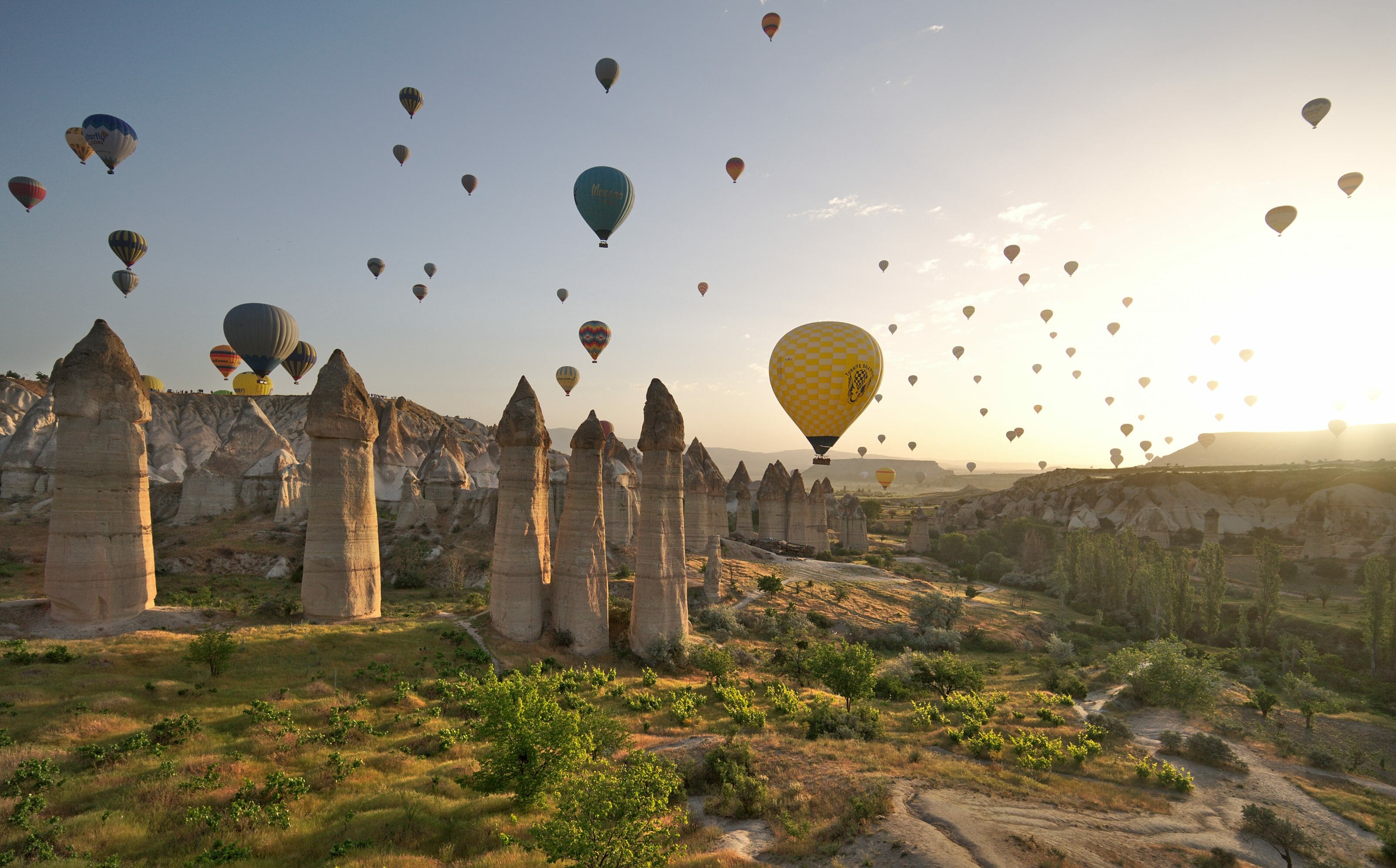 We can see the hot air balloons from almost everywhere (many guesthouses have roof terraces) but if you want our opinion, it is clearly worth walking a little and getting away from the crowds. On this topic: Benoit is preparing a great article with all his best spots to admire the sunrise in Cappadocia. The article is coming soon! Update: The article is live
Go up to Uchisar Castle
Probably the most panoramic view of Cappadocia! Climbing to the top of Uchisar Castle is really worth it. Admission is charged 50TL (in August 2022).
To get to Uchisar there are many options. The "easiest" way is by bus. All the buses that connect Göreme to Nevsehir pass through Uchisar and can drop you off there for a few cents. These buses leave Göreme every 30 minutes.
Then, if you have time, we clearly recommend that you walk there! We had made a loop to go through the Love Valley on the way up and down through the pigeon valley. A great 3-4 hour itinerary that passes through the castle. See this hike in detail
Visit the underground city of Derinkuyu
To change a little bit of the hikes we also went to visit the underground city of Derinkuyu. Located 30 kilometres south of Nevsehir, this underground city is the largest in the world. Its construction most probably began around the 8th century BC.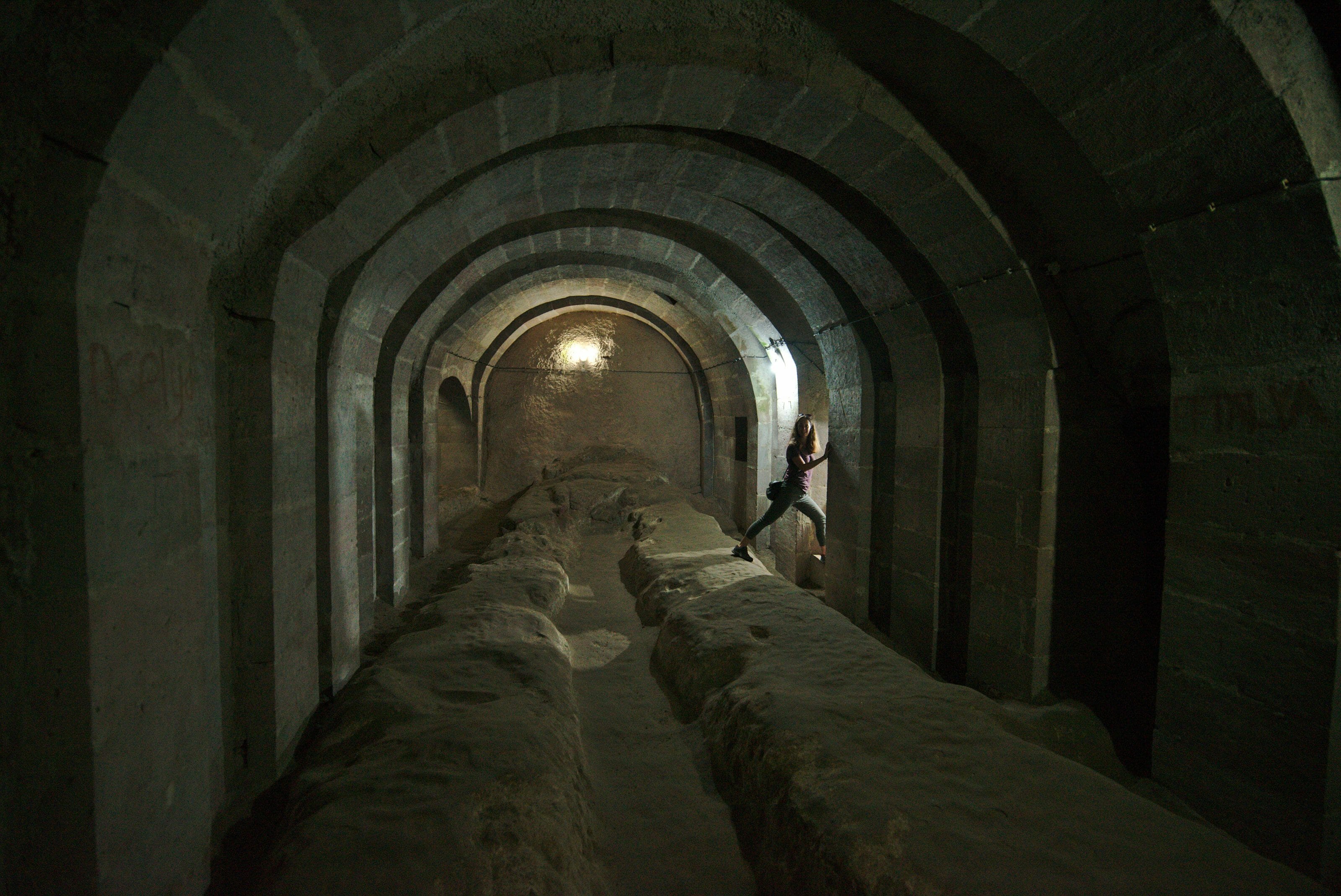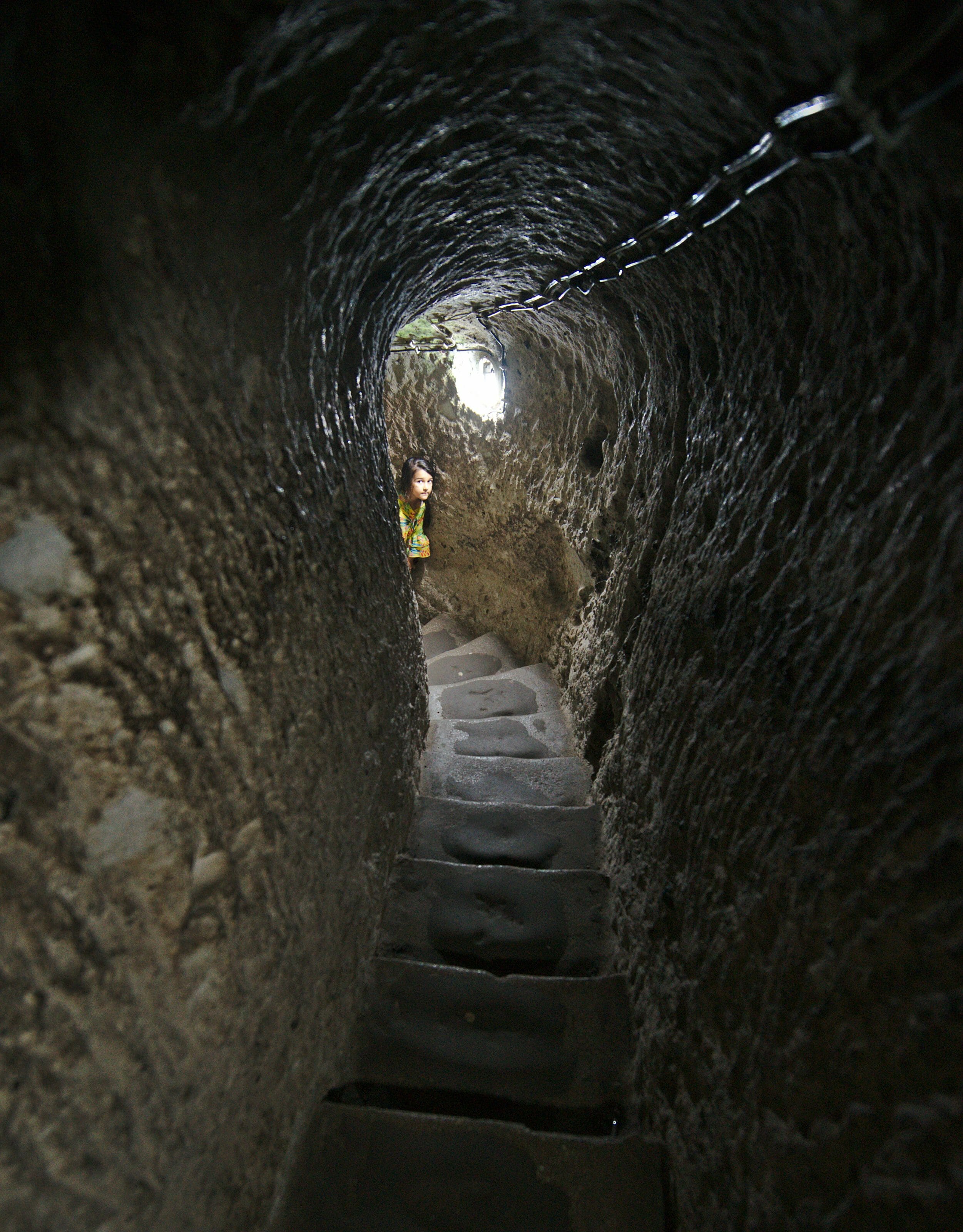 Derinkuyu is a real underground city! To tell you the truth, only 10% of the city is accessible to the public… It is just totally crazy to think that people lived in this way totally underground to protect themselves from persecution (it was mainly the refuge of Greek Christians). During the visit we go down to 85 meters underground through the various living rooms. All this is ventilated by 52 ventilation chimneys.
Admittedly, this visit was certainly impressive, but we also found that there were clearly too many people. The corridors are narrow and we quickly find ourselves having to follow the "flow" rhythm a little bit. If you come here, try to come early in the morning or at the end of the day when the organized tours have left.
Infos Derinkuyu
Opening hours: every day from 8am to 7pm (the schedule can be reduced in low season)
Price: 35 TL per person
Duration of the visit: About 1 hour to 1h30
Get there: Buses operate regularly from Nevsehir. The trip costs 9 TL per person from Nevsehir. The bus station is just in front of the underground city. If you arrive from Göreme you will first have to reach Nevsehir and then change buses (at the same place). From Göreme buses run every 30 minutes to Nevsehir and the trip costs 3.5 TL.
Note: There are many underground cities. The best known are Derinkuyu and Kaymakli. By taking the bus from Nevsehir to Derinkuyu you will pass through Kaymakli. In absolute terms, it is quite possible to combine the 2 visits in one day. Not having seen Kaymakli we won't be able to tell you much more, but personally I found one visit was enough.

Valleys not to be missed in Cappadocia
Cappadocia is actually a micmac of valleys. What is really impressive is that geographically they are very close, but they are all radically different!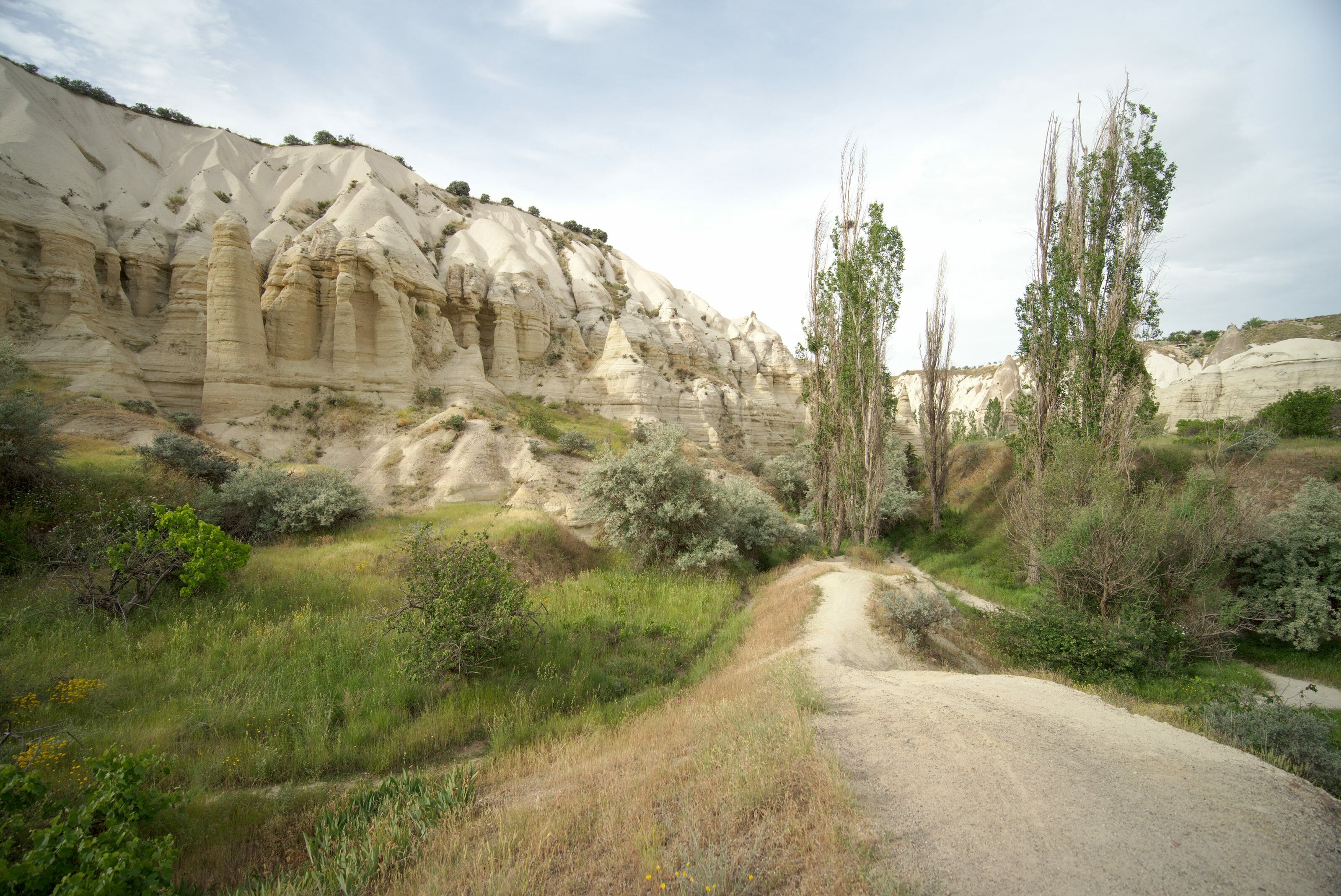 Love Valley
Probably the most photographed valley in Cappadocia. It is known for its large peaks in the shape of a… uh… asparagus? Yes yes, let's say they're asparagus! 😉 Many travellers come to admire this valley from the viewpoint accessible by road and overlooking the peaks. The view is great, but believe us, it is also really worth going into the valley to see these giants from below.
White Valley
Located just after the valley of love in the direction of Uchisar this valley is really very beautiful too. Here the penises (let's call a spade a spade) give way to huge white rock formations (who would have guessed it with the name of the valley?) 😉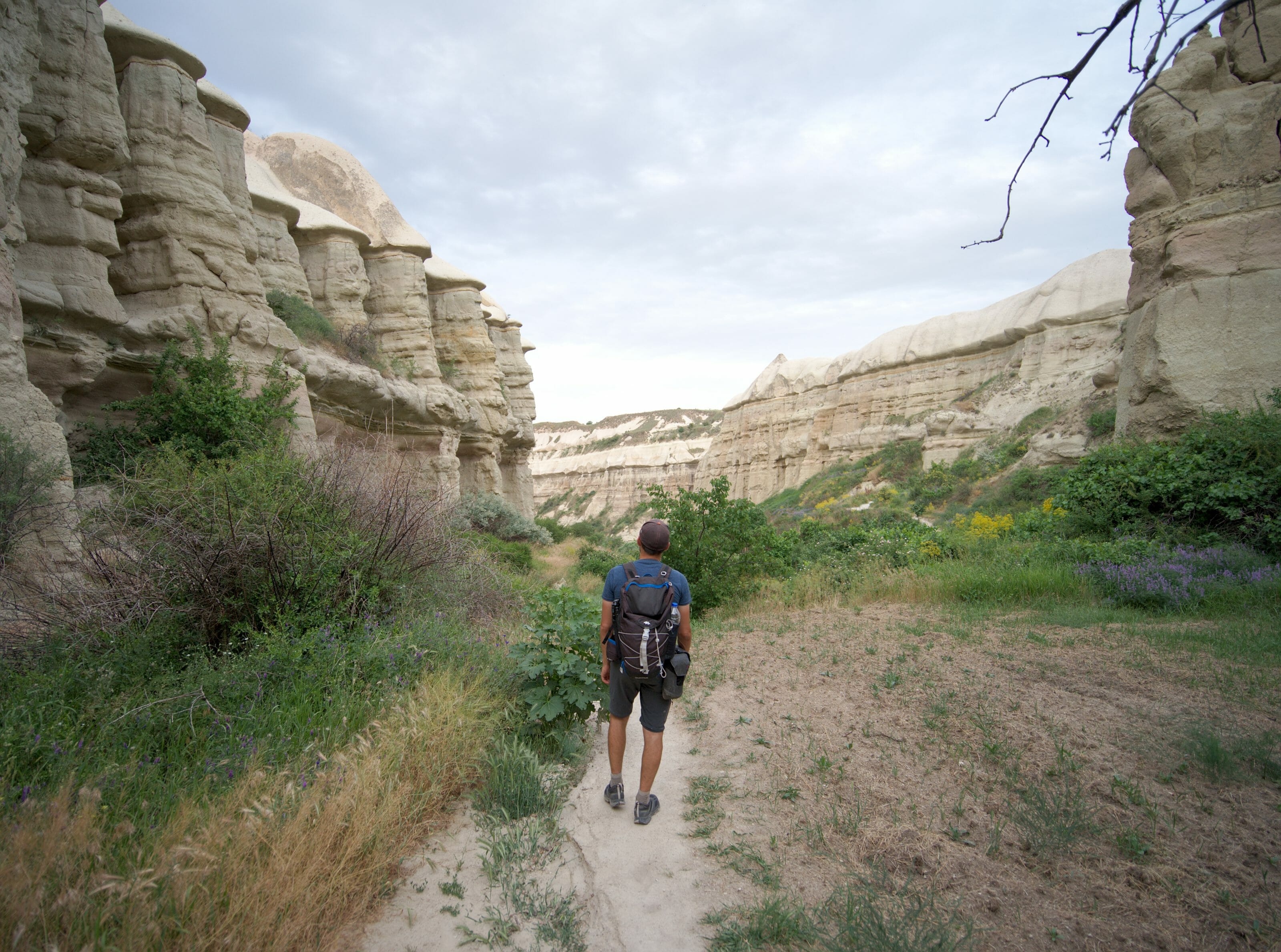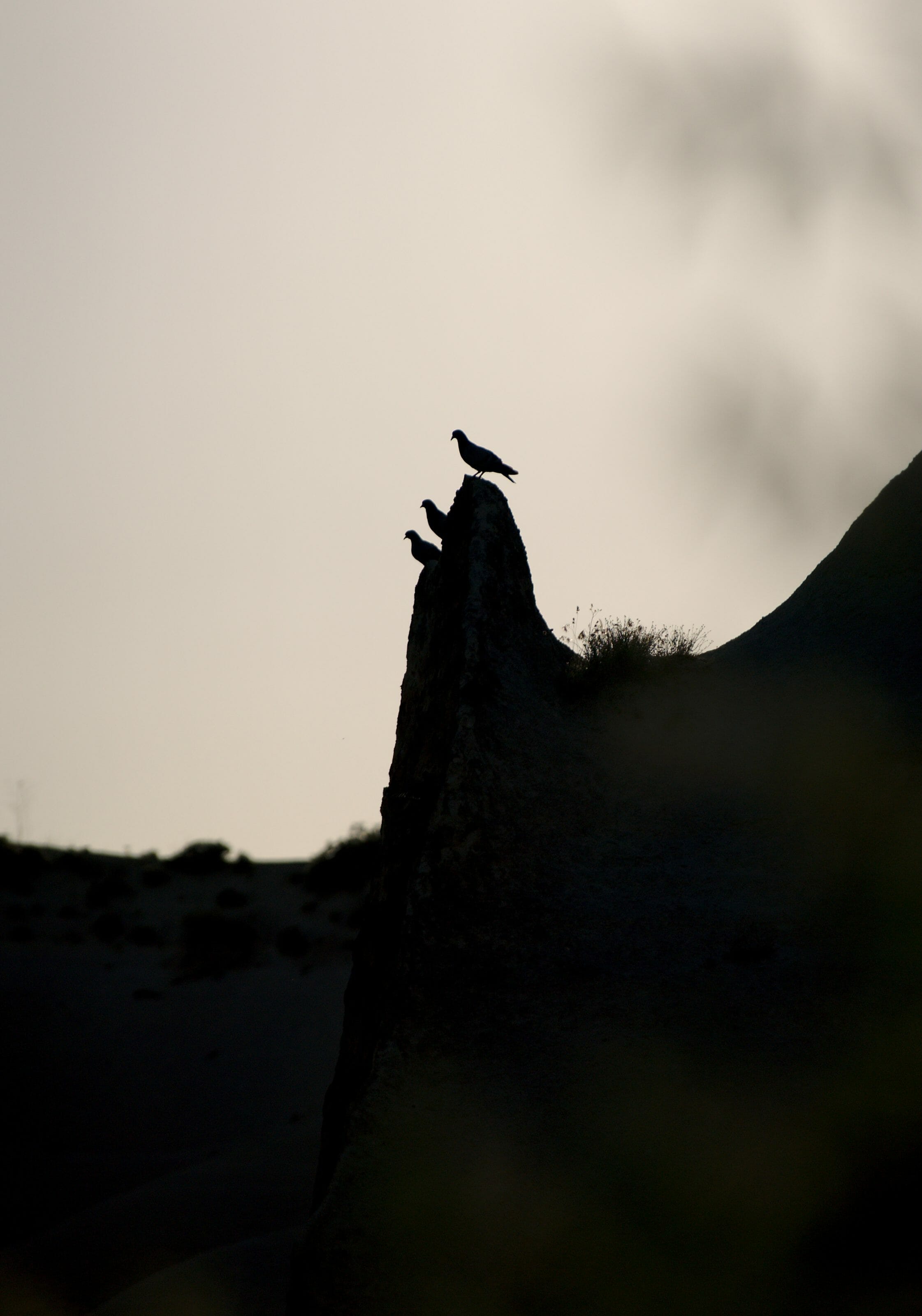 Pigeon Valley
Oh, the name is not explicit…. Don't expect to find pigeon colonies in this valley! 🙂 In fact, the name comes from the many dovecotes that are still visible there.
These dovecotes were built on the rock between the 19th and 20th centuries. At that time pigeons were used as messengers but they were also very appreciated because their droppings were used to fertilize the fields. Well, we can rest assured, there are still a few pigeons in the area, but let's say that this is not the main characteristic of the place….
Zemi Valley
A very beautiful valley at the end of the pigeon valley. Very green and shaded it is great for a walk! In the Zemi Valley there are also several cave churches that can be visited freely!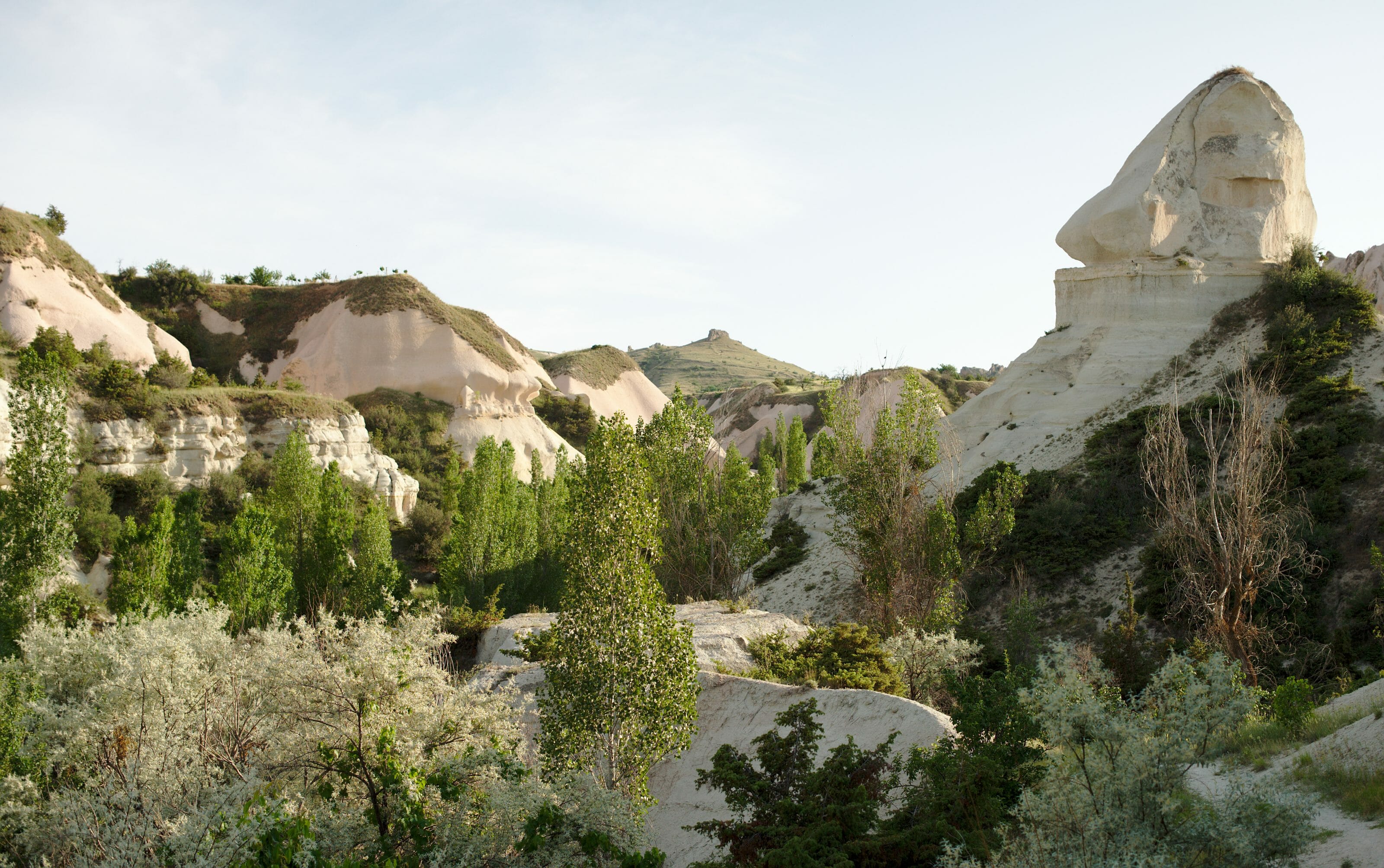 Red Valley and Rose Valley
Located on the other side of Göreme, these two valleys can be visited very well in combination. Here we advance in totally enchanting rock formations with many vines in the surroundings. It is a total mystery to us that vines can grow in such dry places… but in short… I think images speak louder than words!
Sword Valley
There I saved the little linguistic twist for the end…. The Valley of the Swords? Hmm, you'd think you'd find sharp rocks like swords? Well, no! The valley of the swords is actually more like a small morel field (I guess that name was already taken or not glamorous enough). 🙂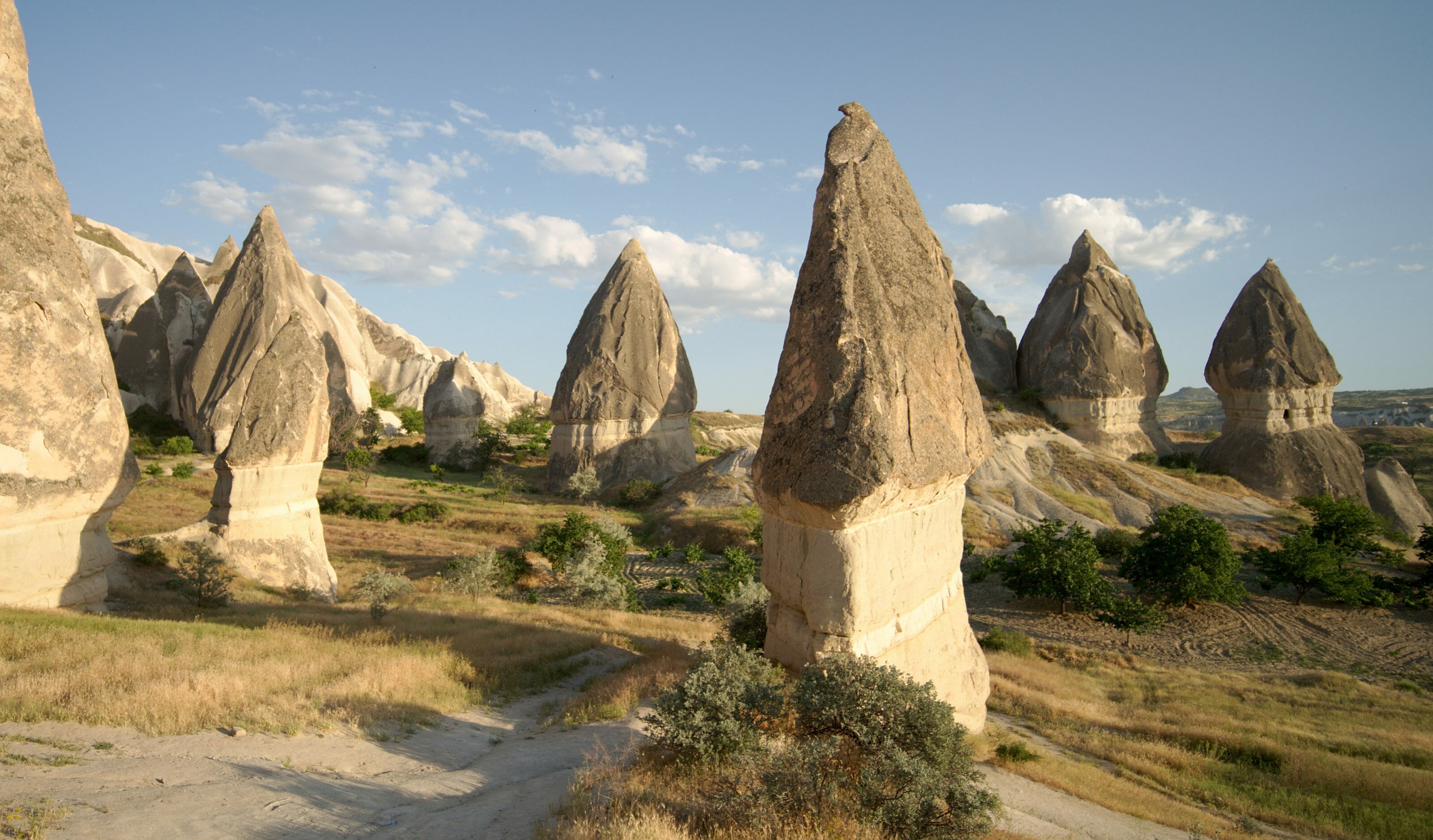 Devrent valley
Unlike the other valleys, this one has not been inhabited (no caves or churches around here) and is especially known for its very special geological forms which certainly stimulate the imagination of travellers passing through. It is located on the other side of Mount Akdag and it is the only valley we have not visited on foot.
To see more pictures of the valleys, but also to see the hiking routes that we suggest you to walk through these valleys, we give you an appointment in our last article.
See the article about hiking in Cappadocia
Visit Uchisar, Avanos or Cavusin and Göreme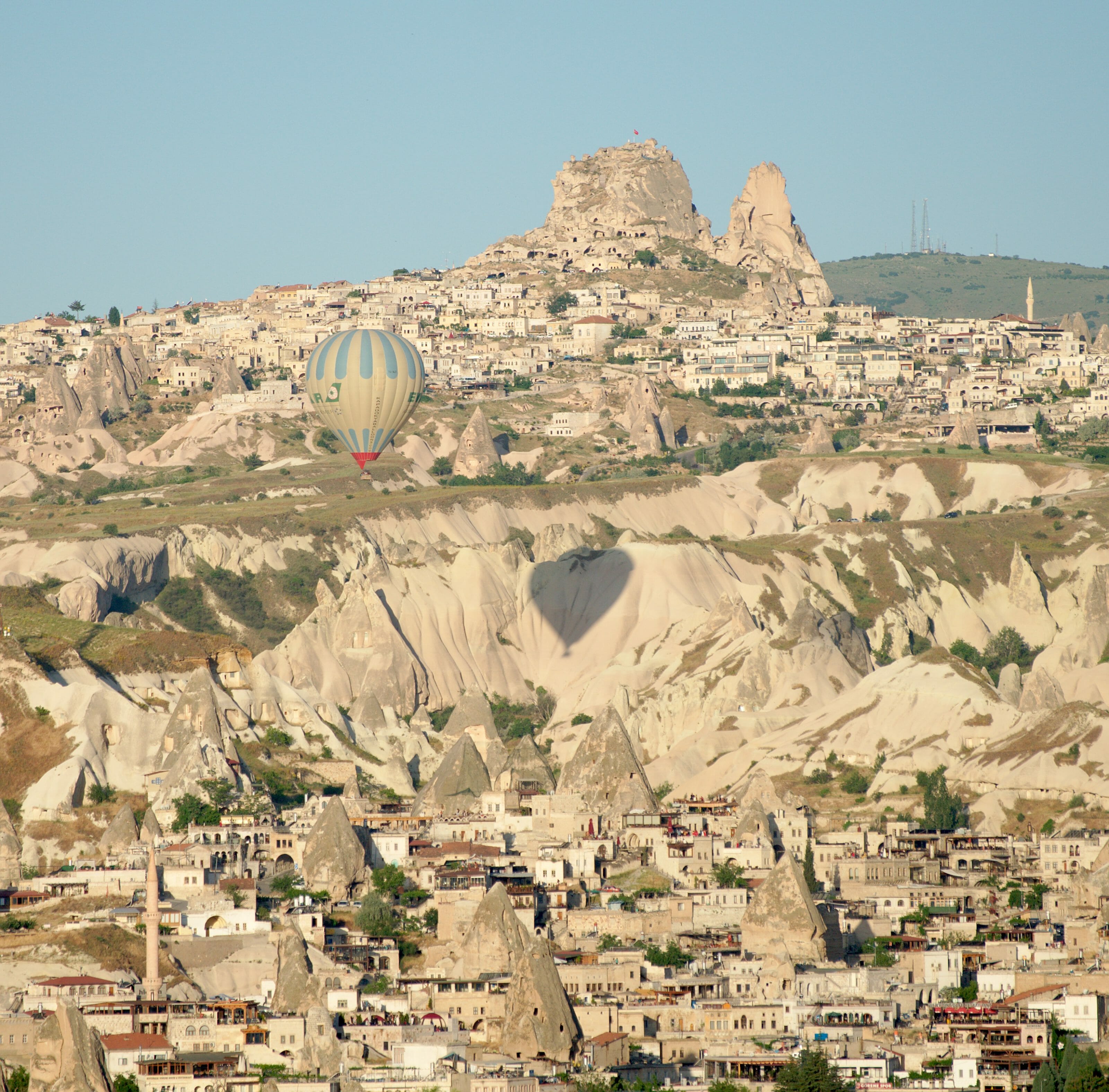 The villages are also very nice to visit in Cappadocia! Here we have no particular recommendations to make to you except to walk around…. I know it sounds a little simplistic, but I swear it's by far the most beautiful thing to do! Strolling through the troglodyte houses and stopping to drink a good little chai on a terrace = happiness!
We didn't take the time to visit museums when we were in Cappadocia. But at our guesthouse we became friends with a group of travellers who had returned rather enthusiastic about the pottery and ceramics museums of Avanos. Ceramics not being our special hobby, we didn't put the priority on it, but if this is your thing, then know that they are apparently very good. Craftsmen demonstrate and it is even possible to give it a try.
Otherwise in a totally different register: The Hair Museum! So be careful, we're getting into something 100% weird and atypical. A potter, "Chez Galip" by his name, once received a gift of a strand of hair from a woman (as a souvenir). This is already strange in itself, but where it gets downright strange is that since then, tens of thousands of women have done the same. In short, this free museum is in fact an exhibition of tens of thousands of hair strands… notice to amateurs! 🙂 A girl from our hostel came back completely delighted with this visit (she was a hairdresser in fact, so maybe that explains it haha).
The Zvelve open-air museum
If there is indeed an open-air museum that we recommend it would be Zvelve's. Coming here in the early morning hours just after admiring the sunrise, the site was absolutely deserted. The entrance costs 65 TL (price August 2022) and it is really worth it because the site is ultra well preserved. Some (but not all) dwellings can be entered. Access is limited for the preservation of the site which is very, very good.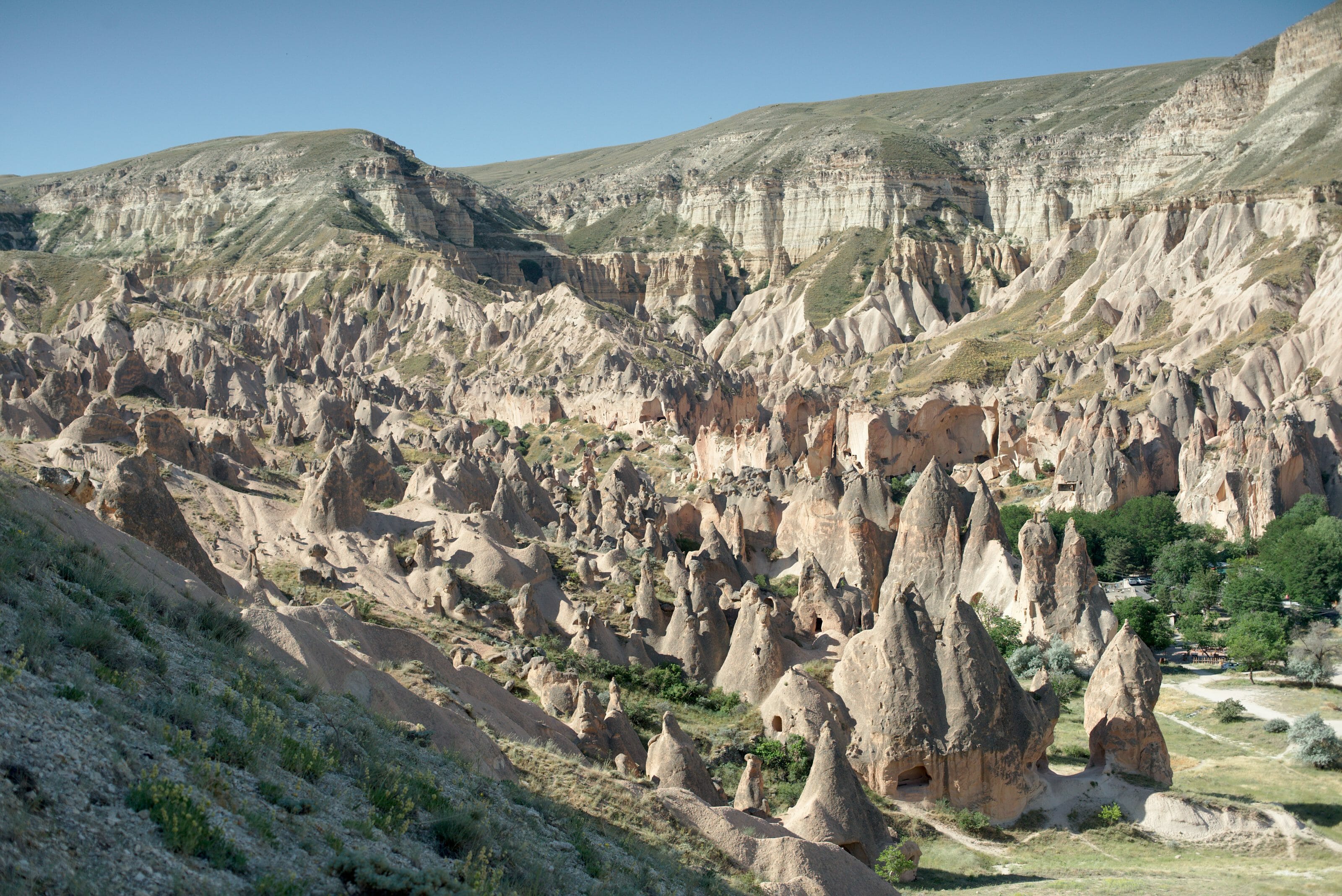 The visit takes place following a path with many explanatory signs on the way. The visit lasts about 1 hour.
The Göreme open-air museum
This open-air museum is located just next to Göreme. We didn't go, but we passed nearby many times. Each time there were too many people for our taste…. In our opinion, the attraction of Cappadocia does not lie so much in these open-air museums, especially since in our eyes the whole region can somehow be seen as an open-air museum. 😉 Afterwards it is obvious that while hiking we do not have explanatory panels on the history of the places….
Taste Cappadocian wine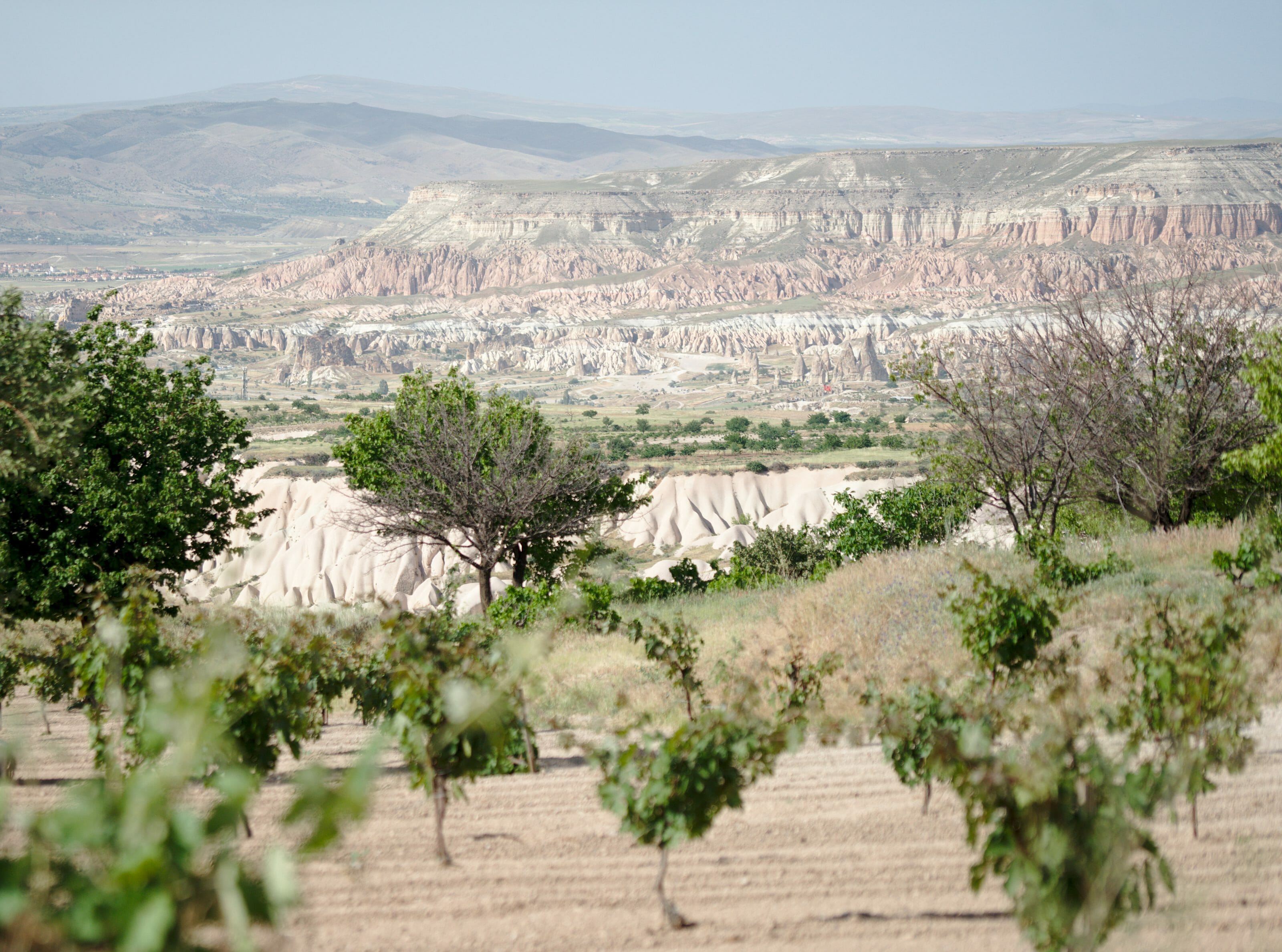 We had already tasted the Turkish wines from Sirince. Perhaps you will remember that this first experience was not very conclusive… 😉 So we're not going to lie to each other, Cappadocia is not yet Bordeaux, BUT there is clearly some improvement.
During our hikes we crossed a lot of vines that grow between these volcanic rocks. Make us walk for several hours near vineyards, we are obliged to taste it in the evening. 😉 It will be difficult to tell you if ALL the wines come exactly from the Göreme region (we imagine so) but the wines from Cappadocia are clearly the best we have tasted in Thurkey.
Visit Cappadocia independently: a huge YES!!!!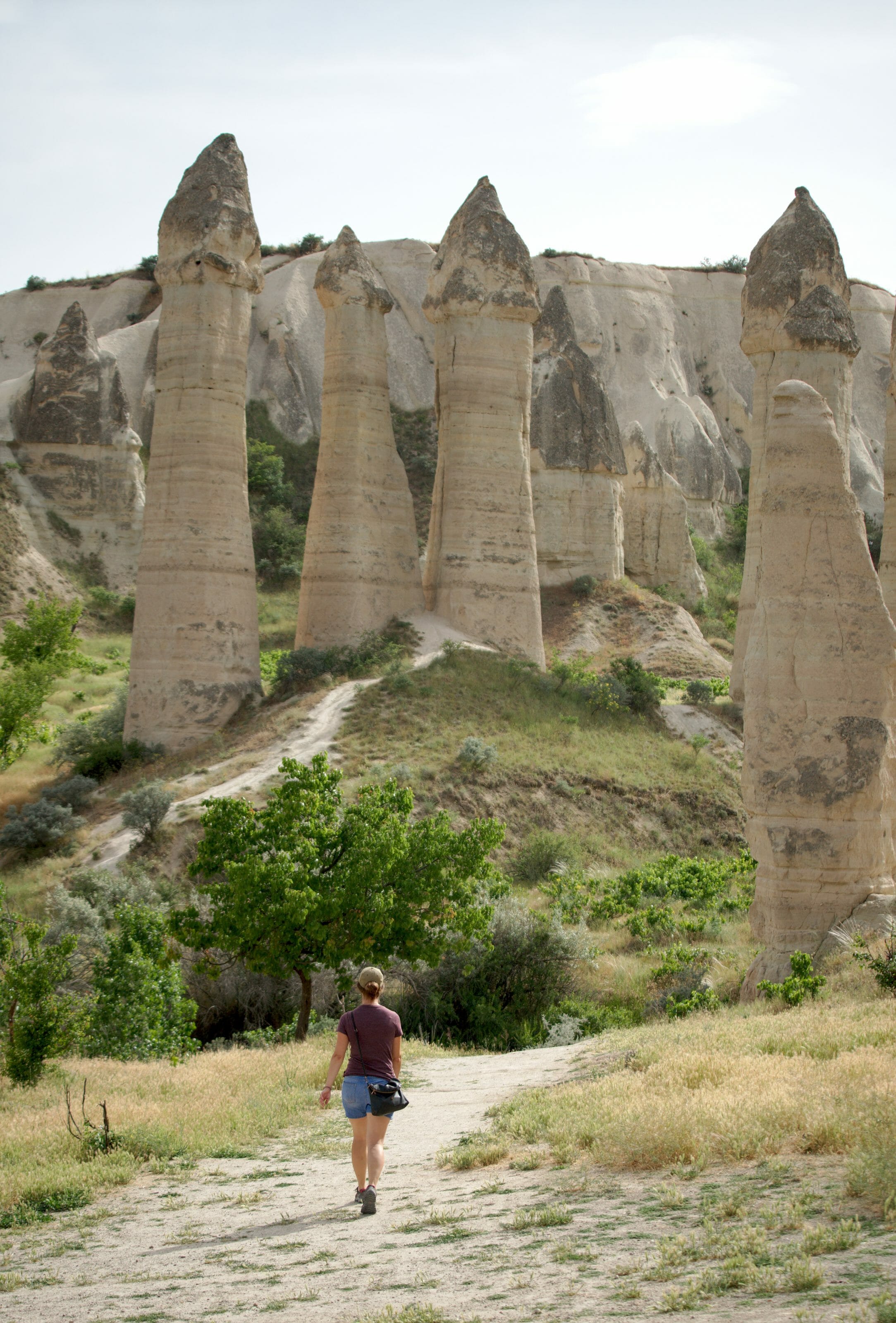 In Göreme there are an impressive number of travel agencies. In fact, each hotelier is also a small agency… Listening to some people you'd really think you'd have to take an organized tour to see Cappadocia. So, first point: the answer is clearly NO!
We have not done any organized tours and all the photos in this article come from viewpoints and places within easy walking or public transportation. 🙂
Except to go to Derinkuyu we didn't take any local buses and did everything on foot. Benoit had written you an ultra detailed article on the most beautiful hikes in Cappadocia. Be aware that even if you don't want to walk 15km it is quite possible to do only parts of hiking. The 4 loops we have made all pass at one time or another through villages where buses regularly circulate to Göreme.
In Göreme they mainly sell 3 towers which are classified by colour:
The red tour: The unmissable attractions of the centre with the open-air museum of Göreme, Uchisar, Avanos, the valley of pigeons, love valley. –> This tour can VERY easily be done independently (on foot or by local minibus)
The blue tour: the most "historical" with the visit of Mustafapasa, the monastery of Keslik, Soganli.
The green tour: The underground cities, Acigöl and the Illara Valley. This tour is the one that goes "farthest" and is therefore the most "complicated" to do as an independent.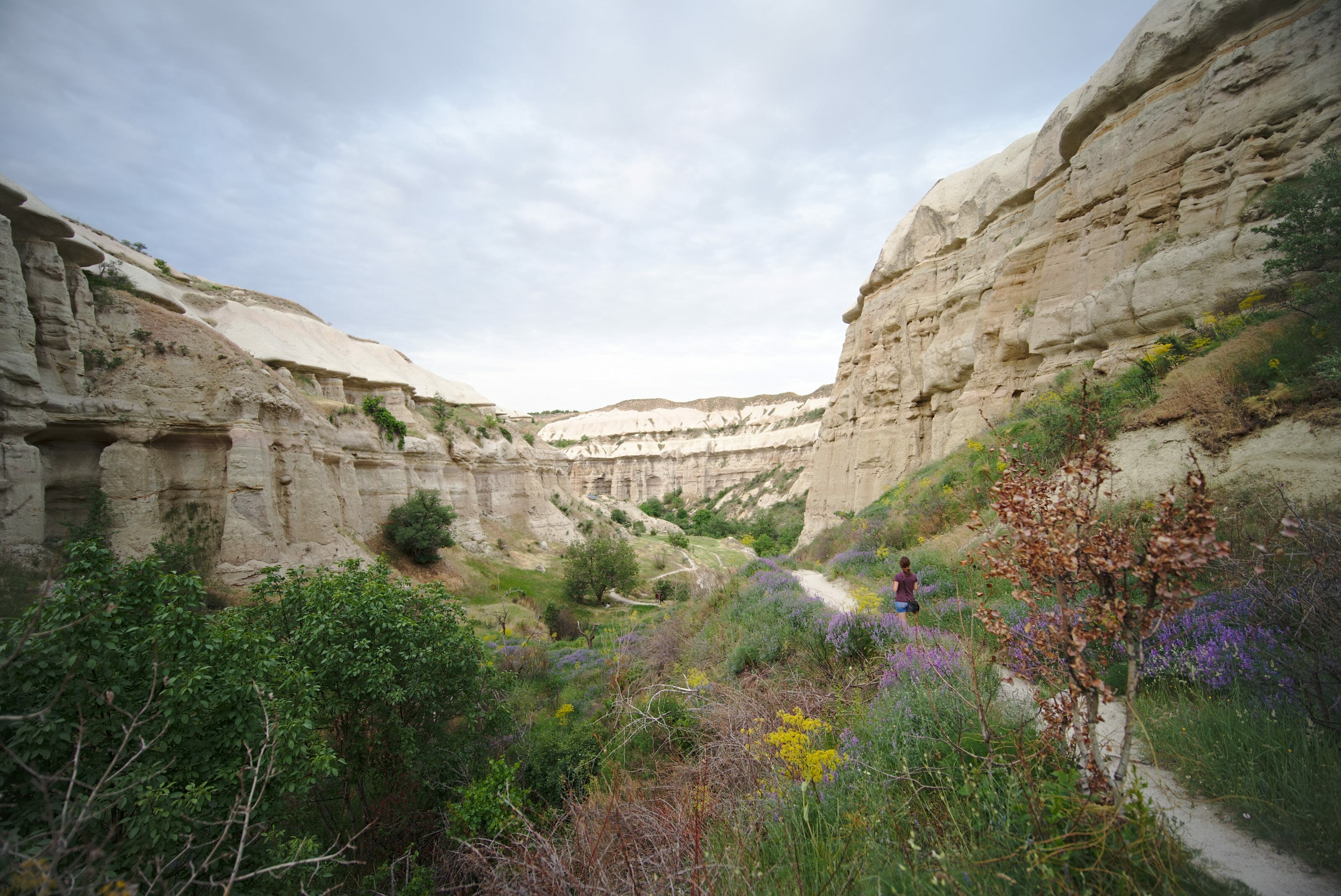 Going for a tour is good if:
You have very little time and you want to see as much as possible
You don't want to take a long walk. The tours are more like breaks at the viewpoints and then: hop! The next one.
You love people! 🙂 When you say tour, you mean bus… when you say bus, you mean road, so also access for people by car… So very often you will be at the same viewpoint as many, many, many, many other people (yes I voluntarily put many times the word many:)).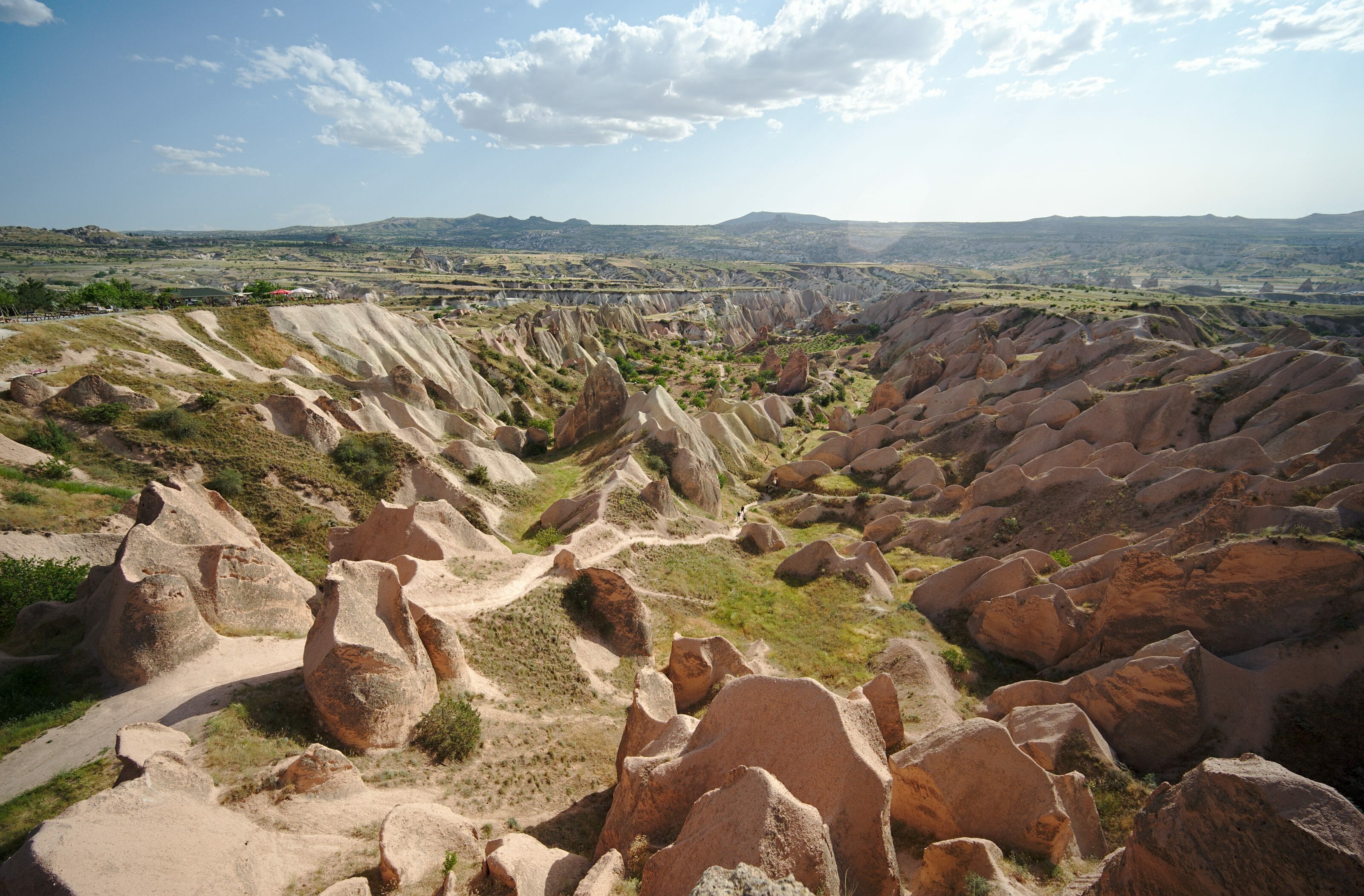 As for the price, we won't be able to tell you exactly because we didn't do them, but it was around 35€ – 55€ per day depending on the size of the groups and tours. If you are short in time and you want to take a tour, don't worry, you can book it on the spot without any problem (it will be cheaper and above all you can compare agencies)! But if you want our humble opinion, if you decide to pays 35€, I advise you to rent a car. The roads are in excellent condition and it is easy to find your way around. Car rentals are about 35-50€ per day from the airport and 50-70€ per day from Göreme. If you are 2 or more it is well worth it and above all you can be more free!
Travel budget in Cappadocia: our figures
Before finishing this article we wanted to make a small update on our expenses in Cappadocia. Göreme and its surroundings is clearly one of the most expensive regions in Turkey due to its tourist traffic. Nevertheless, Turkey is and remains a country in which it is easy to travel with a moderate budget.
Our expenses in Cappadocia: our average per day per expenditure item (for 2 people)
For information: at the time of our visit 1€ = about 6.5 TL (May 2019)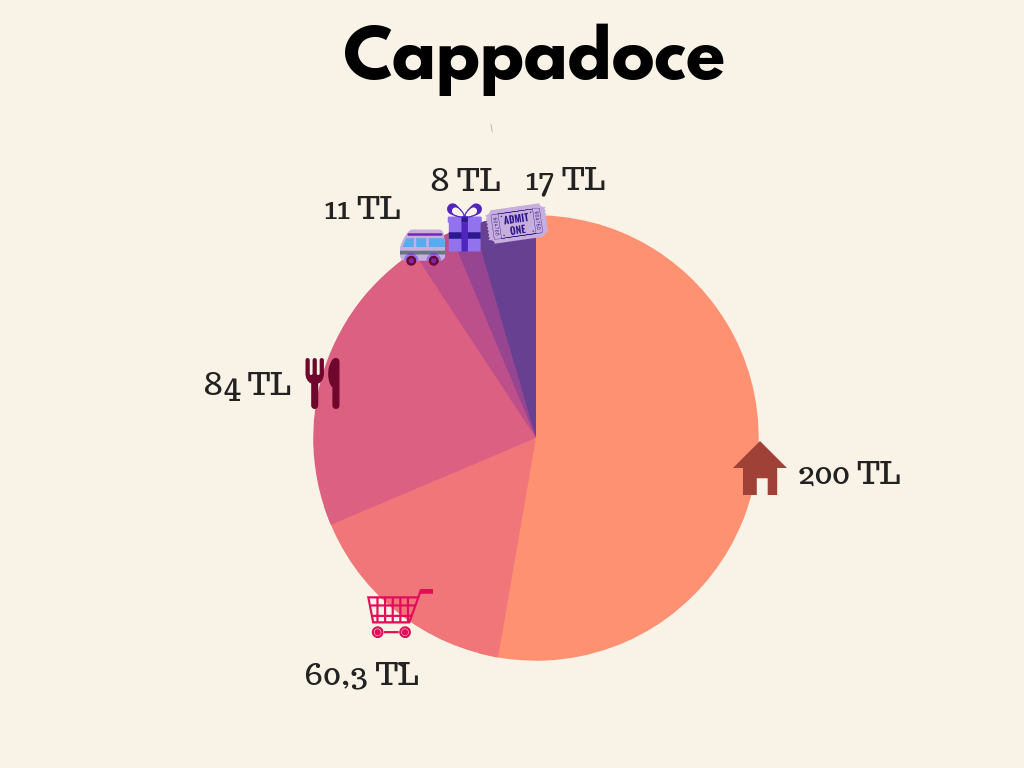 Total budget for our 6 days and 6 nights in Cappadocia: 347,5€ (for 2 people)
That is an average of about 29€ per day and per person.
For this budget we have:
Slept in simple guesthouses but in a private room with bathroom (breakfast included)
Eaten at a restaurant once a day (between 60 and 120 TL) and had a picnic at lunchtime
No tour! We did everything on foot except when we went to Derinkuyu
Taken a few drinks (I write this because compared to the rest, alcohol remains expensive in Turkey because of taxes). 😉
Our Cappadocia Map
In order to help you visualize a little bit all the things we have told you (and also to add some viewpoints/addresses) we have prepared an interactive map with all our recommendations. Feel free to click on the pins to see more details.
All that remains is to wish you wonderful discoveries in Cappadocia! We can only recommend that you take the time to visit this truly sublime region. And if you have good addresses or visits to suggest, don't hesitate to leave us a comment.
We are also grateful for any comments that point out, for example, changes in opening hours or prices. This helps us to keep our content up to date and help future travellers.
Fabienne & Benoit
Note: This article contains affiliate links to partner sites. By using our links you obviously do not pay anything more, but we will receive a small commission. The sites we recommend are the ones we also use every time we plan a trip.