Since our return we have been visiting Switzerland a bit more almost every weekend.
What do these short excursions have in common? We make a point of trying to discover Switzerland a little better, so when we had the opportunity to discover Les Diablerets and Villars with the friendly team from their tourist office, we couldn't resist.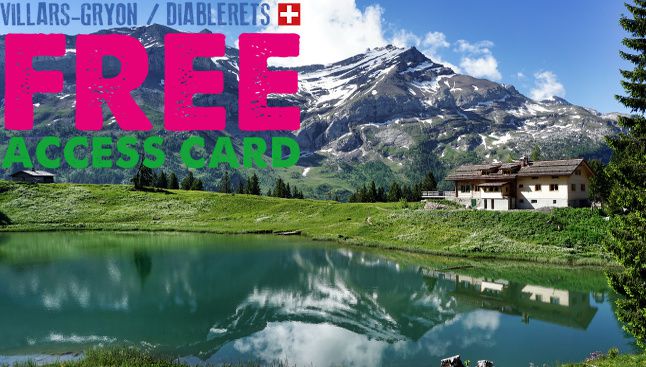 We know the Alps quite well, but you can imagine, with Mr. who is from the Valais we had only rarely ventured into the Vaud Alps! It is now done, and I think that this little weekend will have even convinced Benoit that we will have to come back once again to the region.
The Free Acess Card: a great concept for summer in the mountains
Many ski resorts that are crowded in winter are a bit of a ghost town during the summer season, and few stand out and offer fun activities for everyone during the summer. The resorts of Les Diablerets, Villars and Gryon have understood the trick!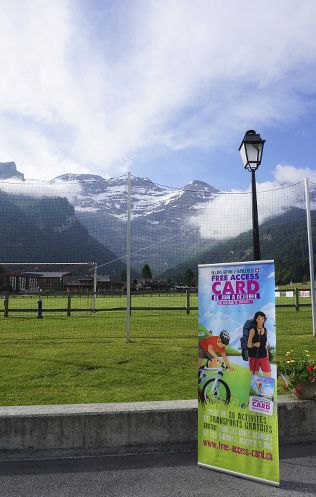 For 9 years now, the resorts have been working together to offer nature lovers and outdoor activities a wide range of things to do at a reasonable price: The Free Access Card!
The concept is very simple: the card is free if you stay in any hotel of the area and includes more than 30 activities and transports to choose from in the 3 resorts!
In addition to being super advantageous, the card also gives great ideas for activities that we wouldn't have thought of otherwise (yes because the initiation to golf in the mountains, promised we wouldn't have thought of it alone…)
In short, we came to discover the area, but above all to test as many activities as possible with the Free Access Card. And no matter how much energy we put into it, we didn't manage to do half of the proposed activities… we'll have to come back!
Update 2019:
The card is longer available just for one day (unfortunately). Only seasonal passs are available. But if you are staying in a hotel or any official tourist accomodation, then you will get one for free for the whole duration of your stay
Isenau cable car and Lake Retaud
It was early in the morning that we left our hotel to head for the mytic cable car of Isenau. Our objective was to take the first cabin of the day to go for a walk towards Lake Retaud and thus reach the Col du Pillon.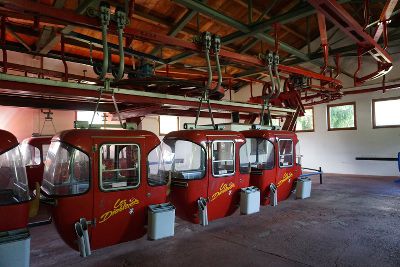 The cabin is what you might call "old-school", and for good reason: it is one of the oldest Swiss gondolas still in operation! Small red eggs all with a crazy charm that took us from the resort to 1763m altitude, ideal starting point for the slopes in winter, and hikes in summer.
Once at the top we started our little walk of the day towards Lake Retaud, then the Col du Pillon. The walk is not very long (1h30 max by taking lots of pictures), but it is well worth it!
Come on, pictures speak louder than words…..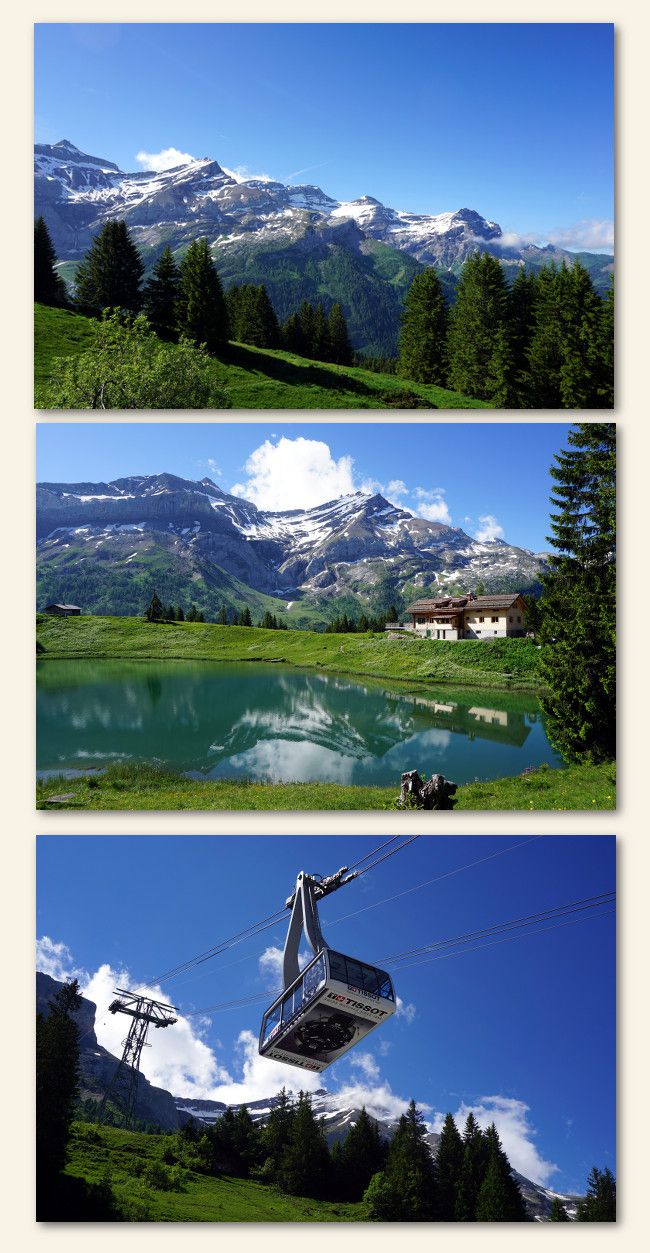 Archery session: Or how to think of yourself as William Tell (or not)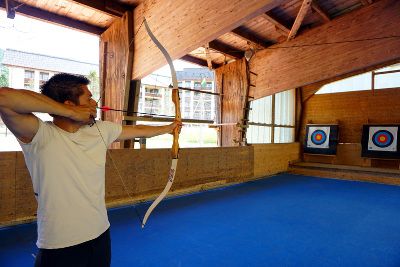 On the way down from the Col du Pillon we saw that it was possible to participate free of charge in a short introduction to archery at Les Diablerets tennis. Without thinking twice, we set out on our way to our future archery career. Haha, yes then, no matter how much we've had a private initiation, we won't hide from you that we're not quite at the cleat yet to dare to place an apple on our heads and trust the other to aim right.
The proof? We were doing an exercise in which we had to shoot the target with our eyes closed, and it was in this configuration that I placed my best arrows… I'll let you imagine my shoots with my eyes open! 🙂
But in short, with the Free Access Card an initiation is free every day between 10am and noon. To try!
Tree climbing in les Diablerets
After our beginnings in archery we rushed to eat a walrus before leaving for our next adventure: the tree climbing!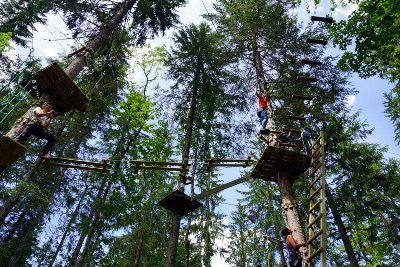 The concept is very simple, we are hung with a harness and we move from tree to tree by moving between platforms through obstacles or zip lines. Sometimes only 3-4 metres from the ground, sometimes 14 metres!
A priori it's not so much my hobby to take height (if you remember I had already tested my vertigo at the tiger leaping gorges in China…), but this time it went a lot better. First, because I felt safe (needless to say, in China I only had trust issues in their infrastuctures), but also because the park welcomed a whole bunch of children of all ages. They were not afraid of anything, and it was not uncommon for me to hear a little sigh behind me from a child who was "waiting" for the 30-year-old to deign to overcome her little phobias (sometimes the sigh came from Benoit too…): D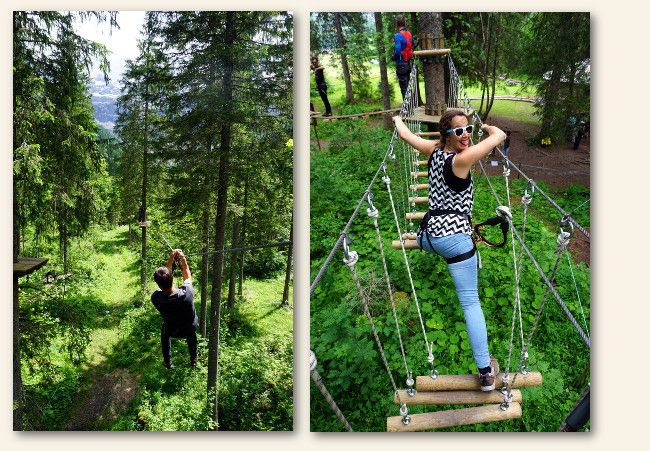 We had a great time, even though I admit I let Benoit go alone to get more height for the "freefall jumps". Yes, a platform at 15meters off the ground from which you jump with your harness. The latter is fixed to a pulley that slows down the fall at the last moment…..

The Bitter Diableret
No no, I'll stop you right there, it's not a Free Access Card activity, but it's nevertheless part of the mission of good bloggers to be introduced to local culture (yes yes, we have a sense of sacrifice). In other words, when Myriam from the tourist office offered us a small round of Bitter Diableret, a herbal alcohol from the region that aims to become the new champion of Swiss aperitifs, well, we sacrificed ourselves… With pleasure of course! mouahahaha!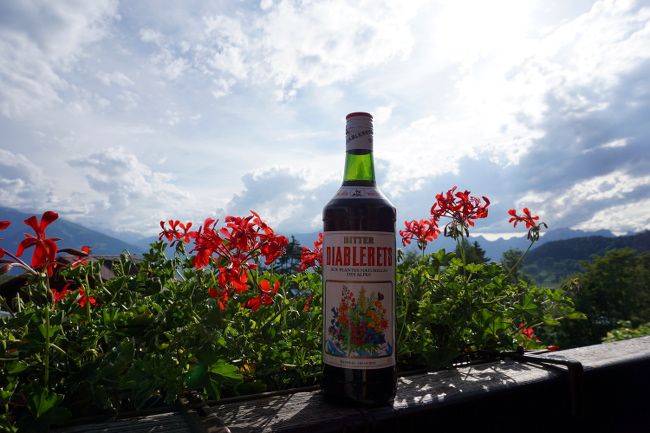 Benoit likes it "on the rock", others prefer it with mineral water… I don't hide from you that I don't mind a drop of cola to remove a little bitterness! But in any case a great discovery, we brought back a bottle to Zurich 😉
The Bitter: a great way to end our first day in Les Diablerets and head towards Villars the same evening (by taxi I reassure you…)
A downhill scooter
Personally, I had had my dose of adrenaline the day before with the tree climbing, but my man still didn't have enough and he wanted to try a 4×4 scooter ride. The scooter-what? Yes, then as its name suggests, it is a scooter that is specially designed to be used on the grass. A 4×4 scooter if you prefer!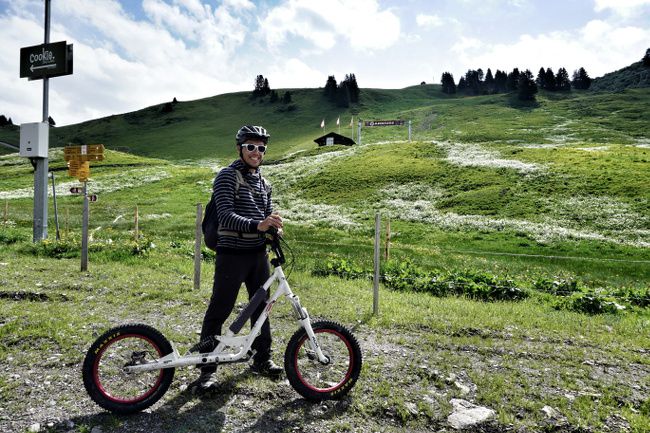 So I certainly had a vague memory of receiving a scooter for my 10th birthday, but I also remembered very precisely the lack of comfort I had at the time. In other words, I wasn't leaving reassured… It didn't take me more than 20 seconds on the "thing" to realize that I was risking my life on this (I reassure you it's super safe as an activity, it's really me who has a problem). In short, I took the scooter back to the rental store and decided to follow Benoit (by running behind haha)…
Benoit had a great time like a kid, but I'll let you discover that in the video below! A great activity for people who are a little less "chicken" than I am (as Benoit would say!) 🙂
Information and reservation for the rental of a 4×4 scooter: Sportshouse
The Villars-Bretaye train
As you can imagine, the interest with a 4×4 scooter is clearly the descent and not the ascent, so we decided to combine the activities and go for a ride with the Villars Bretaye train.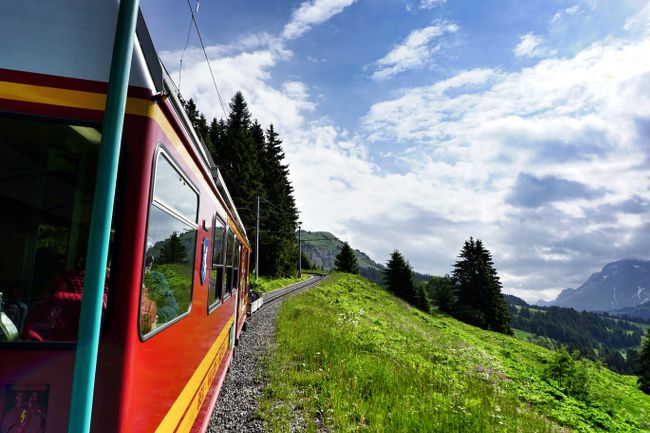 This train is worth a detour on its own! A breathtaking panorama along the way that takes you to the Col de Bretaye in just under 20 minutes! Once at the top, you can discover Lake Bretaye, go for a hike, or go down to Villars by 4×4 scooter, mountain bike or on foot.
An introduction to golf in the Vaud Alps
If we had been told one day that Benoit and I would try golf, we probably wouldn't have believed you. Often seen as a sport reserved for the elite because of its generally quite prohibitive price for the average person, but also as a sport that is not really one…. But not to die stupid, and also because the initiation was free and because we saw the spectacular view of the golf from the Villars-Bretaye train we let ourselves be tempted!
Upon our arrival we were greeted by a lady with a wide smile:
"Are you here for the initiation? »
hehe i mean, we didn't have the classical golfers' outfits I guss, the newbies got identified without even having toopen our mouth.
We were then directed towards the driving range, the only point on the field accessible to players who do not have the golf green card, or rather the famous "handicap" (it will be proved later that we have a certain number of handicaps once a club is in our hands, but apparently not the right ones) 😉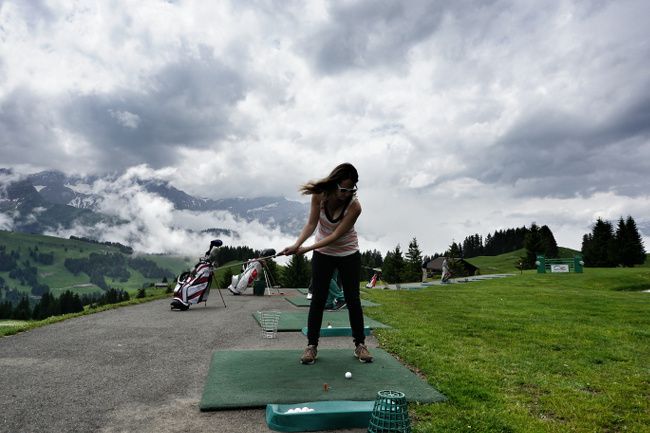 At the driving range it was a teacher with a singing Spanish accent who welcomed us and patiently showed us the first moves. The idea of the driving range is to make the ball fly over a small lake to make it land as far as possible while perfecting your move.
Well, first observation: we have already had to make many attempts to even "reach" the lake, so we might as well explain that we have never exceeded it. And for the position, the class and the style are clearly perfectible on our end… But we had a good laugh, and the atmosphere was very relaxed. We'd definitively do it again!
More information about the Villars golf course
Minigolf and paradise for the little ones in Les Diablerets and Gryon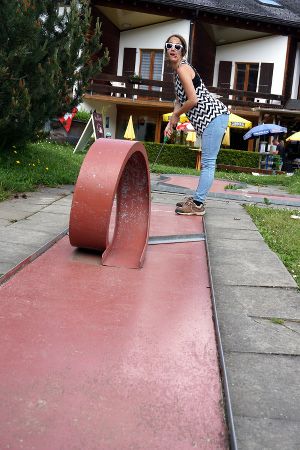 In view of our relative success in golf, we have humbly decided to return to a more familiar practice, which requires a little less skill and experience, I have named mini golf.
So some bad guys will say it's a bit of golf for losers, but I don't agree at all, oh no! Certainly there is no swing (although…), but it's more fun, and above all the atmosphere is a little less uptight.
For the moment, and because we really had to compensate for the serious failure of golf, we even played 2 games in one weekend! The first one at the mini golf des Diablerets, a very nice mini golf just a stone's throw from the centre.
On Sunday we tried miniature golf with the giant obstacles of Gryon, an ideal playground for children (and for princesses in search of Prince Charming). 😉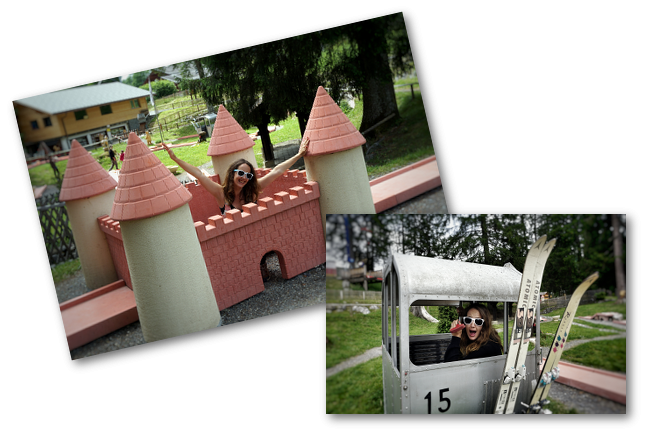 Weekend in Switzerland in video
We talk, we talk… But why don't we move on to the images? When we tell you that we had a great time in the Vaud Alps, it's not a small thing to say, and we let you discover all this in pictures and music! (PS: you probably didn't dream of it, but we did it anyway: a 100% Swiss remake of Baywatch).
Practical information to organize your cheap weekend in the mountains
The free access card is available directly from the tourist offices of Les Diablerets, Villars or Gryon. The card is free if you stay in a hotel in the region, but it can also be purchased for 10.00 per person if you are just passing through (free for children under 9 years old).
All the details on the proposed activities : Free Access
Infos

Getting to les Diablerets

by car: Allow 55 minutes from Lausanne or 1h30 from Geneva. Take the motorway to Aigle, then once out of the motorway follow the signs towards Pillon/les Diablerets/Leysin.
by public transports : By train to Aigle directly from Lausanne or Geneva. Then the Chablais transport bus directly from the Aigle station to the destination. Information and schedules: cff.ch
Getting to Villars

By car : Travel time similar to that of Les Diablerets from Lausanne or Geneva, but to reach Villars you must continue on the motorway until the Bex exit.
By public transports : By train to Bex, then by mini-train to Villars via Gryon.
For accommodation there are many options ranging from camping or a cheap dormitory bed to a 5* hotel, charming Beds and Breakfasts or even the rental of a chalet if you come as a group. During our stay we were welcomed one night in the excellent hotel du Pillon in les Diablerets, a hotel that is more than just a guest house with its super family and friendly atmosphere. The second night we spent it in Villars at the hotel "Alpe Fleurie". An excellent address with spacious rooms and a breathtaking view.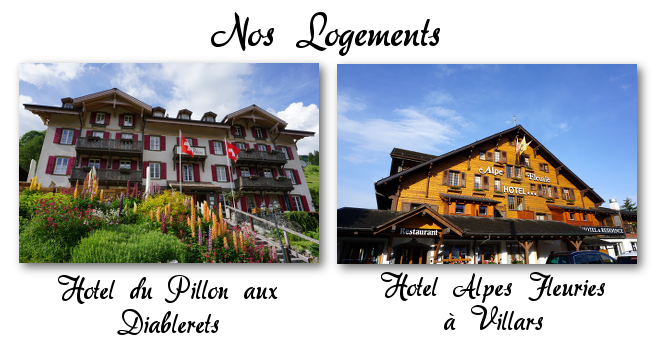 The best way is to look directly at the sites in the region according to your budget, but also to special offers.
The Villars-Gryon website
The Diablerets website
NB: This article contains links to partner sites. By buying a product via these links you obviously don't pay a penny more but we will get a small commission. Thank you for your support;)
P.S. We have been invited by the Villars Tourist Office / Diablerets to test the free access card but what is written in this article remains our own opinion on this product and we are convinced that it is something interesting for you!