Enregistrer
Ahhh Switzerland, you know the love we have for our little country that we have been "re-discovering" since we returned from our trip around the world! (we must admit that we were not so curious before).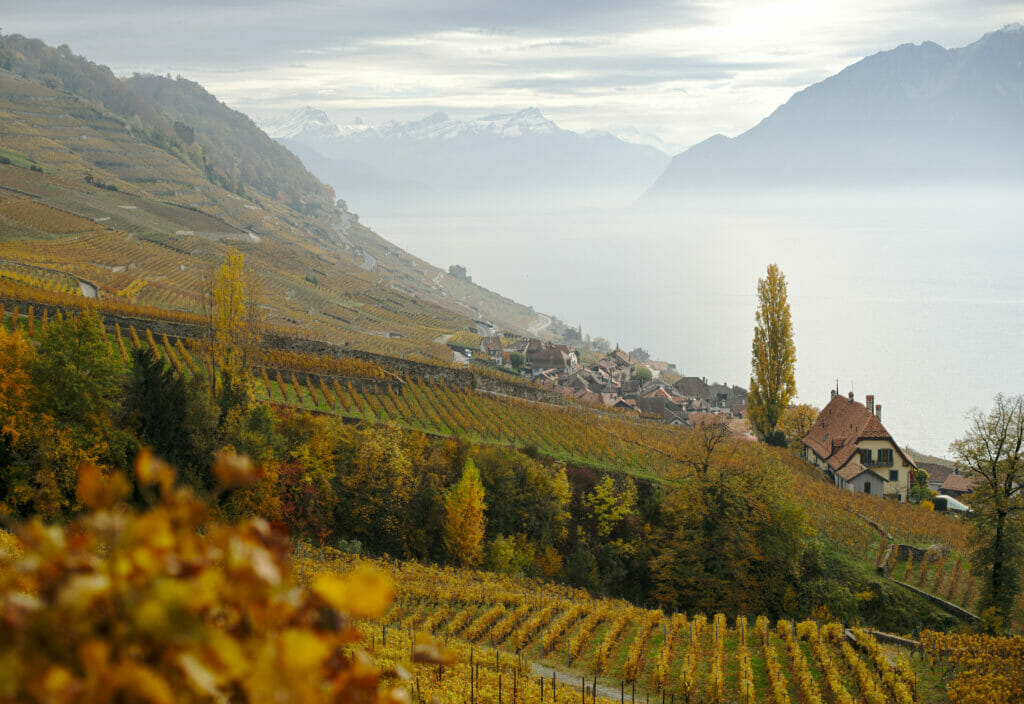 Today, we wanted to share with you one of our favorite regions and also the place where Fabienne grew up. I named the terraced vineyards of Lavaux! (so you won't wonder why we love wine anymore 😉 ).
To be read: The region of Lavaux has also been added to our article on the most beautiful villages of the canton of Vaud. An article to discover here
This article was originally written in 2016 when we returned from our round the worldtrip. In 2020 we completely updated it to add more hiking routes.
Lavaux: A UNESCO World Heritage Site
Before telling you about the hiking itineraries we tested, we thought a very short presentation needed!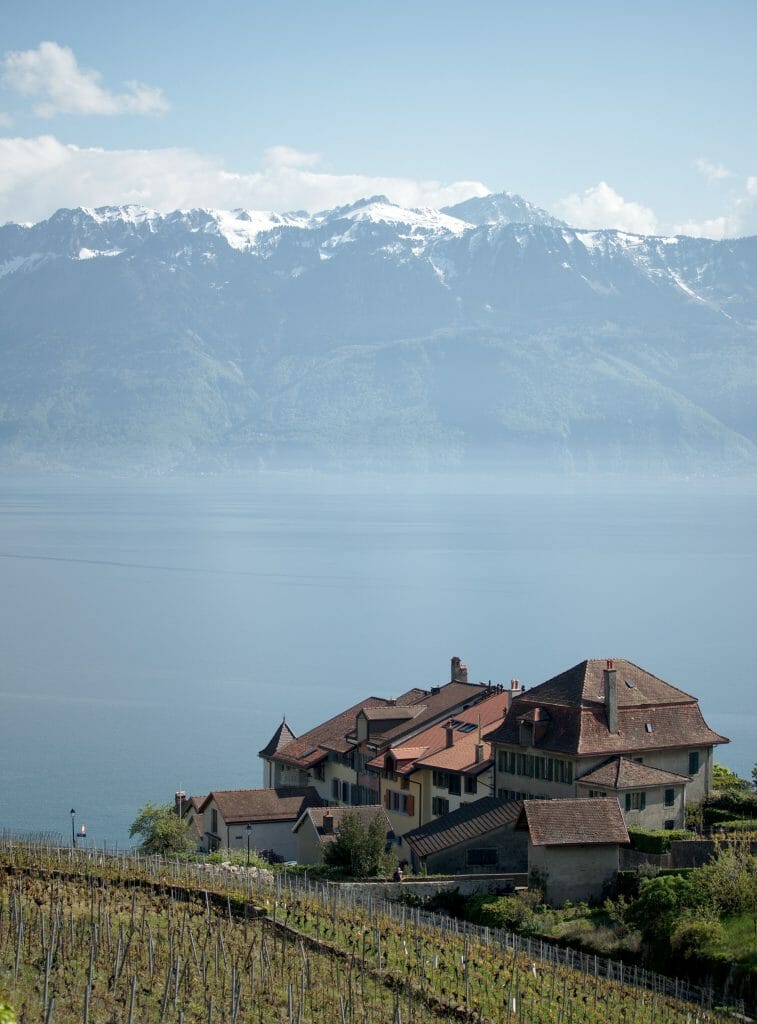 Lavaux is in fact the wine region between Lausanne and Vevey.
These vines, perched above Lake Leman, are absolutely spectacular. It is in fact to protect this region, its landscapes and traditions that Lavaux was listed as a UNESCO World Heritage Site in 2007. For many people from Lausanne (or simply from the French-speaking part of Switzerland), this region is very well known to come here for a nice walk and a glass of wine.
In this article we are going to propose you 3 ideas of itineraries in the Lavaux. As you will see, some of them overlap a little but I promise: they are all very different and all worth it! Personally, I simply can't get enough of the Lavaux region… We have been there a good twenty times for hikes and each time it is the same amazement. Moreover, we really advise you to come back regularly throughout the seasons. Autumn is and remains my favorite season but clearly, these terraced vineyards also have a lot of charm in winter!
Stroll from Cully to Rivaz: The classic itinerary of Lavaux
I suggest that we start with THE classic Lavaux walk: from Cully to Rivaz via the Dézaley and the beautiful village of Epesse.
This route is most likely the one we used most often when we had friends visiting us from abroad. It is really easy, it takes only half a day and offers exceptional views of Lake Geneva and the Alps.
If we like this route very much it is also for its very "practical" side. By car or by public transportation it is easy to get to Cully and then return to your starting point by train (there are parking spaces there too, we put a marker on the map).
Don't miss: When you arrive in Epesses we strongly advise you to make a small "detour" to the Massy cellar which is just a few meters on your left when you arrive on the road to the cornice (marker on the map below). At this place you will find a magnificent work of the artist LPVDA, a street-artist like no other… Rather than using paint or brushes he works with… a sander and sandpaper! He creates real works of art on wood!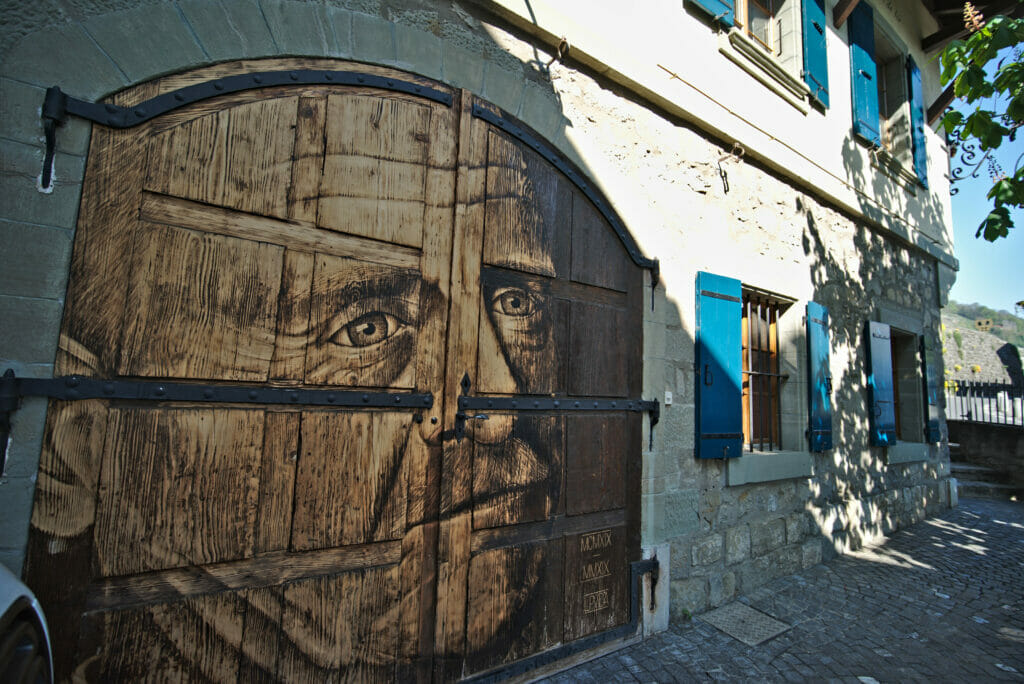 Infos
Distance: about 6,5km
Elevation change: 150m
Duration: about 2 hours for the walk
Start: Cully train station (Bourg-en-Lavaux)
Finish in Rivaz. From there you can easily return to Cully or Lausanne by the regional train.
Carte de la randonnée de Cully à Rivaz
Hike from Bossière to Saint-Saphorin – the long version
This second itinerary is quite similar to the first one (the part between Epesses and Rivaz is identical) but it is a bit longer. For my part, I like it a lot too because the landscapes are very varied. We start the walk at Bossière, which is almost at the very beginning of the Lavaux region.
From Bossière (Lutry) to Epesses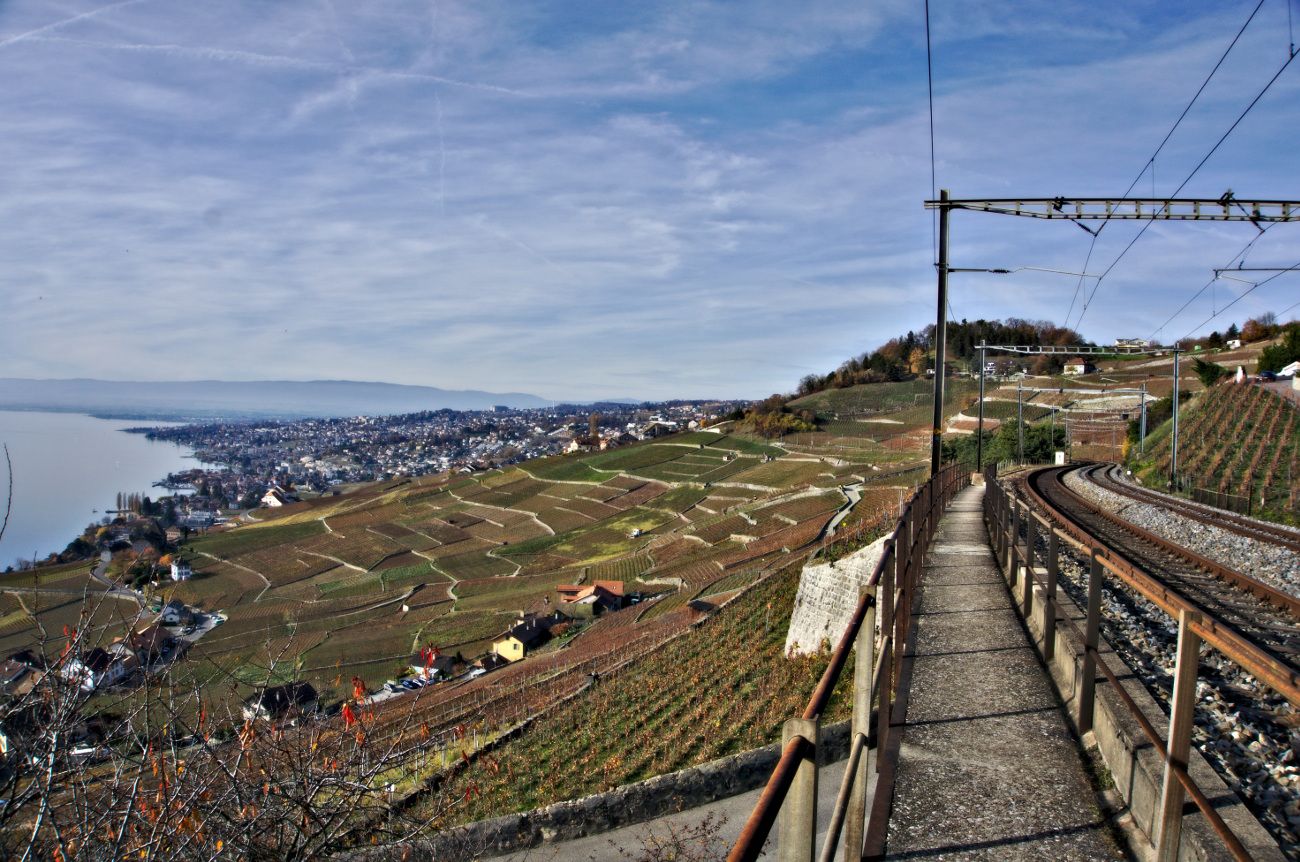 The path begins by following the railway line that connects Lausanne to Bern while overlooking the vineyards. This end I find it very impressive even if one should not be too sensitive to the noise when a train passes just nearby. 😉 The first time I guarantee you that it is a little bit surprising…
By the way, if you've ever taken this train line, you've certainly already had the "Wooowwww" effect when coming out of the tunnel that opens above Lavaux and Lake Leman. In any case for us, every time we come back from Zürich to Lausanne, it always has this effect :).
The path overlooks the first vineyards of Lavaux with the city of Lausanne just behind us. In particular, we pass several magnificent houses that have a breathtaking view of the vineyards and Lake Geneva below.

The village of Grandvaux
We continue along the tracks to the village of Grandvaux where you can already stop several times to taste the local wine. Even if we advise you rather to wait until the end of the walk for the drinking part. 🙂 (We confess, the temptation was also great for us, but we resisted until the end 😉 ).
In Grandvaux we also recommend a small detour to the statue of Corto Maltese put here in honor of Hugo Pratt, the author of the famous comic book who spent the last years of his life in Grandvaux.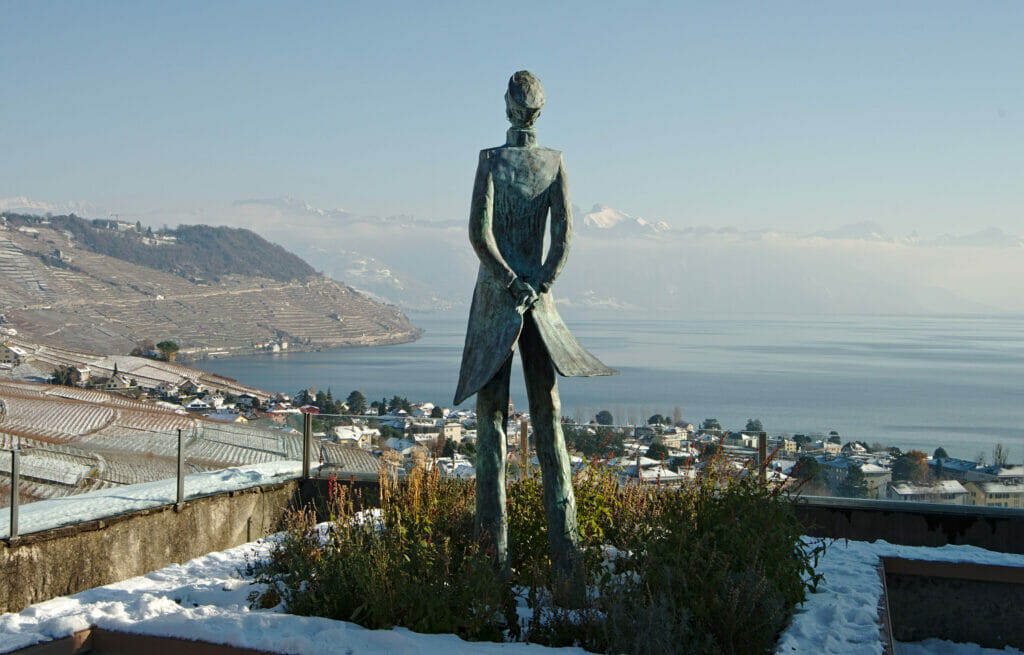 The path then continues between the villages of Grandvaux and Vilette, through the vineyards to the village of Riex and then Epesses. It is a real pleasure to walk in these narrow streets and admire all these old wine-grower's buildings which have a lot of character.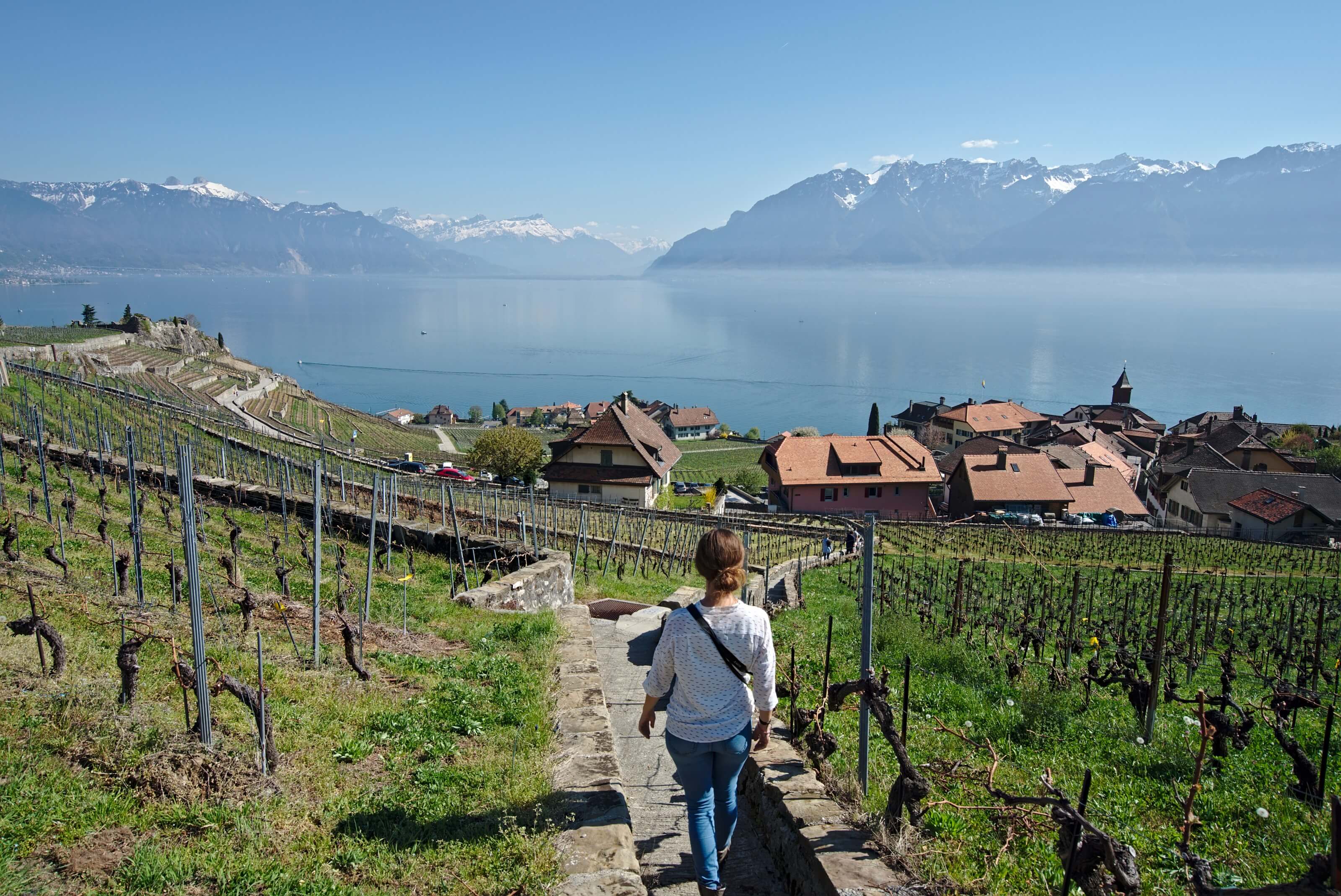 You will find some restaurants or cafés with beautiful terraces overlooking Lavaux and Lake Geneva. There are also several cellars where you can taste the local wines (the white wine of Epesses is very famous).
From Epesses to St-Saphorin via Dezaley
At the exit of the village of Epesse (if you make it out of it 😉 ), after the wine press, take the path that goes down on your right through the vineyards. You may come across a little more people from there on. Indeed it is possible to park your car in the village of Epesses and the walks in the area are very popular.
The path crosses the steepest part of Lavaux, more commonly known as the Dezaley, which also produces the grand cru of the same name. This parcel is very impressive because the vines are steeper and the walls of the terraces higher. This place has even been chosen to illustrate the old banknote of 200 Swiss francs, our 2nd biggest banknote (yes, absolutely!).
Have an aperitif in the heart of the vineyards of Lavaux
At the end of the Dezaley path and just before the village of Rivaz, there is a small wooden hut that sells chilled white wine in the summer and on weekends in autumn. If you are in the area at the time of the aperitif and the sunset believe us this spot is quite ideal!
And as you can see on the pictures below, we let ourselves be tempted by this magnificent view to take an aperitif with sunset on Lake Leman. It would have been hard to make it better if you ask me. 😉
If the aperitif is a bit too long, you have the choice here to go directly down to Rivaz and take the train back. Nevertheless, if you are more disciplined than us at the aperitif, we advise you to continue the walk a little further to the beautiful medieval village of Saint-Saphorin located a few kilometers away.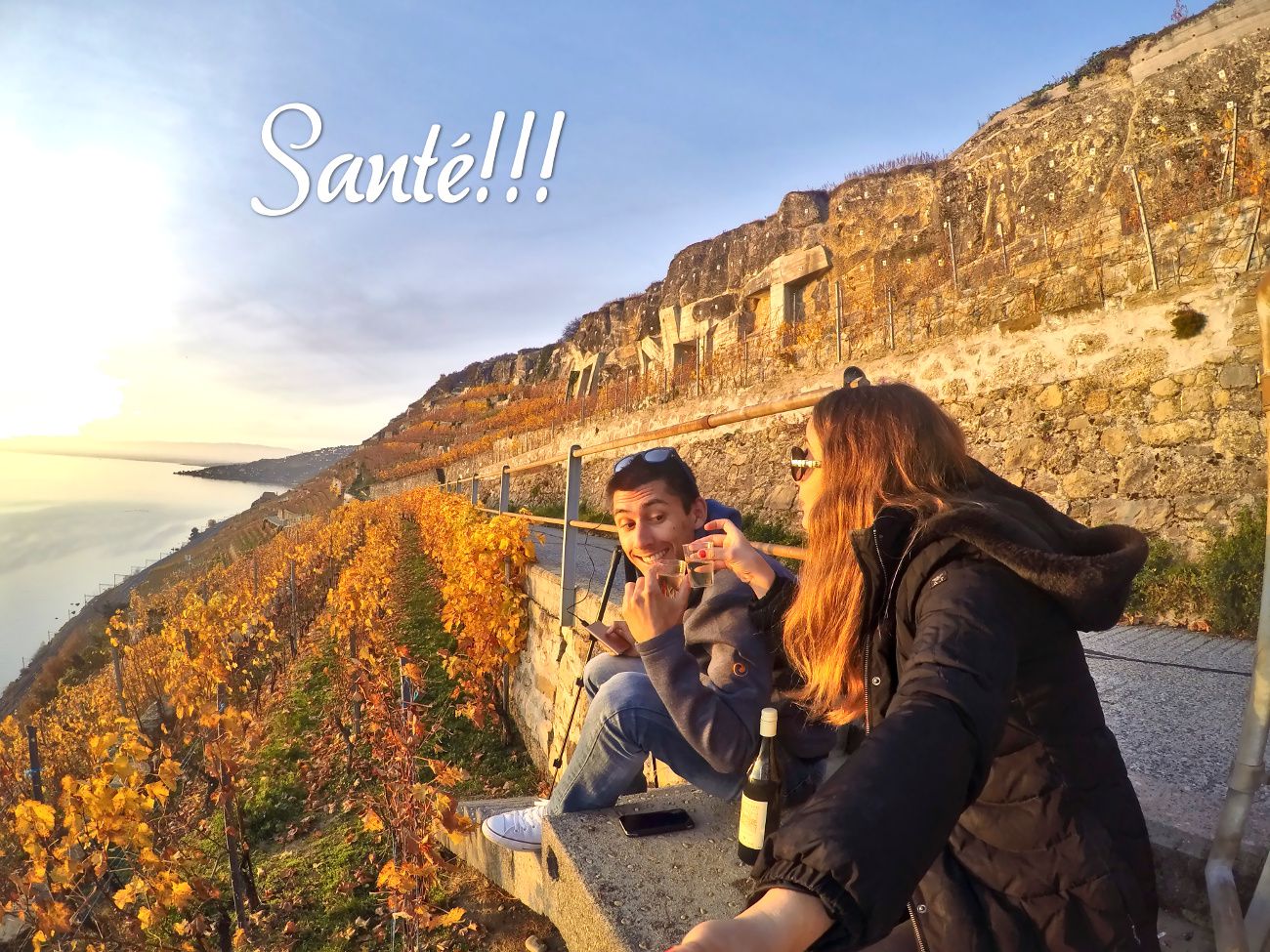 Infos
Distance: about 11km
Elevation change: about 300m, but overall the path is quite regular
Duration: Varies according to the walking speed, but if you go quietly you will need 3h30 to 4 hours of walking.
Start: the easiest way is to come by train to Bossière station from Lausanne
Finish: From Saint-Saphorin you can easily take a train back to Lausanne or Vevey.
Hiking Map
Lavaux in a "winter" atmosphere – just as beautiful
A loop starting from Chexbres: a panoramic view of the Lavaux
This last itinerary we did for the first time only a few days ago. In fact, this itinerary is not really presented on the "official" itineraries of the region and we confess that we don't really understand why. The section Epesses-Rivaz is a must, we grant you that, but the high part between Chexbres and Epessse is also really worth it.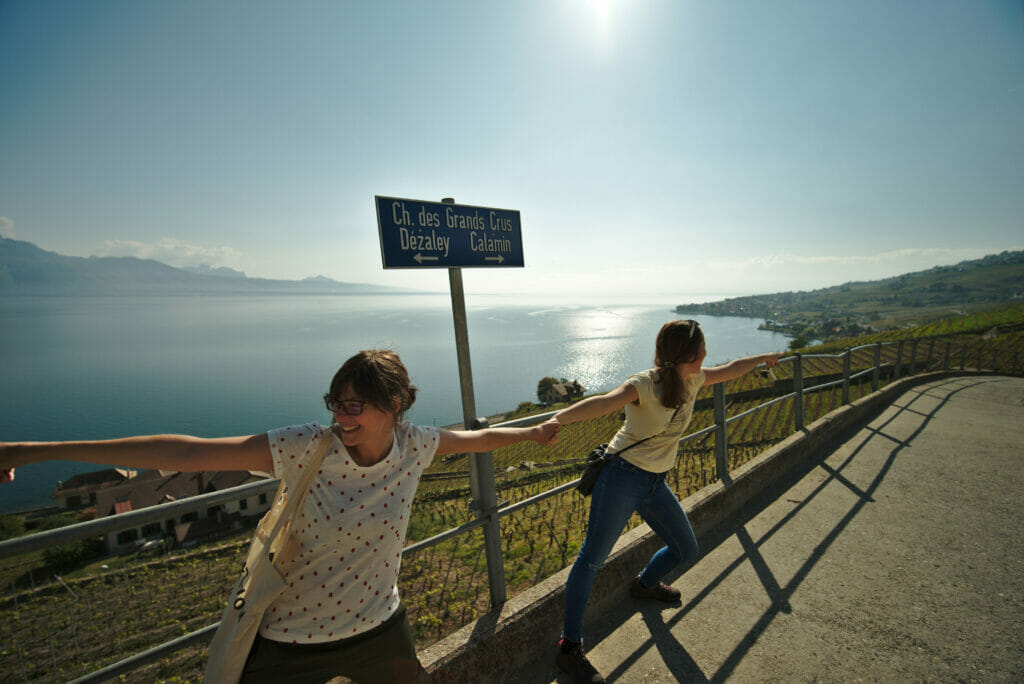 In fact, if we decided to test this itinerary it is especially because each time we came in the Lavaux we did not cease to see the imposing tower of Marsens and we really wanted to go to see it more closely once.
In short, this third loop passes above the vineyards for a good part of the route and we really have a 100% plunging view on Dézaley and Lake Geneva! Big bonus? the upper section is much less known than the others, so we are very quickly alone on the trails (which is not necessarily the case on the other routes) ;).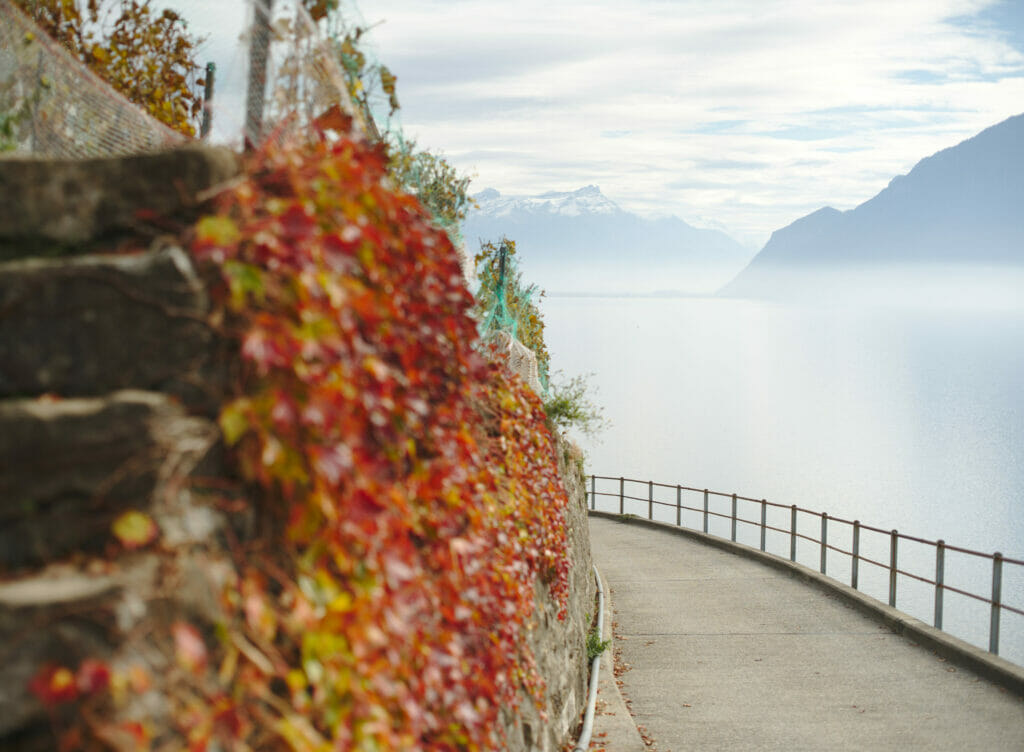 Infos
Distance: 9km
Elevation change: about 300m
Duration: It took us a little less than 3 hours but REALLY taking our time with lots of photo breaks and a small picnic. The walking time is about 2 hours.
It is possible to visit the Marsens tower and even have a wine tasting. Visit only on registration. More info on their website
Option to extend the walk: Go to the top of the Tour de Gourze. The view from there is really spectacular! One can easily add this detour just before going back down to Epesses but it will add about 2h-2h30 of walking time to the hike.
Hiking Map
That's it, that's all for these nice walks in the Lavaux. I hope that we will have made you want to discover this region which is particularly close to our hearts. We swear that it is worth it and that you will fall even more in love with Switzerland after that. 🙂
Gift idea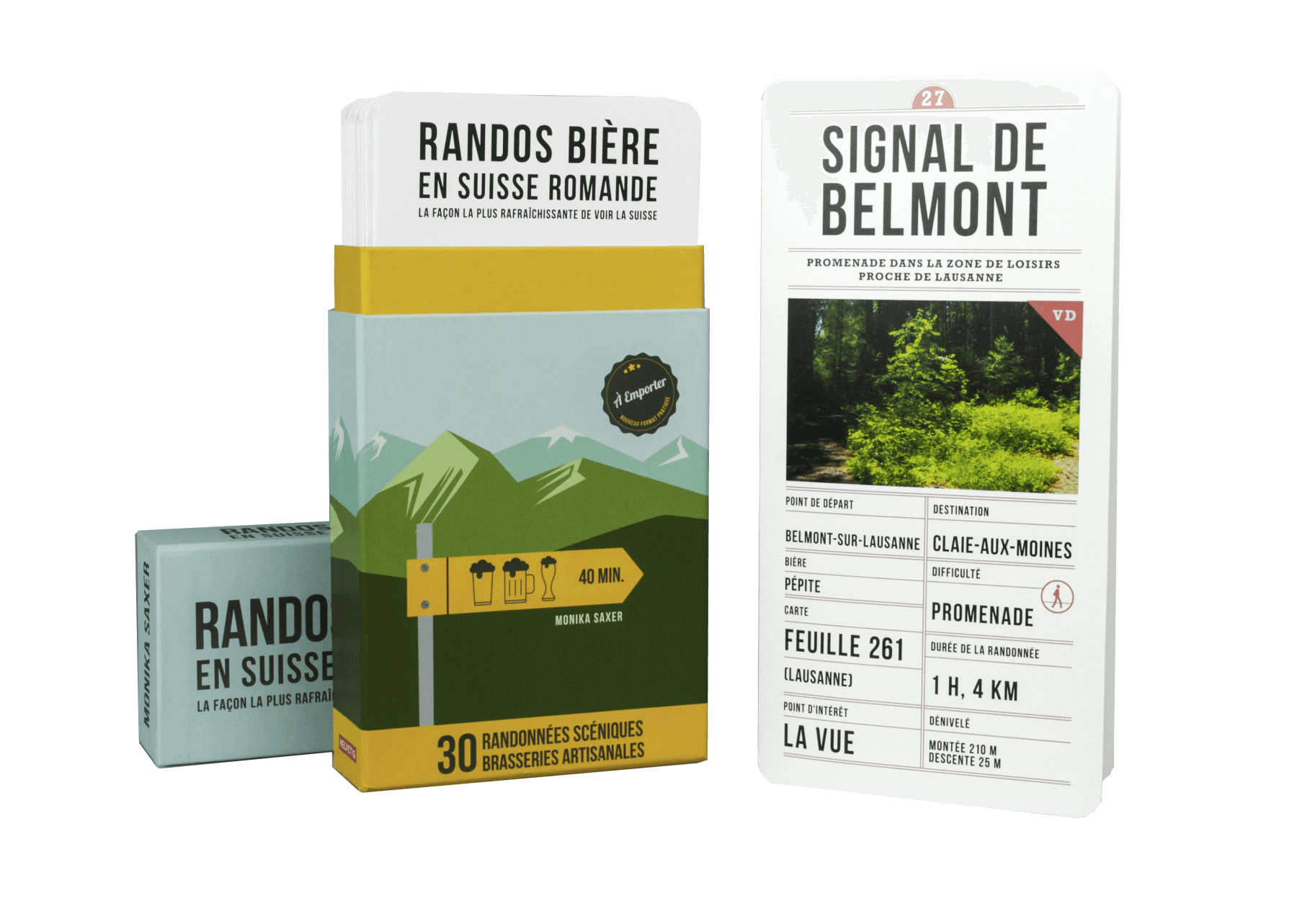 Do you like hiking? Are you more of a beer man than a wine person 😉 Helvetiq publishes a hiking guide like no other: les randos-bières en Romandie. 30 ideas for hikes in Switzerland with the common goal of ending at a local brewery..
See it on the Helvetiq website
Novomonde Discount: On the Helvetiq site, use the discount code "novomonde10" (without quotation marks) to get a 10% discount on the whole site.
NB: This article contains links to partner sites. By buying a product via these links you obviously don't pay a cent more but we will receive a small commission. Thank you for your support 😉
Pin it