After these few weeks that were a bit more quiet, far from our beautiful mountains and friends, we took advantage of a beautiful sunny weekend in May to go for a good 3-day hike not far from home with friends. For this first post-confinement outing we decided to opt for a scenic route over Lake Geneva: the ridge trail between the summit of Malatraix and the Rocher-de-Naye.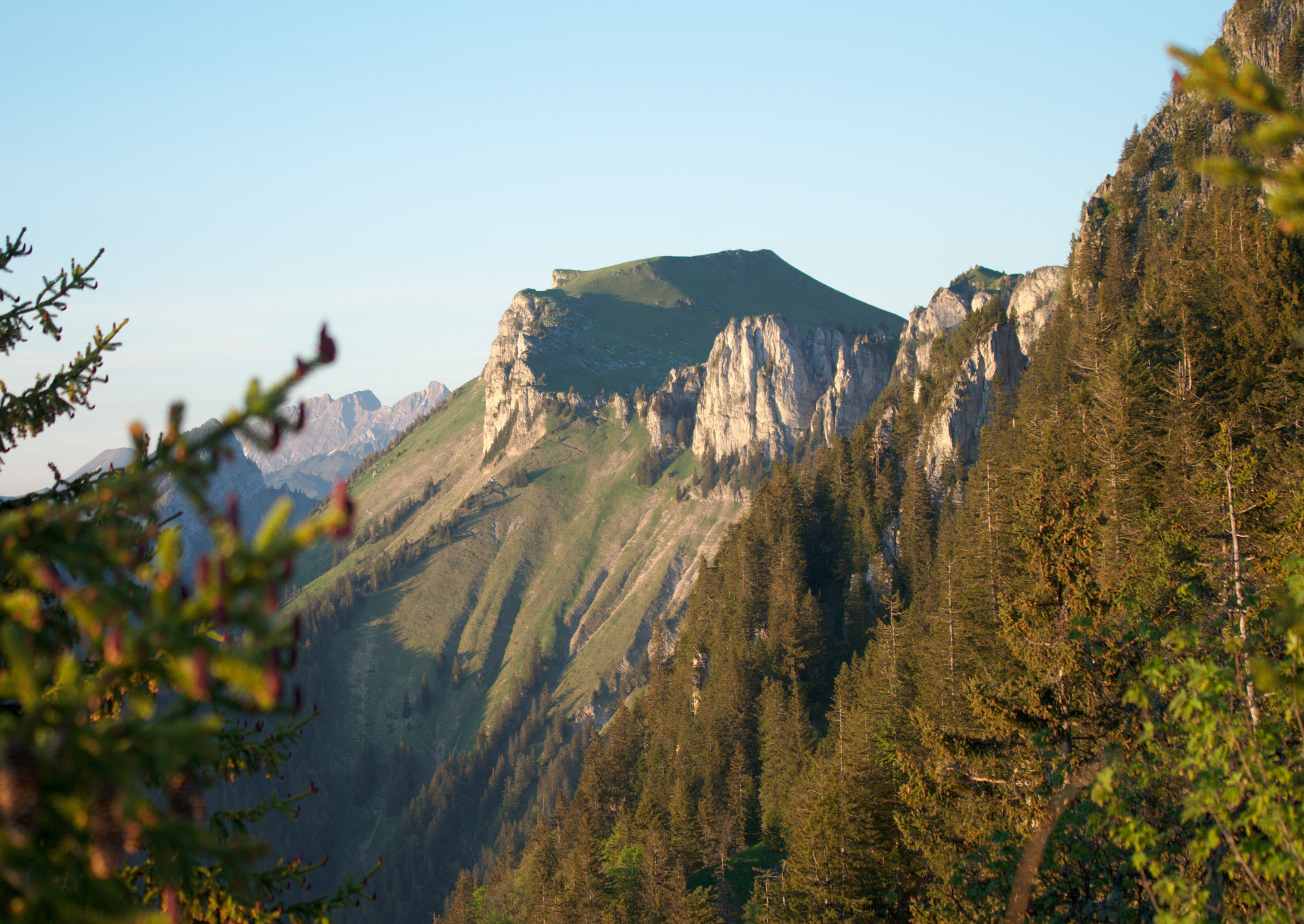 For many years we have been contemplating from below this long ridge overlooking Lake Geneva above Montreux and which joins the Rocher-de-Naye without ever hiking on it. We didn't know this itinerary at all and we admit that we had a hard time finding information online… We spotted some trails on the hiking maps and we thought that this post-confinement outing was a great opportunity to go and explore this area a little closer. So we packed up our tent, invited some friends, brought a mini candle-lit raclette set (and a good bottle of white wine of course) and set off on what was starting to look like a good hike to get back on track for the coming season!
Hiking to Malatraix from Roche
To begin this hike we had set an appointment with our friends at the Roche train station. After a small distribution of provisions between the bags we started the long and steep climb towards Malatraix.
We left at about 10 am and we thus had a lot of time ahead but it was perfect because it allowed us to take a few long breaks. Our bags being well loaded, these frequent breaks were more than welcome! (it is quite heavy to want to make a raclette at the top with the potatoes, the ovens, the cheese and the white wine haha).
The first part of the climb is what we could call a good start that doesn't leave much suspense. 700m of positive difference in altitude within 3km, needless to say that it wakes you up! At km 2 (approximately) we pass by a magnificent waterfall (and the Egras bridge). At this waterfall we are not quite at the end of our efforts in terms of altitude gain, but the end of the steep part is near!
Fortunately, the rest of the climb (from kilometre 3) is a bit gentler. The itinerary goes a lot through the forest which is very pleasant from a temperature perspective and we have nevertheless some nice clearings which allow us to see the view on the Dents du Midi on one side and the towers of Aï and Mayen on the other.
As much as we already know the region of the "dents du midi" very well, this view gave us a lot of ideas to explore a little bit the Alps on the Vaud side for our next outings close to the house! #ToBeContinued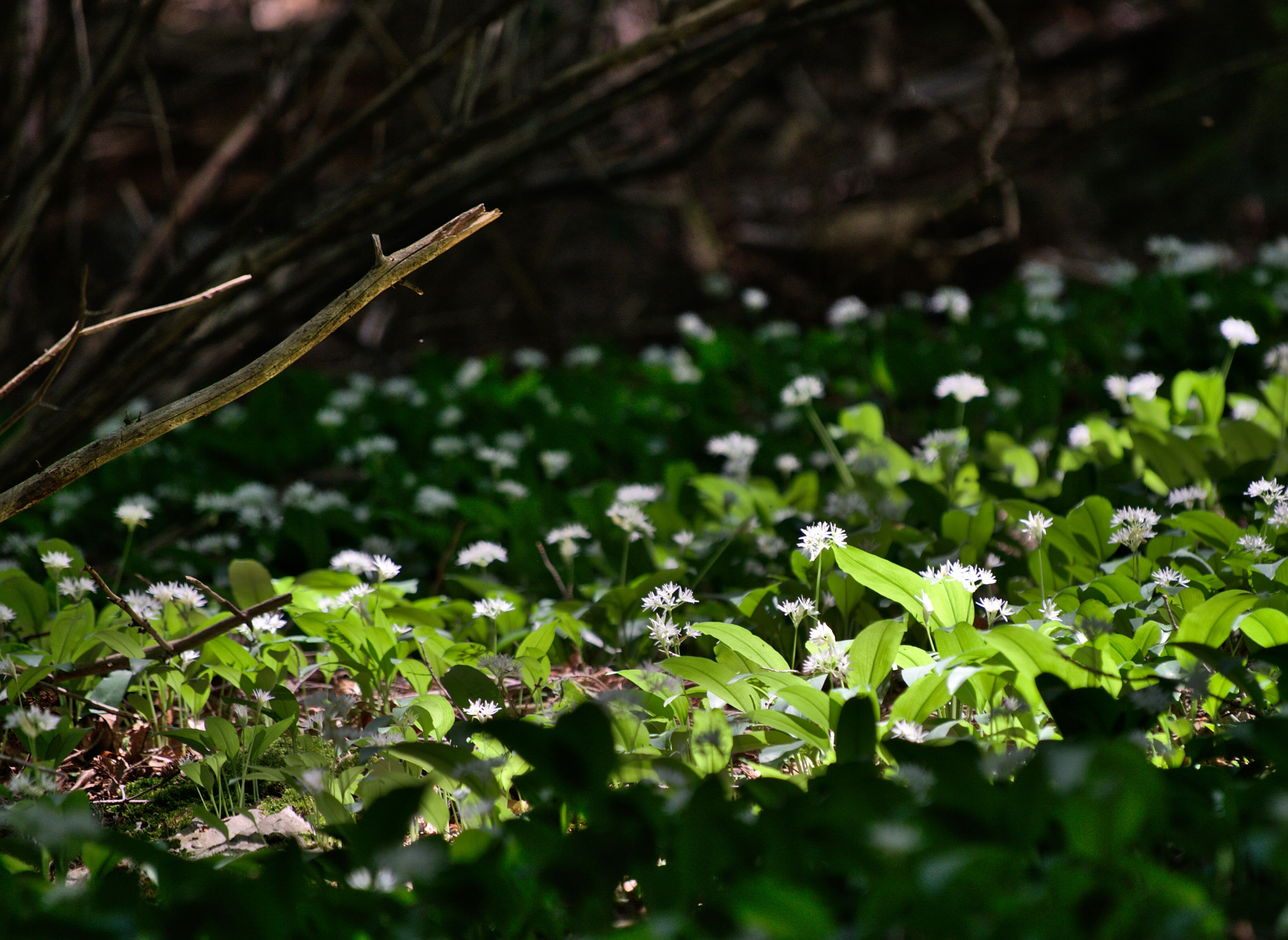 Small bonus if you climb in spring (between the end of March and the beginning of June roughly): the forest is covered with wild garlic. This edible plant will have proven to be an excellent addition to our evening raclette 😉
We knew the recipes for wild garlic pesto, but in fact it also goes great with cheese. Now you know! 🙂
The view from the top speaks for itself… it's simply splendid!!!! From Malatraix itself the view is not the most incredible, we recommend that you go a little more to the left when you arrive at the sign or to continue straight on to the next summit in the direction of Rocher-de-Naye.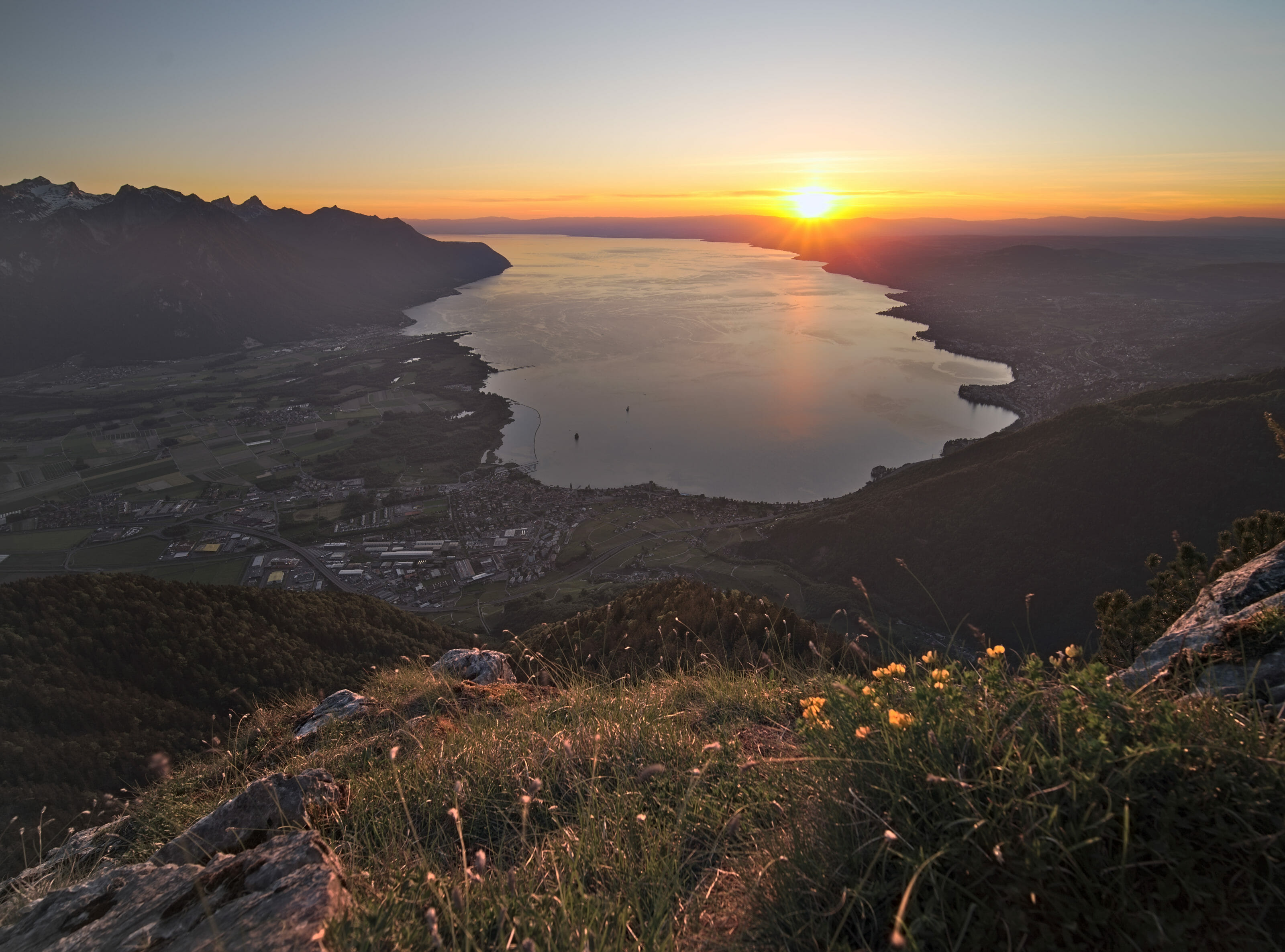 More picture from this evening on top of Malatraix:
The ridge path overlooking Lake Geneva
After a good night's sleep at the summit we put the bags back on (much lighter once the raclette has been eaten) and started the magnificent ridge path that leads from Malatraix to the Col de Chaude. I must admit that I had some apprehensions on this section as we had found very few reviews and photos online.
So first thing: the view all along the walk is absolutely sublime! Being on a ridge, you almost always have a 360° view of Lake Geneva and the Alps all the time.
But for me the concern was more about the path itself. Not being a big fan of heights, the Ridge paths and I are rarely good friends. So we're not going to lie to each other, it's really impressive in places and clearly I wouldn't take young children or someone who is very prone to vertigo. For my part I would say that on a good 90% of the ridge everything went well. In 2-3 places I was clearly not at ease and I was happy to be able to entrust my bag to a friend to pass a few more vertiginous places with "less weight to carry". In fact, on this ridge the problem is not so much the void but rather the slope which is in places quite imposing.
The ascent to the Rochers de Naye from the Col de Chaude
When we arrived around noon at the Col de Chaude, I confess I was a little bit nostalgic! I still remembered this pass perfectly because this is where we arrived after 19 days of walking along the Via Alpina in 2017.
It's funny because I remembered that this section had been magnificent, but I also remembered having suffered a lot on this last climb. Go figure if it was the "end of Via Alpina" effect but this time I found this climb much more pleasant and easy (to be fair this time I didn't have 370km in my legs 😉 )
In other words, it was without too much trouble that we followed the beautiful ridge that leads to the Rocher-de-Naye. However, this section is quite exposed to the sun, so it's better to bring enough water and a cap if you climb the ridge in the afternoon like we did!
As there were still quite a few restrictions in place because of the virus, the train going up to Rocher-de-Naye was not yet running. The result? We were able to enjoy the summit with relatively few people compared to usual! On the other hand, no train also meant that the restaurant was closed… It was therefore impossible to refill the water bottles or to eat a little something. But hey, it's hard to complain when you can enjoy such a view!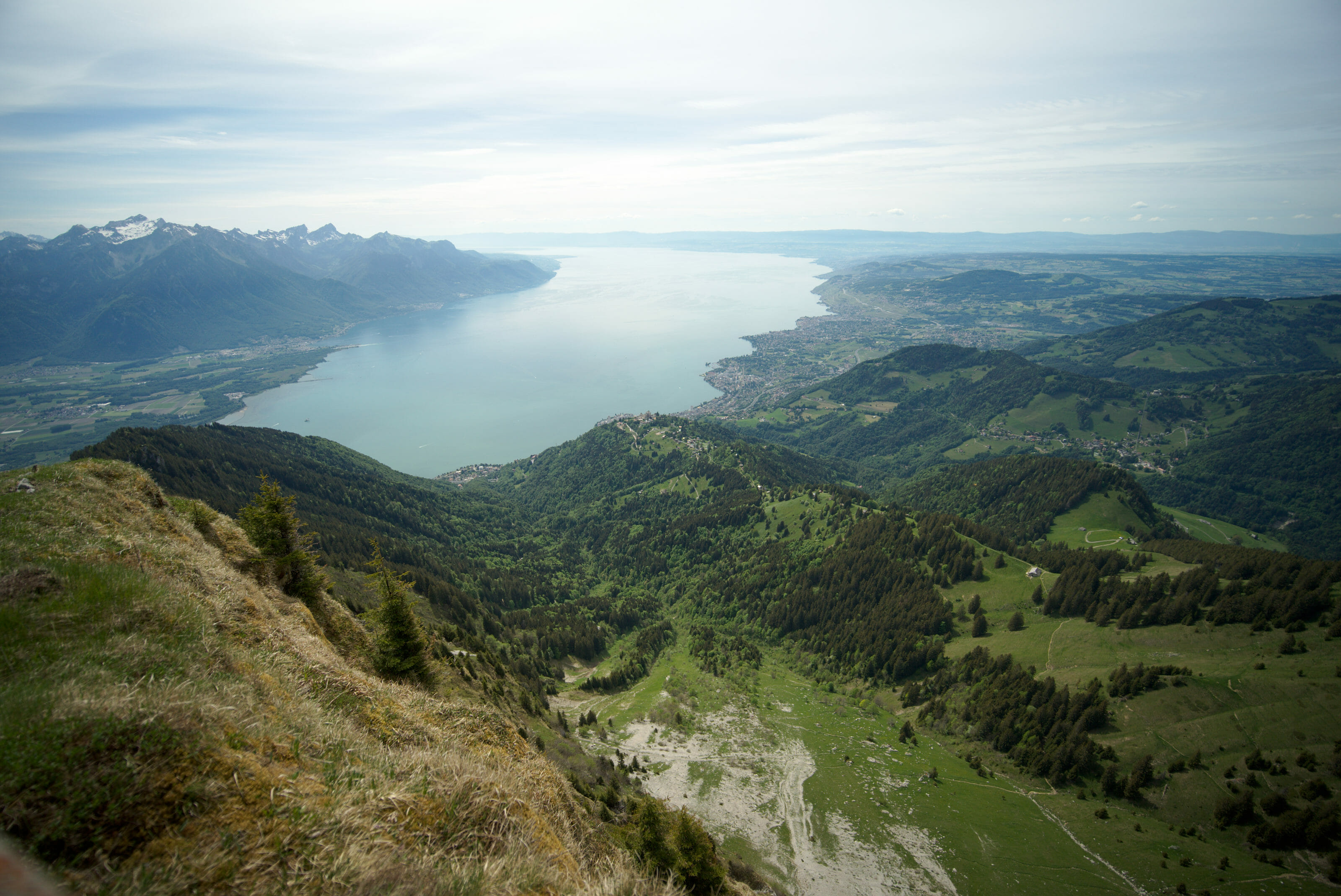 Descent of the Rocher-de-Naye to Sonchaux
After having admired the view we started the descent towards Sonchaux where we had planned a barbecue with other friends! There are several routes that descend from the Rocher-de-Naye, but the "easiest" one is most likely the one that goes to Sonchaux. The path is wide and well maintained and it is without too much difficulty that we arrive in Sonchaux in a good hour and a half.
After this beautiful descent it was time to meet up with friends and above all to enjoy a magnificent barbecue at sunset!
From Sonchaux to Veytaux and end of the hike
Woken up early by the sun, we quickly folded up the tent to make sure we had the camp cleared up before the first day hikers arrived. From the top of Sonchaux we had about 8km and 1100m of descent left to Veytaux where we had left a car. We will admit it, this descent was not the most exciting part of the hike. The legs are painful, and the long track that winds through the forest does not offer any incredible viewpoints except 2-3 clearings in the trees that allow us to see Montreux and Lake Geneva… But hey, you have to get back to the car if you want to go take a well deserved (and awaited) shower 😉
We walked with a good pace and arrived in Veytaux before the end of the morning. By noon we were back home, showered and, let's face it, washed out, but also very happy with the great weekend we had just spent.
Itinerary of the hike in Malatraix and practical information
Useful info

Hike start: Roche, VD
Finish: Veytaux
Transports: Possibility of arriving and leaving by public transport. See timetables on cff.ch
Distance: 30,2km
Elevation change: 2260m (positive and negative)
Difficulty: Average-Hard. It's quite steep in some parts and the ridge path can be quite impressive.
Alternative: If you don't want to do the whole walk but just want to see the view from the crests it is possible to drive up to the Col de Chaude and do a round trip.
Map of the hike:

Important for this hike: Bring enough water! It is possible to fill the water bottles once at the level of a small river after the first big ascent (about at km 7,5 if our memory is good). From this point there is no more spring, river or tap until the Rocher-de-Naye. During our hike the restaurant at Rocher-de-Naye was still closed (because of Covid19), and there is no tap outside. So we had to make sure we had enough water until Sonchaux. For info: we had planned 3L per person from the small river on.
Note: There is actually 2 times water on the course. The first time at the level of a gorge in the middle of a steep ascent. It is possible to go down to take water with the help of a rope but let's say it is not the most accessible place. The second water point (mentioned above) is also at a bridge further down the route. There, the descent to the river is MUCH easier 😉
Well, this time I think we've told you everything about this great weekend in French-speaking Switzerland! We hope you enjoyed the ride and we hope to see you soon for our articles on the Jura ridge path on which we are currently hiking! There will for sure be some nice pictures coming up. 😉
Pin this article