We have just returned from 6 days in the Portes du Soleil region, in our beloved little region of Valais! It is still with the muscles slightly sore and let's admit it a little fatigue that we give you our impressions after our little getaway in the Swiss Alps.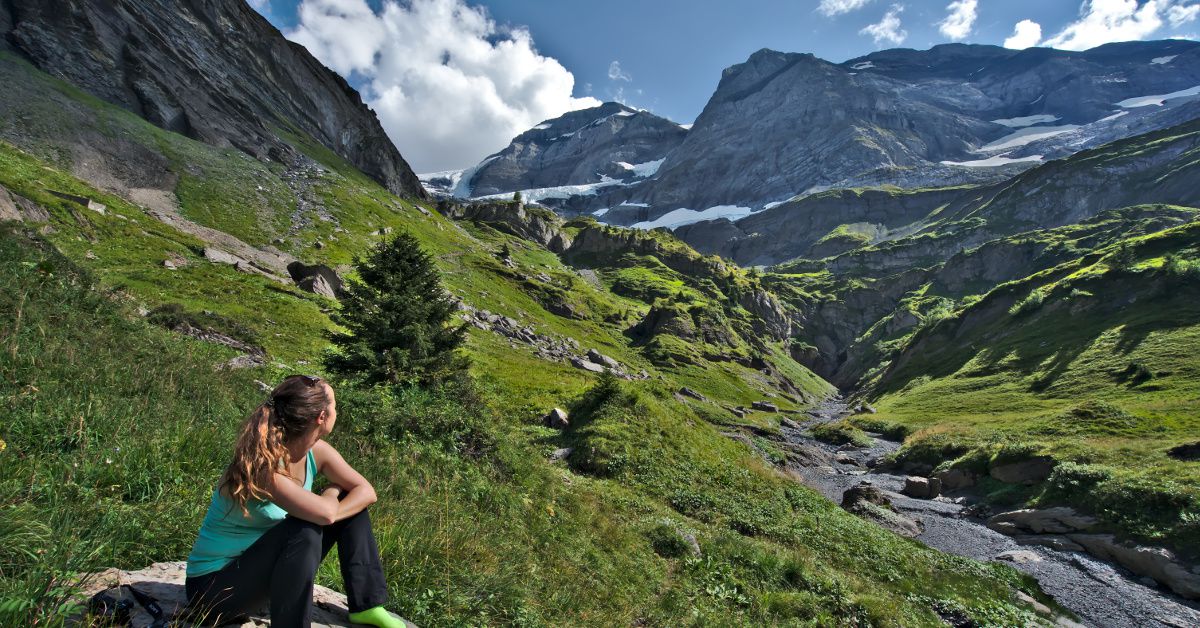 For us, the Portes du Soleil is above all a region of the heart… Benoit grew up at the foot of these mountains and I have spent every weekend there since I was very young. In fact, it was even in the Portes du Soleil, in an after-ski bar, that we exchanged our first kiss!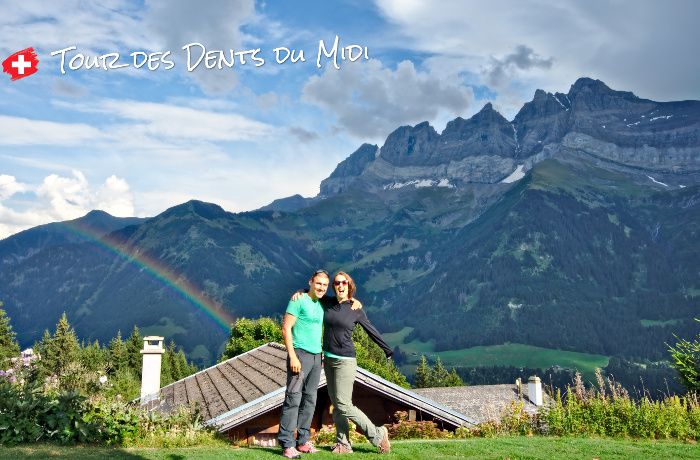 But we're not here today to talk to you about our first kisses, there's been a prescription on that for a long time already.
No, today we are talking about the Dents du Midi tour, an incredible hike that can be done in 2, 3, 4 or even 5 days. (I voluntarily omit the possibility of making the trip in one day for the trail runners. To me it seems impossible to do more than 42km and 6000m of altitude difference in 1 day. But hey, there are apparently many people capable of such a thing).
Video – Hiking in Switzerland: Le Tour des Dents du Midi
To see what it looks like in video, just click below and for all the detailed information, that's all in the rest of the article 🙂
Note: We are sorry, but the video is actually in frend (the interview parts). But you can still get an idea of the amazing landscapes by watching it!
Les dents du Midi, where it is?
Les Dents du Midi is a 3km long mountain range located in the Chablais valaisan region. Formerly called "the Tsallens Teeth", it was only at the end of the 19th century that they took their current name.
Easily recognizable by their shape, the Dents du Midi are a bit like the emblem of the Lower Valais. For my part, I grew up having them in front of me all my youth, but I won't hide from you that it had never occurred to me to go around them (and even less to try to climb one of the peaks…).
A small overview :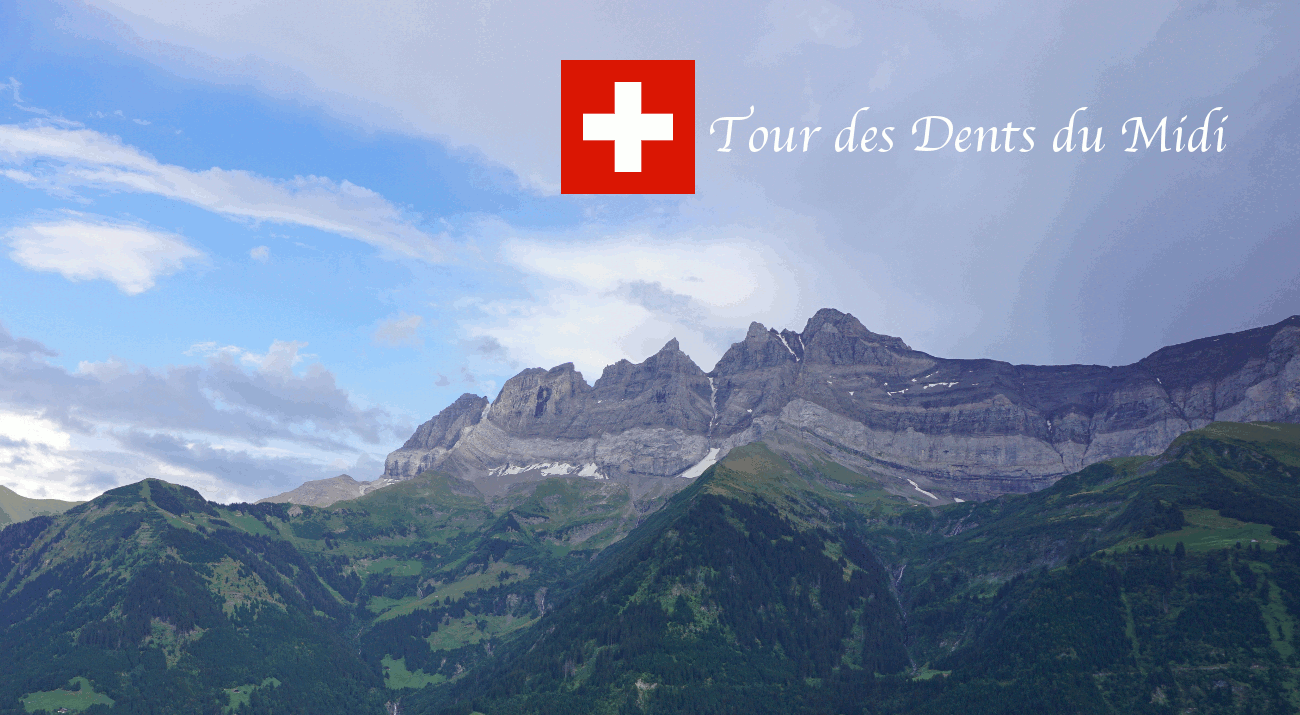 This photo was taken from the Auberge de Coux overlooking the village of Champéry.
History of the tour des dents du midi
The Dents du Midi tour was first tested in 1961, created in 1962 by a certain Fernand Jordan. We had the pleasure of meeting the son of the founder of this tour during our hike, but we will come back to it in a future article…
Initially, the Tour des Dents du Midi was not a hiking tour but a 32.5 km mountain race that was held every year. It is worth explaining right away that the course has changed a lot since then, the route has become longer but above all more accessible. In 1972 it was the inauguration of the current hiking trail.
Tour des Dents du Midi: Itinerary
In all, the Tour des Dents du Midi represents 42.5 km and a total of 6000m of altitude difference (positive and negative), which corresponds roughly to 80km effort distance (not counting the ascent of the Haute cime or the approach walk from Champéry).
By tracing the complete route (with the Haute Cime and the approach walk) we reach 64.7km and 9500m of cumulative altitude difference (positive and negative since it's a loop).
Tour des dents du midi Map
Day 1: Barmes to Susanfe
For this first day we accepted the kind offer of Catherine from the "petit Baroudeur" who proposed to drop us off at the Barmaz plateau (which is also called Barmes). Benoit knew the area from having already climbed in the area but for me it was a discovery.
In a short 20 minutes drive from Champéry on a winding road we arrive on a small plateau that seems almost frozen in time. Two canteens and a few wooden houses, and nothing more! Oh well… of course there is also:
A spectacular panorama of the Dents Blanches and Dents du Midi!
In short, it was after a good coffee on the terrace to Olivier who runs Barmaz's canteen that we set off. The hike begins gently along the slopes of the mountains until you reach the charming little refuge of Bonavau. Not yet tired, we decided to continue our journey, even if we have to admit that the pretty terrace was pretty tempting…;)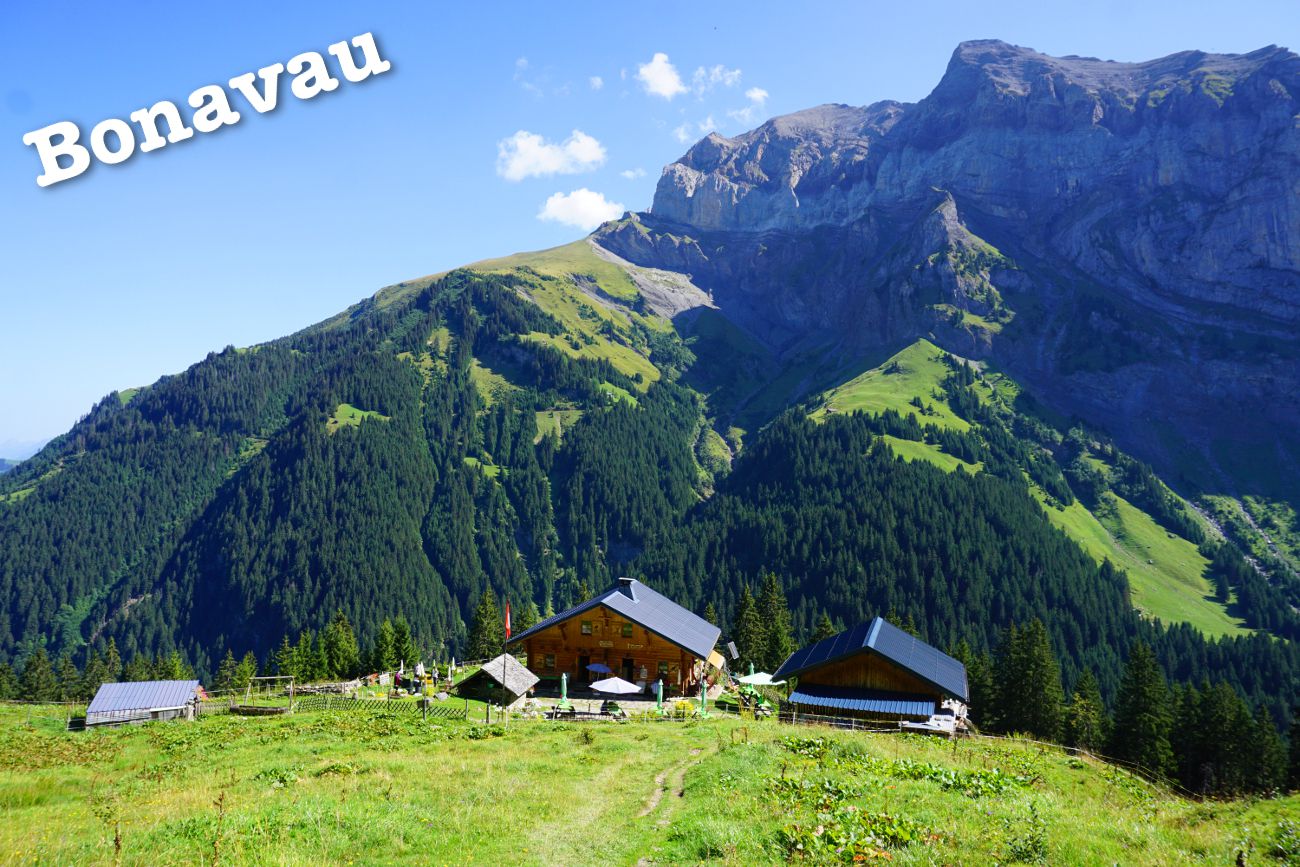 Passage of the Pas d'Encel
Shortly after we arrive at the famous Pas d'Encel… I say famous because I had heard lots of stories on this passage, which from what I had heard, was really steep and dangerous. So to tell you the truth, I didn't think it was that bad!
Certainly it's steep, certainly with my fear of height I did not particularly linger to admire the panorama, but frankly it's still pretty easy, even for someone prone to vertigo like me!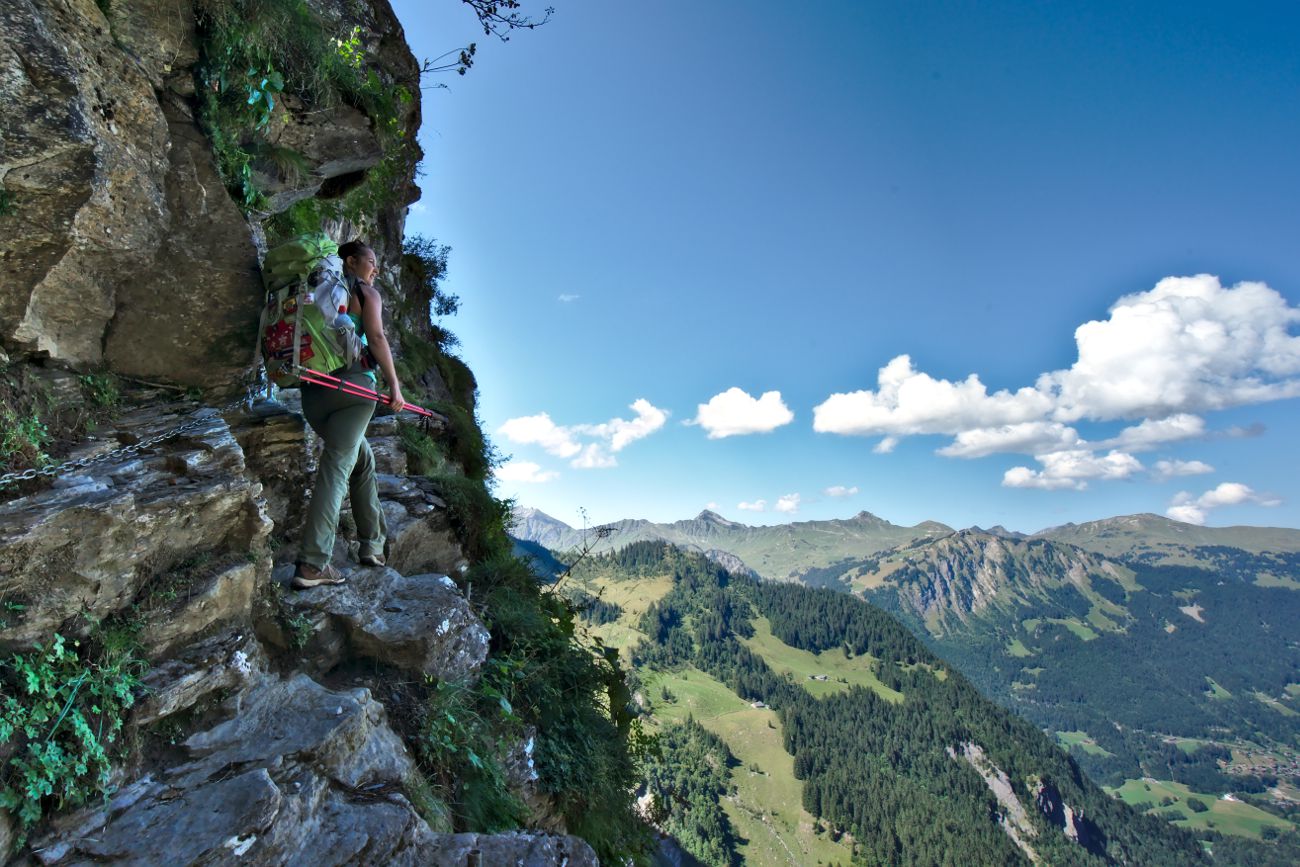 Well then maybe I tell you that, because, as soon as we got to the top. we came across a herd of little goats, each one more adorable than the next! I might as well explain right away that all my attention was focused on them! 🙂
In fact, one of these young ladies must have particularly liked my sweaty skin, because I got licked from head to toe. Yummy! Hahahaha
To Susanfe's hut
Once the Pas d'Encel is past, the ascent continues quietly through magnificent pastures. The last 300 meters of altitude get by super quickly because the landscapes are just amazing.
Once at Susanfe's hut, we started by having a little drink on the terrace.
Personally, I think that's how all hikes should end!
While Benoit left to explore the glacier area a little more, I had settled comfortably on a sun bed and I was getting to know other hikers who had come to spend the evening here.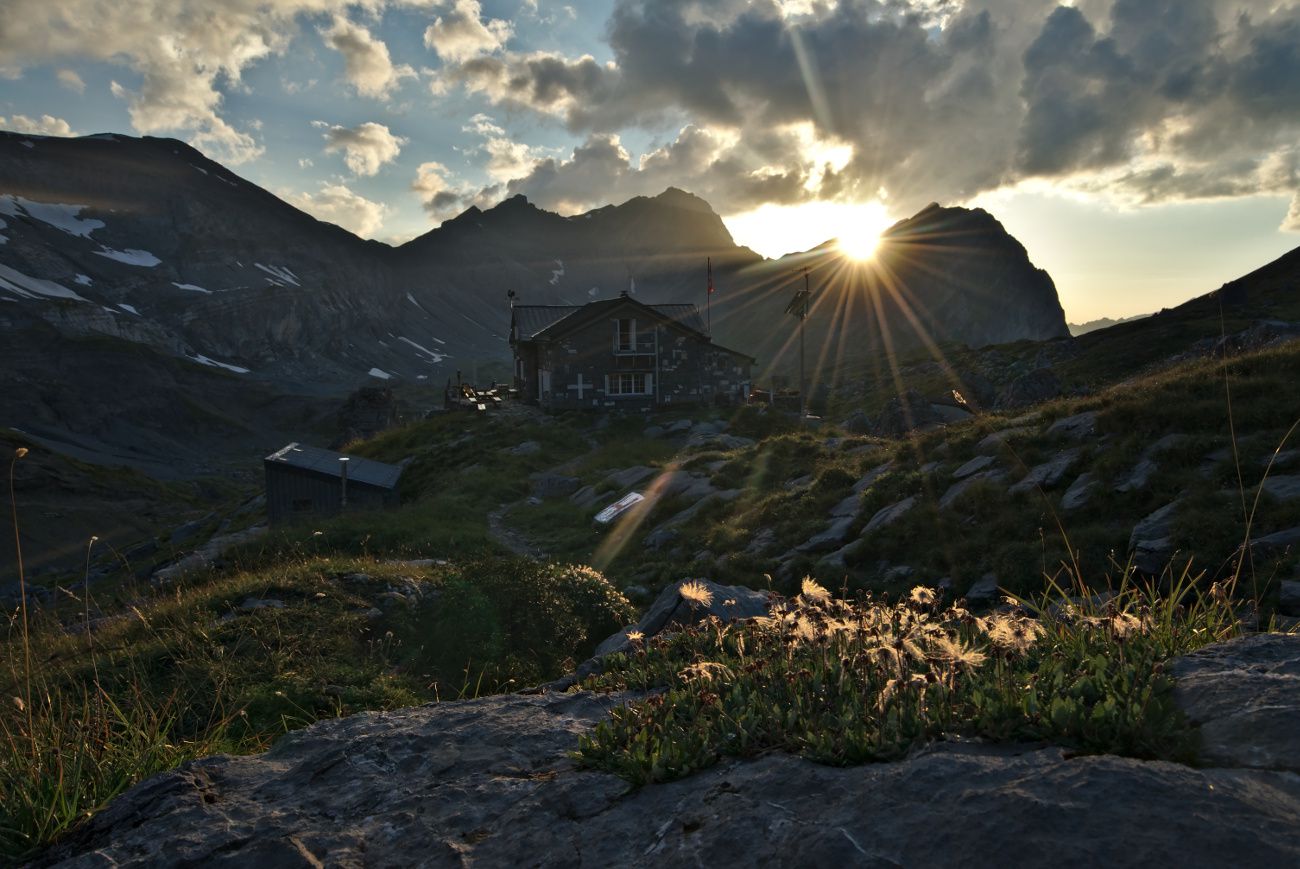 Susanfe's beautiful hut
Susanfe's hut is really one of those hut where you feel good… Located at the crossroads of the tour des dents blanches, the tour dents du midi and the tour dhu ruan, the hut is a meeting point for hikers. The atmosphere, the decoration and super warm welcome make this place a small oasis in the Swiss Alps.
Fabienne (not me) is the guard of this amazing hut. She's such an amazing person (I promise I am not only saying this because we share the same name). Moreover, the 2017 season will mark its 10th year spent up there! We strongly encourage you to come by and say hello, promise you won't be disappointed! 🙂
Day 2: From Susanfe to Salanfe via the Haute Cîme
The next morning we started the ascent of Susanfe Pass early in the morning. One, in order to be able to enjoy a little bit of walking in the shade, but also because we knew that a big piece would wait for us once we got to the pass: the Haute Cime!
Benoit had already climbed the Haute Cime twice and he kept telling me about the incredible panorama we had from the summit. In other words, taking a surge of motivation I had told myself that these 755m of altitude difference from the Susanfe pass should not be unbearable and that I, too, would climb on the highest peak of the Dents du Midi (3257m).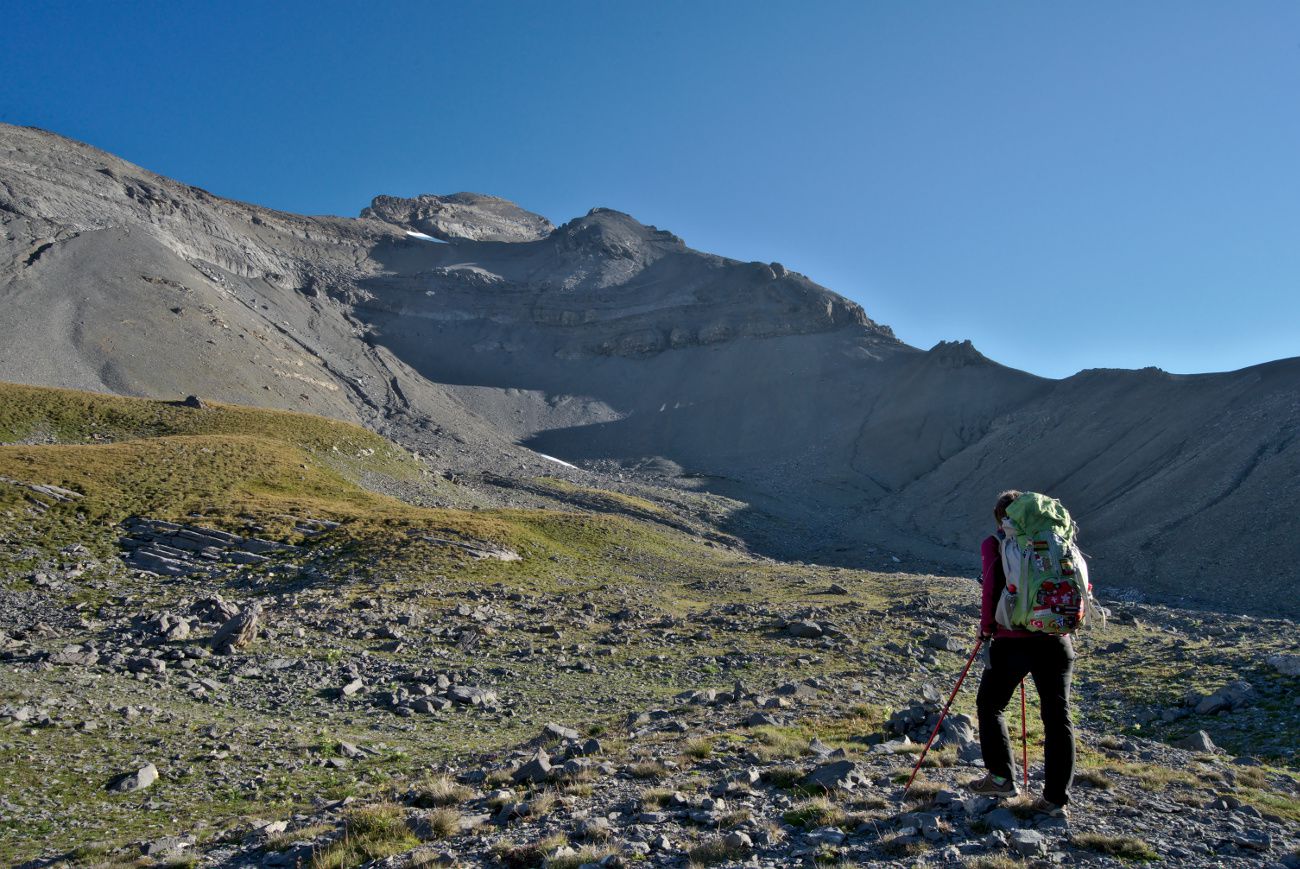 It is therefore in great shape that we arrive at about 9 a.m. at Susanfe Pass. There, I carefully fix my backpack on a pole (well yes, it's better get as light as possible to go up there).
The Susanfe Pass
The atmosphere at Susanfe Pass is incredible, it's like being on the moon! Have a look: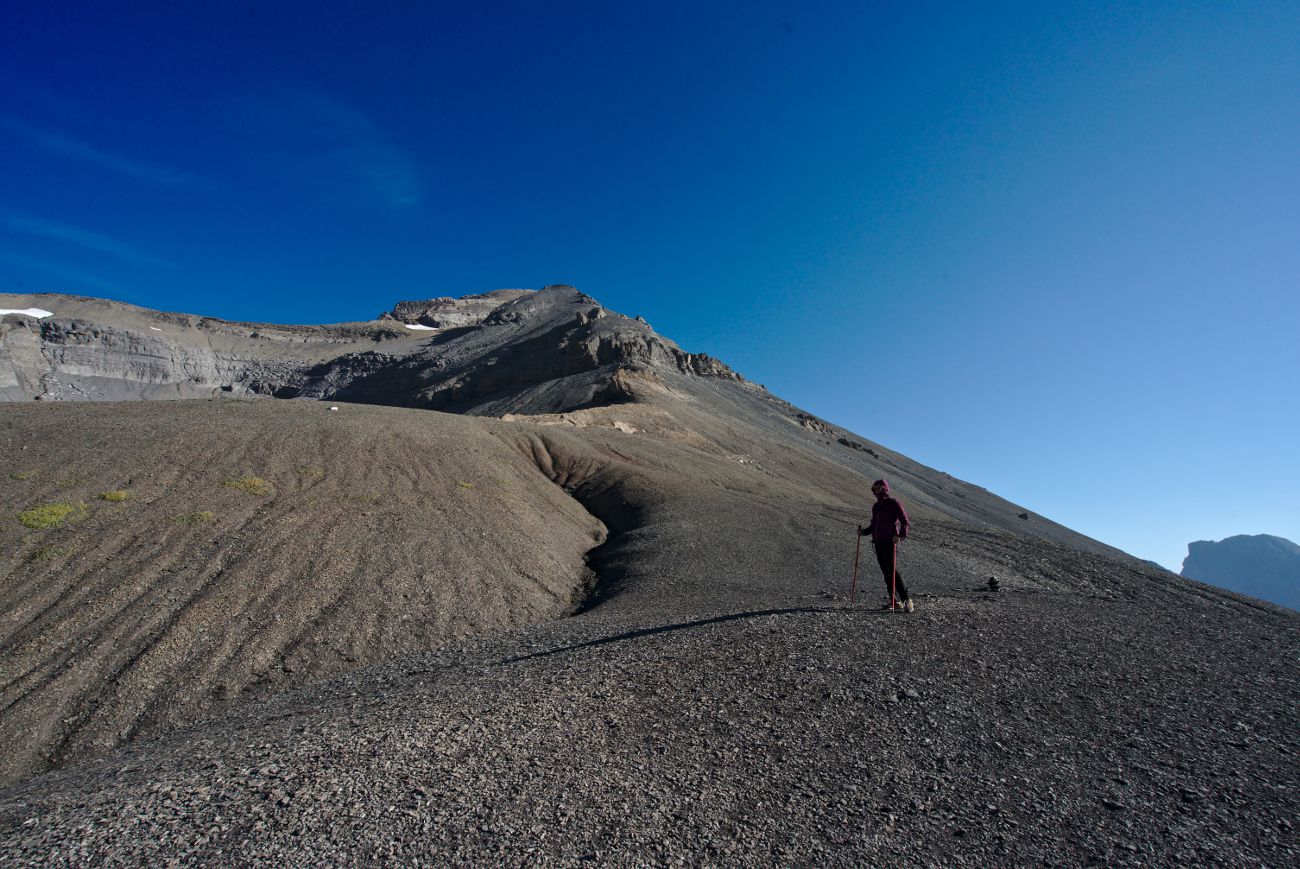 The beginning of the climb is going rather well. It's climbing steep, but we have a good pace. The beginning of the path is quite clear and it is relatively easy to find your way around, but that's at the beginning.
Climbing to the top: beware of vertigo
After a few hundred meters the footprints of the different hikers begin to fade and we wonder more and more where to climb. The slope becomes steeper, the path narrower and suddenly we were in a passage where we stood at the wall with the void under us. We quickly realized that we had made a mistake and that instead of taking the "path" we had taken a few meters of a path used by climbers who were attacking the walls. In short, we had to turn around and return to the trail.
That's when I had the great idea to look towards the pass. When I saw the slope I began to seriously wonder how I was going to get down from there… My legs started to shake, tears started to rise. It was over for me….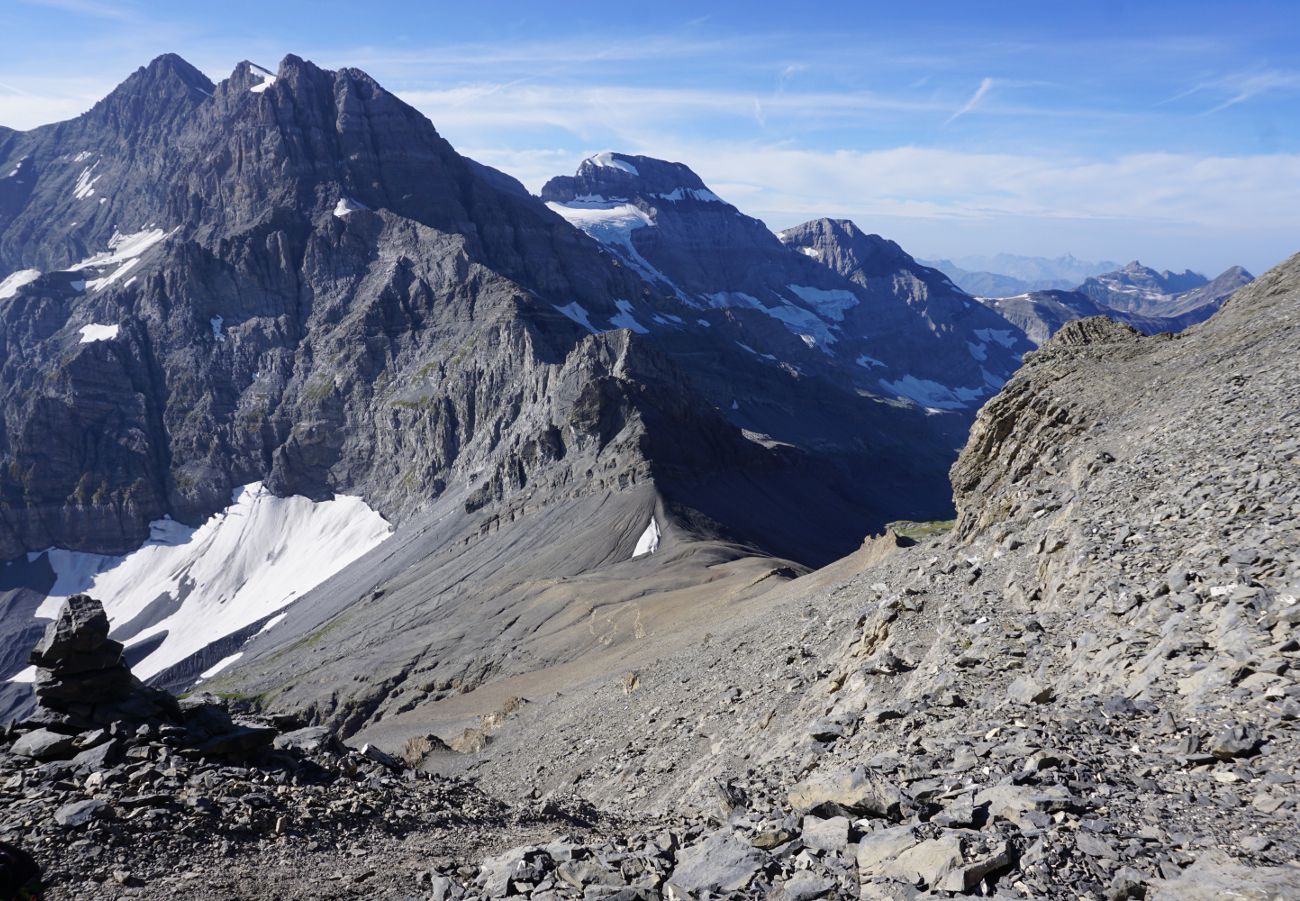 I've never really understood the relationship I have with the void… Sometimes everything goes well, and sometimes well… nothing is going well anymore! That day was one of those days. I was completely paralyzed at about a third of the way to the top.
Benoit comforted me and after a few minutes it was getting better again, but it was obvious that I wasn't going to make it to the top of Haute Cime. Benoit came back with me to the point where the path was clearly visible again.
The haute cime
While I was quietly going down to get my bag back, Benoit continued climbing alone towards the highest peak of the Dent du Midi.
He will probably tell you about his climbing next time, but in the meantime here are some pictures of the summit…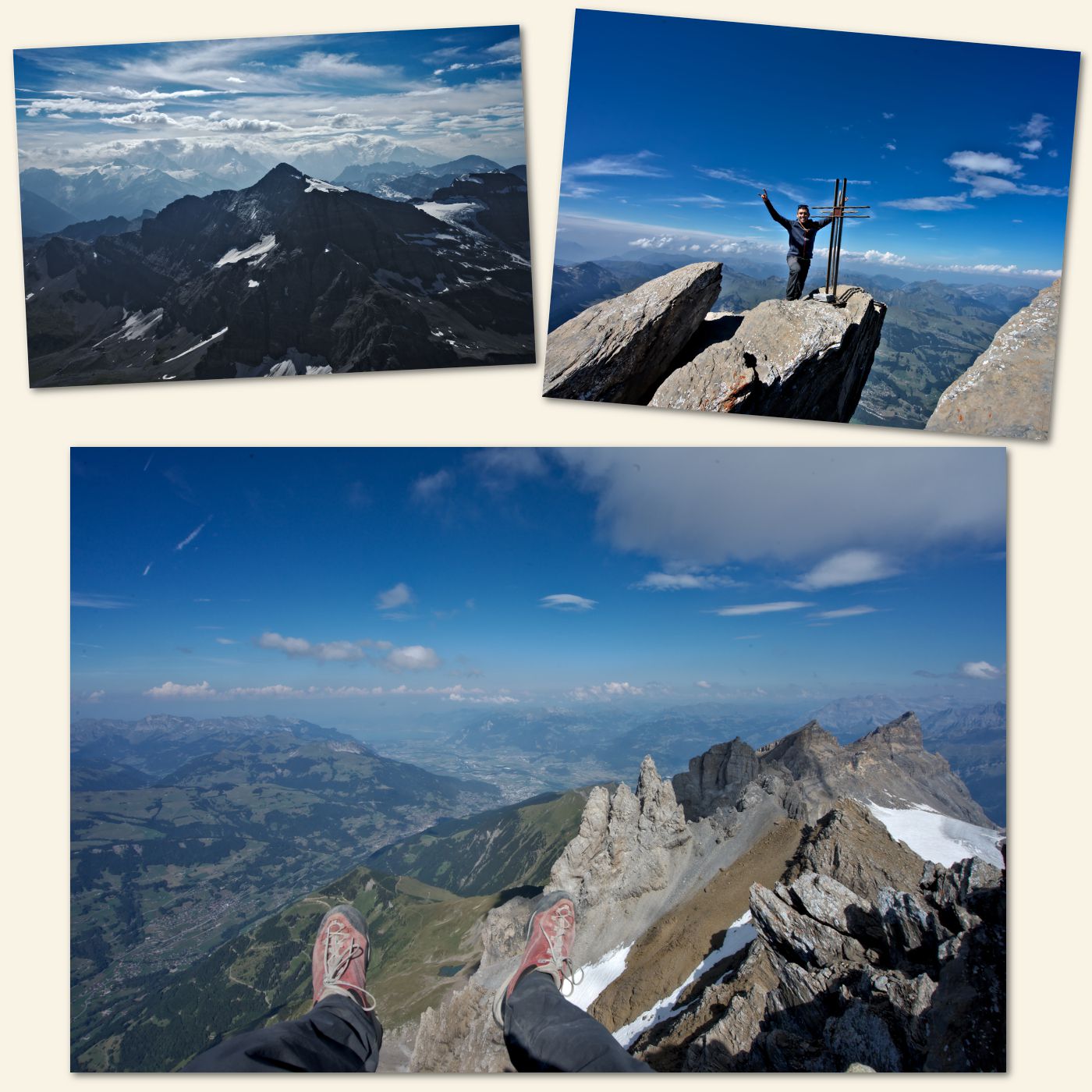 When I see these pictures, I think I still missed something. Who knows, maybe in a while, I'll feel more confident with the void and I'll try it again… But not right away…. Already when he had climbed to La Dent de Morcle (which are just next to the Haute cime), I got to the exact same conclusion…
Descent towards Salanfe Lake
Once back at the pass, I started the descent alone towards Salanfe Lake. The descent is not very difficult but it is still pretty steep; the weight of the bag is felt in the knees and my stomach was rumbling pretty loudly (needless to say that most of my picnic was on its way to the Haute Cime in Benoit's bag) 🙂
After 2 short hours I arrived at the Salanfe guesthouse. It was barely 2pm, but with the little adrenaline rush on the Haute Cime, I already felt like I had spent quite a long day….
The rest of the afternoon I spent it strolling around on the terrace, chatting with other hikers while waiting for my little husband to return.
Day 3: From Salanfe to Mex and visit of Mex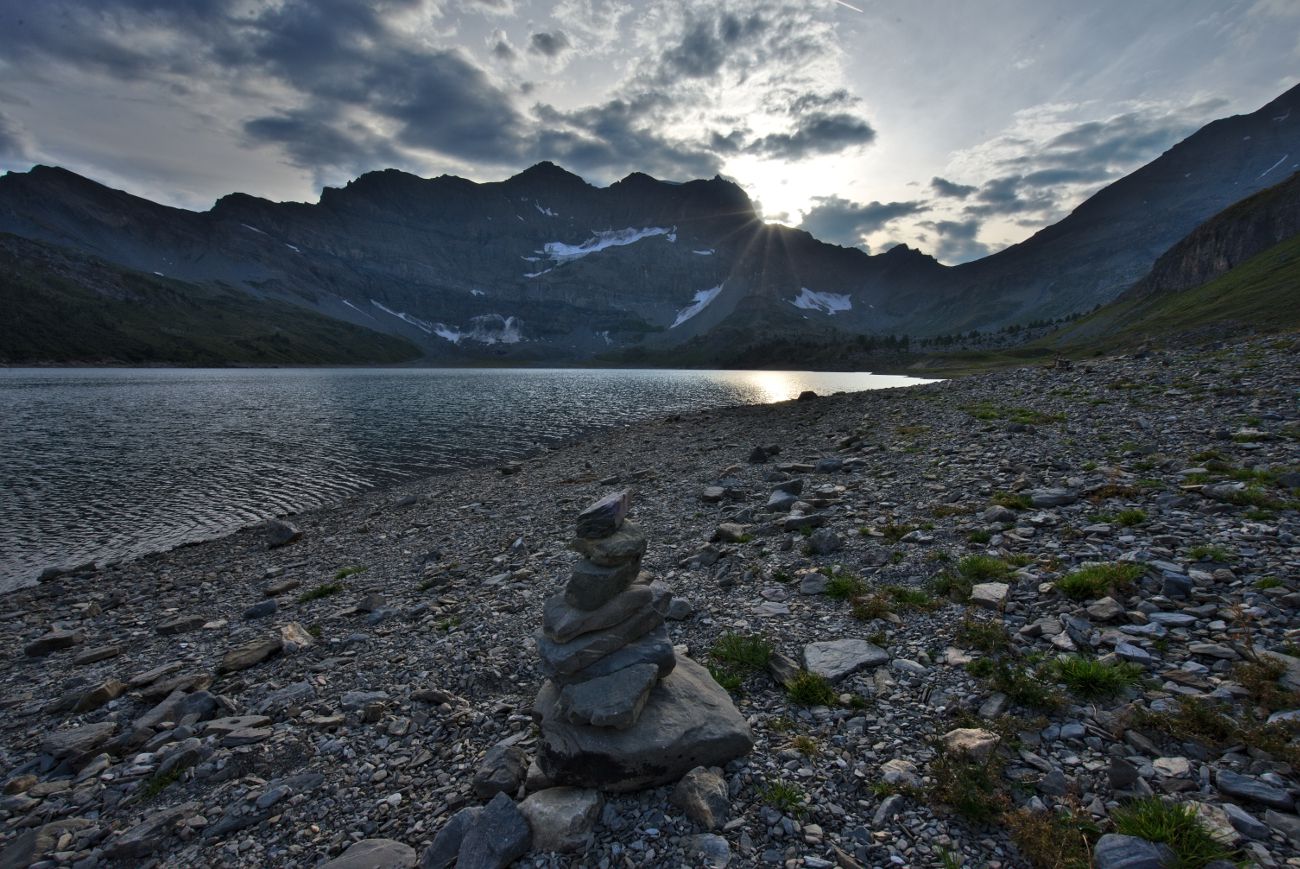 After having had 2 days of dream weather it was unfortunately under the rain that we woke up. The forecasts for the day were not really crazy, but since we knew we had a very small day's walk ahead of us, it was easy to get motivated. We took out our rain jackets and hiked to the Jorat Pass.
As we climbed, the rain stopped falling and we were even blessed with a few rays of sunshine! For once, the forecasts were wrong in the right direction, we weren't going to complain! 🙂 Especially since from the pass the view of the Salanfe lake is worth the look!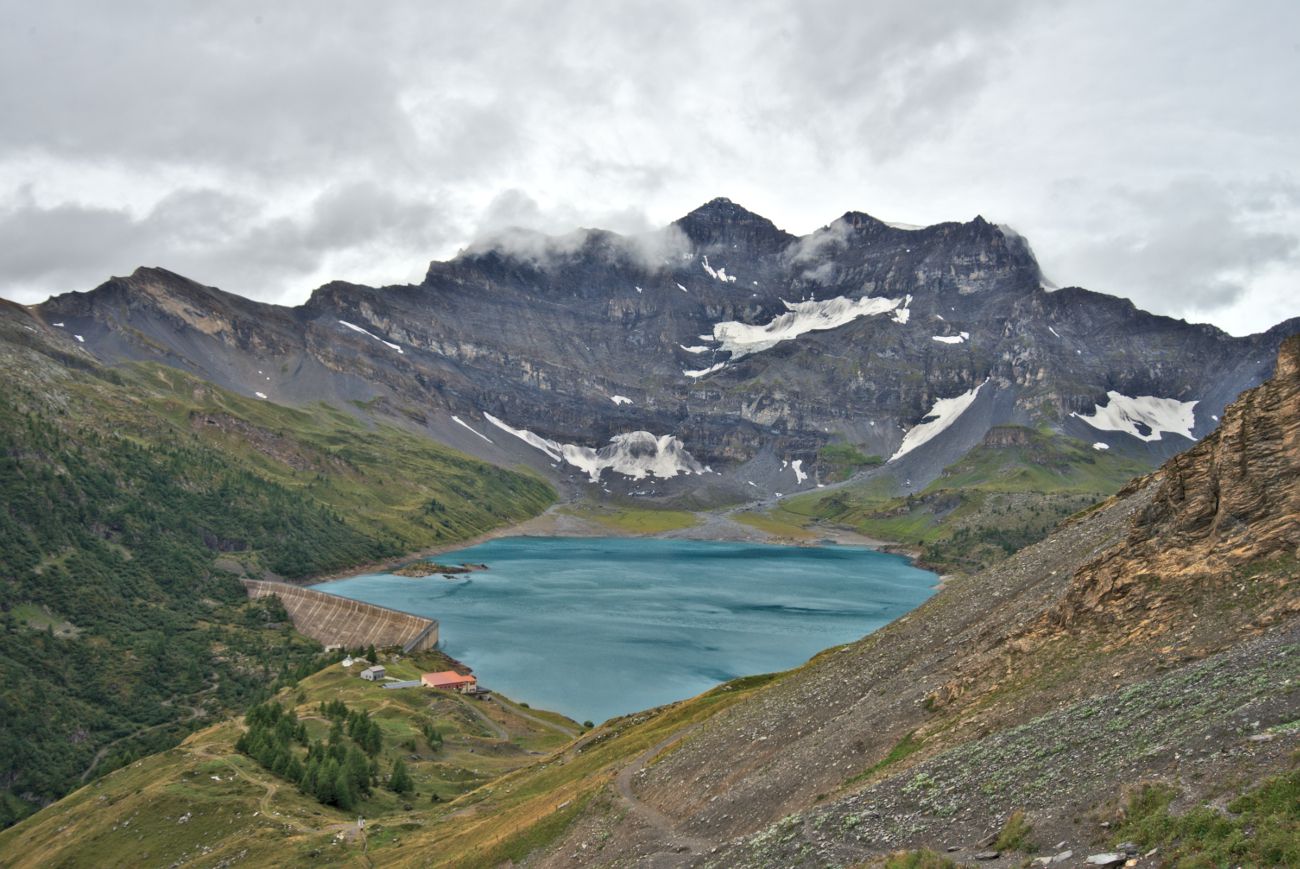 Descent from the Salanfe pass to Mex
Once at the pass, the less funny part of the day began…. 1144m of descent towards Mex! With the weight of our bags the descents are always a little rough, especially for the knees. As we moved forward, the sky became clearer.
We arrive at the Auberge de l'Armailli at 1pm where we are welcomed by Sébastien and Guillaume who are having an aperitif. Guillaume is the only farmer in this small village of 154 inhabitants, while Sébastien, a naturalist biologist born in Geneva, came to Mex out of love for the region but above all, out of a passion for animal photography.
An extraordinary encounter in the mountains
We will spend the rest of the day with Sébastien who made us discover with passion his village but also his small gallery that he has just opened. In this place that he affectionately calls "The Cave" he exposes some of his most beautiful pictures. All his photos were taken in the region and tell how this passionate person walks the trails and slopes not frequented by hikers to capture shots of these animals who discreetly cohabit with the hikers.
If you do pass by Mex, we strongly advise you to come and have a look at his gallery. There is no real opening time: if Sebastien is there it is open…. Otherwise you have to come back!
To discover some of these pictures it is over here
A little later we will be joined by Alexandre Gex, a native of the village and a mountain guide by passion. We could spend hours talking to you about this day, so much we left under the charm of this small village but also with our heads full of wonderful memories thanks to these beautiful encounters. But we'll tell you about these incredible characters in a future article!
Day 4: Mex to Anthèmes
On paper, it was our biggest day and, according to the weather forecast, it was the rainiest. A combo that pushed us to set the alarm early and leave once the sun rose! (well… the sunrise is a way of speaking…)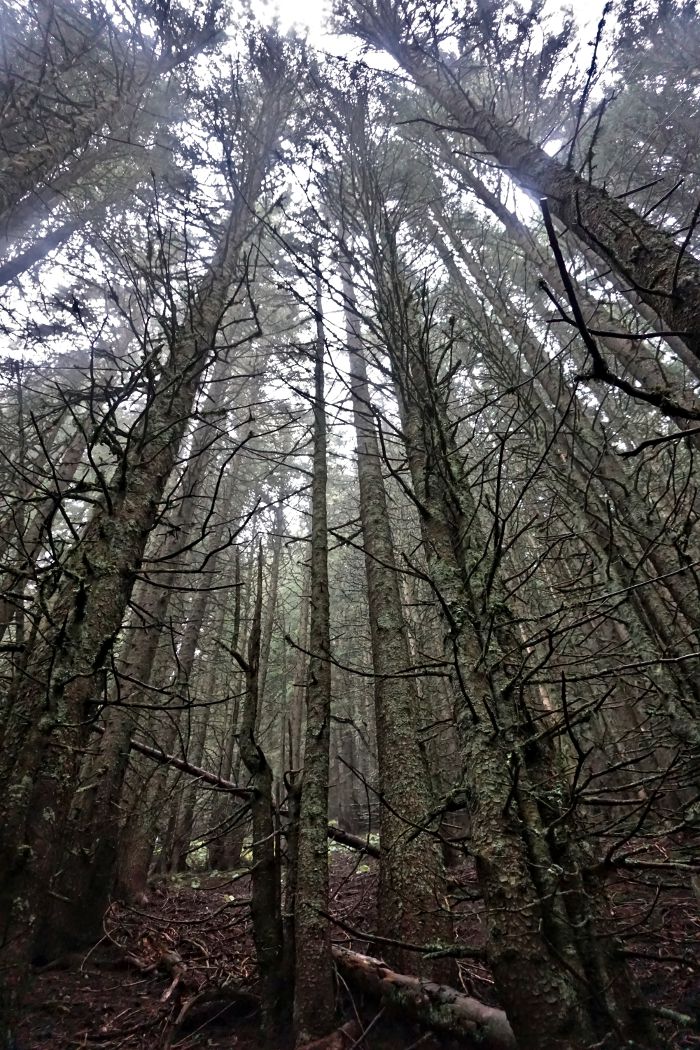 The day begins gently with a short ascent through the forest leaving the village of Mex before the trail plunges steeply into the forest.
Knowing that our final destination is 1000m higher in terms of altitude these almost 500m of descent hurt….
Well, yes, we know we're going to find ourselves putting them back together a few minutes later.
After a good hour and a half of walking we arrive at a sign that indicates that we have 2 alternatives to reach Les Jeurs, our next stop.
The classic path
The direct path
A small note mentions that it is better to take the direct path in case of heavy rains… Given the forecasts for the coming hours, it was decided to opt for the so-called "direct" route.
Direction the sports centre of Les Jeurs
Well, I quickly understood what they meant by "direct". It climbs almost without detour in the mountain pastures in the middle of the cows.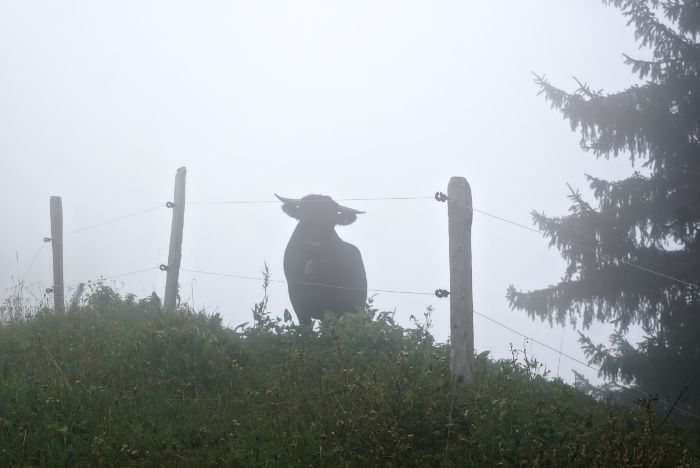 We are in a thick fog and do not see at 3 meters which gives a very special atmosphere. We hear the cowbells, we feel that they are all close but we do not see them… And suddenly: PAF, they are standing 2 meters from us looking at us with their pitiful face.
After 3h30 of walking and completely soaked we finally reach the sports centre of Les Jeurs where we are welcomed by the son of Fernand Jordan, the creator of the Dents du Midi tour.
Bernard Jordan, son of the founder of the tour des dents du midi
Bernard grew up in the area and knows all the local stories like the back of his hand. So it is around a good glass of red wine and a Valaisan planchette that he tells us a little more about the history of the tour but also about the anecdotes of the region.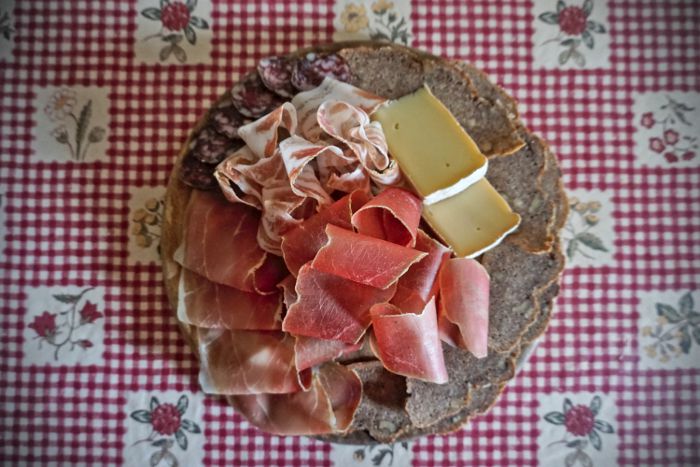 It is now possible to sleep there on the Tour des Dents du Midi route. With the Salanfe hut it is the only establishment that offers private rooms with hot showers on the tour. more information
After our small aperitif we set off again in the rain towards our next stop: the Chindonne hut.
The journey between Les Jeurs and Chindonne takes only 15 minutes, but it was more than enough to get a proper shower in the storm. We might as well explain that we were delighted to be able to settle down in a warm place and enjoy an excellent homemade rösti!
The Auberge de Chindonne is accessible by road but it is also located on the Tour route. You can spend the night in a dormitory or eat.
For our part, it was only a short break to have a good meal and let the rain pass a little.
Last effort of the day: Direction Anthème
When we start walking again, the sky is still threatening but the rain has stopped. That's good because we still have about 3h30 of walking left before reaching our final destination: Anthème's hut.

The path between Chindonne and Anthème is very pleasant because the remaining 700m of altitude difference is spread over about ten kilometers which means that we end up more or less advancing at a good pace on a mild slope (at least that's what Benoit tried to convince me of).
On the way we enjoy a magnificent panoramic view of Lake Geneva! For us the landscape will be a little cloudy but we can easily imagine what it can look like on a sunny day!
La météo n'a pas joué le jeu
While we were telling ourselves that this weather wasn't so bad after all, Mother Nature decided to give us a little suspense. That of pouring litres and litres of water on our heads and testing the waterproofness of our rain jackets.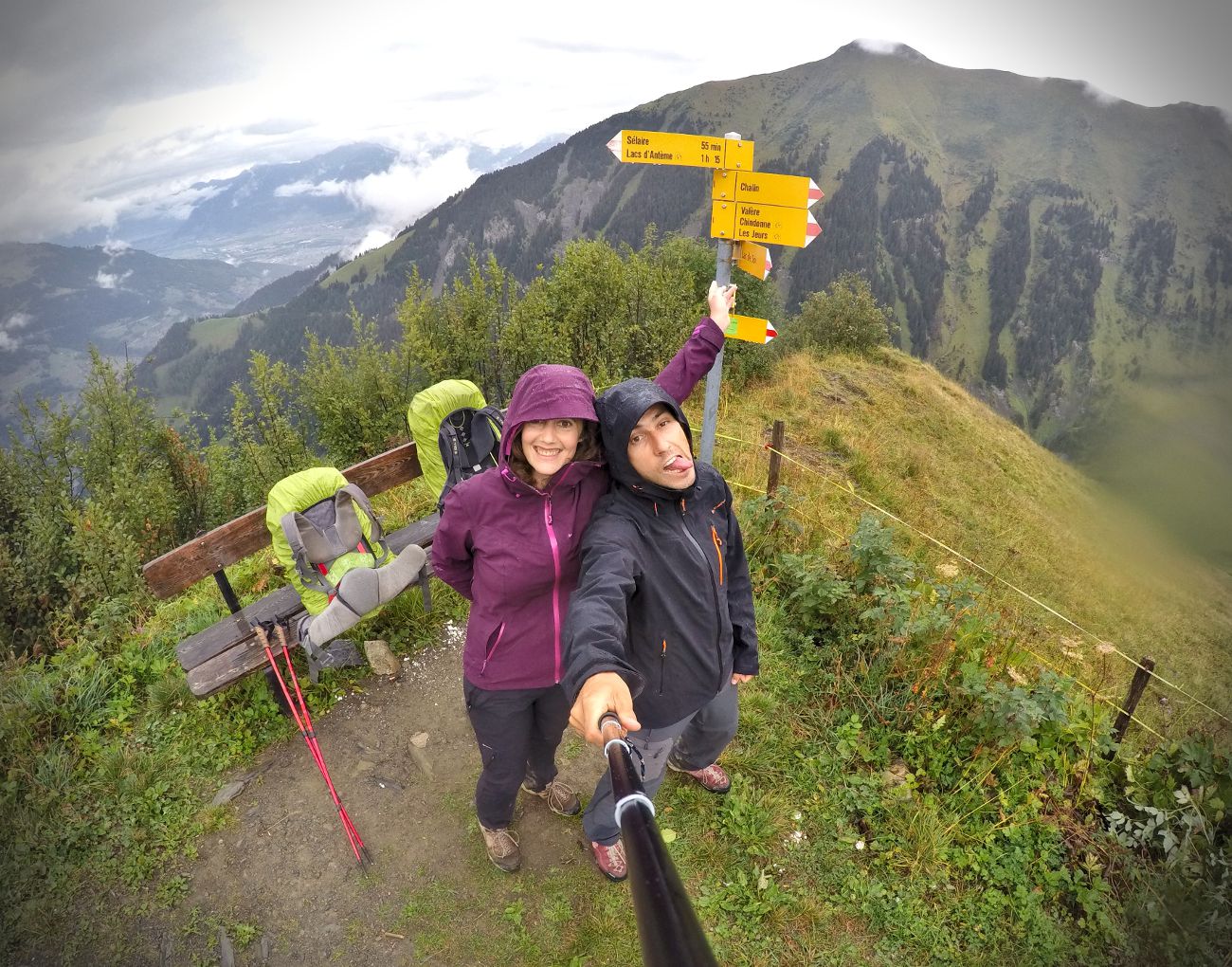 Hmmm…. Result? Even my so-called Gore-Tex shoes decided to let the water in and it was totally soaked to the bones that we arrived at Anthème's cabin around 6:30 pm.
But rest assured, the little wet misadventure was very, very quickly forgotten! At Anthème we were very well received by Pierrot who had prepared a special seasonal game menu and a superb dessert: an apricot souffle!
We might as well explain that it is not every day that we eat so well, and even less in a hut! But then, we were really spoiled!
Day 5: From Anthème to Champéry and well-deserved reward at the Val d'Illiez Baths
The awakening is difficult…. Being alone in the dormitory, we had an excellent night, very warm under our blankets. But when we open your eyes, we immediately hear the rain falling on the windows of the cabin! Ouch….
It is with a rather relative motivation that we join Pierrot in the kitchen. But let's be reassured: his homemade little buns quickly put a big smile on our faces! 🙂
While we were trying to motivate ourselves to set off for the 2h30 descent in the pouring rain towards Champéry, Benoit's phone started ringing. It was Catherine, the manager of the petit Baroudeur de Champéry. She explains that she has a group of 5 hikers in her establishment who are leaving for the tour today. Because of the weather, she proposed to move them forward a little and drop them off at the chalet d'Anthèmes located 30 minutes walk from the hut we were.
"I'll be there in 45 minutes, you want to meet me there? So I can drop you off in Champéry and you can take a good shower at the Petit Baroudeur…. »
She didn't have to make her proposal twice. We gathered our things and set off for a 30-minute descent (or rather a slide into the slush). It was with wet shoes and muddy pants that we got into her car. Phew!
Les Bains de Val d'Illiez
Once showered and with clean clothes on us, we ended this rainy day at the Val d'Illiez Baths. Located less than 10 minutes by car from Champéry, the baths is really the ultimate class to complete a 5-day trek!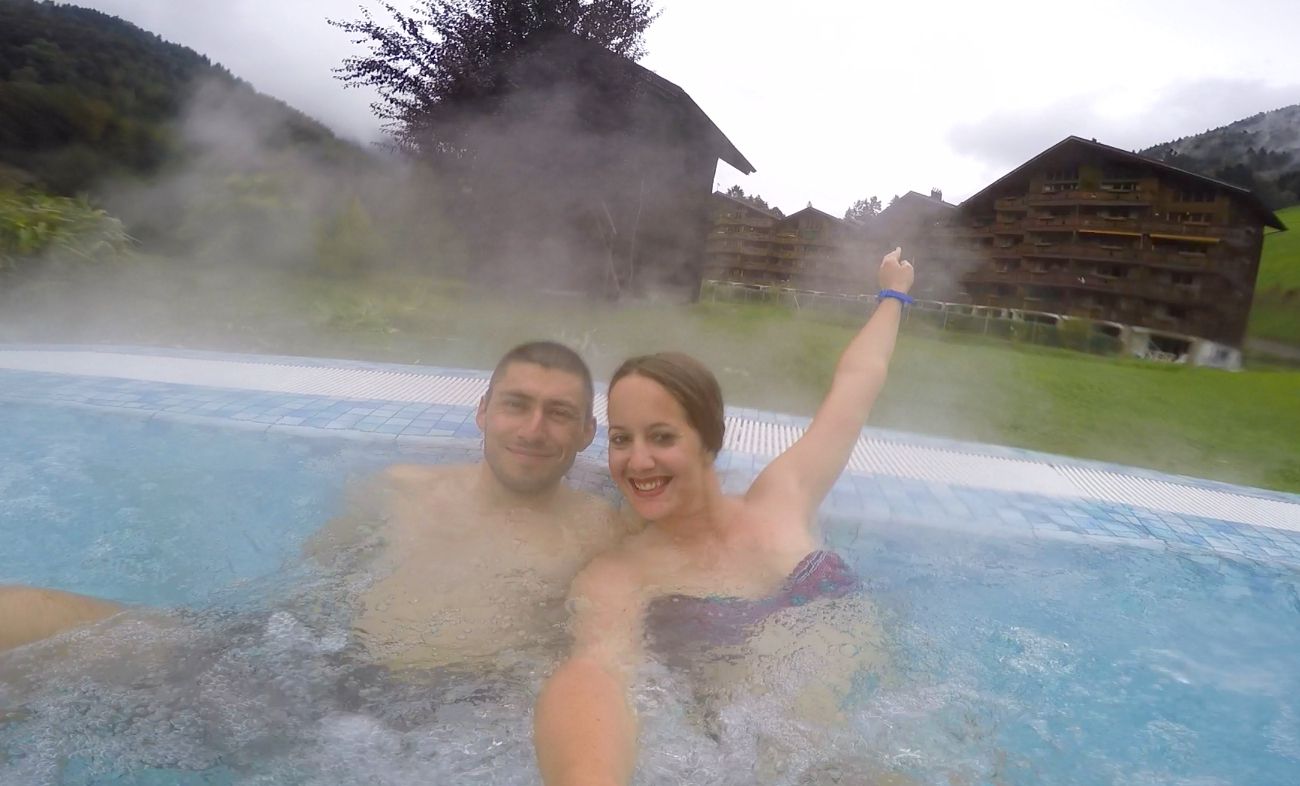 Tour des dents du Midi: How many days does it take to complete the tour?
You will have noticed, for this tour we took our time… 🙂
In all we left 5 days, even if in the end we walked 3 days. The first day we started walking around noon, in Mex we enjoyed the afternoon with Sébastien, Guillaume and Alex and the last day we will have walked only 30 minutes…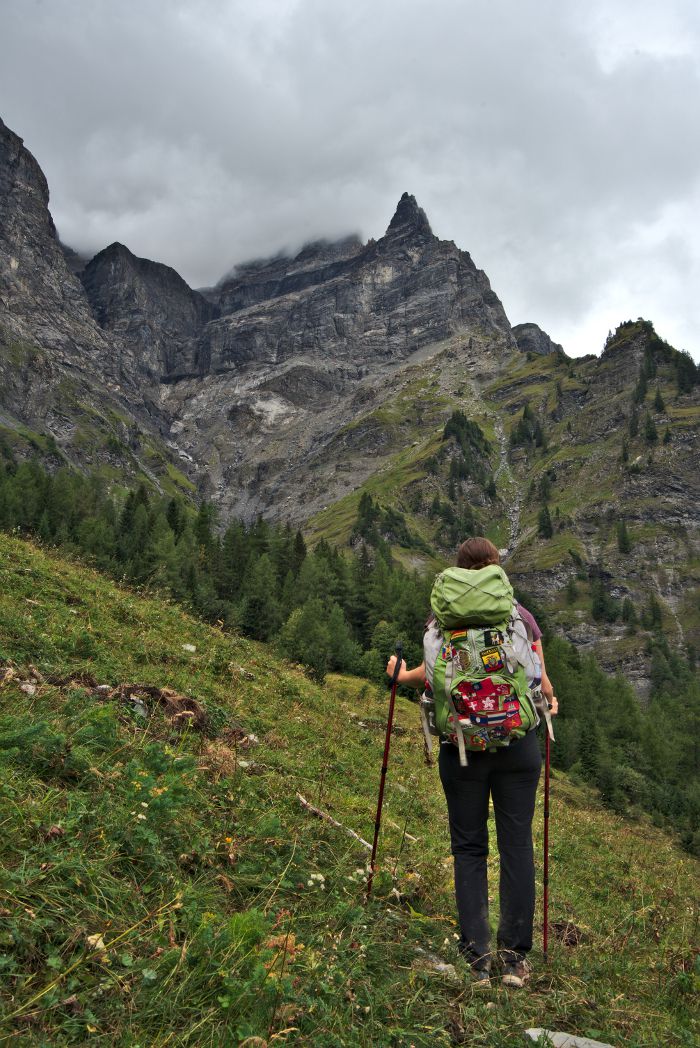 After that, we must also admit that for the moment we did not do the hike in "light" mode…. As we wanted to bring you back lots of pictures but also to make a video, we left with almost 13kg of computer equipment in addition to the hiking equipment. This equipment was obviously distributed in a completely egalitarian way (understand by this that Benoit must have had 8.5kg and I 4.5kg hihihi)
How many days should I plan?
In short, if you ask yourself how many days to select, I would say that everything depends on your physical fitness. We have a few suggestions for itineraries to help you get an idea.
Of course these are only suggestions, the tour can be done in any direction with the stages you want.
For distances and elevations you can refer to the map above in this article or find information on the tour des Dents du Midi website
2 Days :
For experienced hikers and sports enthusiasts! Personally, it seems like a big deal to me, but apparently it can be done…. If you want to climb the Haute Cime we would advise you something like:
Day 1 : Champéry-Susanfe-Col de Susanfe-Haute Cime- Col de Susanfe- Salanfe-Mex.
Day 2 : Mex-Chindonne-Anthème-Champéry.
3 Days :
The option for athletes including the Haute Cime.
Suggested route:
Day 1 : Chindonne-Anthème-Susanfe
Day 2 : Susanfe-Haute Cime-Salanfe
Day 3 : Salanfe-Mex-Chindonne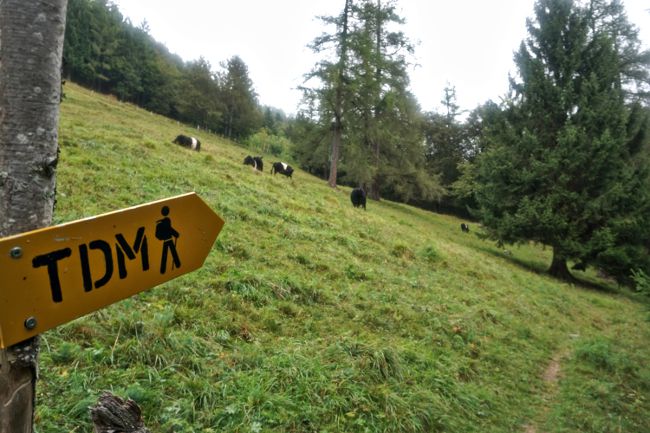 3 Days for regular hikers but not necessarily great sportsmen
it's possible too, but then I'would remove the Haute Cime. So the itinerary would be more like:
Day 1 : Chindonne-Anthème-Bonaveau
Day 2 : Bonaveau-Susanfe-Salanfe
Day 3 : Salanfe-Mex-Chindonne
4 days or 5 days:

Accessible to all! We did the tour over 5 days (see above our itinerary) and it is really possible for everyone to do it! The distances are not too long and we really have time to take advantage of breaks, arrive early at our accommodation and enjoy the atmosphere of the huts.
Proposal if you prefer to do it over 4 days:
Day 1 : Mex-Chindonne-Anthème
Day 2 : Anthème-Susanfe
Day 3 : Susanfe-Haute Cime-Salanfe
Day 4 : Salanfe-Mex and visit the village of Mex
You can find other examples of possible routes on the site of the association of the tour des dents du Midi.
Do we need a guide to tour the Dents du Midi?
We are often asked the question when we come back from our hikes if they are accessible without a guide. So for those who know us, you will have noticed that we generally prefer to manage on our own. This round was no exception to the rule!
But… This time there is a but….
So first thing: The tour of the Dents du Midi is perfectly marked out! To find your way you don't need a guide at all! Even we, who are used to getting lost (or rather to making unintentional detours), didn't manage to get lost on this tour.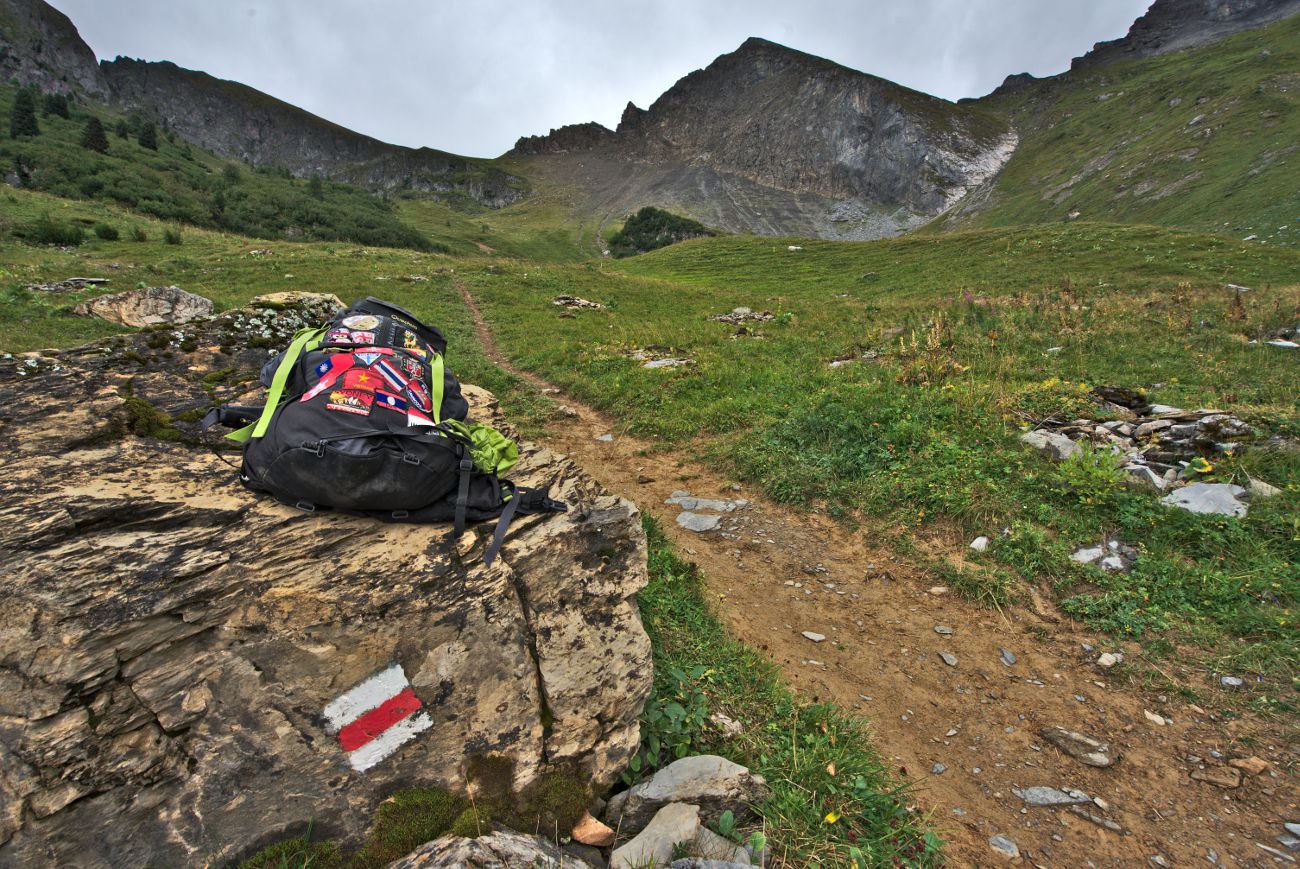 To do it without a guide is to be autonomous and obviously more economical.
Alexandre Gex, a guide to recommend
But during our tour we met Alex in Mex.
We told you about it earlier, Alex is a mountain guide but also a real passionate!
So we are the first to say that to go hiking on marked trails, you only need your backpack, your calves and a little will. But frankly, after spending an afternoon with Alex, we also understood that having a guide is not only someone who shows you the way, but also someone who knows the region, its plants and animals like the back of his hand. If you have the budget for it, then it is certain that leaving with a passionate person like Alex will make the experience even more rewarding!
If you are interested in an adventure with Alex, visit his website Montagne Emotions
We warmly thank all the people who made this tour possible and for their outstanding welcome! This hike was organized in collaboration with the association of the tour des dents du midi, the Champéry tourist office and the Morgins tourist office.