We have been Digital Nomad since the summer of 2016 (understand that we work online without a fixed address;) ). One of the challenges we have had to face since we became nomads is to find a good balance between work and social life while being constantly on the road.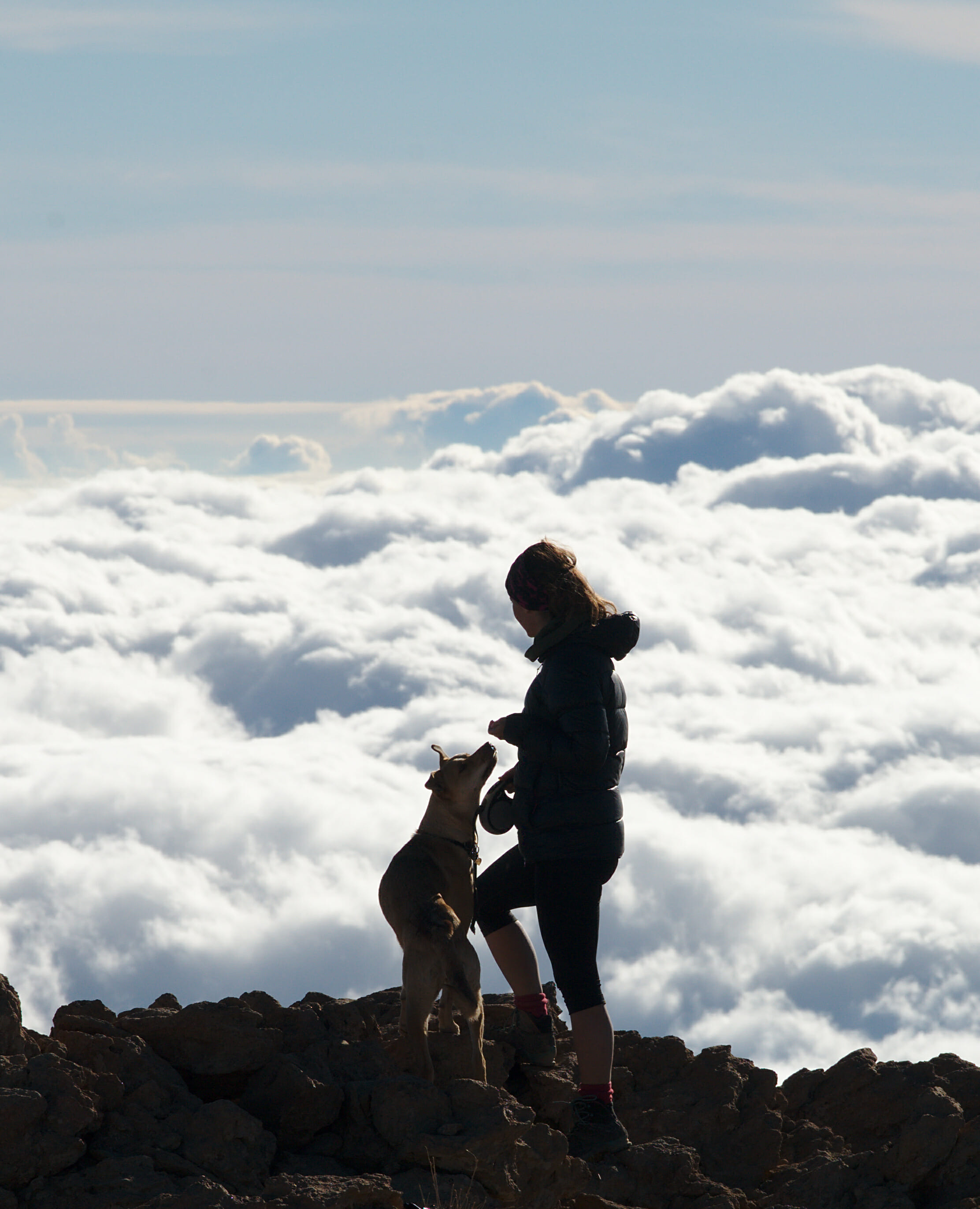 It is not necessarily easy to meet people when you are always on the move and working at the same time (you rent apartments to work better but it is not necessarily the ideal for the social side)… especially since we travel as a couple and sometimes we tend to be a little "self-sufficient".
So we've been wanting to test "Coliving" for a while now. But what is a Coliving? Well it a shared house specially designed for Digital Nomads like us.
What is a coliving? Definition
The idea behind Coliving is very simple: to offer geographically independent people an ideal environment to live, work and meet people who have a similar way of life.
This is a type of accommodation that is still a little marginal but which will undoubtedly grow considerably in the coming years. The digital generation represents more and more consumers and places less importance on home ownership than before. On the contrary, this generation simply wants to have access to certain infrastructures (and no longer necessarily to own them). Moreover, today, collaborative economy models are multiplying (coworking, carpooling, home exchange, participative financing etc…) and Coliving is simply part of this trend.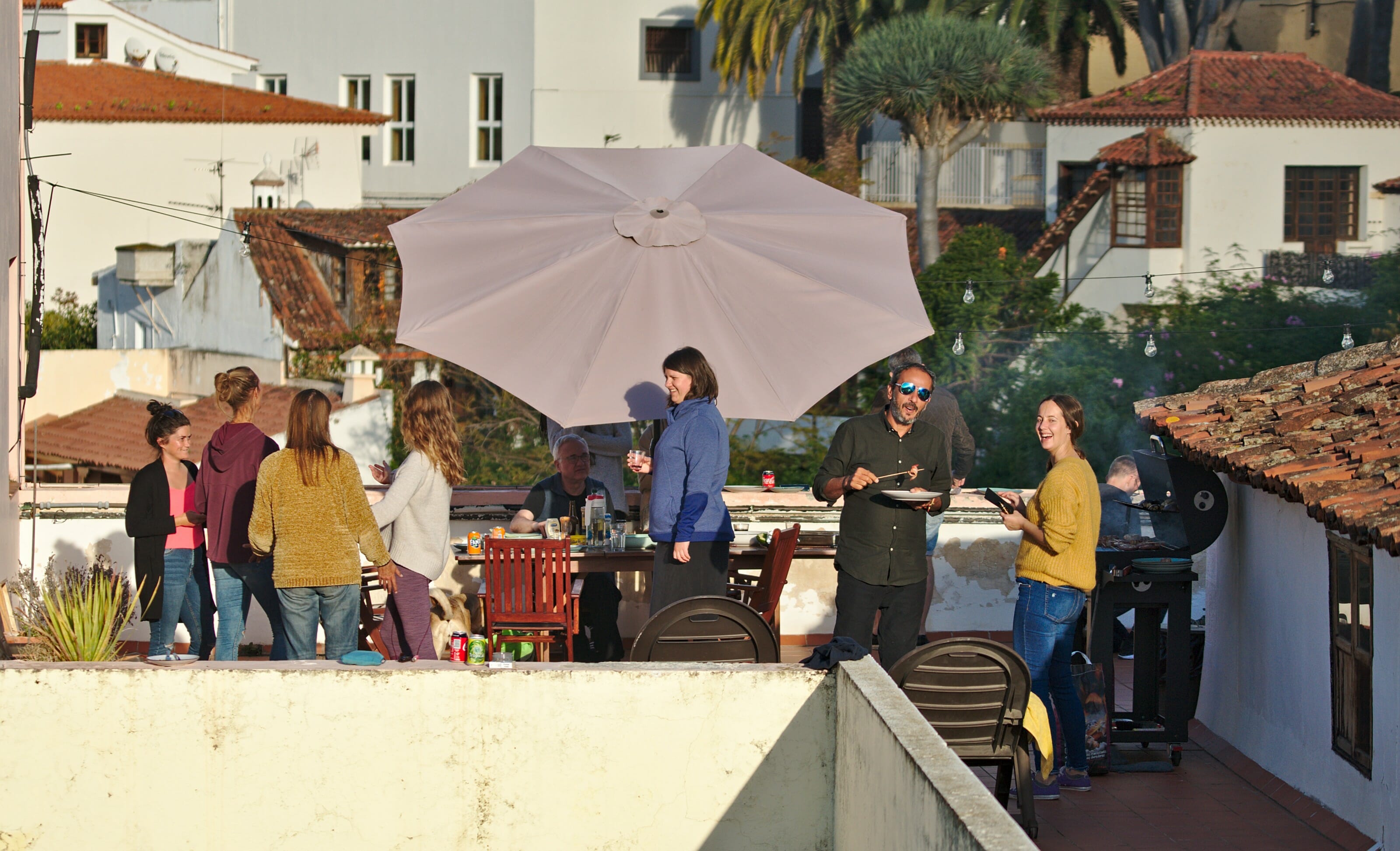 In general, colivings are large houses (or a set of apartments) with lots of common spaces (kitchen, living room, terraces, garden…), a coworking area, a super fast internet etc… Everyone still has their own private space (their own room) but everything is done to encourage meetings and synergies (meals, activities, sports).
Update 2021
Since Tenerife we stayed in several other coliving spaces accross Europe. While Nine coliving remains one of our favorites, we also discovered some other really nice spots. If you want to find out more about colivings and why we love them so much, take a look at the blog post below.
How we started working at Nine Coliving
After our 2 weeks of Spanish classes in Puerto de la Cruz, we simply started looking for an apartment to rent as we usually do when we stay longer in one place (meaning more than a month;)). During these first two weeks, we discovered the small town of La Orotava, which we enjoyed very much with its pretty historic centre and its tranquility far from the hustle and bustle of the coast.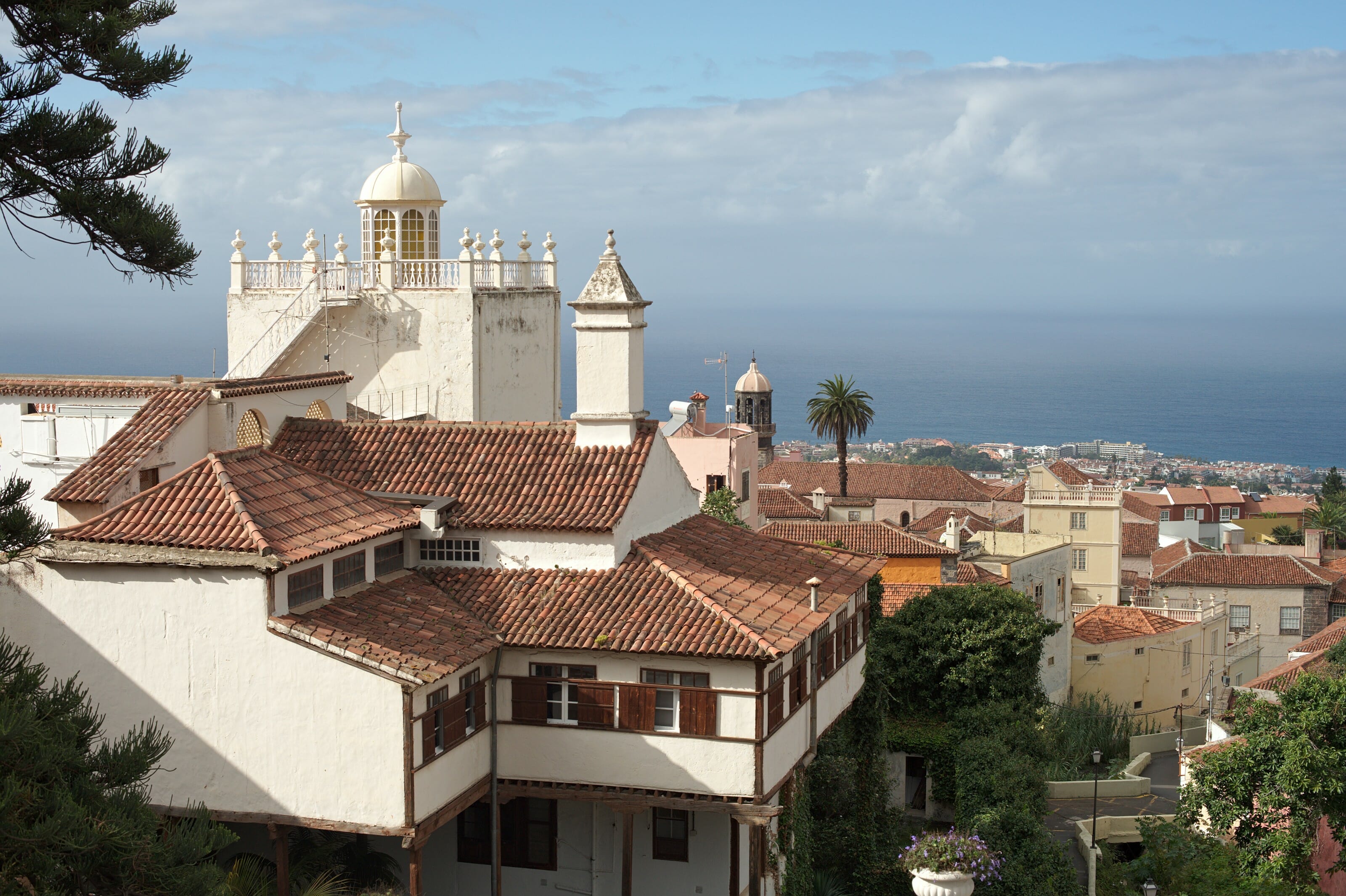 And between two e-mails for apartments and some research on the group Tenerife digital nomad(it's still very useful these facebook groups of nomads), we came across the Nine Coliving web page. When we visited the website, we realized that this Coliving has just opened and that it is actually located in a magnificent historic house from 1850 in the centre of La Orotava… Now we're thinking:
That's quite a coincidence, isn't it? We could test the Coliving for 1 month already…
And then coicidence, while looking for reviews of the Coliving, Fabienne comes across an ad from Anne the owner who is looking for someone to help:
Walk Lara (the coliving dog) once or twice a day
Help with certain tasks in the house
Do some pictures
Help with the website
A "job" tailored for us… we thus decided call Anne and ask her to have coffee. We immediately loved the place and we got along really well with both Anne and Lara. Two days later we moved into Nine Coliving for what was supposed to be initially 6 weeks 😉 .
Nine Coliving: our little oasis of happiness in Tenerife
Nine Coliving is more or less what you could define as our dream house…. Imagine an old building of 800 square meters all renovated, a superb coworking space with one of these old balconies with beautiful sea view, a huge terrace on the roof for drinks – grills – yoga classes, a flowered garden with a small pond and a hammock, a large lounge for sharing moments, an indoor patio, a super fast wifi… all of this in the heart of the historical center of La Orotava, with a view on the sea and the Teide! Like in a fairytale…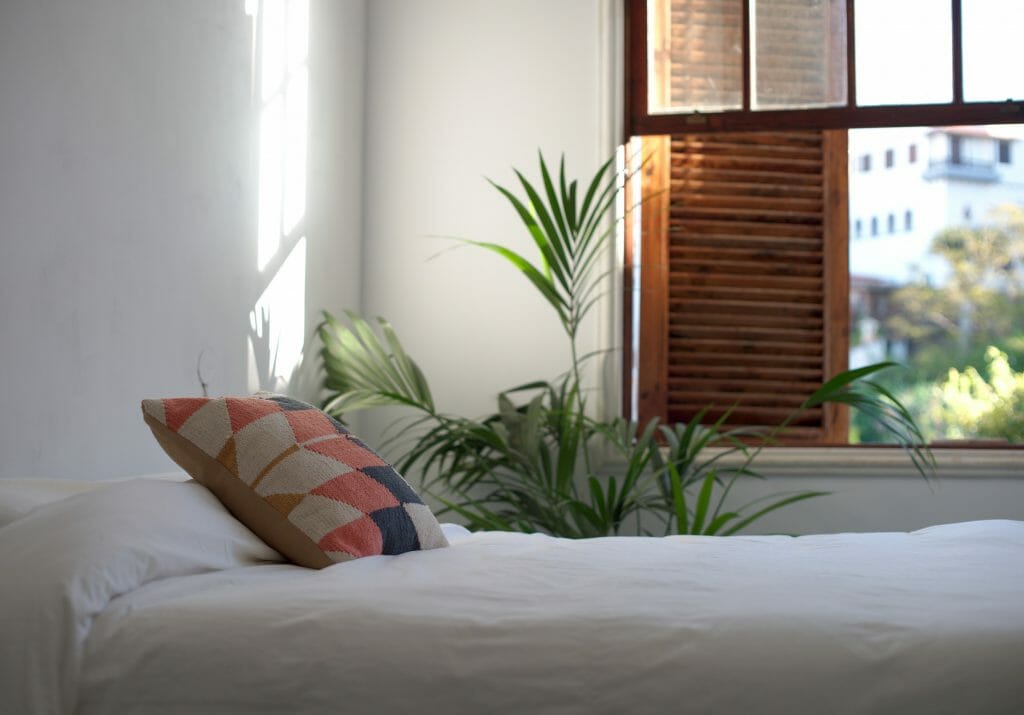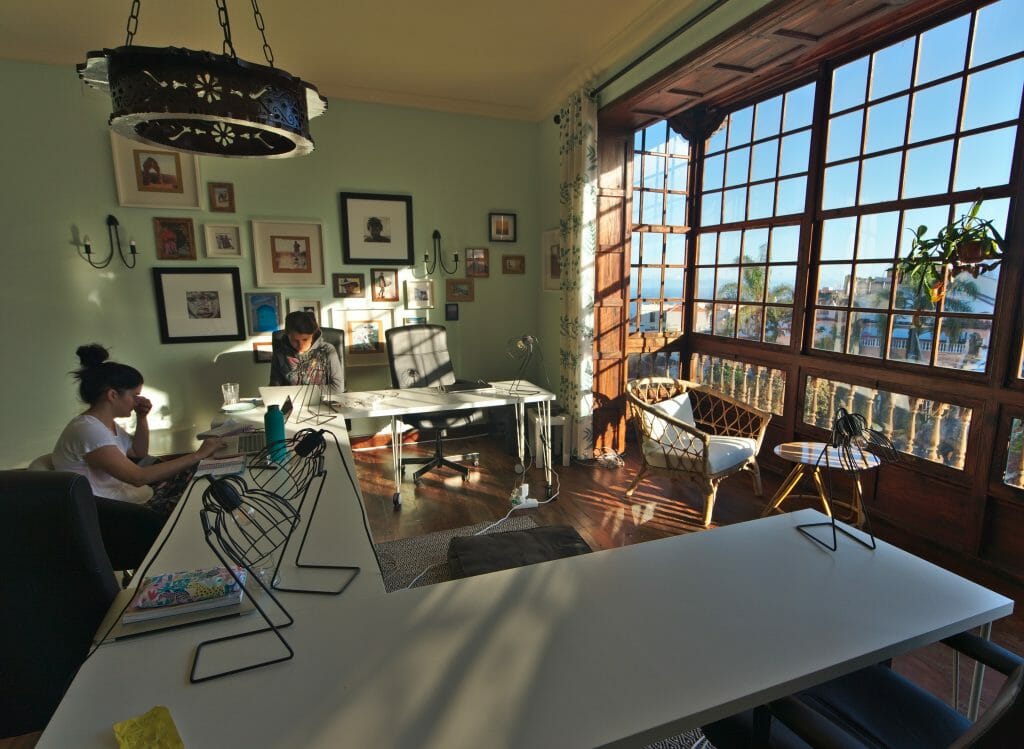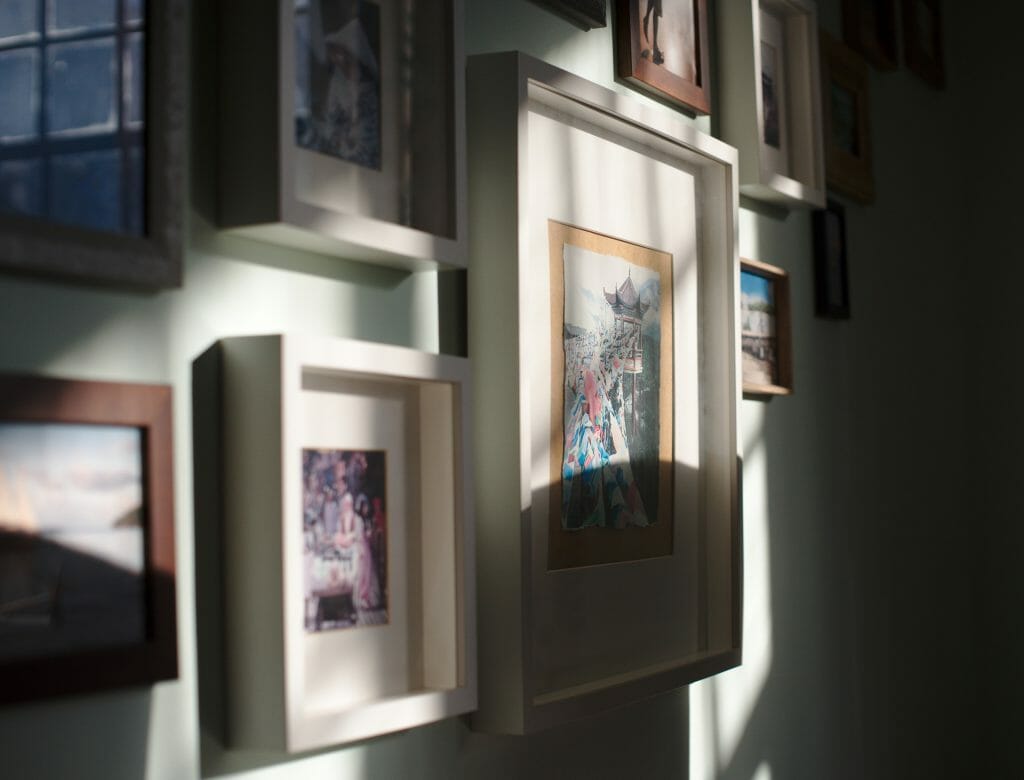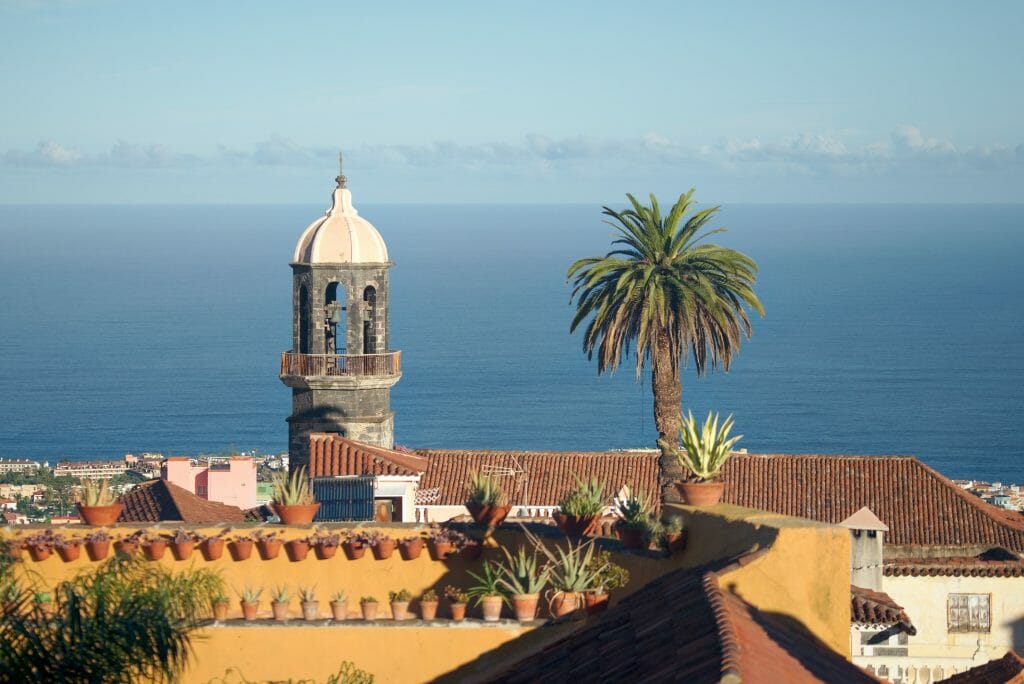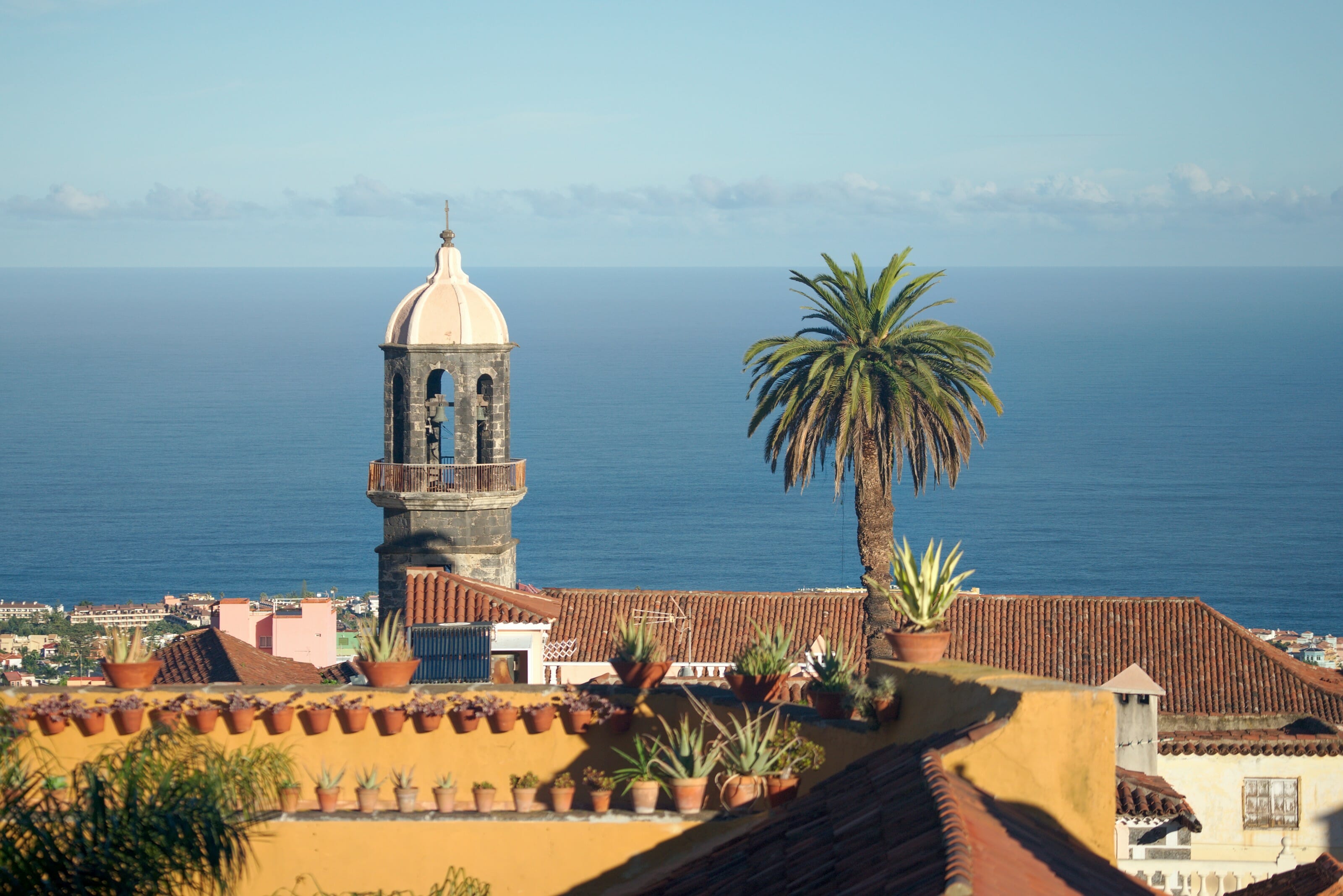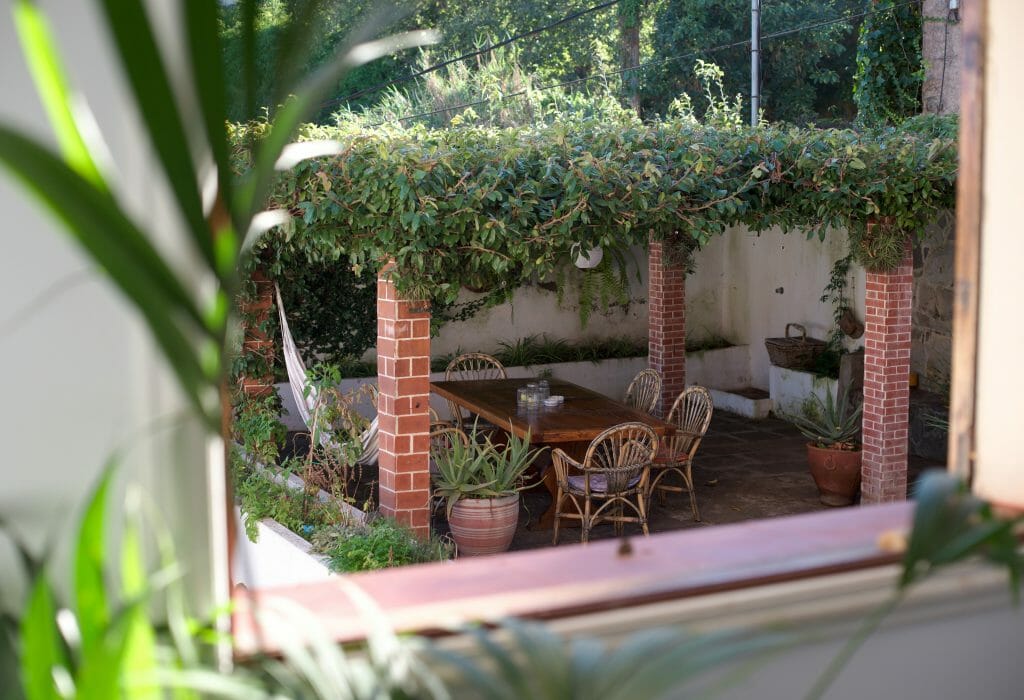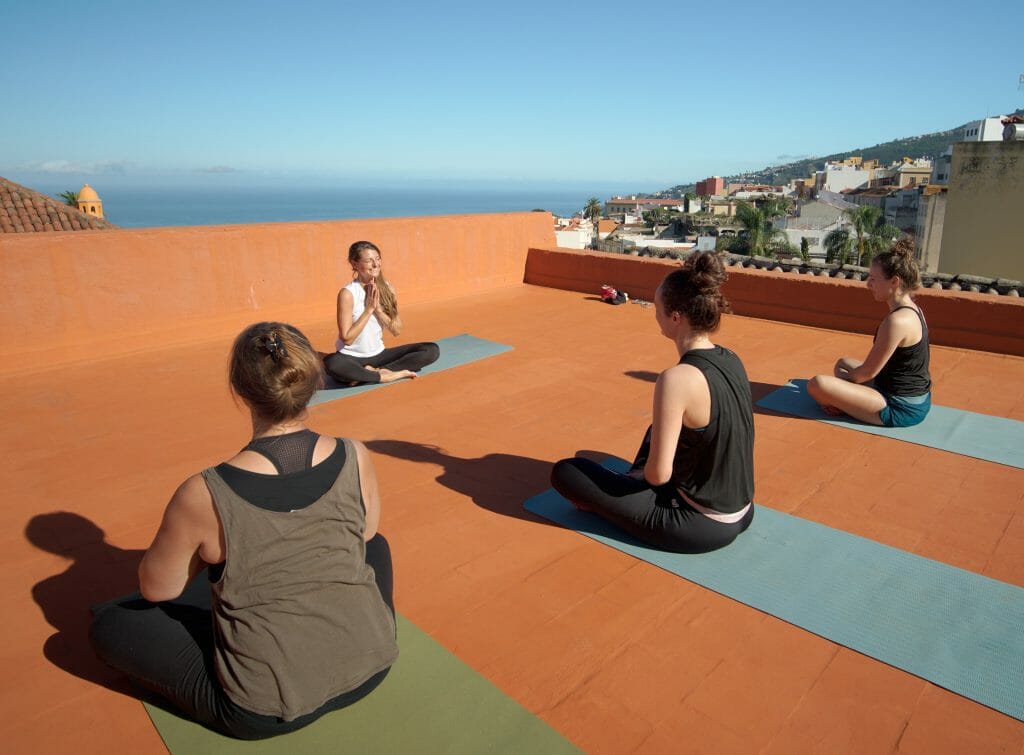 But more importantly, it is the people with whom we share this space. They come from all over the world, are entrepreneurs, developers, graphic designers, translators, photographers… they are sometimes self-employed, sometimes employed or even business leaders but all have in common that they can work from anywhere.
Sharing such a house with all these beautiful people is a real opportunity!
It is an opportunity to meet, share, discuss with all those people who have a lifestyle similar to ours (and therefore also the same issues). It is also an opportunity to make new friends in the nomadic community, people we will certainly have the opportunity to see again elsewhere on our beautiful planet in the future (and that for us is invaluable!).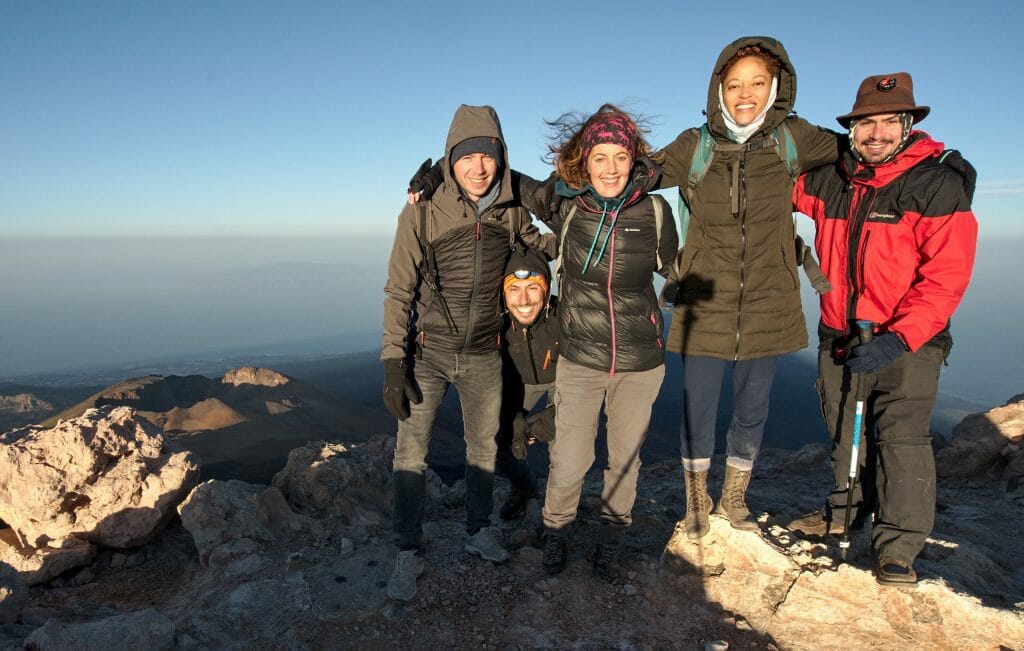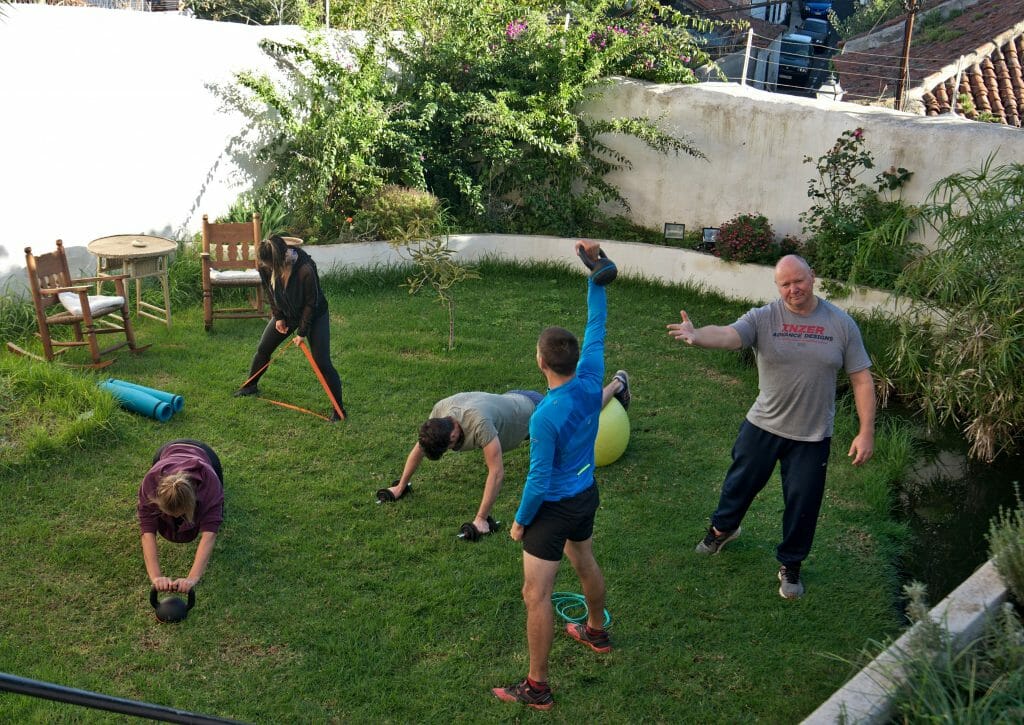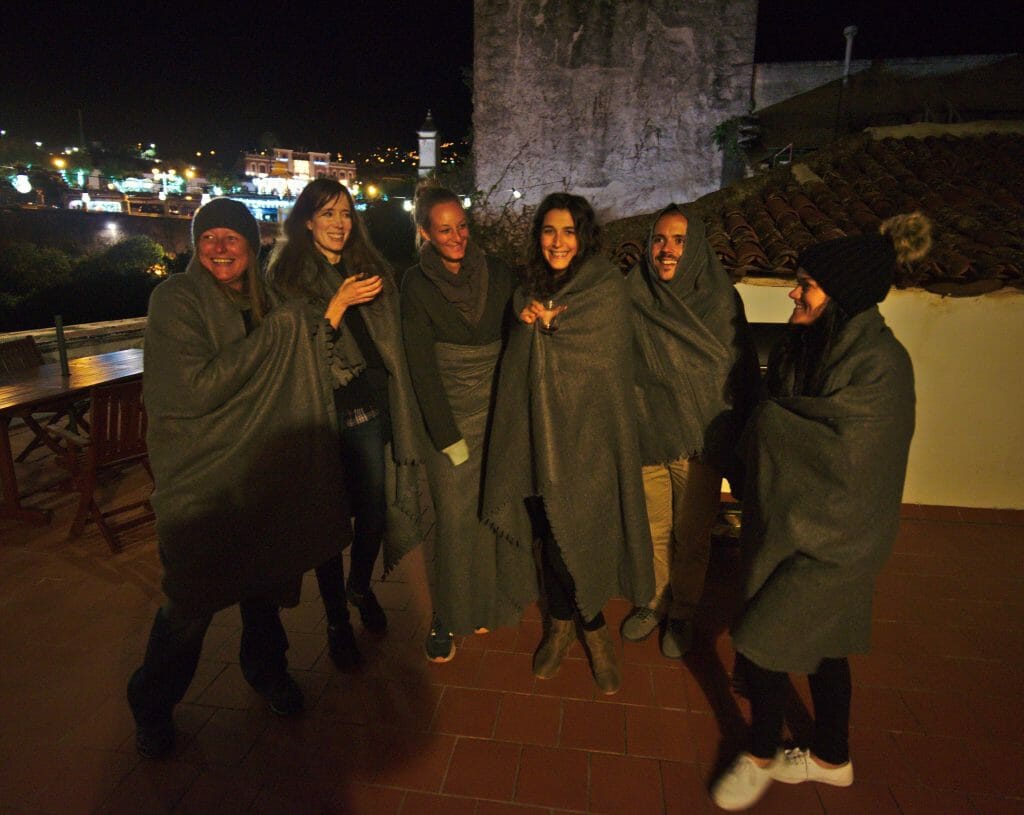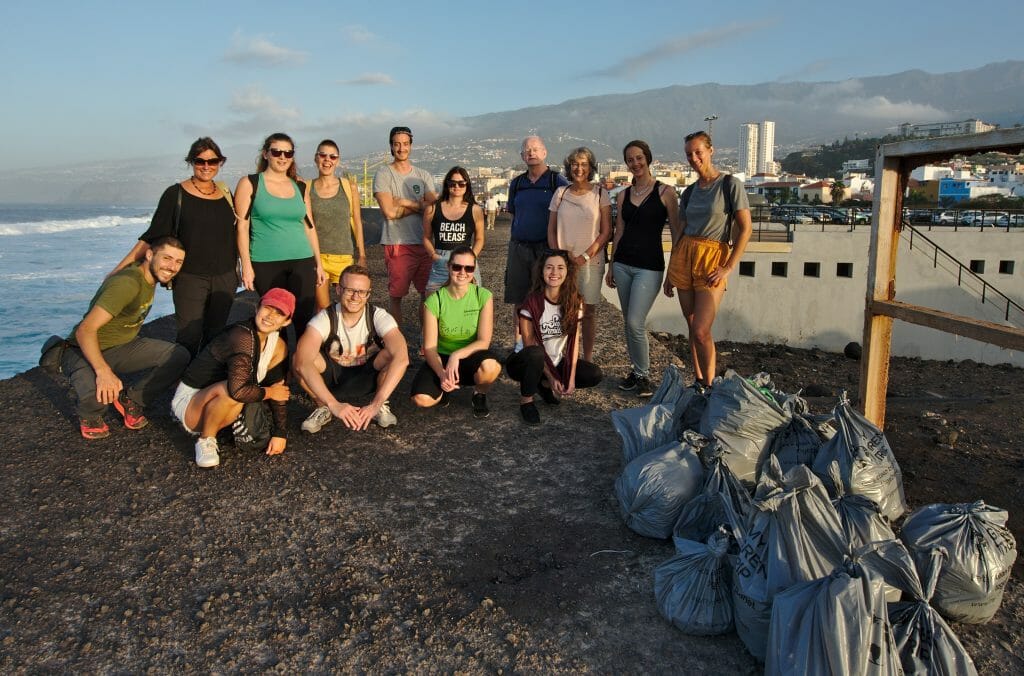 Finally Nine Coliving is also Anne (the owner) and her adorable dog Lara. Anne actually had a real click in 2016 when she decided to join a group of 50 digital nomads and work in a connected way for a year while travelling (this program is called Remote Year).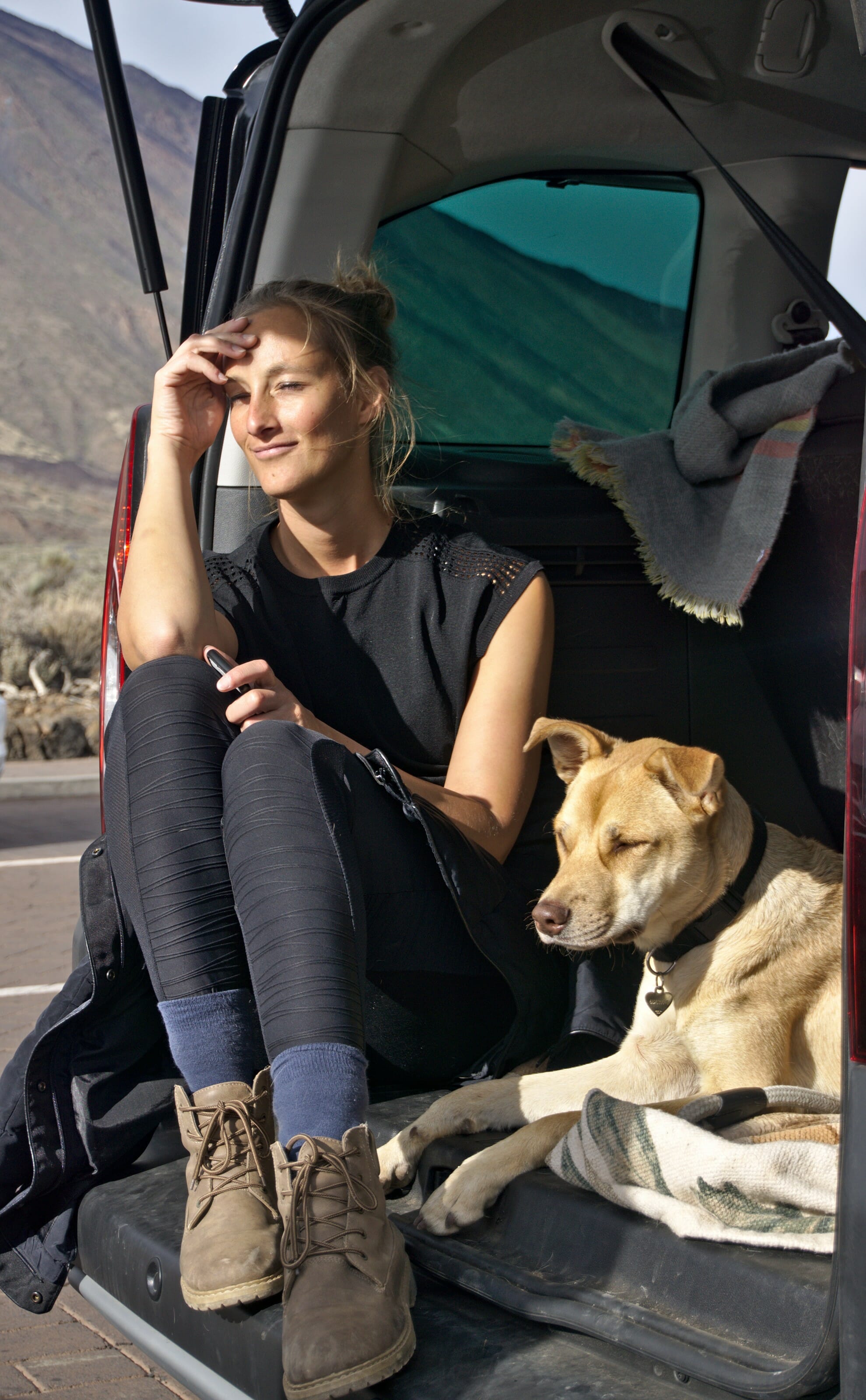 This experience was a revelation for her and it was when she returned from this year that she decided that she wanted to create a place where she could live surrounded by this community of inspiring people called the digital nomads. After researching on the internet and a trip to Tenerife with her parents, she finds this beautiful old house in the centre of La Orotava… After months of working with family and friends, Nine Coliving was finally born in August 2018.
We are very grateful to Anne for creating this space that nomads like us can call "Home" for a while. Thanks to her, we made new friends, we spent 4 fantastic months in Tenerife hiking with Lara and we hope that Nine Coliving has some great years ahead of it.
So if you're reading these lines, Anne, thank you for everything! Thank you for Nine, thank you for your inspiring journey and thank you for what you are doing for the nomadic community
Our life at Nine Coliving
Now that you know a little more about our little paradise in Tenerife, you may be wondering what life is like at Nine Coliving. Let me take you with us for a typical week at Nine: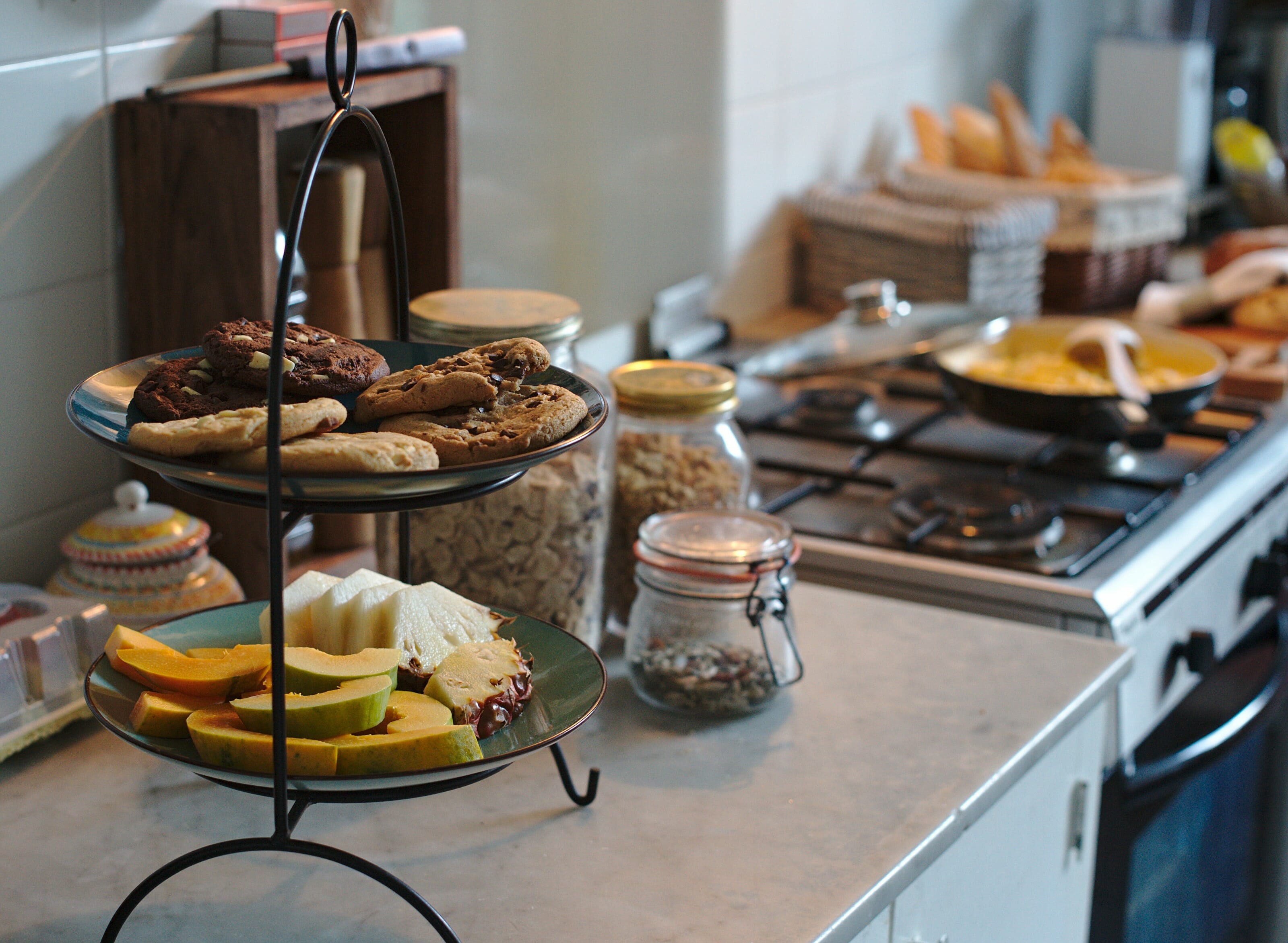 In the morning: Everyone gets up at the time that suits them best, but a great breakfast (included in the price) is available between 8am and 11am. For those who wish, there are yoga classes on the roof every morning from 9:30 to 10:30 (also included in the price). Even if we are not yoga addicts, we have each tried it 10-15 times and we must admit that it made us feel good;) (especially to Benoît who is as flexible as a stick). On the terrace, when the sun shines (90% of the time in Tenerife), some people quietly have breakfast while chatting. In the coworking area, the atmosphere is serious and that's usually where we are when we're not hiking.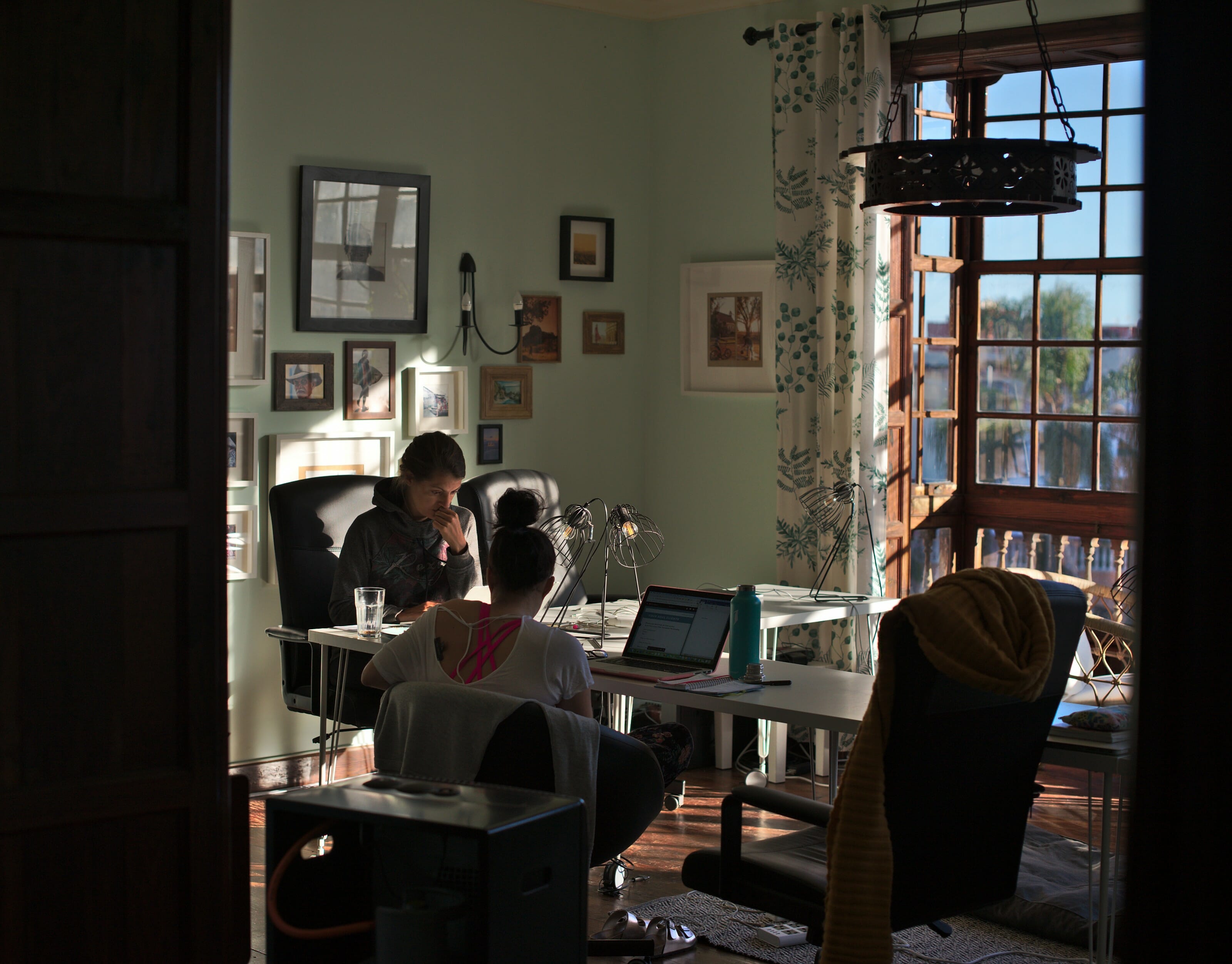 Afternoon: It is very variable because everyone's schedules are very different. Sometimes a group organizes itself to go on a hike or to the beach. Otherwise, as the house is huge, we divide ourselves quite naturally between the work space, the terrace, the garden or the living room. In fact, we use Slack to communicate with each other, organize sports activities or sessions, plan a meal, etc… and we must admit that this system works quite well.
In the evening, we often cook together or go out to eat in a small Tapas restaurant in la Orotava. For those who don't have professional obligations in the evening, we sometimes find ourselves watching a movie or chatting on the roof over a glass of wine (are you surprised???;)
Otherwise there are also several activities organized by the coliving during the week. For example, every Sunday in the late afternoon we organize a "family BBQ" where everyone meets on the roof to eat and share a moment together. In general, there is also a hiking outing (As La Orotava is ideally located near the Teide, there is no shortage of walking opportunities in the area). There is also the beach with surf lessons with a local school or a visit to the local craft brewery in the nearby village. Finally, we sometimes organize evening meals around a theme (it can be something professional like SEO or something lighter like our best grandmother stories)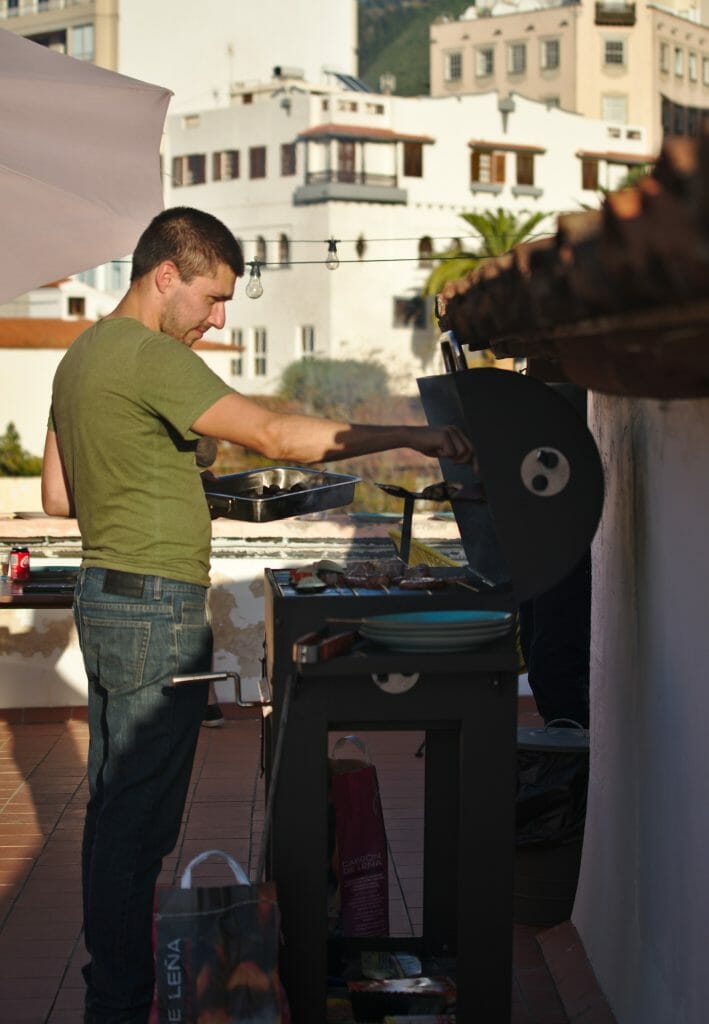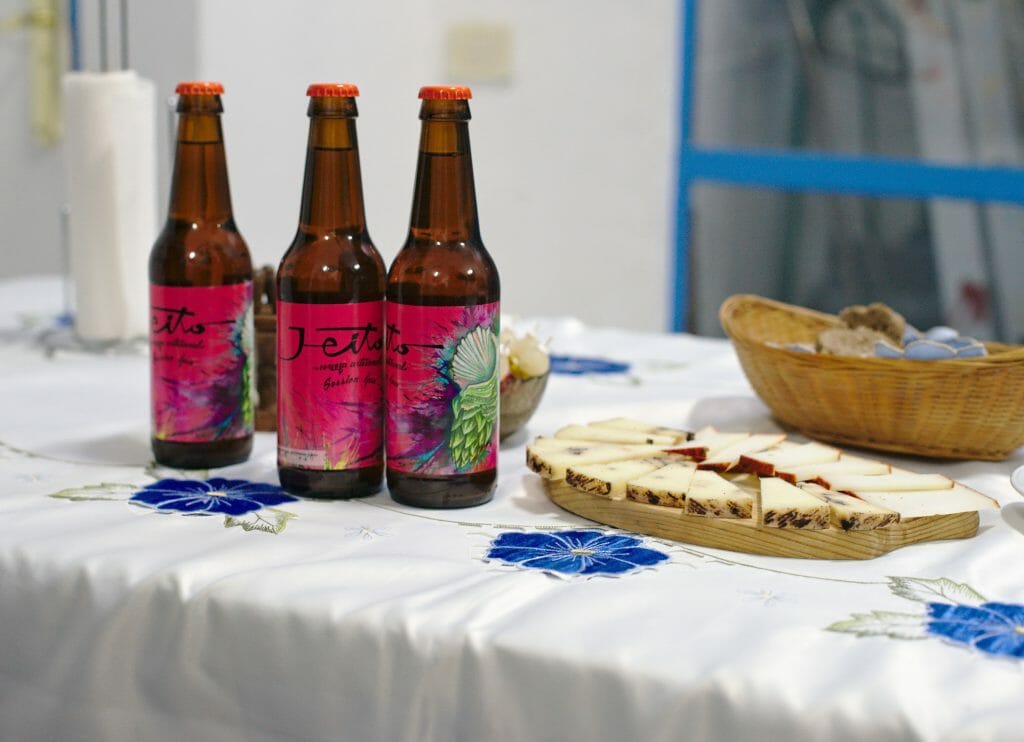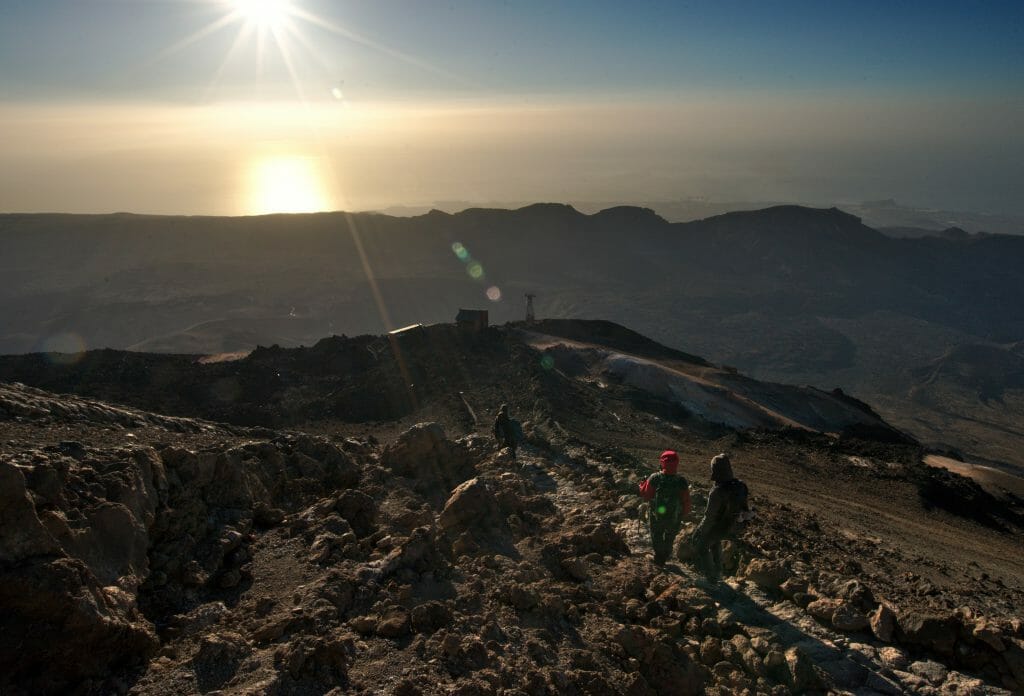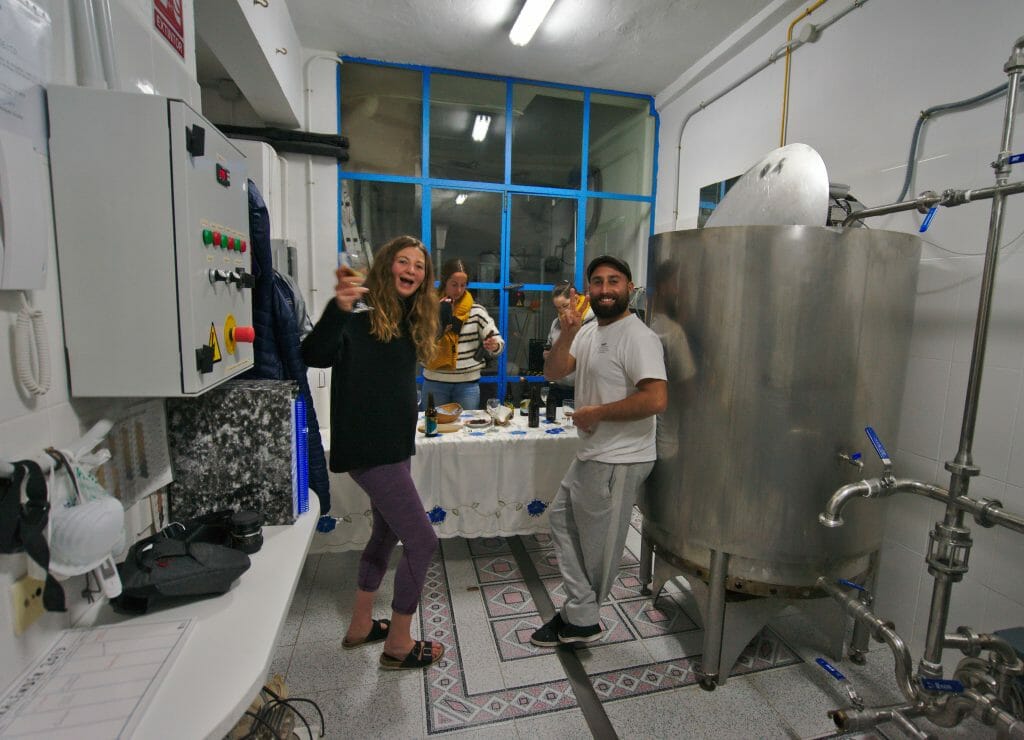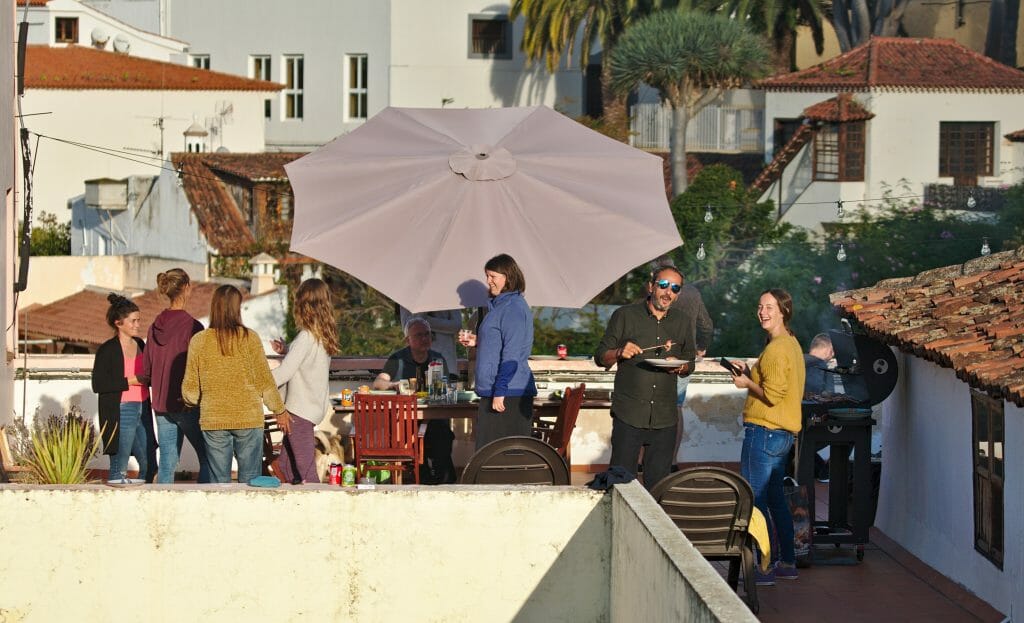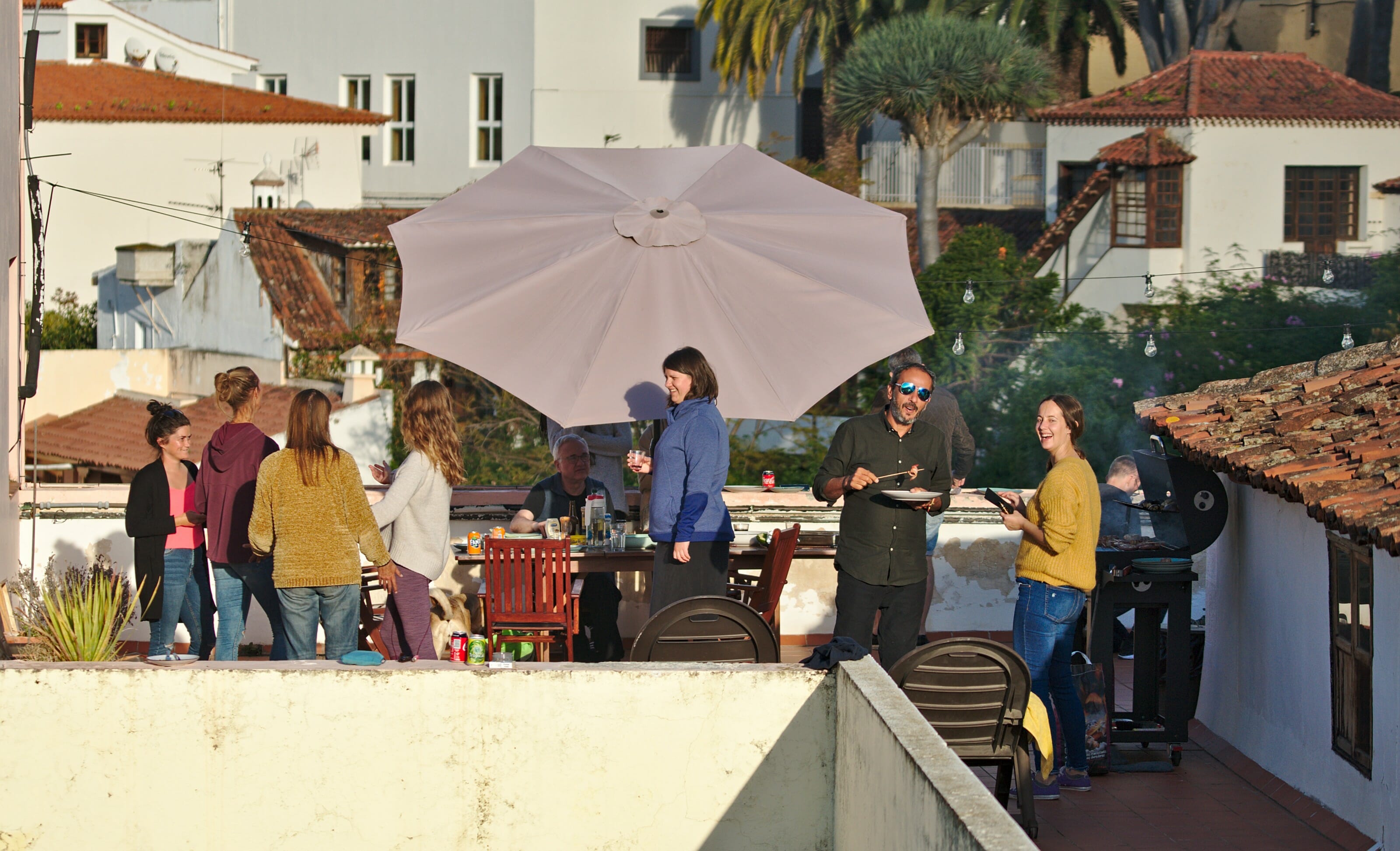 As you can see it's never boring at Nine Coliving and as far as we are concerned, we have found a good balance between work and social life… and that's exactly what we were looking for.
In fact, we told you this before, but we were initially supposed to stay for 6 weeks. But the person who was supposed to replace us canceled her stay on a very short notice. As we have made a wonderful friendship and especially as we just felt so good here, it is without the slightest hesitation that we decided to extend our stay here as much as possible!
And if you wonder what life in Nine looks like in video, here's for you;)

The 5 things we will miss most at the coliving….
But all good things come to an end… and on March 6 we leave for France to promote our brand new book: Randos-bière en France (which will also be an exciting time and full of new projects). But we have to admit that we will miss some things about Nine Coliving very much:
On a pris Lara partout avec nous en rando

Lara: As you were told above, part of our job here was to walk the lovely Coliving dag: Lara. We really took her everywhere on a hike with us (except during our 4 days in a tent in Anaga;)) and we got attached A LOT to her (it's Benoît who writes these lines so imagine Fabienne who loves dogs)… It's going to be a real heartbreak to leave her!

Anne, Caroline and Karen… As well as the whole Coliving family: Anne (the owner), Caroline (1st coliving guest and graphic designer) and Karen (formerly working in finance in London and now the Coliving Yoga teacher) because they have been there since we arrived and we shared a lot of good times together. But also all the other people met more or less long in Nine (Becca, Sylvain, Douglas, Duane, Sigrid, George, Bastian, Fabian, Mircea,…). It is this strange family of people, each more inspiring than the next, that we will miss so much.

rooooffffinngggg: That's what we called our roof parties, chatting and remaking the world around one or more glasses of wine. Fabienne and Caroline were clearly the roofing champions (even if I was not to be outdone sometimes)… Caroline was probably the one who spent more hours on the roof than anywhere else in the house if you ask me.
The beautiful workspace: Because we're not about to have such a cool work environment anytime soon again… It was simply perfect!
And more generally: Tenerife: For its diversity, its climate, the Teide, Anaga… Tenerife is very far from the clichés of the seaside destination that we can have and knows how to reward people who take the time to discover it more deeply.
Digital Nomads in a coliving: who are they?
I was thinking maybe you would be interested to know a little bit about the profiles of the people who come to Nine Coliving. Here is a small selection of people who have spent a few weeks here:
Becca: A Chicago graphic designer who works freelance while travelling. She must have stayed 2 months at Nine Coliving and you can see some of her work around here.

Karen our favorite yoga teacher 😉

Duane: WordPress developer straight from Canada who travels while creating WP sites and plugins. He stayed in Nine for a good month and cooked us the best Nachos in the world. You can see his professional website here.

Karen: Formerly in finance in London, Karen has recently converted to her core field of yoga. She has been teaching at Nine for 4 months now and will continue on her way to Morocco after Tenerife. Sound instagram here 😉
Douglas: An Irish man who manages the holiday apartmentsfamily business. 2 months a year he has a little less work and takes advantage of it to travel and work in a connected way… he has chosen to spend one of his 2 months in Nine

Our friend Thomas enjoying the sun

Thomas: He comes from Denmark but currently lives in Paris and is a draftsman/illustrator for video games and TV series for children. He came to Tenerife for 6 weeks to advance on his latest project (a video game with an army of fish) while enjoying the sunshine

Sara: An atypical profile for a nomad since she is a nurse (if so)…. She teaches 3 online courses at Northeastern University.
So you can see that you don't have to be a developer, blogger or graphic designer to be digital nomad. You can see more profiles of people who have spent some time at Nine coliving on this page of the site.
And if you are wondering about the typical age of the inhabitants, you should know that there is none! 🙂 On average I would say that people are between 30 and 40 years old…. Our youngest guest was maybe 22 years old and the oldest? 73 years old! A retired cook who writes books on Peruvian cuisine (you might as well say that we were spoiled when he started cooking). 😉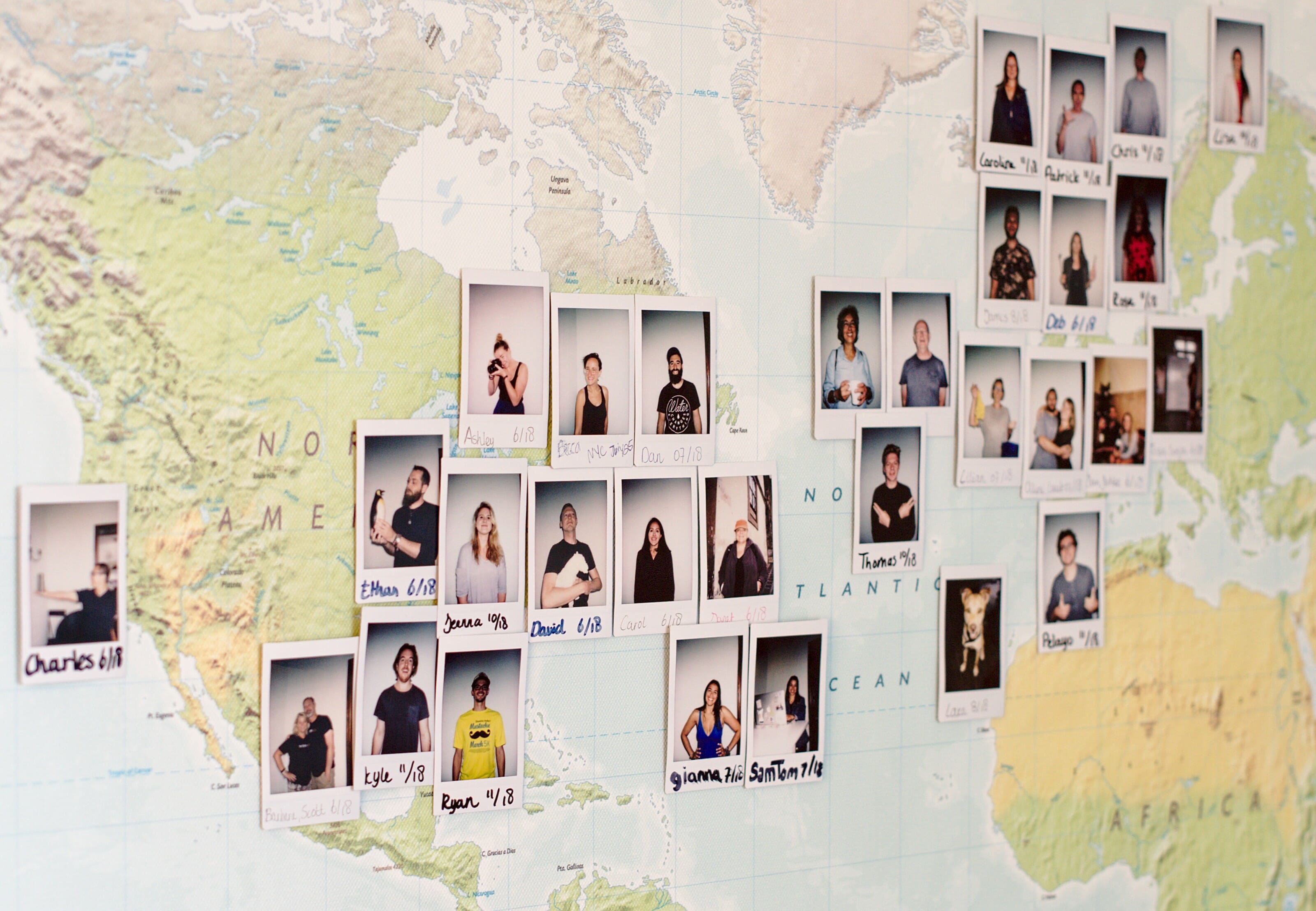 Finally, I think that this first experience in coliving opened our eyes to the importance of building relationships and meeting other people who have the same way of life as us. It's silly, but it allows us to belong to a kind of small family "distributed" all over the world, to know people we'll have the opportunity to see again during other trips, maybe even to work with some of them on common projects.
And also it felt good during those few months to share a house with other people, to have group meals, to have rooofffiinggg evenings, to have sports and yoga sessions with our house colleagues… It totally reminded me of the movie Pot luck (l'Auberge espagnole in french);)…. a happy mess, encounters, new friends and most of all memories for life.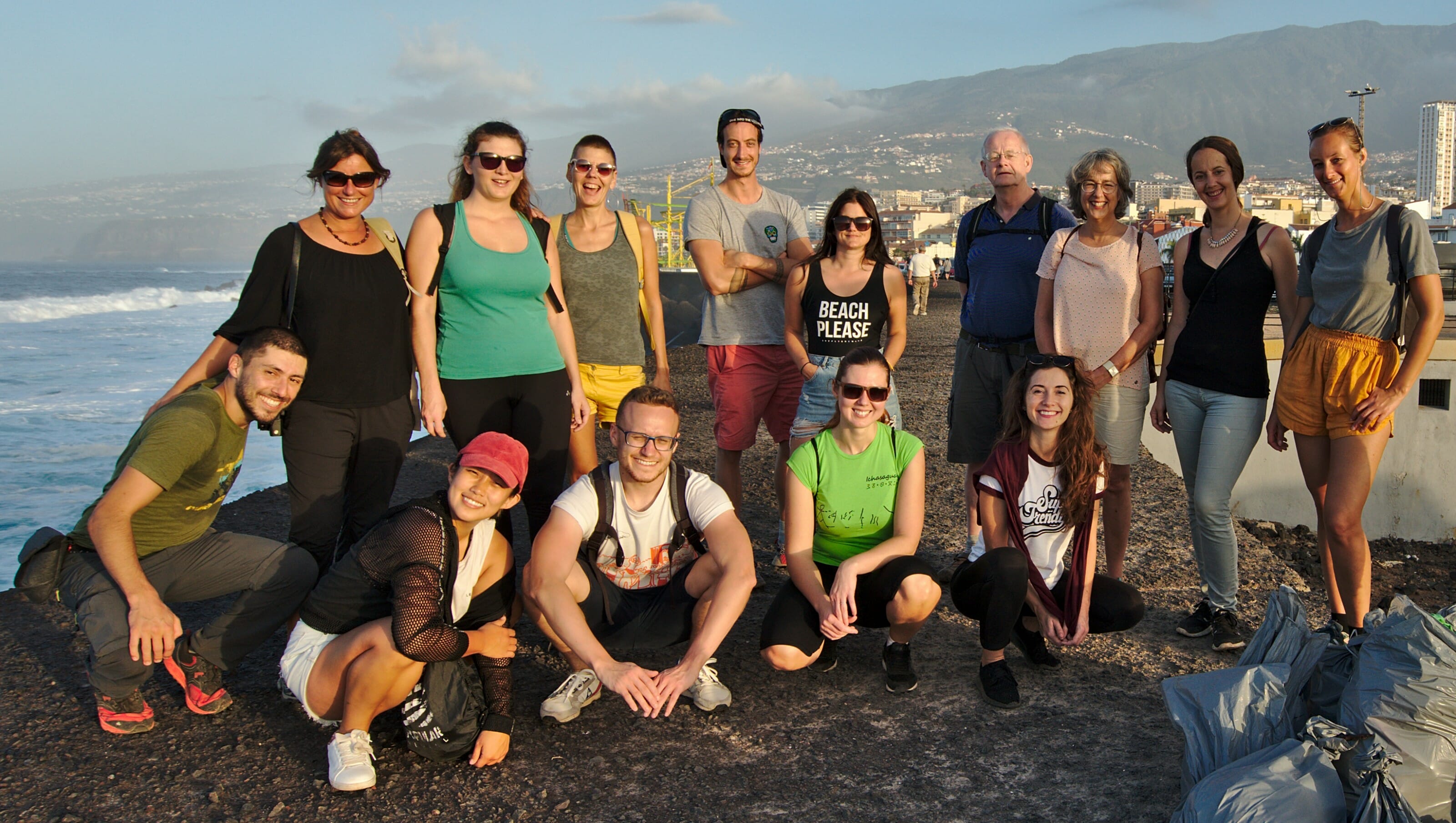 So would you like to try coliving or not?
How to get to Tenerife?
The easiest and best option is to get here by flight. There are several options of airlines coming to Tenerife from various places in Europe. To find the best deals we recommend you take a look on skyscanner.
Note: If you are coming from Spain or if your hometown offers great deals to the main spanish airports, then it's clearly worth taking a look at Vueling as well. They have great deals from the mainland to the islands!