During our trip to the Baltic countries this winter we made an unusual stop between Riga and Vilnius: the hill of crosses near the town of Siauliai in Lithuania.
Why did we choose to visit this hill with more than 150,000 crosses?
I think it's all in the title, don't you? 150,000 crosses!!!!! Seriously? Well ok, we didn't count them so we won't be able to tell you if this number is correct, but what's for sure is that there are a lot of them and especially that it's a really unique place!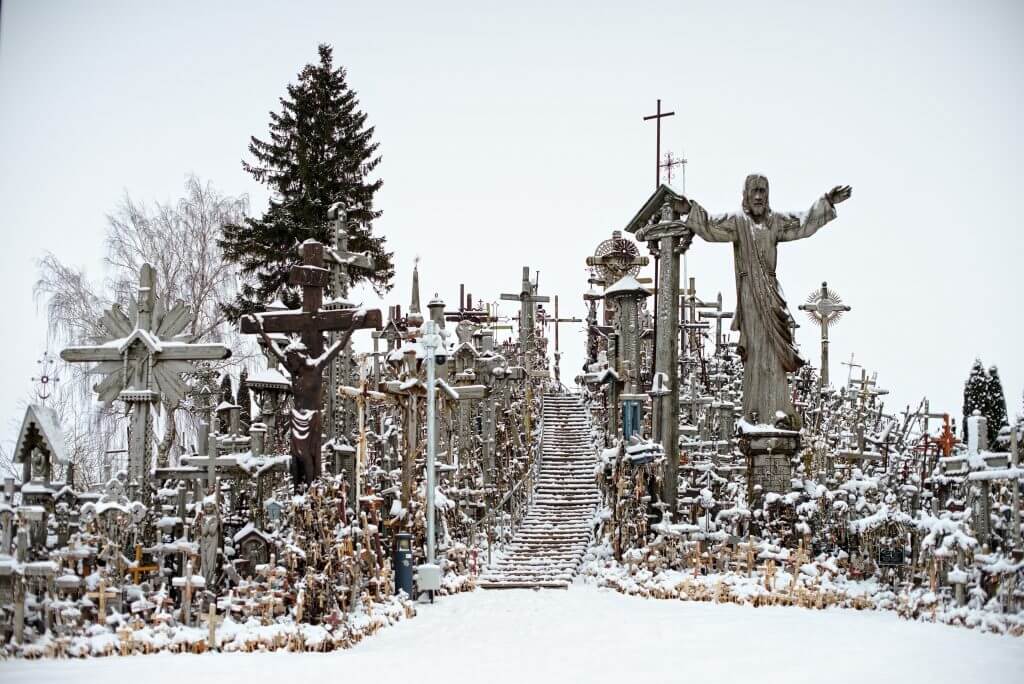 In fact, we first heard about this place in 2015 when we were in Vilnius during our round the world trip. We had seen some pictures on the net and we tried to see if we could go there… The problem is that back then we didn't have much time and this place is in the middle of nowhere so we didn't go.
In short, this year we had all the time in the world and above all we planned to reach Vilnius from Riga. Knowing that the hill of crosses is on the way, the opportunity was simply too beautiful not to seize it.
the hill of crosses in Lithuania: some historical context
This weird place has a history as mysterious as it is strong. In fact, the beginnings are really not clear… According to sources, the first crosses were placed there between the 14th and 19th centuries. Yes, it's vast, and very, very, very unclear.
And even if we still do not know exactly why this place was chosen by pilgrims to place crosses on it, what we know is that over the years and especially through the history of Lithuania, this place has established itself as one of the symbols of the peaceful resistance of Lithuanians and Christians.
The Russian empire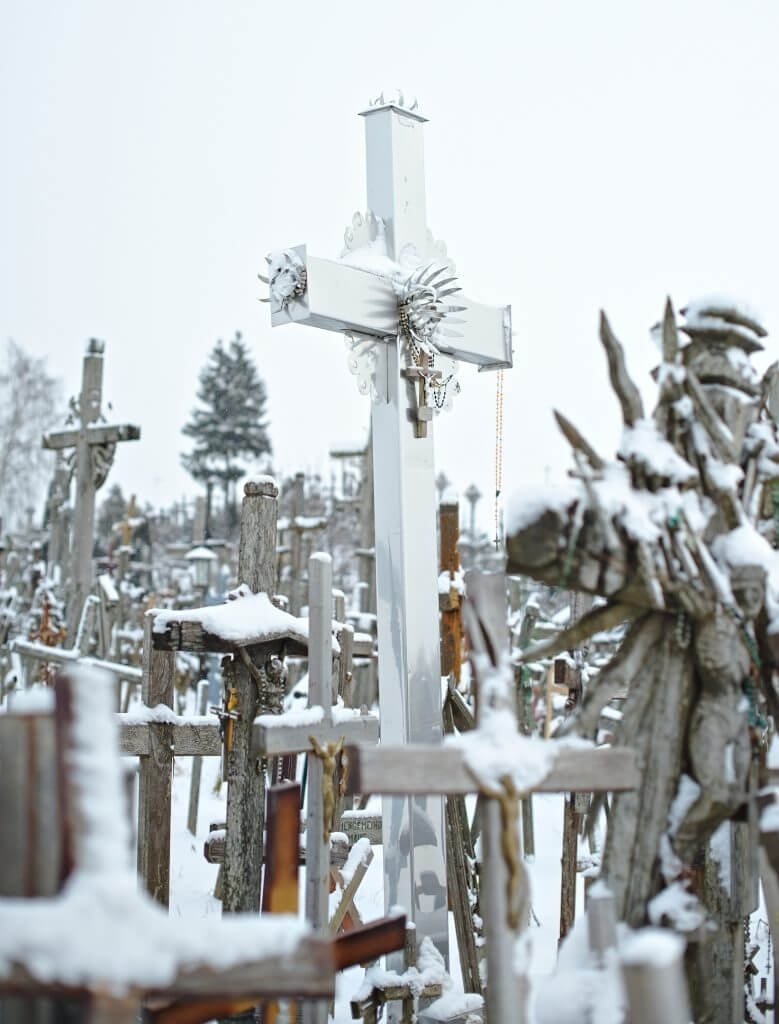 In 1795 the "country" of Lithuania was almost wiped off the map and incorporated into the Russian empire. But the Lithuanians have never lost their national identity and have, on several occasions, tried to rise up against the Russian empire to regain their independence. Historically, it is estimated that a significant number of crosses were added to this site following the 1863 insurrection attempt. Families often unable to find the bodies of their disappeared members came here to place a cross in memory of their loved ones.
In 1918 Lithuania became independent again, and the hill is a place of contemplation and remembrance for the families of those who disappeared during the fighting leading to independence.
The soviet occupation

But the story of this hill doesn't stop here! Between 1944 and 1990 Lithuania was officially part of the Soviet Union. During this period religion was not welcome and Lithuanians began to add more crosses to this hill as a sign of protest but also as an affirmation of their culture and religion.
On several occasions the Soviet army decided to use bulldozers to destroy all the crosses. But after each "cleaning", the Lithuanians came to place new crosses en masse. So much so that in 1985 the Soviet Union finally renounced the destruction of this place and since then the number of crosses has continued to grow.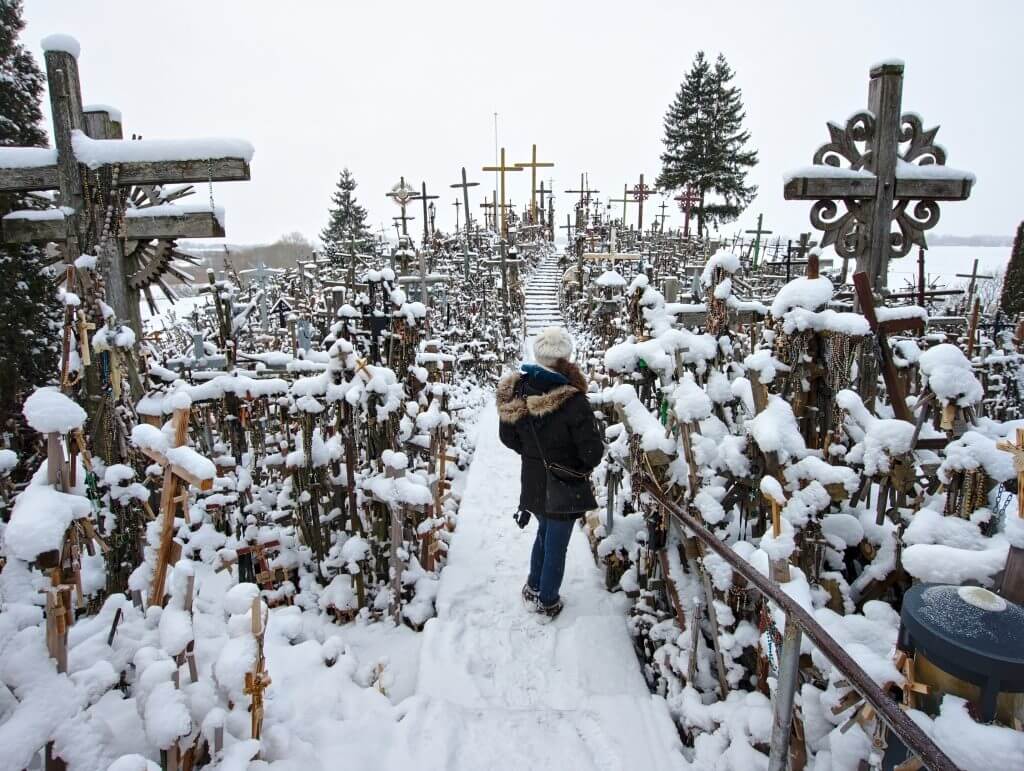 Independent Lithuania
In 1990, when Lithuania finally regained its independence, it is estimated that the hill had more than 55,000 crosses!
In 1993 Pope John Paul II came here and declared this site a place of hope, peace, love and sacrifice.
At the moment the exact number of crosses is not known, but the estimated number is over 150,000! But this number is growing every day, because many visitors leave a cross in memory.
Visit the hille of crosses in pictures

For practical information on how to get there, we invite you to check the end of the article. But before that, let's show you a few pictures of this really extraordinary place…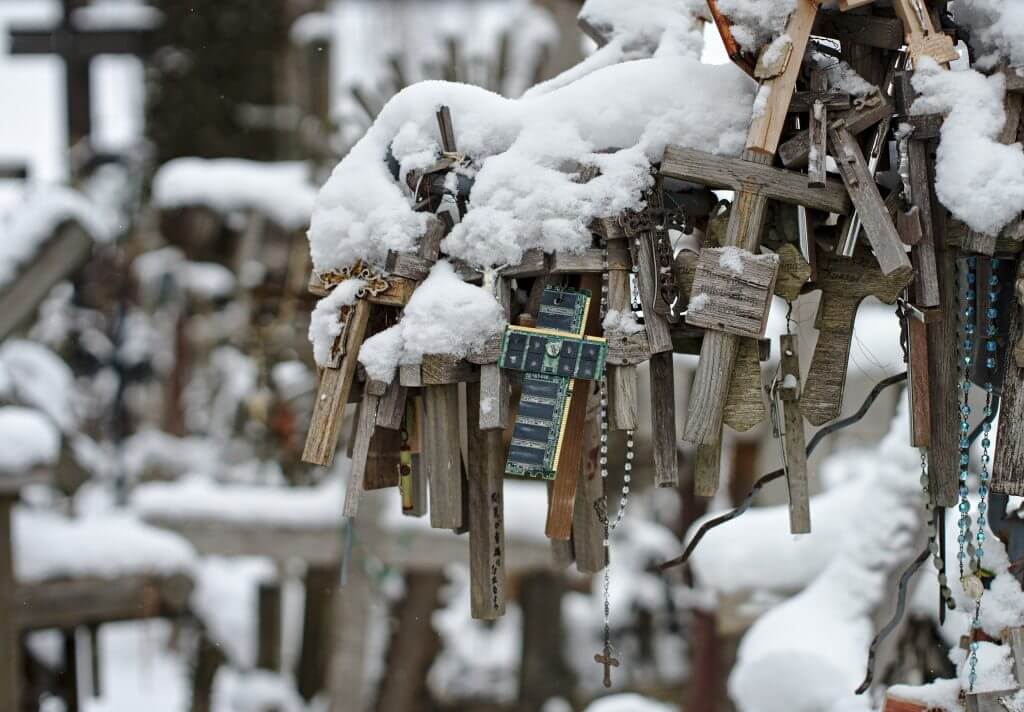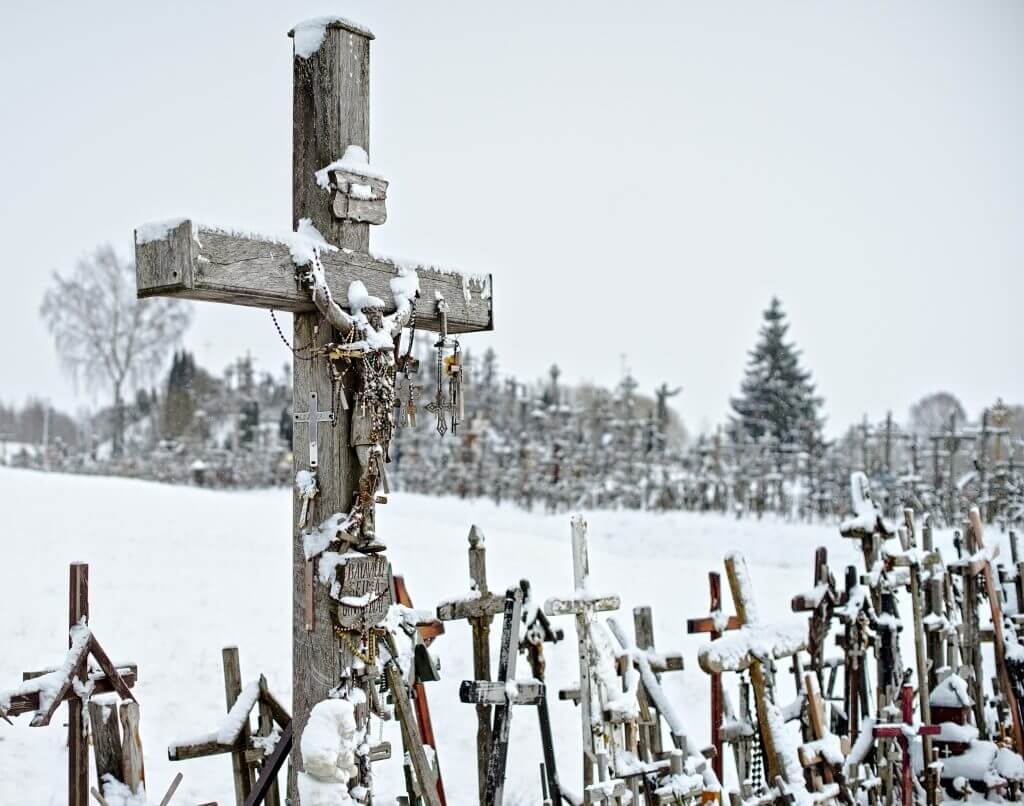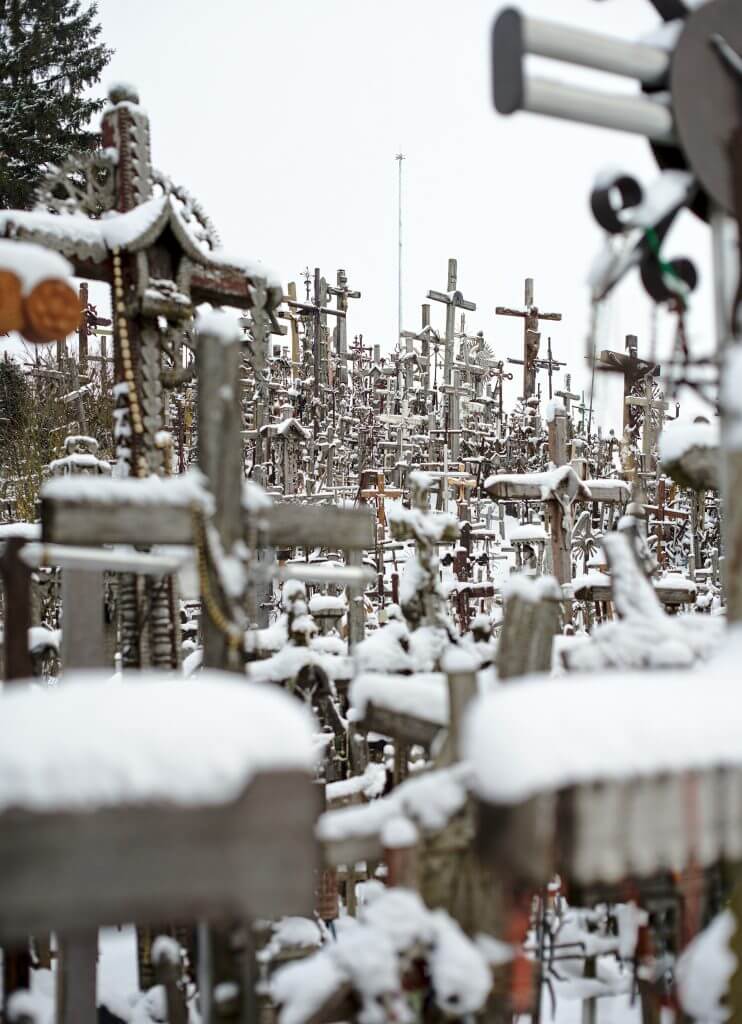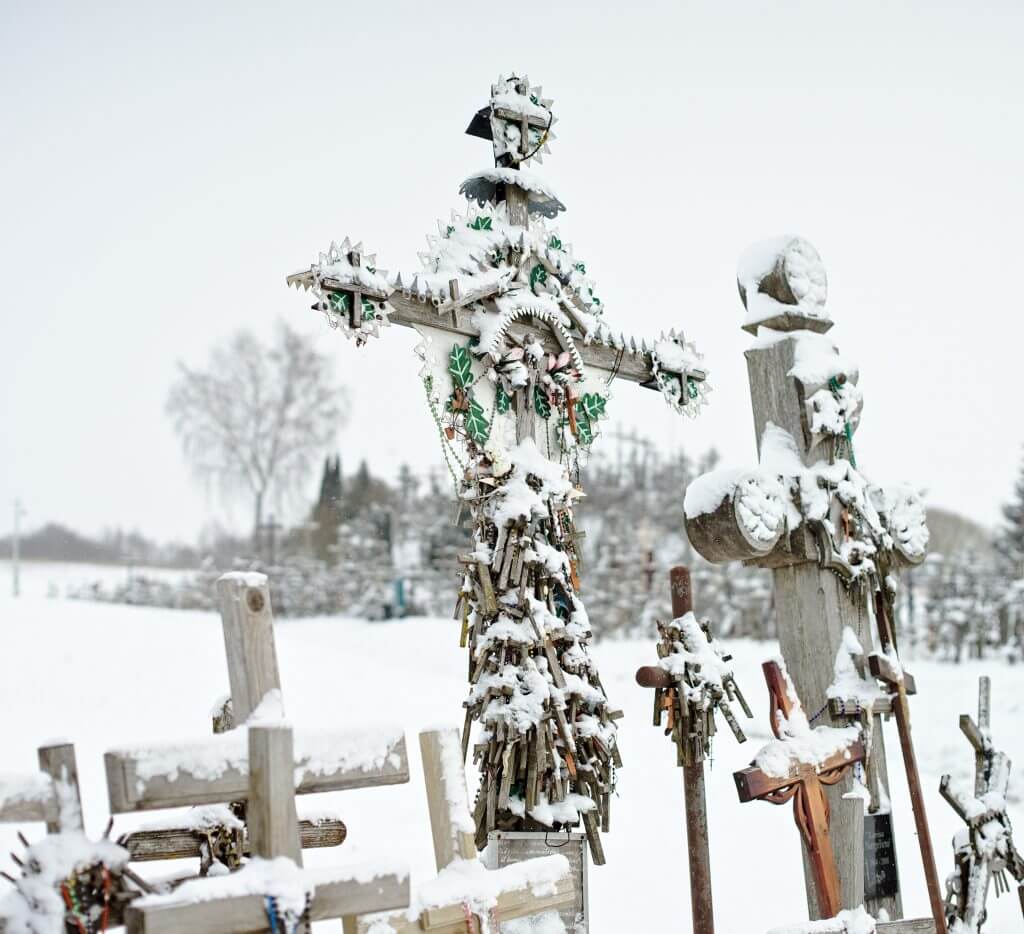 And if you want to get a little preview on video of what it feels like to cross in the middle of all these crosses then you can check out our instagram with this little hyperlapse.
What did we think of it? Is it worth the detour?
Personally, I was a little afraid to find this place "creepy ". I don't know… I'm not particularly religious, but for me the crosses symbolize the graves and so I associated this place with death.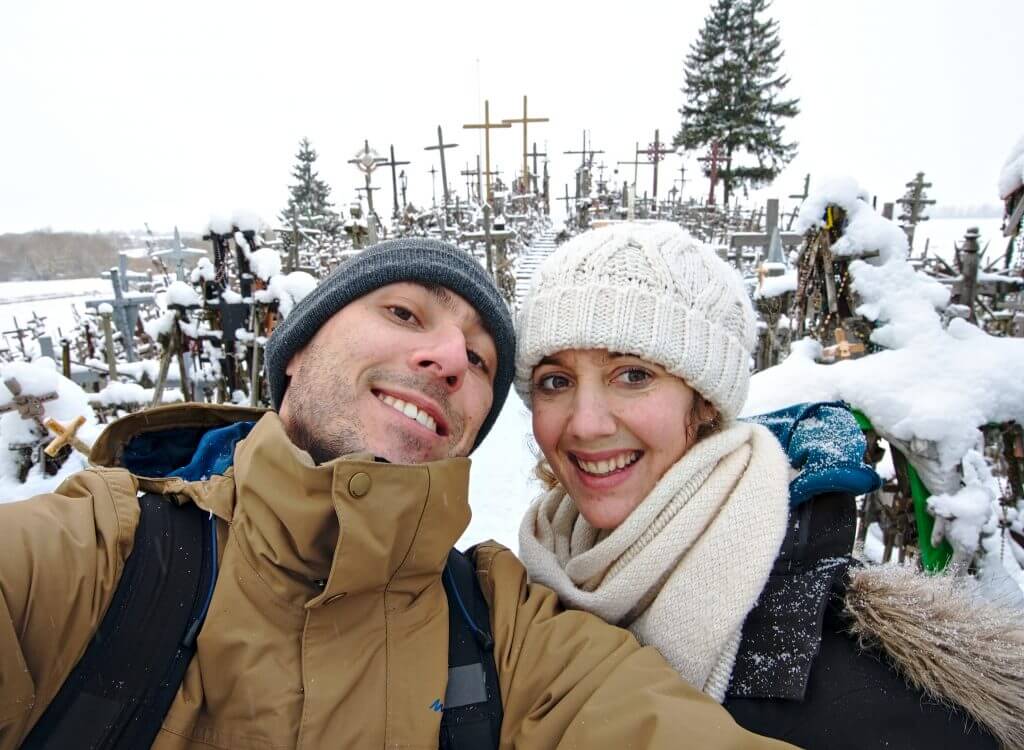 But in reality there is nothing morbid about this place at all! As explained above, these crosses are more a symbol of resistance and above all a beautiful testimony that faith is stronger than repression.
But to be 100% honest with you, I clearly made this reflection on our way back. On the spot, we were simply amazed by this spot… It's really a unique place!
And let's face it, the visit in winter, with the crosses covered by snow and especially nobody there, clearly adds a mystical and captivating touch to the landscape.
Useful infos to go to the Hill of crosses
In an organized tour
We will start with the most commonly used option: organized tours. Well if you read us from time to time you will know that it is not often our first choice (especially if there are alternatives), but know that there are many agencies that offer excursions to Siauliai whether from Riga or Vilnius. Several agencies offer these tours but be aware that roughly it is necessary to count between 45€ and 55€ per day per person if you go through an agency.
Well these tours are a little more expensive than if you do it on your own, but it's not too much of a difference either.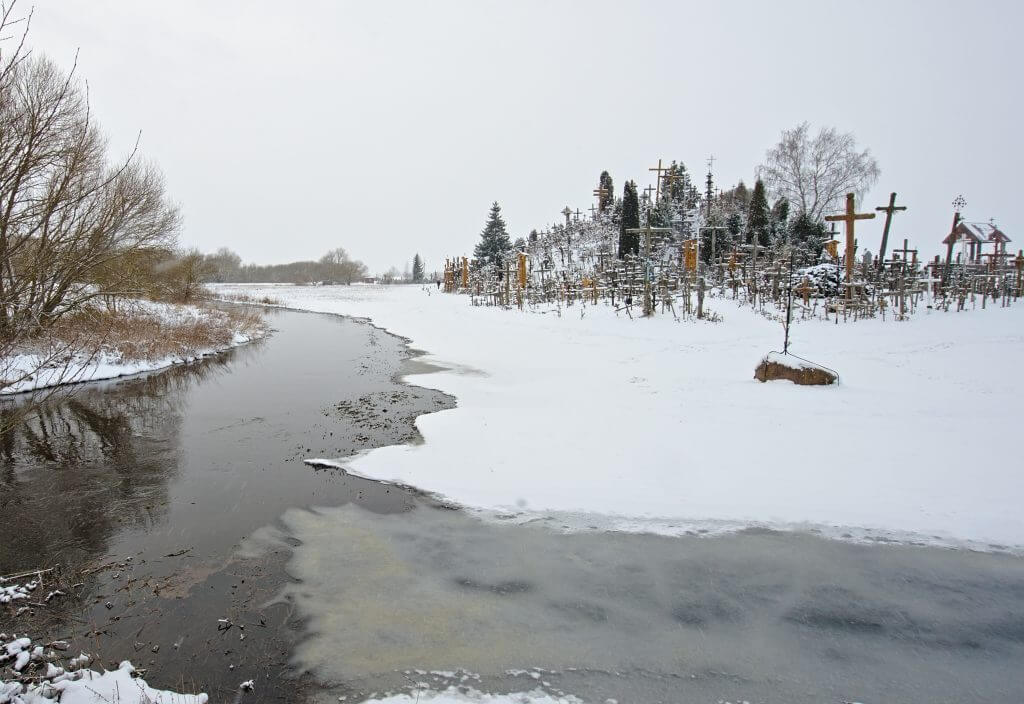 Pros:
No headache with buses
A guide to give you explanations
Most of the tours are making a few small photo stops on the way
Cons:
The higher price compared to the "independent" version
Tours usually only take place during the high season (summer), in winter it is possible but they are private tours and therefore much more expensive.
Note: Another option that could be interesting would be to take advantage of your day trip between Riga and Vilnius to stop there on the way. For example some agencies offer a Riga-Vilnius route (or vice versa) that stops at the hill of crosses and many other nice places on the way.
On your own – from Vilnius or Riga
If you are in Riga or Vilnius it is quite possible to come to the Hill of crosses on your own and make the round trip in one day. On the other hand, be warned: the day will be rich in transport and very long.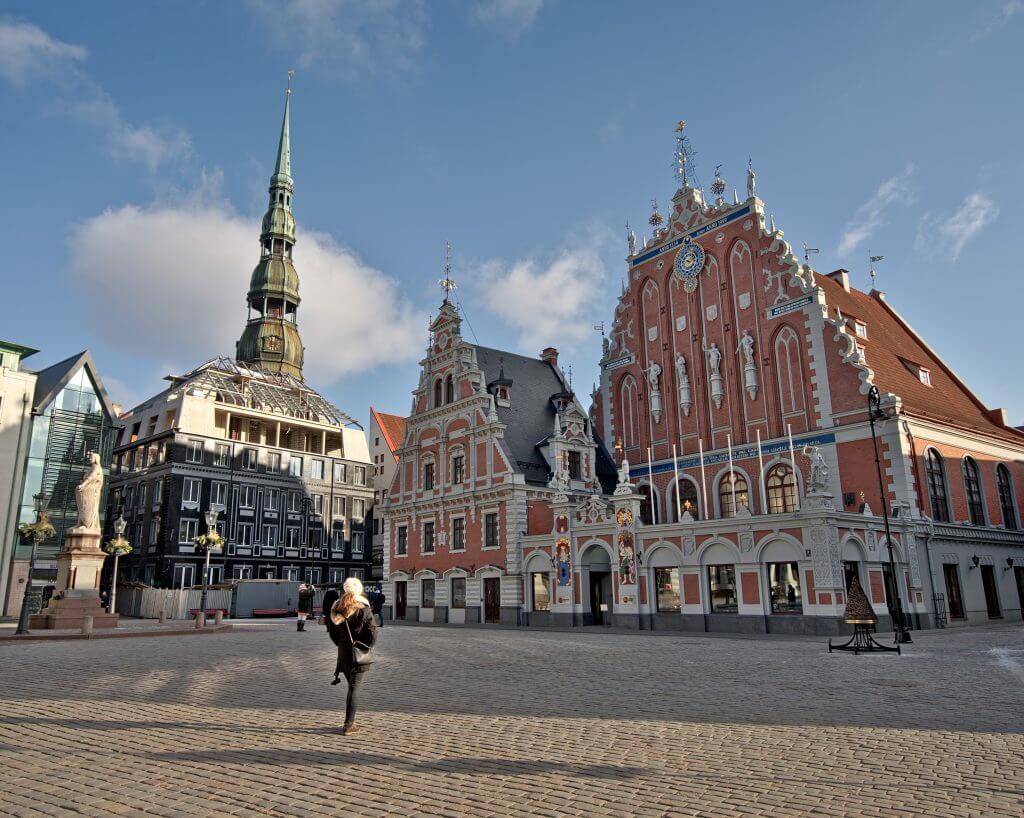 From Riga:
Count 2h30 of travel time on the outward journey and 2h30 for the return. Buses from the Ollex company leave from the Riga bus station, the best departure time is probably the one that leaves at 9:00 am and arrives at 11:25 am in Siauliai.
For the return there are several buses but those that seem most suitable leave at 16h15 or 18h15 from Siauliai.
Price of the bus: 12€ per person and per trip (24€ per round trip)
From Siauliai you must then take a bus to Domantai (see below)
From Vilnius:
Count 3h30-4h travel time (both ways). There are several companies that operate the route and the ticket costs about 15€ per trip (or 30€ per round trip). To see the schedules the best is still to take a look at the buses official website in Lithuania. But we admit it, from Vilnius we find that it's really too much to make the round trip in 1 day…
For our part, we have decided to visit the hill of crosses in transit between Riga and Vilnius. For that we simply took the morning bus from Riga. In pure theory we could have left the same evening for Vilnius, but not wanting to stress us out (and also because we wanted to be able to leave our big bags in a hostel) we opted for sleeping one night in Siauliai and leaving the following day for Vilnius.
If you are interested in this option, we slept 1 night in a hotel "Turne Guesthouse". Nothing very fancy, but for 26€ it was one of the cheapest and it is not too far from the bus station (10-15 minutes by foot).
To find a place to stay you can take a look at this map:
Go to the hill of crosses from Siauliai
Whether you do this in one day from Riga, Vilnius or like us in a stopover, you will inevitably find yourself at some point in Siauliai. From there it is very simple to reach the hill of crosses… well… more or less 😉
In fact, it is possible to do it by taxi. Apparently the price for the trip, waiting for the driver for 30 minutes and then the return should cost you roughly twenty euros. But if you want our opinion 30 minutes on the spot it's short and very honestly, doing it by bus allows you to have more freedom and it's damn cheap!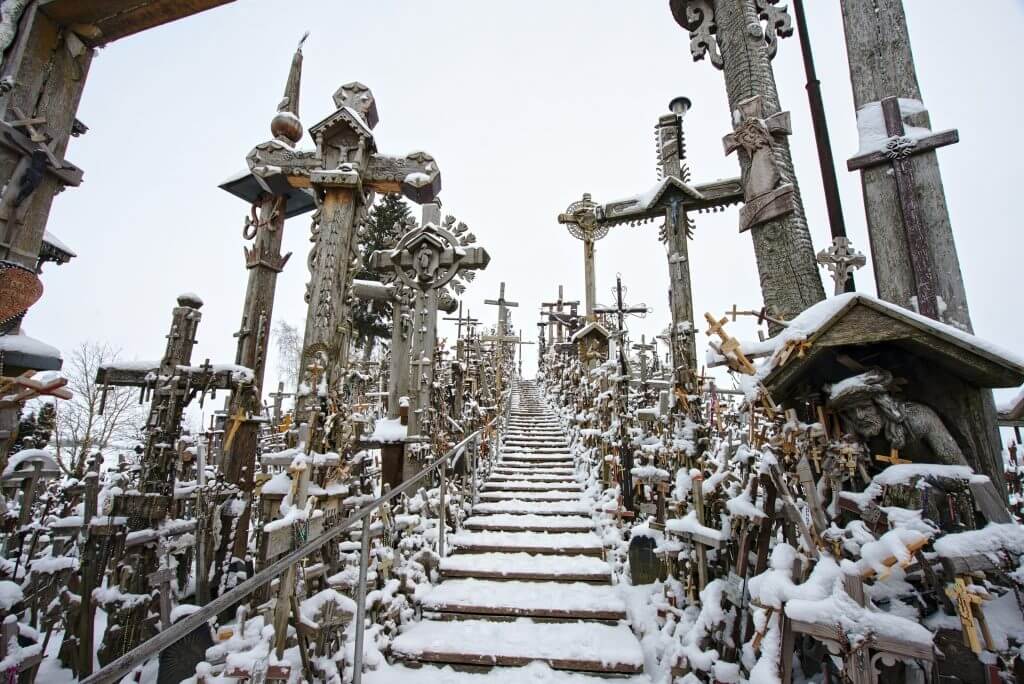 Go to platform 12 of the Siauliai bus station and take a bus to Joniškis and ask the driver to let you go at the Domantai stop (if you do not speak Lithuanian it is very likely that the driver will offer it to you before you even have time to ask because they are used to it). The trip only takes about ten minutes and the ticket costs less than one euro.
Timetables (2018) from Siauliai:
6:25, 7:25 (not on Sunday), 8:20 (Sunday only) 8:25 (Monday to Friday), 9:00 (not on Sunday), 10:25, 11:00, 12:15, 13:10, 13:50 14:45, 15:40, 17:30, 18:00, 20:30.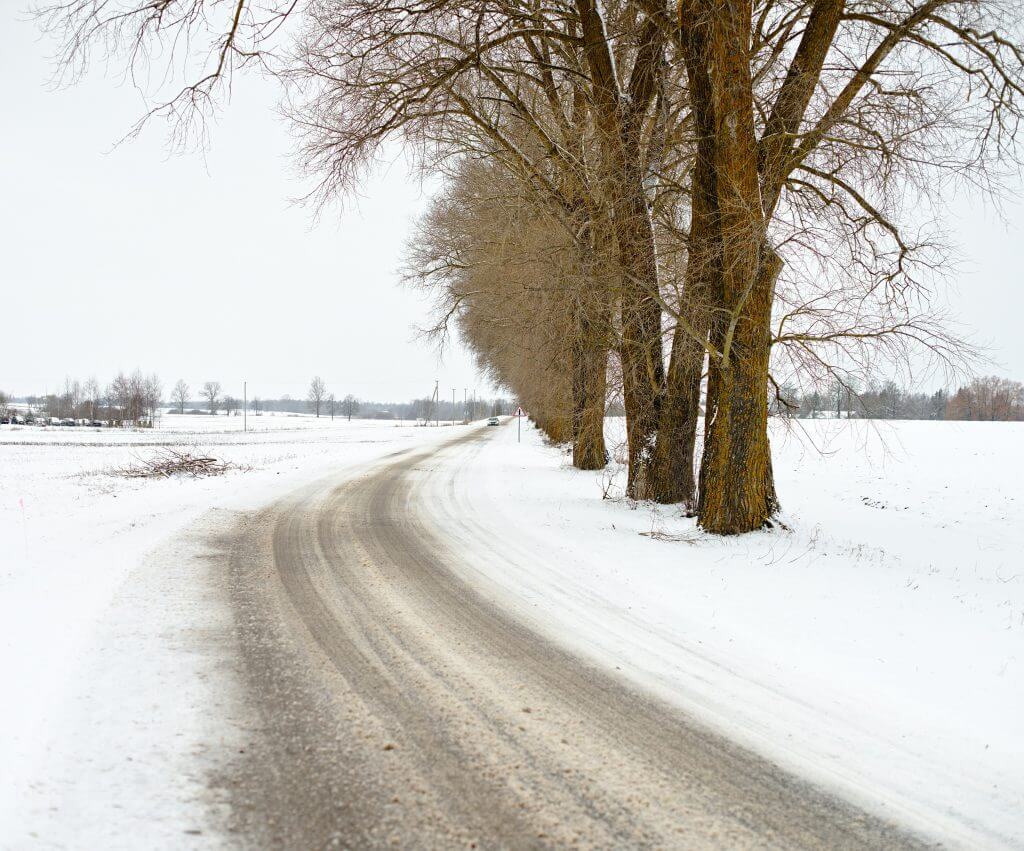 Once at the Domantai bus stop, all you have to do is take the small road that leaves the main road and follow it for 2km. It's not the most exciting part of the day, but it goes fast!
For the return you will have little choice but to take this road in the opposite direction and take the bus back to Siauliai.
Departure times from Domantai (2018):
7:33 (not on Sunday), 8:07, 8:11, 9:32 (not on Sunday), 10:43, 11:47, 12:12, 13:03, 14:03, 15:02, 16:22, 17:27, 18:20, 20:15.
see the timetable on Siauliai website
Note: It's free to visit the hill of crosses
That's it for today. We hope you'll enjoy this beautiful place as much as we did! Do not hesitate to let us know in the comment section how it went. If you have any updates regarding the bus schedule or some any other information you think might be useful to other travellers, we'd be glad if you leave us a comment.
Note: This article contains affiliate links. By using our link to book a tour or your accomodation you do not pay anything extra, but we'll earn a (small) commission. Thanks for your support.