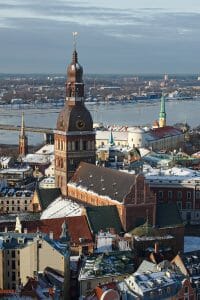 After our busy trip to Finland, we took a ferry back to Tallinn with the idea of continuing our trip in the Baltic countries a little bit slower. As we had already had a good taste of northern Estonia, we decided to take a bus directly to the city of Riga, the capital of Latvia. There would have been obviously other places to discover in Estonia… but since we can't see everything anyway and we have to be back in Switzerland in mid-March, we might as well go in the right direction 😉 .
We will certainly come back to the subject of buses in the Baltic countries (we have written a whole paragraph on transport in the Baltic countries here)… But frankly, the quality/price ratio is quite impressive. In this case the trip between Tallinn and Riga takes between 4-5 hours and for about 15 euros (it's even cheaper if you book in advance), we made the trip in a great bus with free wifi that worked like a charm. Imagine, I was able to stream the Australian Open final between Roger Federer and Marin Cilic… In short, buses in Eastern Europe are a different world if we compare them with Asia for example 😉
useful info
And if you want to take advantage of the trip to see more things on the way, an agency (which we tested and approved during this great daytrip to lahemaa) offers a Tallinn – Riga bus ride stopping at lots of places on the way. A nice concept that will allow you to see a lot of things on the way without wasting too much time.
Latvia and Riga: a small historical context
Until now, we hadn' t told you much about the recent history in the Baltic States. However, it is impossible to travel to these countries without having some context, because the 20th century has been so difficult in this part of Europe. It is 2018 and everywhere in the Baltic countries we see posters / placards mentioning the 100 years of independence of these countries. This is because in Latvia (also in Estonia and Lithuania) independence was obtained at the end of the 1st World War allowing them to leave the Russian empire.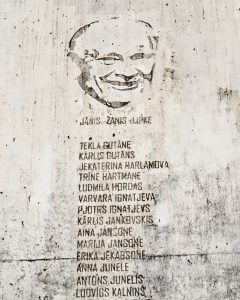 However, the peace was only short-lived as in 1939 Nazi Germany and the Soviet Union agreed to annex certain countries. Following this treaty, the Red Army invaded Latvia and the other Baltic countries with the firm intention of "sovietizing" these regions (meaning repressing and deporting the inhabitants). So much so that when Hitler's Germany decided to attack Russia in 1941, they were almost welcomed as liberators by the Latvians. However, the Germans would not do better than the Russians until 1945 and the end of the Second World War.
Unfortunately for Latvia and the other Baltic countries, the Red Army regained control in 1945 and re-established Soviet power. This was followed by the difficult years of communism and Soviet occupation with all the horrors we know (the KGB, the gulags, Sovietization). This period, although particularly difficult until Stalin's death in 1953, lasted until 1991 and the fall of the Soviet Union.
So it's impossible to travel to Latvia and not have all this in mind because most of the people you meet on the street grew up in the Soviet Union. With this perspective, we must admit that we were really amazed by the incredible developments that these countries have experienced in such a short time…
it's hard to imagine that less than 30 years ago, they were still cut off from the rest of the world!
What to see, what to do in Riga: our favorites
So we stayed 9 days in Riga but we only visited the city and its surroundings 3-4 days because we also had a lot of work to do (we swear to you that we also work sometimes 🙂 ). But that still gave us time to make some nice discoveries that we are about to share with you in the rest of the article.
Free Walking Tour

In Riga there are also free walking tours which are organized every day. Departure is at noon and the tour lasts about 2h-2h30 (visits are always in English). This is, in our opinion, an excellent way to start your tour of the city as it allows you to get a first glimpse of the city and also to be able to ask questions to a local guide.
The concept of the free tours is always the same: registration is free and at the end of the tour it is customary to leave a tip to the guide depending on how you found the tour.
the old city of Riga, a UNESCO World Heritage Site
Before the sad period described above, Riga was an important port city in Europe because of its strategic geographical location between east and west. It is therefore not surprising to find a very beautiful historical city centre that has been rather well preserved / restored given the events that took place in the 20th century. Frankly, it is really nice to stroll through the small streets of the old town with its pretty coloured facades. It is this mix between medieval buildings and Art Nouveau that has earned it a place on the UNESCO's list of World Heritage Sites.
the central market
When we travel, we always love going to a local market with Fabienne. These are always very lively places that allow us to discover new flavours and see what people are buying in the country we are visiting. And on the market side we were spoiled in Riga since the central market is simply the largest covered market in Europe (when we told you that Riga was an important harbour).
After the 1st World War, the market was set up in a rather unusual place since it is still in old renovated Zepellin hangars. There are many fresh and local products that are really cheap. It is here that we discovered that Latvians love cabbage, pickles and potatoes 🙂 . You will be able to taste the different specialities without difficulty as you stroll through the market
the bell tower of St-Peter's church
Certainly the St-Peter's church is pretty but its main interest lies in the fact that for the modest sum of 9€ / pers you can go up to the top of its bell tower to have a 360 degree view over the whole old town. So yes we agree, 9€ is expensive to climb into the bell tower of a church but if the weather is nice, we promise you that the view is worth it… check out the pics 😉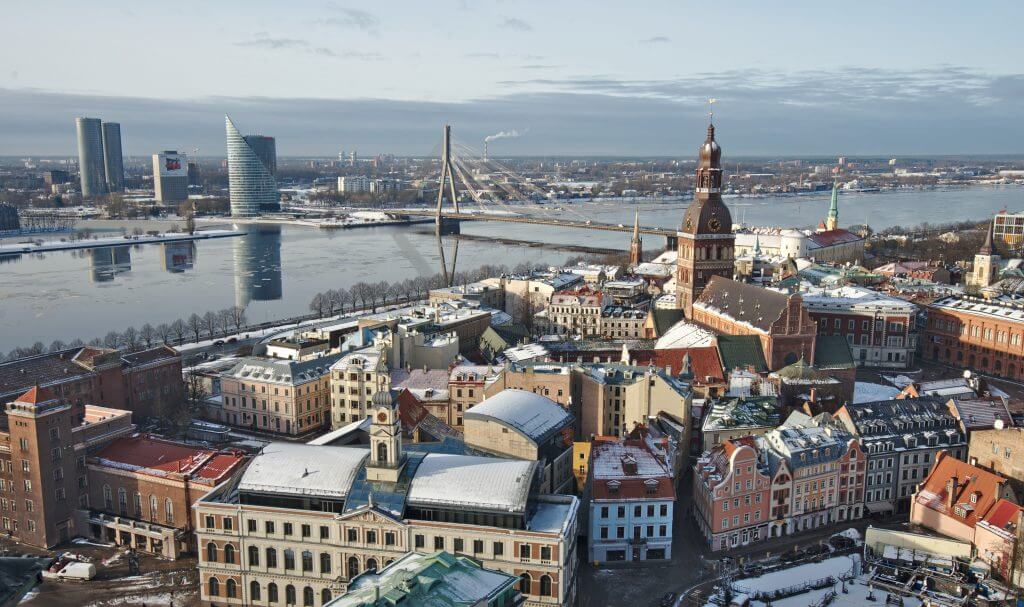 Art Nouveau in Riga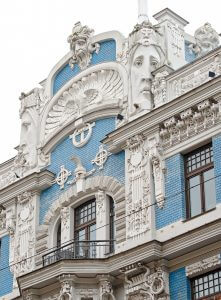 Before the First World War, Riga was an important city thanks to its strategic position and enjoyed rapid economic growth. It was at this time that most of the Art Nouveau style buildings were built in the city (there are still more than 800 of them left today). And it is still today the city that has the most important concentration of this style of construction in the world (which has earned it its place on the UNESCO World Heritage List).
So certainly we are not experts in architecture, but we liked all these buildings richly decorated and sculpted all around the old city (there are also some in the old city). To see the best restored examples of this style of architecture, we suggest you take a walk down Alberta Street, which is just beautiful.
The Moscow district
Another thing we like to do when we visit a city is a free walking tour. The concept is simple, a local guide takes you through his city on foot and shows you his favorite places. The tours are entirely based on tips, i.e. you leave what you want depending on whether you liked the tour or not. So in Riga we participated in an alternative walking tour which took us outside the old city to discover other places that we would not necessarily have discovered by ourselves and the Moscow district is one of them.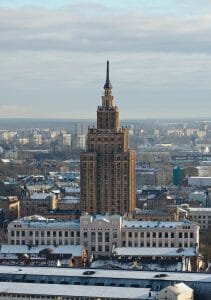 Located just after the central market, this much more modest district contrasts quite a lot with the old town. Exit the beautiful art-nouveau buildings, here the houses are mainly made of wood because it was necessary to be able to burn them in case of an enemy attack at the time. The Moscow district is also infamous for having been used as a ghetto for Jews during the Nazi occupation of 1941-1945 (including the ghetto museum). At the end of the Soviet era, the place was rather poorly frequented (because prices were low) and it was not recommended to hang around there until about ten years ago. But nowadays, Riga has become a very safe city and the new generation is trying to use some of the houses in this area for artistic and cultural projects. There is also the impressive Academy of Sciences building (a large concrete block in the purest Soviet style) that was built there to Stalin's glory.
the flea market of Latgale Tirgus
This flea market is probably the place that left the most vivid memory of our trip to Riga. Also located in the Moscow district, I had the impression that I was teleported back 50 years when I entered it. It's simple, you can find completely outdated electronics, old bike parts of all kinds, old cameras, lots of objects from the communist or Nazi period (uniform parts, buttons, weapons…) and many other old things. Even if you have no intention of buying anything, this place is worth a look just for the atmosphere. And if you like photography like me, this place is a little gem 😉 .
Walk along the Daugava River
During our 9 days in Riga, we had one unique sunset 🙂 (and if you wonder why there is blue sky in most of our photos, it's because we took them all during the 4 hours of sunshine we had 😉 ). And if you want our opinion, one of the best places to enjoy the late afternoon is to go for a walk on the promenade along the Daugava River. In fact, if it had been a little warmer, we would have had a beer by the water.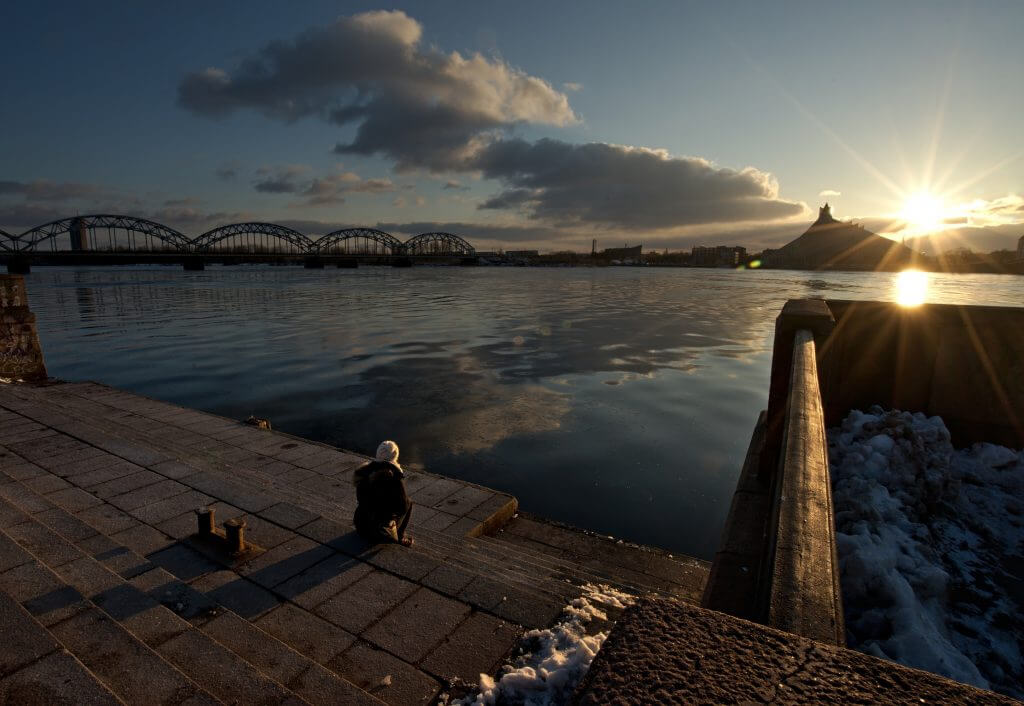 Museums
There are many museums in Riga and if like us you don't necessarily have a dream weather during your stay (we must have had 4 hours of sunshine over the 9 days 😉 ), you may want to learn a little more than usual 🙂
See more Activity ideas in and around Riga
daytrip to Sigulda and Turaida Castle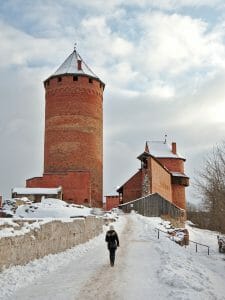 You know us, we like to go for a hike in nature as soon as we have the chance. And even if traveling in winter in the northern countries is a little more complicated, we still tried to make a small excursion to the outdoors from Riga.
The most popular destination from Riga for a day trip (even if there is enough to stay 2-3 days) is the village of Sigulda. Sigulda is a small medieval village in the Gauja National Park and is an excellent base for visiting the various castles and hiking in the park. We don't tell you more about this place because we have a little article planned about this 😉 Edit: The article is here! 😉
And if you are looking for another idea of excursion from Riga we can only recommend that you check our article on the beautiful hill of crosses in Siauliai or take a look at the tours offered by GetyourGuide in and around Riga
The black balsam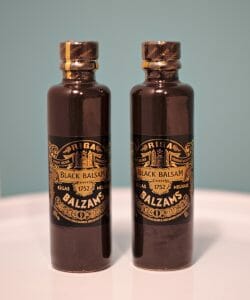 If you follow us on the blog, you know that we usually don't say no to a drink. So we couldn't leave Riga without having a taste of black balsam, the local alcoholic beverage. This drink was developed by a Latvian pharmacist in the middle of the 18th century and contains 20 different plants. The result is already strong enough (45%) but be aware that black balsam is typically drunk mixed with vodka (perfect to warm up during the Latvian winter) or warm with coffee or tea.
So the verdict on our side: Frankly, it's a very, very bitter drink. Fabienne really didn't like it and I have to say that I was grimacing at the first sip… but I think it's the kind of drink I could like in the long run (I'm a big Suze fan if you know what i mean 😉 ).
Useful Infos
Accomodation : In Riga we rented an apartment for 9 days in the old city (since we had to work too). For 30€ / night, we had a large apartment of about 70 square meters in an attic with exposed wooden beams… just great! . But if you want to spend less money, you won't have any trouble finding a bed in a dormitory on Hotelscombined (if you don't know it, Hotelscombined combines all the platform offers like booking, agoda and many other sites… very convenient to find cheap hotels).
If you want to search by location we let you take a look at the map below. You can enter your dates as well as adjust the filters (prices, ratings, etc.) to refine your search.
Coming to Riga: We came here during our roatrip from Helsinki to Switzerland by road… in short we came by bus!) But Riga is clearly a destination that can be done very well in city-trip and there are cheap flights on Skyscanner.
To warm up, we always stopped to drink coffee and eat pastry in one of the small coffees of the Latvian Sala chain. We find that the quality/price ratio is great and as they are all over the city, it is always them we came across first.
We hope you enjoyed discovering Riga in winter with us.
Note: This article contains so-called affiliate links to sites that we also enjoy and use. By using our links you don't pay anything more, but we will get a small commission. This trip was 100% independent and all expenses were covered by us 😉 Affiliation is a way for us to monetize our site while remaining independent in the choice of our destinations and our way of traveling.