Second destination of this #novomondotrip, after Georgia, you decided to send us to visit another country rather outside the radar: Lithuania. In other words, without your help, we probably would not have put the city of Vilnius and Lithuania on the agenda for our trips in the near future 😉 . We just wouldn't have thought of it!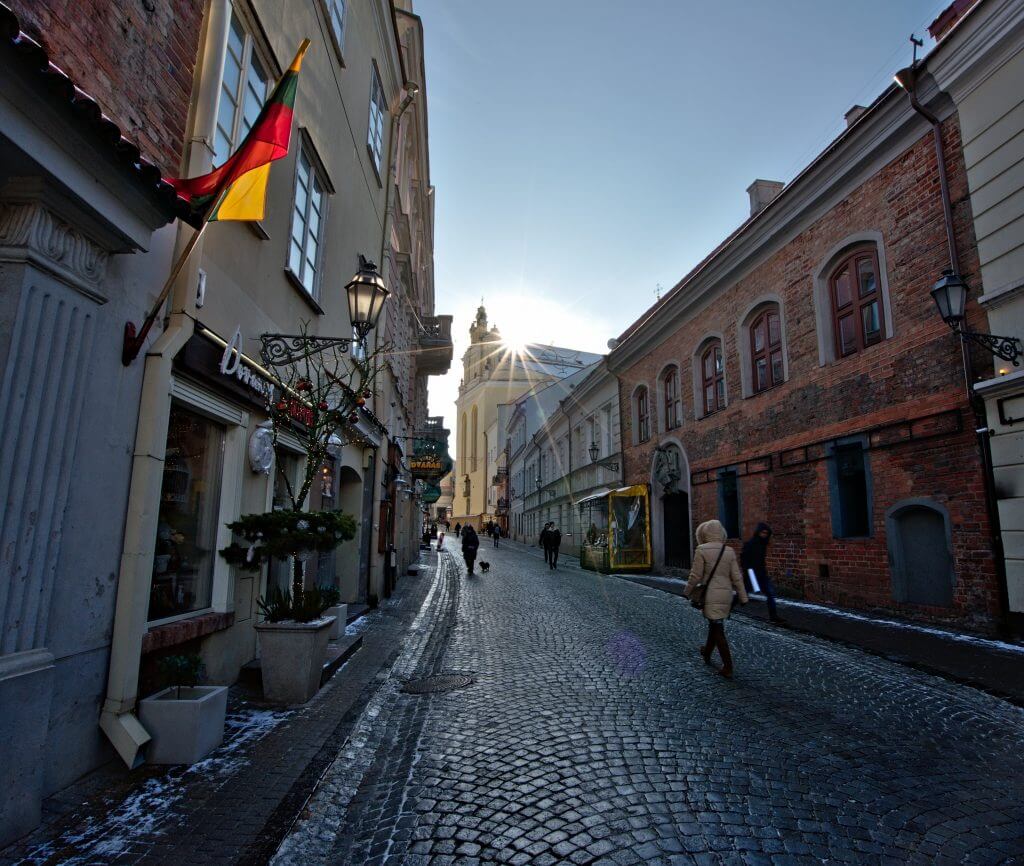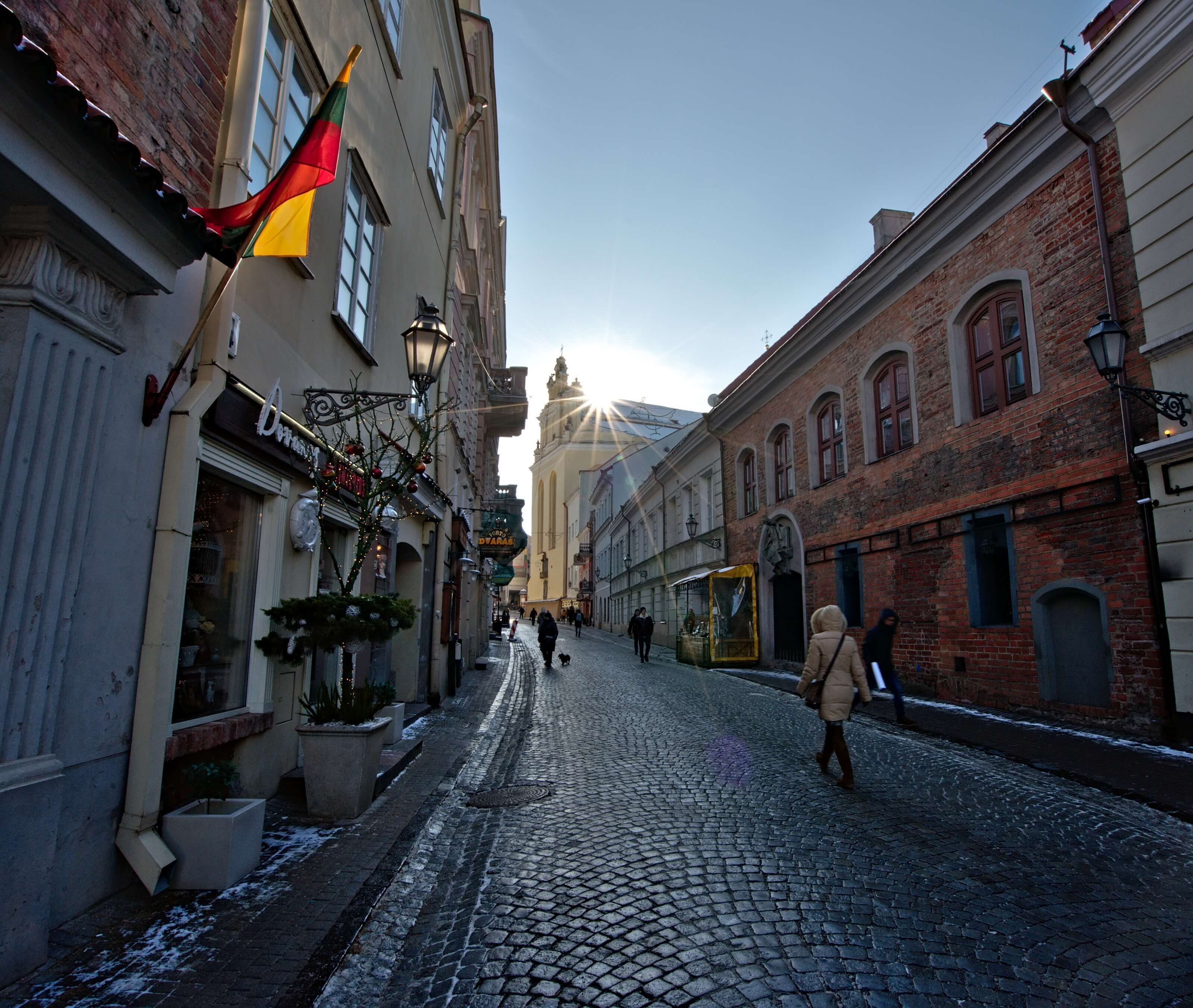 And yet, we were once again surprised in a good way. That's what we love about this project… it's spontaneous, we discover interesting places thanks to you 😉 . So once again, thank you for being so many to play the game and offer us so many interesting destinations 😉 .
Update 2018/2019
Having returned to Vilnius in 2018 we made a big update of this article to include lots of new addresses and things to do in Vilnius. In 2018 we were here again in the middle of winter (February), we will really have to come back once in summer to enjoy the many terrace options!)
A quick historical refresh
We're not usually a fan of historical reminders on novo-monde, but since we knew absolutely nothing at all about the history of this country, we thought maybe you wouldn't either 😉 (well, after that we're not super cultivated on that side)… I promise, we'll keep it short 😉 .
To begin with, it should be noted that in the Middle Ages, Lithuania was the largest and most powerful country in Europe. It is for this reason that the old medieval town center of the capital Vilnius, which has developed over many centuries and under the influence of many different styles, is entirely classified as a UNESCO World Heritage Site. As you can see from our pictures, the city center is a superb mix of styles and walking around it is a real joy for the eyes 😉 .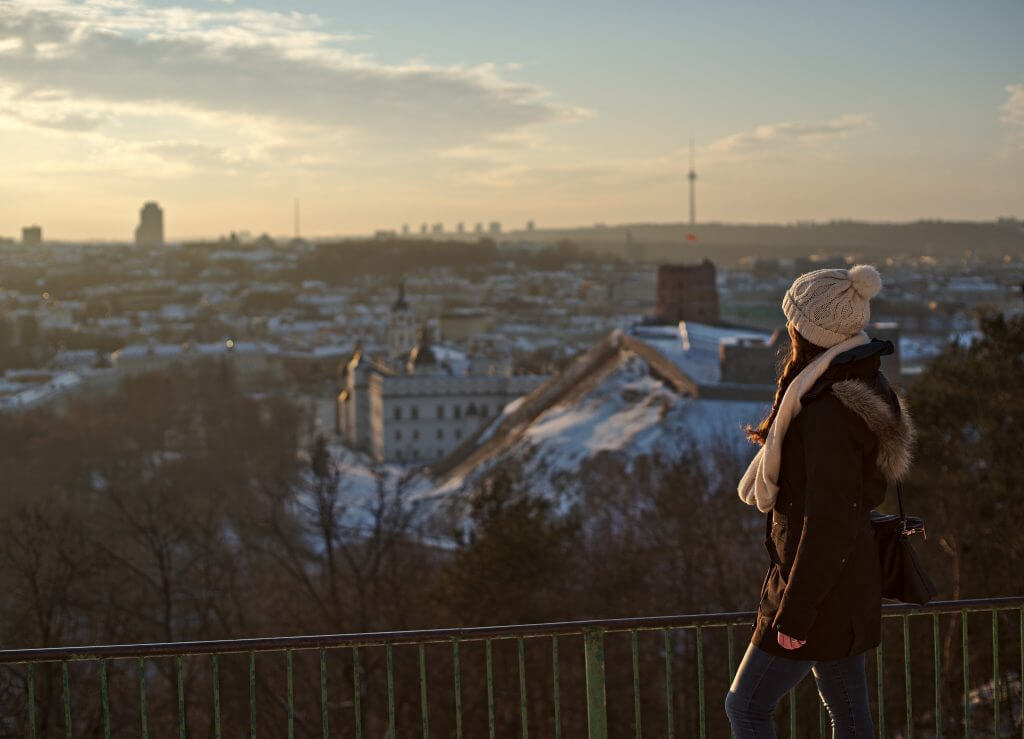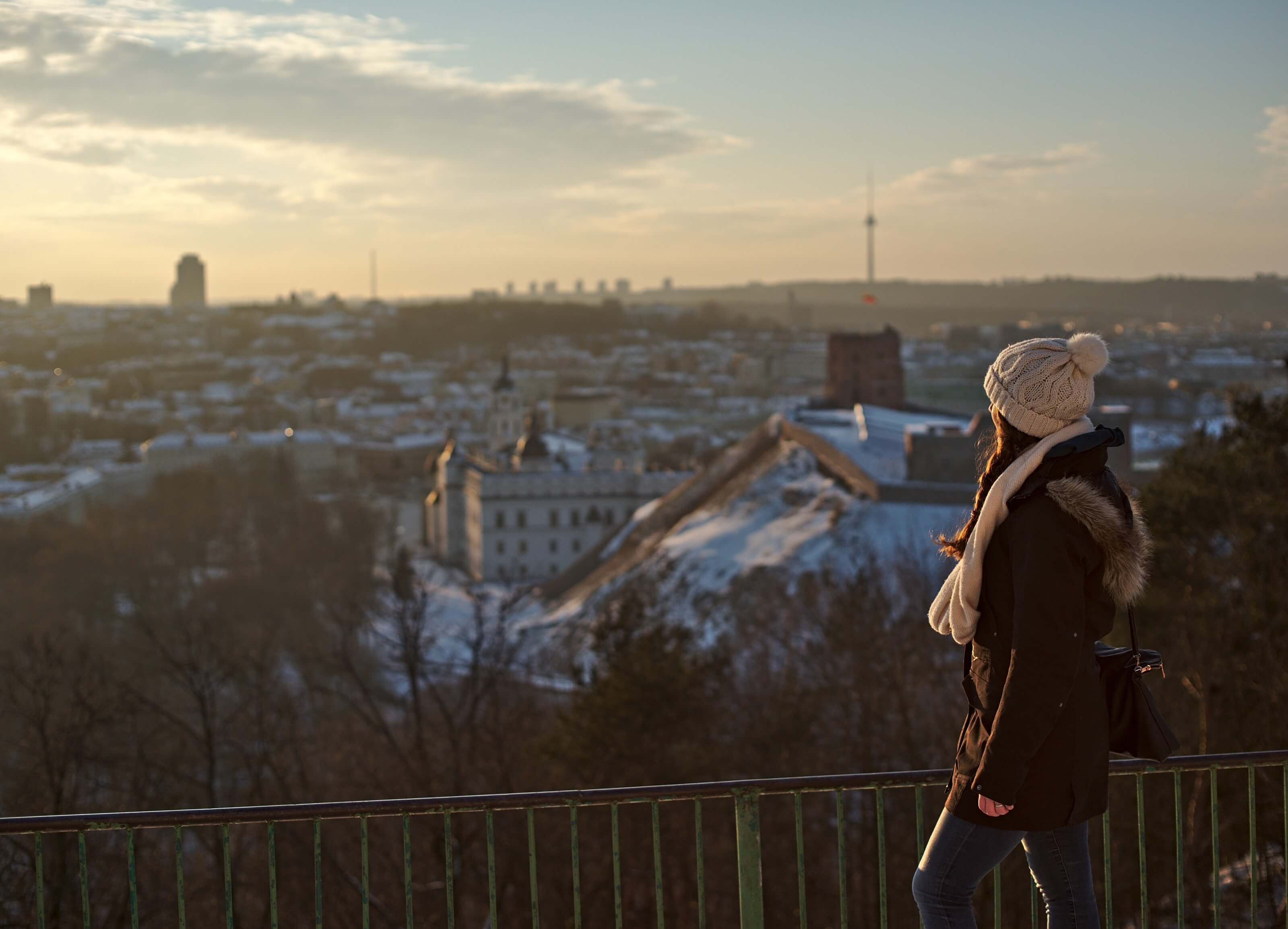 Unfortunately, the rest of the story is much sadder. At the beginning of the 20th century, Vilnius was known as "Jerusalem of the north" with a large Jewish population (40% of the city). During the Second World War, Lithuania was first annexed by the Soviet Union (people were sent to the gulags) and then occupied by the Germans who massacred 95% of the Jewish population in 2 years. After the war, Lithuania was unfortunately incorporated into the Soviet Union again until 1990!
Frankly, if you walk the streets of Vilnius today, it is hard to imagine that just 25 years ago, the country was still part of the Soviet Union. The buildings are beautifully renovated, the city is very "modern" in a way with cafés on every street corner, original restaurants, shops, many museums too, street art (more on this later in the article).
Did you know that Vilnius was named European Capital of Culture in 2009?
A walk in the city center of Vilnius
So we advise you to take at least 2 days and simply walk to discover the city center. It's full of charming little alleys, buildings/churches all more beautiful than the others, cafés to warm up (ahhh yes, Lithuania in winter it's beautiful but cold 😉 ), shops, alternative monuments and so much more.
We especially loved going up to the hill of the 3 crosses for sunset with the magnificent view over the entire historic center.
Here is a short list of the visits we preferred during our stay.
The Genocide Victims Museum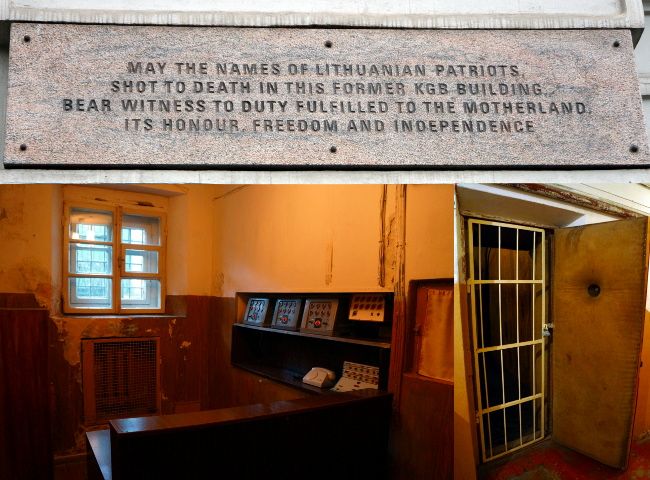 The visit of the museum of the genocide's victims, which traces the country's sad history in the 20th century, is also not to be missed. Located in a former KGB building, we came out a little confused but happy to have visited it (as after the S21 prison in Cambodia or the Vietnam War Museum in Saigon).
The whole dark period of the Second World War and the Soviet occupation is detailed until Lithuania's independence in 1990. You will be able to see many photos, testimonies, explanations (in English) as well as the old prison in the basement… it's really intense! One of the main things that struck me about this museum is that despite the Soviet occupation, the population has never lost hope of an independent country. The most beautiful manifestation of this state of mind is the "Baltic Way", a non-violent gathering of 2 million people in the form of a 600 km human chain between Vilnius and Tallinn (Estonia's capital) while passing through Riga, in protest against the Soviet occupation… 7 months later, Lithuania was the first Baltic country to regain independence. Nice story, isn't it?
Useful infos
The Genocide Museum is open from Wednesday to Saturday from 10am to 6pm and on Sundays from 10am to 5pm (closed on Monday and Tuesday).
Price: 4€
Visit of the church of Saint Paul and Saint Peter
Who knows, but in 2015 we hadn't heard anything about this church at all. But fortunately this year we were able to count on Lorène who is following us on Instagram and who strongly insisted on the fact that this church was worth a visit. 🙂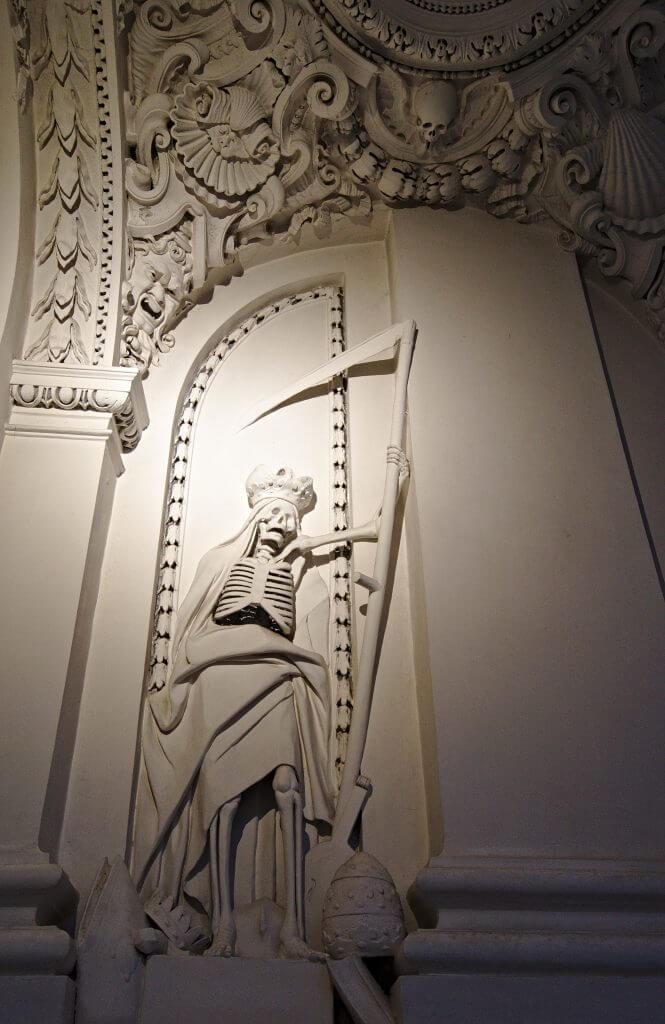 From the outside Saint Paul and Saint Peter is pretty but nothing more… On the other hand, inside! Phew!!!!! Probably one of the most beautiful churches we've ever visited. There are so many details on all sides that we easily tend to look at them several times.
And I think it's the first time I've seen skulls and skeletons in a church!
NB: By putting 2€ in a small machine at the front of the church you can switch on the lights for a few minutes. So even if paying for lights seems strange, we assure you that it makes all the difference. (By the way, we will thank the Spanish tourist who had the great idea to put a coin just when we thought we wanted to do it) 😉 haha #cheapsterForever
The Republic of Uzupis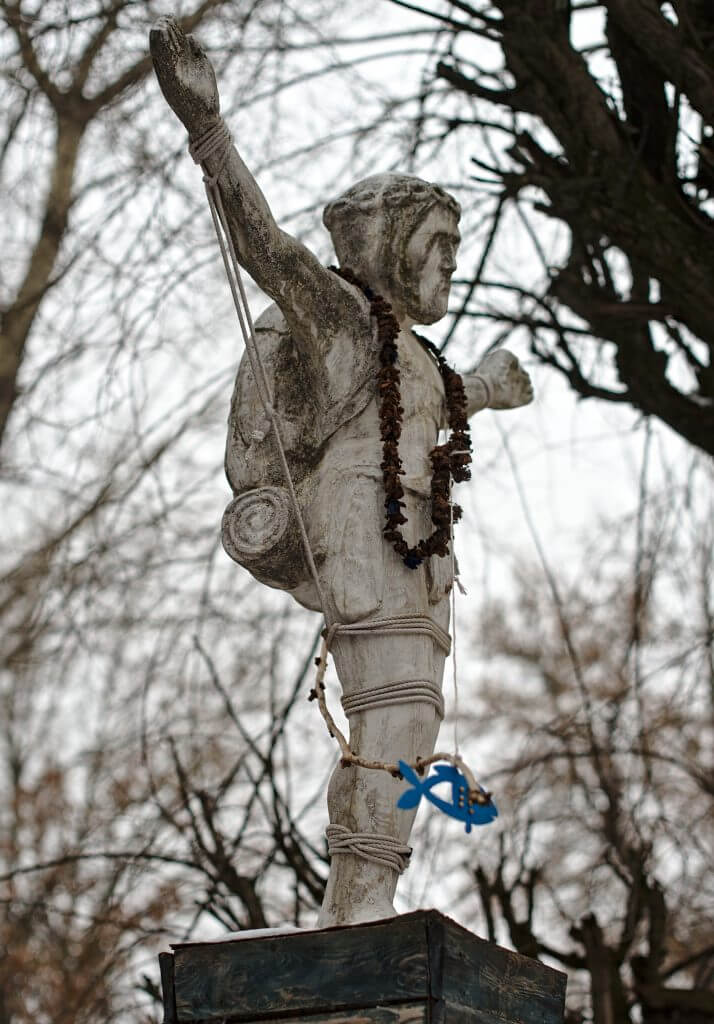 It is really the heart of Vilnius' artistic and alternative culture. But more than a district, it is a real small country (a little like the Vatican but less serious 🙂 completely dedicated to art and freedom of expression.
Like any respectable country, it has its own flag, its own currency, its army of 12 men, a statue where Jesus is a backpacker and its constitutional text which includes the following elements:
A Man has the right to live near the small river Vinalé and the Vinalé has the right to flow near the man.
He has the right to die but it is not a duty
Man has the right to be neither remarkable nor famous
He has the right to take care of the dog until death do separate them.
The dog has the right to be a dog
…
All of this is very serious, right? Note that Uzupis' national holiday is April 1st… certainly a coincidence 😉 .
But anyway, this part of Vilnius is full of artistic quirks, street art, microbreweries, alternative coffee shops. When you consider that only 25 years ago, the city was still under Soviet domination… Incredible, isn't it? So don't miss out on a trip to Uzupis to discover its secrets!
Useful infos
During our visit in 2018 we did the Free Walking Tour which passes through the city centre and Uzupis. This tour is held every day (departures at 10am and 2pm) in front of Vilnius Town Hall (Didzioji str. 31). The tour is in English.
The concept of these walking tours is that it's free but tips are welcome at the end. We have done several in different cities around the world and we must say that Vilnius is one of the really good ones! More infos
For information: the tip is optional and the amount is free. On our side we had left 5€ per person.
Discover the Street art in Vilnius
Vilnius is a city that has a lot of charm for its medieval side, but a part that we also liked a lot is the more "arty" side. The street art is very present there and during our second visit we really enjoyed walking around looking for some nice graphics and murals.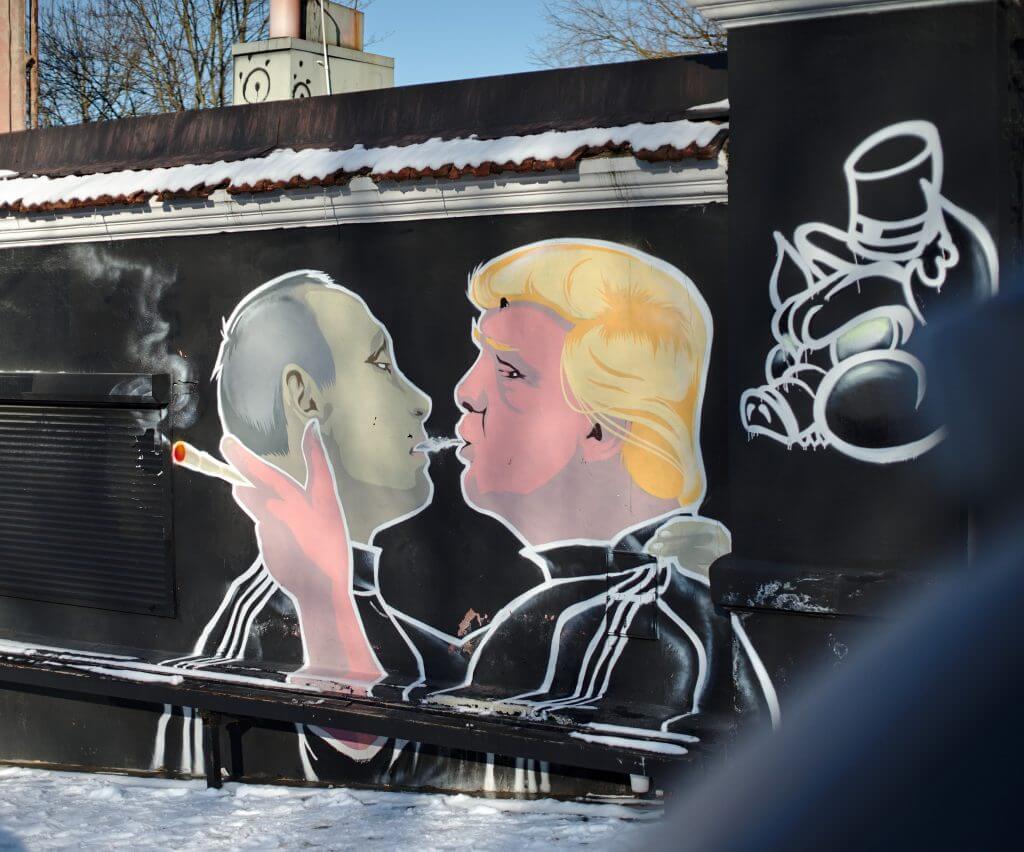 The graph that must probably be the most famous was only a few meters from our hostel…. A mural depicting Trump making a small soufflette to Putin. 🙂 We have to admit, it made us laugh a lot. After that it is regularly covered / repaired, so it tends to evolve a little (I think at the base they didn't make a blowgun but they kissed each other).
A small selection of our favourites in terms of Streeart in Vilnius (click on the images to see them in larger format):
The best way to find Streetart in Vilnius is of course to walk through the different districts. But if you want some inspiration for the itinerary then know that the tourist office has made a special streetart map that you can download here. (But you can also pick up a paper version that is in self-service at the tourist office in the city center.).
Accommodation in Vilnius?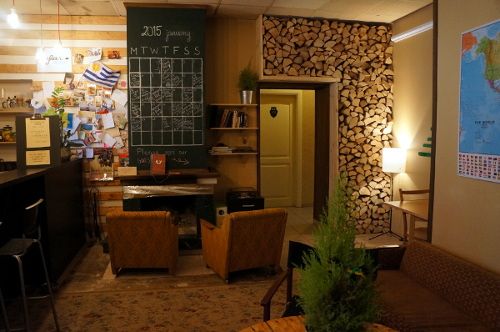 During our visit in 2015 we stayed at the downtown forest hostel, a very nice backpacker located close to the heart of this alternative district. A very nice staff, an original decoration (like the district) and located 10 minutes on foot from the historical center… we really liked it! It's a very backpacker friendly place that also offers camping spaces if you are travelling with your tent.
More information and bookings
When we returned in 2018, the downtown no longer had dormitory rooms available when we visited and so we went to the B&B&B&B&B.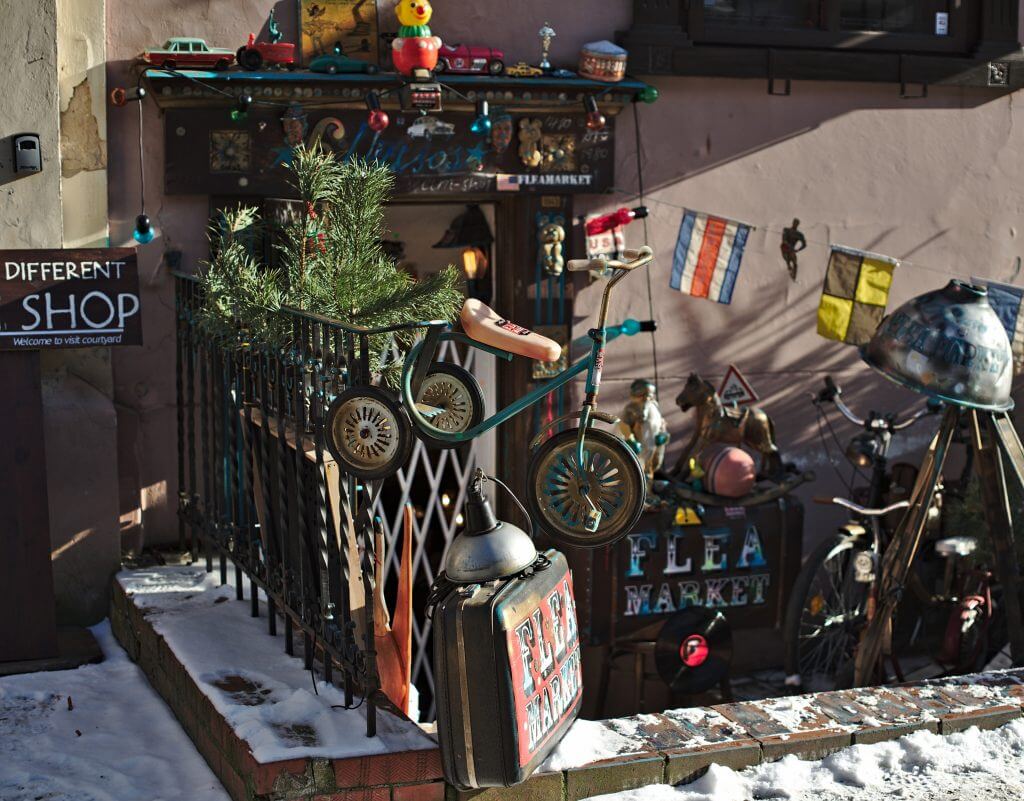 The absolutely unbeatable price of 5.9€ per person in a dormitory convinced us… Just that you know it's not the cleanest hostel on earth (the kitchen was not super clean) and it's very noisy (especially on weekends) because it's located above a bar-night club. In short, not a great pick for us, but for party people it's a good address ( if you're not too obsessive about cleanliness) . 😉 As you can imagine, we slept relatively little and badly during our 3 nights…
But if dormitories and hostels are not your thing, we advise you to go take a look at Hotelscombined. Vilnius is a cheap city and it is easy to find hotel rooms for 25€-35€ per night.
Or else, the alternative is apartment rentals! We hadn't booked anything 24 hours before arriving and it was a weekend, so we didn't find any apartment in our prices/criteria… But if you're less at the last minute than we are, it may be worth a look. There are small apartment studios from 25€ per night.
To compare apartment and hotel prices easily you can take a look at the following map. By using the filters, zoom and by selecting your dates you should be able to find your next place to stay in Vilnius:
Daytrip to Trakai Castle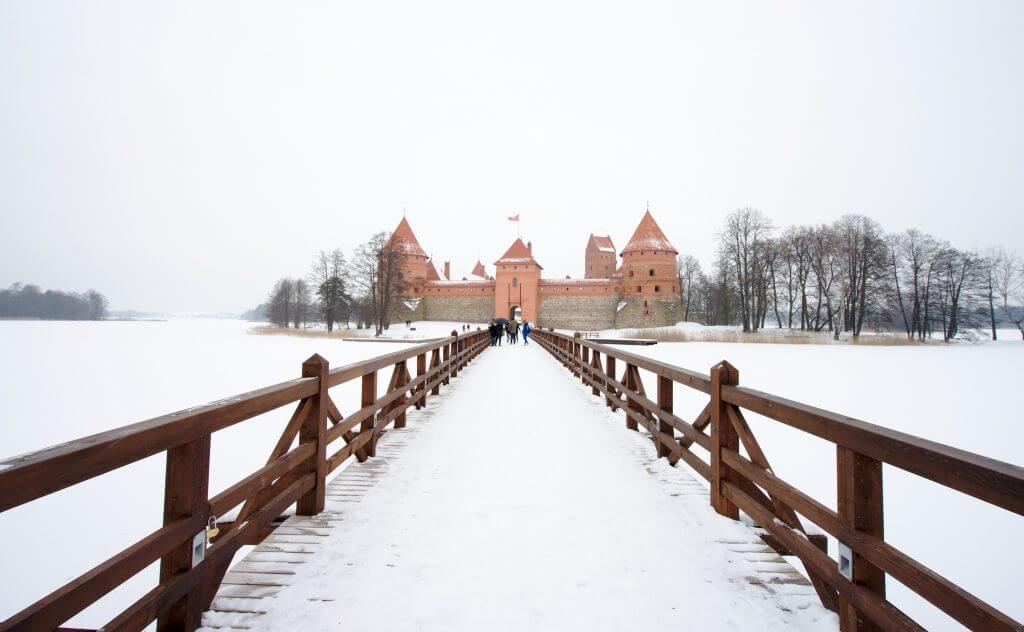 Located just 30 km from Vilnius, Trakai Castle is a perfect day trip. Dating from the 14th century and renovated in the 20th century, it was one of the most important places in Lithuania at that time. And since it was built on a small island in the middle of a lake, it is also a particularly photogenic place 😉 .
The advantage of coming here in winter is that you will not meet many people at the castle. And because of the very cold temperatures, the lake surrounding the castle is completely frozen. So you can go for a walk on the lake… and observe the local ice fishing 😉 .
As for the visit of the castle, we also recommend it. You can get into a lot of the rooms and there is a lot of information in English. We particularly appreciated the treasure room and the chapel with its magnificent vaulted ceiling.
Ahhhh yes!!!! I almost forgot… On the way between the castle and the bus station, you will come across a chocolate factory on the road!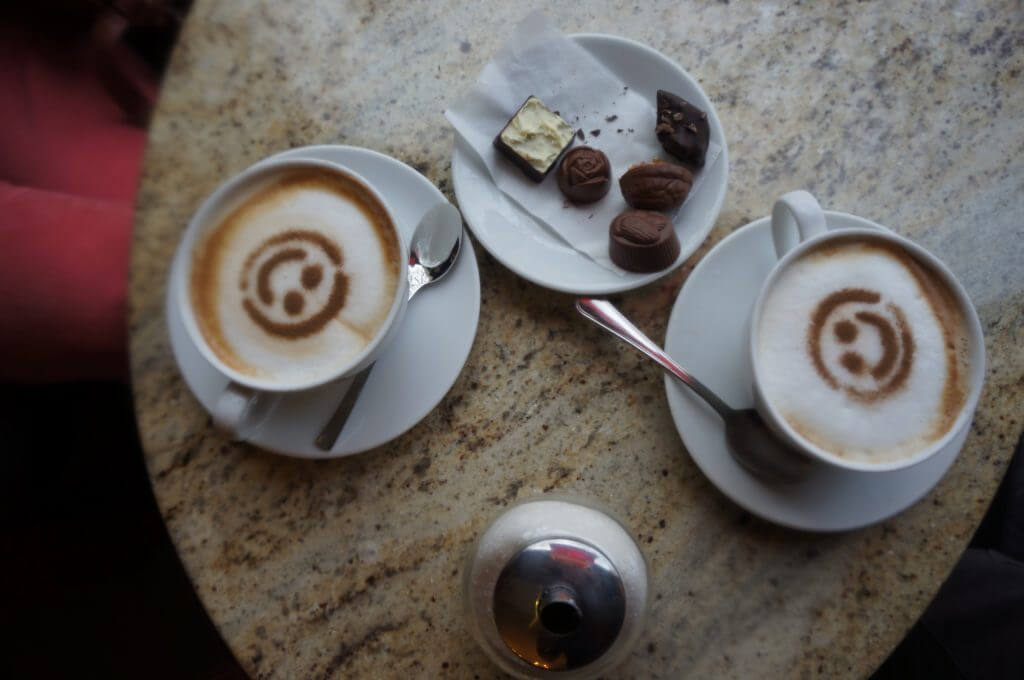 Pralines are a super tasty (Swiss people say) so you have to stop for a coffee and chocolate if you pass by! But be careful, the price is by weight and it's not cheap 😉
To give you an idea we had something like 8€ for 2 cappuchinos and 6 pralines.
Useful infos
From Vilnius bus station, there is about 40 buses a day to Trakai and the one-way ticket costs 1€90 (with wifi on the bus… really!). From the bus station, there is a 2 km walk to the castle (everything is perfectly indicated) and the entrance will cost you about 5€.
If you'd rather have an organized transport and not walk from the bus station, you can opt for a daytrip from Vilnius. On GetyourGuide they have a tour that costs only 20€ and that includes transportation as well as an audio guide.
Travel budget of our trip in Lithuania
As usual, we will give you more details about our expenses during this short stay in Lithuania. So the least we can say is that Vilnius and Lithuania is rather cheap. In 2015 we spent less than 17€ per person and per day all included ;)… And the price-quality ratio of hotels, restaurants and other cafés is excellent… It's much better than Georgia on that side! Below you will find our detailed budget 😉
our travel budget in 2015: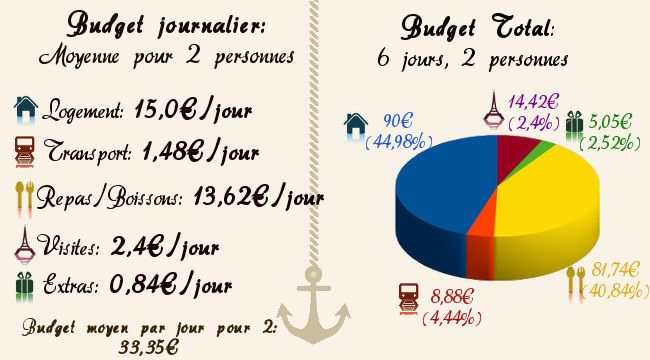 And here is our travel budget of 2018: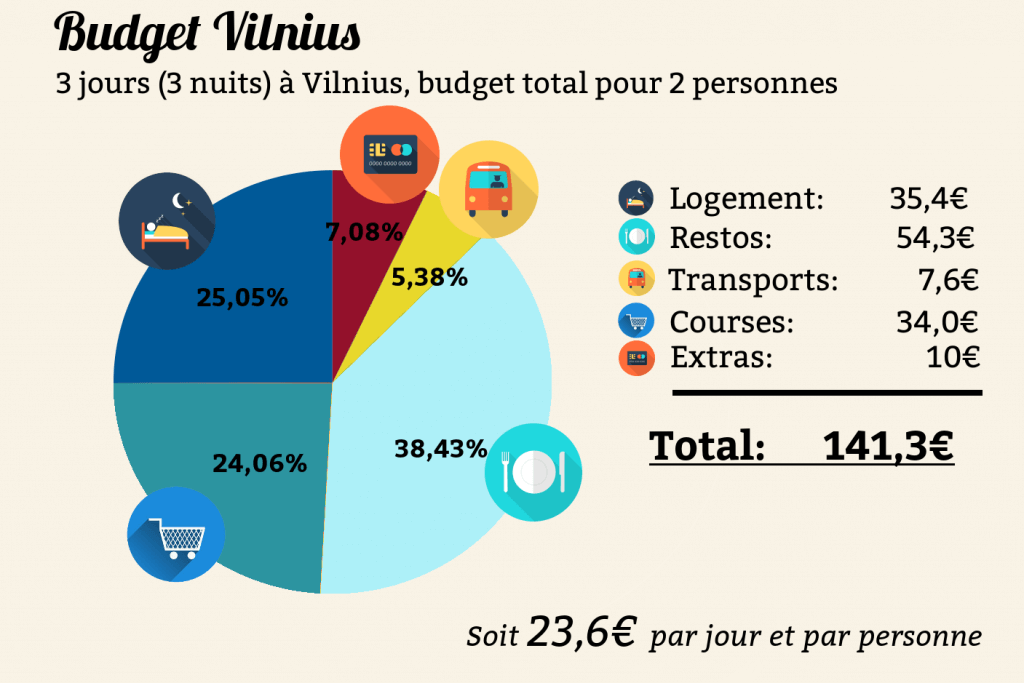 In short, you will have noticed that 3 years later we are sleeping cheaper (but it was a mistake) but we are eating a little better! 😉 No but seriously prices didn't change much between 2015 and 2018 and Vilnius definitely remains a cheap destination in Europe!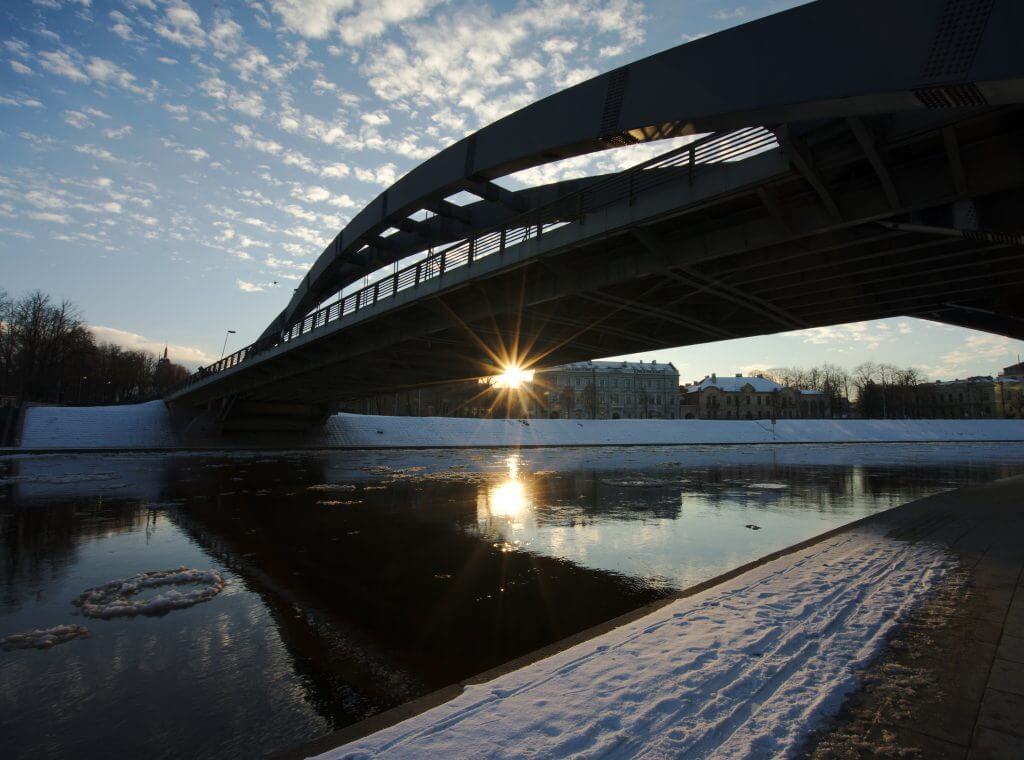 That's it, this time I think we've told you everything we know about Vilnius. But as the saying goes: "Never 2 without 3", so I want to tell you that we're probably not done talking about Vilnius… Next time we'll try to come back in summer… No because winter is pretty, but the Uzupis terraces will be great in summer too!
NB: Please note that this article contains affiliate links to partner sites. If you buy a product on one of their sites you will not pay more but we will receive a small commission. This will help us to keep this site alive. Thank you! 🙂