Being in Finland for a conference we wanted to extend the trip a little bit and take advantage of this "Nordic" getaway to return to Switzerland by taking our time. Very quickly, the Baltic countries emerged as a natural choice.
The idea was to leave Finland and travel to Switzerland by bus only and without making fixed plans. Traveling in winter, we still had to face some "logistical" and "climatic" constraints, but we will come back to that. In this article we will not talk so much about the destinations themselves (even if we still give you our must-see destinations by country and our favorites at the end), but instead we will focus on organizing a trip to the Baltic states.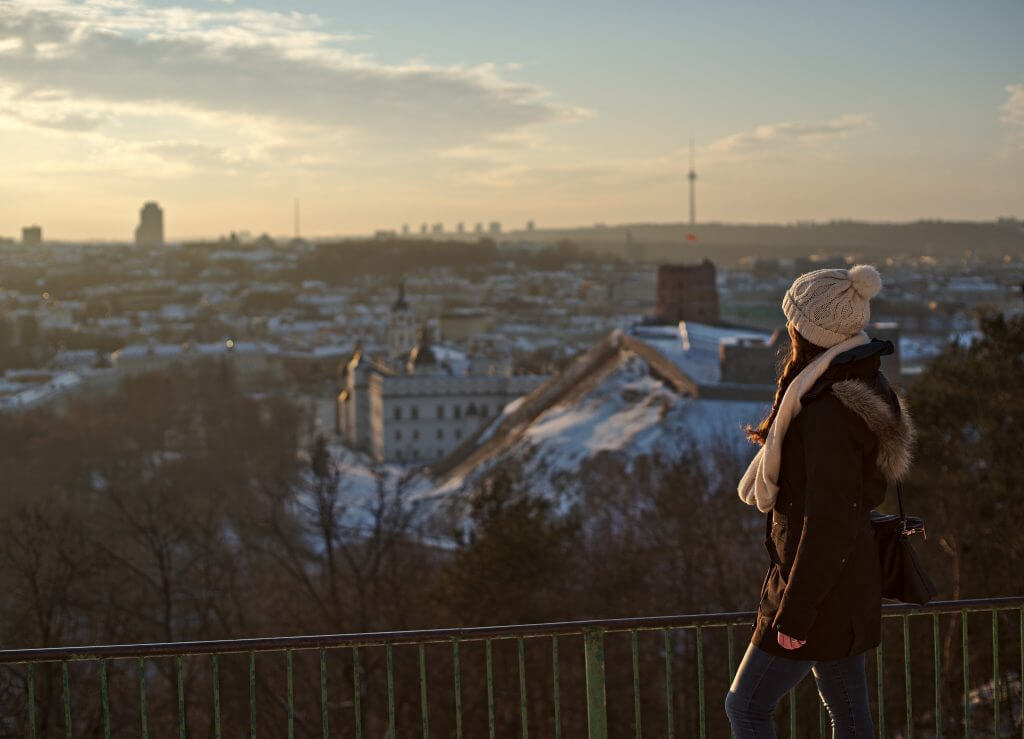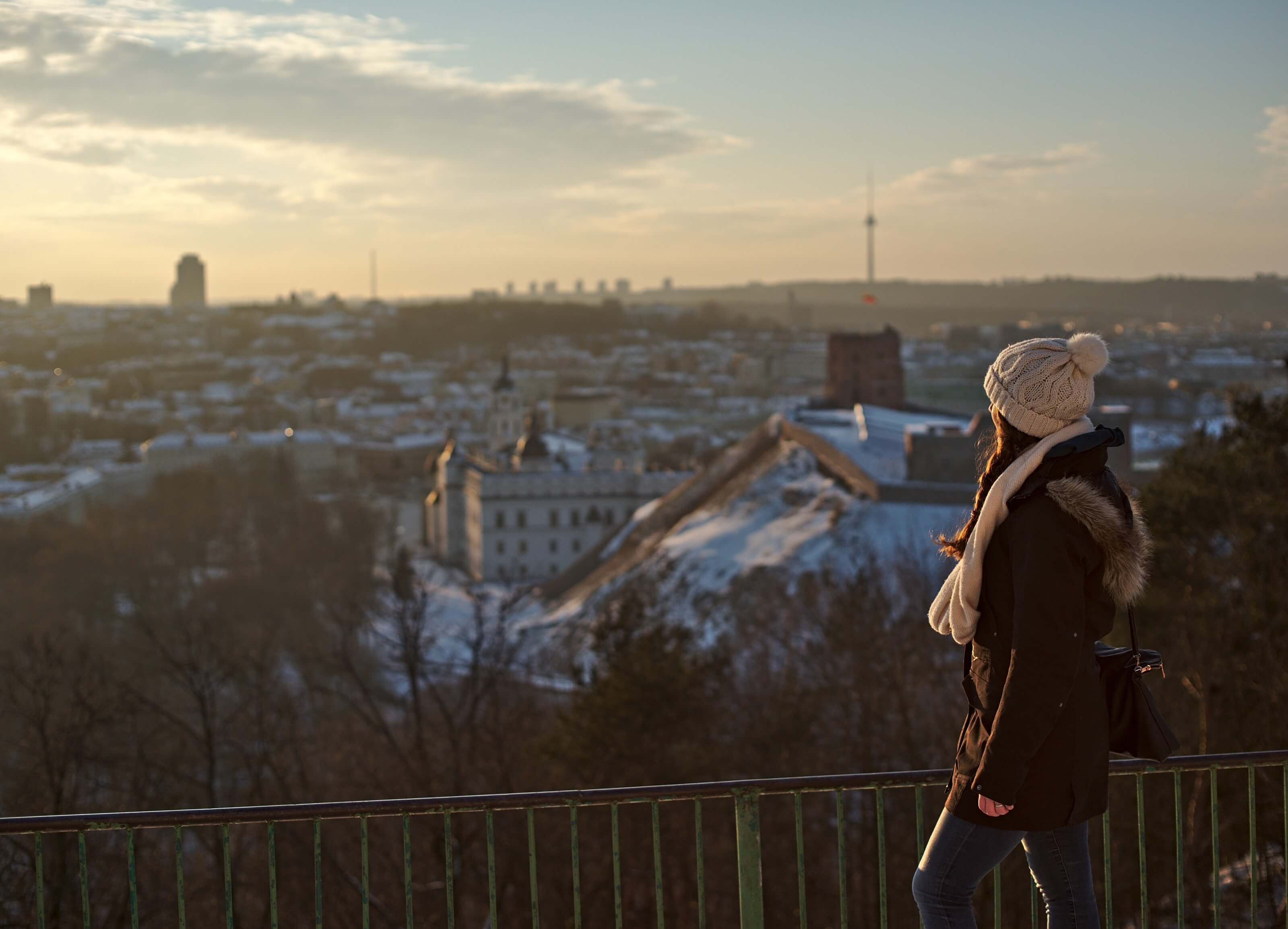 The itinerary, travel, accommodation, detailed budget, in short everything you may need to plan your stay as an independent traveler. Because yes, Estonia, Latvia and Lithuania are REALLY easy to travel to and it is not necessary to go through an agency to plan your perfect trip.
And if you want to have more information about destinations then we invite you to visit our special pages dedicated to Estonia, Latvia and Lithuania
Itinerary in the Baltic States
We will start this article with purely "logistical" aspects, how long to plan, when to go, and how to plan your itinerary… Later in the article we will talk about the budget and we will give you our best tips about Estonia, Latvia and Lithuania.
How long should you travel?
To this question I would obviously be tempted to answer you: "As long as possible!" 😉
But if we are a little rational, I would say that it takes 2 to 4 days for each capital to get a good overview. In addition, there are a few hours of transport and 3 to 8 days for some trips and excursions to see a little of the beautiful landscapes.
In short, I would say that 2 weeks in the Baltic States is good, 3 weeks is the best!
If you have only one week, I would advise you to limit yourself to only one country (or 2 capitals if necessary).
Which season to visit?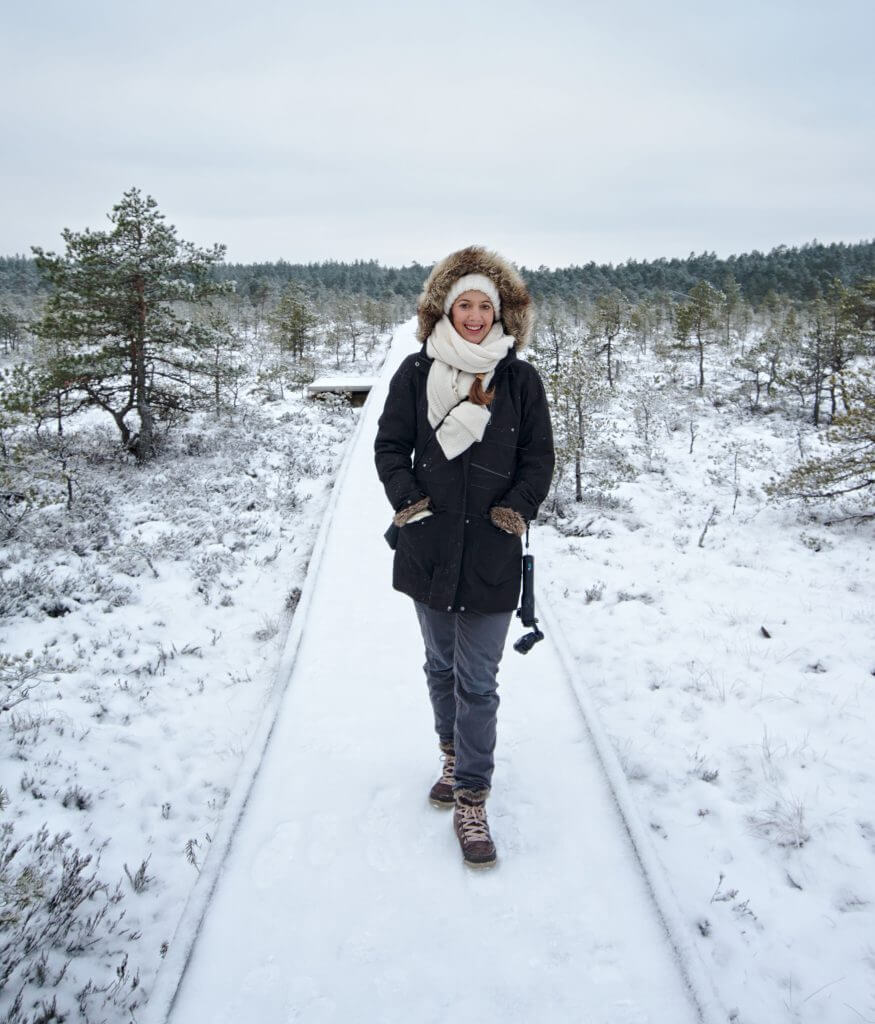 For our part, we did it in the middle of winter (January-February). If we are 100% honest we loved the "off-season" aspect and the fact that we could benefit from attractive prices for accommodation. On the other hand, we won't lie to you, the climate is not always easy and has made some nature getaways a little more complicated… Stay outside for 4-8 hours in a row at -10°C I guarantee you that it hurts.
In the cities themselves, this does not cause too many problems because there are cafés at every street corner, but in parks and nature reserves we sometimes seriously wondered what we had come here to do without feeling our fingers and feet.
If your hobby is cities, museums, local gastronomy then we recommend 100% in winter. You will be quiet in terms of people and the cities, even if it sometimes lacks a little sun, have a tremendous charm when they are covered in snow.
Afterwards, if you are more into nature and getaways, we would tend more towards a visit in spring or summer… The days are much longer and you won't feel like you're losing your toes on every trip. (At the summer solstice it is always daylight in Tallinn) 😉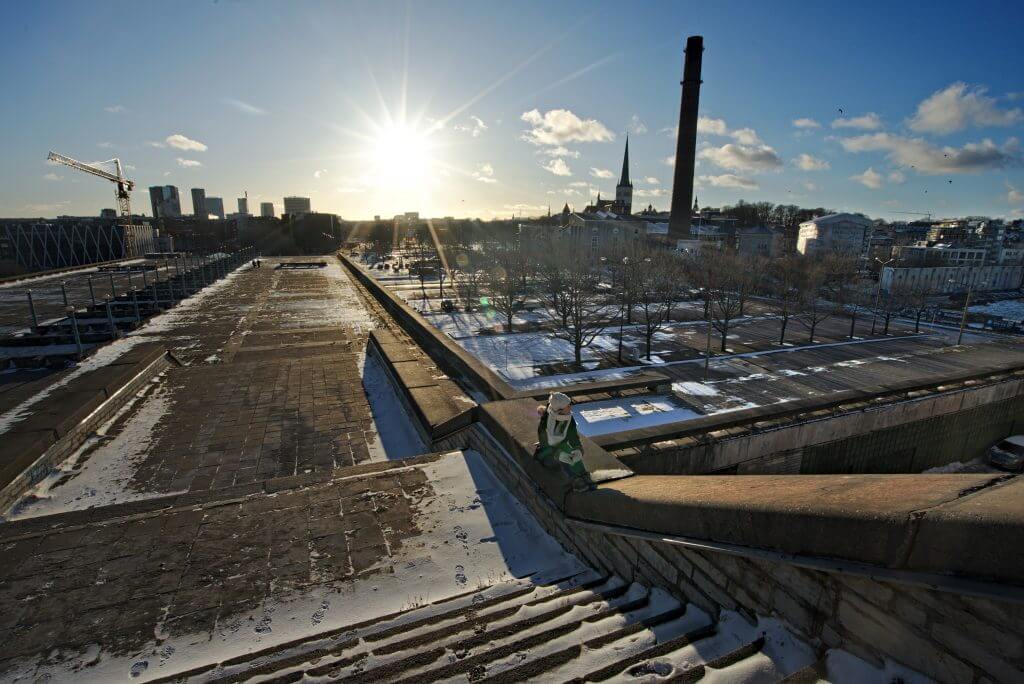 What are the options to Arrive in the Baltic States
There are many options to get to the Baltic countries! In our case we arrived by plane and left by bus… We have dedicated a special passage to buses later in this article so I suggest we talk about planes! (This is also often the easiest option if you come for 2-3 weeks).
If your idea is to make a roadtrip the best way to avoid unnecessary bus trips, it is often to start either from the north or south and therefore have 2 flights in separate airports.
To find this type of flight, we recommend that you use the excellent Kiwi platform. This is what we used when we were looking for our flights to Helsinki and which allowed us to find a cheap flight to Tallinn. In fact the idea of this platform is that you can enter several departure and arrival points and by looking at the map you can see immediately if there is not cheaper options in the area next to it…
For example, for us who come from Switzerland it is very convenient to be able to compare flights from Geneva, Zurich, Basel or even Lyon… Because in the end from home it doesn't change much to go to one of these airports, but in terms of prices it can make a big difference.
Tip: If you want to come to Tallinn, consider including Helsinki in the selection…. During our research Tallinn was cheaper, but depending on the periods and offers Helsinki can be more advantageous (and from Helsinki you can reach Tallinn in 2 hours by ferry for 12€).
In terms of price, if you search a little and are flexible on the dates you can hope to find round trips from a hundred euros for the round trip, which is not bad! A quick example: A trip from Paris to Vilnius on May 11, back to Helsinki-Paris on May 30 for 116€.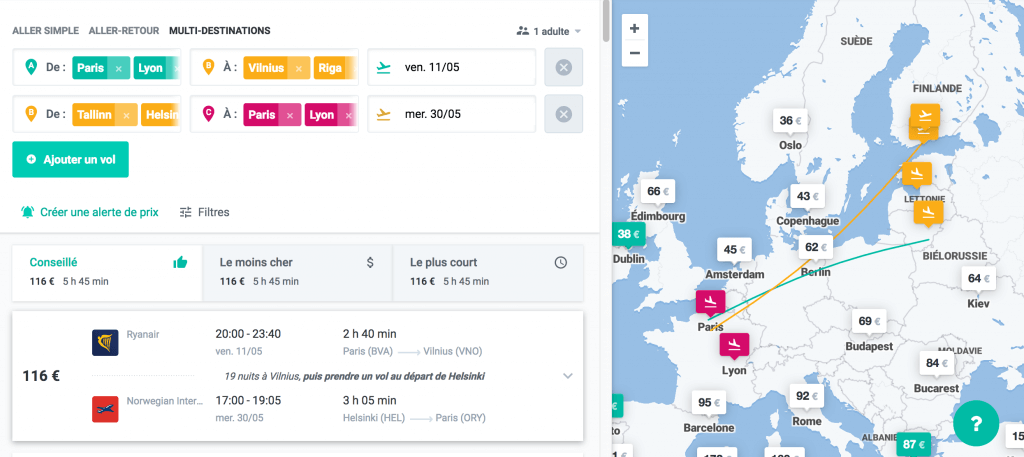 To try kiwi you can click here. 🙂
The other alternative to find cheap flights, which is the most well known, is of course still Skyscanner.
Our itinerary in Estonia, Latvia and Lithuania
As mentioned above, the most logical thing to do when coming to the Baltic States is to arrive at one end and leave at the other and thus save yourself too many "useless" bus/car rides. Whether you visit from north to south or from south to north doesn't really matter if you want our opinion…
On our side, coming from Finland, we opted for a "descent" of the Baltic States, starting with Estonia.
NB: We will come back later in this article on means of transportation between cities
Things to see in Estonia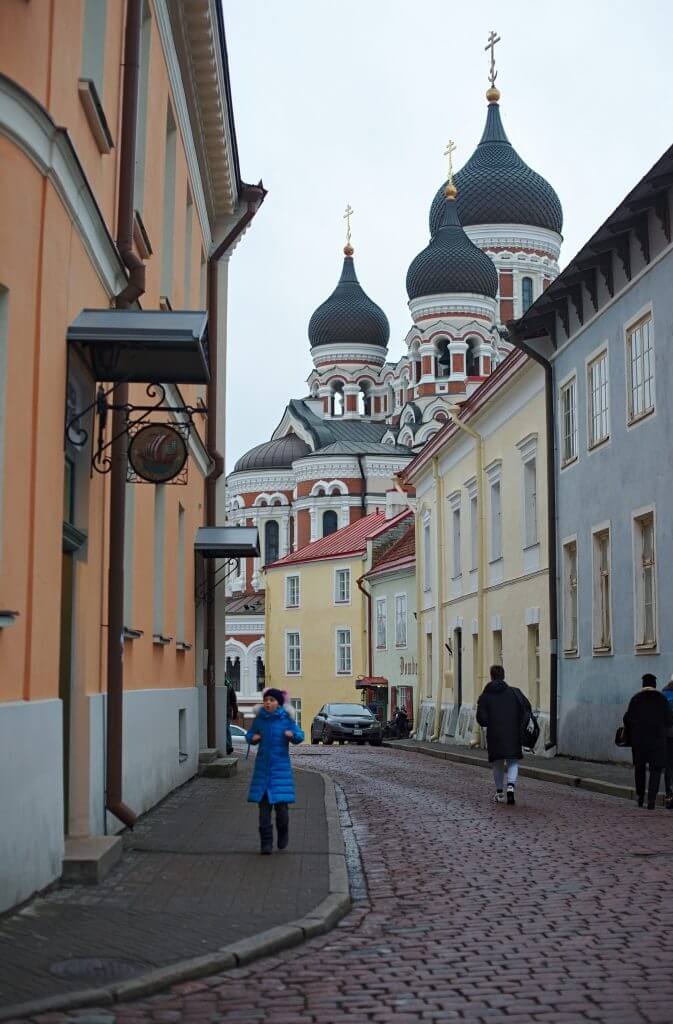 We based ourselves in the beautiful little town of Tallinn. We really fell in love with this small capital that has a human dimension and with its simply charming historical center. In terms of getaways, we only did day trips from the capital. On the one hand, the Keila Joa region for a short hike but also the Lahemaa National Park.
NB: Lahemaa National Park is really big and beautiful. If you come in summer it can be really nice to consider staying there for a night or two and explore the area a little more. And if you only have one day, we did this tour that was really great. We highly recommend it!

Do you have more time? We didn't go there but heard a lot of great things about the city of Tartu which is apparently very charming and full of students. A young and dynamic atmosphere with a very important "cultural" scene.
The islands of Hiiuma and Saaremaa, which are located in the Baltic Sea, are very often recommended also for nature lovers and those who enjoy the great outdoors.
For hikers: Be aware that there are 2 hiking trails that cross Estonia in their entirety! Might as well explain that it excites us to come back in the summer to walk one of the two paths. Yes, because let's face it, in the middle of January this option was clearly excluded. If you want to know more you can find information directly on the website of the Estonian Forestry Authority which created these trails.
The route from Oandu to Aegviidu: 375km from Lahemaa to Riga. More infos here
The Peraküla-Aegviidu-Ähijärve itinerary: 820km across the country. More infos here
Things to see in Latvia
In Latvia too, we have decided to base ourselves in the beautiful capital Riga. Latvia is most likely the Baltic country we visited the less… Not because we didn't like it, but at the time of our visit we had a lot of work to do and also because the weather didn't helped during our visit.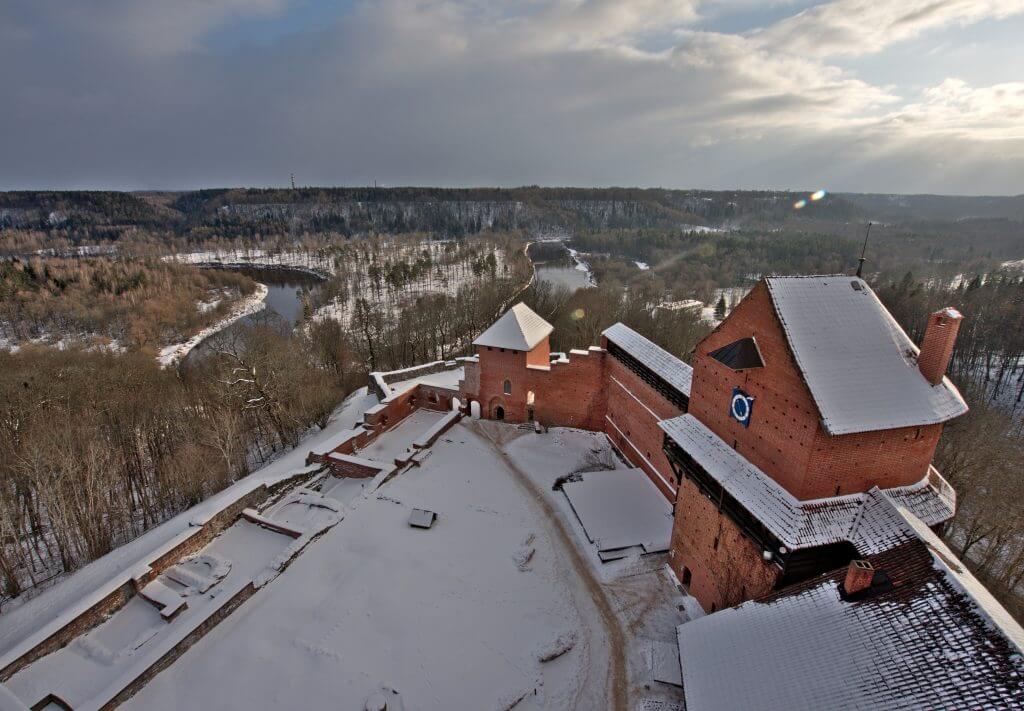 But you can rest assured that we have seen some nice things, especially our trip to the small town of Sigulda. There we made a nice hike to discover the castles of Sigulda and the one of Turaida.
Turaida is THE most visited spot in Latvia it seems… So the good news is: in a cold winter day it doesn't really feel like it! 😉 We were exactly 4 visitors throughout the site (and 4 employees if I'm not mistaken).
If you come in summer (or simply when it is not -14 like the day of our visit) we would advise you to stay a little more than a day in the area! There are many hiking trails that we would have liked to explore and especially small dream camping spots on the banks of the Gauja River. But we tell you more about it in our article.
Things to see in Lithuania
Lithuania started out well! We had barely crossed the border that we had already arrived in the small town of Siauliai. 😉
this spot is known mainly for the Hill of Crosses; an absolutely UNIQUE place that you can read about here.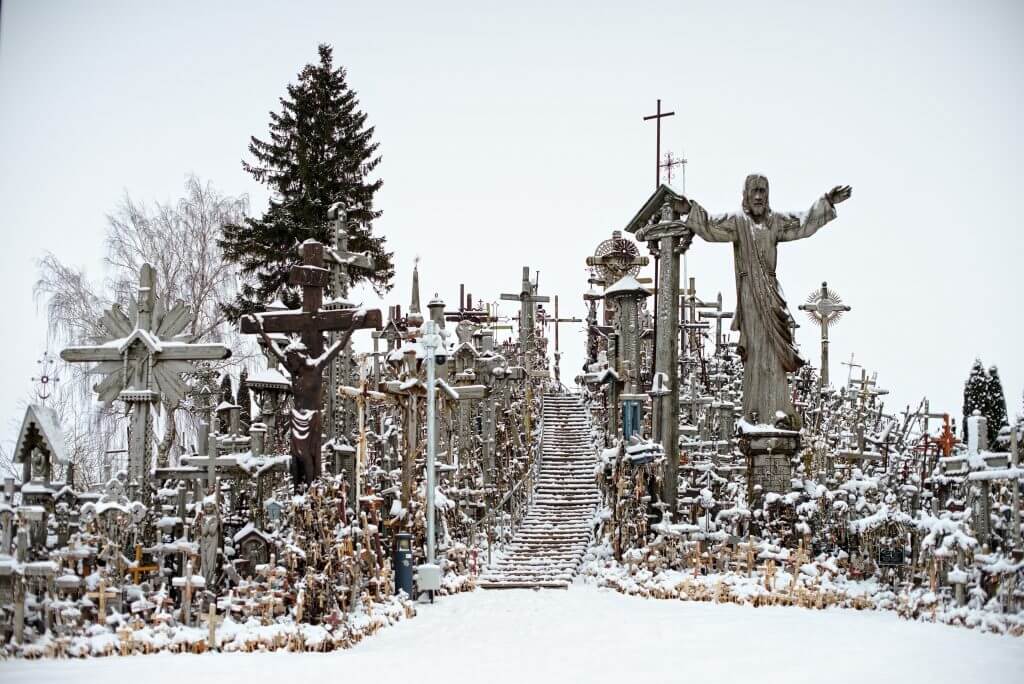 After this small stop we went towards Vilnius. We already knew this city a little bit for having already passed through it in 2015, and one thing is for sure we still love it as much! The historic center is great, but it is above all its arty and offbeat side that we love the most. More information about Vilnius.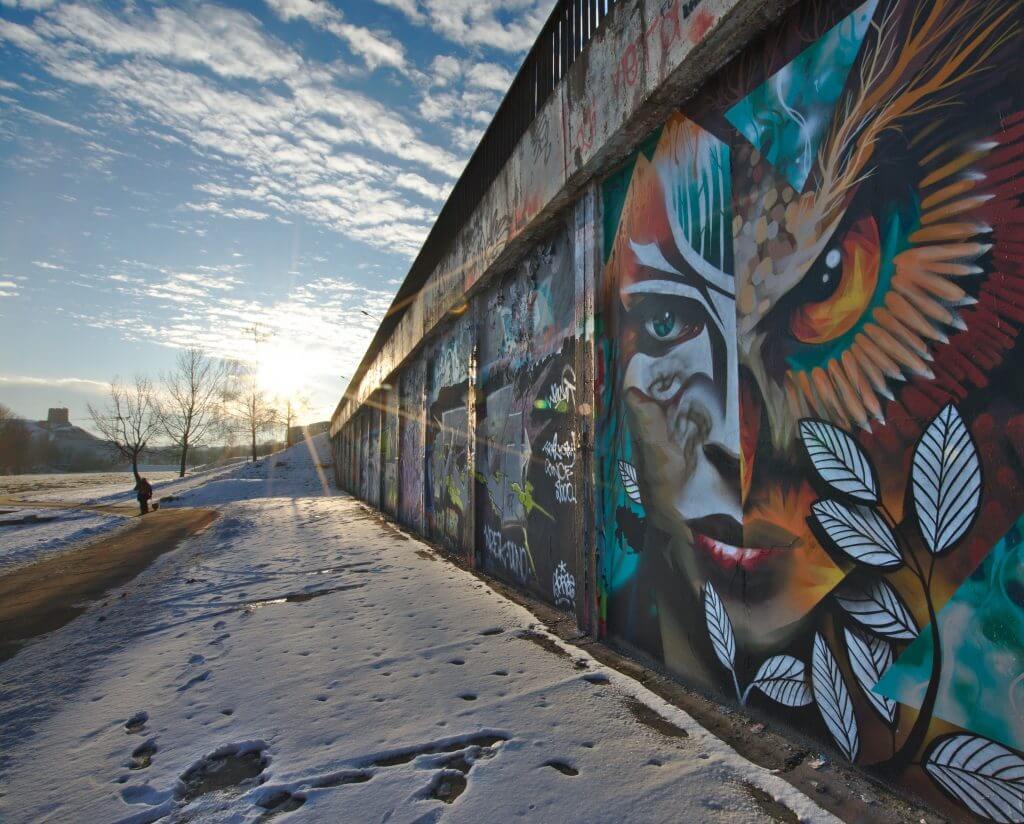 Lithuania is a country to which we will most probably return one day! If you have more time, here is a small list of sites and cities that are apparently very nice (but that we haven't seen yet):
The city of Kaunas: Second city of the country and located on the banks of the Neman River it seems full of charm!
The small town of Klapeida: A small port city combining German and Scandinavian architecture. It is best known for its Sea Festival, which is held every year on the last weekend of July.
Curonian Spit: In this case some pictures of Google Images made me want to go there! A natural destination with breathtaking landscapes! The Curonian Spit is a Lithuanian and Russian peninsula about a hundred kilometres long (and between 400m and 4km wide) that separates the Baltic Sea from the Curonian Lagoon.
Our trip to Estonia, Lithuania and Latvia in video
Before starting with the budget for a trip to the Baltic States, we suggest you a well-deserved break from reading this article with our video of this trip.
NB: if you want to know if we suffered from the cold we let you watch the video until the end for the bonuses 🙂
Travel budget for the baltic states
Let's get down to business… How much does it cost to travel to the Baltic States?
As is often the case with budgets, it is a matter of tastes, colours and lifestyles… But what is certain is that the Baltic countries are really very affordable countries in Europe. Accommodation, food and activities are generally much cheaper than in France (we won't even try to compare this to Switzerland) 😉
During our trip we realized that over the years our budget had increased a little bit compared to our round the world trip (we had already been through Vilnius… and this time we clearly spent more) 😉
The main reason for this is probably that now we are only travelling… We are also working! In short, we do not hesitate to spend a little more on better accommodations in which we can work and also, with an income, we are a little less strict on our excursions and activities… Even if we are and remain backpackers who travel on a low budget!
Travel budget in Estonia, Latvia and Lithuania: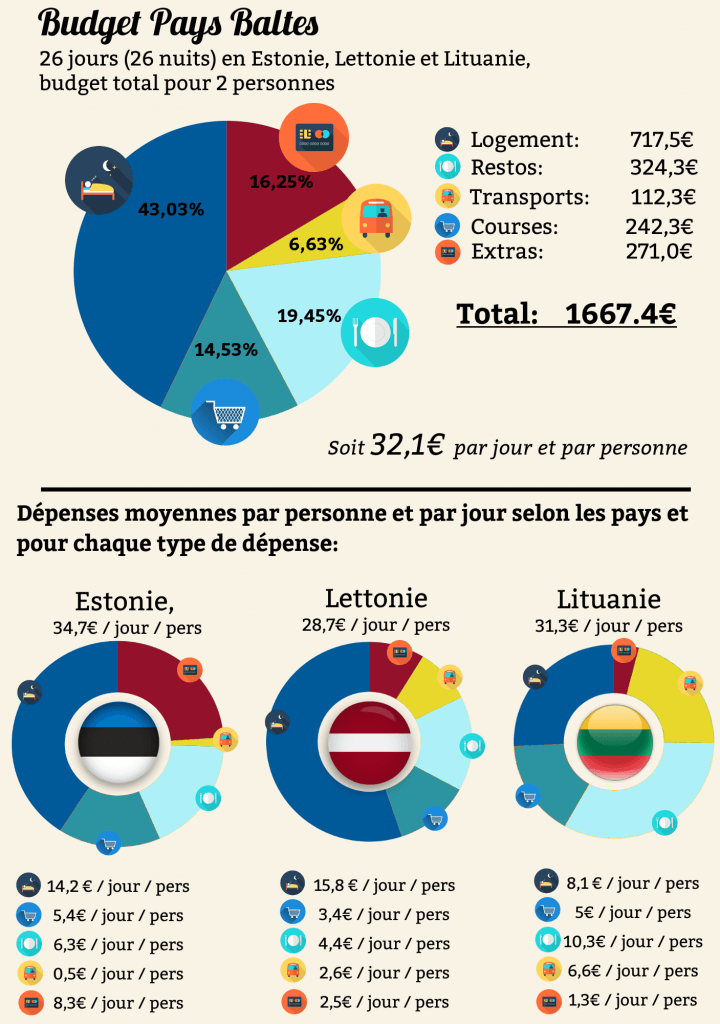 Some notes:
In all we spent 26 days in the Baltic countries
But we didn't travel full time…. Several days were working days, where we tended to spend less.
In Tallinn and Riga we had taken an apartment while in Vilnius we were in a youth hostel and in Siauliai we had taken a small hotel. (More information on accommodation)
Our budget in Tallinn is a little higher, but it's not so much because it's more expensive… It's more because we did more activities (purchase of the TallinnCard 74€, excursion to Lahemaa 110€). See our detailed Tallinn budget
In Vilnius we really slept for cheap (and it was a mistake) but on the other hand we made up for it with restaurants and drinks ;). See more details on our budget in Vilnius. NB: Our budget for Lithuania above is higher than the one of Vilnius in the other article because it also includes Siauliai and the bus from Siauliai to Vilnius.
Practical information for the Baltic States
Below you will find a wide range of practical information to help you plan your trip to the Baltic States. If a point is not covered or you have a question, do not hesitate to leave us a comment at the end of the article! We try to keep all our articles up to date over the months and are always happy to add new information that we may have forgotten!
Moving between and around the Baltic capitals
In public transportation
The bus network is really good in the Baltic countries! No, seriously, the transports are just crazy! Wifi in almost all buses, plugs at each seat, USB charger (and there I am talking about the main lines but also some local transport buses!!!!).
In short, there are not 10,000 explanations to give on this subject, in the sense that if you want to rally the different capitals, there will clearly be no shortage of options! At the company level, there are several companies that are active. Some only in some countries, others on the 3 countries.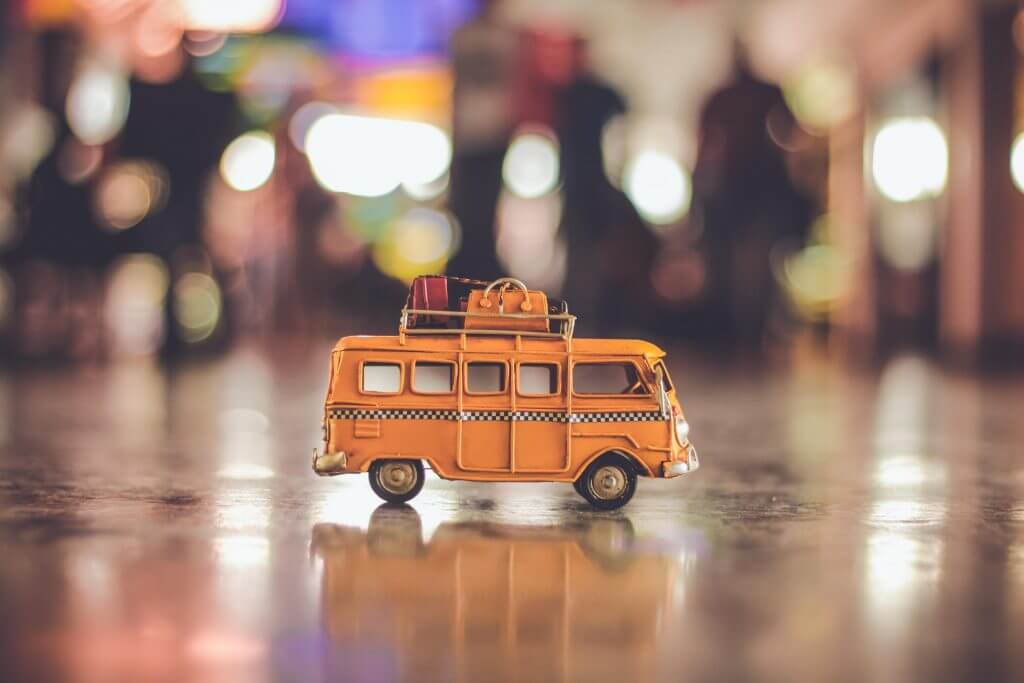 Our advice here would always be to go directly to the company websites to buy tickets (they all offer an English version of their website) and avoid bus comparators. It had only rarely shocked us before, but on this trip we noticed that after having passed on a comparator to see which companies were making the connection we found ourselves with a cookie that raised the prices from 3€ to 5€ (even once back on the official website). On a 12€ race it makes a big difference!
To help you a little bit here is a list of the companies we have used or know that they make the links and their website (PS: these links are not affiliated in any way, so promise no risk of seeing prices go up by clicking on them) 😉
From Tallinn to Riga we used Ecolines (16,5€ per person… but by booking in advance tickets are available tarting at 5€!)
From Riga to Siauliai we took Ollex. (12€ per person)
From Siauliai to Vilnius we took Busturas (9€ per person)
There is also the company LUX Express (we took it from Vilnius to Warsaw, but it also operates between all the capitals of the Baltic countries).
Eurolines is another company that operates in almost all of Europe and has a strong presence in Lithuania and Latvia (but not in Estonia)
Useful infos
If you don't have as much time as we do and you want to take advantage of the trip between the different capitals to visit some nice places on the way, an agency offers small group transportation (max. 8 people) that stops to discover some nice places between the capitals of the Baltic countries:
The hill of crosses between Riga and Vilnius

Tallinn – Riga tour bus (in both directions): This route includes a visit to the ruins of the medieval castle of Viljandi, the Gauja River Nature Reserve and the small town of Cesis, as well as a Soviet bobsleigh run. You can book it here. Note: this is a group price, thus the more you are, the cheaper it gets

Riga – Vilnius tour bus (in both directions): the bus passes through the impressive Hill of Crosses (which we visited by ourselves and which is not so easy to access), the magnificent palace of Rundale and also walk around the old town of Kaunas. You can book it here.
Frankly, we loved our day with this agency and we really think you can trust them.
Roadtrip in the Baltic States by car
As we told you, we decided to do it by public transport because we wanted to test this mode of travel and because it was super cheap…
After that if you have a car then it's totally great too! Having a car obviously allows even more flexibility on stops along the way and to be even more responsive to the weather fluctuations 😉
If you do not plan to drive up to the Baltic countries by car it is totally possible to rent one. The best way to do this is probably to compare prices via Rentalcars.Our advice: It will be cheaper to return the car to the same place you took it, but if you plan to do all 3 countries it will also involve a lot of "double" roads. In short, try to run simulations to see the price difference by returning the car to another city, the difference could be "acceptable" if travel time and fuel are taken into account.
Accommodation in Tallinn, Riga or Vilnius
There are many accommodation options and there are really something for every style of travel and every budget.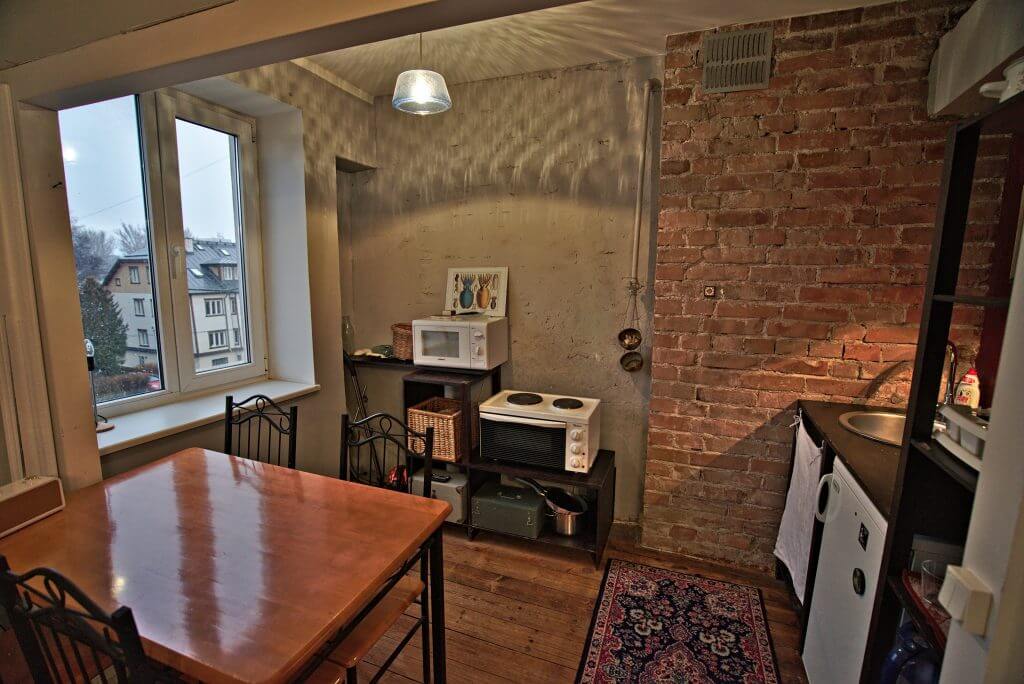 For our part, we decided to take apartments in Tallinn as well as in Riga because we wanted to be able to work a little "at home". An option that has suited us well and especially for a fairly reasonable budget. In Tallinn we had taken a studio that cost us 28€ per night while in Riga we had opted for a great 2 room apartment in the centre for 32€ per night.
After that it is important to know that apartement rentals rates fluctuate with the seasons and for the moment we have clearly taken advantage of the low season to have nice accommodations at really moderate prices.
In Siauliai we didn't really look for anything special… we took the first cheap thing and near the bus station that we found on Hotelscombined. We only stayed for one night and we just wanted to go and see the hill of crosses. So we ended up at Turne Guesthouse which was a decent option.
In Vilnius we stayed in a youth hostel (the B&B&B&B&B for those who are interested). This was probably not the most strategic choice we made… Certainly it was not expensive (5,9€ per night and per person in a dormitory in which there were…14 people!) but the place is quite festive and noisy. In short, if you don't spend too much time there (and especially if you don't plan to work) it's ok, but for us it wasn't the best option.
To look for a place to stay we recommend you compare the different options (apartments and hotels). To do so you can use the map below. Simply zoom in to the city/area of your choice and adjust the different filters according to your wishes:
Our highlights of this trip
We really loved this trip and there were many favorites! 😉 But if we only had to choose 5 of them, then our small selection could be something like:
The muffled and mystical atmosphere at the hill of crosses near Siauliai
We already wanted to come here in 2015 but due to lack of time we had to skip it. So this year it was impossible for us to miss it! And we really don't regret it! Even if the city of Siauliai doesn't have anything special for tourists, this hill is really a place to see!
The beautiful old town of Tallinn
First step of our trip and first big crush… Impossible to describe, but Tallinn is simply a city in which we felt at home! We'll come back for sure!
The arty and offbeat scene of Vilnius
This was our 2nd visit to Vilnius and this time we did a little less walking around the historic city center but we focused more on the Uzupis district and the Streetart scene… A real treat!
The Lahemaa national park
We only spent one day in this park but we clearly left from there thinking that we would have liked to see more! In summer it must be really sublime to walk or cycle here.
Read our article about lahemaa
The great offer of free walking tours in the capitals
We had already done quite a few Free Walking tours in South America and it's really a concept we love! In Tallinn, Riga and Vilnius we really enjoyed the tours. In our opinion, this is an excellent way to start your stay because they generally give a good overview and also a good historical context.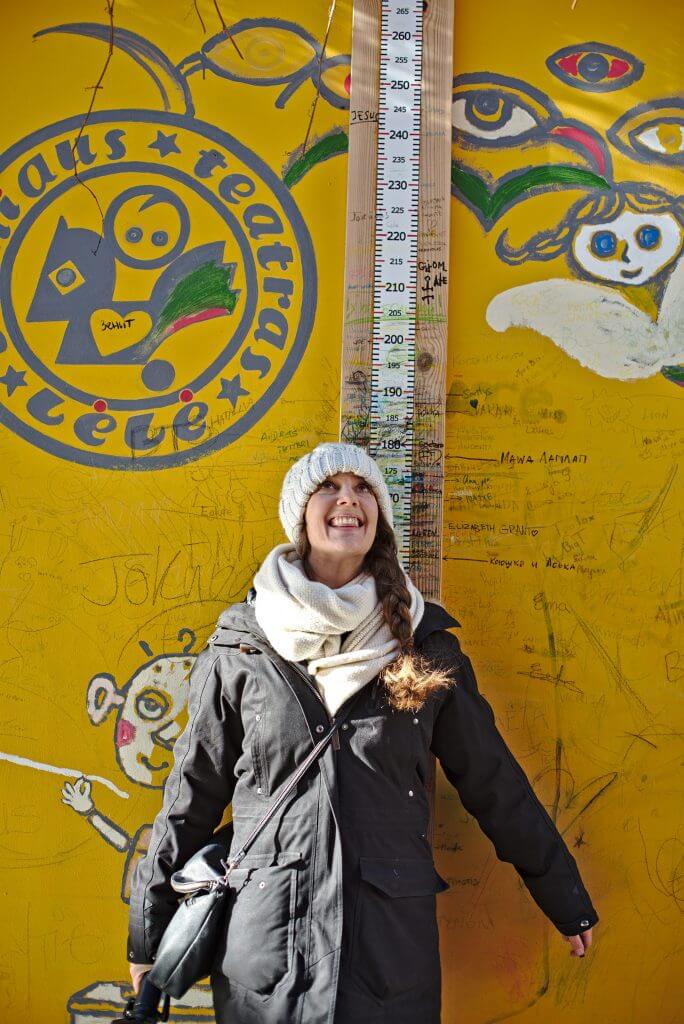 For those who don't know the idea is to go to tours that are usually held every day at a fixed time. A guide is there and makes a visit on a topic. To attend it you do not need to register but simply to be on time for the appointment. Participation is "free" in the sense that you will not be asked for a fixed amount, but if you liked the tour tips are welcome. The amount is up to you, but since we were asked the question quite a bit, we usually leave between 5€ and 10€ per person (depending on whether we really liked it or not and also depending on the size of the group).
There are many Free walking tour companies and if you want our opinion the quality of the tours does not depend on the reputation of an agency but more on the guide who will be present that day (this usually varies quite a bit).
This time I think you know everything (or almost everything)! 🙂 If you have any questions or good tips, don't hesitate to leave us a little comment at the bottom of this article.
NB: This article contains affiliate links such as Kiwi, Hotelscombined ou encore Hostelworld. These are services we also use for our bookings and by using our link you don't pay anything more but you allow us to earn a small commission. 🙂 Thank you for your support!