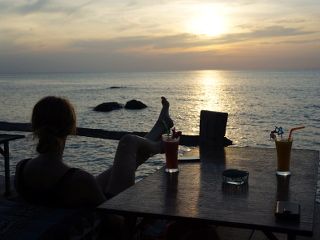 We have been on the road for a little over 3 months now, and the first signs of fatigue were being felt… Well.. I guess we just needed a vacation!
So we are well aware that those who are at work will hate us for these words, but when we take a long trip like us, "holidays" are also an essential element! For this short holiday we decided to settle on the beautiful little island of Koh Chang in Thailand.
The 5 reasons to take a holiday during your round the world tour
Clean up the mess in your backpack
Being a backpacker is nice; you have your house on your back and you are free to move around. But it should be noted that this also involves making and unpacking your bag almost on a daily basis. So we quickly have quite a mess settling in. Well I speak mainly for me, eh, because Benoit has an incredible ability to keep his bag "tidy"….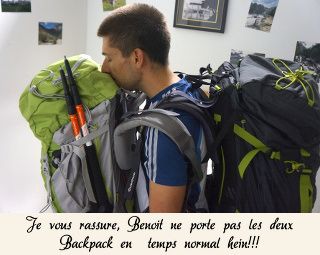 See that moment when you're looking for the little cable for the camera? For me, this usually results in a complete unpacking of the bag. A few swearwords to know where I could have put the damn cable, then the discovery of the Holy Grail in the last pocket examined….
when you open Ben's the bag it's like in a museum: everything has its own place… Cable? Too easy, it is in the small grey pocket on the left in the bag, under the sock pocket….. So the holidays are useful for people like me; we take all the stuff out and we start a new game of wild Tetris and we promise ourselves that this time we will "keep it tidy"….. But yes of course…….
Rest: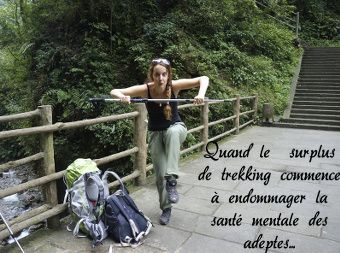 Since the beginning of our trip around the world we have nevertheless made 30 days of visits to major cities, 23 days of pure and hard trekking, 7 days by bike, and for the majority of the remaining 30 days we have made short walks and excursions. Thus, these 6 days without putting on your trekking shoes is really not luxury and well deserved!
Balance your tan:
You probably imagine that we round the world travellers have perfectly tanned body all along our journey. well… not quite true to be fair!
When we travel like we do, well, tanning is a bit of a partial story. 4 days of trekking under a blazing sun at an altitude of more than 4000m in western Sichuan? Oohhhh the beautiful tanning marks from the socks and T-shirt! A week of cycling on the east coast of Taiwan? Welcome to the beautiful cycling tan on the legs… When we arrived in Koh Chang we looked a little like transgenic Dalmatians. Super ultra tanned arms, golden legs, but all white thighs, feet… Some parts were so white that they were almost shining in the dark. And I'm not talking about the belly-to-face contrast…. A week on the beach is an excellent time to restore a little balance!
Getting back to a certain routine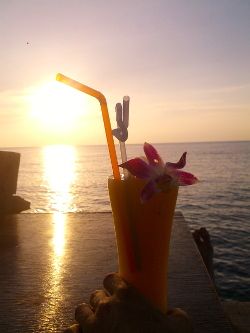 Don't think we miss the Metro-work-sleep routine!
This is by far not the case, but it is true that it is strange because for 3 months we have not had any reference points. The days follow one another but never look the same… So it feels good to get back into a certain routine for a couple days… For example? This little Mango Sticky Rice that we bought in a small street stand every night before going to sleep. Every night, the same little couple of adorable Thai people.
Asking yourself big existential questions:
It is well known, it is when you have time and nothing to do that all these great existential questions arise…
But what are we going to do when we get back? Does Benoit really want to finish his PhD?
We have strictly no answer to these questions, but at least the discussions occupied part of our sunbathing days… But our great existential questions did not only concern our hypothetical return to active life one day, but also the journey… During these few days we came to the conclusion that we definitely didn't want to rush.
We're also considering letting Australia falling through the cracks for budgetary reasons. Yep… we are increasingly seriously considering extending our trip. 🙂
Yes, we would like to spend a few months in South America to learn Spanish… But before that we would like to take our time to continue to discover the Asian continent. In short, Australia or not Australia the question remains open, but the debate is open. Eliminating Australia would add a fairly secure budget for language training and an option to extend the trip.
And as we plan our wedding for when we get back, we think that the kangaroo country would make a good honeymoon destination. 🙂
Where are backpackers taking holidays??? Koh Chang!
We arrived in Thailand 2 weeks ago, and after a short express stay in Bangkok we took a bus directly to Koh Chang. We opted for Koh Chang because we wanted to see the sea a little bit, enjoy beautiful beaches without having to go south of Thailand…
Why? Well, November is a quite a bit the rainy season in Ko tao, Ko Lanta, Ko Samui & co…. In addition we have an appointment in Vietnam for New Year's Eve with friends, so we decided to start going in that direction. And between you and me, Koh Chang is a very beautiful island.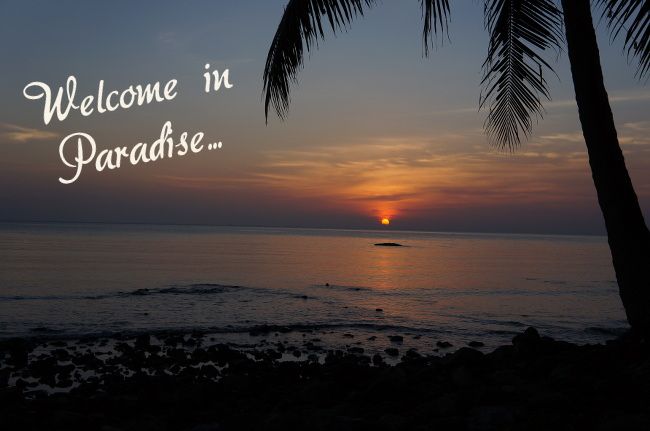 Probably not the most beautiful beaches in Thailand, nor the best snorckeling spots, nor the most crazy party nights. But on the other hand, a little of all this together gives a good recipe for a relaxing holiday.
In addition to the fact that the island is relatively large, it also offers many possibilities for walks and scooter rides in more remote areas!
Our Lazy week in Koh Chang in excellent company
In the minibus that took us to Koh Chang we found ourselves in the company of two french speaking people. Well, nothing exceptional will you tell me…. Yes, except that, it didn't take me 30 seconds of discussion to detect a familiar accent….
"Uh, but look, they're both Swiss!"
There are not so many of us in Switzerland, and even fewer to be able to boast (or not) of having a small Waldensian accent. It was with great joy that I was able to start talking again "as if I were at home"! Well yes, you shouldn't believe it, when you meet French people you try to speak more correctly. Okay, especially me, Benoit naturally has less accent…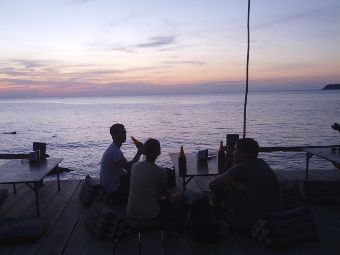 Anyway, we were really happy to meet Séverine and David from Eclagnens.
Our holiday routine in Koh Chang
The 4 of us found a nice little routine! Playa, siesta and at the end of the day go to our small terrace with your feet in the water for a small fruit shake (or a small beer) at sunset… And when the evenings didn't end in Mojito Buckets we were even able to play jass; our 100% Swiss card game that is played at 4…
But we didn't just go to the beach and drink beer !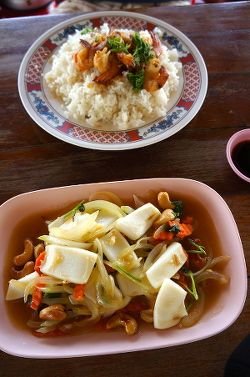 For those who know us I guess you can easily imaginethings went but for the others I explain… Benoit is a bit of what you might call an endorphin and stress addict in general. So put him down on a beach for 30 minutes and you'll already see him squirming in all directions and proposing an activity: "Let's go in the water?" "Are we going for a walk?" "Don't you want to go see what's going on at the end of the beach?"
As for me… well… well… how to say… I'm a little less hyperactive…. Give me a nice beach, a fruitshake, a good Thai meal and a good book and it's ok, I can spend the day there! In short, during our holidays we did "half-half" as we say at home.
Thai massage: when relaxation is painful
We couldn't possibly come to Thailand and not test the Thai massage, could we? Yes, well, that's our opinion…. Neither Benoit nor I are really professionals in massage, for me it must have been the 2nd of my life and for Benoit it was a first!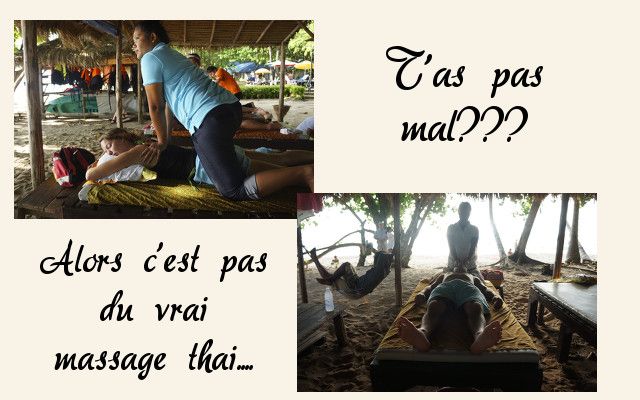 Let's say it right away, Thai massage is a little painful… The masseuse is a small piece of woman of 1m50 but with arms of a lumberjack…. She climbs on you, takes you like in a Bruce Le remake and all the bones in your body have a little cracking!
We probably weren't the best clients for the massage, because we weren't used to being groped like that, we didn't really know how to relax and above all we had a few good moments of laughing…
At the same time, imagine that when I turned my head I saw the masseuse standing on Benoit. He was lying on his stomach, and the masseuse was lifting his legs up to lift his pelvis off the mattress…. So this little piece of woman who was trying to twist Benoit who is about as flexible as a broomstick is just priceless… Especially Benoit's eyes at that moment: a clever mix of interrogation "she'll break my spine", a cry for help and a repression of laughing madly…
Thai massage we enjoyed it but probably not for the same reasons as most people: laughing is guaranteed!
Scooter trip on Koh Chang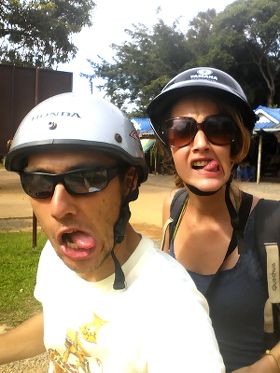 Once the aches and pains of Thai massage were over, we got back in the saddle for a new adventure: the tour of the island on a scooter!
It's funny, because in our guesthouse in Bangkok, almost all backpackers had scabs on their skin, all (or almost) had an accident on the thaies roads… As a result, I was moderately excited about going to conquer the island on 2 wheels, especially since neither Benoit nor I are frankly bikers… But given the topography of the island it was excluded to do it by bicycle….
we went there and it was without regret!
Koh Chang is definitely a very beautiful island on which there are still many small and completely isolated areas of paradise that can easily be explored if you are motorized!
When renting a scooter in Thailand there are a few points to be aware of:
The condition of the bike: Check the brakes, steering, headlights, horn, and have the renter check the small marks on the bodywork.
Remember to ask for helmets: in Thailand it is by no means trivial….
Ask if you (or the scooter) are insured and if so how…. If not, make sure you are covered by your travel insurance.
The most reasonable would be to wear pants, closed shoes and a jacket in case of a fall, but let's face it, by 30 degrees everyone is wearing flip flops, shorts and t-shirt…. Including us….
Oh yes, and do not forget to drive on the left in Thailand… 🙂
Some pictures of Koh Chang for the road….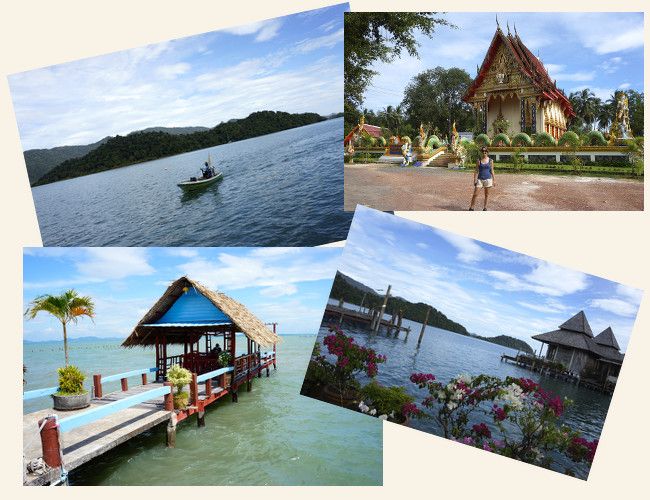 Infos:
How to get to Ko Chang?
To get to Koh Chang from Bangkok the easiest way is to take a minibus at Victory monument to Trat. (Make it clear that you want to go to the ferry, this will save you paying for a taxi from the bus station to the port). The minibus journey costs 300 Bath and takes about 4h30. Once at the port take the ferry (price: 60 baths per person, 20 minutes).
Once on Koh Chang you will not need to search, taxi drivers will find you…. 🙂 There are collective taxis that run all along the coast and drop you off where you want. Until Lonely Beach it costs 100 baths per person.
Where to stay in Koh Chang?
Koh Chang is very large, so there are many possibilities of accommodation!
West Coast of Koh Chang:
For more peace and quiet choose the west coast: on this side of the island it is guaranteed peace and quiet but there are still some guesthouses and accommodation with locals. To find them, just keep your eyes open on the road, there are plenty of signs! On the other hand, we advise you to be motorized if you stay on this side of the island; the distances are long and the possibilities of restorations and runs are not so numerous…
The East Coast

This coast is the one on which most of the beaches are located, so it is also the most touristic coast.
There are many beaches, and around each of them a small village has been built with guesthouses and bungalows.
For our part, we decided to drop our bags on Lonely Beach, the beach famous for hosting backpackers like us. There must be nearly 30 accommodation options on this beach alone: Guesthouse, bungalow, luxury rooms, there is something for every price and every taste!
We also changed accommodation during our stay….
Stonefree Guesthouse: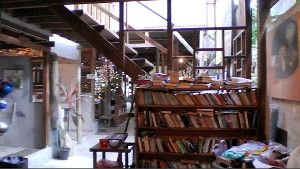 A very nice guesthouse with a nice decoration. She is held by two rocker-bearded grandpas a little bit worn on the bottle (they start with rum in the morning), but they are very nice!
Price of the room with fan and shared bathroom: 250 Bath (just under 6 euros).
On the other hand it should be known that Lonely beach is also known for its wild nights…. This involves loud music until the early morning, and since the Stonefree Guesthouse was located in the middle of this happy mess, we preferred to go a little more quiet….
Sea Flower: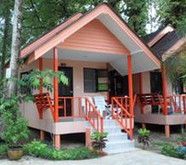 These are no longer rooms, but bungalows, located a stone's throw from the water.
Of course the bungalows are more expensive, but for 500 Bath we had a much bigger room with fan, a small private terrace and our own bathroom with hot water, but above all: calm! 🙂
To find the guesthouse online it is here.
Activities in Ko Chang
If you want to be more active than we were, take a look at Getyourguide for activity ideas. They offer cooking classes, diving excursions or snorkeling outings.
Here, you know everything about our first holidays during this world tour… What about you? Ever taken a vacation on a long trip?
NB: Please note that this article contains affiliate links to partner sites. If you buy a product on one of their sites you will not pay more but we will receive a small commission. This will help us to keep this site alive. Thank you! 🙂