After having traveled for a little more than 3 months through China and Taiwan, the first signs of fatigue are showing… Yes! We simply need some time off! Whether it's to take a break during a long trip or simply for a vacation in Thailand, Koh Chang island is the perfect place to recharge your batteries while enjoying its natural attractions! We share with you our relaxing program and explain why it can be good to stop for a while in the middle of a world trip.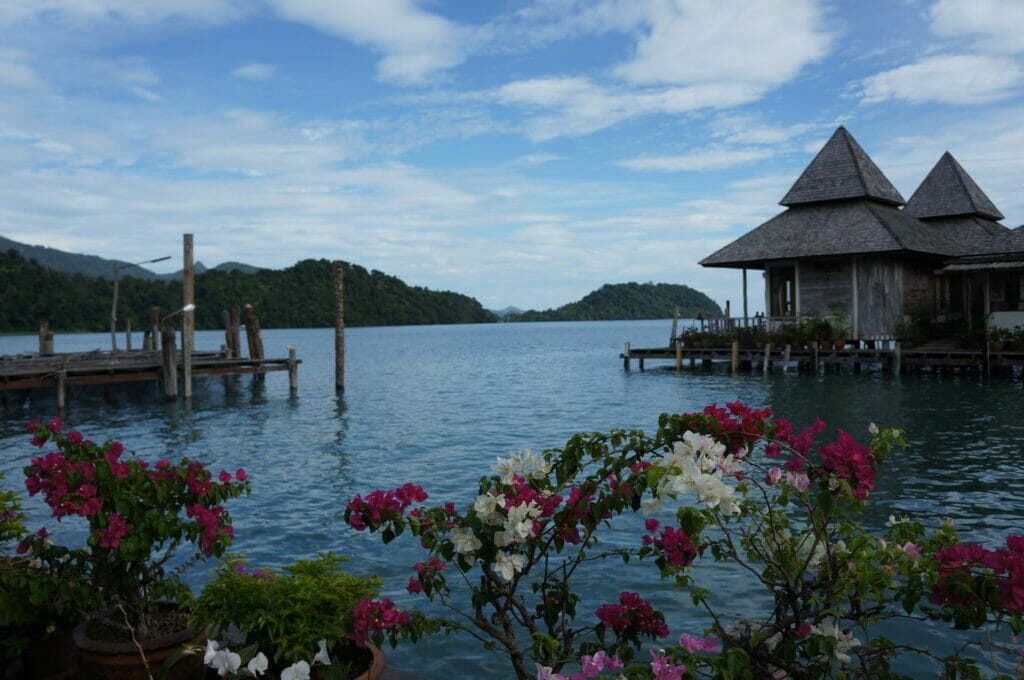 Update 2022
We took this trip in December 2013, but the article was completely revised and updated in July 2022. If you see any price changes or have additional information that might be relevant, please feel free to leave us a comment!
Presentation of Koh Chang
We arrived in Thailand two weeks ago, and after a short stay in Bangkok, we directly took a minibus to Koh Chang (or Ko Chang). We chose this little piece of paradise because we wanted to see the sea and enjoy the beautiful beaches on an island near Bangkok. Indeed, the month of November means the rainy season on the other islands of the country located further south like Koh Tao, Koh Lanta, and Koh Samui. In addition, we have an appointment in Vietnam for the New Year with friends, so we might as well go in that direction.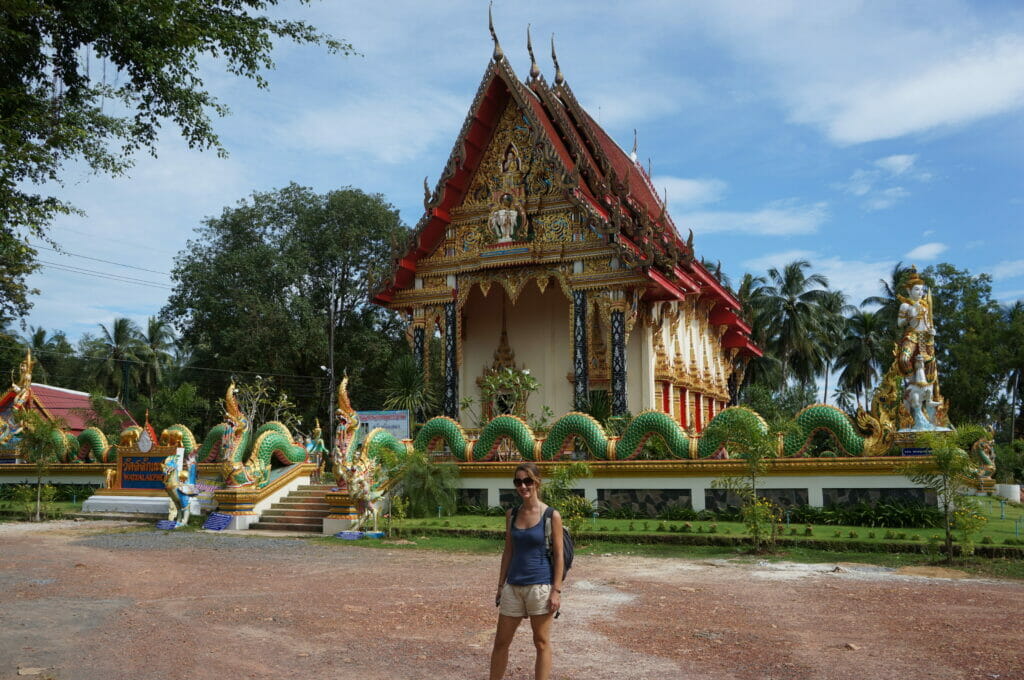 If you're looking for a cool vacation on an island with nice beaches, activities, and more laid-back nights than the Full Moon, then Ko Chang is for you! Moreover, as the island is relatively vast (the third largest in Thailand with its 217 km2), it also offers plenty of opportunities for walks and scooter rides in more remote areas!
A week in Koh Chang with excellent company
In the minibus that took us from Bangkok towards the ferry to Koh Chang, we found ourselves in the company of two French speakers. OK, nothing exceptional you may say. Except that, it did not take me 30 seconds of discussion to detect a small familiar accent: "Well, it is that they are Swiss the two there"!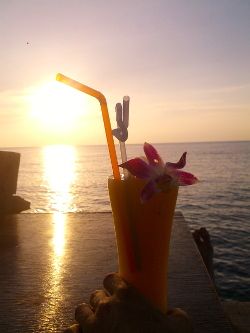 There are not so many of us in Switzerland and even less to be able to boast (or not) of having a little Vaudois accent. In short, it was with great joy that I was able to start speaking like at home again! And yes, when we meet French people, we try to speak more correctly. Well OK, especially me, Benoit naturally has less accent…
Anyway, we were very happy to meet Séverine and David from Eclagnens (pronounced "Ééé-Klâââaa-gneeeeennnnnn"!). We had a good connexion and we spent a great week with them.
Our vacation routine on Koh Chang
The four of us have found a nice little routine: playa, siesta, and at the end of the day, meeting on our little terrace with our feet in the water for a little fruit shake or a little beer at sunset… By the way, the Warapura Resort is a good spot for that! And when the evenings don't end in buckets of mojito, we take the opportunity to play jass: our 100% Swiss card game that is played by four. We missed it!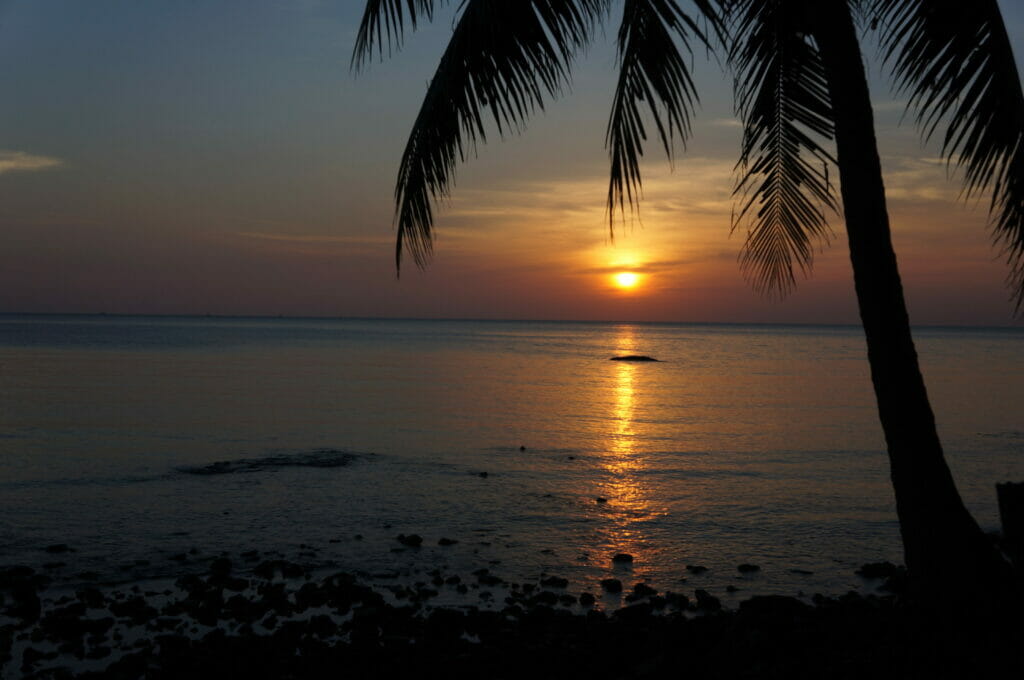 But we didn't just go to the beach and drink beers anyway! For those who know us, you can easily imagine the picture, but for the others, let me explain: Benoit is what you could call an endorphin and effort addict. Put him on a beach for 30 minutes and you will already see him squirming in all directions and proposing an activity: "Let's go in the water!", "Let's go for a walk!", "Don't you want to see what's happening at the end of the beach?"
As for me… Well… How to say… I am a little less hyperactive… Give me a nice beach, a fruit shake, a good Thai meal, a good book and I can spend the day there! In short, during our vacation, we did "moit-moit" as we say at home. Relaxation on the beach, but we also moved a little on the island, walked along the Gulf of Thailand, and did some activities!
Things to do in Koh Chang
Thai massage
We couldn't possibly come to Thailand without trying Thai massage, could we? Well, neither Benoit nor I, are really pros when it comes to massage: for me, it was supposed to be the second of my life and for Benoit, it was a first!
Let's be honest, Thai massage is a little painful! The masseuse is a tiny woman of 1 m 50 but with the arms of a lumberjack… She climbs on you, takes you like in a Bruce Lee remake and all your bones get a little crack 😱.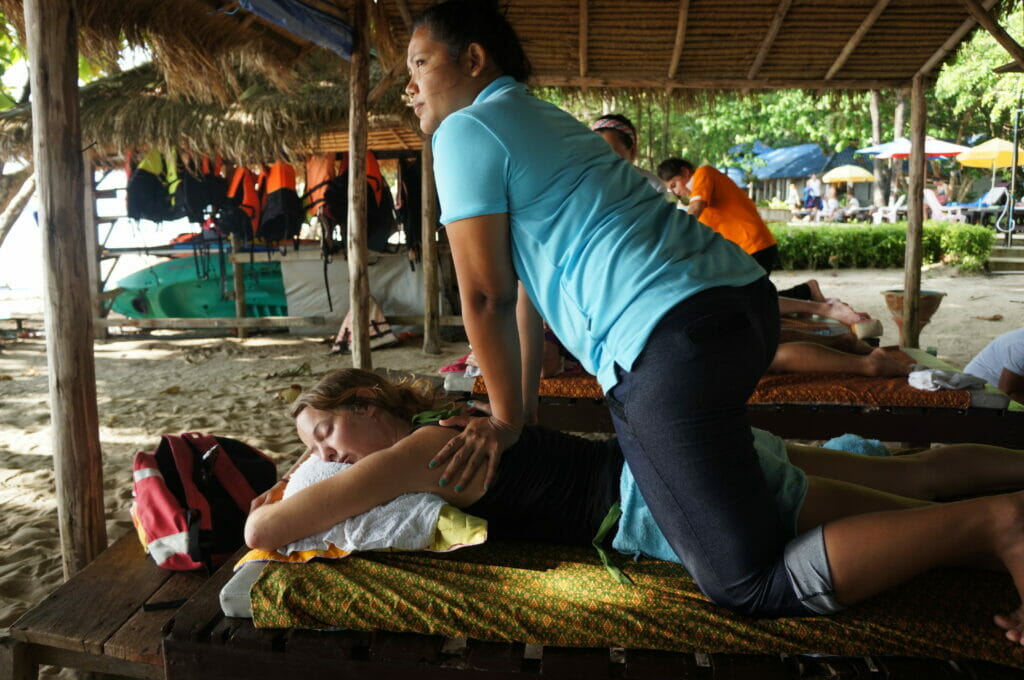 We probably weren't the best clients for the massage, because we weren't used to being touched like this. So, we didn't really know how to relax, and above all, we had a few good moments of laughing!
At the same time, just imagine when I saw the masseuse, standing over Benoit while he was lying on his stomach, pulling his legs up to get his pelvis off the mattress… So, seeing this little woman try to contort Benoit about as smooth as a broomstick is just priceless 🤣! At that moment, his eyes expressed a clever mix between interrogation ("Is she going to break my spine?"), cry for help and repression of frank laughter…
We enjoyed Thai massage, but probably not for the same reasons as most people: good laugh guaranteed!
A scooter ride around the island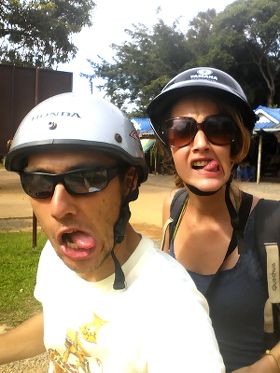 Once the aches and pains of the Thai massage were over, we got back in the saddle for a new adventure: the Koh Chang scooter tour!
It's funny because in our guesthouse in Bangkok, almost all the backpackers had scabs on their skin and had experienced an accident on the Thai roads… So, I was not very excited about the idea of riding a two-wheeler because we are not really bikers! But considering the topography of the island, it was out of the question to do it by bike…
Anyway, we went there and we have no regrets! Koh Chang is definitely a very beautiful island that also contains a part of the Mu Ko Chang national park. Several temples are also to be discovered! In the end, there are still many small corners of paradise completely isolated that we can easily go explore if we are motorized!
If you rent a scooter, there are some things you need to pay attention to! We have detailed everything you need to know to rent a scooter in Thailand and ride safely.
Other activities
If you want to be more active (unlike us), take a look at Getyourguide for activity ideas. They offer cooking classes, diving, and snorkeling trips.
How to get to Koh Chang from Bangkok?
To go to Koh Chang from the Thai capital, the easiest way is to take a minibus that takes you to the island by ferry. The trip to the island costs 650 baths per person and takes about 8 hours. Once on Ko Chang, you won't need to look for a cab, the drivers will find you 😉. There are collective cabs that run all along the coast and drop you off wherever you want. It costs 100 bahts per person until Lonely Beach.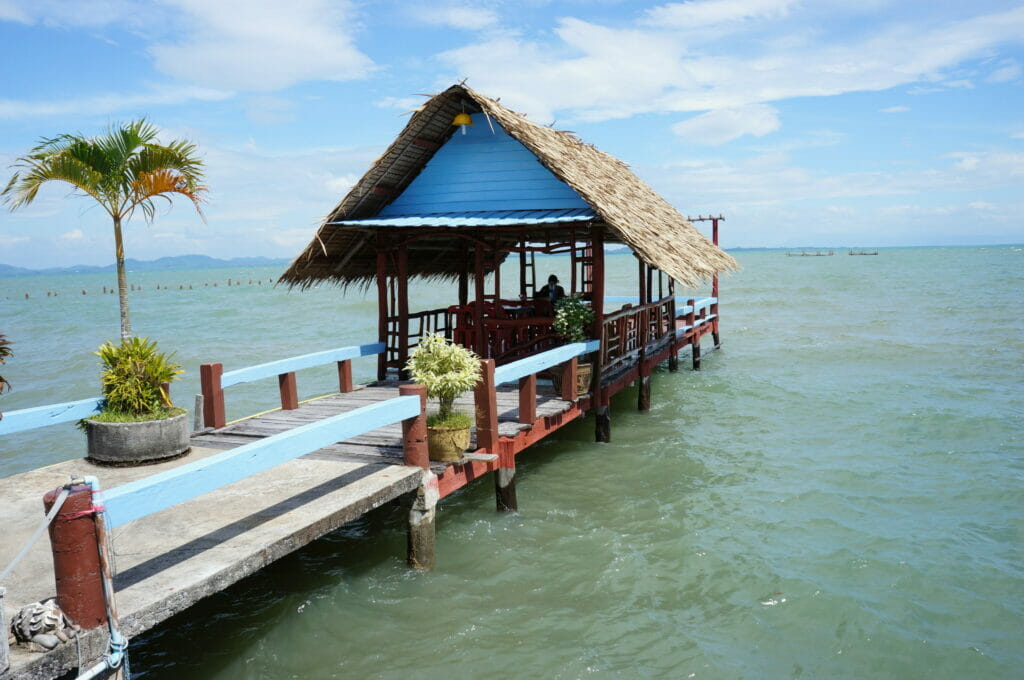 This article contains affiliate links to partner sites. When you use our links to book accommodation, a car, or an activity, you don't pay anything extra, but we get a small commission. This helps us to offer you free, independent, and ad-free content. Thank you for your support!
Which hotel to choose in Koh Chang?
Ko Chang is very large (its perimeter is more than 50 km): there is no lack of accommodation!
East Coast or West Coast?
For guaranteed tranquility, choose the East Coast! There are a few guesthouses and accommodations with locals. To find them, keep your eyes open on the road because there are many signs! However, we recommend you be motorized if you stay on this side of Koh Chang. Indeed, the distances are long and the possibilities of groceries and restaurants are few…
The west side is the most touristic because it shelters the majority of the beaches: guaranteed sunsets on the gulf of Thailand! Around each stretch of white sand, a small village has been built. For our part, we decided to put our bags on Lonely Beach, a beach known for welcoming backpackers like us.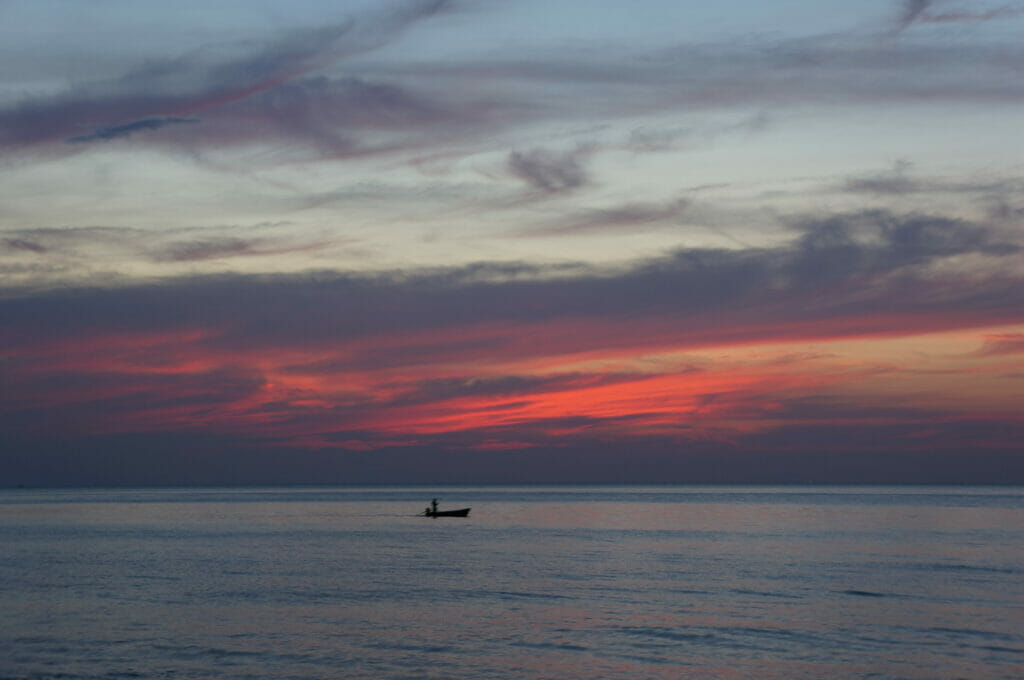 There are nearly thirty accommodations on this beach: guesthouses, bungalows, luxury hotels… There is something for every price and every taste! On the other hand, you have to know that Lonely Beach is also known for its wild nights. We first opted for accommodation in the heart of the night atmosphere of Koh Chang before changing to a quiet hotel.
Stonefree Guesthouse
This guesthouse is very welcoming with its nice decoration. It's run by two bearded rockers who start with rum in the morning, but they are very nice! Moreover, the Stonefree is a restaurant and a bar with a good live music atmosphere! It costs 250 bahts for a room with a fan and a common bathroom. Reservations are made on the spot.
Sea Flower
These are no longer rooms, but bungalows located just a step away from the water. Of course, they are more expensive, but for 500 bahts, we have a much bigger room with a fan, a small private terrace, our own bathroom with hot water, and most of all: quiet 😌. Find the Sea Flower Hotel online.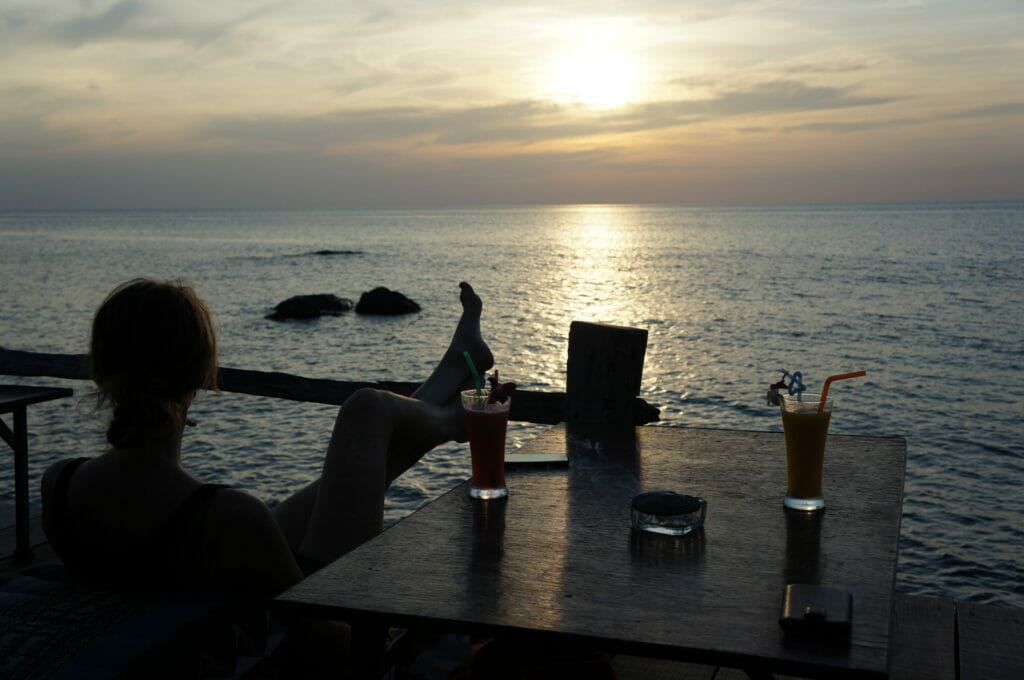 5 reasons to take a vacation during your world tour
We are well aware that those who are at work are going to hate us for these words, but when we make a long trip like this, vacations are also an essential element! This time is the opportunity to recharge our batteries without scheduling anything and to take stock of the small technical details for the continuation of our adventures.
Clean up the mess in your backpack
Being a backpacker is great: you have your home on your back and you are free to move around. But, you have to know that it also implies packing and unpacking your bag almost every day. As a result, we quickly have a huge mess that settles. Well, I speak mainly for me eh, because Benoit has an incredible capacity to maintain his bag tidy.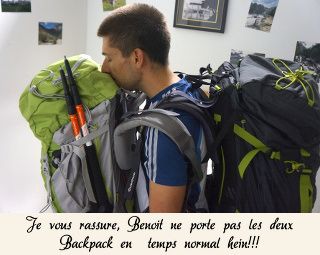 See that moment when you're looking for the little cable for the camera? For me, it usually leads to a complete unpacking of the bag. A few swear words to know where I put the damn cable, then the discovery of the grail in the last sifted pocket…
When you open the bag, it's like a museum: everything has its place. The cable? Too easy, it's in the little grey pocket on the left, under the socks' pocket…
So, vacations are useful for people like me: we take all our stuff out and we start a new game of Tetris and we promise ourselves that this time, "we will keep order". But yeah, of course!
Rest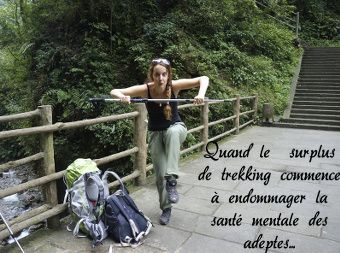 Since the beginning of our trip around the world, we have done 30 days of visits in big cities, 23 days of pure trekking, 7 days of cycling, and for the majority of the 30 remaining days, we have done small walks and excursions. Thus, spending 6 days resting and strolling without putting on our trekking shoes, it's really not a luxury!
Balance your tan
You surely imagine that the round-the-world travelers that we are, have a perfect tanned body throughout our journey. Well, not really! When you travel for a long time, your tan evolves by zones. 4 days of trekking under a blazing sun at more than 4000 m of altitude in the west of Sichuan? Ooh, the beautiful marks of the socks and T-shirt! A week of cycling on the east coast of Taiwan? Welcome to the nice cycling tan on the legs!
Anyway, when we arrived at Ko Chang, we looked a bit like transgenic dalmatians. Super-ultra-tanned arms, golden legs, but pale thighs and feet so white that they shone in the dark. And I'm not talking about the belly/face contrast! A week at the beach is a great way to restore some balance!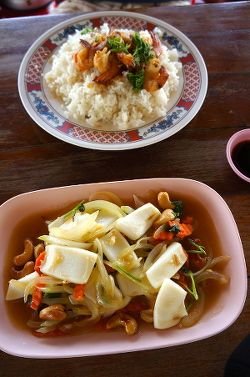 Get back into a routine
Don't think that we miss the metro-work-sleep routine, eh? It's far from being the case, but we haven't had any reference points for 3 months. The days follow each other and never look the same… So, it's good to get back to our little habits during these few days in Koh Chang!
For example, our little mango sticky rice that we bought in a small stand at the edge of the main street of Lonely Beach every evening before going to sleep, always at the place of the small couple of too adorable Thai. Or the fruit shake enjoyed on our favorite terrace of Warapura Resort at sunset…
Ask yourself big existential questions
It is well known that it is when we have time and nothing to do that all those big existential questions arise: "But what are we going to do when we get back?", "Does Benoit really want to finish his PhD?"…
We don't have a single answer to these questions but at least, the discussions occupied a part of our sunbathing days in Koh Chang. Our questions concerned our hypothetical return to active life but also the journey. During these few days, we came to the conclusion that we definitely did not want to rush. At the risk of seeing Australia get left out for budgetary reasons, we are seriously considering extending our trip.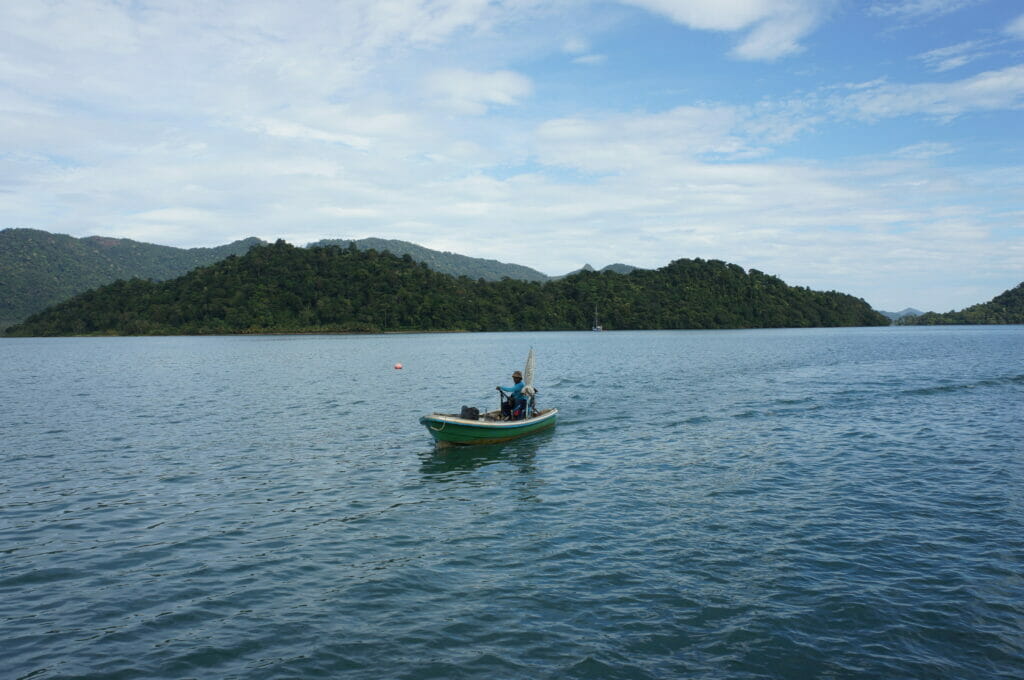 Yes, we would like to spend a few months in South America to learn Spanish. But before that, we would like to take our time to continue to discover the Asian continent. In short, Australia or not, the question remains but the debate is open. Eliminating Australia would add a certain budget for language courses and an option to extend our trip.
And since we're planning our wedding for the return trip, we figured the land of kangaroos would make a good honeymoon 😊. Spoiler alert: we only made a quick hop to Sydney after traveling through Asia!
While waiting to find a beginning of an answer to these questions, we head off to Khao Yai National Park, more than rested after that vacation on Koh Chang!
Now you know everything about our first vacation during this world trip! And you, have you ever taken a vacation on a long journey?