In my last article I left you at the end of our third day of hiking on the Kungsleden trail in September 2018. In this article we stay in Swedish Lapland and continue the story of this magnificent 7-days adventure in the landscapes of the far north -> Article from days 1 to 3 on the Kungsleden.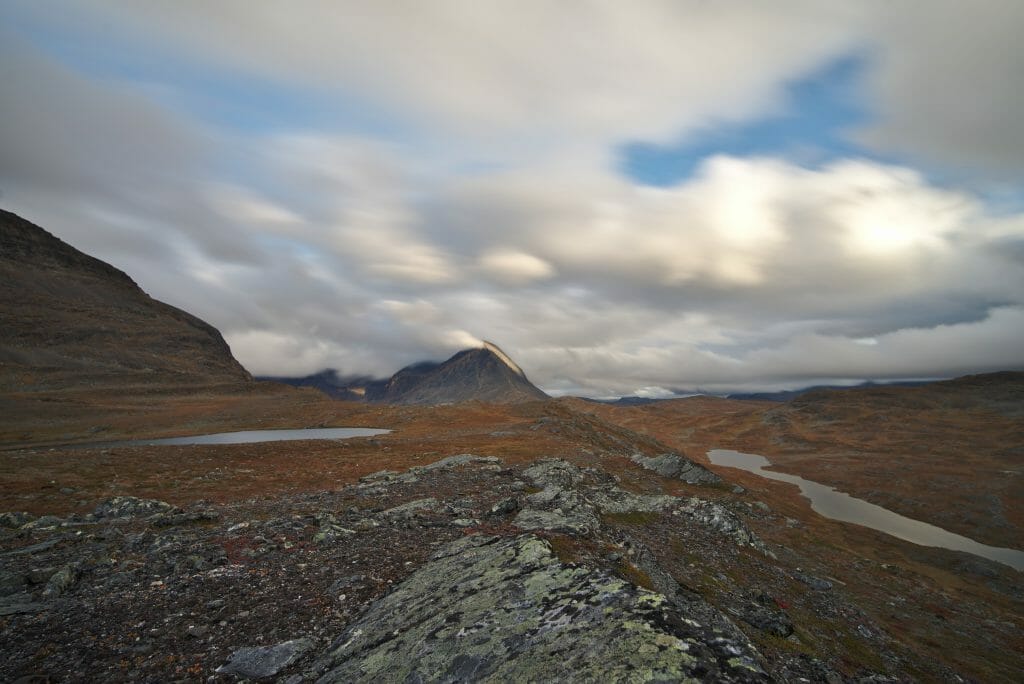 Again, this article is more like a story of our trek. So if you are preparing the Kungsleden and you are looking for practical information then we invite you to read our article about how to prepare the Kungsleden which covers the questions of the equipment, the route and the budget.
From Sälka to Tjäkta (Day 4)
I left you in our last article with that crazy night watching the Northern Lights. Needless to say, the alarm clock the next day was slightly hurting… It's nice to stay up and be amazed between midnight and 3am, but we're not 20 anymore!
Especially since for this 4th day the program looked quite sporty: the crossing of the Tjäkta pass and its 1150m of altitude (it is not very high from a Swiss point of view… but it is indeed the highlight of this trek).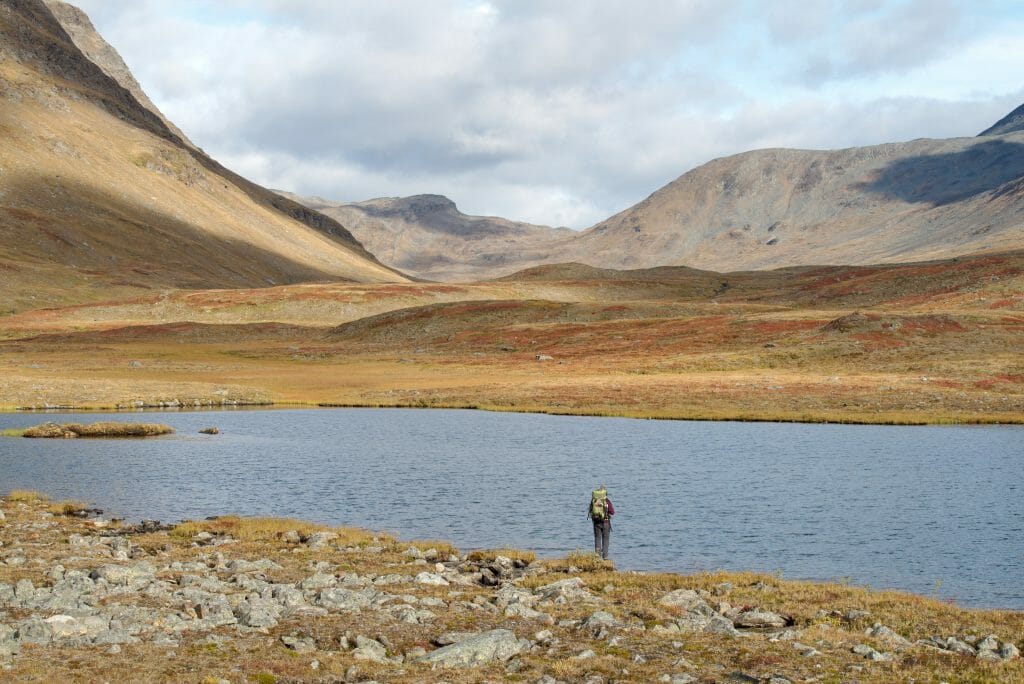 In fact it's funny because the pass is not very high, but the landscapes are changing radically! We pass from the great meadows to a totally rocky world where we believe we are almost on the moon at times. The climb to the pass was finally much easier and faster than expected, so it was easy to get to the pass for lunch.
A small hut is installed at the top and allows you to take shelter to eat on days when the weather plays tricks, but as since the beginning of this trek we had once again a crazy chance and were able to picnic quietly sitting in the sun.
After the pass we took the path again towards the Tjäkta hut. While trekking in this direction we certainly have a slightly steep climb to the pass but on the other hand the descent on the other side is very gentle and the landscapes are still as crazy!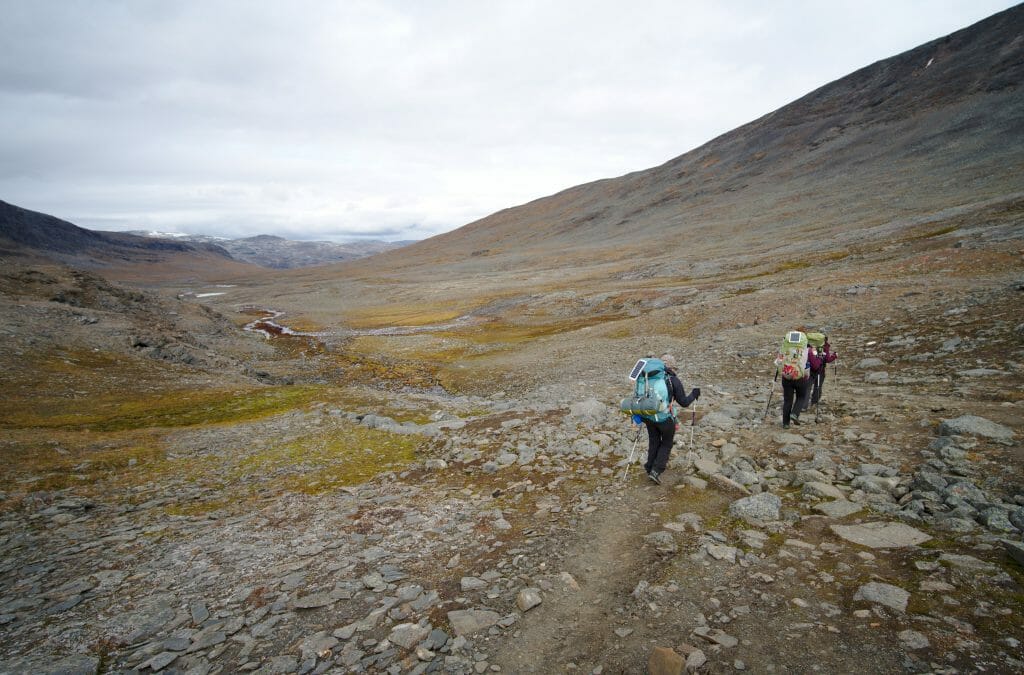 We passed the Tjäkta refuge and about 5km later we pitched our tent by a small lake. In terms of dream bivouac spot I believe this one holds the prize!
As we finished setting up the tent, a herd of reindeer watched us in the distance and we had a front row seat for a superb sunset.
length of the stage: around 16 km
More pictures of the stage:

From Tjäkta to Lake Alesjaure (Day 5)
It was with regret that we left this dream bivouac spot on the edge of this small lake and started again for this 5th day on the Kungsleden trail.
We had barely left the camp that day when we met a Swedish gentleman of a certain age. He also followed the Kungsleden route but did so by moving from refuge to refuge. It was funny because when we talked to him we told him that we were totally blown away by the landscapes and he didn't seem that impressed (he came from the area so reindeer and lemmings were a little less exciting for him I guess).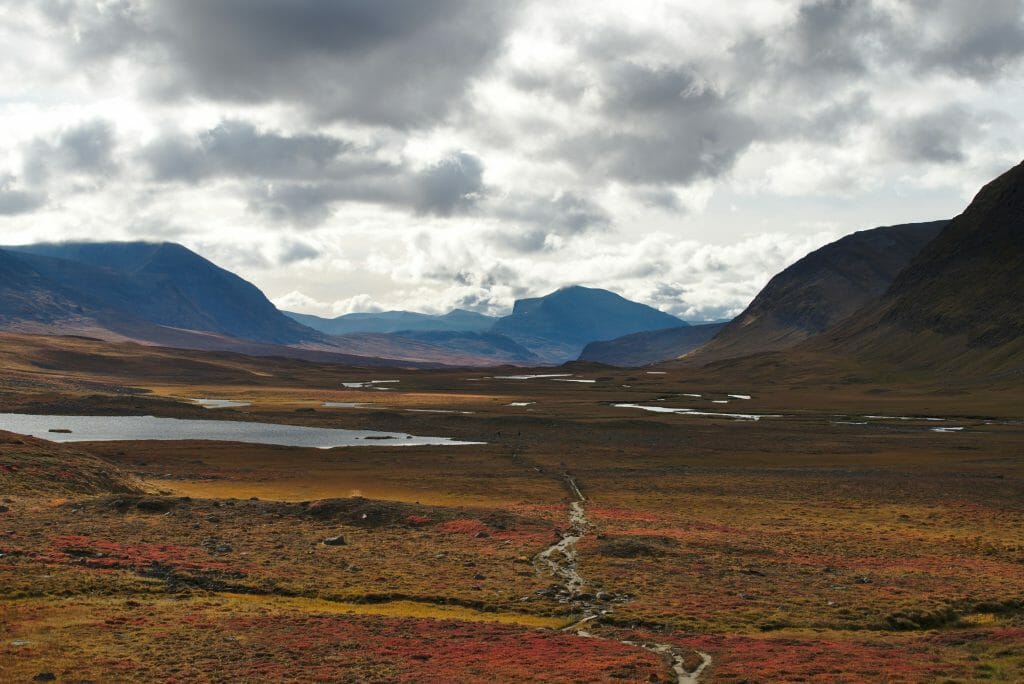 One sentence that struck me was something like:
"Oh yes it's beautiful… but you see, I find it quite frustrating because it's still damn flat. Look over there…. I can already see my shelter for tonight, yet I'm not there yet… by far! But well, at my age I'm not going to complain that it's flat, am I?"
It seems that these large plains that impress us so much can also be a bit boring for the one who has already covered them in every way (and over several decades if you want my opinion). And well, from the topography he was probably going to have enough when he crossed the pass the next day I guess 😉
Little Lemmings in Lapland
For our part, no boredom of these crazy landscapes in sight anyway! During this 5th day we also discovered a new thing… Sabine, Benoit's sister, is apparently a person who connects with lemmings! hahahaha
In Swedish Lapland these little fur balls are everywhere! And on the Kungsleden they particularly like to nestle under the planks of the path. As a result, when we move forward it is not uncommon to see a small face looking at us (even if most of the time we see especially their small butt who tries to slip himself in a hole to hide). Our photographic tests to capture these little creatures have almost all ended in a stunning failure… Only Sabine was able to take pictures of them.

With patience and without making any sudden moves, she was able to give them enough confidence to come out of their burrows. In short, Sabine was our chatty one who whispered in the ear of lemmings on this trek! 🙂
The Alesjaure refuge and a spectacular end of the day!
After about 8 kilometers we passed the Alesjaure refuge. Our basic plan was to stop in a hurry to do some shopping and then continue our journey to picnic a little further… But that was without counting on the magnificent welcome of the ranger! As soon as we had dropped our bags off in front of the shelter, she invited us in with her wide smile and offered us a glass of lemonade.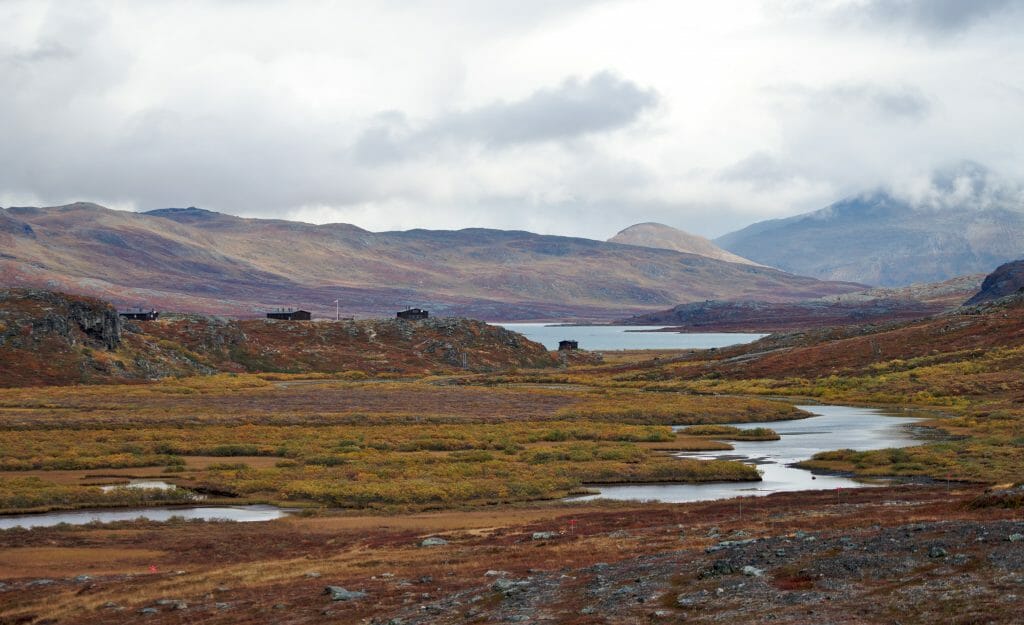 In the end stayed there to picnic and have a nice hot coffee before attacking the last stretch of the day. And that, guys, was probably one of the wildest part of this trek! The lake of Alesjaure has an absolutely magnificent color and at the time of our passage we were like "stuck" between 2 showers with the sun above our heads but the rain in front and behind us. The lights were just crazy and it was with a lot of rainbows on the lake that we ended this day near a winter shelter.
That evening we also had a nice clear sky and so we put our alarm clocks back every hour to go and look at the sky! Around 1am our efforts paid off and for the 2nd time in our lives (and of this trek) we had the chance to see beautiful Northern Lights!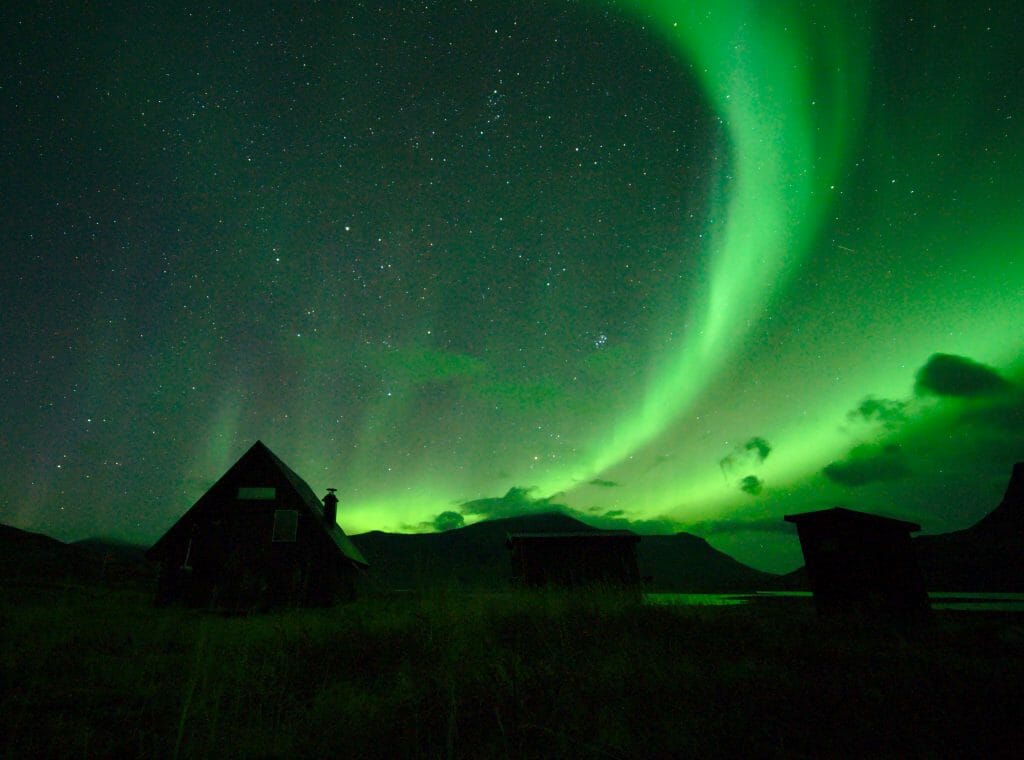 Length of the stage: around 16,5 km
More picture of the stage:
From Alesjaure to (almost) Abisko (Day 6)
That day was a bit like the day of the dilemma… We were very tired and had, to be honest, not necessarily the motivation to do a huge day of walk. The problem is that as we approached our final destination, Abisko, we were also approaching Abisko National Park.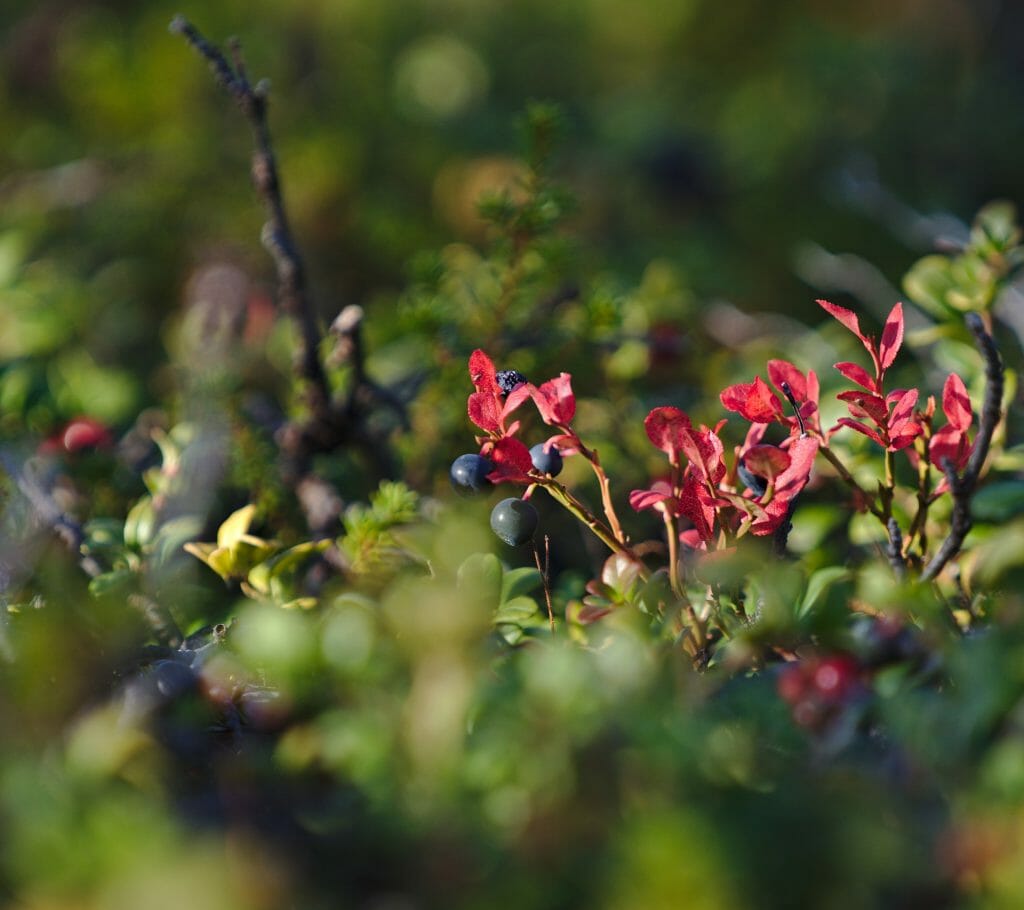 In the Scandinavian countries there is what is called "free access to nature". This is a law that stipulates that you can camp, fish, pick fruit freely anywhere in the country. Let me tell you that this law is a blessing for people who go hiking with their tents on their backs. BUT, there are still some rare limitations. National parks are one of them! Camping is strictly prohibited in national parks (outside designated areas).
The last 16 kilometers of our trek were inside the national park so we had 2 options…
Stop before the park and walk "only" 10km and save 16-17km for the last day
Push further and walk 22 km to reach the bivouac spot of Nissonjok which is located in the park.
Motivated by the idea of ending our beautiful adventure with a good lunch before Sabine and Marine take their train back to Kiruna, we decided to opt for the second option.
From our spot for the night we started this long and beautiful day with a first relatively flat section across huge meadows. We saw a lot of reindeer already, but it was definitely that day we saw the most!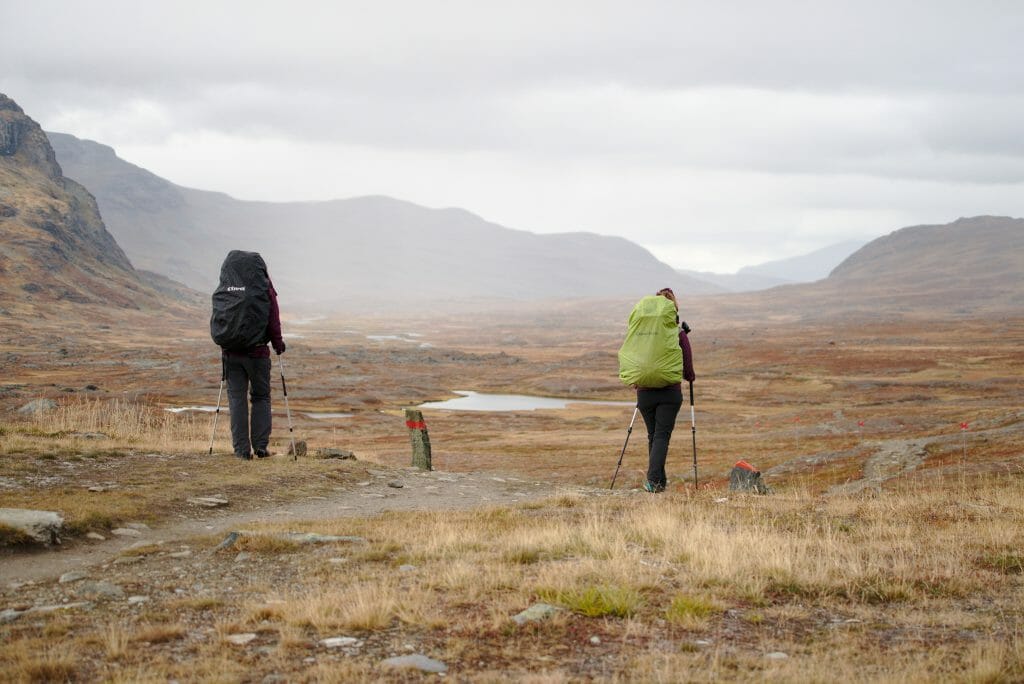 Indeed, as animals feel winter coming, they tend to head for the lower altitudes meadows as soon as the first snowfall arrives. For our part, we felt that winter was also coming that day… First time on our trek that we all pulled out the gloves and even the down jacket to walk! 😉
At the end of this large plateau we arrived at a last point of view offering a breathtaking view of the national park. Then, from there, we attacked "the big dive" of 450m of altitude difference to reach Lake Abiskojaure and the refuge of the same name…
It was crazy, because right away we had left the 100% winter climate and it was "autumn" again, and at the same time we found the trees with orange hues. Under these latitudes and at this time of year it is just amazing how much altitude has a radical impact on the climate!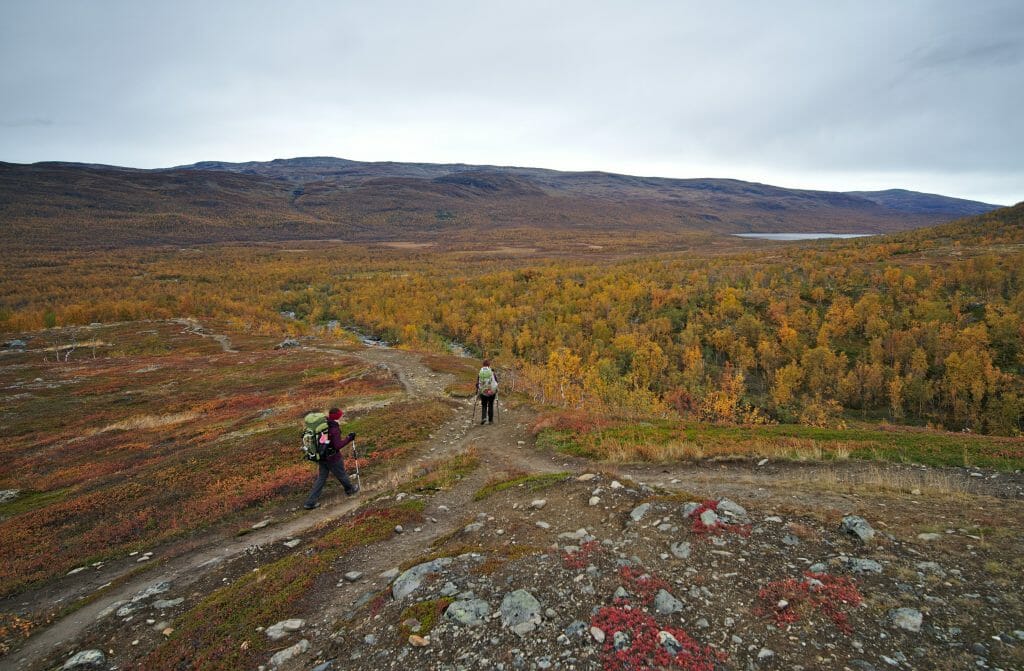 In the end, by chatting as usual and keeping a good rhythm, this long day went almost " all by itself ". At the end of the day we reached the bivouac spot of Nissonjok. This bivouac spot will remain a rather legendary memory… Not for the place, but for the people we met there… Because no, we were not alone! And as at this spot there is a small shelter to make fire we quickly found ourselves all gathered there… Around the stove tonight we had:
Your 4 little Swiss… a bit tired
A German who had just finished 10 days solo in some parallel valleys of the Kungsleden (understand that he had hiked 10 days using his map in areas where there are absolutely no trails)
A German couple who wanted to go on a trek but didn't have a lighter or food with them… A jar of berries and a butcher's knife in the bag… Hmmm… no comment.
A young Afghan boy dressed all in leather who told us he spent a week camping there… He lives in Sweden and his girlfriend apparently told him that he was not a " man of nature ". So, to prove his manhood, he came here for a week with more than rudimentary equipment…
A very nice Frenchman but who also left us very perplexed…. With his little PSG football team jacket and Nike sneakers he told us he wanted to go meet some Samis… With the snow coming we sincerely hope that he didn't go too far with his equipment or that he crossed reindeer to keep him warm 😉
In short, an evening that we will not soon forget! hahahaha
length of the stage: around 22 km
More pictures of the stage:
Hiking maps info
For this trek, the itinerary is not very complicated and it is especially well marked. In short, there is no need to make a thorough study of the terrain before you start. However, we recommend you to have a map with you! To do so, you can download all our maps from this blog post (button above each map).

To download the map from AllTrails (the website and mobile application we use) you simply need to have an account (free to create) and then you can download the map in the format of your choice!
Be sure to have access to an "offline" map during this trek (Maps.Me, AllTrails+, etc.) The mobile network is almost non-existent on this route!
Note that it might be interesting to have an AllTrails+ account to be able to print the maps in full resolution (you won't have to worry about batteries). The AllTrails+ account normally costs 29,99€ per year. If you go through this link, you will get a 30% discount.
Last day on the Kungsleden: our arrival in Abisko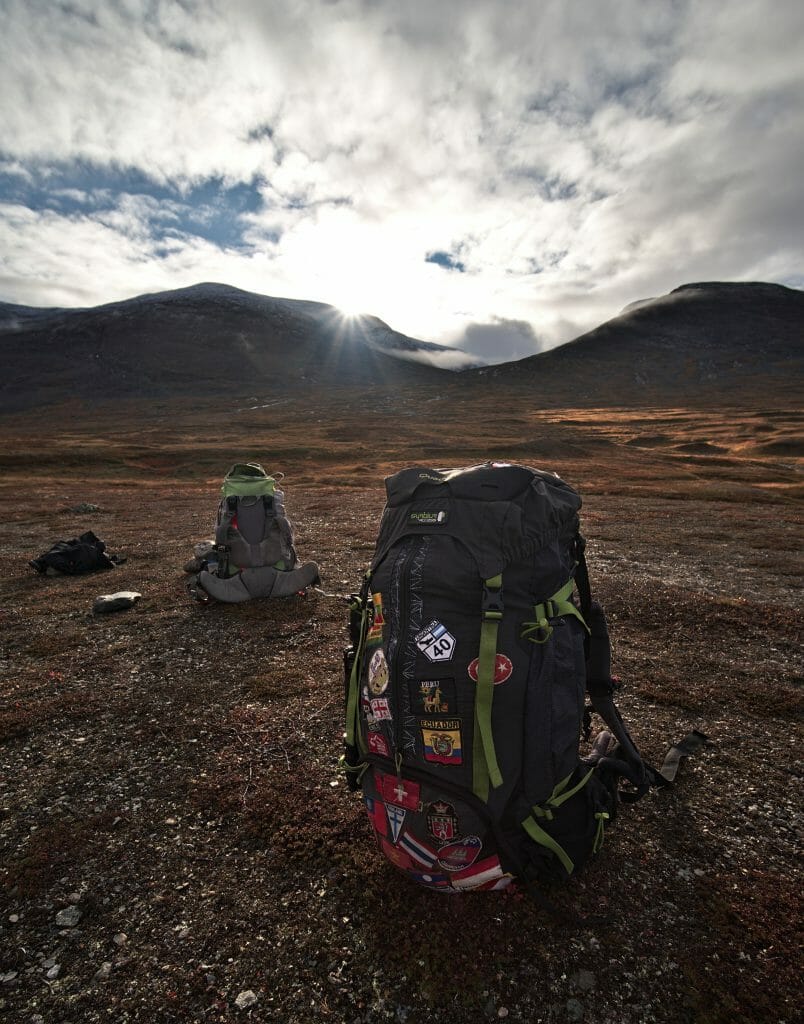 This last day was only a small formality. We only had 5km to go and I want to say "very fortunately". Weather wise it was our worst day, so we were happy not to have to go too far in the rain. 😉
In terms of landscapes, these last 5 kilometres take place in Abisko National Park and this section is therefore also a stretch that is easily used by hikers who spend their holidays in Abisko (without necessarily hiking the kungsleden). In short, the path is wider, there are clearly more people… But to tell you the truth, we didn't care that day… We were moving forward quite mechanically with the only objective of finding a burger at the end and a good shower (we finally had the shower, but for the burger there was no way)
It is with a certain relief that we passed through the gate that marks the end of the trek (or the beginning for some you). We were exhausted, very dirty, but above all 200% happy about this magnificent adventure we shared the 4 of us!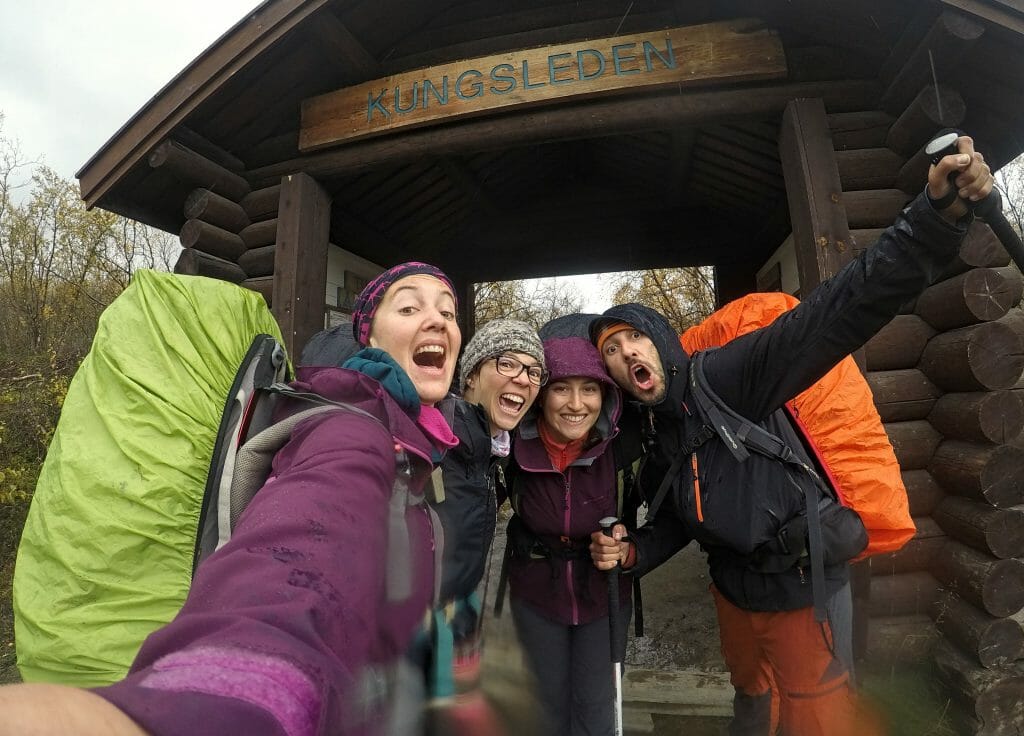 2 Well-deserved nights of rest in Abisko
While Sabine and Marine took their train back to Kiruna to catch the plane back to Switzerland, with Benoit we decided to stay a bit longer…
Abisko being more or less near the Lofoten Islands, we thought it would be a shame to be "so close" and not to go there 😉 . But before leaving for the Lofotens we decided to take a mini "recovery" break in Abisko (by recovery it is certainly necessary to understand leg recovery, but also recovery of a more or less human face… 7 days of trekking without shower it leaves a few traces haha).
Accommodation in Abisko: STF Tourist Station
In Abisko the accommodation options are not endless… We had found some addresses before coming but as usual we hadn't booked anything. We didn't know for sure which day we would finish our trek and we were also secretly hoping to find a good accommodation plan that wouldn't be on the internet. Everything we had seen online seemed very expensive to us…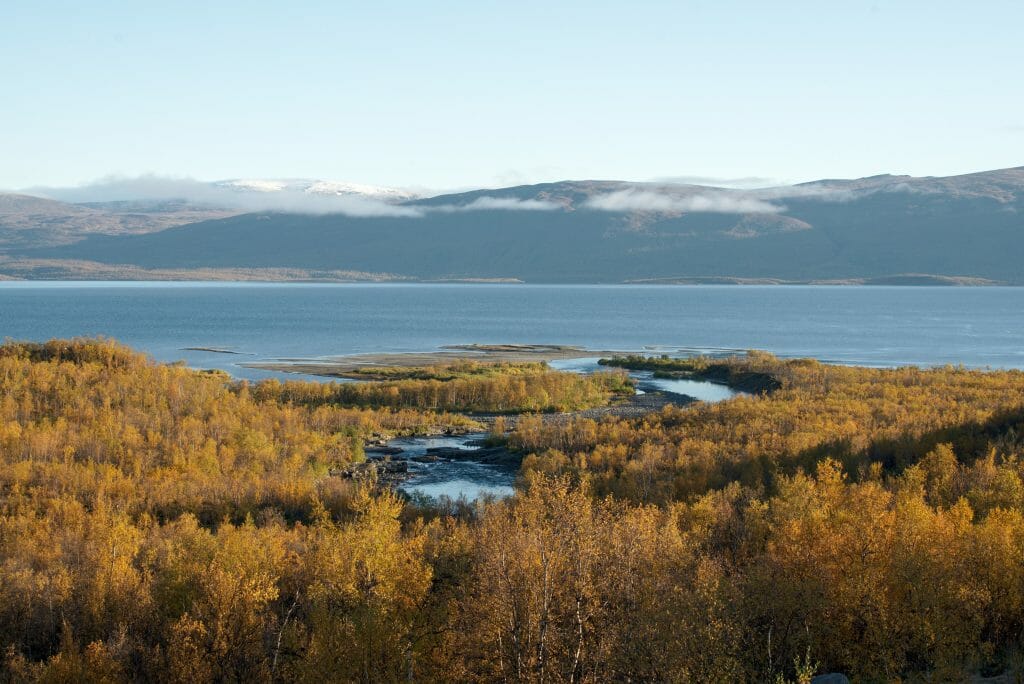 So the bad news is that everything is very expensive up there! One of the most popular places is the STF Tourist Station. More than a hotel, it is in fact more of a huge complex that offers all kinds of accommodation possibilities (and which is also located at the end of the trek):
Cosy double rooms for lovers (count 200€-250€ per night for 2 people)
Large chalets for families or groups (about 250€ per night for up to 6 people, sheets not provided, cleaning not included)
Beds in dormitories for travellers who are a little less fortunate but who do not want to sleep outside (Count 45€ per night per person)
Camping places…. (about 20€ per person per night)
Note: There are discounts for Hostelling International members. The card was sold for 45€ for a couple (or 30€ per person) and gave the right to a discount of about 10€ per person and per night… So for it to be worth it, you would have to stay 3 nights. If you plan to stay for a long time, this may be a good possibility.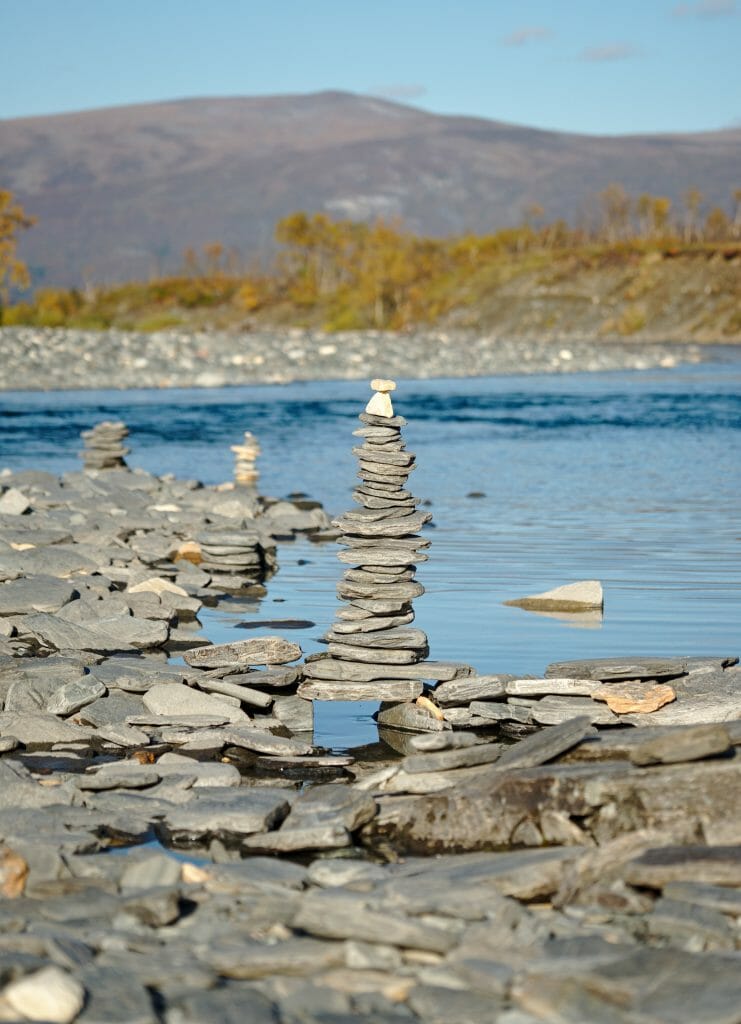 We let you guess what option we took 😉 After 7 days of hiking and bivouac it was clearly not the camping that was going to scare us. Especially since unlike the trek here we had access to toilets, hot showers and a washing machine with drying room (5€ per wash).
For us the camping was a great idea, because by staying at the campsite you can still enjoy the hotel's facilities and spend a few hours in the warmth of the reception sofas or stroll through the library (to charge the computer equipment in particular).
But we won't lie to you… The campsite's infrastructure is "minimal". The toilets and showers are clean, but what they claim to be "a kitchen" is actually a 3m2 mini room with a sink and 2 electric hotplates in self-service. 🙂 At 40€ per night for 2 people it is still very expensive campsite for what you get, but for the area it is reasonable (unfortunately).
Useful tips: The hotel's breakfast is sold for 12€ and so we didn't find it very advantageous… In the evening it's a la carte meal, so it's relatively expensive too… BUT please note that at noon it is possible to eat in the hotel restaurant for 125 SEK (12€ wholesale). At this price you have access to a great buffet with soup, salads and daily specials + fruit juices and coffee and self-service. In other words, after the trek it was exactly what we needed!
Hôtel in Abisko
As mentioned above, we decided to camp at the STF Tourist Station. They also offer a wide range of "proper" accommodations that range from deluxe rooms to dormitories. After that, if you want to sleep in a good bed, there are several alternatives in Abisko; we let you compare the prices on Booking.
Abisko: A paradise for the Northern Lights?
Okay… If we are totally honest our break in Abisko was not only motivated by desires to regain strength and a shower… Before our departure we had read everywhere that Abisko was THE Spot in Lapland to see the Northern Lights. Not knowing we were going to see some on the trek, we planned 2 nights here to maximize our chances…
In fact, if this place is so well known, it is mainly because of its "Aurora Sky station" (an observation station accessible by chairlift which is located on a small mountain above Abisko). So it will be difficult for us to tell you how it looks like because we haven't been up there… 3 reasons for this:
We were absolutely exhausted… 🙂
The activity of the auroras was VERY low the 2 days we were there and so the chances of seeing them were low.
The price to climb is quite high… (it varies according to the season… about 26€ in summer and 75€ in winter… In autumn I am no longer sure of the price that was indicated but it was clearly too much for our small backpacker budget to take a chairlift) (Note: the auroras, if present, are also perfectly visible if we stay below and move away a little from the hotel and its lights if you want our opinion)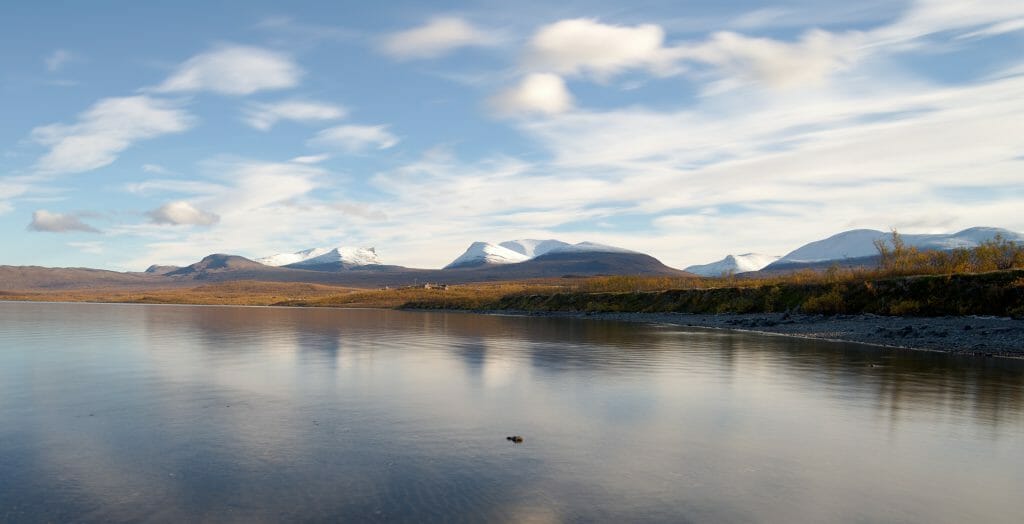 As you will have understood, Abisko, for our part, was not the place where we saw the aurora. But the place is sublime and it is a very good spot to relax a bit after the trek! 😉
See (and photograph) the Northern Lights in Abisko
If you are in Abisko specifically to see the northern lights, you can also join special "aurora hunting" tours. In the company of a guide, you go by 4×4 in areas with little light pollution in search of the aurora. Note: These tours take place from September to March
For the photo lovers: On Civitatis it is also possible to book a "special photo tour". Here the guide is especially there to show you how to capture that magical moment. These excursions take place mainly during the winter months. See this tour
Now, this time I think you've heard all about our wonderful week of trekking in Swedish Lapland! We will be back soon for the rest of our articles in the Lofoten.
Benoit is also preparing a great article to tell you everything about the Northern Lights and especially how to photograph them! Then we will tell you a little more about our roadtrip in the Lofoten in Norway. See you soon!
Vidéo of our hike on the Kungsleden
Here are some pictures of our trekking week in Lapland! If you liked the video, feel free to share it and/or subscribe to our Youtube channel 🙂
Note: This article contains affiliate links . By using our links for your booking you obviously do not pay anything more, but we do receive a commission.