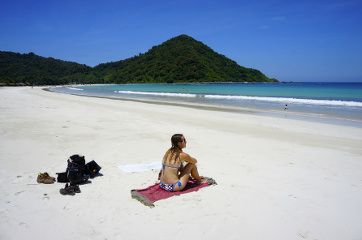 After a few days in Bangkok we flew to the last Asian country on the itinerary of our round the world trip: Indonesia, and more precisely Lombok!
Known for its dream beaches, amazing volcanoes, smiling inhabitants and breathtaking landscapes, Indonesia was definitely a must-see for our trip around the world!
Getting to Kuta Lombok… What a journey
Once again, it was me who was unlucky on this one. After a flight that went smoothly, we were first confronted with Indonesian administrative speed and efficiency: immigration!
After waiting for more than 1h30, paying our 25$ visa-fee and after having found ourselves confronted with a customs officer as efficient and motivated at work as I am when I start my sewing work, we get our precious little 30-day visa!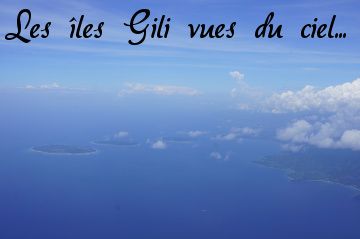 After customs comes the time to pick up our bags. In Lombok, no conveyor for suitcases, no no! Here the suitcases and bags are placed on the ground, and patiently wait for their happy owners to come and pick them up. Well, at the same time, considering the time it takes to get through customs, it saves them a lot of electricity, not to run their conveyors!
My bag is missing… once again
Anyway, we quickly spotted Benoit's bag. But we also quickly realized that mine was missing. Well, well… it reminded me that day, almost 2 weeks ago, when my bag vanished from a night bus in Laos…
But honestly, the kindness of the guy "in charge" of the lost luggage bluffed me so much that I didn't even want to get angry.
What the hell, the next plane doesn't arrive for four days?
You have no idea if my bag is still in Bangkok, Singapore or if it is in Tambouktou?
It doesn't matter…. I simply filled out the form, gave my e-mail for them to contact me and we set off for Kuta Lombok!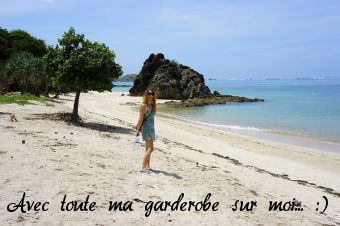 But I reassure you, all ends well! 4 days later, the airline delivered my little travelling companion to our guesthouse! In the end, this little "misadventure" simply made me buy a new swimsuit, a little dress, flip flops and panties. Well yes, at the beach we don't need much more!
Some size issues 🙂
However, I would like to inform you that finding panties in Indonesia is not an easy task. The local girls do not have "quite the same hip size" as we Europeans, and let's say that Muslim fashion is not exactly at the cutting edge in terms of fine lingerie… In short, it is with 2 beautiful grandmother's panties that I started my Indonesian stay! 😉
Kuta Lombok, not to be confused with Kuta Bali!
For our Indonesian beginnings we had in mind to start our stay with a few days of vacation. Yes, we're cheeky to say that, but as we already explained in our article on our "holiday in Thailand"; it's sometimes good to take a few days off in your round the world trip.
Other travellers had told us about Kuta (in fact there were many of them)! But strangely enough, some people insisted on the fact that they were talking about Kuta Lombok and not just Kuta!
So indeed, when we talk about Kuta without adding the reference of Lombok, we are usually talking about the very festive little town south of Bali.
Kuta Bali is a bit like a meeting place for party people from all over the world. (But mostly from Australia). Nothing against the party, but for our little couple holidays we admit that we were not quite looking for a place where beer flows freely and where decibels reason until the end of the night…
Kuta Lombok is a sweet alternative. Located in the very south of the island of Lombok, Kuta is best known in the world for being one of the best surf spots. As a result, Kuta Lombok rather looks like a small village of surfers rather than a real party place. There are certainly many guesthouses and restaurants, but as we were off the main season, the place remained really quiet.
How to get to Kuta Lombok
There are no 36 ways to get around Lombok. Local buses are rare, 100% irregular, and lines are not clearly defined. So for tourists who have just arrived, it's like a jungle. The easiest way is still by taxi!
In Indonesia the taxi is really cheap, especially if you take a Blue Bird taxi and if he agrees to use the meter!
Of course the Blue Birds are not allowed to come to the airport. At Lombok airport you have to buy your "taxi voucher" at the exit. So be careful, beware of scams!
Our sweet little seller first wanted to sell us the ride for 150'000 rupees (10€). Honestly, we had no idea about the prices and to be fair it did not sound like a lot.
But it has become a principle, we never take the first option when we get somewhere. In less than 5 minutes, and feeling that we were about to try the "local bus" option, theguy came back to us, this time with the "official" price list in his hands. 84'000 rupees (5,6€) was all of a sudden the new price, which already seemed much more reasonable for the 25 minutes journey. So here we are on our way to Kuta!
The beaches of Kuta Lombok
Mamma Mia… how can I describe this to you? Kuta is a small coastal town with its own beach. Thus, when we got there the first time we were already pretty amazed by the beaches "in town". But it was without knowing what else was in the area…. I mean, the more beaches you see in Lombok, the more you get this feeling that you'll never want to leave this paradise anymore.
The best way to discover the surroundings of Kuta is to rent a motorbike. What's next? All you have to do is follow the roads.
Just after the rainy season, the landscapes are just incredible, the colors completely supernatural!
It just feels like driving through the Windows home screen, doesn't it?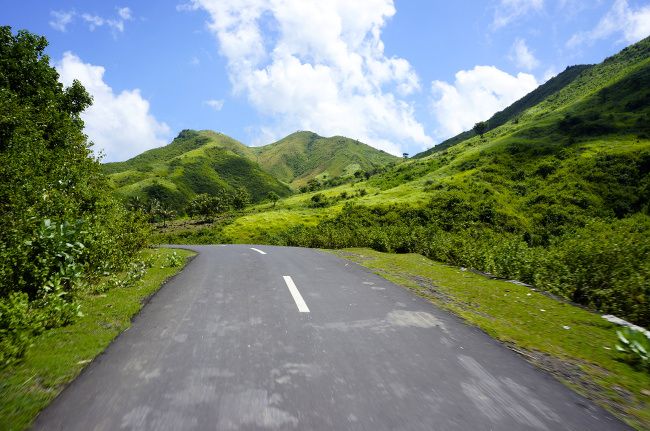 There are paradise beaches all around Kuta! But enough of the blah, we'll give you a map with the best beaches on Lombok. If that doesn't make you want to come around here?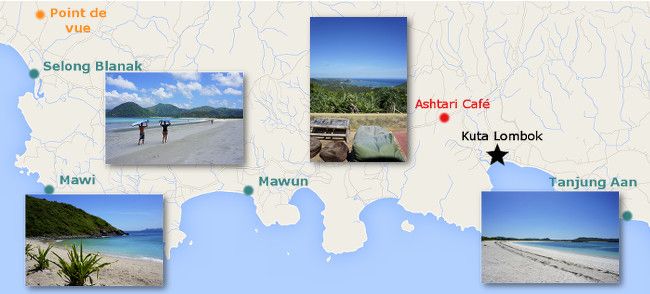 The map is not very precise, but it is to give you an idea of the distances. In terms of roads anyway there is not much choice: to go east you have to follow the road that passes along Kuta beach, and to the west take the first road that goes to the left when you arrive from the beach. That's all there is to it! 😉
Selong Blanak: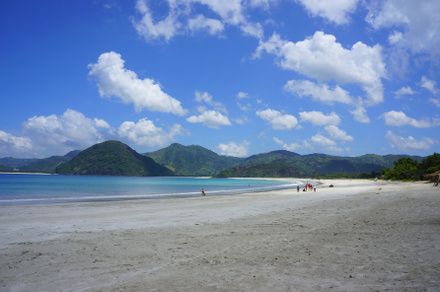 It is the most remote but also the most famous beach in Kuta. By scooter, allow about 40 minutes by taking it easy.
At the same time it would be a real shame to hurry, because the landscapes that pass before our eyes are just magical!!!!
To find the beach it is extremely easy, just follow the road along the coast. It's impossible to get lost! (even we didn't manage to get lost, and that says a lot)! 😉
On site access to the beach is free, but you will have to pay 5000 rupees (0.3€) to park your scooter.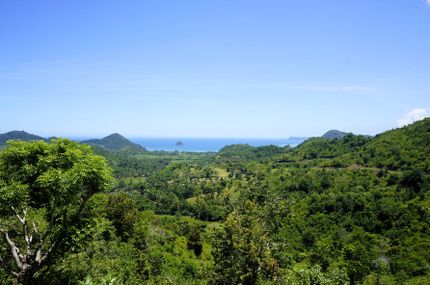 Once you arrive in Selong Blanak, do not hesitate to continue a few more kilometers on the road towards the west. After an ultra steep climb (I thought our poor scooter would never get over it), you will be rewarded with a magnificent view overlooking the beach!
Mawi:
About two thirds of the way between Kuta and Selong Blanak lies this beach which is really gorgeous! Although for swimming it may not be optimal. There are really big waves, so rather to be reserved for surfers….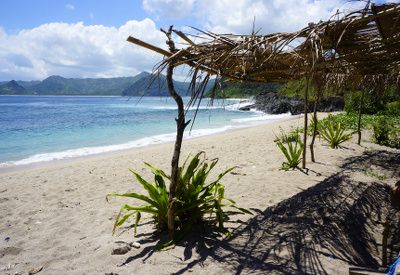 To get there is quite simple: on the road between Kuta and Selong Blanak you will see a small path that goes on the left just in front of a café/surf shop called "Mawi surfer Inn" (or something like that…)
However, be careful, the road to the beach is really in a bad state! It's more like a motocross track than a scooter road. But if you drive slowly there shouldn't be any problem!
Parking on the beach is free but to access it you will have to pay 5000 rupees to a group of guys at the top of the hill…. (at least we had to pay… we'll never know if this was something official or just guys sitting there drinking beer, smoking weed and collecting money from tourists haha)
Tajung Aan:
Located about 10km east of Kuta, Tajung Aan is probably one of the most beautiful beaches in the area!
A large white sand beach, and no a single soul on the horizon!
To get there you have to follow the Kuta beach road and continue towards the Novotel. At the roundabout turn left. Watch out for the roundabouts! In Indonesia they drive on the left (like in the UK), thus the roundabouts have to be taken the other way round! I'll let you guess who got it wrong the first time… 😀

Once you are on Tajung Aan, and when you have finished sipping your fruit shake on the deckchair, we strongly recommend you to go for a walk on the hills to the right of the beach!
The view from up there is really spectacular. And I think we can say that we have met the cows who have found the best spot to graze in peace and with the best view. There are little cow in Switzerland that must be pretty jealous! 😉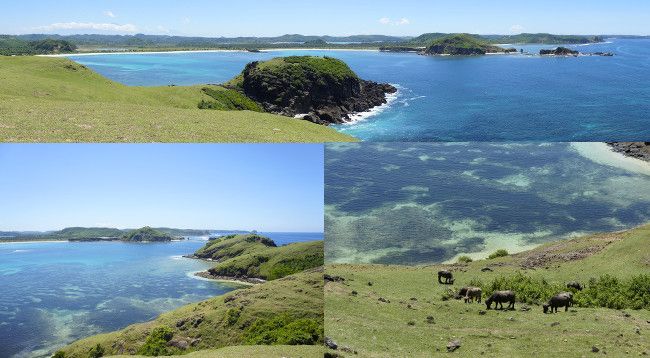 Apparently there are still other equally beautiful beaches further east, but unfortunately we were unable to get there.
Our scooter decided that he was fed up with being mistaken for a cross country bike and decided to let go of the pressure (from his rear tire).
In short, not wanting to have a completely flat tire, we preferred to turn back after Tajung Aan.
Kuta: the place we took our first surf lesson
Kuta is known to be one of the best surf spots in the world! So the first 4 days we never stopped devouring with our eyes all these beautiful surfers who roamed the roads with their boards on their scooters. Well ok, I was the one who was looking at the beautiful male surfers… 🙂
In short, taken by a great jealousy, and because we too wanted to look super cool with our surfboards on the scooter, we decided to take 1 day of surf-initiation to get a little bit of the feeling of sliding on the water.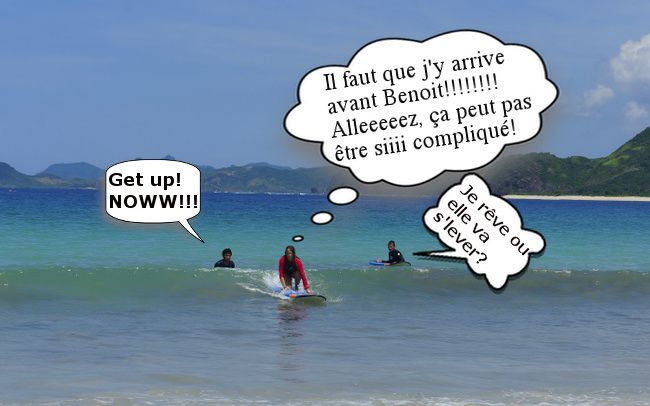 The course was held on Selong Blanak beach. Frankly, just for the setting, it's worth paying to fall in the water over and over!
A historic day for our couple
On top of that, this surfing day was an almost historic day in our relationship! Gentlemen, ladies, for the first (and probably last) time in my life, I was more skilled in a sport than Benoit! Champagne!!!!!!!
At the end of the day we were exhausted, burned by the sun, but so happy! We are very proud to announce that we both managed to stand on our board and take our first waves! Well, we're not Kelly Slaters yet, but who knows, maybe we'll persevere in the rest of our journey…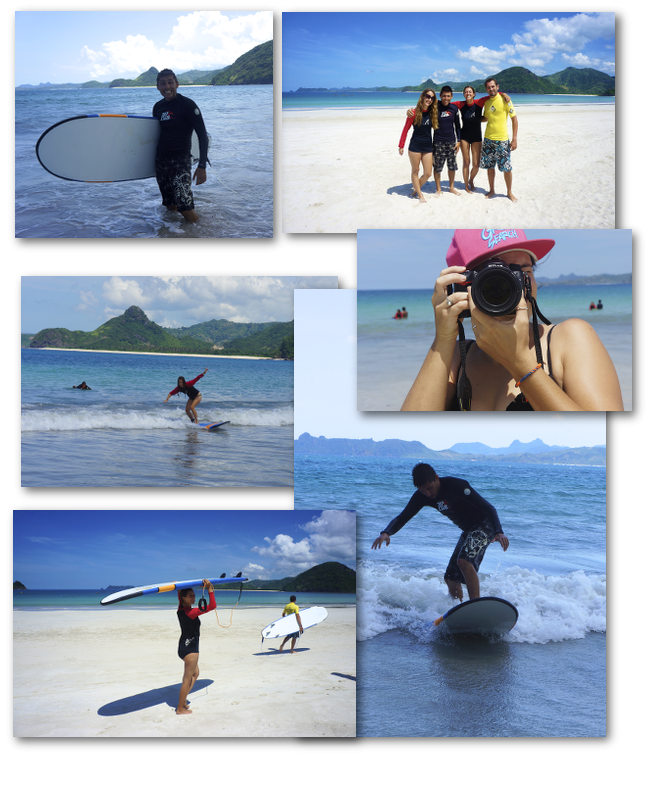 Anyway, Kuta is really a great place to discovert the joys of surfing!
Between the different beaches there are really some for all levels, even for the perfect little beginners we were (ok, let's be honest: still are)
Infos

Price for a surf lesson: 280'000 rupees per person for 4 hours of lessons (scooter transport to Selong Blanak, parking, drinks, snacks and board rental included)
Surf board rental: 50'000 roupees per day (for those who don't need lessons anymore)
Scooter Rental: 50'000 roupees per day
Our good addresses in Kuta
Accomodation:
As far as accommodation is concerned, there is no shortage of choice! For our part, it was under heavy rain that we arrived in Kuta (but what idea to come to Indonesia during the rainy season too?). But despite that, we took a little tour to find the perfect guesthouse for us.
And the good news is that we found it!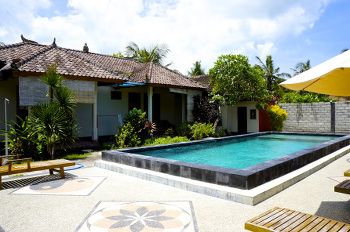 We stayed at the GR House (on the road to the beach). This small guesthouse offers 6 bedrooms with private bathrooms, all arranged around a pretty small swimming pool. The guesthouse is run by an absolutely adorable Balinese family and the restaurant's cuisine is really delicious.
price for the room: 170'000 roupees (breakfast included).
But in Kuta you can find everything! We have even been offered a room at 70,000 rupees (breakfast included), but there are also more luxurious hotels for more than 600,000 rupees.
At the end of the bay is the Novotel Kuta, considered to be the most expensive and exclusive option in the area… Afterwards, we admit that we didn't really want to spend our weekly budget for 1 night in a hotel to check what it's all about… sorry eh!
Have a drink:
There are a few bars in Kuta, but to be completely honest there is not one that we would recommend more than the other… They are quite similar and offer similar menus….
But if you want a little getaway and take a little bit of height, then Café Ashtari is probably the place for you! 5 minutes by scooter from Kuta, this relaxed café bar with its large terrace and cushions offers a spectacular view of the bay!
It's a little more expensive than elsewhere, but frankly for the view it's worth having a least a drink! Considering the prices of the dishes and the size of the portions, we would simply advise you to come and have a drink and perhaps let yourself be tempted by their delicious chocolate cake served with its coconut cream… Yummy!!!!! (see map for exact location)
When to come to Lombok?
The high tourist season runs from July to August, it is the time of year when it is generally always sunny and dry. But honestly, we don't recommend especially this period. The owner of our guesthouse explained that during this season hotels were often full, that the beaches were filling up but and above all, that the landscapes tended to suffer from a lack of water!
As a result, the beautiful green plains can quickly turn yellow-brown, and give an impression of dryness!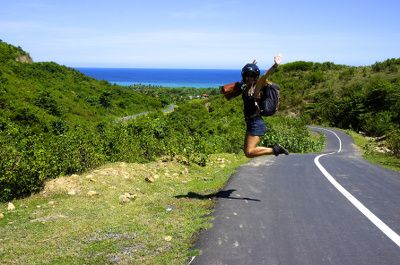 I think that the beginning of April is an excellent compromise: it is the end of the rainy season, still the low tourist season, the weather is generally fine until around 3pm or 4pm, then a small storm (short but violent) often refreshes the atmosphere a little before the sky clears again in the evening. Just in time for sunset!
Our next stop…
Here, you know everything about our first steps in Indonesia… But don't worry, it's by no means over!
Note: This article contains affiliate links. By using our links to book your hotel you do not pay anything extra, but we'll earn a small commission. Thanks for your support