It has been 3 weeks since we arrived under the sun in Thailand and one thing is certain: we do not regret our decision to come and spend a few months here for a single second! 🙂 Today, we'll take you with us on a hike to the Doi Suthep temple, passing by the amazing Wat Pha Lad.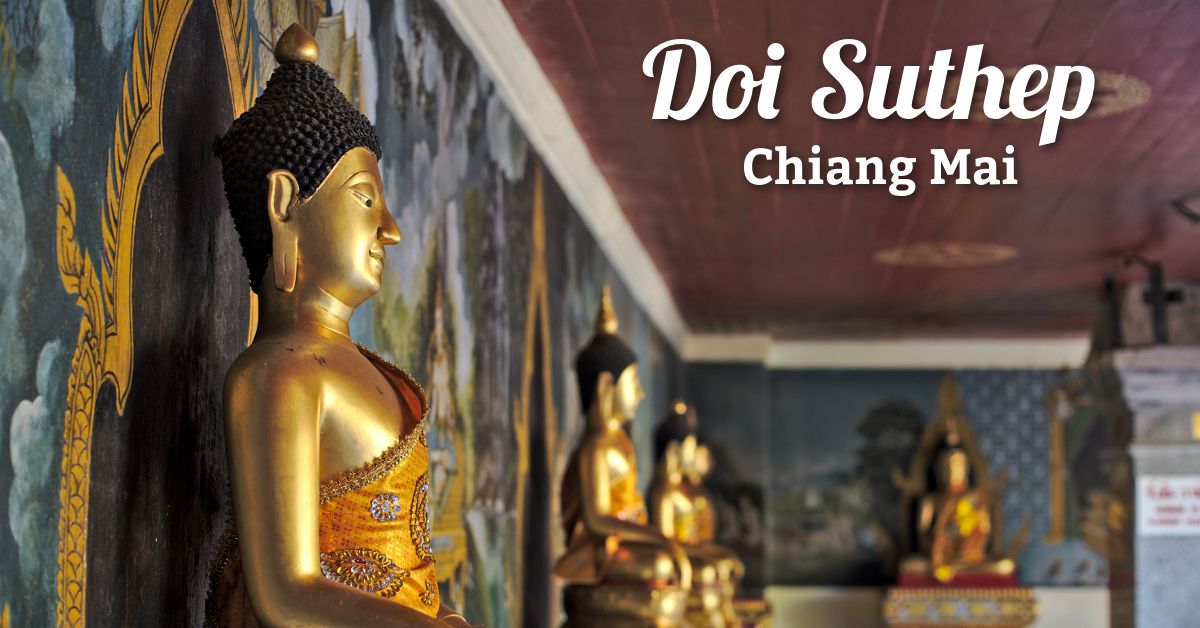 In the coming weeks we will try to share as much of our little life here in Chiang Mai as possible by giving you all our good tips, excursion ideas and less known addresses! And promised, we will also explain to you a little better what we came here to do exactly… 😉 In a previous article we explained how to find an apartment in Chiang Mai, well today we offer you a short visit to a must-see site in Chiang Mai: Doi Suthep and as a bonus a much less known small temple that is on the way!
How to get to Doi Suthep and Wat Pha Lad: The alternatives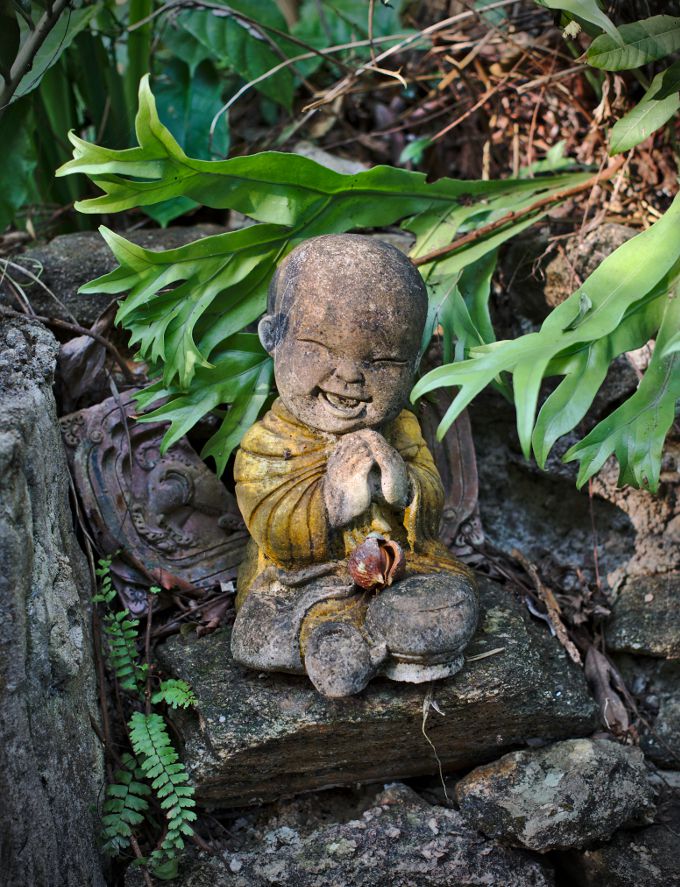 The temple of Doi Suthep is located about fifteen kilometers from the old town of Chiang Mai, so as you can imagine there are many ways to get there! For our part, we decided to warm up the calves and climb on foot! We strongly recommend this option, but we understand that it is not everyone's cup of tea… So as we're nice we'll list the alternatives too;)
But for those who walk up, go to the end of the article for the detailed itinerary!
Take an organized tour
If you know us, you know that organized tours are not necessarily our favourite thing in the world (the least we can say)… Well, No exceptions to the rule this time either! In town there are agencies that offer half-day tours to visit Doi Suthep in a minivan with a guide. Yeah…. Sold between 600 and 1000 Baths per person, these tours clearly don't seem destined for a backpacker audience, especially since it's really easy to get there otherwise!
By scooter :
Probably the option most often chosen by backpackers! Renting a scooter in Chiang Mai does not cost much (count between 160 and 200 Baths per day) and it allows you to be 100% free of your movements. The only disadvantage of the scooter: you have to master the "Thai driving style" and obviously it is not the most sporty option;)
By public transports

If you don't feel like a Valentino Rossi and prefer not to defy the Thai roads then a good alternative is to get on public transport, understand the Song Taew. The Song Taew would almost be worth an article on their own, but in short it is these kinds of red trucks that circulate without a precise itinerary in and around the old city.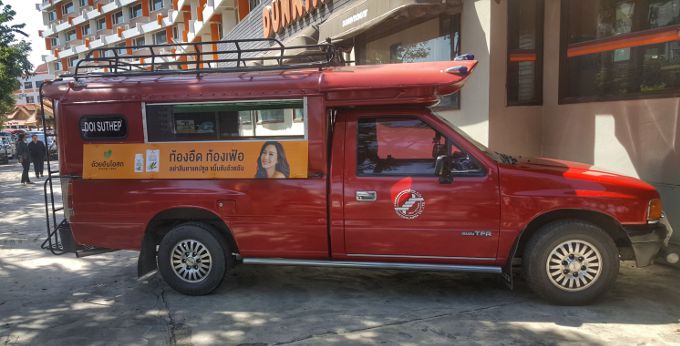 Some drivers will probably try to negotiate with you to make you rent his car by the day. Roughly speaking a driver will want to win something like 400 to 700 Baths for a private trip where they take you to Doi Suthep, wait 1h30 and bring you back.
In short, the more people there are, the cheaper it gets!
The most economical for single people or couples? Shared Song Taew, 100 Baths round trip per person
There are 2 spots in Chiang Mai where Song Taew leave only for Doi Suthep and wait for their vehicle to be full before leaving. The one-way race is charged 50 Baths if the car is full (10 people). The departure points are located next to the north gate and to the north of the Zoo.
To get back down, ask the many drivers waiting up there to drop you off in town (given the competition you should also be able to negotiate 50 Baths)
PS: The map at the end of the article will show you where to take the shared Song Taew to the zoo and to the north gate
By bike?
Hmmm…. 700m of altitude difference, the Thai roads, the exhaust gases of the Song Taew… Personally, I'm not sure I would have chosen this option, but believe it or not, we met several of them who did it! If you choose so, make sure you have a good bike with gears, right? The small bicycles rented 25 Baths a day that squeak will definitely not do it…. In Chiang Rai we took a ride to see the white temple by tandem, but believe us, for this trip we would have definitely left it in the garage!
On Foot!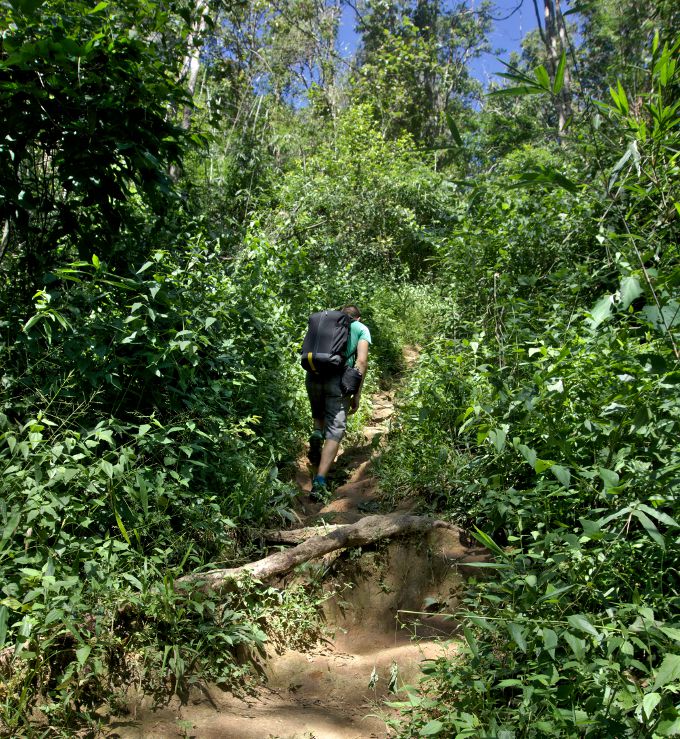 Hehe if you read us from time to time you shouldn't have any trouble imagining that this is the option we have chosen! In addition to being the most economical it is also the one that allows you to be the most flexible (and to work your buttocks at the same time).
Well then we don't hide from you that it's not next door (especially if like us you get lost on the way)
But to avoid that this happens to you we have prepared a map and detailed indications at the end of the article, promised it will be impossible to get lost with this!!!!
Wat Pha Lad: Little gem in the jungle!
The trail starts at the foot of the TV tower and very quickly we find ourselves in the heart of the jungle! And jungle means humidity and crushing heat! About half an hour later, just when we start to think that it's not normal to sweat so much for a normally constituted human being, we cross a small bamboo bridge and find ourselves facing a small paradise: Wat Pha Lad's temple!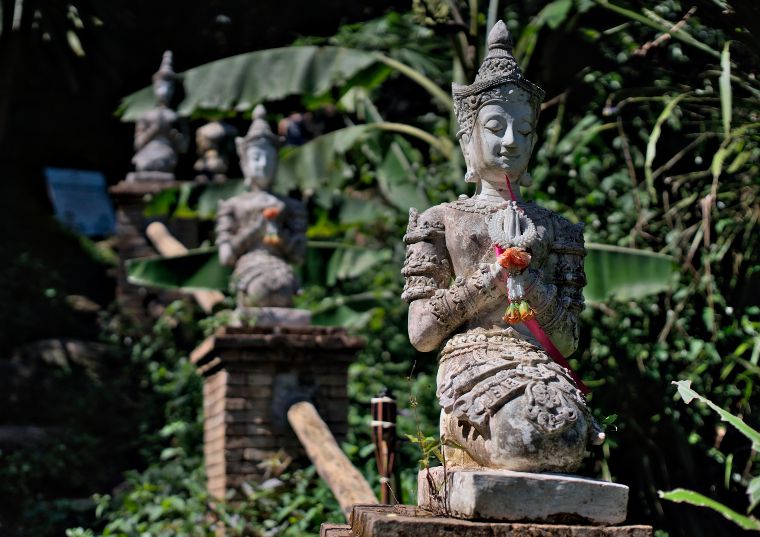 We climb the stairs, rocked to the noise of the waterfalls and we see the site that is gradually being revealed. Time seems to have stopped…
At the beginning we knew there was a temple on the way, but honestly we just thought it would be a small stop of 5 minutes before going up to Doi Suthep…. Yep…. Well in the end we will have stayed more than an hour on the way up and more than an hour on the way down!)
I mean… have a look: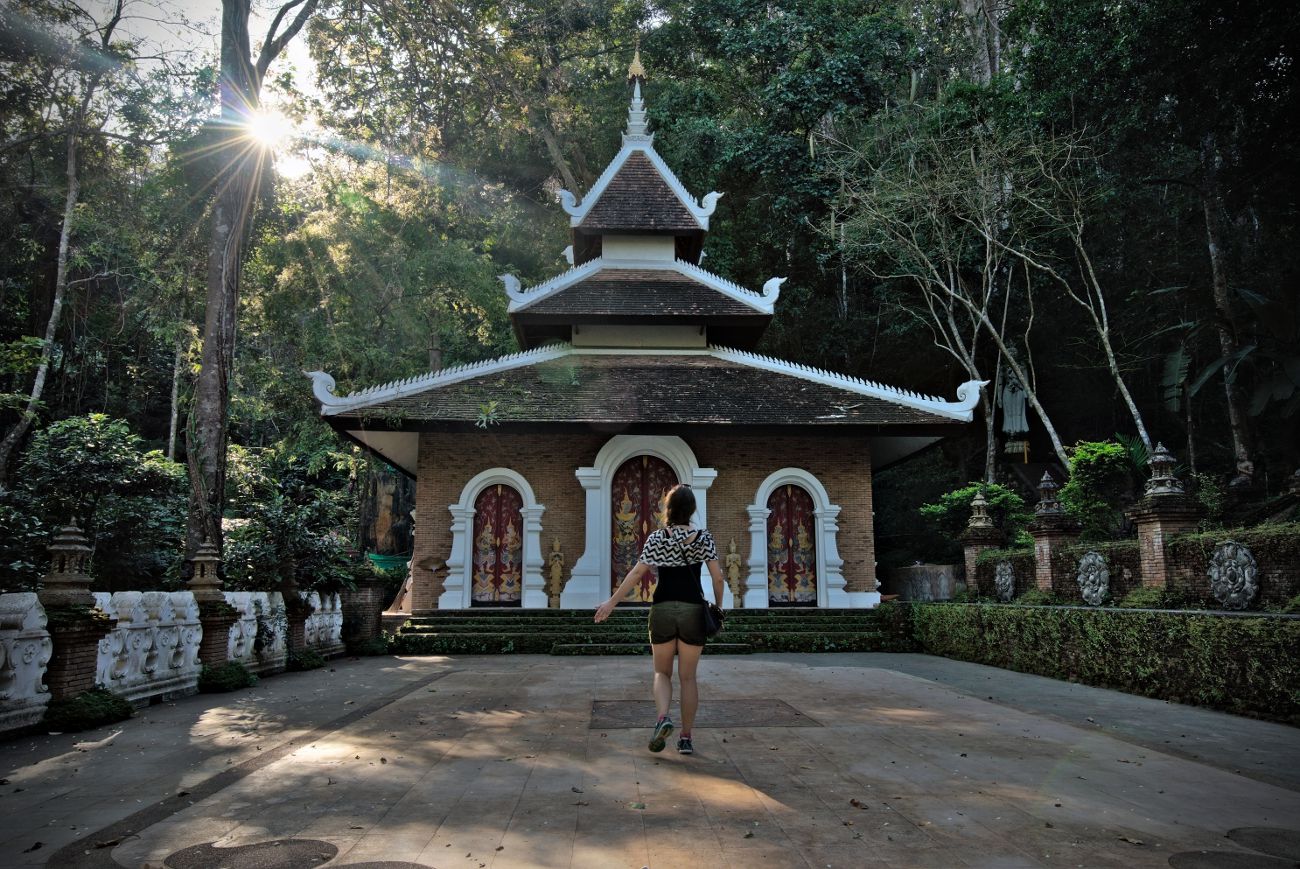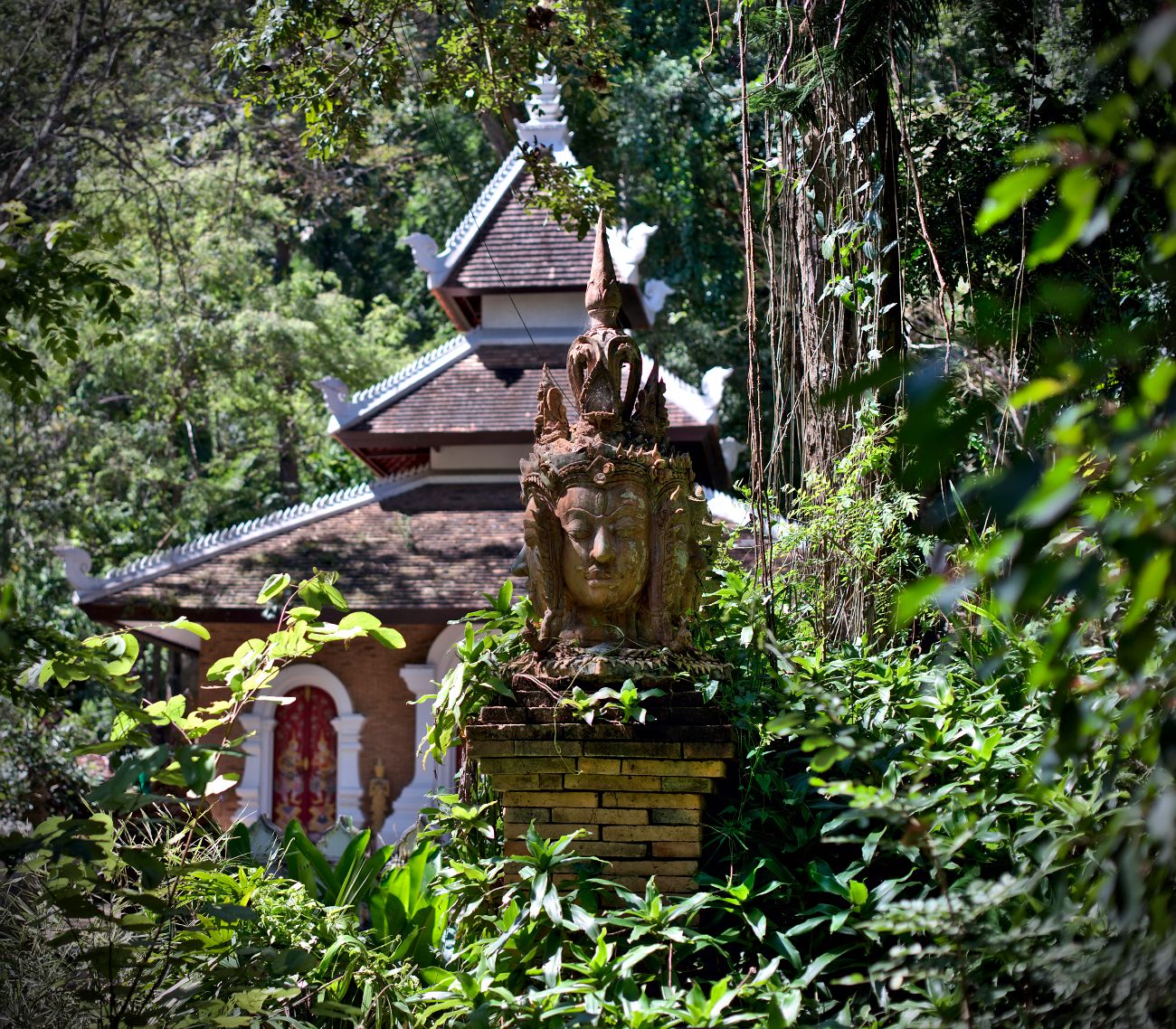 Wat Pha Lad, the most beautiful temples
A word of advice: If you have the opportunity, try to come here when the sun starts to go down (between 3pm and 4.30pm in November, roughly speaking). The low light that crosses the jungle and illuminates the temple just gives this place a crazy atmosphere!
We would have liked this temple to be accessible only on foot (mouahahaha), but if you have decided to opt for the scooter (promised we don't blame you), it is possible to access by road. (see the map at the end of the article).
However, if you come to Song Taew, unless you have privatized a vehicle, it will be difficult for you to make a stop here…
Unless you go up to Doi Suthep in Song Taew and walk down;) #WeSayThiWeSayNothing
Wat Phra That Doi Suthep
When you leave Wat Pha Lad it is probably the longest and also the steepest end that starts… To leave Wat Pha Lad we simply follow the river for a few meters while following the orange flags and then we attack a short but steep climb that will bring us to the road.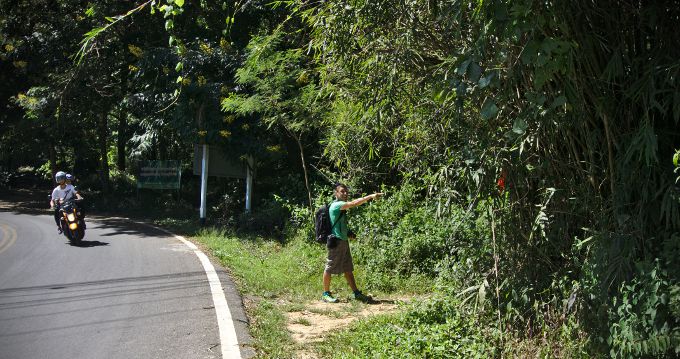 Be careful, here there are some little suspense….
The path to take is a little hidden and we would quickly tend to follow the wider path which is a few meters away. So no, it's indeed before the road sign that you have to take to your right.
After that there are no more big questions to ask, you just have to follow the path… After a short hour of climbing we reach the road again, just below Doi Suthep.
Apparently it would be possible to continue on a path and arrive directly in the temple, but it also seems that this path is guarded by a pack of not quite nice dogs.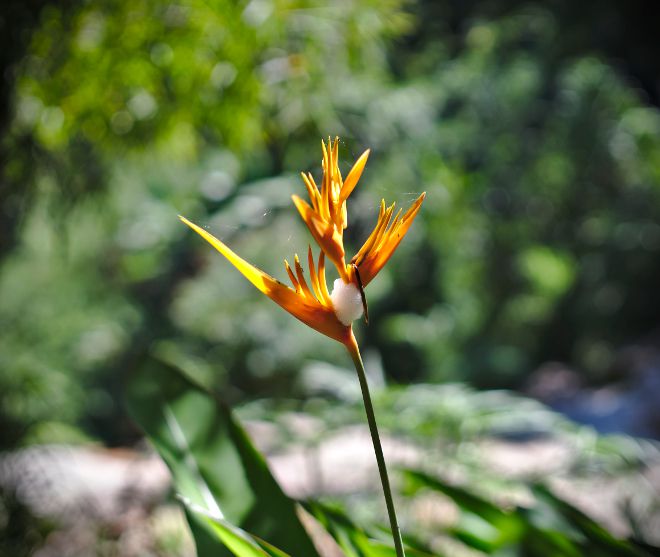 Not wanting to be eaten, we preferred to follow the road for a few hundred meters to reach the official entrance of Wat Phra That Doi Suthep.
Visit Doi Suthep
After having eaten a little somethnig in one of the many food stands, we climbed up to the temple using the wide 305-step staircase to the top!
We pay the entrance fee of 30 Baths, we almost get hit by a selfie stick (it's busy up here) and sneak into the temple.
Before entering the temple we take a short walk to enjoy the view and the many flowering trees that are all around…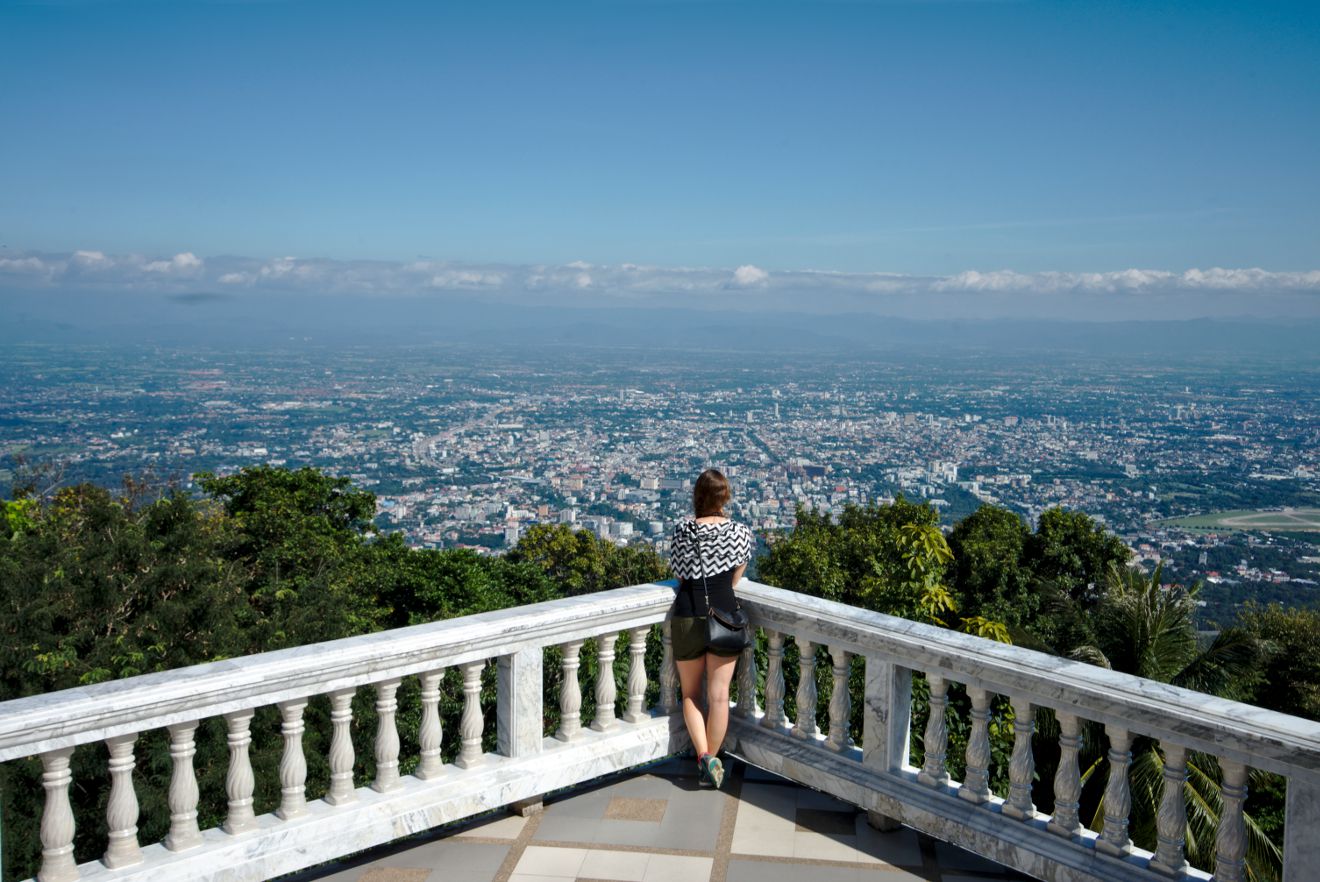 Frankly, the temple is sublime! The colors, details, and view of Chiang Mai are really worth it. On the other hand, be warned, this temple is not a small secret spot…. There are people (even too many for our taste).
Tip: Try to come early in the morning (the temple opens at 6am) or during lunch break… We were there at noon and we noticed that at lunch time the temple was a little emptier (all proportion kept!)
Come on, some pictures of the place: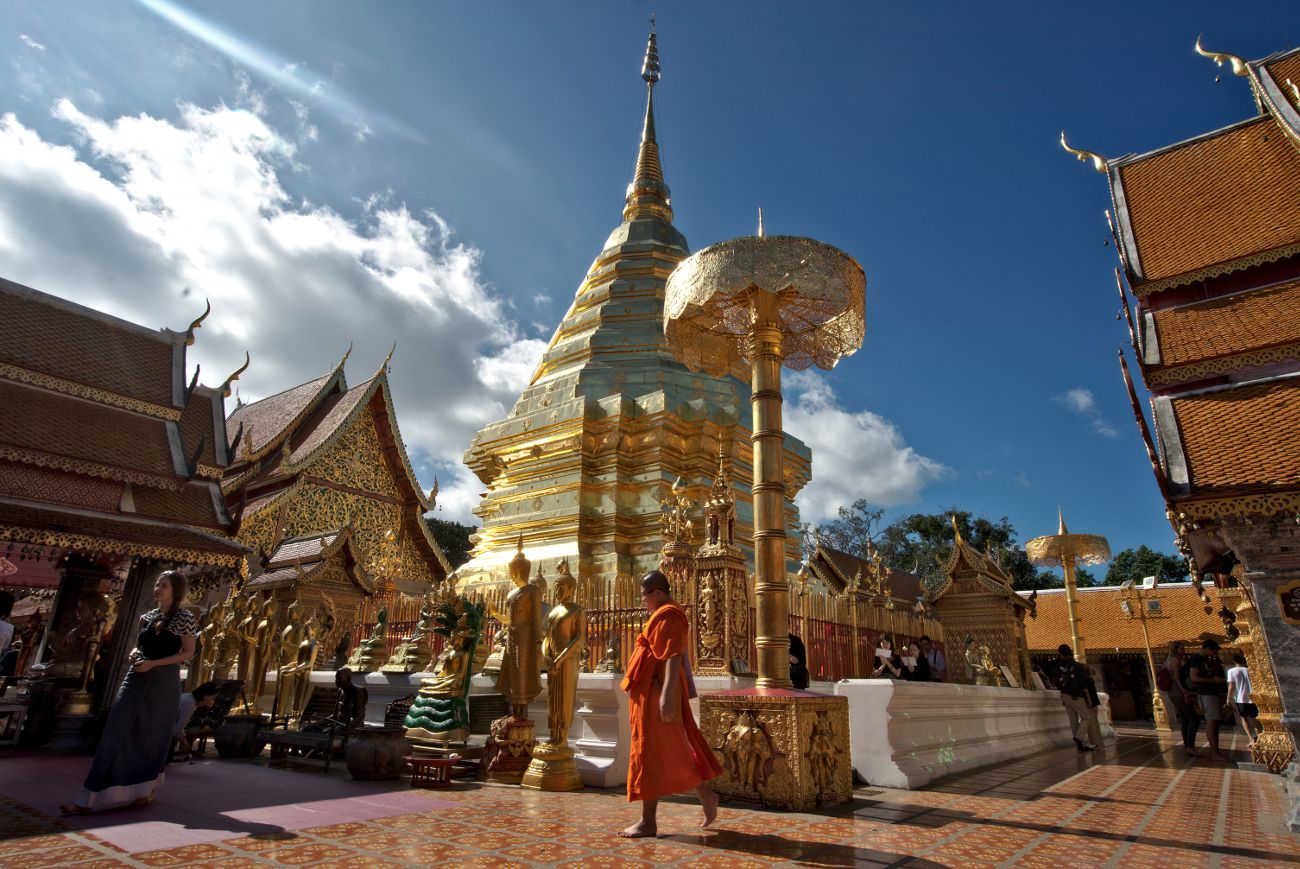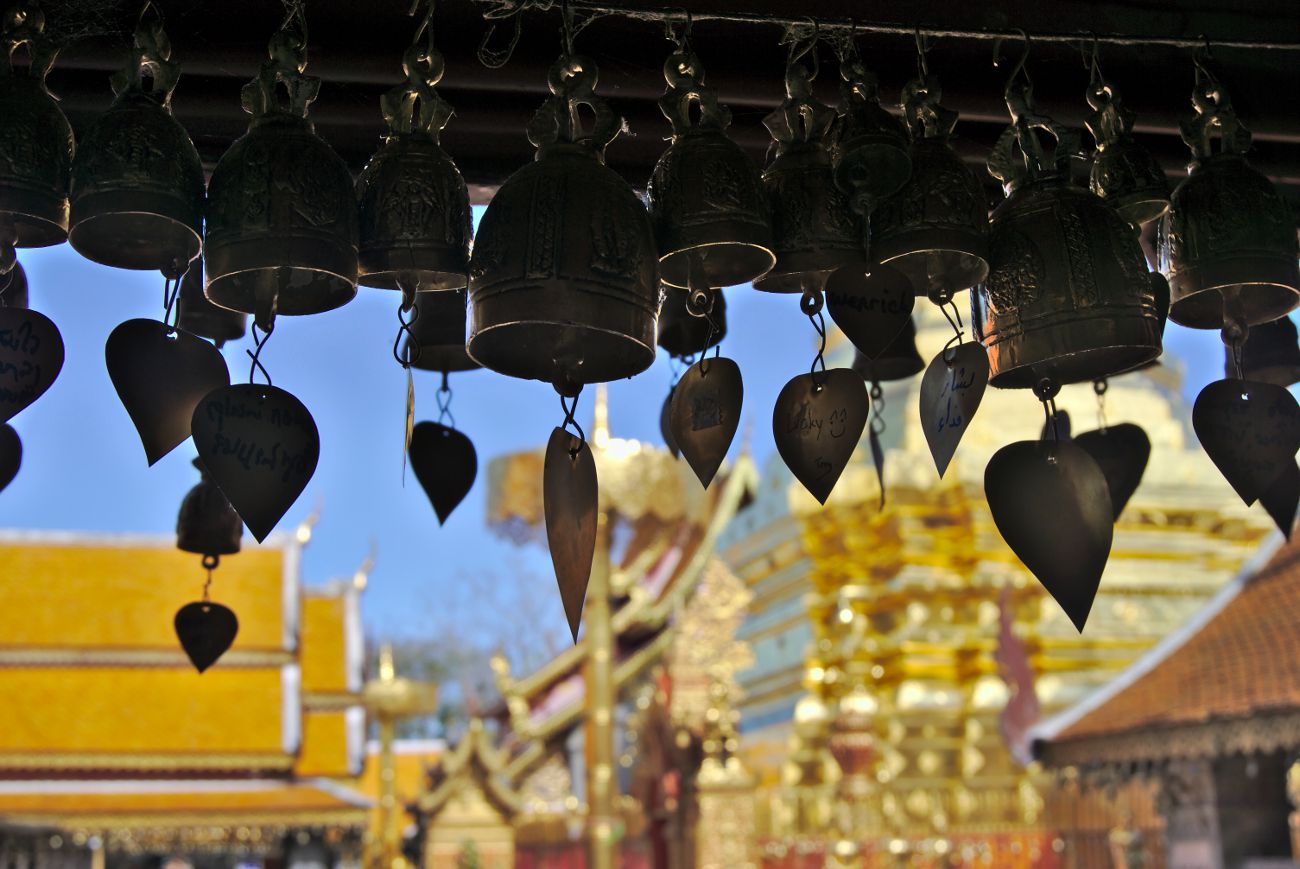 Detailed itinerary to walk up to Doi Suthep and Wat Pha Lad
Frankly, we're repeating ourselves a little bit, but believe us, walking is really worth it! Already because the path is well marked out (which is rare enough in Asia for us to notice), there is literally noone on the trail, and you will pass by the temple Wat Pha Lad! Okay… we can reach Wat Pha Lad by scooter too… But it's not the same…;)
Map: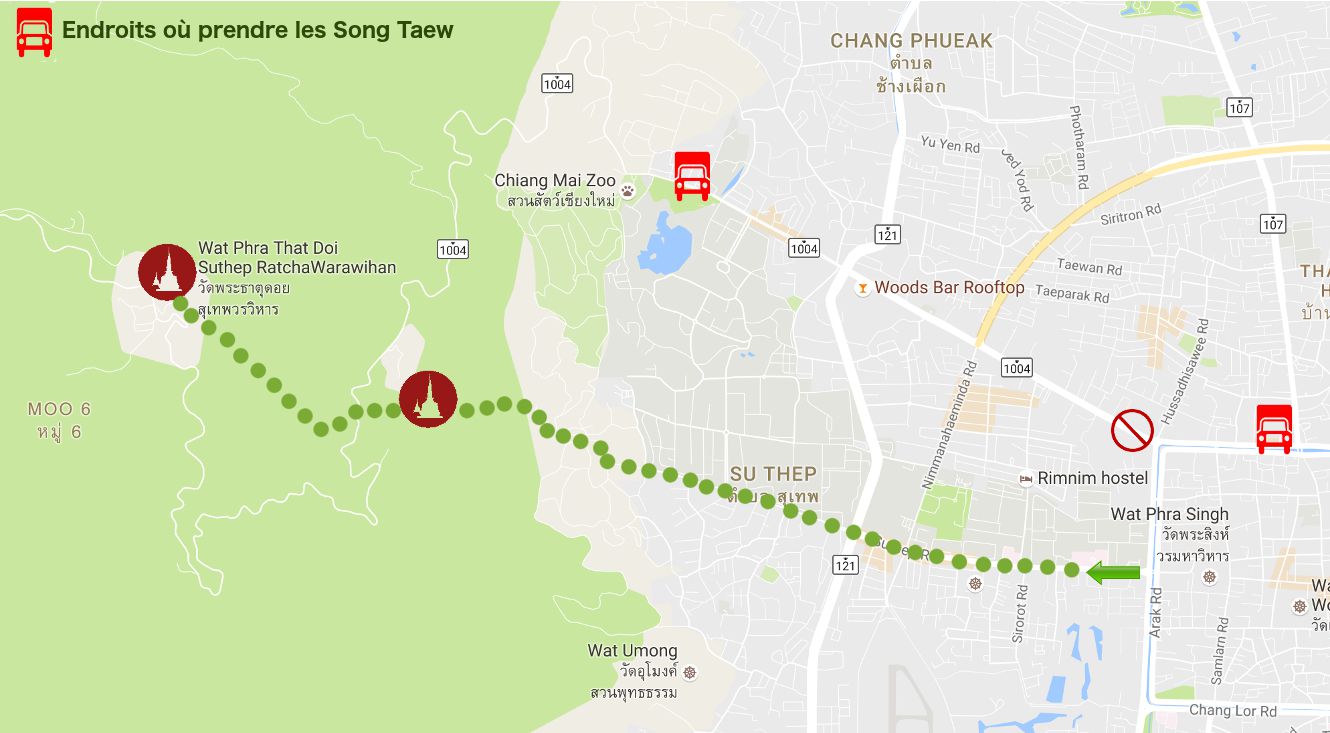 First of all, don't do like us, eh?! We knew we had to pass in front of the university and then the zoo to find the beginning of the hiking trail… The road that passes in front of our builing (Huay Kaew) turns out to pass in front of them. In short, it was without thinking further that we set off!
Yeah… so we found it surprising to climb, climb and climb without seeing a TV tower but we still persevered for a while! Until the moment I thought it might be smart to actually open Google Maps…. Yep…. Well, bad surprise, wehad to take the Suthep Road that goes BEHIND the university and the zoo!
Conclusion? Well we just made a 12km detour before reaching the actual trail start… Hahaha
Infos

If you feel the sporting spirit of walking but you are not very happy with the idea of following Suthep Road for more than 4km (we concede that this is not the most glamorous part) then we would advise you to park your scooter at the end of Suthep Road or take a Sont Taew from the old town to this point. From the center a Song Taew should not ask you more than 30 or 40 Baths (even 20 if you are a negotiating ninja and the taxi is full).
Once at the end of Suthep Road it's easy, just follow the orange flags! But as these flags are sometimes well hidden at the beginning and also because we are also really nice (mouahaha) here is a small picture of the road to follow:

Now you know everything about Doi Suthep! This week for us it will be a new start for a little adventure! We're going to rent a scooter for a week and go explore a little bit of northern Thailand…. #OnTheRoadAgain
Enregistrer