That's it, we're finally settled in our new little home here in Thailand! We are barely a week here and we already feel at home in our apartment.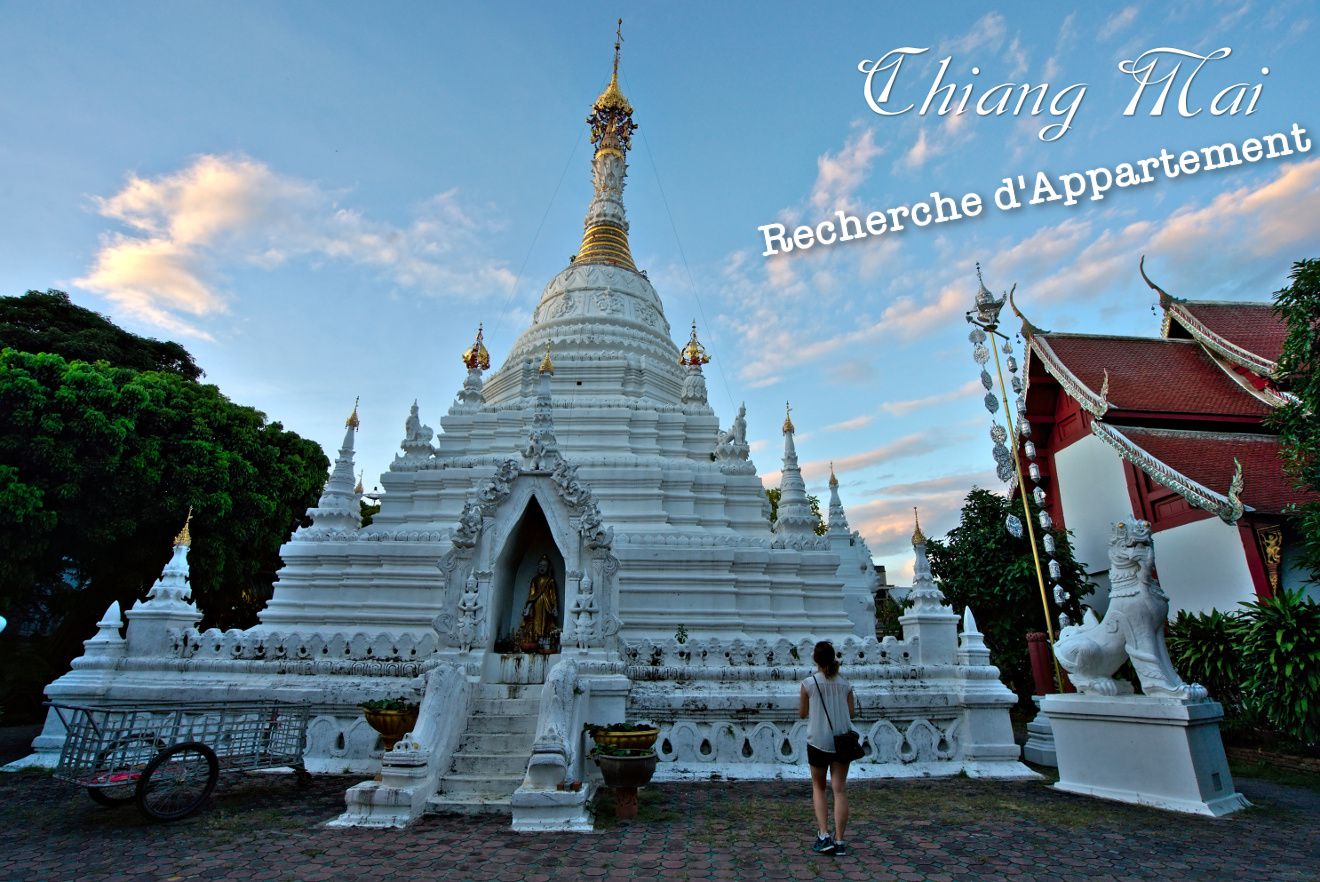 Before leaving, many people around us were worried that we would once again go on an adventure without making a plan, but also and especially without reserving accommodation for the coming months…. But if we decided to leave without booking anything online, it was not to give our loved ones a cold sweat, but because we knew that this was the best way to find the ideal accommodation.
In this blog post we will give you our advice to find an apartment in Chiang Mai, whether for 1 month or several months.
Chiang Mai is the ideal place to settle down in Asia, whether you are in the middle of a round the world trip, a digital nomad or simply a traveller with the desire to take a break!
Why move to Chiang Mai?
Many people ask us why we chose Chiang Mai to drop our backpacks for a few months… So several reasons for this….
The cost of living is very low while offering good comfort.
We will come back to our monthly budget in detail in a future article, but roughly speaking here we manage to live for 1000€ per month without depriving ourselves (this budget is meant for 2 people)!
The weather is very pleasant:
We arrive in winter… and who says winter here says no or little rain and temperatures ranging from 20 to 26 degrees during the day and a little cooler at night.
The infrastructure is great!
There are more than 33,000 furnished apartments on the market AND we have access to fibre optics for the Internet.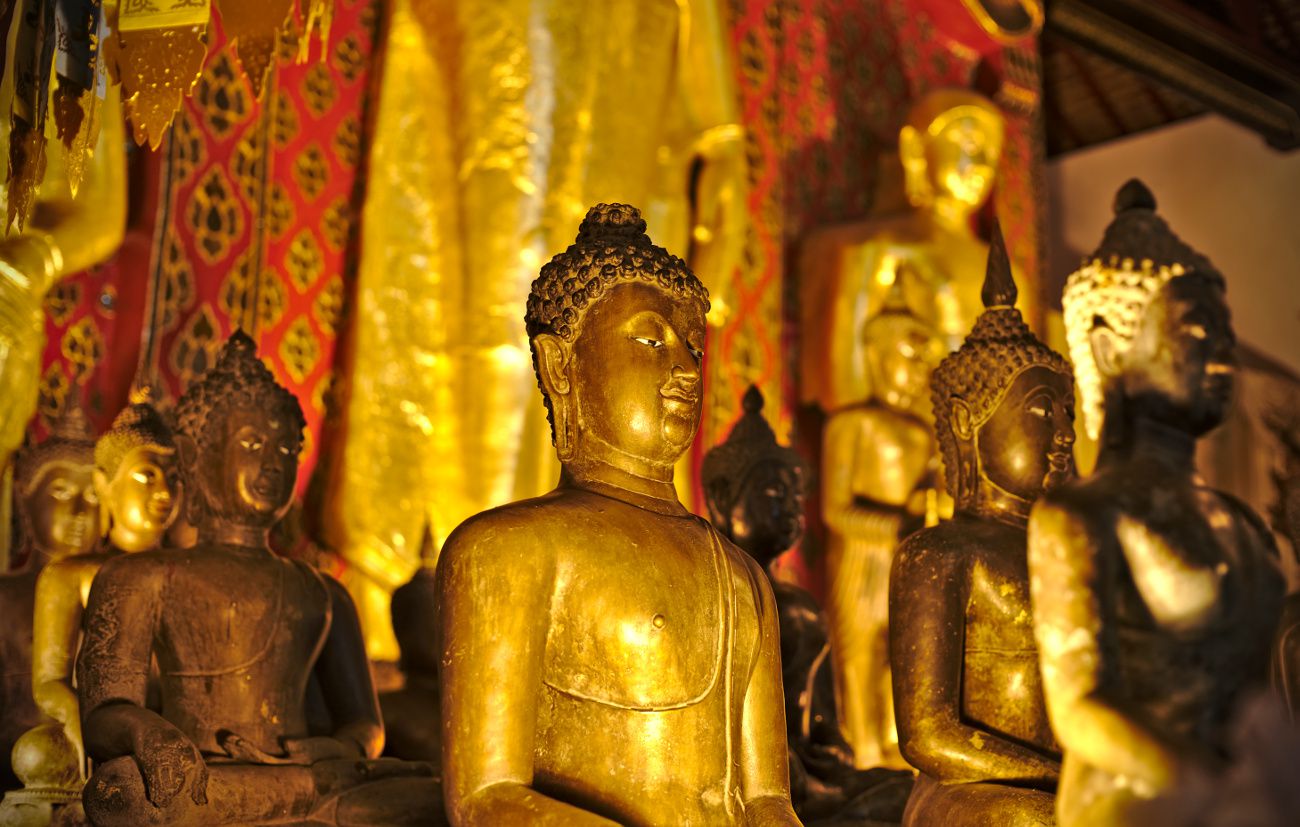 The ideal place to explore northern Thailand!
During our round the world trip we had more or less skipped the north of Thailand…. We had discovered Bangkok quite a bit but had skipped the north. Being based in Chiang Mai will allow us to go explore around the city in the coming months. Whether it is for one day or over several days, there are many options!
Thai food is amazing

In Thailand we eat well, that's a well-known fact! Well, let me tell you that in the North it's where we eat best!
A dynamic atmosphere with a beautiful community of digital nomads:
Chiang Mai is a meeting point for people who work online and many events are organized in this spirit. Meals, evenings, conferences, workshops, every day there are activities organized by the large community of digital nomads.
And thais…

In the south you can sometimes hear that the people of the north are slow and soft. So no, they're just more chill! What does that mean? It means that Thai people here are super welcoming and smiling, there are few scams or incessant negotiations. Of course in the tourist centre you have to negotiate your tuk-tuk or T-Shirt, but outside the centre and in the local markets we never had the impression that we were really being fooled 😉
In which area should I rent an apartment in Chiang Mai?
Chiang Mai is relatively large and there are several districts that are very nice to come and live in. Of course there are apartments and houses for rent everywhere in and outside the city, but here is a small map with the favourite districts of the majority of travellers and expats.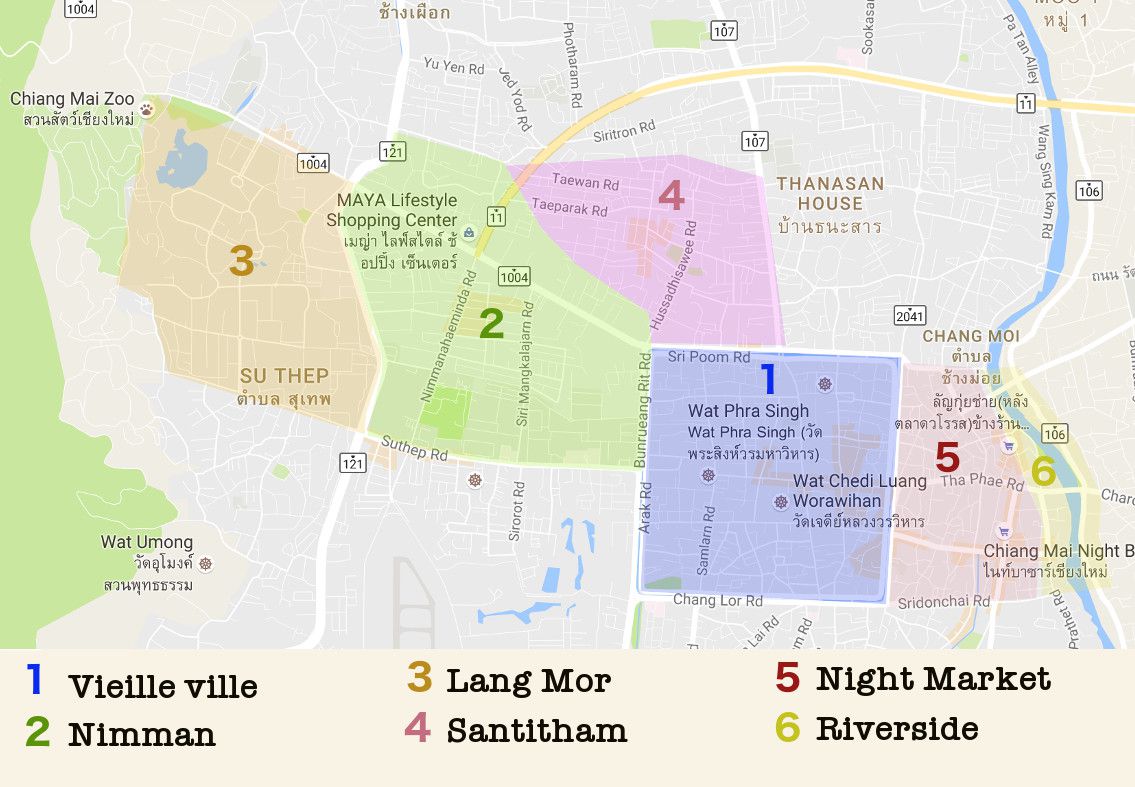 1. The old town

The city's nerve centre is home to most of the cheapest backpackers and accommodation, as well as many bars, restaurants and shops. However, it is also the most touristic area, so to settle for a longer period it is not necessarily the first choice… Furnished apartments are rather rare, here you will find hotel rooms equipped with a fridge that are rented over a long period of time, in short not the ideal in our opinion.
Nimman (or Nimmanhaemin)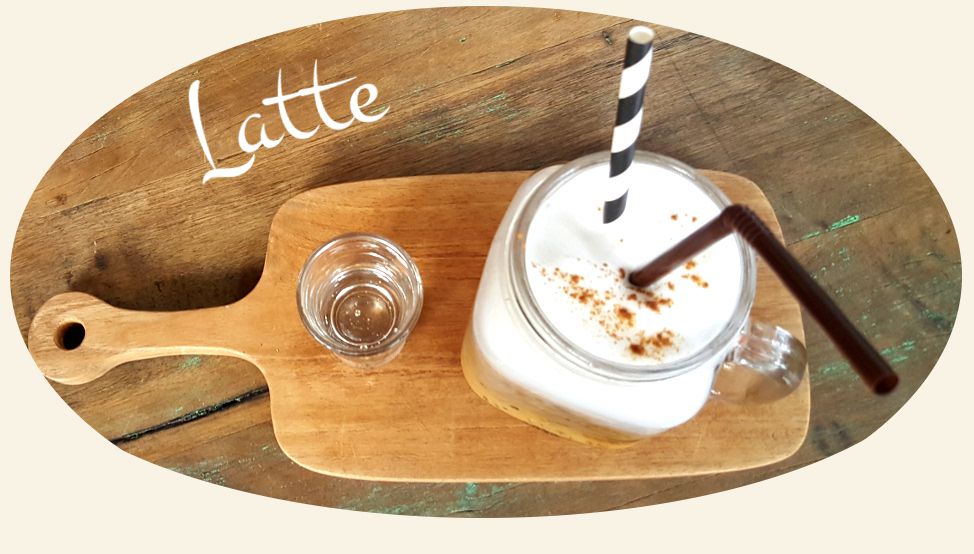 This is THE new neighborhood a little hipster and fashionable. Unlike the old town, here you don't see many backpackers with elephant pants and BeerLao T-shirts, here it's more like the area of carefully trimmed beards and Ice Latte drinkers. hahaha
Hundreds of art shops and creators, trendy cafés and restaurants, co-working spaces, a super fast wifi and good coffee on every street corner make it a paradise for digital nomads. 🙂
Lang Mor
The extension of Nimman which is developing at high speed. It is also the university and young district par excellence, in short it is a little Nimman feeling but with more affordable rents. On the other hand, we are a little further away from the old town.
Santitham
A very popular district where we are ultimately very close to both Nimman and the old town while having the opportunity to find cheaper apartments. Many new buildings are growing like mushrooms in the area, it is likely that in a very short time this area will have as many bars and restaurants as Nimman
Night Bazar
As its name suggests, it is here that the famous Chiang Mai night market is held…
Accommodation level here is not so much backpackers (there are, eh… but just less than in the old town) or apartments that dominate, but rather small boutique hotels and charming inns.
In short, it is a nice place to stay if you stay a few days in the city, but probably not the first choice for those who settle here for a longer period of time.
Riverside
This is the most luxurious version…. Most of the accommodation on the waterfront is 5* hotels, so we might as well explain that this is not where we planned to drop our backpacks…. After that for the larger budgets it is a very popular area for the rental of luxury apartments. But for the moment we didn't go there to visit, you won't blame us, will you?
How much does an apartment in Chiang Mai cost? What are the costs not to be forgotten?
It is difficult to give a price for an apartment in Chiang Mai… Honestly, it's more up to you to give a budget!
Here you can find accommodation for 2000 Baths per month (about 50 euros) as well as luxury apartments for 40'000 Baths per month (about 1000€ per month). Obviously it also goes higher… 🙂 But we did not consider this for an option in this blog post.
Between these two extremes, absolutely everything is possible! 🙂
The price of an apartment depends on several factors:
The location: Apartments near the river, the Night Market or Nimman are generally more expensive than those in other areas.
The surface area of the apartment and the number of rooms
The kitchen: In Chiang Mai many apartments only have a fridge. If you want to have a "real" equipped kitchen, then you will certainly need to count a little more.
Furniture: Modern and matching or old and outright mismatched…. There is everything, and of course this is reflected in the price.
The building and its infrastructures: Between the old buildings a little decrepit where you enter without anyone seeing you and the super modern buildings with security locks where you enter only thanks to fingerprints there is everything! Facilities such as swimming pool and fitness are generally also reflected in the rent.
The rental period: It makes sense, but the longer you stay, the less you pay. Most buildings offer 3 price ranges: short rental (between 1 and 3 months), medium rental and long rental (1 year contract). It is easy to see a difference of 20% to 30% on these rates depending on the duration chosen.
If we schematize and make many generalities, here is the type of apartments that you should be able to find for your budget (for reminder 1€ = 38 Baths) and for a rental period ranging from 1 to 5 months:
2000 Bahts :
Oh, for that price you don't have to be too picky… At this price it will probably be a room furnished in a very basic way, fan and if you are really lucky a fridge….
4000 Bahts :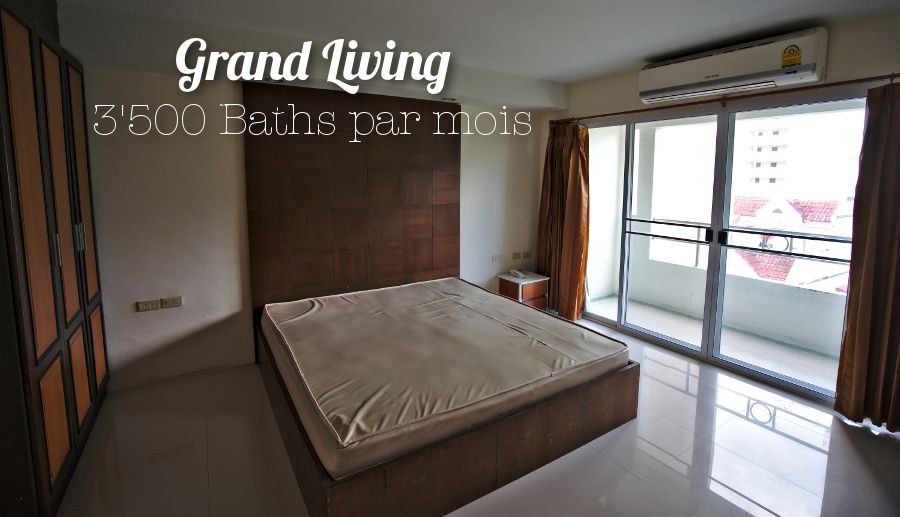 A basic room of about 20 to 25m2 (250 sq ft) in an old building without any particular infrastructure (security, swimming pool or fitness) but with a fridge and possibly air conditioning at your disposal (electricity costs extra) and hot water in the shower.
6000 Bahts :
A decent room of about 25m2. There are exceptions but often this will not include a swimming pool or fitness centre (in our addresses below we have an apartment that proves the opposite but that's all). At this price you can start to hope to have wifi and a little more charm in terms of furniture and decoration. 🙂
8000 Bahts :
In Nimman or next door it remains a room but with a little more charm and often a semblance of kitchen (at least a stove). In less popular areas, one can begin to hope to find apartments with separate sleeping rooms. It is possible to start hoping to have a swimming pool in these prices, but often access will be charged.

10'000 Bahts :
First prices for apartments with separate room and kitchen in Nimman, often with swimming pool and fitness. Outside we are starting to have access to really nice apartments with swimming pool and fitness.
Then from 12'000 to 18'000 Baths we usually stay in apartments, but this time they are of a better standard. There are also whole houses from about 12,000 Baths, but it should be noted that it is more difficult to rent houses for short periods, contracts are usually annual.
Apartment additional expenses in Thailand
In Chiang Mai you have to be careful, because the rent of the apartments will often not include the expenses! So to the rent price must be added the costs related to the use of water and electricity.
For water, invoicing is based on your consumption in m3. The price of a m3 varies from one owner to another but is generally around 20-40 Baths/m3. Generally, unless you have a swimming pool or garden with automatic watering, the water bill rarely exceeds 120 to 180 Bath per month for 2 people living in 35-40m2.
Electricity level, here too everything depends on your consumption. The price is based on KwH. This one generally varies from 4 Baths/Kw to 10 Baths/Kw (yes yes the difference is immense according to the owners…. hence the importance of being careful about this point) !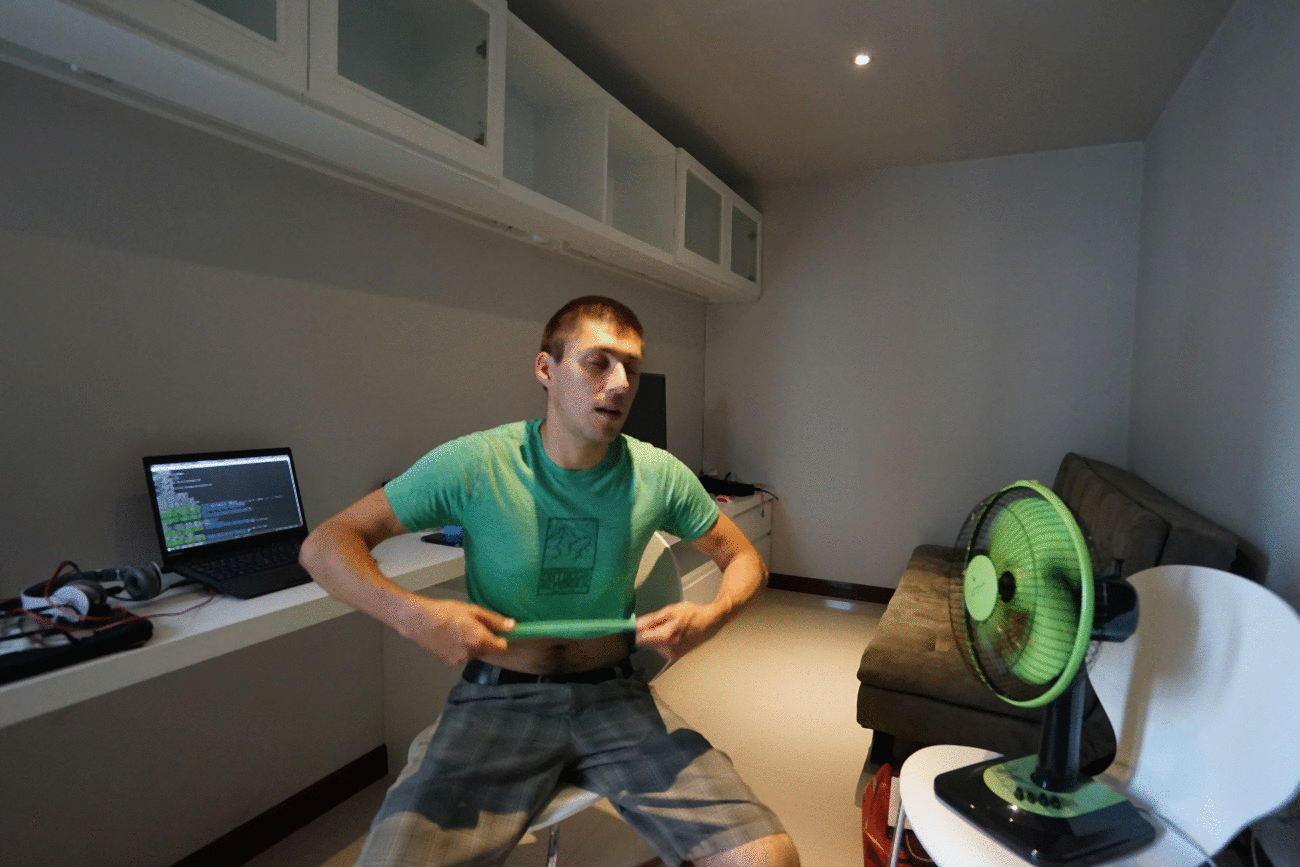 Electricity consumption in Thailand
On the Level of electricity consumption the biggest factor will probably be the air conditioning.
Know that an air conditioner consumes roughly 1Kw per hour… I let you do the calculation, but at the lowest rate on the market, running an air conditioner 24/24 costs 3000 Baths a month! Otherwise a fan is only 60 watts per hour if ever… 😉
To give you an idea, we currently use between 5 and 5.5 Kw per day. This corresponds to the consumption for 2 people in an apartment of about 40m2 with a permanently connected refrigerator, 2 permanently connected computers :), a fan that runs for about 18 hours (day and night), roughly one hour of air conditioning spread over the day and evening and the daily use of light and ceramic glass plates. See our detailed Chiang Mai Budget
Another expense not to be forgotten when renting an apartment is the deposit! It is usually one month's rent to be deposited in cash at the reception desk and which is recovered on departure. Just remember to have enough reserves pay this amount upfront!)
Search for an apartment in Chiang Mai: Our Tips
Well, it's all very nice, but it still doesn't tell us where to find the perfect apartment! At the end of the article where we give you all the addresses of the apartments we visited, but before that, we give you some tips to find the your perfect little home!
Do not book online and avoid rental agencies!
There are several online sites to find furnished apartments in Chiang Mai. So even if the sites are not fundamentally bad you have to know that online booking often means paying more, and of course you can't see the place before signing… So as much in Europe I will not already rent an apartment on photo, but then in Thailand even less!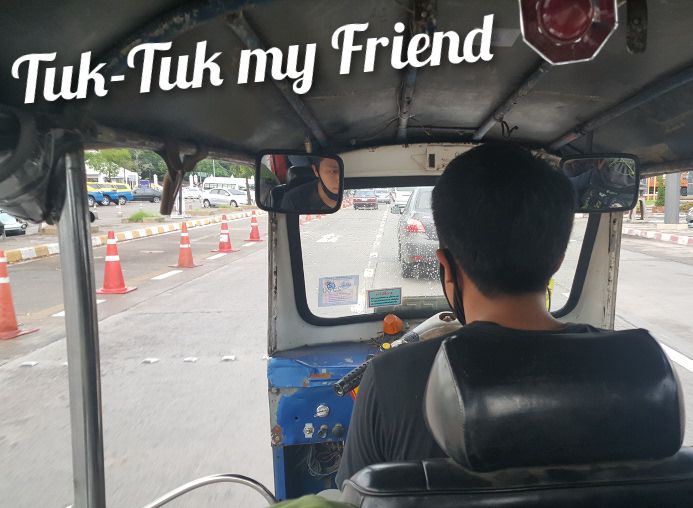 The same applies to agencies. There are several of them, some even offer a service to take you by car or tuk-tuk to visit several apartments during the day. So if you are in a hurry and you don't mind paying more for the same apartment, in this case it may be an option, but honestly it is so easy to find an apartment on your own and once there that you can only be recommended not to book anything in advance and see once there!
The easiest way if you arrive in Chiang Mai is to book a guesthouse or an apartment for 2 to 3 nights at the beginning in order to give you time to look for an apartment on the spot.
During our research we had stayed at the excellent Rimnim Hostel, which is located 2 steps from the Maya and about ten minutes from the old town.
Find a Guesthouse in Chiang Mai on Hostelworld
Find available hotels or apartments on the map below: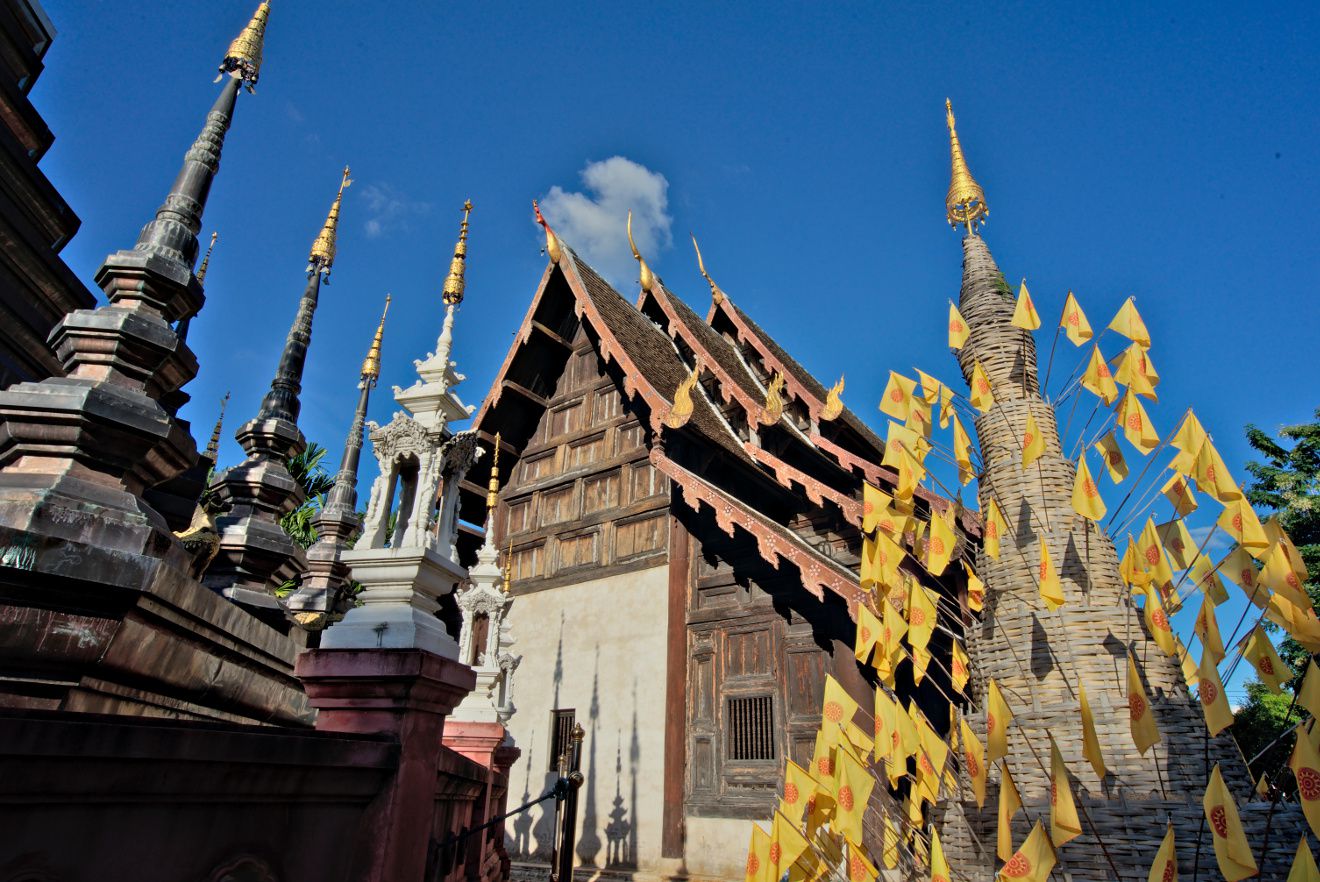 Prepare a budget based on your lifestyle!
The choice of apartments is really vast and the level of infrastructure really varies greatly… So of course we all have a certain budget and it is important to stick to it but in order to determine your budget think about asking yourself some questions:
Is a studio enough for me or do I prefer a separate room?

For us, who spend a lot of time on computers and being 2, it was important to have a workspace at our disposal. This has a price…. But if we hadn't had a living room with a workspace, we probably would have spent much less time at home and would have gone to coffee shops every afternoon to work on the computer… Coffee means consumption… Knowing that an Ice Coffe sells on average 80-100 Baths each, the math is quickly made!

Does the apartment have wifi?

Same reasoning as above…. Then know that it is possible to install a high-performance wifi for 700 Baths per month. But take this into account!

Do you want to exercise or relax by the pool?

A fitness subscription costs about 1000-2000 Baths per person per month here… An access to a swimming pool of a residence in which you do not stay, is around 100 to 180 Bath…. In short, it may be worth paying a little more rent if these points are included in it and important to you.

Do you like to cook?

Apartments with an equipped kitchen are often a little more expensive… BUT if you like to cook, having a kitchen is also a great way to save money. Eating out in Thailand is not very expensive, I grant you, but going to the local market and cooking your own dishes is even more advantageous!
Explore the neighbourhood of your choice on foot!
We were recommended to take a scooter, but honestly we preferred to walk! There is much more time to look all over the place without having to worry about the Thai roads at the same time. So certainly we covered not far from 25km during our first day of visit, but nothing obliges you to visit as many apartments as we did… 😀
Analyze the different prices according to the rental duration….
Often the rate becomes more advantageous from the moment you sign for 6 months… And sometimes the notion of the mathematics of the owners is a little surprising! For example we visited an apartment where the rent was 6500 Baths per month for a rental from 1 to 5 months…. For 6 months, the rent went up to 5000 Baths.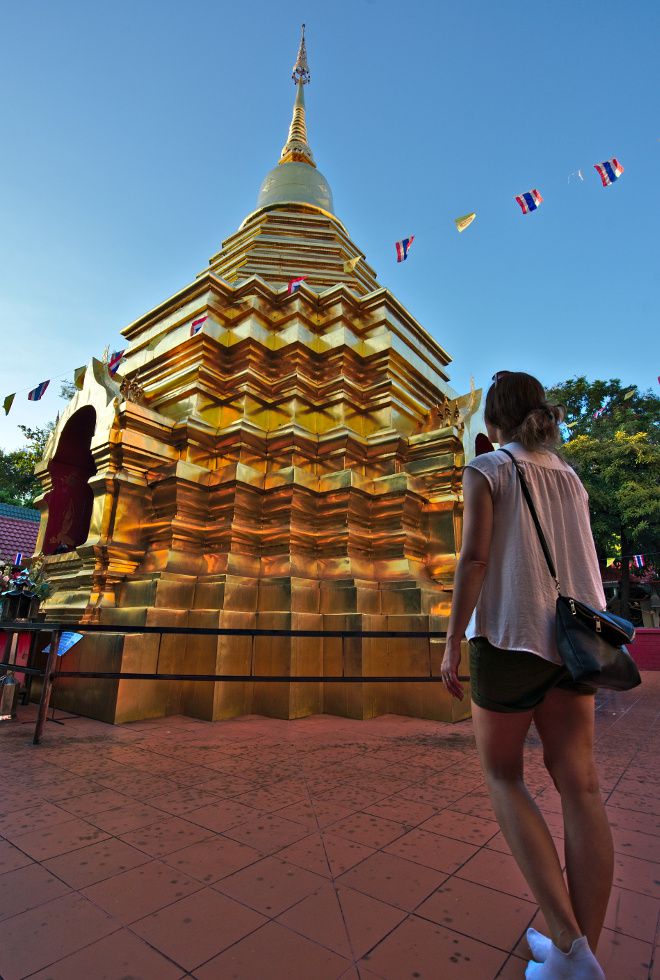 Thus, renting the place for 5 months costs 32,500 Baths while renting it 6 months costs 30,000 ! Hmmm…. Surprising but believe us, it's not uncommon!
Basically this means that if you plan to stay 5 months, consider the option of renting 6 months and leaving the apartment empty a month earlier 😉
Otherwise another advice, if you are asked how long you want to stay, tend to see things broadly.
Owners and managers tend to favour people who stay longer…
You know you want to stay 3 months but not a day longer?
Say not 3 months, but at least 3 months, maybe more…
Ask to see several apartments if possible
We have noticed that even if on paper apartments may look identical in a building, this is by far not always the case in practice. The view, the equipment left by previous tenants such as dishes or fans, or simply the layout of the rooms can vary greatly…
For example in the building where we are we visited 3 apartments at the same price! The one we chose has a great unobstructed view of the mountains and a table to work at, while the other two had a view of the building next door and no table…
Be sure to ask about the rates for additional expenses.
Remember to ask how much water and electricity are charged…. As we said above, this can vary by a factor of two, so it is a point to be taken into account in the calculation of the budget as well. In addition, some buildings charge for access to the pool or fitness room in addition, so if these points are important for you, be sure to check them out when you visit.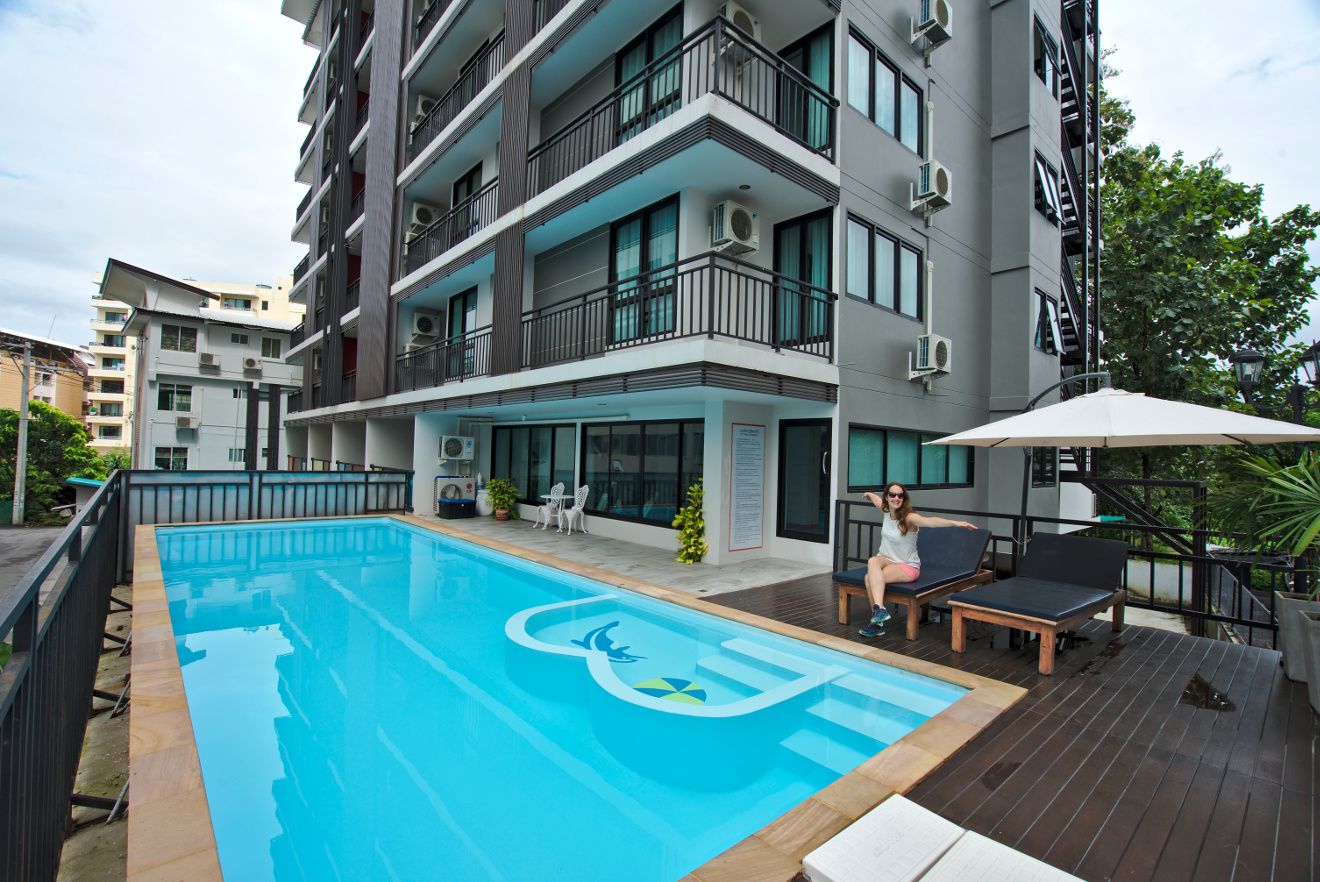 A rent a little more expensive but which charges the minimum price for the expenses and allows free access to the infrastructure can therefore be more advantageous!
Take the time to visit the apartments and test the infrastructure!
In Thailand the quality of the apartments is very variable… Sometimes the furniture and installations look old but are of good quality, and sometimes everything looks new but if you look closer you have the impression of being in a cardboard house. Everything is so cheap.
In short, open the drawers, turn on the water, and sit on the bed and sofa to test the hardness of the thing (sometimes you might find out that it feels like sitting on a rok…)
Also remember to check if the apartment provides sheets, pillows and duvets as well as dishes, a broom, a fan, etc…. All these things can of course be purchased later, but they are clearly to be taken into account in your budget calculation!
Condos and apartments in Chiang Mai to visit: Our addresses
Since we only visited apartments Nimman, Lang Mor and Santitham we will focus on these 3 districts in the next part.
Here is a small selection of apartments we have visited and a preview on the map to help you find your way around. The apartment numbers are based on the price (the cheapest being number 1 and the most expensive we visited being 17)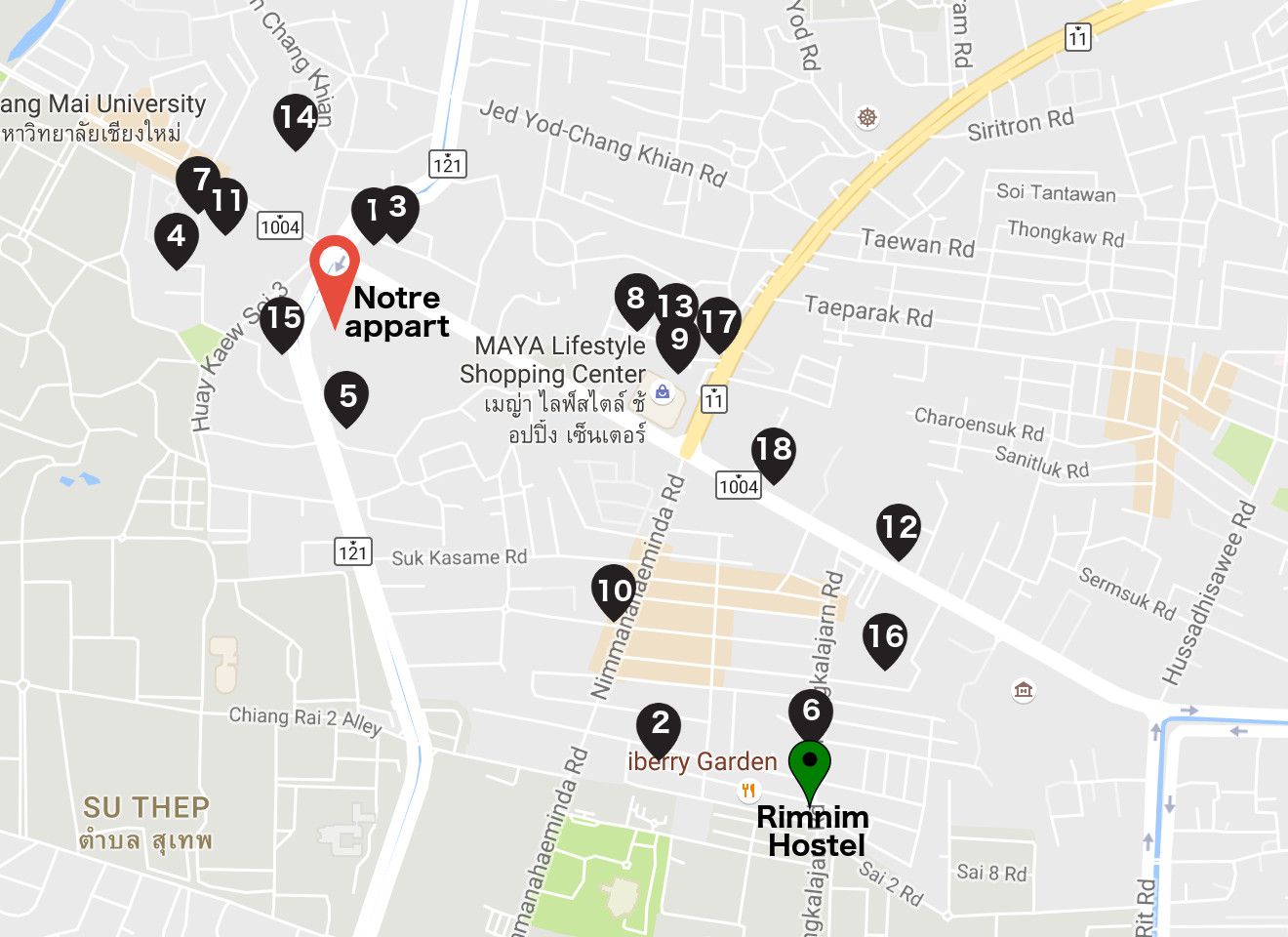 Huay Kaew Palace 1 – The Condo we chose (in red on the map)
Price: 11'000 Baths
The Pros: We really liked the decoration of the apartment and the layout of the space. It's small but really well thought out. We have 2 separate workplaces and we also appreciate the location as well as the swimming pool and fitness facilities that are available. The fact that there was a kitchen was a big plus for us too…
The Cons: The swimming pool overlooks a car park on one side, which is not necessarily super glamorous…. Some rooms overlook a ruined building, so ask to visit several of them.

Let's move on to those we didn't choose but went to see:
1. The Grand Living
Price: 3500 Baths (count 400 Baht extra for wifi)
The Pros: The price… and it's clean
The Cons: Sheets and duvets not provided…. And let's face it, a little too old for our taste.
2. Suan Sukapap
Price: 4500 Baths
The Pros: We don't come here for the classy or nice side, but for the price… It's minimalist, but in the end there's everything you need!
The Cons: The rooms are relatively small, the largest must be 24m2 and no workspace.
3. Hill Crest
Price: 5'500 Baths
The Pros: The price for those who travel on a low budget…. Frankly for this budget the room is fine!
The Cons: The owner was praising the view of the canal…. Yeah, let's say it's also the view on the main road, huh;)
4. Ban Ha Kham
Price: 6'000 Baths
The Pros: Frankly, we hesitated a lot with this room! The price is just crazy for what is being offered…. The room is spacious and equipped with a kitchen. The building has a swimming pool with a superb view of the mountain and a fitness centre.
The Cons: It is a studio, so no separate room and the furniture is quite (if not very) old.
5. Chomdoi II
Price: from 4000 to 11000 Baths
The Pros: We visited 4 apartments here… Between 4000 and 11000 Baths to tell you that the infrastructures of the apartments varied greatly! In short, in this building there is a good chance that you will have a wide choice of apartments to suit all budgets.
The Cons: We found the building a little creepy… no pool and no fitness.
6. Hi Nimman
Price: 7800 Baths (for 1-3 months), 6500 Baths if more than 3 months
The Pros: Bright and clean room. The furniture isn't the latest, but it's totally okay. The location is really good too, we are a few steps from Nimman and the old town at the same time. The gentleman at the reception was really sweet too.
The Cons: Only studios without separate rooms. So it was a little small for us.
7. Punna 2
Price: 11'000 Baths
The Pros+: Super spacious and well arranged apartment with modern and bright furniture. The pool and fitness are great too. We also appreciated the security of the building with access only by badge for the floors.
The Cons: Minimum contract of 6 months….
8. Green Hill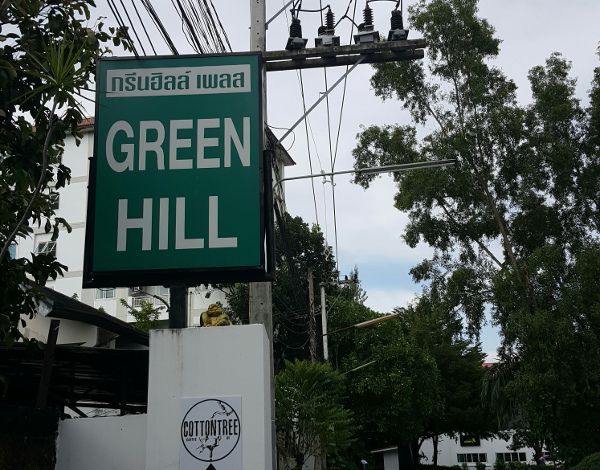 Price: 11'000 Baths
The Pros: The rooms are fine as well as the swimming pool and fitness room
The Cons: We don't really know…. We just didn't fall in love, but frankly it's worth a look!
9. Vieng Ping
Price: from 7000 Baths
Note: It was full at the time of our visit so we couldn't visit… But we know people who are there and they are very happy.
10. Baan Thai
Price: from 7000 Baths
Note: It was full at the time of our visit so we couldn't visit… But we know people who are there and they are very happy.
11. Punna 5
Price: 12000 Baths(several prices for several apartments)
The Pros: Super spacious and well arranged apartment with modern and bright furniture. The pool and fitness are great too. We also appreciated the security of the building with access only by badge for the floors.
The Cons: Minimum contract of 6 months….
12. Dome
Price: 12'000 Baths
The Pros: The location is very good, we are really close to both the old town and Nimman. The rooms are functional and arranged in a sober way. The apartment we visited had a separate room, which was a big plus for us.
The Cons: For the price we found the infrastructures and furniture a little basic…. The fitness is tiny and there is no swimming pool.
13. Prom
Price: 12'000 Baths
The Pros: Located just behind the Maya the location is ideal! A magnificent swimming pool and a fitness area. The rooms are tastefully decorated and contain all the necessary equipment (kitchen utensils, dishes, sheets, etc.)
The Cons: Unfortunately, the room was too small for us (about 20 m2) for the space that was at the same time bedroom, kitchen and living room. The only room available at the time of our visit was on the ground floor, which we did not find ideal….
14. Flora House
Price: 15'000 Baths
The Pros: Absolutely great setting! The neighborhood and building are really great! We really liked the separate kitchen with the living room area!
The Cons: For 15'000 there is no swimming pool or fitness, so it was a little expensive for us. Moreover, the Internet didn't seem to be very fast, so we probably would have had to invest 700 more per month for a private connection.
15. A Stylish
Price: 18'000 Baths
The Pros: MAGNIFICANT! Frankly, we were hesitant to take this one…. Nothing to say, this place is an amazing place for a price (once translated into euros) super ok! Swimming pool and fitness are state-of-the-art and the apartment is fully equipped: washing machine, microwave, pots and pans, water heater, household utensils, etc. In short, it was with a pinch in our hearts that we were reasonable for purely financial reasons.
The Cons: Minimum contract of 6 months…. (they were ready to give us the apartment for 5 months, but not for a shorter period of time). In the end a little expensive for us….
16. Siri
Price: 19'000 Baths
The Pros: Frankly, the apartments here are super, bright and well equipped… The building is very well secured and the welcome is nice! To choose we would have rather taken the one above, but for the moment we remained reasonable.
The Cons: Out of our budget…. Minimum rental of 3 months.
17. Moda
Price: 25'000 Baths
The Pros: This is the ultimate luxury! The whirlpool bath has a plunging view of the room through a bay window and the city. The bed is huge and of great quality. In short, it's a completely different level here!
The Cons: We clearly didn't have the budget to afford such an apartment…;)
18. Le Hillside
Price: variable
Note: It's a huge condo located right next to the Maya shopping centre. Here you can find them for all prices. The non renovated apartments are rented at around 5000 Baths per month, but it is also possible to find completely renovated apartments of 70m2 which are rented at 20'000 Baths. The easiest way is to ask the reception what options are available at the time of your visit.
Of course there are many other Condos, Residence and Appart Hotel. This is only a small selection based on our visits.
Infos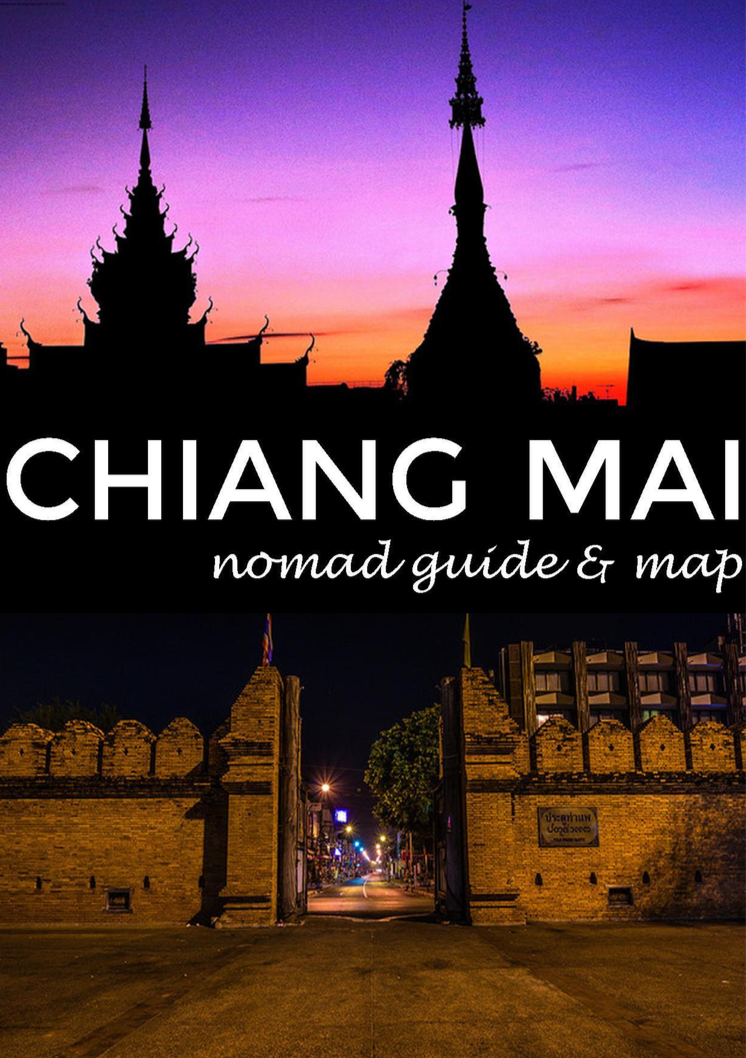 If you want to find all the addresses of absolutely all the accommodations in Chiang Mai we invite you to discover the excellent guide of Mike Hughes (in English) sold 15$ here.
In this guide (400 pages long, though) you will find all the information about Chiang Mai that a person settling in may need.
We bought his book before getting here and frankly it really served us a lot!
You will find everything you need to settle here: how to get around, find an apartment, where to eat, which SIM card to buy, install internet at home, withdraw money, visa issues, health in Chiang Mai, dangers, Thai culture, legal issues, etc….
But above all we have access to an online map that contains all the addresses mentioned in the guide!!!!!
Review of our search for an apartment in Chiang Mai
That's it, you know all there is to know about looking for a place in Chiang Mai! For the moment we are delighted with our little home and promised, we will soon tell you a little more about our new life here, our good addresses in Chiang Mai but also our little getaway in northern Thailand.
Oh and if you have any suggestions for excursions around Chiang Mai, don't hesitate to leave us a comment!!!! We have 3 months to explore the surroundings!;)
NB: Please note that this article contains affiliate links to partner sites. If you buy a product on one of their sites you will not pay more but we will receive a small commission. This will help us to keep this site alive. Thank you! 🙂
Enregistrer