If you followed us on social networks this spring you may remember our hike along the Jura Crest trail at the end of May. During this beautiful 320km crossing of Switzerland we had the chance to discover many new areas in our beloved little country. In today's article we take you with us on our last 3 days of walking between the Marchairuz pass and the city of Nyon passing by the summit of the Dôle.
Getting to the Marchairuz pass via Mont Tendre
This stage of the Jura Crest Trail is often described as one of the highlights of the hike and reading some stories before the start we thought that this stage could almost be worth a blog post on its own… The issue? This day was probably our worst day in terms of weather! The Mont tendre is the highest point of the Swiss Jura and the view is apparently spectacular. Some friends had also told us a lot about the magnificent dry stone walls at the top, which are apparently really worth beeing seen.
During our visit, the fog was so thick that we could barely catch a glimpse of the walls … Needless to say that the panorama was also relatively "limited". But well, as we can't propose you an article with nice pictures on this stage, we now have a place in the Swiss Jura where we know we will be able to come back one day to make nice pictures. 🙂
Infos
From L'Abbaye to the Marchairuz Pass
Distance: 18 km
Elevation change: 1200m + and 740m –
Difficulty: easy
Hiking Map:
The Marchairuz pass hotel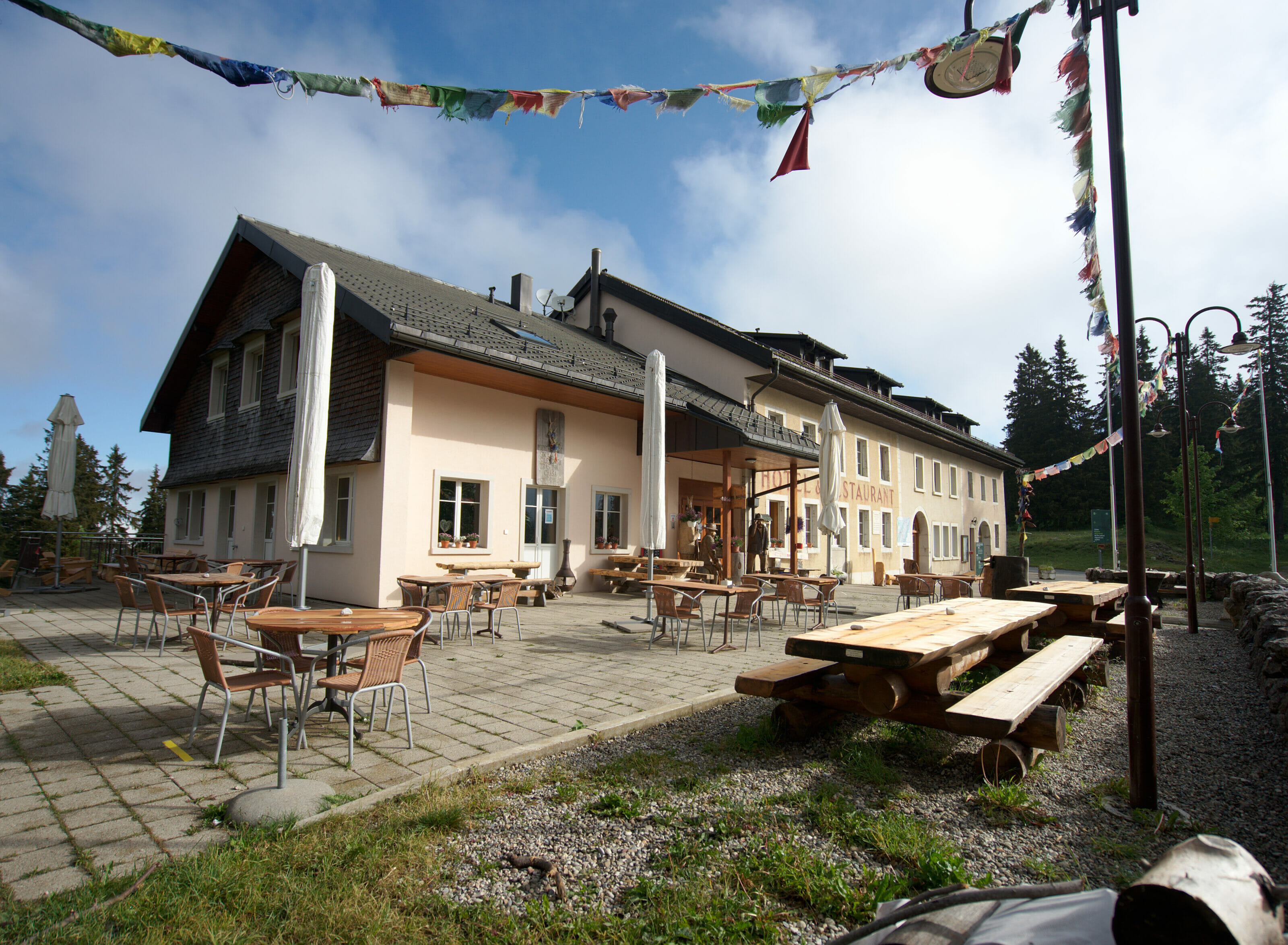 After this gloomy day we were very happy to spend a night in a warm and dry bed. During our hike we generally did not have too much time to inquire about the lodgings, we called the day before to reserve and that's all. That time, the hotel on Marchairuz pass will have been an excellent surprise! They propose rooms with private bathroom, rooms with shared shower and WC as well as dormitories. Not wanting to spend too much we opted for the dormitory and I think I can say that it will have been the most comfortable and cosy dormitory of all our hike.
In the evening we were joined by my dad who came to eat at the hotel restaurant with us (there is an access by the road as well). The restaurant was really great!
Infos Hotel
The hotel is open 7 days a week but you have to book 48h in advance if you sleep there on Mondays (restaurant closing day).
The night in the dormitory costs 48 CHF per person and includes breakfast. Double rooms with bathroom cost about 150CHF for 2 persons.
The hotel does not seem to be on the usual booking platforms. To book the best is to call them or go through their website
Hike from the Marchairuz pass to St Cergue
The next day we had the good surprise to see that the weather was getting better. It was not yet exactly what one could call "a beautiful day" but at least it was no longer raining and there were even some nice clearings.
Leaving the hotel, we quickly arrive in the Jura Park, a protected area of almost 100km2. The path is pleasant and the kilometers go by (almost) without us realizing it. Arrived at the Crêt de la Neuve we still had some hopes to see the lake and the panorama… In "theory" this place is known to be one of the most beautiful points of view on Lake Geneva, the Alps and especially the Mont Blanc. Luckily for us an orientation table with pictures helped us a little to imagine what it "can look like" 😉 But hey, it wasn't raining anymore and even if we didn't see the Mont Blanc we were already happy to walk in the dry!
From the Crêt de la Neuve we had something like 10km left to Saint-Cergue, but all downhill; first through meadows and then along a forest road. I admit that the descent is not what I prefer, and even less when it's on the dirt tracks. But, the advantage is that at least it goes fast! It took us barely 1h30 to reach the Chartreuse d'Oujon.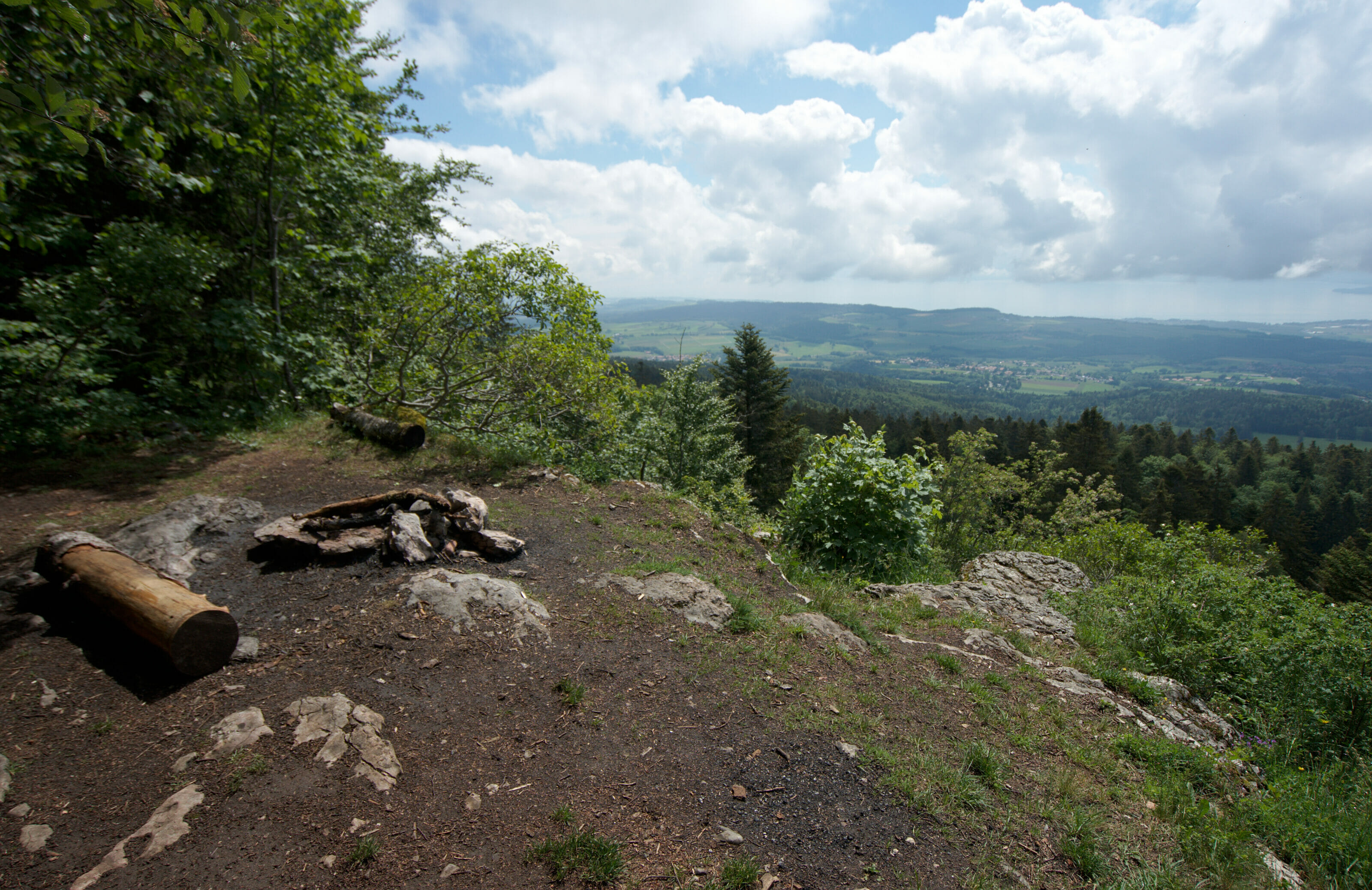 The Chartreuse d'Oujon
So here, friends, I think a little parenthesis is necessary. 🙂 While doing our researches on the route I had come accross a blog post which spoke about this Chartreuse d'Oujon as being a little bit a form of "small Swiss Machu Picchu". Hmmm… how should I say… There may be a little spirit (if we look veeery closely) but we are still a little far from the original version. 🙂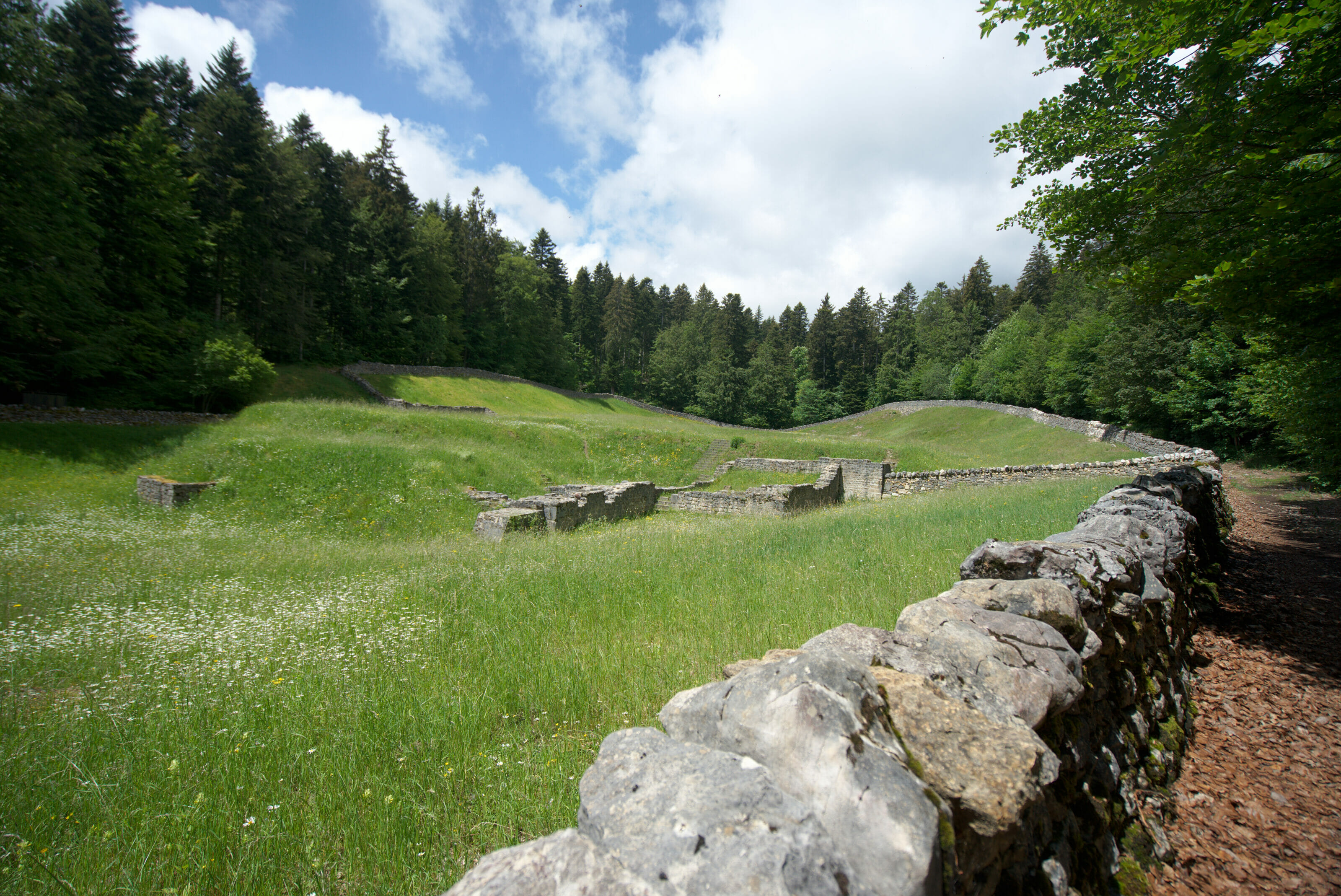 Afterwards, it should be noted that this site dates from the 12th century and is the oldest Carthusian monastery in our small country. From a scenic point of view I would not go as far as to say that it is a site to be discovered at all costs, but clearly at the historical and spiritual level it can be interesting for some of you. The commune of Arzier has moreover marked out a spiritual path in the forest which leads to the Chartreuse. The itinerary is dotted with various panels that invite reflection, meditation and shares religious passages. We are not particularly sensitive to these topics but we did learn some interesting information, notably the fact that it was the Carthusian monks (hermits living in community) who supported the creation of the small village of Arzier which lies below.
From the Chartreuse the last stretch to Saint-Cergue was only a small formality and it is without the slightest worry that we arrive at the small bakery on the village square.
A bit of landart seen on the way that day:
From Saint Cergue to the summit of La Dôle
Officially, Saint-Cergue was our final destination for the day… We hadn't really made plans for the evening but the absence of rain and especially the prospect of a possible clearing at the end of the day will have pushed us to continue our road in the direction of La Dôle.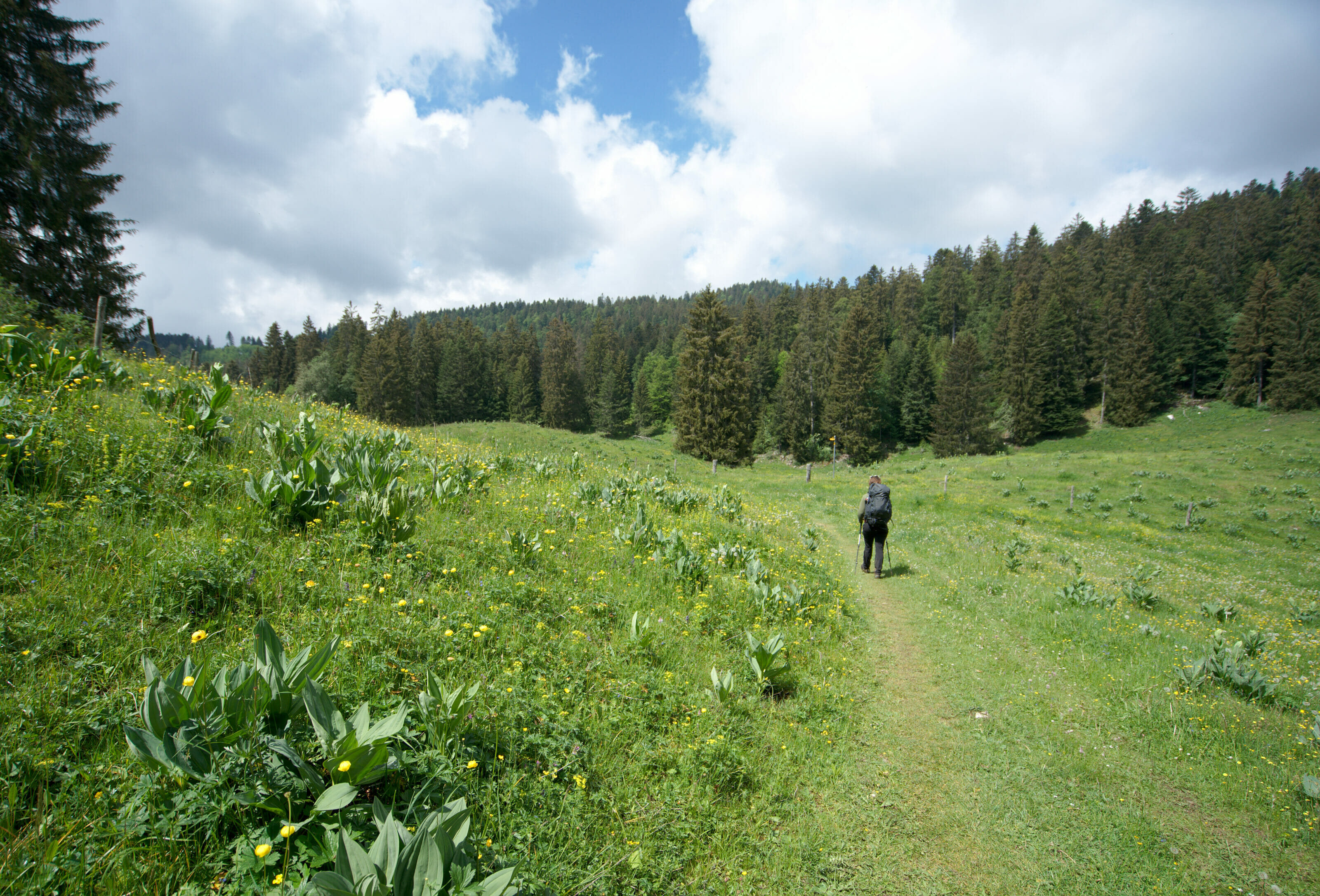 In St-Cergue we had already walked 18km and when we left we knew that we would not find a bivouac spot before the summit of the Dôle (6km further and especially 700m higher). But hey, it was our last bivouac of this 300km hike and we thought that we could push a little.
Don't ask me what the St-Cergue bakery is hiding in its almond croissants, but Benoit was gone like a rocket! I could barely keep up with him and no sooner had we passed the campsite than I was already thinking that this last climb was maybe not my best idea of the year.
Technically speaking, the climb to La Dôle from St Cergue is really easy and I can imagine that if I hadn't had 300km in my legs and 15kg on my back I would have suffered a little less… but phewwwww… I think I have rarely complained so much during a climb! 🙂
Once we passed the Barillette and were in front of the chalet des apprentis it started to get better for me. We had the big ball (called a randome) in sight and I quickly saw that the summit of the Dôle was relatively flat and that we would surely be able to find a place to set up the tent. In bivouac it can happen that we find nothing and that we find ourselves prolonging the hike until we have a spot. Needless to say that this day I would probably not have been in condition to play the overtime.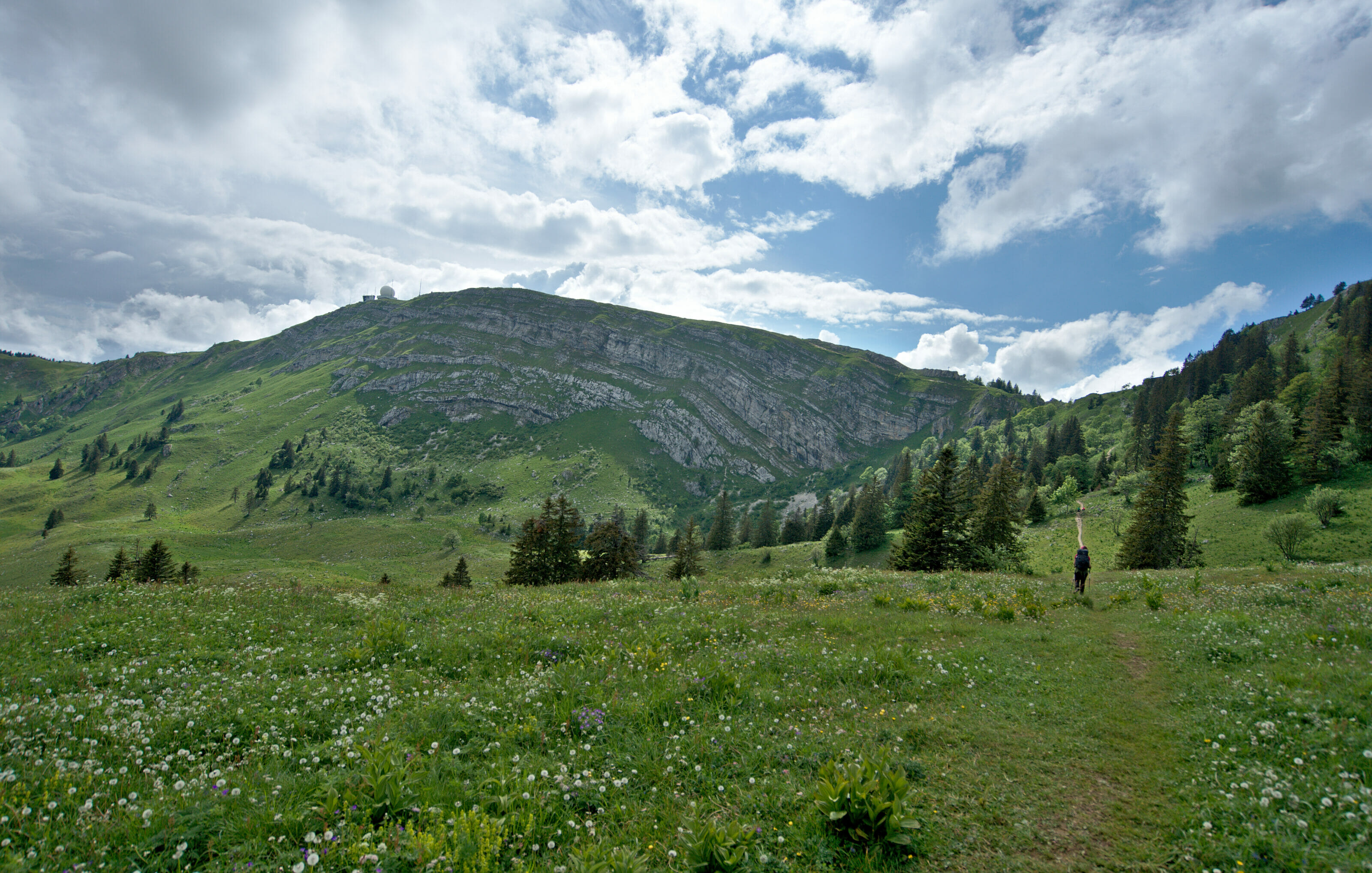 Infos
From the Marchairuz pass to la Dôle
Distance: 23,5km
Elevation change: 1425m +, 1200m –
Difficulty: no particular difficulty but it's a long day!
Hiking map:
Bivouac at the top of the Dôle and panoramic view of Lake Geneva
Arrived at the top of the Dôle we started to look for a spot for the bivouac. The summit is relatively flat and there is no lack of spaces to set up a tent even if we were still looking for a place a little more discreet than at the foot of the big ball 😉 In the end, the thick fog allowed us to ask ourselves a little less questions… With this weather we were pretty sure not to bother many hikers.
Afterwards, as every time we decided to spend the night in a tent, we waited until the last moment before nightfall to settle down. By the way, if you are looking for advice on bivouac and the rules in Switzerland, we advise you to have a look at our detailed bivouac blog post.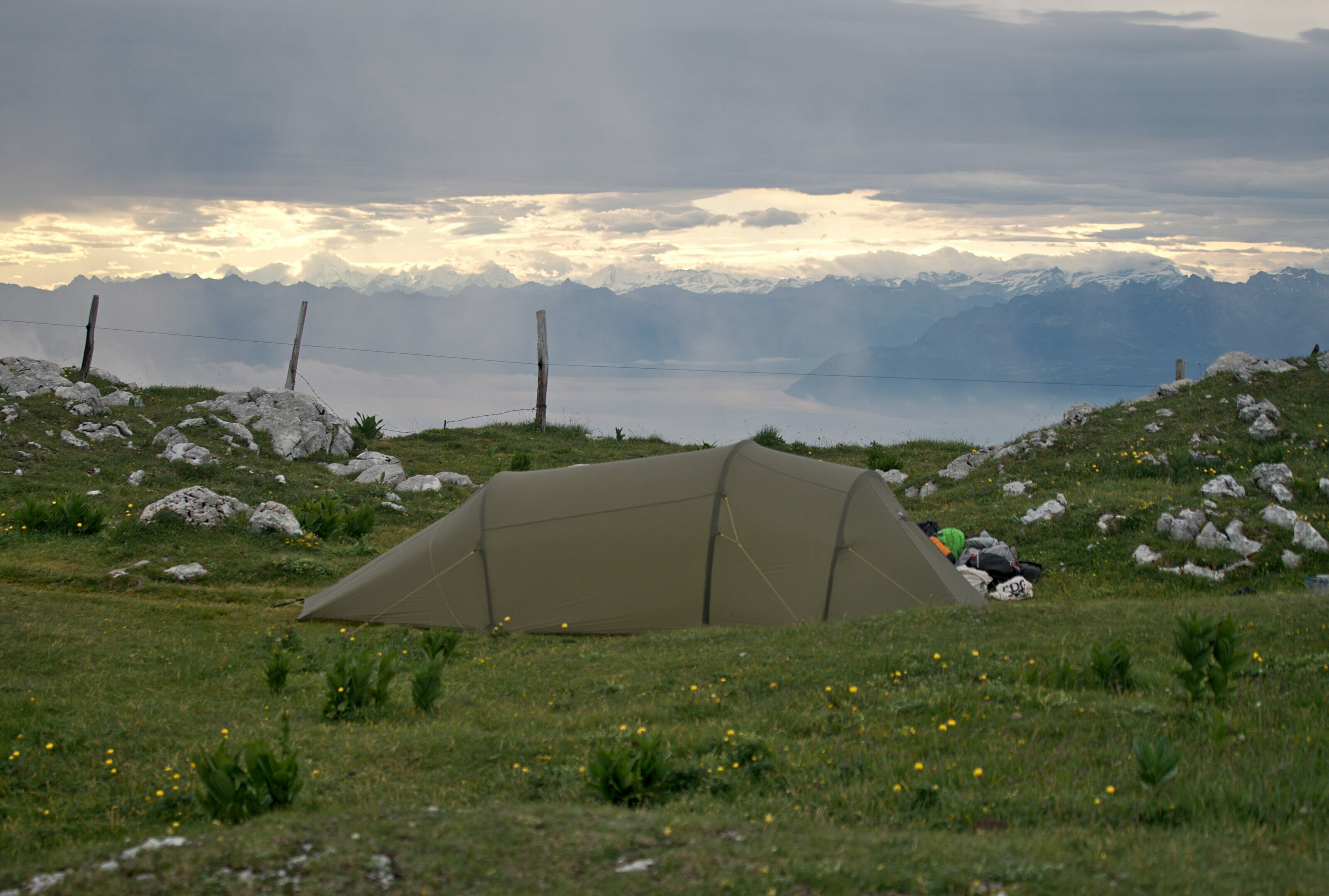 From La Dôle, the view over Lake Geneva and the Alps can be really spectacular! For our part we will have only had a few brief glimpses of it. During our evening there we spent most of the time trapped in a thick layer of fog, even if we were lucky enough to have 2-3 small breaks in the clouds to admire the view. In reality, we were probably only missing 10 meters, or should I say that if the Dôle had been 10 meters higher in altitude we would have been above the clouds. #Pity
It's not hard to imagine that this place would be even more magical on a sunny evening 😉
From La Dôle to Nyon, the end of our Jura crest trail hike
We woke up (very) early that morning because we thought (naively) that the weather would be nice and we did not want to disturb the first hikers of the day by being still in our tent. It was barely 6:30 am when we packed up, but I must admit that the chances of disturbing anyone that day were relatively slim. Contrary to the forecasts, the weather was not really "nice" and especially it was very cold because of the strong icy wind (la bise).
When we came back to the big ball at the top of the Dôle we were surprised to see that we were not the only ones to spend the night here. A group of paragliders had set up their tents at the top and they were waiting, wrapped in their sleeping bags, for the wind to fall and for them to take off.
For our part, we didn't last long; we were freeeezing! The first part of the descent to the chalet de la Dôle is on a nice trail that is a bit steep in places. We quickly lose altitude and incidentally we also gain in temperature very quickly as soon as we are not on the ridge anymore. (damn wind!)
From the chalet de la Dôle we started what seemed to be an endless descent through the forest to the golf course of Bonmont. We are not going to lie, this section is not especially glamorous but it will have turned out to be more exciting than the rest.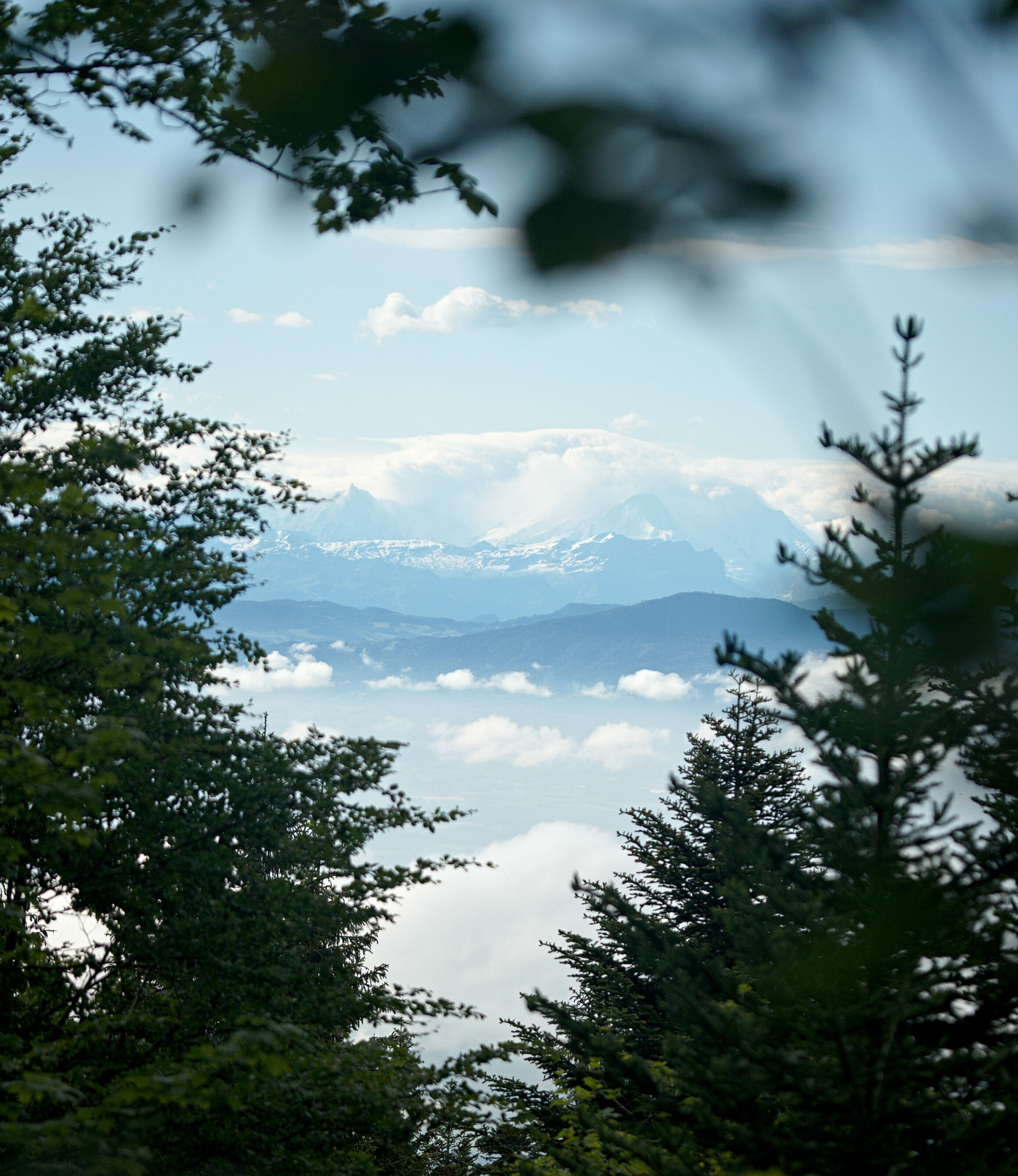 From the golf course we were almost finished with the descent and we crossed the long plain that still separated us from Nyon. We probably swore a lot more than we should on these last kilometers, but believe us it was really not very exciting to finish our more than 300 kilometers along the ridges of the Jura by 10km on the asphalt.
In short, you will have guessed it: we loved La Dôle, but if you decide to come there, we advise you to take the route from Saint-Cergue or to drive up to the chalet de la Dôle. The part between the chalet and Nyon has nothing special at all! 😉
Infos
From la Dôle to Nyon
Distance: 18,45km
Elevation change: 239m +, 1510m –
Difficulty: Average
Hiking Map:
Summary of our hike along the Jura crests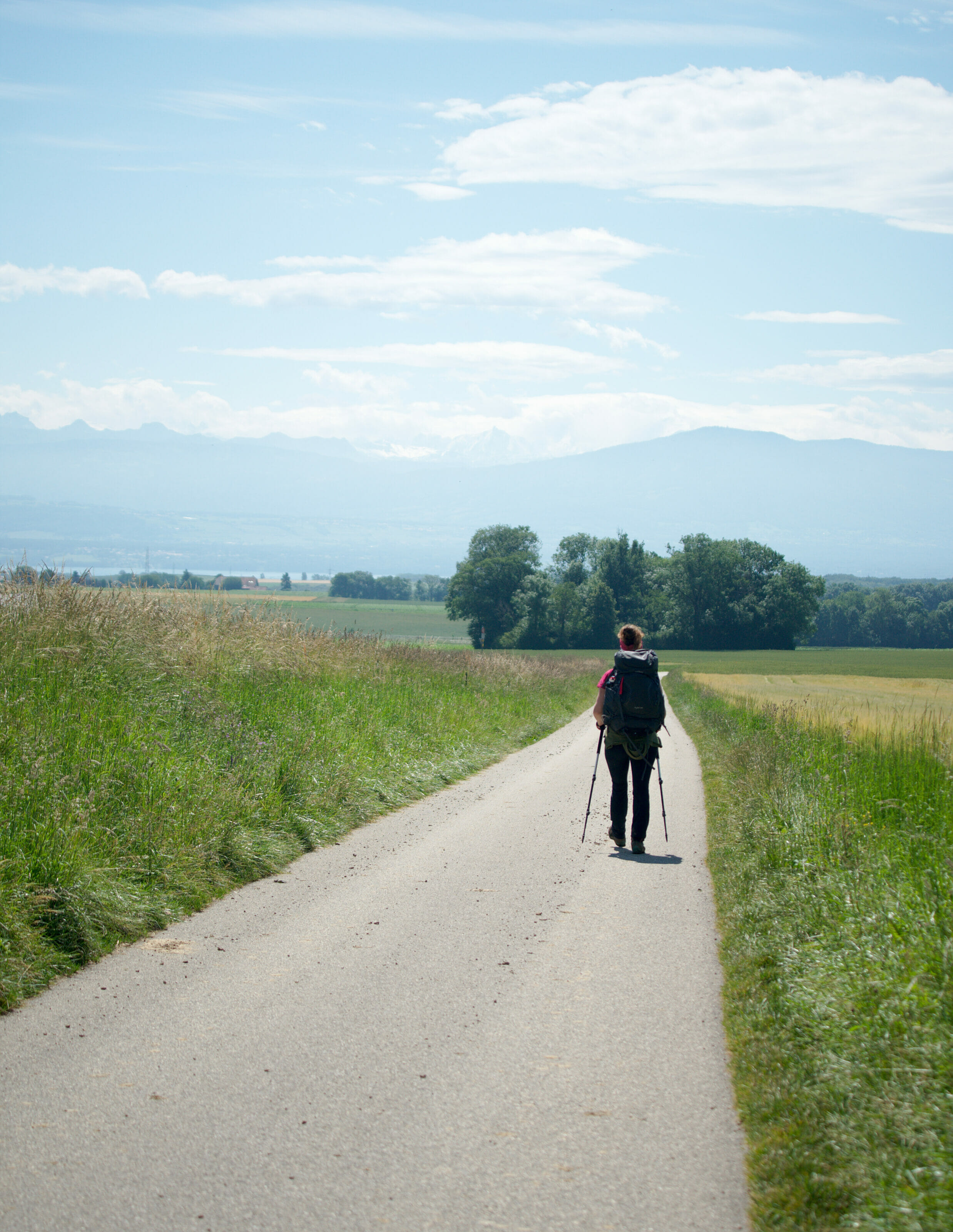 When we arrived in Nyon we were totally washed out, eager for a shower but also very happy to have finished this beautiful hike in Switzerland on foot. We left 17 days earlier from Dielsdorf, and this Jura crest trail was our second crossing on foot of our beloved little Switzerland. In 2017 we followed the route of the Via Alpina (find all our articles about this route on this page) and this time the Via Jura. My little finger tells me that we are not finished with these crossings yet… The Alpine passe trail and its more than 600km looks like it could be on our list for 2021. #StayTuned 😉
TheJura crest trail was not especially a route that "made us dream" but rather it intrigued us. Lovers of the Alps and the "steep" slopes, we were a bit apprehensive about a certain monotony on a less alpine route. But after the confinement we REALLY needed to stretch our legs and the Alps were not yet accessible because of the snow.
Looking back, we are delighted to have decided to embark on this little spring challenge! The weather was not very nice, we struggled a little bit with the water and the bivouac spots but this crossing got us back in shape and above all we discovered areas of Switzerland that we didn't know yet at all. 🙂
If you want to know more about this itinerary, our budget as well as the material, we invite you to visit our special page "Jura Crest Trail".
There you will also find links to all the articles written about the different stages of our itinerary.
We hope you enjoyed these articles about this swiss Jura hike! We are not excluding to tell you more about it this fall with 1-2 more articles on some favorite spots along the way. If you have any questions about our route or if you are more interested in any of our 16 stages, please feel free to leave us a short comment below.
Pin it