Last Friday we came back from our first "big hike" of the year. Almost 3 weeks ago we decided to start on the "Swiss Jura Crest trail", a route of more than 300km from Dielsdorf in the canton of Zurich to Nyon in the canton of Vaud.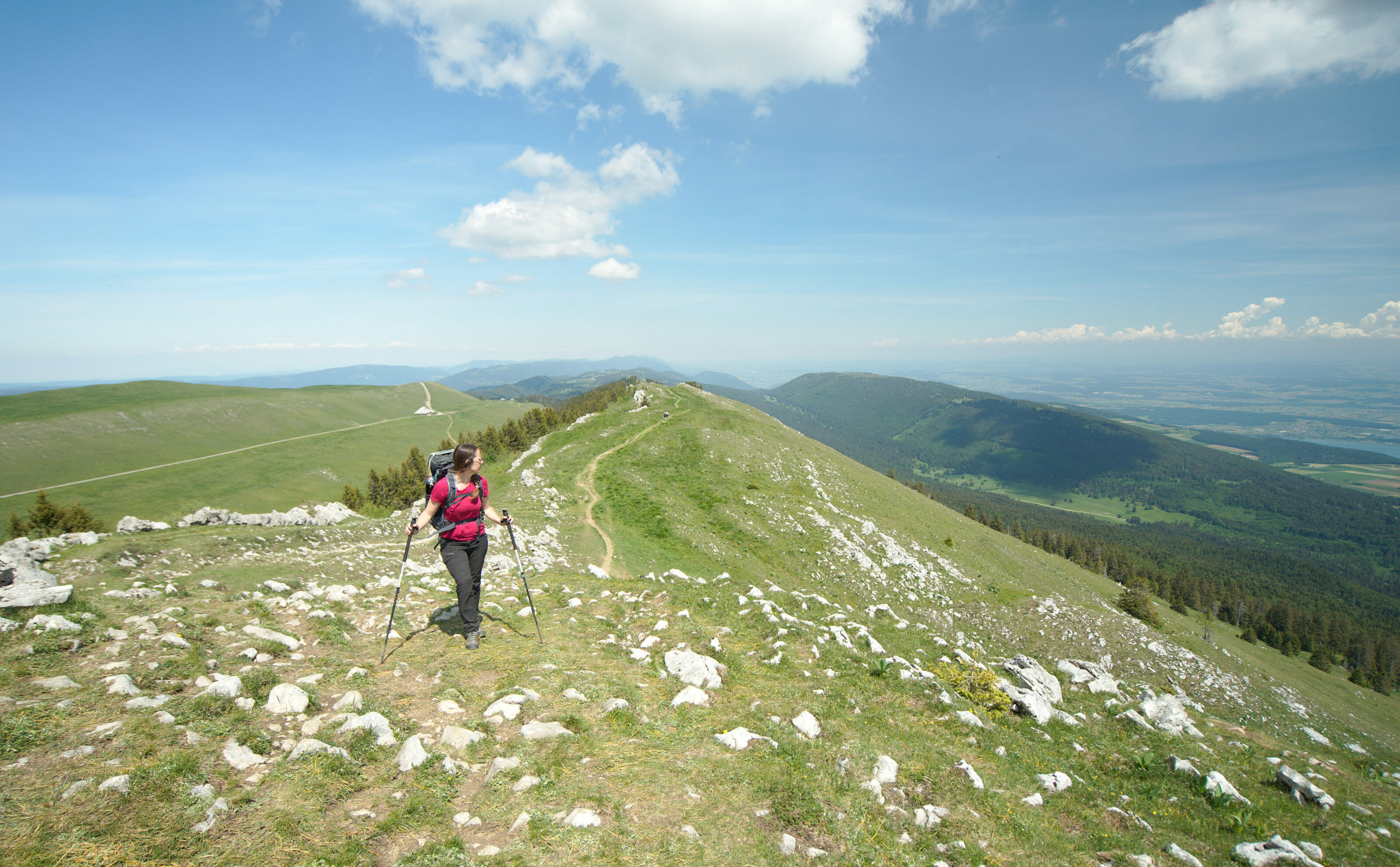 In the next articles we will certainly tell you more about our route as well as our favorites by region. But before we do that, we thought it might be interesting to tell you a little more about our motivations for setting out to explore the hiking trails of the Swiss Jura.
Jura Crest trail: itinerary presentation
Before going on to our motivations, we thought that a short presentation of the itinerary so that you can situate the walk would be welcome. Don't worry, we'll tell you more about the route and the equipment, but here is already the general itinerary of the Jura crest trail.
Starting point: Dielsdorf, Zurich canton
Finish: Nyon, VD Note: Obviously the route can be made in either direction
Distance: about 320km
Elevation change: about 14'000m (positive and negative)
Number of Cantons you'll cross: 7
Official stages: 16
Note: to download the track on AllTrails (over 30 formats available), simply create an account (free). To have access to the offline maps in the application, switch to AllTrails+ (29,99€ / year)
Bonus: By going through this link, take advantage of a 30% discount on the first year.
Jura crest trail hiking Map:
The reasons that led us to choose this hiking route:
We usually don't need many good reasons to leave for a hike 😉 . But why did we choose this particular itinerary? We give you some elements of answer.
A strong desire to put our shoes back on for a thru-hike in Switzerland
First and not least: our feets were seriously itching after those almost 2 months at home in quarantine. Before all these sanitary issues, our plan was to go back to Brittany in spring to follow a part of the GR34 (to celebrate my 34th birthday this year). With the border closing, we started to think about an alternative. We really wanted to go on a thru -hike and not only day hikes (there's a je ne sais quoi in the dynamics of these long routes that fascinates us). Having already walked the Via Alpina in 2017, it immediately seemed logical to us to follow another national route that crosses the country.
The Jura Crest trail is an ideal route for the spring months
Switzerland is very well known for its mountains and Alps, and many people have already asked us questions about the Via Alpina after the quarantine (which should be easily answered in our brand new ebook on the Via Alpina). But the thing you should know is that as beautiful as our mountains are, they are by far not all accessible in spring. Many of the passes are still covered with snow in May and it is really difficult to plan a route that climbs above 2000m in this time of the year.
At this level, the ridges of the Jura are perfect! The highest point of our route was the Mont Tendre with its 1679m (followed closely by the Dôle and its 1677m). With the relatively warm spring we had, we knew before we left that snow would not be a problem on this route.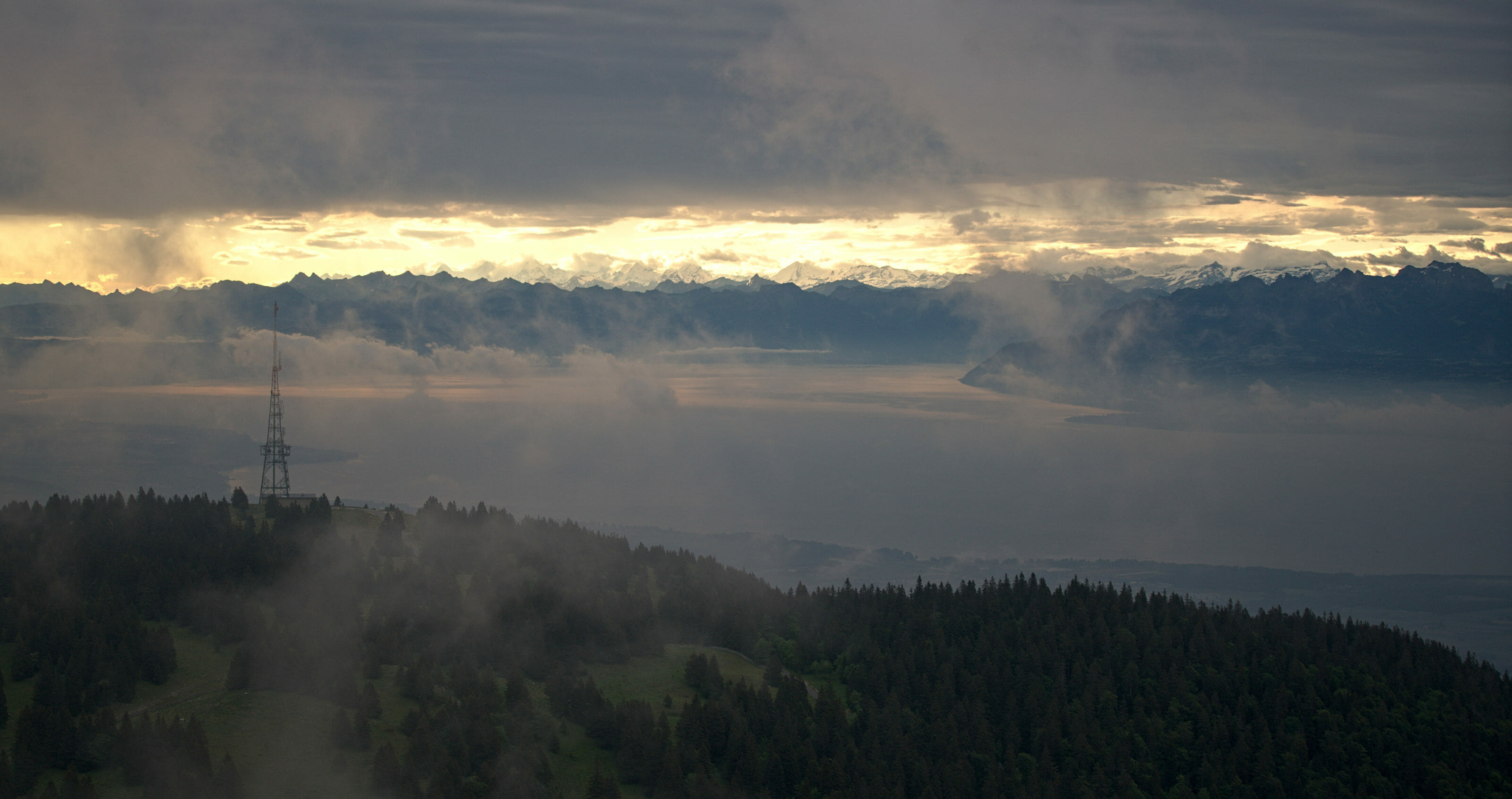 An itinerary off the beaten track
The second point that tipped made us pick this this route rather than another is its somewhat "wild" side. Yes, the Jura is well known, but frankly relatively few people go there. So yes, there is the Creux du Van or the Chasseral on the route which are popular excursion spots, but beyond these few "stars of the crest trail" we were pretty sure to come across more cows than hikers (a point that will have proven to be totally correct ;)).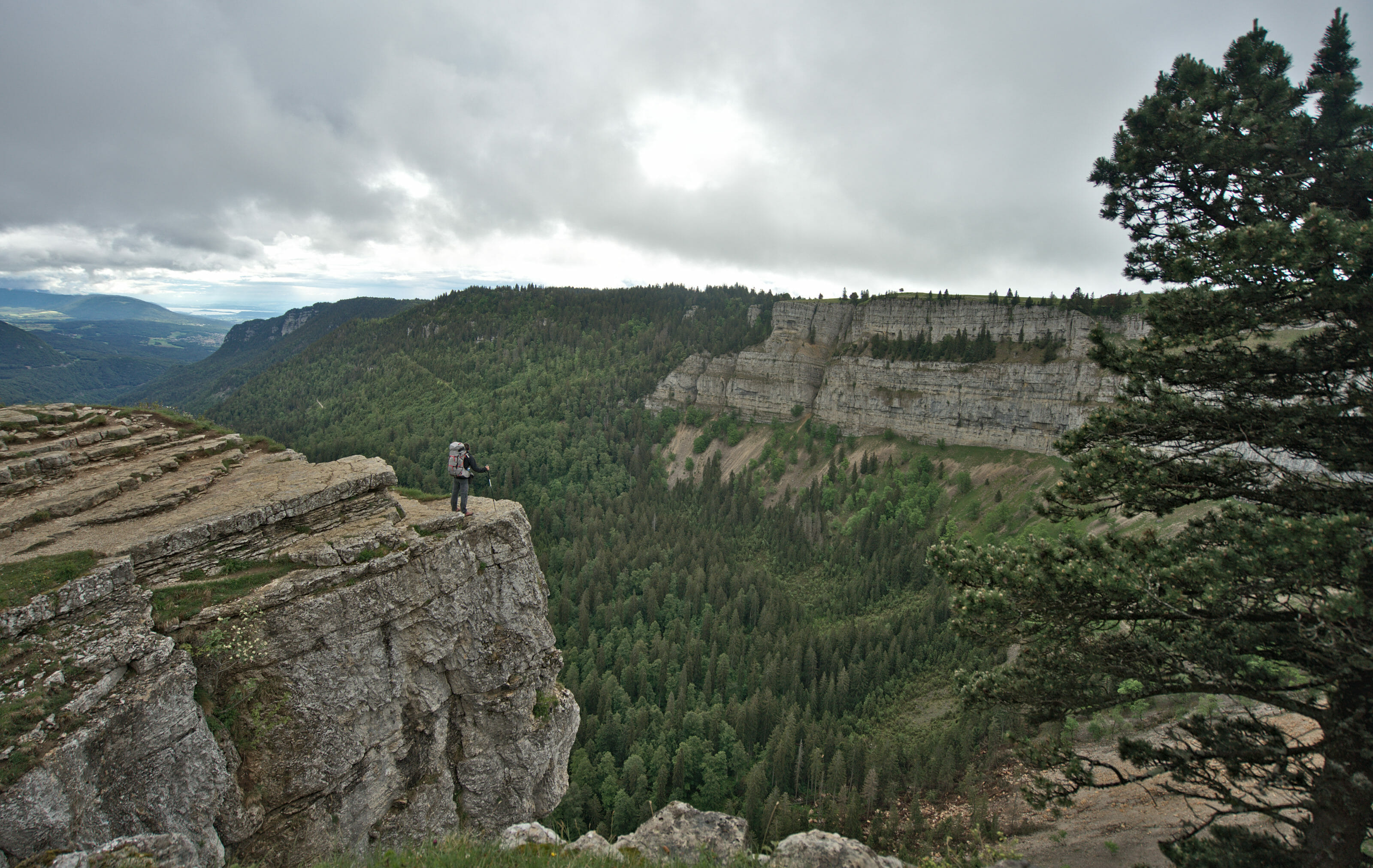 Nothing like hiking to practice social distancing.
In these strange times when the expression "social distancing" is still on everyone's lips, hiking is most likely one of the activities that lends itself best to this new practice. Switzerland is a relatively densely populated country and one will never be "really alone" when hiking, but on the other hand it is an activity where it is furiously easy to keep your distance. We were very pleasantly surprised to see the efforts made by many mountain restaurants or even small mountain pastures.
On the one hand there were those that had opened but had put up protections (Plexiglas, walls, separations and so on). It was also funny to see how cashless payments have quickly become established even in more remote areas! I can't count the number of coffee or pies we've paid for in contactless or via Twint over the last few weeks.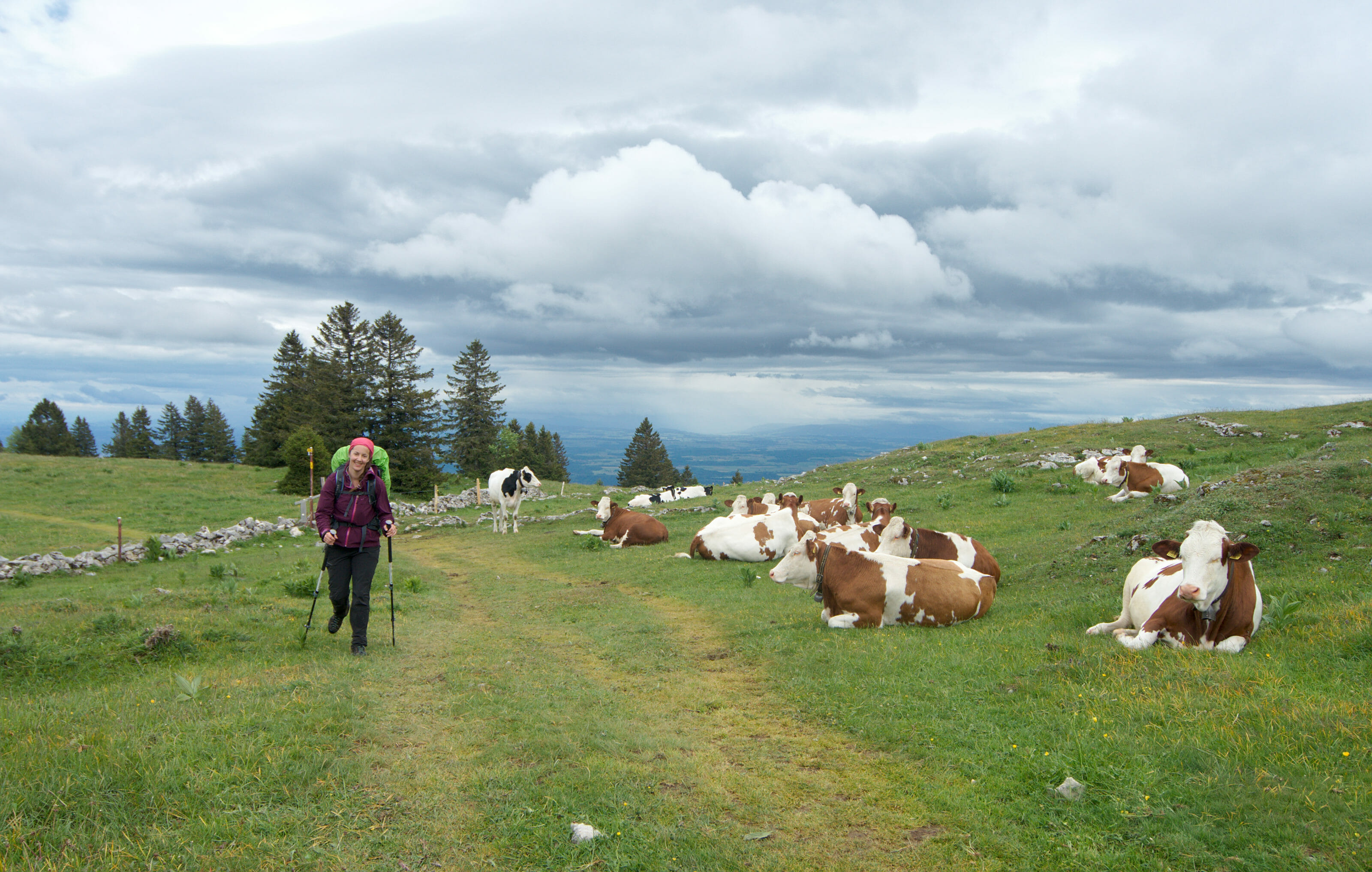 Other (usually smaller) facilities preferred to keep their doors closed, but many opted for self-service models to sell their products. An excellent compromise that allowed them to continue to quench the thirst of passing hikers while limiting investment and contacts.
A cheap way to visit Switzerland
For several weeks now, the Swiss tourist offices have been redoubling their efforts to get people to "stay in Switzerland this summer". Even our beloved swiss Tourism board has launched a campaign entitled "I need Switzerland". It's a campaign that we appreciate, even if, let's be honest, our national office was quite happy to focus more on Asian and Middle Eastern countries tourists in recent years . However, the crisis has at least had the merit of redirecting a bit of marketing towards what seems to us to be a matter of course for long-term tourism, local tourism and nature tourism!
In the media, the comments we often see are "yes, but Switzerland is expensive! It costs me less to go elsewhere". So to this reply I want to say yes but no… Of course our hotels are expensive (very expensive even for those who like small bubbles (both in their glass and in the bathtub)) and the bill of a restaurant will often be much more expensive here than in neighboring countries. But paradoxically, official video, even Switzerland Tourism seems to bet on access to nature (free) and outdoor activities. It's funny to note that even the bivouac has managed to make it to their official clip (at 0:23) whereas normally one sees rather beautiful hotels with spa. 😉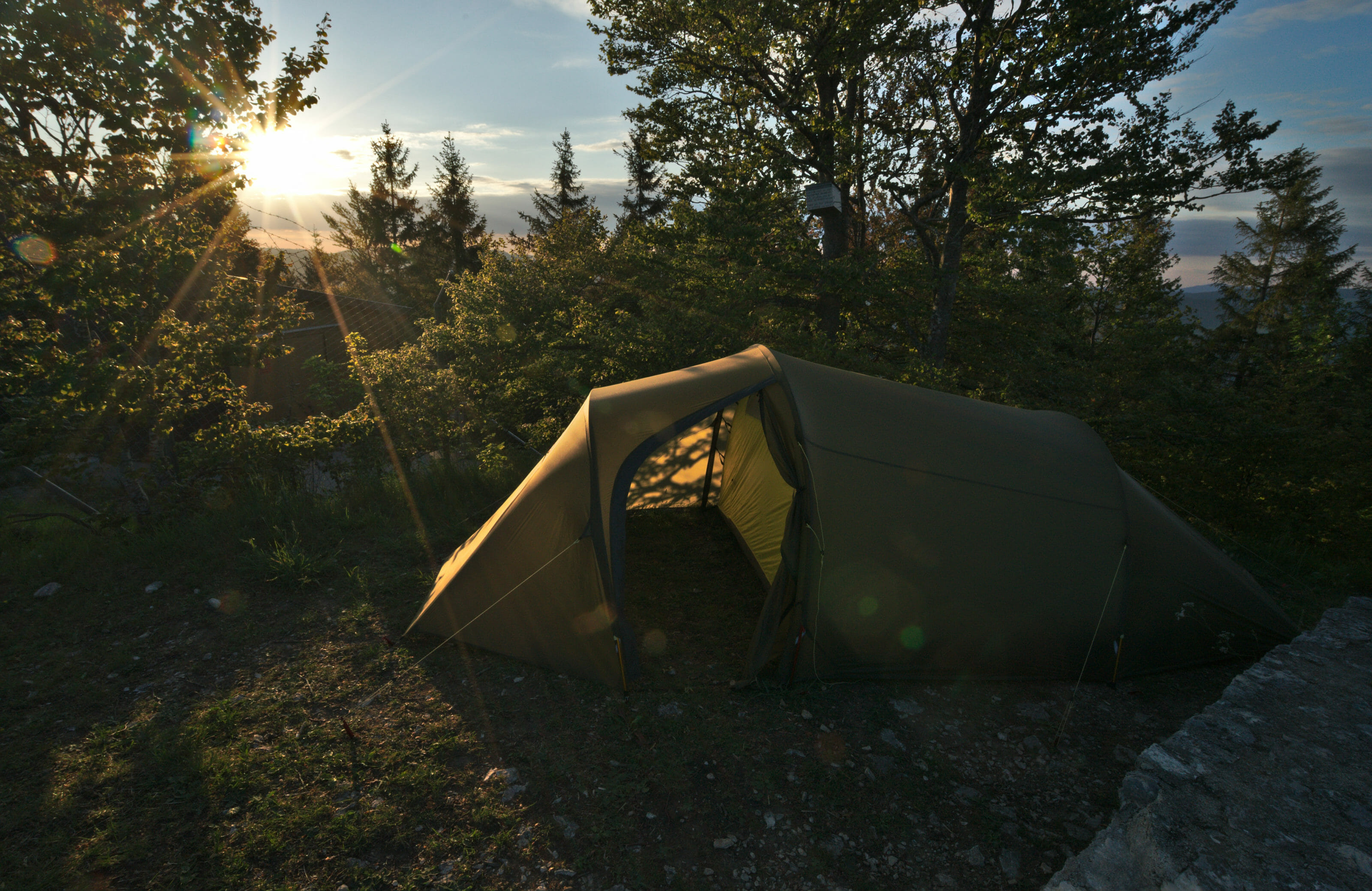 For us, this "economical" mode of travel is nothing new. Travelling on foot, sleeping in simple lodgings or camping, eating picnics and treating oneself to a slice of pie or a good cheese crust in a mountain pasture is a magical experience and we promise that this will definitively not harm your budget.
According to the OFSP (our statistics department), a Swiss person spends on average between CHF 140 and CHF 230 per day of travel in Switzerland (depending on whether he or she is staying in a hotel or with a relative or in alternative accommodation). As usual, we will soon publish our detailed budget after the hike, but I can already tell you that our daily budget on the Jura Crest Trail is well below this amount ;). If you want to get an idea, you can already have a look at the budget of our Via Alpina published 3 years ago, the Jura Crest trail figures will be in the same range.
The Jura Crest trail difficulties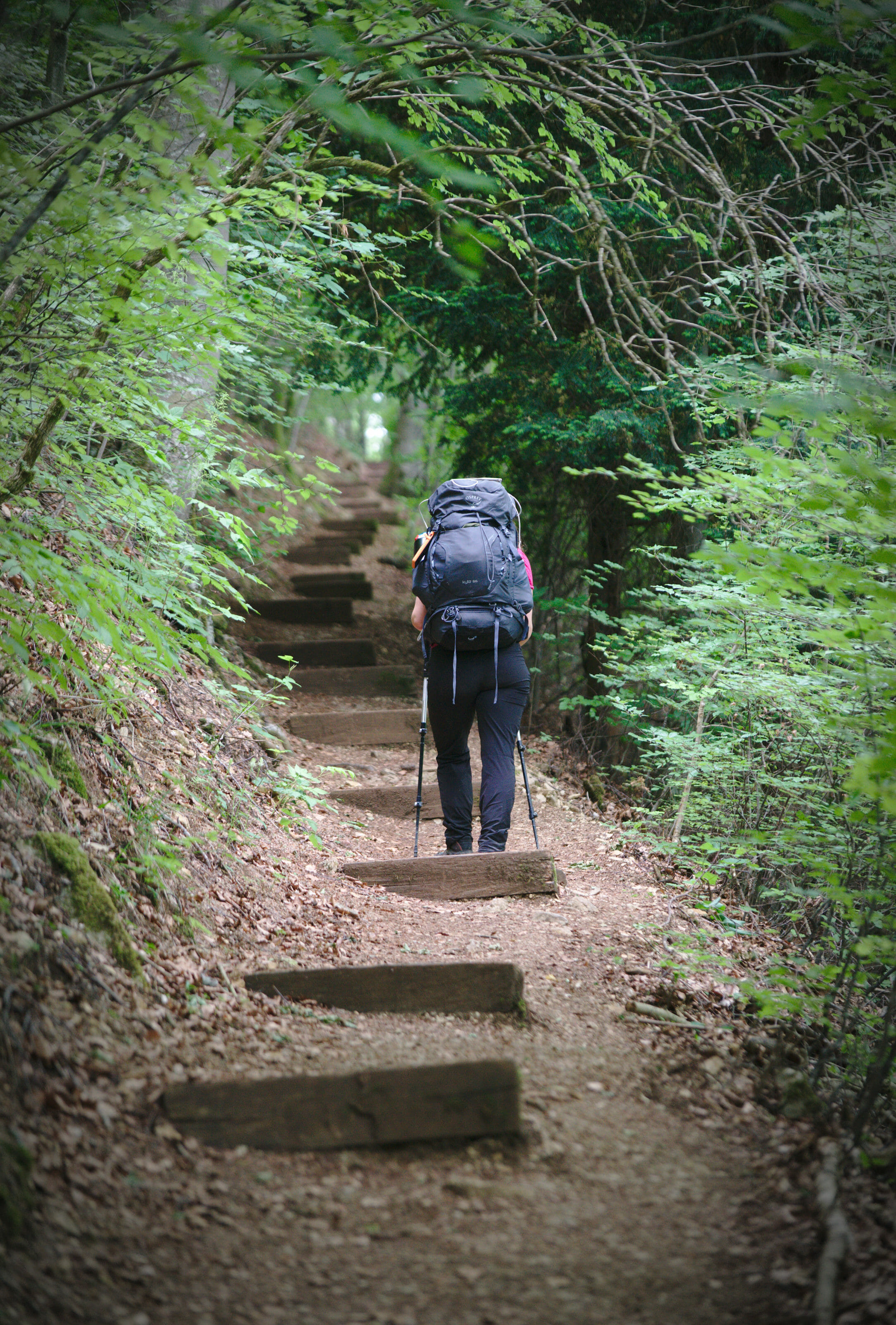 We're not going to lie to each other, after having done the Via Alpina, I asked myself a lot less questions for this second itinerary. On the one hand, I'm in better shape today than 3 years ago, but above all the climbs "seemed" much less impressive.
A little note on this subject: The elevation changes "hurt" a little less, but don't believe that this route is almost flat 😉 There is still something like almost 900m of positive AND negative elevation change on average per day.
In other words, in spite of a start that looked "easier" we still had 2-3 points on which we had some doubts.
Finding water on the ridge paths
This was our big question mark on this hike! Looking at the topographic maps we quickly realized that on the Jura crests there are not many rivers and streams. The villages are relatively far apart and we didn't really know if we could easily get water from the mountain pastures or if there would be a lot of fountains. So after having done the route we would like to tell you that it's "OK" but that's a point on which it's better to have a little foresight. For some stages (especially when we were planning to bivouac) we sometimes carried up to 6 liters of water (for both of us), but generally speaking we were doing well by carrying between 2 and 3 liters.
However, we were happy to have filter bottles. This allowed us to take water absolutely everywhere we could find it without questioning it. In Switzerland, many fountains are marked "Non-drinking water". This message remains very theoretical in the sense that "non-drinkable" in Switzerland generally means "uncontrolled water". In the vast majority of cases it will still be drinkable… But if in doubt, it is better to filter it.
Relatively few housing and grocery shopping options
If you look at the route on Switzerland Mobile you will see that the route is designed in such a way that it can be done without a tent. Afterwards, if you look at it more closely, you will quickly notice that the stages are really not very proportional; some are excessively long while others are completed in 4 hours of walking. The choice of these official stages was certainly not taken to to bring variation in your efforts, but because the accommodations are not super numerous.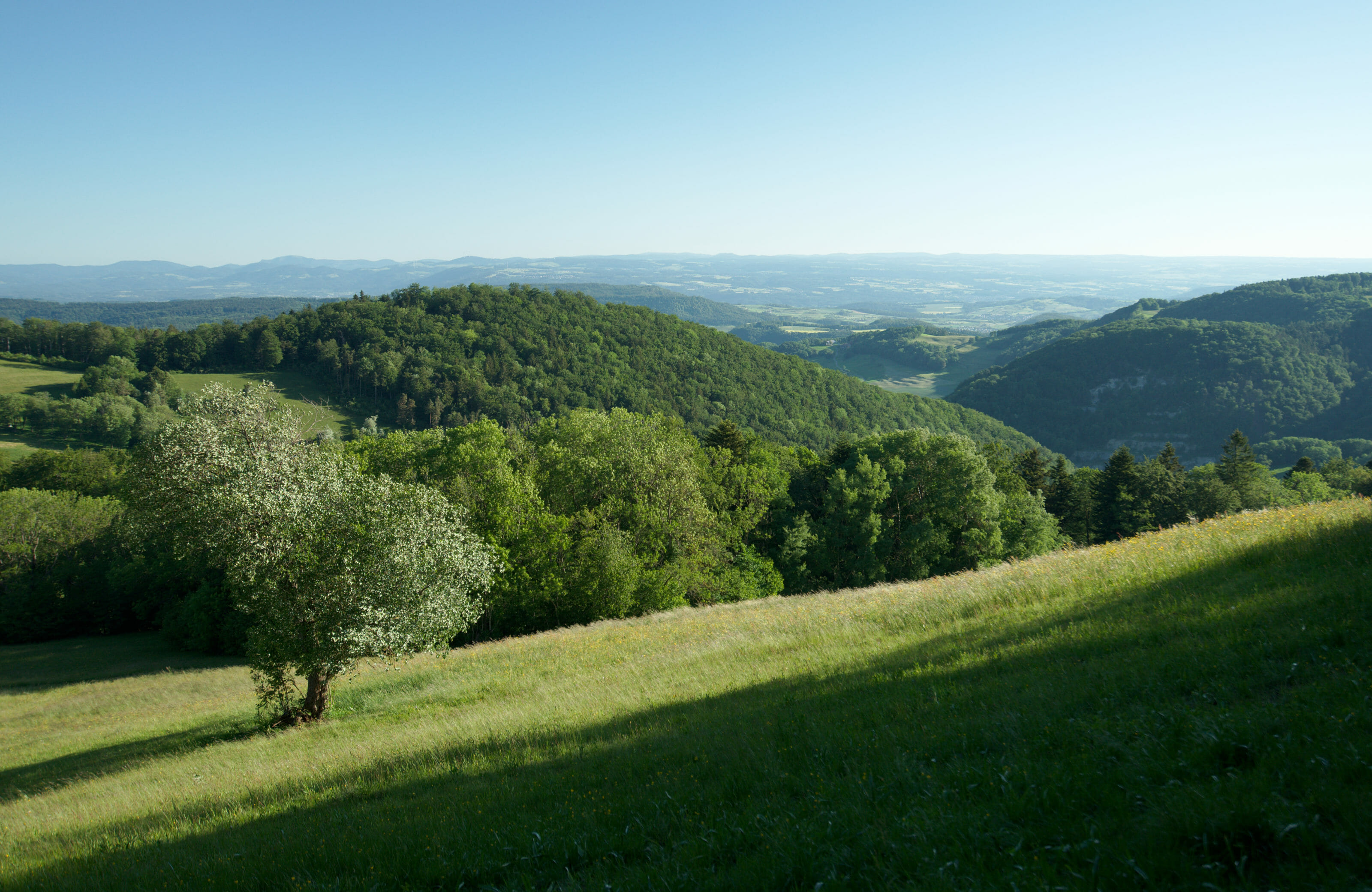 For our part, it was obvious that we were going to take our tent. This allowed us to go at our own pace without having to worry too much about the accommodation (even if with the capricious weather in the second half of the course we still had to plan a few stages based on the accommodation).
Note: We have received a lot of questions about bivouacking and wild camping (gear, rules, tips…) So we have written a complete guide about bivouac to help you prepare your next adventures in the nature.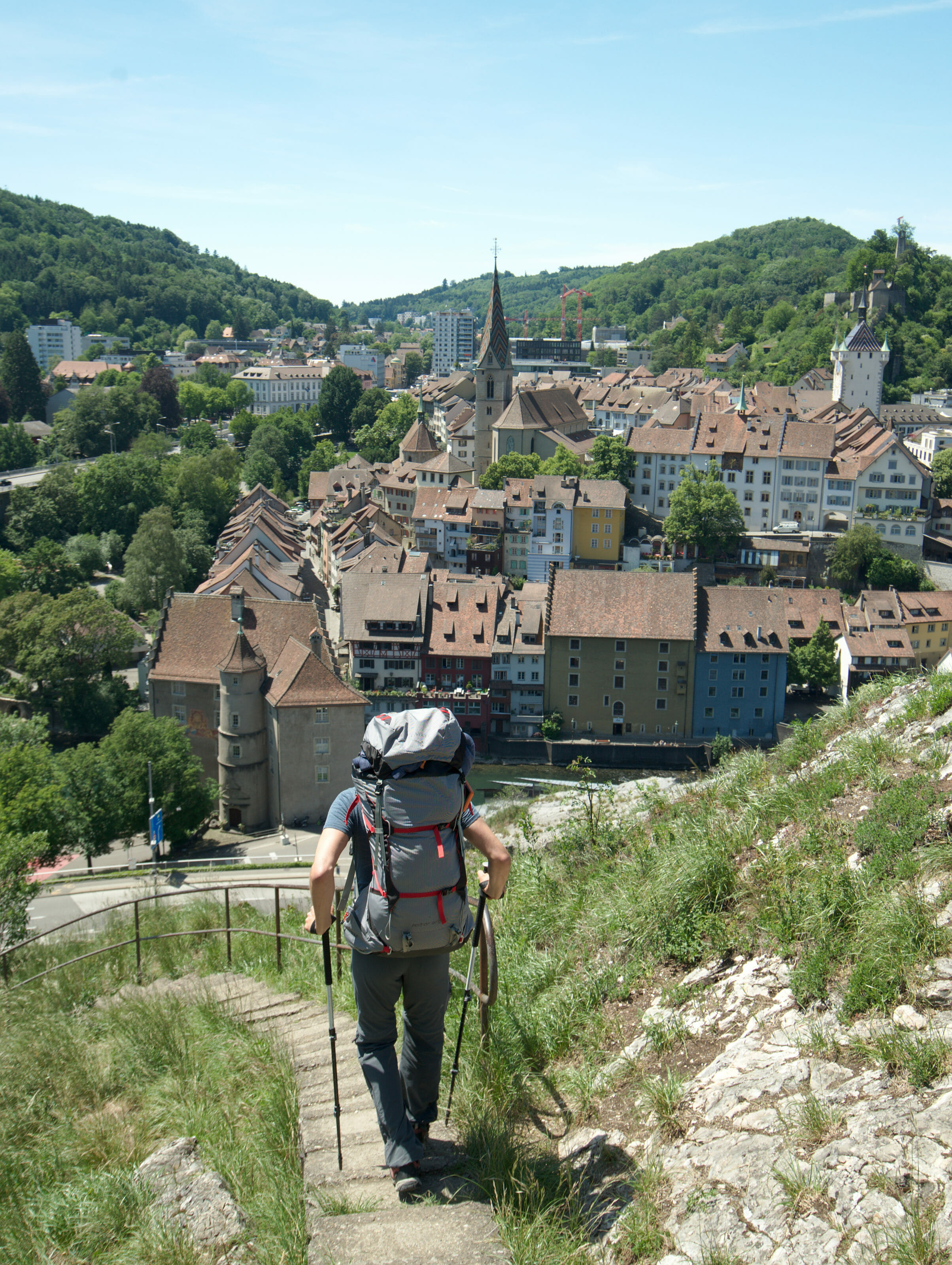 The second point (which is also related to the villages) is the grocery shopping. On the Via Alpina we passed through mountain villages every 1-2 days at the most, so it was quite easy to plan our food supplies. On the Via Jura we "officially" only met 6 supermarkets on the route, with a rather uneven distribution. For example, between Balsthal (km 82) and Sainte-Croix (km 214) there are no supermarkets! There are a few mountain pastures selling eggs and cheese but it's difficult to build up a balanced diet with that! This forced us to make a few small detours, as for example in Frinvillier where we made a detour of a few kilometres to go to Biel for supplies. In short, food is also a point to be taken into account and not to be neglected in your preparation preparation. But don't worry, we didn't starve (far from it).
First impressions after having walked the 320km of the Via Jura
We've been home since Friday and we're very happy with the last two weeks, to say the least. We really enjoyed the route and especially we were able to take advantage of the incredible weather during the first 8 days of walking (not a single cloud on the horizon). On the other hand, the second part of the route was much more "wet" unfortunately. We regret a little to have only glimpsed the Mont-Blanc at a few rare moments. Theoretically, this mountain is a little bit the star of the second half of the course because we can see it almost all along. But well… not for us!
Things we liked the most on the trail

The landscapes are very varied: pretty villages, pastures, forest… there is something for all tastes.
On a clear day the view of the various lakes and the Alps is simply spectacular!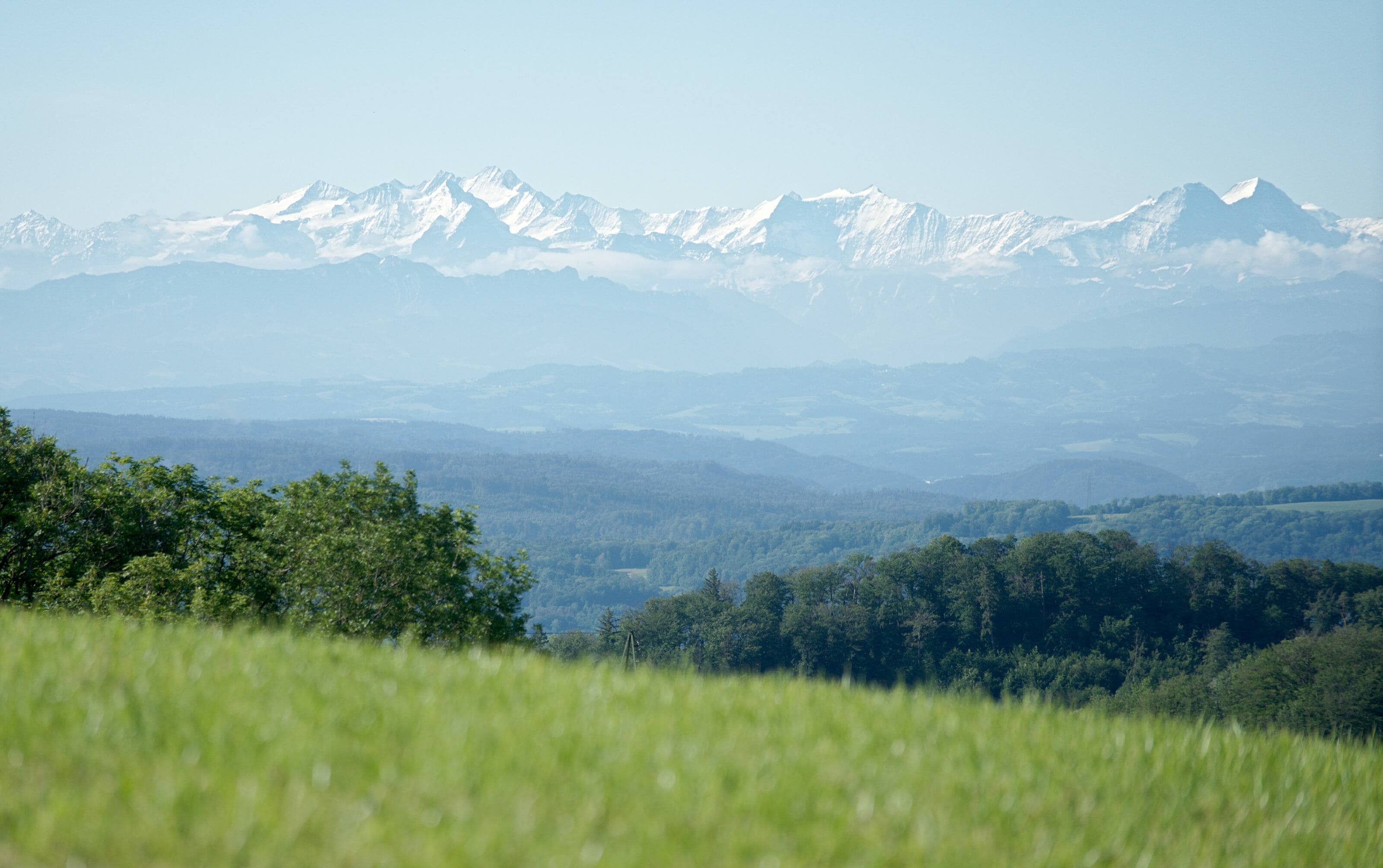 The super "metairie", mountain inns, gîtes, farms, etc… A very warm welcome and good food!
The marking is absolutely perfect! We had the map on our phone just in case, but frankly the signs and markings are everywhere. Impossible to get lost (even for us) 😉
Few people on the trails
The many animals we've seen (especially chamois). Moreover in spring the vegetation is absolutely superb… We enjoyed the beautiful flowers (a little less with the hay fever, but it's a detail) 😉
The things we liked a little less…

The weather for the second part of the course (not the fault of the route itself, but let's say we would have preferred to have less fog) 😉
Compared to the Via Alpina, the Jura crest trail follows many tracks and farm roads. This is by far not the majority of the route, but let's just say that we found that there are quite a few (and it hurts your legs to walk for many kilometers on asphalt or dirt roads).
Logistical challenges (water and supplies). It's fine, but it requires a bit of organization.
We hope you enjoyed this first article on the Jura Crest Trail and that it will make you want to leave on all or part of the route. If you have any questions in particular do not hesitate to leave us a comment. We will try to answer a maximum of your questions in the articles to come.
See you soon for the continuation of our adventures on the hiking trails of the Swiss Jura!
Pin it!