You want to learn a new language and are looking for a learning method? There are many ways to make progress with a foreign language and today we decided to tell you about one of them (which we have tested several times during our different trips): the mobile and web application Mosalingua.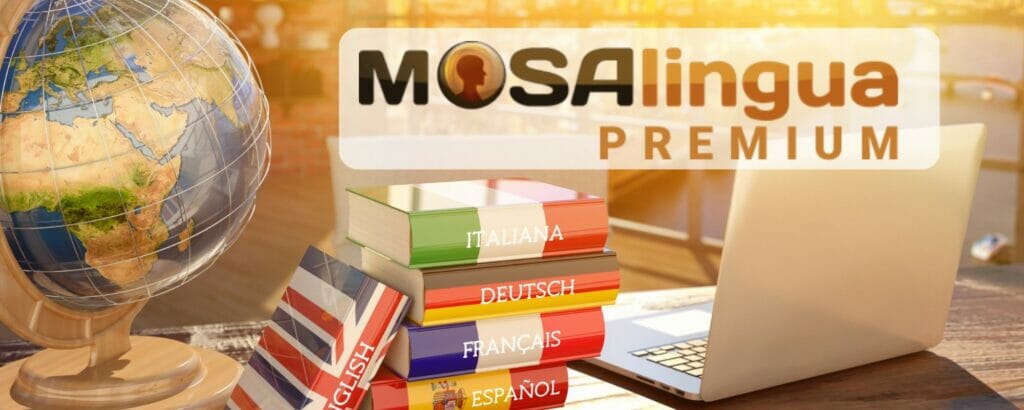 Based on the spaced repetition technique, Mosalingua proposes a concept based on learning cards and long-term memory work. Here is a presentation of the tool and our opinion after several years of use.
How to learn a language to travel?
There are many reasons to learn a language! Whether it is for work, leisure, expatriation, the desire to communicate with friends or family or simply to travel. For me, it is clearly the last point that was the trigger!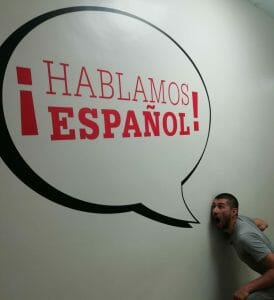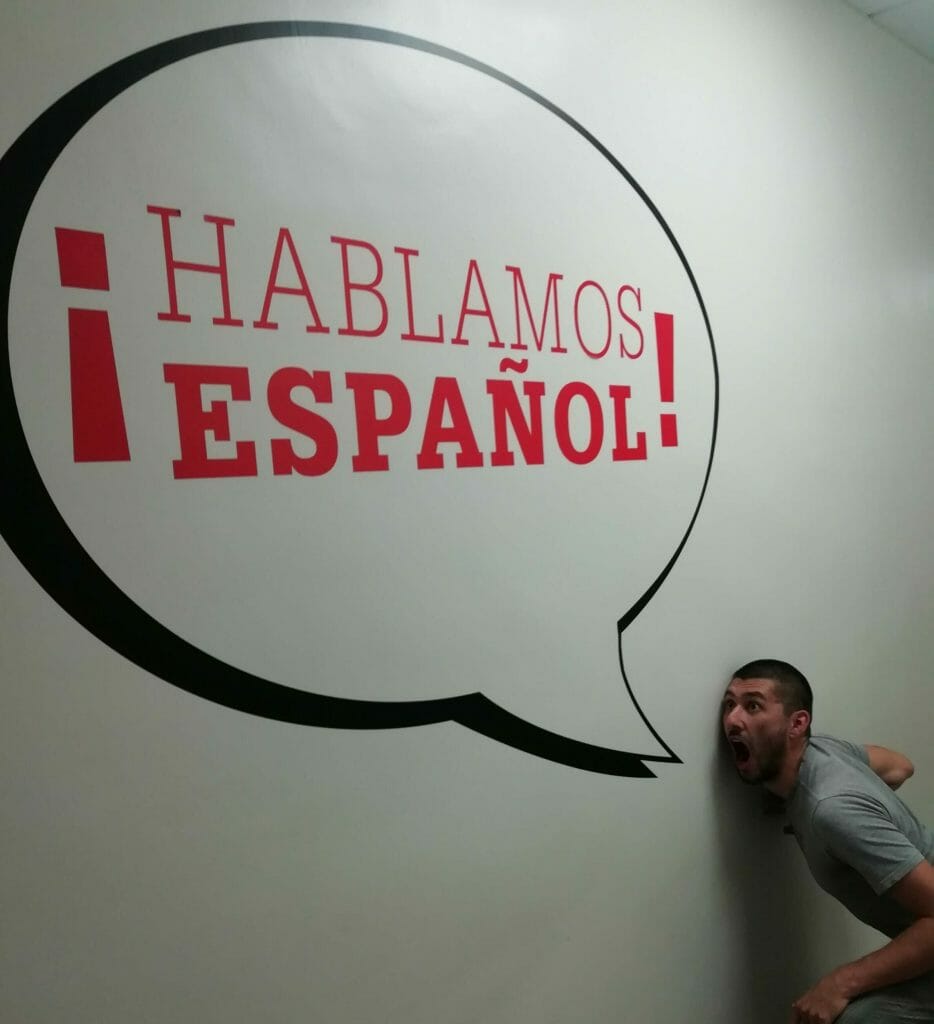 I started learning Spanish in 2013-2014. At that time, we were on a world tour and started with 9 months in Asia. Totally charmed by our trip, we had however a small regret on the Asian continent: our almost total impossibility to communicate with the locals except in English. In each country, we tried to learn 2-3 sentances, but as we changed country on average every month, it was complicated to invest more in learning.
When we decided to move to the South American continent, we quickly decided to start learning Spanish more seriously! We still had 9 months of travel planned and we clearly wanted to be able to communicate with the locals. Our level at the time? Absolute nothingness! Neither Benoit nor I had ever taken a single Spanish course… I had a few vague memories of Italian lessons learned in high school, but I had never in my life pronounced a single Spanish word except Holà and Gracias 😉
In order to put all the chances on our side, we took 2 months of Spanish courses in Quito. At that time, we had chosen the "physical" option because we really wanted to immerse ourselves in a Spanish-speaking environment and to learn quickly the basics (as well the vocabulary as the grammar) in order to be able to manage during the continuation of our trip.
Before arriving, we wanted to expand our vocabulary a little and that's when we downloaded Mosalingua and Duolingo for the first time. Starting from 0, we quickly learned the first words and this allowed us not to be completely lost during our first physical class.
My experience with Mosalingua
As I told you above, my first use of Mosalingua was right before I took a course in Quito. I liked the idea of being able to review simple words while in transit. But once we were in Quito, we were very busy with our classes and totally abandoned the application.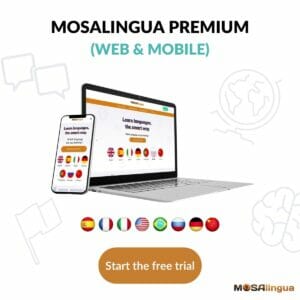 It wasn't until we were back on the road that I started using it again. After 2 months of classes, we were about at the A2 level and that's really when I was able to explore the full potential of the application.
With the spaced repetition method, the words and phrases really settled into my long-term memory quickly. And hey, since we were still traveling, we had plenty of time to practice what we were learning on a daily basis.
When we returned in 2015, I abandoned the application again… Lack of motivation, lack of time and also lack of "situations where to use my Spanish" will have been the reason for me giving up my learning.
For almost 3 years I didn't practice Spanish at all. It wasn't until 2018, during our trip to Tenerife, that I got back on track. 🙂 Over the last 5 years we have spent almost 18 months in Spain, needless to say it has helped me tremendously to progress further. I use the application mainly to work on vocabulary, expressions, a bit of grammar but also to improve my accent (yes yes I always learn speaking out loud… so preferably I do it at home and not in public transport haha).
Affiliate links
Our links to Mosalingua are so-called affiliate links. This means that if you decide to buy a subscription from them through our links, you obviously don't pay anything extra (you even get a 20% discount from the public price), but we will get a small commission. This supports the production of free and independent content on our site.
Users of Mosalingua for many years, we spontaneously decided to give you our opinion and to present you the strong points but also the weaknesses of the app, Mosalingua did not ask us to do it 😉
How does Mosalingua Premium work? Testing the platform
If you are still hesitating to start with Mosalingua, we offer you a small overview of the platform as well as our personal opinion after several years of use (not a continuous use, but in on-off mode according to the trips) 😉
Mosalingua is a platform for learning foreign language vocabulary. It is not a method that focuses on grammar or even pronunciation. With Mosalingua, the main objective is to increase the number of words you know and to memorize them in the long term.
The Mosalingua level test
When you are new to the application, the first thing to do is to determine your current level. For this there are 3 options:
You are a full beginner: start the program from 0 and begin with very basic words and phrases.
If you know your level according to the CEF criteria (it goes from A1 to C2): just tell us your level and the application will propose you adapted contents.
If you are not sure of your level, it is best to take the test. This short test takes 30 minutes to complete and allows you to quickly assess your level.

I personally decided to take the test and I must say that I was very pleasantly surprised at how accurately it gave me my results. The application doesn't just give a single assessment, but separates grammar, reading and listening comprehension.
The Mosalingua Card System – Learning by spaced repetition
At the heart of learning with Mosalingua is the card system, or Flashcards. I don't know about you, but it took me back to my high school days, when I used this method to memorize my German vocabulary… A word or a sentence on one side of the card and the translation on the other. With this method, you have to go deep into your memory to find a word. If you don't have it, it doesn't matter because you just have to say it to the app and the card will come up more often in the future.
Note . You'll probably notice that all Mosalingua screenshots in this bog post are in French. The reason is that French being my mother tongue, I prefer to learn Spanish that way. Of course, the Mosalingua platform is also available in English! 😉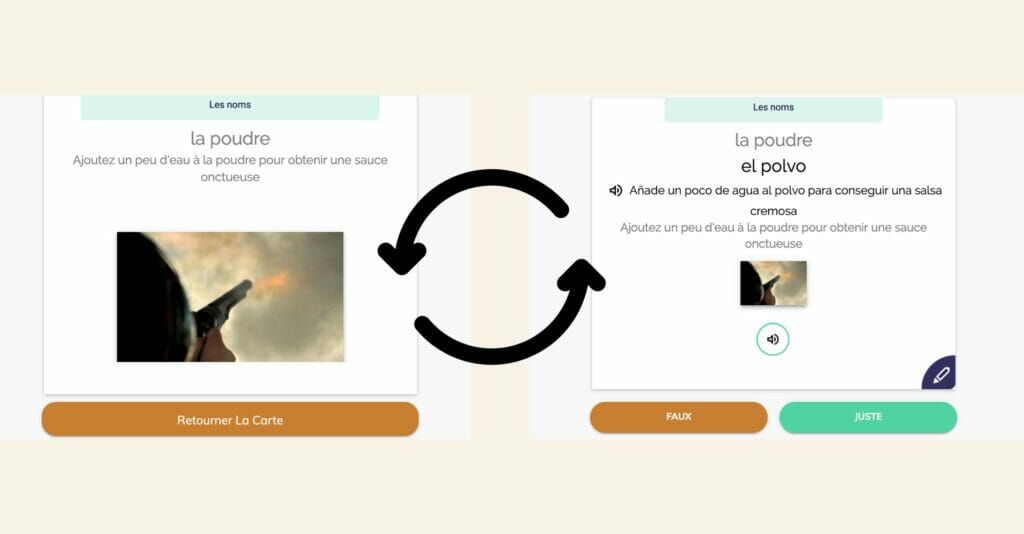 The learning part takes place in several stages:
Select how many words you want to learn in the series (tip: I personally like to learn words 10 by 10 or 15 by 15, but not more)
Listen and Speak: in this part, you play all the cards by simply listening to the words. You can indicate whether you want to review a card or move on to the next one.
Memorize: Here you have to guess the word (or the expression which is underneath for more difficulty) and after having turned over the card you have to say if you were right or not
Write: This time, in order for the card to turn over, you must write the word.
Auto-evalutation: We go over all the words in the series. This time, you must indicate your skill level (Not good, difficult, good or perfect). This answer must be honest because it will help the application determine how often it will make you review that word.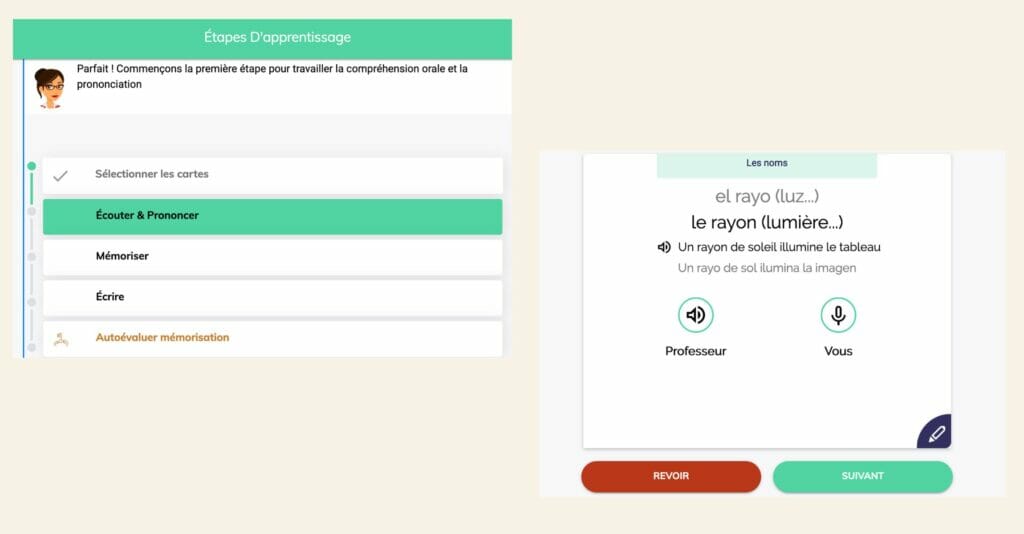 The cards learned in this way are stored and then found regularly in the review tab. This part allows you to quickly go back over the content you have already learned and make sure that it is in your memory. This method, called "spaced revision", allows you to come back often to the same word until it becomes automatic and you no longer need to think about it!
Grammar lessons
In addition to the cards, there is also an "Explore" tab where you can find grammar lessons in the "Additional Content" section. Explained in English, these contents allow you to solidify your knowledge. But I'll be honest, Mosalingua is more about learning vocabulary, the grammar part is mostly to be seen as a complement and not the heart of the program.
Add cards with music, video and audio books – MosaLibrary and MosaVideo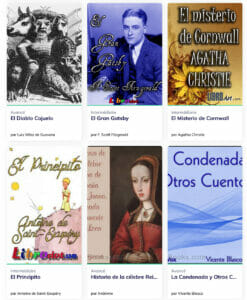 Within the platform it is also possible to alternate the type of exercise by consulting content that is not 100% language learning oriented, but that comes directly from practical cases of everyday life. Within the application, you have access to a whole selection of books that you can read online, such as The Petit Prince, Don Quijote or The Cornish Mystery by Agatha Christie. Classified by difficulty, you can choose a suitable novel and start reading. At each sentence where you have a doubt, you can click on a word or a sentence and get the translation. From there, you can add this new word or sentence to your learning cards. I find that having a more concrete context helps enormously in memorizing words! Personally, I will never forget the word sheep in Spanish thanks to Saint-Exupéry: " ¡Por favor… píntame un cordero!" 😉
In addition to the books, there are also dozens of very varied youtube videos. It goes from "how to lay a parquet floor" to a travel vlog, a clip of Shakira or Nelly Furtado and even cooking recipes. For all the videos, you can of course activate the subtitles but there is also a written transcription of the text underneath. Here again, you can select words or expressions to know the translation and add them to your memory cards.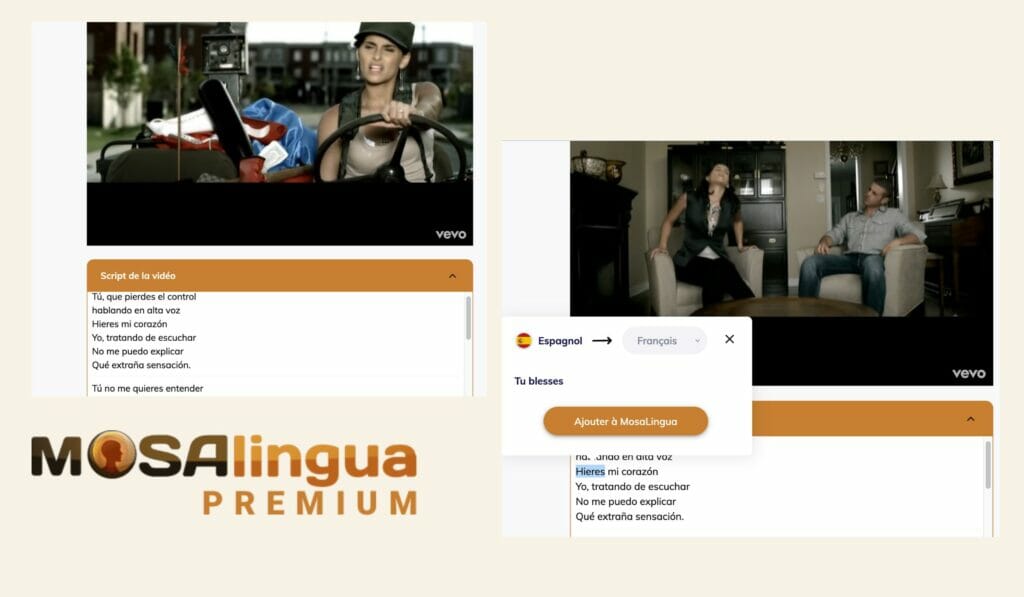 I find that this additional content is a big plus and allows for a little variety in the exercises.
MosaDiscovery – Learn and add new words daily
Here is a last feature of the application that I didn't really see any use for at the beginning but that I've been using more and more lately: MosaDiscovery. It's not an application per se but an extension for the browser. Available for Firefox as well as Chrome, the plugin allows you to always have Mosalingua "on hand". Let me explain…
Once you have installed MosaDiscovery, you can select a word, phrase or sentence at any time and right click on it. By choosing "add to Mosalingua", it automatically creates a flashcard with the translation. Once the card is saved, it can be found in your next learning series.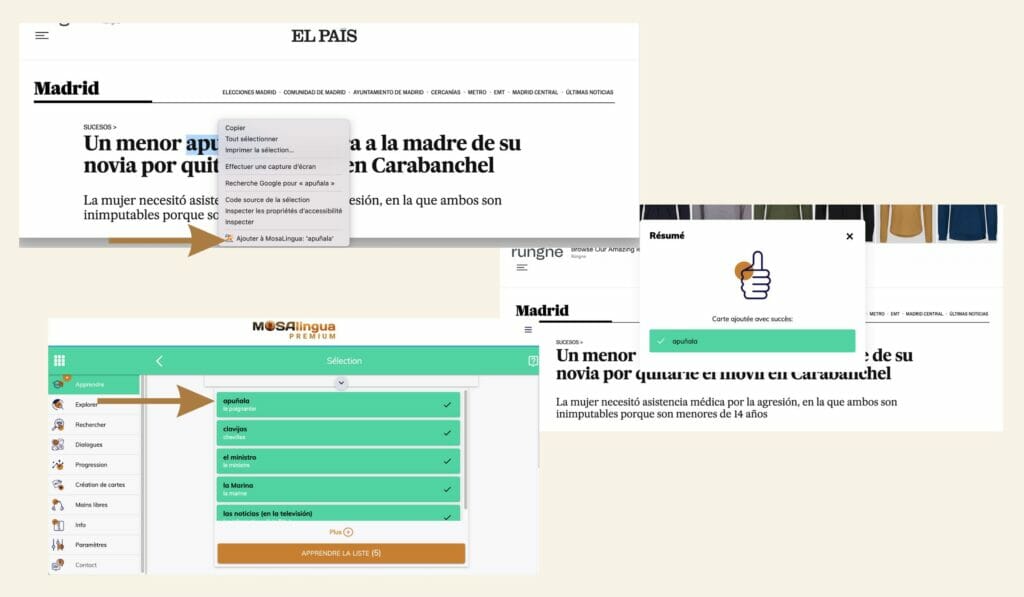 It works on any website (for Spanish I will for example read some articles from the newspaper "El Pais" or "Voz de Galicia") but also on Youtube or Netflix where you just have to select the text in a subtitle and the video will pause and the translation will appear.
I find this very interesting because it allows you to learn new words in context and then repeat/memorize them more easily.
Languages available in the application
As I said at the beginning, I personally use Mosalingua to learn/improve Spanish. But of course, there are many other languages available on the platform.
At the time of writing (February 2023), Mosalingua covers 9 different languages when it comes to learning: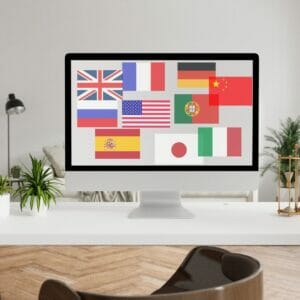 French
English
German
Spanish
Italian
Portuguese
Russian
Chinese
Japanese
At the level of the platform itself, you can choose to put the interface in the first 6 languages of the list above (all except Russian, Chinese and Japanese).
For my part, I only used Mosalingua for learning Spanish and I briefly tested it for English (my English vocabulary is already pretty solid, so I did not continue).
How much time to invest in language learning?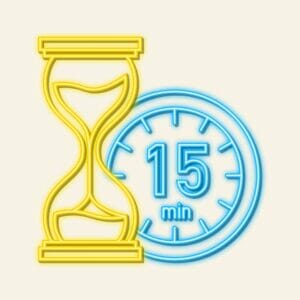 So, I'm not going to give you any "scientific" or even official advice, I'll tell you what works for me 😉 15 minutes a day in the platform (between 15 and 20 flashcards) + 5-10 minutes of reading news or videos in Spanish!
In fact, my best advice for the duration is to set a realistic minimum that you will keep over time. At the very beginning of my use, I often wanted to do "too much" and I stayed 1 hour on the platform. The problem was that after a few days I had given up a little and sometimes I would skip a day… By reducing the amount of time I spent, I managed to implement this into my daily routine and stay regular.
In short, in my opinion, the bare minimum would be to spend 10 minutes a day on it. But in addition, I also strongly advise you to do more than just the cards and to inckude some additional contents.
Go further with your language learning thanks to TV shows / movies
Putting your learning into practice is a great way to consolidate your knowledge, even if you haven't mastered everything yet.
To give you an example: at the very beginning of my Spanish learning (when I had a level A1-A2 roughly), I watched an episode of Friends every day (in Spanish of course and with Spanish subtitles too). I didn't have the level to understand all the jokes, but knowing the show I could put it in context (and let's be honest, Friends is typically a show in which you don't feel too lost if you missed a dialogue 😉 ). As the episodes went on I found myself understanding more and more things and even laughing at some of the jokes.

Later, once I had roughly reached the B1-B2 level, I set myself a new challenge: to watch Casa de Papel and Fariñas (a TV show set in Galicia) entirely in Spanish for a few episodes a week. And once again, I found the progress amazing! As the seasons went on, I really felt that my "spontaneous" understanding increased enormously.
Did I understand absolutely all the dialogue and jokes? Clearly not! But I did understand the essentials and above all I worked on my oral understanding. I found that it also helped a lot with my pronunciation when speaking!
Mosalingua Premuim rates (Web + App)
Before starting a subscription, Mosalingua offers everyone a free trial. This will allow you to see if the method suits you.
If you decide to continue learning, the cost is €59.9 per year, or €4.99 per month. Note that it is also possible to take out a monthly subscription (with no minimum duration) for 9.99€ per month (which can be an option if you just want to refresh your knowledge for a trip for example.
Bonus for our readers: By going through our link, you receive a 20% discount on your subscription, which brings the budget to less than 4€ per month.
My review of Mosalingua
The things I like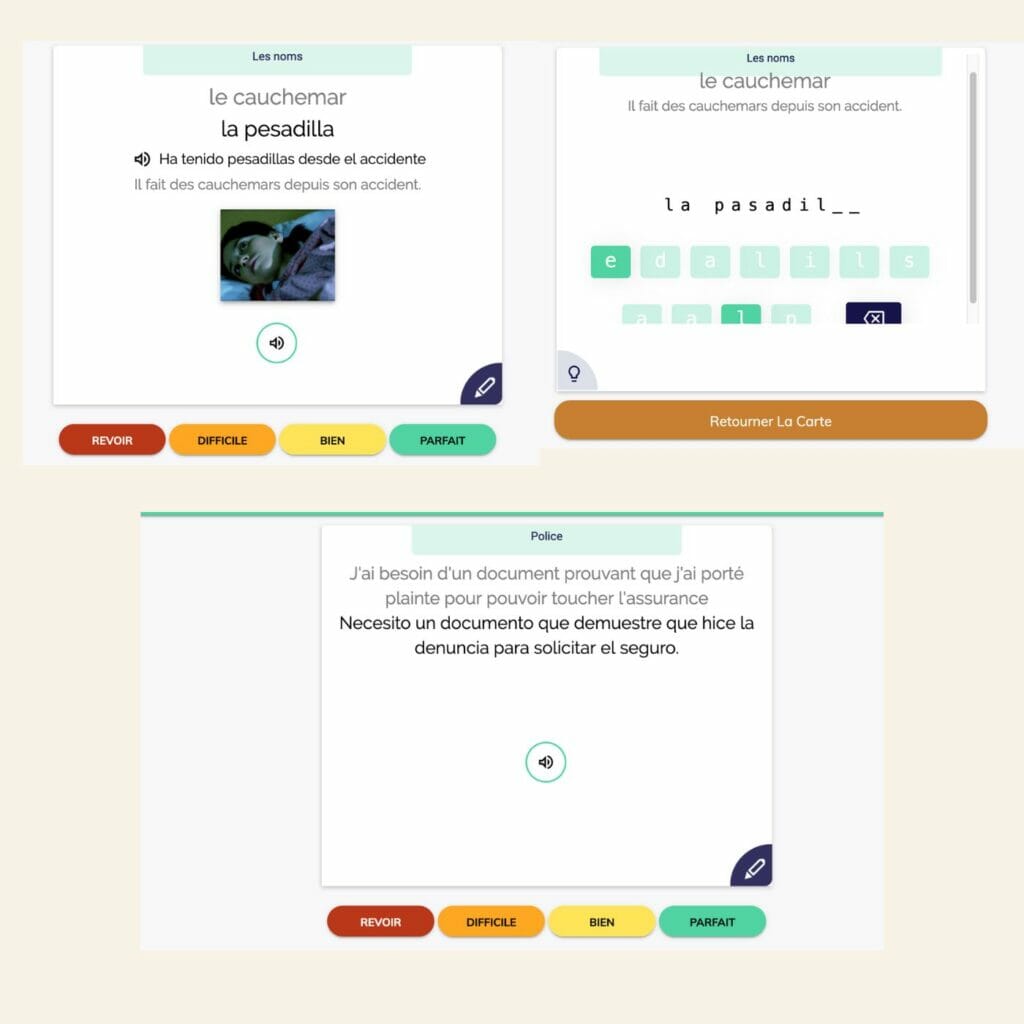 I particularly appreciate the fun aspect of learning as well as the "efficiency" in terms of time investment. I also think that the application does a good job of always offering words of varying difficulty. In all the series I learn, I always have words that I master (good for confidence and to review), words that I have already heard and that I understand but that would not have come to me spontaneously but also some new words or expressions that I did not know existed 😉
When the goal is to learn vocabulary, Mosalingua is really powerful. Spaced repetition memorization is really an efficient method to remember new words in a foreign language!
On another note, I really like the idea of varying my exercises by watching videos (music videos or mini series). This allows me to add new expressions and ways of saying a same phrase. Whether in Mosalingua or via another website, I can then add the words or expressions to my learning cards. It requires a little discipline at the beginning, but I quickly got the hang of reading some news in Spanish newspapers or watching TV series in Spanish.
The things I like less
In my opinion, the weakest point of Mosalingua would be its user interface… Or should I say its handling. Now that I'm a regular user, I think I can say that I have mastered the different tools and have a good understanding of what's what, but I'll be honest it took me a little while.
In fact, the fault would probably lie in the fact that the application is quite comprehensive and there are many options. In my humble opinion, I find the homepage of the application not very intuitive. Let me explain… When you log in, you get there: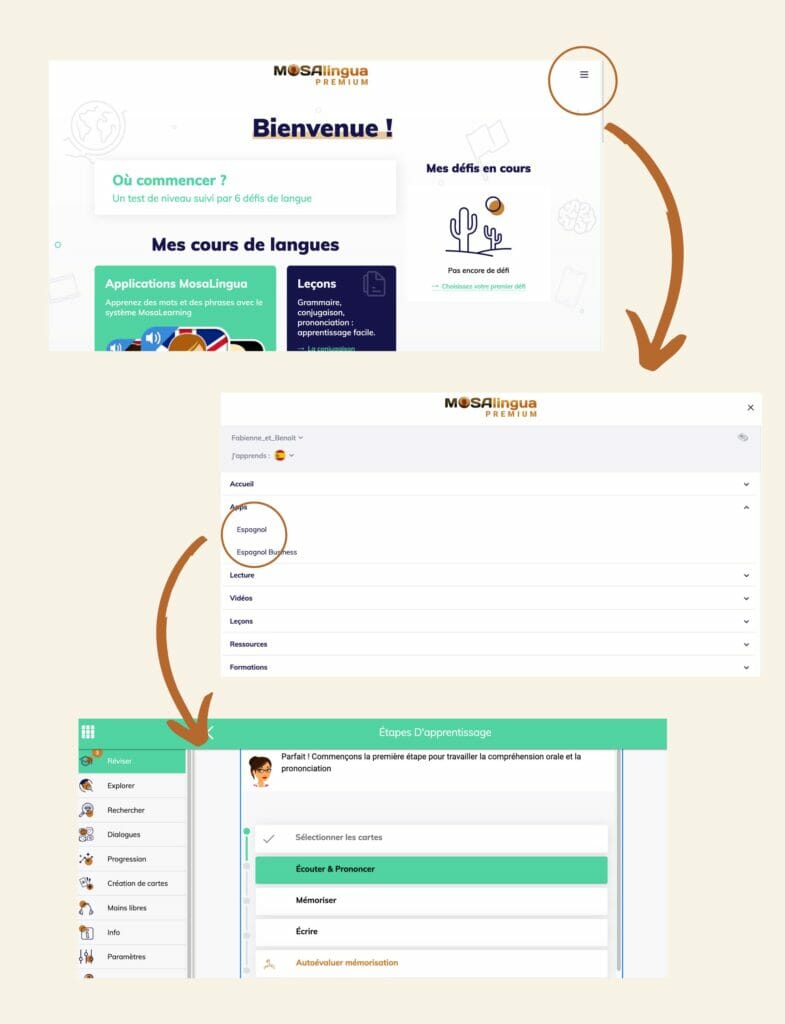 There is clearly a button missing to go directly to the "Learn cards / Revisions" part. Personally, I always use the menu at the top right to get where I want to go. (Under "Apps" I select my learning language and I arrive on the dashboard).
In short, the handling requires a little time of adaptation according to me, but once you know where to find the various modules well it becomes really super positive.
Another weak point I see, would be the "complexity" of their subscription offer. In fact, when we talk about Mosalingua we usually talk about their "Mosalingua Premium" module, but the platform also has other courses (which I'll talk about below) like Mosalingua Series, MosaSpeak, MosaTraining. Some of these courses are very good, but when you get to their homepage it's sometimes a bit confusing because there are several products and prices. Personally I think that one pack would be better (or rethink their website design to make things clearer). To choose, for me the one that is the most adapted for learning and memorizing is clearly Mosalingua Premium (the one I talk about in the article). MosaSeries would be a good complement if you want more context and MosaSpeak if the main objective is to improve pronunciation.
Mosalingua vs Duolingo
There are dozens (or maybe even hundreds) of language learning applications. I'm far from having tested them all but I thought that to finish this article, I would make a small comparison with another one I know: Duolingo.
Duolingo is a very well known mobile application used all over the world. With its pretty and playful design, it has the great advantage of being free! I used it quite a bit when I first started learning Spanish.
In all sincerity, I think that Duolingo is well done and is very efficient for learning the first basics of a language. On a personal note, I've never been a big fan of the childish design… With the drawings, I sometimes had the impression of reading a baby book to one of my goddaughters 😉
I had not used it for some time and I just installed it again on my phone to review the situation. My first observation? The level evaluation is very approximative. My Spanish is quite good (level B2) and during the little quizzes I made 0 mistakes. However, the first session asked me to translate sentences like "I'm eating an apple" or "I'm at home"… Hmmm… I persevered and tried to move to higher levels, without much success.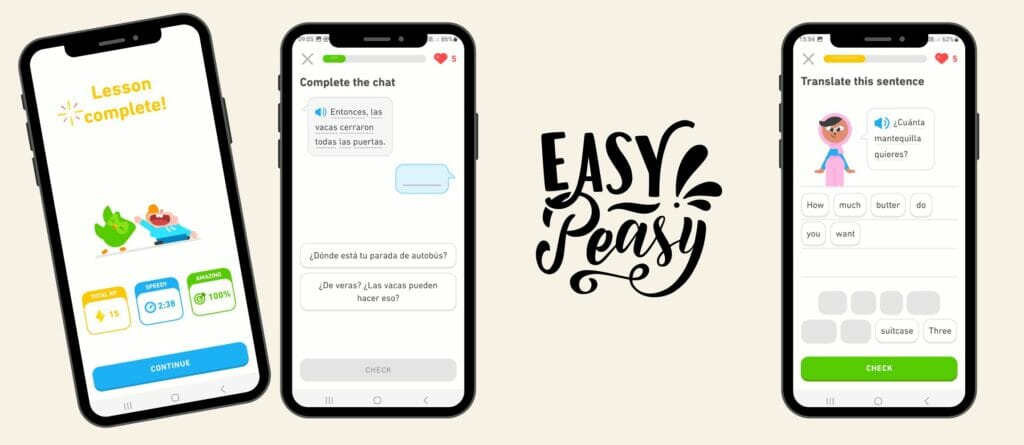 And who says free application, also says advertising. I must admit, the adverts quickly got on my nerves (note : it is possible to switch to a premium subscription that removes the adverts for 8€-13€ per month, the price depending on the duration chosen. I personally never tested the paid option and can't give you any feedback on it).
In fact, I would say that Duolingo is really suitable for beginners (A1-A2) but after that it doesn't really add as much value. So if you're a beginner and learning a new language, it might be nice to supplement the learning with 10 minutes of Duolingo per day. But then, I also find that the drawings help a little too much… it's sometimes very easy to guess the right answer without knowing it or really learning it. My advice? The application is free and I recommend you to install it and test it. You will see quickly if it suits you or not and if you want to upgrade to the premium version or not.
Conclusion: For beginners, I find that the two applications complement each other quite well. From the moment you reach an intermediate level, Mosalingua is, in my opinion, much more efficient for learning a foreign language.
Have you tried other mobile applications that you find useful to learn a new language? Don't hesitate to leave us your opinion in comments.
See you soon!
Pin it