That's it, we've been in Tenerife for almost 3 weeks now and we've just finished our 2 weeks of Spanish course! Learning Spanish (or a language in general) is not an easy task but we are proud to tell you that we are on the right track!)
If you were already following us at the time of our round the world trip, you may remember that language courses are not something totally new to us (we stopped for 2 months during our long trip to take Spanish courses in Quito, Ecuador / read our article on courses in Quito).
It seems that we like to take our Spanish courses at the foot of a volcano… Quito and Cotopaxi in 2014 and Tenerife and Teide in 2018
This year we have decided to spend the winter months on the beautiful island of Tenerife in the Canary Islands. As we were just starting to prepare for our visit here, we were contacted by Boa Lingua, a language travel specialist based in Switzerland. They suggested that we test one of their schools in the destination of our choice…. Needless to say, this message was just in time and we didn't hesitate for a second to go back to school and as we already had our tickets for Tenerife in our pocket we didn't hesitate for long for the destination! 😉
Tenerife, where is it? What is it?
Tenerife? Does that mean anything to you? The Canaries? Yes?
For our part, we will admit that we had no clear idea where it was a few years ago! It was travellers we met in Chiang Mai who told us for the first time about the Canaries but also about their significant attraction for nomads.
So promised we will come back to the subject of the Canaries for digital nomads in a future article but for the moment we will already start with the basics! 😉 Update: read about the best coliving for nomads in Tenerife
Tenerife is thus an island in Spain. It is located in the Canary Islands, which itself is in the Atlantic Ocean off the Sahara and Morocco! Yep….

Tenerife is part of Macronesia, a geographical group of volcanic islands to the west of the African continent. Tenerife, with its more than 900,000 inhabitants, is also the most populated island in Spain. Its volcano, the Teide, is also the highest peak in Spain with its 3718m (Moreover, if you want to know more about the Teide, we invite you to read our article about the hikes to do near this volcano)
The island is well known for its tourism (it is the most touristic island in Spain) but also for the rather crazy variety of its landscapes! In a few kilometers we pass from the desert landscapes of the south to a feeling of being on the moon at the foot of the Teide…. then a few kilometers further we would almost feel like we were in the Incan valleys of Peru in the Anaga Park (Sounds crazy? I promise it's true!).
See our article on Anaga for day trips or for the most motivated: our article on our 4-day autonomous trek in Anaga
Puerto de la Cruz – mixed feelings…
For these first 2 weeks we were based in Puerto de la Cruz. This small town of about 30,000 inhabitants on the northwest coast has sometimes frightened us a little and sometimes totally seduced us…
Let me explain…. In fact Puerto de la Cruz is most probably THE tourist destination in the north of Tenerife. Let's face it, the north of the island is a thousand times less touristy than the south, but let's say that Puerto is the most touristy part of the north.
To be honest, we didn't know exactly what to expect. Upon our arrival we went directly to our apartment which was in the botanical garden area. First reaction? "Well, it's pretty cute here after all… a lot of Germans, but frankly it's fine!"
The second day we decided to go a little towards the seaside and went down the big stairs that lead to the tourist centre. In front of us stood dozens of huge concrete towers, which were all cruelly lacking in charm. That day we were totally in "Oh my God, it's really not that greaz actually… Puerto de la Cruz looks terrible!"
Then, in the days that followed, we continued to visit a little and went for short hikes! There we got to know the most charming little areas of Puerto de la Cruz (we tell you about the walks below)! In short, let's put it this way: if we don't stay in the middle of the concrete towers of Puerto de la Cruz it's cute, there are great options to go out for lunch and a drink, our Spanish school great and there are some nice walks to do around. It is a great base for a holiday because you can find everything you need such as cheap accommodation, food, and also rent a car easily to explore the wildest parts of the island!
The district of La Paz is in fact the small district just behind the botanical garden. It is not "as awful" as the one of concrete towers, but here it is more a succession of hotels and restaurants serving "schnitzel" and sausages (and many retired people in sandals and socks who speak German);)
For our part, we stayed in the botanical garden district and that's also where the FU Academy is located. We really liked this location because we were not far from "restaurant spots" while being in a more residential and green area and especially with lots of possibilities to shop in real supermarkets (and not the mini-markets in the tourist district which tend to inflate prices).
The Botanical Garden of Puerto de la Cruz:
3 ideas for walks in Puerto de la Cruz
Before talking in more detail about our Spanish courses we thought we'd give you a mini selection of our favorite walks in and around Puerto de la Cruz (staying well away from the concrete blocks);)
Bollullo Beach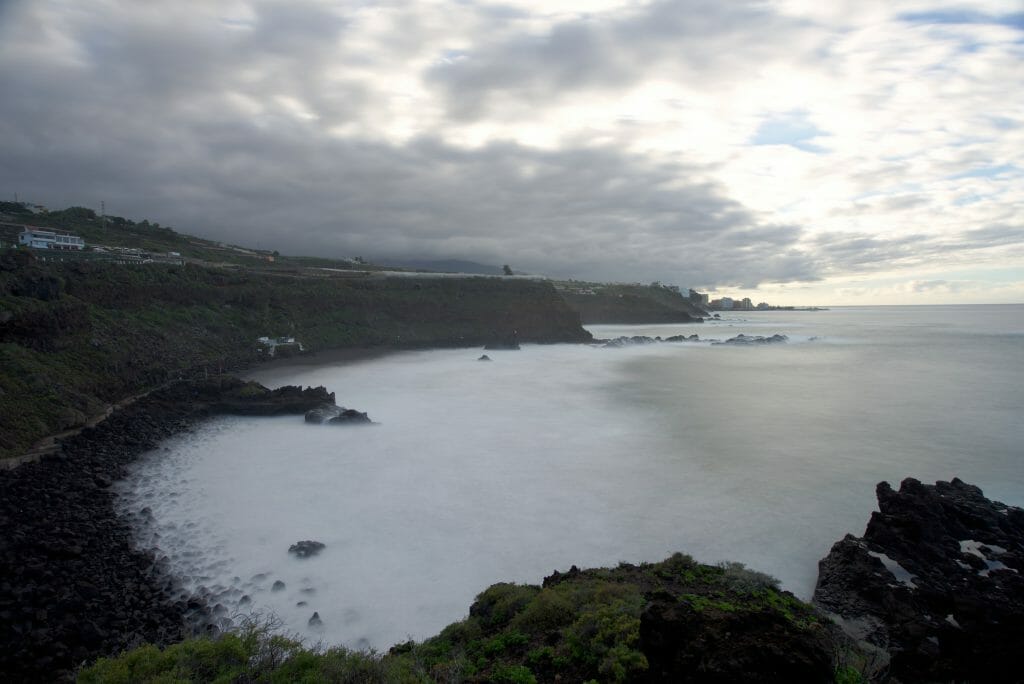 Infos

Distance: 7,3km (return trip)
Elevation change: about 240m up and the same down
Duration: 2 hours (return trip)
Difficulty: Really easy
This is a small hike easy to do ideally at the end of the day to enjoy the beautiful lights! Bollullo beach is accessible by road, but if you want our advice it's much nicer to walk from the lago Martianez.
The walk starts along the road that goes up the coast (there is a space dedicated to pedestrians that has been developed). From the road we have some nice views of the sea and the impressive waves that make the surfers happy!
Just after the road has marked a bend to the right, leave it and continue on the small path that passes through many banana plantations. The path is really clear and well marked and it is without the slightest difficulty that we reach the viewpoint and the beach of Bollullo in a short hour's walk.
Note: we strongly recommend that you continue a few more meters after the viewpoint! There are large stairs leading down to an abandoned building and this spot is worth a look!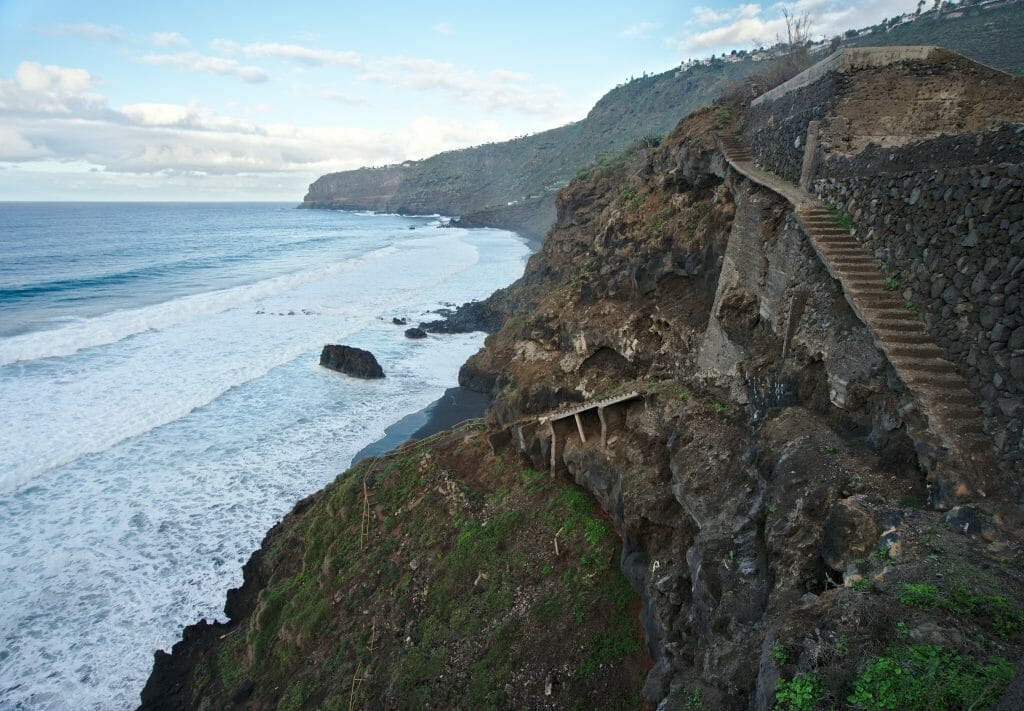 For the return we can return by the same way but if you want to vary the pleasure as we did, there is a way to go through the district of La Paz and then take the big stairs that go down to the center.
There is little chance that you will get lost on this hike, but if in doubt, here is still a small map;)
Walk until Roque Chico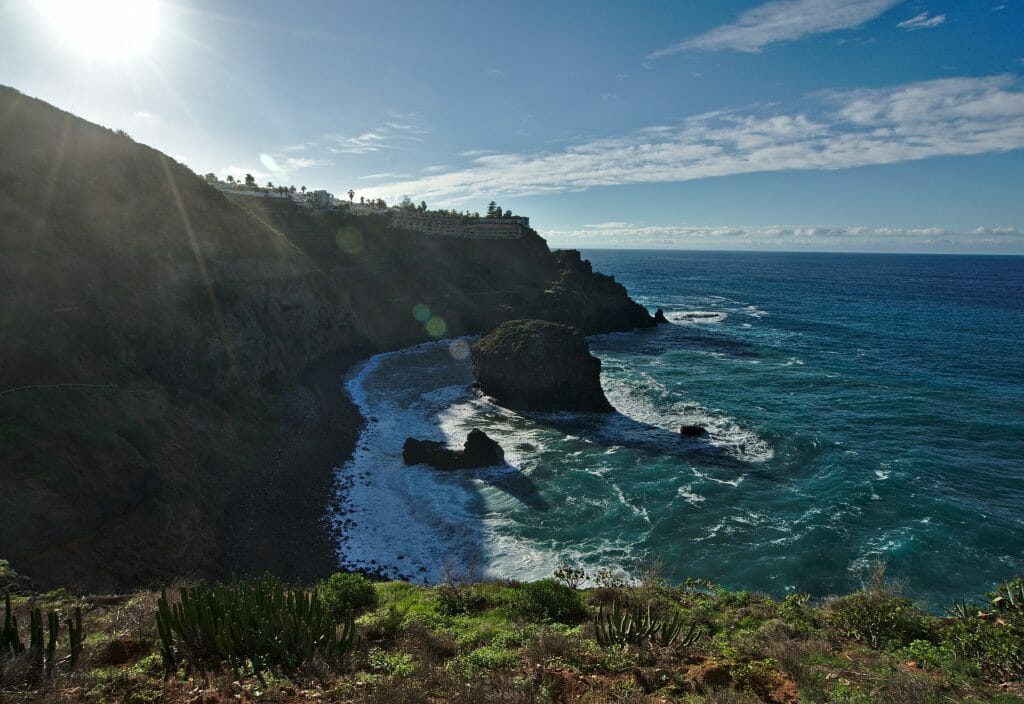 Infos

Distance: 8km (short return trip or one way until San Pedro Mirador), 16km full return trip
Elevation change: 50 meters up and down for the short version (it's flat) or 230m up and down for the longer version
Durée: About 2h30 for the return trip (short return trip) or 4-5 hours for the full hike
Difficulty: Easy
Coming back: If you want to go to the mirador de san pedro, it is possible to come back by bus. Line 363 passes the El Socorro stop and returns to Puerto.
Another walk we really enjoyed was the one that led us to Punta Brava and then to Los Roques beach! To reach Punta Brava, simply walk along the black sandy beach, which is located 2 steps from the centre of Puerto de la Cruz (Playa del Castillo / Playa Jardin). Punta Brava seems a bit like "detached" from Puerto de la Cruz, even though it is actually a district in its own right in the city. We really liked this area…. Especially the great views of the sea and the Atlantic waves between the buildings!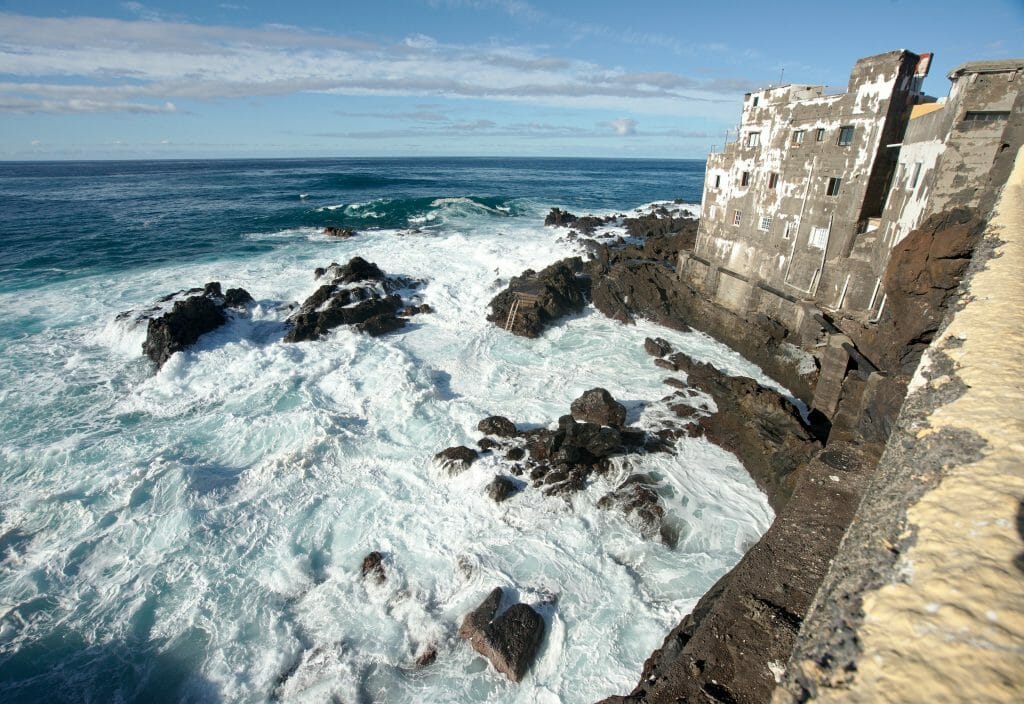 From Punta Brava there is unfortunately not much alternative but to follow the road for a while and then pass behind the hotel complexes that dominate the top of the hill…. Fortunately these few not so glamorous hundred meters are quickly compensated by the nice view on the Roque Chico.
Sportier alternative: If you feel in a sporty mood then don't hesitate for a second to continue the hike to Socoro Beach or the Mirador de San Pedro! Unfortunately, we didn't have enough time to do it all, but the road that runs along is really splendid (ok… we left too late and the night was starting to fall… But we clearly plan to do it all one of these days!) Update: we did it several times afterwards, and this part until the mirador is definitively worth it!
Streetart in the old centre of Puerto de la Cruz
Our last recommendation is not so much a hike but rather a whole district: the old centre of Puerto de la Cruz! To do this, simply walk through the narrow streets to the west of Plaza del Charco. It is by far the district that we preferred in Puerto because it has kept its colonial-inspired architectural style but it is decorated with several street art works which are really very nice!
Find a map of the murals of Puerto de la Cruz to download here
Our language school in Puerto de la Cruz – FU Acamdemy
During our 2 weeks of course we were in Puerto de la Cruz and more precisely at the FU Acdemy. There are several language schools on the island and it will be difficult for us to compare them since we only tried one, but the one thing we cas say is that the FU academy is great!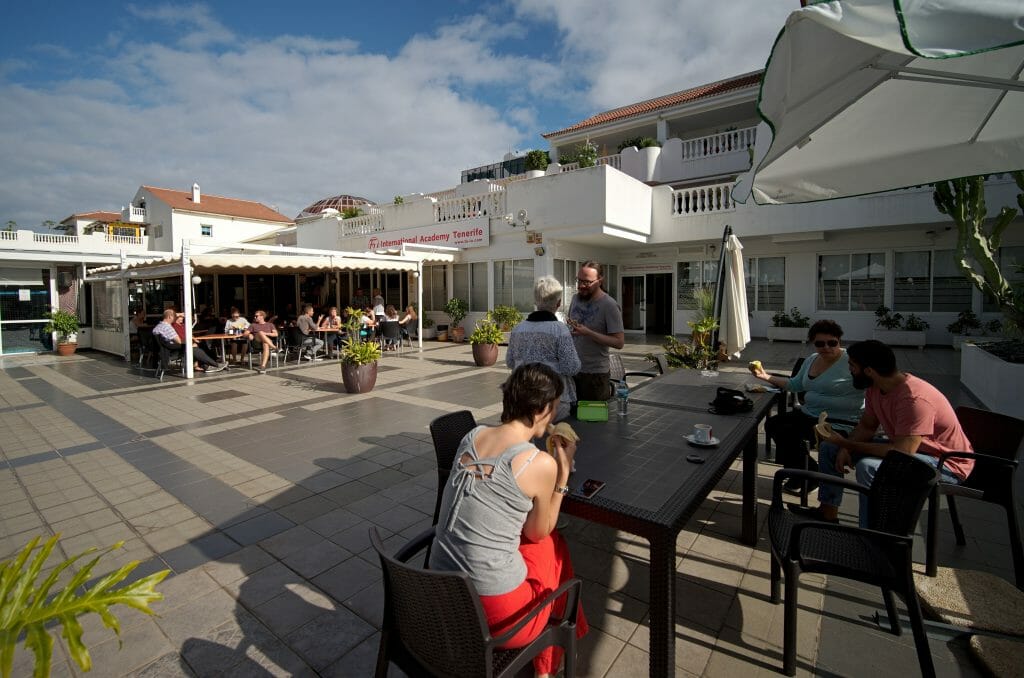 Before our arrival we received by email a link to an online placement test. We filled it up as well as we could (it wasn't easy… we quickly realized that we had forgotten a lot since our stay in Quito) and when we arrived we were immediately placed in a class corresponding to our level. The evaluation was really good, we fell into a B1 class and I think it was just perfect! We had enough basics but we were also quite stimulated by a lot of new things.
Each week the classes are adjusted according to the levels and new students and this also makes it possible to change teachers regularly. During our stay we had 2 different teachers and we really thought it was great! All the teachers follow the same program but of course everyone has their own way of teaching and we thought it was great! The first week we were with a teacher who made us talk a lot and as a result we quickly regained confidence and developed our vocabulary! The second week our teacher was more focused on grammar and so we talked less, but on the other hand we learned a lot of new sentence structures and we solidified our knowledge.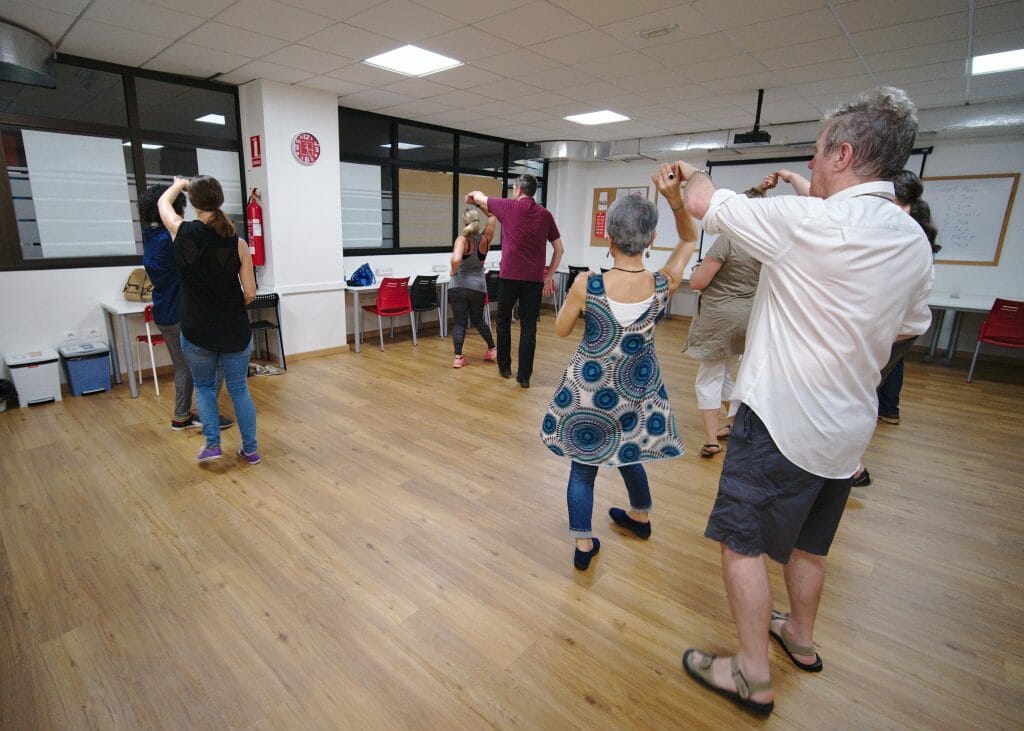 Then we won't hide the fact that classes are important and that's good, but the most important thing is really to PRACTICE! And for this reason the FU Academy organizes free "extracurricular" activities every day in the afternoon. Surf lessons, botanical garden visits, board games, salsa lessons, bachata lessons, Spanish general culture lessons, beach volleyball… During these activities there are no level distinctions, all students are welcome! The only rule? Everything is done in Spanish! In short, it is the ideal time to put into practice what you have learned in the morning but also to get to know students from other classes.
Review of our Spanish learning in 2 weeks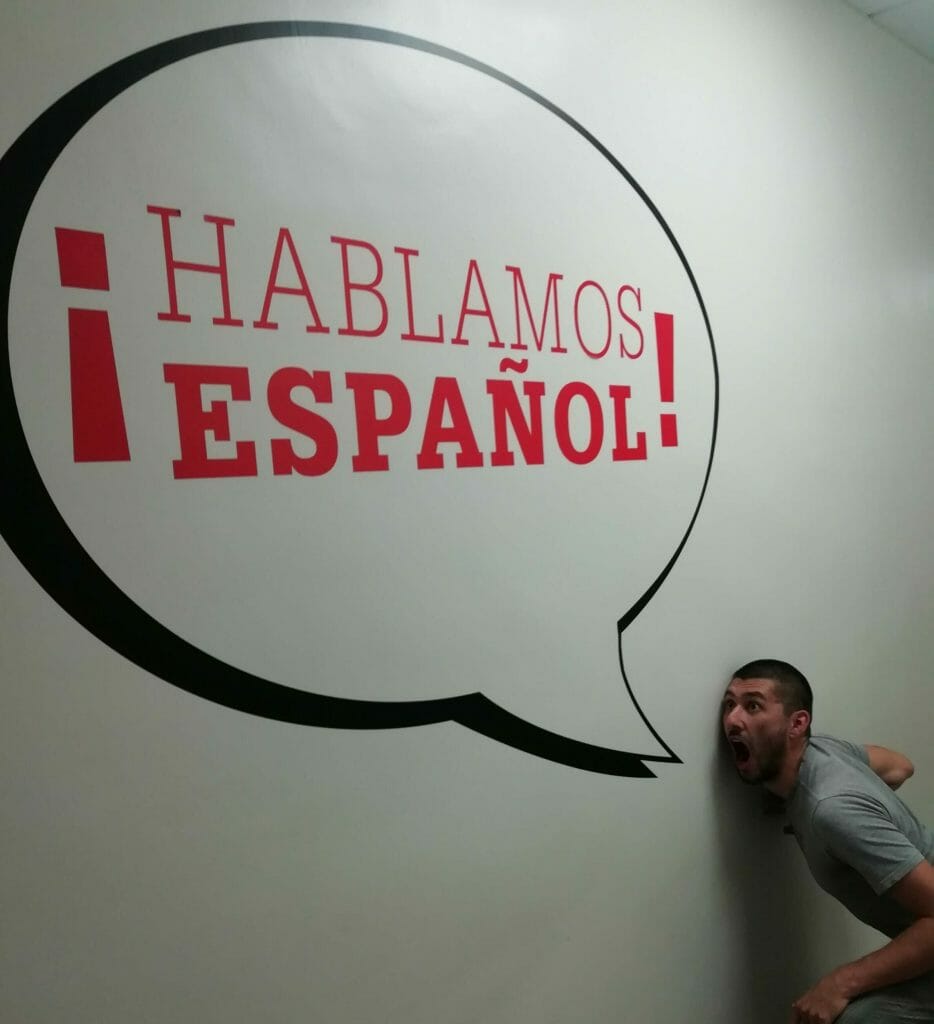 We are super HAPPY of the progress we have made in only 2 weeks! Of course we're still not bilingual, but we came here with a good A2 level (basically we were speaking correctly in the present, we were babbling in the past and the future and basta). After 2 weeks we reached level B1. What does that mean? Basically we have enriched our vocabulary, we have solidified our old knowledge and we have learned to use the conditional and the subjunctive…;)
To illustrate: before we would have said something like that in the evening:
I eat lots of tapas, I have to exercise."
Now we can show off with more structured sentences like
If I eat more tapas tonight, I'll have to do more sports tomorrow."
Anyway, the result is the same but let's just say that we feel more comfortable in a Spanish-speaking environment… By the way, speaking of tapas and sports, we are about to enroll in a 100% Spanish crossfit course (wish me luck! not for Spanish, but for crossfit;) )
Boa Lingua – Introduction


For this language stay we collaborated with Boa Lingua; an independent language travel specialist based in Switzerland. Unlike other language schools in the market, Boa Lingua does not have its own schools, but works exclusively with partner schools in more than 30 destinations. All the schools that are offered on Boa Lingua were visited by the team.
Boa Lingua has been in existence since 1989 and is based in Switzerland, but of course you can also go through them if you are in France or anywhere else in the world. The only difference is that the advisory interviews will be conducted by phone or email rather than in person (unless you take the opportunity to visit Geneva or Lausanne);)
The great advantage of Boa Lingua is that they offer a wide choice of language schools around the world and personal advice, but above all they guarantee that the price paid through them is exactly the same as if you were to go directly to the school while having the guarantee that the school meets the quality standards set by Boa Lingua.
Talking about price… let's see what this costs!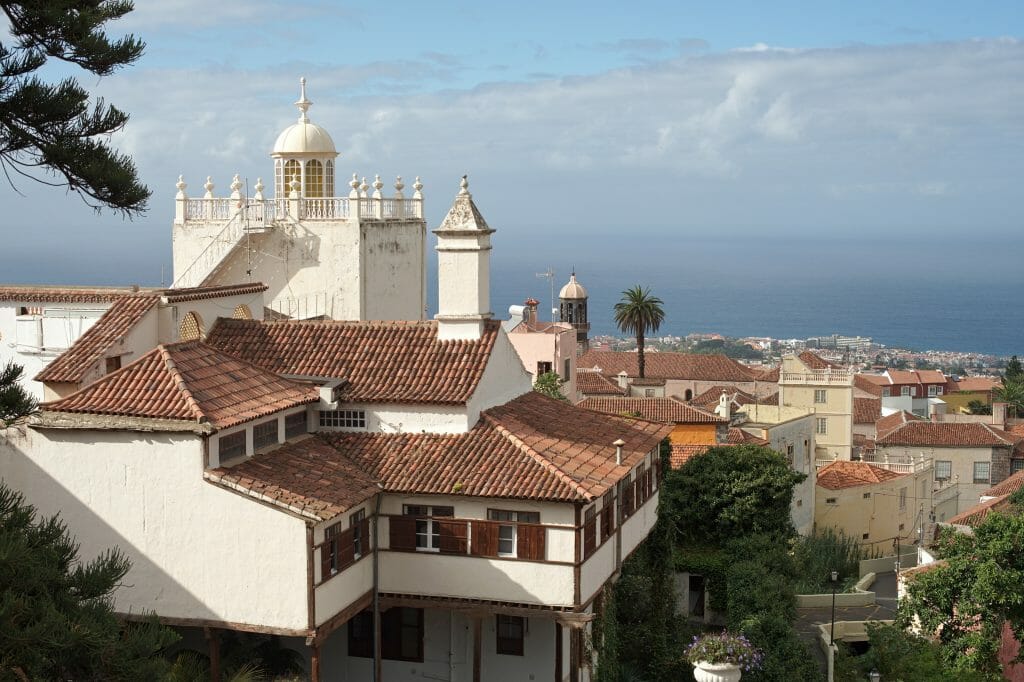 Budget for a language course in Tenerife
Budget level Boa Lingua is really VERY affordable for language courses! For example in Tenerife 2 weeks of classes cost 334€ per person (167€ per week) for 20 hours of classes per week (4 hours per day from Monday to Friday, 8€ and peanuts per hour if you prefer).
To this must of course be added the budget for housing and food.
Boa Lingua offers packages with accommodation and courses for €614 per 2 weeks of course including a room in a shared apartment or €740 with a host family (breakfast included). There is actually a variety of combos with, for example, surf lessons, more intensive courses, private lessons in addition, etc…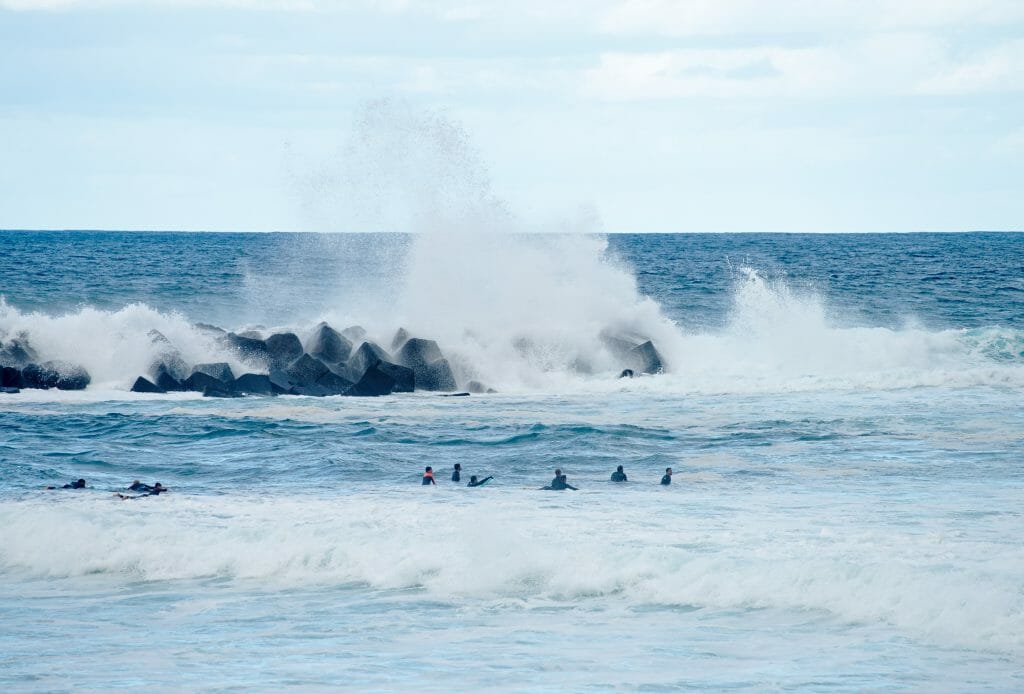 See all detailed price lists ici.
Afterwards it is not necessary to go through them for accommodation! For our part, we preferred to opt for an apartment not far from the school and it was nice too! (our choice was motivated by the fact that we had to work and therefore we didn't necessarily want to be with family or roommates, but on the other hand it's also a little more expensive… To rent an apartment you'll have to count approximately 30-50€ per day for the rental of a whole place in this area).
Regarding flights, the best thing to do is to take a look at Skyscanner in order to find the best fare from home, but by doing it a little in advance it is quite possible to find flights at less than 100€ per round trip to Tenerife if you come from Europe.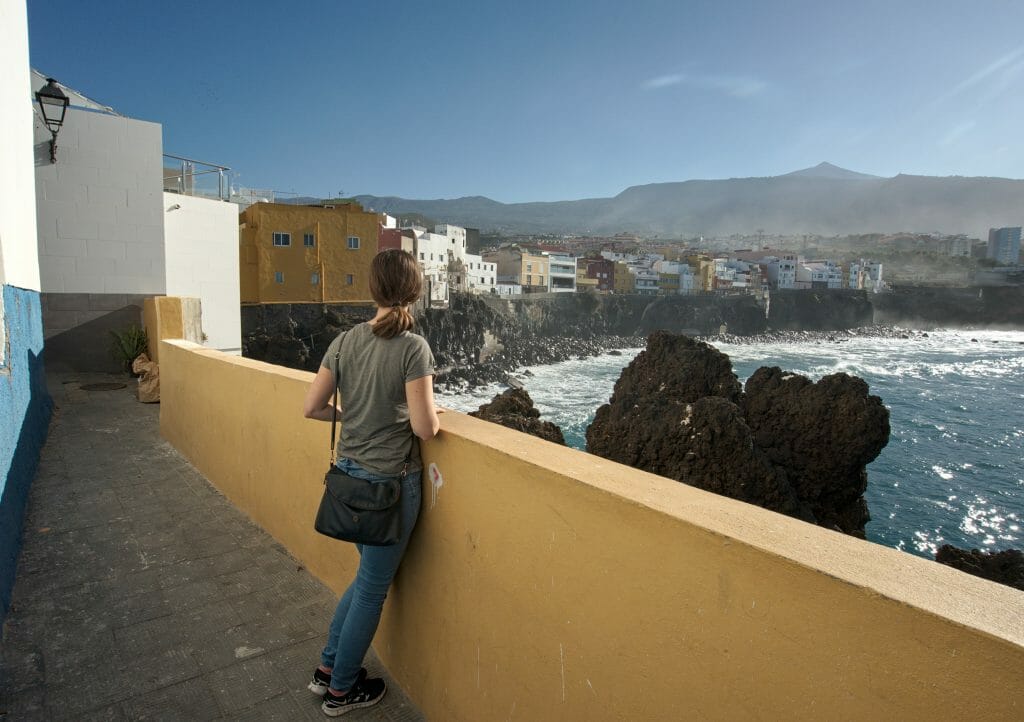 In short, if we put it all together, we can start thinking about 2 weeks of classes in Tenerife for something like 900€ (flight, shared accommodation and meals included). After personally I would rather count 1000€ or 1100€ in order to add some good little guanchinche (typical restaurants) or some extra activities like surfing or even the rental of a car to explore the island.
Note: if you decide to stay longer, the prices of the courses are decreasing.
Assessment: Tenerife to learn Spanish? Top or Flop?
It is difficult to talk about Tenerife after only 3 weeks here.. BUT, one thing is certain: we don't regret for a second that we decided to spend the winter here!
The climate, the landscapes, the people, the food: we like everything very much and we have only one hurry: to see more! (And incidentally the fact of walking around in a T-shirt at 23°C in the middle of November in Europe is quite classy);)
In terms of Spanish itself, we found it to be an excellent destination for classes! The Spanish of the Canary Islands is very slightly different from that of the "peninsula" in the sense that the way of speaking is more like that of South America (we use for example Usted/Ustedes and not Vosotros) which for us was a big plus! 🙂 (in class we learn of course the 2 versions)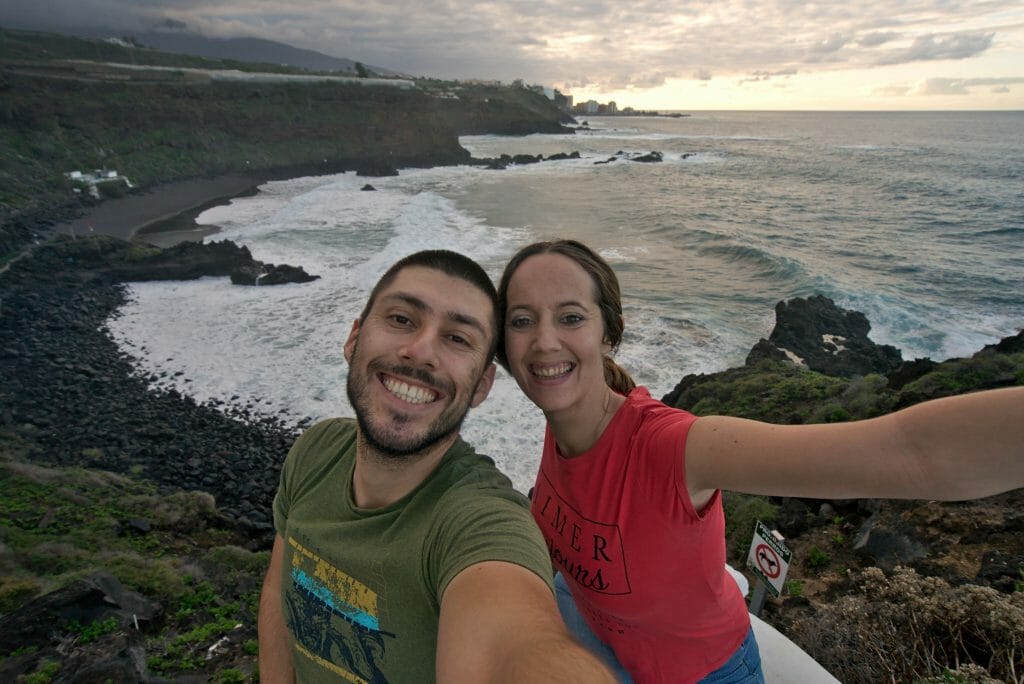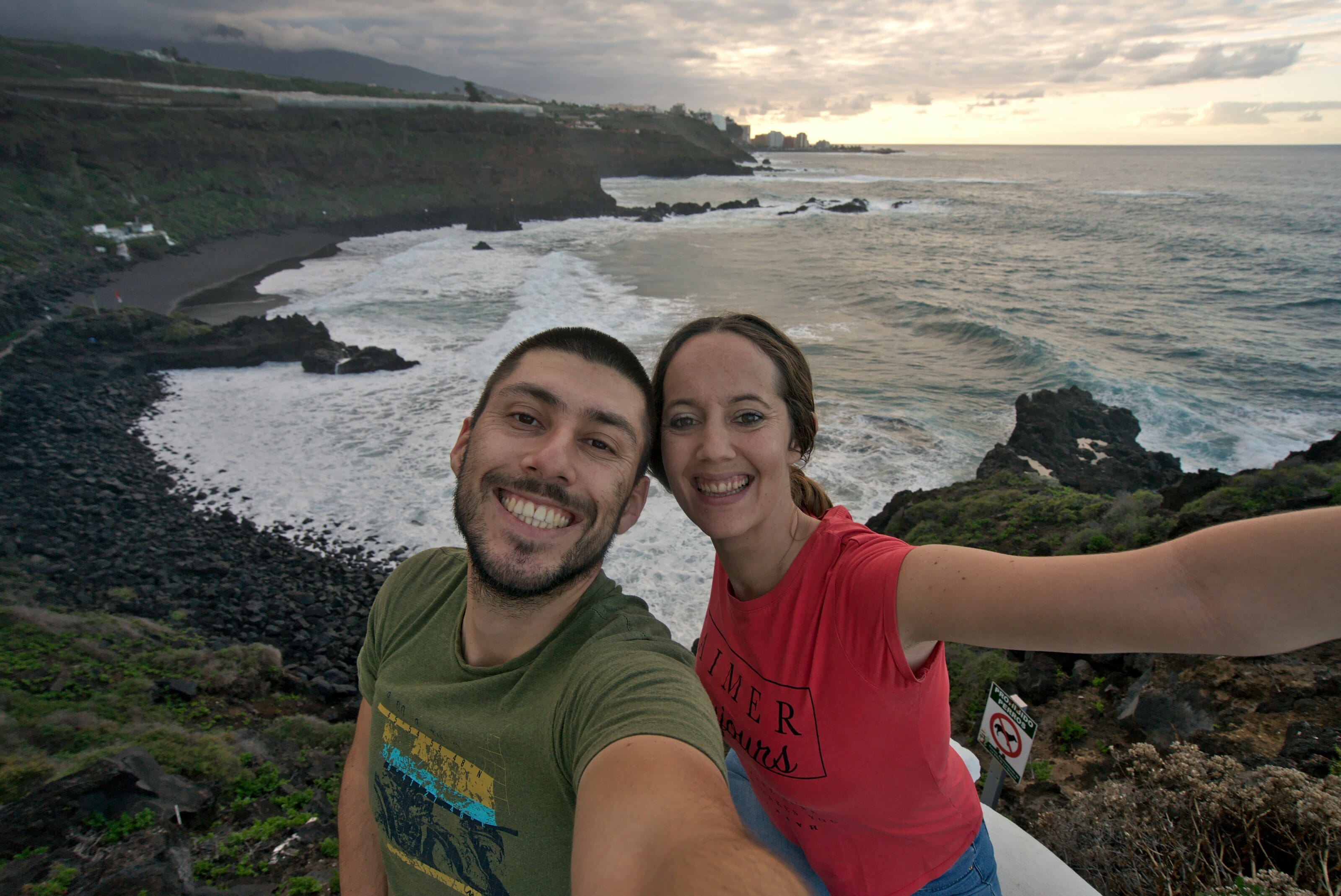 n terms of everyday life, we also appreciated the contact with the locals. They are patient and when they see that we are here to learn, they quickly tend to slow down the pace of speech a little. #Gracias
In short, you will have guessed it, but for us the outcome of this short language stay is 100% positive! Learning a new language is a process that takes time but there is no doubt about it for us, to progress you have to be studious and diligent on the one hand, but above all you have to PRACTICATE! And for that there is no miracle; you have to go to a Spanish-speaking country and let the chatter inside you speak and don't be afraid to make mistakes!)
Hasto Pronto Amigos! In the next articles we will show you more about the beautiful island of Tenerife.
Note: Our 2-week Spanish course in Tenerife was organised in partnership with Boa Lingua. We warmly thank Susanne, Jessica and the rest of the team for their good humour and confidence.