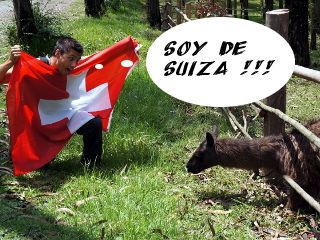 Probably our biggest frustration when travelling to countries like China or Vietnam is not being able to communicate with the locals in their native language! It is difficult to understand how a country like China works if we can only ask our many questions to English-speaking people (let's forget about French-speaking people). These people are rare (only our couchsurfing hosts or the staff of some hotels) and furthermore they might not represent what the Chinese population really thinks as they decided to learn a foreign language and are thus all part of a minority….
So, for South America, we decided to change the situation by starting our trip by taking a 2-month Spanish class in Quito . The advantage of Spanish is that it is spoken (with some variations) throughout South America (except in Brazil). Moreover, it is a language that is "relatively close" to French and therefore quite easy for us. (That's at least what we thought) 😉
Well, even if the advantages of learning Spanish are quite clear, why did we choose the city of Quito in Ecuador? Because no, we didn't choose randomly… we will explain why in the rest of this article:
Why learn Spanish in Quito, Ecuador?
Ecuadorians speak a "slow" Spanish and with little accent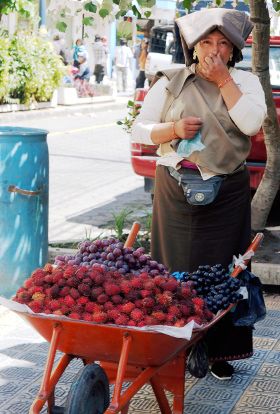 The first reason that brought us to Quito in Ecuador was the Spanish, which is spoken there. We had read everywhere that Ecuadorians, and more particularly the inhabitants of the city of Quito, speak slowly and with an accent that can be understood quite easily (unlike countries further south such as Chile or Argentina).
Thus, after more than a month spent in total immersion in the capital, we can assure you that this reputation is well founded. The people of Quito are very friendly people who speak rather slowly and without accents. After a month of classes, we no longer have too much trouble understanding what we are being told… and we also manage to get understood relatively well (still making lots of mistakes of course). 😉 On this side, we are very happy!
The geographical location and climate of Ecuador
As you may have noticed, we have fallen quite a bit behind on our initial round-the-world trip itinerary. This is not a problem in itself, but it happens to be winter (May to September) in southern countries such as Chile and Argentina. It is therefore clearly not the ideal season to learn Spanish there, especially since we intend to do a lot of hiking in Patagonia and elsewhere. But as you can imagine, Ecuador is on… ehhhh yes, on the Ecuador line ;-)…
There is therefore no real season in this country and it is between 10 and 25 degrees throughout the year in Quito (which is still at an altitude of 2800 m). Afterwards, I prefer to warn you that the weather in Quito is always changing… in 1 hour, we can go from a beautiful blue sky to torrential rain. But hey, the weather is capricious everywhere, isn't it? And for me personally to have pleasant temperatures all year round and a low humidity level is just a dream… (for example, for me, the humidity in Bangkok was a nightmare). In short, another positive point for Quito!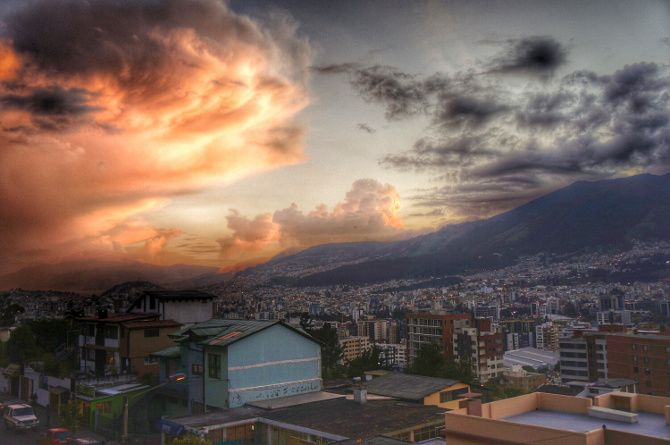 Oh yes, I forgot, the fact that Ecuador is located in the north of the continent was also an advantage for us. It's still easier to learn Spanish in the north and then to go down quietly to Patagonia, isn't it?
Ecuador is a very diverse country
So that, my friends, is the great strength of Ecuador: its diversity! Imagine…. You can trek in the Andes, climb some of the most impressive volcanoes in the world (nothing like Indonesia in terms of height…), observe the fauna and flora in the Amazonian forest, live in indigenous tribes but also sunbathe and surf on the coast… and of course take a look at the incredible Galapagos Islands!
Do you know many places in the world that can claim to have such diversity? Besides Ecuador is a small country… so you don't need to spend days on the bus to visit all this… And I add to that the fact that Quito has the largest and best preserved historic centre in all of South America…
The price for Spanish classes in Ecuador
It won't be anything new if I tell you that in France you will be asked between 15 and 20€ per hour for Spanish lessons (maybe more in the US)… and that's the group rate. In Ecuador, it will cost you 3 to 4 times less and you will also find yourself in a total immersion in a Spanish-speaking environment (which is in my opinion the only real way to learn).
Honestly, it's worth taking a trip to Ecuador, isn't it? If you decide to learn Spanish and take Spanish classes, you will probably have made it worth the trip in a few weeks…. And you will certainly have learned Spanish better because you will have travelled to a country that is 100% Spanish-speaking (well, 95%… there is Quichua, the local language). And in addition, you will have discovered a new country, new landscapes, new cultures… and for that reason alone, it is worth learning Spanish elsewhere than in France or the US, right?
Because Switzerland plays in the same group as Ecuador in the world cup (2014)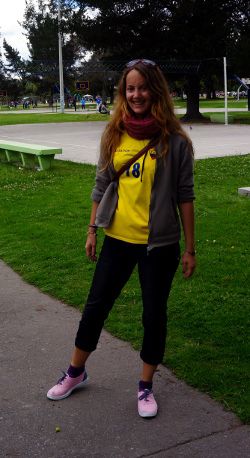 So this is a bit like the cherry on the cake…. We have to admit that it would have been a little too much for our budget go through Brazil during the World Cup. The prices have exploded in Brazil and so we are quite happy to be able to experience the world cup with our Ecuadorian friends. And we can assure you that people here think, eat and live football… especially with the world cup! So there will be an amazing atmosphere… And of course, we secretly hope Switzerland will beat Ecuador (even if we decided to wear the Ecuadorian shirt to go watch the games in pubs) 😉
How do I learn Spanish?
to learn Spanish, there are not 36 ways (it's a french expression 😉 )… But if you give yourself the means, learning Spanish is easy! In my opinion, here are the essentials to learn a new language quickly:
Take Spanish language classes

If, like us, you are starting learning Spanish from scratch, taking a few courses to learn the basics is essential. In our opinion, it is the fastest way (not the cheapest but definitively worth it…) to learn the important basics of grammar and to acquire a useful vocabulary that will allow you to deal with everyday life situations.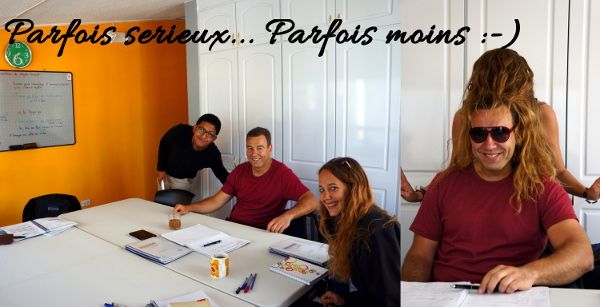 Moreover, if you want to learn Spanish in Quito, they are many different schools available. We took our class at the Colombus Academy. We were extremely satisfied with the teaching and activities offered by the school. Note: since then the school has apparently changed its name (it is now called Don Quijote).
Total immersion in a Spanish-speaking environment:
In my opinion, this is the most important point for learning Spanish. You will hear people speaking Spanish 24 hours a day and unconsciously you will learn useful vocabulary and expressions… For example, in my case, I didn't really start learning German until after moving to Vienna… and yet I had done 10 years of German in school. Another example: we have an American girl in our group who has already done 5 years of Spanish courses back in the US. She is strong in grammar but after one month of classes in Ecuador, we speak 3 times better than she does…. That's what immersion is all about.)
Speak and speak and speak Spanish again:
This is the factor that will make the difference between "learning a little Spanish" and "speaking fluent Spanish". Don't be afraid to make mistakes and talk as much as you can ;-). That's how you learn. Unfortunately, it took me a long time to understand that and not care about the mistakes I was making while I was learning German. But I won't make the same mistake with Spanish! So with Fabienne we are officially the chatty ones at our school and we seize all the opportunities to talk… We hope it will pay off. 🙂
Edit 2019: It clearly did 🙂 We are still not "perfectly fluent" but our spanish got pretty decent and we can now spend evenings with spanish friends and laugh at their jokes.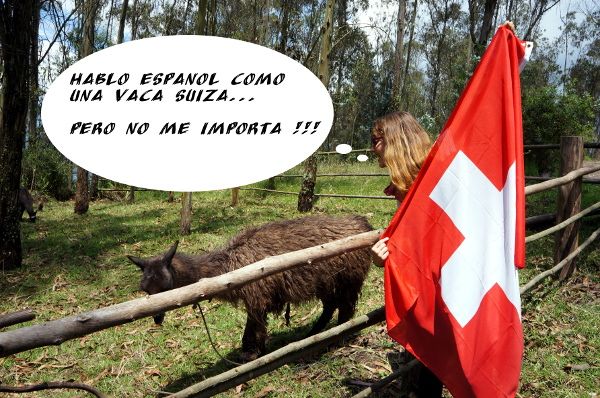 Other useful tips to learn Spanish:
If you have an evening off or a little time to kill, watch TV in Spanish. With Fabienne we have already watched the complete season 1 of "Friends" (this show dates back to 1994 ;-)) in Spanish. And we can assure you that between the first and last episode of the season there is a major improvement: we understand 50 times more (at least)!
Otherwise, it can be useful to download a couple apps to refresh your knowledge every once in a while. The app we used the most during our travels is without a doubt Mosalingua. It's super easy to use and it has all the tools you'll need to improve your Spanish while on the road. By the way, if you use the link below, you will be able to test Mosalingua for 15 days for free and you will get a 20% discount on the price of your subscription if you are convinced (Thanks Mosalingua for giving us the possibility to offer you this discount).
Try Mosalingua for free (and get 20% discount)
Otherwise something I also like to do, is to go and play sports (football, volleyball…) with the locals. In general, people are more open during these "funny" moment and it is always easier to talk about topics that we enjoy like sports… It's also an opportunity to make friends 😉
Info

If you wish to stay several weeks in Quito, we recommend you to take a look at the St-Gallen House. There are rooms of all types (single, double, with private bathroom…), the owner Sebastian is very nice and always makes sure that everything goes as well as possible. Most people living here do either take classes or work and thus we are not in a hostel atmosphere (and that's exactly what we wanted)! we really felt at home at St-Gallen House and we can recommend it to you without a doubt … Here is little picture of the view from the terrace so you can get an idea ;-).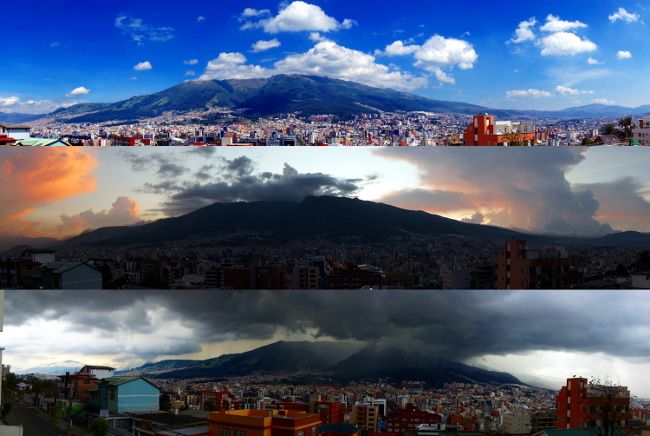 Ok, that's it! If you want to learn Spanish and you are looking for a nice place to do so, you now know that Quito is waiting for you! Ok Chicos, we'll leave you here, we have to get back to our homeworks… See you soon for many more articles about Ecuador!
Note: This article contains affiliate links to partner sites. By using our links, you do not pay anything extra (you even get a pretty cool discount with Mosalingua), but we'll earn a small commission. Thanks for your support.