This fall we left with Winchy (the dog) and Dahu (the van) for a small roadtrip in Switzerland in improvised mode. Our initial plan was to go to the Dolomites at the beginning of October… Plans finally fell through because of a surprise guest at home: the covid. After 10 days in bed, we had only one week left and the timing seemed too thight to go to Italy.
In short, it is a little bit spontaneously that we put our things in the van and that we left to explore some areas of Switzerland that we did not know yet (or that we wanted to see again as the lake of Oeschinen).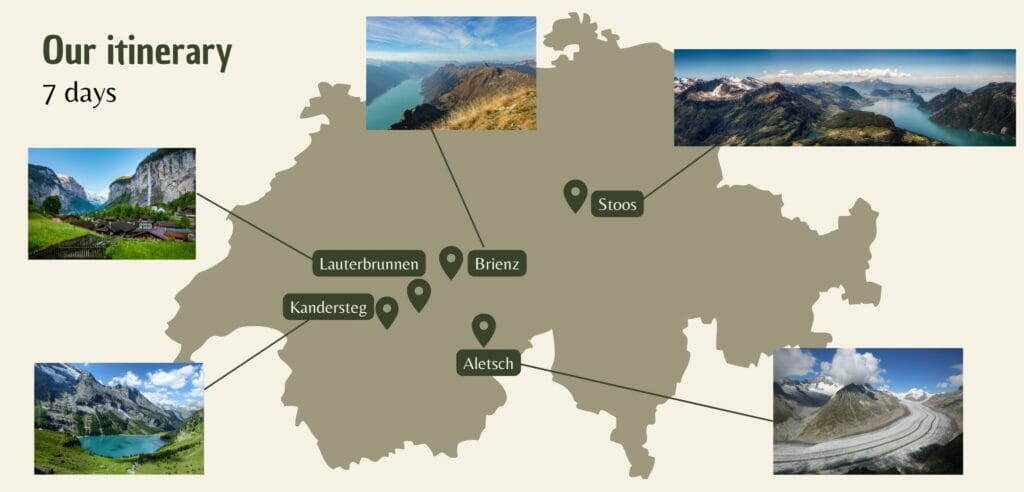 In this article, we propose you a small report of our week in a van through Switzerland and we will also share our detailed budget so that you can have a small idea of what awaits you at this level.
Our travel itinerary in Switzerland
Day 1: From Valais to Lake Oeschinen
Starting from Morgins, we wanted to see the lake of Oeschinen again and so we set Kandersteg as our first objective. As for the itinerary, we had roughly 2 options: either we took the 100% road option via Bern (about 200km), or we took the option via the Lötschberg tunnel (110km but with a passage where we had to put Dahu on a train to cross the tunnel). Having never put the van on a train and also because financially it didn't change much (25 CHF for the tunnel, which saved 100km and 30 minutes of travel time), we opted for the Lötschberg option 😉
Arrived at the end of the morning, we took advantage of the beautiful weather to go directly to the lake and to make a pretty hike. You will find all the details of this hike in this article.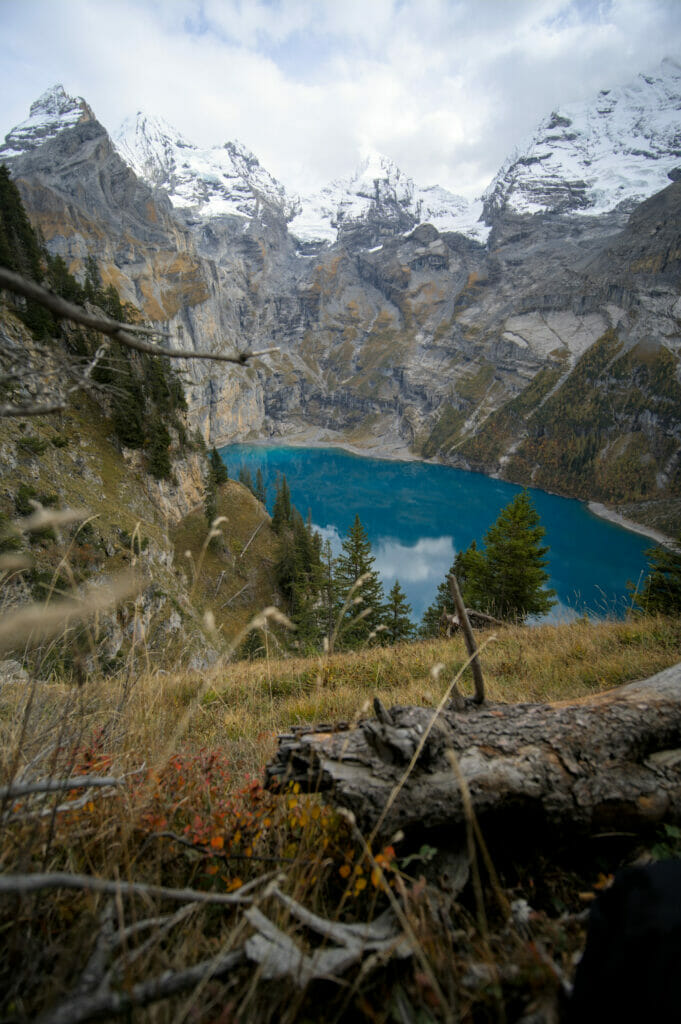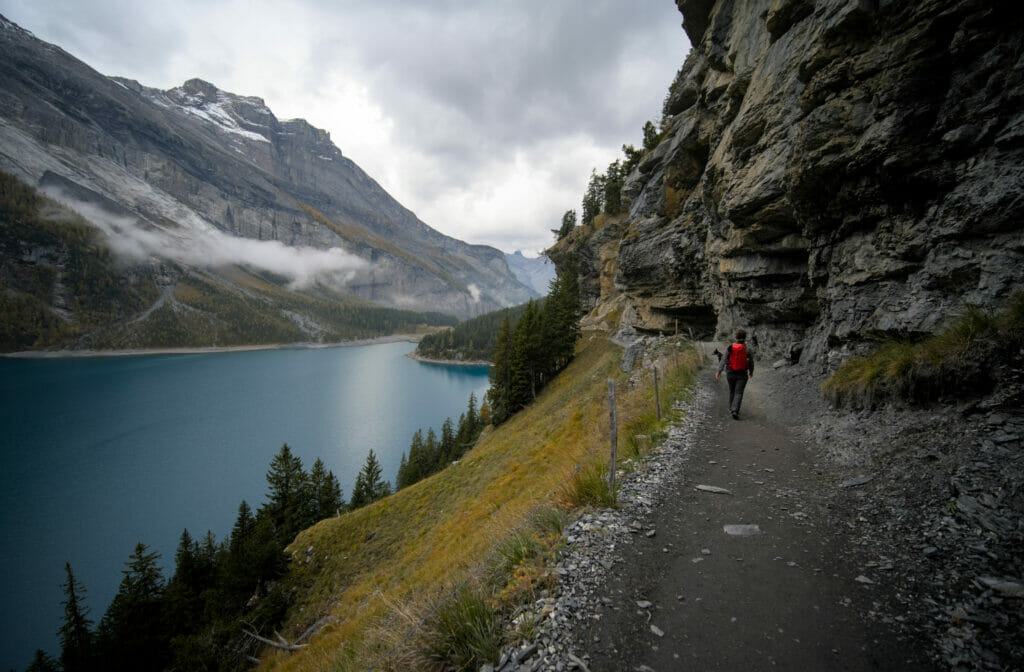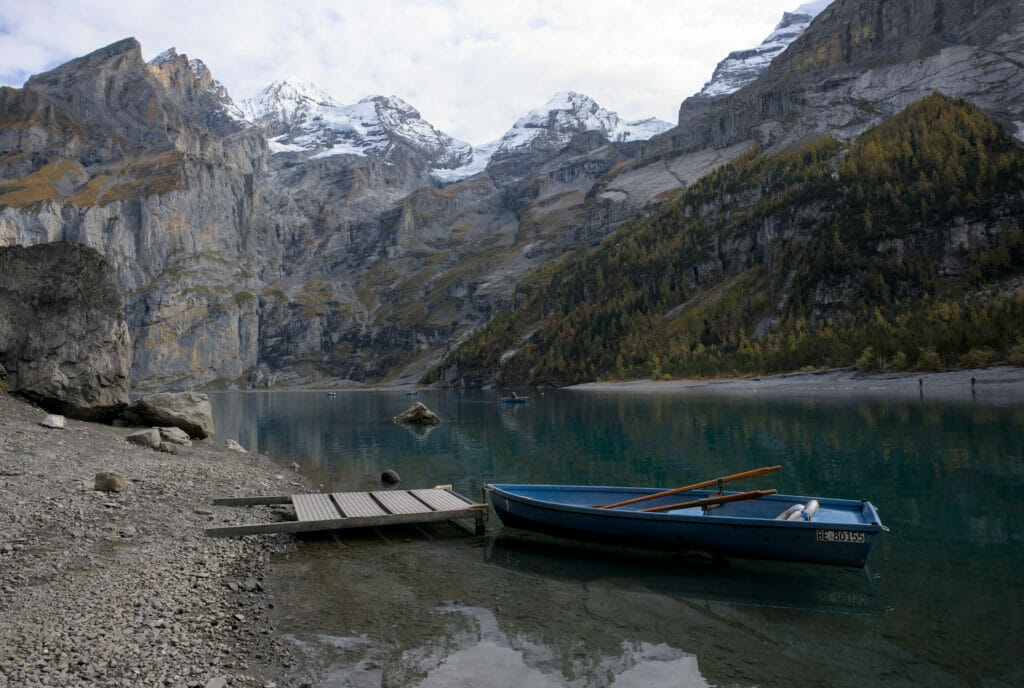 Day 2: Rainy day in Kandersteg
The sky was all grey that day and the forecast for the day was very gloomy… so we decided to extend our stay in Kandersteg and to stay in the van to work a bit on our computers. Nothing spectacular to tell about this second day, even if we will have taken advantage of a small clearing to go for a walk in the village and in the small lake which is next to it.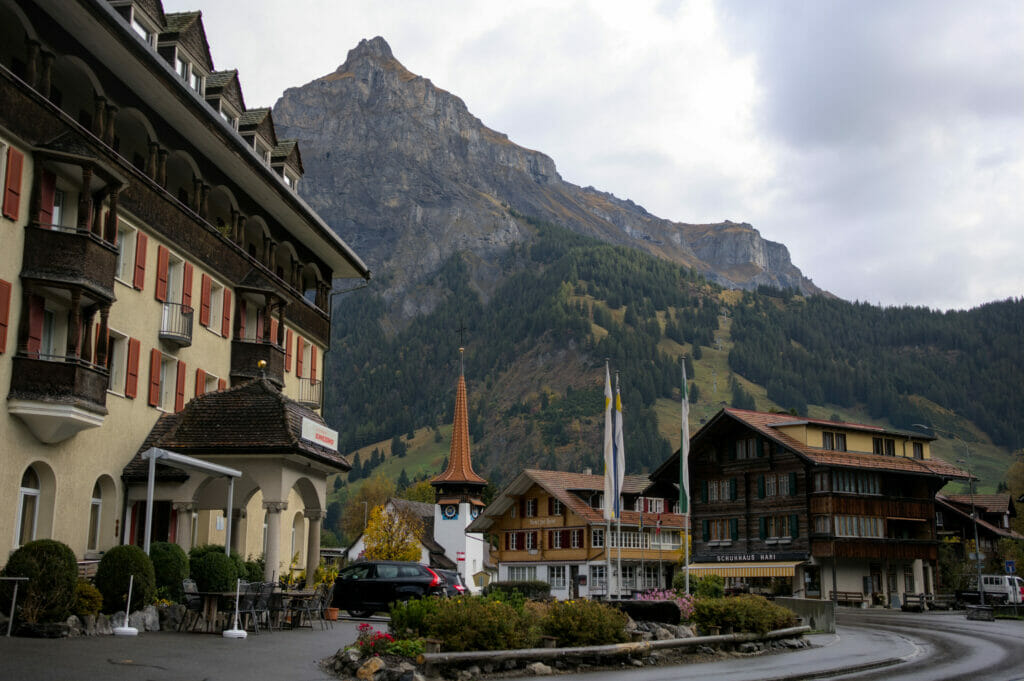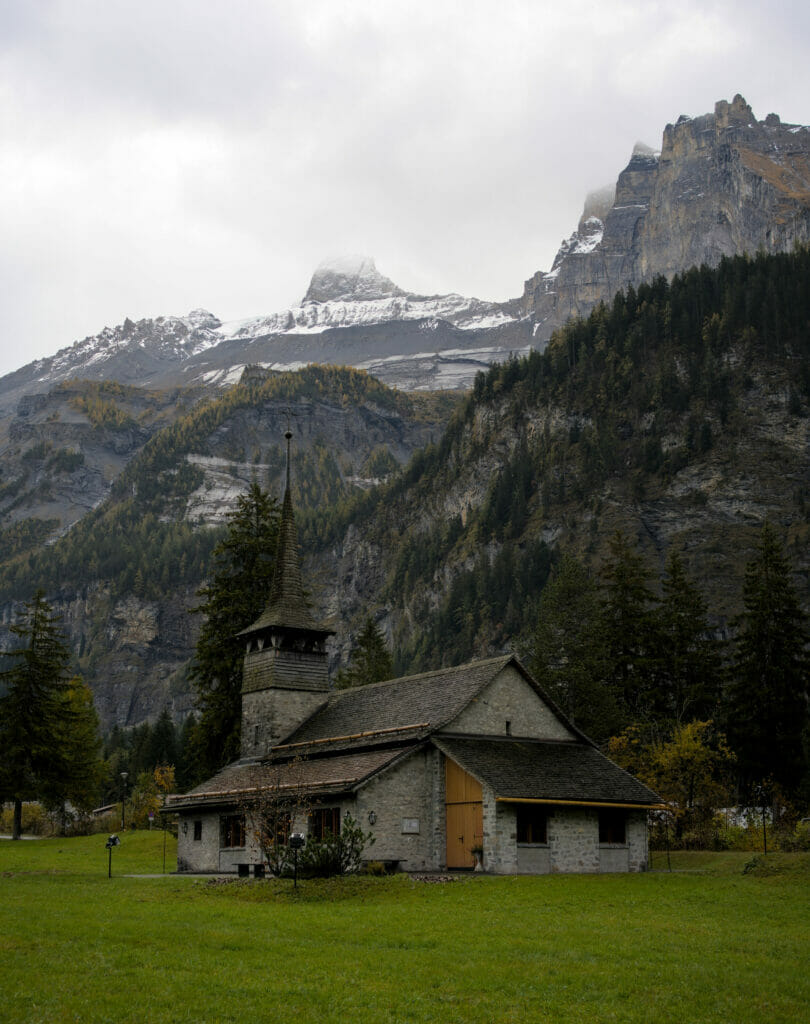 Day 3: Blue Lake and Lauterbrunnen
Leaving early, we were right on time for the opening of the blue lake. This lake is an ULTRA famous place in the region. Prized by photographers for its color, the blue lake was a place that we had never particularly wanted to visit… I don't know, in our vision, paying to see a lake was a bit of a crazy idea.
In order not to die stupid and also because we were next door + our night at the campsite allowed us to have a discount (when you pay the tourist tax in Kandersteg, the entrance to the lake is at a reduced price), we decided to go there for a quick look.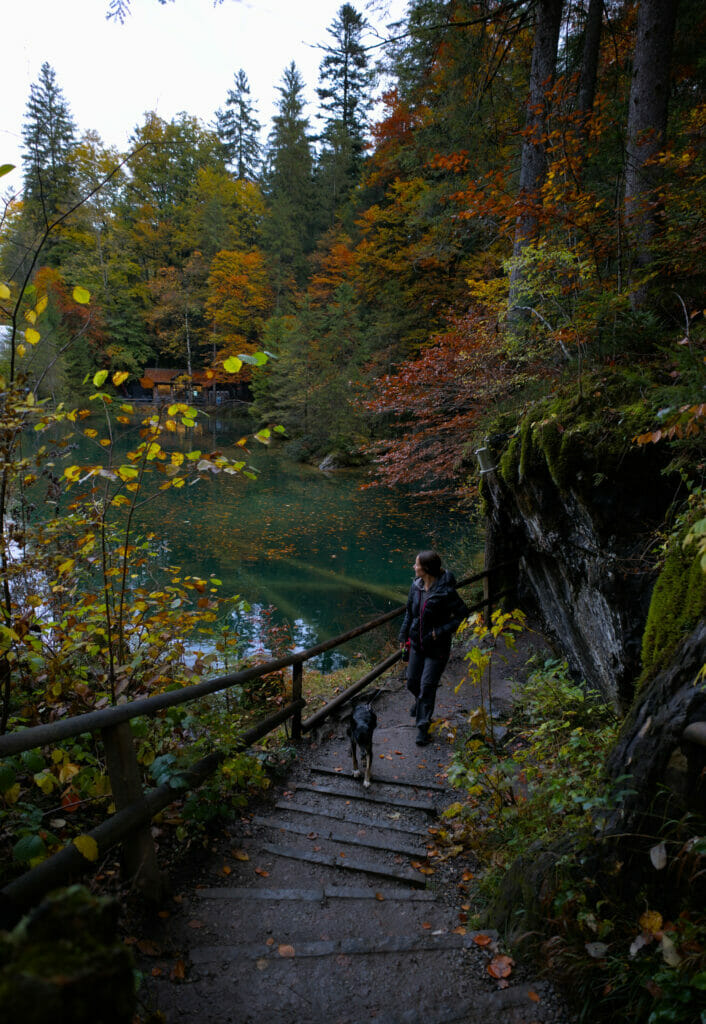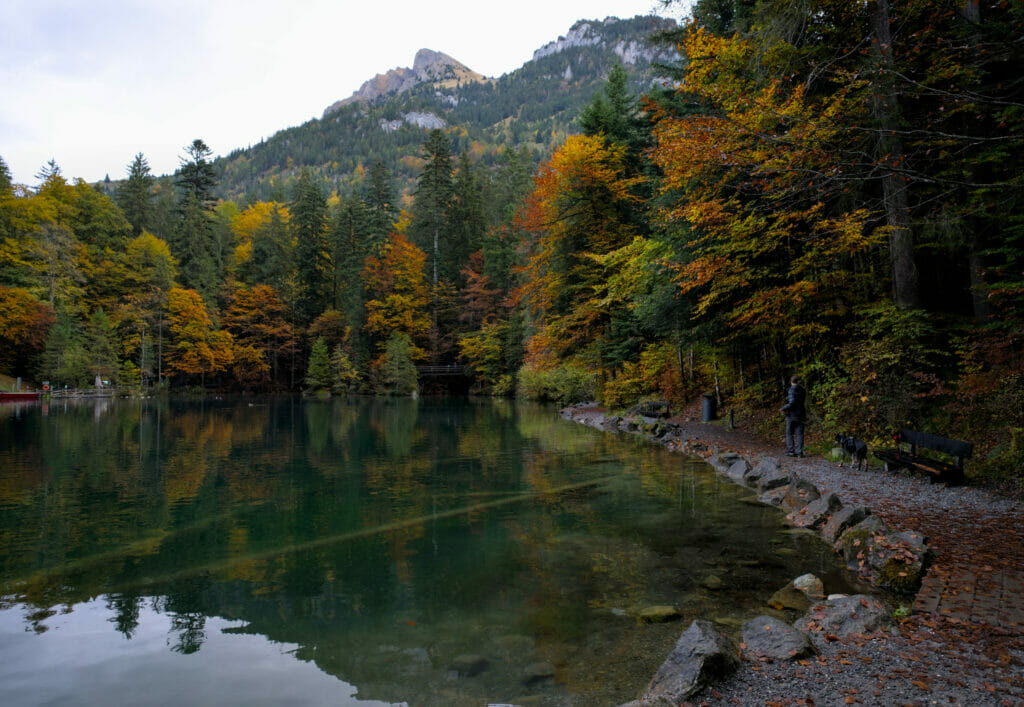 Is it pretty? Yes, very! Is it really an UNMISSABLE? we honestly don't think so… Oeschinen seems to us much more impressive and especially less crowded (there are people too, but it's so much bigger that you can get away from the crowds a little bit easier). If you decide to go there, we clearly recommend you to go at the opening (before the arrival of the buses). From 10 am, the place becomes completely crowded.
After the blue lake, we took the road again and went to Lauterbrunnen. We knew the village from the Via Alpina, but it was a good opportunity to come to the area to do some hiking at the foot of the Eiger, the Mönch and the Jungfrau.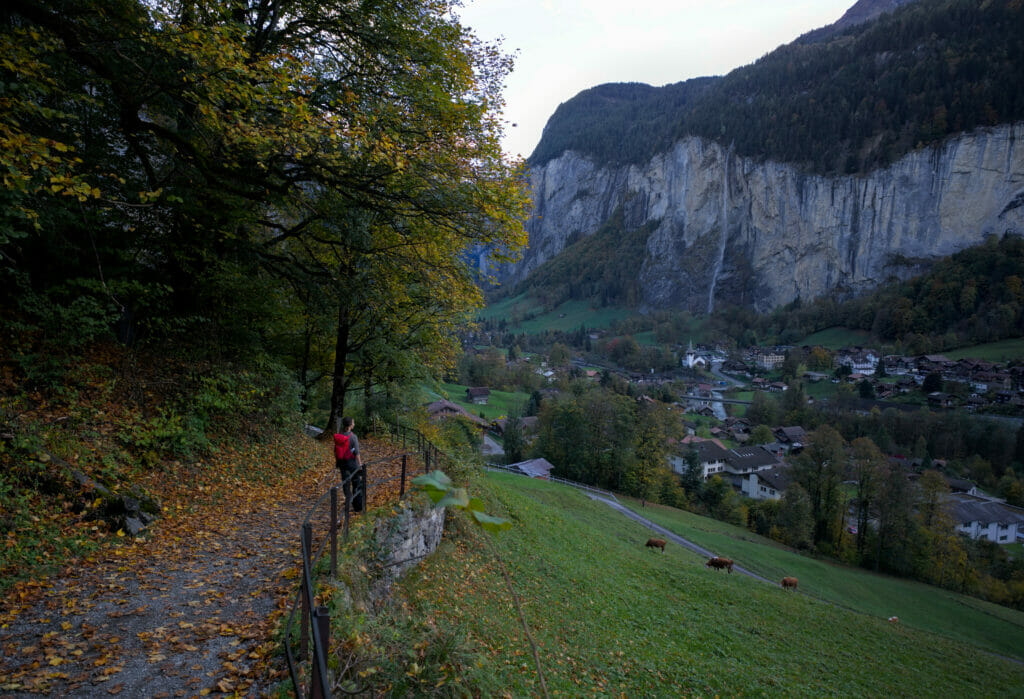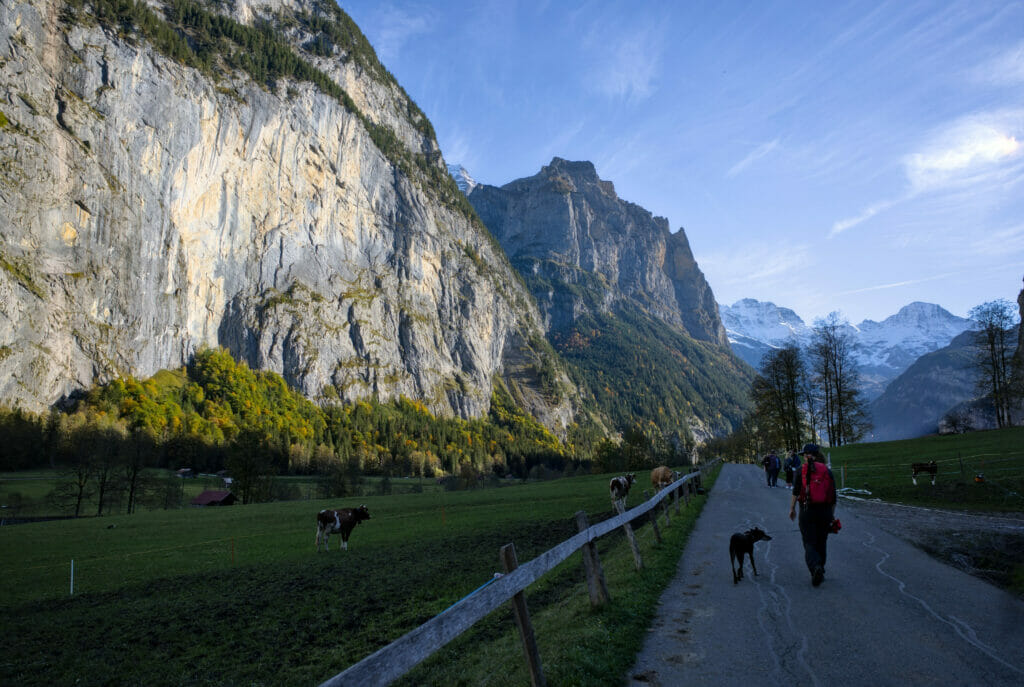 Day 4: Hike from Mürren to Grutschalp
Still in the Lauterbrunnen area, we went for a panoramic hike above the cliffs.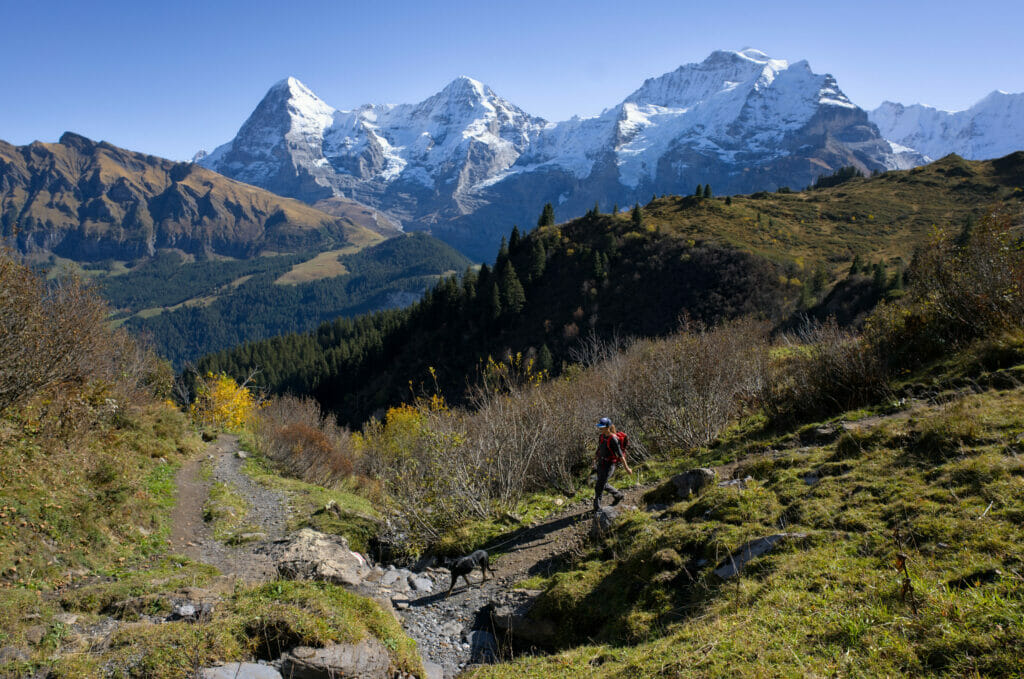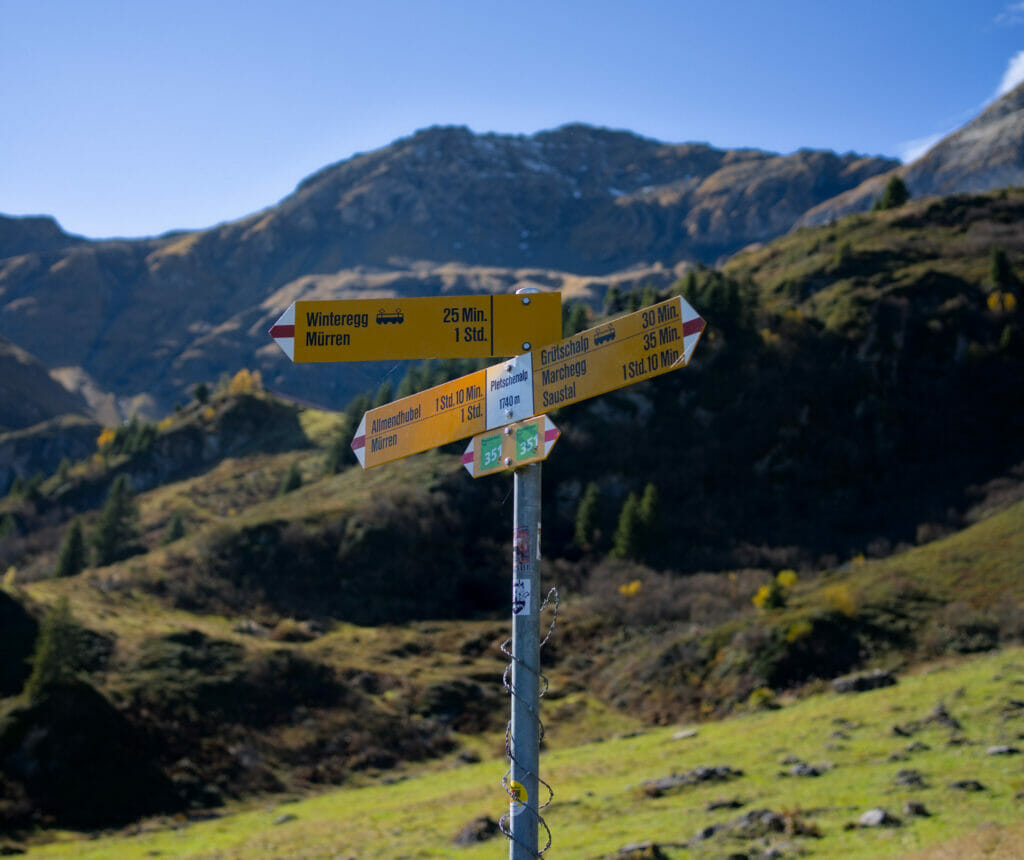 You will find all our hiking suggestions and practical information on where to stay in Lauterbrunnen in this article.
Day 5: Brienzer Rothorn
Leaving early in the morning from Lauterbrunnen, we arrived in Brienz in the morning to take the steam train to the Brienzer Rothorn and make a sublime hike on the ridge path overlooking Lake Brienz. Pfiouuuu…. a day simply exceptional in terms of landscapes!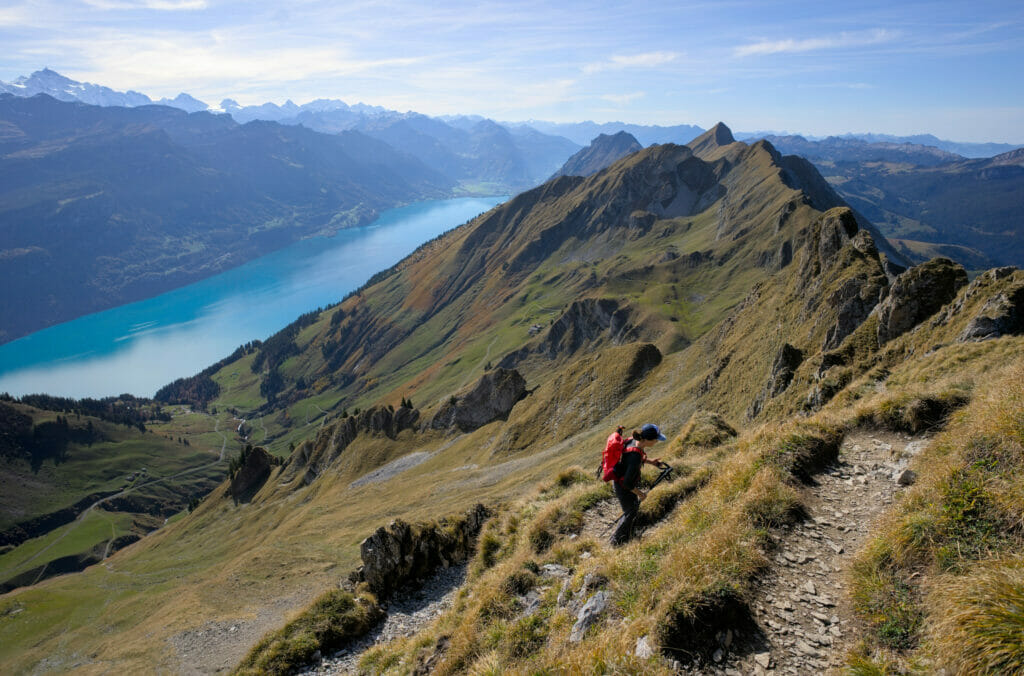 You can find all the information about the Brienzer Rothorn here.
Day 6: Fronalpstock and Stoosbahn
On our way to discover the touristic things of Switzerland that we didn't know yet, we decided to come and discover the region of Stoos and its steepest funicular in the world 😉 We had driven the day before and spent the night on the funicular parking lot (vans are allowed to park there for one night). In short, it was early in the morning that we left in direction of the Fronalpstock.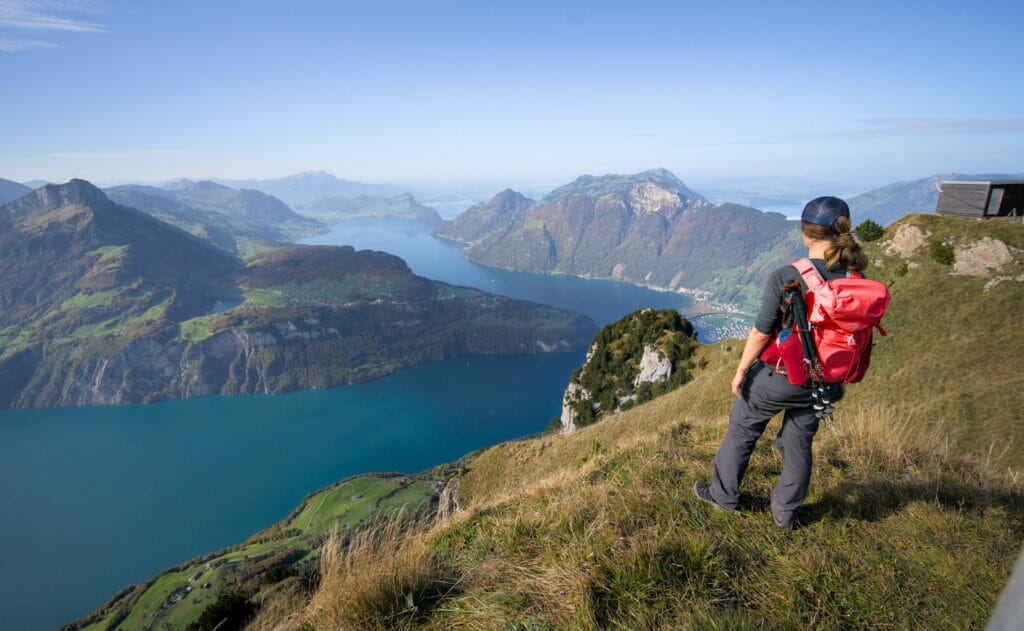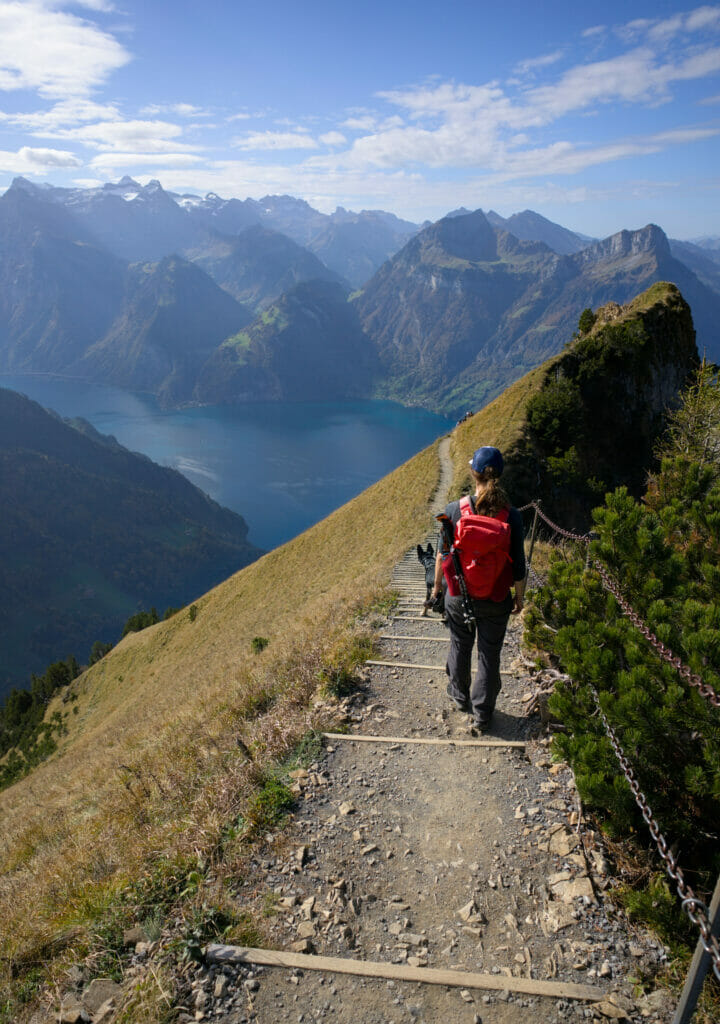 You will find all the information and our itinerary in our article here.
At the end of the day, after checking the weather forecast, we saw that we only had one day of good weather left before the weather would seriously deteriorate. We had originally planned to stay around Stoos to see the Mythen (2 emblematic peaks above Schwyz), but we also wanted to see the Aletsch glacier…
After a brief hesitation, we took the road again and decided to spend the night in Fiesch (2.5 hours of driving after the day's hike hurt a little but hey)
Day 7: Aletsch glacier and return to Morgins
For this last day, we had kept quite an adventure: the Aletsch glacier! We don't live very far, but neither of us had ever been there before… A scandal I tell you! 🙂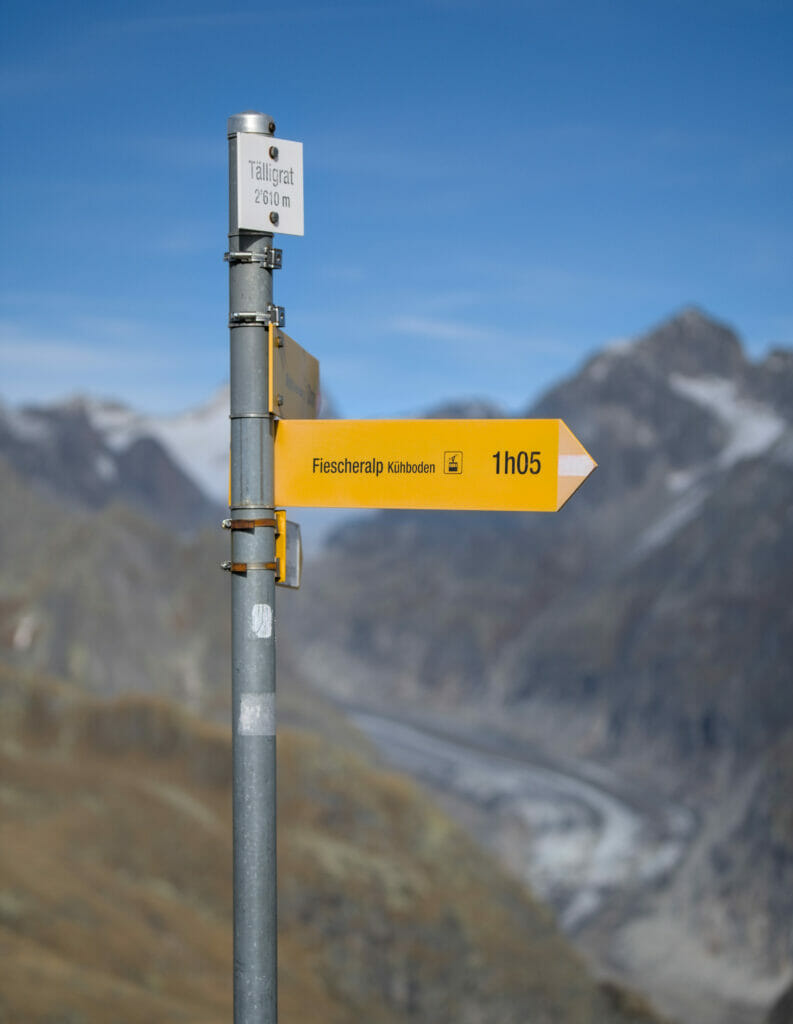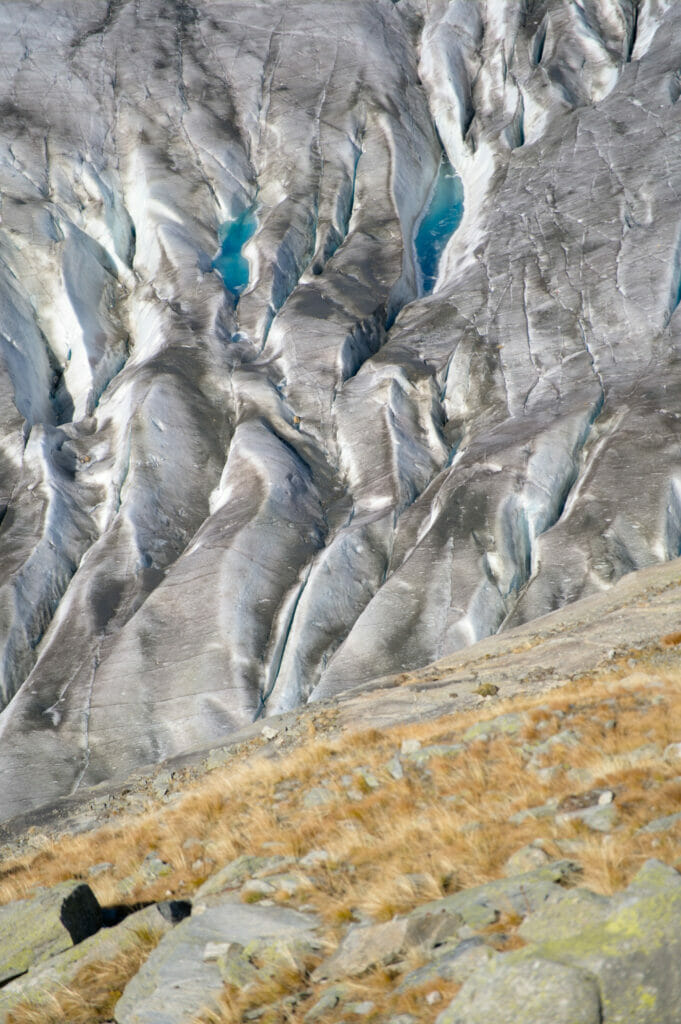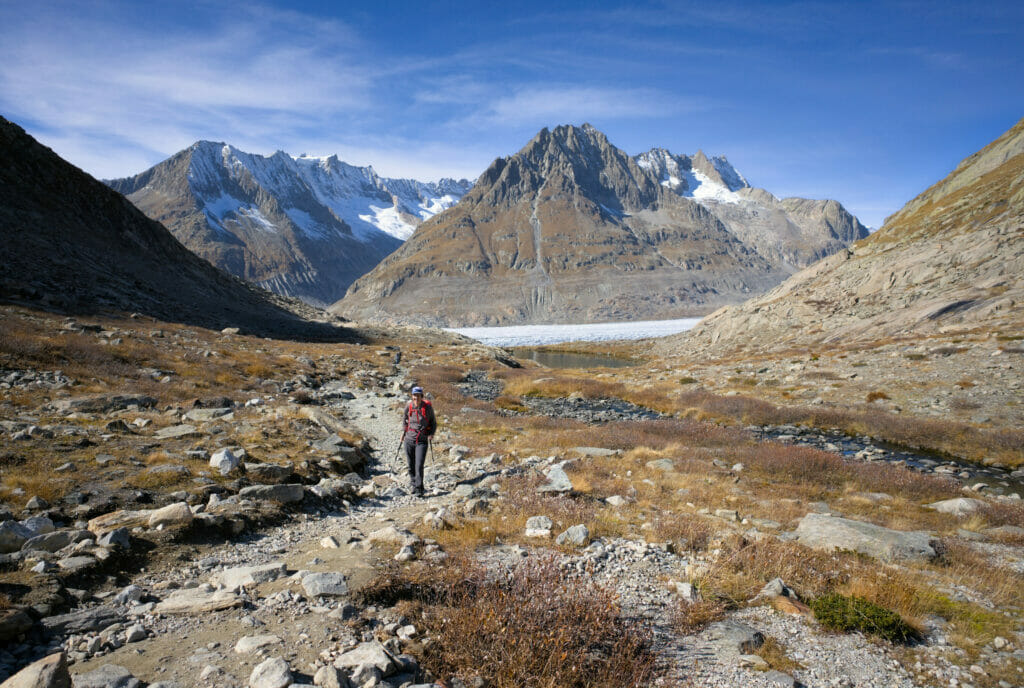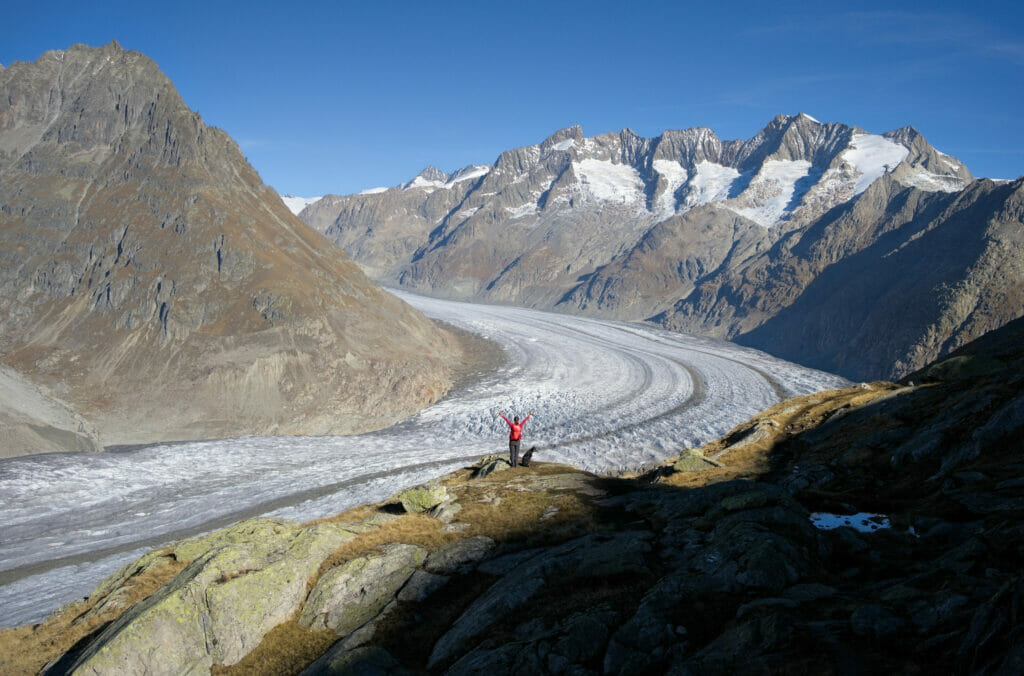 In short, this 7th day was once again placed under the sign of wonder. Frankly, Aletsch is REALLY worth seeing once in a lifetime. As the glacier is melting at a rapid rate, it is better to plan this excursion in the not too distant future… With Benoit, we sometimes laugh about things to see near the house and say "we'll do that when we're retired"! Well, for Aletsch I think it's better not to wait another 30 years (unfortunately).
Find all the details about our hike and practical information in our article.
Travel budget for a roadtrip in Switzerland
It's time to count! 🙂 At the beginning we thought we would leave for 10 days, but in the end the weather forecast was disastrous enough for the rest of the trip, so we had to shorten our stay a bit. In short, here is what we spent during these 7 days and 6 nights:

A few comments on this budget:
In total, we spent 633 CHF. During this road trip we didn't particularly try to save money (even if our way of life is still quite minimalist) 😉
The shopping budget is quite important, but it is explained by the fact that we bought a lot of cheese from the alpine pastures (some things never change) and we still had some stuff when we came back. We didn't eat at the restaurant (just bought 2 Rivella at the Brienzer Rothorn for a rather high price of 10 CHF)
We aimed at very touristic places where wild camping is forbidden. We spent 4 nights camping (30-35 CHF per night), one night in a camper park near Fiesch (21 CHF) and one night on the parking lot of the Stossbahn (overnight stay tolerated. Price of the parking for 22h: 10 CHF)
It is important to note that we took a lot of gondolas and tourist trains. We'll give you the details below, but you should know that we both have a half-price pass (an annual pass). If you don't have this pass, this expense item could be much more expensive (double in fact).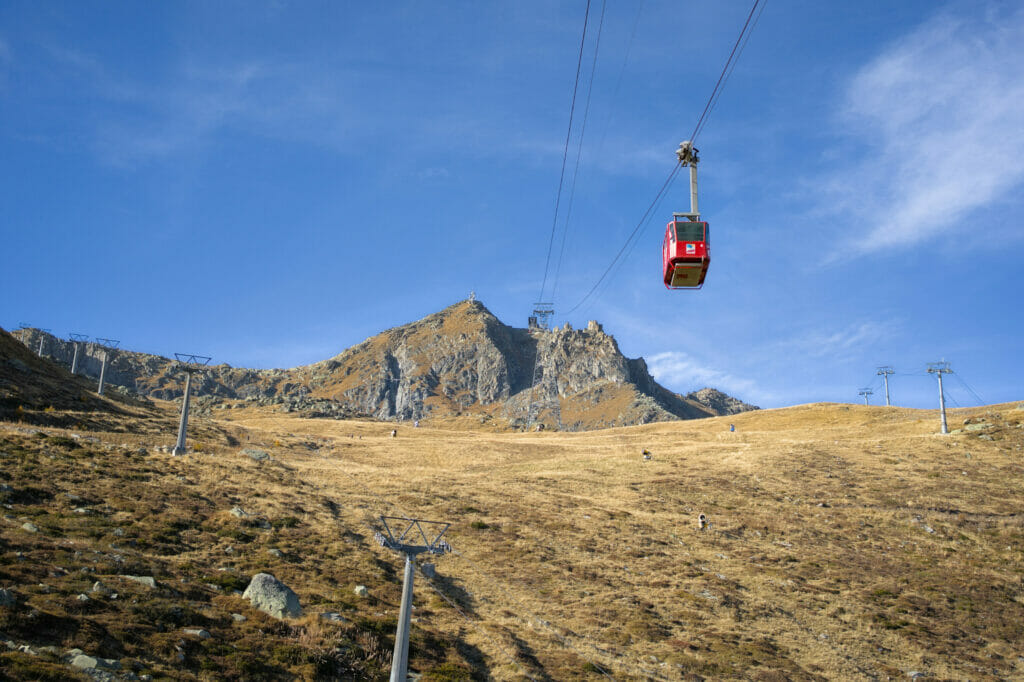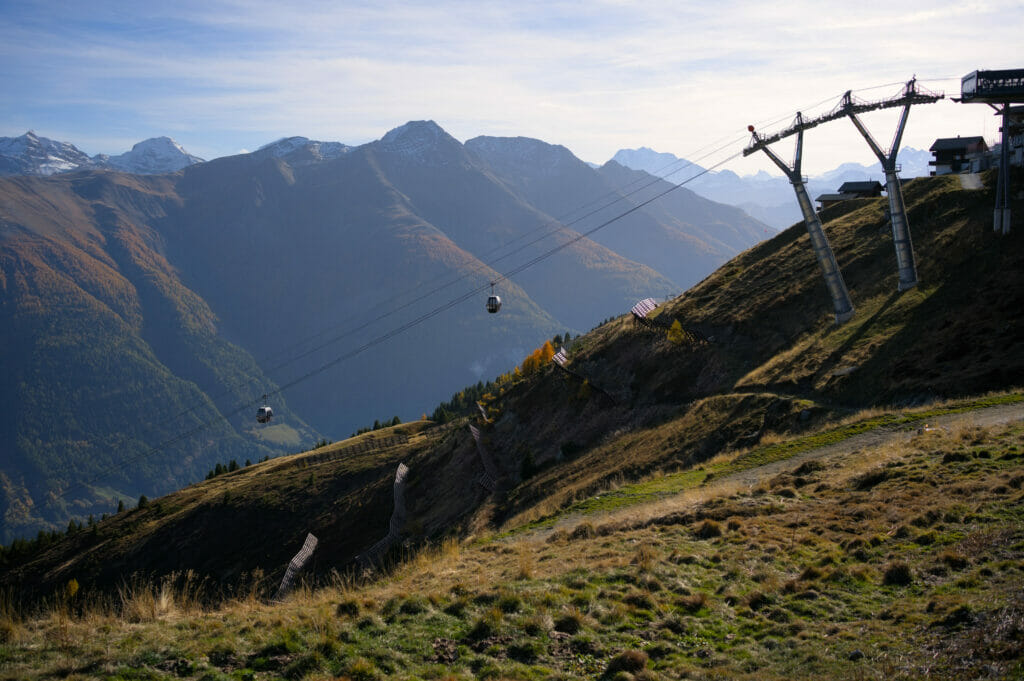 Here are the prices (per person) of the lifts we took:
| | | | | |
| --- | --- | --- | --- | --- |
| Route | Standard rate | half fare | GA or Swiss Travel Pass | Dog |
| Stechelberg-Mürren | 11.20 CHF | 5.60 CHF | included | free |
| Train Brienzer Rothorn (hiker ticket) | 81 CHF | 40,5 CHF | 40,5 CHF | free |
| Stoosbahn | 22 CHF | 11 CHF | included | 5 CHF |
| Cable car Fiescheralp (Aletsch) | 27 CHF | 13.5 CHF | 13.5 CHF | 13.5 CHF |
In Fiescheralp I saw online that dogs had to pay the half-fare. We bought the ticket at the ticket office and the man gave us a ticket for Winchy but did not charge us. Was it a mistake, an act of kindness on his part or the look of our dog, we won't know more… but you should know that in theory it's paying.
Switzerland by train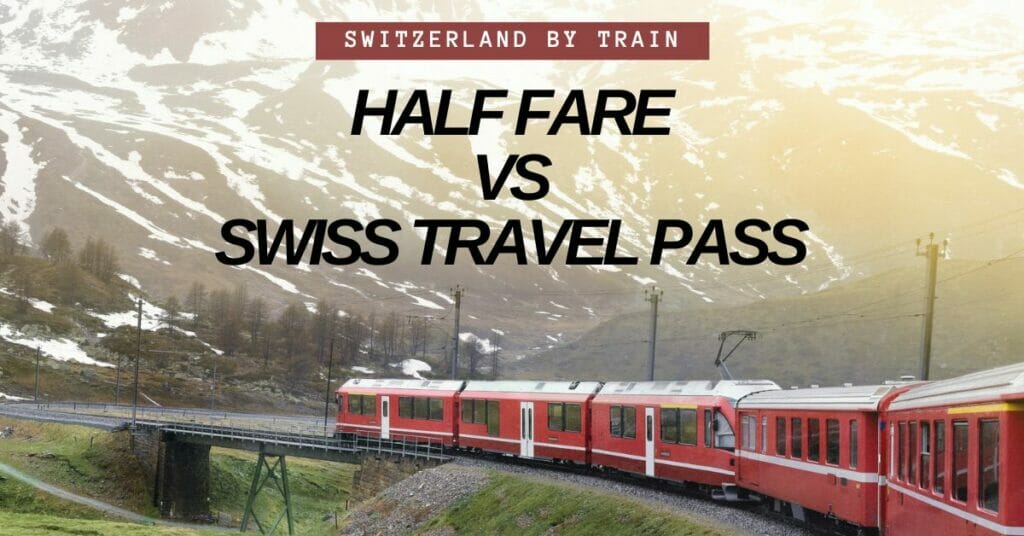 Are you planning to visit Switzerland by train? You should check out our post which will allow you to compare the Swiss travel pass with the half-fare card. The article also includes 3 examples of train routes through Switzerland and the associated budget depending on the ticket you take.
If you prefer not to take a travel pass, but rather take advantage of the Supersaver tickets and day passes, then go to this post for all the details.
Video of our roadtrip in Switzerland (+ Budget)
Note: the video is in french, but you should still be able to get the numbers (and enjoy the landscapes) 😉
Switzerland by van? Our opinion…
We have been traveling with our Dahu van for a little more than 2 years now and we have already done a lot of travelling in Switzerland with it. So, what do you think? Is Switzerland a van paradise? Hmmm… as you can imagine, our answer will not be yes or no… In fact, as in many regions, I feel like telling you that it depends…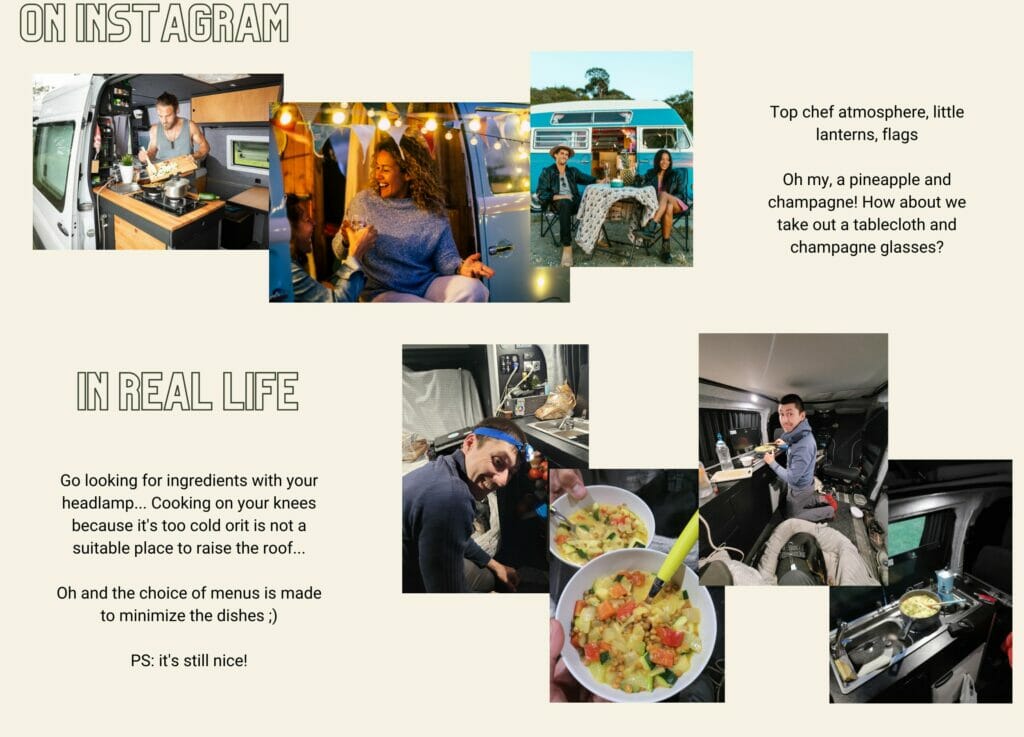 The advantages of travelling with van in Switzerland: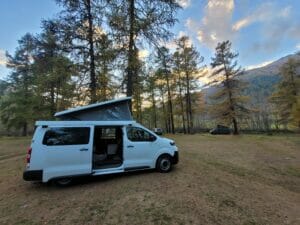 Although expensive, campsites are much cheaper than hotels in Switzerland (in Spain you could find rentals that were almost the same price as a campsite… in Switzerland you can forget it!)
Being able to cook your own meals can save a lot of money in Switzerland!
Safety: Switzerland is a safe country and this also applies to the van. I'm not saying that it is impossible to be robbed (unfortunately it happens too) but overall the probability will be less.
The freeway vignette is not very expensive if you travel a lot (40 CHF for the year). Compared to the tolls in other countries, this is quickly paid off if you travel several days (and nothing forces you to take the freeways)
The roads are really in good condition almost everywhere (even the mountain roads)
The disadvantages of travelling with a van in Switzerland: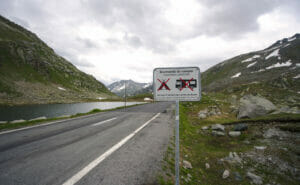 There is no general ban on wild camping. The rules are communal. A lot of abuses have led to a certain amount of frustration in many municipalities. Night parking is often forbidden in tourist areas.
There are relatively few infrastructures for van/camping-car such as areas, camping parks, etc. (if we compare to France or Spain for example… after we admit that it develops more and more). And when there are some, it can quickly make the bill go up (I remember an "area" in the Grisons which asked 48 CHF/ night (weekend rate) to park on a gravel parking with construction toilets available)
Switzerland, although small and very "nature-oriented", remains a country with a high population density. It can be difficult to find places "far from everything" where you won't disturb anyone.
Parking lots are often not free (even in small villages)
If you don't have a van, renting is quite expensive. There are platforms like Yescapa that allow you to rent a van from a private person, but it remains a big budget (about 150 CHF / day).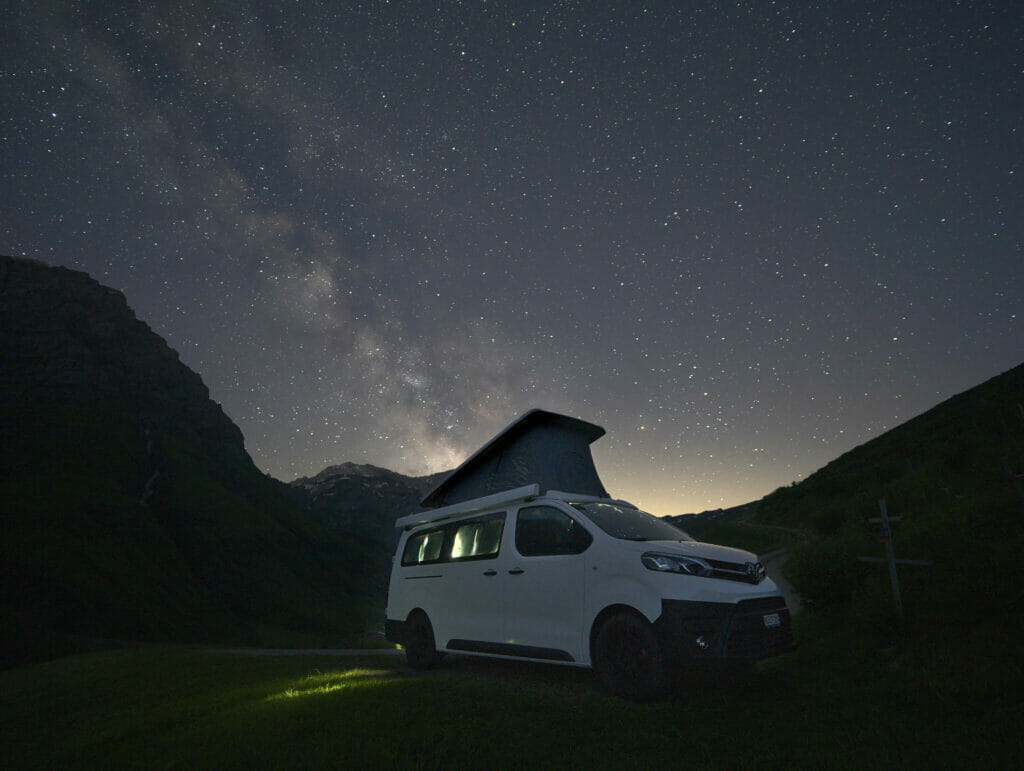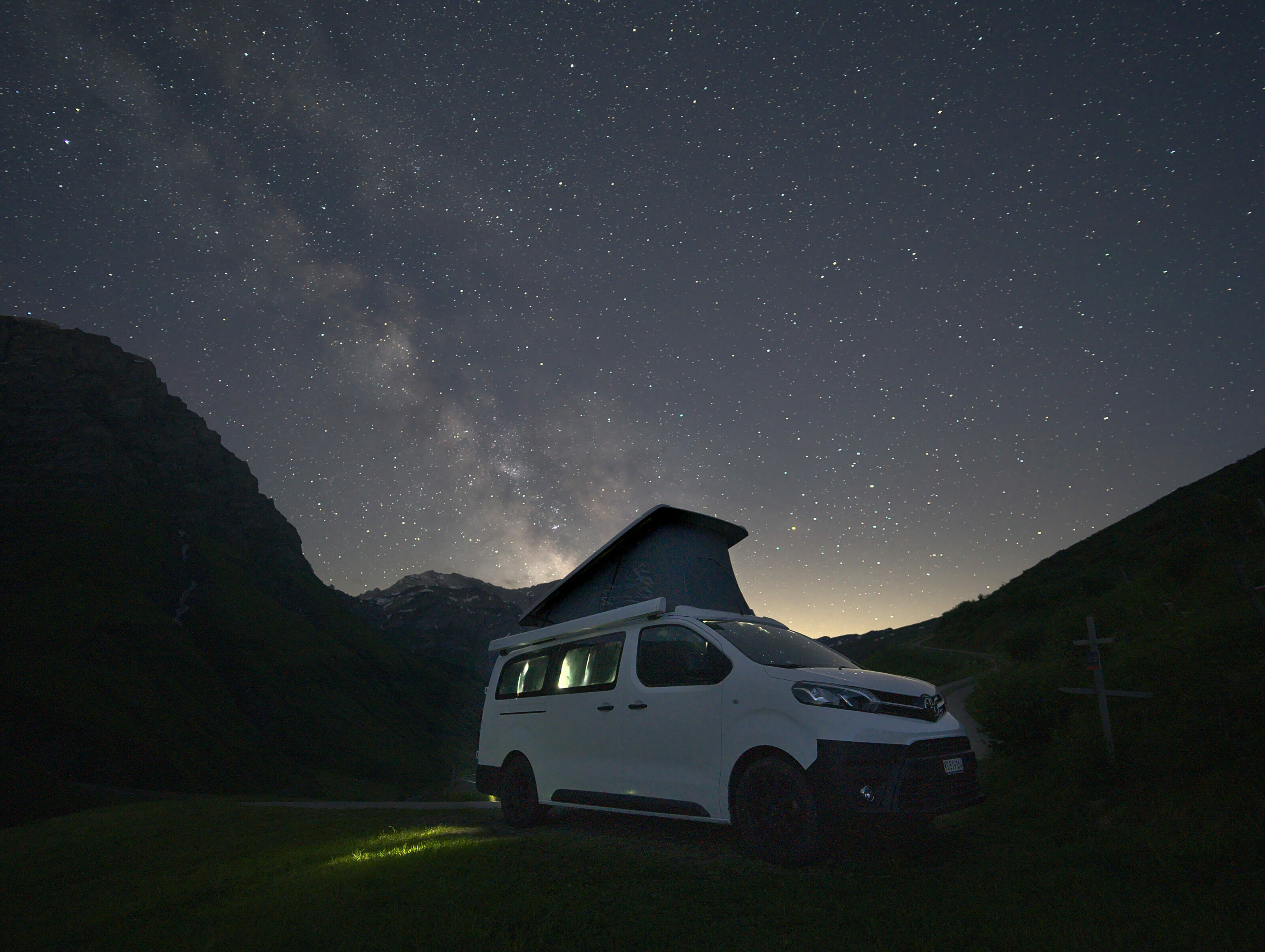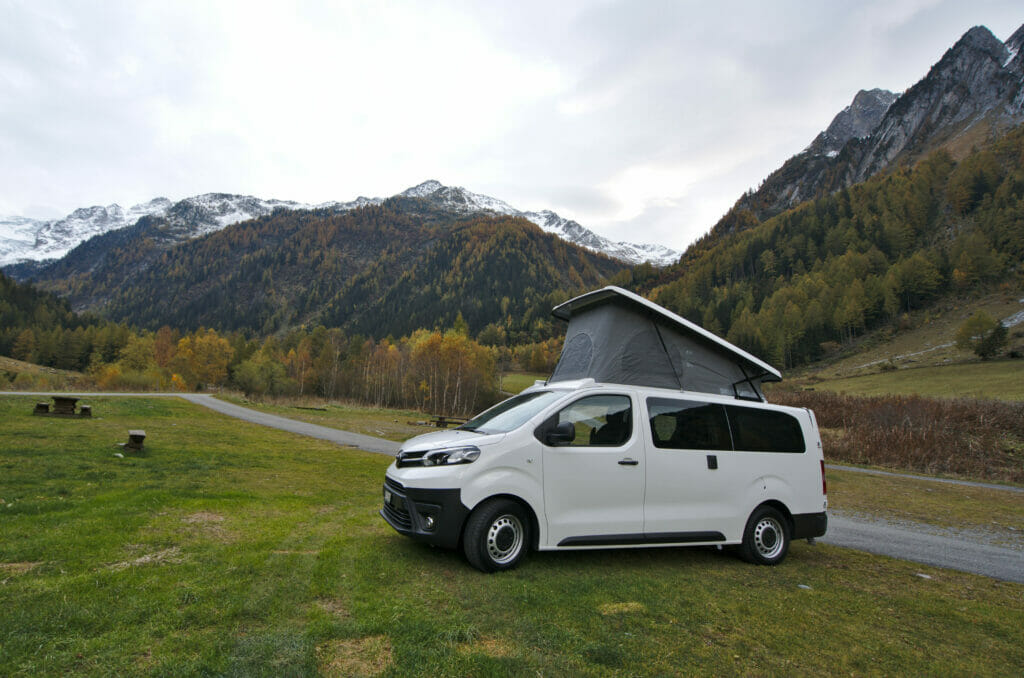 Travelling in Switzerland with your dog?
We thought that for this article, it was perhaps worthwhile that we also address the question of the doggie. Winchy has been living and traveling with us for 2 years now and the least we can say is that he has seen a lot 😉 Traveling with your dog is a pure happiness, but it is not always very obvious depending on the destination…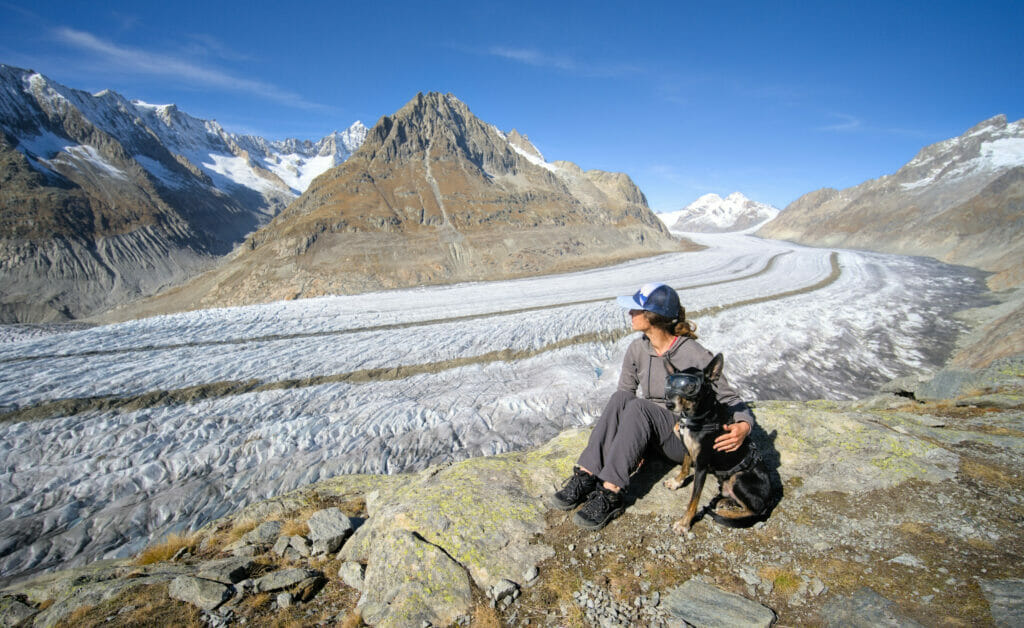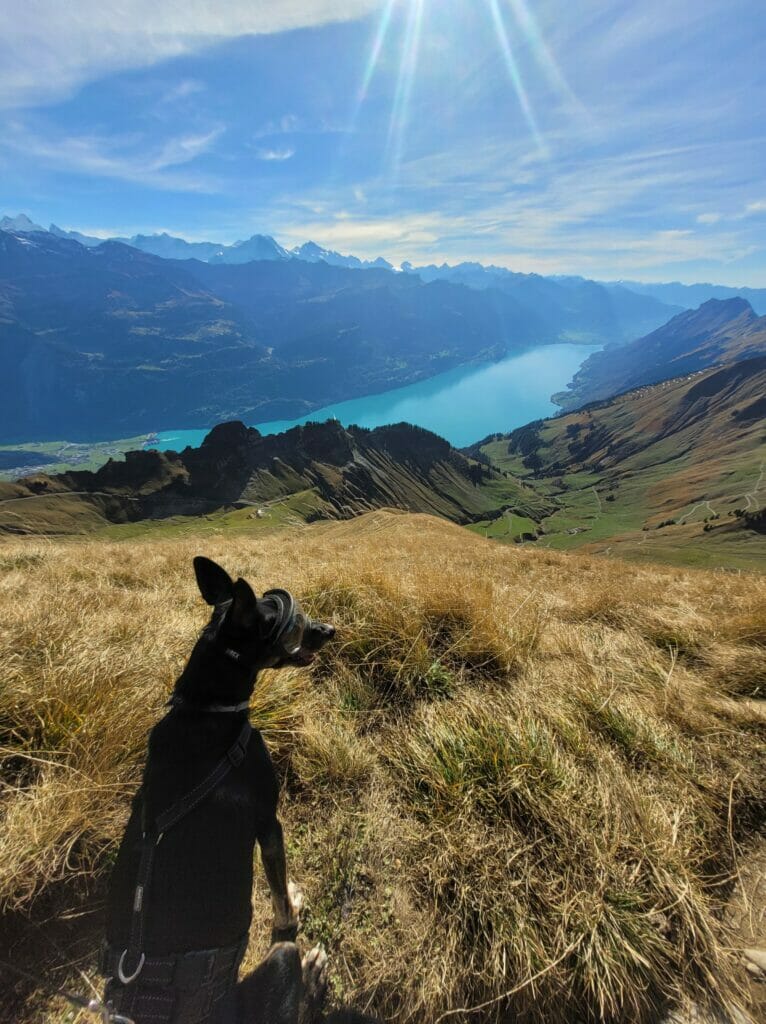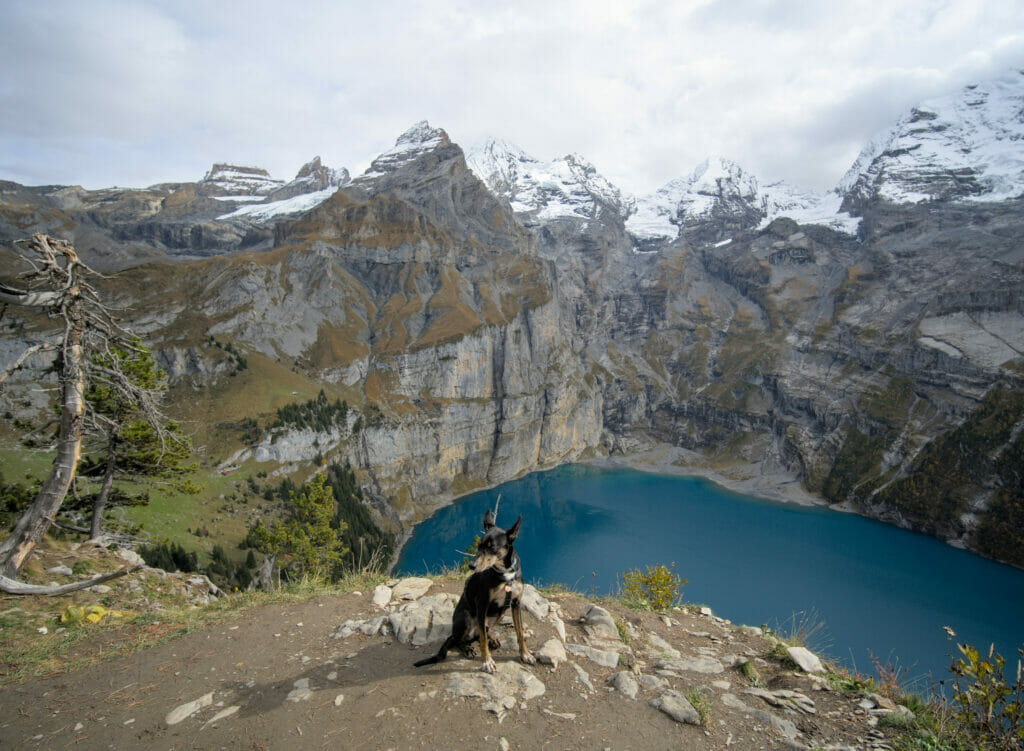 In Spain? Dogs are rarely allowed on the beach, in restaurants they are often only allowed on the terrace, they are also rarely allowed in public transport… In France? Dogs are generally well tolerated but you have to be careful because many national parks and natural reserves are forbidden to them. For us who like to hike, this has already given rise to some headaches… They are also forbidden in several public transports (especially on the Breton islands).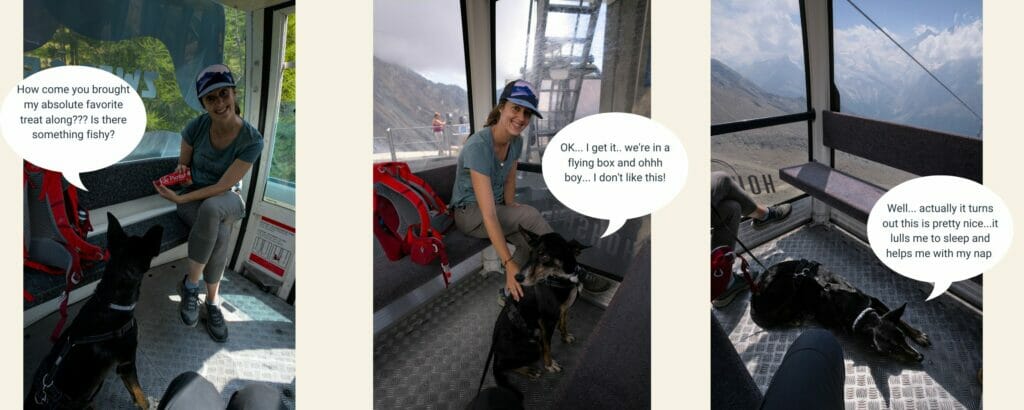 In Switzerland, quite frankly, it is paradise to travel with a dog! Except for the Swiss National Park in the Grisons, there is no prohibition in nature (just avoid areas with guard dogs during the summer season for obvious safety reasons). In transportation, our four-legged friends are always allowed.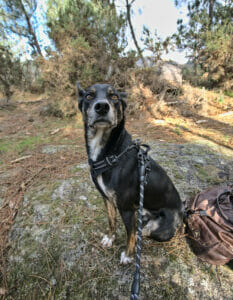 Either they are free (in the Brienzer Rothorn train or in the Lauterbrunnen cable cars) or they have to take a "special dog" ticket sold for about 5 CHF per day. For the classic trains and buses, dogs must have a "child" ticket at half price (1/2 fare) and be kept on a leash (no muzzle or other obligation).
For the restaurants we confess that we can't tell you too much… on the one hand we don't go to restaurants very often when we are in Switzerland (0 restaurant during this roadtrip) and if we decide to go there, we generally prefer to leave Winchy in the van if the temperatures allow it (more for his comfort than ours, because he doesn't like noisy and crowded places)
Roadtrip in Switzerland in October: other ideas to create your itinerary
During this week we have been "touring" around the Bernese Alps… It was not particularly voluntary and we admit that we would have liked to stay a few more days on the roads. But well, the weather forecast was disastrous and we clearly wanted to finish on a positive note… so we decided to come back home a bit earlier than planned.
But if you're planning to see a bit more, there are plenty of things we can suggest you add to this itinerary.
Day 5: In addition to the Fronalpstock, you could for example go and see the view on the lake Lucerne from the Rigi or the Pilatus (it's really beautiful up there in autumn!).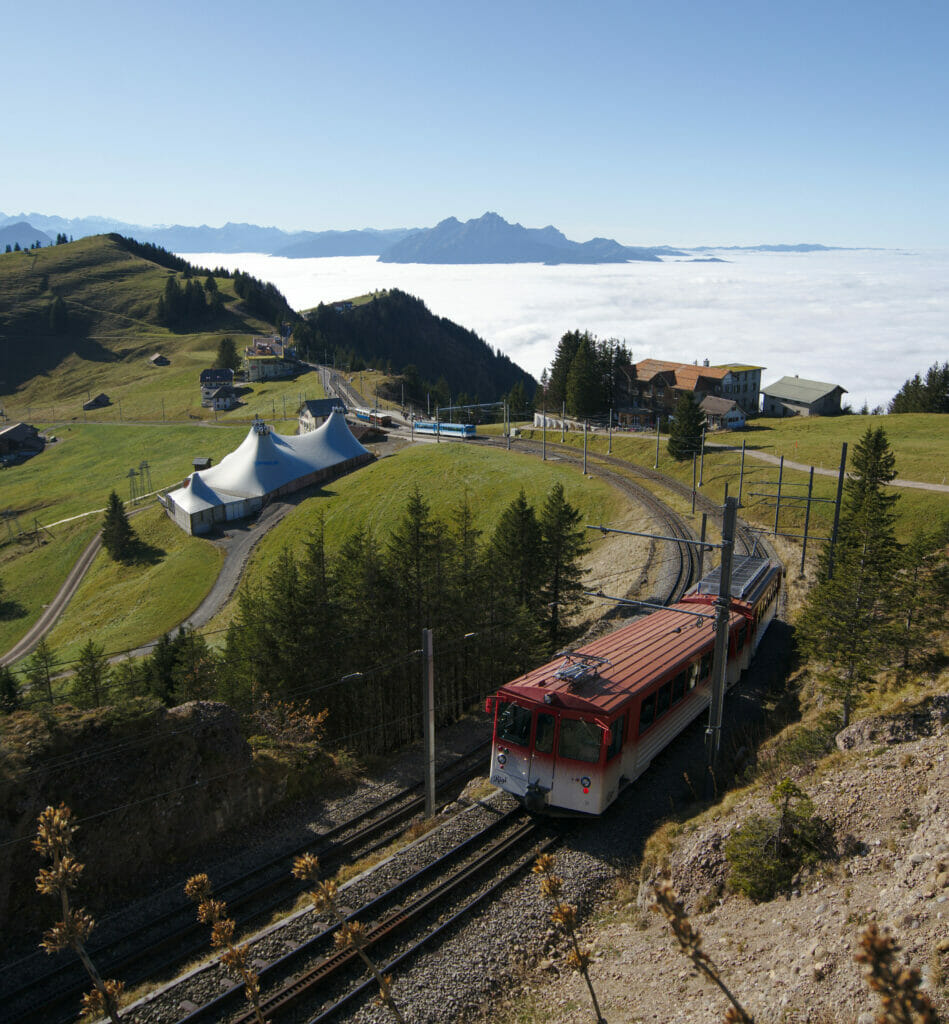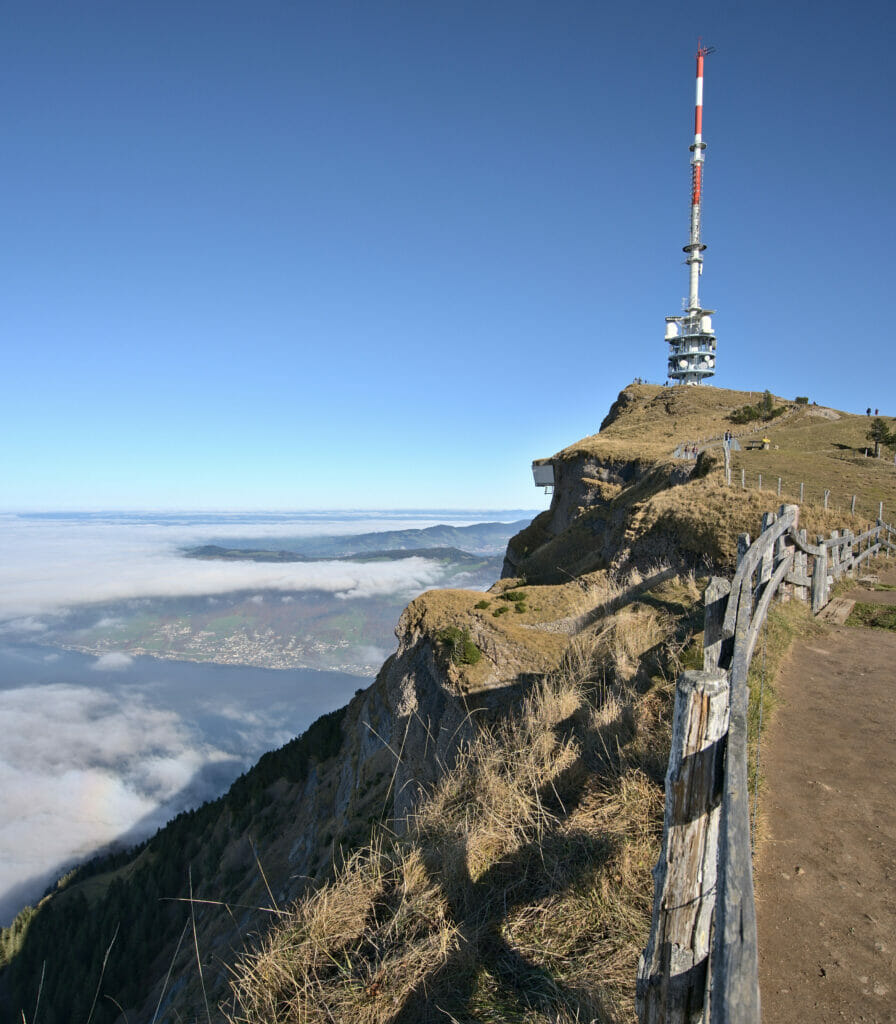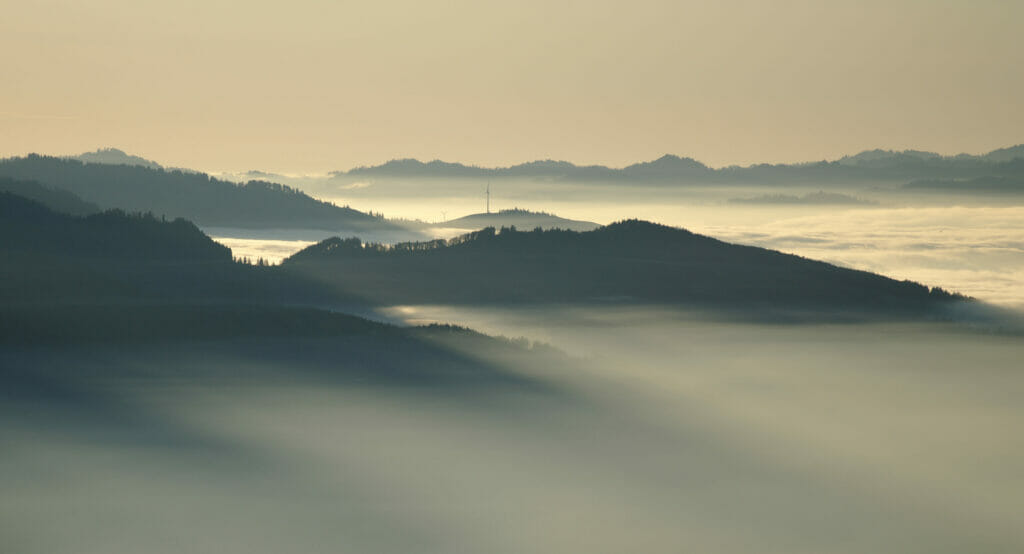 On day 6, upon arriving in Andermatt we decided to turn off towards the Valais via the Furka Pass. Turning the other way, you would arrive at the Oberalppass and then in Graubünden. It is a region where we had made a magnificent road trip during the summer of 2021. We let you have a look here.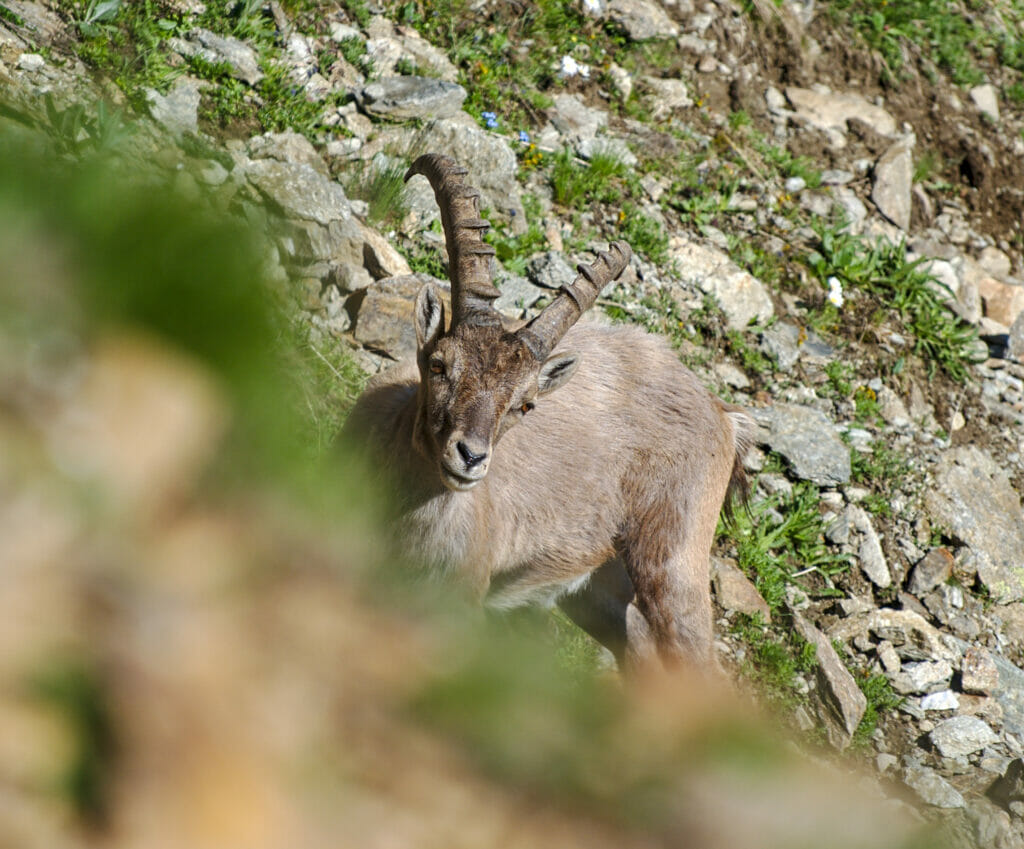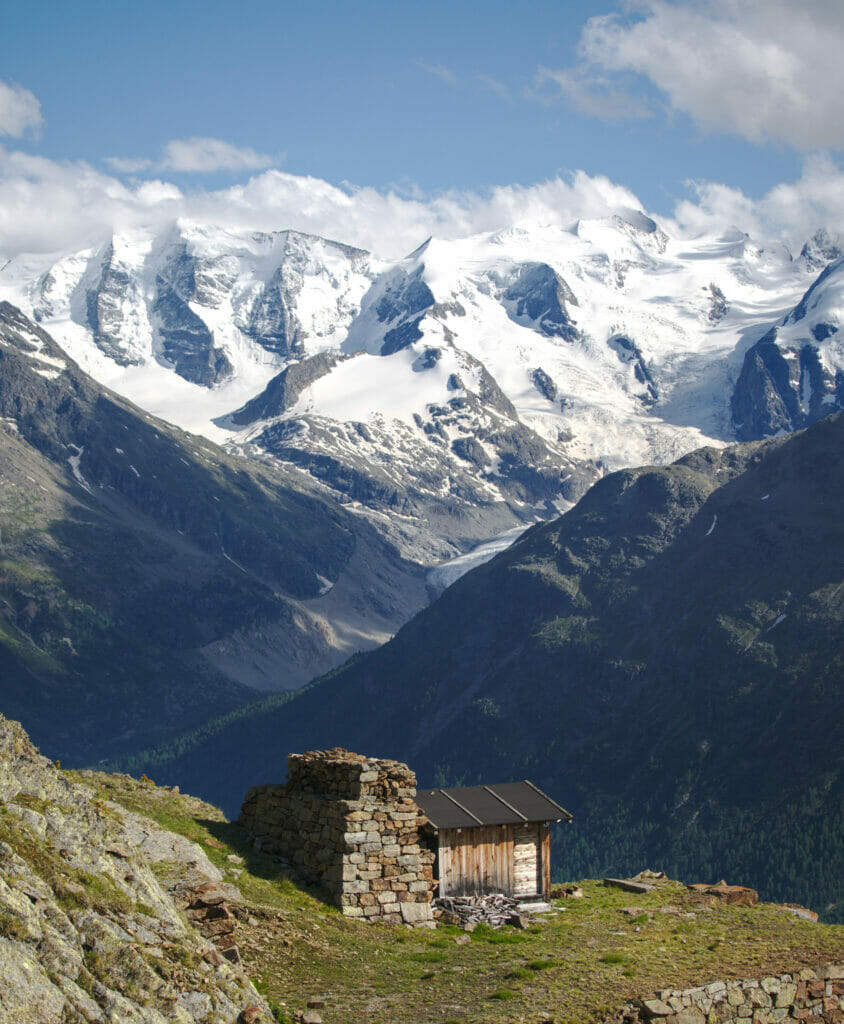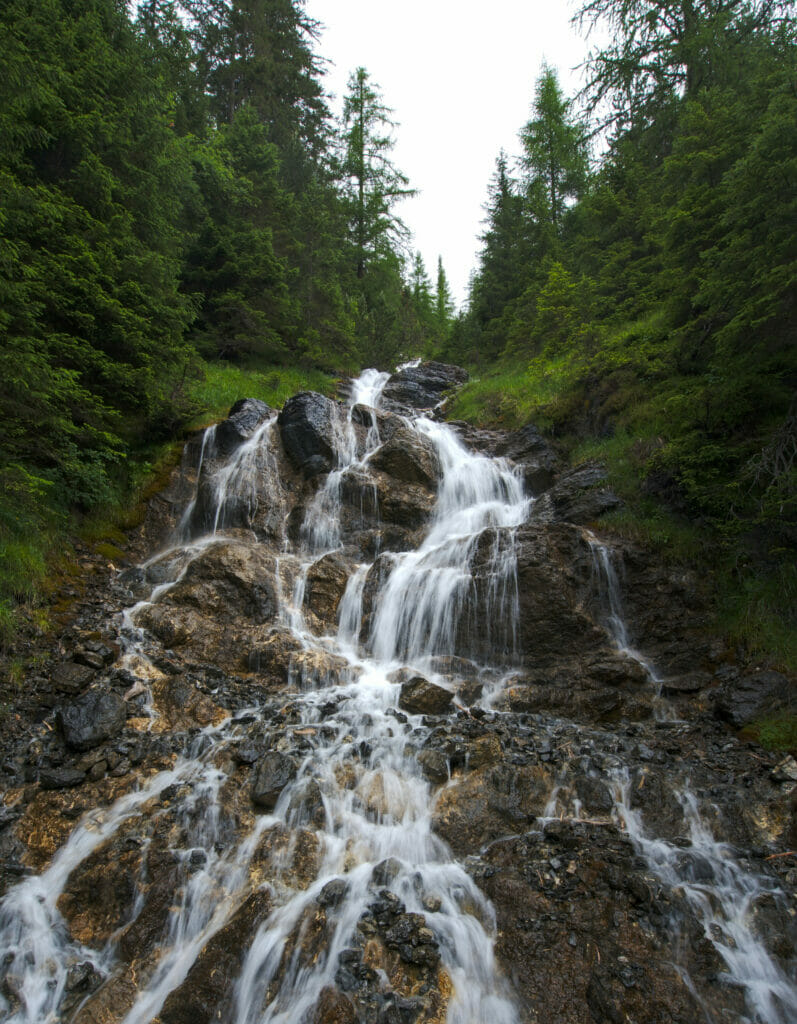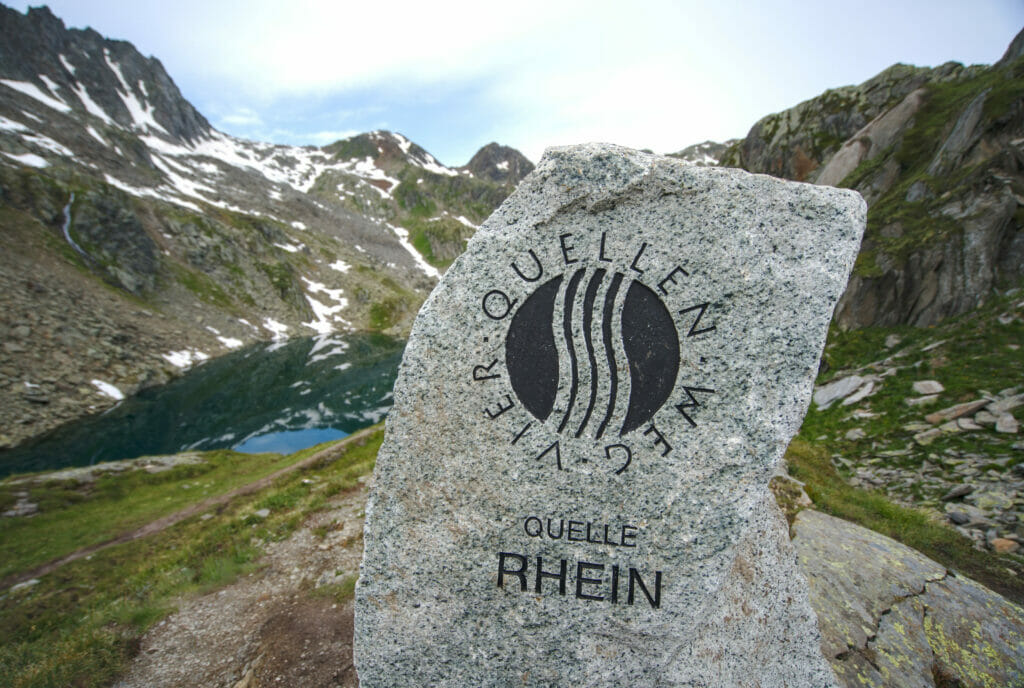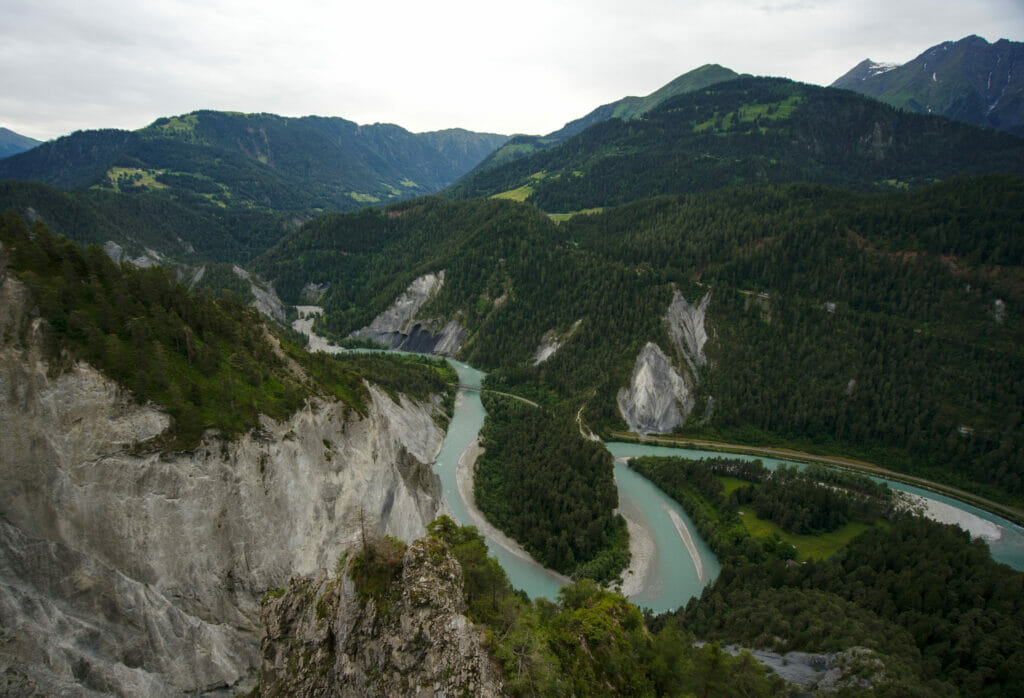 Oh and how can we talk about autumn without recommending a little detour to the beautiful Val d'Hérens? In the direction of our itinerary, this could be a last extra step. If you're looking for inspiration for autumn hiking, we leave you with this article on the best autumn hikes to do in the Val d'Hérens.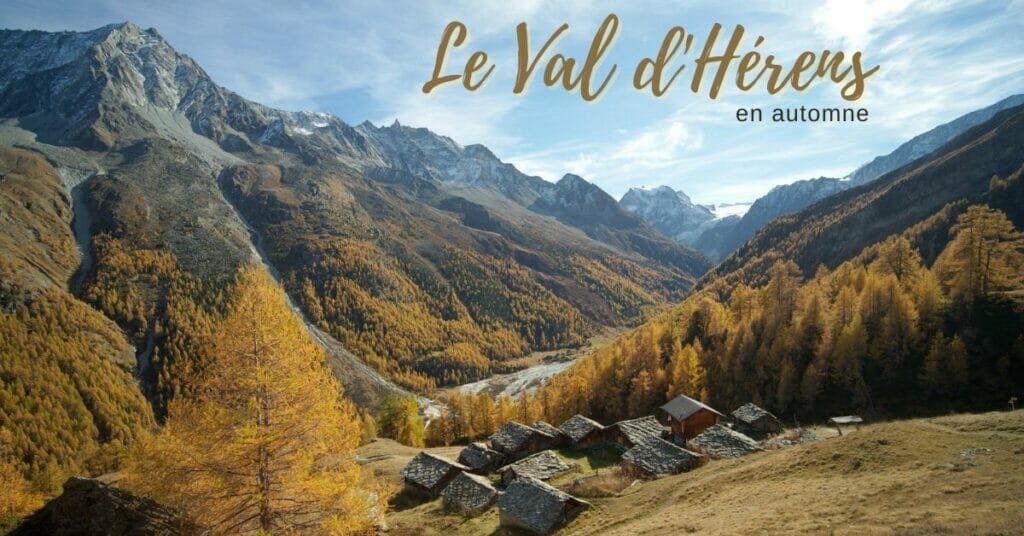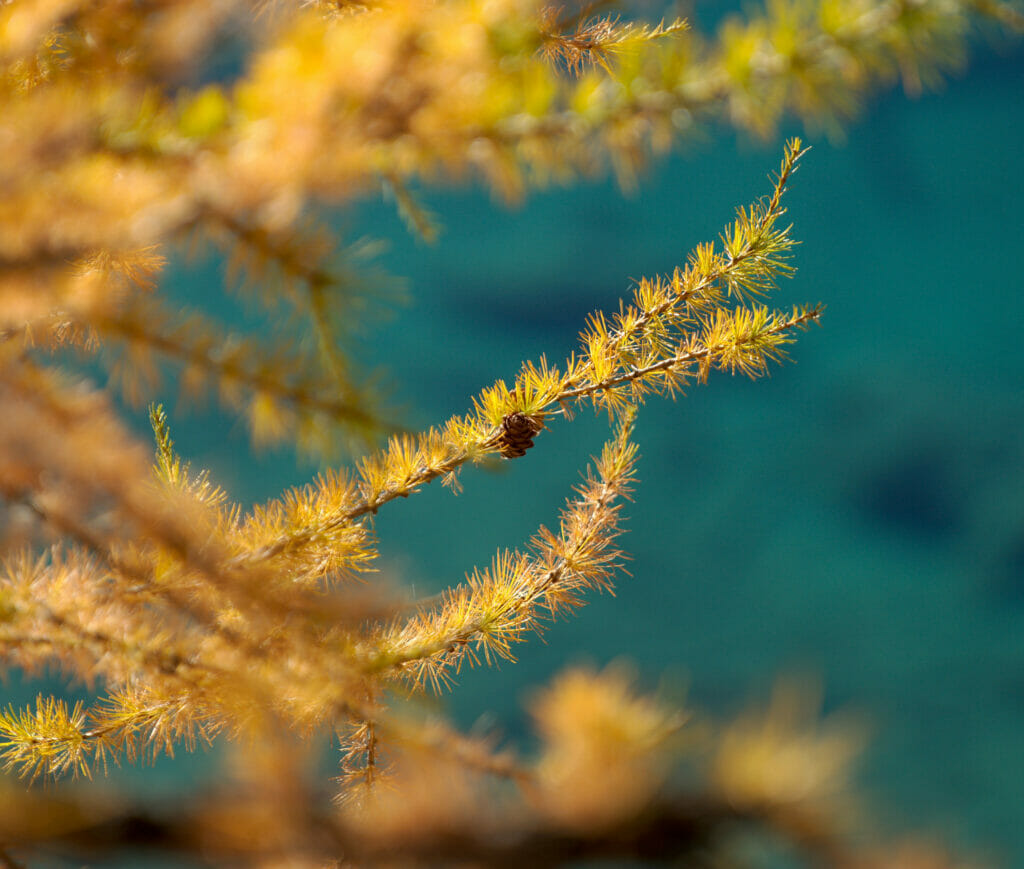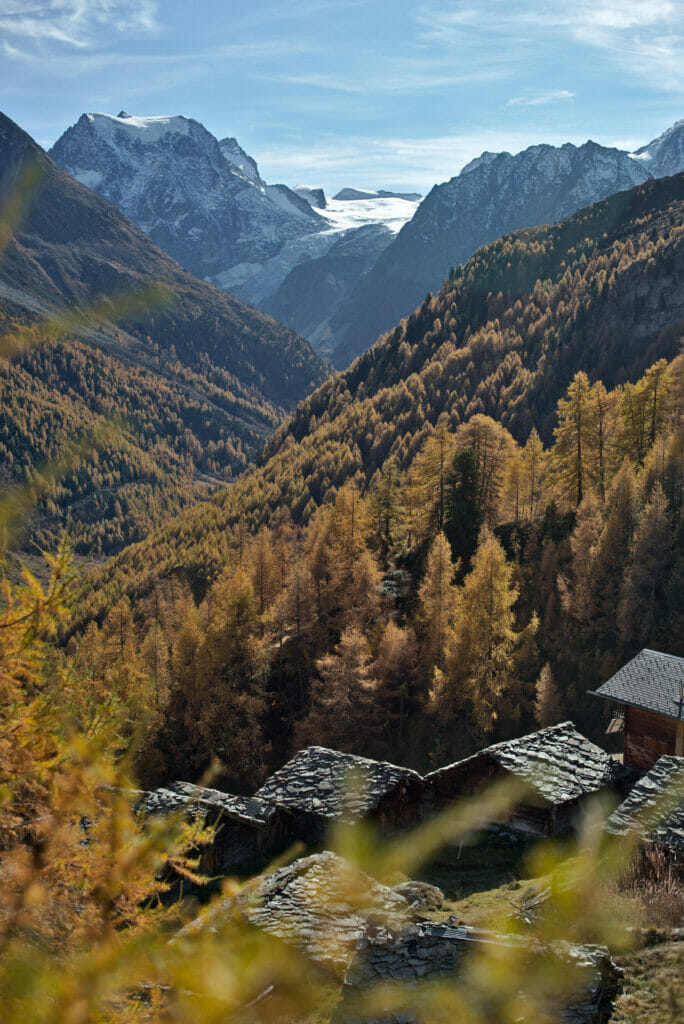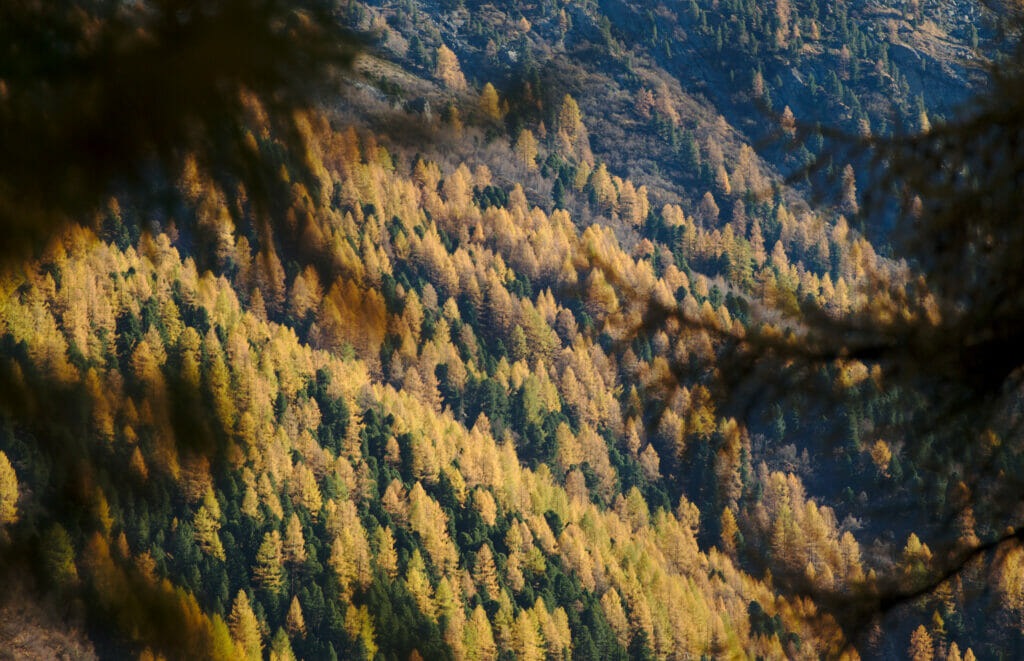 That's it for today. We hope you enjoyed this article. Clearly, our travel budget for Switzerland is to be taken as an indication… In high season, without a half-fare card and with a desire to eat out, the bill could be much higher. Just as it would be possible to go to less known and popular places and to do more wild camping and spend less on transportation/lifts and have a budget divided by 2.
Anyway, the goal was not to show you how expensive/cheap it is, but more to share in a transparent way what it cost us 😉 By the way, if you are interested in the roadtrip budget in high season, we had shared our figures in the one about our few days in Graubünden (here). At that time, the road trip cost us about 150 CHF per day.
See you soon!
Pin it