Are you planning to visit Switzerland by train? Then first thing: excellent decision! 🙂 Swiss trains are really a unique experience and a great way to see the country (much easier than renting a car for example if you want our humble opinion). In Switzerland, the public transport network is perfectly developed and you will easily reach your destination (often even faster than by road!)
The Swiss Pass and the half price card: presentation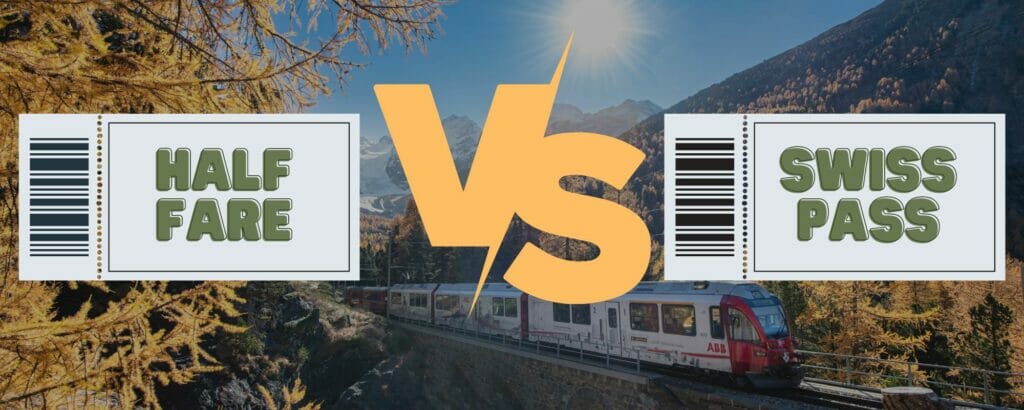 For foreign travelers who decide to visit Switzerland, the train is often cited as the best means of transportation, and frankly,as a Swiss resident I'll happily confirm this is correct! Afterwards, many are a bit afraid of the rather prohibitive prices of our dear little country… I am not going to tell you here that traveling in Switzerland is cheap, but I will try to present you some options to limit the costs.
As far as trains are concerned, there are mainly 2 solutions available to international travelers:
The half-fare card: Sold at 120 CHF for one month, it allows you to benefit from all the trips with a 50% discount. Very quickly amortized, it can really be an excellent option!
The Swiss Travel Pass: A pass which was 100% designed for travelers! With this precious pass, you have unlimited access to absolutely all public transport in the country. The pass exists in a classic version (from 3 to 15 consecutive days) or in a flex version (3 to 15 days to be used over a period of 30 days).
Families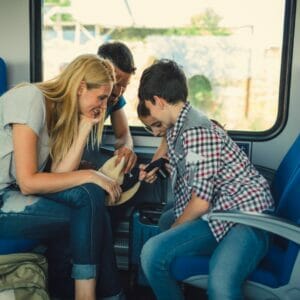 Big bonus for families: With the Swiss Travel Pass or Half-Fare travelcard, children up to the age of 15 travel free of charge! If the parent(s) take a Swiss Travel Pass or Half-Fare travelcard, you can then pick up a Swiss Family Card free of charge at the ticket office on arrival. With this pass, your children up to the age of 15 travel free of charge as long as they are accompanied by a parent with a valid pass or ticket!
Here are the prices of the Swiss Travel Pass 2023 (December 2022 prices):
| | | | |
| --- | --- | --- | --- |
| | 2nd class | 1st class | Youth (2nd class) |
| Swiss Travel Pass 3 days | 232 CHF | 369 CHF | 163 CHF |
| Swiss Travel Pass 3 days "Flex" | 267 CHF | 424 CHF | 188 CHF |
| Swiss Travel Pass 4 days | 281 CHF | 447 CHF | 198 CHF |
| Swiss Travel Pass 4 days "Flex" | 323 CHF | 514 CHF | 228 CHF |
| Swiss Travel Pass 6 days | 359 CHF | 570 CHF | 253 CHF |
| Swiss Travel Pass 6 days "Flex" | 384 CHF | 610 CHF | 259 CHF |
| Swiss Travel Pass 8 days | 389 CHF | 617 CHF | 271 CHF |
| Swiss Travel Pass 8 days "Flex" | 409 CHF | 649 CHF | 275 CHF |
| Swiss Travel Pass 15 days | 429 CHF | 675 CHF | 289 CHF |
| Swiss Travel Pass 15 days "Flex" | 449 CHF | 706 CHF | 306 CHF |
The Youth prices are really advantageous (from 16 to 24 years old). If you are travelling with kids (under 16) they will travel for free thanks to the swiss family card. If you travel with young adults, the swiss travel pass will usually be a no-brainer for them!
Where to buy the Swiss Travel Pass
To buy your Swiss Travel Pass we encourage you to go through the Getyourguide website. Why? 2 reasons… the first one being that it allows you to support us in our work on this blog. By buying through Getyourguide you allow us to earn a small commission which contributes to allow us to offer you these free, updated and ad-free contents. All our contents have been written independently without partnership with anyone.
Second point, and not the least. In addition to supporting us, buying via Getyourguide allows you to pay the pass a few CHF less (yes, it's cheaper than on the official website) and you can cancel your trip for free until 24 hours before the trip (unforeseen events, change of plans, etc).
The Swiss travel pass is for you if…
Designed for foreign travelers visiting Switzerland, the Swiss Travel Pass is the ultimate way to get around the country and enjoy many museums. The Swiss travel pass is expensive, but it offers the huge advantage of being a 100% hassle-free solution. Once you have the pass in hand, you can take any regional train, intercity, bus, postal bus, streetcar or even boat. The only exception would be the few panoramic trains in Switzerland like the Bernina Express, the Glacier Express or the Gothard Express. The Swiss Travel pass is valid on these lines, but you will have to add the budget for the seat reservation (mandatory). If you want to read more about panoramic trains in Switzerland and which ones we recommend the most, check out this blog post. Concerning the cable cars and gondolas, the Swiss Travel Pass works like a swiss GA, which means that for the so-called public services, your trips will be free of charge, but if it is a private company you will have to pay a ticket. Having the Swiss Travel Pass will however give you access to the "half price" fare.
The rather large budget associated with the Swiss Travel Pass means that to "amortize" it, you need to plan to travel quite a bit and/or visit several museums throughout the country. To help you imagine the budget, I have created 3 examples of itineraries in Switzerland at the end of the article and I compare the price depending on whether you take the Swiss Travel Pass, the flex version, a half-fare card or if you simply buy your tickets at full price.
The museums included in the Swiss Travel Pass
There are about 500 museums included in the Swiss Travel Pass, so I won't make a complete list here 😉 But if you are interested in the latter, you can go and look at the complete list here.
Here is a list of the most famous and popular museums in Switzerland that are included in the Swiss Travel Pass (with their standard entrance fee) so that you can get a first impression of how much you'd save by having the pass: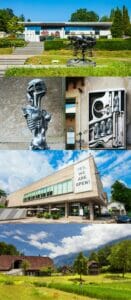 Musée Olympique de Lausanne, included, 20 CHF
Château de Chillon, included, 13,5 CHF
H.R Giger Museum, Gruyère, included, 12,5 CHF
Gruyère Castle, included, 12 CHF
Kunstmuseum, Bâle, included, 26 CHF
Paper museum, Bâle, included, 15 CHF
Art Museum, Zurich, included, 23 CHF
Transportation Museum, Lucerne,included, 32 CHF
Museum of ethnography, Genève, included, 12 CHF
International Museum of Watchmaking, la Chaux-de-Fonds, included, 15 CHF
Ballenberg, included, 32 CHF
Barryland, Martigny, included, 12 CHF
Fondation Gianadda, Martigny, included 18 CHF
etc…
Just with these 13 museums (which are all really great), we already arrive at a bill of more than 240 CHF. I'm sure you won't do them all, but let's just say that if you're planning on doing some of them, it's a good idea to count these rates in your calculations to see if the Swiss Pass is worth it for you.
The Swiss travel Pass Flex: what if the more expensive pass could save you money?
This sentence may seem very paradoxical I grant you… but keep reading, I promise you it's true! 🙂 In fact, what you need to know is that the Swiss Travel Pass was really designed to make life easier for travelers and to avoid you having to ask yourself questions. Once you have the Swiss Travel Pass in your pocket, you can move around freely without thinking about prices or tickets, go to the vast majority of museums in the country and enjoy discounts with partner restaurants and stores.
In short, if you don't want to bother and your budget is relatively flexible, then yes, take the Swiss Travel Pass for your entire stay.
Nevertheless, on a personal basis, I often recommend to our readers who decide to come and visit Switzerland to take the Flex pass if they stay only one week. Why do I do this? For the simple reason that if you decide to spend a whole day hiking, you will end up "burning" a day of Swiss Pass for a simple transport by postal bus or cable car…
It obviously depends on your style of travel, but if you don't plan to move every day over long distances and/or visit many museums every day, it might be more interesting to take a shorter Flex pass. Let me explain… Let's say you decide to come to Switzerland for 7-8 days. The classic Swiss Travel pass would cost you 389 CHF (second class) or 617 CHF (first class). But if during your week you only plan to visit 2-3 destinations (say Zurich, Zermatt and Davos to name 3 of the most famous ones) then it might be possible to take the 3-day Swiss Travel Pass Flex (267 CHF in 2nd class or 424 CHF in 1st class). With the 3-day pass, you would use it for the days when you are doing the long distance distance travels and could include stops en route in other cities for museums. During the days in Zurich, Zermatt and Davos, you could complete the pass with the purchase of individual tickets to take a streetcar or a chairlift if needed… It's a good bet that you won't spend the difference just to take 3 buses/trams or a gondola 😉
Note : The longer you stay, the less advantageous it is to take the Flex version. If you come for 15 days, it is better to take the classic!
The half-fare card is more suitable for you if…
The half-fare card costs 120 CHF and is valid for one month. This offer will be really advantageous for you if you are planning a trip in Switzerland that involves a few long trips between destinations and then several days on site taking occasional regional transport (bus, streetcar, trains for a few stops or boats) etc.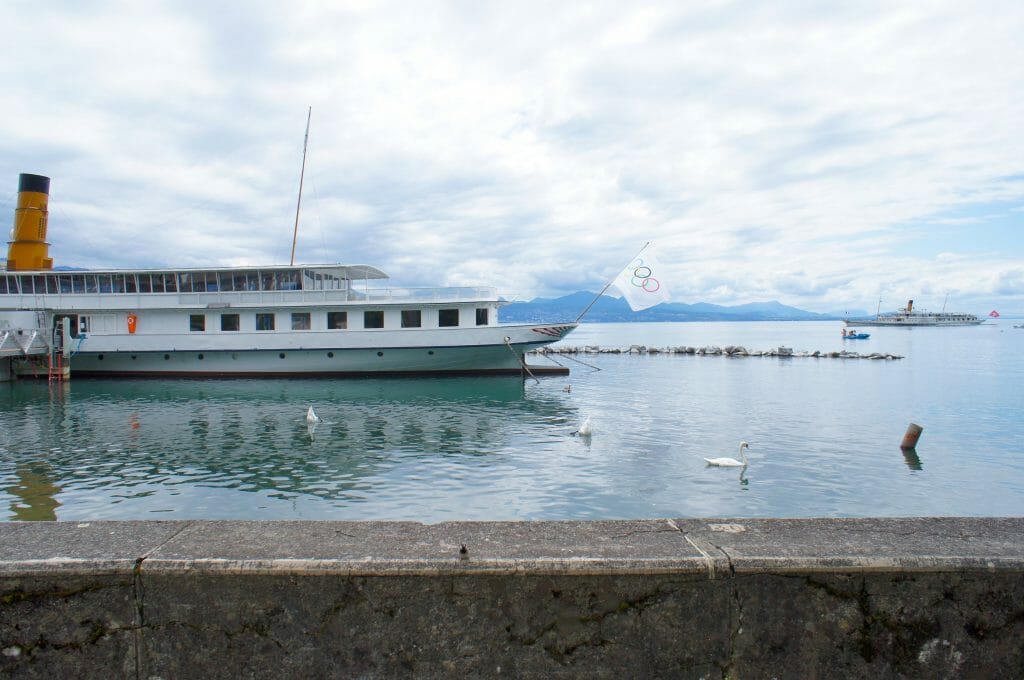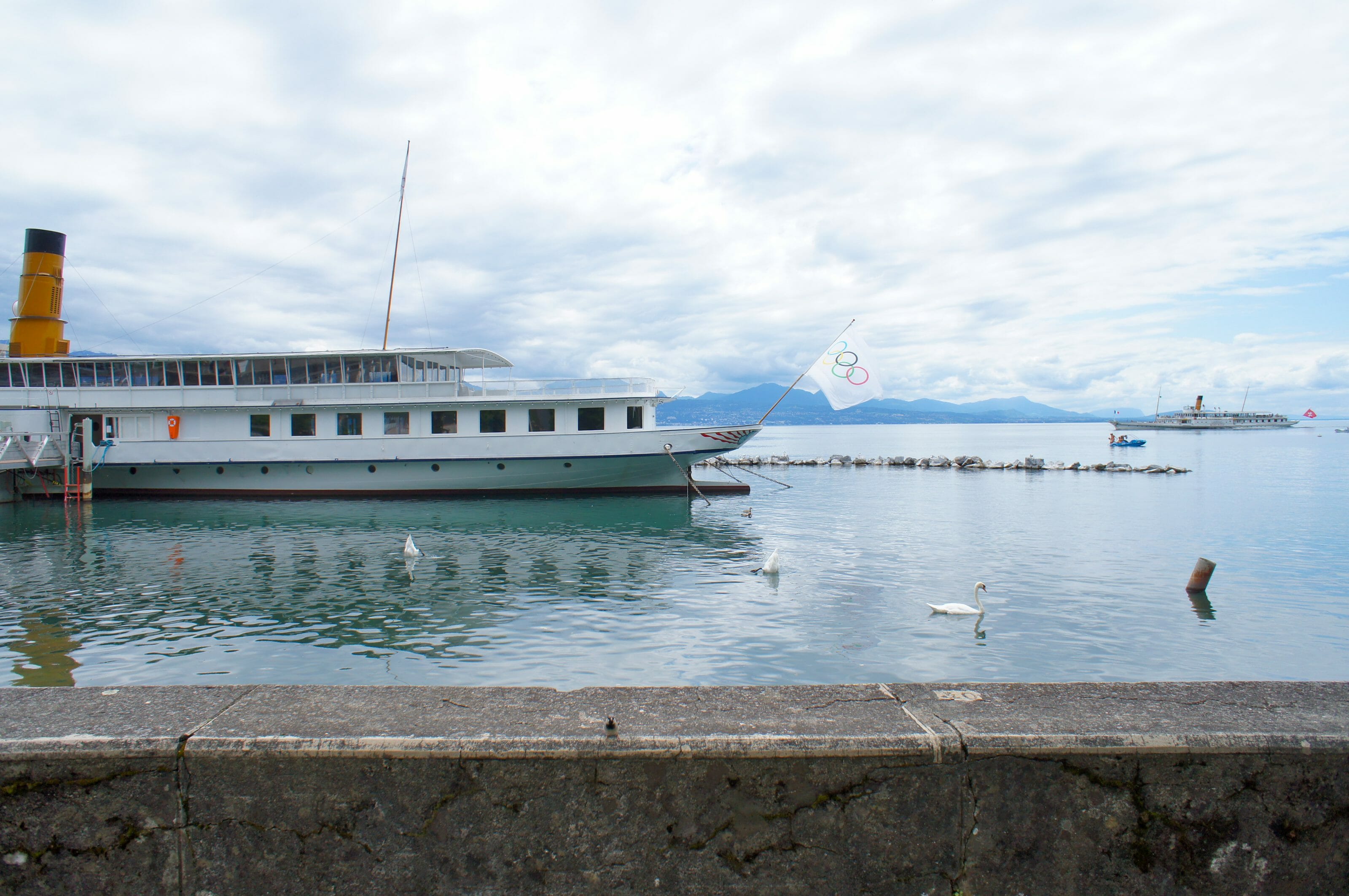 The other aspect that may tip the balance in favor of the half price would be if you are not interested in museums.
Last but not least: your anticipation! Because a good deal with the half-fare card could be to buy day passes at CHF 29 (half-fare price) and to use them on the days of your big trips. These cards are on sale 60 days before the date of the trip. To get the best price, you should buy them as soon as possible.
The Half-Fare travelcard can be purchased directly from the official SBB website (no cheaper price via Getyourguide)
But be careful, this method is probably the most economical but it requires a lot of planning and anticipation and especially it doesn't allow any flexibility on the weather or an unforeseen event in your trip (Supersaver day tickets are neither refundable nor exchangeable). To have all the information on how to buy the Supersaver tickets, go to this article.
Examples of itineraries and cost comparison with Swiss Travel Pass vs. half-fare card
In order to choose the best pass or subscription for you, my best advice would be to plan your itinerary as well as possible (especially the long trips) and to think about how many days you will spend in each place. Once you have this information, you can go on the SBB website and look at how much your different tickets would cost (+ add any museums you would like to visit). From there, it will be easier for you to make an idea of the most adapted formula.
Itinerary in Switzerland: Discover the most beautiful cities in Switzerland in 7 days
In this first scenario we will assume that you want to visit the cities of Switzerland and enjoy some excursions. In this first example, we have decided not to travel "too much", meaning that we stay in the part of the plateau between Geneva and Zurich. The train journeys are all relatively short (max 3h for Zurich-Geneva):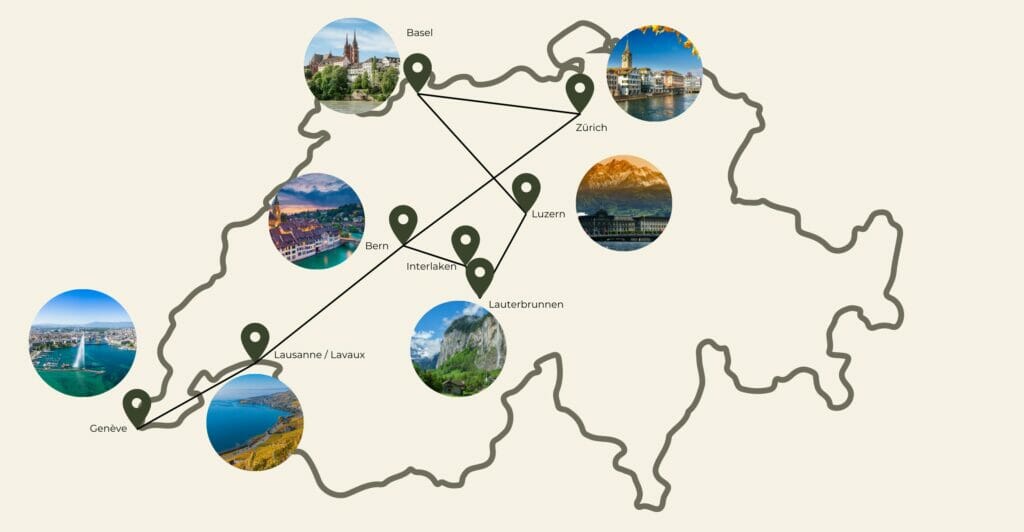 Day 1: Geneva (city tour, ethnographic museum)
Day 2: Lausanne (visit of the city and Olympic museum + detour in the vineyards of Lavaux at the end of the day (UNESCO)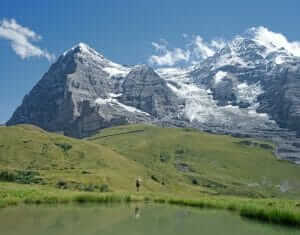 Day 3-4: Bern + Interlaken (old town and train to Interlaken. On the second day you could for example go to Lauterbrunnen for hiking)
Day 5: Lucerne (visit of the city and the bridge, transport museum)
Day 6: Basel (visit of the old town and art museum)
Day 7: Zurich (old town, art museum and boat trip on the lake)
Day 8: return to Geneva by train with a stop in Fribourg or Neuchâtel)
This very cultural itinerary is typically an example of a case where the question of taking a Swiss Travel pass should not even arise… And yet… the distances being relatively short, the advantage is mainly on the museums. If you only take the transport, the 1/2 fare option wins… So it's up to you if you want to include a lot of museums or not 😉
| | | | | |
| --- | --- | --- | --- | --- |
| | Swiss Travel Pass (8 days) | Swiss Travel Pass Flex (3 days) | half fare card (+120 CHF) + tickets | No pass at all |
| Transports+ museums | 389 CHF | more than 550 CHF | about 400 CHF + bus/tram in the cities | about 450 CHF + bus/tram in the cities |
| Transports only | 389 CHF | 469 CHF | 290 CHF (169 travel + 120 subscription) + bus/tram in the cities | 338 CHF + bus/tram in the cities |
Itineraries in Switzerland: A panoramic train tour
For this second example, we will focus more on the mythical trains of Switzerland 😉 Please note that some trains like the Bernina Express or the Glacier Express require a seat reservation and/or a 1st class ticket in addition to the Swiss Travel Pass. In the calculations below, I have included the additional fees in all the options below.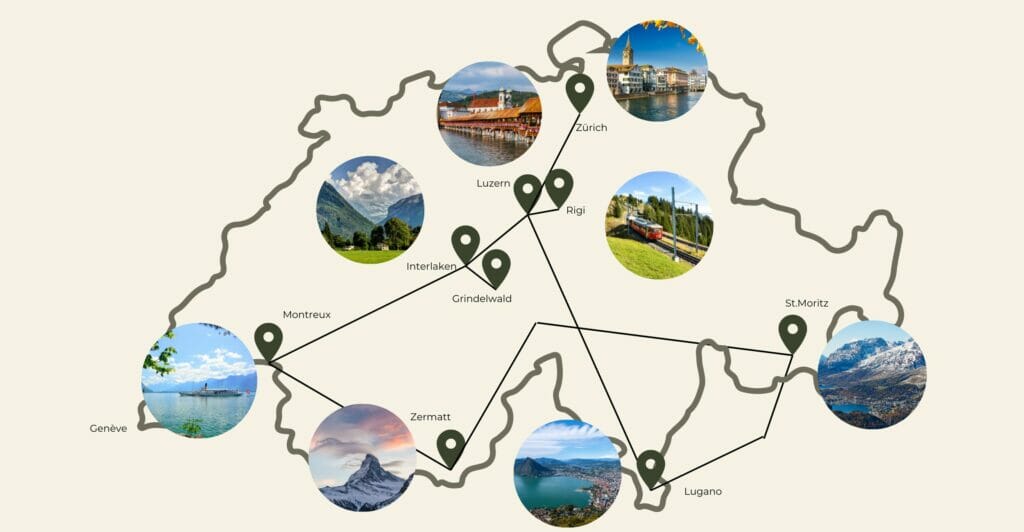 Day 1: Zurich-Lucerne-Interlaken
Day 2: Visit to Grindelwald and then GoldenPass from Interlaken to Montreux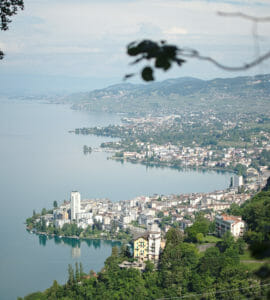 Day 3: Train from Montreux to Zermatt, walk in Zermatt
Day 4: From Zermatt to St.Moritz with the Glacier Express
Day 5: Hiking around St.Moritz
Day 6: From St.Moritz to Lugano with the Bernina Express
Day 7: Lugano to Lucerne with the Gotthard Panorama Express
Day 8: Mount Rigi and return to Zurich
| | | | | |
| --- | --- | --- | --- | --- |
| | Swiss Travel Pass 8 days (2nd class) | Swiss Travel pass Flex | half fare (+ 120 CHF) | no pass |
| Transports | 525.5 CHF | 715,5 CHF | 650 CHF | 998 CHF |
Note: the 8-day Swiss travel pass costs 389 CHF. For this itinerary the following supplements must be added
26 CHF (train) and 16 CHF (bus) for the Bernina Express
49 CHF for the Glacier Express
CHF 29.5 for the Gotthard Express (upgrade to 1st class mandatory) + CHF 16.00 seat reservation fee
Routes in Switzerland: The most beautiful views and hikes
For this 3rd itinerary I decided to assume that you like hiking and that you want to come to Switzerland to admire beautiful views (on our blog you will find more than 50 hiking ideas in Switzerland here).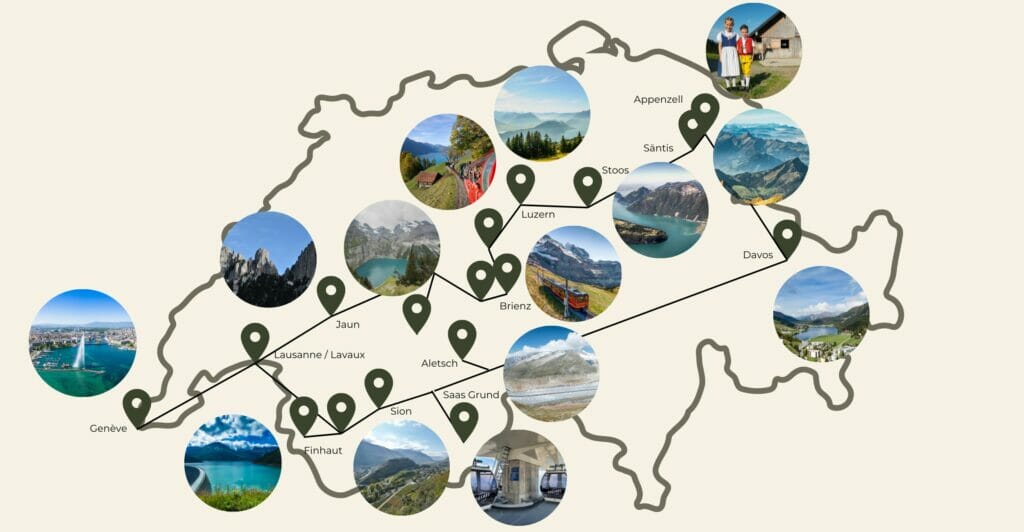 Day 1: From Geneva to Martigny with a detour through the Lavaux and the Rocher de Naye
Day 2: Train to Finhaut, hike to the Emosson dam. Then train to Sion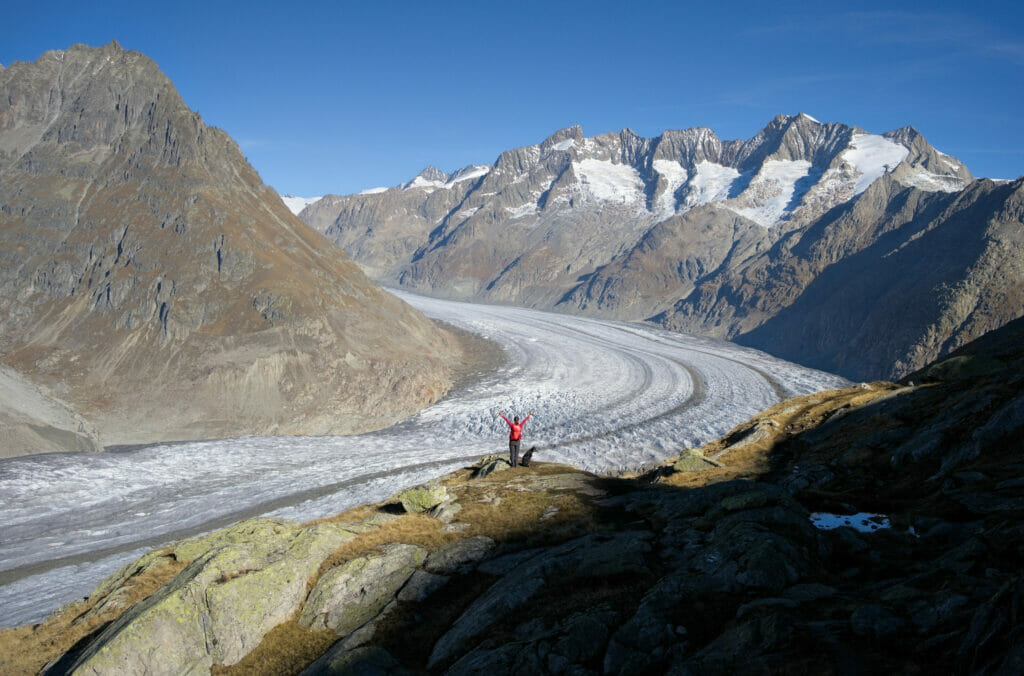 Day 3: Go to Saas Grund to go hiking at the foot of the 4000m Valais. Alternative: Go hike near the Aletsch glacier
Day 4: Train to Davos. Short hike in the surroundings
Day 5: Hike in Davos. At the end of the day, train to Appenzell
Day 6: Hike to the top of the Säntis via the Seealpsee. Descent in cabin and train to Schwyz.
Day 7: Hike to the Fronalpstock and take the Stoosbahn (steepest funicular in the world)
Day 8: Take the train to Mount Rigi and then take the train to Lucerne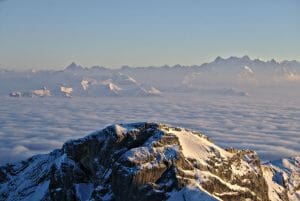 Day 9: Sightseeing in Lucerne and ride the Pilatus (by cable car)
Day 10: Hike to the Brienzer Rothorn.
Day 11: Heading to Grindelwald and hiking at First
Day 12: Train from Grindelwald to Lauterbrunnen and stop at the Kleine Scheidegg (optional ascent to the Jungfraujoch – surcharge of CHF 142 with the Swiss Travel pass or CHF 110 with the half-fare), See the standard rates)
Day 13: Day hike in Lauterbrunnen. See our hiking ideas in Lauterbrunnen
Day 14: Train to Kandersteg and hike to Lake Oeschinen.
Day 15: Head for Jaun to tour the Gastlosen (the small Dolomites of Switzerland) ;), return train to Geneva
| | | | | |
| --- | --- | --- | --- | --- |
|  | Swiss Travel Pass 15 days (2nd class) | Swiss Travel pass Flex (8 days) | 1/2 fare (+ 120 CHF) | No pass |
| Transports | 528 CHF | 760.7 CHF | 680 CHF | 1120 CHF |
The above budget does not include the supplement for the Jungfraujoch.
The price of the Swiss Pass 15 days is 429 CHF, but we had to add a supplement of 39 CHF for the Pilatus cable car (standard price without swiss travel pass: 78 CHF) and 40.5 CHF supplement for the Brienzer Rothorn (standard price: 81 CHF) and 19 CHF for the Säntis
For the Flex Pass, I counted that we used the Swiss Pass for the most expensive days + purchase of tickets the others.
Summary : What to choose between the Swiss Travel Pass and the Half-Fare Card?
As you can see in the itinerary simulations above, the Swiss Travel pass can be very advantageous. But after that, it is important to note that it will really pay off if you plan to move "often" and over relatively long distances (and see museums). If your goal is to visit 2-3 places in Switzerland and stay several days each time, then it is worthwhile to compare the Travel Pass Flex option to the individual purchase of tickets.
To be honest, there are no ready-made answers to these questions. My best advice for you would be to think about your itinerary beforehand and then do some fare simulations on the sbb.ch website (and if the total of your train tickets exceeds 240 CHF, it will be advantageous to take the half-fare card for 120 CHF).
I personally find the Swiss Travel pass to be a good product. Although expensive, it will offer you a lot of flexibility and once you have it in your pocket you won't need to think about taking any tram/bus/boat or standard train tickets (for the panoramic trains it is better to anticipate a little bit because the seat reservation can be mandatory).
Pin it