Today it is an article that goes a little out of the usual editorial line of Novo-Monde…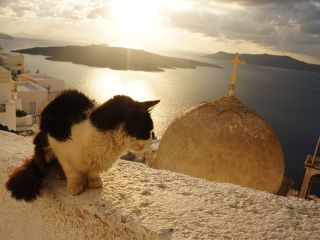 Well yes, we usually share with you our little corners of paradise, our tips to prepare your trip and beautiful stories that are all happy!
Today I wanted to tell you about a meeting that particularly touched me during our visit to Santorini last February… This meeting is Christina, a little piece of woman who has a crazy life on this island that looks like heaven at first sight. But if she has a crazy life it is precisely because, as so often, the pretty landscapes often hide other misfortunes, and Christina is one of those extraordinary people who struggle every day to make things happen!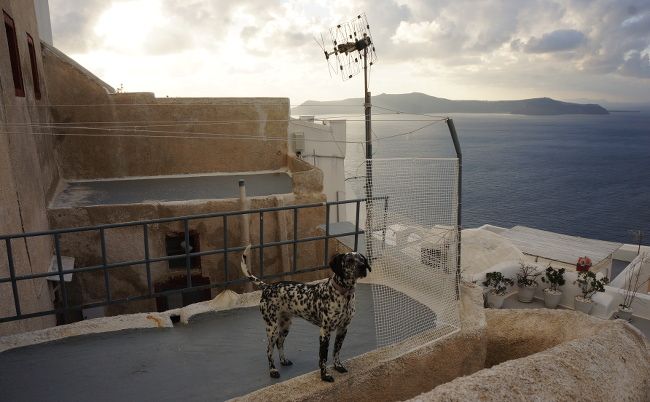 But before going any further, let's start from the beginning…..
It all started with a hike….
Hihi I don't know why, but I have the impression that 80% of our stories start with a hike since we left on a world tour…. that is obvioudly Benoit's influence on me is getting bigger and bigger!
In short! Let's get back to the point! We had left Fira to join Oia, (Benoit told you more about this little hike in more detail in our last article on Santorini). As soon as we left Fira we were already joined by 2 little fur balls! 2 adorable teddy bears who immediately came in search of hugs!
Dogs with collars don't necessarily belong to someone
At first, I thought they belonged to one of the local houses because the dogs wore collars…. But their extreme thinness, the fact that they followed us for miles but also the general condition of the dogs quickly made me realize that these necklaces did not mean that they were someone's!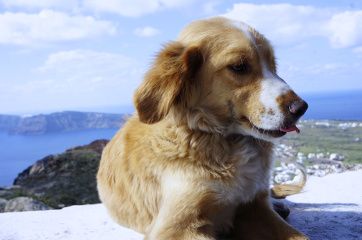 We tried to push them away because honestly we didn't want them to follow us to Oia, well yes we were afraid they wouldn't find their way back home! Might as well explain that it was a waste of time, these two were professional glue pots! And we will have learned later that these poor dogs have not had a "home" for a long time anyway! »
There was not much we could do for them that day…. All we could do was to give them a maximum dose of hugs and scratches on the way and of course a good portion of pâtée to reward them for following us for more than 10 kilometers! ! 😉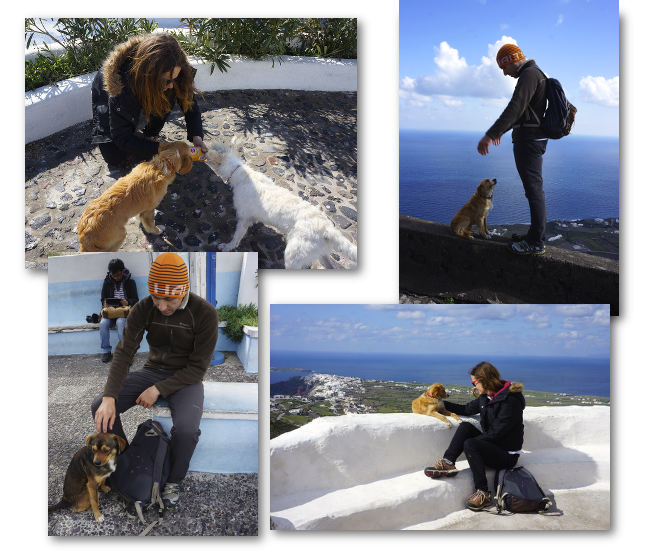 Once back in Fira I couldn't get these two loveballs out of my head and started doing some research on the internet to try to understand why we saw so many stray dogs and cats in Santorini!
The current situation of Santorini's animals
In the evening I launched some searches on the internet, and it didn't take me long to find the explanation for these dogs and cats in poor condition but with a collar…
In fact, Satorini Island is, as you probably already know, a very popular tourist destination during the summer…
But as we also told you in our last article, in winter nearly 80% of cafés, restaurants, hotels and shops close between October and April… And that's exactly where the problem comes from!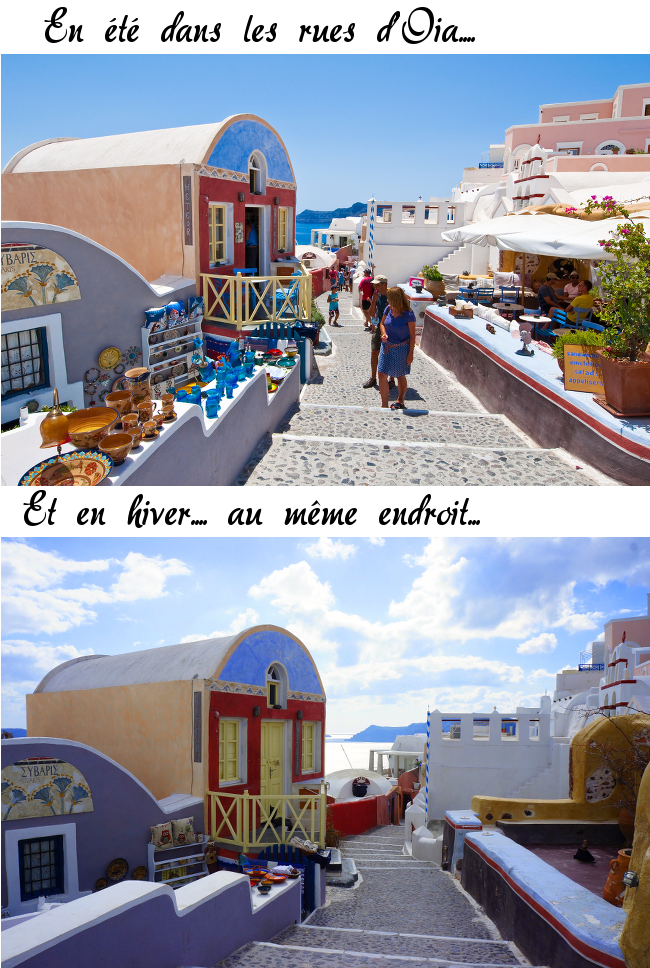 Photo credit for the summer picture: shutterstock
Seasonal island: the problem for animals
The vast majority of shopkeepers and restaurateurs come from Athens or other islands, and only live on Santorini during the "profitable" months for the business. They often bring animals with them or simply feed stray animals in front of their shop during the summer.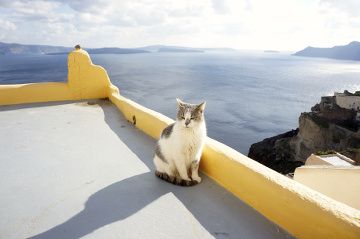 But when it comes time to pack for winter, few are the ones who care about their little four-legged "friends", and the vast majority are simply left to fend for themselves… This sad observation is valid for dogs and cats…. But in Santorini it is not only them who are victims of the sometimes cruelty of Man!
Donkeys are not really in a more enviable situation! During our visit, i.e. in the so-called "dead" season, donkeys are used to transport the equipment necessary for the renovation of houses and the maintenance of facades. A difficult job, with heavy loads!
But it's nothing! Once summer comes, these same donkeys are put into service to bring back tourists a little lazy from the old port! 50Kg on the back for those who fall on a slender young lady, but I let you imagine that it is not uncommon for them to find themselves having to climb the stairs with a 100kg dude on their back!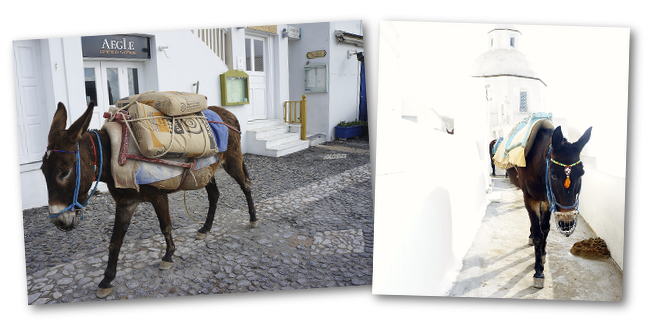 In short, these donkeys are exploited beyond their strength, and they often end up in a desastrous condition!
Sawa: A golden association to help stray dogs on Santorini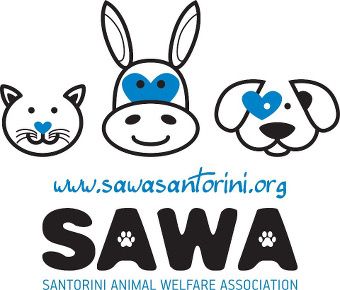 I couldn't stop there… I had seen during my research that an association was present on the island of Santorini and that it was trying to help its small animals. So we contacted them by facebook to find out if we could come by and bring them some sweets and give them a hand on the spot! We immediately received an answer from Debbie, a volunteer from Denmark who works as a volunteer for the association. Whether on the spot when she has the opportunity but also from her home in Denmark to find homes for dogs!
Visite du refuge
The next day we went to the shelter, and met Christina, the owner and manager of the place! Christina is a little piece of woman just a little older than us who runs the place with an iron fist! 130 dogs and about fifteen donkeys are permanently at the shelter, as many babies that need to be fed, vaccinated and cared for, spaces to clean, and also clans to manage! 🙂
The SAWA shelter was opened in 2009 by Christina and is permanently caring for a good hundred dogs and many donkeys. The association works closely with the German SPA (country in which the majority of dogs are adopted) and is supported by the Greek government, but of course not enough….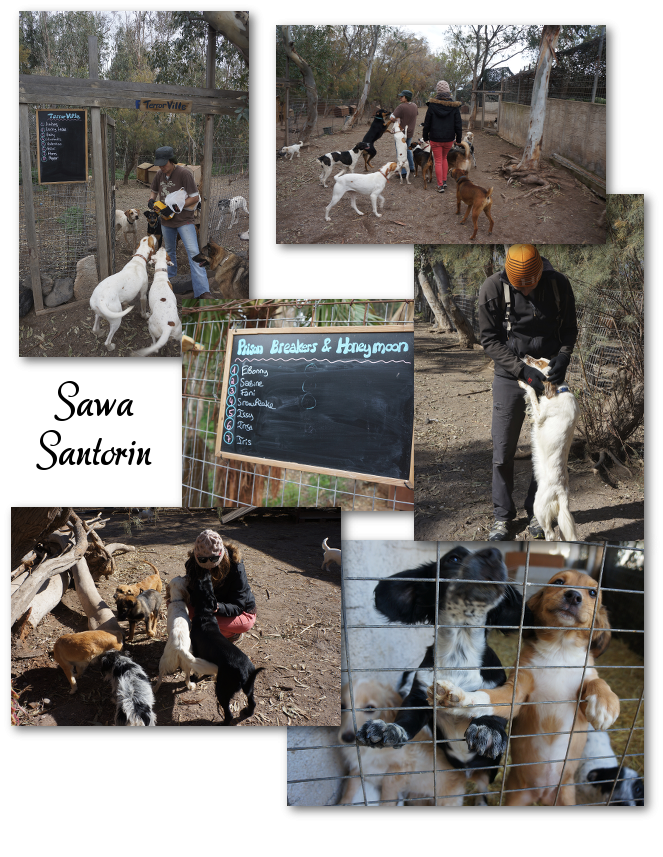 I had already been to shelters in Switzerland, and I must admit I didn't really know what to expect in Santorini… So first surprise, no individual boxes here! The dogs are divided by size and "dominance" or rather affinity in large enclosures, and every day the "groups" can go out in the big yard to stretch their legs! The clans of the alphas (the most dominant) coexist with those of the betas, the deltas force, mini, the "city terror", and how to forget the clan of the "prison breakers" 😀
Visit of the pens and meeting with the dogs – SAWA Santorini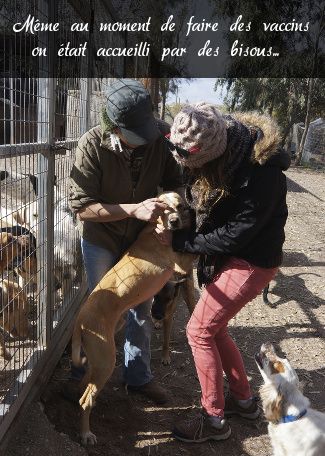 We went through all the pens, and despite some differences in dominance between the dogs themselves, we, as humans, were greeted by thousands of lickings in all the pens (and not just because we had brought cookies!)
Second surprise, and a big one, there are 130 dogs present and only 3 people work here in the morning to keep all this pretty little world fed, vaccinated and in a clean environment! Might as well explain that this is a crazy job! We were greeted by Christina's broad smile and good humour, who introduced us to her little tribes in turn! First all dogs, but also donkeys! Because yes, at SAWA Christina we also accept donkeys! Well, let's say that she doesn't have the heart to let them die when unscrupulous former owners tie them up in front of her door in the middle of the night….
The work of the SAWA association on Santorini
The work done by Christina and her team is amazing!
In 2014 they managed to offer a new home to more than 340 dogs, they castrated and vaccinated hundreds of dogs & cats in collaboration with veterinary partners on the island, they made sure that there were water and kibble supply points all over the island for dogs who could not be welcomed at the shelter, and of course they distributed an incalculable dose of kisses and hugs to all these little love balls!
At the shelter they have a superb sign with all the names of the adopted puppies of the year, and Christina told us that on the days when she loses a little motivation she just has to take a look at it to remember why she decided to devote herself to Santorini's animals…
What we can do to help stray dogs in Santorini
It's sad because sometimes there's not much we can do to help abandoned animals on some islands, especially on Easter Island where the fate of these little quadrupeds had also touched us a lot….
But in Santorini, the presence of the association makes it possible to make things happen a little bit, and especially to bring a little comfort and a good menu to the residents, and who knows perhaps even a prospect of adoption!
What can we do in practice?
So the subject is vast and the options are multiple!
in Santorini
Are you going on holiday to Santorini and want to know more about SAWA or meet the little dogs?
So don't hesitate to contact Christina to propose a paw as a volunteer! Whether it is for 1 week, a day or even a few hours your time is more than welcome! For Christina, the work of volunteers is essential, especially to keep dogs sociable! If you come for a morning or a day then taking a dog for a walk, giving kuddles and kisses is probably the best thing you can bring to the residents! Promise, experience made, they will give it back to you! We were covered in licks from head to toe! 🙂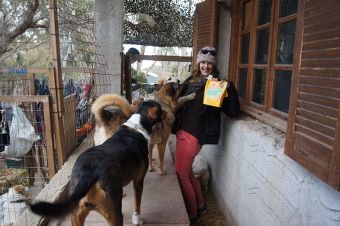 If you go to the shelter and don't want to arrive empty-handed, it's best to bring snacks for donkeys (carrots, apples, etc.) as well as treats for dogs! And if you have old beach towels to give, then be sure they can also make good use of them!
Help with animal transport!
The goal of the association is to have dogs adopted abroad! And sometimes the new owners come directly to pick up their new companion, but sometimes the dogs also make the trip alone! But here it is, an animal is not allowed to fly without being accompanied by a human with a valid ticket!
In short, you can propose yourself to bring a dog back to France or Germany! The association takes care of absolutely everything! The dog will be brought to the airport, a person from the association will take care of the fees and check-in. Your only mission will be to pick up the dog at the exit of the plane and take him to the airport lobby where another volunteer will be waiting for you to pick up the dog and give it to his new family!
Please don't ride on the donkeys' backs anymore to get back up from the old port ON FOOT!
Yes, it's bucolic and typical, but believe me, these animals are not made for that! Their health is destroyed after a few tourist "seasons", and once unusable to transport tourists these donkeys are simply abandoned tied to a pole in the middle of nowhere! Well yes, the owners will not continue to pay to feed these poor animals if they do not bring anything more!!!!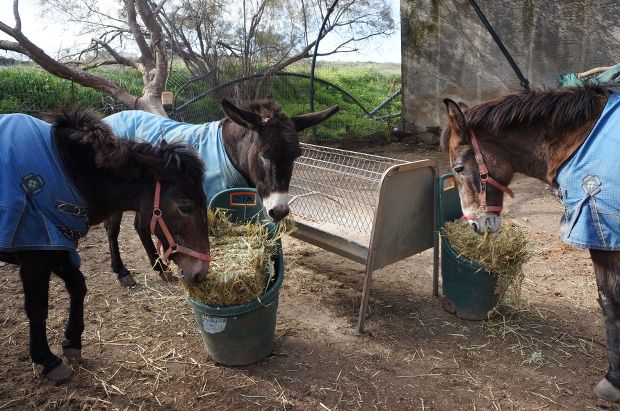 Help SAWA from home

Of course, as you can imagine, the association needs resources and funds… So if you want to contribute a little bit, all donations are welcome! Get on SAWA's facebook page to find the paypal payment details
We have visited this association and we can guarantee you that the money is used wisely, the volunteers are creams and produce a remarkable job! The donations made are managed by the German Animal Welfare Association, but all donations made come directly to Santorini and to the 130 canine boarders and retired old donkeys!
Adopt ! Don't shop for pets, adopt!

Are you looking for a new companion and want to help a little doggie straight from the paradisiacal little island of Santorini? Then the best thing is to contact Christina directly (contact via the foundation's homepage) who speaks French and English very well! The adoption takes place in several stages, but once a verification by a partner of the association present in France or in your country, the steps are very simple!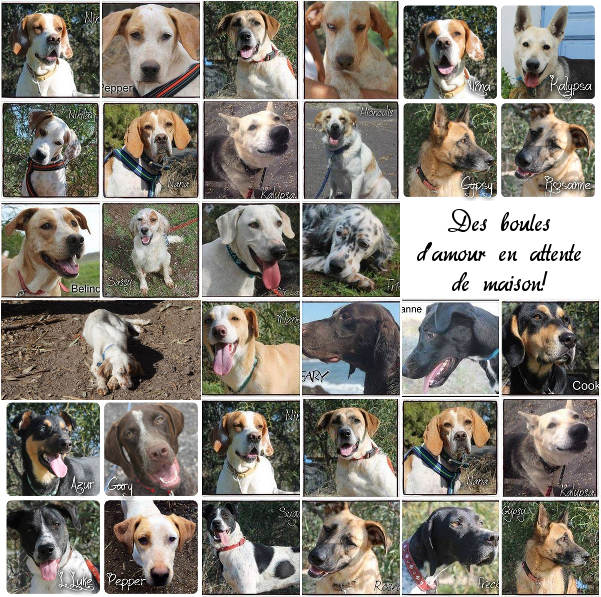 SHARE this article with as many people as possible! Share the article, the association's website or the SAWA facebook page to your friends and acquaintances! Who knows, maybe thanks to this, some of the adorable 120 loveballs will find a new home! 🙂
That's it, as we were saying, this article comes out a little bit from the beautiful and joyful stories we usually tell you, but for us it was important to talk about it!
And who knows, if a few dogs can find a new family or a few donations arrive at the association then it would already be a great victory for us!
Sharing information is helping
So share the information with as many people as you can, whether it's this article, the SAWA facebook page or talk to people you know who are planning to visit Santorini! And if you pass by the refuge don't forget to give a big hug to the residents from us… 😉
More information: The SAWA website

Enregistrer