That's it, this time we have indeed left; and it is in Turkey that this new journey, which will last 7 months, has just begun. It has been a short week since we left Switzerland and arrived in the pretty town of Izmir on the Aegean Sea.
Our first days in Turkey are going very well and in this article we thought we would give you our first impressions of Turkey but also give you our favorite things to do in Izmir.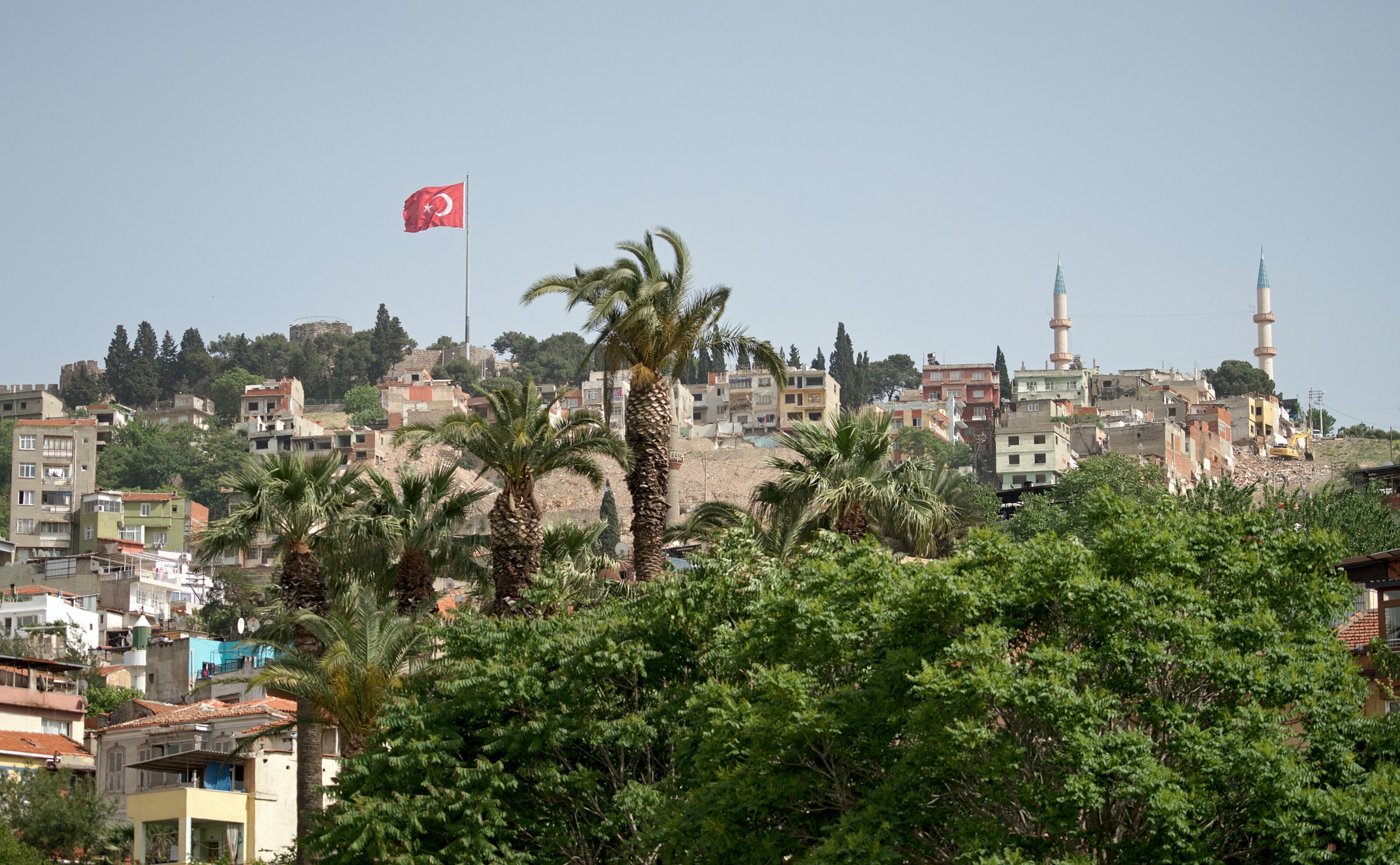 The article will gather our first impressions, practical advice and good addresses… in short, it promises to be relatively long, so I suggest that we start with a small table of contents to help find what you want. 😉
Izmir: A city with little tourism resolutely turned towards the West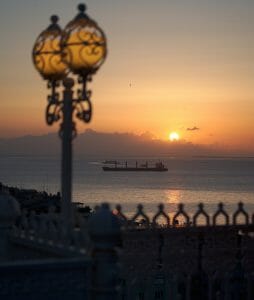 To begin with, why did we choose Izmir as the first stop on this journey? That's a very good question…. 🙂 In fact, when we started planning this trip (maybe 2-3 weeks ago) we were in a state of hesitation: Iran? Georgia? Turkey? We had very little time at that moment and we admit it, the reservation was made in a (very) hurried way
It was finally a cheap flight ticket and especially a direct flight that decided us.
When we arrived here, we had no time at all to look at anything. We had booked an apartment in a hurry and that's it. This first week was intended to get us started and above all to give us time to plan a little more. This has now been done.
Izmir, we knew it was a Turkish city, but let's be honest, we could never have put it on a map before. Much less known than Istanbul, Ankara or Antalya, it is nevertheless the 3rd city of the country with nearly 3 million inhabitants (4 million if we count the province)!
If you don't see where it is either, here is a small card from Turkey as a gift: 🙂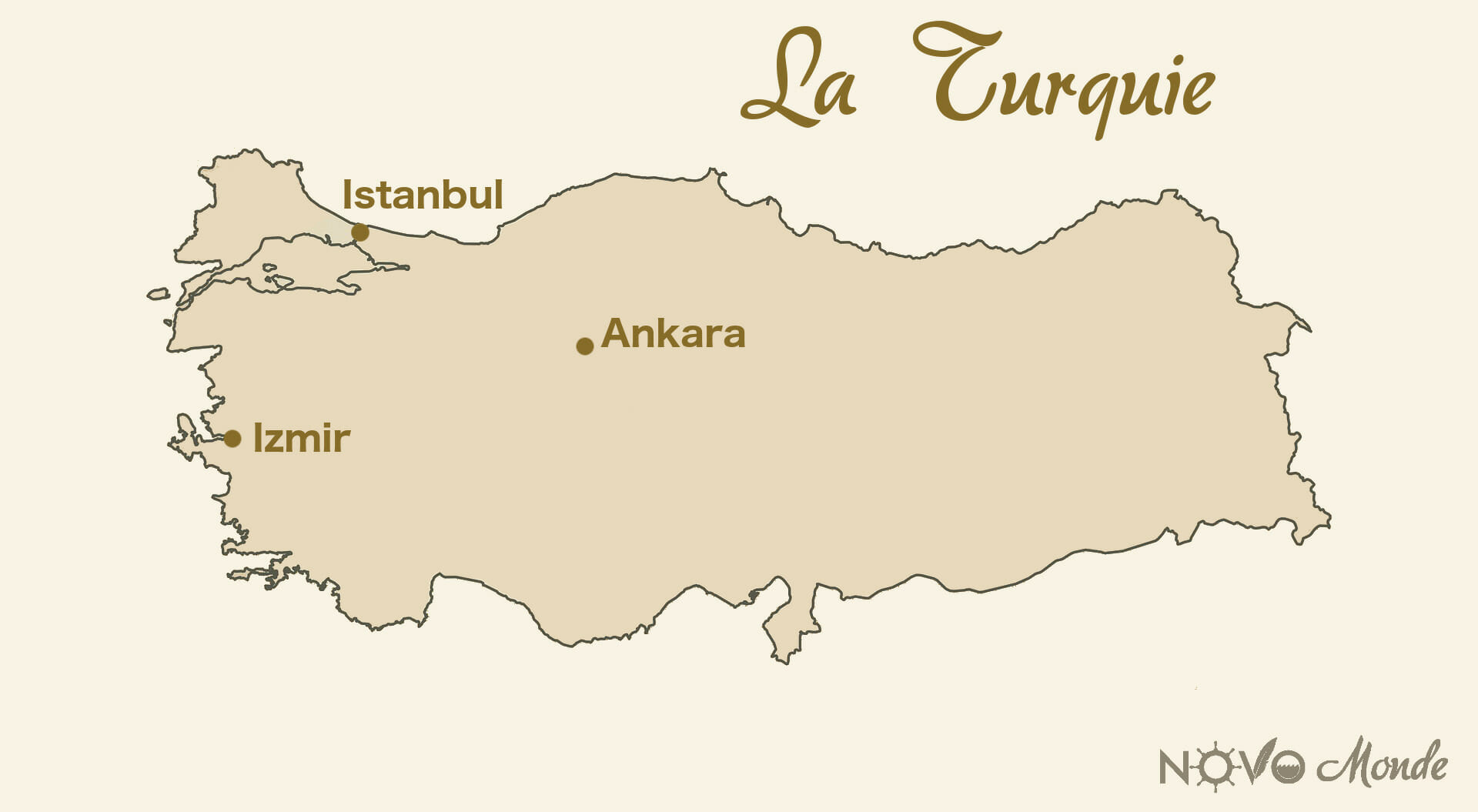 The city of Izmir was once called Smyrna. This name is still used in some languages such as Greek or Spanish.
Today, Izmir is best known as the most Western-oriented Turkish city. A large part of the population is Muslim and mosques are found everywhere, but when you walk around the city centre, it is not necessarily obvious. Many women do not wear a veil, alcohol is served on many terraces and the inhabitants enjoy meeting on the seaside to drink a beer and eat sunflower seeds or balls stuffed with rice (even during Ramadan).
Things to do in Izmir: our favourite places to visit
Stroll in the Bazaar district – Keremalti Market
The pedestrian centre of Izmir is really a stunning place! Stores everywhere, lots of people and especially smells and flavours coming from all sides. We've been lost in this maze countless times…. Every time we spotted a small coffee we never managed to find it the next time. 😉 So my best advice is: take a walk and if you see a coffee you like, sit down! You may never find it again.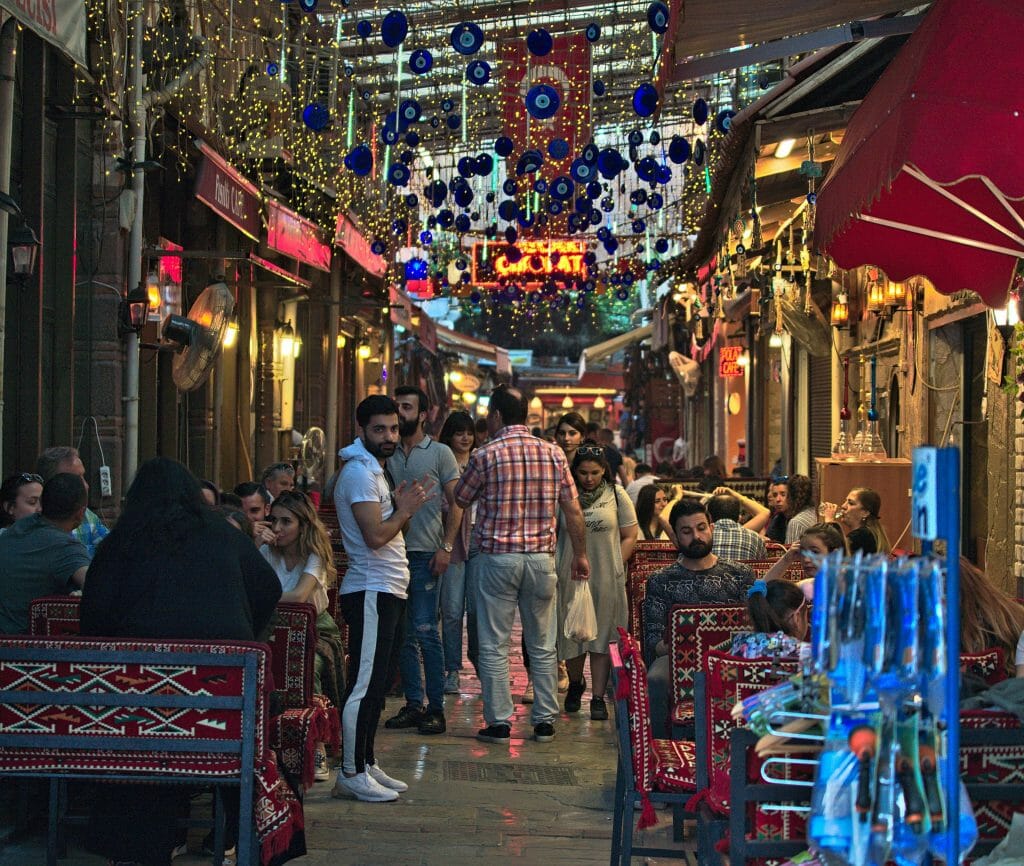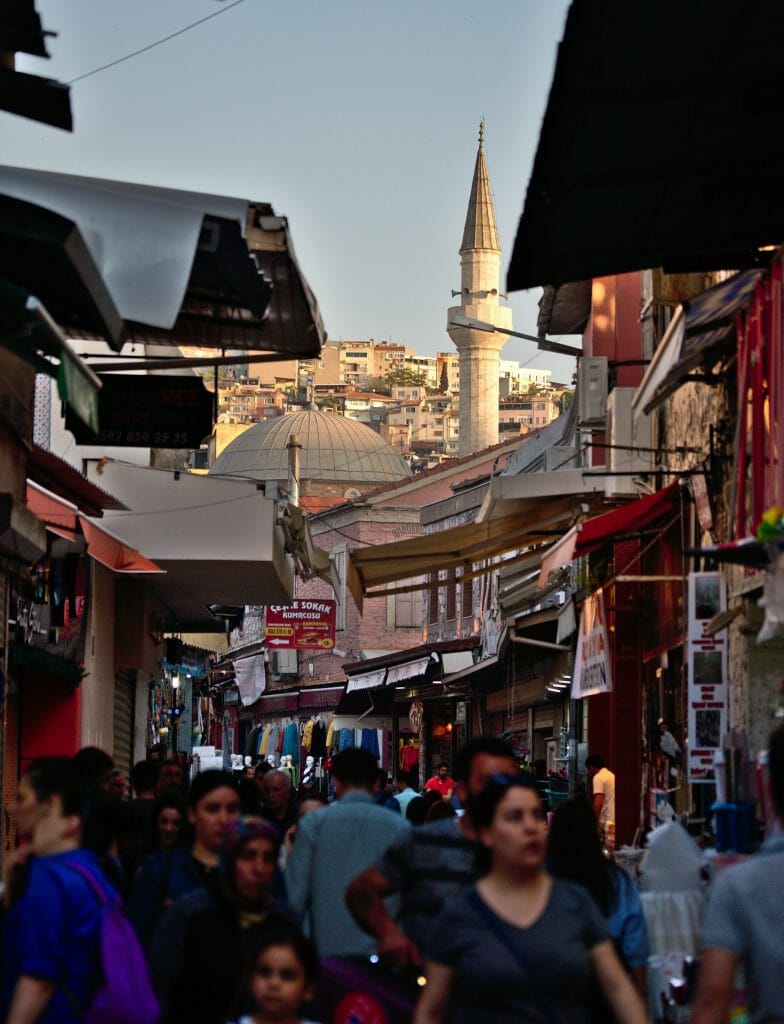 Kızlarağası Hanı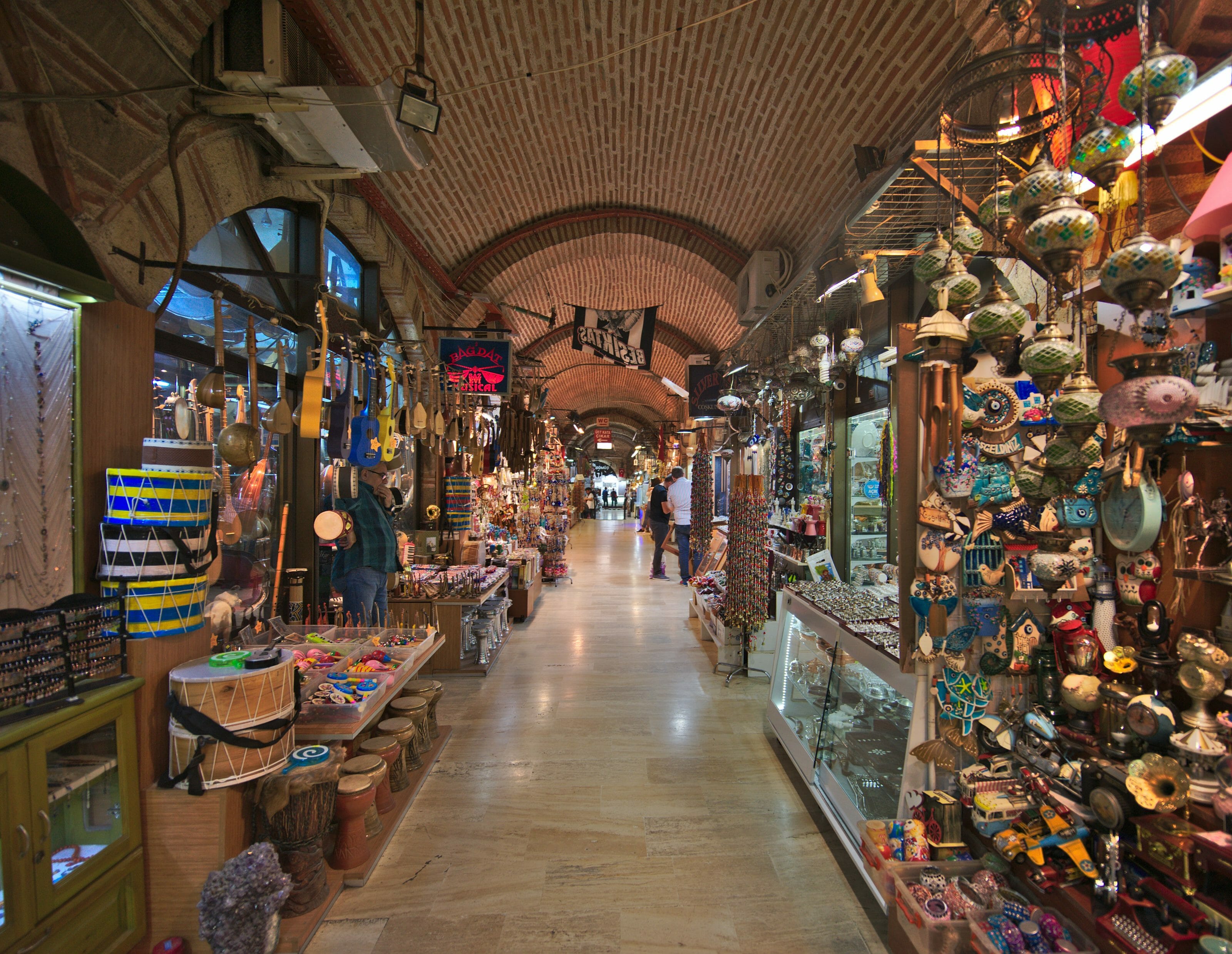 This covered market is located in the Bazaar district but we have set it apart because it is really a quite unique place. In fact, the building was originally built in 1744 (since restored) and if you come here it is not to buy expensive souvenirs but for the beauty of the building and the atmosphere that prevails there. On the ground floor you can find all the great classics of souvenirs without much interest, but if you go up to the upper floor you can visit antique dealers and craftsmen. We didn't buy anything, but it was very interesting to visit it!
Walk on the docks
This is not a tourist activity in itself, but if you come to Izmir you are strongly advised to go for a walk along the Aegean Sea. The city has developed a promenade that extends over many kilometres (we are far from having covered everything). From our apartment we regularly did the 5km that led us to " Kordon". On this walk you will rarely be alone… Between couples of lovers, groups of friends who come for a drink, runners, mussel sellers and especially fishermen, you will not have time to see the miles go by.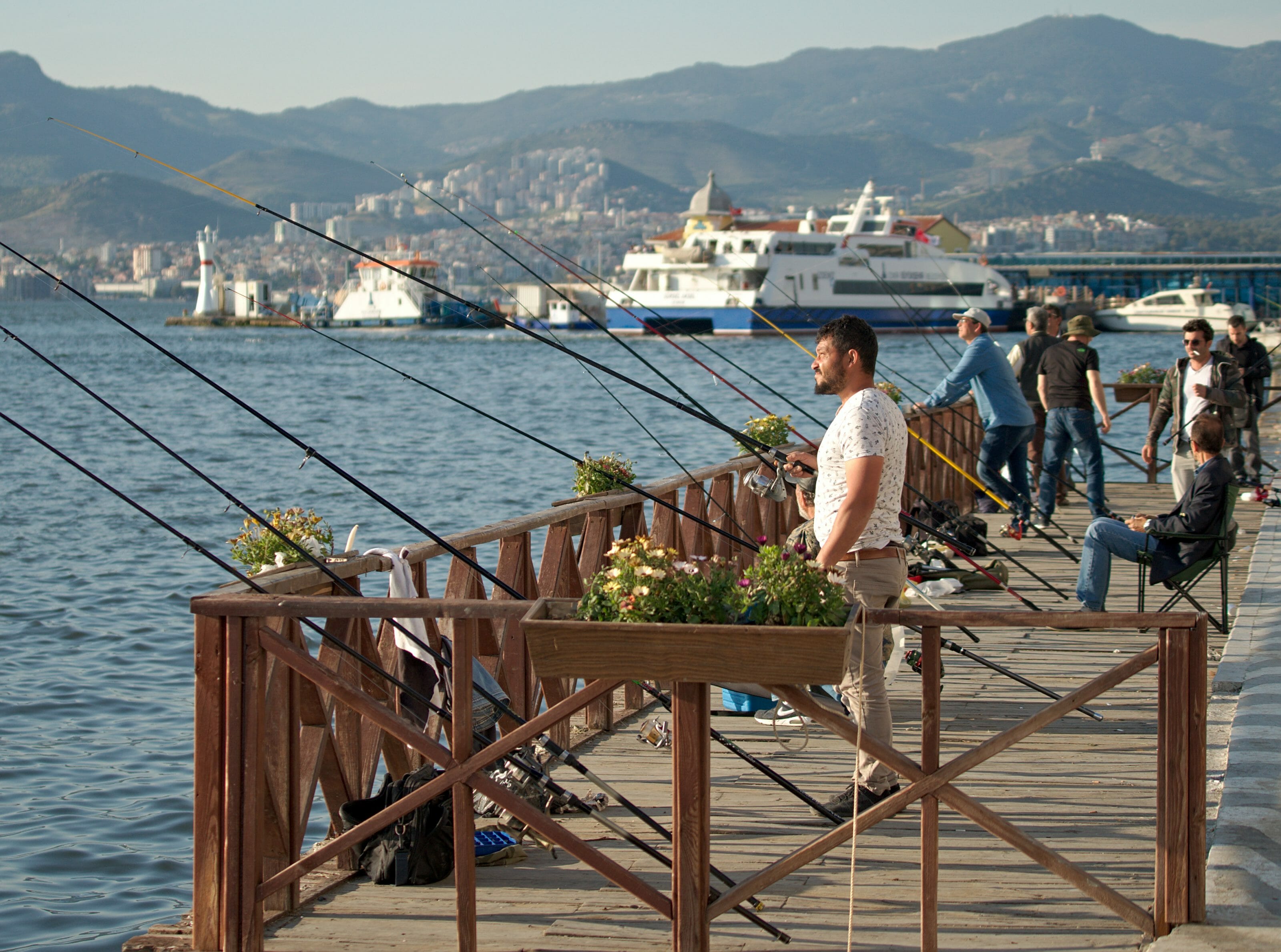 Visit Agora
The Agora is an open-air museum in which you can admire the remains of the ancient city of Smyrna. The ancient agora, which dated back to the 4th century BC, was destroyed by an earthquake in 178 BC but was quickly rebuilt by the Roman emperor Marcus Aurelius. In the current museum you can see the water channels built by the Romans, which are still in operation.
A large part of the site is closed to the public because excavations and restorations are still in progress, but it is still worth going there, if only to take a walk on the floor below the level of the old basilica.
Price of the visit: 12 TL per person (about 1,8€)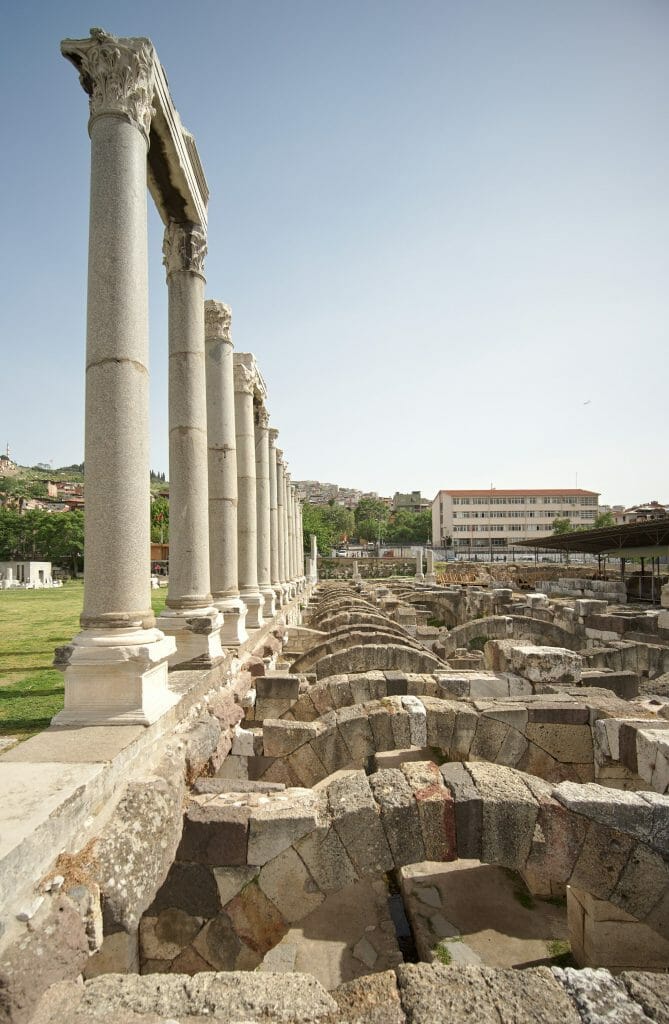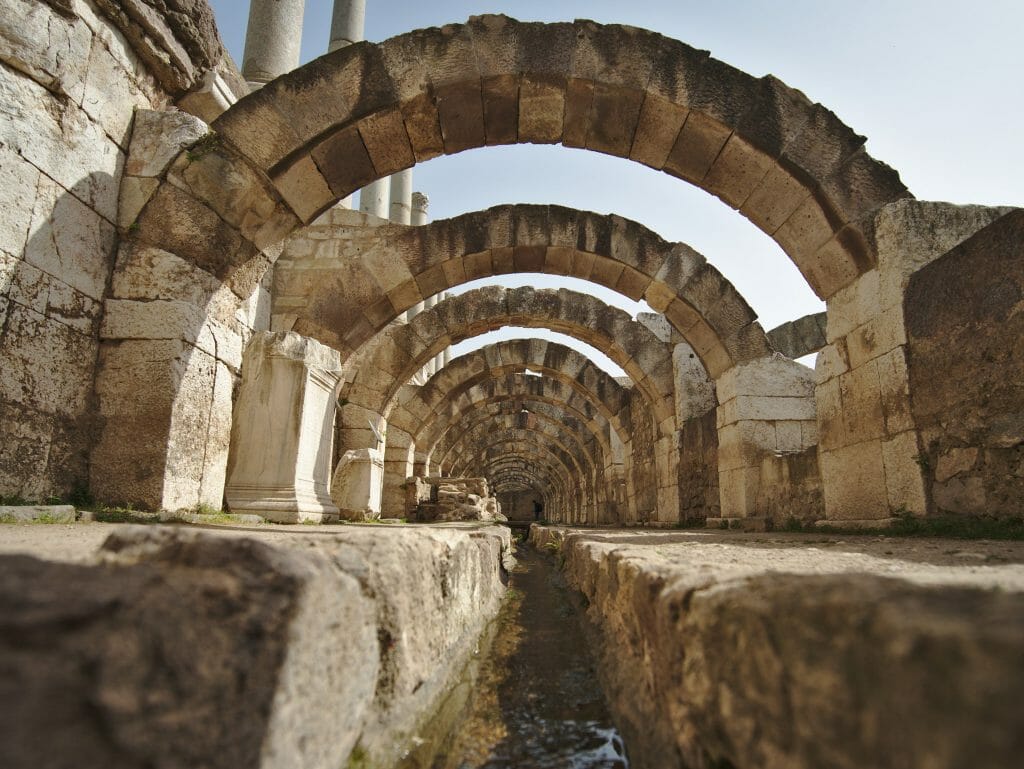 Clock Tower
Ok…. this one is a bit of an Izmir classic and for our part we were clearly out of luck because it was being renovated at the time of our visit. Located on Konak Square, this tower was built in 1901 by a French architect: Raymond Charles Péré.
Asansör – the best view of Izmir
I give you the right answer, the name Asansör is derived from the French name: elevator (ascenseur in french). The reason? Well simply because it is actually an elevator (or 2 rather) that allows you to pass easily from one street to another without having to swallow the difference in height. The elevator is free and from the top you have one of the most beautiful views of the city!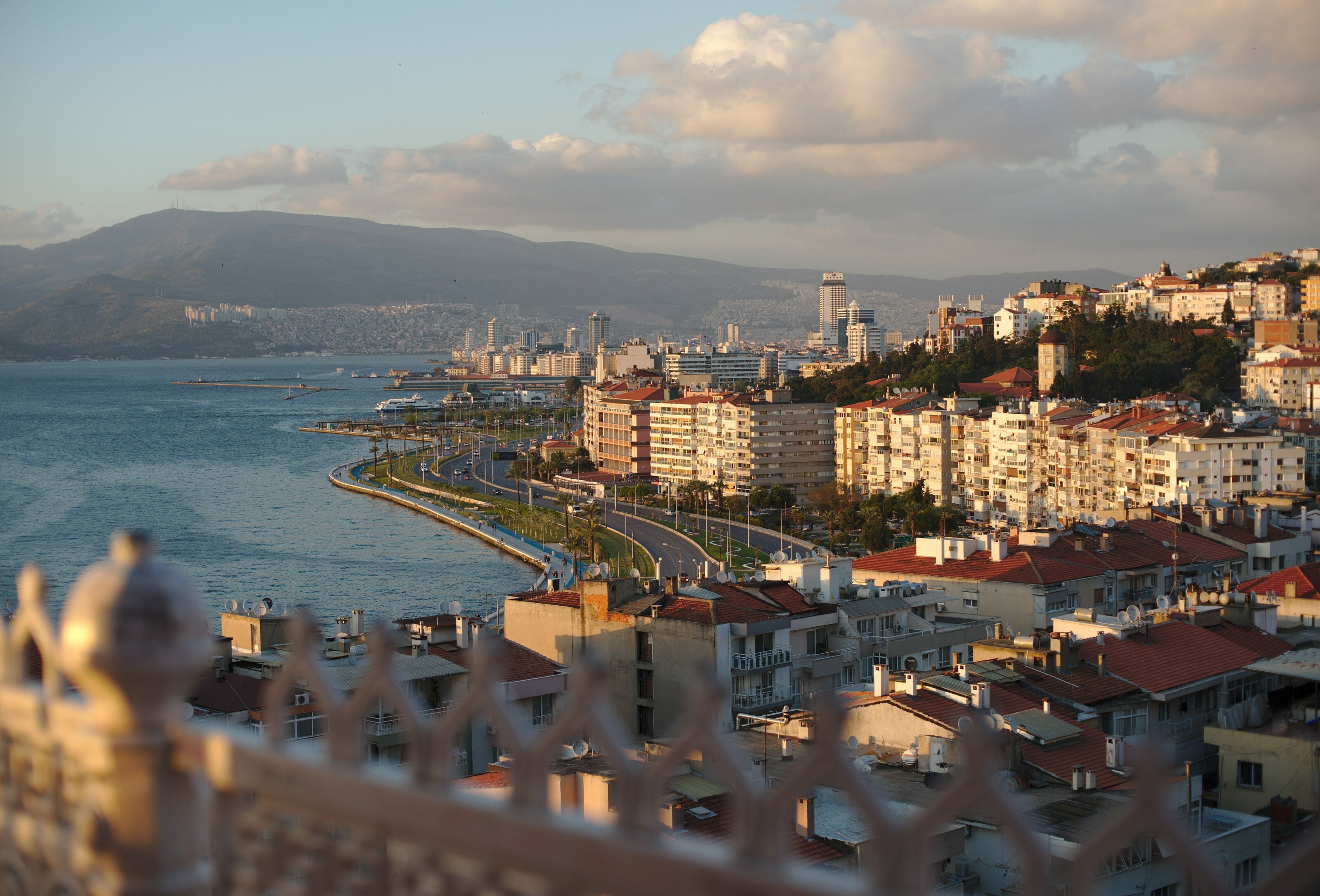 the blue mosque of Izmir
There are many mosques in Izmir and many of them are worth a look. Those in the centre (in the bazaar district and towards Konak) you will have no trouble finding them, but if you were to be recommended one more it would probably be Fatih Camii's which is located at number 36 of Birleşmiş Milletler Street. Its beautiful colour and impressive panoramic view of the city are worth a visit! Then we agree that it is not worth the blue mosque of Istanbul…;)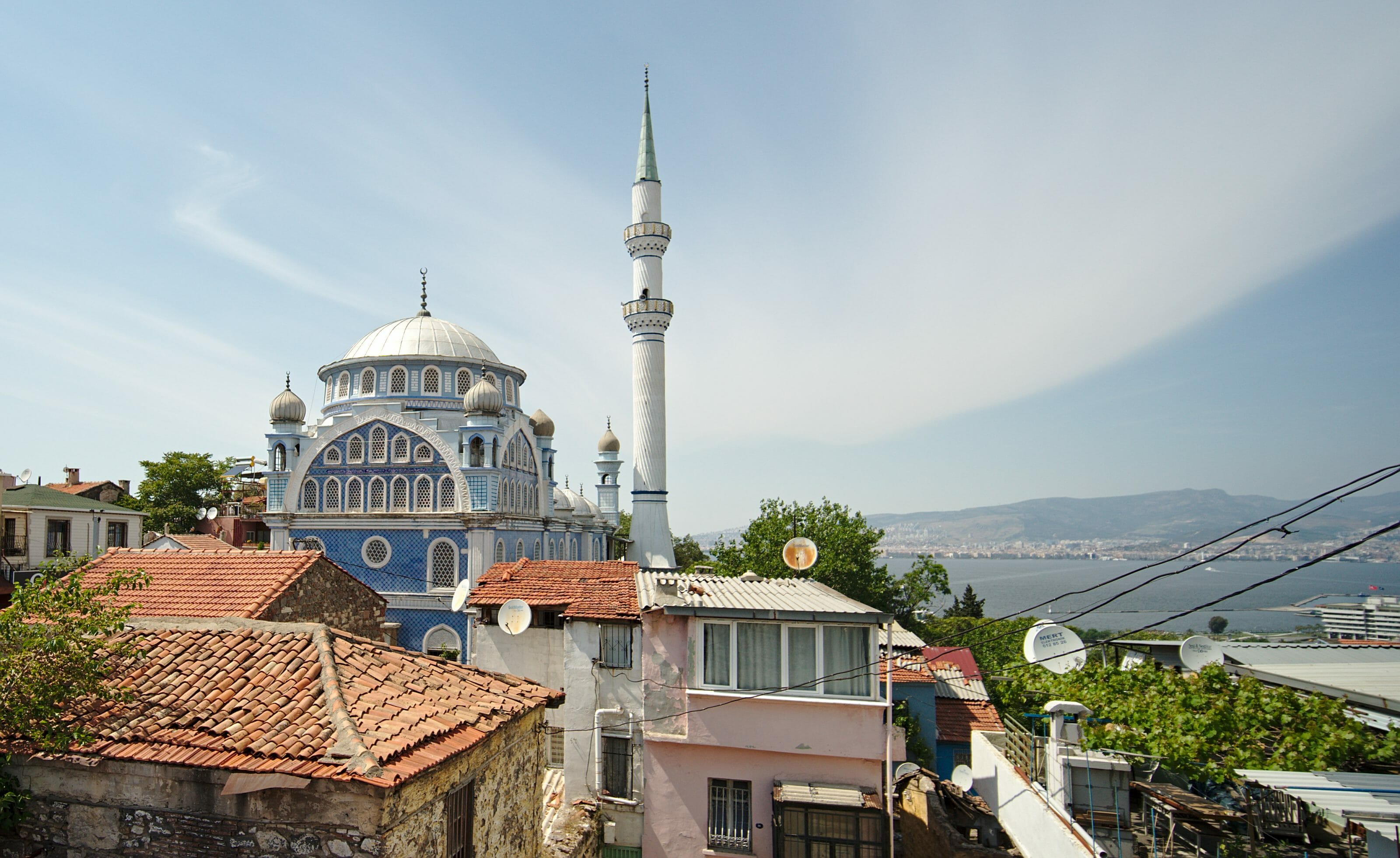 The Atatürk Museum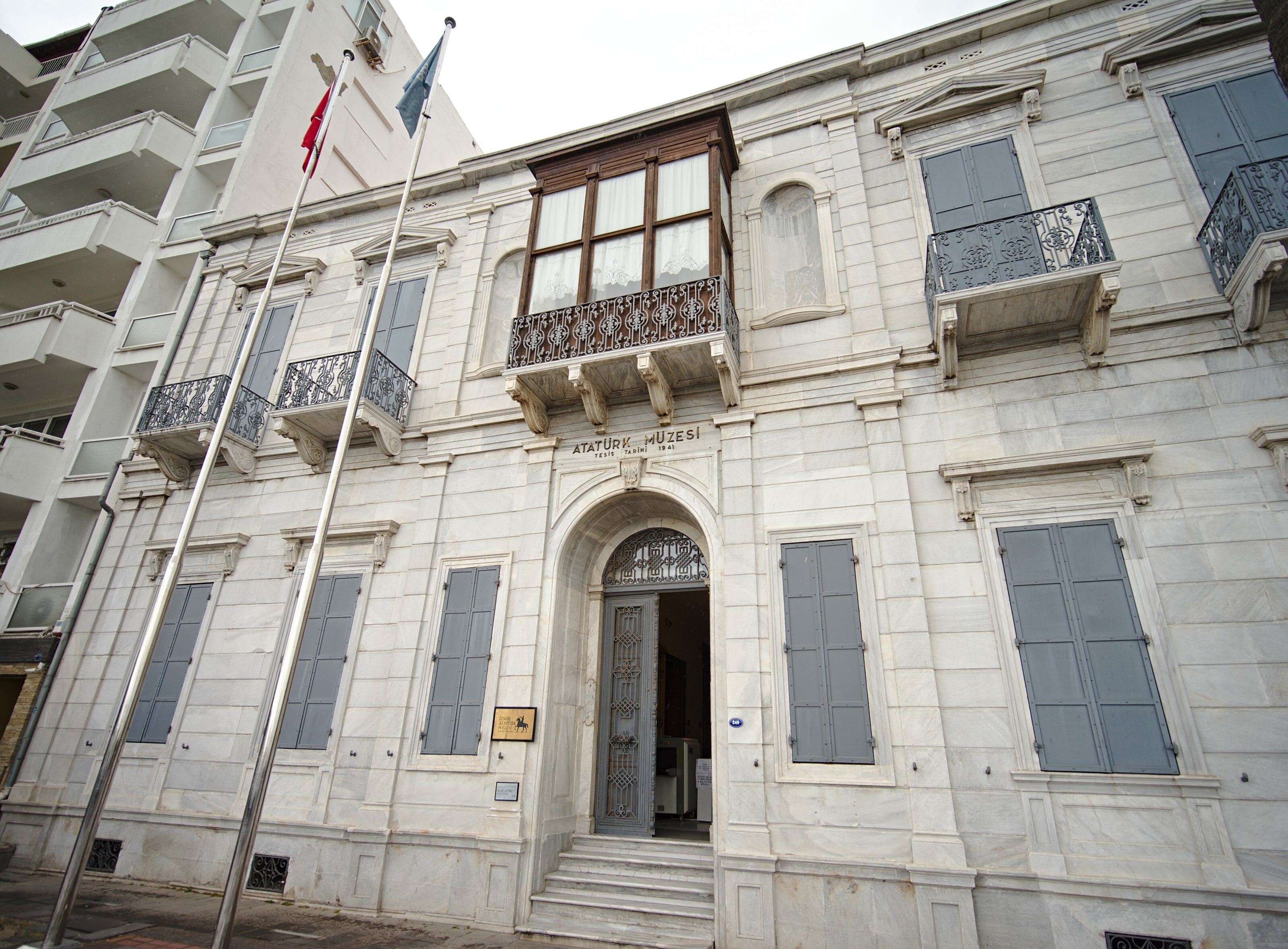 A free museum dedicated to the founder of the Republic of Turkey. Adulated by some and criticized by others, it was he who gave his secularism to the country and also the right to vote to women and replaced the Arabic alphabet with the Latin alphabet.
The museum itself is not crazy good but it is nevertheless very interesting to learn more about the founding father of modern Turkey.
Konak Pier
This former customs building, which was designed by Mr. Gustave Eiffel (yes, the same as the one from the tower in Pars), was initially transformed into a fish market and in recent years has become a large, ultra-modern and somewhat chic shopping centre. So we are not shopping enthusiasts, but the architecture of the place is clearly worth a look!
Some good addresses in Izmir to eat and/or drink
Where to eat in Izmir?
Our favorite addresses in Izmir:
Gozlemecim
A great place to eat Gözleme. These ultra-thin dough crepes can be stuffed with just about anything and everything. In this small restaurant the menu is presented in the form of a huge list of ingredients and you choose what you want to put in your Gözleme. Very good, fresh produce and a nice place. Very good for vegetarians too!
Addresse: 897 Sokak No: 19
Price: We paid 48 TL (less than 7€) for 2 Gözleme, 3 drinks et 2 teas (teas were for free)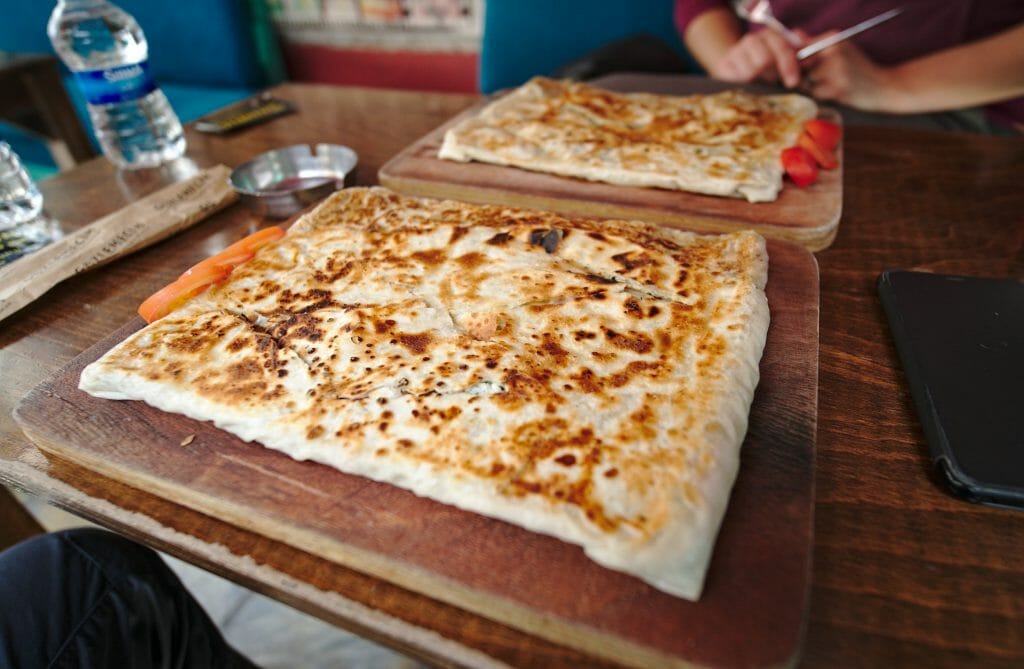 Magro – Good Food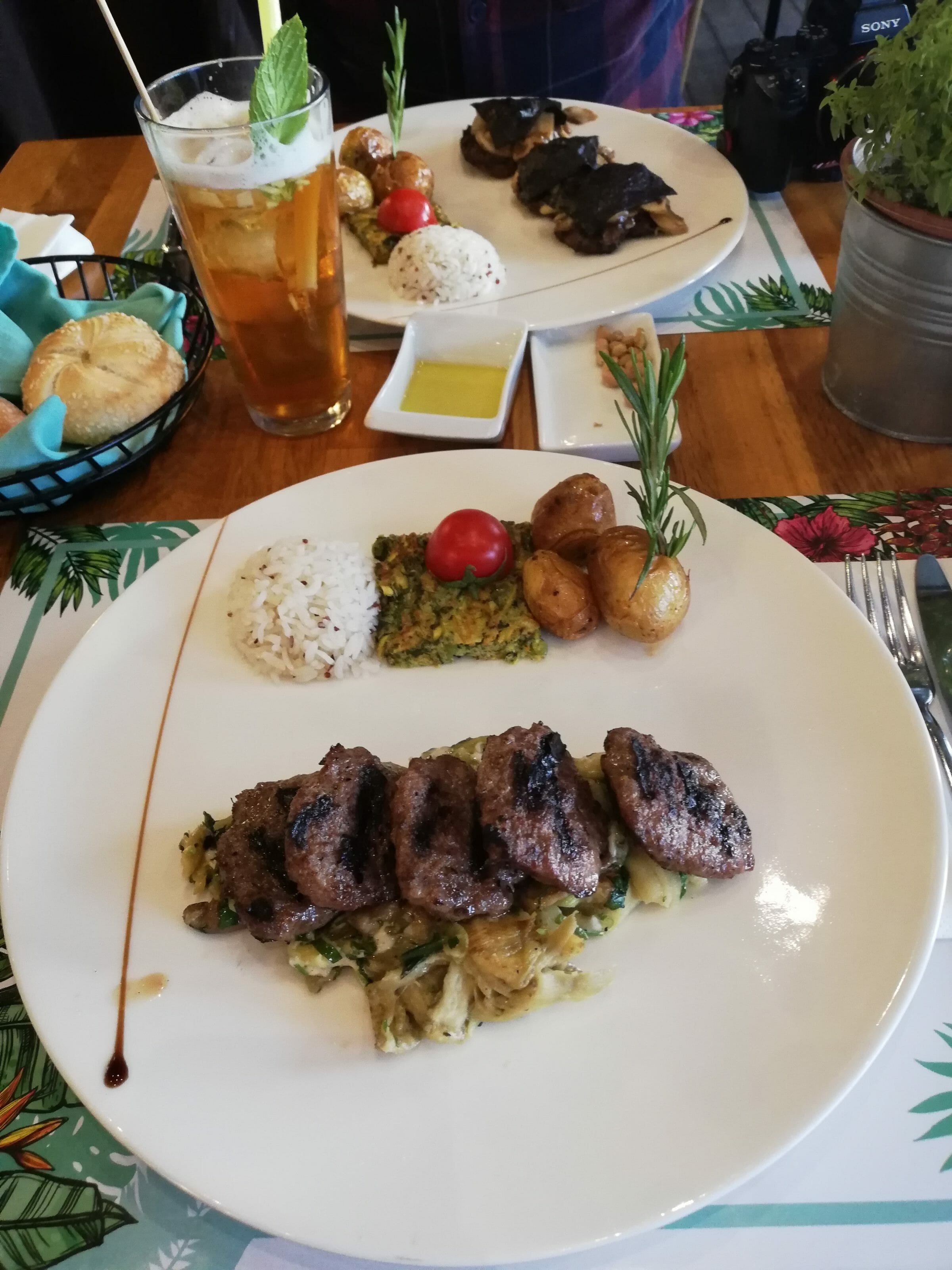 A good address for a healthier cuisine (so that you don't only eat kebabs). Located on the promenade of Kordon we landed there a little by chance on the first evening. It was excellent!
Address: Atatürk Caddesi 220A (on Kordon)
Price: we paid 102 TL (approx. 14€) for 2 dishes, 2 drinks and 2 teas.
Burger Wars
Okay, that's clearly not fine dining… but it's a "restaurant" that was not far from home. We went there without having too many expectations and we were more than pleasantly surprised. The place isn't exactly classy, but the burgers are really good and the guy who makes them is just adorable. We didn't understand a word of Turkish, he spoke two words of English and yet we had a great time "chatting" with him.
Address: 127 Sk No:6A Güzelyalı
Prix: Nous avons payé 48 TL (moins de 7€) pour 2 menus (burger, frites et boisson)
Tugba
A good place to go and buy some Turkish sweets and drink a good Turkish coffee at 1 TL. On the other hand we warn you eh… it happens quickly that you buy more than expected:) We were thinking of buying a couple of things and we ended up with almost a kilo of Turkish delight. The price was very reasonable though… we paid less than 3€ for everything, but might have to pay the price for it when we go hiking again! #ExtraPounds
Adresse: It's a chain and you can find it everywhere. The one we had been through is on Konak Mahallesi, Anafartalar Cd. No:7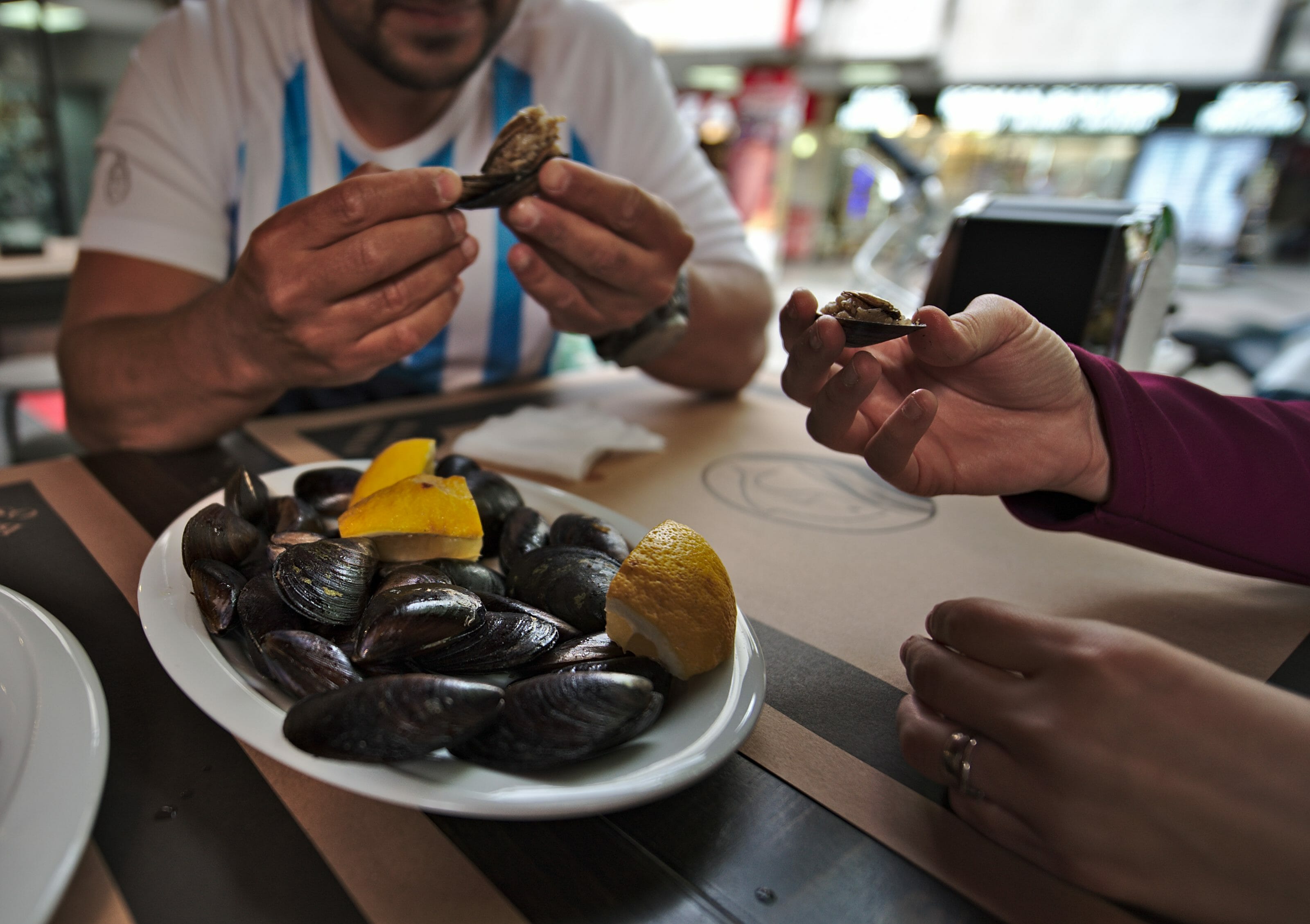 And if you're in Izmir, one thing to taste is the Midye! No particular address here, because they are literally everywhere. Midye are mussels that are stuffed with rice (and molluscs of course). It can be enjoyed with pressed lemon.
Note: you are advised to eat them in a restaurant and not to buy them from the many street food sellers who sell them. It remains a seafood, so the cold chain is important (even if the mussel is cooked).
Where have a drink in Izmir?
The most beautiful view to have a drink is certainly the Asansör. At the top there is a restaurant (rather classy) but also a café with a breathtaking view. And if the café is full, don't hesitate to go 20m on the right, a second small café much cheaper and very local offers almost the same view (there is just no beer at this one).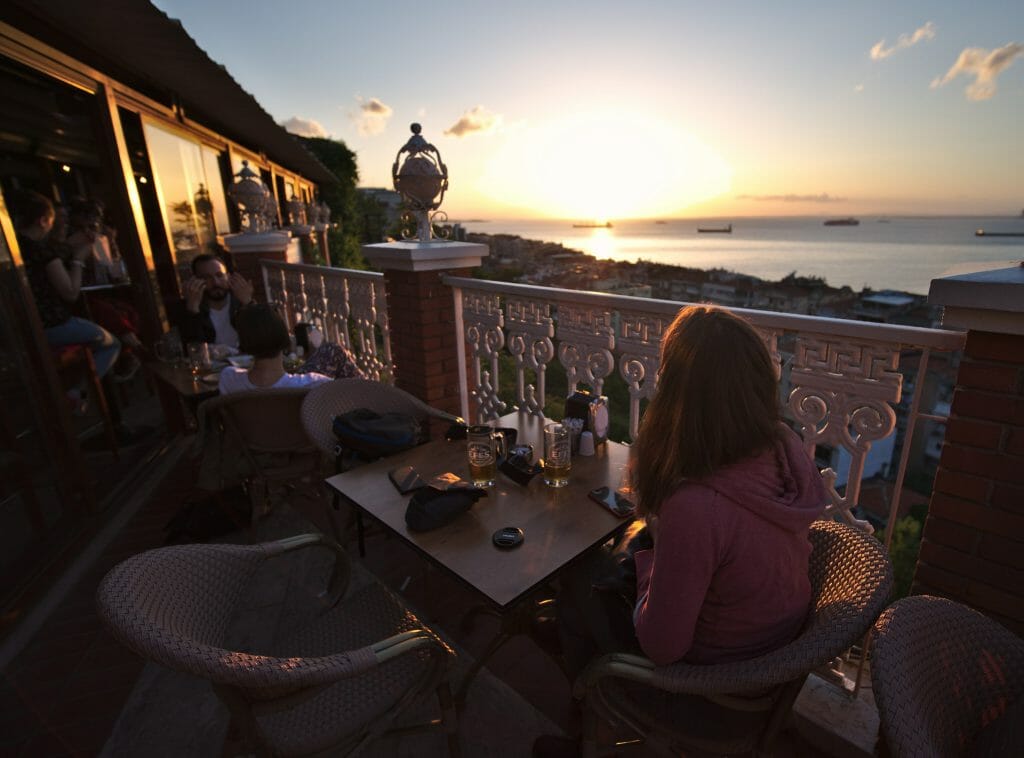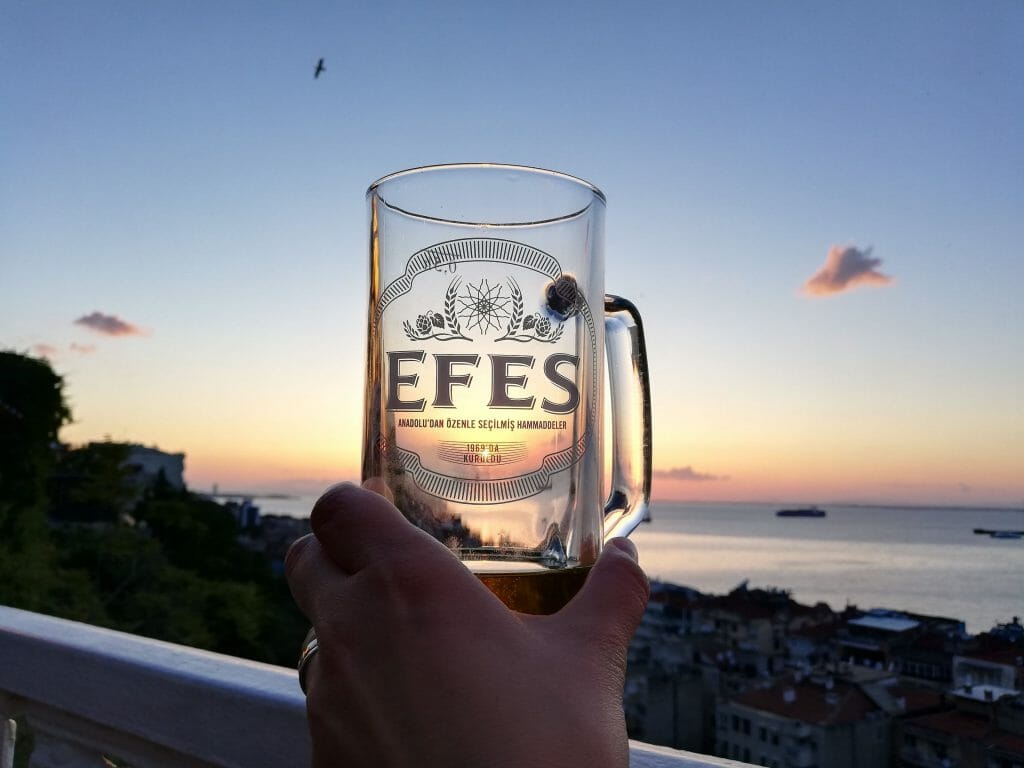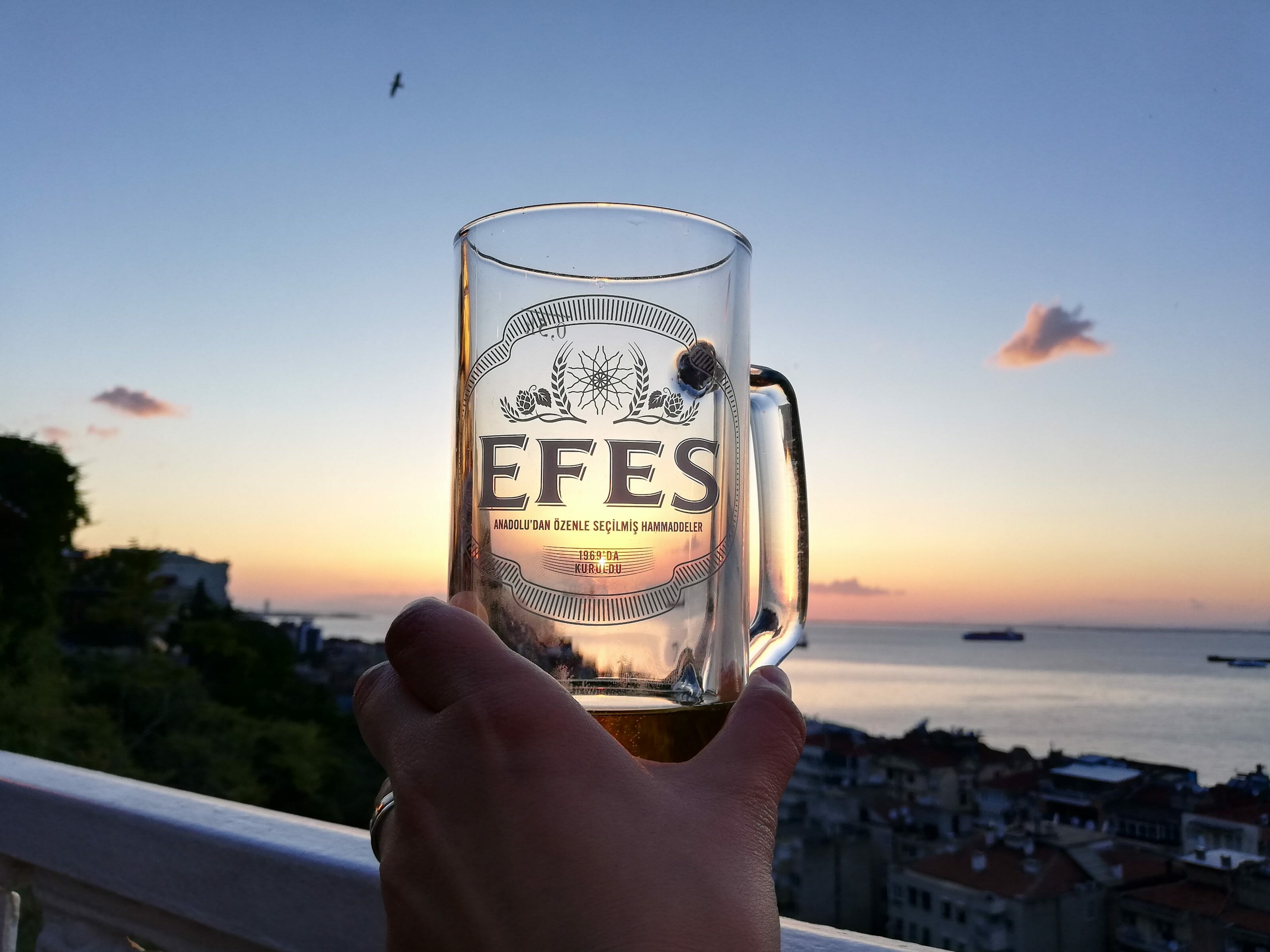 Otherwise, if you want to stay in the centre the best place to have a drink is on the promenade at Kordon level. There are many bars, pubs and restaurants. Not necessarily a charming place, but the view is nice and the cards are varied.
Otherwise, to drink a chai tea (typical turkish), we recommend the small café in the centre of Kızlarağası Hanı. Held by the city, the prices are low and the atmosphere is very local and friendly.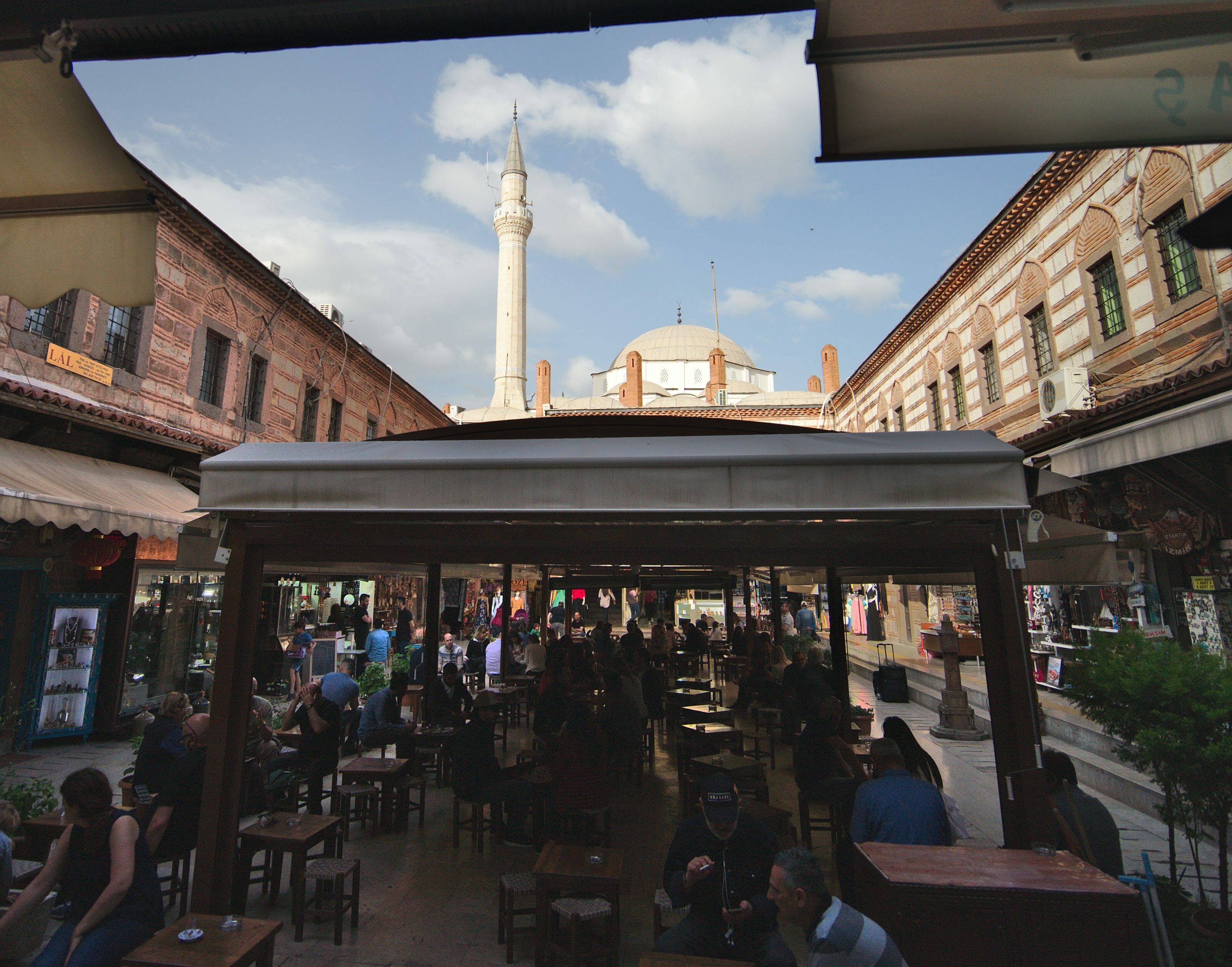 Visit Izmir with a guide
During our stay we also had a tour with a local guide. We wanted to ask a few questions, but above all to see and understand this city a little better. In the Baltic countries we had regularly done "Free Walking Tours" (city tours based on tips) and each time we loved the concept. Thus, we started to look online for something similar in Izmir.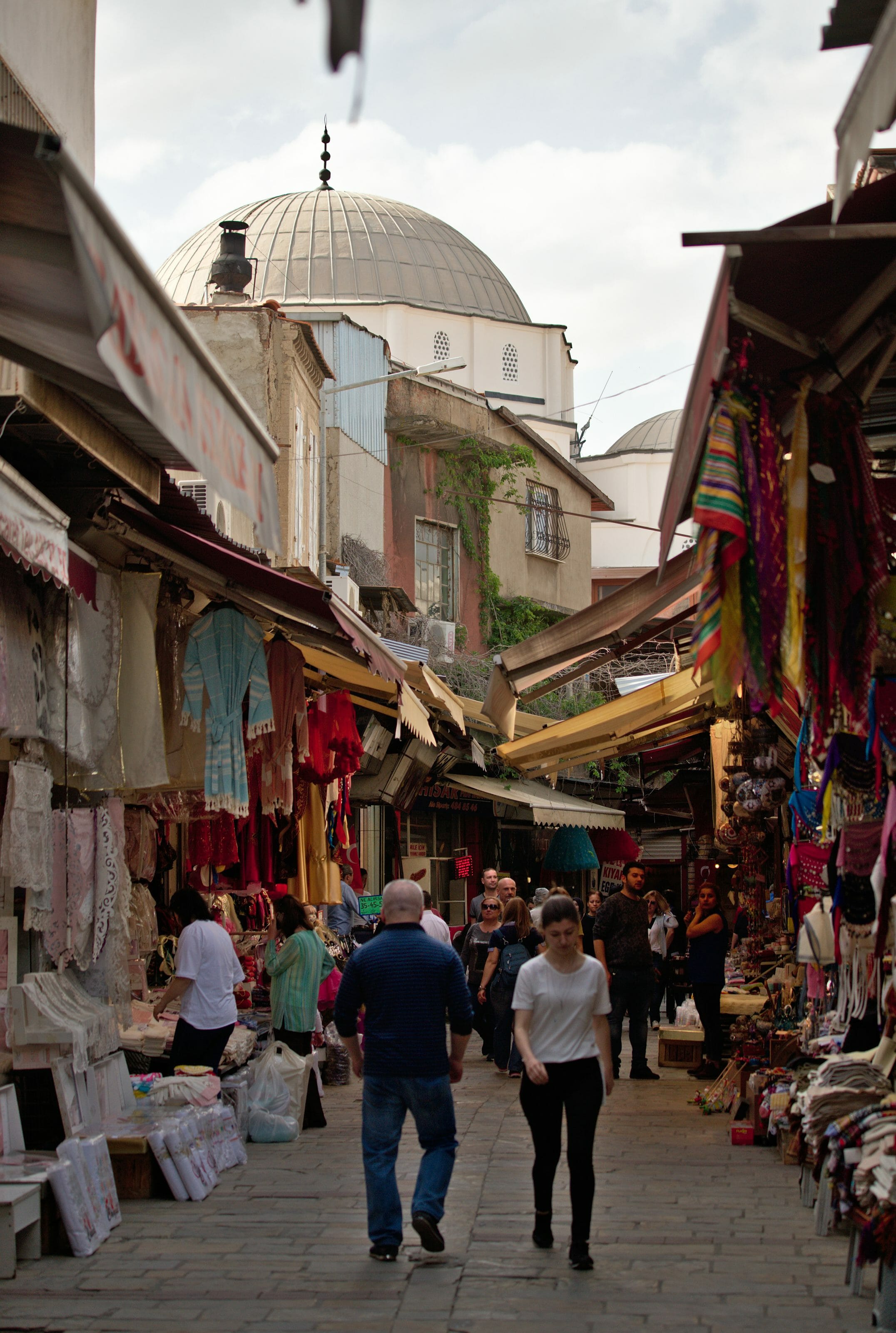 So we're not going to lie, the offer is rather small… In our research we came across 1 tour that was advertised as "closed" on Trip Advisor but with a linked website and a whatsapp number for contact. Without much conviction we sent a message.
Less than 2 minutes later, Osman answered us enthusiastically. The appointment was set for the next morning. 🙂 Simple and efficient as youcan see!
The next day we meet Osman. An amazing guide! He does not know history particularily well… his tour is not ultra structured either, and yet we loved it! We spent almost 5 hours with him (we were the only ones who came to the meeting… other participants cancelled at the last minute). Osman is a guide who will never try to take you to a carpet seller or for a "free" tea with a friend and then sell you souvenirs. No, with him tea is offered with good heart and his good mood is quickly very communicative. He has many anecdotes and above all he is open to talking about every possible subject. In short, if you come to Izmir we recommend you to send him a little whats'app, you won't regret it!
Izmir: Getting around in the city and from the airport
Getting around Izmir is very easy! There are buses, subways and tram lines. During our stay we only used trams and subways.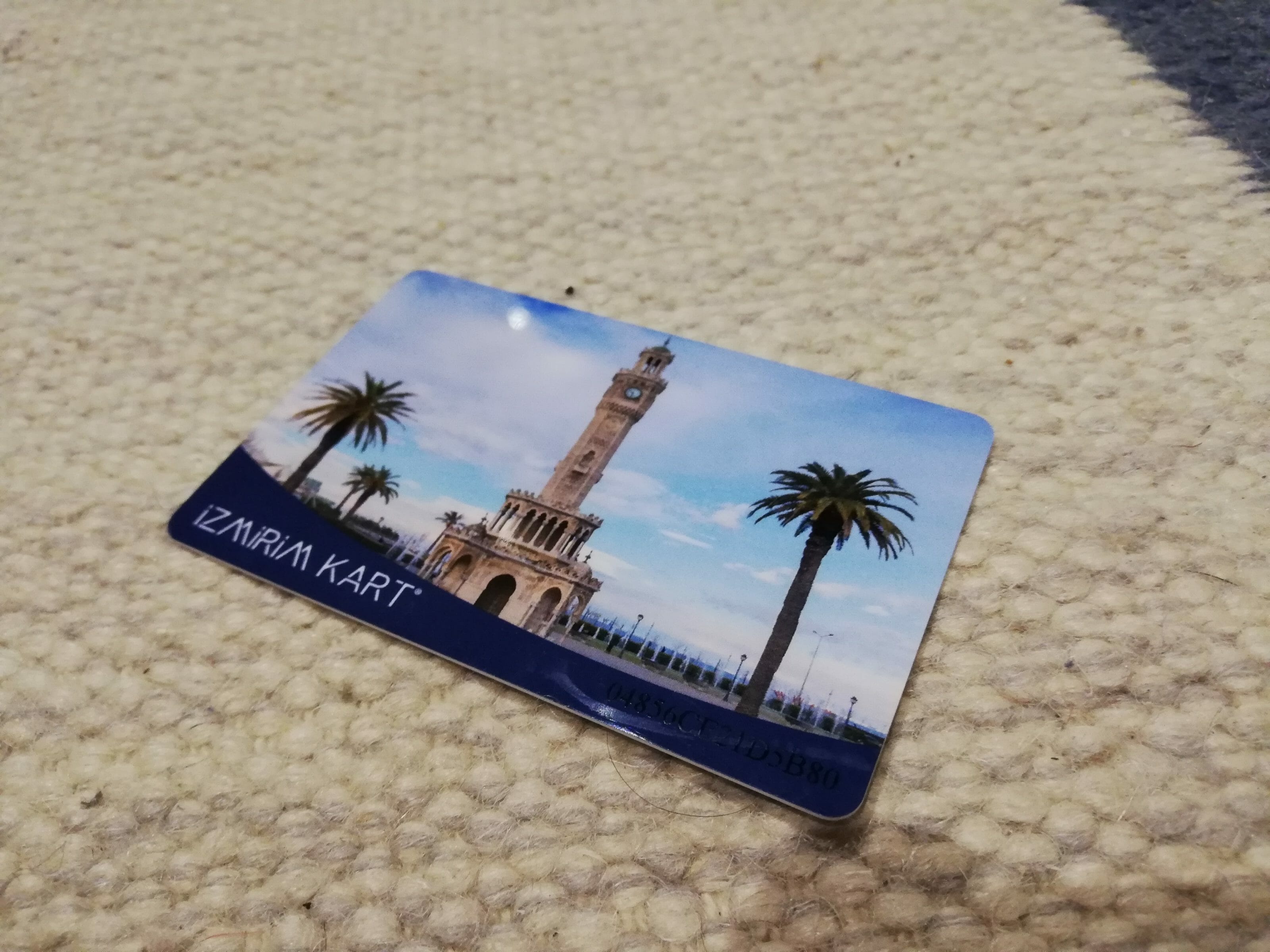 When arriving from the airport, be aware that the most economical is clearly the metro! When you arrive at the international terminal you will see a lot of buses and taxis. Some will even tell you that there is no metro (this is what we were told by some taxi drivers). So yes, the metro is not at the international terminal, but at the "national" terminal, which is a 5-minute walk away.
From the airport the metro goes directly to the centre and the price level is unbeatable. We paid 15 TL per person (about 2.2€) and this price included the trip but also the purchase of the IzmirimKart card.
Izmirimkart is the precious card you will need for all your travels. The card costs 6 TL and can be charges at all metro stations (no minimum top-up amount). Then, each trip costs 3 TL. A journey may contain changes, but should not exceed 90 minutes. In short, it's very convenient and cheap!
On the other hand, be careful…. In Izmir Google Maps does not manage public transport at all. To know the best route, the application to download is Trafi (on Google Play and in the App Store). The application is free of charge.
Rent a bike in Izmir
Like many cities in the world, Izmir is equipped with a whole network of urban bicycles. Located mainly on the seaside, they are an excellent way to get around quickly and cheaply while enjoying the scenery.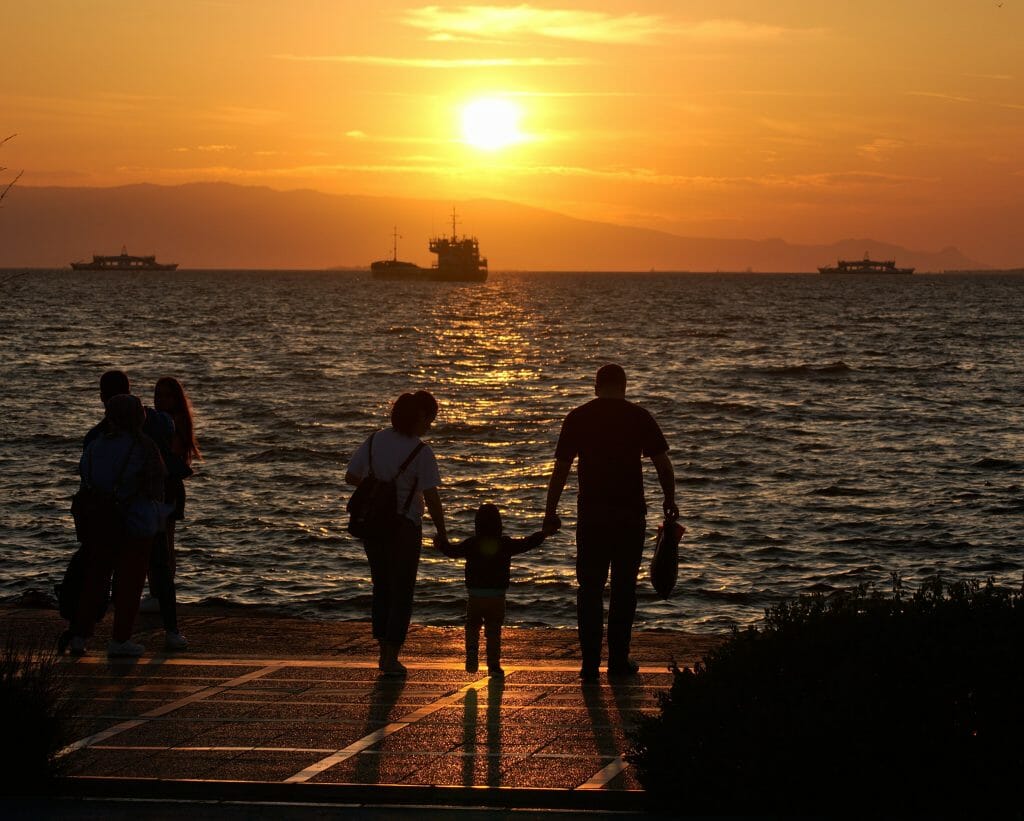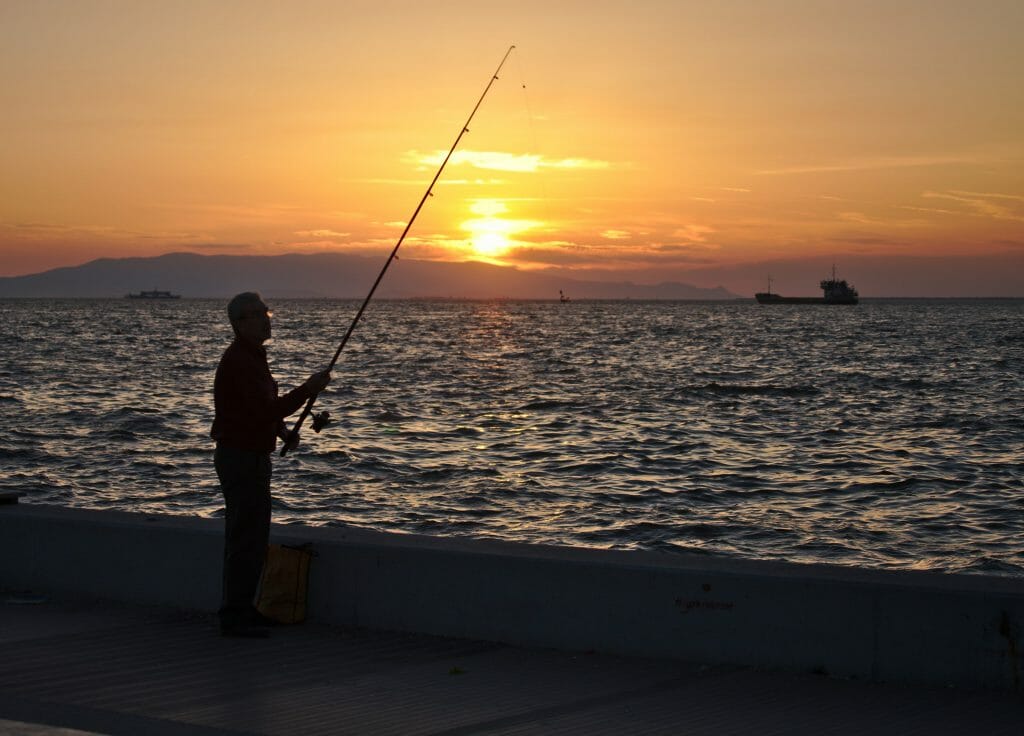 The entire promenade by the sea is equipped with a great cycle path and bicycles can also be ridden without any worries on board the ferries to extend the ride a little. In short, we enjoyed it!
Infos
The bicycles are called "Bisim" and are blue and white.
The rental rate is 3 TL per hour (about 0.43€)
To rent there are 3 options:
with a membership card: The membership card costs 5 TL and can be purchased at Konak Pier. The card can then be recharged in 5 TL steps. Be careful, you must have an ID on you.
with a credit card directly at the terminals: 30 TL are taken as security (not withdrawn, but blocked on the card). The rental is then blocked for 24 hours, so with this payment method you cannot rent several times during the day and during the night credit card rentals are impossible
with the Izmirim Kart : the card you were told about above for metro and trams. To do this, it must be activated at Konak Pier. (For activation you must have a minimum balance of 20 TL on the card). Then you can rent bicycles as much as you want for 3TL per hour. Be careful, you must have an ID on you!
Our travel Budget in Izmir
Since we left I have resumed our good old habits of going around the world and I scrupulously note all our expenses. In this way I will be able to give you detailed articles on the budgets by country. But as in Turkey it may well be that the budget varies quite a bit depending on the region but also on the season (from June we will enter the high tourist season), I thought I would share with you live small budget summaries for each of our destinations.
Exchange rate at the time of our stay: 1€ = 6,8 TL (Turkish lira)
Travel budget in Izmir:
The flight: We bought a one-way Zurich-Izmir flight which cost us 85€ per person (taxes and checked baggage included). To book we had gone through Skyscanner and chosen the cheapest date in the week we were planning to leave.
Accommodation: For this first destination we have chosen to rent an apartment. We took a small studio of about 25m2 which is 30 minutes walk from the city centre. The big plus of our apartment? 2 workspaces, but above all a magnificent terrace with a view of Izmir. Find all available hotels and apartments on Booking
Food: Food is really cheap in Izmir! For a meal taken on the go (Pide, Dürum, Köfte, Dolma etc.) it is necessary to count between 8 TL and 15 TL per person to be satisfied. If you go to the restaurant and stay "reasonable" while having fun, you should count about 50-110 TL for a meal for 2 (without alcohol). A cellar typically costs 1Tl or 2TL (although it is very often offered after meals). As we had an apartment we also did some shopping for our breakfast and dinner on our terrace. Here the addition is always a shock… it is roughly 50% cheaper than in France and not far from 70-80% cheaper than in Switzerland!
Transport: Transport is really cheap in Izmir. To travel by bus, metro or tram you must first buy the Izmirim Kart card. It costs 6 TL (less than 1€) and is available directly from the terminals. The card is then reloaded and each trip costs 3 TL (about 0.43€). A validation allows you to travel as much as you want and by changing means of transport for 90 minutes.
Visits and extras: We did the tour with the guides. The tour being based on tips we decided to give him 200TL after the day. Otherwise the visit of the Agora had returned to us at 12 TL per person.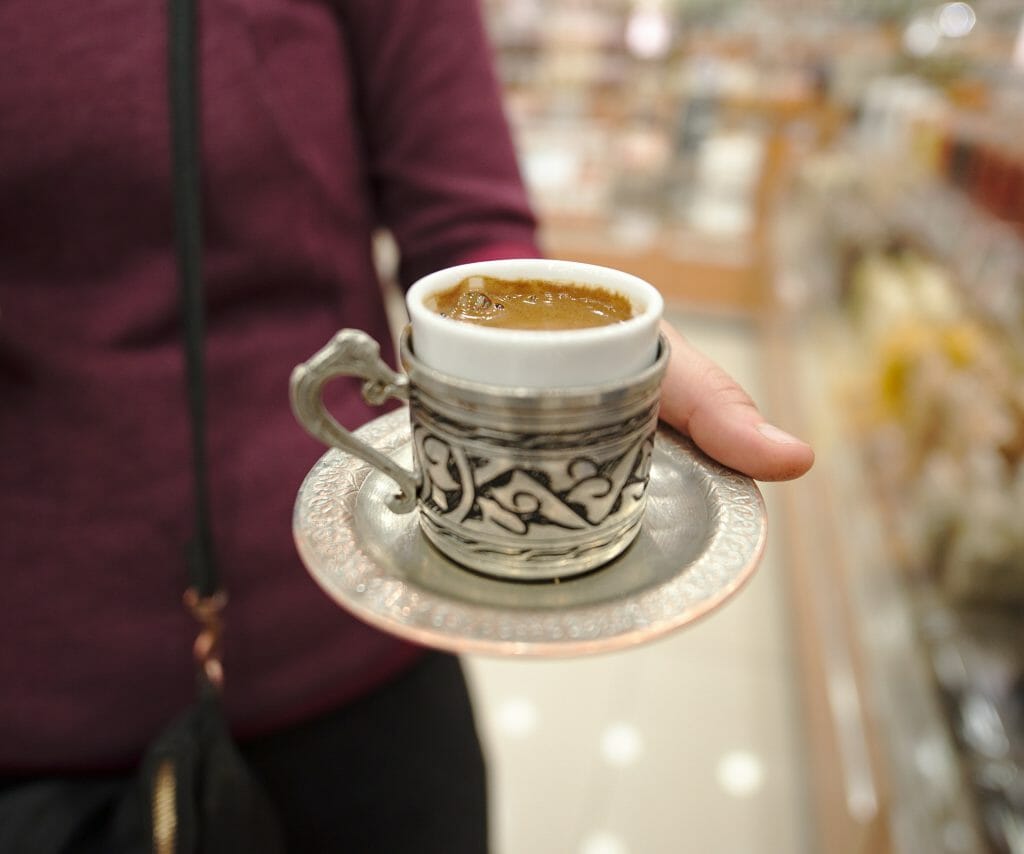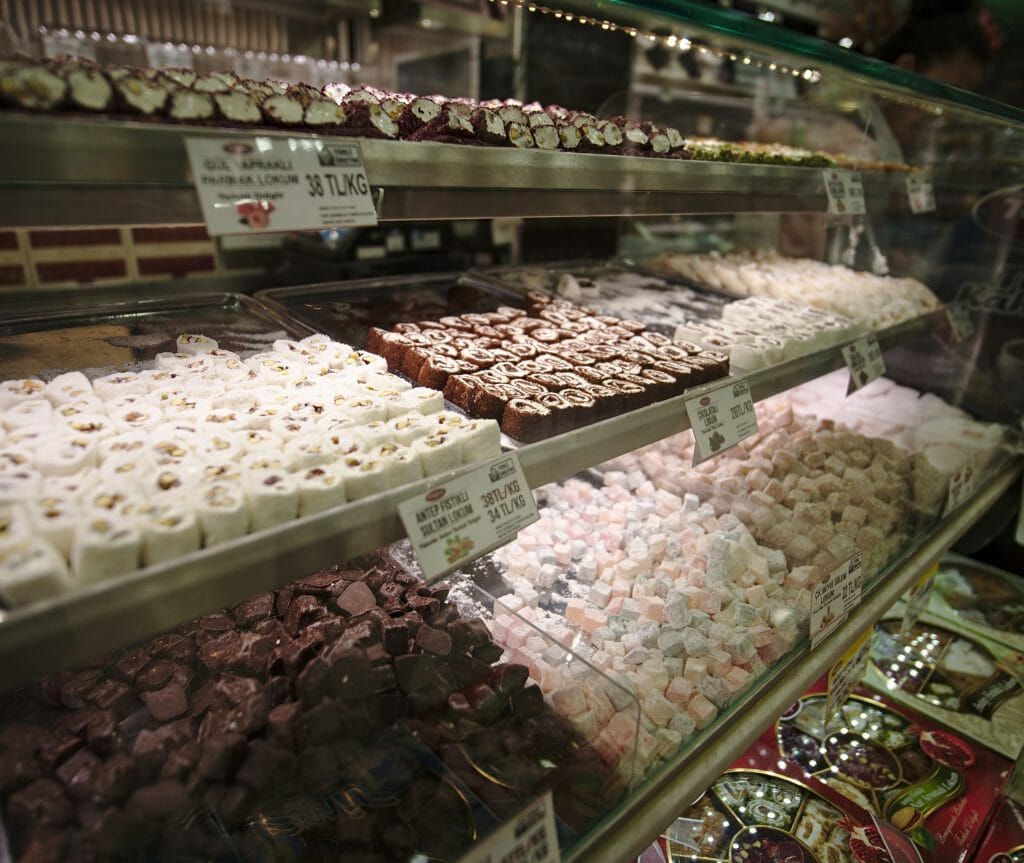 If we count excluding flights, it means that since we have been here, we have been spending 24€ per day per person in Izmir. During our round the world trip we would certainly have spent much less (it's clearly possible). For the moment our apartment is relatively expensive… but we're happy with it because it is just very nice and comfortable to work too (because yes, despite appearances we also worked a lot this week);)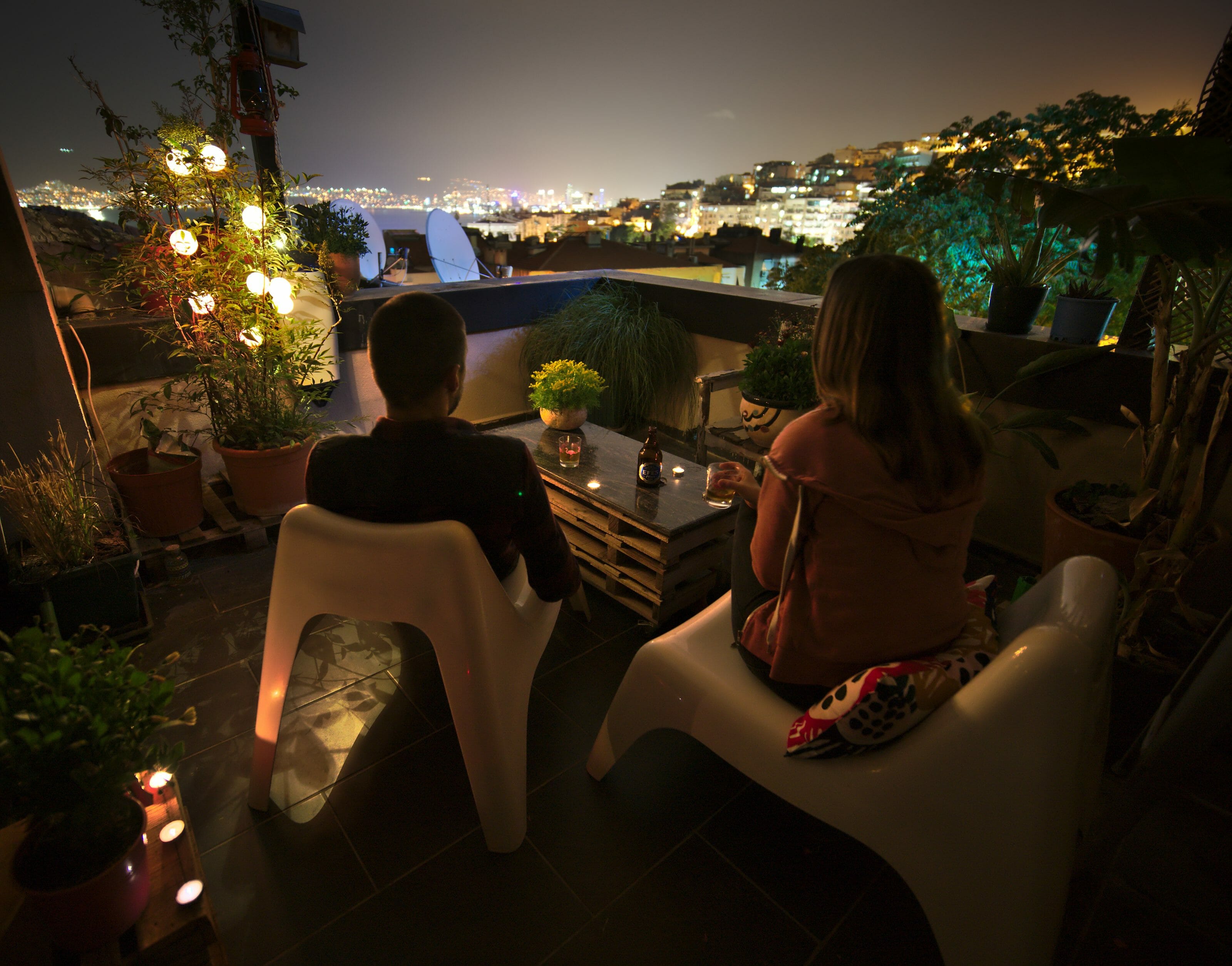 Looking for an accomodation in Izmir? Check out the map below to find a list of all hotels and apartments. Adjust the filters with your budget, dates and desired type of accomodation to narrow down your selection.
First steps in Turkey – our impressions
So let's be honest, Izmir is certainly not the most "beautiful" city in Turkey. There are relatively few tourist attractions that are really worth a visit, but despite that we enjoyed this first stop. It's really a smooth start to the journey for us…. The city is quiet, the people are very friendly and the cuisine is divine.
We really enjoyed strolling along the harbour and just watching the people and the fishermen and the grandpa who are gossiping under the trees.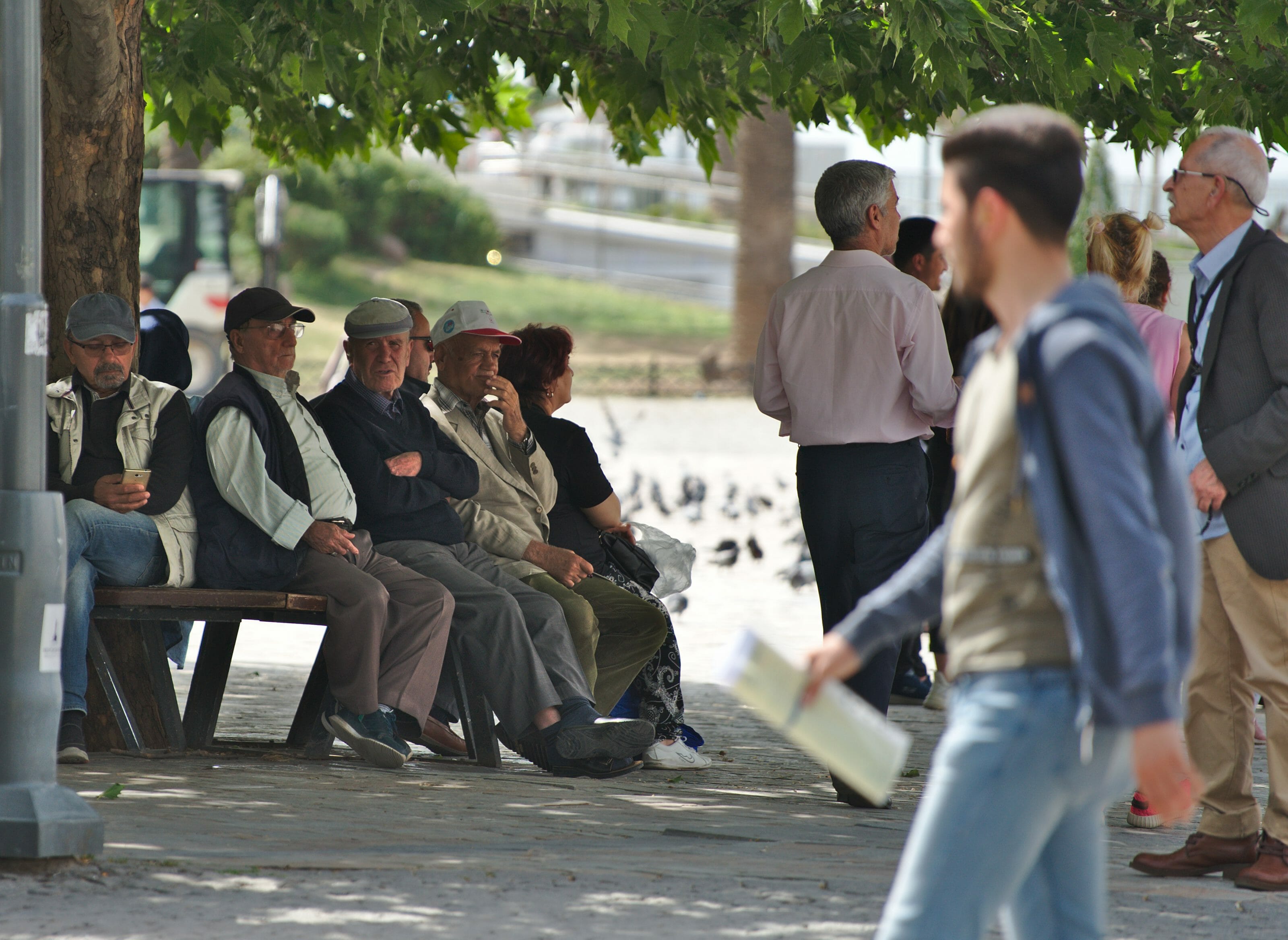 This week also marked the beginning of Ramadan. But to be honest, for the moment we have not yet really seen what it means in Turkey. As I told you at the beginning of this article, Izmir is a city that is very much oriented towards the West and here it seems that very few people do Ramadan. In any case, while walking the streets before and during Ramadan we noticed no difference in people's habits; the shops are all open, people are sitting at tables on the terraces, and people are having drinks on the docks. Our guide told us that he no longer knew many people who do Ramadan in Izmir, or at least not in a very strict way. He told us that many simply choose to give up something they like, or to limit the number of meals to 1 or 2 per day, but without necessarily being very strict about schedules.
That's it, that's it for this first article about Turkey! We're looking forward to seeing what the rest of this trip will bring for us. Tomorrow we leave for Ephesus, then a small village in the vineyards before continuing towards Pamukkale and then the coast to follow a part of the Lycian Way trail with our tent on our back.
See you soon!
Note: This article contains affiliate links. By using our links you do not pay anything extra but we'll earn a small commission. This well help us to continue to provide you free and independant content. Thanks for your support.