For the last destination of this #novomondotrip, you decided to send us to the sun! Thaaaaaanks again! 😉 More precisely on one of the most famous cycladic islands in Greece: Santorini.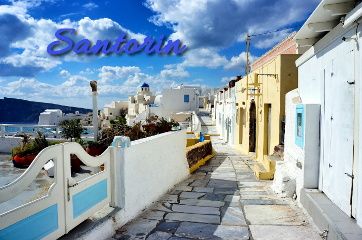 The island of Santorini was not totally unknown to us because we had already visited it in September 2009. It was during our very first backpacker trip as a couple. (We were young at the time ahah). So it was full of nostalgia that we returned to this magnificent volcanic island. and engaged this time ; )! Frankly, we couldn't have finished these 18 months of travelling around the world in a better way and thus, again, thanks to you!
Santorini: the most spectacular island in Greece
So after already 2 backpack trips to the Cycladic islands, I can promise you that Santorini is the most spectacular of all the ones I have had the chance to visit! (Not the least touristy unfortunately). The island is actually a volcanic caldera in the shape of a crescent. It is the result of a huge eruption that gave birth to the legend of Atlantis (yes, that's all).
You can see typical villages perched atop cliffs, relax on black or even red beaches or drink local wine while admiring incredible sunsets. And even if Santorini is very touristy in summer, we can tell you that this is not the case in winter…
Fira: city perched at the top of the cliffs
So yes Fira it is a concentrate of hotels often overpriced, yes there are uninteresting shops on every street corner, yes it is ultra crowded in summer…. But the view from the caldera is simply breathtaking!!!! judge for yourself this photo taken at sunset in an alley in Fira ;). If that's not worth a visit, there's nothing we can do for you anymore!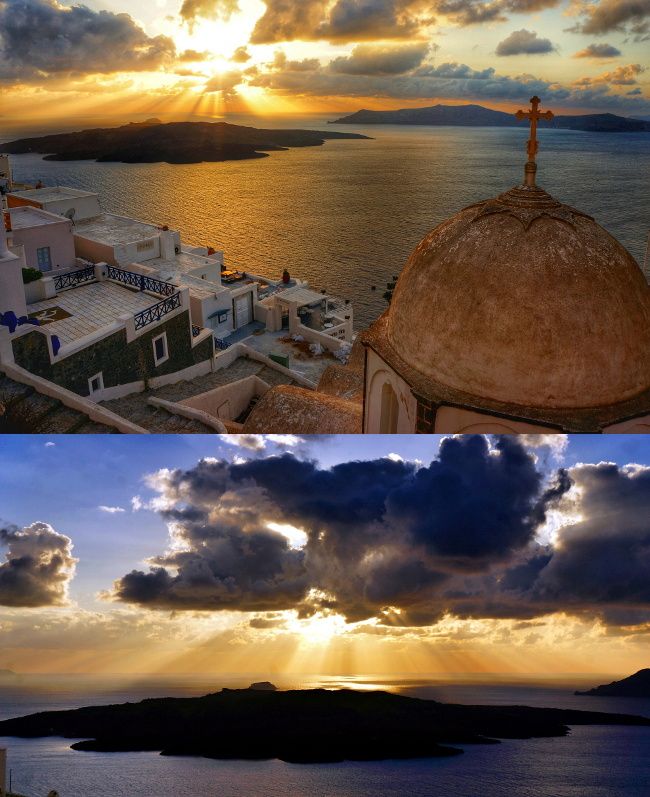 Sunset cruise and BBQ
We didn't test this activity, but some of our friends came back totally charmed. At the time of our world tour we would clearly not have had the budget to put 95€ for a catamaran trip and a BBQ, but it is true that now it is probably something that could tempt us…
Finding cheap accommodation in Santorini
As we said, we do not advise you to stay in Fira in summer because there are a lot of people, the prices of hotels and restaurants are exaggerated… In short, it is not very pleasant. But in winter, it's the other way around! You will have almost no choice but to stay in Fira because absolutely everything is closed on the rest of the island.
And then, the price of housing in Fira in winter is super affordable since there is almost no one there! (only a few Chinese). 😉
We took the best room of our 18 months of travel (we could afford that after 1 year and a half;) in a charming little hotel for 30€ a night instead of attention… 120€ in high season! Pretty good deal if you ask us!
Another advantage of Fira is that you will find supermarkets with affordable prices. There is also a bus station that will allow you to go anywhere on the island for less than a euro the trip. Note that in winter there are very few buses during the day. You can find the winter schedules at the bus station.
Anyway, Fira is great for sleeping during the low season and admiring the sunsets! But other than this pretty village, you have to do a little bit of workout to really discover Santorini. And as you know, we like to walk, so here are some nice day trips to do on the island.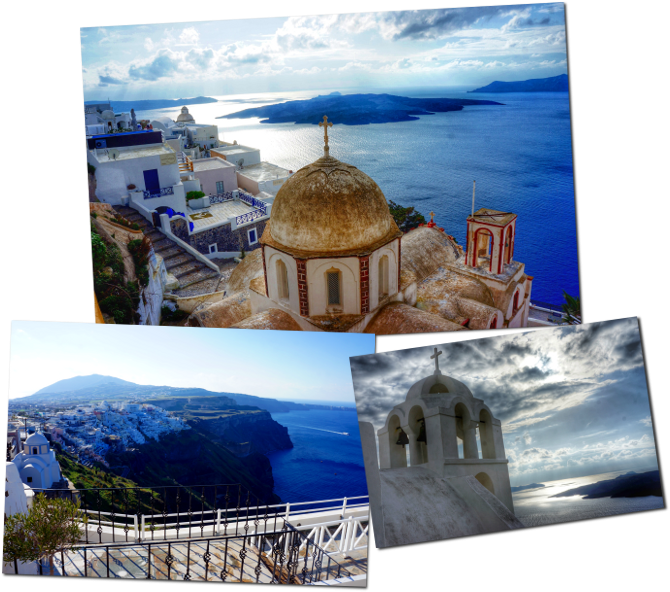 Hotels Santorini
Our great hotel in Fira, which was very affordable in winter, was called San Giorgio Villas.
Alternative for hotel booking if you have not yet made your choice: Check the map below. You'll find all the hotels and apartment available for your dates. Simply use the filters to refine your search
Explore & Photograph Santorini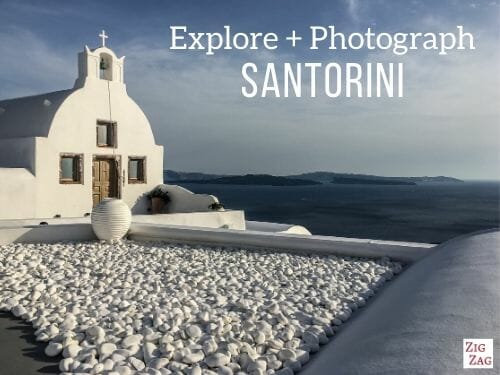 If you are travelling to Santorini we recommend you take a look at the ZigZag Guide Santorini written by Claire. In this ebook she shares her favorite photo locations. The guide is well written and gives you all the maps, GPS coordinates as well as the best time of the day to visit a certain spot.
Going to discover the volcanic islands around Santorini
Santorini is known for its black or red beaches and there are reasons for this! These are volcanic rocks that come from different volcanoes that are located very close to Santorini and that can be visited!
Good deal: To visit the volcanic islands you will find several agencies directly in Fira or Perissa. They offer tours, but it is also possible to book your tour in advance via the internet. For activities on Santorini we advise you to take a look on Getyourguide, which offers various activities at attractive prices.
Stroll along the caldera to the village of Oia
So that, my friends, is THE hike not to be missed under any circumstances if you come to Santorini Island! Imagine, a pretty 10km day hike along the Caldera between Fira and the village of Oia. During the whole walk, you will walk along the cliff through small typical churches. In addition, the path is easy and well marked. Really accessible to everyone. ;).
And the icing on the cake is that the village of Oia is really nice! Well, it's still mainly hotels, shops and restaurants, but everything is very well maintained. And in winter, it's completely deserted. We advise you to spend the afternoon strolling around the village, going down the stairs to the port, taking nice pictures. You can also stay until late afternoon to admire the sunset and finally take the last bus back to Fira.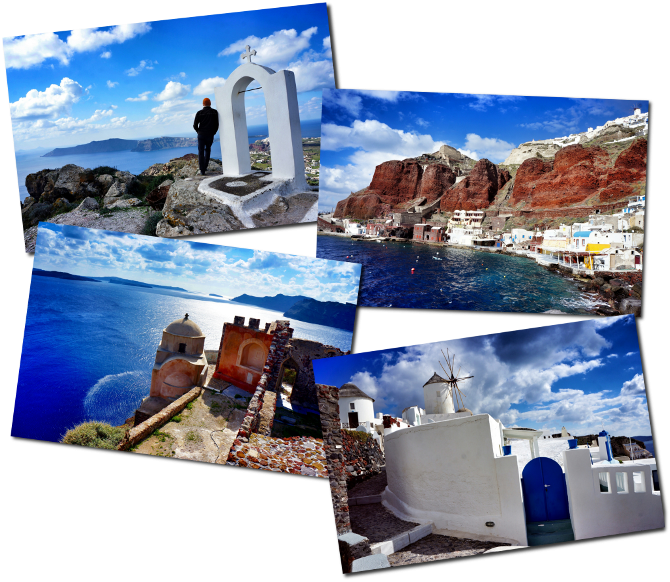 Infos
It is a 3-hour walk to reach the village of Oia from the centre of Fira.
Distance: 11,7km
Hiking map from Fira to Oia:

Perissa: a nice place to stay on Santorini in the summer
As we told you earlier, in summer, it is not necessarily easy nor nice to stay in Fira. It's not for everyone. When we came here in September (this was back in 2009), we had simply arrived at the port by ferry without any reservation. When we got off the boat, we were greeted by at least 25 hotel managers. We then simply said that we had a budget of 20€ for both and we left with one of those who agreed to take us at that price.
As a result, it was a bit by chance that we had landed in the village of Perissa. In a very nice hotel with a very nice private swimming pool (for 20€ it was a great deal ahah).
So even at the beginning of September, Perissa was pretty quiet. There is a pretty black sandy beach and full of small bars/restaurants by the sea. There are far worse places to live. 😉 And then, even if it is not located on the caldera side, there are buses that regularly leave for Fira and there are some nice walks to take from there.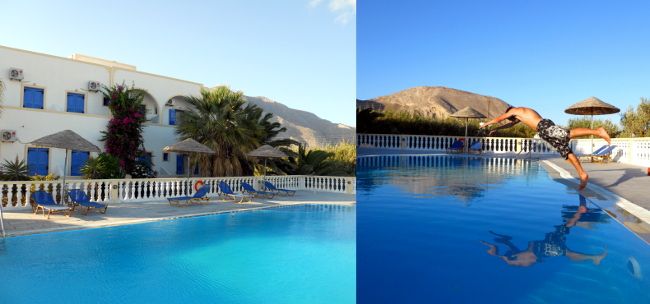 Stroll between red and black beaches
Fabienne remembers this walk as if it was yesterday;)…. Let's just say that at the time she wasn't really what you might call an experienced hiker and that she had suffered a little during that day. But she finally has fond memories of it;).
So we started from Perissa on foot to go up to the Caldera at Akrotiri-level. You can of course follow the road but if I remember correctly, we had tried to follow little paths and it worked quite well.
The red beach on Santorini
We then went down to the red beach (red beach on the map) which was a bit too crowded for our taste. And since we didn't really want to sunbathe on the 2 square meters of free space, we decided to come back to Perissa along the coast.
If you decide to walk between the red and black beaches of Perissa, you will be rewarded for your efforts. You will cross strange vines that grow on the ground (it is to protect the grapes from the wind which can be very violent on the island), you will see cliffs with holes like the French Gruyère (because yes, the Gruyère has no holes in Switzerland). 😉
Ahhhh yes, about halfway between Perissa and the red beach, we came across an incredible bar/lounge, nestled in a wall overlooking a small beach in the middle of nowhere… We can't tell you if it still exists, but it was a great place!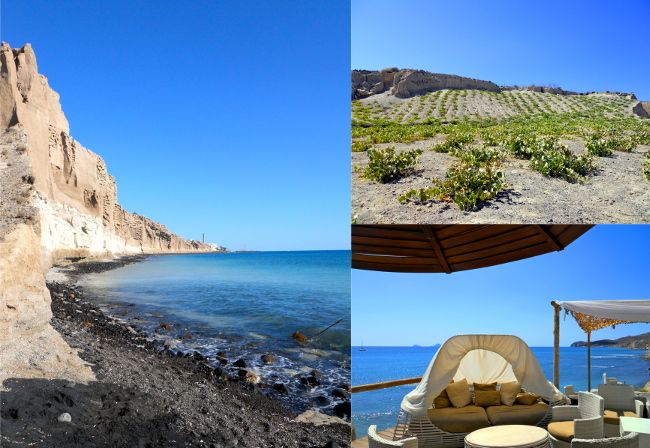 Infos
We walked a lot on that day. I guess we did 20km (if not more). So take enough water with you and especially sunscreen. (I say that because it was forgotten and I ended up as red as a tomato 😉 )
For the second part of the itinerary it's pretty fuzzy on the map (no trail) and in reality it was like that too… we generally aimed to stay by the water or on the cliffs not too far away… but it's clearly a return which is a a little freestyle without real path.
Hiking map for this loop on Santorini:

Getting on top of Santorini
Come on, one last walk for the road 😉 . From the villages of Perissa or Kamari, you can first climb up to the ruins of "Ancient Thera" which are apparently magnificent, overlooking a cliff of more than 300m. I say apparently because we decided to go on a Monday and the ruins are… closed on Monday. So we decided to continue climbing up to the highest point of the island which is about 1 hour walk from the ruins… But then again, we missed a little luck that day because the weather got worse and we didn't see much from the summit. However, if the weather would have been fine, we would have enjoyed a panoramic view of the whole island. 😉
Infos
A good option is to leave from Kamari and then return to Perissa or vice versa to avoid going the same way twice. Here too, the paths are well indicated and there is no way to get lost… But keep in mind that this hike has quite some elevation gain.
Hiking map: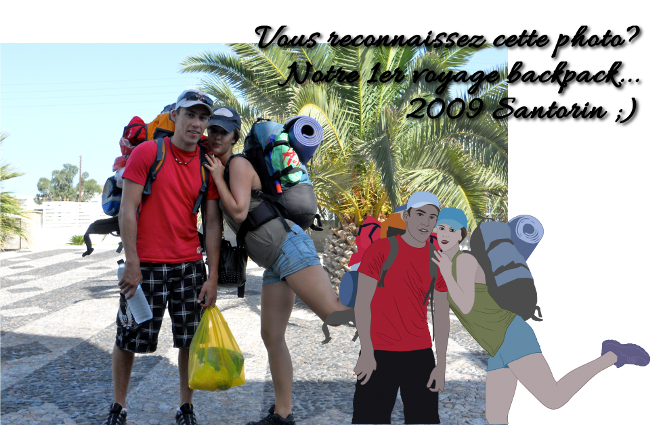 Finally Santorini… in summer or winter?
Actually, I htink we'd rather come back in winter. Despite more unstable weather and a fairly recurrent wind, temperatures are much milder than in summer (about 15 degrees). Which is not unpleasant for hiking. In addition, hotel prices are up to 4-5 times cheaper and the island is practically empty. This can clearly be seen as a disadvantage by some people, but for hiking enthousiasts or simply people who want to see these gorgeous landscapes without the crowds, then it perfect!
It also has its drawbacks because most bars and restaurants are closed during the winter. So if you want to party, it's better to wait until spring. 😉
Review of our adventure in Santorini
Finally Santorini is still an absolutely spectacular island. We took some of the most beautiful pictures of our whole trip and loved walking on the caldera, in the village of Oia or on the other side of the island.
Frankly, even if it loses a little bit of flair because of the mass of tourists in summer, the multitude of hotels and shops… visiting Santorini remains a must during a trip in the Cyclades. Let's say that for peace and "authenticity", you will surely be better served on other islands like Amorgos or Koufonisi…. But well, you'll be able to handle a little more people for 2-3 days for these landscapes, won't you?
NB: Please note that this article contains affiliate links to partner sites. If you buy a product on one of their sites you will not pay more but we will receive a small commission. This will help us to keep this site alive. Thank you!🙂
Enregistrer