You were left at the foot of some of Switzerland's most beautiful mountains after 4 days of splendid walking between Engelberg and Lauterbrunnen. After a well-deserved day break, we are preparing to attack the 2 biggest ascents of this Swiss Via Alpina: the Sefinenfurgge pass (2612m) between Lauterbrunnen and Griesalp as well as the Hohtürli pass (2778m) between Griesalp and Kandersteg.
For these 2 days, we know in advance that our little thighs will hurt… a lot… it's easy to predict actually, we have to climb 1800m, then to go down 1300m then go up 1400m and go down 1600m! But we also know that we will have the chance to admire some of the most beautiful places in Switzerland (such as Lake Oeschinen ;)). So it is as motivated as ever that we leave the Lauterbrunnen campsite that morning for the first of the two highest passes on the Via Alpina.
Note: We did these 2 days during our Via Alpina, but this section can also be done "on it's own". It is really a stunning 2 day hike in Switzerland. It's difficult, but believe me, it's worth the effort! If you do not want to camp, it is possible to spend the night in Griesalp (see the hotels). From Kandersteg it is possible to come back to Lauterbrunnen by bus and train.
The Sefinenfurgge Pass between Lauterbrunnen and Griesalp
Weirdly enough we had never been to Lauterbrunnen before! Yet it is a superb village embedded between the cliffs with beautiful waterfalls that fall from everywhere… It's a bit like our "Swiss Yosemite" 😉 .
Well this village is also more (sadly) known as the Mecca of basejump in Switzerland with its fatal accidents every year. While going up to the village of Mürren, we met a guy about to go jump who was totally high… was he under the influence of adrenaline or other substances??? We'll never know! 😉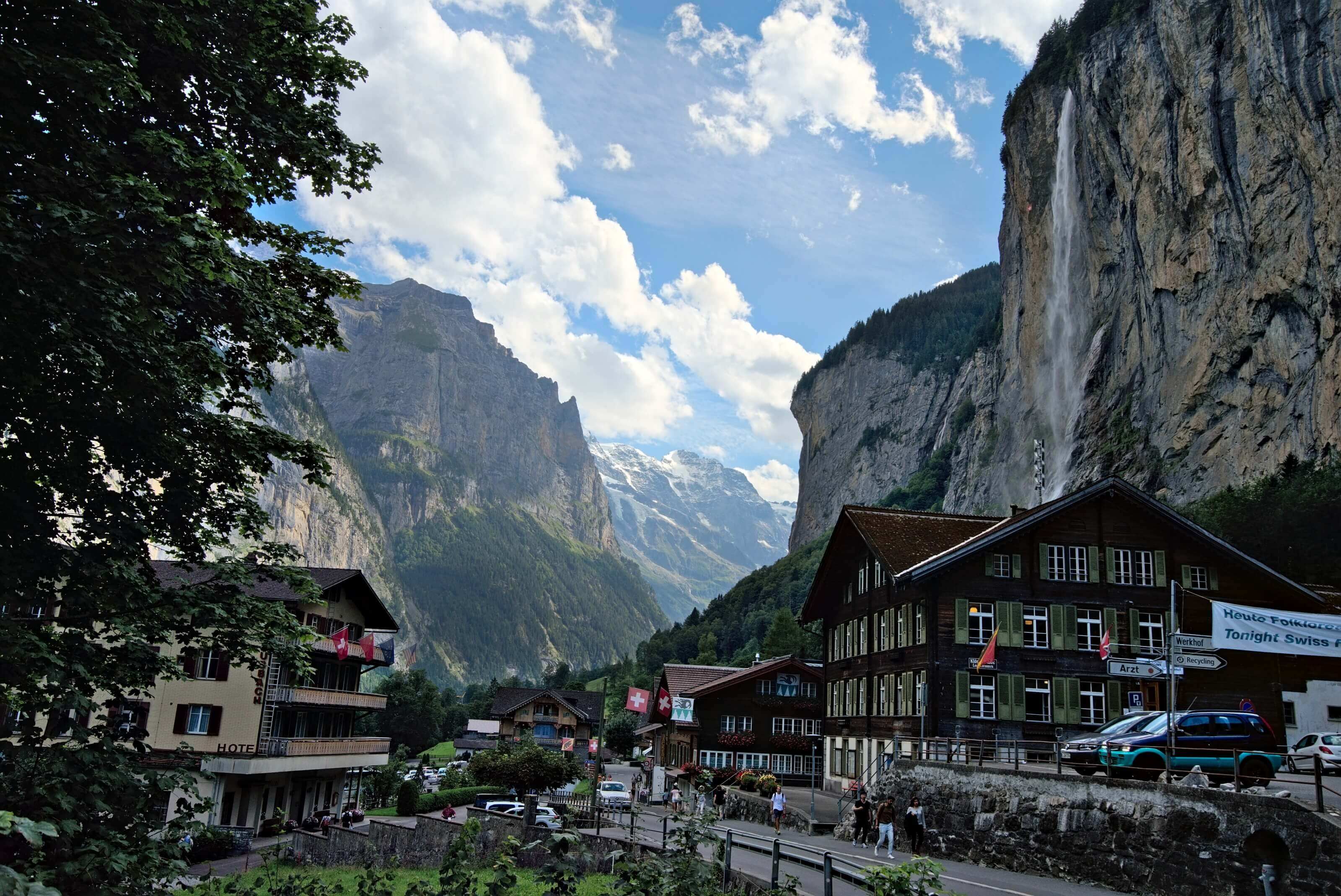 After already 800m of climbing in the forest, we arrive at the village of Mürren located above the cliffs that we could see from Lauterbrunnen. It is also a very touristic place thanks to its privileged balcony location in front of the Junfrau, the Eiger and the Mönch, the magic trio ;).
Without much surprise, we continue our ascent after the village towards the hut of Rotstock. Even if the climb is not that easy, the landscapes are simply stunning and you can "barely" feel the pain from going up so much. 🙂 Well… you clearly feel the pain, but you get the idea, right?
After our traditional lunch break with salami and alpine cheese Wraps, we arrive at the Rotstock hut, which enjoys a splendid view of the Jungfrau. But today we don't really have time to stop. It is already 2pm and we still have to climb up to the pass and then go down until we find a place to camp.
The last climb to the pass starts relatively slowly. We cross a last mountain pasture with a small lake and an exceptional view on the magic trio 😉 . But then it's no joke anymore! We climb through a last very steep scree to reach the Sefinnenfurgge pass at 2612m (even if the view is somewhat blocked by the fog at the top).
With the wind blowing, we don't stay too long at the top… and we discover with "joy" the impressive descent of the pass towards Griesalp. Very steep stairs that lead straight into the fog :). Well… we're thinking that at least there are stairs because without them, we clearly wouldn't have gotten down there!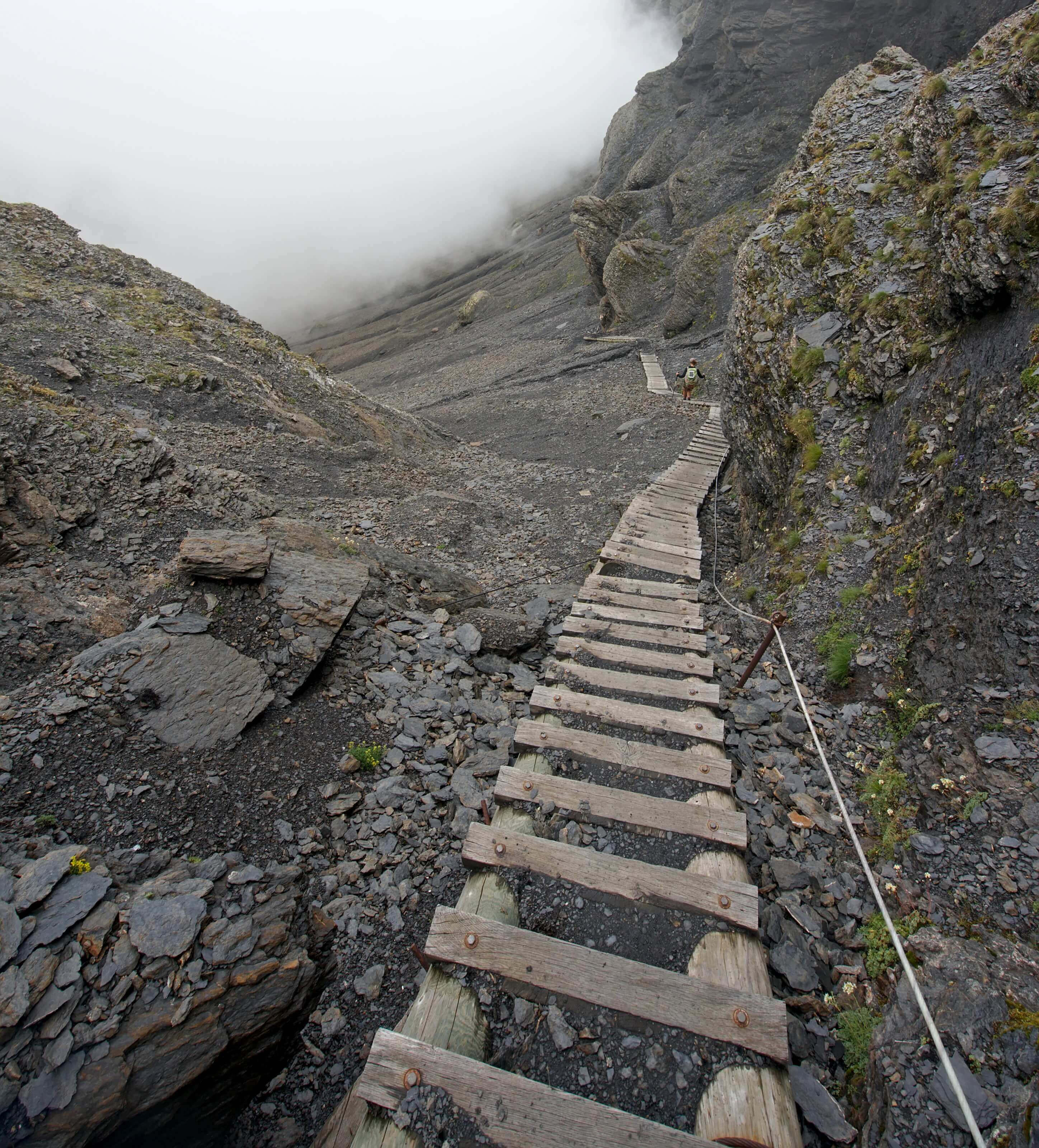 After a short hour of descent, we start looking for a place to camp… We thought we had found a good spot when a herd of cows coming down from the mountain pastures makes us change our minds 🙂 . So we continue to descend almost to Griesalp. After asking the local farmer where we could pitch our tent, we decided to settle by the riverside, next to a small place for grilling. Anyway, considering how tired we are, we could have slept anywhere- 😉
Our ebook!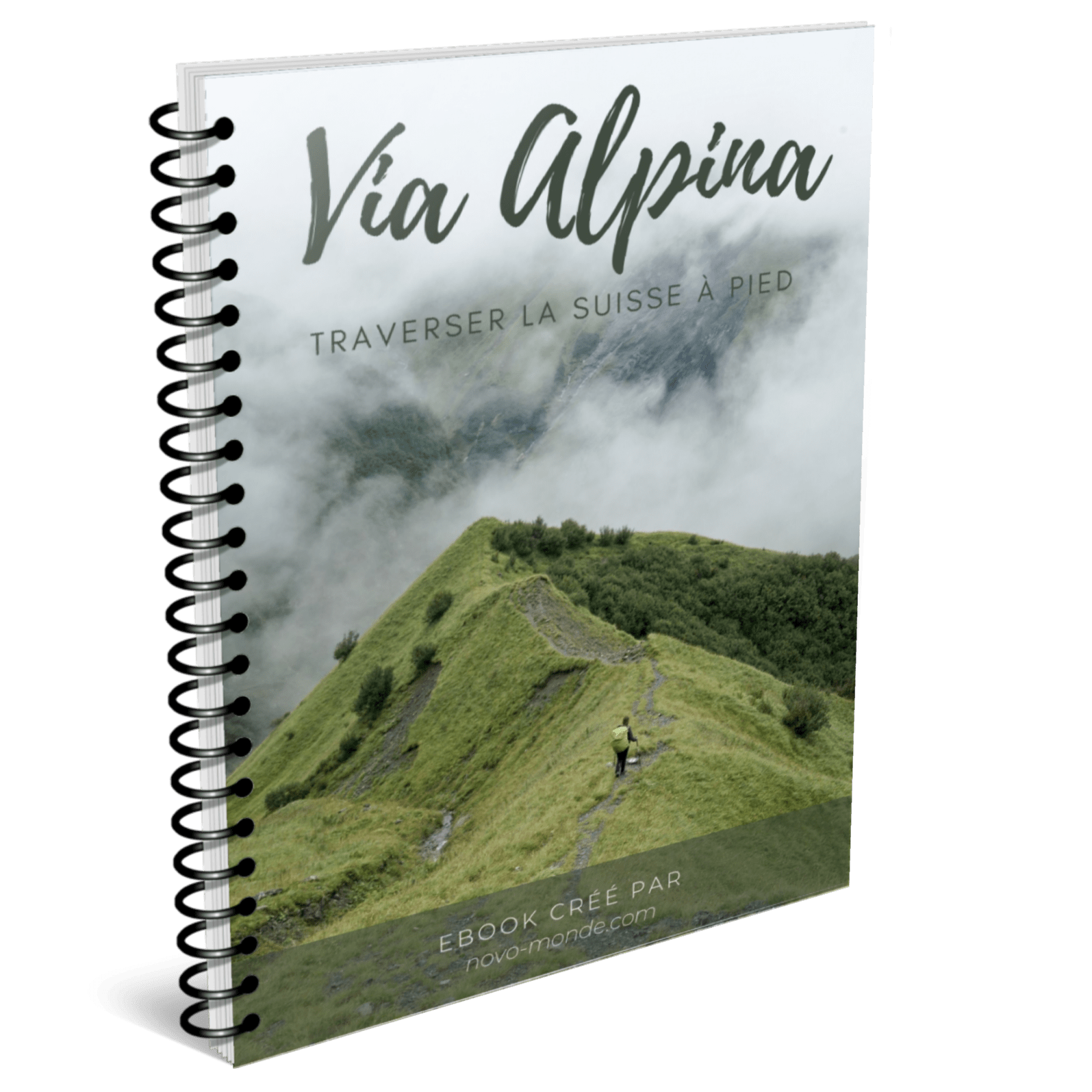 Are you preparing the Via Alpina for this summer? In the spring of 2020 we published an ebook that should please you. 🙂 More than 100 pages dedicated to this magnificent hike through the Alps. From the different stages of preparation, safety tips, the list of campsites to our detailed daily itinerary (with maps and GPX files to download): everything is there!
Find more information on the ebook here
If you prefer to have our ebook in epub format (for your e-readers), you can also buy it directly on Fnac/Kobo or Apple books (Then, if you want to get the GPX files of the Via Alpina, contact us by email at contact[at]novo-monde.com with your order confirmation).
Hohtürli Pass between Griesalp and Kandersteg
After a rather cool night (now we know that sleeping near a frozen river was a dubious idea 😉 ) and a good breakfast, we tackle THE climb of this Via Alpina: the 1400m that separates us from the Hohtürli pass.
The first part of the climb goes very smoothly. As usual, we stop at the mountain pasture (Bundalp) to buy the local cheese for our lunch wraps. Today, we take a 2-year-old cheese from the Bundalp mountain pasture. I might as well tell you that it's almost Parmesan cheese :D. From the alpine pastures, we also discover the climb that awaits us… it hurts our legs just to look at it!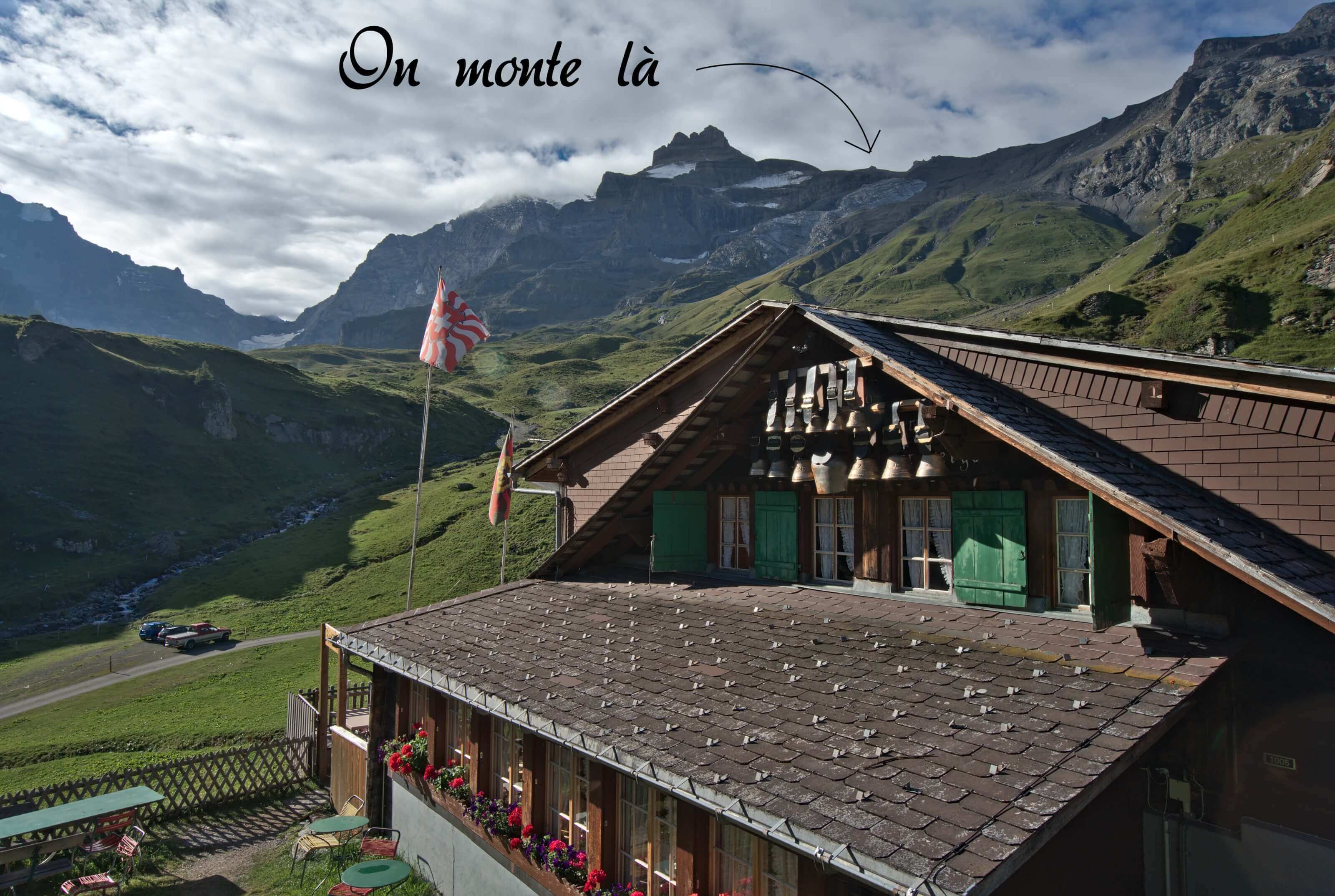 Today, there are no real detours in the program… the path goes almost straight up! In addition there are a lot of people on the trail because the Blümlisalphütte at the pass is a very popular hut. With our big backpacks, we go up at almost the same pace as a small group of 70 year old grandpas 😉 .
We think we'd like to be able to climb slopes like that again at their age. After a good hour of climbing, it gets a little tougher. Very steep stairs replace the path and it is better not to miss a step if you know what I mean ;).
We still say to ourselves that we are happy to make this passage in the direction of the climb because with the void in front of us it is quite impressive! We arrive at the Hohtürli pass after a good 2 hours of this treatment. I can tell you that we are happy to be up there! We decide to eat at the pass, with a view of the Griesalp Valley, Lake Thun on the right and the descent to Lake Oeschinen on our left.
Then we start the descent on Lake Oeschinen, which we are happy to see again (we had already come to the area and we kept an incredible memory of this lake with its magnificent color). As we go down we pass several glaciers… we can only imagine the extent of ice that there must have been here a few years ago.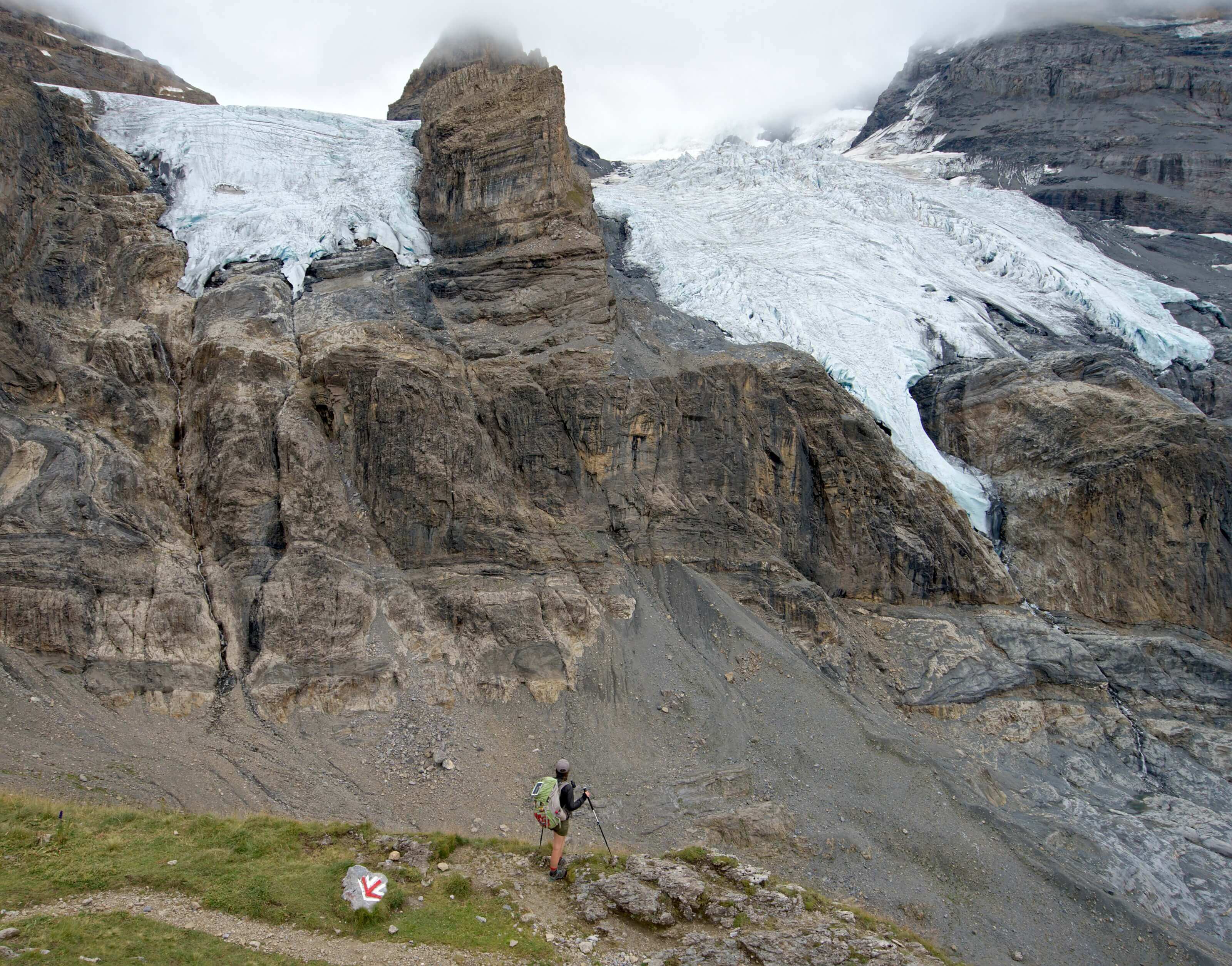 And after 700m of descent, we finally overlook the lake. We decide to make a small detour and take the "hight" path to have a nice viewpoints over the lake (and also because Benoit had a dream to find a camping spot on the edge of this path).
Note: This high route is not the "Official" Via Alpina path, but we highly recommend it! The views are simply amazing!!!
We are first pushed out of the way by a herd of sheep coming in for the night (to watch in the video how elegantly Fabienne gets out of the way to let them pass). Then, we arrive at Benoit's dream camping spot to discover that it is already taken by another couple :(…After mourning the camping spot, we decide to go down to the lake to find a plan B. We will finally find our happiness on the right bank of the lake, a little hidden in the forest. And as a reward for our efforts, we will get one last gift with a sunset through the clouds in the red hours on the mountain overlooking the lake… what a wonderful end of the day!
Note: When we did the hike, we asked if we could bivouac somwhere on the right side of the lake in the forest. But we got some feedbacks from readers that it is completely forbidden now.
The video from Lauterbrunnen to Kandersteg
As usual since the beginning of our adventure in Switzerland, Fabienne has concocted a short and very nice video of these two wonderful days on the Via Alpina (to watch until the end for the bonuses ;))
Note: The video is in french… Sorry! Even if you don't understand what we are saying, you can still get an image of the landscapes on this amazing hike.
So much for these 2 new and beautiful stages of the Via Alpina. After all these meters of altitude difference, we decided to do a short day to the village of Kandersteg below Lake Oeschinen and to recover our legs for one afternoon. Then we will only have 6-7 stages to reach Montreux on the shores of Lake Geneva!
Only about 115 km to go until the end 🙂
Final Via Alpina Video
Small update of the article to share with you our final video of this Via Alpina, a condensed version of images on this magnificent adventure in 3 minutes:
English subtitles available
Note: This article may contain affiliate links. By using our links to book your accomodation you do not pay anything extra, but we'll earn a small commission. Thanks for your support.